I'm still waiting for my letter from Hogwarts. I've been waiting a very long time, and since I like to be prepared, I wanted to ensure that when my letter finally arrives, I'm ready to go. I want to be the best in my class, so I'm going to need a solid backpack to get around the castle.
I don't want to drop my books and quills, so I compiled a list of the packs I'd feel good about taking on the Hogwarts Express with me. I bet you'll like them too. Check out my best Harry Potter backpack ideas — let's go!
Bottom Line Up Front
I grew up with the Harry Potter books and movies. I've been to the midnight premieres of the films; the Deathly Hallows Part II premiere was incredible.
I went to the seventh book drop party in Harvard Square. I'm a loyal fan of the series; I even made a point of visiting Platform 9 3/4 at Kings Cross Station in London.
Should my letter ever arrive, my top pick for my carry-on is the Deathly Hallows Backpack.. Sleek, chic, and pretty unique, I'll be ready to go.
Things to Consider: How I Selected These Backpacks
The number of backpack options could be construed as overwhelming. Categorically though, there are so many unique and cool variations and a variety of add-ons, and the possibilities are endless.
You might call it magic. With so much thematic ground to cover, it's difficult to pinpoint what to look for in backpacks beyond design. 
I looked for packs that were made of durable materials like canvas, polyester, and nylon. I tried to find packs that are affordable, and most importantly, there's something for every Potter fan on this list, no matter which house you're sorted into!
Now that you know what to look for and are mere weeks away from busting through Platform 9 3/4 let's get outfitted!
Harry Potter Backpack Ideas
Hogwarts Houses
Remember, the Sorting Hat will always take your wishes into consideration… 
Gryffindor
Courageous? Brave? Chivalrous? Welcome to Gryffindor.
Harry Potter Gryffindor Premium Backpack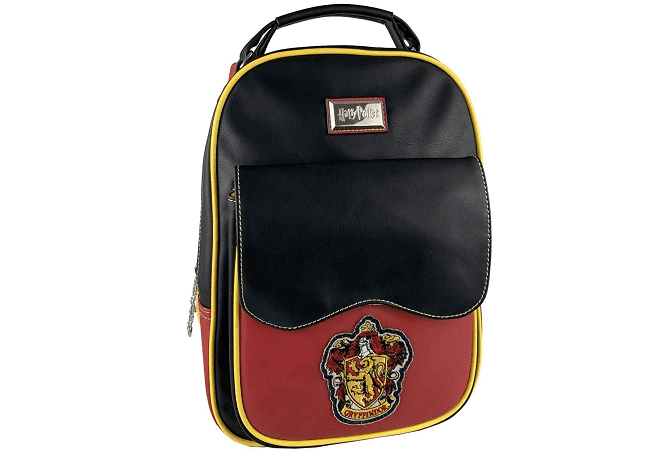 Vegan leather, the Gryffindor Crest with the house colors, you're arriving in style. This backpack is a must-have for the student who wants a hint of flash on their first day without making too much of a head-turning entrance.
Gryffindor Backpack Burgundy and Suede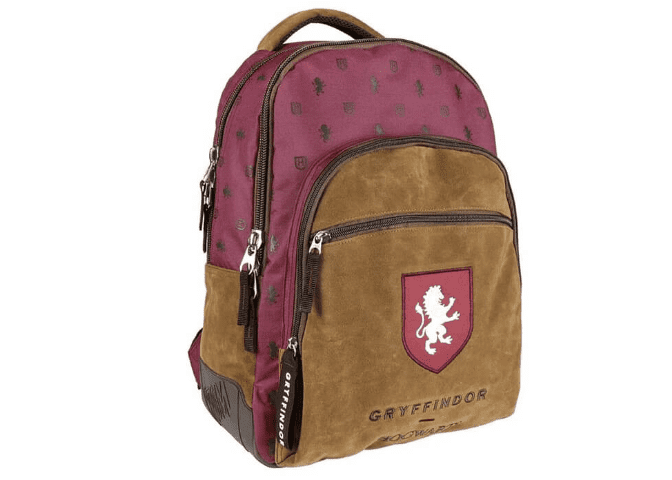 This backpack is a polyester and suede dream. Made with padded shoulder straps and a padded back for those long-haul days where each classroom gets progressively further away.
The burgundy and brown offset each other with the rugged look from the movies but provide durability and longevity. Notable for ample storage with one front pocket and three compartments.
Harry Potter Gryffindor Backpack Laptop Notebook School Bag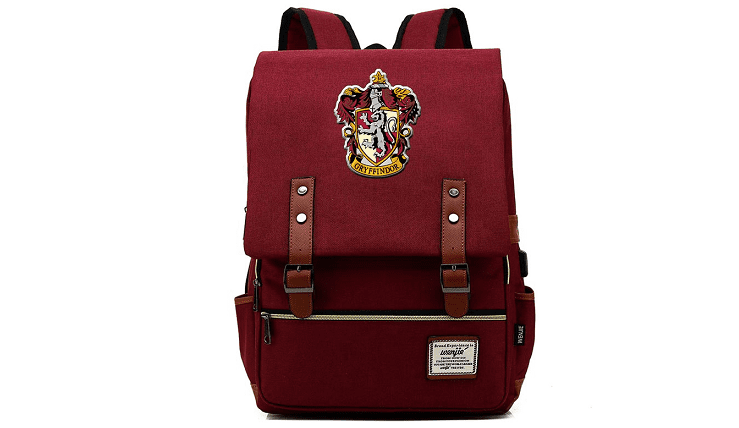 Made from Oxford fabric (a fun twist of cotton and polyester with a pinch of extra magic sprinkled in), this backpack comes in a slew of colors and is unisex.
Given the material, there are several situations you could find yourself in, and your pack will be fine. The schoolbag is equipped with safe compartments for items like laptops and plenty of room for the comfortable distribution of the weight of your belongings and expectations.
Harry Potter Go Go Gryffindor Backpack

Understated but still regal. The house colors are prominently displayed while holding on to the old-school vibe from the straps that fasten the polyester backpack together.
The plated H for Hogwarts that matches the patch is a great touch, along with the lion and pennant. House pride without an in-your-face design. I love it.
Ravenclaw
Wit and wisdom, intelligence and learning, cleverness, and a pinch of creativity: Ravenclaw.
Harry Potter Icon Print Ravenclaw Backpack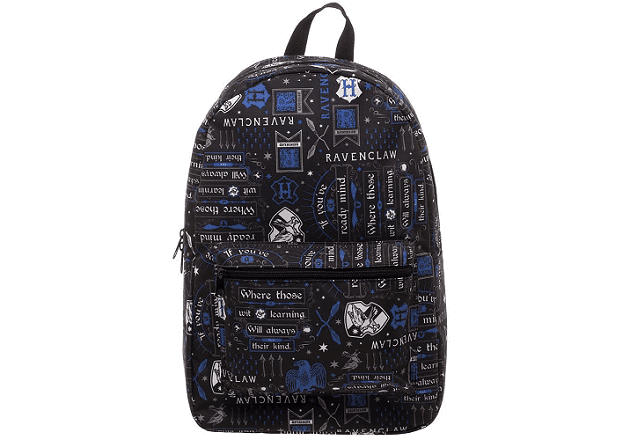 100% polyester with canvas construction and adjustable, padded shoulder straps, consider me sold. The contrasting blue and black with white lettering creates a pattern that pops.
Quotes from the book, the Ravenclaw crest; I'd wear it happily. And not just because Ravenclaw happens to be my house.
Harry Potter Mini Backpack – Ravenclaw Quilted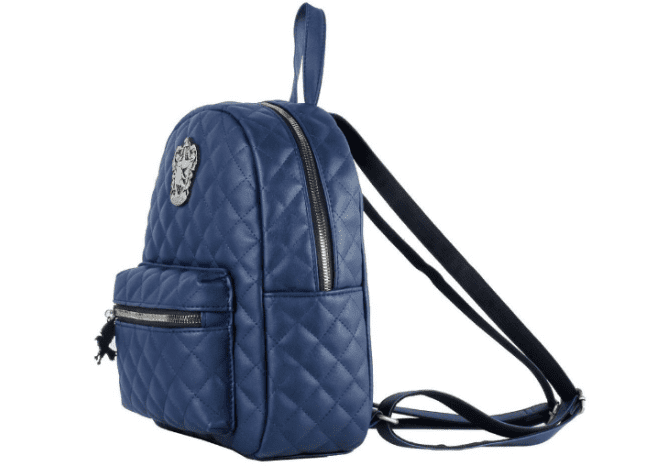 Made from polyurethane and adorned with a Ravenclaw crest, this faux leather mini backpack is perfect for arriving in style. Refreshingly spacious inside, lined with black fabric and a large outer pocket, this mini backpack fits any Ravenclaw, big or small.
Ravenclaw Lined Backpack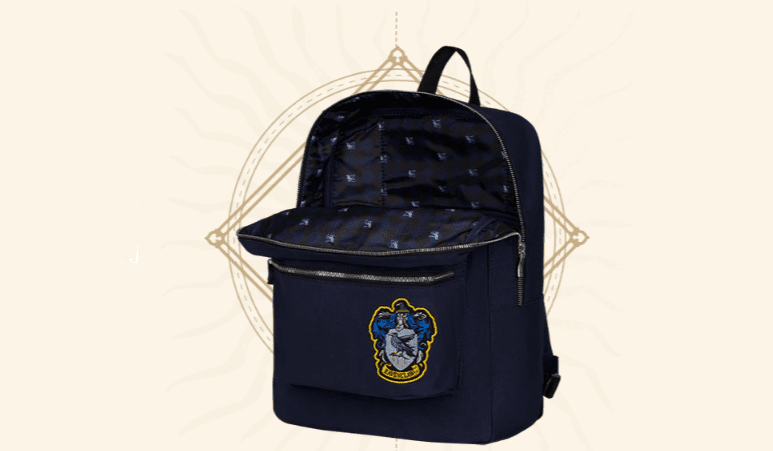 Deep blue with a minimalistic design on the outside of the canvas backpack for an everyday look.
Of course, the iconic Ravenclaw crest is on the spacious outer pocket, and the checkerboard pattern of the house colors creates the best backpack to handle your day-to-day comings, and goings throughout school, the train, or anywhere wind blows.
Harry Potter Ravenclaw Varsity Knapsack Backpack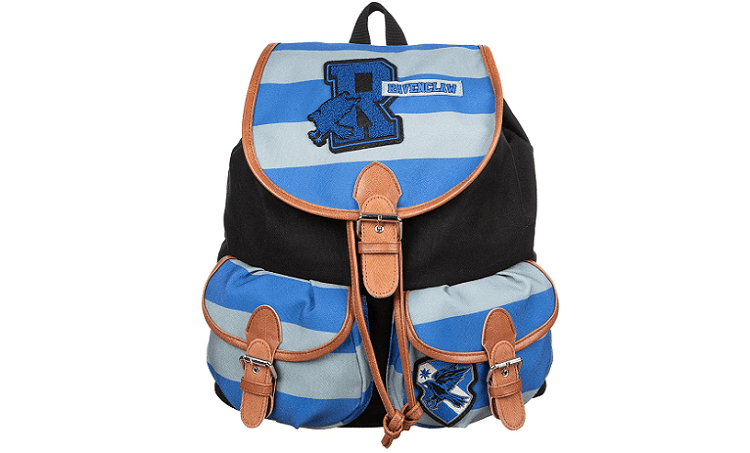 Let me be frank. The average Ravenclaw is on the go between classes and various practices and needs a bag that jumps between all their activities.
Right here, we've got a cotton/polyester blend distressed snap closure backpack sporting the house colors and crest.
Two outer pockets compliment the roomy main compartment, making the knapsack backpack the go-to for the busy Ravenclaw on the go. 
Hufflepuff
Your patience, loyalty, and hardworking nature have paid off as you've been sorted into the kindest house in Hogwarts, Hufflepuff.
Harry Potter Series Hufflepuff Backpack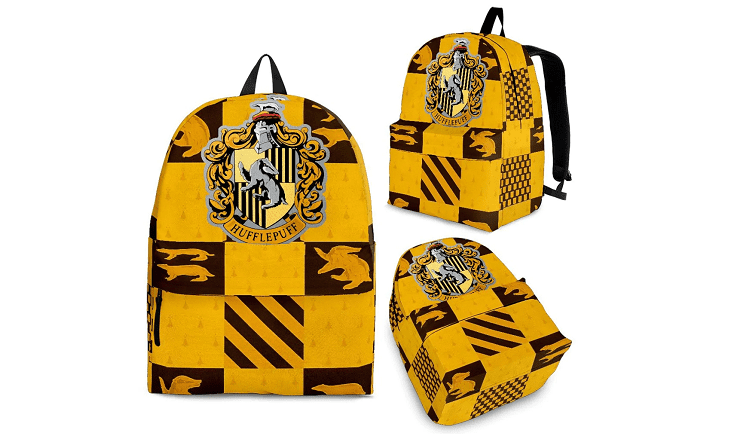 A welcoming bunch of friendly faces is the hallmark of Hufflepuff. So is the badger, the mascot that sits proudly on the crest. The house colors, yellow and black, are in a subtly dynamic pattern, featured on breathable mesh fabric. Ergonomic straps are a game-changer and are already there for your comfort.
Hufflepuff Crest Mini Backpack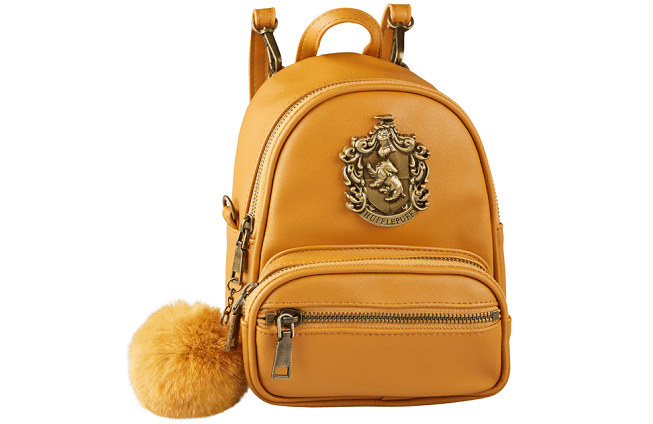 Humble to a fault, Hufflepuff still has a host of fashionistas that will want to sport this magical mini backpack. Who cares about size?
Crafted in 100% polyurethane, there are two zippered front compartments, one zippered interior compartment, and one zippered main compartment: organizational witches and wizards, wands to the sky.
Harry Potter Hufflepuff Backpack
Durable? Yes. Contrasting colors? You bet. Internal padding and room as well as ample pocket space? It's there. Couple that with the Hufflepuff house traits coming together to form a crest-like symbol at the top of the pack, and you're ready to go.
Hufflepuff Lined Backpack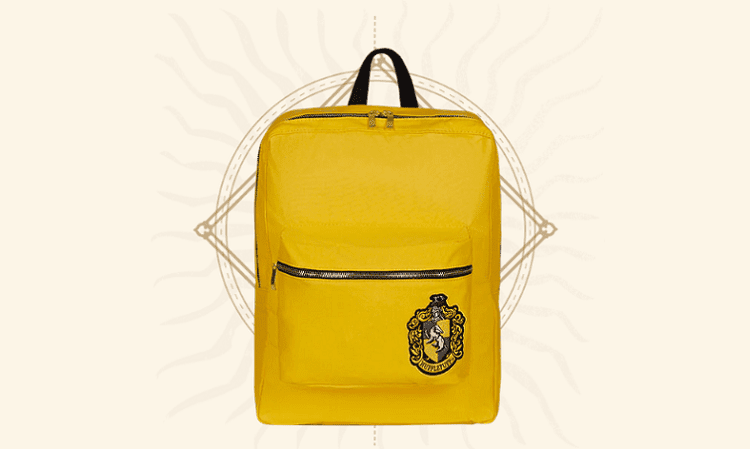 A pop of color and the house crest make a young Hufflepuff easy to spot in any crowd. Durable materials make up this simple yet fun backpack, with a checkered interior that any witch or wizard would find aesthetically pleasing. Once a Hufflepuff, yellow is your color. Embrace it, my friend.
Slytherin
The determined student with cleverness and ambition does not always turn out to be the bad guy. You've sorted into Slytherin, and now you have a choice to consider. Will you take your house's villainous path or put your traits to something better…
Harry Potter Slytherin Quilted Mini Backpack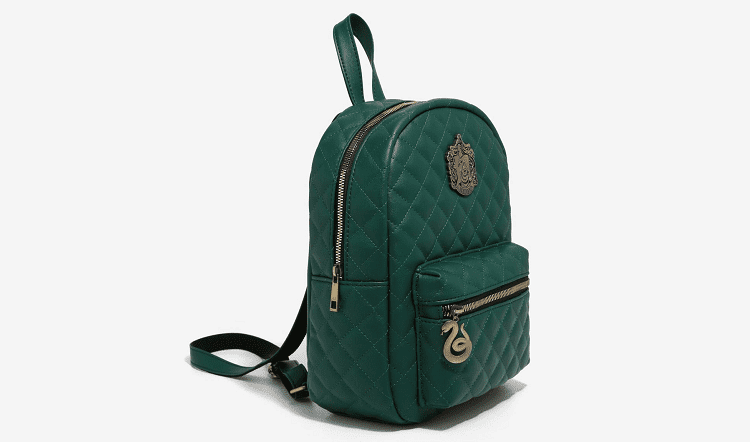 Draco Malfoy wasn't doing anybody any favors by setting a monetary precedent with his father paying for the best Quidditch brooms. Looking to fit that aesthetic? Look no further.
The metal Slytherin crest sits on quilted faux leather with a burnished gold finish. Pockets with polyurethane make for a comfy, quality look.
Harry Potter Slytherin Backpack School Book Bag with Laptop Sleeve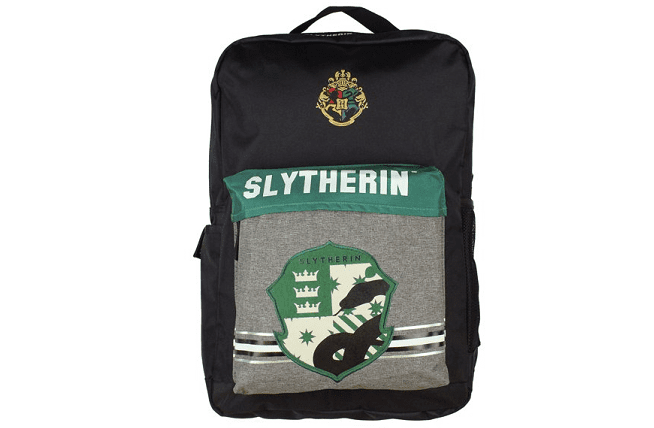 The understated look is popular. This canvas creation is designed to let anyone around you know which house you represent without screaming it in their face. Pockets for storage, a place for a drink, and button closures have you roaming the castle in style.
Slytherin Silver Splatter Backpack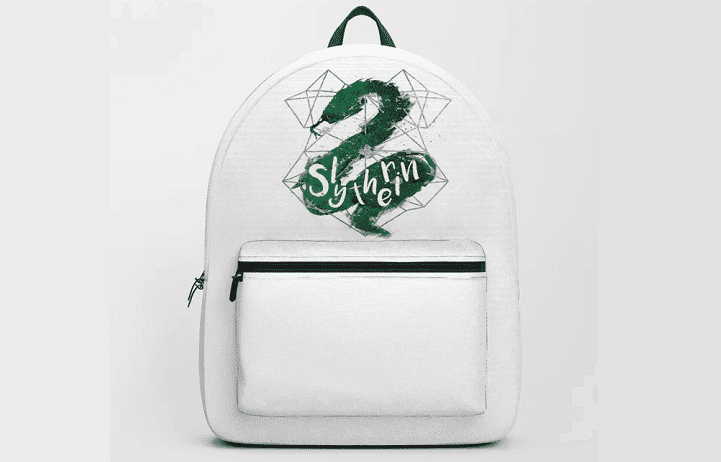 Standing out in a crowd is hard when you have deep-colored tones to represent your house.
With a white backdrop on the spun polyester fabric with the Slytherin serpent splattered (say that three times fast) across the top with a geometric pattern, you'll draw just the right amount of attention.
Plenty of pockets, too, so you'll never be without a little extra magic to get through the day.
Slytherin Rucksack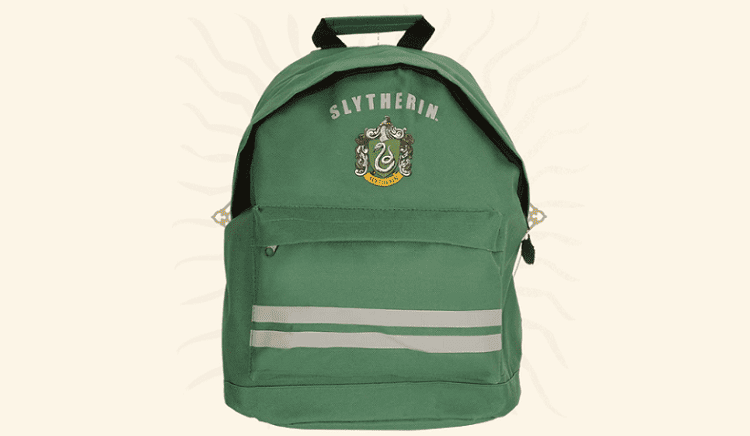 A secret graphic is always fun. The outside of this canvas pack boasts the house colors and a small crest with a contrasting set of double stripes. Cool, right?
Underneath the color-coordinated, padded nylon straps is an imposingly large Slytherin house graphic. Safe to say, Slytherin always has your back.
Character Backpacks
One of the beautiful things about Harry Potter is the friendships and families that are built along the way. A bag is traditionally a statement piece in any ensemble, and let's just say the bags found around Hogwarts live up to their purpose.
Harry Potter
Harry Potter Quidditch Seeker Bungee Backpack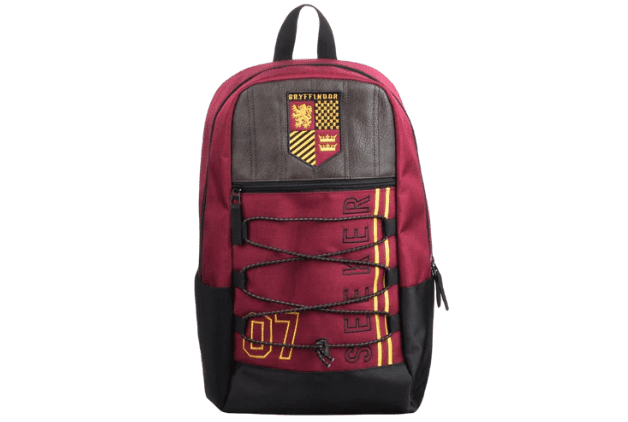 If you're anything like the titular character, you're a very busy individual. Whether you're taking extracurriculars outside the classroom, winning Quidditch games by snatching the Snitch out of the sky or saving the entire wizarding world from the Dark Lord, you've got things to do.
I hope you aren't tasked with the last one; if so, I'm so sorry. Hey, at least you have a backpack to help carry the burden.
A polyester bungee pack with a front zip and top zip pocket is a great place to put your troubles, and embroidered with Harry's name and Quidditch number, though you carry enormous weight, it is equally distributed and comfortable.
Ron Weasley
Ron Weasley #2 Faux Leather Mini Backpack Standard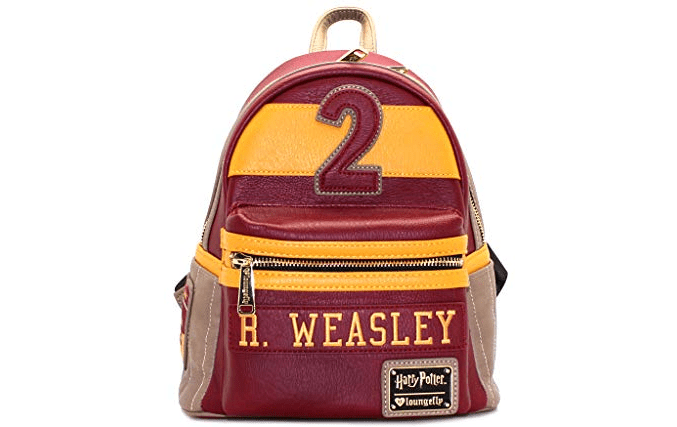 Not the most studious? Neither is Ron Weasley, but being the best friend of the Chosen One gives you more to think about than homework.
A mini backpack adorned with Ron's name and Quidditch number is the ideal piece for the sidekick and the unlikely hero. And hey, if you have red hair like Ron, everything matches. What a score.
Hermione Granger
Hermione Granger Bag Prop Replica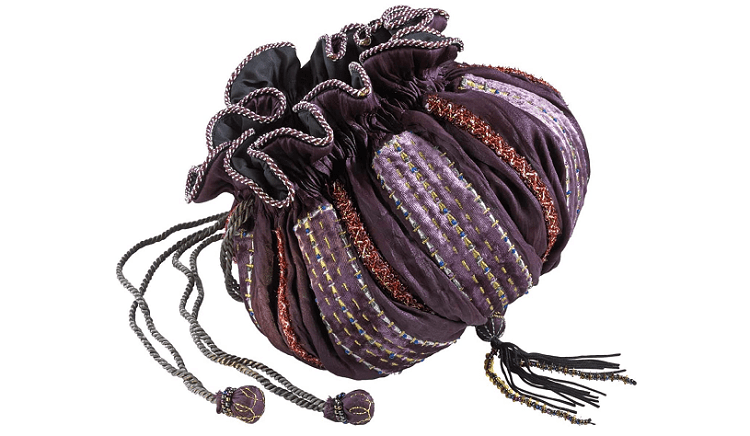 To the naked eye, this is not a backpack. However, Hermione Granger's bag has come to save the day more than once, so instead of a graphic pack, we've got the real magic here. For the best character "backpack" in regards to Hermione Granger, here it is.
Hedwig
Harry Potter Hedwig Backpack With Removable Fanny Pack
Harry's ride or die since he first set foot in Diagon Ally, Hedwig is a central character throughout the franchise and is universally beloved. Hedwig carried much of the story, so now the time has come for you to carry Hedwig.
This polyester backpack comes with a removable fanny pack made of the same material and allows for ample storage. A backpack is fun for all ages and is easily washable, a very important factor, as Hedwig is a snowy white owl.
Draco Malfoy 
Harry Potter Draco Malfoy Mini Backpack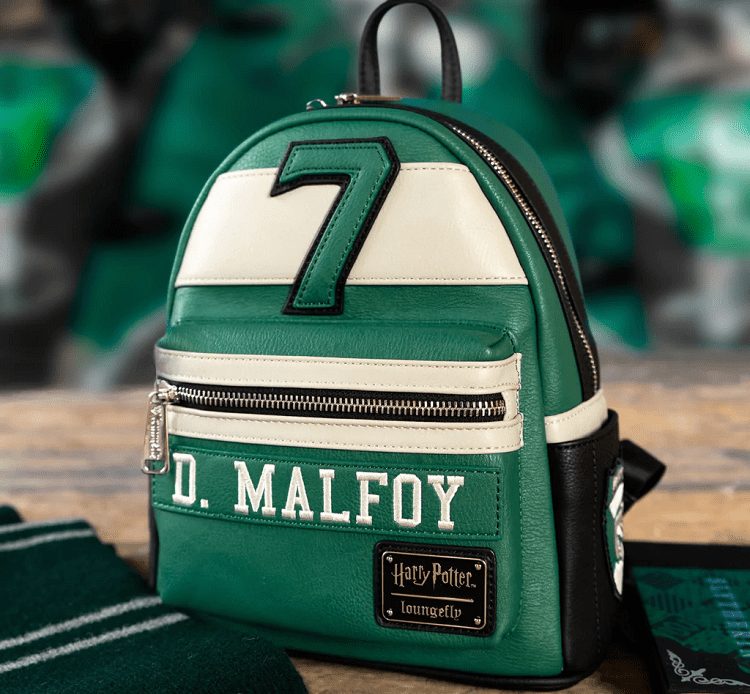 Resident bad boy and Voldemort's prodigy, Draco Malfoy, made it onto the Slytherin Quidditch team thanks to his father's money. Subsequently, we now have a vegan leather mini backpack with his name and team number to flaunt that he and his expensive broom have come to play.
Extra side pouches and exterior pockets can zip for privacy and storage. By bearing the house colors, this bag is stylish and good to go.
Collaboration
Harry Potter + Vera Bradley
In the summer of 2020, Vera Bradley released their first Harry Potter collaboration with a Home to Hogwarts pattern.
The release was more than just backpacks; it was a bag-heavy line. April 2021 brought out the Herbology pattern; same idea, different pattern. Now there is the limited-time Forbidden Forest collection. Who knows what will come next?
Tech Backpacks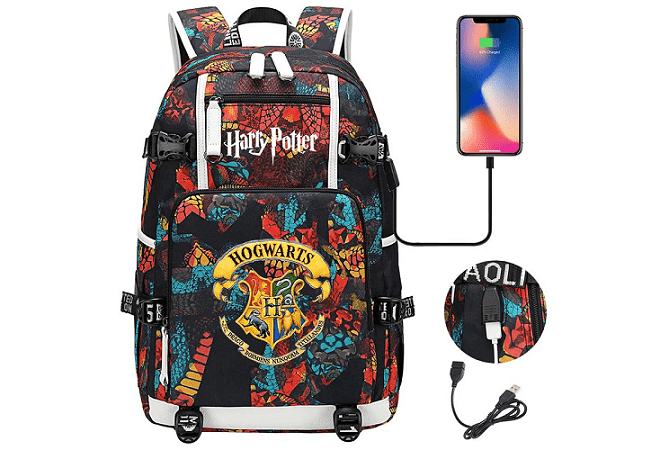 Hogwarts is a castle frozen in time, but fashion-wise, the wizards and witches are forward. Technologically? Already ages ahead.
For each house, there are travel backpacks equipped with charging ports, USB hookups, room for a laptop, and books. Made out of Oxford fabric with high durability and large capacity, bring everything you need wherever you've got to go and represent your house as you go.
Uncategorized Awesomeness 
Harry Potter Daily Prophet Mini Backpack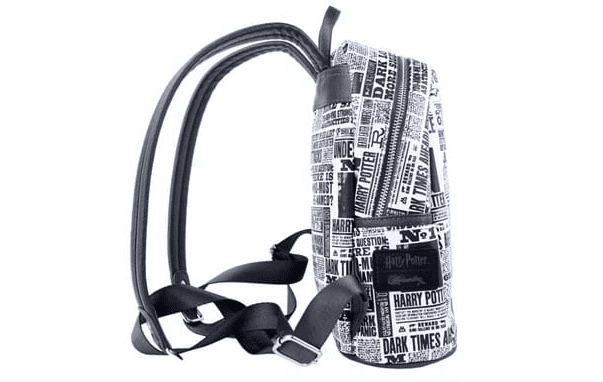 Rita Skeeter will not have the last word when you're seen with this polyurethane mini backpack. All over print of the Daily Prophet outdoes her work tenfold, and now you're sporting it wherever you go.
Some of the most notable headlines from the movies and books are visible from further away, and upon close inspection, there's a story everywhere. Two zippered pockets and adjustable straps give the youngest magical writers a place for everything.
Loungefly Marauder's Map Backpack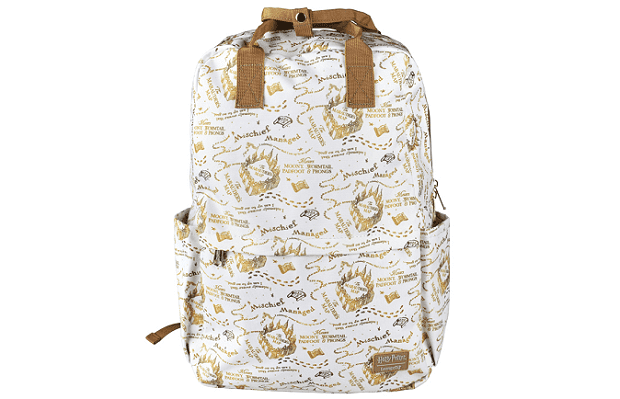 Ah, the third installment of the series, where we learned of Padfoot, Prongs, Wormtail, and Moony.
Nylon makes up the entirety of the lightweight gold-toned backpack that displays the Marauder's Map, giving young witches and wizards access to every avenue of the castle and a heads up to who may be around every corner. Keep it close; we don't want Filch to confiscate it again, do we?
Hogwarts Alumni Backpack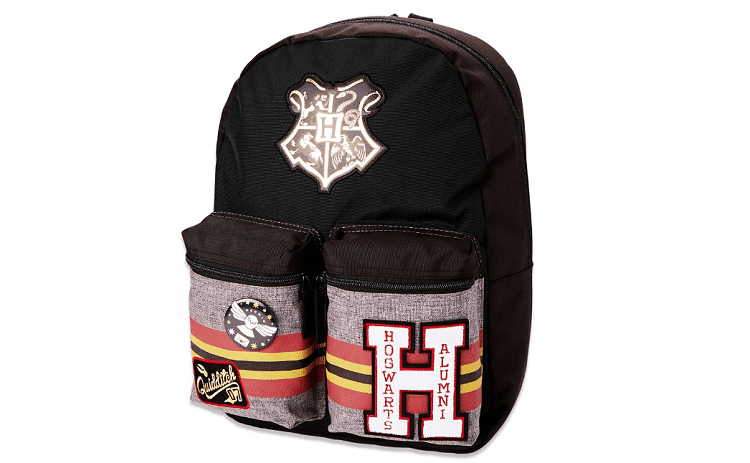 Well, you did it. You made it through seven years of four-poster beds, feasts in the Great Hall, ghosts, trolls, and endless scrolls of homework. Perhaps you played Quidditch, took a liking to a particular class, and now your time at Hogwarts has finished.
One last ride on the Hogwarts Express at Platform 9 3/4 home. A reminder of all your hard work and to send you into the working world, you've got a polyester, travel-ready backpack.
Adjustable straps are padded for the weight of your future, and the zipper closure is a metaphor for your time at Hogwarts drawing to a close.
You did it. You made it.
Mischief Managed. 
Frequently Asked Questions
Question: Where Can I Find Licensed Merchandise?
Answer: Nothing says "I didn't do my homework" like a backpack with "Hoppy Pooper" written across the back.
Universal Studios Wizarding World of Harry Potter and and the Harry Potter Shop at Platform 9 3/4 and Harry Potter pop-up shops have brick and mortar locations as well as online presences. Outside of that, you have your big box store heavy-hitters.
Target and Walmart have in-store deals, but your best bet is online. The same can be said with Spencer's and Vans. Tried, true, and trusted: Amazon is also a go-to.
Now for the wave of the wand to give you the real inside scoop: Loungefly and Bioworld. Loungefly is a licensed pop culture apparel and accessories store owned by Funko LLC since 2017.
It displays the company name and logo alongside the name of the franchise in question, as seen in the lower right-hand corner.  Bioworld is "The Pop-Culture Product Experts" with online, retail, and wholesale marketing.
Question: A lot of Product Comes from the United Kingdom. Is Delivery Available Where I Live?
Answer: Licensed stores are excellent about working with you and where you live to get you what you want as soon as they can.
For instance, the Wizarding World website gives a detailed breakdown of where products can be shipped and an accurate listing of country-to-country tax and duty payments.
I will say, as far as I've seen across the boards (and I've seen a lot, my friends), things like Butterbeer and other perishable goods are not shipped out. Be sure to check what's available where you live, and of course, enjoy!   
Question: How do I Decide Between Messenger Bags or Backpacks?
Answer: In the movies, the messenger bag is used more frequently to add to the rustic, weathered look. However, in my experience, a backpack is the way to go. Providing even weight distribution, generally more pockets, and made from materials easier to keep clean that last longer.
Question: Which is Better, the Books or the Movies?
Answer: Don't be that person. Read, watch, and you tell me.
Final Thoughts
Let's circle back around to my favorite, the Deathly Hallows Backpack.
Out of all the options, this is my favorite because of the sheer simplicity of the design, storage capacity, and the durability.
Polyurethane is incredibly versatile, and I know that as someone who uses a backpack every single day, in both work and academic settings, the ability for a lasting product is key.
Black with silver-tone accents and the subtly placed Deathly Hallows gives the impression of an average backpack from far away.
Unless you look at my bag, you don't know what I'm holding, much like each of the pieces of the Deathly Hallows.
Before I dive into the Elder Wand, Invisibility Cloak, and Resurrection Stone, let's just say that the dichotomy between books and backpack isn't lost on me. And black goes with everything.
Continue reading:
Best Harry Potter Merch Guide: 130+ Items!
Best Harry Potter Inspired Glasses
The Most Amazing Harry Potter Shirt Ideas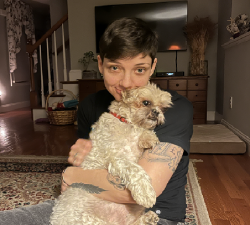 Latest posts by Sarah Weisberg
(see all)