With a red, white, and blue costume studded with stars and stripes, Captain America is one of the most recognizable superheroes. But with his popularity, there's a wealth of merchandise, and for that, you'll need a guide to find the best options.
In this guide, I'll tell you how to find the highest-quality, officially licensed Captain America merchandise. From hoodies to legos to costumes, jackets, and even performance gear, I'll share my tips and my top picks for every Captain America fan. This guide will provide plenty of gift ideas and ways to elevate your fandom for this iconic superhero. 
Bottom Line Up Front Summary:  If I had to select just one officially licensed Captain America merchandise item, it would be this Captain America Framed Wall Art. It captures the classic comic-book style with a retro touch. The minimalist frame is versatile and lightweight. This looks great in a bedroom or hallway. 
My Top Picks
Captain America Merchandise Fun Facts 
Captain America has a long history– and so do his lines of merchandise. The Marvel brand is worth $4 billion, and while Captain America is just a portion of that, he's still a notable figure.
Rarest Captain America Merchandise 
The rarest Captain America merchandise may come as a surprise. The unassuming 2019 figurine from the Avengers Legends series features Steve, sans mask, yielding a shield. It's supposed to represent him during Avengers: Endgame. While only worth $100, you'd be hard-pressed to find this figure anywhere but eBay.
Coolest Captain America Merchandise Collab
Limited edition collaborations are common in the Marvel universe, but one Captain America collab, in particular, stands out. The 80th anniversary Capital watch and pin set were launched at the end of 2021. The watch featured an iconic Captain Marvel design and used Eco-Drive technology.
Captain America Merchandise Controversies
While Captain America has stayed fairly clean, Marvel characters and merchandise aren't without their pressing issues. In September 2021, Disney sued to retain the rights to all Marvel characters. This was in response to copyright termination issued by illustrators for several Marvel characters. It's something that all Marvel fans should watch, as it could shape where and how Marvel characters and merchandise appear– as well as consequences for feature films.
Where to Buy Captain America Merch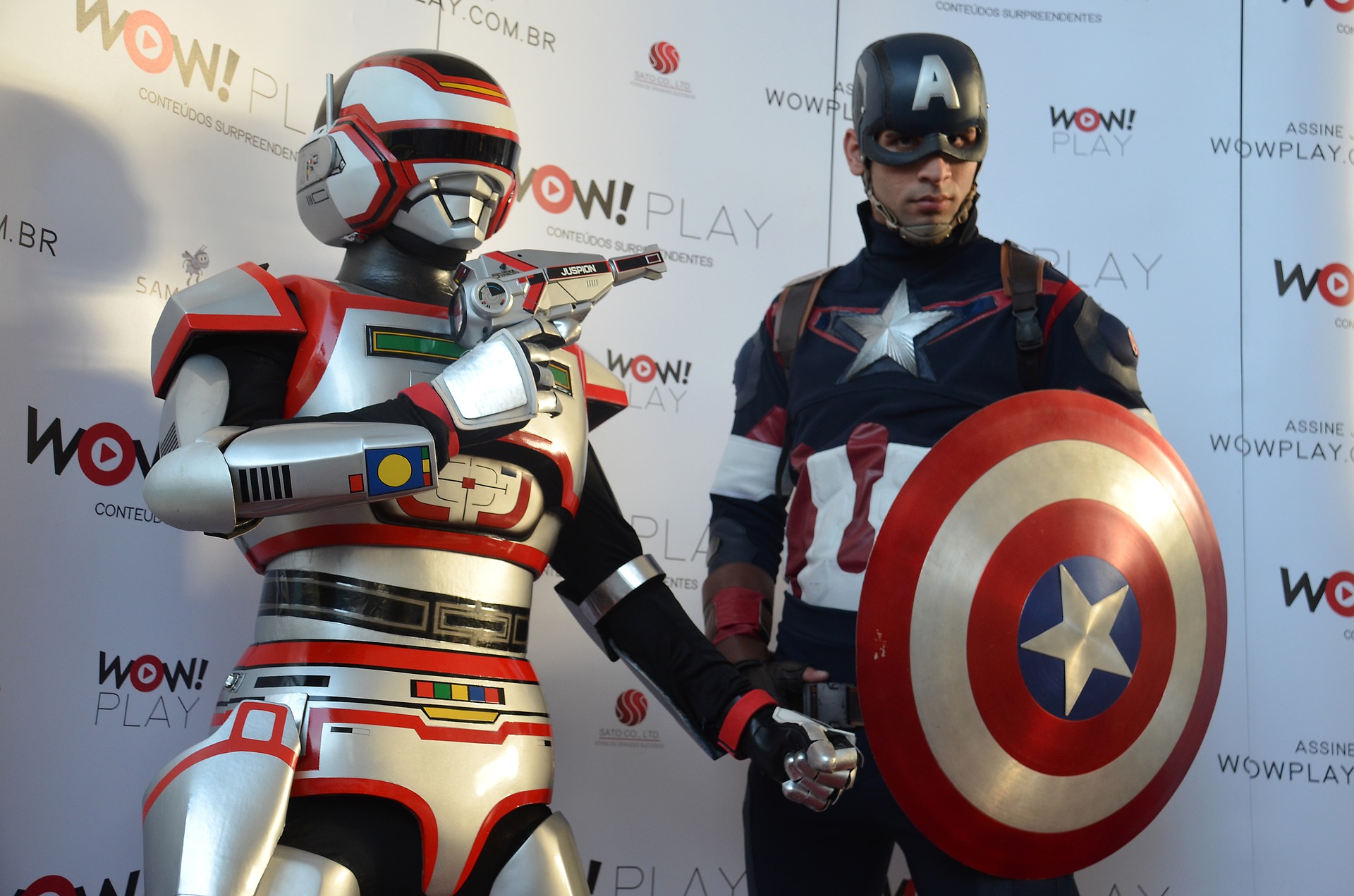 Captain America merchandise can be bought from many stores. You have a chain and department stores, such as Kohl's, Kmart, H&M, Old Navy, and even some items for babies and kids at The Gap. Many snags deals on unofficial Captain America merch from Red Bubble, while others head to Etsy for unique handmade clothing. Walmart, Amazon, and Target all have merchandise lines with a great deal of variety. 
But a few collections stand out for consistent quality and official merchandise lines. These places are also places that offer some in-store and online shopping. My favorite places to shop also have fair return and refund policies, so you can feel more confident about your next Captain America merchandise purchase. 
Find more Captain America original merchandise by reading these guides below:
Avenger's Assemble: The Best Captain America Backpacks for All Ages
Captain America Merchandise from the Disney Store
The official Disney Store, to no surprise, has an impressive collection of officially licensed Captain America merchandise. At the Disney Store, you'll find action figures, plush toys, costumes, accessories, apparel, and even a little home decor. This collection draws inspiration from live-action films mostly, but also comics. I appreciate that it includes both young and adult fans. It's a well-rounded collection, without being overwhelming. Shop Captain America Merchandise on the Disney Store Here. 
Captain America Merchandise from Hot Topic 
Teen and adult fans of Captain America have a lot to look forward to at Hot Topic. I tend to appreciate traditional comics, and this collection delivers. It's one of the most unique merchandise collections, with classic graphic tees but also ties, collectible figurines, wallets, belts, and rugs. This collection plays into vintage and traditional Captain America while remaining versatile and relevant. Shop Captain America Merchandise from Hot Topic Here. 
Captain America Merchandise From Target
My favorite place to shop for a large collection of Captain America merchandise is Target. By that I mean that there are so many options it's hard to come away without finding something. Apparel, books, home goods, decor, and more can be found at Target. Target's biggest strength lies in its collection of Captain America toys and figurines. The downside is it can be a little overwhelming if you don't know what you're looking for. Still, the sheer volume of official Captain America merchandise and fairly consistent pricing is to be applauded. Shop Captain America Merchandise at Target Here. 
Captain America Merch: My Top Recommendations
While there's a wide selection of Captain America merchandise, I'm recommending some of the best products for everyone from toddlers to adults. These products had to meet my criteria. My selections are officially licensed merchandise. They are creative or versatile, include details that set them apart from other products, are and being sold for a price that matches the quality. I also am only recommending Captain America merchandise that is being sold from reputable websites. These websites or stores offer secure payment processing and have clear guidelines for returns and exchanges. 
Captain America Everyday Apparel
From graphic tees to zipper hoodies and even shirts with a cape, Captain America fans can show off their love for the superhero any day of the week. My selections include options for men, women, kids, and even toddlers. Whether you're after a dress shirt or a maternity shirt, these apparel items were all selected with design and quality construction in mind. '
Marvel Captain America Classic Hoodie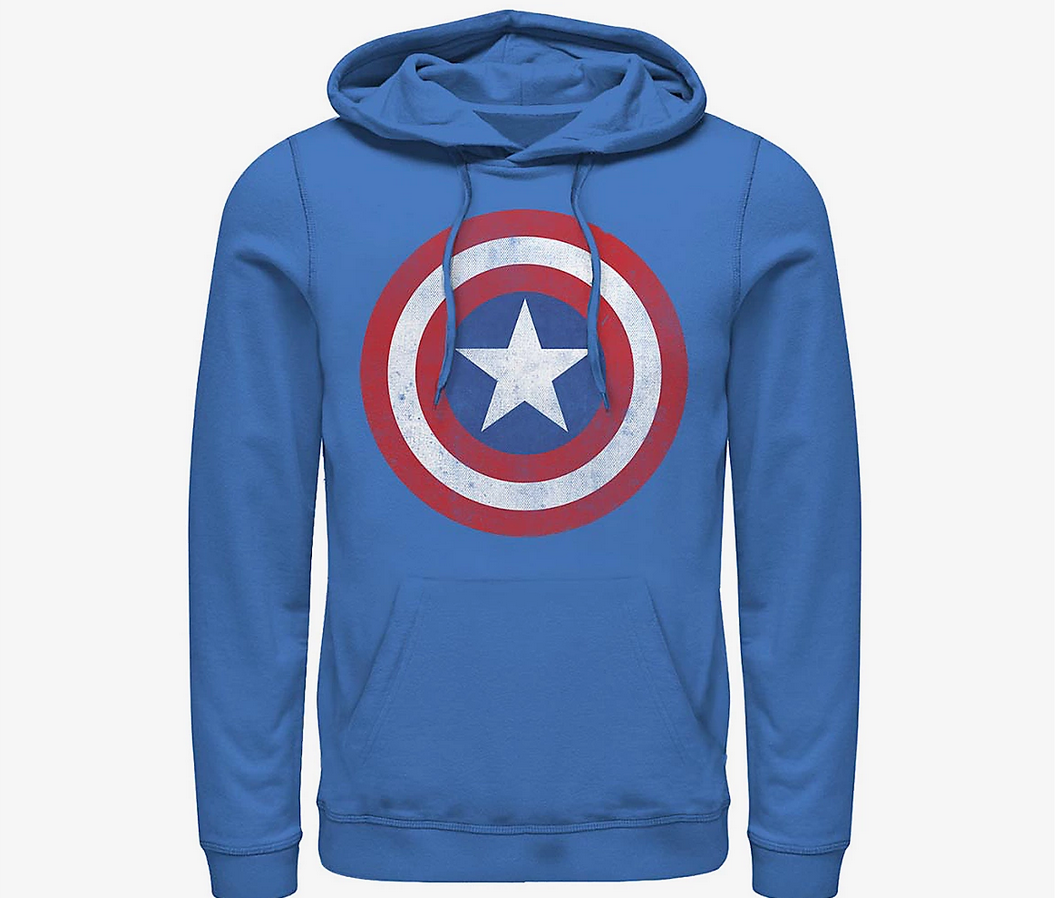 The soft Captain America hoodie is an instant classic. The blend of 50 percent cotton and 50 percent polyester makes it cozy, durable, and lightweight. There's an adjustable hood and ribbing on the cuffs and hem. The blue hue and Captain America symbol hit the mark for paying ode to Captain America. This hoodie is available in standard sizes Small through 3XL. Buy Here. 
Pros
Ribbed Cuffs and Hem

Adjustable Drawstring

Comfy Material
Cons
Could Shrink Some

May Run Large on Smaller Frames 
Marvel Captain America Captain 'Merica Crew Sweatshirt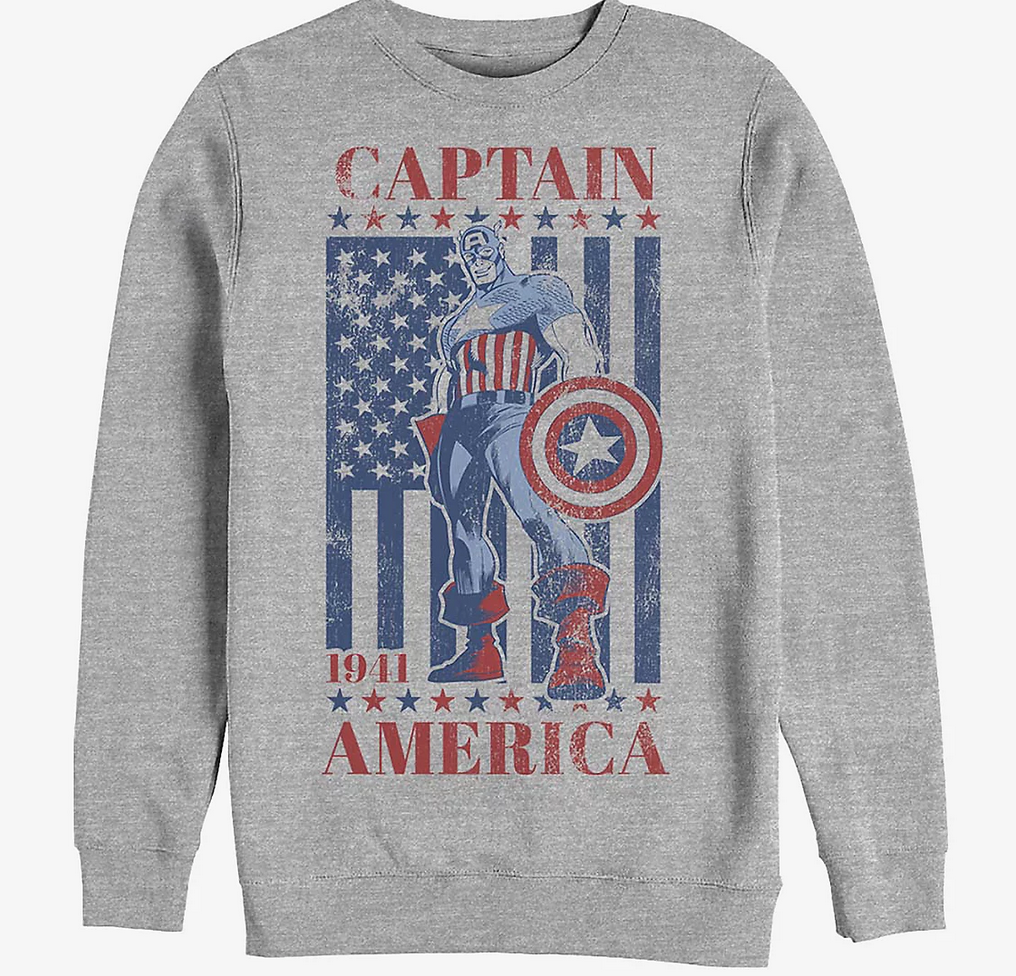 Show off your Captain America fandom with this classic crew sweatshirt. Like my previous pick, this officially licensed sweatshirt is an instant classic. A soft cotton and polyester sweatshirt is decorated with a comic-book-inspired print. This captures Captain America at his best, yielding his shield and ready to take on any enemies. It's available in sizes Small through 3XL. Buy Here. 
Pros
Comic Art Print

Soft Cotton and Polyester Blend

Classic Fit 
Cons
Pull-Over Only 

Only in Gray 
Kids' Marvel Captain America Short Sleeve T-Shirt – Denim Heather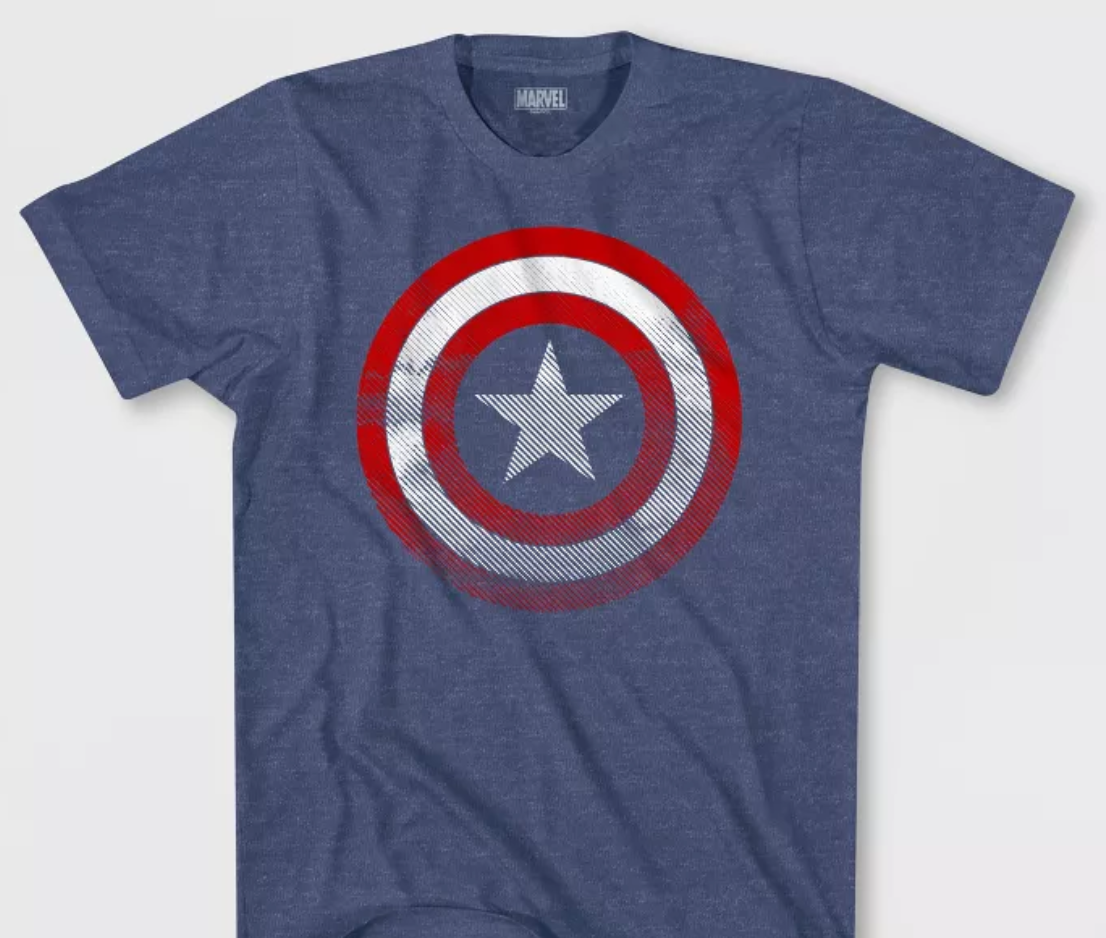 Kids will feel like a superhero with this comfortable and affordable t-shirt is made out of a blend of 50 percent cotton and 50 percent polyester. It's lightweight and can be worn alone or layered. The machine-washable Captain America tee is your best value for kids. Buy Here. 
Pros
Lightweight

Wear Alone or Layer

Budget-Friendly 
Cons
Tumble Dry Alone

Can Shrink
Toddler Boys' Disney Marvel Avengers 3pk Short Sleeve T-Shirts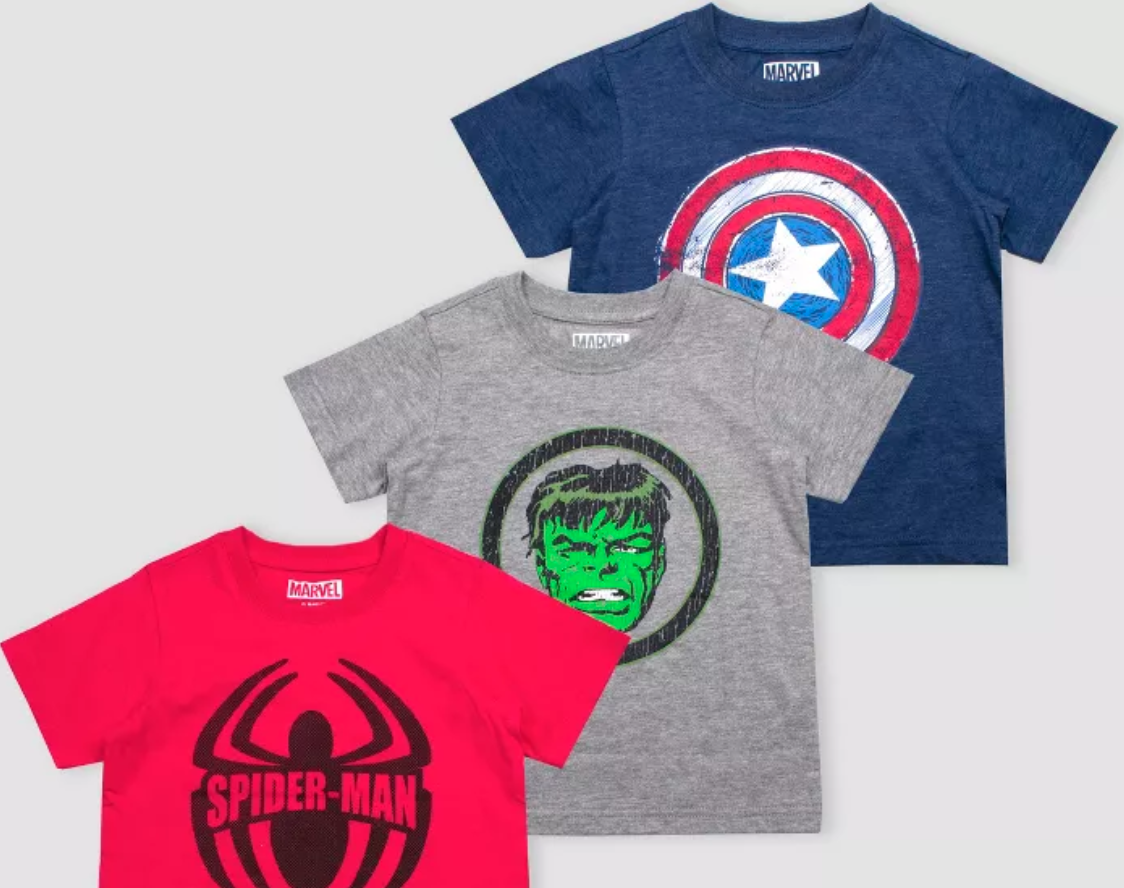 Young fans can celebrate Captain America, Spider-man, and the Hulk.  This value pack of official tee-shirts for Toddlers is sold through Target and is ideal for everyday wear and play. The t-shirts are 60 percent polyester and 40 percent cotton for lightweight, breathable comfort. Buy Here. 
Pros
3 Pack of Marvel Characters

Lightweight and Comfy 

Classic Fit 
Cons
Not Just Captain America

Tumble-Dry Only 
Captain America Performance Apparel
What better way to motivate your next workout than with Captain America performance shirts? From running shirts to even Captain America rugby shirts, you can feel like a superhero at your next gym session. I've focused on features like the dry fit, fitted muscle shirts, and racer-backs/ tanks to keep you cool. 
Marvel Captain America Stained Glass Girls Tank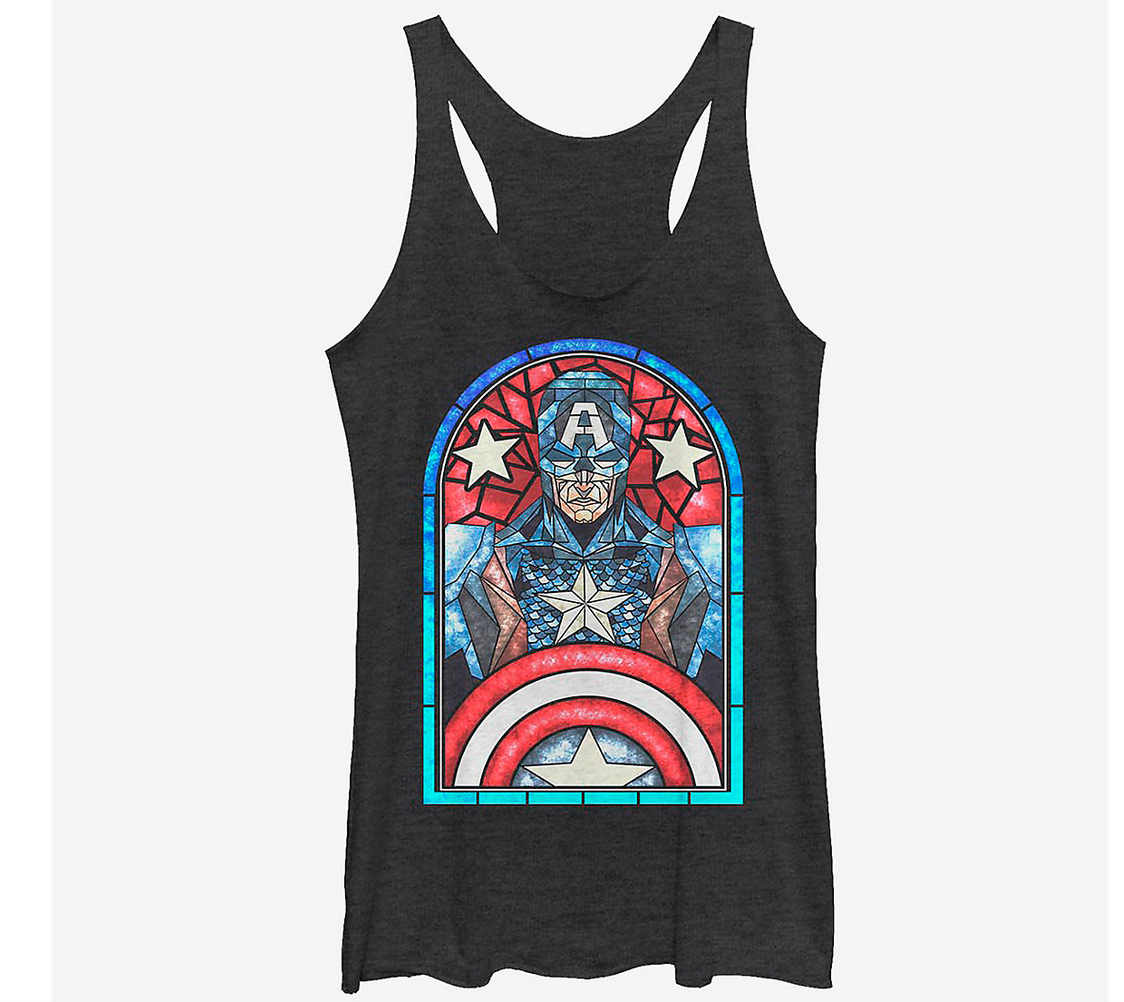 This tank top is great for summer or light activity. Designed with teens in mind, this unique racerback envisions Captain America in a stained glass design. The design is eye-catching and pops against the black backdrop. The tank is made with a blend of rayon, polyester, and cotton. Buy Here.
Pros
Unique Stained Glass Design 

Stylish Racer-back

Raw-Edge Hems
Cons
Only Junior's Sizes (X-Small through 2XL)

Rayon Doesn't Wear as Well 
Capelli Sports Youth Marvel Avengers Support Sleeve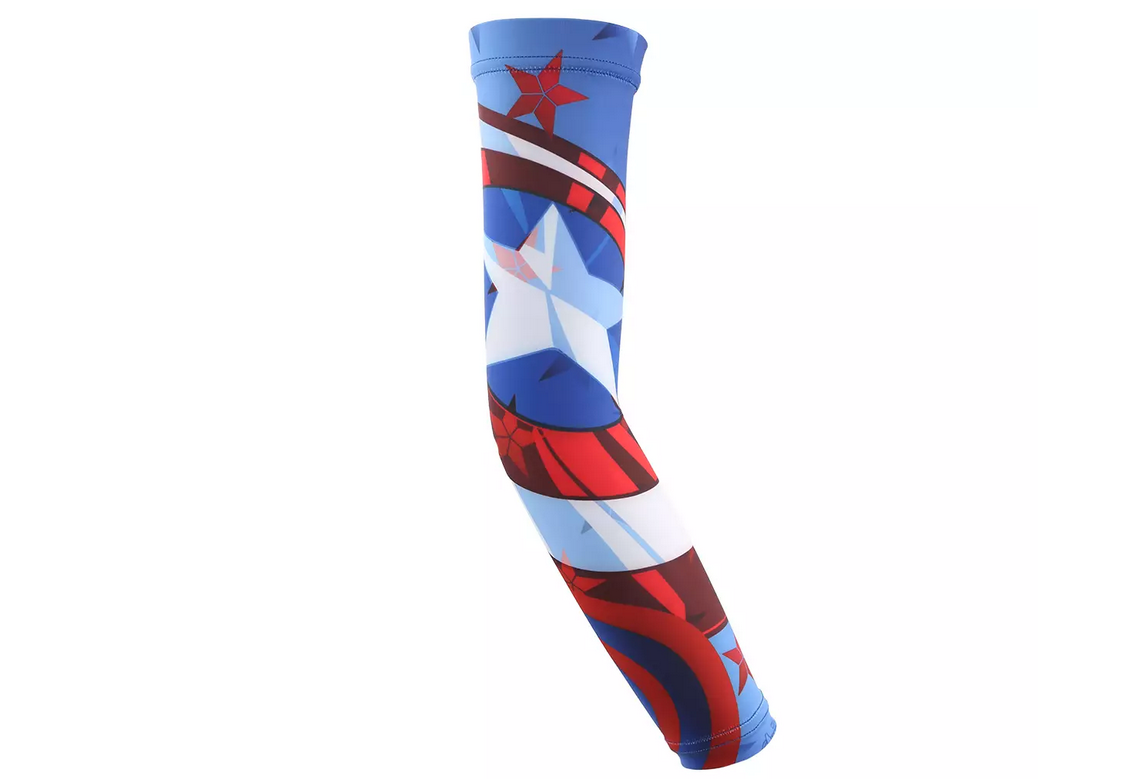 This support sleeve for kids features a Captain America design all over. It's built with Microban® Antimicrobial Technology, which protects against bacteria and odors. The supportive design provides compression to improve performance but stays breathable. The flat seams mean less chafing, even for sensitive skin. Buy Here. 
Pros
Flat Seams for Less Chafing

Microban® Antimicrobial Technology

Compression with Lightweight Fabric
Cons
Runs Small

Only Two Standard Sizes 
Captain America Men's Compression Shirt 3D Print T-Shirt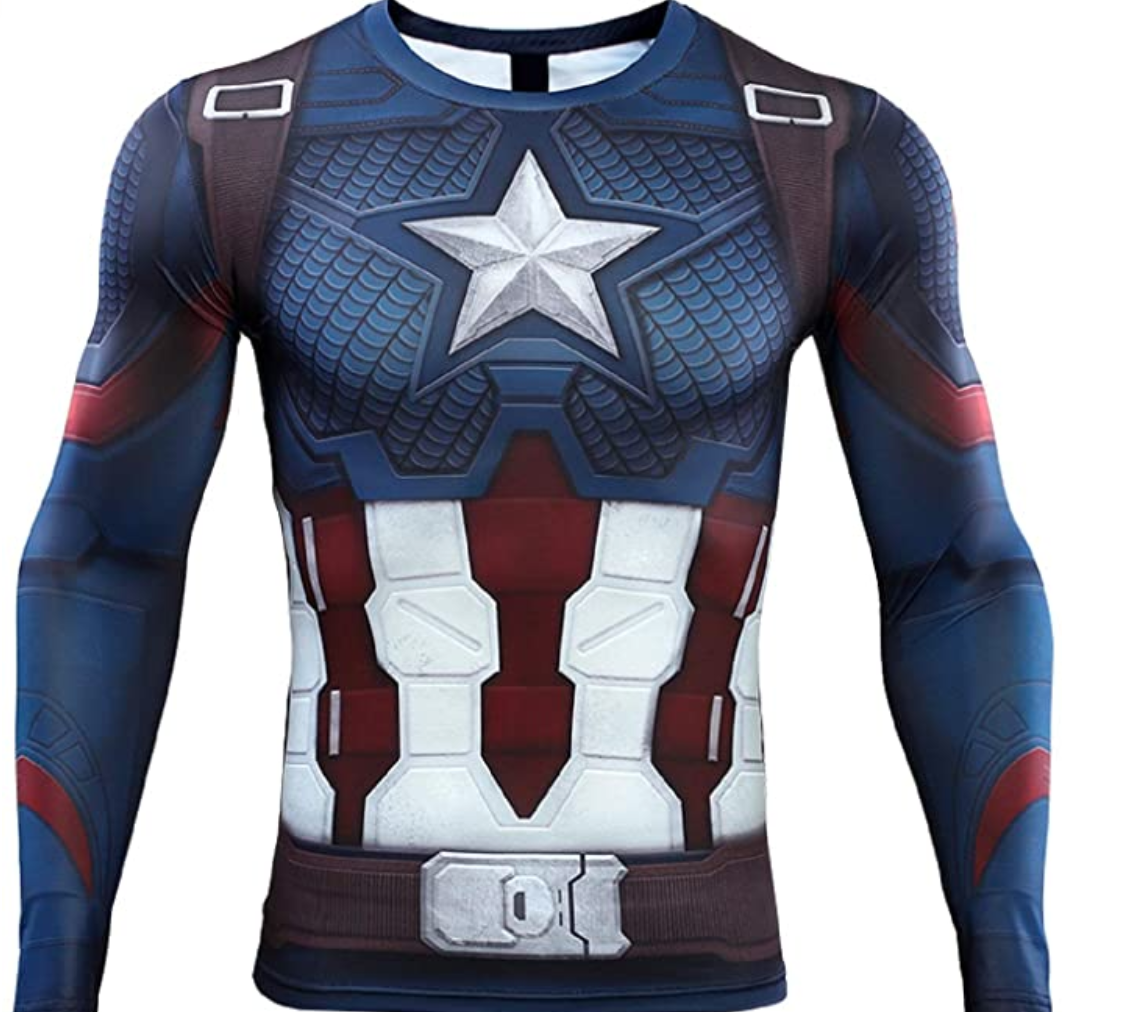 This 3D print compression shirt is a great alternative to Under Armour. Though Under Armor used to make Captain America performance and running shirts, that honor now goes to Cool Max. This long sleeve compression shirt is made with polyester and spandex for smooth, smooth fabric that moves with you. The design is eye-catching and the price is competitive. Buy Here. 
Pros
Excellent Design Details

Flexible Compression Fabric

Soft and Smooth 
Cons
Size Chart is Slightly Off (See Customer Reviews)

Not as Effective for Sweat-Wicking
Red Plume Men's Compression Sports Fitness Shirt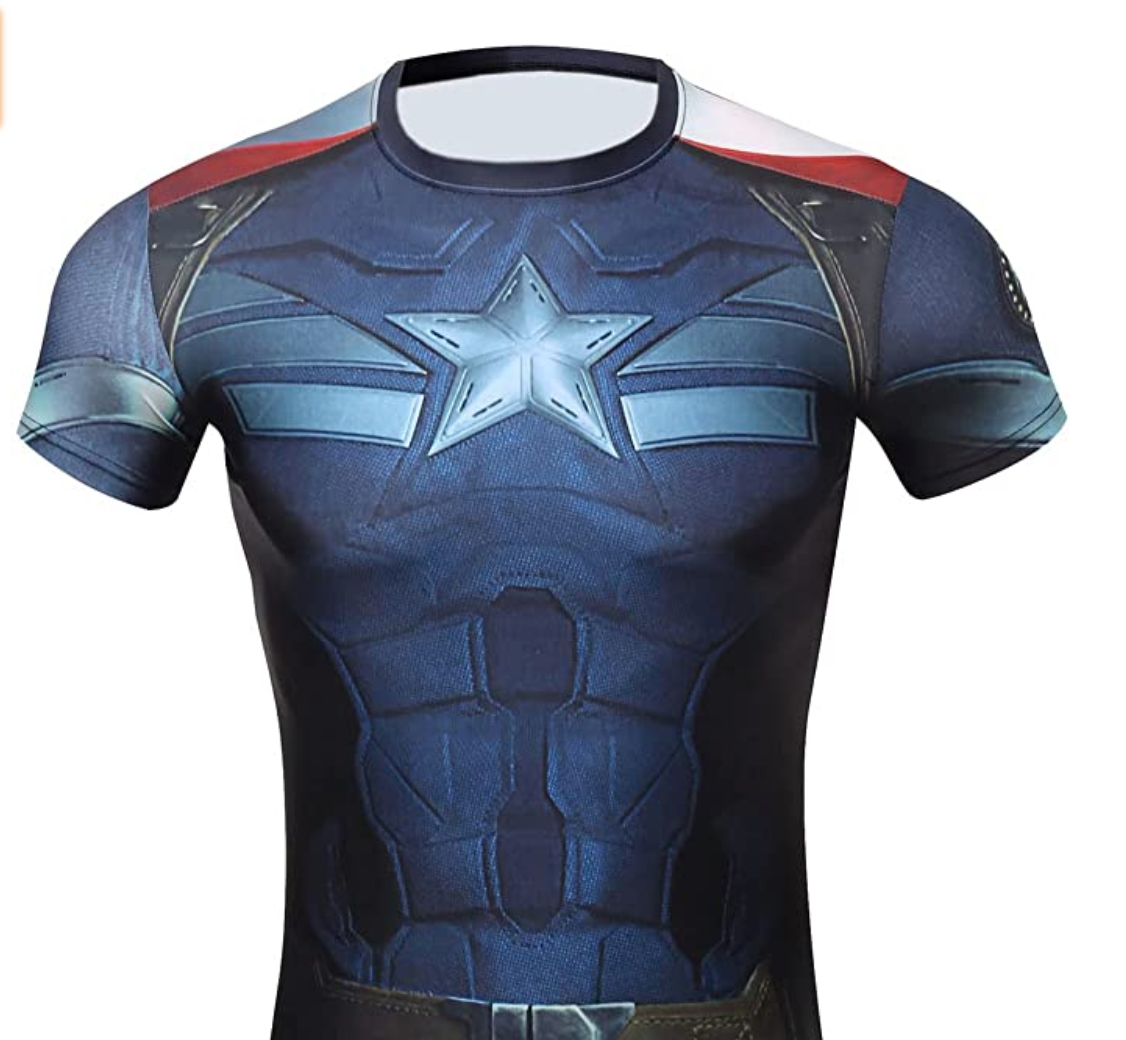 If you want a Captain America dry-fit shirt, this is an excellent choice. The performance shirt is made with polyester and recycled polyester fiber with lightweight construction and moisture-wicking for your most sweat-inducing workouts. Digital print technology provides a stylish and recognizable design. Buy Here. 
Pros
Moisture-Wicking Technology

Compression 

Digital Print Design
Cons
Runs Small/ Asian Sizes

Not as High Quality as Under Armour 
Captain America Books and Comics 
Books and comics are the way to go if you want to get to know Captain America. I take no issue with loving the films, but these books and comic books are my top way to become more immersed in the lore of the iconic superhero. 
The Courageous Captain America – (Little Golden Book)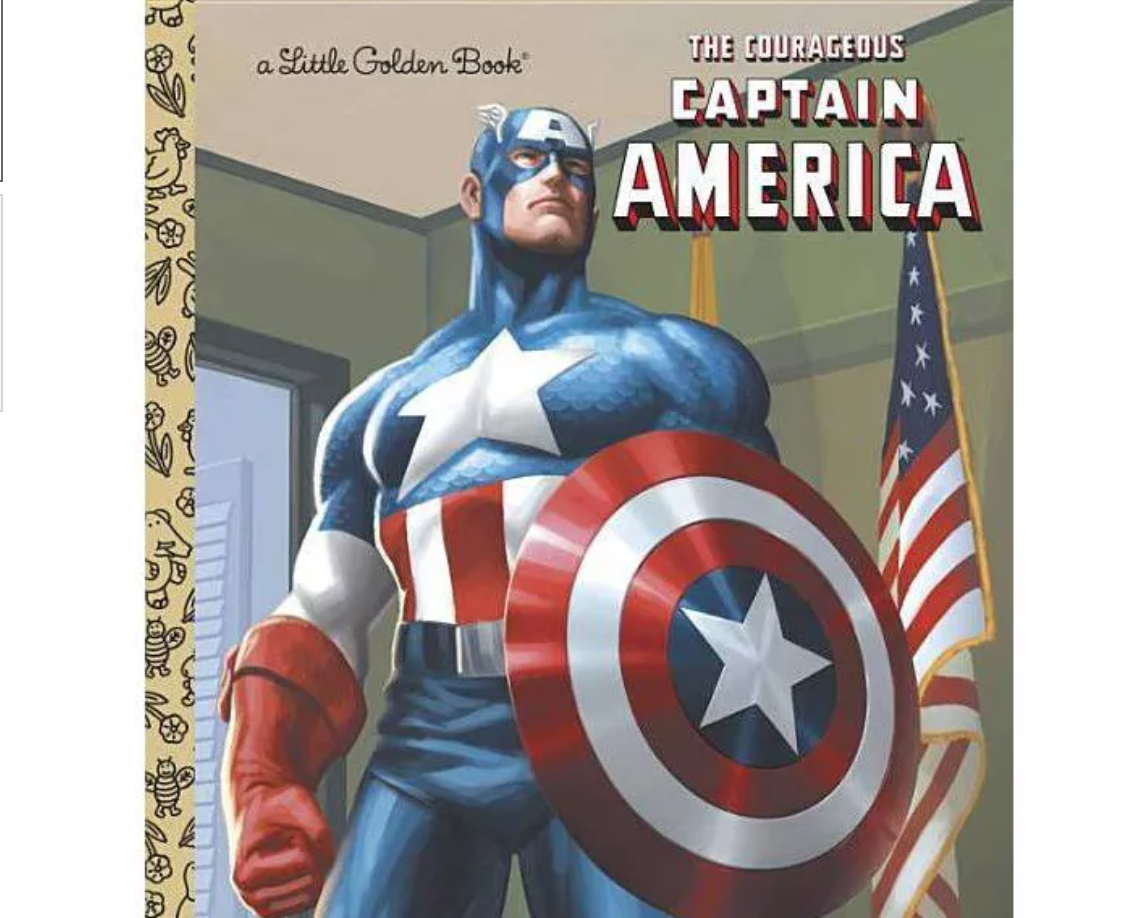 This Little Golden Book is a classic for young fans. The 24-page book is based on the original comics and is an easy read. It's a lightweight hardcover and a great introduction to Captain America. Buy Here. 
Pros
Hardcover

Great for Little Kids'

Based on Original Comics
Cons
Too Simple for Older Kids

Only 24 Pages
Marvel's Captain America: The First 80 Years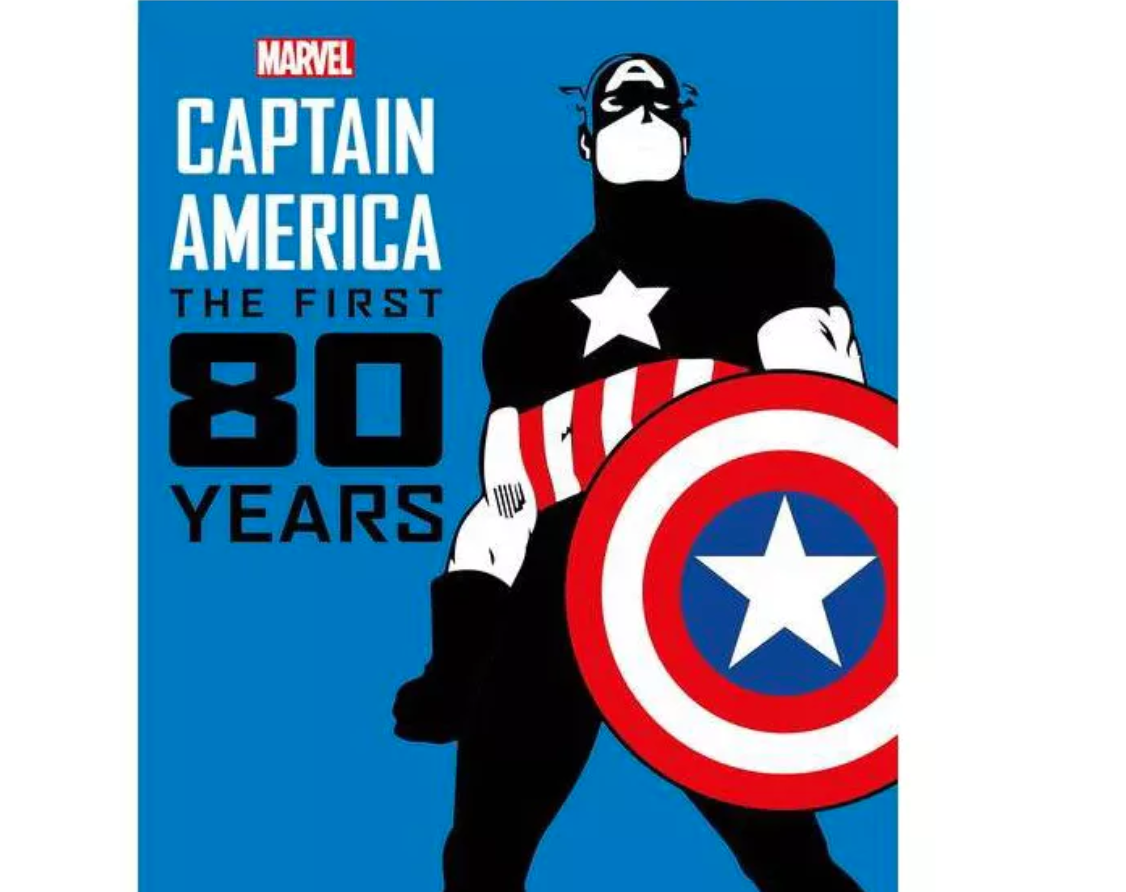 Celebrate over 8 decades of Captain America with this collector's book. The book is nearly 200 pages and covers milestones, covers, comic art, tidbits about artists and authors, and other features. This is a way to go deeper into the Captain America comics. Buy Here. 
Pros
Milestones, Covers, and Comic Art

Author and Illustrator Spotlights

Celebrates 8 Decades
Cons
Hardcover Only 

Doesn't Substitute for Comic Book Collection
Captain America by Ta-Nehisi Coates Vol. 1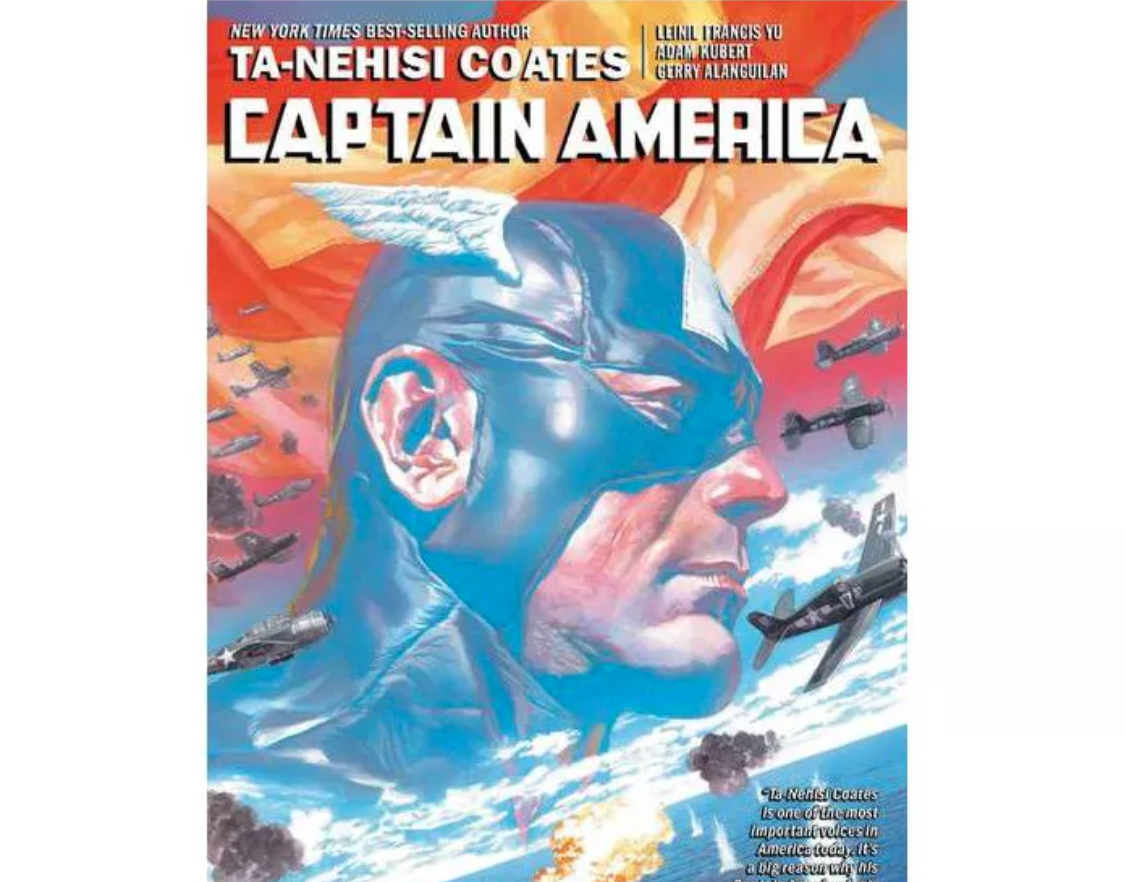 This graphic novel is by a New York Times Bestselling Author. The first volume was published in 2020 and features a nearly 300-page narrative. Captain America returns to find faith in the government broken and the country in despair. He must fight for the heart of the nation he loves, tackling formidable foes such as cyborgs, psychic vampires, and more. Disguises, corruption, and surprises make for an exciting adventure. Buy Here. 
Pros
New York Times Bestselling Author

Exciting Narrative 

Nearly 300 Pages
Cons
Too Challenging for Most Kids

Only in Hardcover 
Captain America Home Goods 
Backpacks, furniture, framed poster, rugs, and more: Captain America fans can make their superhero feel at home. These items can be used within the comfort of your home, whether you're reading Captain America comics or watching a live-action movie like End Game. 
Full Avengers Movers Comforter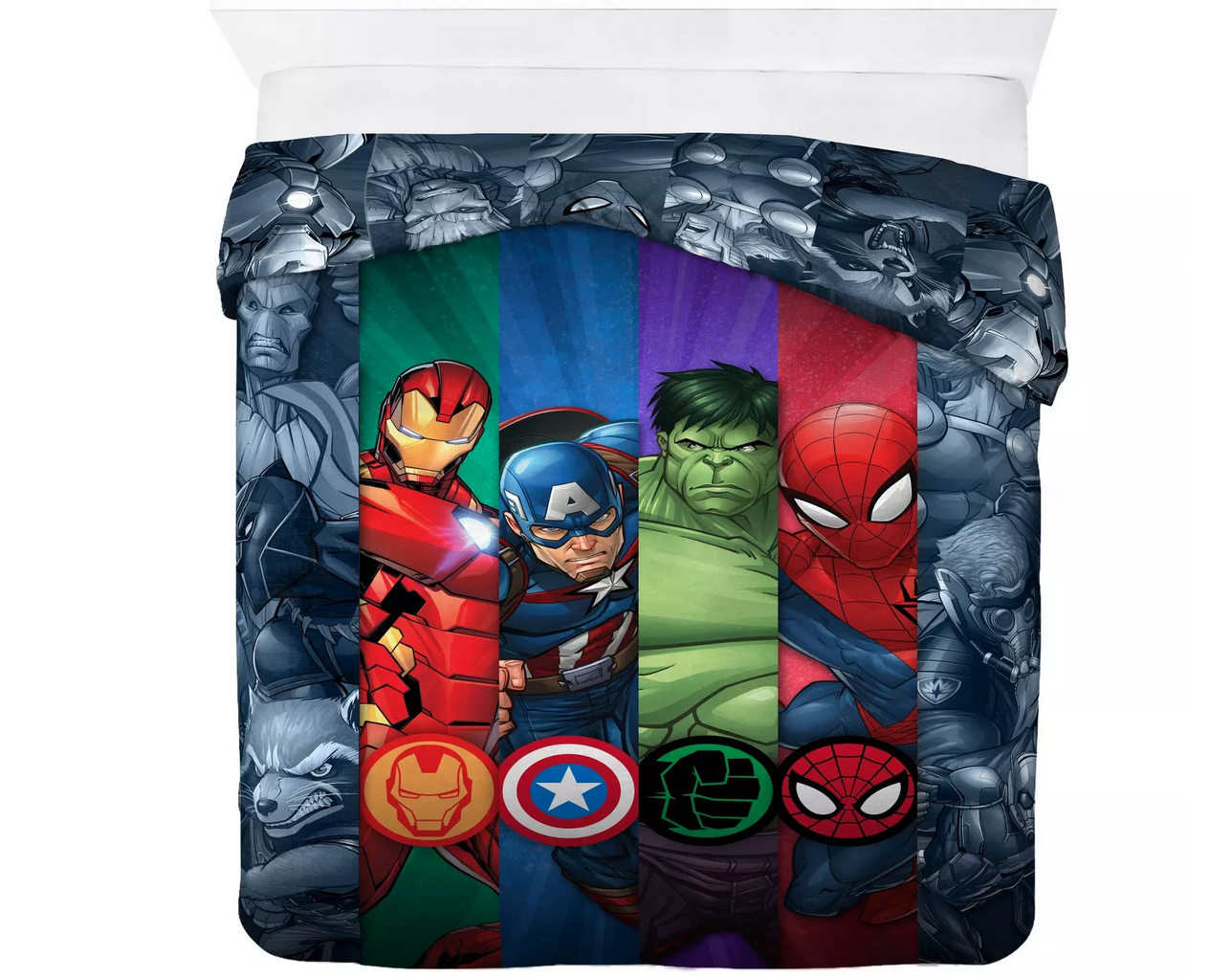 This cozy comforter features Captain America alongside Iron Man, Hulk, Spider-Man, Rocket, Thor, and Star-Lord. The polyester microfiber material is soft to the touch and machine-washable. I like that it's lightweight but warm. The designs and spectacular and the quality is consistent. Buy Here. 
Pros
Comfy Microfiber

Features Many Marvel Characters

Easy Care 
Cons
Only One Size (Full) Available

Not Solely Captain America 
Licensed Marvel Comics Captain America Retro Framed Wall, Art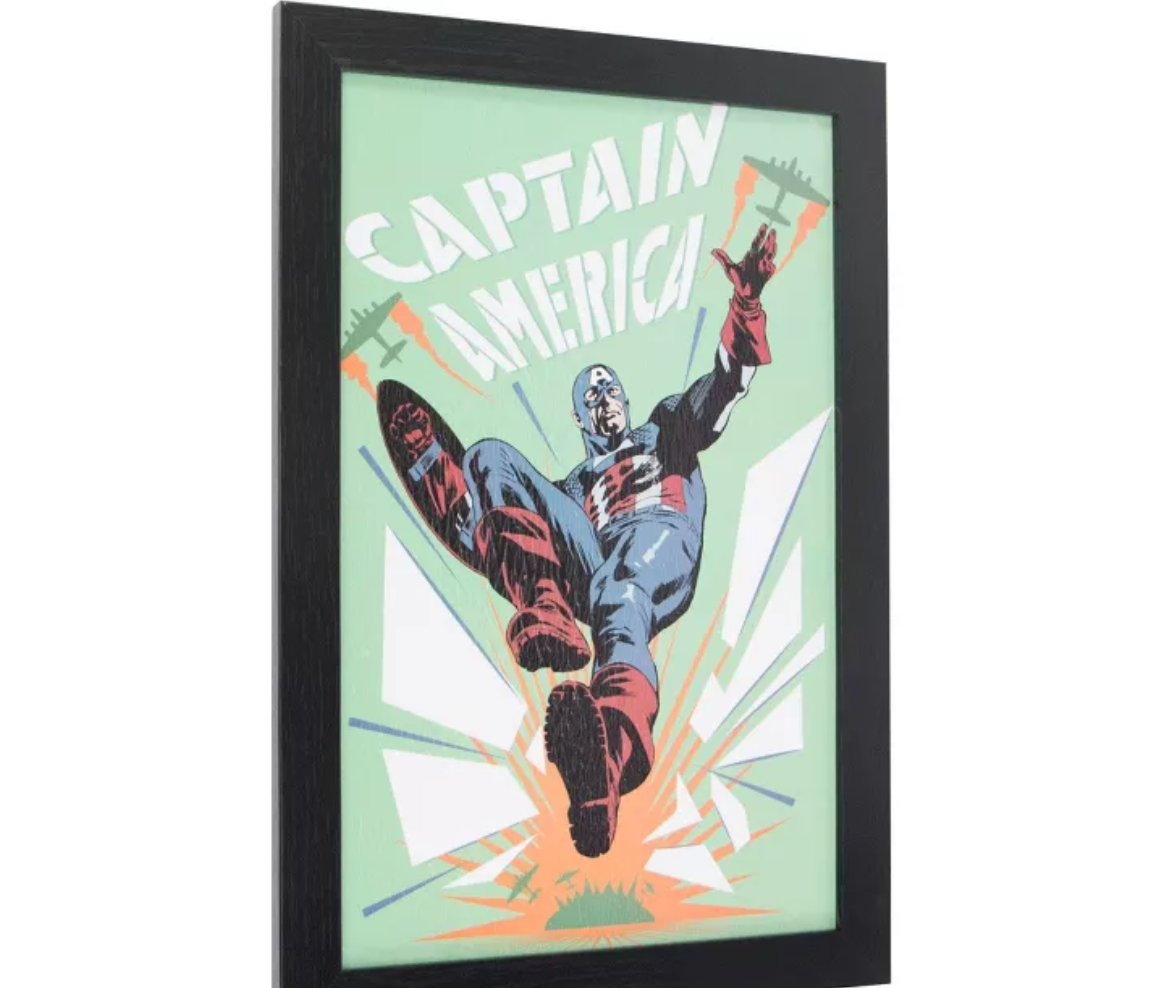 This is your best value for licensed wall art. The wall art is made with medium-density fiberboard and comes framed. Captain America is featured with classic comic art, set against a print with vintage details. The vertical frame is lightweight and collectible with textured print. Buy Here. 
Pros
Classic Comic Art

Textured Print

Comes Framed
Cons
Only One Size

Only Comes with Black Frame 
Gertmenian: Marvel Captain America Shield Rug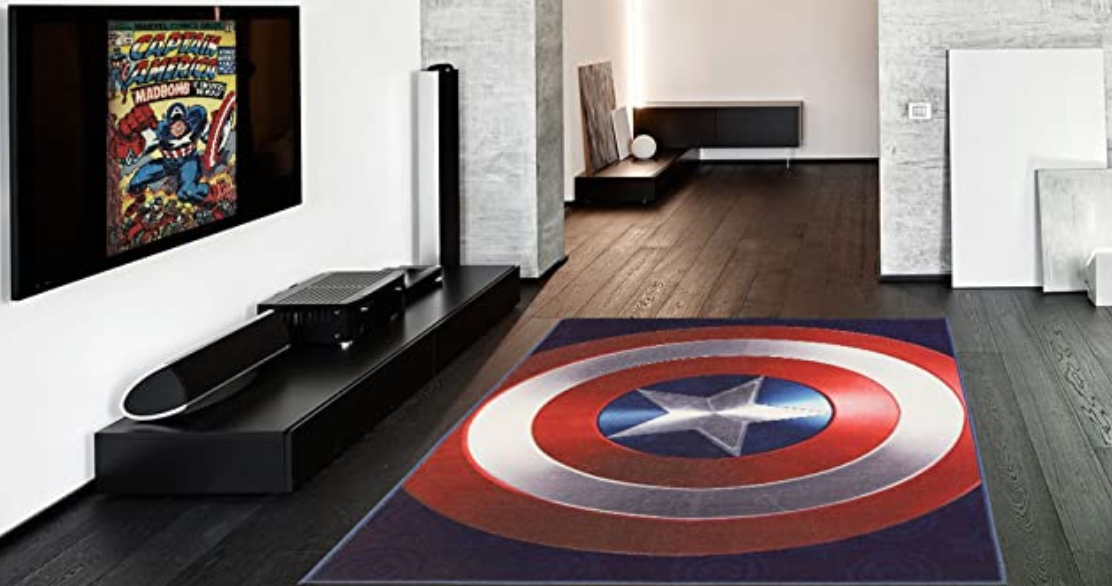 This certainly isn't the only Captain America rug. But in my opinion, it is the best one. You can find cheaper rugs that aren't officially licensed and may be made more cheaply. Hot Topic sells a licensed rug, but it's more expensive and doesn't provide many details. This officially licensed rug is an Amazon Choice product and measures 54 by 78 inches. It can easily be spot-cleaned or vacuumed. It's made with rayon for a soft touch. Buy Here. 
Pros
Easy Spot Clean or Vacuum

Amazon Choice Product

Great Value 
Cons
Rayon May Need Replacing After 3 Years

Can Absorb Stains 
Captain America Toys
Lego sets and action figures: those are the main options for Captain America fans. My picks include high-quality toys, sets, and more to make more hours of fun. 
NERF Marvel Avengers Strike Captain America Strike-shot Shield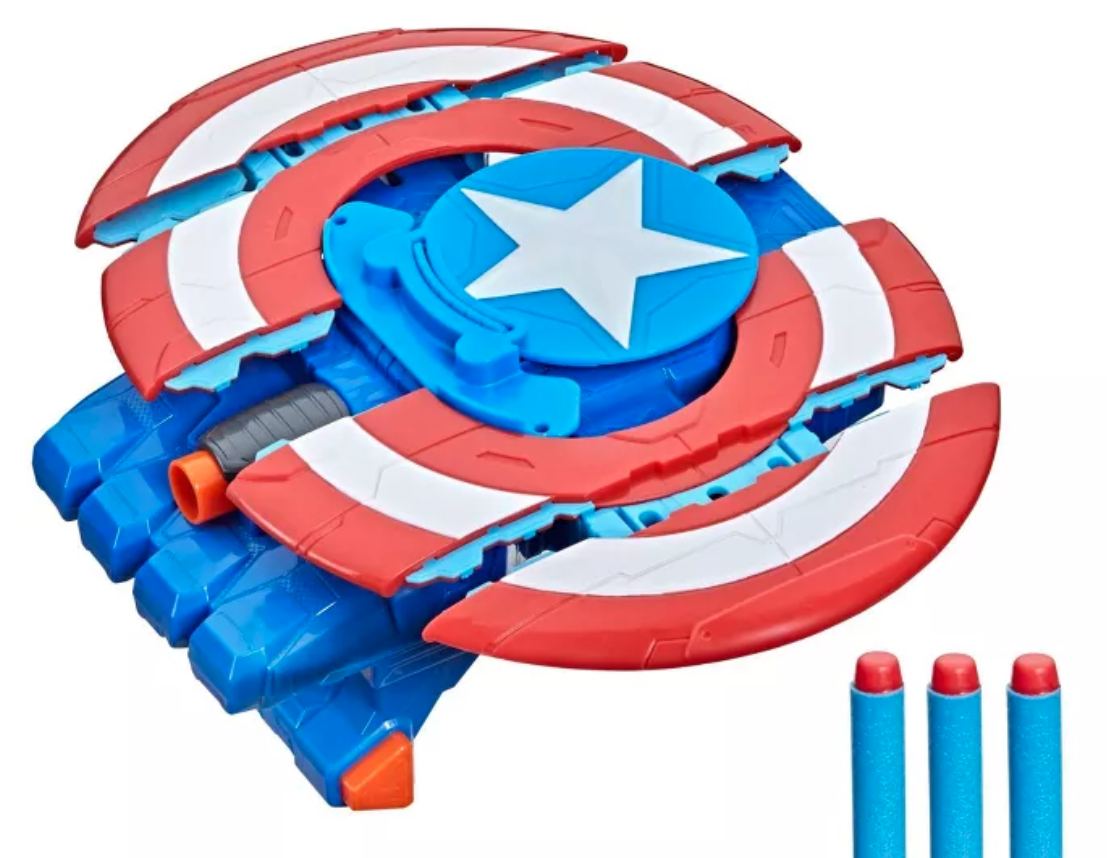 I've always loved NERF products, but this would top my list for Captain America toys either way. The strikes shield comes with nerf projectiles and expands as blasts with ease. It's hard to beat the classic fun and the design of this toy. Buy Here. 
Pros
Nerf Projectile and Blaster

Expands

Captain America Design
Cons
Only Comes with a Few Projectiles

Doesn't Include Extra Storage for Loading 
Marvel Avengers Titan Hero Series Blast Gear Captain America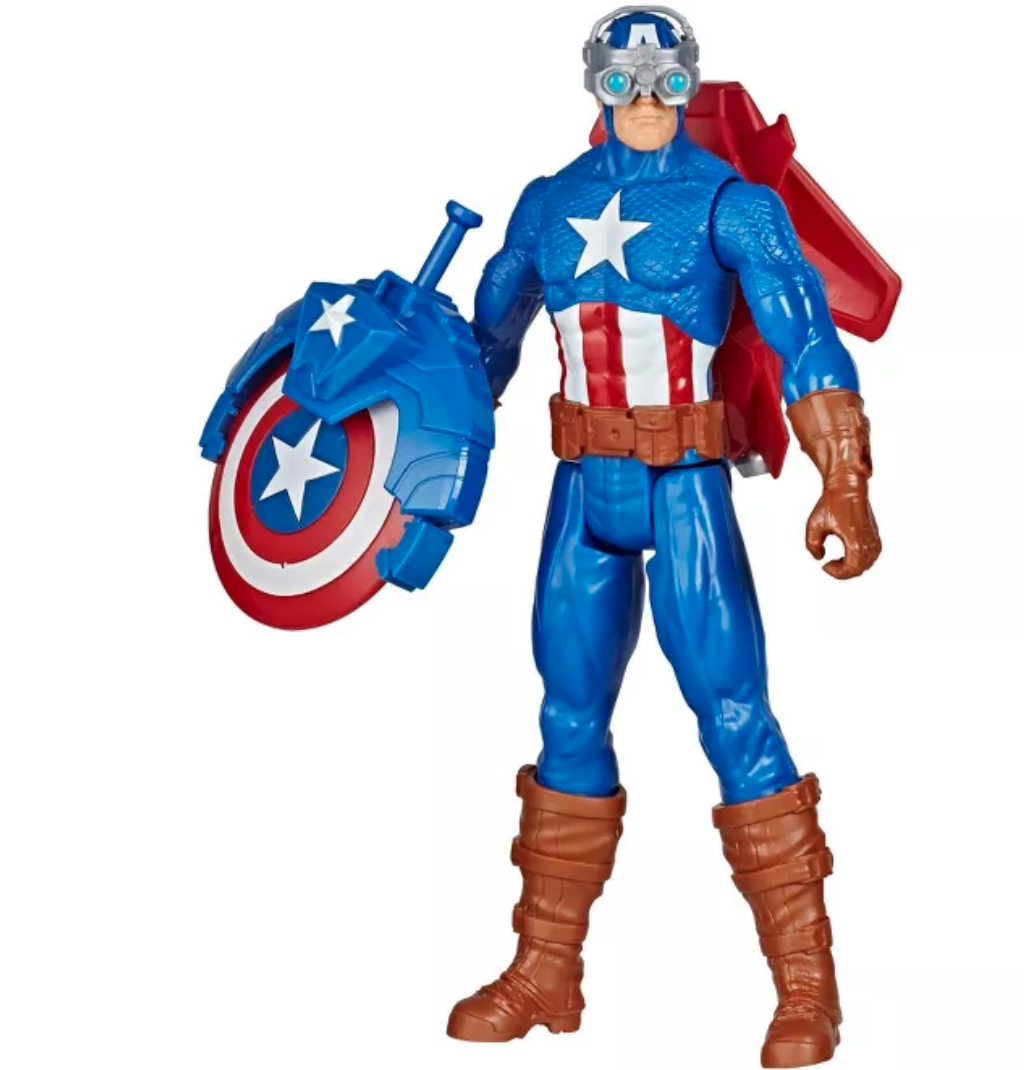 This action figure will please Captain America fans with its great design. The 12-inch figure includes blast gear. Not only can you move this action figure (5 points articulation), but you can use his attached blaster with a simple press of a button. This figure was a 2021 Toy of the Year Finalist and comes with a shield and blaster. Buy Here. 
Pros
Shield and Blaster

2021 Toy of the Year Finalist 

Bold Colors and Designs
Cons
Not Suited For Kids Under 4

Simple Plastic Construction 
LEGO Marvel Avengers: Endgame Final Battle 76192 Building Kit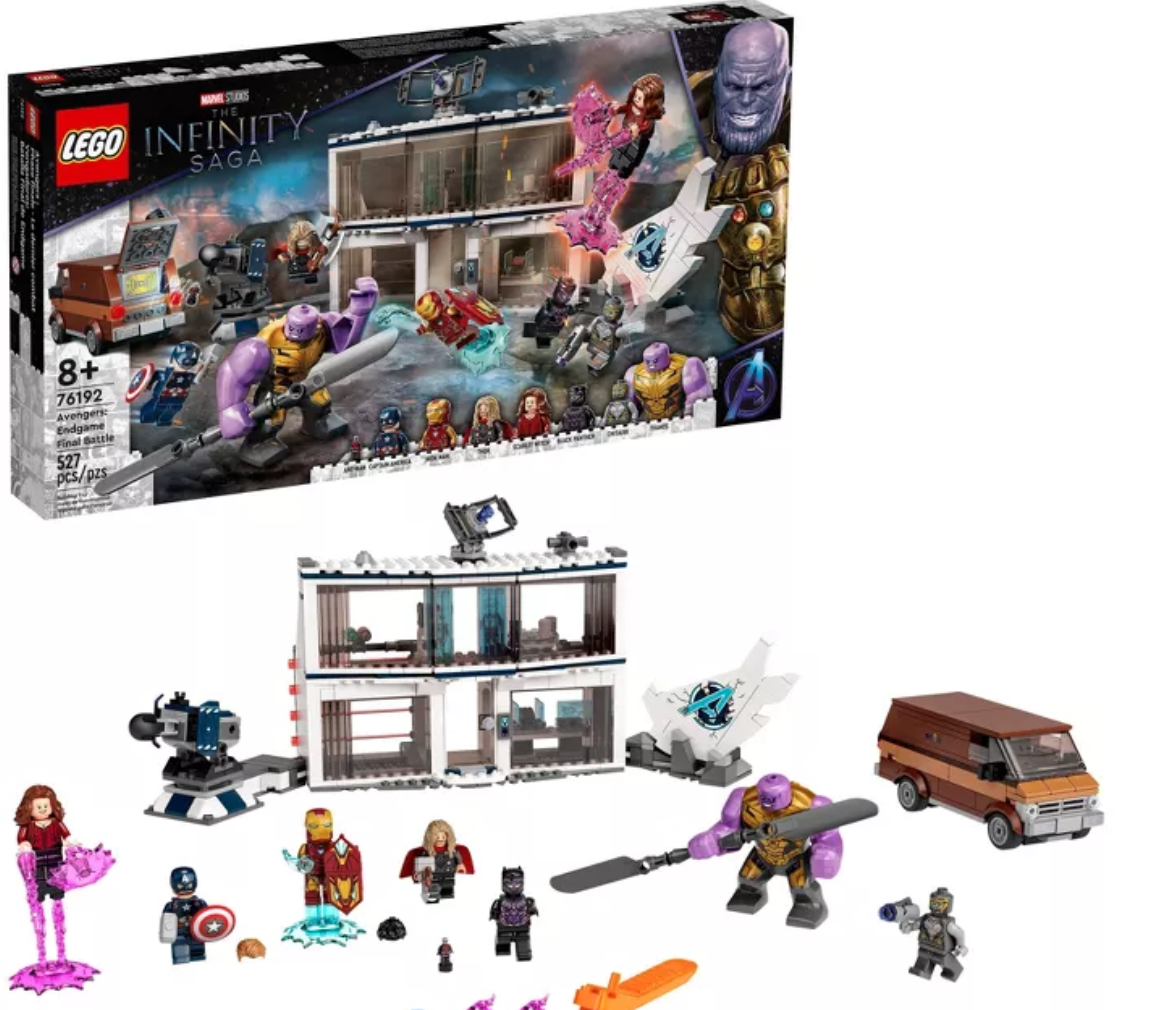 This LEGO set features Black Panther, Thor, Iron Man, Scarlet Witch, and Captain America. The incredible set includes an Avengers compound, a prison cell, a time-traveling machine, and a truck. It's great for hours of play and creativity. Buy Here.
Pros
Iconic Avengers Characters

Highly Rated'

Collectible
Cons
Expensive 

Not For Kids Under 8 Years Old 
Frequently Asked Questions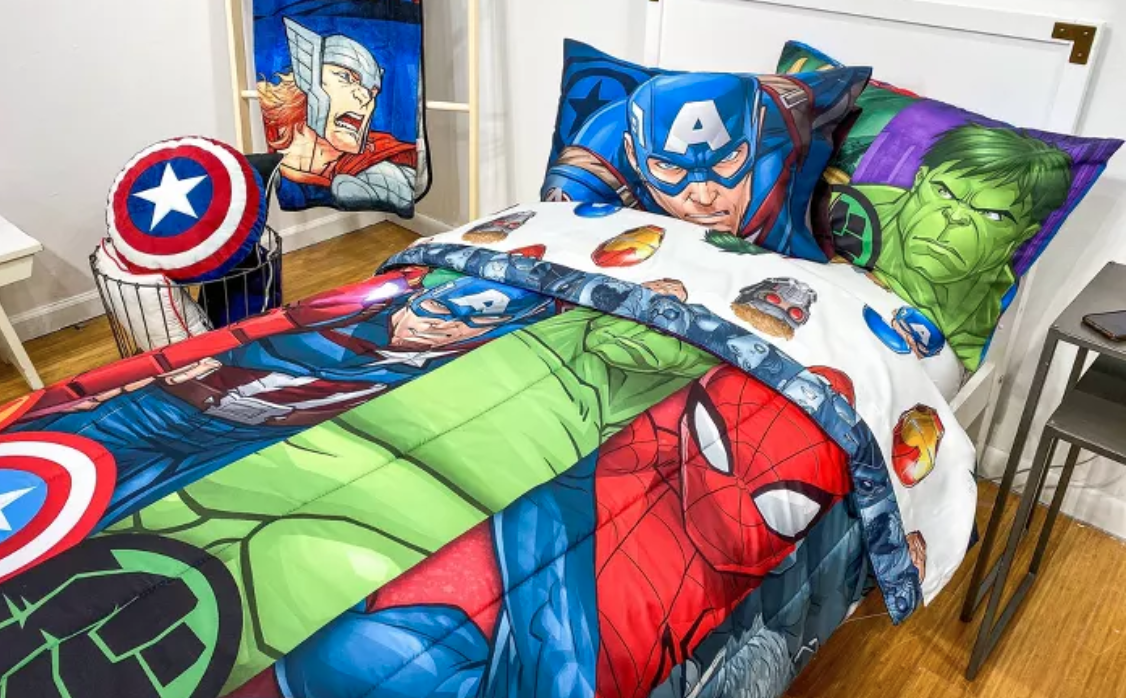 Question: Where can I Buy a Captain America Hawaiian Shirt?
Answer: Captain America fans can celebrate with a summery style. Captain America Hawaiian shirts are more popular than ever. My favorite is this Marvel Men's Woven Avengers Button-Up. It's an Amazon Choice product, with a button-up closure and a stylish front collar. The 100 percent cotton shirt is true to size and eligible for returns. 
Question: Are There Any Captain America Halloween Shirts?
Answer: Get into the spooky Halloween spirit any time of year. This Captain America Halloween shirt from Hot Topic features Captain America in his comic-book design, complete with pumpkins and bats. It's a soft cotton tee. 
Question: Where Can I Find Cheap Captain America Merchandise?
Answer: You can find sales on Captain America merch as a season is ending and a store is restocking and changing its inventory. Sometimes you can snag Captain America merch for cheap through second-hand sellers like eBay or a thrift store. 
Question: Can my Dog Wear Captain America Merchandise?
Answer: The most avid fans don't have to settle for Captain America merchandise for humans. Dog shirts are becoming more popular and are available at , , and . You can also buy handmade Captain America dog tees on Etsy. 
Final Thoughts 
Captain America 4 may be a while out, but there's plenty of merchandise to celebrate the superhero and all the stories and live-action films. From costumes to apparel, collector's items, and toys, there's merchandise for all ages. Always check the description of Captain America merchandise listing. Make sure you're only buying from a reputable seller, and check return policies. By taking these steps, you can protect against a disappointing purchase. 
Captain America Plush by Character
There's Captain America and there's also a crew of supporting characters. I will include just a few of my favorites.  Plush toys are great for collecting and for younger fans. These character plush toys are soft, well-designed, and offered for a fair price. Here are my picks for quick one-click shopping. 
Captain America 
This TY Beanie Baby is made with details and quality other plush miss. The bold colors, shield, and determined expression are spot-on. Plus, it's hard to beat the price. Buy Here. 
Pros
Excellent Color Quality

Comes with Shield
Cons
Black Panther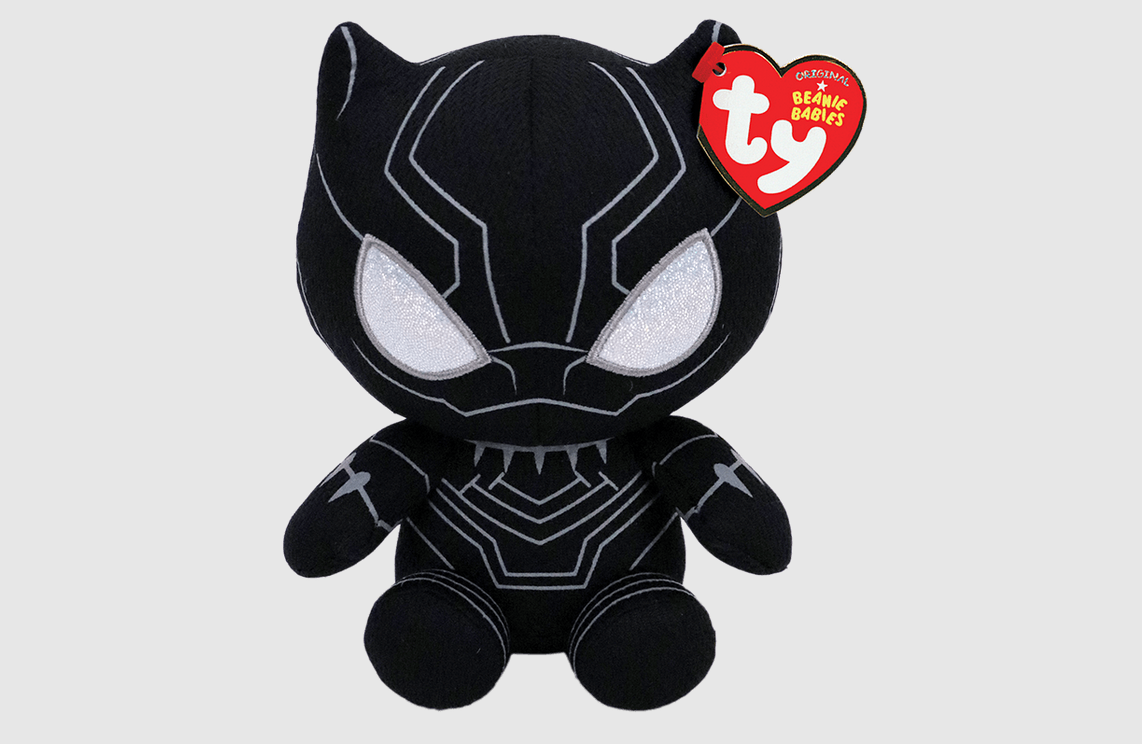 Also, a TY Beanie Baby is your best value for a Black Panther plush. The officially licensed Marvel merchandise is made with silk and silkscreen fabrics. It comes with a signature TY tag and a great price. Buy Here. 
Pros
Silk and Silkscreen Fabric

TY/ Collectible Tag
Cons
Iron Man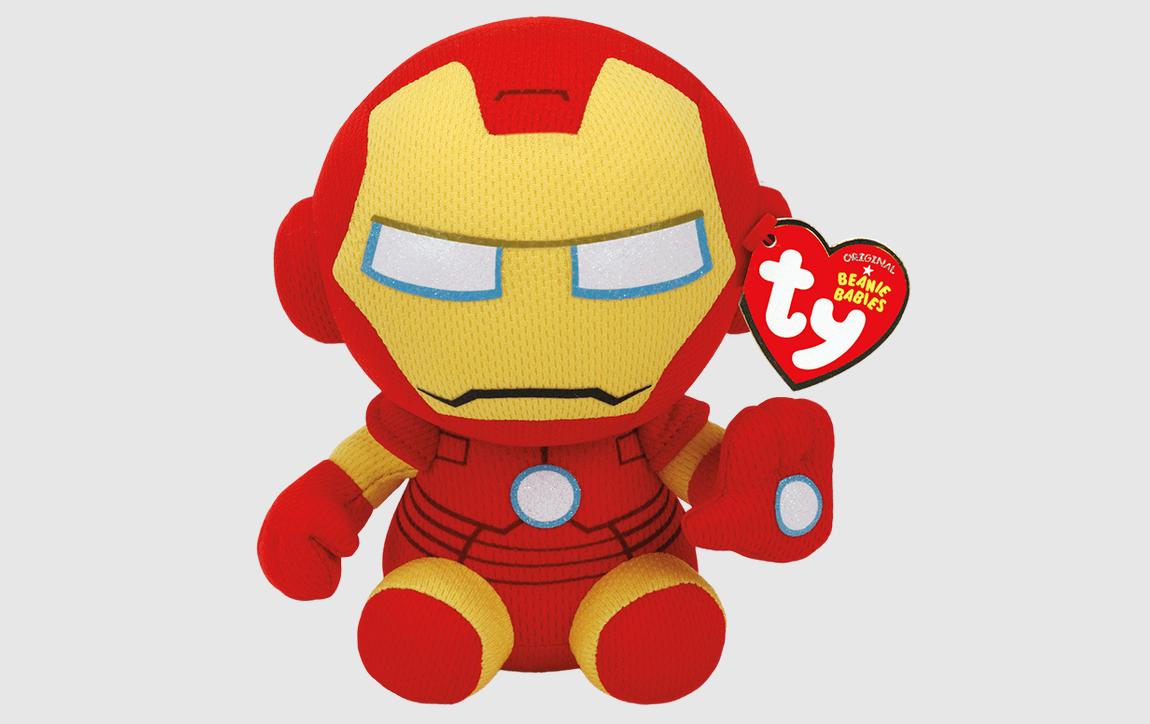 Soft silk fabric and bright red and yellow contrast colors make this one of my favorite plush toys. Your order also comes with free shipping. Buy Here. 
Pros
Bright Contrast Colors

Silk Fabric
Cons
Small Size Harder to Display 
Sam Wilson/ Falcon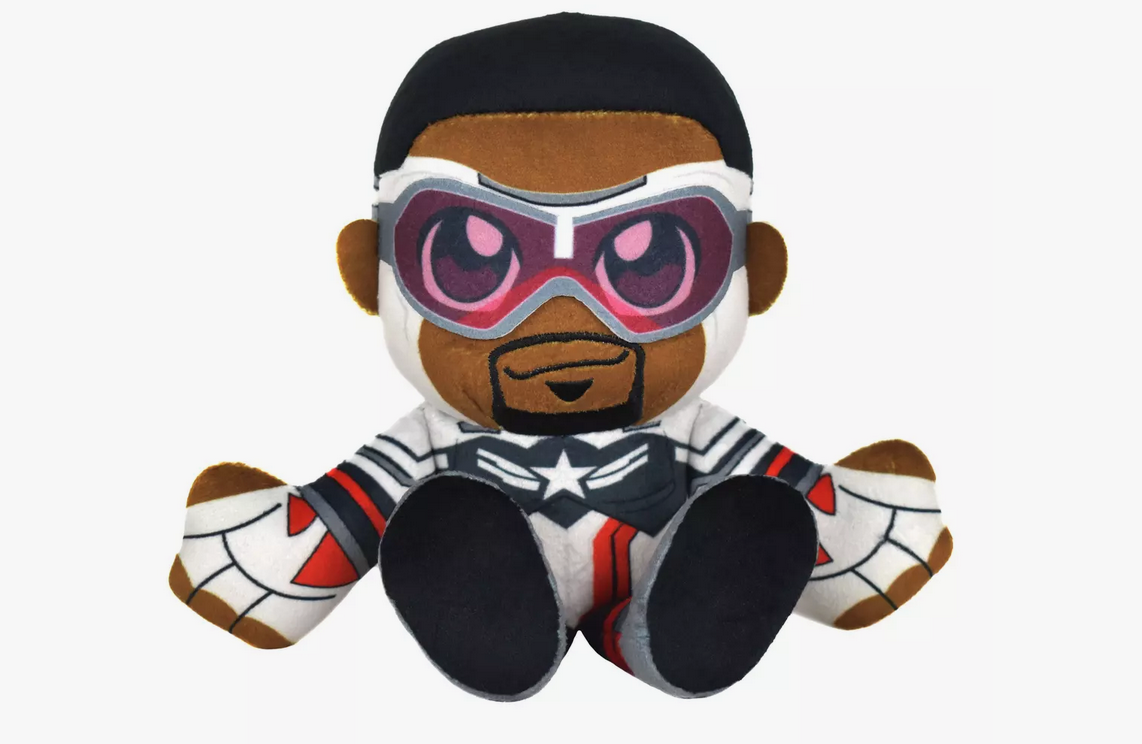 This official Game Stop plush is sewn by hand and made with soft fabric. A bean bag fill allows him to sit without being propped up. His unique design is inspired by Japanese Chibi art. Buy Here. 
Pros
Sewn by Hand with Soft Fabric

Bean Bag Fill
Cons
War Machine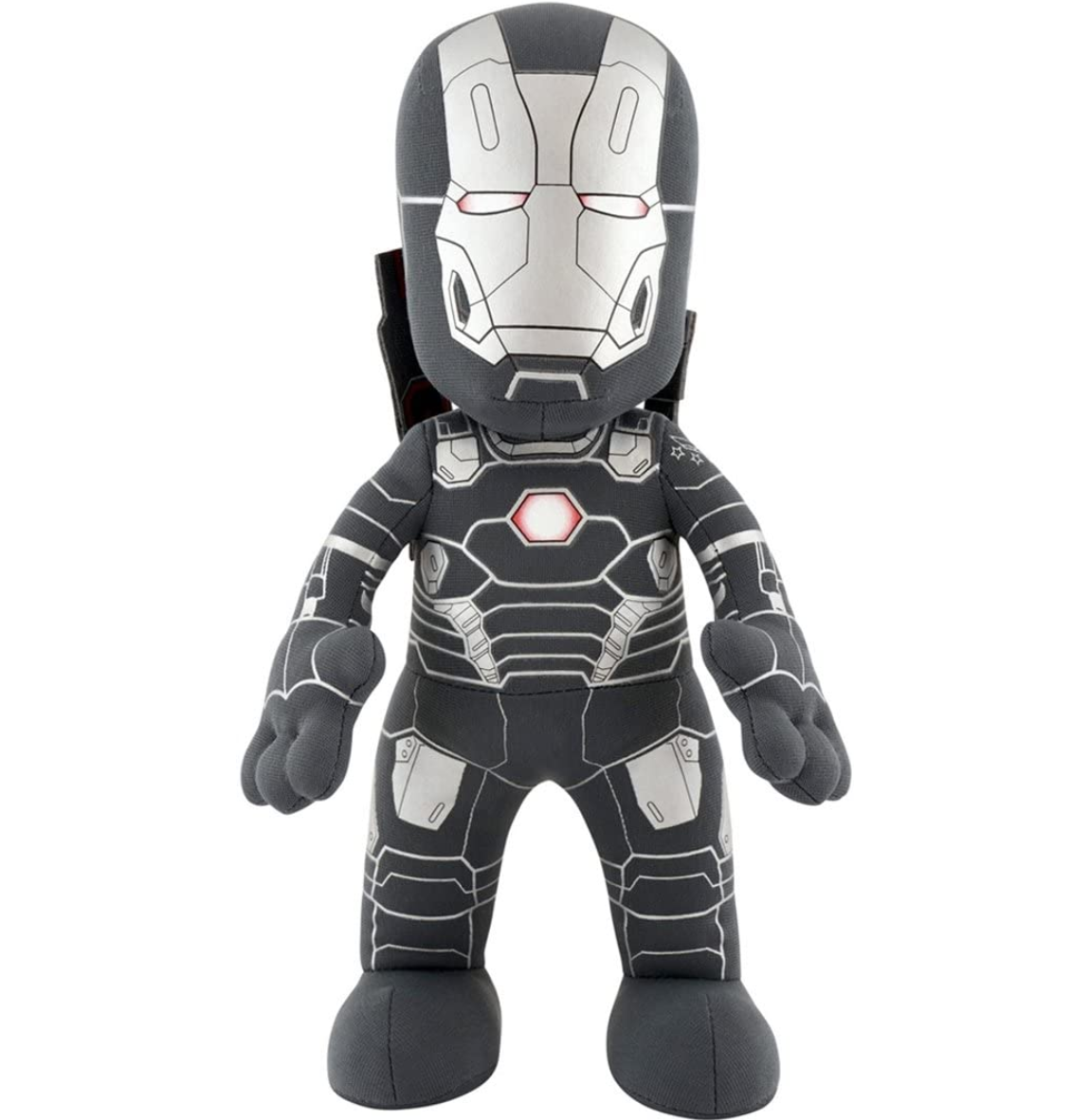 This more-substantial plush measures 10 inches. A sturdy frame makes it great for younger kids and display. Buy Here. 
Pros
Sturdy Construction 

Great For Display, Younger Kids
Cons
Looking for more? Read the Ultimate Marvel Guide for more merchandise suggestions to complement Captain America. 
Final Buying Recommendations: Captain American Merch on Amazon
Captain America merchandise is available on Amazon, too. The benefit of buying Captain America merchandise on Amazon is you can catch sales and find a little something for everyone. Posters, backpacks, costumes, and accessories are the most popular items. There's plenty of apparel, as well as unique home items, like a Captain America coffee maker for one. The challenge is making sure you're buying officially licensed merchandise and paying attention carefully to customer reviews. If you're willing to search through, you can find some good finds for every day, cosplaying, and decor. Shop Captain America Merchandise on Amazon Here. 
Find more marvel related merch by reading these guides below:
Spiderman Merch Guide for 2022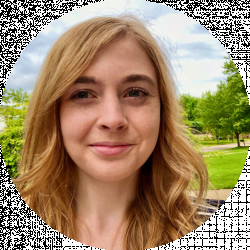 Latest posts by Erin Jamieson
(see all)