As I'm reading the Harry Potter series right now, it never fails to amaze me how much of an impact the Harry Potter franchise has had on my life and so very many others. Following on the heels of the HBO MAX Harry Potter 20th anniversary of the films, there are more Loungefly products than ever for fellow Potter-heads.
 From mini backpacks to wallets and more, this guide will tell you what you need to know to find only the best legit Loungefly Harry Potter merchandise. I'll share with you my knowledge about the Loungefly brand as well as my over two-decades-long love of Harry Potter films and books. 
Bottom Line Up Front Summary:  If I had to select just one Loungefly product for Harry Potter fans, it would be the Diagon Alley Crossbody Bag. This bag is simply stunning, with gold details and a vivid outline of Diagon Alley. The dark hues and gold make it versatile, and it's not as quick to show dirt or stains. 
My Top Picks
What You Need to Know About Loungefly
With an estimated revenue of over 5.52 million dollars a year, Loungefly is becoming more and more popular. The brand's headquarters are located in Walnut, California, though its online sales have helped them soar in popularity. While I love the striking designs, and the Harry Potter line is truly magical, these bags and wallets are not perfect. Here's a quick look at what to consider before buying any Loungefly product. 
Materials 
Loungefly is not made out of leather, but rather vegan leather. They call it cruelty-free faux leather, though this comes with pros and cons. It's vegan, and it's great to see vegan products offered. PU Leather is not as strong as regular leather, but it does have another advantage of being resistant to fading. 
Durability
Loungefly mini bags, backpacks, and wallets can't last forever. If it is exposed to humidity or simply heavily used, Loungefly bags and wallets can peel over time, or crack. They last longer by cleaning only with mild soaps, avoiding harsh chemicals and humid environments. A baby lotion can help bags replenish their shine. 
Size 
The most popular Loungefly products are mini backpacks, followed by wallets. This means you're not buying a full-size backpack, but a mini backpack that's useful for light travel, day trips, or takes place of a purse. They're lightweight, usually only weighing a few pounds at most. 
Where to Buy Harry Potter Loungefly Merchandise
Loungefly was an online store, but its products can be found at Disneyland, scattered across locations. Online, you can shop for Harry Potter purses, mini bags, and wallets in many places. Used Loungefly products are sold on eBay and other websites. However, to make sure you're buying real Loungefly Harry Potter products, it's important to shop smart.
 Here are a few places to buy Harry Potter Loungefly merchandise, and what to know about each before buying. 
Loungefly Online Store
The Loungefly official website has a modest collection of Harry Potter merchandise. Free shipping is offered for purchases made of $100 or more. They only ship within the 48 contiguous United States. There are sales to get some deals and products restock more frequently than other retailers. Returns can be made within 7 days and you get a bonus gift for purchases of over $100 or more. Shop All Harry Potter Loungefly Here. 
Hot Topic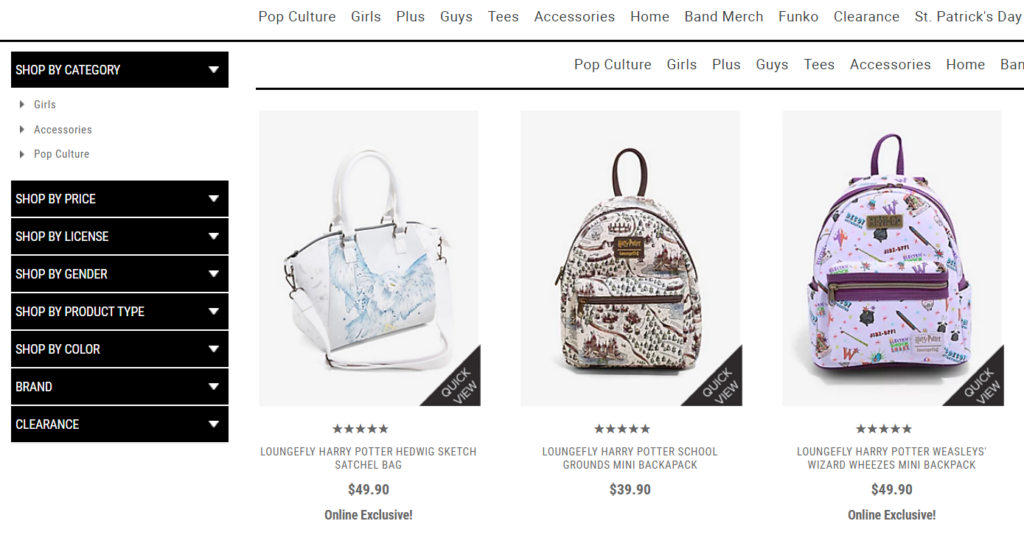 Oddly enough, there are more Harry Potter Loungefly bags and wallets offered through Hot Topic. There are trendy mini backpacks, satchel bags, makeup bags, crossbody bags, and clutch bags. They offer shipping as well as free store pick up. The exchange and return period are more generous, at 30 days. Hot Topic shipping policies are also are more generous, with different shipping options for international shipping. Shop All Harry Potter Loungefly Here. 
Amazon
If you want the widest selection of Harry Potty Loungefly wallets, mini backpacks, satchels, and crossbody bags, Amazon is a great place to shop. That said, you need to be careful. To ensure you're only buying official, legitimate Loungefly, make sure the listing labels the seller as the official Loungefly brand. Whether you're looking for an Always Harry Potter Loungefly bag or a scene at Hogwarts, Amazon offers the widest selection and competitive prices. Shop Harry Potter Loungefly on Amazon Here. 
Harry Potter Loungefly Merch: My Picks
Here are my favorite Harry Potter products from Loungefly. I've only selected the best real Loungefly products. My goal is to provide you with products that are designed with striking details, that are useful, and constructed with the brand's usual quality. Price, customer reviews, and innovation also made my selection criteria. My selections are divided by category. 
Harry Potter Loungefly Cross-body Bags 
I like these Loungefly cross-body bags for a few reasons. They're a nice in-between and then Loungefly mini backpacks.  They're stylish and work as a purse. These have been selected based upon their high customer reviews and excellent depiction of the Harry Potter universe. 
Harry Potter Diagon Alley Cross-body Bag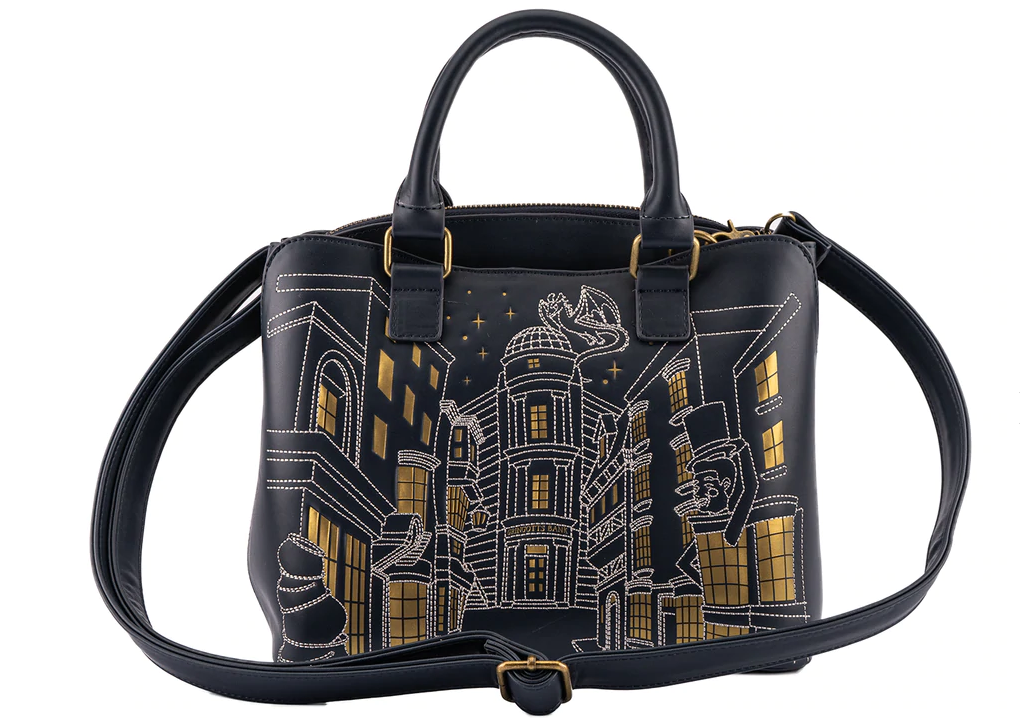 I'll never forget the first time I saw Diagon Alley come to life when I went to see The Sorcerer's Stone in theaters. This cross-body bag features Diagon Alley in all its glory. The wizarding shop windows are lit up under a beautiful night sky. The vegan weather bag has a detachable strap, metal accents, and printed details. I love how the inside lining complements the design. Buy Here. 
Pros
Night Sky Effect

Diagon Alley Shops

Adjustable Strap 
Cons
No Harry Potter Characters

Not As Immediately Recognizable 
Loungefly: Harry Potter – Magical Creatures Cross-body Bag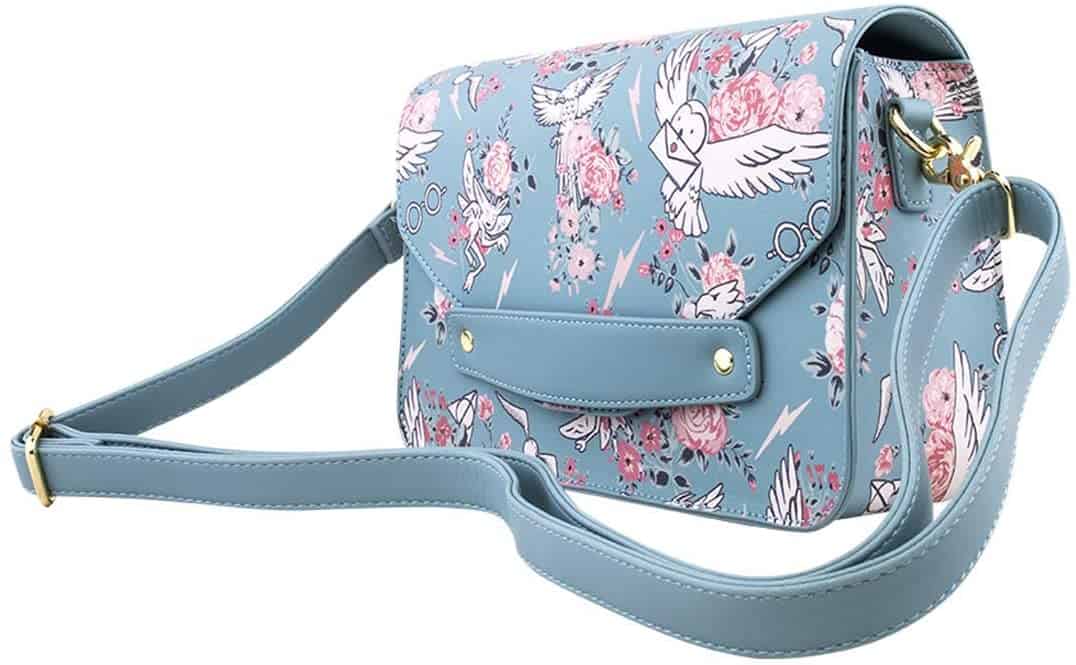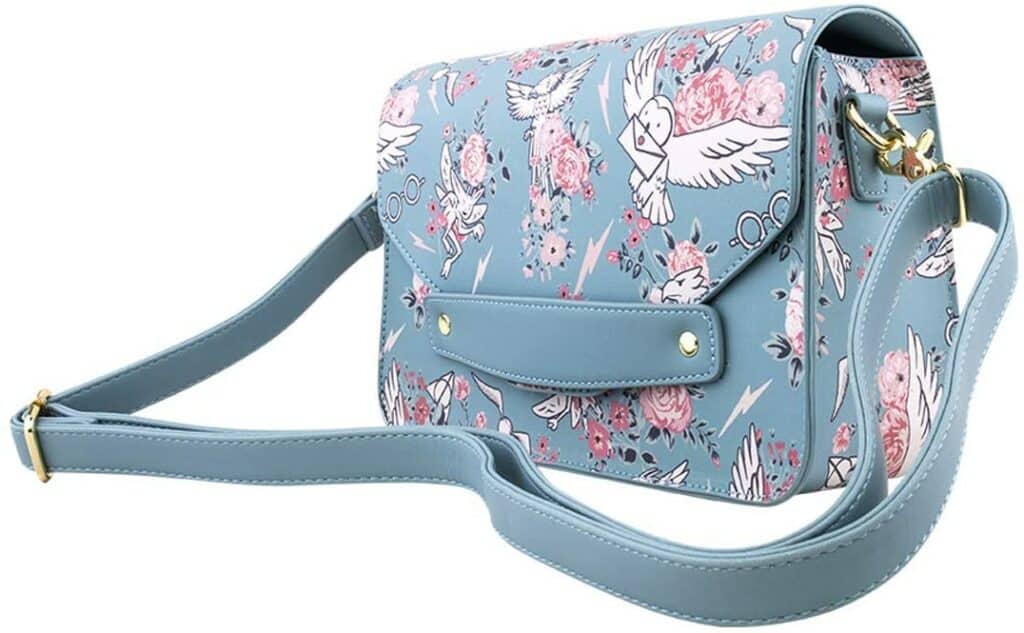 This enchanting Harry Potter cross-body Loungefly is an Amazon exclusive. The lightweight vegan leather bag features pastel hues with phoenix, owls, hippogriffs, and Cornish pixies. The flowers add balance to the design. These magical creatures are representative of the Harry Potter franchise and a unique, modern take. The design comes with a detachable strap and features an all-over print.  Buy Here. 
Pros
4 Magical Creatures

Pastel Motif

Removable Straps 
Cons
Lighter Colors Show Dirt More Easily

One Customer Had Order Issue 
Harry Potter Icons Passport Cross-body Bag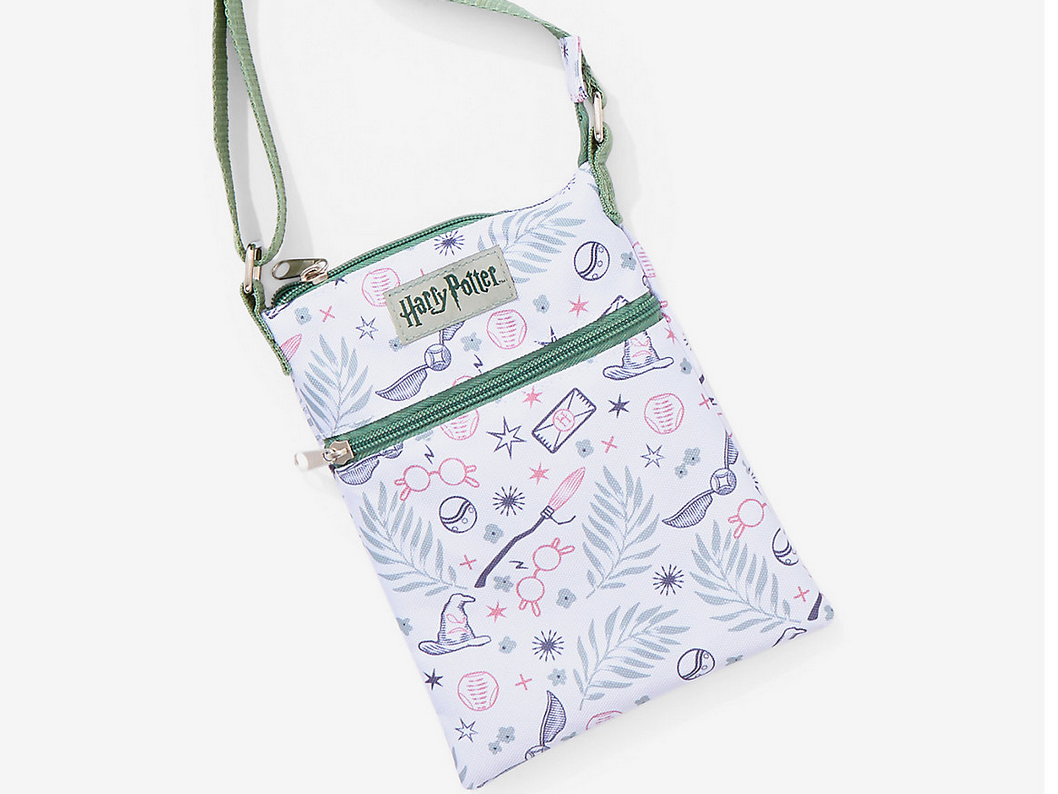 Looking for an affordable cross-body bag? This compact Harry Potter Loungefly bag is perfect for carrying your passport or importing documents. The sage green strap is adjustable. It's lightweight and comes with zipper compartments. This bag also features a subtle print featuring motifs such as Harry Potter broomsticks, owls, sorting hats, Quidditch icons, and more. This is an affordable bag that allows almost anyone to start their Loungefly collection. Buy Here. 
Pros
Zipper Compartments

Great Price 

Adjustable Sage Green Strap
Cons
Very Small

Less Realistic Print 
Harry Potter Loungefly Enamel Pins
Loungefly pins can be used to decorate a bulletin board, backpacks and purses, and more. These fun pins are affordable and collectible. They were selected by unique design, 
Harry Potter House Mascots 4pc Enamel Pin Set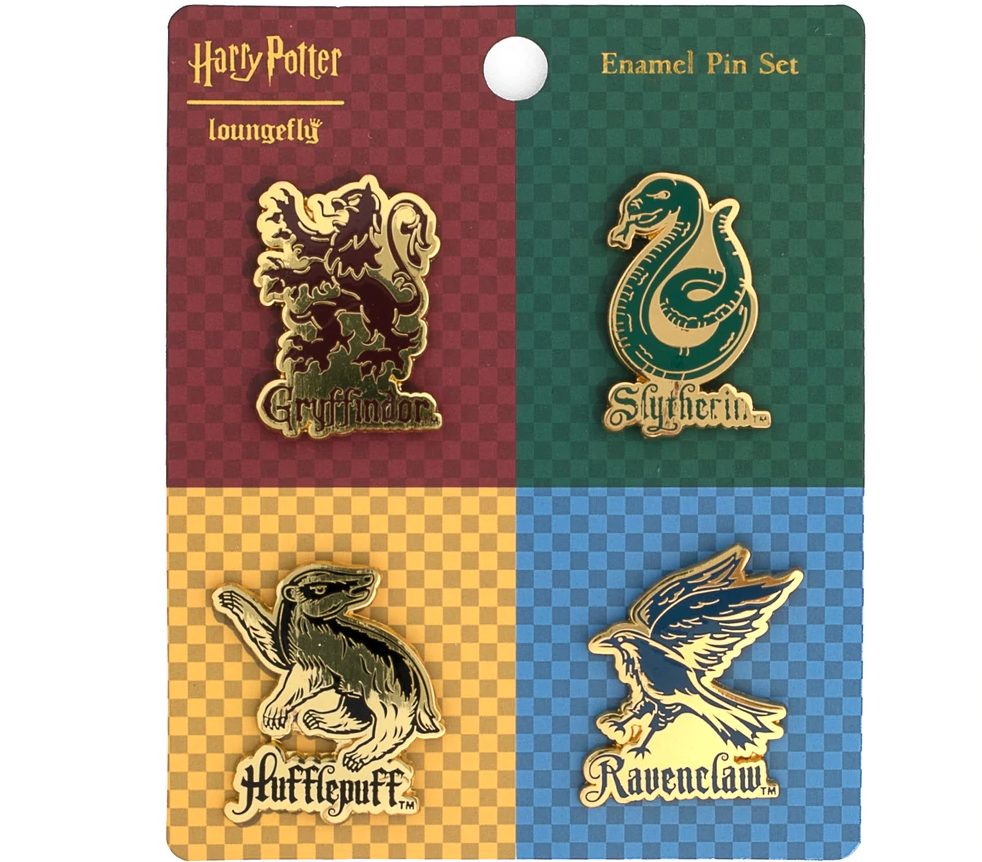 No matter what house you'd be sorted in, there's a pin for you. This 4 piece enamel pin set features a pin for each Hogwarts house– Slytherin, Ravenclaw, Hufflepuff, and Gryffindor. The hard enamel pins are gold-toned and can be used as an accessory for a vest or bag. This pin set would also work as gifts for fellow Potter fans. Buy Here. 
Pros
4 Pins from each Hogwarts House

Budget-Friendly

Gold Details
Cons
Can Wear Out

Shouldn't Get Wet 
Loungefly Harry Potter Patronus Blind Box Enamel Pin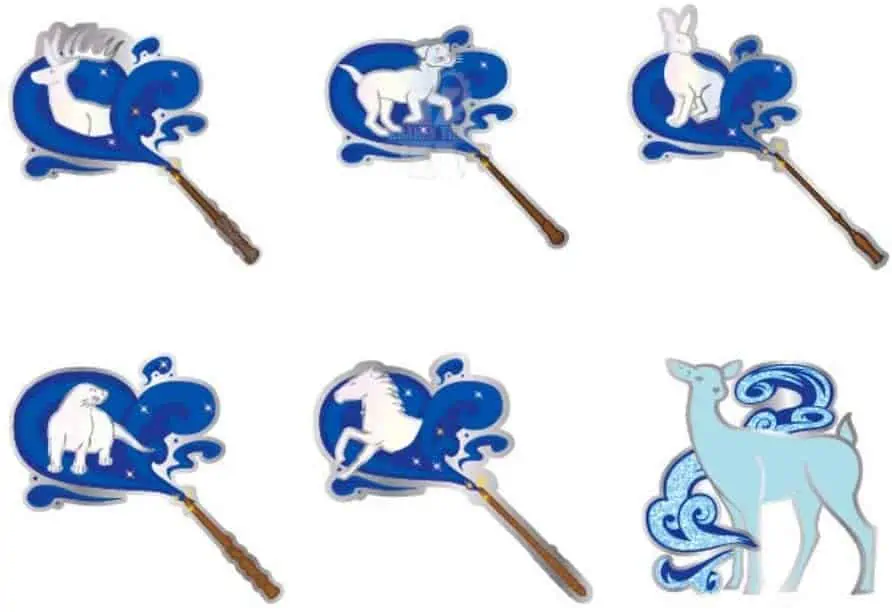 The Patronus in Harry Potter may be known for warding off dementors, but it's also a symbol of hope. J.K. Rowling told fans that she based her dementors off her struggle with depression. A Patronus reminds us to think of our happiest memory and hold on to hope, even in the darkest of times. The enamel pin represents one of the major patronuses cast by one of the characters in the series. Buy Here. 
Pros
Meaningful

Bold Blue Colors

Great for Gifting
Cons
Only One Pin

Pin is Randomized 
Harry Potter Loungefly Mini Backpacks
Though the most expensive of Loungefly products, I simply love these mini backpacks. They're lightweight, brightly designed, and represent some of the most meaningful motifs of the Harry Potter universe. 
Loungefly Harry Potter Always Floral Mini Backpack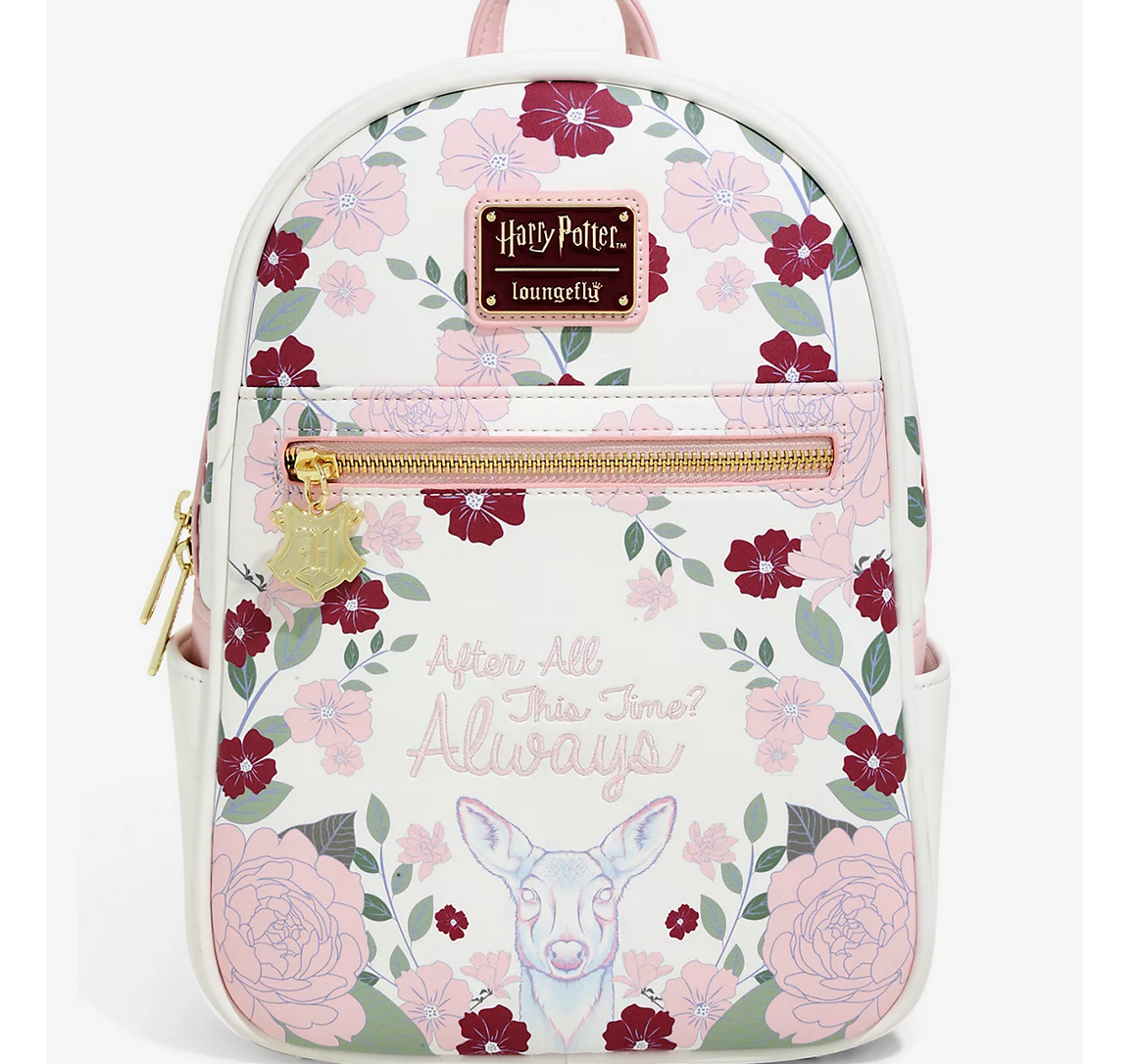 A single word is perhaps the most romantic in the entire Harry Potter series: Always. The word uttered by Severus Snape shows his undying love for Lily Potter. This beauty of the Prince's Tale is captured in this unique Loungefly mini backpack. The embroidered text: "After all this time? Always" is captured alongside pink and maroon flowers. Snape's doe Patronus is beautifully rendered alongside gold-tone accents. I also love the Hogwarts crest, pockets, and adjustable strap. The lining is a pale blue, with complementary crests and does. This is simply my favorite Harry Potter Loungefly backpack. Buy Here. 
Pros
Doe Patronus and Crests

Iconic Embroidered Saying

Adjustable Strap 
Pros
White Background Shoes Dirt Easily 

Stains More Easily 
Harry Potter Navy & Gold Quidditch Mini Backpack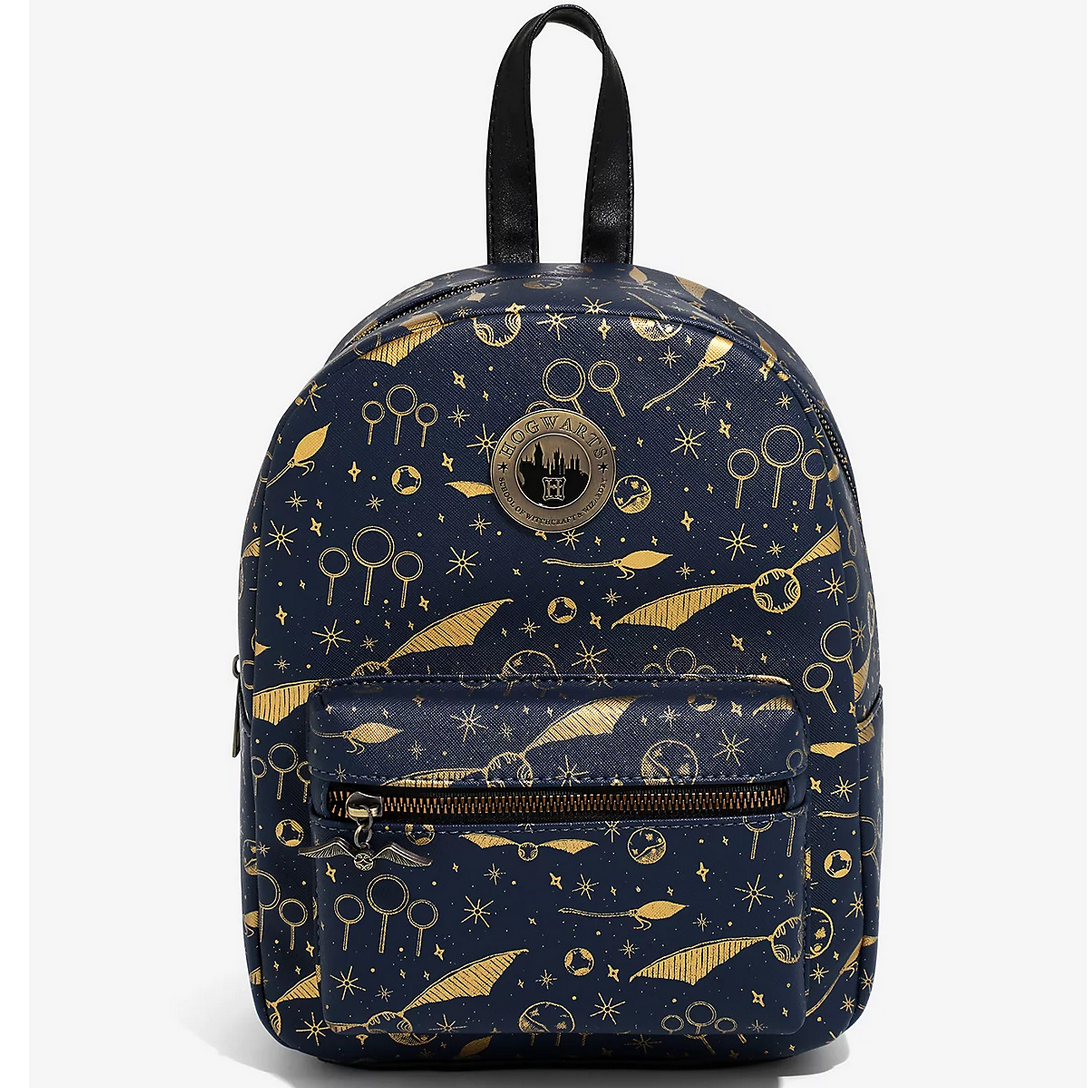 Harry Potter truly created a new universe, and Quiddich is one example. This magical sport, played on broomsticks, was especially enchanting to see in the film adaptations. The mini backpack is designed with an all-over print of Quidditch. The navy blue background is regal with gold accents, symbolic of the golden snitch. You'll see the three-goal rings, snitch, broomstick, bludgers, and more. The backpack includes a carrying handle, adjustable strap, and zipper enclosure. Buy Here. 
Pros
Dazzling Navy and Gold Contrast 

Quidditch Motifs

Zippers and Adjustable Strap
Cons
Lining is Plain

Glitter Could Rub Off 
Loungefly Luna Lovegood Mini Backpack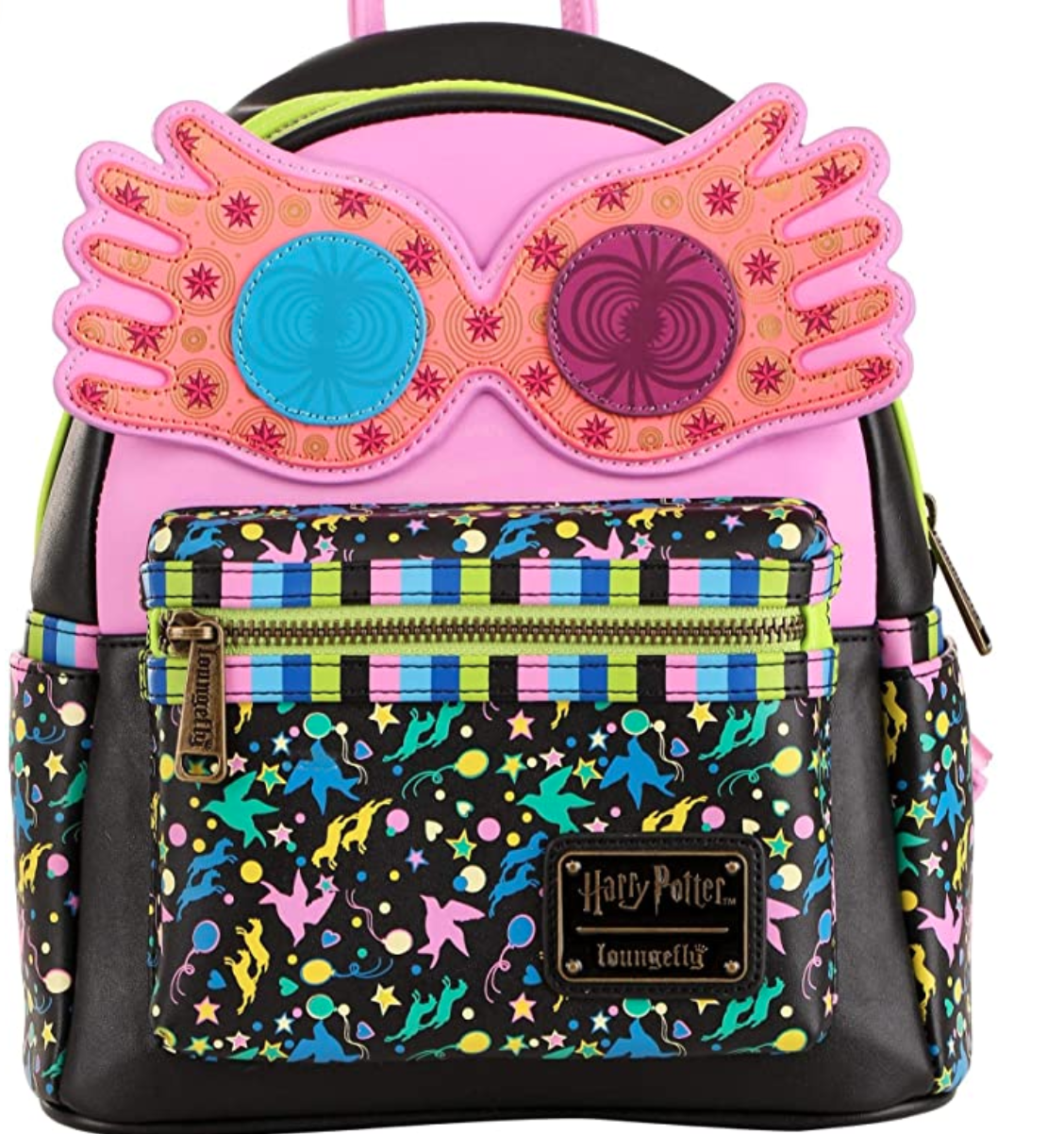 I admit it: Luna Lovegood is one of my favorite characters in Harry Potter. There's something about her whimsy and sense of loyalty I've always found charming. Luna Lovegood, if nothing else, reminds us that it's okay to be different and that we should be slow to rush to judgment. This fantastic Loungefly mini backpack The striking faux leather backpack includes Luna's Spectrespecs, alongside a striking multi-colored design. The printed design on the front zipper pays ode to Luna's Patronus. This bag included an adjustable strap. Buy Here. 
Pros
Unique Design

Colorful Print

Adjustable 
Cons
More Expensive 

Spectrespecs Stick Out 
HP Harry Potter Gryffindor Grey Mini Backpack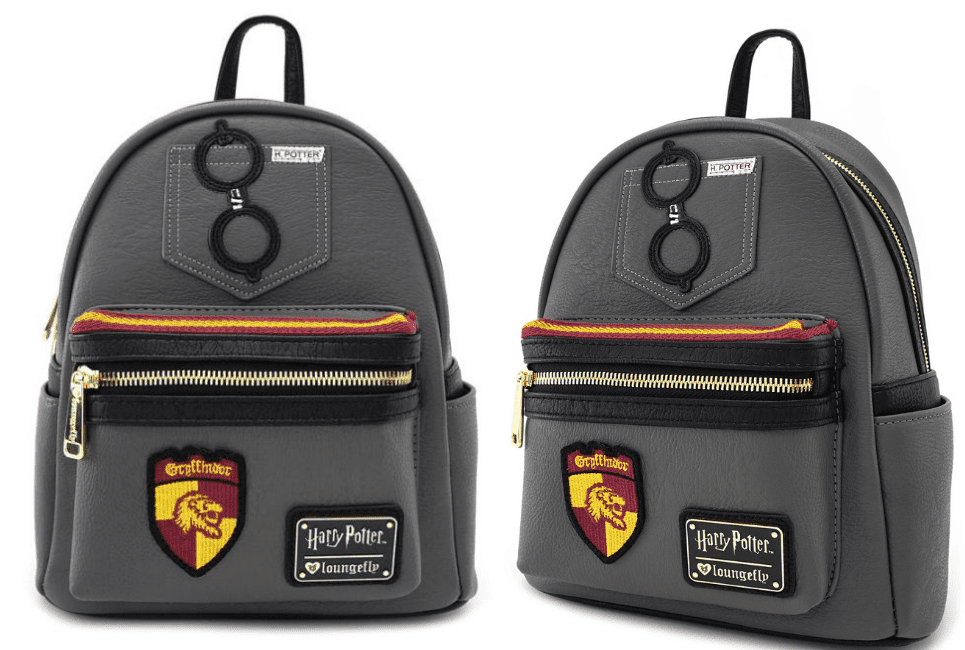 If you love Hermione, Harry Potter, Ron Weasly, or just the house of Gryffindor itself, this Loungefly backpack is for you. This grey mini backpack includes embroidered Harry Potter glasses and the Gryffindor crest. The design is clean and iconic at the same time. The bag includes a zipper compartment adjustable strap. This is a unique find, sold at Barnes and Noble. Buy Here. 
Pros
Gryffindor Badge 

Embroidered Harry Potter Glasses

Zipper Compartment
Cons
Plain Compared with Other Designs

Design Is Not Entirely Balanced 
Harry Potter Loungefly Wallets/ Pouches
Loungefly wallets and pouches keep your credit cards, change and bills organized. You can pair them with other Loungefly products or just use them on their own. These are some of the highest-rated and most unique options. 
Loungefly Harry Potter Hedwig Howler Zip Around Wallet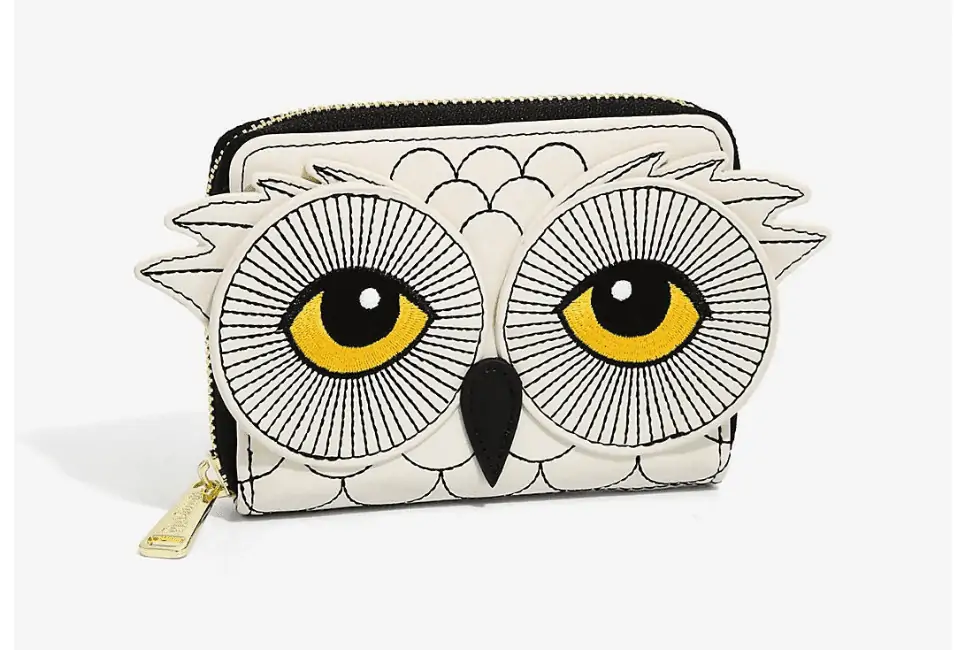 Not only is this wallet officially licensed and a Loungefly wallet, but it's also an Amazon Choice listing. The faux leather wallet is lined, complete with a zipper enclosure and hardy metal accents. The exterior features Hedwig in a charismatic design. Appliques and quilted details add dimension. I love the charismatic yellow eyes and the design as a whole. The back is the design of a Howler, so you get two designs for one. Buy Here. 
Pros
Embroidered and Quilted Details

Stunning Eyes

Lined with Zipper
Cons
Loungefly Harry Potter Marauders Map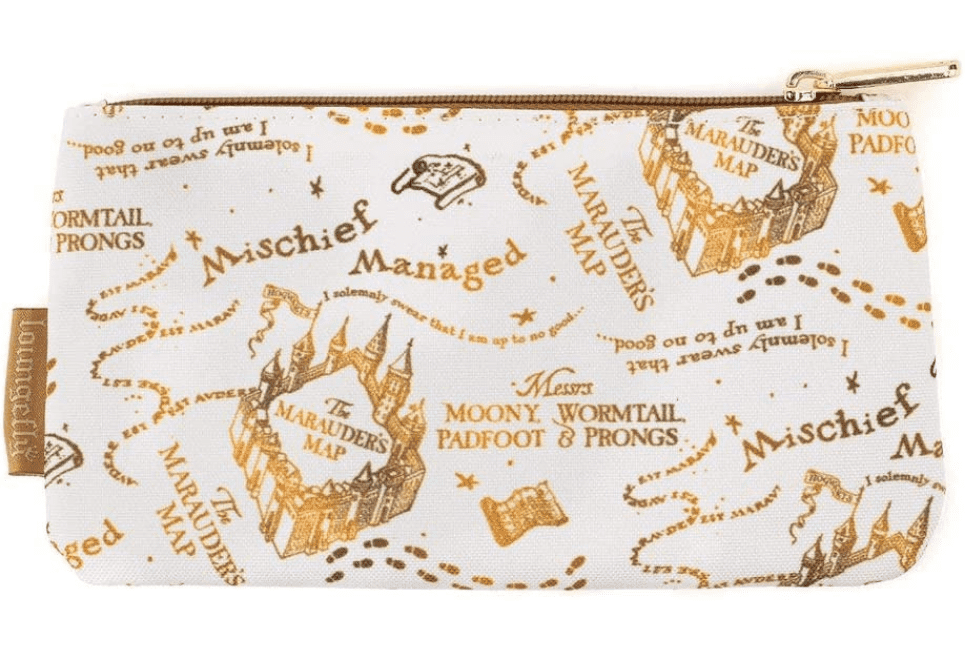 While almost all Loungefly products are made with faux leather, this is a soft nylon pouch. This pouch brings the magic of the Maurader's Map alive. Signature phrases like Mischief Managed and the names of Padfoot, Moony, Womrtail, and Prongs are printed all over. This is both one of the most affordable and one of the most highly-rated Loungefly products for Harry Potter. Buy Here. 
Pros
Marauder's Map Phrases

Enchanting Gold Design

Affordable 
Cons
Nylon Isn't As Strong As Cotton

No Extra Compartments 
Loungefly Harry Potter Deathly Hallows Floral Makeup Bag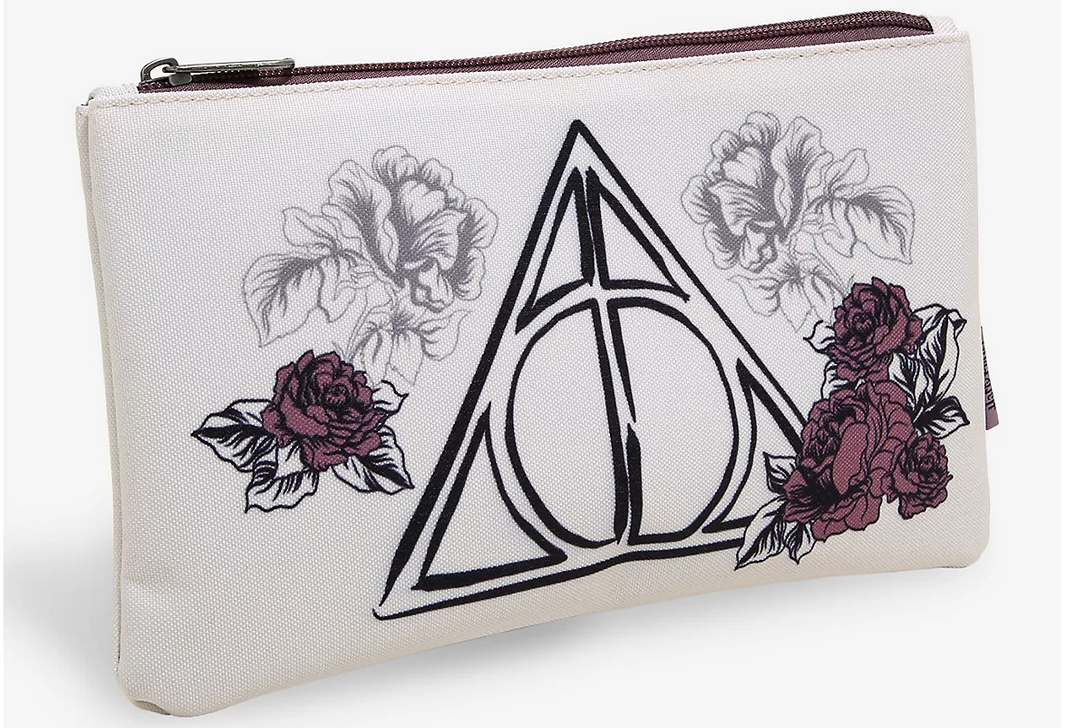 This bag can be used for stashing makeup or as a general pouch. The makeup bag features the symbol of the Deathly Hallows, flanked by floral details. It's a beautifully composed design, versatile, and yet recognizable. This pouch comes with zipper closure. It's a unique find, sold through Hot Topic. The Deathly Hallows Loungefly bag is the most affordable item on my list, and worth a mention. Buy Here. 
Pros
Deathly Hallows Motif

Great Price

Easy Zipper Closure
Cons
Cream Color Can Stain 

Not Much Storage Space 
Frequently Asked Questions
Question: How do you Clean Loungefly Bags?
Answer: Loungefly bags are not machine-washable. Machine washing can ruin, or shorten how long your Loungefly mini bags, wallets, or other products last. These vegan leather products should be cleaned gently using a soft rag. Prepare a bucket of slightly warm water. A dash of soap or gentle detergent is all you need. Make sure to dry with another clean rag. You may also use baby wipes (wipes without alcohol) on the handles, but I would only use them for sport or upkeep, not the clean the entire product. Avoid bleach, other cleaning products, and anything harsher than you'd use on your skin. 
Question: Why is Loungefly so Expensive?
Answer: Loungefly is special because its products as based upon popular culture. I would argue that, while their mini backpacks are a little more expensive than lesser-known brands, they aren't exorbitant. They're a bit more expensive because they represent licensed brands. Paying for that licensing agreement and the depiction of those franchises is more expensive than knock-offs. There's also a demand to consider. Loungefly is quite popular. 
Question: When did Loungefly Start?
Answer: Loungefly was founded in 1998 by Funko, who still owns and operates the company. Loungefly was created by Trevor Schultz in an extension of Funko, which sells officially licensed merchandise products from popular brands. They are headquartered in the United States, but Loungefly bags are manufactured in China. 
Final Thoughts
Loungefly bags and accessories are all officially licensed, and they're a fun way to celebrate the magical world of Harry Potter. From the zany Luna Lovegood with her Spectrespecs to brainy Hermoine to hero Harry Potter, there's something to represent most of your favorite Harry Potter characters. While I've recommended to best places to buy Harry Potter Lougefly products, please be careful if you shop elsewhere. Make sure the Loungefly product is legit by checking the website, seller, and description. Never buy any Loungefly Harry Potter product off a website that doesn't have a secure connection. Happy shopping and I hope you find a Loungefly product for your favorite Harry Potter product. The good news is that you don't have to be a wizard to find a great fit. 
Final Buying Recommendations: Harry Potter and The Deathly Hallows Loungefly from Barnes and Noble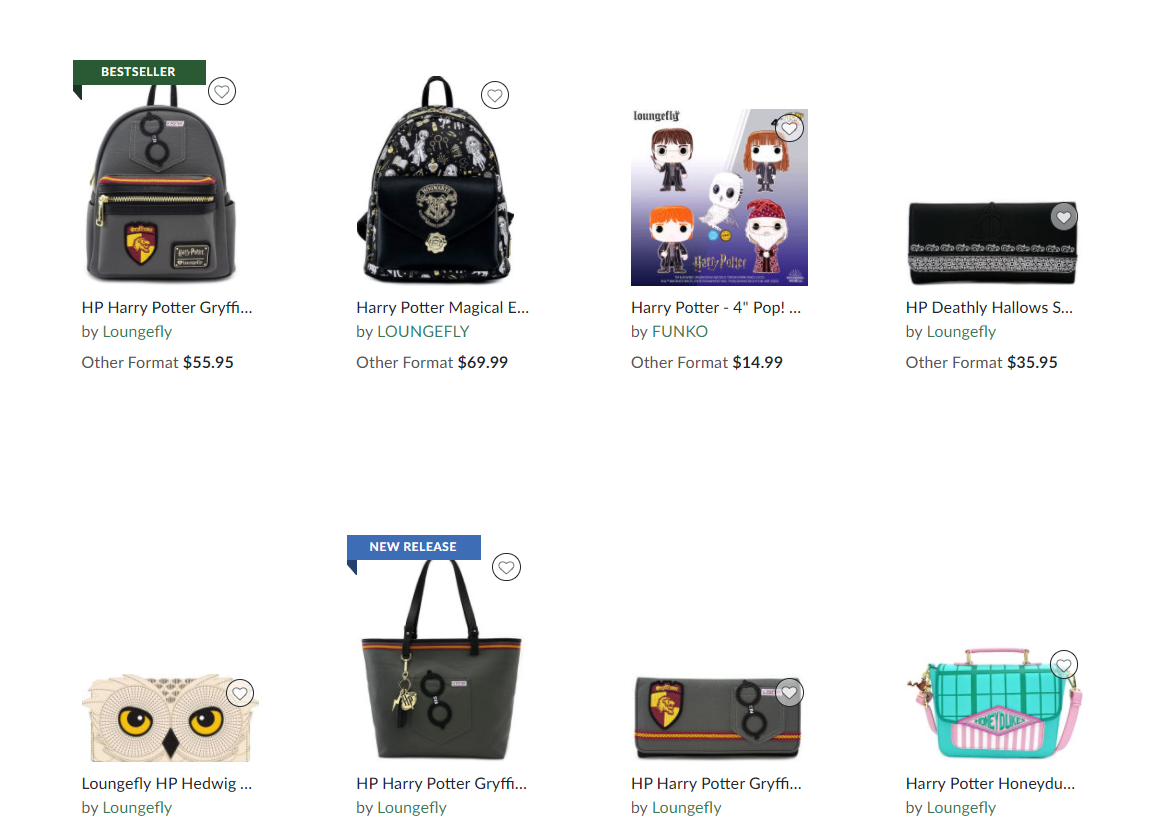 My final recommendation for a great place to buy great Harry Potter Loungefly merchandise may come as a surprise to you. Barnes and Noble carry a small but notable collection of Harry Potter Loungefly purses and backpacks. Though they go in and out of stock, the collection is notable with its deeper hues and striking designs from the final Harry Potter installment. These items are only available online, but they're worth taking a look at. Shop Harry Potter Loungefly Products at Barnes and Noble Here. 
Find more Harry Potter merch by reading these guides below:
The Best Harry Potter Blanket Ideas
You Won't Believe Some of These Amazing Harry Potter Inspired Jewelry
Best Harry Potter Funko Pop Guide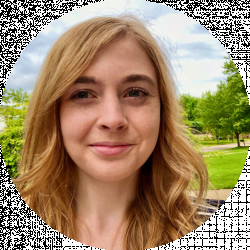 Latest posts by Erin Jamieson
(see all)