When the first Frozen film was released, I was struggling through a daunting illness and stuck in the hospital. I tell you this to say that I understand the magic of the franchise, and why so many are drawn to it. And one of the best ways to celebrate Frozen and Frozen two is by buying the best merchandise.
I'll guide you through where you can buy Frozen merchandise, my buying criteria, and my top picks for the best Frozen merchandise today.
Bottom Line Up Front Summary
If I had to select just one Frozen merch item, it would be Queen Anna and Elsa the Snow Queen Dolls. These dolls are gorgeously-detailed and offered at a great price. They're suitable for play and collecting.
My Top Picks
Where to Buy Frozen Merchandise
If you happen to be in Disney World or plan to travel there, you can buy Frozen Merchandise at Frozen Fractal gifts. This gift shop is located within Disney Hollywood Studios and sells Anna, Elsa, and many of the main characters. But if you aren't in Disney World, some places are better than others for online shopping.
Official Disney Store
This collection is magical, and the attention to detail is impressive. If you want one-stop shopping, I recommend you shop here first. There are collectible and casual Frozen dolls. There are plenty of Anna and Elsa costumes and accessories. You'll find Frozen-inspired clothing for kids, helpful accessories like water bottles and lunch boxes, and even a collection of costume jewelry. The collection appeals to fans' creative side, complete with art sets, decor, a waffle maker, and much more. Shop All Frozen Merchandise From Disney's Store Here.
JC Penney
JC Penney stuns with gorgeous Frozen 2 costumes, bedspreads, luggage, dolls, and plenty of Frozen 2 clothing for girls and teens. Women will be wowed by their collection of fine jewelry inspired by Frozen 2, including genuine gold and diamonds. JC Penney's collection is simply dazzling, and easily one of my top recommendations. Shop the Frozen 2 Collection at JC Penney Here.
Target

Target carries just about everything you could want for Frozen merch, from books to dolls to decor and music. Target is also an excellent place to buy Frozen plush toys and stuffed animals. Target also carries 16 Frozen merch items you can't find anywhere else. Merchandise items cover both Frozen and Frozen 2. Shop All Frozen Merch at Target Here.
Frozen Merchandise: My Top Picks
Here are my top recommendations for individual merchandise items for all Frozen fans. My selections are organized by category so you can scroll and find what you need. All of my picks offer secure shopping, reasonable prices, excellent attention to detail, and are officially licensed merchandise.
Frozen Dolls
From Anna and Elsa dolls that are truly magical to collections featuring the entire family, I've found you the best deals with the best features.
Disney Frozen 2 Petite Anna & Elsa Lullaby Gift Set
Young fans of Frozen will love this gift set. This Target exclusive includes Elsa, Anna, and a musical bed. Elsa and Anna are represented as younger, with large eyes and warm smiles. The dolls are dressed in their green and purple pajamas from Frozen 2. They also wear slippers and cozy up with a soft blanket. The bed plays Queen Iduana's lullaby and comes with batteries. The dolls are poseable and have deep-rooted hair for hours of gameplay. This set is approved for children ages 3 and up. Buy Here.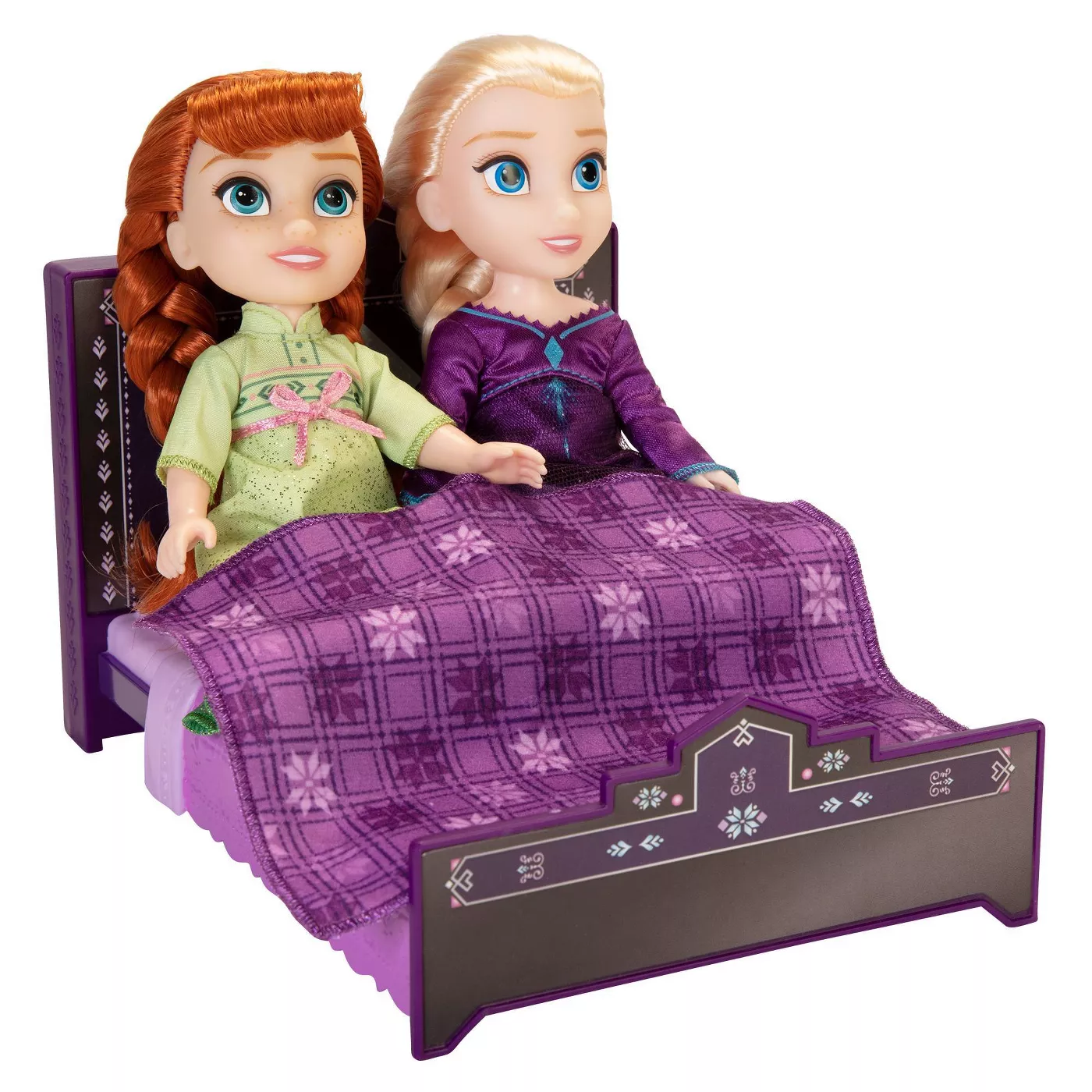 Pros
Great for Young Kids

Includes Musical Bed, Two Dolls, and Sleepwear

Deep-Rooted Hair is More Durable
Cons
Dolls Aren't Highly Detailed

Lower-Cost Materials
Disney Collection Frozen 2 Queen Anna & Elsa The Snow Queen
The Disney Store has a few Elsa and Anna dolls– but most of them are not as well-rated or well-priced as I would have hoped. I was delighted to find this doll set from JC Penney. The doll set includes Anna and Elsa from Frozen 2, with the gorgeous outfits that you see in the film. This faithful interpretation of the sisters includes capes with draping, rich colors, and a bit of sparkle. Anna's hair is swept up into a crown and Elsa's platinum locks are long and free. Buy Here.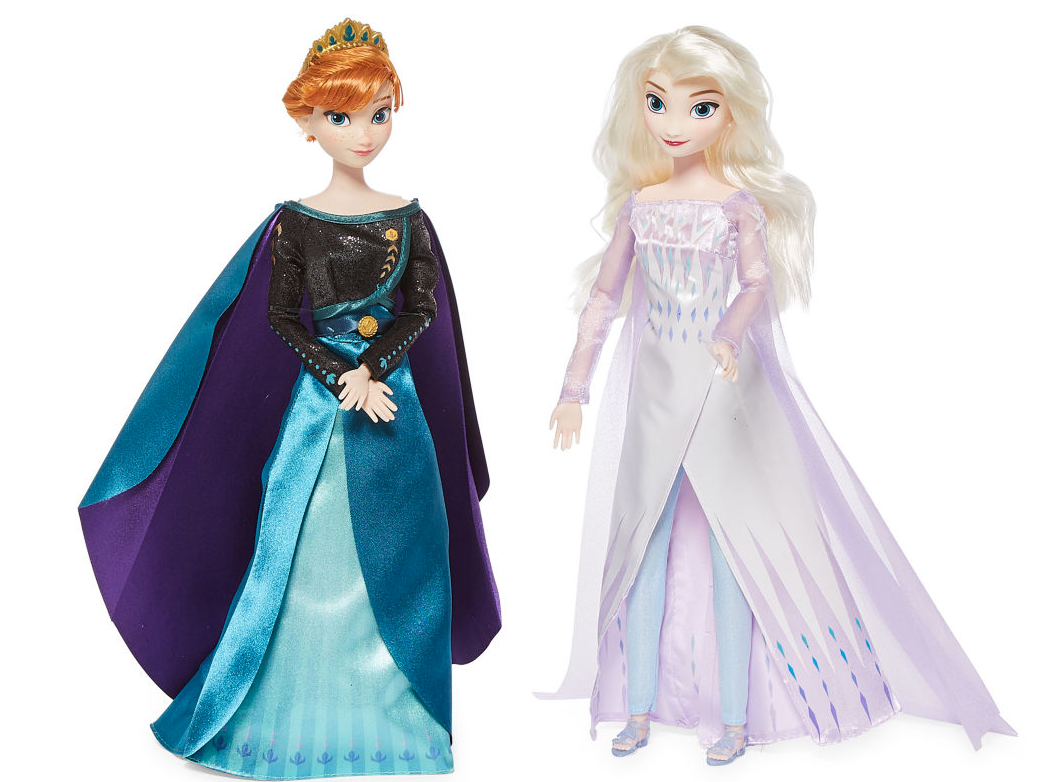 Pros
Great Price

Great Attention to Detail

Includes both Dolls and Beautiful Outfits
Cons
Dolls Don't Stand on Their Own

No Display Case or Stands
Disney Frozen 2 Arendelle Royal Family Fashion Doll Set
For fans who already have Anna and Elsa dolls and are looking for something unique, this Target exclusive set would be perfect for a Frozen gift. The doll set features the entire Ardendelle family, with Anna and Elsa as toddlers. The patterns and colors are striking for the outfits and truly representative of what you'd expect. I also love that this set is still approved for kids ages 3 and up and includes rooted hair for durability. The facial features are expressive and also immediately recognizable. Buy Here.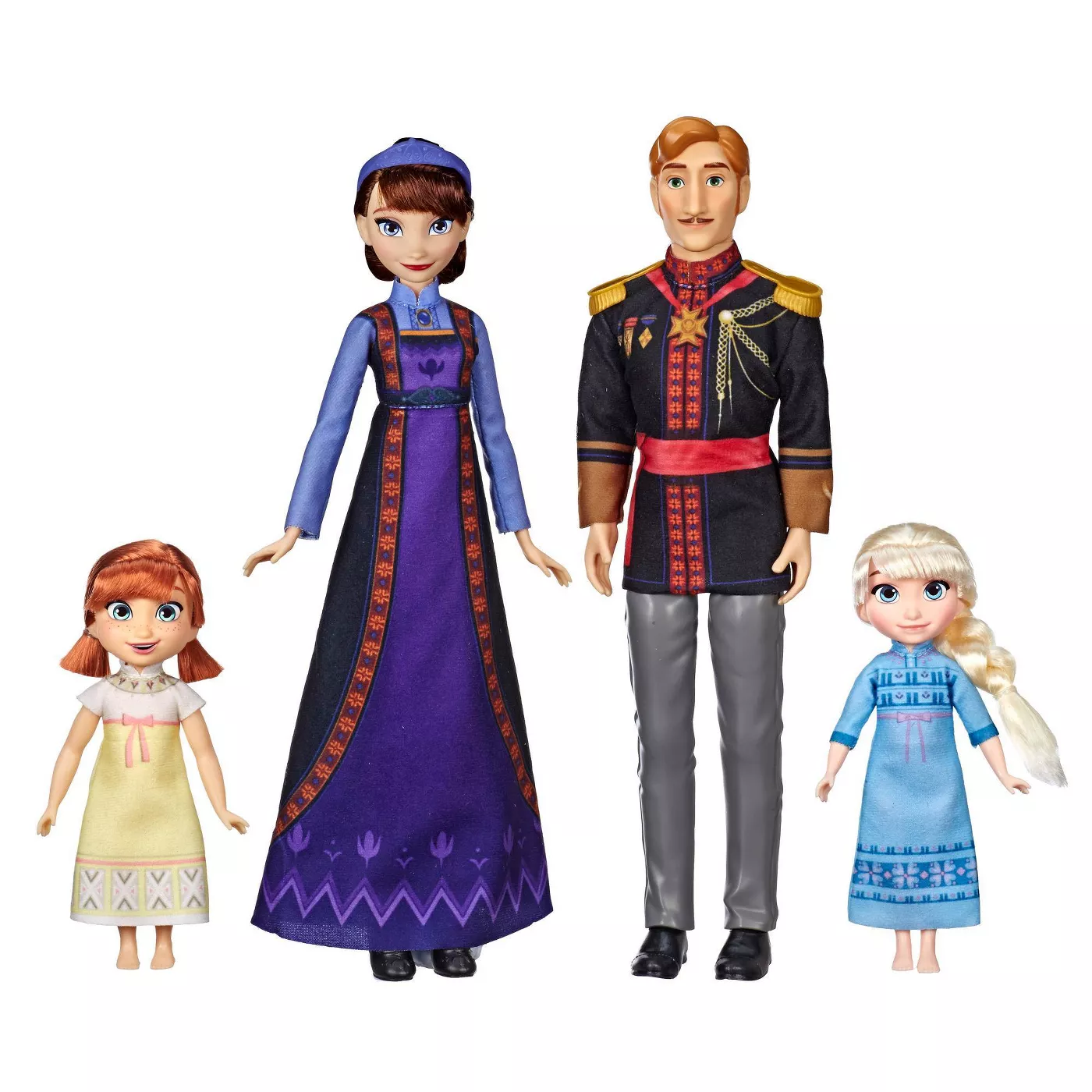 Pros
Target Exclusive

Features the Entire Ardendelle Family

Rooted-Hair for Durability
Cons
Clothing Details are Fairly Simple

Father Doesn't Have Removable Clothing
Frozen Plush Toys
Plush toys are more popular than ever. They're affordable, great for collecting, and also ideal for young Frozen fans who aren't ready to take care of dolls or collectible playsets.
Olaf Cuddleez Plush
There's no denying that Olaf brings levity and joy to the Frozen series. This plush toy will bring joy in a large package. The plush is sold through the official Disney Store and measures an impressive 25 inches long. Features are embroidered and sculpted to carefully replicate the Olaf so many know and love. Olaf lies on his stomach and is made with a responsive, soft polyester that's ideal for cuddling with. Buy Here.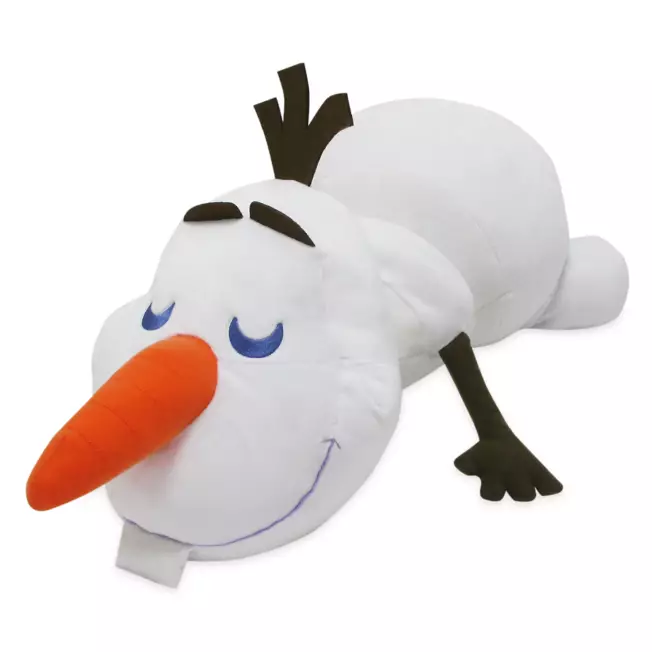 Pros
Responsive, Soft Polyester

25 Inches Long

Sculpted and Embroidered Details
Cons
Slightly Expensive

White Fabric Can be Hard to Care For
Sven Plush – Frozen
Looking for another sidekick Frozen plush that's a generous size? This large plush, also from the Official Disney Store, features Sven the reindeer. Sven is in a laying position to cuddle with, but it's the details I love. This reindeer charms with a faux fur tail and body, with charismatic embroidered facial features. The reins feature folk art designs. This large plush is sure to bring a smile to a Frozen fan's face. Buy Here.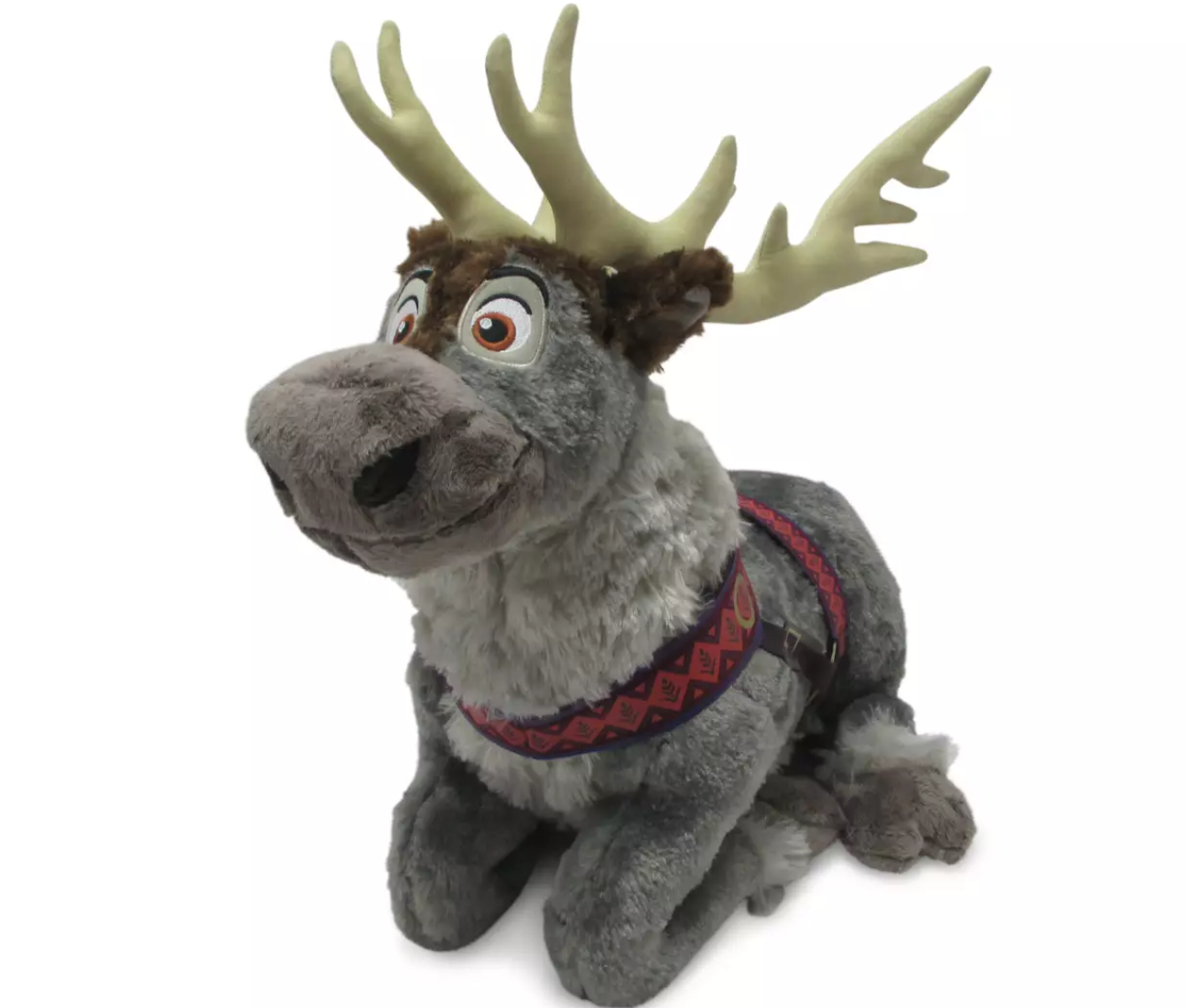 Pros
Cozy Faux Fur

Great to Cuddle With

Folk Art Details
Cons
Expensive

One Set Position
Queen Anna Plush Doll
This medium-sized plush doll is one of my favorites, but I admit a bias for Anna-related merch. Anna is radiant with a velour cape with satin lining. Her velour dress features a pleated satin underskirt. Her hair is in a braided updo, adorned with a crown. She's even wearing satin shoes and earrings. She's still soft and cuddly for naps or travel. Buy Here.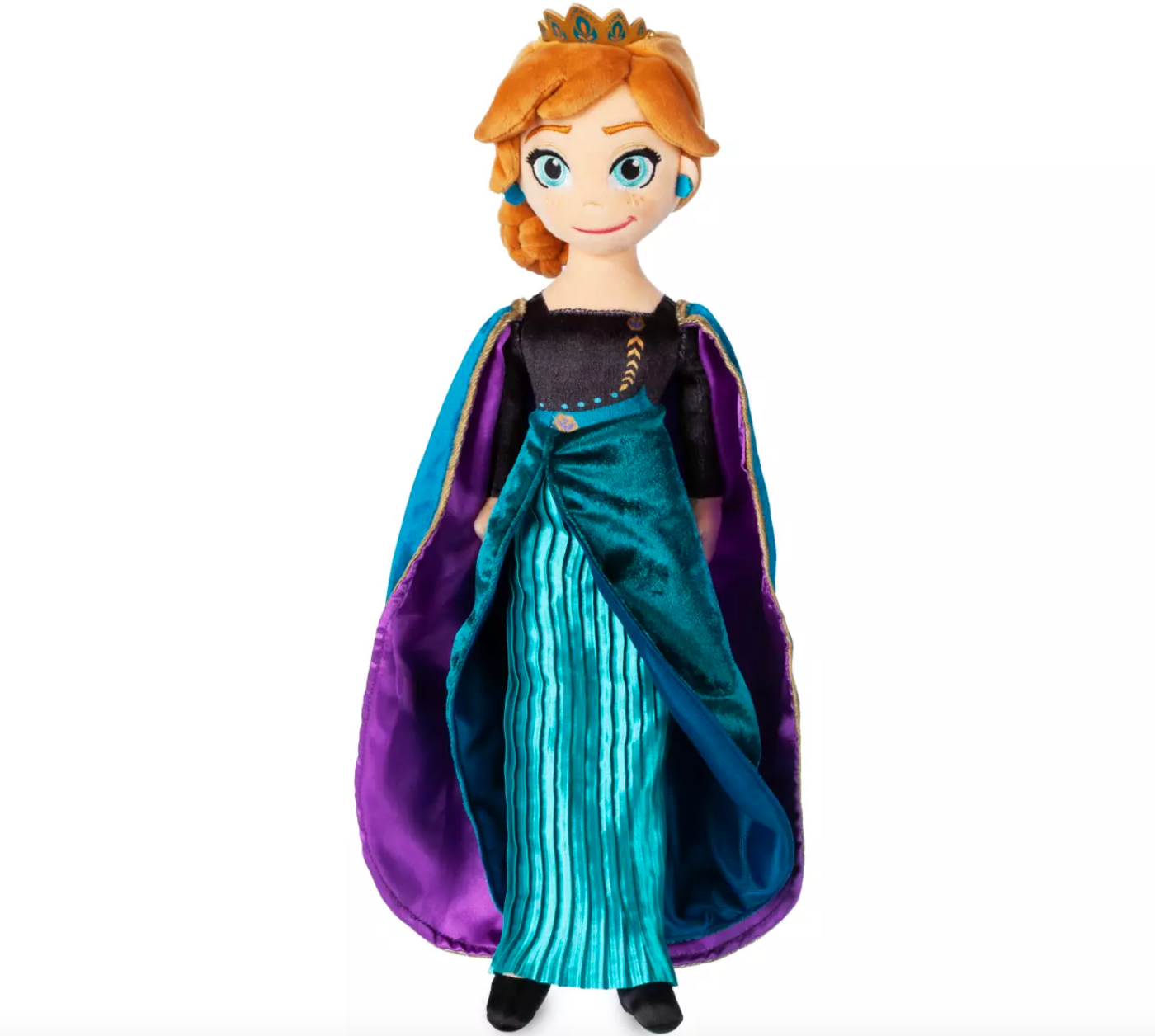 Pros
Velour and Satin

Crown and Earrings

Cozy Plush
Cons
Accessories Aren't Removable

Top of Dress Isn't Quite as Vibrant
Elsa the Snow Queen Plush
If you love the details of the last plush I recommended, no doubt you'll appreciate this striking Elsa plush too. Elsa the Snow Queen radiates with a glitter accent. Her sleeves are made with organza and her dress and pants are constructed with soft velour. I also love her expressive embroidered features and the screen art details. If you have the money to spend, Elsa and Anna look excellent together and would bring a smile to young and older fans alike. Buy Here.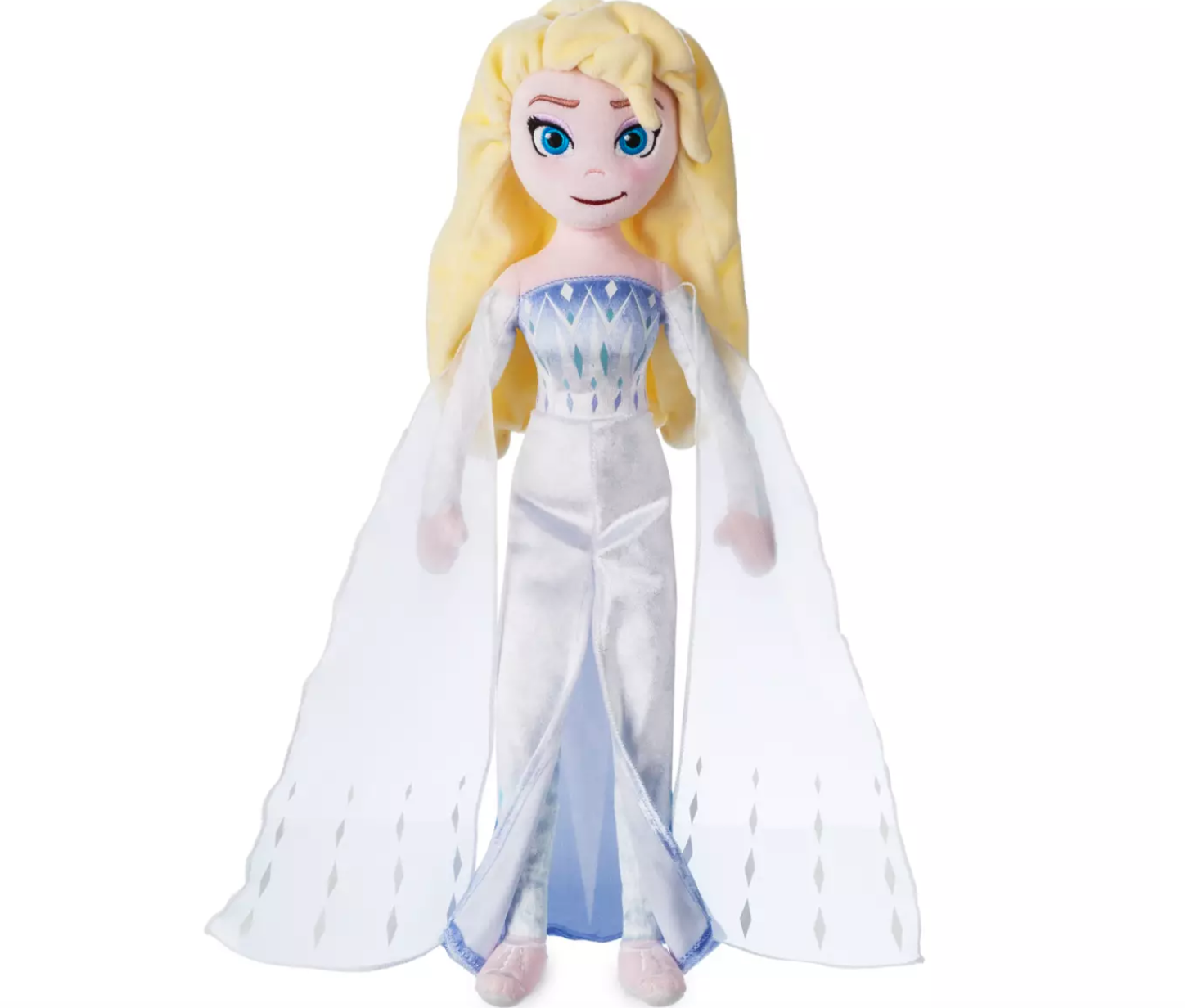 Pros
Glitter Details

Soft Velour

Embroidered Features
Cons
Cape Stitching is Fragile

Spot-Clean Only
Frozen Home Decor & Bedding
Frozen bedding, wall art, and other accessories can brighten a bedroom, hallway, or living space. These merch items go beyond expectations to add enchanting touches to your home.
Disney's Frozen 2 Midweight Reversible Twin Comforter
Looking for a Frozen comforter at a great price? Not only is this JC Penney comforter a good starting price, but the store often has sales on their bedding and home goods. This comforter is mid-weight, perfect for a little warmth without being bulky. The polyester bedspread is reversible and machine-washable. I love the colors and vibrant graphic design. The leaves make it a great seasonal comforter, too, if you like switching up the look of a room. Buy Here.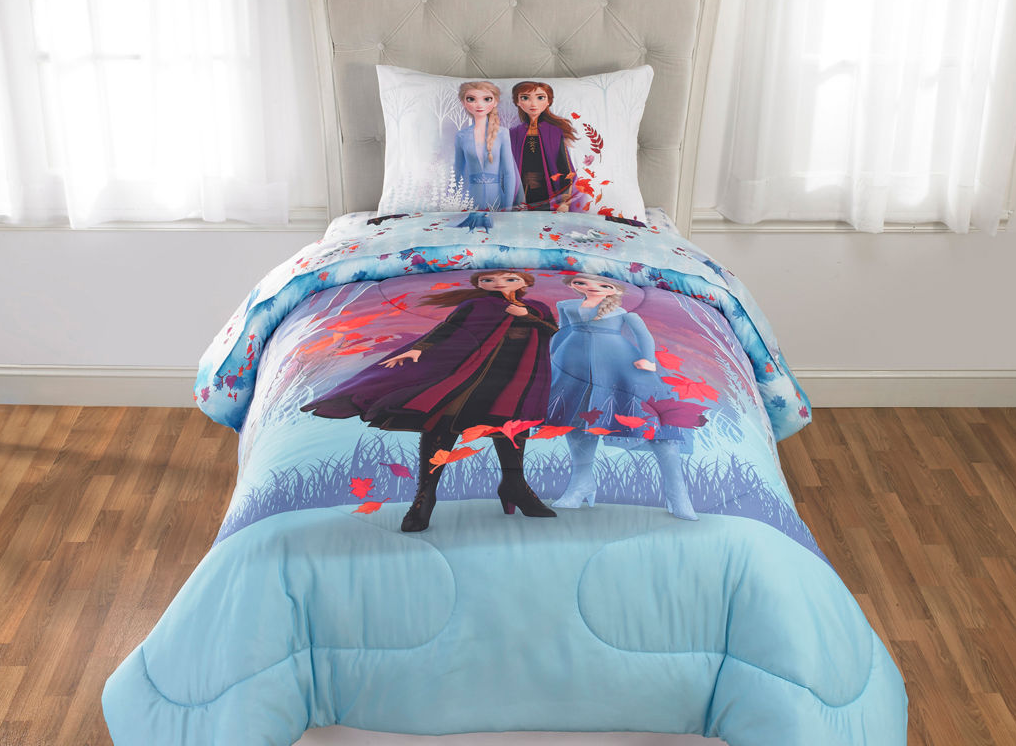 Pros
Reversible

Machine-Washable and Easy Care

Great Price
Cons
Doesn't Come with Other Accessories, such as the

Matching Throw Pillow

Too Warm For Summer or Warm Climates
4pc Toddler Frozen Bedding Set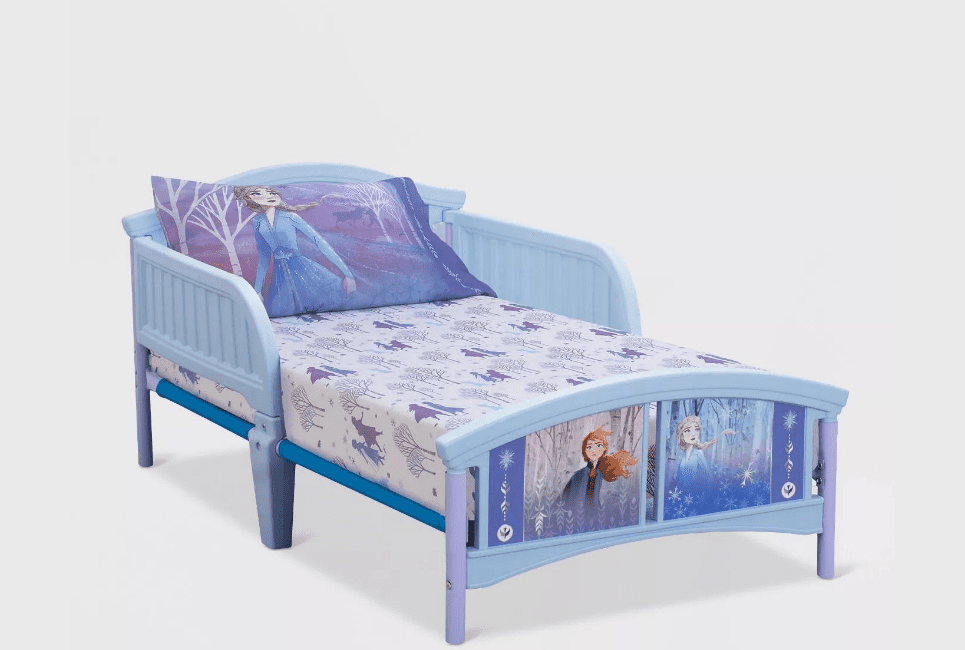 Little Frozen fans don't need to be left out. This Frozen toddler bedding set is sold by Target and boasts high customer satisfaction. The 4 piece set includes a comforter, fitted sheet, flat sheet, and pillowcase. All bedding is made with 100 percent polyester microfiber for a soft fit. It's machine-washable and has a 180 thread count. The Frozen print is simply charming and features all over the sheets and pillowcase. Buy Here.
Pros
Unique Bedding for Toddlers

Microfiber

Detailed and Charming Pattern
Cons
Thread Count is a Bit Low

Doesn't Include Pillow or Comforter
60″x80″ Frozen 2 Frosted Believe Throw Blanket Silk Touch
Next time you're watching Frozen or Frozen 2, reach for this comfy throw blanket. The 60 by 80-inch throw blanket is purposely oversized for a cold day. The plush polyester blend pairs sherpa and silk for a cozy touch. Elsa is striking on the front side, all with an empowering message. The blanket can be washed alone on cold, with a gentle dry cycle. Buy Here.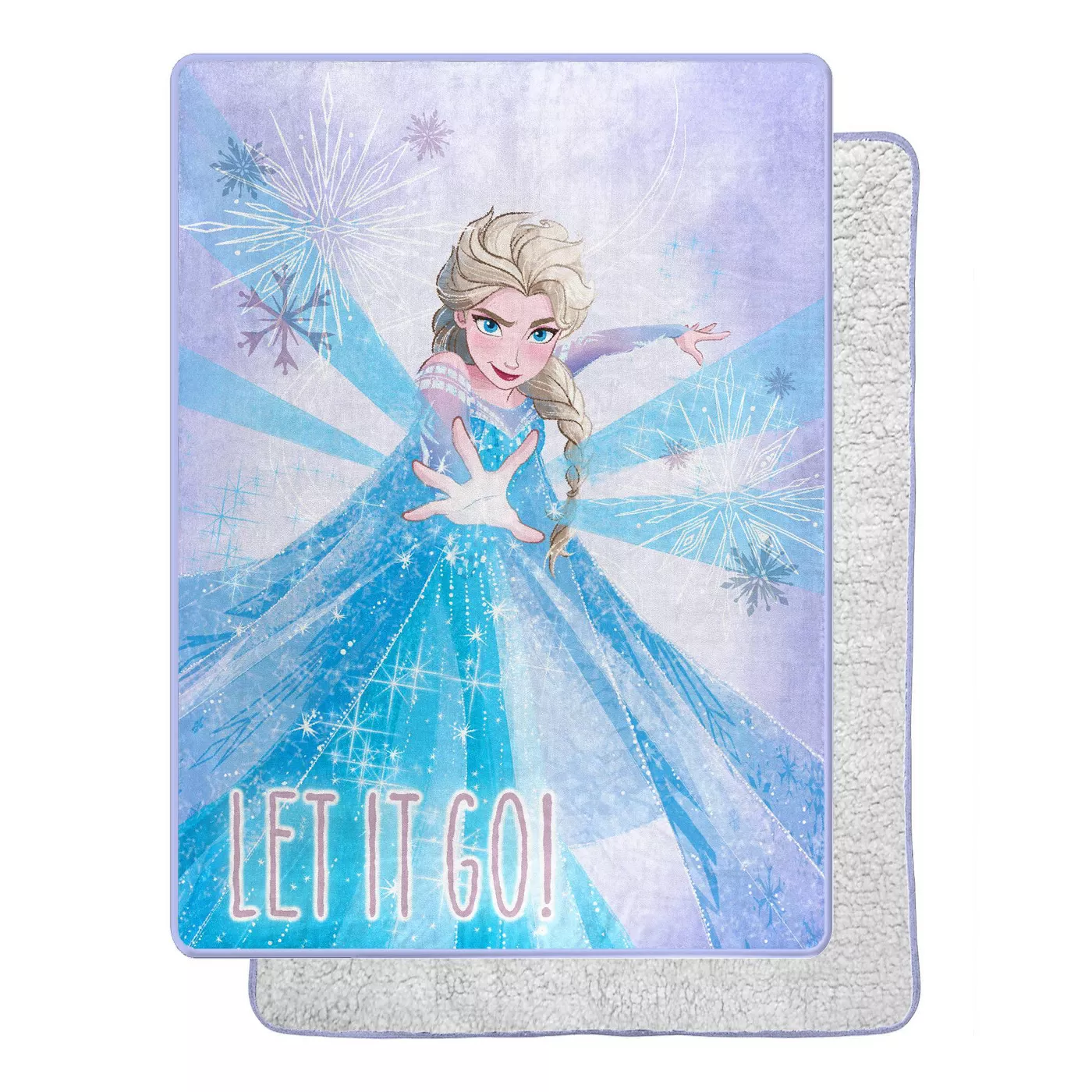 Pros
Empowering Message

Oversized

Cozy Sherpa and Velvet Touch
Cons
Must Wash Separately

Slightly Expensive
Frozen Clothing and Accessories
Frozen-inspired clothing brings Frozen and Frozen II to life. Accessories include watches, baseball caps, and even shoes.
Girls' Frozen 3pc Pajama Set – Blue
This affordable 3 piece pajama set is truly representative of Frozen. The set includes a short sleeve t-shirt, pants, and shorts to wear during cool and warm weather. The polyester fabric is soft and helps keep sweat at bay. The set is lightweight and features vibrant blue hues. I love the artistic illustrations of Anna and Elsa holding hands. Buy Here.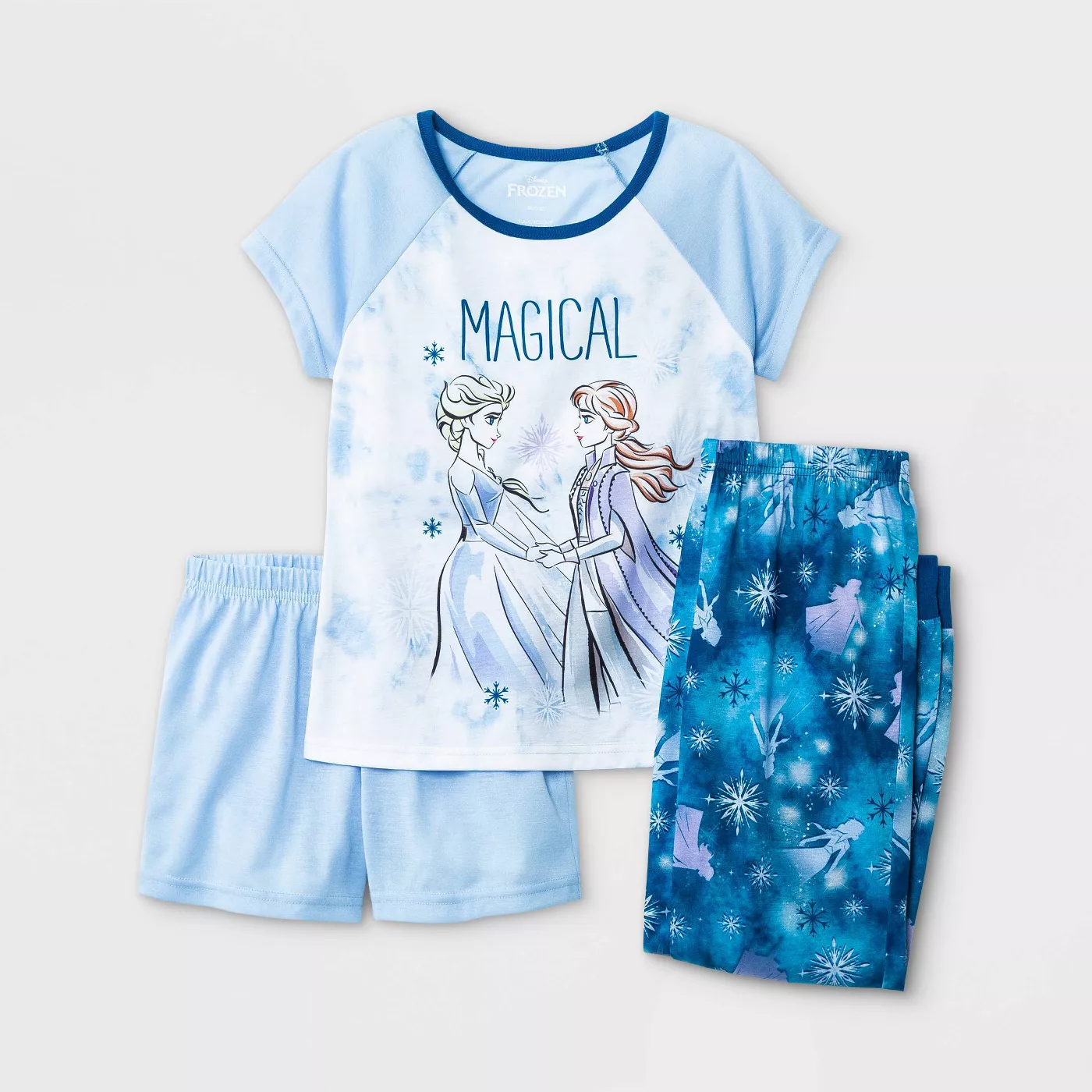 Pros
3 Pieces for Different Seasons

Lightweight Polyester

Artistic Style
Cons
Doesn't Include Long Sleeve

Too Lightweight for Cold/ Winter
Toddler Girls' 4pc 100% Cotton Frozen Snug Fit Pajama Set
I love this toddler pajama set even more than my recommendation for girls'. Equally affordable, this Frozen set includes 4 pieces, making it useful year-round. The blue and lilac-themed pj's are sure to bring a smile to young Frozen fans. The 100 percent cotton is cozy and soft. All pieces are machine washable and easy to care for. Buy Here.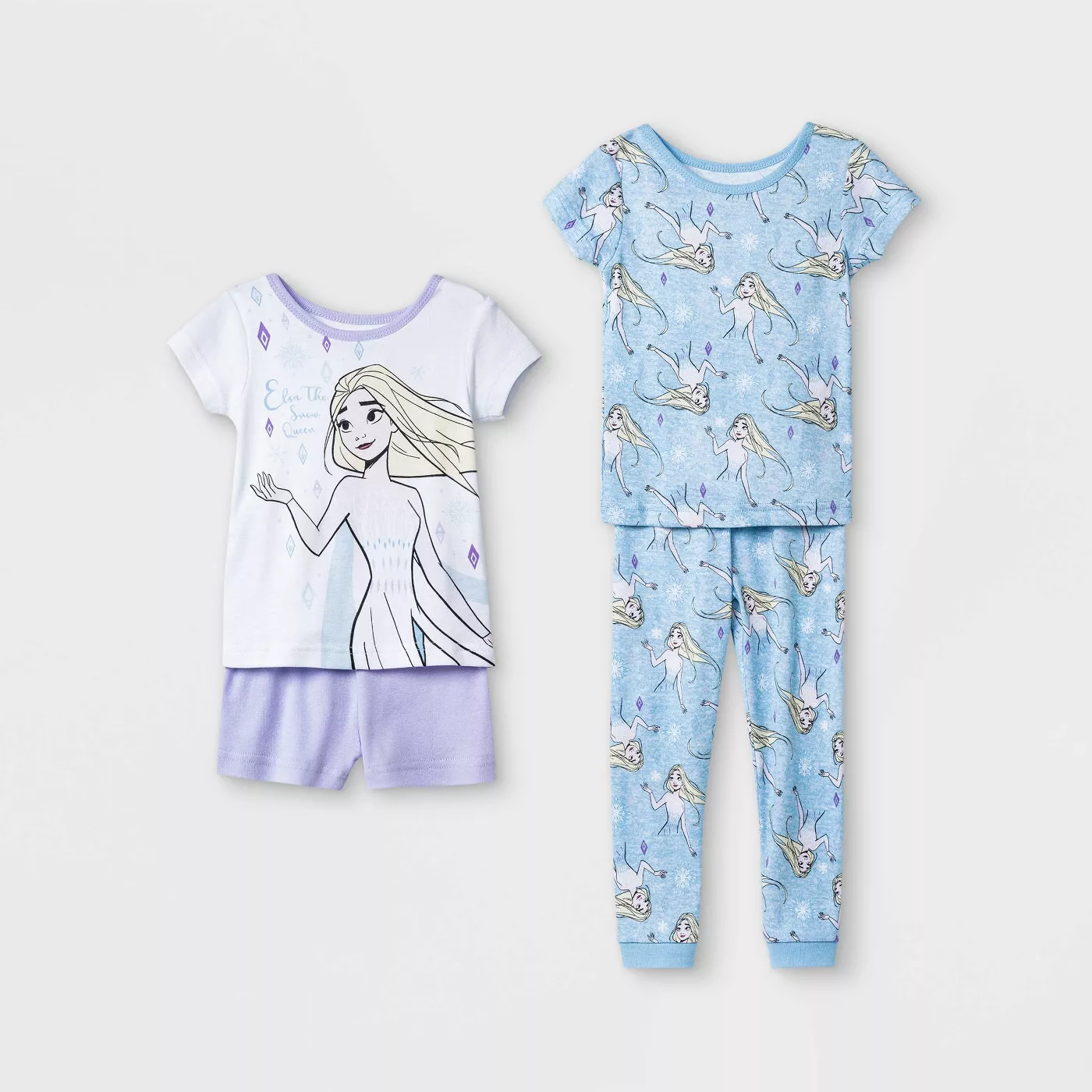 Pros
Soft Cotton

Elsa Design

4 Pieces for Spring, Fall, and Summer
Cons
Not Pre-Shrunk

May Not be Warm Enough for Winter
Frozen Baseball Cap
This baseball hat will keep the sun out of kids' eyes in a festive and meaningful way. The Official Disney Story goes above the basics with this soft polyester and cotton cap. Anna and Elsa pose on a snowflake-accented ombre background. Holographic letters, metallic details, and icy blue mesh elevate this hat's style. Buy Here.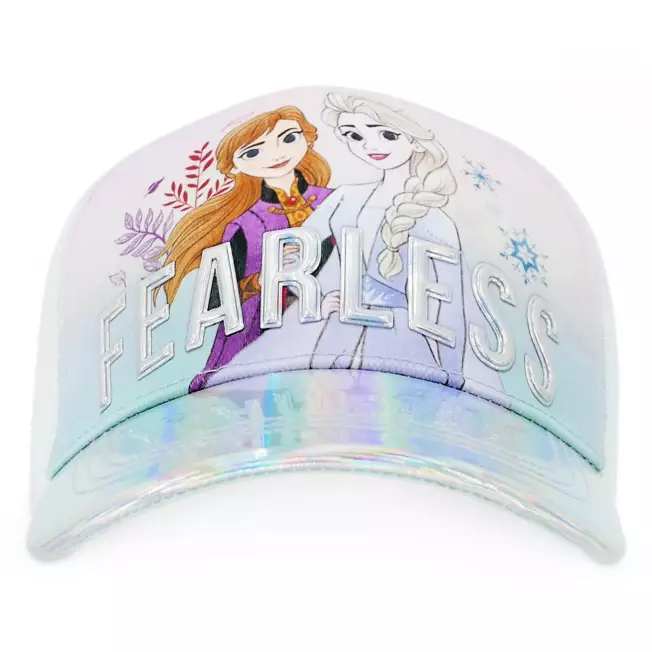 Pros
Adjustable Buckle

Holographic Letters

Soft Cotton and Polyester Blend
Cons
Hand-Wash

Light Colors Shows Dirt
Disney Princess Elsa Frozen Girls Blue Leather Strap Watch
I know fewer people are using wristwatches, but I had to mention this as a Frozen-themed gift idea. This makes my list for best Frozen merchandise for a few reasons. The watch is made with leather and stainless steel, both of which are durable and suitable for everyday wear. The watch features a sleek icy blue strap with an adjustable buckle. Elsa is featured on the main interface. It's a thoughtfully designed watch that's still versatile, offered at a fair price through JC Penney. Buy Here.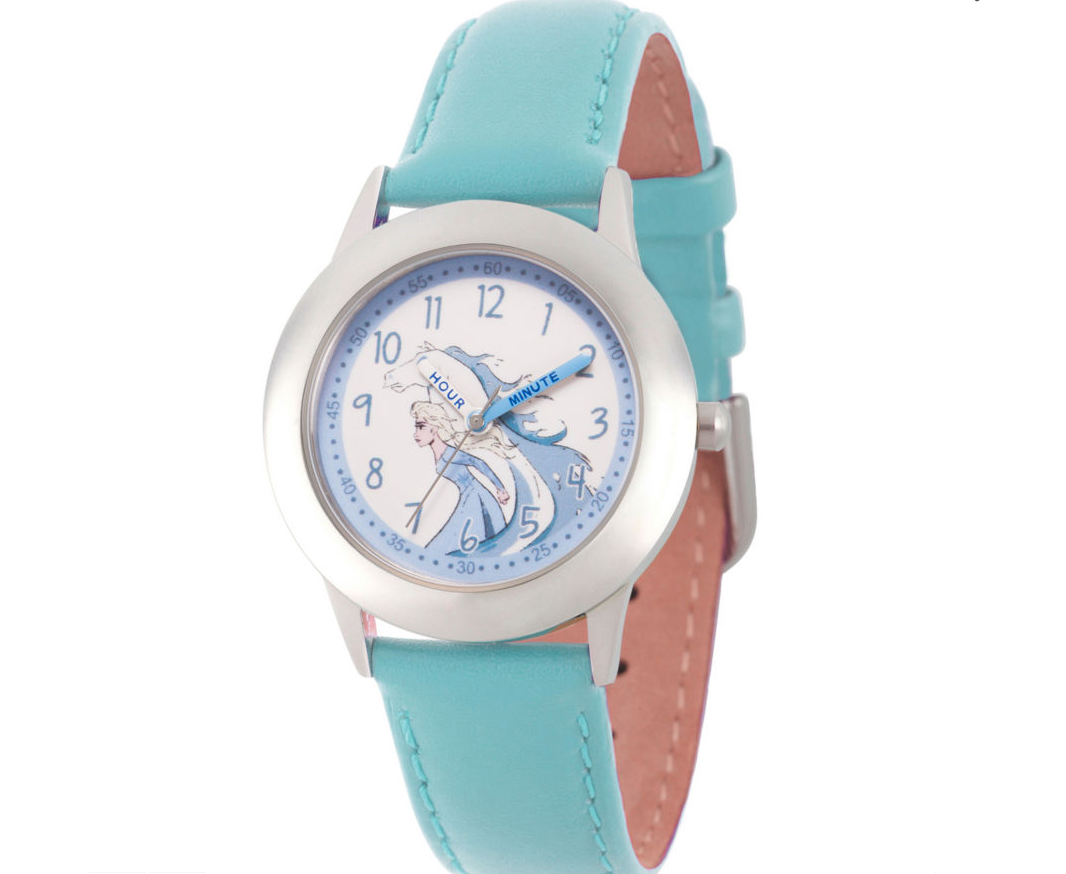 Pros
Leather and Stainless Steel

Sleek and Versatile Design

Adjustable
Cons
Protection Plan Sold Separately

Not Made in the USA
Frozen Costumes
Costumes are a way to act out Frozen, and even be a princess for a day. These costumes are for young, avid fans and are constructed with beautiful details.
Anna Coronation Costume for Kids
This striking costume is perfect for celebrating Anna's coronation in Frozen 2. Sold through the Disney Store, Anna's coronation costume features glitter details along the velour bodice. The square neckline is trimmed with satin. The satin skirt is accompanied by layers of tulle and chiffon for extra volume. Golden trim and royal crest details finish the look. It's a gorgeously-constructed for just being a costume. Buy Here.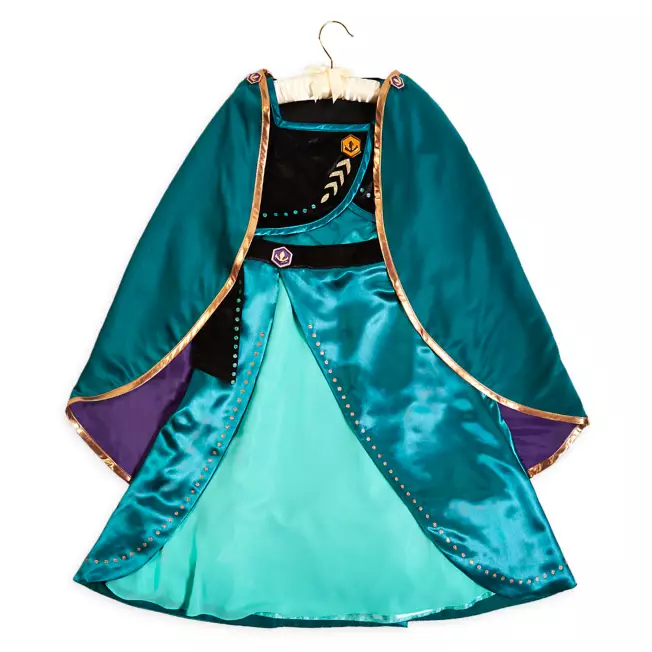 Pros
Satin, Velour, Tulle and Chiffon

Royal Crest Symbols

Glitter and Gold Accents
Cons
Slightly Expensive

Bigger Sizes Sell Out Quickly
Disney Frozen 2 Elsa Costume
Frozen 2 fans you prefer to dress up as Elsa will love this enchanting Elsa Ice Queen costume, sold through Target. This iconic icy blue dress features a satin dress with sheer sleeves, paired with icy blue leggings. The organza cape is enchanting with glitter details. Self-adhesive tabs keep everything in place. The elastic waistband provides a comfortable and flexible fit. Buy Here.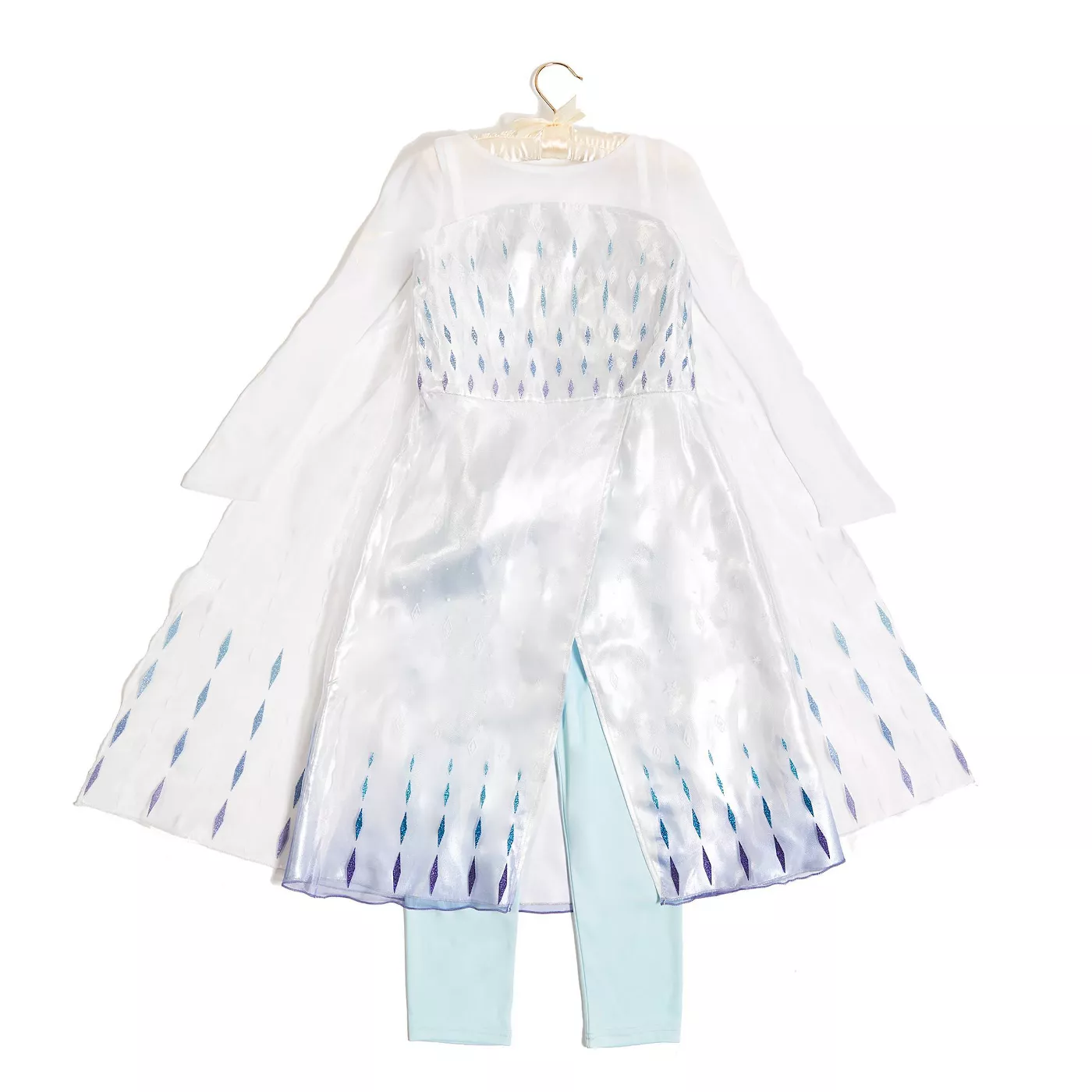 Pros
Organza Cape

2 Piece Set

Glitter Details
Cons
Hand Wash Only

Slightly Expensive
Honorable Mentions: Original Frozen Costumes For Anna and Elsa
I love these two costumes for Anna and Elsa from the original Frozen films. These classic costumes are both sold through JC Penney for a reasonable price– about 10 to 15 dollars less than you'd spend through the Disney Store. Gorgeous colors, a comfortable fit, and easier upkeep are pluses for both. Buy Anna's Costume Here or Elsa's Costume Here.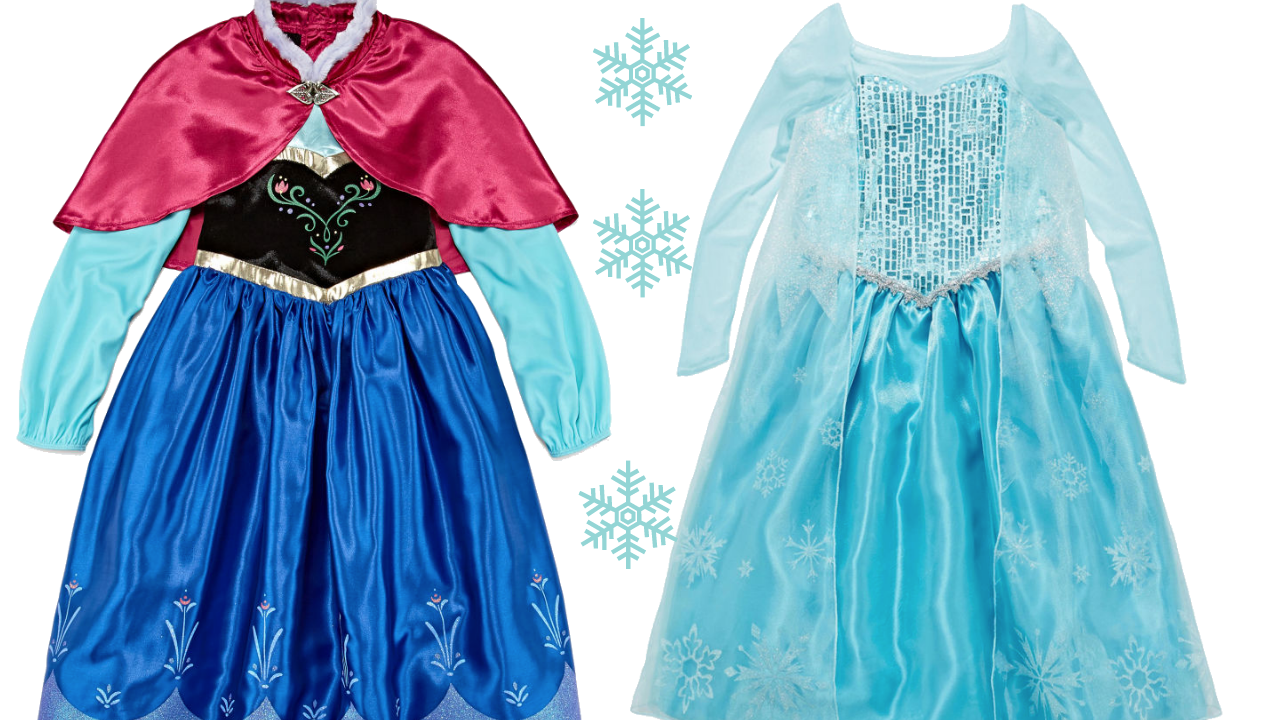 Pros
Classic Frozen Designs

Easy-Care Polyester

Slight Discount
Cons
Not As Luxurious Fabric

Fewer Details
Plush Toys by Character
Need some quick buying recommendations? These plush toys represent each of your favorite main Frozen characters. I've included these recommendations in case you're in a hurry and just want one more merch item to round out your collection. All of these picks still meet my standards for finding the best merchandise.
Elsa
Elsa may be the Snow Queen, but that doesn't mean that she doesn't have a softer side. This Elsa plush from Target doubles as a mini-pillow. Her yarn hair is long and pretty. The polyester body is soft and cozy. Buy Here.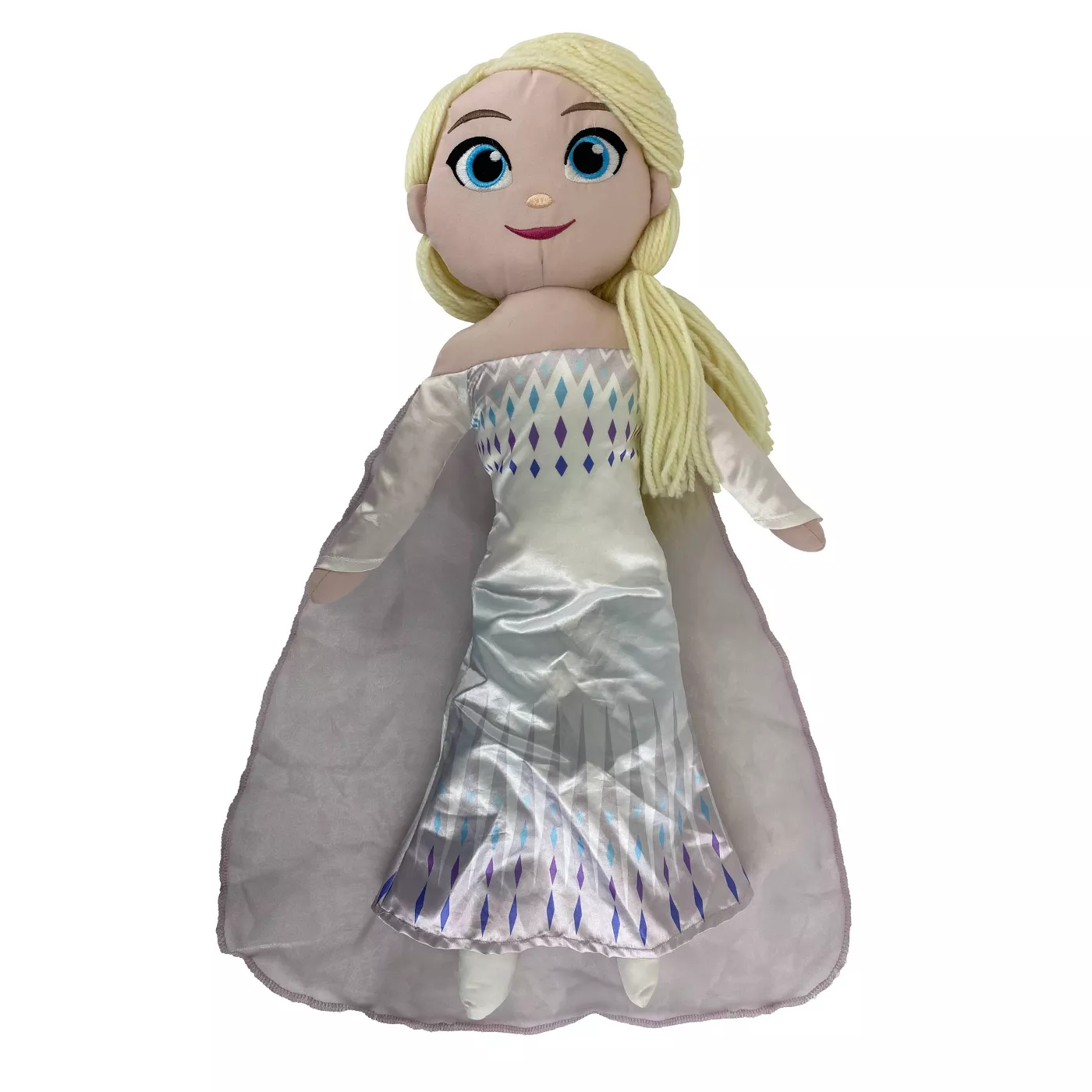 Pros
Doubles as a Pillow

Detailed White Dress
Cons
Anna
Anna will add charm to a bedroom with a playful expression and cuddly polyester body. Her cape and coronation gown is resplendent in hue. You can have her delivered to your door or purchased for curbside pickup at a Kohl's near you. Buy Here.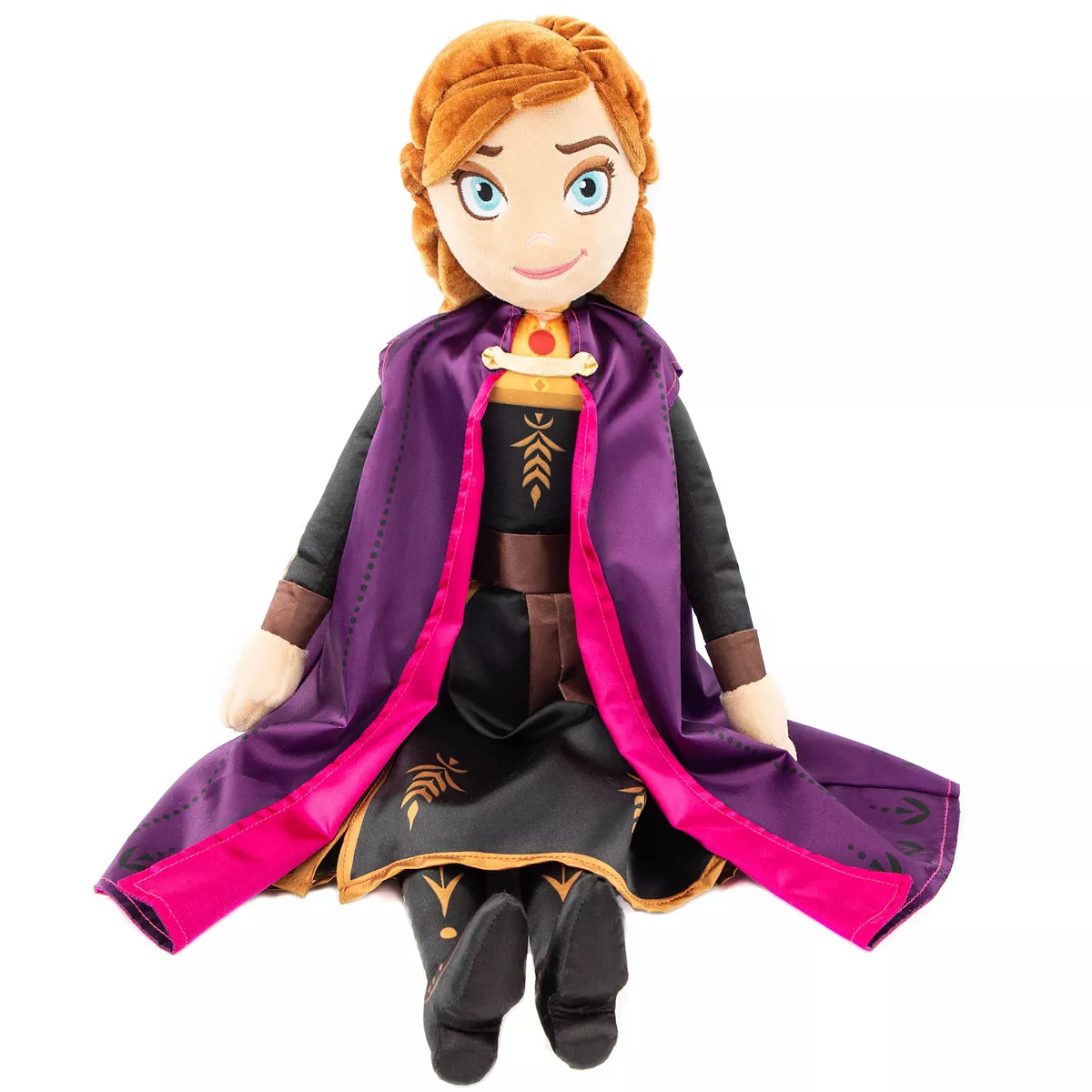 Pros
Cons
Slightly Expensive; Spot Clean Only
Olaf
Do you want to build a snowman? Chances are you will with this adorable Olaf plush in your home. This Olaf plush is expressive as the side character, sculpted with embroidered features and accented with snowflakes and sparkles. Buy Here.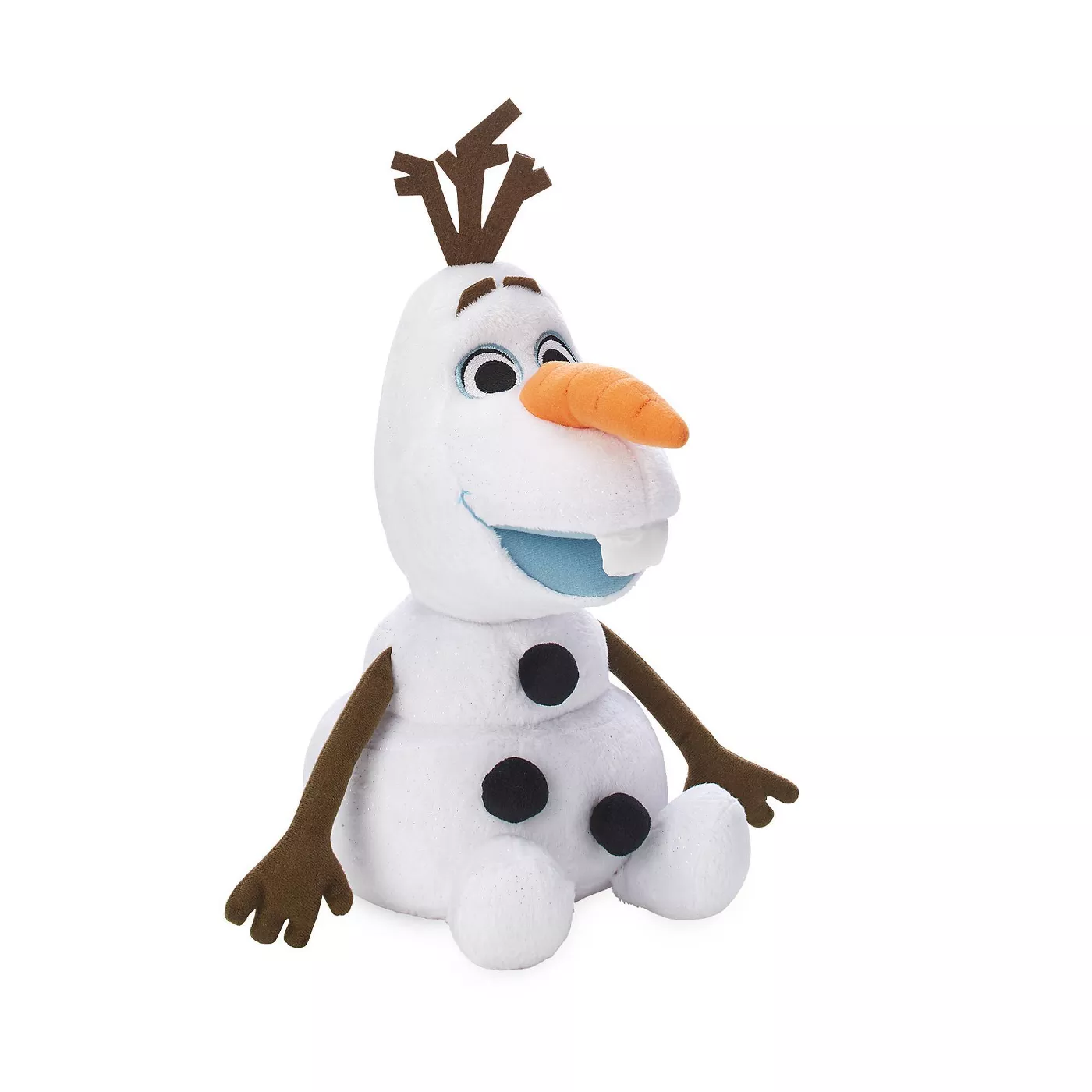 Pros
Snowflake and Sparkle Details

Sculpted and Embroidered Details
Cons
Kristoff
Kristoff doesn't have great options for plush toys, but you can buy him as an Anna and Kristoff Doll Set. This set is sold on Amazon and includes two dolls and the signature outfits from Frozen 3. It's a great price, a popular seller, and a really fun set with great attention to detail. Buy Here.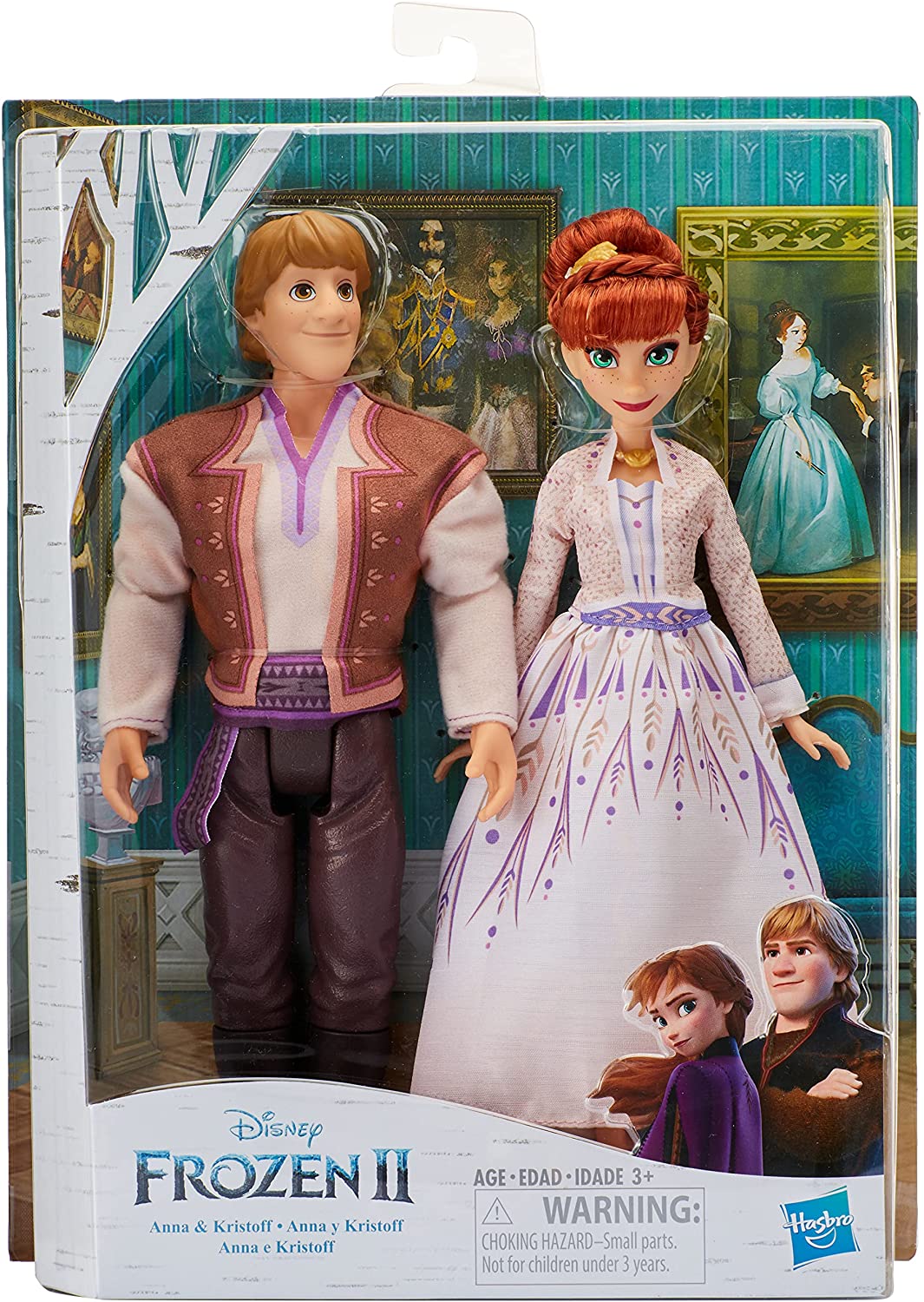 Pros
Two Dolls and Outfits

Great Price
Cons
Faces Aren't As Detailed as Some Disney Product
Sven
Kristoff's sidekick is adorable. This TY Beanie Babie features expressive embroidery and glitter details on the antlers. It's cuddly and collectible. Buy Here.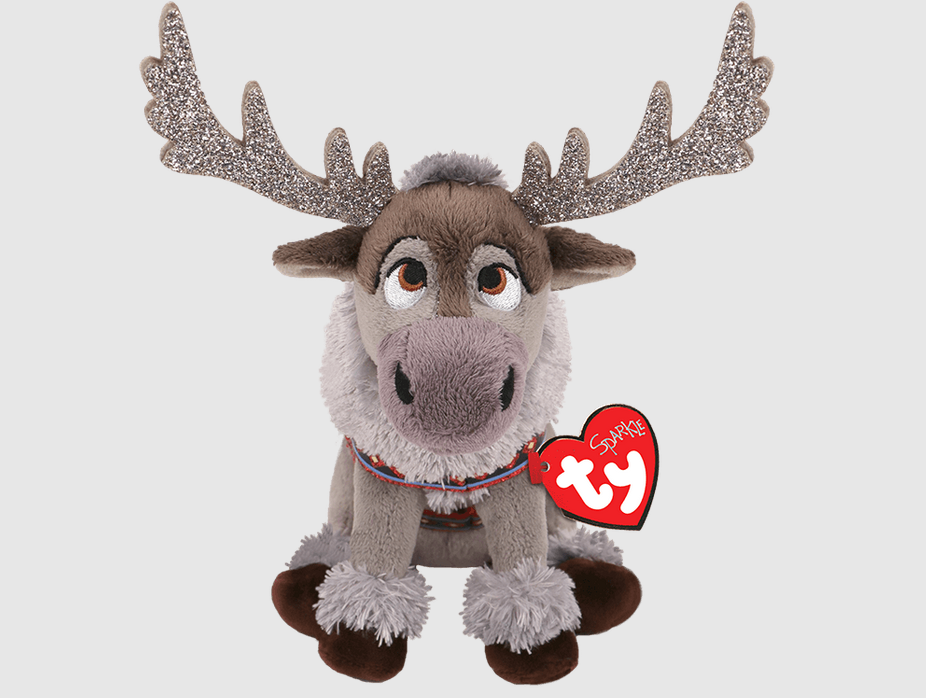 Pros
Glitter and Embroidery Details

Budget-Friendly
Cons
Elsa and Anna Bundle
Why not collect both sisters at the same time? TY sells adorable Else and Anna Beanie Babies. These Beanie Babies are made with soft silk and sparkle with glitter details. There are even freckles on Anna's face. Buy Here.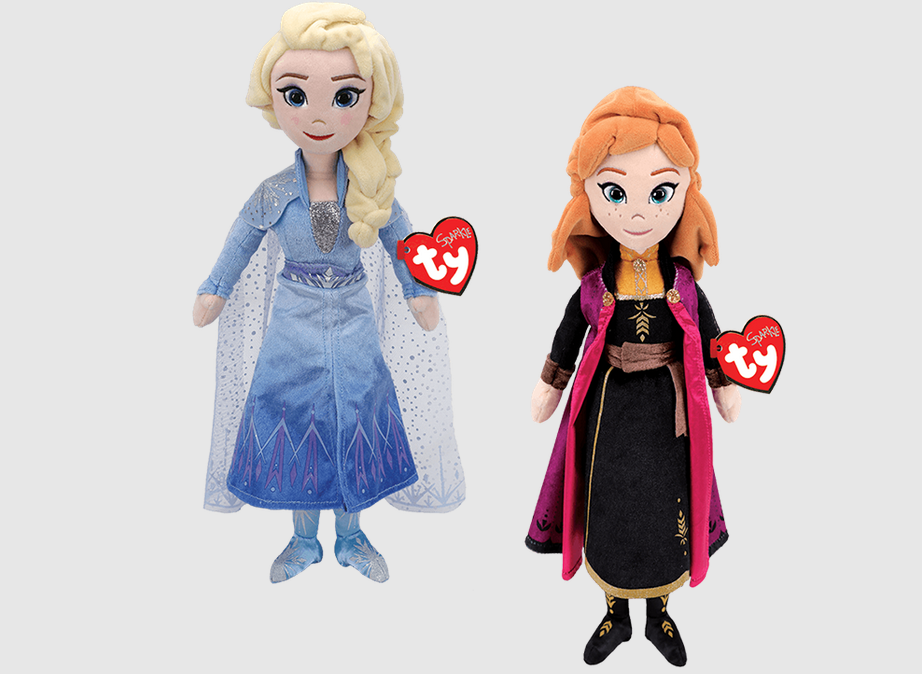 Pros
Silk and Glitter

Facial Details
Cons
Frozen 2 Collector's Set
Love Frozen 2 and want to collect plush for a great price? This collector's set is offered in varieties from both Amazon and Walmart. For a low price, you get Elsa, Anna, Olaf, Baby Reindeer, and Bruni. All are soft plush toys with cute details. Buy Here.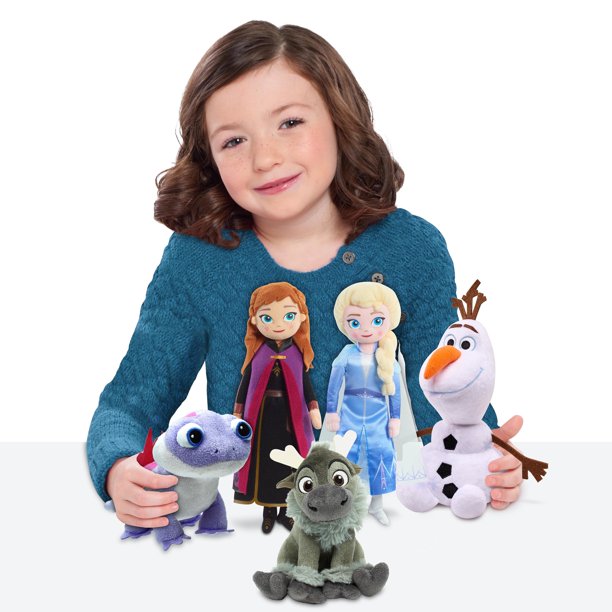 Pros
Cons
Doesn't Include Kristoff or Sven
Final Buying Recommendations: Frozen Merch from Hot Topic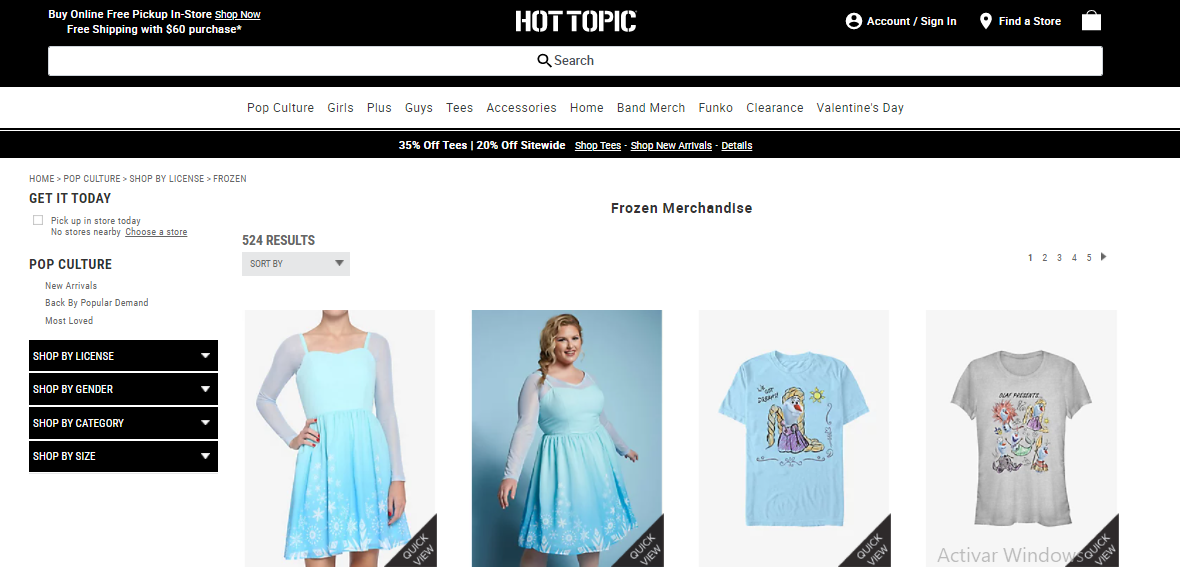 If you still haven't found any Frozen of Frozen II merchandise and want one last place to shop, I recommend Hot Topic. Hot Topic has a collection of online, officially licensed merchandise. This collection caters to adults and teens, which sets it apart from the younger demographic of most Frozen merchandise collections. Graphic tees, modernized Elsa dresses, tank tops, and hoodies make this a versatile and practical collection. While there are direct interpretations of Frozen, many of these clothing items are more muted for everyday wear. Shop Frozen Merch from Hot Topic Here.
Frequently Asked Questions
Question: How Much did Frozen Merchandise Make? 
Answer: It's hard to know exactly how much Frozen merchandise has made, but let me put it this way: it's likely to continue to be a formidable revenue stream for Disney for some time. By 2020, sales from Frozen merchandise exceeded $107 billion. Disney has sold enough Frozen merchandise to exceed what it made on its Frozen films. 
Question: How Much Money has Frozen Made, Including Merchandise?
Answer: The first Frozen film earned over $1.28 billion at the box office. Frozen 2 faired even better, making over $1.3 billion at the Box Office. Of course, that's small pennies compared to the over $107 billion the franchise has made through its merch. Frozen has earned over $110 billion in total revenue. 
Question: Where Can I Buy Frozen Broadway Merchandise? 
Answer: Frozen: The Musical is a success and brings the film back to life once more. While it's hard to obtain official merch, you can shop for fan-made, handmade Frozen the Musical Merch on Etsy. This collection of merchandise includes magnets, keychains, buttons, and even accessories. 
Final Thoughts
It's hard to overestimate how much of an impact Frozen and Frozen 2 have made. Frozen continues to enjoy an avid fan base and the merchandise is just as enchanting as the films. I do recommend caution when buying Frozen merchandise from an unknown seller. Since it's so popular, some may be swayed to pay top dollar. Make sure the website you're shopping on has a secure connection and processes payments through secure methods.
If you want to find more worthy products, check these guides below:
Your Ultimate Marvel Merch Guide
Charli D'Amelio Merch Review: Your Buying Guide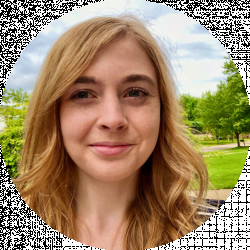 Latest posts by Erin Jamieson
(see all)