When I was seven and received my first bit of Hello Kitty merchandise, I had no way of knowing it would become the second highest-valued media franchise in the world. Now worth over $84.5 billion, Hello Kitty has no shortage of merchandise. But you'll need a guide to make sure you don't waste your money.
In this guide, I'll share how I find the best officially licensed Hello Kitty merchandise. I'll give you my top picks for the best Hello Kitty apparel, toys, decor, plush, and much more. This is the year to gift or grow your collection– it's amazing how many great products you can buy.
Bottom Line Up Front Summary:  If I had to select just one Hello Kitty merch item, it would be this Hello Kitty Teacup Poster Print from Target. This framed wall art captures the spirit of Hello Kitty. It's printed with premium ink and on glossy paper. You even get your choice of several frame styles and two sizes.
My Top Picks
Hello Kitty Merchandise: Unique Finds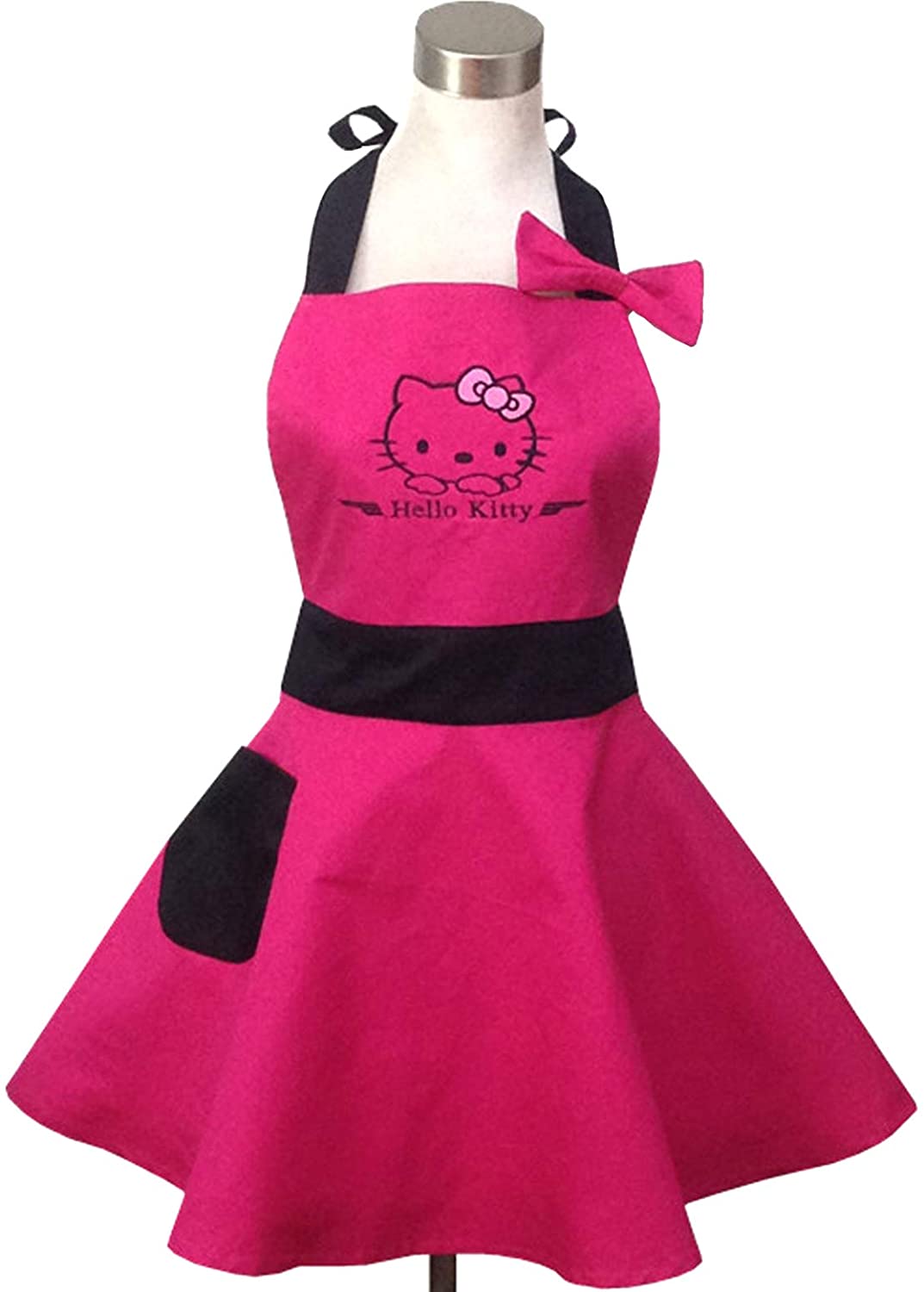 If you're an avid fan of Hello Kitty, you may think you know everything about the franchise. But there are some quirky details about Hello Kitty merchandise that you may not know about.
Most Popular Hello Kitty Merchandise
Hello, Kitty is most popular in Japan, but it's still pretty popular worldwide, especially in the United States. As for the most popular items? Kawaii-style shirts and plush toys top the list of fan-favorites. Food products, including Hello Kitty Almond Cookies, are also bringing smiles to fans' faces.
Most Unique Hello Kitty Merchandise
Hello, Kitty merchandise comes in all colors and types. For instance, you buy a Hello Kitty Apron to add style to your cooking. And for a glow-up, there are Hello Kitty Cosmetic Sets.
Most Expensive Hello Kitty Merchandise
Most fans are looking for a bargain, but you may be interested to know how extravagant Hello Kitty merchandise can be. The most expensive?  A $91K figurine is on display a the Mitsukoshi store. Of course, the most expensive isn't the best. The sign of a great Hello Kitty product is sold through a reputable website and made with materials built to last.
Where to Buy Hello Kitty Merchandise
The problem with searching for Hello Kitty merchandise isn't that it's hard to find– but that's it's very easy to find. Countless online stores, from Etsy to Walmart to merchandise websites and Sanrio sell Hello Kitty merchandise. If you're at Disney World, stop at the Mitsukoshi Store for Hello Kitty merchandise.
But most of us aren't traveling to Disney World, and online shopping is tricky. Sanrio, the official online store, sadly has a failing rating with the Better Business Bureau. I've searched for the best collections that only sell officially licensed merchandise and have transparent consumer policies. I also selected collections with the most variety and consistency.
Find more Hello Kitty guides below:
The Best Hello Kitty Squishmallow Guide
Hello Kitty Merchandise From Hot Topic
This collection includes apparel for teens and adults. Emo Hello Kitty merch is available in dresses, leggings and so much more. Aside from edgy designs, this official merchandise collection includes items that are hard to find elsewhere, such as jumper dresses, slippers, interesting clutches, and mini backpacks. Shop Hello Kitty Merchandise at Hot Topic Here.
Hello Kitty Merchandise From Macy's
Macy's carries bright, unique apparel for toddlers, kids, and adults. Cozy pajamas, cute dresses,  and hoodie jackets are just a few options. Alongside apparel, Macy's also carries items for the home, kitchen, and toys. That's not even to mention the accessories, including Hello Kitty watches, purses, and genuine 24K gold jewelry. This collection is a must-see. Shop Hello Kitty Merchandise at Macy's Here.
Hello Kitty Merchandise From Target
Target's Hello Kitty Character Shop is organized neatly by category and carries over 120 items of officially licensed merchandise. School supplies, hats, socks, mugs, toys, and bedding are the main features of this collection. They do carry some t-shirts, but Target shines with its home collection and figurines and toys for young fans. Shop Hello Kitty Merchandise at Target Here.
Hello Kitty Merchandise: My Top Picks
All of my selections are officially licensed merchandise and sold from reputable stores. These merchandise selections cover everything from clothing like cute jackets to gear, decor, and pusheen plush.
My goal is to provide you with products that represent the full range of Hello Kit fans. To celebrate the fandom, all of these merchandise items are designed with authentic, bold, or soft colors, and made with quality in mind. Finally, I've tried to find the best merchandise at the best prices, so you're getting the best value for your money. My selections are divided by category. Check under my Final Buying Recommendations for even more ideas!
Hello Kitty Accessories
Hair accessories, hats, bracelets, and necklaces are all options for Hello Kitty accessories. My selections embrace the Hello Kitty style but stand out for their versatility and value.
Hello Kitty X My Hero Academia Pigment Dye Dad Hat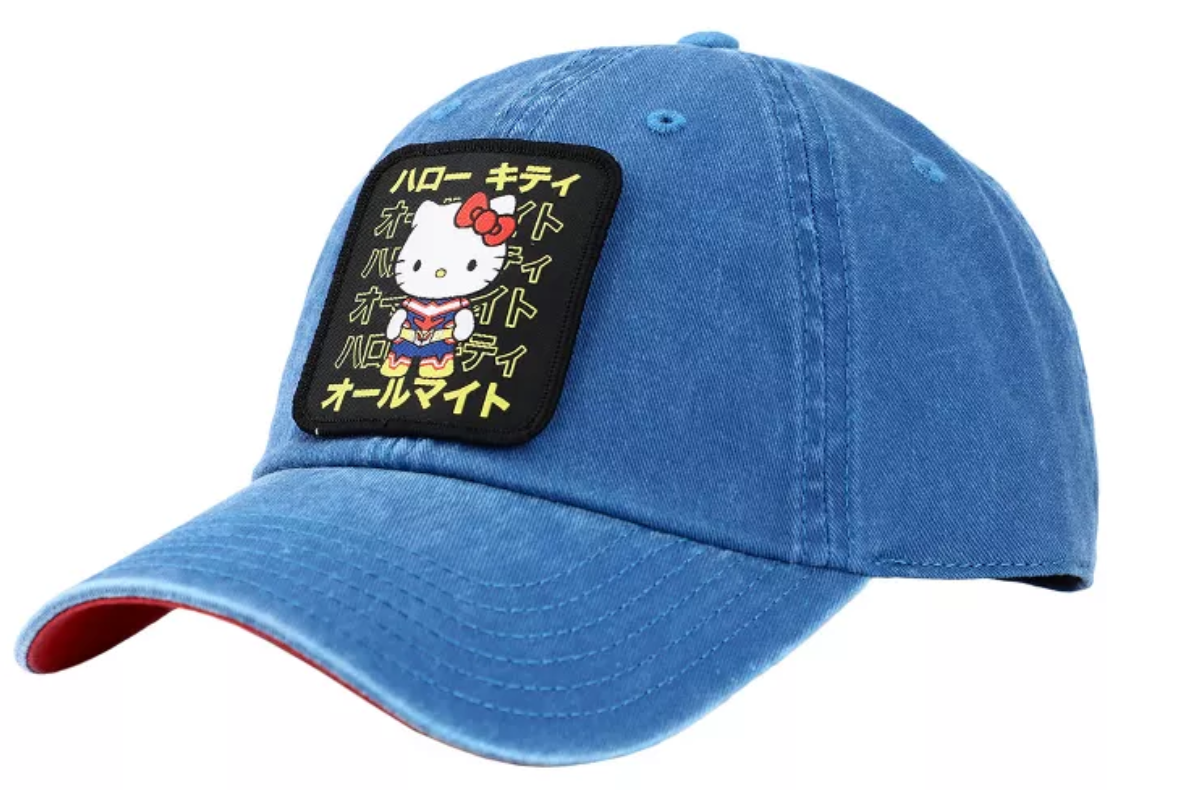 This unique hat is from the Hello Kitty collaboration with My Hero Academia. The front features an embroidered patch. The all-over print and curved bill are stylish. The unique wash goes with just about everything. The polyester hat is machine washable and can be adjusted to fit most teens and adults. Buy Here.
Pros
Curved Bill
Adjustable
Signature Patch
Cons
Only for Teens and Adults
Line Dry Only
Goody Hello Kitty Bow Clip
Goody Hello Kitty Bow Clip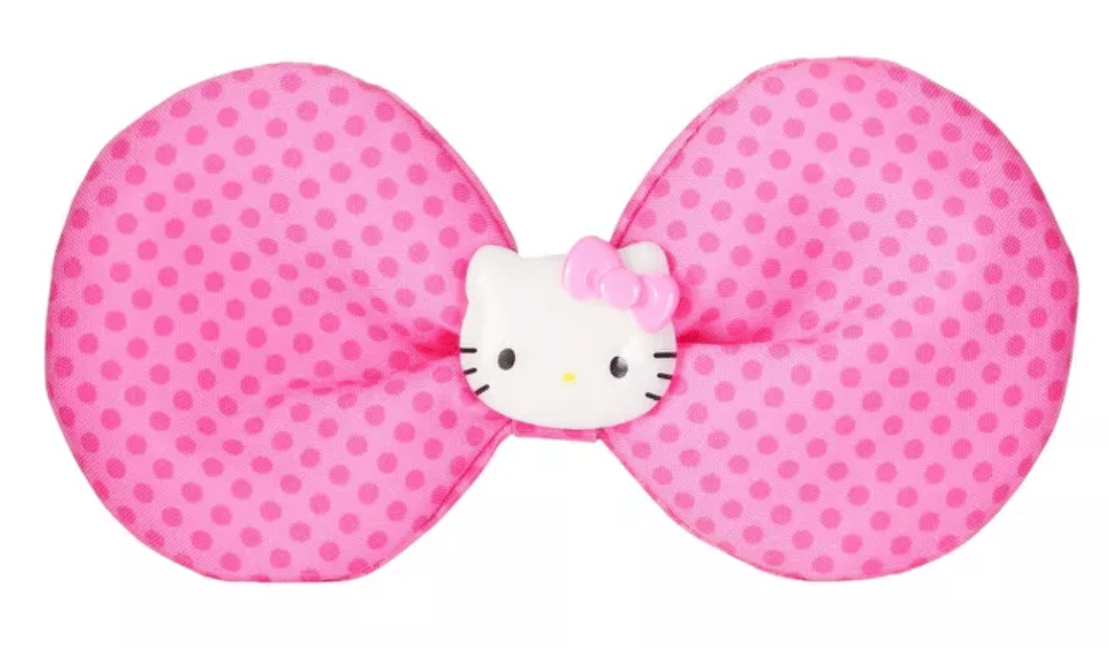 This darling hair clip is sure to please a young or young-at-heart Hello Kitty fan. The clip is made with a bright pink fabric, set over a metal clip. It's intended for ages 7 and up and will stay in place. Affordable and charming, this pleasing bow is ready to add a little pizazz to any outfit. Buy Here.
Pros
Great Price
Small Hello Kitty Icon
Comfortable
Cons
Only One Bow Per Pack
Can Tarnish if Wet
Hello Kitty Mismatch Stud Earrings in 24k Gold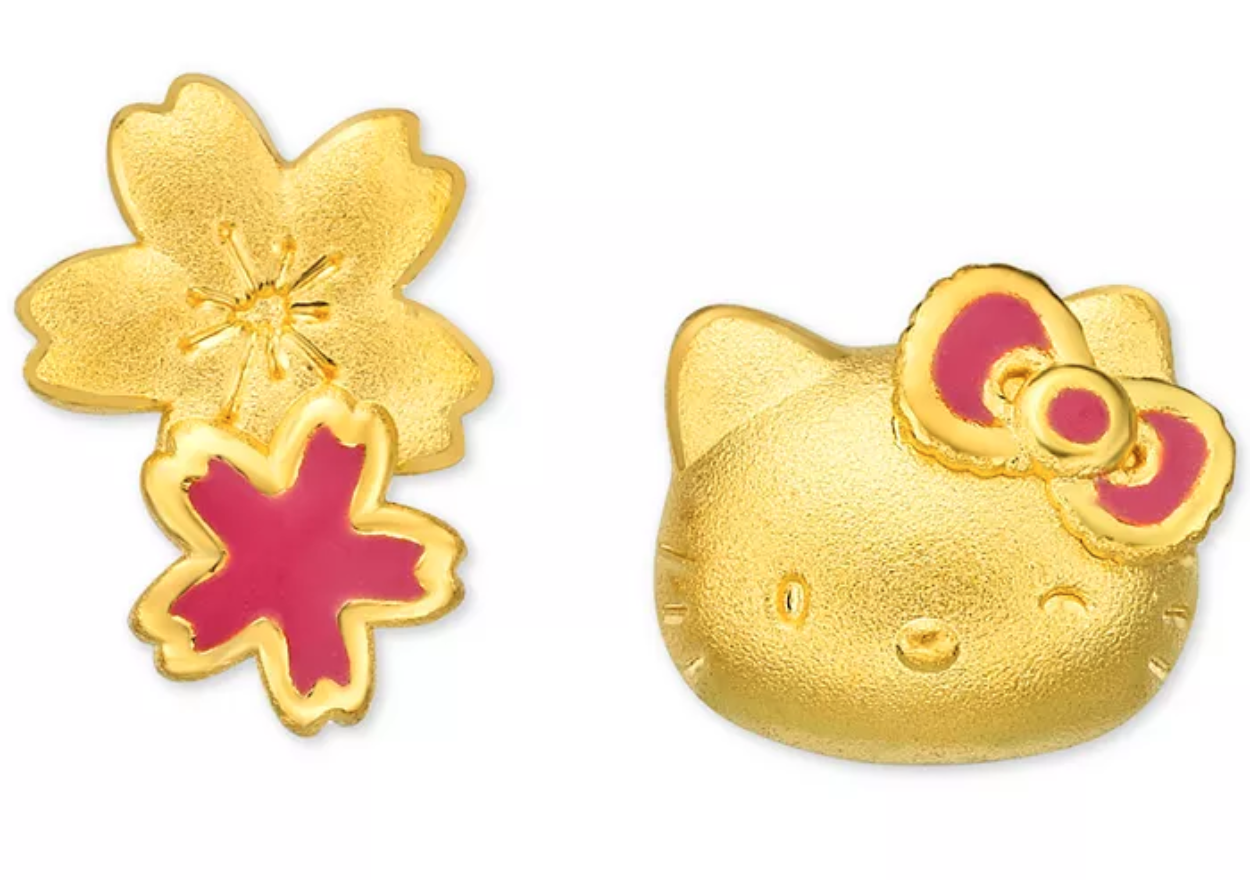 Most Hello Kitty merchandise is affordable and accessible. However, for an older fan looking for an exceptional fit of Hello Kit flair, Macy's has a surprise in store. Macy's carries several Hello Kitty fine jewelry pieces, but these earrings are the most innovative and the best value for your money. The mismatched earrings are crafted in authentic 24K yellow gold. The post-back makes them easy to take on and off. The details are charming, with a Hello Kitty head and floral motif. Buy Here.
Pros
Gorgeous 24K Yellow Gold
Stylish Mismatched Style
Post Back for Easy, Comfortable Wear
Cons
Expensive
24K Gold Scratches More Easily– Store Alone
Officially Licensed Hello Kitty Pink Frame-less Kids Sunglasses

Protect eyes from the sun's glare with style. These officially licensed Hello Kitty sunglasses feature UV protective coating, with 100% UV400 protective lenses. The lenses are resistant to scratches and are suited for long hours of wear. Buy Here.
Hello Kitty Apparel For Kids/ Toddlers
Kids and toddlers have plenty of ways to show their love for Hello Kitty. Dazzling dresses and skirts, whimsical tees, cozy sweatshirts, and Hello Kitty jackets are just a few of the most popular items of apparel. These stand out for their price and attention to detail.
Toddler Girls 2-Pc. Denim Skirt-all & T-Shirt Set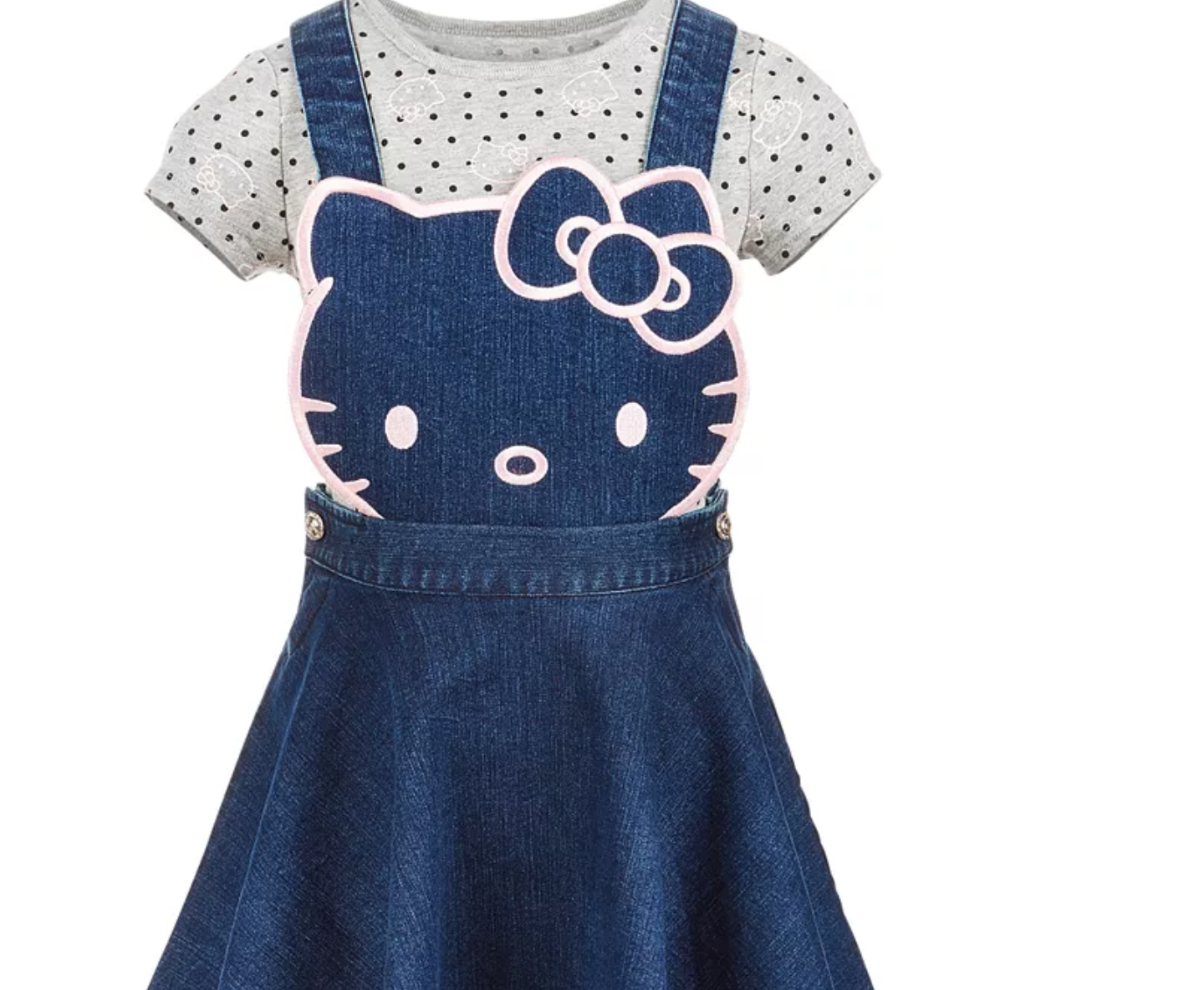 This set for toddlers is comfortable and cute. A Hello Kitty face is embroidered on the bub of the skirt. A dot t-shirt is paired with Hello Kitty motifs. The skirt features two pockets and criss-cross straps. It's made out of a blend of rayon, polyester, and spandex. Meanwhile, the t-shirt is a comfy cotton and polyester blend. Buy Here.
Pros
T-Shirt and Skirt Included
Mix and Match
Cute Hello Kitty Embroidery and Print
Cons
Rayon isn't as Strong as Cotton
Harder to Get on and Off
Girls' Sanrio Hello Kitty Short Sleeve Graphic T-Shirt – Pink

There are many t-shirts for toddlers or little girls and adults. There are fewer for kids in between. This soft t-shirt features Hello Kitty holding a heart. She's standing against the backdrop of a blush pink background. The high-low hem is stylish and the cotton and polyester blend is soft and breathable. It's offered for a great price, too. Buy Here.
Pros
Sizes XS through XL
Soft and Breathable
High-Low Hem
Cons
Tumble Dry Only
Only Available in Pink
Hello Kitty Girls Sherpa Fleece Jogger Set 2 Piece

This fleece sweatshirt and sweatpants set is undeniably soft and charming. Choose from several fashionable colors and prints. Each set includes details like sequins and glitter for a bit of sparkle. The Sherpa fleece set is durable and made to last wash cycle after cycle. A relaxed fit proves you don't have to sacrifice comfort for style. Buy Here.
Pros
Sherpa Fleece
Fashionable Sequin and Glitter Details
Comfy Relaxed Fit
Cons
Glitter Could Get Messy First Wear
Top Runs Small
Hello Kitty Girls Exclusive Cosplay Tutu Dress

This is one of my few selections from Walmart, but it's well-deserved. This tutu dress can be worn for cosplay, but it's stylish and versatile enough to wear everywhere. The dress features a Hello Kitty motif paired with a 3D taffeta bow and metallic tulle skirt. Glitter accents the bodice. The set is made with polyester and spandex and it's entirely machine-washable. The dress also comes with ears for cosplay. Buy Here.
Pros
Bow and Glitter Details
Comes with Ears
Soft and Machine-Washable
Cons
Ears are Slightly Fragile
Tumble Dry Skirt
Hello Kitty Apparel For Teens/ Adults
Teen and adult fans of Hello Kitty can show off their fandom with skirts, sneakers, leggings, hoodies, and more. There are also a few options for men.
Hello Kitty Strawberry Suspender Skirt

This suspenders skirt is simply delightful. Sold through Hot Topic's official merchandise line, the toss print features Hello Kit and strawberry motifs. It can be dressed up or down. (For an emo Hello Kitty look, try the Skull Suspender Skirt). It's made with cotton and just a little spandex for a soft, comfortable fit. This skirt is sold in sizes XS through 3X. Buy Here.
Pros
Hello Kitty and strawberry motifs
Cotton and Spandex Comfy Fit
Versatile
Cons
Juniors' Sizes Only
Doesn't Include Shirt/ Slightly Expensive
My Melody & Kuromi Lace-Up Sneakers

These lace-up sneakers, available in women's sizes 5 through 11, add equal parts Kawaii and emo styles. The unique lace-up sneakers feature Kuromi with pink skulls on one side and My Melody on the other side, complete with strawberries and flowers. The lace-up shoes stand out with their contrast laces. They have rubber soles for wearing out. Buy Here.
Pros
Emo and Kawaii Styles
Rubber Soles
Contrast Laces
Cons
Lack of Arch Support
No Narrow or Wide Sizes
Hello Kitty & My Hero Academia Anime Cartoons Men's Black Shirt

This unique shirt is yet another merchandise item from the Hello Kitty x My Hero Academia brand collaboration. Here, Hello Kitty is featured alongside My Hero Academia characters. The long-sleeve tee is made with 100 percent pre-shrunk cotton. The jersey material includes a ribbed collar. This shirt is available in sizes small through 3XL. Buy Here.
Pros
Soft, Pre-Shrunk Cotton
High-Quality Print
Hello Kitty and My Hero Academia Characters
Cons
No Cuff
Doesn't Wick Away Sweat
Hello Kitty Retro Logo Tee Shirt

This retro tee is hard to go wrong with. Available in men's, women's, and youth sizes, it features a crisp, classic style. It's available in your choice of red, white, blue, gray, and heather blue shirts. The Hello Kitty symbol captures the character clutching an apple. The cotton blend is a classic and comfortable fit. Buy Here. 
Pros
Available in Men's, Women's, and Youth Sizes
Double-Needed Sleeves
Bottom Hem
Cons
Sanrio Hello Kitty And Friends Rainbow Sweatshirt

This oversized sweatshirt is a Pacsun exclusive. Rainbows and Hello Kitty graphics are embroidered on a long-sleeve, crew-neck sweatshirt. Ribbed trimming adds style and durability. The cozy sweatshirt looks great with jeans and is a one-size-fits-most. Buy Here. 
Pros
Cozy Fit
Bright Graphics
Ribbed Trimming
Cons
May Not Fit Oversized for Plus Sizes
More Expensive
Hello Kits Bags & Totes
Hello, Kitty mini bags and totes add style to your everyday chores and shopping. These bags and totes are all officially licensed and wow with their detailed designs.
Loungefly Sanrio Kuromi Satchel Bag

This emo Hello Kitty satchel bag is a statement piece. The satchel features Kuromi with pink hearts and skulls. The print is featured on both sides and complemented with bubble-gum pink handles. The satchel includes a drop pocket, zipper closer, and adjustable strap for convenience and comfort. Buy Here.
Pros
Adjustable Strap
Drop Pocket and Zipper Closure
Kuromi, Skulls, and Hearts
Cons
Polyurethane isn't as Durable
Shouldn't Get Wet
Loungefly My Melody & Kuromi Slumber Party Mini Backpack

This mini backpack works for light school loads or travel. The backpack could even be used for slumber parties– perfect for the design. You'll see My Melody, Sweet Piano, and Kuromi preparing for a sleepover. There's a front zipper pocket, side pockets, and an interior zipper. Silver hardware adds an extra stylish touch. Buy Here.
Pros
Front Zipper Pocket, Side Pockets, and Interior Zipper
Silver Hardware
Melody, Sweet Piano, and Kuromi
Cons
Two Small for Larger School Loads
Straps Could Become Uncomfortable
Sanrio Hello Kitty and Friends Reusable Tote Bag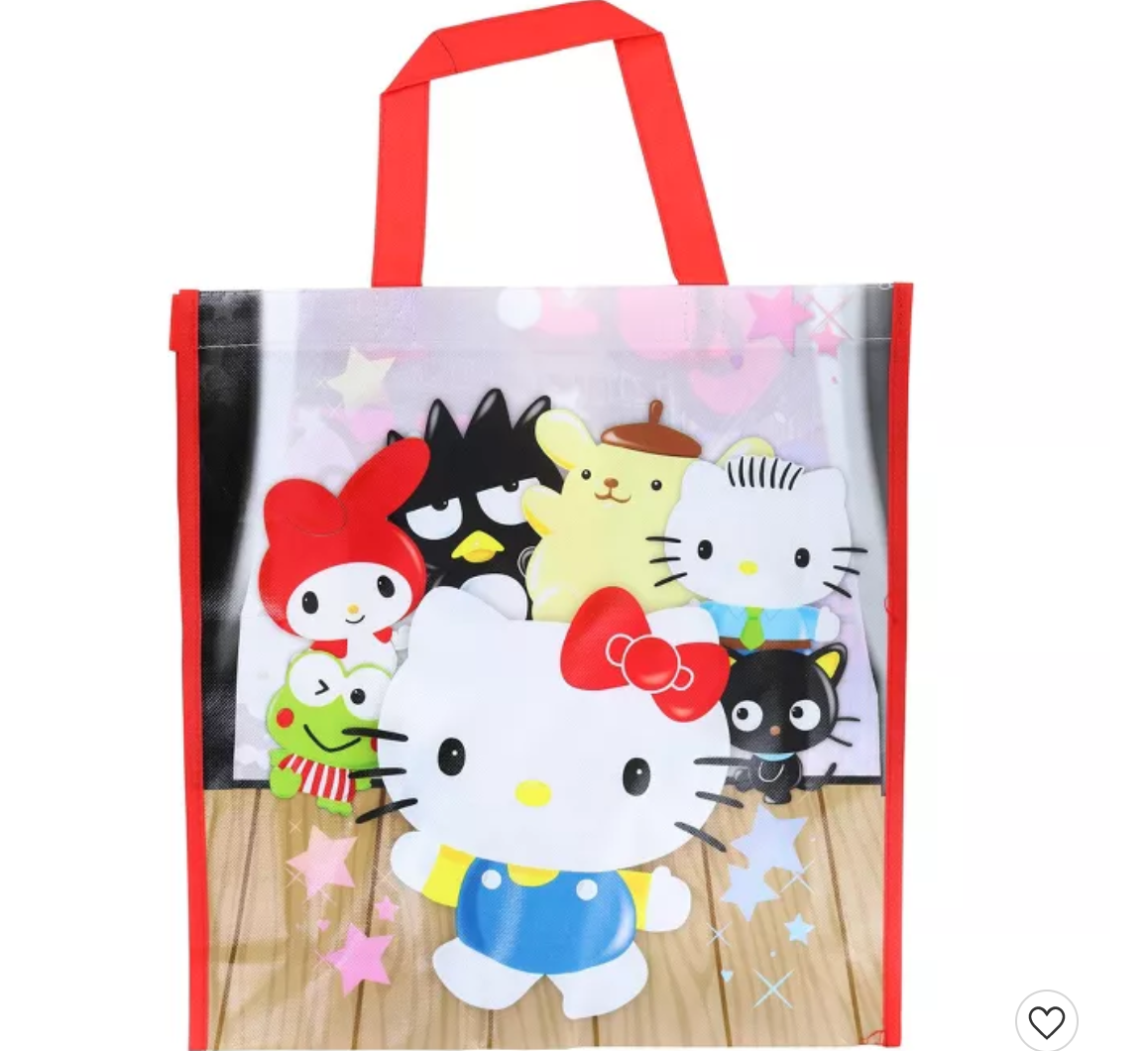 Take this reusable tote bag for Eco-friendly shopping. The tote bag measures 15 by 14 inches with a single, strong handle and a plastic shell. The bright design of Hello Kitty and her friends brings cheer to everyday tasks. It's to wipe clean for another use. Buy Here.
Pros
Reusable
Bright Design
Decent Size
Cons
Hello Kitty Home Goods
Hello, Kitty home goods include bedding, throw blankets, pillows, appliances, and wall decor. I've chosen some of the higher quality and unique additions to your home.
Hello Kitty My Cute World Oversized Throw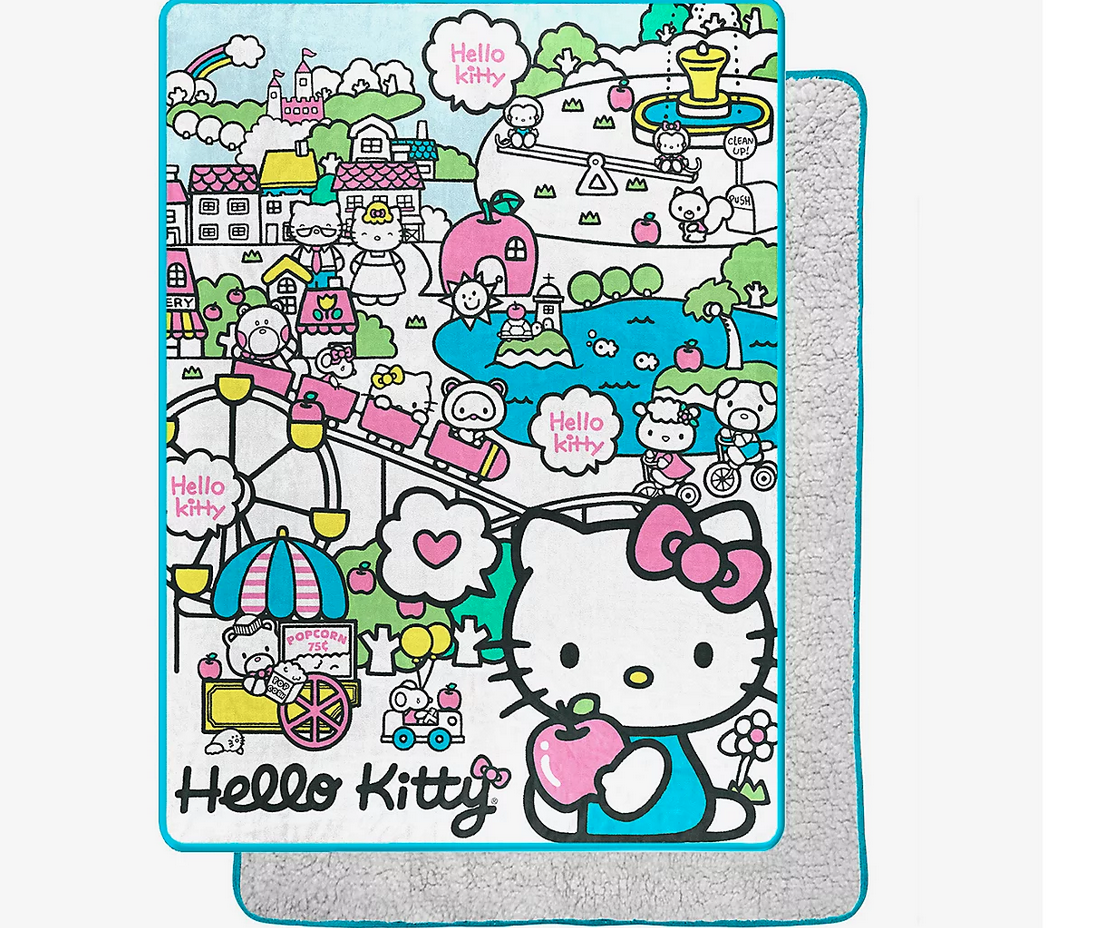 If you want a blanket to cozy up with, consider this Hello Kitty oversized throw. The comfy blanket is made with a sherpa back and a silk touch fabric. The design showcases Hello Kitty's world with sky blue and pink hues. The decorative binding adds a final touch. This throw blanket measures 60 inches by 80 inches. Buy Here. 
Pros
Sherpa with Silk Touch
Bold Design
Generous 60" by 80"
Cons
Slightly Expensive
White Shows Dirt More Quickly
Trends International Hello Kitty – Teacup Framed Wall Poster Print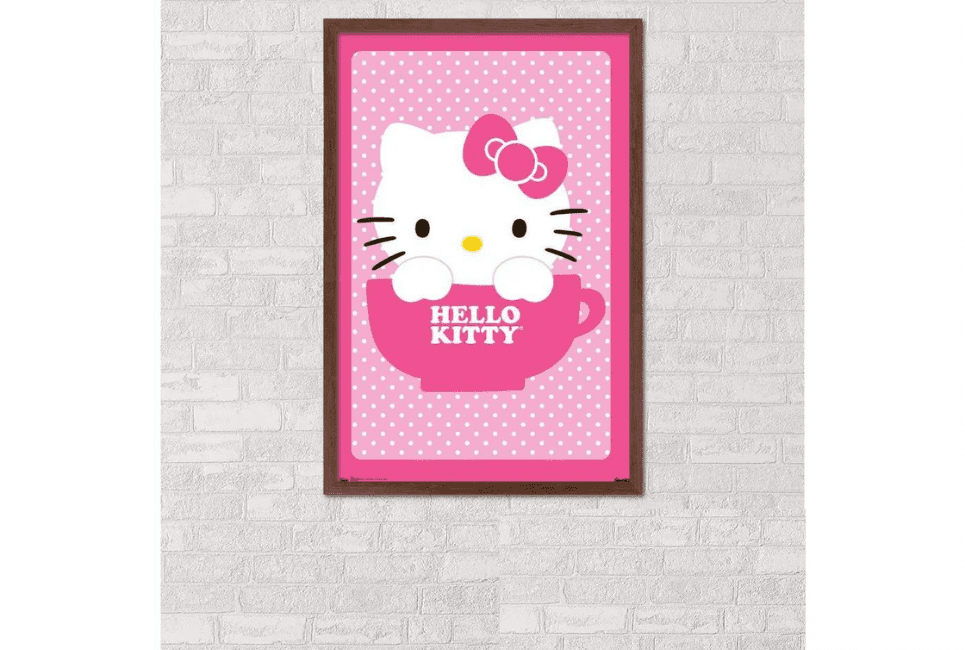 This framed wall poster print will delight young Hello Kitty fans. Choose from 7 frames and 2 sizes for your ideal order. Hello Kitty and her teacup are expressed with high–quality ink. The poster is premium paper and makes for a striking wall accent. Buy Here. 
Pros
Premium Ink
High-Quality Paper
Multiple Frame Color Options
Cons
Slightly Expensive
Design Is Hard to Coordinate With
Gund Hello Kitty 11.75 Inch Color Changing Rainbow Sequin Pillow Plush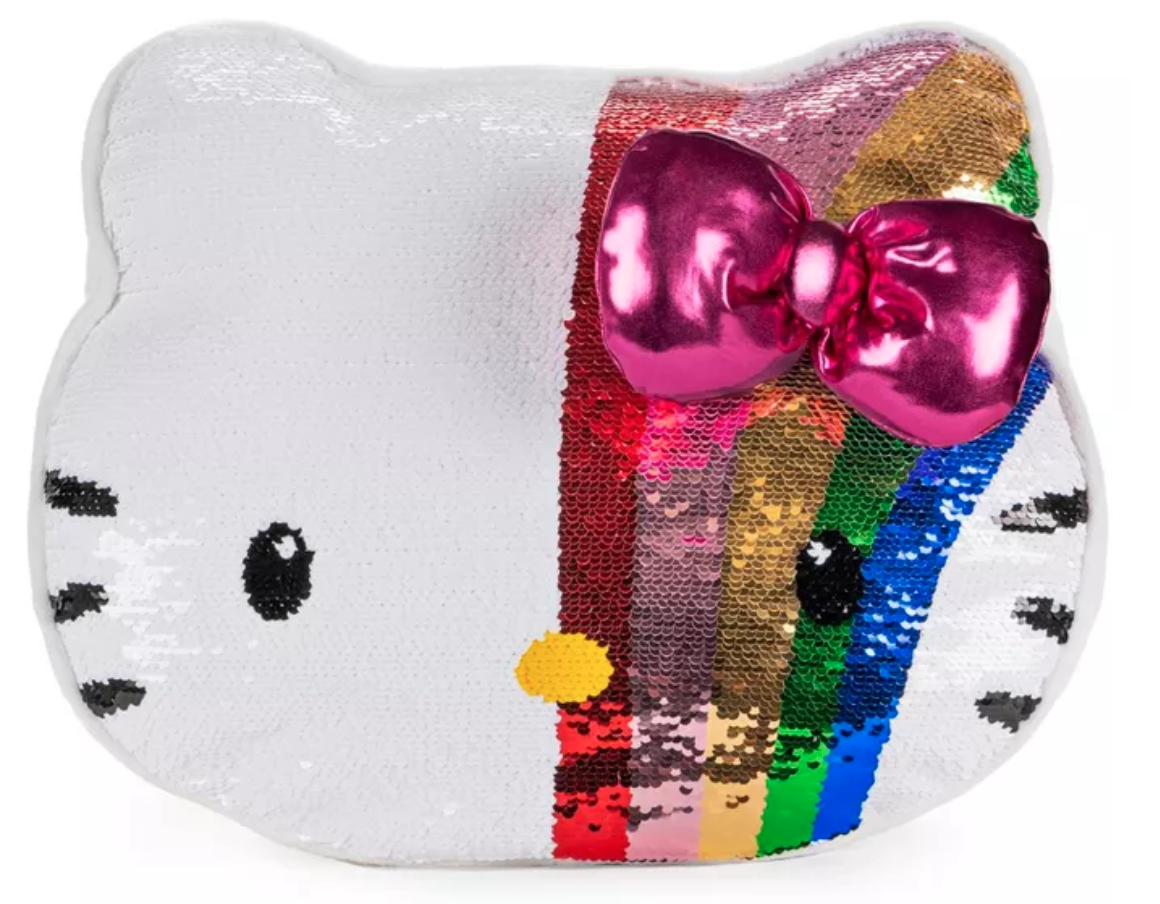 It's hard to find a more vibrant or unique pillow. This Hello Kit pillow and plush feature a rainbow spectrum of sequins, which change color when you interact with them. It features Hello Kitty's face, decorated with her iconic pink hair bow. The material is soft, cuddly, and can easily be spot-cleaned. Buy Here.
Pros
Rainbow Color-Changing Sequins
Doubles as Plush
Unique Cat Shape
Cons
More Expensive
Spot-Clean Only
Frequently Asked Questions
Final Thoughts
Hello, Kitty has always seemed timeless to me,  but now there's even more good news. Many in the industry think that Hello Kitty's popularity will only continue to grow with the Metaverse. She'll debut as a face on NFTs, and there's little doubt that this character will continue to charm fans of all ages. But whether you're invested in her future as an internet star or just love her as a character, there are little signs that there will ever be a shortage of merchandise. Just be careful when you're shopping. Many websites that sell merchandise for Hello Kitty don't have great customer service. Checking with the Better Business Bureau is a good first step.
Hello Kitty Plush by Character
Hello Kitty and plush go together with the same way Kawaii and Hello Kitty do. These adorable plush toys are small enough for travel, affordable for collecting, and ideal for young fans too. Here are a few of my favorite ideas for one-click shopping.
Chococat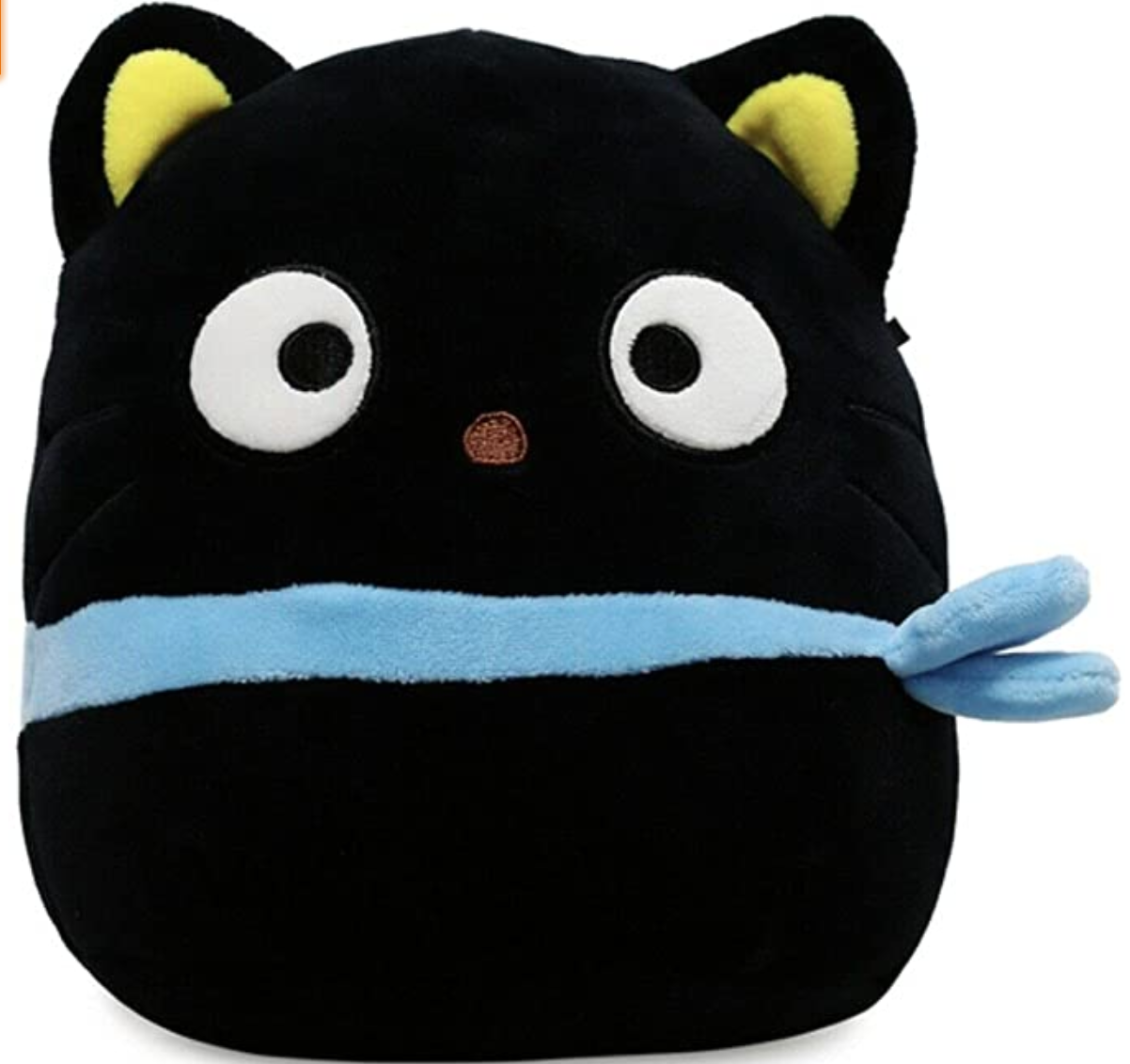 It's hard not to love this plush. This Amazon Choice product is a 7-inch Squishmallow with a blue scarf and a whimsical face. (Check this listing for other Hello Kitty official Squishmallows). Buy Here.
Pros
Amazon Choice Product
Cute Scarf Accessory
Cons
Only Available in 7 Inch Size
Hello Kitty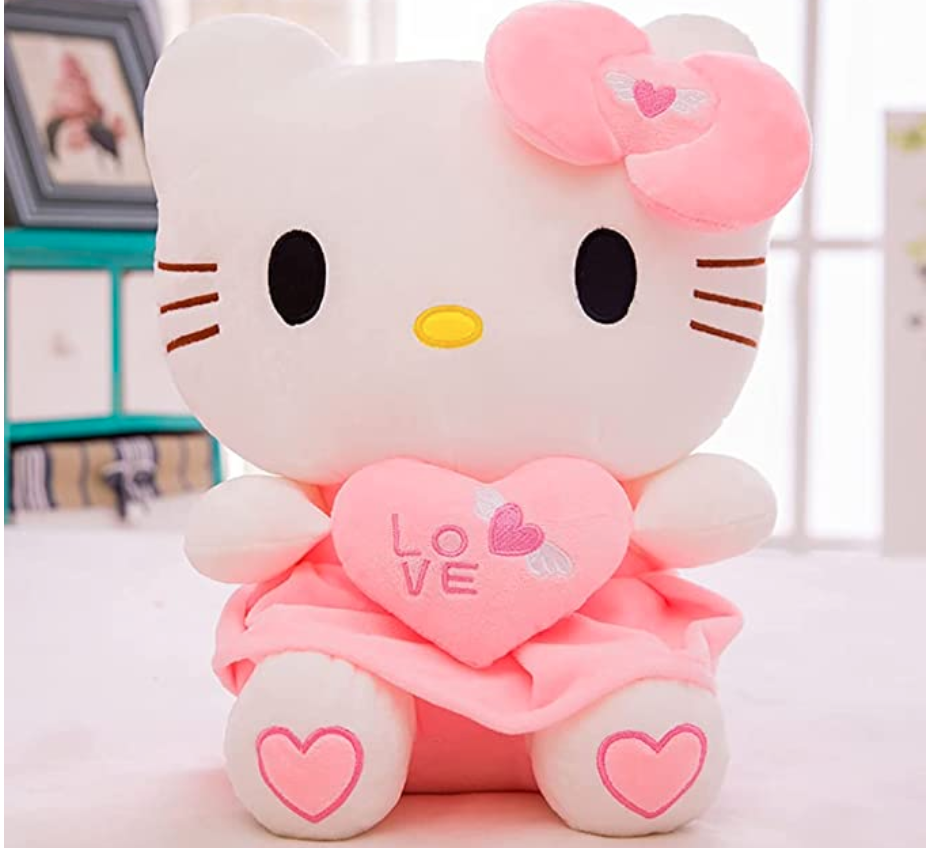 If you just want a very pink Hello Kitty plush to start your collection, you're in luck. This classic plush comes with a heart, a pink dress, and a hairpiece accessory. She's made out of soft cotton and measures 30cm. Buy here.
Pros
Headpiece
Floral and Heart Motifs
Cons
Hello Kitty & Blanket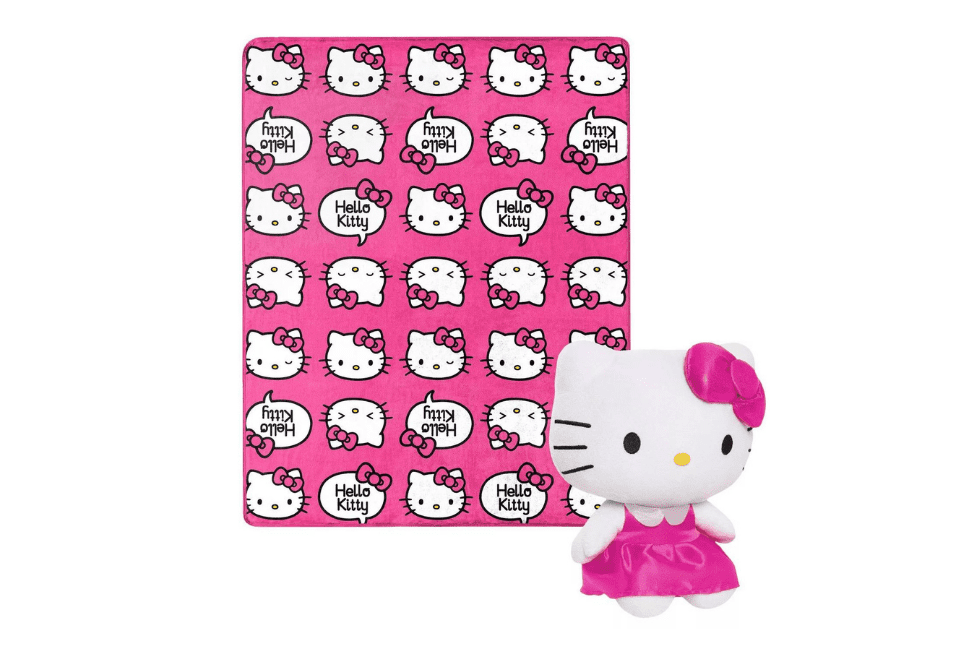 Hello, Kitty stuns with this bright plush and throw set. She's made out of soft polyester, complete with a machine washable throw blanket. Buy Here. 
Pros
Bright Design
Comes with Throw Blanket
Cons
Must Buy with Throw Blanket
Kuromi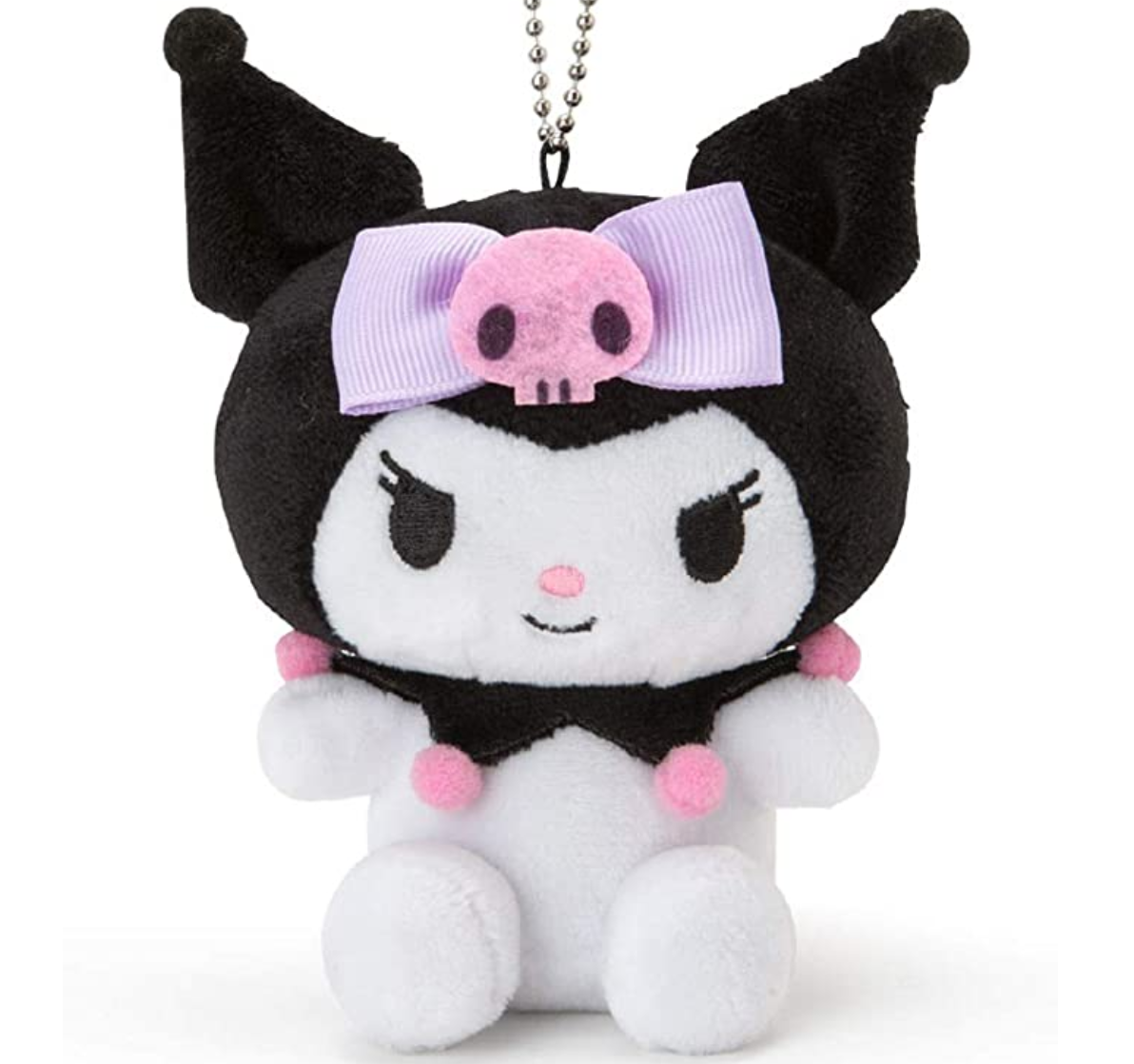 This plush and keychain have a bit of spunk. A black jester hat and pink skull add an emo touch to a Hello Kitty collection. The plush is 5.6 inches tall. Buy Here.
Pros
Doubles as a Keychain
Unique Design
Cons
My Melody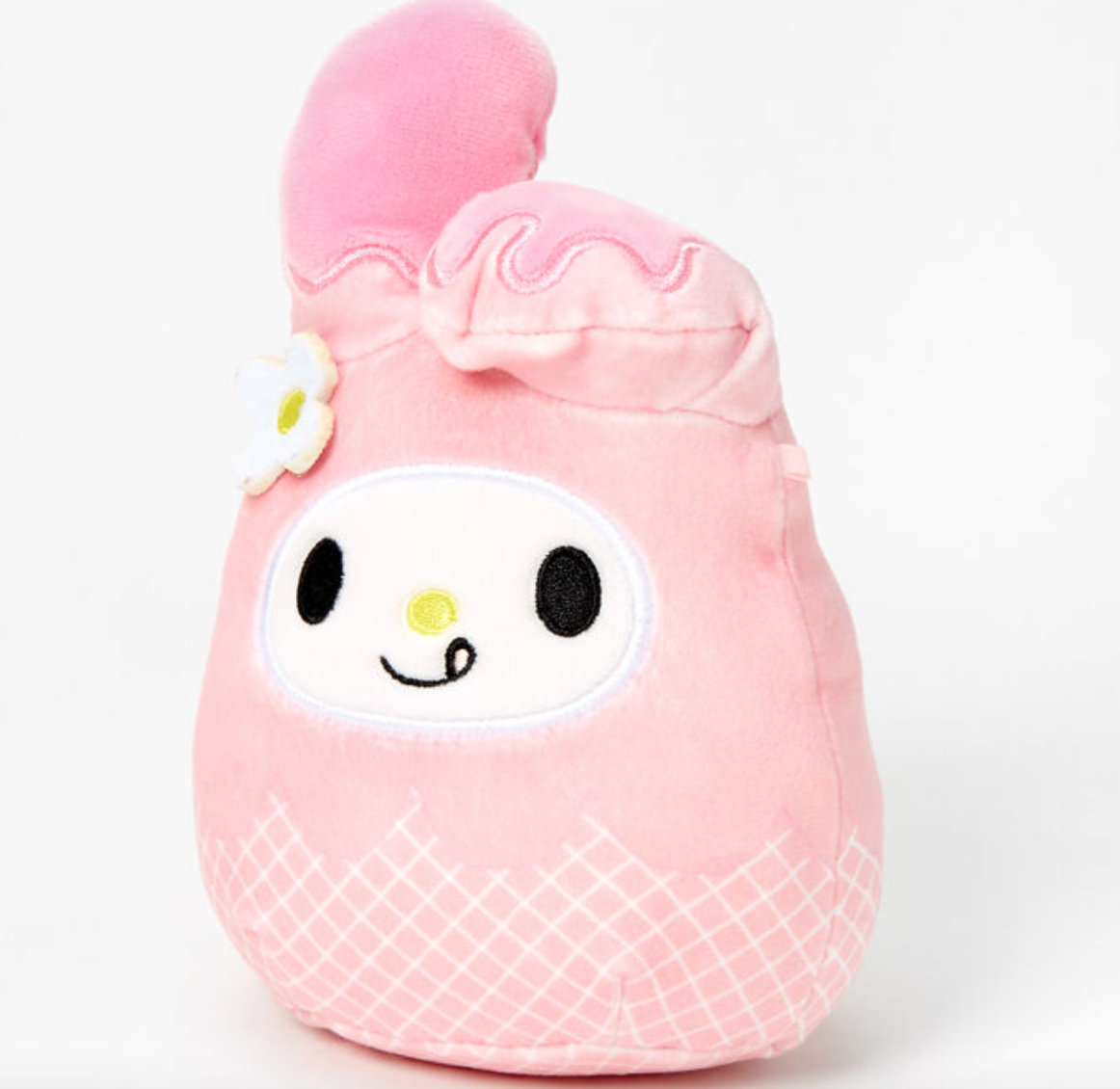 This squishmallow My Melody plush toy is one of my favorites. She's a 5 inch plush with bunny ears and a flower accent. Buy Here.
Pros
Folded Ear Detail
Flower Accent
Cons
Flower Accent Could Wear if Mishandled
Tuxedo Sam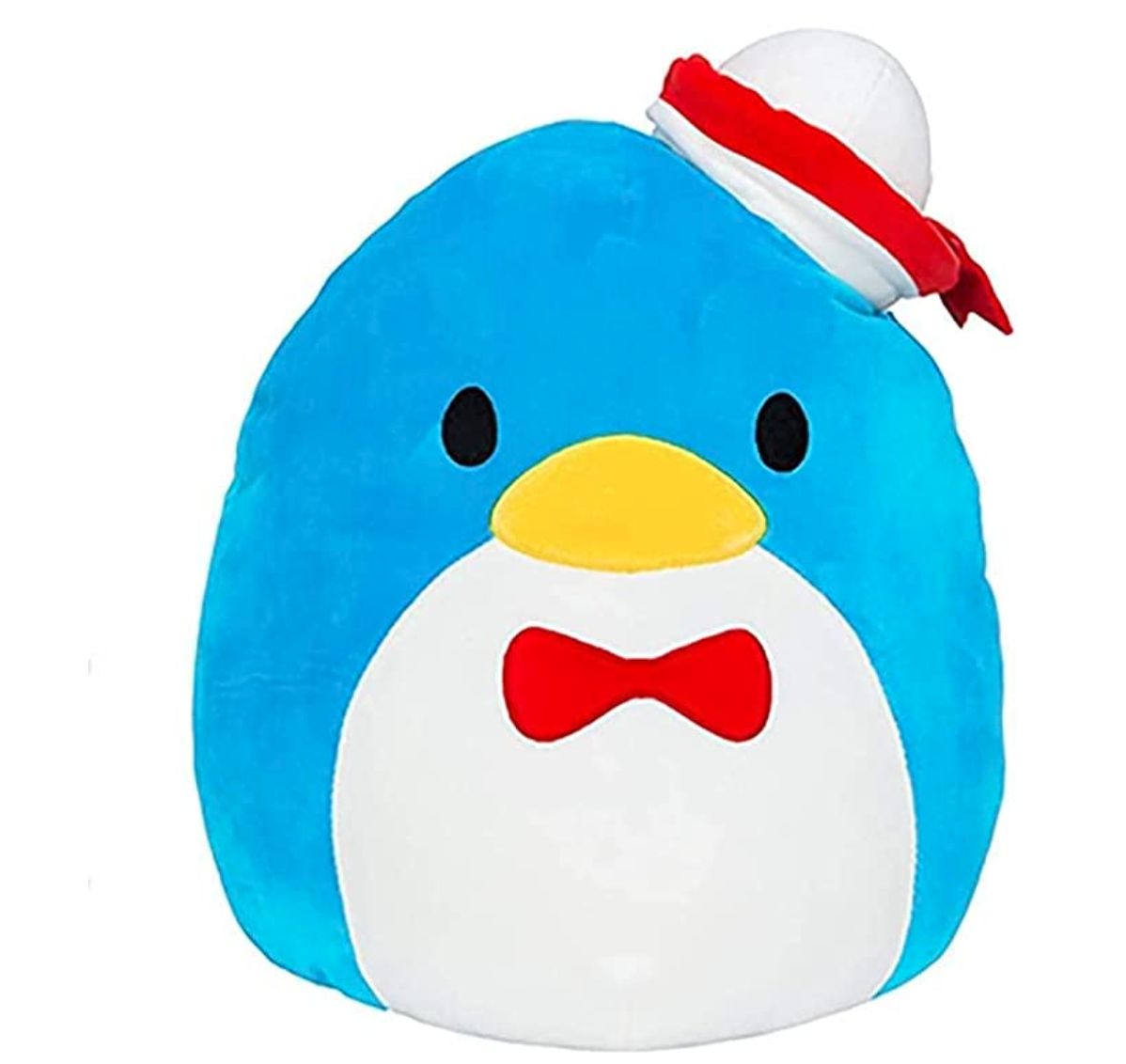 Tuxedo Sam is a darling Squishmallow plush. The tilted top hat with ribbon and bright blue hue makes this a soft and striking plush to add to your collection. Buy Here. 
Pros
Tilted Hat
Amazon Choice Product
Cons
Final Buying Recommendations: Hello Kitty Merchandise from Amazon and Walmart
Looking for even more Hello Kitty merchandise? Amazon's variety and Walmart's variety are both sure to please even the pickiest shoppers. Hello, Kitty merchandise on Amazon covers pop sockets, good luck charms, tumblers, books, stickers, and party decor.
I slightly prefer Walmart's Hello Kitty Shop, as everything is organized together. Walmart Hello Kitty merchandise includes plush, toys, art sets, and home decor. The reason why I don't rank Amazon and Walmart as high is that not all merchandise is official, and quality varies a bit more. As such, always pay attention to customer reviews and product details. Shop Amazon Here or Shop Walmart Here.
Find more cool merch below:
Best Beauty and the Beast Merch Guide
The Best Hunter X Hunter Hoodie Ideas Guide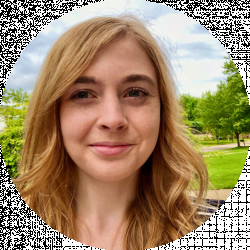 Latest posts by Erin Jamieson
(see all)