Get ready, shinobi! We may not be tasked with hunting down threats to the village today, but we are tasked with hunting something just as important: the best Naruto stickers on the internet.
If you're anything like me and literally cover everything in stickers, then you'll love what I've got to share. I'll walk you through the best individual stickers and bulk stickers featuring Naruto and other fan favorites from the series, so gear up!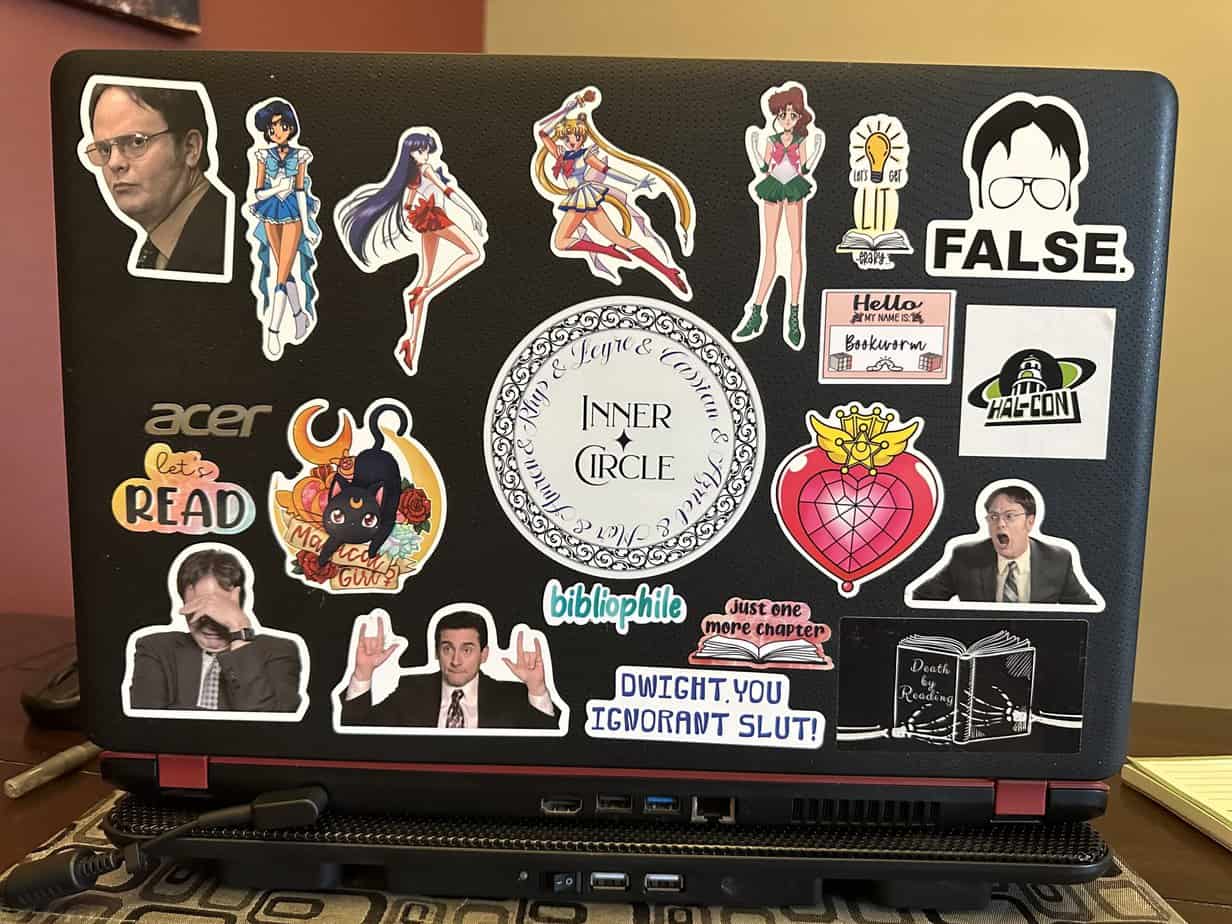 Bottom Line Upfront
As you can see, there are a few empty spaces on my trusty laptop, and I plan to fill them with some Naruto stickers after finding all the treasures on this list. I've got a few in my cart, but my fav might just be the Clan Killer Sticker!
Top 3 Picks
As we all know, there are tons of characters in the Naruto universe (and about a million sticker designs for each of them,) so narrowing down the best of the best into a top 3 was hard. What I like about these 3 is their uniqueness, clean line work, and ability to capture the spirit of the show. Check them out before we move on.
The Best Naruto Stickers
Alright, I know you're tired of talking about sticker types. Take heart, shinobi, because we're about to go through ninja after ninja with these awesome Naruto designs.
My Selection Criteria
You can get stickers for any fandom from just about anywhere on the internet. But I wanted to gather up the BEST Naruto stickers, not just ANY Naruto stickers. So, while on my search, I made sure they checked all the boxes:
Good quality: Stickers that peel after a few days are the worst! So, I found ones that claim to have great adhesion.
Accurate or fun designs: The designs had to either depict accurate character art or things from the series, or have a super fun look for those with a quirkier side.
Bulk packages had a good variety: When buying bulk stickers with high amounts, you often get duplicates or just random ones thrown in for filler. So, I made sure the bulk packs had no duplicates and all Naruto or Naruto-related designs.
So, after searching through the highs and lows of the Naruto sticker world via the internet, I think these are the best Naruto stickers. If you're a fan or you're buying for a Naruto die-hard, I'm sure at least one of these will speak to you. Let's check them out together.
Best Individual Naruto Stickers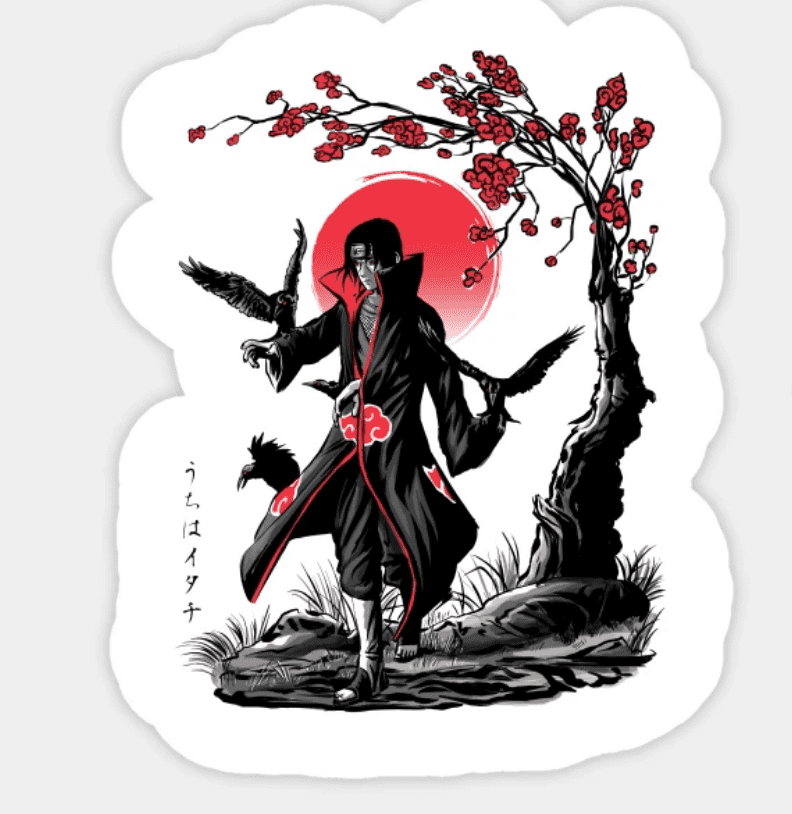 As wild as Itachi may be, we all know the guy's got a fanbase that could rival most countries' armies. "Clan Killer" is a fitting title for this sticker, but all the same, it looks very cool. I like the modern sketchbook style combined with a traditional Japanese art style. The big red sun behind Itachi makes the Japanese flag, which I thought was a nice touch. This is one of few stickers I don't have any complaints about. The color scheme, the line work, and the concept make it stand out.
Price Range: $1-$3.50
Sticker Type: Die cut semi-gloss vinyl
Size: 3 ¾" X 2 ⅞"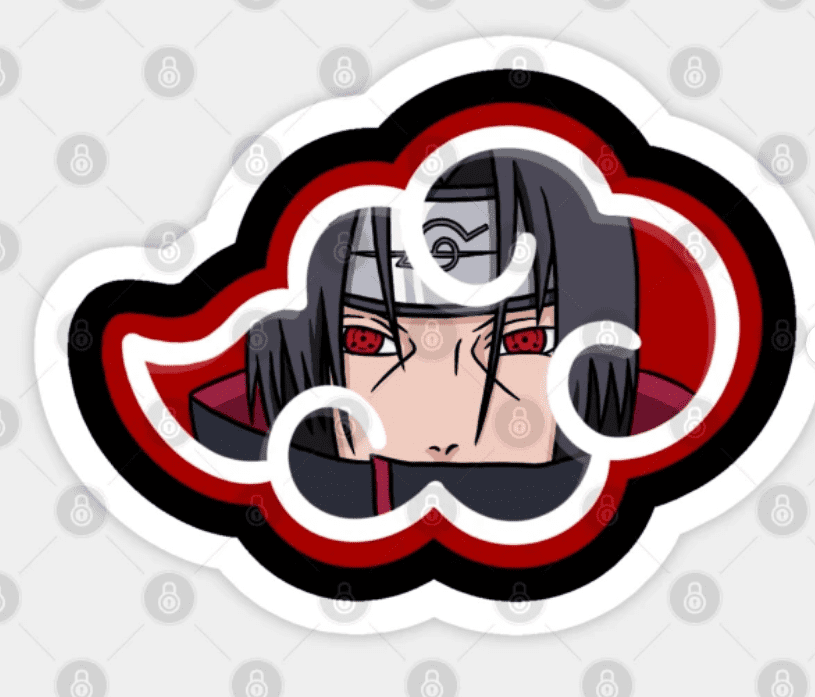 Got ya! You thought you were free from the clan killer, but no one ever is. While I don't like this Itachi sticker quite as much as the one above, I like the simplicity of this one. The art style used here looks a lot more like Itachi's art style in the show, which some fans prefer. Even just a glimpse of this guy's face is haunting once you know his story, but fear not, because to anyone else he'll just look like another anime dude.
Price Range: $1-$3.50
Sticker Type: Die cut semi-gloss vinyl
Size: 3 ⅞" X 2 ⅝"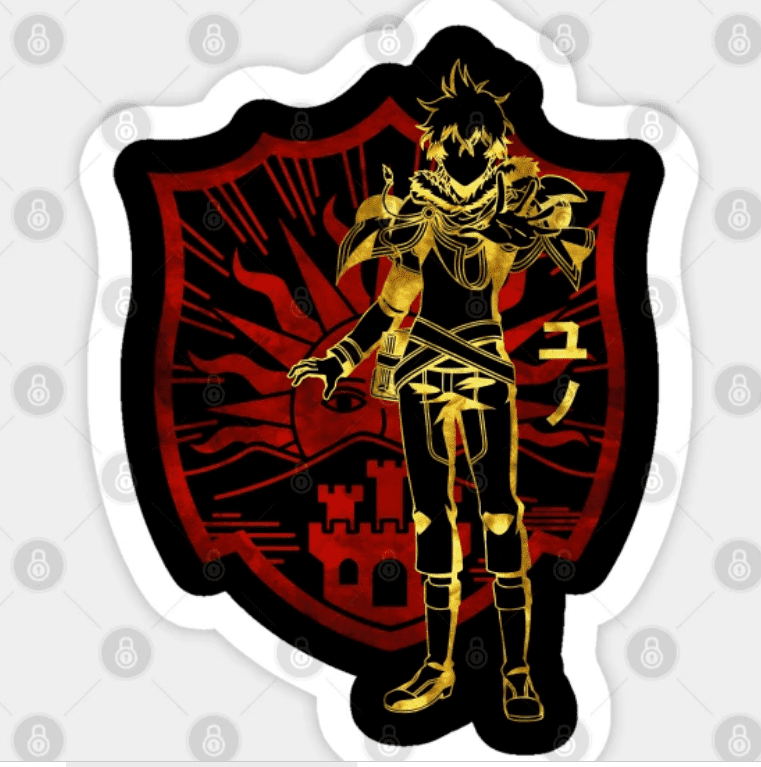 How are you going to make a Naruto sticker guide without including the guy the show is named after? This is clearly Naruto from the Shippuden era, and wow does looking at this sticker bring back memories. I like that the background colors match our boy's outfit. The design is clean and even the text was incorporated in a way that doesn't look blocky or awkward. I give this semi-gloss sticky 10/10 bowls of ramen.
Price Range: $1-$3
Sticker Type: Semi-gloss die cut vinyl
Size: 3" X 4"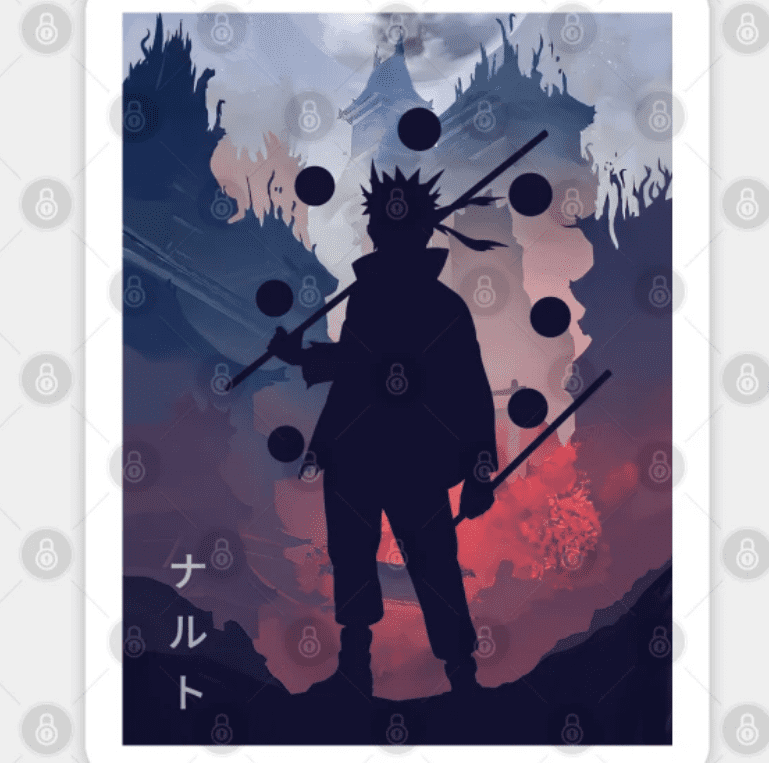 The details in this design are spectacular. I mean, this looks like modern-day video game art from a studio with a lot of money. You can see Naruto's silhouette against a burning village, which is a cool concept in itself. It's hard to find any critiques to give this sticker when the linework is phenomenal, Naruto's outline looks great, and the colors in the city are striking.
Price Range: $1-$3.50
Sticker Type: Semi-gloss die cut vinyl
Size: 3 ¾" X 2 ⅞"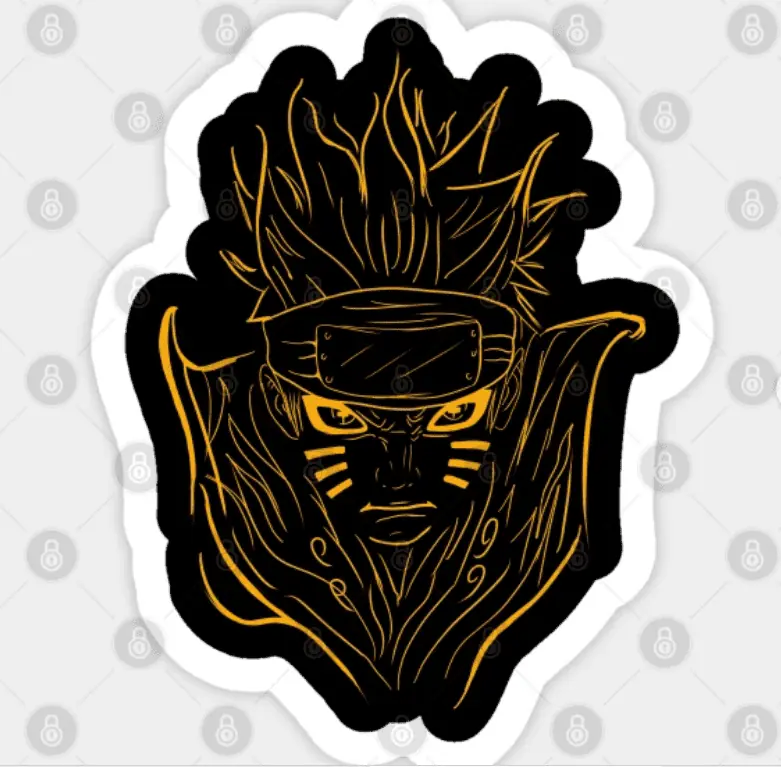 The linework in this sticker is awesome. Some lines have a sketchbook feel and others are super clean, but the two styles work together really well. My only real complaint is that I thought it would have been cooler to have an orange and black color scheme instead of yellow and black since Kurama is orange. The yellow matches Naruto's hair, but I think orange would have made it more clear this is a "Naruto As the Fox Demon" sticker.
Price Range: $1-$3
Sticker Type: Semi-gloss die cut vinyl
Size: 3" X 4"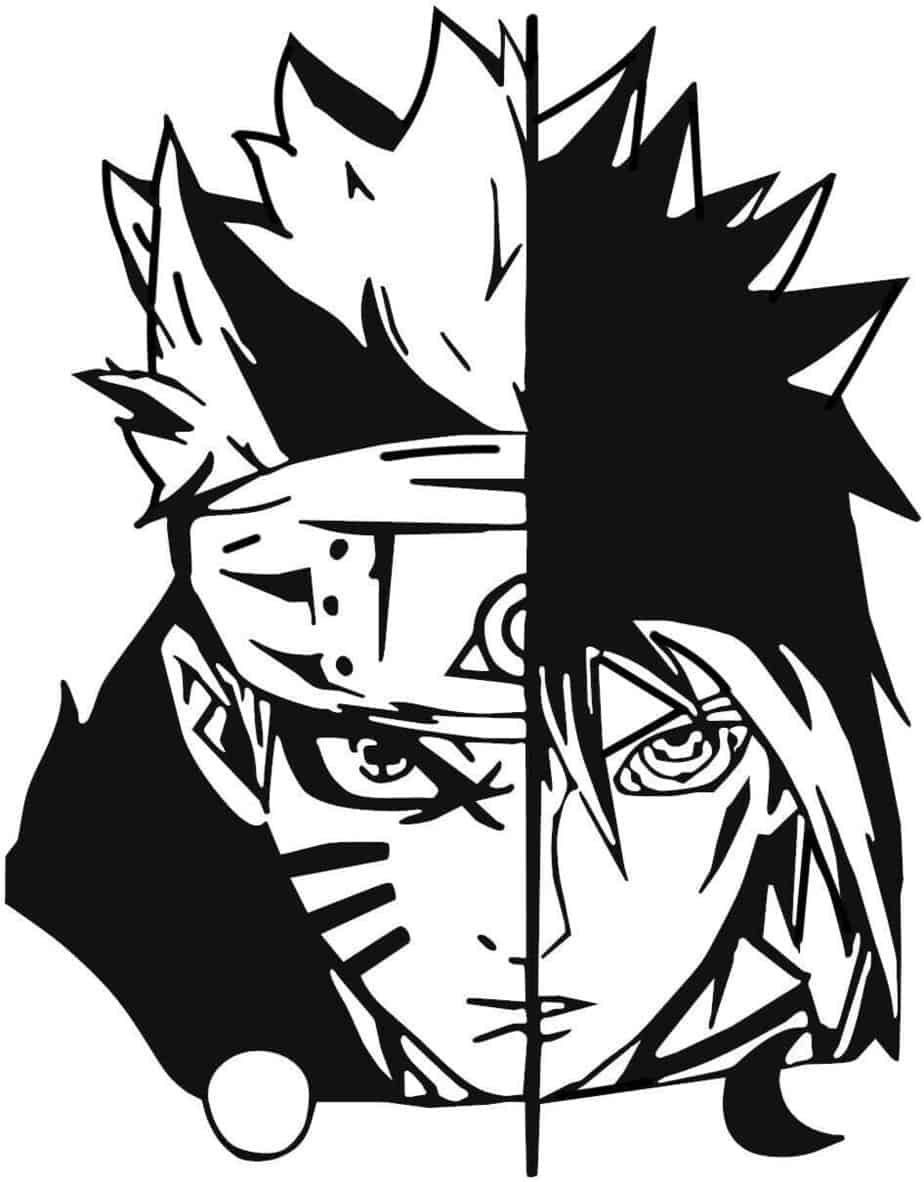 I don't say this about every sticker, but I'd love to slap this black and white sticker somewhere on the side of my car. Since it is black and white, you don't have to worry about the color scheme of this (large) sticker clashing with your car's paint job. The design shows half of Naruto's face and half of Sasuke's. Considering they're parallel characters throughout the show, this design feels powerful even though it's fairly minimal.
Price Range: $6-$10
Sticker Type: Waterproof vinyl
Size: 5.3" X 4.1"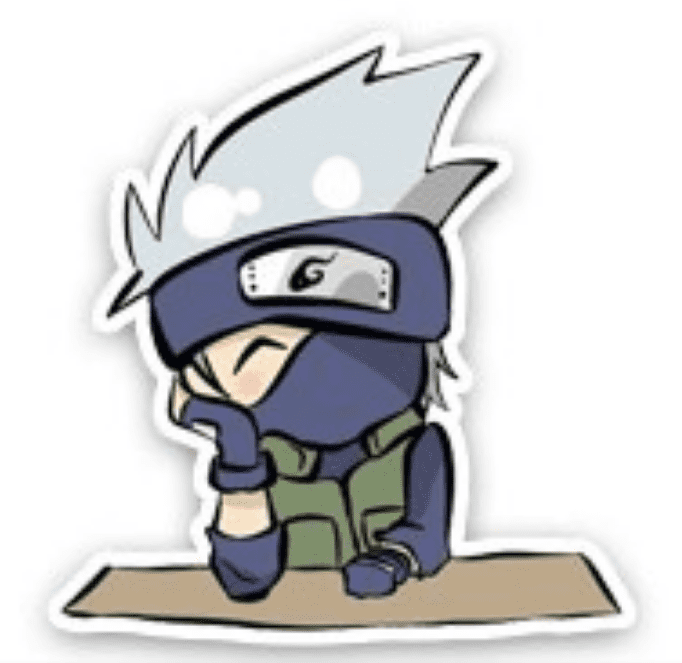 It's everyone's favorite sensei! I adore this chibi Kakashi sticker, and it's not just because he's my favorite character. This sticker shows a popular art style, but the artist put their own flair on it with lines that get larger and then slimmer in places. The light reflections off Kakashi's hair somehow make him look brighter and, dare I say, cute. The only con? It's pricey compared to the other stickers I've shown you.
Price Range: $15-$25
Sticker Type: Waterproof polyester
Size: 33mm X 35mm
Nothing like grabbing a hot bowl of ramen after ninja practice, right? Ichiraku is a staple throughout the Naruto series, and every fan is going to know what this logo means. If you wanted a sticker with a minimalistic style and not a lot of bright colors, this is a great one. As dark as the series can get, Ichiraku was always a bright spot. I would buy this one.
Price Range: $5-$8
Sticker Type: Die cut matte
Size: 3" X 3"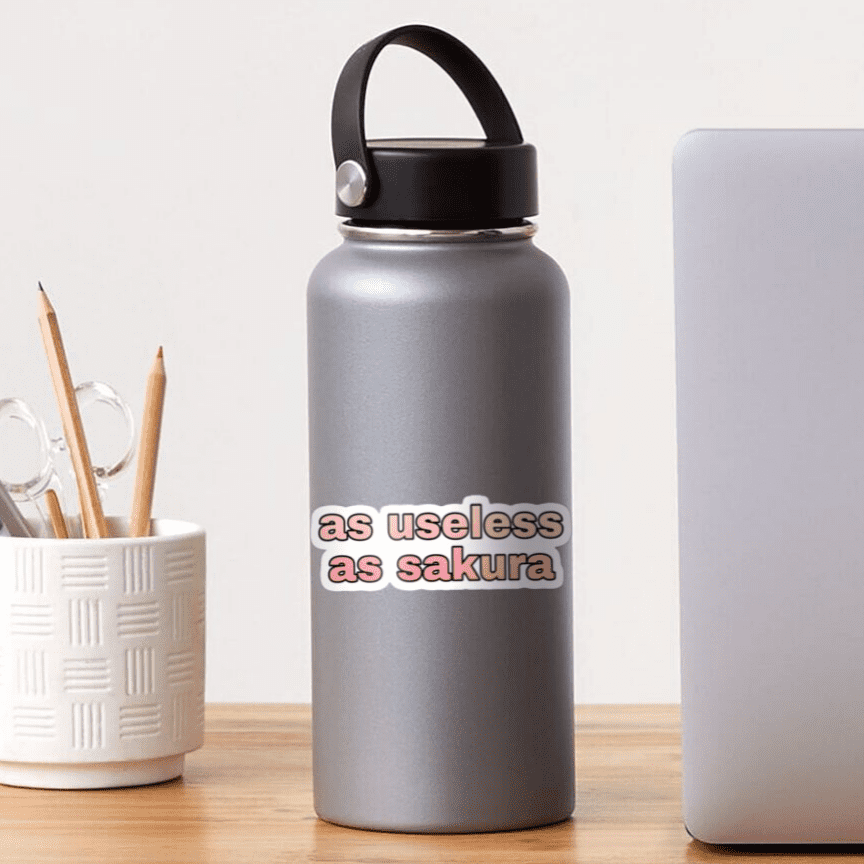 I didn't want to include this one. I really didn't. It's mean, right? But at the same time… if you've watched the show, you get why this is funny. As much as we all love Sakura, I think we can agree her narrative isn't driving the story (and that's okay.) The two tones of pink complement each other well on this sticker and do remind me of cherry blossoms. This is the type of thing that's funny if you buy it for yourself, but mean if you get it for someone else. I'm not telling you how to give gifts, but that's just my two cents.
Price Range: $3-$7
Sticker Type: Die cut
Size: 4" X 1.2"
Best Bulk Naruto Stickers
Throwing a Naruto-themed party? Want to invite everyone over for some Naruto binge viewing? You could amp up your hosting skills by not only serving ramen and onigiri, but also having a set of cool Leaf village stickers that everyone can take home with them. I'd be thrilled to go to a Naruto party like that. Or, maybe you want all 50 stickers in a set for your own uses. I don't judge.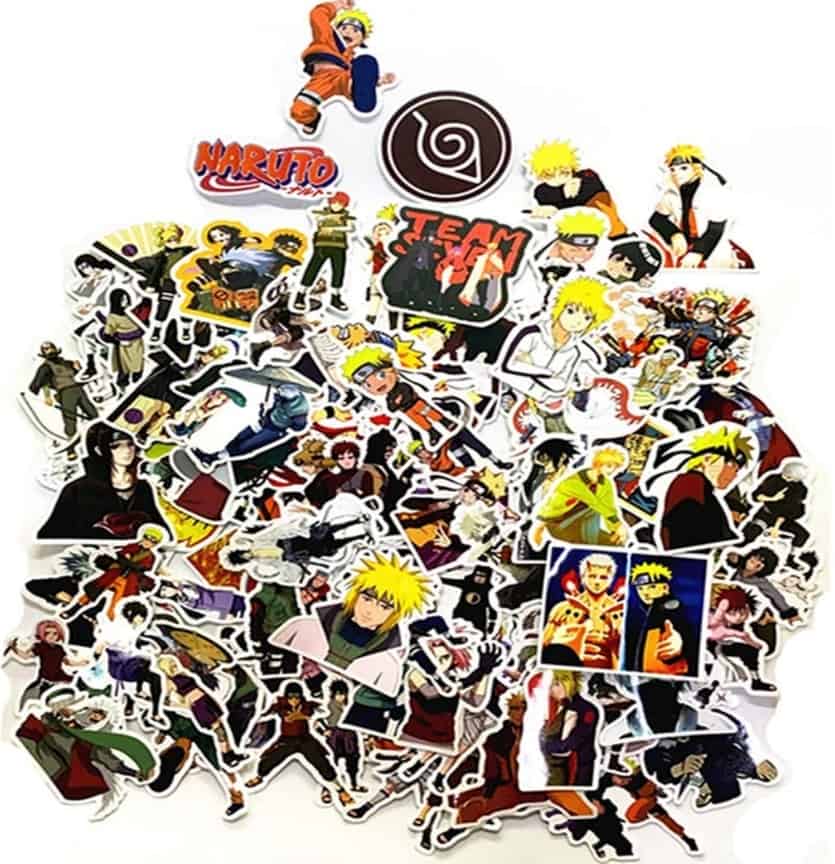 This is the biggest set I'm going to show you, so if you're looking for quantity, take a look. That's not to say the quality isn't there. All these stickers are waterproof, after all. What's awesome about huge packs like these are that you're going to find a big variety of lots of different characters (so your favorite is sure to be in there somewhere.) The stickers in this set have a darker, edgier feel to them than some of the other stickers I'm going to show you. They'd look awesome on a car or motorcycle.
Price Range: $20-$30
Sticker Type: Waterproof die cut
Quantity: 150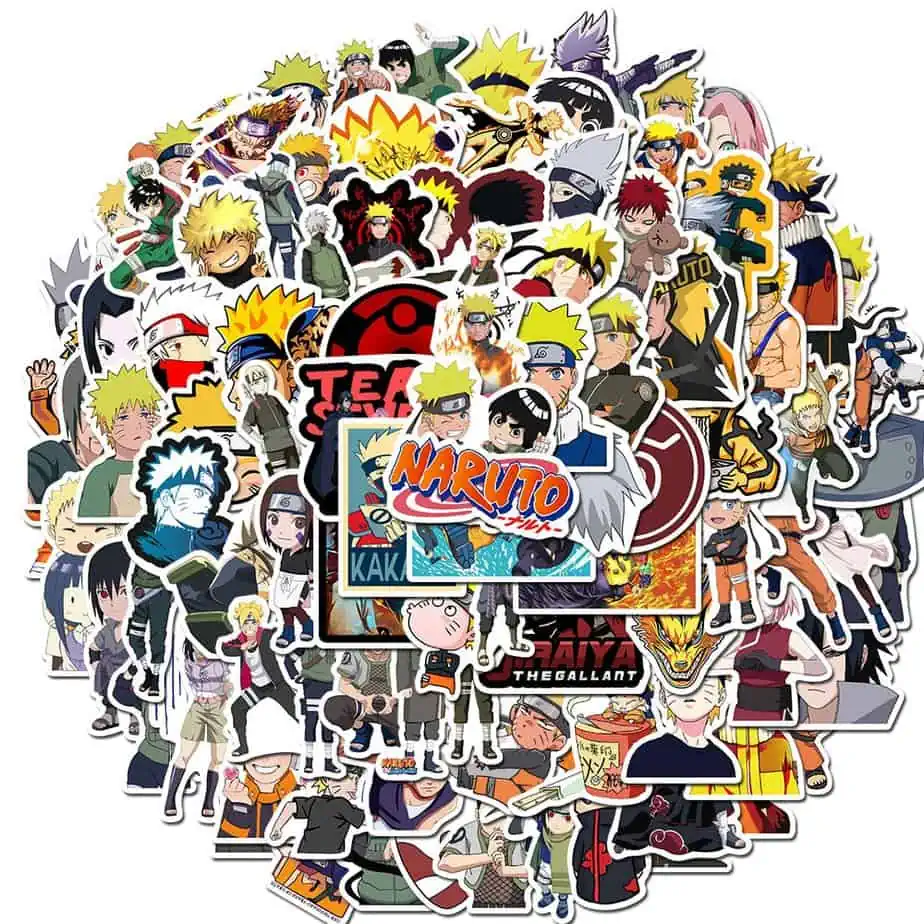 The color scheme of this reminds me of classic Naruto vibes. You can choose whether you want 10 stickers, 30, or 50, depending on the amount you need. I think this set would be perfect for party favors at a watch party. It looks like most of the stickers in this one feature Naruto instead of lots of side characters, which can be either good or bad, depending on who you are. Personally, I wish there was a bigger variety of ninjas in this set.
Price Range: $10-$17
Sticker Type: Die cut
Quantity: 10 or 30 or 50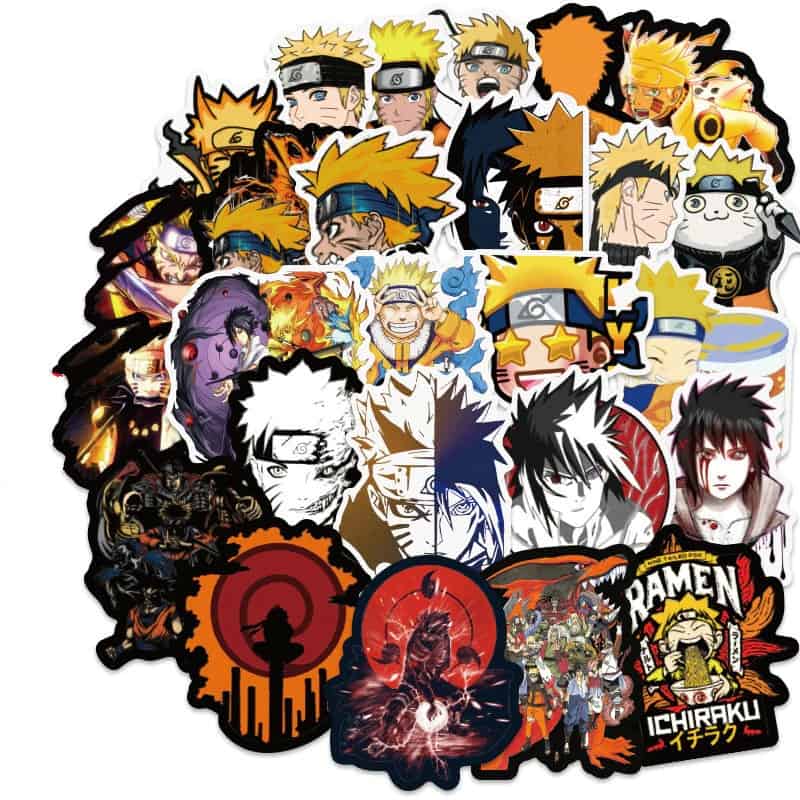 Going back to a darker aesthetic, I'm obsessed with this set. These stickers are for fans of the later seasons of the show when the characters are older, and the show is a bit more twisted. You get 100 stickers in this set, so I think the price is very reasonable. I would buy the whole thing just for that one sticker that shows Kakashi's face as a skull with crossbones behind it. Look closer at the picture and I'm sure you'll find a design that speaks to you, too.
Price Range: $15-$20
Sticker Type: Waterproof
Quantity: 100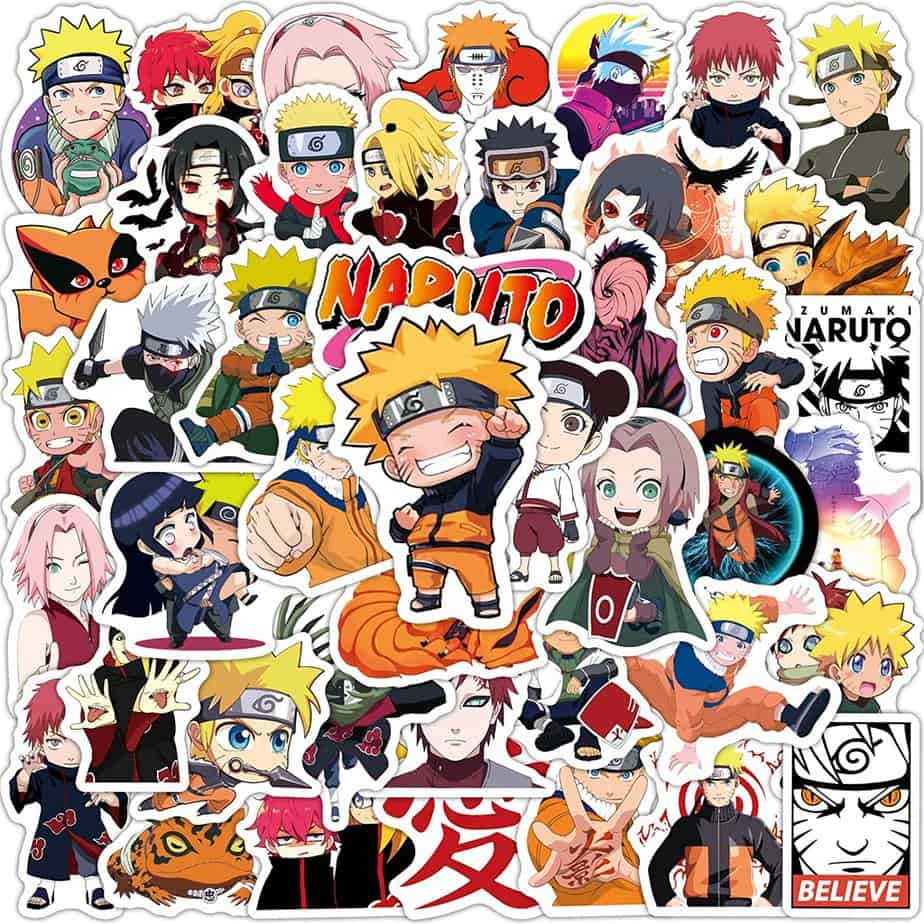 This is the cutesy set. If you like the chibi art style, then look over these 100 adorable little ninjas. Honestly, my favorite thing about this set is that it includes a ton of major characters and side characters. I prefer bulk sets that have a wide variety of designs featuring lots of characters-especially if the stickers are a show like Naruto, where you have an almost infinite amount of characters to draw from. The price for all these waterproof stickers is pretty cheap, too.
Price Range: $7-$17
Sticker Type: Waterproof die cut
Quantity: 100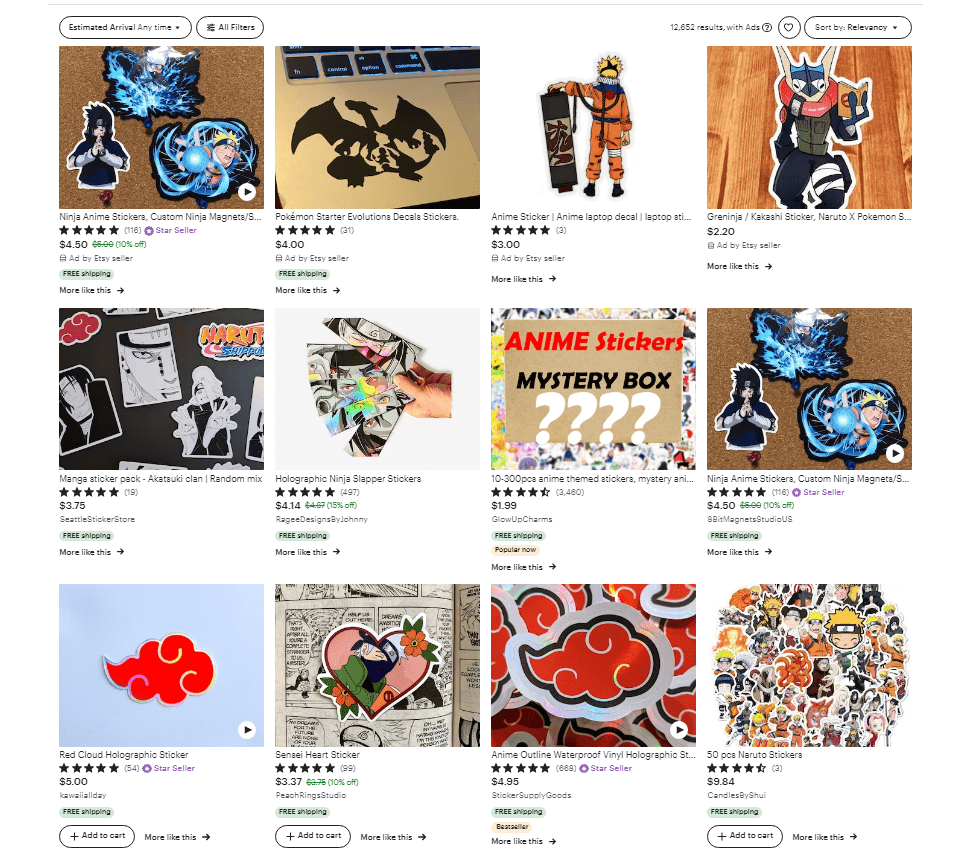 If you haven't done so, you should really check out Etsy for Naruto stickers, too. Tons of crazy talented independent artists on Etsy sell sticker designs impossible to find anywhere else. The only reason I didn't list any specifics is because Etsy listings tend to change all the time, which is why I invite you to do your own sticker hunting on there.
FAQs
Before you go running off like a ninja, why don't you stick around and check out the most frequently asked questions about Naruto stickers?
Question: How Do I Make My Own Custom Stickers?
Answer: The easiest way to make your own custom stickers is to upload your designs to a platform like RedBubble and choose to feature those designs on stickers. RedBubble is a print-on-demand company, so you won't have to worry about physically printing out your own stickers to sell them.
Question: Where Do You Put Stickers?
Answer: I say to get creative where you put your stickers, but lots of us like to stick them on notebooks, folders, laptops, water bottles, and places like that. Just make sure you don't any on the outside of your car unless it's a waterproof sticker.
Question: What Is a VSCO Sticker?
Answer: VSCO stickers are popular for their modern aesthetic, hand-drawn look, and bright colors. You'll see a lot of VSCO stickers feature cutesy phrases of text in bubble letters or cursive. It's a popular sticker style, for sure.
Let's Check Out More Fun Naruto Stuff!
I hope you feel like the Naruto sticker expert you are after reading this post. Did you find any stickers you want for yourself or a fellow fan? Got a plan for that bulk sticker order you're placing? I highly recommend the Clan Killer Sticker. If you'd like to check out even more awesome Naruto products from guides by moi, I invite you to check out our website.
Looking for more interesting readings? Check out: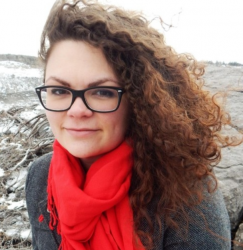 Latest posts by Candace Osmond
(see all)