Are you obsessed with Naruto? Do you love showing off your fan loyalty to the rest of the world? Pfft, who am I kidding, of course you do! We all do! I recently upgraded to the latest iPhone and needed a new case. So I thought, why not? Let's check out some Naruto cases.
I found So many amazing designs and figured I'd share. So, hold tight for this list of amazing Naruto phone cases I assembled; there are some wicked designs to check out.
Whether it's a simple design featuring a classic character or an elaborate tribute to one of Naruto's iconic moments – these cases are sure to make any true follower of The Will Of Fire stand up and say, "Believe It!"
Bottom Line Upfront
I've always gone with Rhinoshield for my phone cases because they offer it all: quality, durability, and cool designs. So, I'd have to say my pick is the Rhinoshield Naruto Phone Case.
Top 3 Picks
Why You Should Get a Naruto Phone Case
If you're a fan of the hit Japanese anime series Naruto, you'll know that having a Naruto-themed phone case is a must-have accessory. Not only do these custom cases look great and capture the essence of the characters from the show, but they also offer fantastic protection for your device.
Whether it's Kakashi's iconic mask or Sasuke's Sharingan eyes, there are countless designs to choose from, and each one will make your phone stand out from the crowd.
As well as the unique design options, Naruto phone cases also offer supreme protection. With a tough plastic shell that can easily resist drops, scuffs, and scratches, you can be confident that your device will remain safe no matter how often you use it, so there's no need to worry about accidental damage!
Naruto cases provide advanced protection for your device and send out a strong signal to other fans that you're part of the pack too. If you want to show off your love of one of Japan's most popular series, having a custom phone case is an easy and stylish way to do just that.
The Best Naruto Phone Cases
My Selection Criteria
Fit a good range of iPhone models
Classic Naruto designs
A selection for a range of tastes
Price
Listen, I love Naruto just as much as the next fan, but I don't necessarily want to boast about it with flashy colors and designs. I'm a fairly simple person when it comes to all aspects of style, whether it's in my home, my fashion sense, or even my phone case.
So, when selecting designs for this list, I made sure to include a good mix of bright and bold looks with simple, more refined cases.
One thing I noticed right off the bat was that almost all options catered to iPhone models and not really any other phones. Now, as a die-hard Apple user, this is fine for me, but I made sure to dig for a few that fit other phone models but couldn't find any that met my standards for quality. So, sorry, guys. These cases are for iPhones only.
In terms of price, I was specifically looking for phone cases under $20 because we all know how fast we upgrade to new models. With that being said, a couple of them are above $20, but it's because I felt they were worth it.
Tips for Buying the Best Naruto Phone Case for You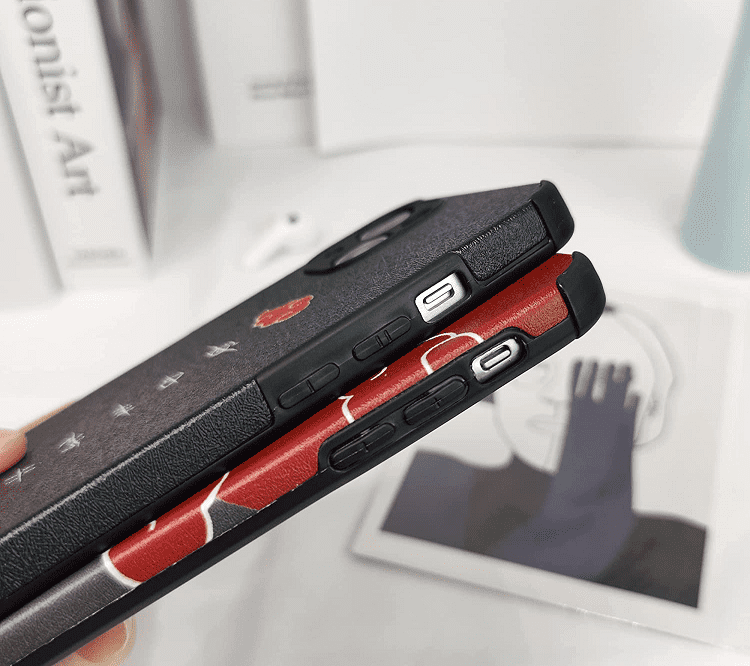 These are the tips and points I consider when shopping for something like a phone case, especially a novelty one from one of my fav fandoms.
What's Your Price Range?
When choosing a Naruto phone case, deciding how much you're willing to spend on the purchase is essential. High-quality cases can cost anywhere from $20 – $50 depending on the design and material used, while mid-range cases are available for around $10-$15.
The cheaper options may seem appealing initially, but these are often made from low-grade materials that will only last for a while or look as good as the more expensive ones.
I recently got a themed phone case from a seller on Etsy because it was so dirt cheap I couldn't pass up the deal. But it lasted about a week before the design began to peel. You really get what you pay for.
If budget isn't an issue, it's worth investing in one of the higher-end cases, which offers superior protection from drops, scratches, and other damage; plus, they generally look better too!
What Style and Design Do You Like?
With so many different designs available, it's important to think about what type of design you want – will you go for a more subtle look, or are you looking for something bold and eye-catching? Which characters or themes do you want to be featured on your phone case?
Good news! There are plenty of choices regarding style, from more abstract designs featuring the Nine-Tailed Fox to iconic characters like Naruto, Sasuke, Kakashi, and Sakura. If you're looking for something more subtle, plenty of minimalist designs with small touches mark their affiliation with the anime series.
Suppose sophisticated isn't quite your style. In that case, there are plenty of vibrant and exciting options too that feature popular catchphrases from the show and large graphics depicting characters in action – perfect for showing off your love of Naruto!
Personally, I love the more simplified options. I'm not a super flashy person, even when showing off my fandoms.
Double Check the Compatibility of the Phone Case
When deciding on a Naruto phone case, carefully check that it's produced specifically for your device. If multiple versions are available, look closely at the details and descriptions to ensure you purchase one that fits correctly and provides full coverage from all angles.
In addition to checking the compatibility of your chosen case, consider how well it will protect your phone despite how your device is designed. Like, I have an iPhone 14 Plus, and the thing is like a flawless sheet of ice. There's no definition to it at all, so I knew I needed a thick case with lots of good grips.
Quality cases should feature impact-resistant bumpers and scratch-proof textured surfaces that guard against damage from drops and everyday wear and tear.
Many Naruto cases also include an innovative screen protector which guards against scratches and smudges on touch screens.
Look for Added Features
When shopping for a Naruto phone case, why not make your purchase worthwhile by investing in one with added features? Many phone cases offer extra benefits, such as storage slots, card slots, or even built-in stands.
If you're looking for additional storage, many smartphone cases boast pockets to store spare change, earphones, or other small items. If you need cards, opt for a wallet-style case with several slots to hold your ID, credit cards, and cash – leaving you free to go hands-free without worrying about losing your essentials!
I'm a big fan of the phone case-wallet combos because I hate, hate, hate carrying around a purse.
Read Reviews
This should go without saying, but always check out what others are saying about a product before you buy it. And make sure it's a verified purchase review so you know for sure they actually bought and tested it. In hindsight, I should have read the reviews on that cheapo phone case I got from Etsy. I could have saved $7
Larmuroki Store Kakashi Phone Case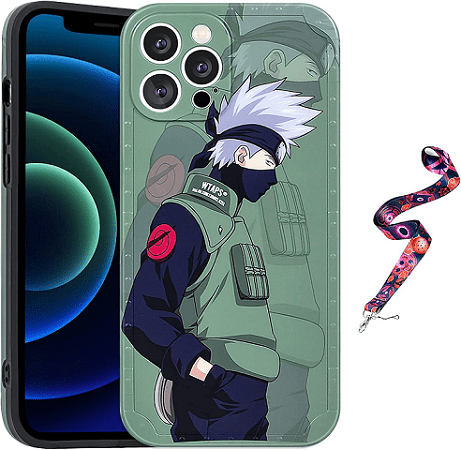 If you're like me, your phone is an extension of your being. Thus, it's only natural to want a case representing who you are. Enter the ever-inspirational Kakashi iPhone case!
Key Specs
Price Range: $10 – $20
Phone Model Compatibility: iPhone 11 and newer
Pro: Multiple Naruto-inspired design options.
Con: Some claim it didn't fit their phone.
Whether you're looking to make a fashion statement or just inject the character's enthusiasm into your device, this case pays homage to one of the most iconic ninjas of all time! Besides, he looks great on your phone, so why not bring some of his lightning-fast styles with you wherever you go?
YiXinBB Village Symbols Phone Case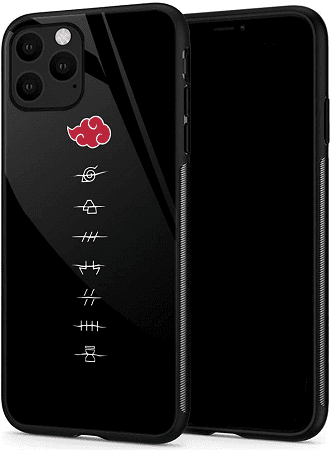 If you're an avid fan of the Naruto series, then a black phone case with Naruto village symbols is the perfect way to show off your passion. Not only do these cases look great, but they also make a bold statement that you're proud of your love for Naruto.
Key Specs
Price Range: $10 – $20
Phone Model Compatibility: All models after iPhone 14
Pro: Elegant design.
Con: Not all cases have the glossy design pictured.
Each village has a unique logo that can be featured on your phone case from Konoha to Suna and beyond. By showing off the symbol of your favorite village, you can make a powerful statement about what it means to be a dedicated fan.
These cases are incredibly durable and designed to protect your phone from scratches and other common wear and tear. They also come in different sizes, so you can find one that fits your specific device perfectly.
BOOSOS Store Phone Case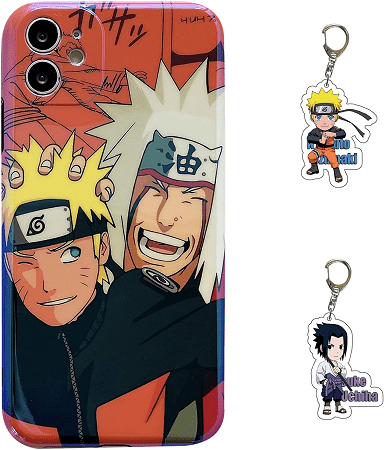 A phone case featuring the Akatsuki or Itachi Uchiha is the perfect way to show your admiration for this beloved anime series. With magnificent artwork and incredible detail, these cases allow you to turn a functional device into something more stylish and unique.
Key Specs
Price Range: $10 – $20
Phone Model Compatibility: iPhone 11 and up.
Pro: Compatible with iPhone wireless charging function.
Con: Protective screen lips are not raised as advertised.
From their signature sharingan eyes to their intimidating black cloaks, these designs capture the essence of each character in an unforgettable manner.
JZYEGSW Naruto-Themed Cases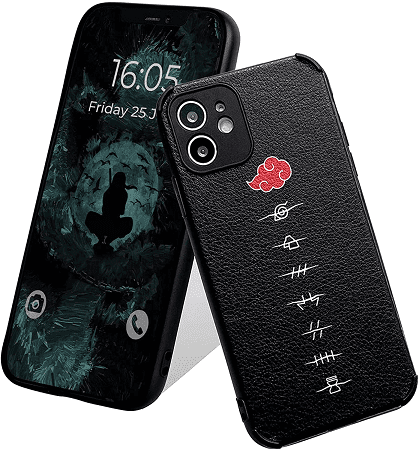 Add some character to your device with a black leather phone case featuring iconic symbols from the Naruto universe. This case is perfect for any huge fan of the series, featuring stunning artwork and eye-catching colors.
Not only will it give your device a bold and stylish look, but it will also help protect it from scratches and other common wear and tear.
Key Specs
Price Range: $10 – $20
Phone Model Compatibility: iPhone 11 and above.
Pro: Quality design and print.
Con: Buttons become more difficult to press.
The village symbol designs on this phone case will surely draw attention wherever you go. Whether it's an image of the Leaf Village symbol or the Uchiha Clan symbol adorning the case, your phone will be a conversation starter whenever you show it off.
BLgznger Naruto Case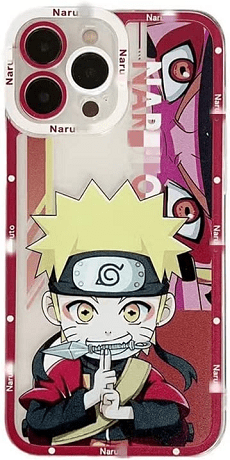 Having a Naruto-themed phone case would be really cool! Not only does it allow you to show off your favorite anime character, but it also provides soft protection for your phone.
Key Specs
Price Range: $10 – $20
Phone Model Compatibility: iPhone 11 and above.
Pro: Quality material.
Con: Back letters are blurry.
Most commonly found in soft TPU cases, these phone cases are easy to use, lightweight, and pocket friendly – perfect for traveling everywhere I go. Having a Naruto-themed phone case is like having a mascot that follows me wherever I go!
SMAIGE Naruto Phone Case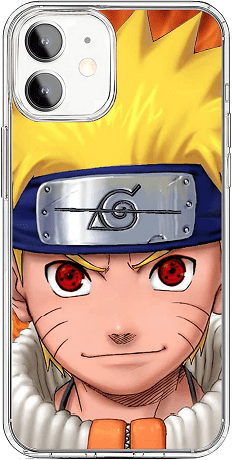 If you're looking for a way to express yourself while showing your love for the classic anime series Naruto, why not try out a Naruto-themed phone case? Not only are they visually stunning with bold and vivid colors lifted directly from the show, but they're also made of high-quality soft TPU materials, making them extra durable.
Key Specs
Price Range: $10 – $20
Phone Model Compatibility: iPhone 12, iPhone 12 Pro
Pro: Quality materials.
Con: Print isn't very durable.
Plus, as if that wasn't enough incentive to buy one, they're also scratch-resistant and compatible with the popular iPhone 12 and 12 Pro models – so you don't have to worry about having problems or issues with the fit.
WASDFNZ Hidden Leaf Village Phone Case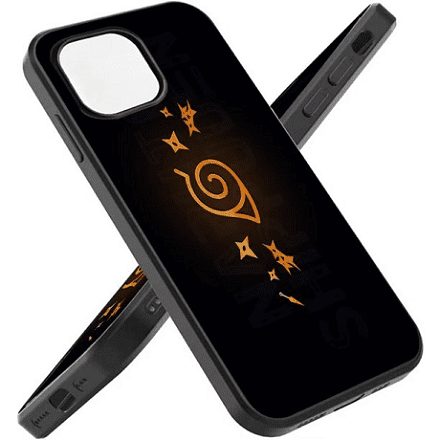 Take us back to where it all began with this phone case that sports a print of the Hidden Leaf Village symbol. The Hidden Leaf Village symbol from the popular manga and anime Naruto is a powerful symbol of strength and honor. It's also a reminder for anyone who wears it of what it truly means to be part of the Leaf Village.
Key Specs
Price Range: $10 – $20
Phone Model Compatibility: iPhone 11 and up.
Pro: Shock-resistant design.
Con: Scratches on the back become visible.
Since I'm a fan of dark-looking things, this black case went straight to my heart. I like that it's compatible with all (newer) iPhone models and the prints almost look glowing. I would have loved to see this print in a glow-in-the-dark version.
Pokenis Naruto And Sasuke Phone Case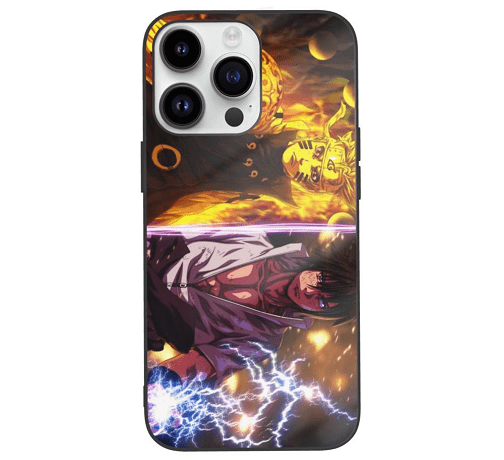 Naruto and Sasuke have a deep and complex relationship that has developed throughout the series. Initially, Sasuke was the more powerful of the two and acted as an arrogant mentor to Naruto.
Despite their tumultuous dynamic, Naruto's unwavering loyalty and admiration for Sasuke slowly changed their relationship into mutual respect and friendship.
Key Specs
Price Range: $10 – $20
Phone Model Compatibility: iPhone 13 and up.
Pro: Beautiful print design.
Con: Doesn't absorb shock.
Both characters have grown significantly from rivals to best friends since they first met – they now understand each other's motivations and weaknesses. They can support each other in difficult situations. This is why I love the design of this phone case. Just look at the beauty of these two worlds colliding…
WASDFNZ Naruto Ready for Battle Phone Case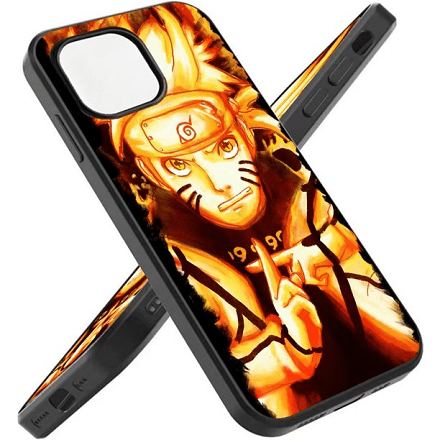 Naruto is an inspiring and endearing character who captures the hearts of millions. His tenacious spirit, clear sense of justice, and dedication to always doing what's right make him an easy hero to root for—no matter how difficult his circumstances may be.
Key Specs
Price Range: $10 – $20
Phone Model Compatibility: iPhone 11 and newer.
Pro: Made with quality materials.
Con: Back isn't scratch resistant.
He never gives up and is willing to take on incredible odds to protect the people and things he cares about.
Naruto also has a strong moral compass that drives him toward making the right decisions, even in times of great danger or temptation. This phone case is and will continue to be very popular. It shows the fierce nature of Naruto and all the good he stands for.
Qzbon The Many Faces of Naruto Case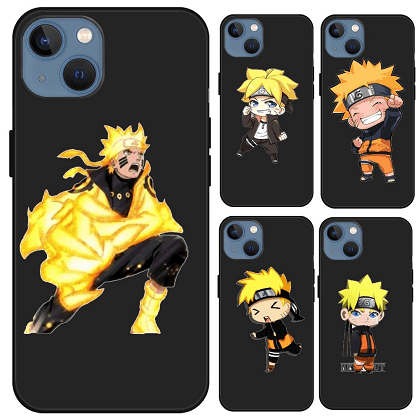 This absolutely adorable phone case brings forth a chibi version of Naruto, which caught my attention (and my heart). While I love the construction and design of the case, the product page is misleading.
Key Specs
Price Range: <$10
Phone Model Compatibility: iPhone 5/5s/SE
Pro: Dustproof and shockproof construction.
Con: The product page has contradicting info.
First, it needs to be clarified which of the five displayed models you're ordering. Then, the title says the case is compatible with a bunch of iPhone models, but the page says it works with iPhone 5/5s/SE. Other than that, this dustproof and shockproof case won me over.
WASDFNZ Kakashi Portrait Phone Case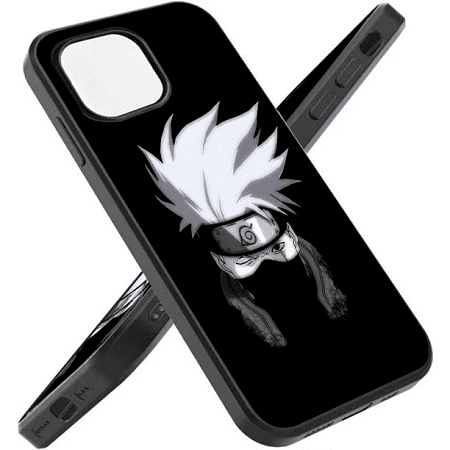 Kakashi is an integral part of the Naruto universe. He's a wise, powerful, experienced ninja mentor who takes on the role of teacher and father figure to Naruto and his team. Kakashi guides them through challenging missions and helps them better understand their unique abilities.
Key Specs
Price Range: $10 – $20
Phone Model Compatibility: Anything after iPhone 11
Pro: Shock-resistant.
Con: The back is a dust magnet.
He is also a great source of wisdom—his sage advice has been instrumental in helping the main characters make important decisions throughout the series. This phone case means a lot to me; the design is just to die for. If you're a Kakashi fan and have an iPhone, you must check this product out.
WASDFNZ Red Clouds Phone Case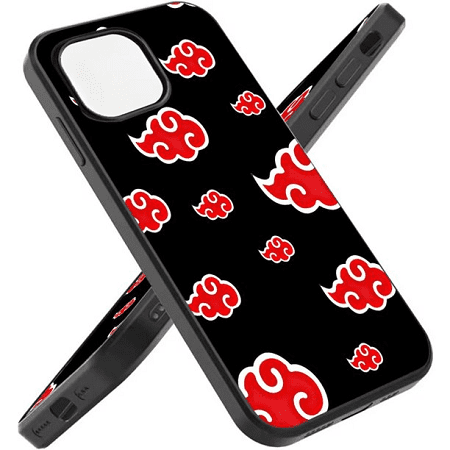 The color red in the Akatsuki cloud symbolizes the carnage during battles. To put it more specifically, the conflict that was fought in the village that was hidden in the rain. This directly affects where the group came from in the first place.
Key Specs
Price Range: $10 – $20
Phone Model Compatibility: iPhone 11 and beyond.
Pro:
Con: The back is a dust magnet.
This case might seem simple, but the symbol printed on it means much to Naruto fans. This TPU case, while beautiful and resistant, shows dust speckles on the back. This can be annoying to some, but it is clearly not a deal breaker.
Naruto Characters Sketch Tempered Glass iPhone Case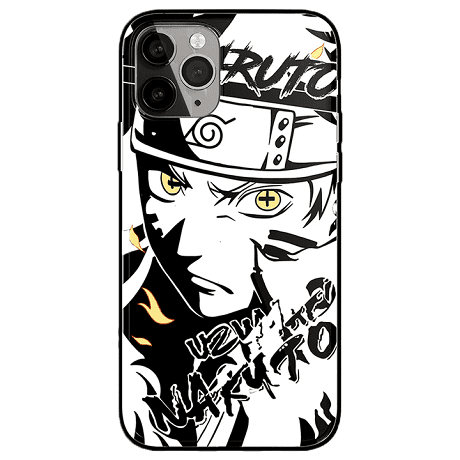 I love everything about this phone case. The one-piece build is made of tempered glass and protects against drops and scratches. The open button form gives you direct access to your device features, and the impact-resistant design keeps your phone safe from harm.
Key Specs
Price Range: $20 – $30
Phone Model Compatibility: iPhone 11 and up.
Pro: Shock-resistant design.
Con: Tempered glass is a fingerprint magnet.
The easy snap-on and-off design makes it easy to put on and take off, and the cover wraps around the back and sides of your phone for complete protection.
Rhinoshield Naruto Phone Case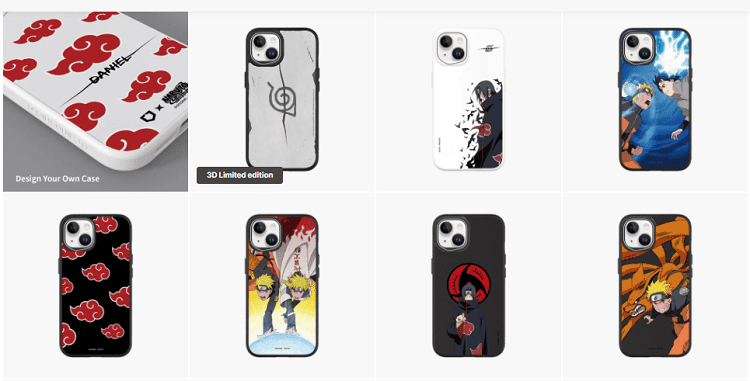 If you're looking for a new phone case that shows off your style and creative side, Rhinoshield is a perfect choice. With their Naruto-themed cases, you can choose from different styles, features, finishes, and designs. Plus, they are well-made and designed to last no matter how much wear and tear you put them through.
Their Naruto-themed cases include beautiful artwork of beloved characters from the series, such as Sasuke Uchiha, Kakashi Hatake, and Sakura Haruno.
Each case is also made with a polycarbonate material that helps protect your phone from scratches or other minor damages like dust or dirt. There are multiple case styles, and you can personalize your product with your name.
Aside from looking great, these cases are surprisingly lightweight, making them highly comfortable to hold in your hand. Plus, they come in various sizes, so you can find one that fits your device perfectly.
FAQs
Question: Where's the best place to buy a Naruto phone case?
Answer: You can get good Naruto phone cases on websites such as Amazon, Walmart, Rhinocase, Etsy, and others.
Question: Can you get Naruto phone cases for all phone models?
Answer: Naruto phone cases come in various shapes, sizes, and models to fit almost any smartphone. Whether you have an iPhone or Samsung Galaxy, there's sure to be a Naruto phone case that fits your device perfectly. Not only that, but many manufacturers also offer customized designs to ensure you get exactly what you want.
Question: What is the best Naruto phone case?
Answer: The Rhinoshield Naruto phone case is considered the best because it's made with high-quality materials, very durable, and original prints. In addition, you can customize it to your own preference.
The Final Words
When choosing a Naruto phone case, there are a few important factors to consider. Make sure the phone case fits your device properly.
It should be snug and secure without causing any damage or scratches to your device. If you want a good mix of quality and design, go with the Rhinoshield Naruto Phone Case. And for more epic Naruto stuff to check out, head back to our site!
Looking for more interesting readings? Check out: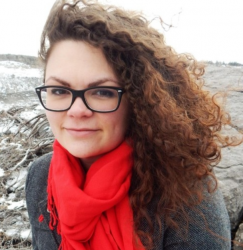 Latest posts by Candace Osmond
(see all)