If you're looking for great celebrity merch, there's truly no name bigger than Harry Styles. With estimated sales of over 22 million dollars a year, Harry Style's merchandise line is extraordinarily popular. But a guide can help with sorting through the best and worst products of Harry Style's mech. 
Something that's always stood out about Harry Styles is his vibrant personality and style. However, many overlook when the singer harnesses his creativity for the greater good. In December 2021, a group of iconic music giants announced a special auction to raise money for the music community.
Harry Styles joined Dolly Parton, Joni Mitchell, BTS, Lady Gaga, and others to auction off everything from attire to iconic instruments and autographed memorabilia. Harry Styles' most notable contribution was a golden guitar. The eclectic acoustic guitar comes with a one-of-a-kind engraving, plus a signed version of his Watermelon Sugar record. 
However, Harry Styles' penchant for both style and sales extends beyond helping the music world. As of January 2021, Styles has donated to over 60 charities, and well over 1 million dollars. He continues to raise money for charities and awareness campaigns, including March For Our Lives, Help Refugees, Time's Up, and We Love Manchester Emergency Fund.
I like to think of it this way: while most Harry Styles merchandise purchases don't directly go towards charity, Styles has shown he uses his money for good. Even better, his merch line is always changing, with new styles and sizes. 
This guide will tell you the truth about how to buy Harry Styles merch. From shipping and refund policies to sizing guides, here are my tips to find the best hoodies, jackets, accessories, and more. 
How Did Harry Styles Become Famous?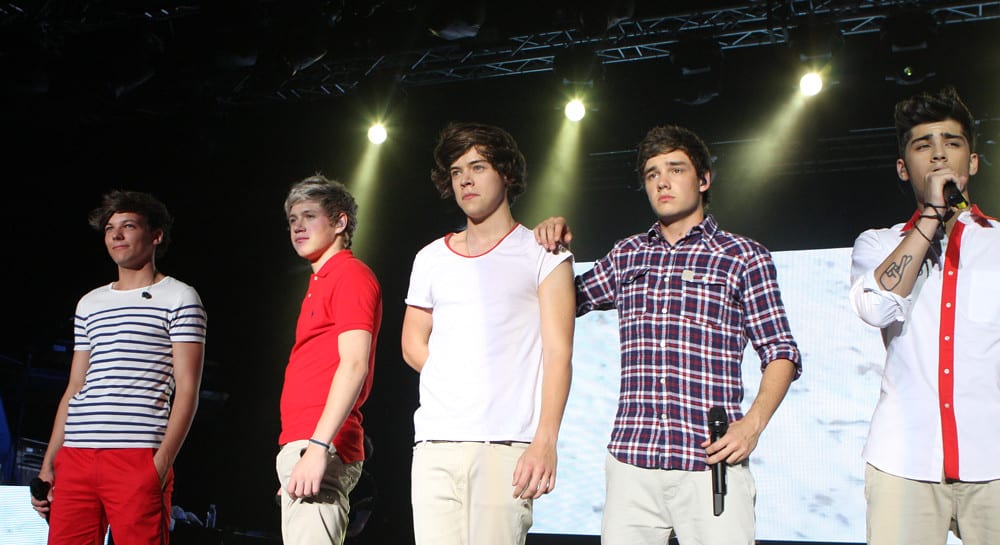 "What Makes You Beautiful," One Direction
Harry Styles hardly needs any introductions. That said, I want to show just how much influence Styles has had on the music industry. In many ways, Styles' merch line reflects the development of his career. Innovation, determination, creativity, and boldness are a few attributes that took the British singer to where he is today. 
Harry Styles owes the start of his career, some argue, to a reality TV show. When Harry Styles auditioned for The X Factor in 2010, not everything went as planned. The then-16-year-old was eliminated from the competition just before finals. While making it this far is an accomplishment, the judges had another trick up their sleeves. 
Is Harry Styles in One Direction?
After his initial elimination, the judges granted Styles a second chance, with a caveat. The singer was paired with four others, all teenagers. Together, the group of five formed what would become known as One Direction. The group finished third place. More importantly, One Direction was taken up by the Syco music label, which launched their career. All of their albums debuted on the Billboard 200 at numbers one or two. One Direction announced a hiatus in 2015. It's unclear when or if they will make another album.
Has Harry Styles Won Any Awards?
But Harry Styles isn't someone who quits. In 2017, he started his solo career. Together with his role in One Direction and his solo career, Styles has won 42 awards and been a nominee for 119. His most recent award was for the Favorite Pop/ Rock Album of 2020 at the American Music Awards. 
Have Harry Styles Been in a Movie?
Even though Harry Styles remains most well-known for his music career, he's also appeared in a few movies and TV shows. Notable appearances and minor roles include Dunkirk, Eternals, Don't Worry Darling and iCarly. There are a few One Direction and Harry Styles documentaries as well. He's also appeared on SNL a few times and hosted the show in 2019. 
What's Harry Style's Net Worth? 
As of December 2021, Harry Styles is worth around 80 million dollars. 
How Do I Buy Harry Styles Merchandise?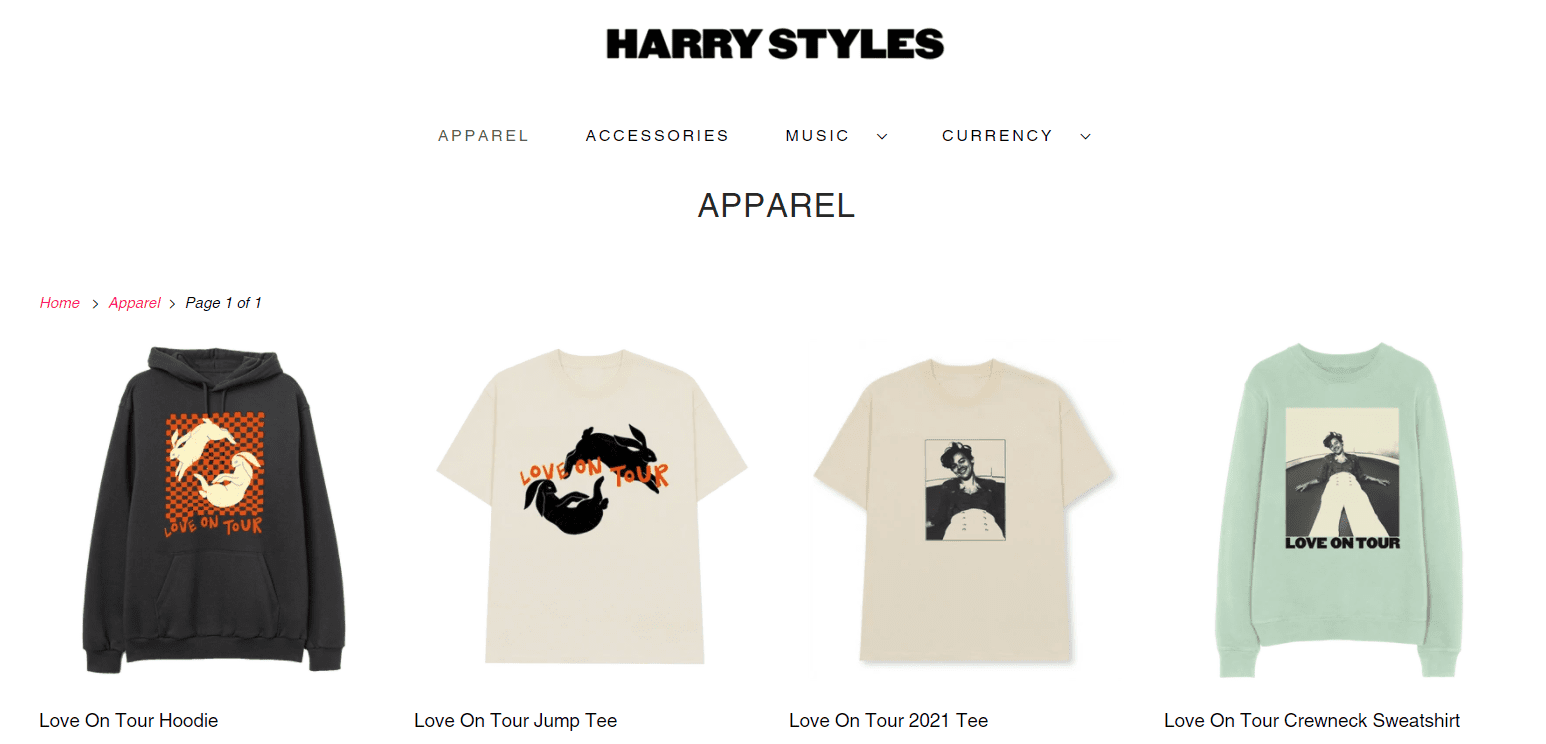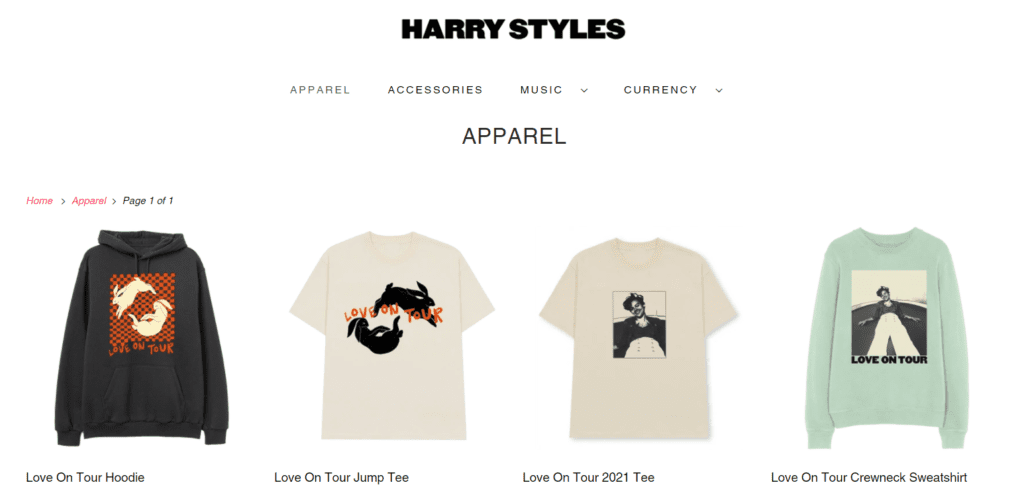 The best place to buy official merch is from Harry Style's official website, where his official merch store is located. You can also buy official Harry Styles merchandise at concerts. However, with many concerts canceled or delayed still, buying online is the most practical option.
I'll take you through the pros and cons of buying from the Harry Styles merch store. However, if you're on a budget, know that Harry Styles merch can be expensive. For this reason, I've offered some alternative places to buy Harry Styles merch under my final buying recommendations section. 
How Does Shipping From the Harry Styles Merch Store Work? 
Shipping is probably the worst part about buying Harry Styles merch. With supply chain issues and high demand, you may be purchase will be delayed. I highly recommend buying well in advance of when you need your merch. Here's some help for navigating shipping and return policies. 
Does the Official Harry Styles Merch Store Offer Free Shipping? 
All orders come with a standard shipping fee. Domestic orders cost $4.99 for shipping. International orders cost $6.99. 
What's the Average Delivery Time for Harry Styles Merchandise Orders?
While the official Harry Styles merch store doesn't offer next-day shipping, you can pay extra for expedited shipping. Delivery times listed below are only estimates. The website has an official statement on COVID-19 shipping delays. Read it before purchasing anything. Know that these delays are not unique to Harry Style's official store. If you experience a delay, there's a good probability that it's due to these global issues. 
Note that there is an US and UK store. 
Type of Shipping
Domestic Delivery Times
International Delivery Times

Standard

Processed: 2 to 3 business days

Shipping Time: 1 to 7 business days

Processed: 2 to 3 business days

Shipping Time: 10-15 days

Fast Shipping

Processed: 2 to 3 business days 

Shipping Time: 1 to 2 business days 

Not Specified
Unless you're in a hurry, I'd opt for standard shipping. Delays can be happy even with fast shipping, and if you're shipping internationally, it'll be a bit of a wait anyway. 
How Do I Track My Order From the Harry Styles Merch Store? 
Once your order is placed, you should receive an email from [email protected]. You'll receive a follow-up email with tracking information, so you can understand where your package is and an estimated delivery time. You can check your order status through your tracking number or by contacting customer service. 
What's the Returns and Cancellation Policy? 
The returns policy has many caveats for different situations. See the table below for how returns are handled. You may cancel your order for anything that hasn't been shipped. For inquiries, contact customer service at [email protected]. When a refund or exchange is approved, you'll be contacted. You'll need to supply contact information, including a return address. 
| | | |
| --- | --- | --- |
| Order Issue | Refund or Exchange Eligible? | Policy  |
| Wrong Size/ Clothing Doesn't Fit  | Yes | New (not worn or washed) may be exchanged within 10 days of delivery. The exchange must be for the same style and color.  |
| Flaws or Discoloration | Yes | An exact exchange may be issued. You must send a photo with details of the defects to customer support. |
| Posters, Hats, Cell Phone Cases & Other Non-Clothing Merch You Don't Want  | Not Usually  | N/A  |
What is Harry Style Merch Like? 
Now that you know about the return and exchange policies, here's a look at what you can expect from the products themselves. 
What Type of Merch Does the Harry Styles Store Sell?
The Official Harry Styles Merch Store sells hoodies, bags, beanies, jackets, mugs, keychains, phone cases, and other accessories. The most popular Harry Styles apparel has to be the hoodies in blue, brown, white, and gold colors. Popular collections in the past and present include merch related to the Stand on Love Tour, Adore You, and Watermelon Sugar music. 
How Much is Harry Styles Merch? 
Harry Styles merch is expensive at times, but it's not the most expensive celebrity merch store, You can expect to pay an average of $40 to $60 for a Harry Styles hoodie and $30 to $40 for t-shirts. Limited edition merch can be more expensive. There are occasional sales. Some websites claim to offer discount codes for Harry Styles, but you should be careful about these. The best option for discount codes is installing something like Honey. Honey helps you instantly find discounts for all your online purchases, regardless of where you're shopping.  
How Do I Find the Best Harry Styles Merch? 
The official merch store is always restocking and changing items. During peak times, like holidays, you may find more items that are out of stock. Between the apparel and accessories, how do you find the right merch for you? If you're buying Harry Styles apparel, the first step is buying the right size. 
Harry Styles Merch Size Guide
Harry Styles merch is generally true to size and unisex. The line uses standard sizing, with separate charts for t-shirts, crewnecks, and hoodies. The charts above are all US sizes and available on the official Merch store. Click Here for UK Sizes. 
My Picks: Best Harry Styles Official Merch to Buy Now 
To guide you through Harry Style's merch store, here are my top picks for the best products you can buy right now. In my review of the Harry Styles merchandise store, I considered: price, product quality, popularity, versatility, and the design itself. If you're buying from the official merch store, you want to make sure it's a product that will be used (or collected) and is immediately recognizable as linked to Harry Styles. Shop All Harry Styles' Official Merch Here.
Love On Tour Crewneck Sweatshirt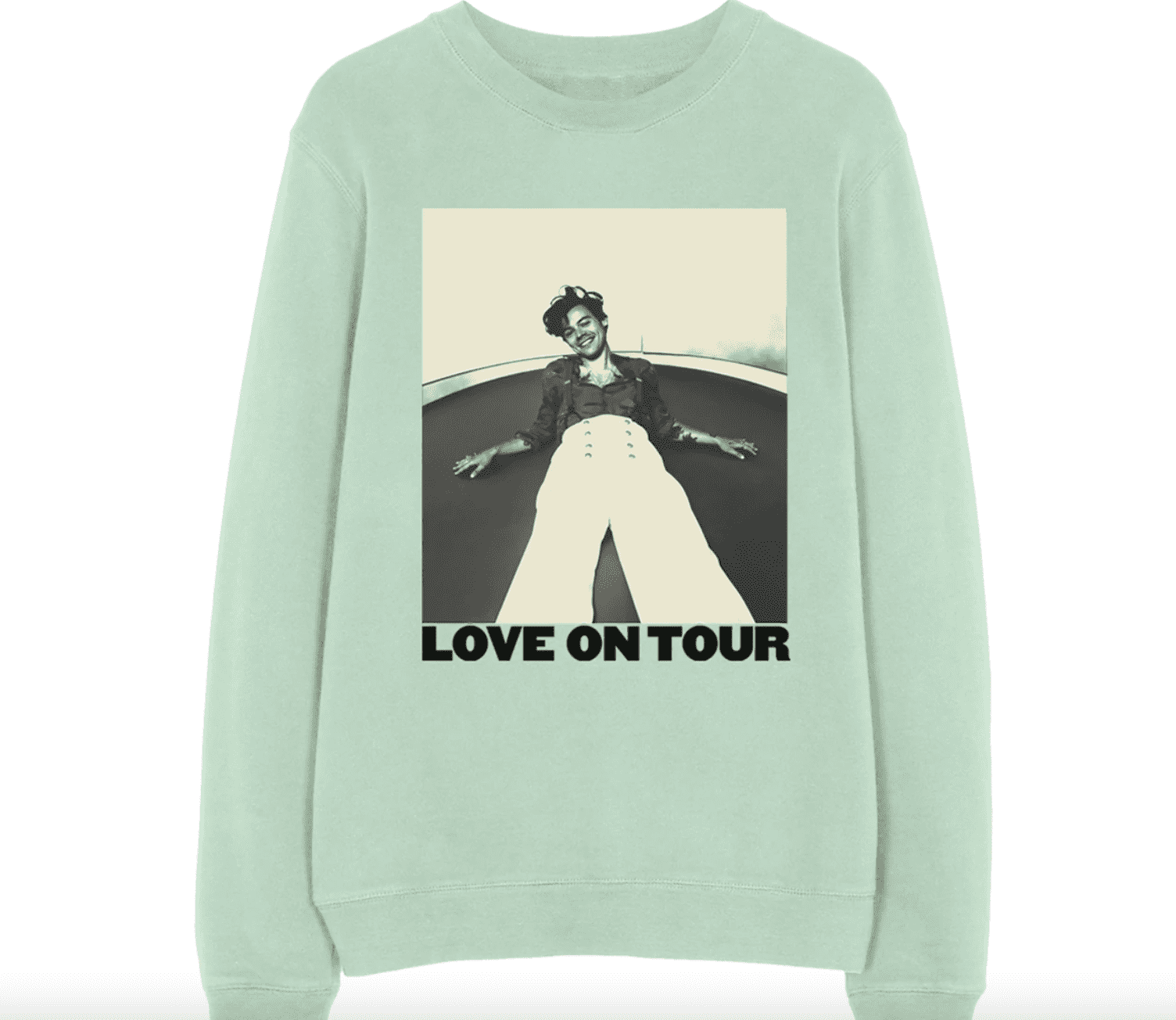 This crewneck sweatshirt is one of the newest apparel options from Harry Style's official merch store. While it's one of the most expensive merch items, it's also one of the best. The cozy sweatshirt is soft but not bulky. A classic crewneck design is both flattering and comfortable. Hem details on the sleeves, bottom, and collar make it an instant classic. The mint green hue is complemented by the Love On Tour black and white print of Harry Styles. Sizes small, medium, and extra-large are currently available. Buy Here. 
Pros
New Design

Iconic Love On Tour photo makes it collectible

Cozy Mint Green 
Cons
Expensive

Large is Sold Out 
Harry Crewneck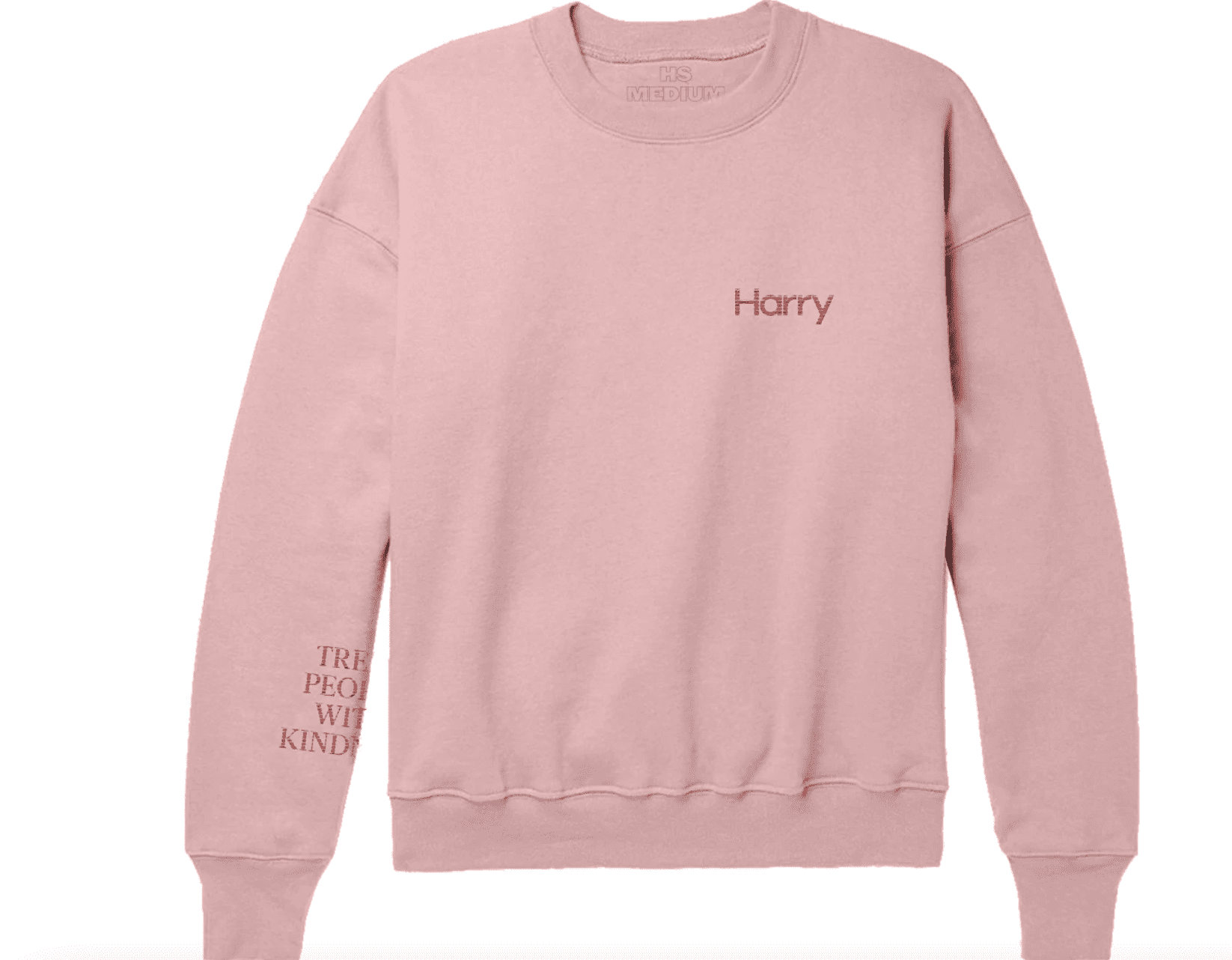 This crewneck keeps the design simple. This versatile crewneck is perfect for a cool day or lounging inside. Stay comfy with a classic cut and crewneck collar. "Harry" is embroidered on the chest and "Treat People With Kindness" is embroidered on the bottom left sleeve. This design is available in soft pink and light blue. Buy Pink Here or Buy Blue Here. 
Pros
Available in Blue and Pink

Versatile Design

Harry Embroidery 
Cons
Expensive

Blue is Sold Out in All But One Size
Fine Line White Tee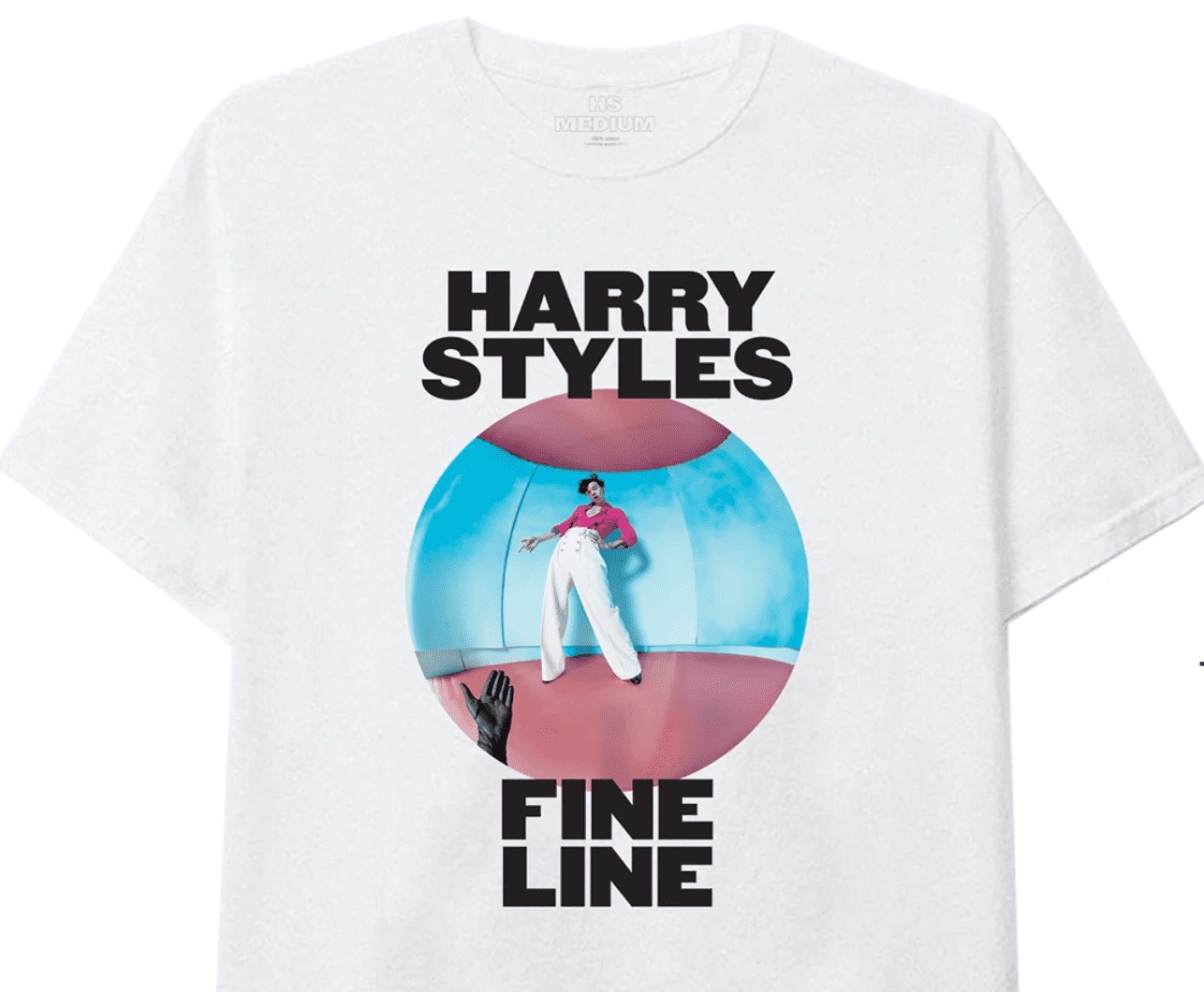 Sometimes all you need is a basic t-shirt. This white tee shirt can be worn with just about anything but still has that Harry Styles flair. The tee shirt is only available for a limited time. This shirt features the Fine Line branding, with vibrant blue and pink print. If you're an avid fan or know someone who is, this is a vibrant design and useful for everyday wear. It's currently available in sizes small through extra-large. Buy Here. 
Pros
Recognizable Design

Great Gift

Cheaper than Hoodies
Cons
Available For Limited Time

T-Shirt Doesn't Have many shapes
Watermelon Sugar Tote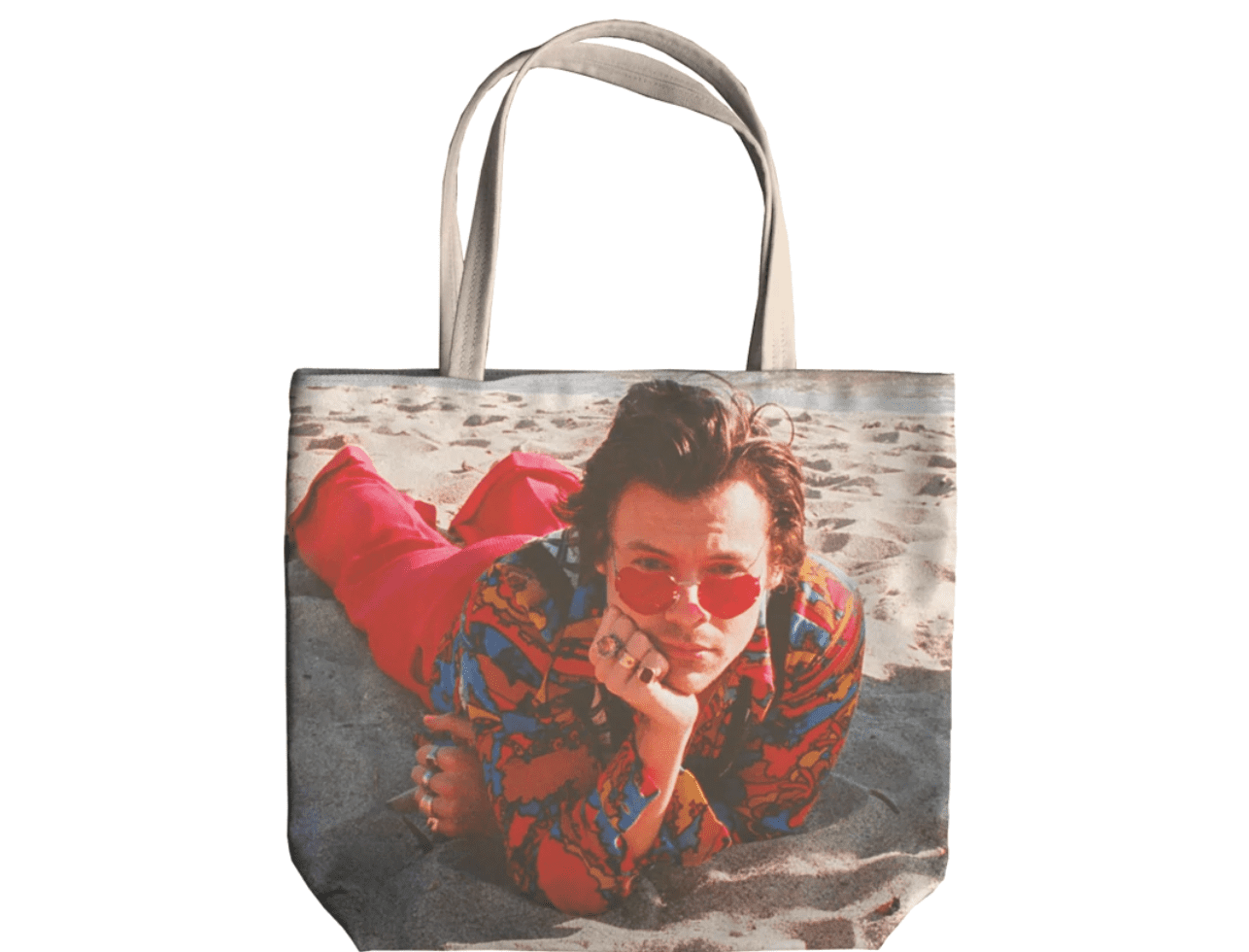 There isn't too much Watermelon Sugar merch left, but this tote is a great find. The tote is a natural color, with a classic double-handed design. Harry Styles is featured in an iconic Watermelon Sugar style, with pink pants, a vibrantly patterned top, and pink shades. This is a great keepsake, and a medium-size that's ideal for a day at the beach. This tote is recognizable and useful and sure to add a splash of optimism to your day. Buy Here. 
Pros
Vibrant Design

Collectible and Practical

Great For a Day Out
Cons
Love on Tour Tote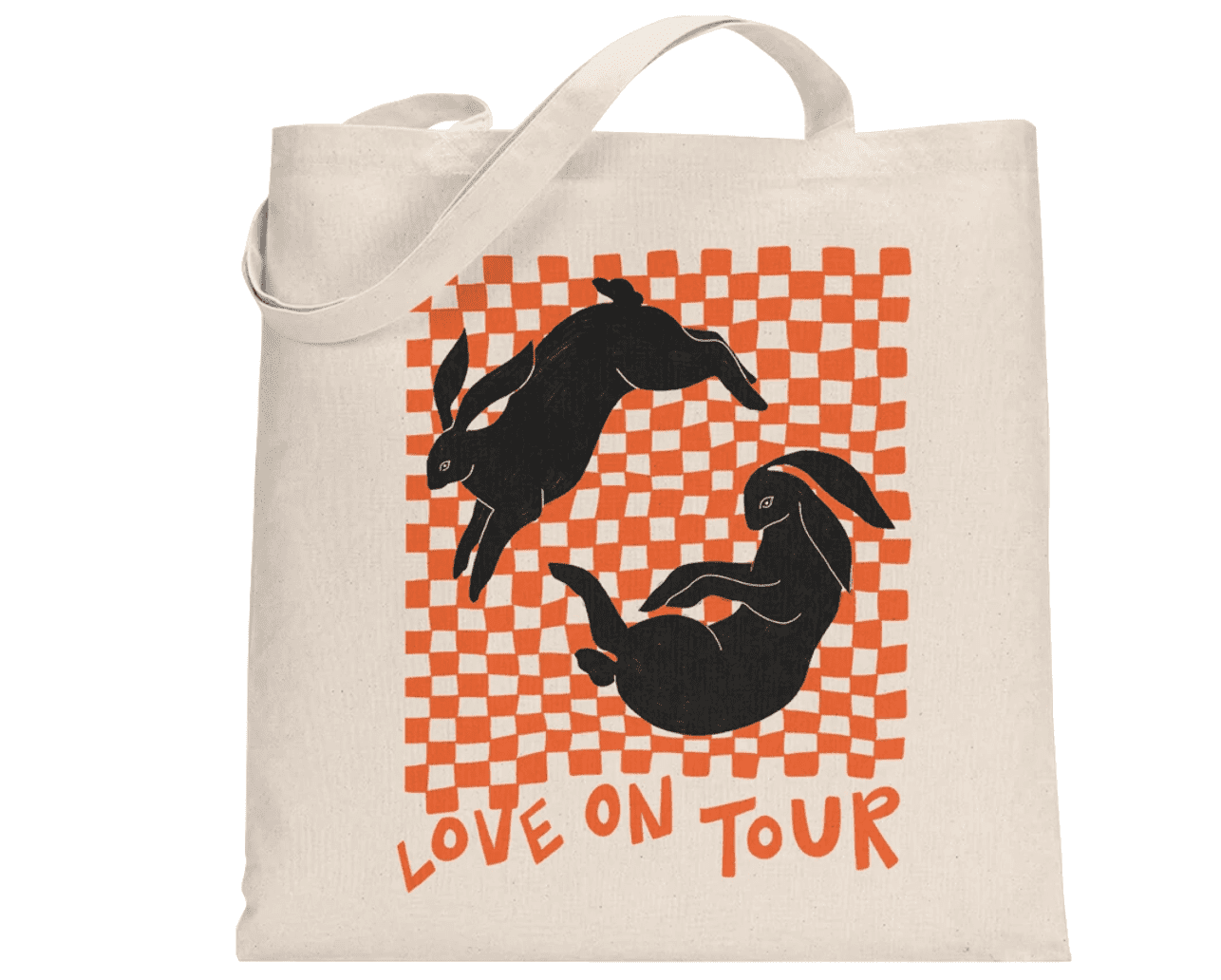 This lightweight tote is one of your options for Love on Tour merch. The natural canvas tote is embellished with a checkered orange pattern and dancing black rabbits. The design is eye-catching and a little less bright than some of Harry Style's merch. This is a smaller tote, ideal for stashing sunscreen, sunglasses, and a snack for a day out. Buy Here. 
Pros
Affordable

Natural Canvas Tote

Lightweight
Cons
Harry is My Friend Hat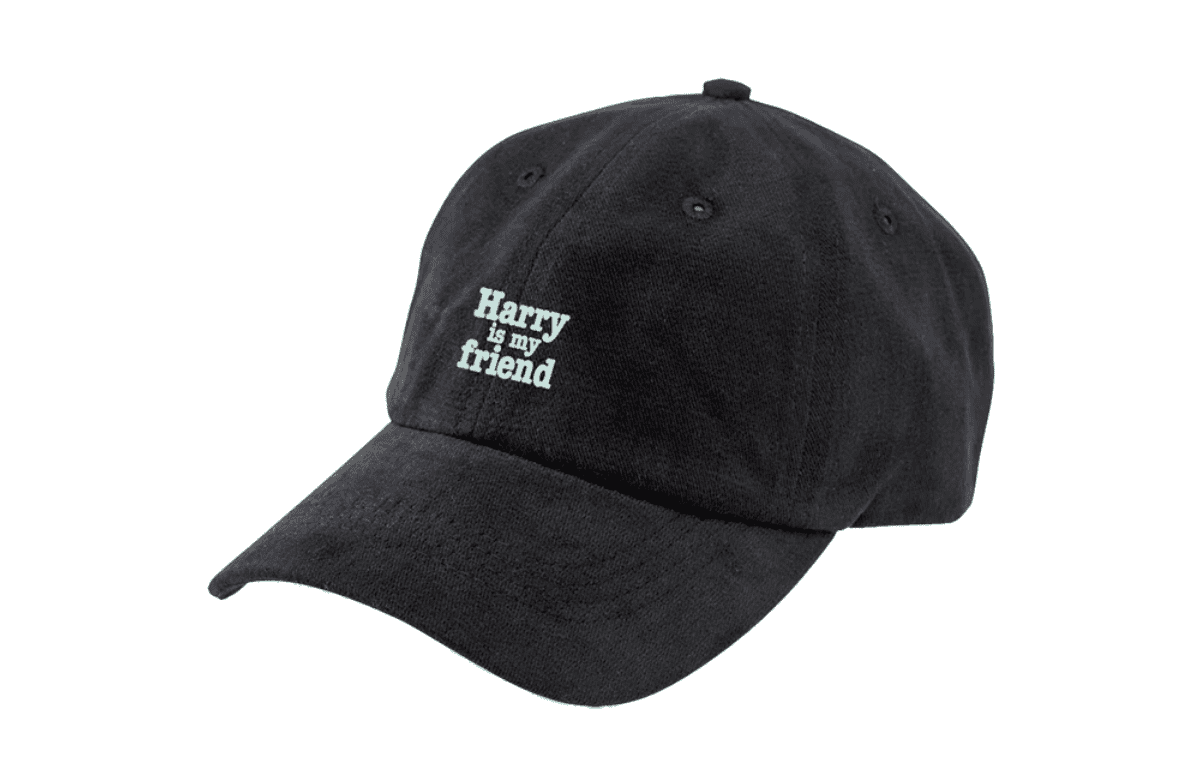 My final pick from the Harry Styles official merch collection has to be this playful hat. The black ballcap features  "Harry is My Friend" lettering in mint green. The mint green pops against the black background. The hat is adjustable and made out of 100 percent cotton. Buy Here. 
Pros
Adjustable

Comfortable 100 Percent Cotton

Bright Lettering
Cons
A Little Expensive

No Other Colors
Frequently Asked Questions
Question: Is Harry Styles Merch Sustainable?
Answer: Many celebrity merch lines are mass-produced with cheap and not-so-environmentally-friendly fabrics. Harry Styles merchandise made a fantastic change to their production methods in 2020. Tshirts are now made with renewable solar and wind energy. You can also buy products produced using organic cotton. It's a great start towards a more sustainable merchandise line, though this is true for some but not all products. 
Question: What is Harry Styles Merch Made Out of?
Answer: The best Harry Styles hoodies are produced by Panagia. This brand is known for its lounging apparel and bright hues. Beyond being cozy and comfortable, they're also sustainable. These hoodies are made with organic and/ or recycled cotton and other fabrics. 
Question: Who is Harry Styles' Designer?
Answer: Harry Styles has worn countless designer collections in his career already. In 2019, Harry Styles paired with Gucci designer Alessandro Michele to launch a limited collection. Harry Styles famously wore Steven Stokey-Daley's Fall 2020 Collection for the "Golden" music video, in addition to Bode and Gucci. One of Harry Styles' favorites designers is Daniel W. Fletcher. Fletcher was just 25 when Styles stumbled upon his silk shirts in 2015. 
Question: Is Harry Styles Vegan? 
Answer: Harry Styles has a thoughtful lifestyle as well, though he isn't vegan. Harry Styles abstains from meat and classifies himself as a vegetarian. He's a known dairy lover. However, much of Harry Styles' activism includes speaking out against animal cruelty. 
Final Buying Recommendations: Unofficial  Harry Styles Merch on Etsy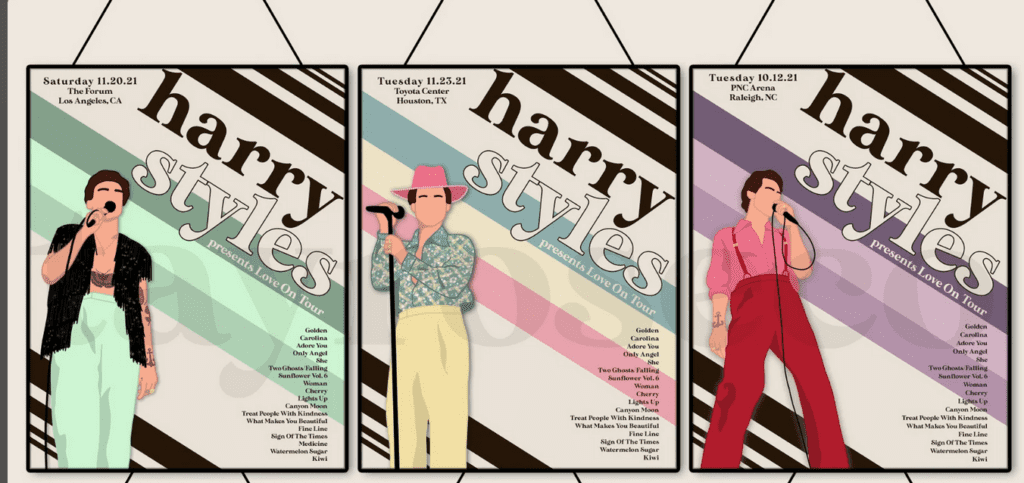 The upside of buying outside of the official merch store is that it's almost always cheaper. At the same time, it's not always official merch, not as valuable, and may not have the same quality. You can buy unofficial merch on Etsy, eBay, Wish, and Aliexpress. Of these, I most recommend Etsy. Walmart and Target do sometimes carry official tour t-shirts, and you may find a pick or two on Amazon. Hot Topic, Shein, and Urban Outfitters don't currently carry Harry Styles merchandise. 
Pros
Cheaper

Greater Variety

Unique Products
Cons
Inconsistent Quality

Not Official Merch

Not as Valuable 
Harry Styles Merch on Etsy 
I love shopping on Etsy for products for a few reasons. Etsy has unique items that you can't find elsewhere. I also love supporting individual creators and independent shops. At the same time, Etsy is a wild card in terms of shipping times, prices, and quality. The Harry Styles Merch Collection on Etsy includes graphic t-shirts, mugs, candles, blankets, and handbags. My favorite picks include the Love on Tour Outfit Poster, Harry Styles Shoe Charms, and Harry Styles Sherpa Blanket.  Shop All Here.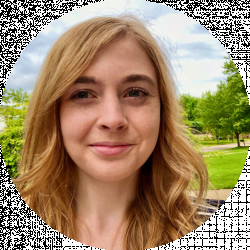 Latest posts by Erin Jamieson
(see all)