David Dobrik is one of those guys who has been around forever, reaching internet celebrity with the help of Vine way back in 2013. Along with others such as Jake and Logan Paul, David was forced to make the transition from the six-second video format platform to YouTube after the app shut down in 2016.
However, David did not waste any time, releasing several popular videos in quick succession, rising to become one of the most popular channels on the platform in 2019. 
I have been watching David since his early days on Vine and was one of the many who followed him over to YouTube when he saw the writing on the walls over on Vine. I have stuck with the creator through thick and thin, watching him continuously revolutionize content on YouTube.
One of the most interesting things about following David has been seeing how the quality and extravagance of his videos have grown over the years as his accrued popularity and the money that comes along with those massive view counts.
I have to say that the David Dobrik channel, for me, is slightly past its peak. David has recently changed his content and has decided to move away from the vlog series that brought him the fame and love that launched his channel. Instead, he has changed to focusing more on eye-catching and slightly clickbait titles.
Of course, his content output has also dropped significantly as he goes through the process of burnout. Throughout all this time, however, I have also seen just how much emphasis and work David has put into his merchandise.
Therefore, speaking of David's merchandise, this guide will take a look at some of the best items he currently has for sale on his site, giving you a few hints and tips to ensure you make the right decision when buying. 
Tips for Buying the Right Piece of David Dobrik Merch for You
Set a Price Range
Unfortunately, YouTuber merchandise can be a little bit on the expensive side when compared to other clothing items you might find in your local store. Therefore, when you start looking for the right piece of merchandise for you, price should always be your first consideration. 
The more expensive stuff on David's official store, which you can visit here, are pieces such as hoodies and jumpers. For one of these items, you can expect to pay $55. Alternatively, you can pick up a pretty cool phone case for $18 or a t-shirt for $25.
If you are shopping on David's official store for his merch, you can rest assured that every piece will be top quality, regardless of price. However, if you are after a hoodie or jumper specifically, it may be worth saving a little bit longer. 
Alternatively, if budget is not a concern, go wild and make your David Dobrik dreams come true.
Sizing
As with many popular YouTubers today, David tends to release his merchandise in 'drops.' These new items of clothing often sell out very quickly in the more common sizes such as Small and Medium. Therefore, always make sure to get in on these releases early on to ensure success. 
Currently, the store is incredibly well stocked, with nearly all sizes available in hoodies and jumpers. The store also sells products in sizes ranging all the way from S to 5XL; there is also a sizing chart on the website for all forms of clothing. 
Your Questions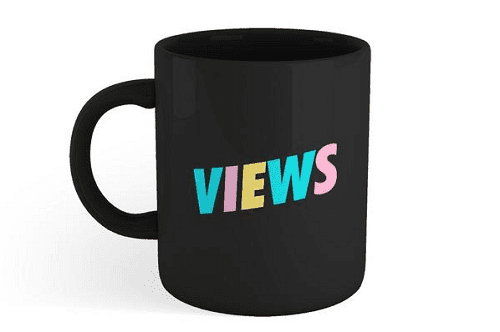 When buying from a new company, you are right to be filled with questions. You will find a FAQ page on David's merchandise website that should answer all your questions.
At the bottom of this page, you will also find all of the shipping and refund policies. Hopefully, this will answer all your burning questions.
Time the Drops
As previously mentioned, David tends to advertise his upcoming merchandise drops on his YouTube and Instagram accounts, slowly building up to the reveal over time. If you follow his socials and can get in on the ground floor of these releases, you can ensure that you get your hands on the pieces you desire.
Selection Criteria
There are a lot of great pieces of David Dorbrik merch currently for sale on the world wide web; therefore, it was quite a challenge to choose only the best products for you to pick from.
To ensure you only get to look at the cream of the crop, I have ensured that every item on this list has met a series of criteria before recommending them to you. This set of criteria is as follows:
Each piece of merch must come from a reputable and long-running source/website wherein customers can return or query purchases.
The merchandise must all be of a certain quality to ensure you are satisfied with the finished product when it arrives on your doorstep.
The merchandise must be specific to David Dobrik and his online world. No products that are only vaguely applicable will be included.
The product must currently be for sale on the site. Therefore, products that are currently sold out will not be included.
My Top Picks
Best Pieces of Merch – Bunker Boys Hoodie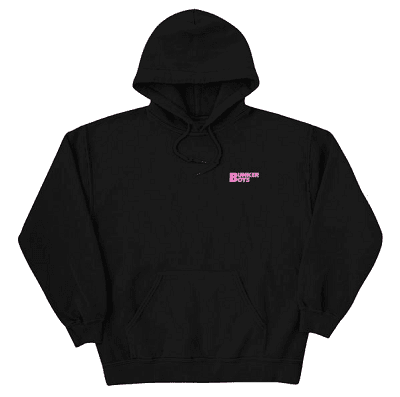 One of the best things you can ever have in your closet is a hoodie that is simultaneously understated and incredibly stylish. This hoodie happens to fit both of these pieces of criteria.
The front of this item features a simple 'Bunker Boys' logo over the left breast and no other accents, keeping everything rather simple and clean. This phrase is a long-running joke on David's channel that most of his fans will be familiar with enough. However, it is still abstract enough to stay lowkey when out in a crowd. 
The back of the hoodie is where the art comes in. Depicting the elected official walking into his concrete underground bunker, with the phrase, 'Buy Me Back, Deadass' on the back, this back design is definitely unique.
Pros
This hoodie comes with tabbed metal drawstrings and is made of high-quality cotton.

The hoodie weighs only 8oz and is constructed of a 50/50 cotton and poly blend.

Currently available in sizes ranging from S to 5XL
Cons
The slogan on the back of the hoodie has the word 'Deadass' in it, making the hoodie unsuitable for some and in certain situations.

While ranging in plenty of sizes, the customer has to pay more for hoodies in larger sizes. The size XL hoodie costs $50, whereas 5XL hoodies will cost $55.
Views Jumper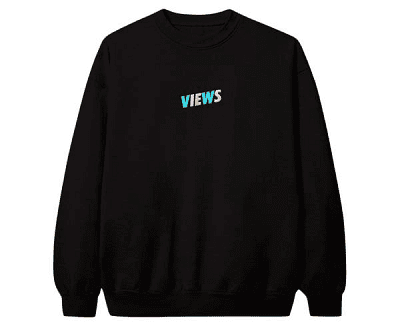 It is no secret that the only thing keeping every YouTube channel afloat is the viewers that drive the ad revenue. This jumper is a little tongue-in-cheek look at the state of his YouTube channel at present. After all the recent controversies, we can see this hoodie as David questioning his income and main revenue stream. 
Alternatively, it could also just be a cool piece of design centered around his role as a content creator in general. The thing I love about this piece is the 'Welcome Back' text on the back. David knows that his fans are always going to come back eventually, and this jumper's popularity proves it. 
Pros
Once again, this jumper is available in sizes ranging from S to 5XL

You can also get this jumper in a hoodie style. 

This item is currently a little cheaper than the general price of David's jumpers. 
Cons
The design is rather simple, with only some text on the front or back. In this sense, the jumper lacks a lot of modern stylistic touches one would expect from something of this price point.

While some people like ribbed cuffs, I find them slightly annoying and uncomfortable to wear. This jumper comes with 1×1 athletic rib cuffs at the waistband. 
Marble Clickbait Crewneck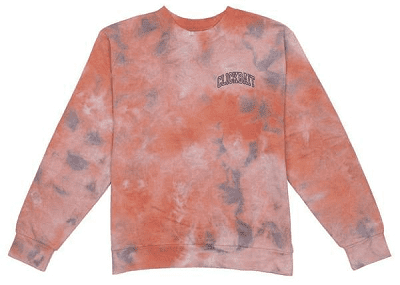 This crewneck is easily one of my favorite pieces in the store. While the design is rather simple, featuring a simple collegiate lettering 'Clickbait' logo over the left breast, it is the color and marbling effect of this jumper that drives our interest. 
Pros
This crewneck is unlike every other item in David's store and lets the buyer stand apart from the rest of the crowd. 

You can get this jumper in a load of sizes, so it should be perfect for every shape and size. 

The marble effect on clothing is a popular trend at the moment, especially for those lazy Sunday afternoon outfits.
Cons
The bright color scheme may not be for everyone, and there are no other options available with more muted tones.

While there is no way to know for certain due to the website having no customer reviews, I would worry about the colors of this item becoming faded over time. This is a trend in marbled style clothing recently. 

Once again, the customer must pay more than the standard price should they require a size larger than 1XL. 
David's Vlog Phone Case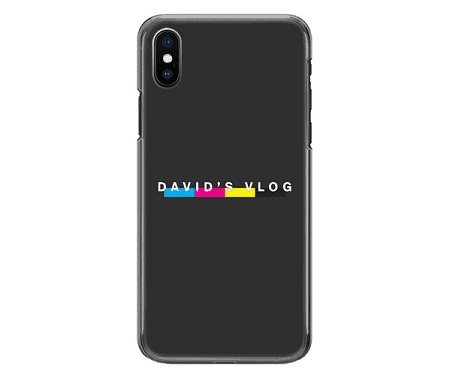 Is there anything more Gen Z than a phone case designed by your favorite YouTuber? I don't think so. This simple case features a black background with the text 'David's Vlog' in the center, supported by a cool color scheme directly beneath the logo.
This design is cool yet minimal, helping the logo stand out against the black background. 
This case is made out of high-quality, durable plastic that is sure to protect your phone from all of life's mishaps. However, before purchasing, you should ensure that this case is compatible with your current phone.
At present, there seem to be only iPhone and Samsung models available, a real letdown for you Google Pixel users like myself. 
Pros
There are over ten different phone models that you can choose from, including older iPhone and Samsung models.

This case is made from hard-wearing and durable material, perfect for anyone with active or manual jobs.

This case is guaranteed to protect your phone against all manners of bumps and scrapes up until a certain level of force.
Cons
When looking to purchase this case, the website does not tell you the price until you click through to purchase the item. 

The case is rather expensive for what it is, costing upwards of $18. 

The design of this case is rather simple and unimaginative. 
To the Moon Hoodie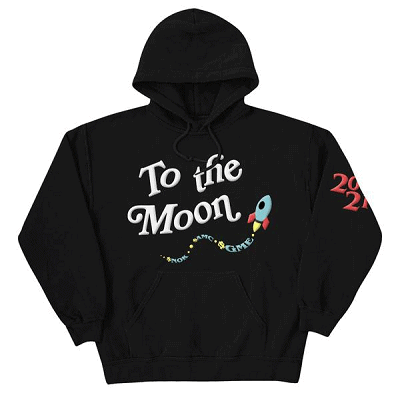 One of the more abstract pieces of clothing in David's store is this 'To the Moon' hoodie. The design of this hoodie is a little bit more artistic than the rest of his merch, including a lot of great little details. The rocket design is a little simplistic, but in that lies the charm of this hoodie. 
The overall design is rather simple, featuring tabbed drawstrings and the typical front pocket with ribbed cuffs and bottom.
Pros
This hoodie is available in a load of different sizes, ranging from S to 5XL. 

The drawstrings have a little touch of quality with the metal endings that ensure they last longer without the risk of coming frayed in the future.

This hoodie is more akin to modern trends in fashion than some of the other items on this site. 
Cons
There is only one color available for this hoodie, leaving people who enjoy having a brighter wardrobe wanting.

The ribbed cuffs may be slightly annoying for those who like to buy oversized hoodies, preventing the arms from hanging low as desired.
David's Vlog Blanket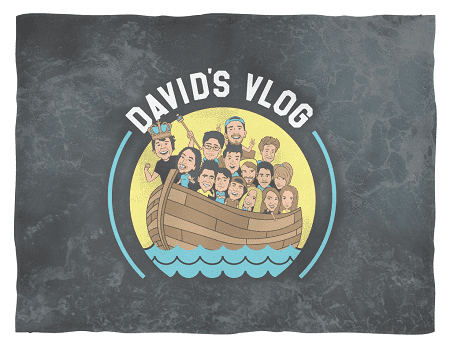 One of the best feelings in the world for anyone who likes to relax is throwing on your favorite internet personality or TV show and relaxing after a hard day's work.
This blanket is, therefore, the perfect blend of comfort and class for everyone who loves to unwind by watching some of David's content, especially some of his past videos when the Vlog Squad was at the height of its powers.
This blanket comes with a really cool and unique drawing across the center of the piece, featuring all of our favorite Vlog Squad members from the past and present on a boat together, with David at the forefront wearing a crazy crown and a joyful expression. This image is fun and exudes warmth for any fan of the YouTuber.
Pros
The blanket comes in at a whopping 80×60 inches, making it perfectly huge for anyone who wants to snuggle up and get warm.
This piece is made out of ultra-soft and plush fleece material.
The edges of this blanket are stiched and finished expertly to ensure no fraying throughout the blanket's life cycle.
Cons
While high-quality blankets are never cheap, this one can cost the customer over $60, which, in my opinion, is a little bit steep.
Some of the members included in the blanket drawing are no longer associated with David and his Vlog Squad; there may even be some bad blood there.
Beverly 2.0 Black Notebook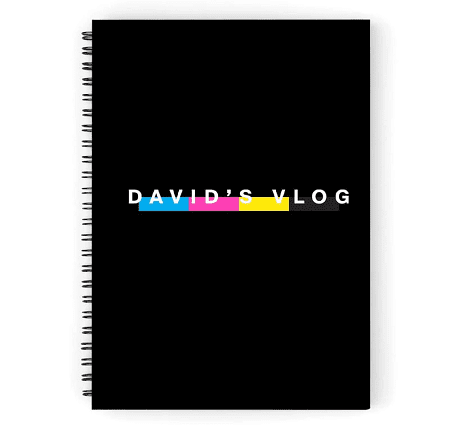 If you are anything like me, one of the main things I really enjoy in life is a nice, new, and crispt notebook that I can thoroughly destroy with my horrid and scrawly handwriting; however, for that brief time, before I put pen to paper, the possibilities are literally endless.
One of the things I love about this notebook is the spiralized binding, allowing for comfort throughout the writing and removing any worry about breaking the spine of your beautiful new notebook.
Of course, it also helps that you can sport your love of David's vlog while out and about, maybe writing down some content ideas of your own.
Pros
When delving into the world of nice notebooks, you will be surprised by their cost. Therefore, this one costing only slightly more than $10 is a real steal.
This notebook comes with a small pocket folder in the back, allowing you to keep any important pieces of paper or little keepsakes that are important to you.
The reviews for this product are overwhelmingly positive.
You can also get this notebook with different colored covers.
Cons
There is no mention of how many pages you get with this notebook. This makes it hard to know whether it is truly good value for money.
Some people dislike spiralized notebooks, as tearing pages out can result in scraps of paper getting everywhere from the binding.
Waffle Collection Sweatpants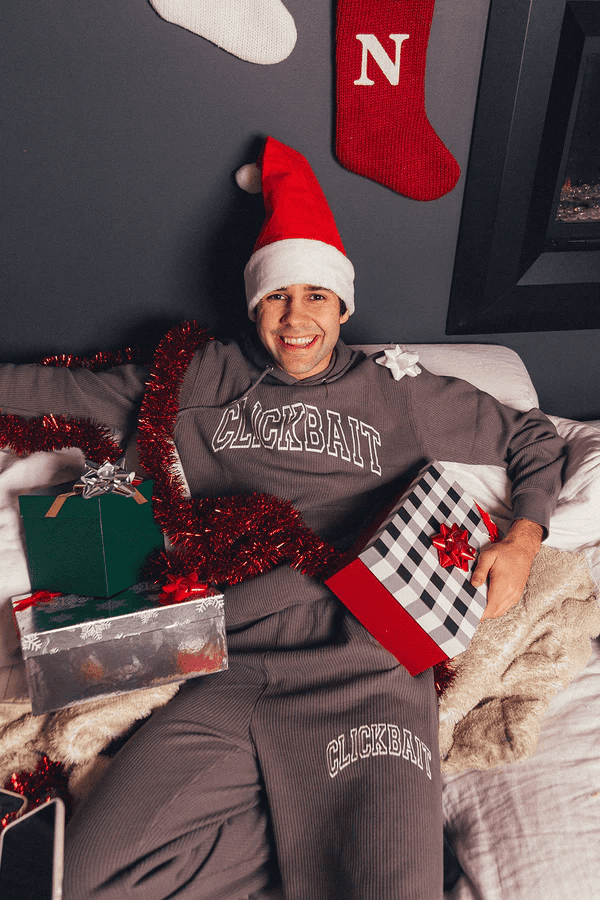 There is simply nothing more comfortable on this earth than a slightly oversized pair of cozy waffle sweatpants. This piece of merch features the 'Clickbait' collegiate text across the left pocket area of the sweatpants.
The trousers themselves are made out of a thick, but semi-lightweight material that is perfect for lunging around the house in absolute comfort, finished in a cotton and polyester blend of 60/40, respectively.
Pros
These sweatpants come in both charcoal and cream colors, perfect for a couple who loves matching outfits.
Due to the material and midweight design, these trousers are easily washed and dried, with zero need for ironing. They are also suitable for tumble drying.
These trousers are perfect for lounging around the house, so make sure to go a size larger than usual for that added comfort.
Cons
These sweatpants are in high demand; therefore, the store is sold out of some sizes already, with no restock in sight as of yet.
This item can only be shipped from the US; therefore, anyone purchasing from outside of this region will have to deal with external shipping charges.
Frequently Asked Questions
Question: Where is the Best Place to Buy David Dobrik Merchandise?
Answer: While there are many places that currently sell David Dobrik-inspired merchandise, you should stick with the more trustworthy locations that David himself has talked about or given the green light to.
When you type 'David Dobrik Merchandise' into google, myriad 'official' websites pop up; however, the only one that has a proven track record of providing officially licensed David Dobrik merchandise can be found here.
Alternatively, you can check out some of the David Dobrik-inspired merch for sale on Amazon or Etsy. However, these items may not be officially licensed by David.
Question: How to Know if You Can Trust a Merchandise Store?
Answer: There are no hard and fast rules to determine whether or not you can trust a merchandise store to be officially licensed by David to sell his merch. However, there are a couple of things you can do to prevent any disappointment.
First of all, make sure you check out the socials of whatever influencer you wish to support; usually, they will have a link to their official merchandise store in their bio or handle. Alternatively, they may speak about this site during their videos. 
Question: What Do I Do if My Item doesn't Fit Right?
Answer: A lot of these merchandising companies allow people to return items should they not fit or not be the particular style they desire. With the website I have recommended, you have a 30-day refund/return policy that you can make use of.
This policy allows you to return or exchange items within 30 days of the purchase date. However, the item must be returned in the same condition as originally shipped and unused.
Conclusion
There are a lot of great pieces of David Dobrik merchandise currently for sale all over the internet. However, not all pieces are created equally.
In this list, I have compiled some of the best pieces currently for sale. These pieces are all unique and perfect for the David Dobrik mega fan in your life or for yourself as a little payday treat. 
I really do hope you enjoyed this guide and found something useful that may help you in your purchasing decision. With this in mind, I look forward to seeing you again soon and wish you a happy shopping experience.
Looking for more interesting readings? Please, check out: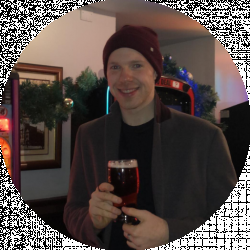 Latest posts by James Gibson
(see all)