One of the hardest things to do on platforms such as YouTube is to stay relevant over a lengthy career, especially when you think about how many massive channels have seemingly faded into non-existence over the years.
Well, the creator of the merch we are talking about today has surely managed to ride the YouTube wave over the years, keeping relevant and massively popular among gaming YouTube fans worldwide. 
I began watching Jack's content years ago when he started collaborating with the mega-star that is PewDiePie. From then on, I developed a love for his content that persists to this day. His gaming content is second to none in terms of entertainment, not quite in skill, though. I also watch almost every horror game he sits down to play. I just love his reactions and the niche titles he manages to drag, kicking and screaming, to the top of Steam's most-played lists.
Since you find yourself here, I am sure that you already know quite a bit about Jacksepticeye, the Irish content creator who is actually named Sean. However, I will continue referring to him as Jack because it is just less confusing for my little brain. 
So, in the interest of not wasting any of your time, why don't we jump right into the good stuff that you came here to see, the world of Jacksepticeye merchandise that you, as an avid fan o the creator, can currently get your hands on, including my best finds. Let's go!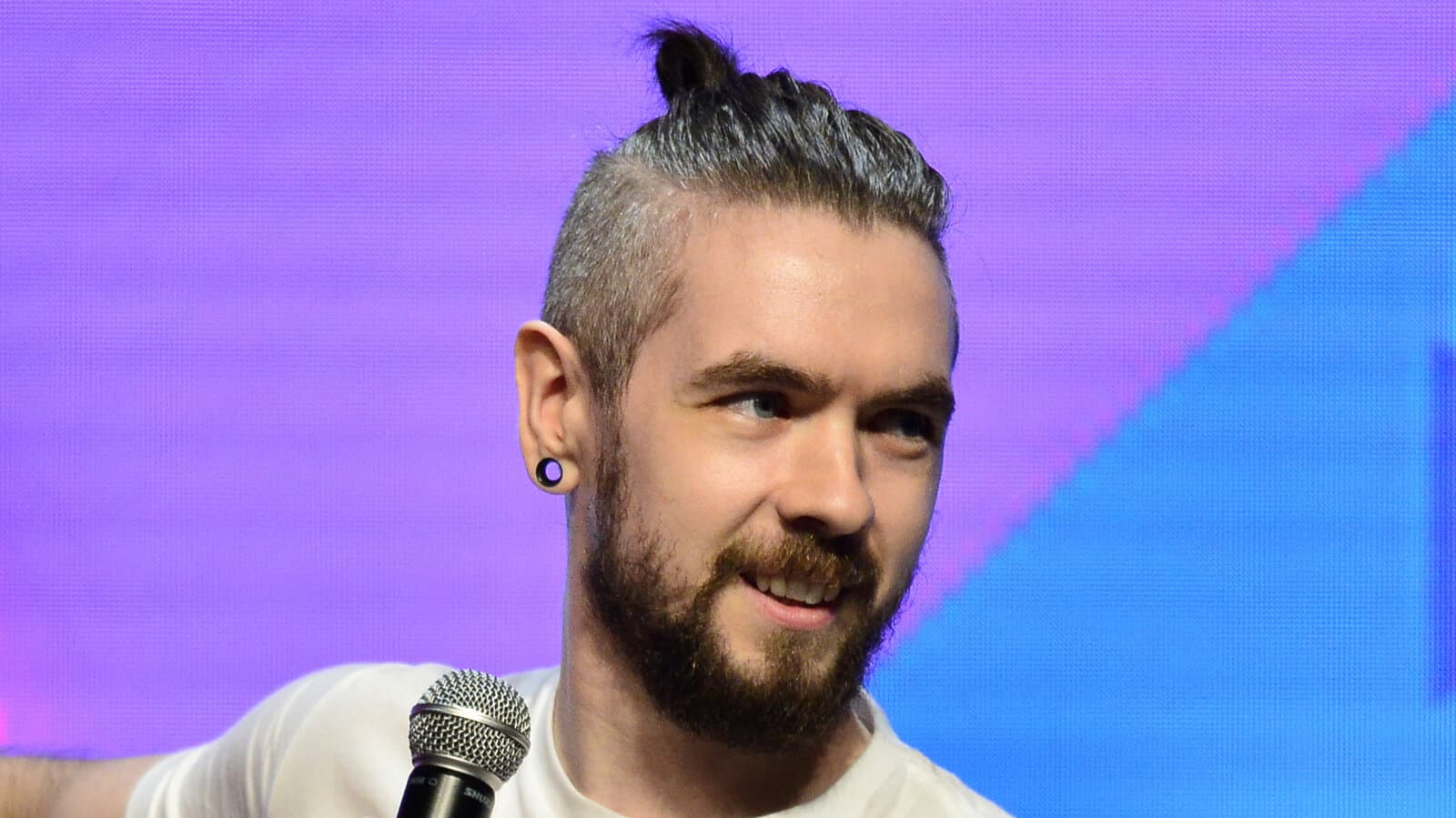 My Top Picks
Long-Time Hoodie – Most fashionable piece.
PMA Tee – Best value for money.
Colorful Tote Bad – Standout piece.
Jack's Clothing Brand
Like many big YouTubers these days, Jack has decided to branch out from simple YouTuber-style merchandise that merely features his logo or some tagline that he threw away years ago. Instead, he has decided to set up his own line of clothing with a very important message.
The PMA brand that the creator set up stands for a Positive Mental Attitude, displaying one of his key outlooks on life while also bringing attention to mental health issues that he and his fan base continue to go through. In my opinion, if you are getting some pretty cool clothes out of helping to promote this message, it's kind of a win-win.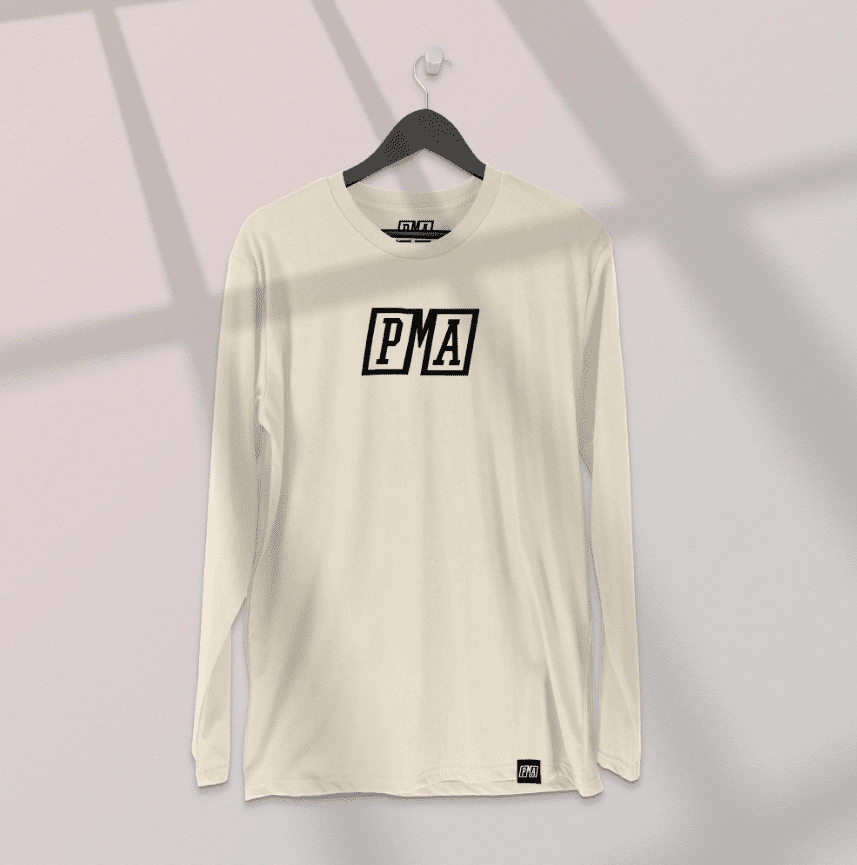 This long sleeve t-shirt exemplifies a trend I really love in modern fashion. The piece is well made, using 100% cotton, and will feel like a quality item to anyone who touches it; however, Jack and his team have decided to keep the design to a minimum here, only placing their companies logo in the center of the chest, refraining from cluttering the piece with noisy font or designs.
This, therefore, allows this shirt to be worn to almost all occasions, as it is not too loud or brash but also very stylish, a hard line to walk for many fashion designers currently working today.
This shirt is available in sizes ranging from S to 3XL but is sadly only available in white with a black logo. If this sounds appealing to you, you should try and get your hands on one; however, move fast because most stuff published by PMA is sold out mere days after launch.
Pros
The 100% cotton finish is breathable and comfortable on your skin, ensuring that this shirt can be worn anywhere for any length of time.

The understated nature of the design is something I really love. 

There is a wide range of sizes available, ensuring you can get the perfect fit for you. 
Cons
For a long sleeve shirt, the cost of $40 is slightly pricey, in my opinion.

I would have preferred this item to come in more colors; I feel a black base color with the PMA logo in white would look amazing.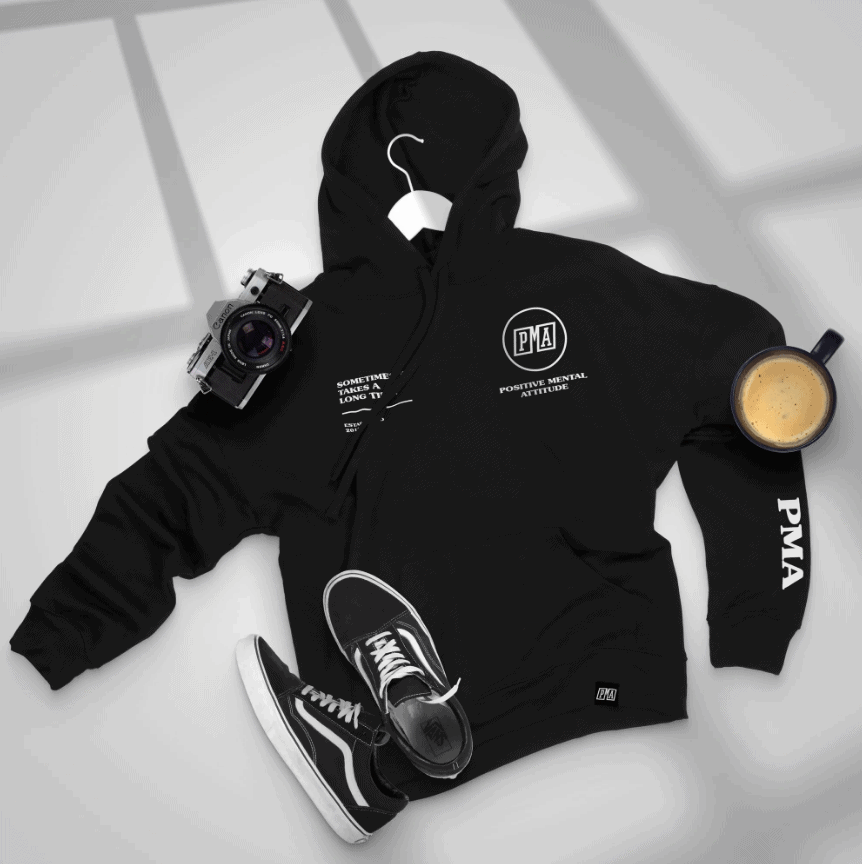 One of my favorite items to throw on during the winter is an oversized hoodie, especially one with a good deal of cool logos/fonts strewn across it. I think this style has really come to the forefront of modern fashion recently, and I am here for it.
This hoodie does just that, using the plain black base color of the garment to highlight the white lettering on the front and back of the hoodie. Complete with the PMA logo and the words "Sometimes it Takes a Long Time," as well as an 'established' branding piece that all designer hoodies seem to have at the moment. There is also some PMA lettering down the left-hand sleeve. 
You can, once again, get this hoodie in sizes ranging from S to 3XL. However, it does only come in black with white lettering. 
Pros
While $60 can be expensive for a hoodie, as this piece looks just like a designer clothing brand's attempt, I would say that it is actually good value for money.

The long drawstrings featured on this hoodie are highly fashionable at the moment, especially when made of good material that won't easily fray easily.

The design of this hoodie is amazing and totally unlike typical Youtuber merchandise that you always see. 
Cons
This hoodie is currently sold out at the time of writing this guide.

You can only get this hoodie in one color, leaving little room for the more extroverted amongst us.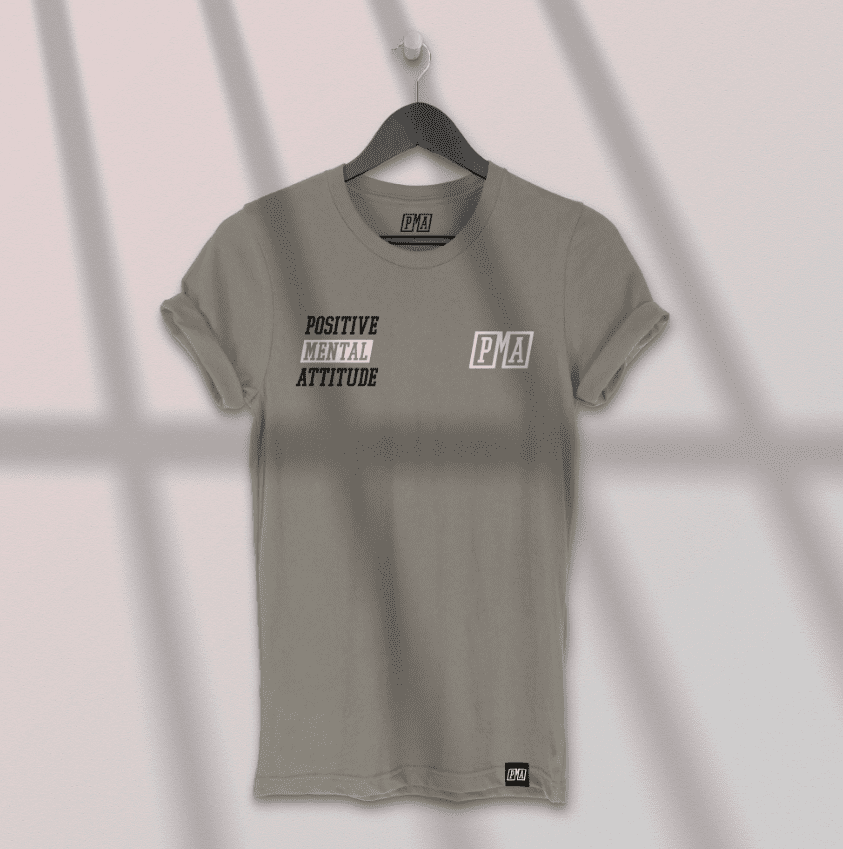 This t-shirt is the perfect understated t-shirt for any occasion; designed in a muted grey color, this bad boy sports the PMA logo over the left breast and the Positive Mental Attitude writing on the right, just to make sure everyone knows what you stand for. 
While this t-shirt is stylish, featuring slightly longer sleeves that work perfectly for rolling up, this t-shirt is also great at pushing the PMA message and reminding yourself to have a PMA outlook on life, something we all need from time to time. 
As always, PMA is a consistent brand, producing this tee with 100% cotton in sizes ranging from S to 3XL.
Pros
This tee is just different enough to stand out without drawing too much attention, the sweat spot for t-shirts, in my opinion.

The muted grey color is really nice and easily makes the white lettering stand out. 

This tee comes in at $25 and is quite good value for money.
Cons
This is one of the more popular items available through PMA, and so it is currently sold out.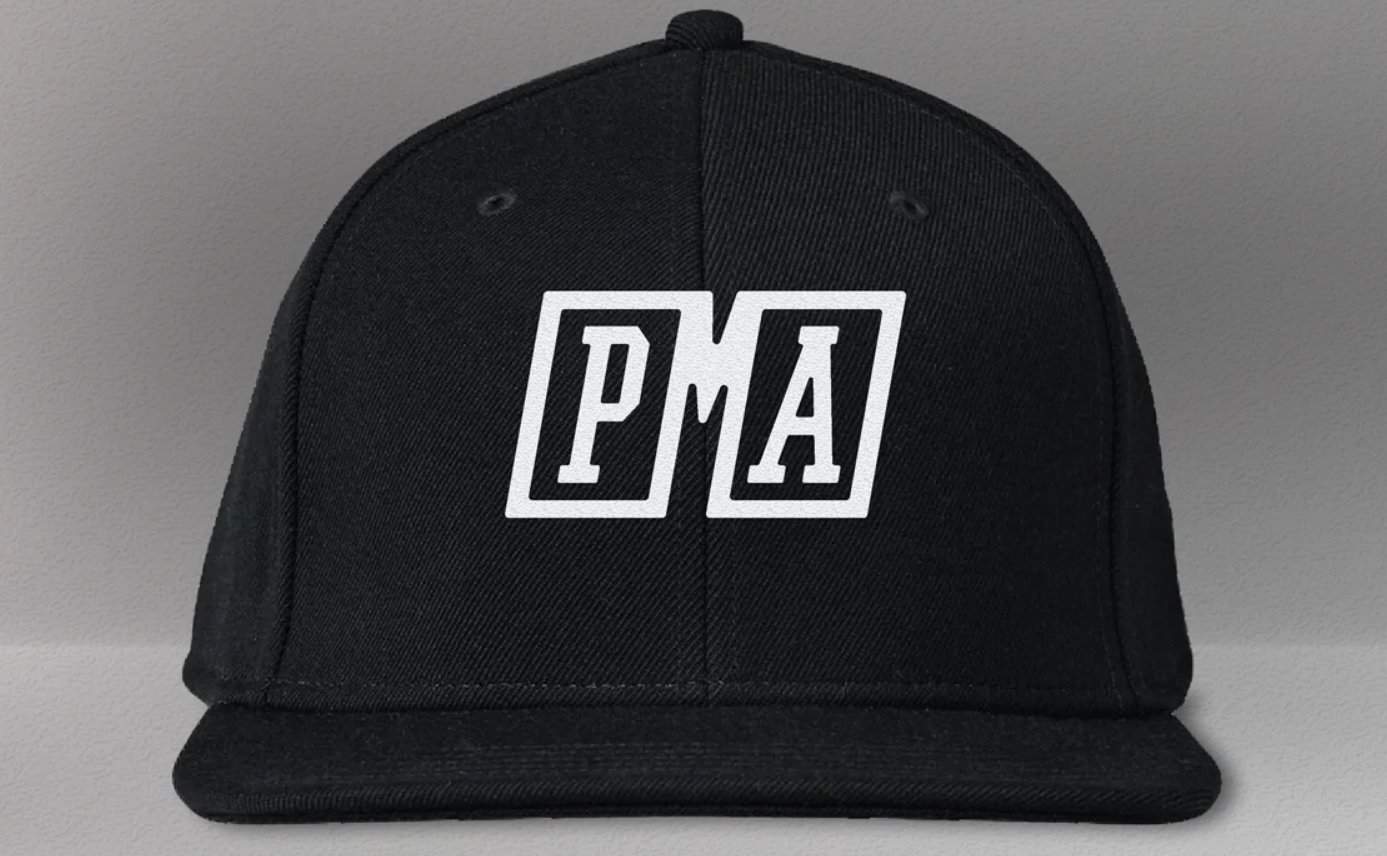 There are three reasons to wear a hat. The first is that you like the look of the hat and it compliments your outfit. The second is that you're cold, and the third is that you are going bald. 
Whichever reason out of these three has brought you to need a new hat; this Logo Hat will do the job. The simple black cap is made of 8020 acrylic and wool, ensuring a quality feel while being sturdy enough for everyday life. 
The simple logo design is just understated enough to make wearing it on your head feel comfortable while not coming across as boring. A perfect blend for the modern fashion-conscious Jacksepticeye subscriber.
Pros
This hat will only cost you $25, a good price considering you will pay this for pretty much any hat these days. 

The materials used are quality, and ensure the hat is hard-wearing.
Cons
Wearing a logo on your head that many people don't know is sure to elicit plenty of annoying questions.
Jacksepticeye's YouTube Based Merch
While I really do love the more trendy and fashionable pieces Jack and the guys over at PMA are bringing out at the moment; there is something to be said for a classic YouTube-inspired piece of clothing. 
These simple items are perfect for kids who love the content creator, as well as for general everyday life where wearing a designer piece of clothing isn't quite appropriate. After all, nobody once wore something nice and designer in the middle of a bad hangover or sickness. 
So, with this in mind, Jack has continued to produce cool and new designs based on his YouTube channel throughout the years. Here are some of his best pieces currently for sale today. You can check out his entire collection on jacksepticeyeshop.com.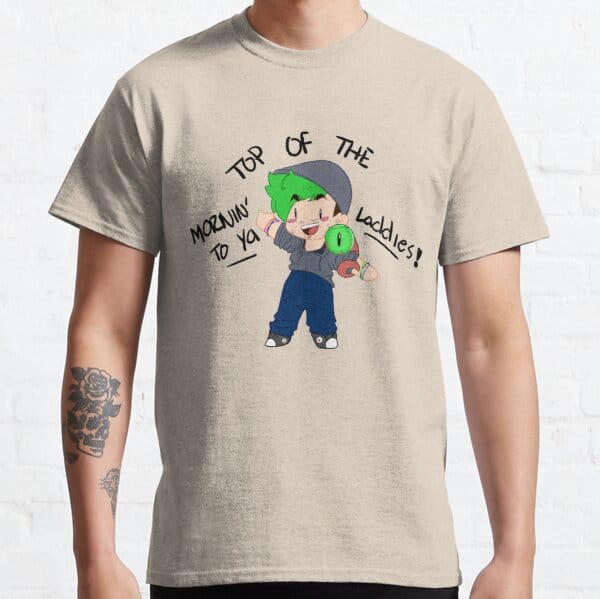 If you have ever watched a Jacksepticeye video, you will have heard his iconic introduction line. Jack has spoken before about how this stereotypical Irish greeting is something he has fallen in and out of love with over the years. However, for many of his fans, hearing this noise is so nostalgic that it would be rude to completely abandon it.
This tee is designed in a classic but boxy fit to be slightly oversized; therefore, ensure you order the correct size or possibly size down if you like a tight-fitting tee. The material is very high quality, made with Jack's standard of 100% pre-shrunk cotton, ensuring the tee doesn't lose its shape after the first wash. 
The cute cartoon figure on the top depicts Jack as if he were an anime figure with the famous slogan bouncing all around him in the harsh font.
Pros
This tee will only cost you $25, a good price for YouTube merch if you ask me.

The garment is made out of good, high-quality fabric that is pre-shrunk.

The anime character design is fun and unique.
Cons
People may think the artwork is slightly childish and, therefore, not for everyone.

The boxy fit may not be flattering on some body types.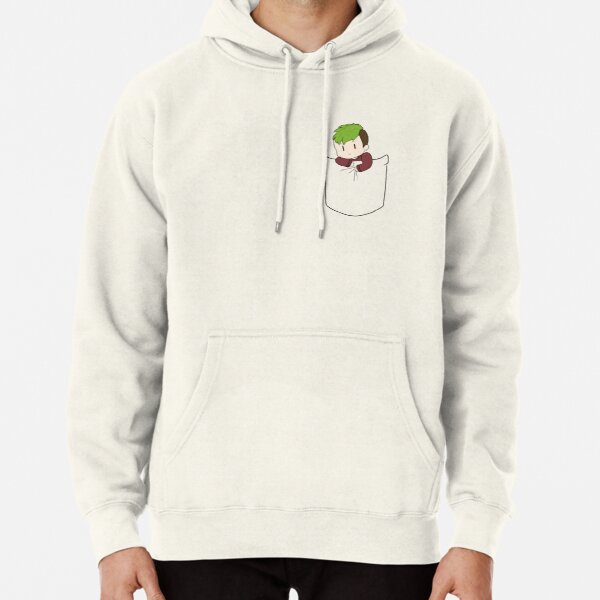 This hoodie comes in an off-white/grey color that is inoffensive and perfect for any scenario. The main design detail is the cartoonish design over the left breast, displaying a figurine version of Jack crawling out from a fictional pocket, along with his iconic green hairdo from years gone by.
This cotton-rich fleece hoodie is perfect for the coming winter, featuring ribbed cuffs and a front pocket to keep your hands and arms nice and warm.
If you would like to get your hands on one of these hoodies, you better hurry up because they currently have 4-star reviews and are selling very fast at the moment with a sale currently running.
Pros
This hoodie is currently on sale from the merch store. 

This hoodie is designed to fit both normally and oversized, depending on the size you order.

The front pouch is very big and comfy for the winter.
Cons
The drawstrings on the jumper are quite standard, not what you would expect from high-end garments.

You can only purchase this hoodie in one color.
One of the most unique things about the YouTube community is how connected a creator's audience feels with the person behind the camera. This is to be expected, considering the amount of content these creators put out each week and the incredible amount of time some fans dedicate to watching said videos.
Therefore, due to this connection, many fans decide that they would like to show their appreciation for the content creator by displaying the talent of their own, drawing a piece of fan art of or for the creator. 
In this case, see what I did there; the fan in question has illustrated the outline of Jack, including one of his iconic beanies and green hairstyle, which he had during his rise to popularity. While most of the facial features have been omitted, as is in keeping with this style, you can still clearly tell that it is Jack on the phone case. 
These cases are made out of a durable and flexible plastic material that has been tested for shock absorbance and fingerprint resistance. You can also use this case with any wireless charging devices you may have, being fully Qi standard. You can get a version/size of this case for pretty much any modern smartphone currently on the market, with over 20 options to choose from. 
Pros
Cases designed for more modern iPhones are also fully MagSafe compatible.

This case will help protect your smartphone whilst also displaying your love for Jacksepticeye.

Costing the customer only $16, this case is quite good value for money.
Cons
This case is only available in one color, with a tanned orange background that may not be to everyone's taste.

The case edges are semi-transparent, which can appear tacky to some.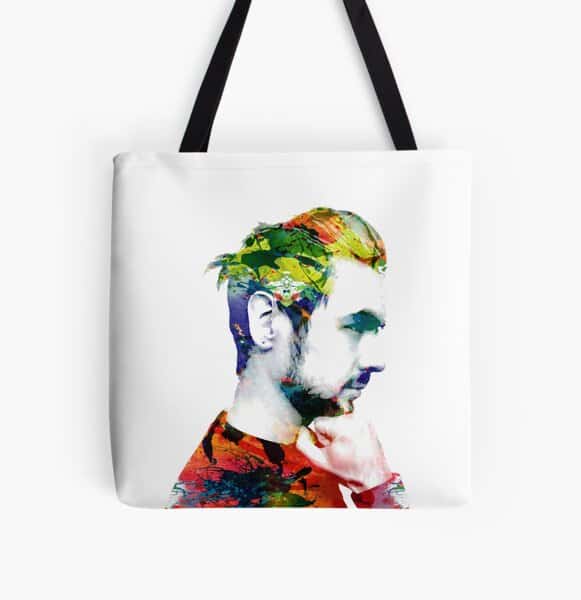 Tote bags have now become synonymous with modern fashion, with every stylish person on the planet seemingly walking around with one on their arm. What they carry in these tote bags is anyone's guess. In my head, you should be carrying something artsy like some books. However, this does not mean that fans of Jack who aren't quite so interested in books as to require a literal sack of them everywhere they go cannot get a lot of use out of this cool and colorful tote bag. 
This bag features a profile view of Jack, wresting his chin contemplatively on his fist, looking into the distance. In this picture, Jack has been transformed into an amalgam of colors, patched in a way to resemble leaves and featuring almost all colors of the rainbow. I especially like how the designer opted to have most of the green shades through his hair.
Pros
The artwork on display on this tote bag is amazing and shows real talent.

The bag is made of super strong cotton and imprinted with a long-lasting, double-sided design.

Should you be on the lookout for a Jack-themed tote bag and this item isn't quite for you, there are much more available on the website linked above. 
Cons
This bag costs nearly $27, which I would say is far too much for a simple cotton bag.

You cannot order this bag in various sizes. 

Frequently Asked Questions
Question: Why is Jacksepticeye's Name not Jack
Answer: Jack's real name is Sean; however, in Ireland, his home country, many people call people named Sean Jack for reasons unbeknownst to me. 
Question: Does Jacksepticeye have ADHD?
Answer: Jack was diagnosed with ADHD some time ago after he pestered medical professionals for years over his belief that he met all the necessary criteria to be diagnosed with the disorder. Of course, he was right, and the doctor diagnosed him with "textbook ADHD."
Question: What is Jacksepticeye's Net Worth?
Answer: It is hard to estimate any content creator's true net worth, considering that we simply do not know how many side businesses and revenue streams they may have going at any one time. However, many people smarter than me have calculated his net worth to be somewhere near $16 million. 
So, there you have it, a comprehensive guide to the merchandise guide of Jacksepticeye, one of the most popular YouTubers on the planet, someone who has remained near the top of the pile for nearly a decade now, amassing millions of old and new followers along the way. 
I hope that this guide has helped you in your quest to find the best possible piece of Jacksepticeye merch to bring into your life or the life of a loved one as a special gift. Either way, I hope you enjoyed your time here and that I will see you again shortly. Happy shopping!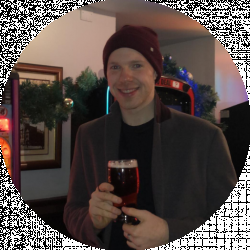 Latest posts by James Gibson
(see all)