Howdy! Are you ready to take on Halloween as Pixar's most trusty cowboy, or are you going to a convention decked out in Buzz Lightyear's gear? You've come to the right place! I'll walk you through the best Toy Story costume ideas on the internet for kids, men, and women.
There are handmade costumes here and some commercial costumes you can buy, too. Without any more preamble than that, let's get down to the best Toy Story costume ideas out there!
Top Picks
We've got a lot of character costumes to cover today, but these are clear winners for their categories. Each of these costumes embodies the Toy Story character they're trying to capture to a T. Check these out before we go any further.
Best Toy Story Costume Ideas
This is what we've all been waiting for, isn't it? Here are the best Toy Story costume ideas for Halloween, cosplay, parties, and more! I picked these based on their accuracy, cleverness, and practicality.
Toy Story has a huge cast of characters, so there are lots of costume ideas to pick from. Not all of the costumes listed are of the most popular characters, so keep an eye out for your favorites!
Best For: Hilariousness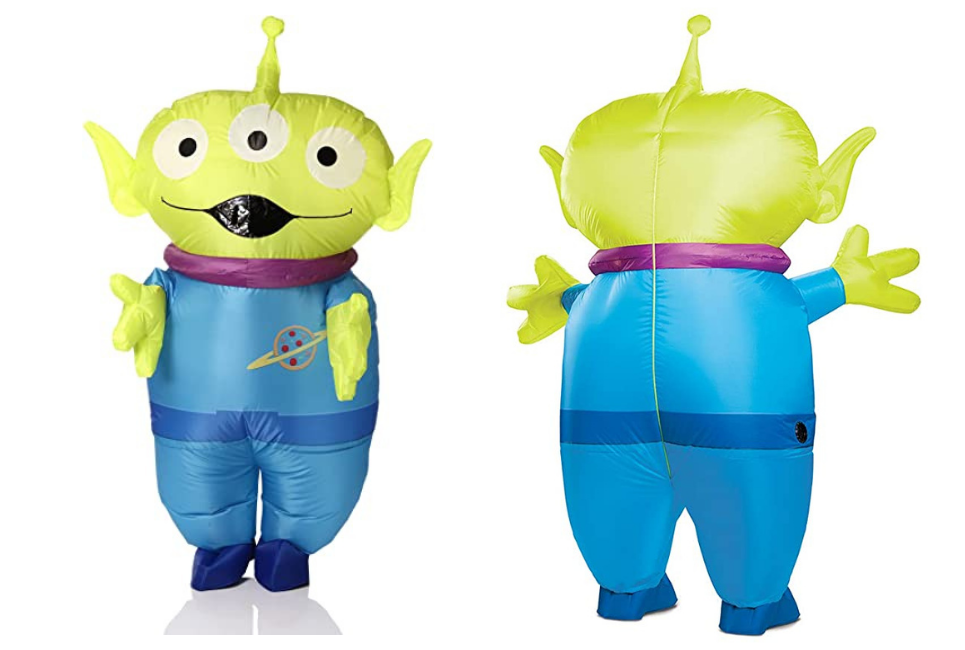 Remember how cute those little green aliens in the claw machine were? Well, you don't have to just remember-you can be one of those aliens! This inflatable costume is as cute as it is hilarious. You can buy it on Amazon, it's one size fits all for adults, and it inflates on its own with 4 AA batteries. If you're going for originality, I'd choose this guy.
Best For: Most Amount of Looks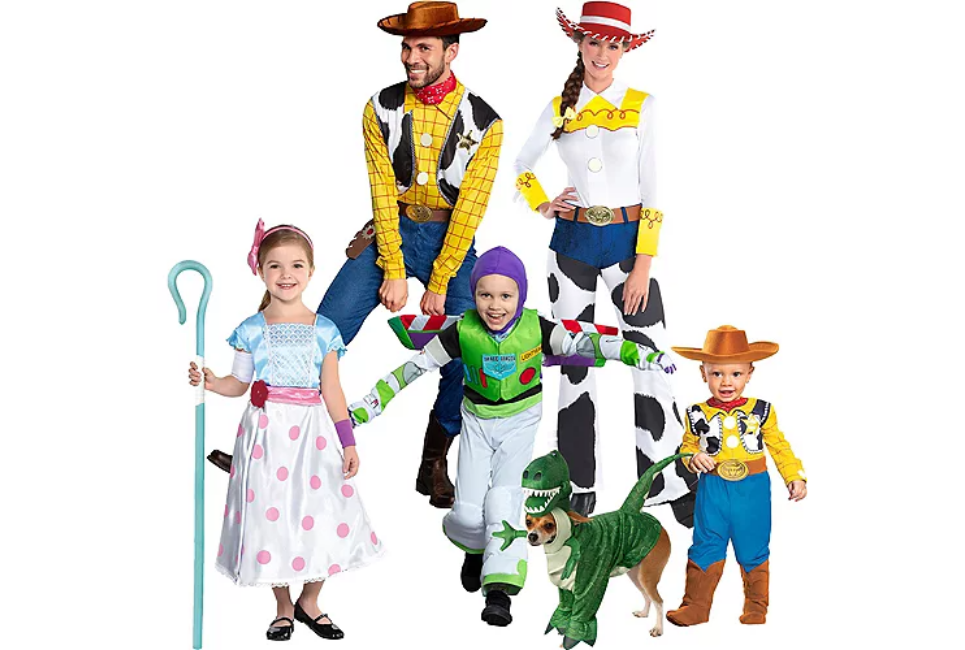 Get the whole family involved in Toy Story dress-up! This is actually perfect for my little fam jam.
Whether it's for Halloween or a convention, you can dress up the adults, kids, and even the dog. These costumes were posted on Pinterest by Party City, so none of them are too expensive. Seriously, how would your family not win a costume contest with your pup dressed up like a very convincing Rex?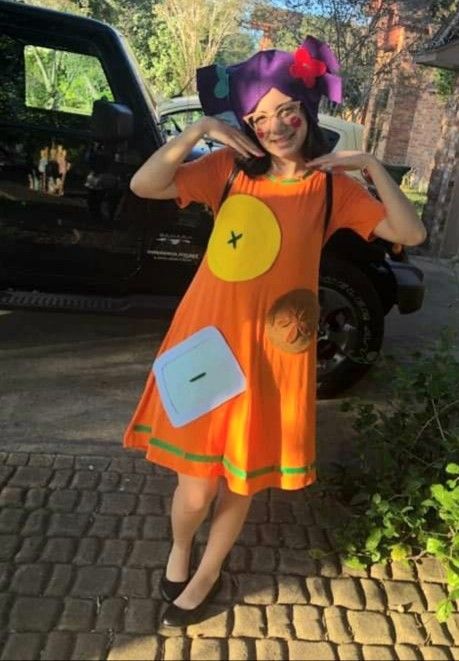 If you're like me and commercialized costumes aren't your style, check out this idea featuring Dolly from Toy Story 3. With an accessorized purple wig and orange dress, you can make Dolly come to life all by yourself. This Pinterest picture shows that with a few tweaks to an orange T-shirt dress and a pair of black flats, you won't need to pull out Project Runway sewing skills to pull this idea off.
Best For: Best Overall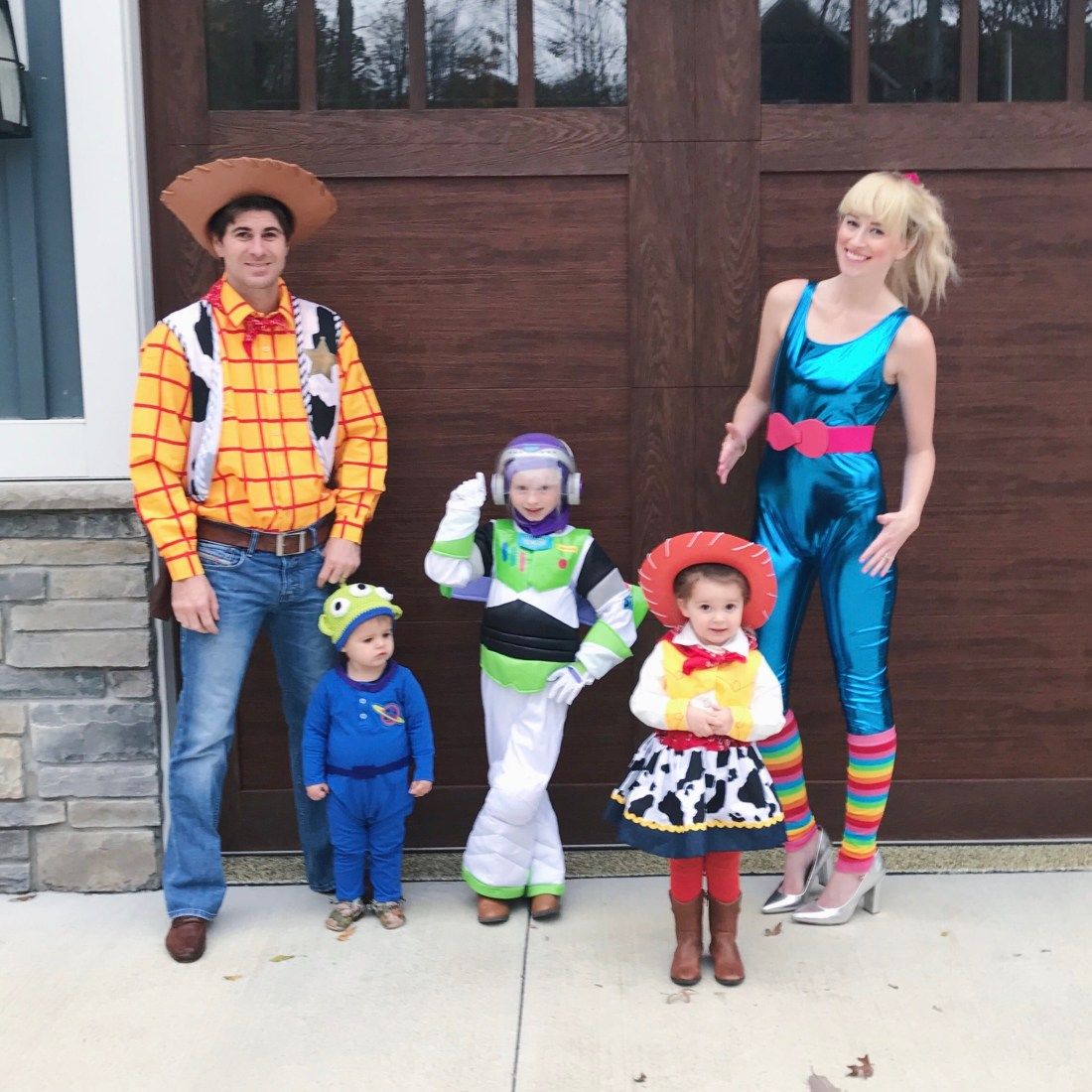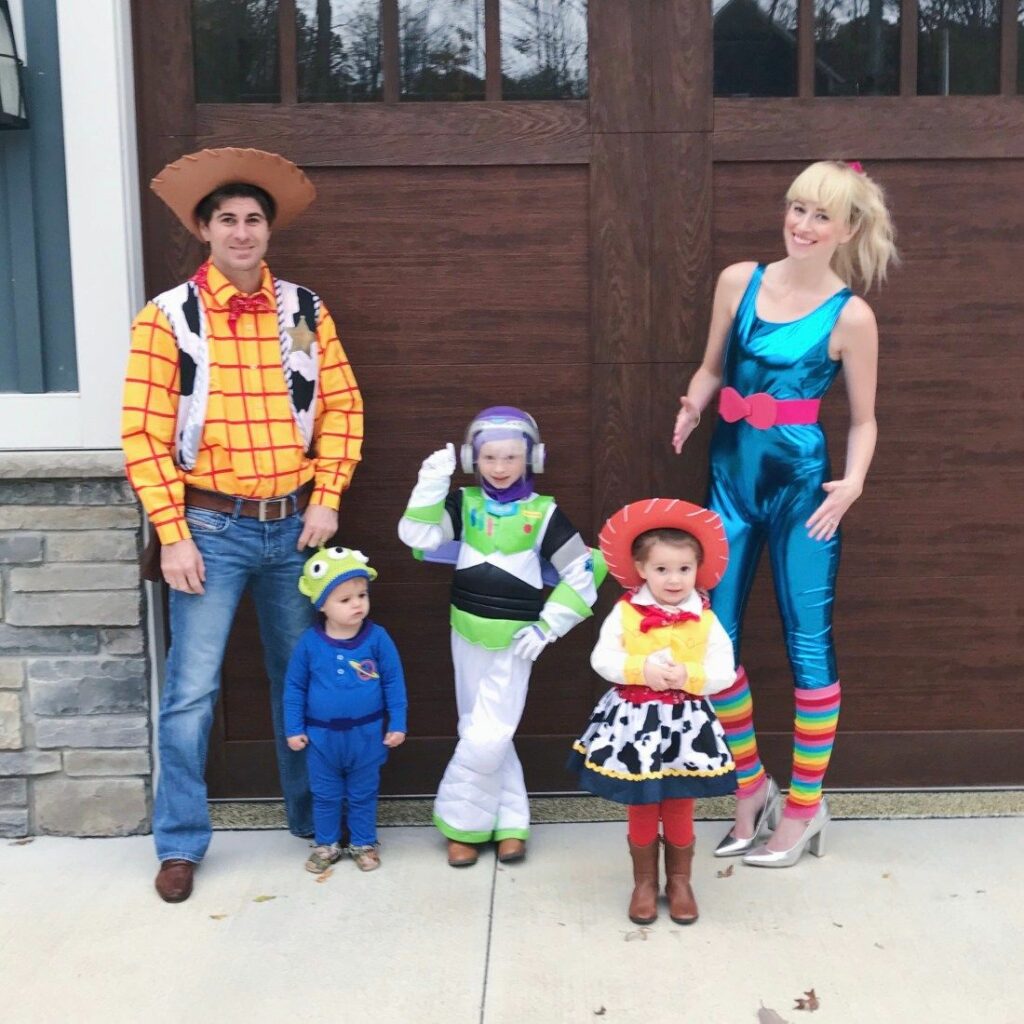 Are you and your family going to enter a costume contest where the rule is you make your costumes? This family on Pinterest shows how it's done in Toy Story style. I adore that the mom's workout Barbie look was completed with a pink waist belt and colorful socks just like Barbie's from Toy Story 4.
The crochet alien hat for the little one is the cutest thing, isn't it? Ideas like this show how you can use what's in your closest to create characters from your favorite Pixar movies.
Best For: Men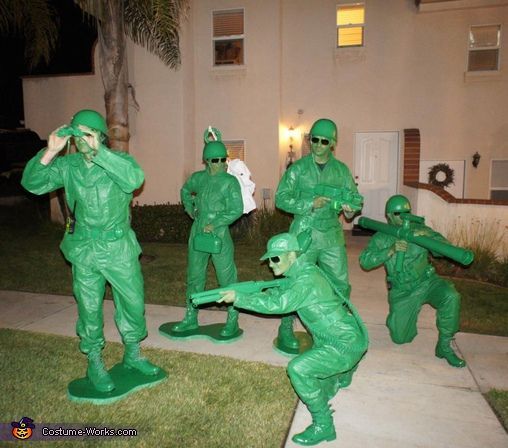 I'm seeing green! These dudes are dressed up as the classic green toy soldiers. All you have to do to complete this look is acquire a lot of green fabric paint and body paint. Once you've painted a military outfit this cartoonish green and slathered that same color all over your face and hands, voila! You and your buddies are now life-size toy soldiers. Adding green cut-outs as stands for pictures like these guys do in their photos will make your soldiers look even more toy-like.
Best Woody Costume Ideas
Everyone's favorite cowboy is coming up next! Woody is a long-time favorite cartoon character for lots of us, and he's a new favorite character to lots of kids, too. If you want to dress yourself or your kid up as one of Pixar's most loyal friends, I've got 4 costume ideas for you.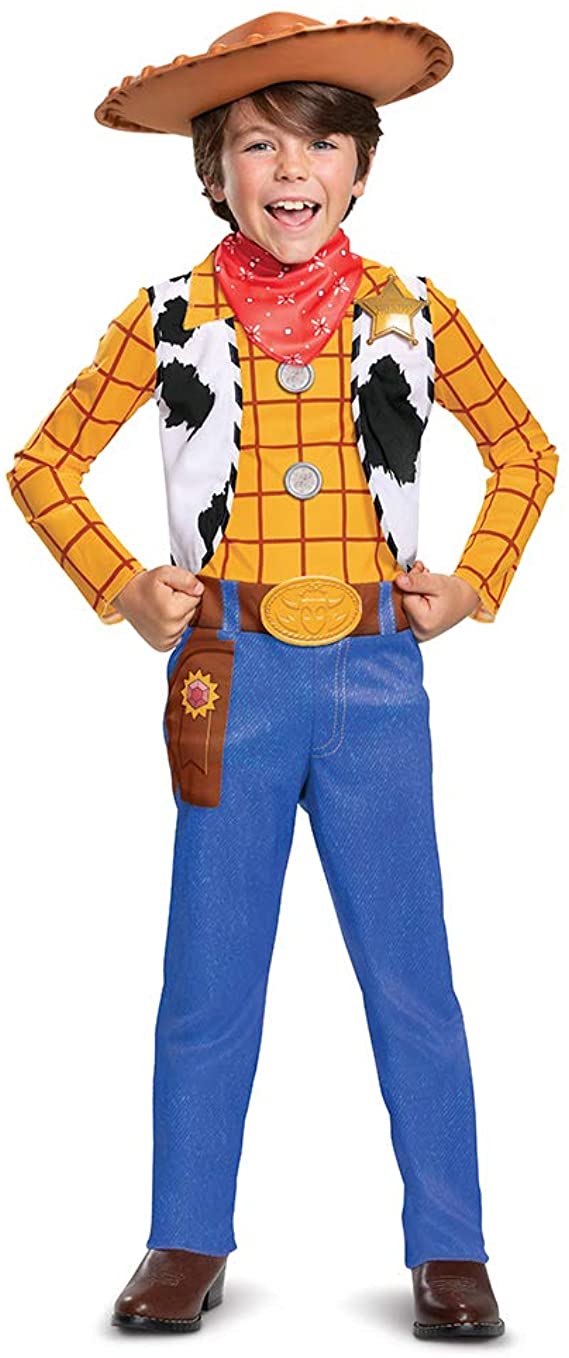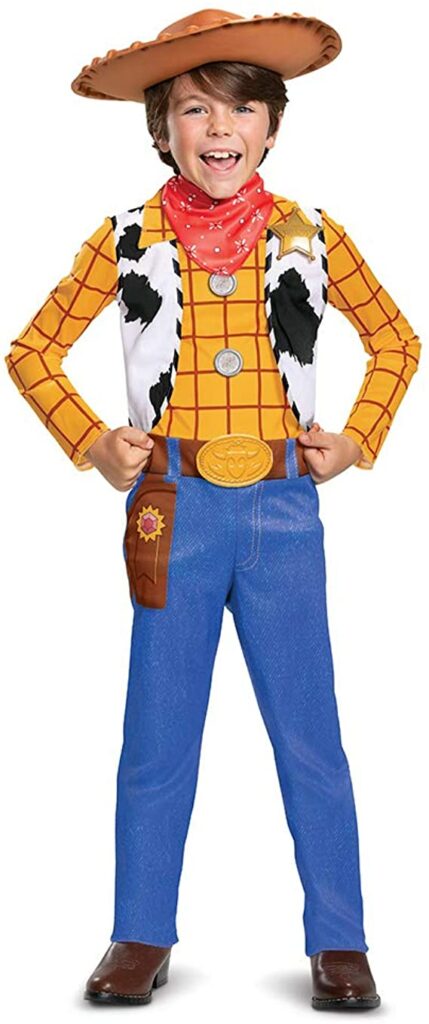 I wish I could find a picture of my little guy when he was Woody a few years back! You'd melt from the cuteness.
Your kid can dress up just like Andy's trusty pal with this kids' costume from Amazon. The colors in this costume are bright and eye-catching, which makes it look even more toy-like.
It comes with fun accessories like Andy's red bandana and his brown cowboy hat, too. Your kid will show everyone at the Halloween party who's the sheriff in town with this bright, fun costume.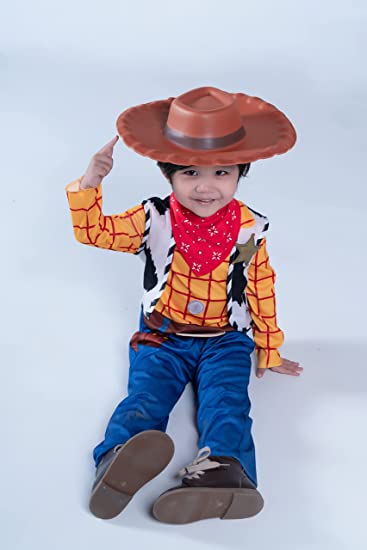 You can buy this Woody costume on Amazon if you're not up for hand sewing an outfit. It's a one-piece jumpsuit, so all of Woody's accessories are printed on the fabric.
If you don't want a hassle for your convention or Halloween party, this costume offers quick convenience since everything is in one piece. It's officially licensed merchandise, too.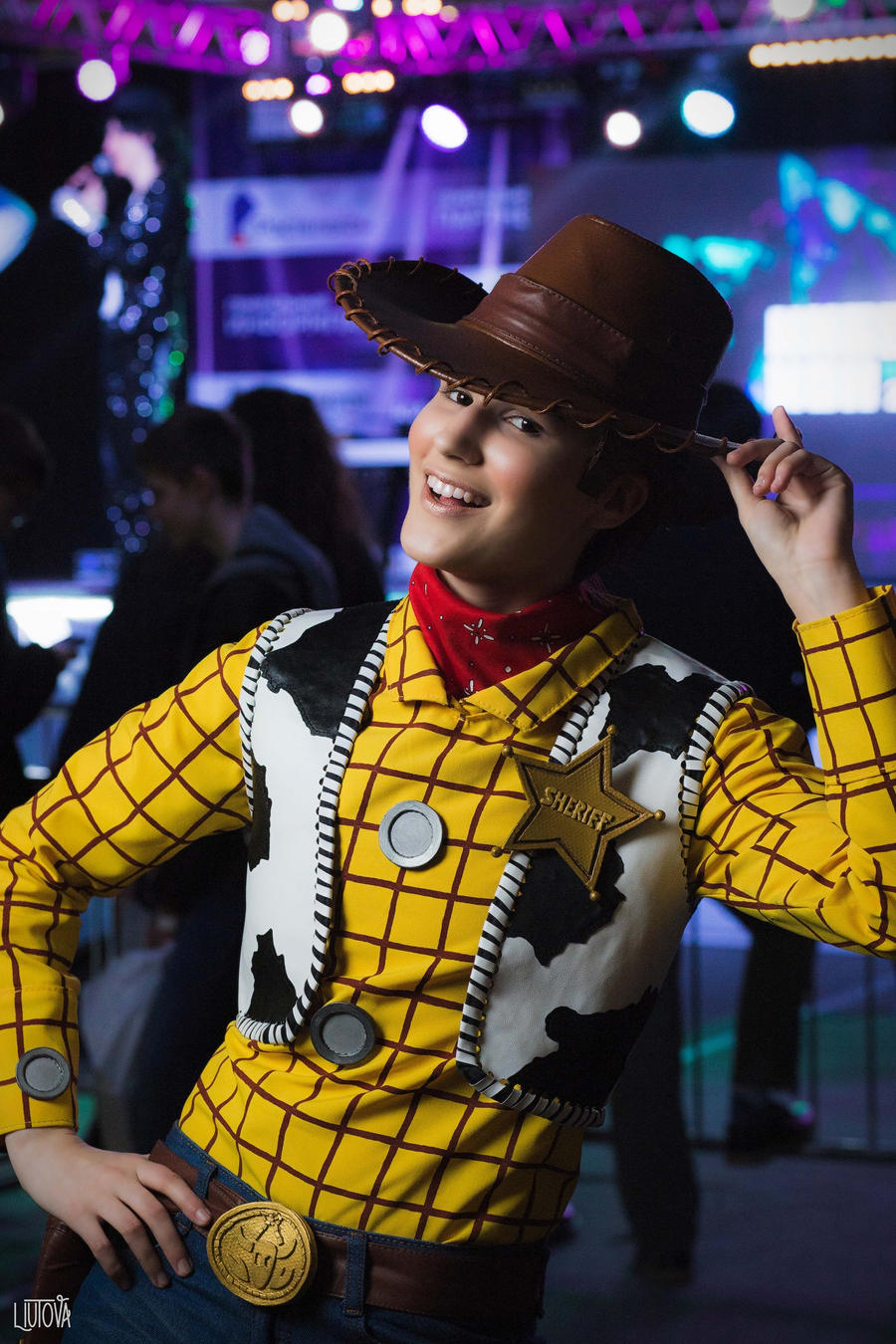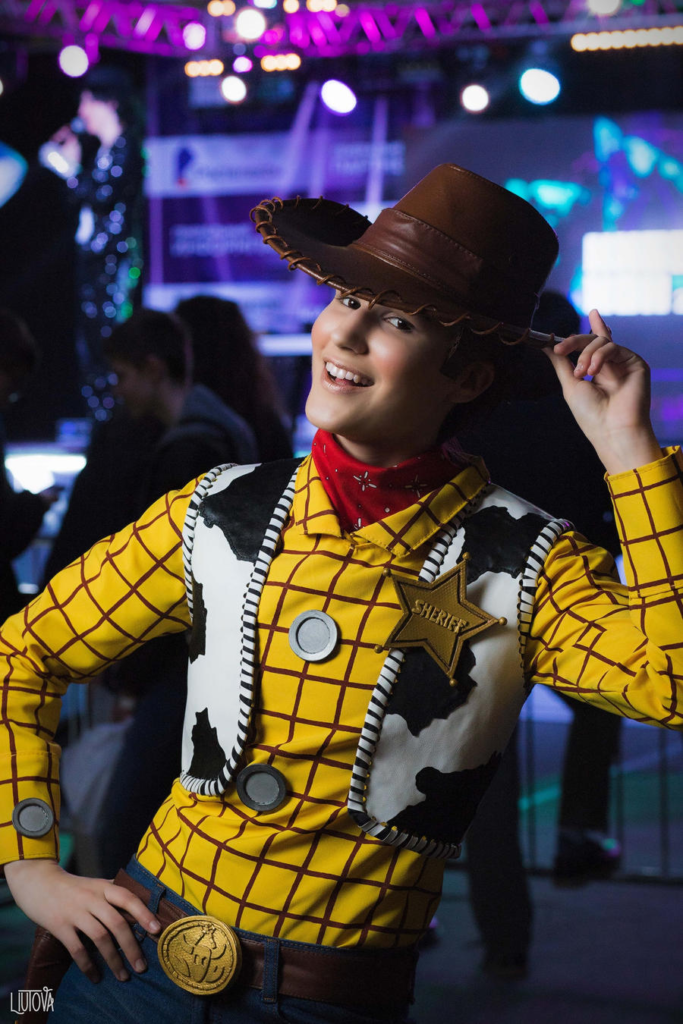 Men and women alike can cosplay as Woody from Toy Story with this DeviantArt artist's cosplay idea. She's personalized a plain brown cowboy hat to have some accents like Woody's has. Like, holy moly, I wish I were this talented.
By making her own sheriff badge, buckle, and buttons to go with this costume, she's able to get every last detail correct. This cosplay idea is a little advanced if you've never made a cosplay outfit before, but most of the basic components of Woody's outfit can be bought.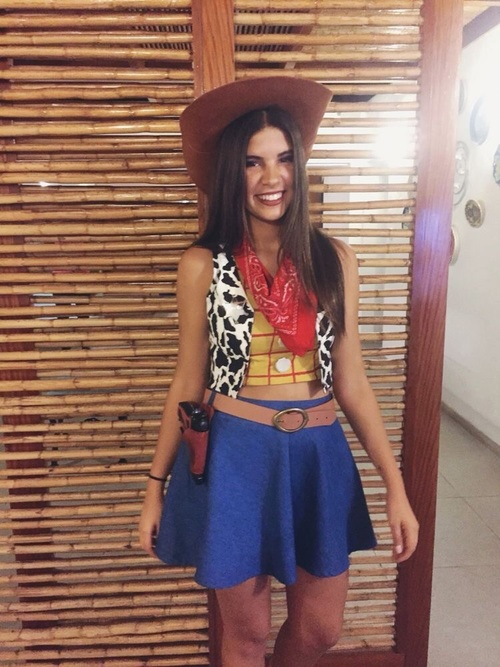 Genderbent Woody from Toy Story has a whole new look, and it's cute! I might even attempt this idea myself!
This picture from Pinterest shows how a blue A-line skirt with a brown belt and holster undeniably read "Woody." The crop top that looks just like his yellow button-down is a creative touch. In fact, you don't even have to do your makeup differently. Just put on the red bandana, cowboy hat, and cow print vest and you're good to go.
Best Buzz Lightyear Costume Ideas
To infinity, and beyond! Is Buzz Lightyear your favorite Toy Story character? I've got a great mix of handmade and store-bought costumes so you can dress like the famous toy space explorer. Without further ado, up, up, and away we go to this next section!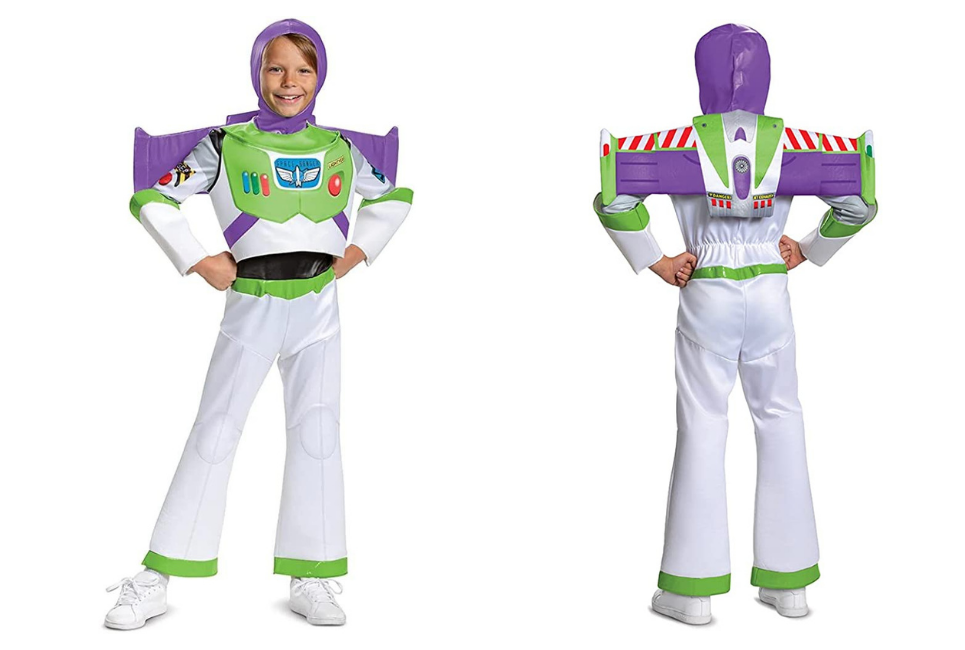 Boys and girls can wear this Buzz Lightyear costume that transforms them into their favorite intergalactic pal. Wouldn't you be ready to save the day if you had a purple jetpack, too? The buttons on Buzz's green space vest look bright and shiny, which is something to look for when buying or making a Toy Story costume. This costume is available on Amazon, so no assembly is required if you're a busy mom like me.
Best For: Men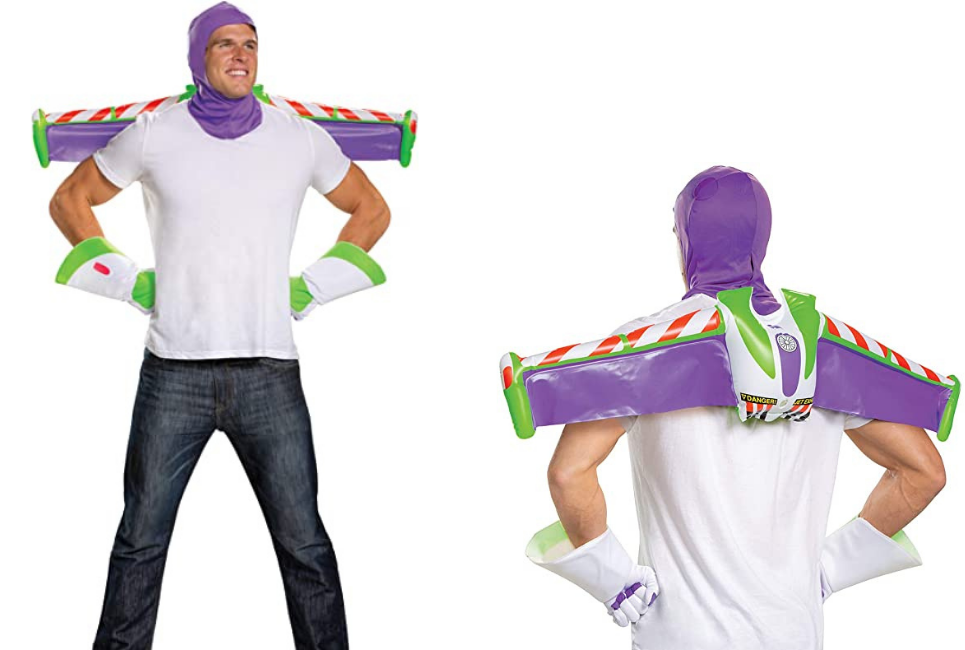 Maybe you grew up with Buzz Lightyear and want to wear Buzz's costume, but you aren't trying to get dressed up in a whole spacesuit. Let me show you this costume for men on Amazon! You can layer Buzz's purple headgear, jetpack, plus his green and white gloves onto your regular clothes.
Best For: Girls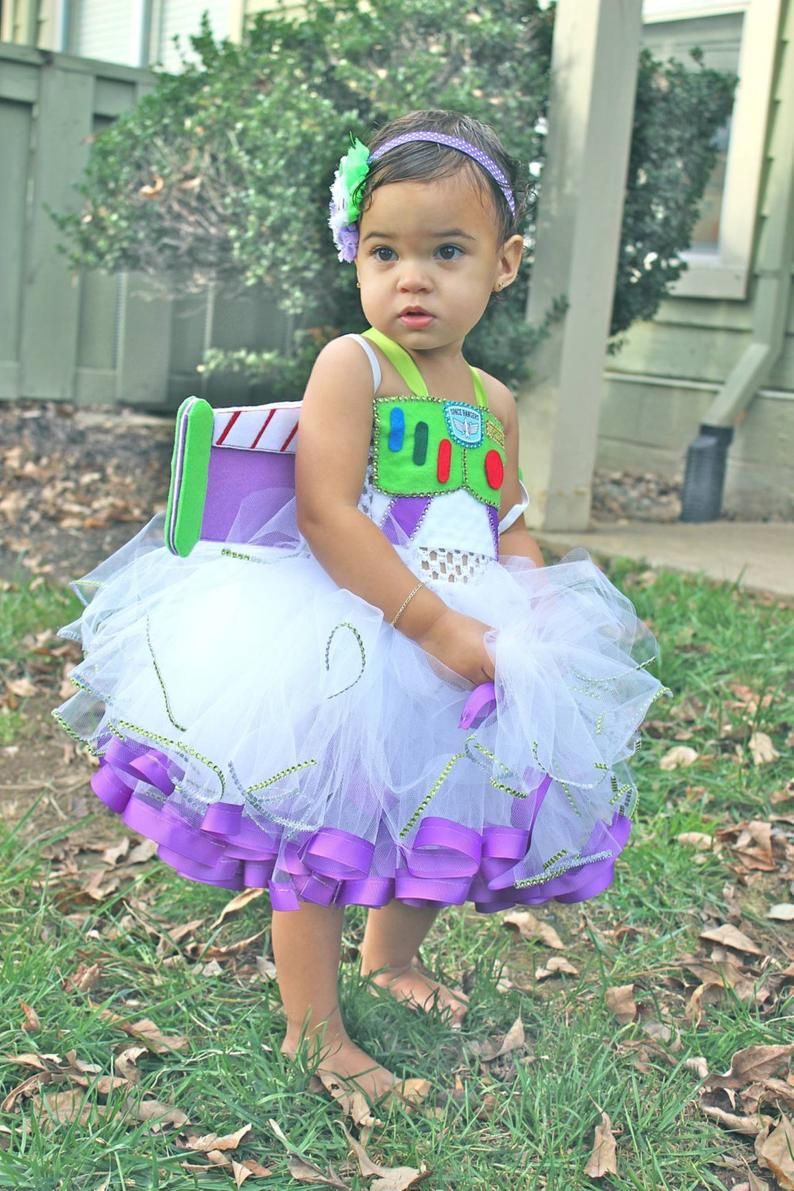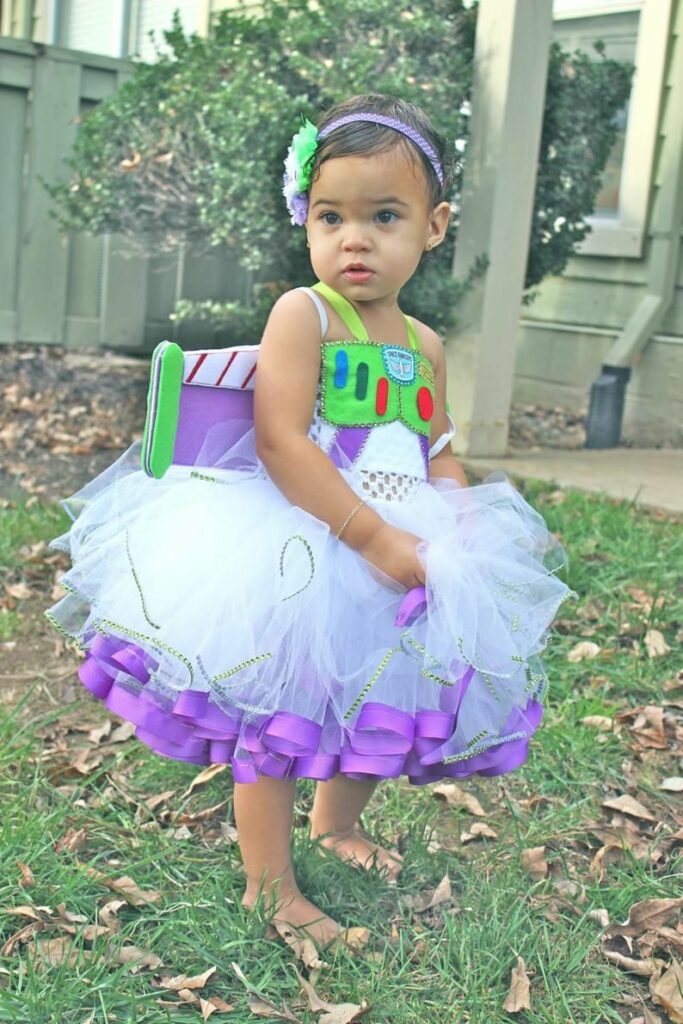 I've said it before and I'll say it again, Etsy is a treasure trove. Your little one will feel like an interstellar princess with this Buzz Lightyear costume you can buy from a small business on Etsy.
The tutu-like bottom of the dress incorporates the colors of Buzz's costume, like white and purple. You've got to admit it's the jetpack that sticks to Buzz's trademark detailing that makes the dress distinctly Toy Story.
Best For: Originality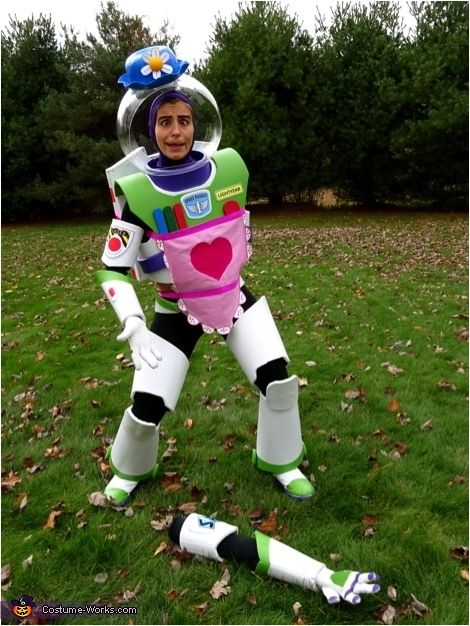 Do you like funny costumes more than scary, serious, or pretty ones? Check out this costume entered in a contest on Costume Works that shows Mrs. Buzz Lightyear in an apron with an arm missing. It's clear that this costume was a DIY project, so you can look at the costume in the photo to create your own.
Best Jessie Costume Ideas
As many Pixar fans' favorite member of Woody's Roundup Gang, Jessie is another popular Toy Story character to go as for holiday parties. If this yodeling cowgirl has a special place in your heart, you're going to love these next costumes. Let's go! Yeehaw!
Best For: Store-Bought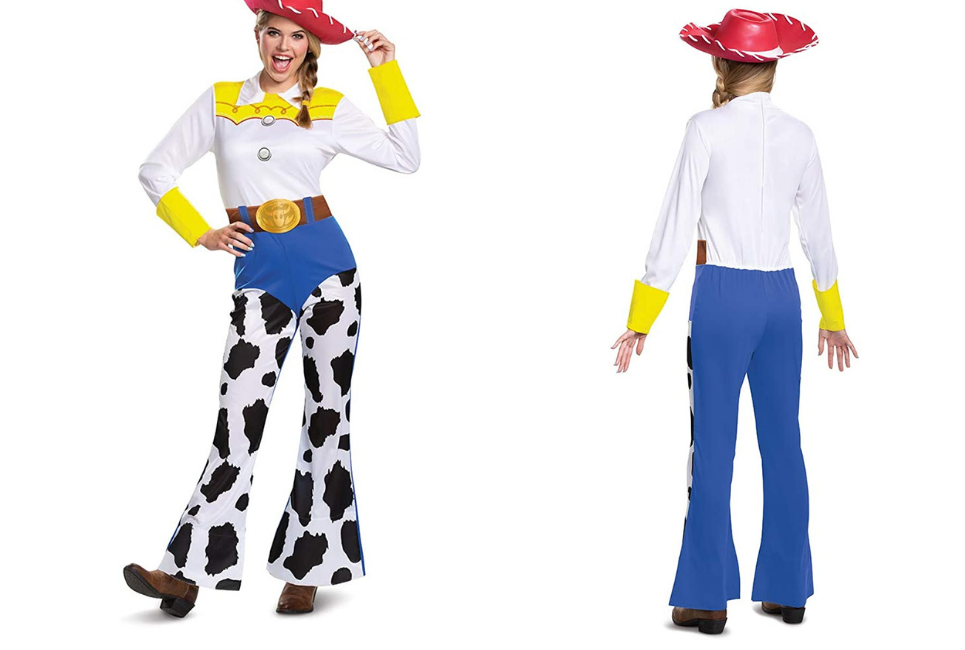 Don't worry about finding extra accessories for your perfect Jessie costume when you could buy this one from Amazon. It's an official Disney brand costume with all of Jessie's outfit details printed on the one-piece jumpsuit. When you're ready to giddy up and go without a hassle, pick this costume up.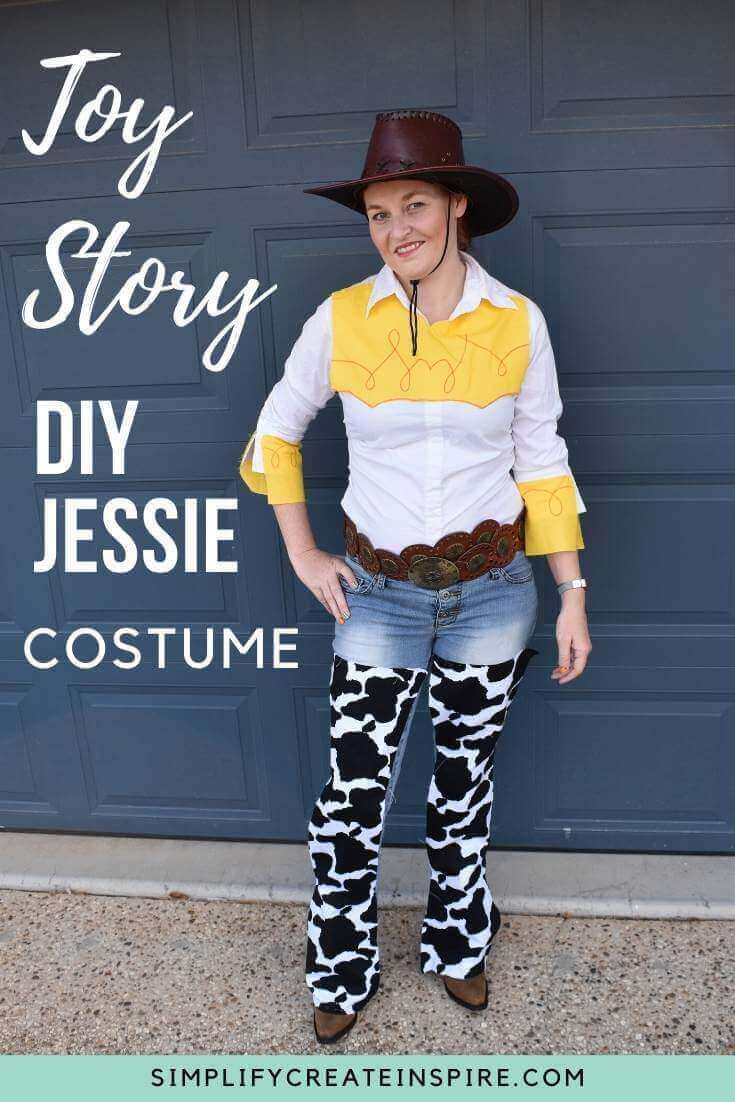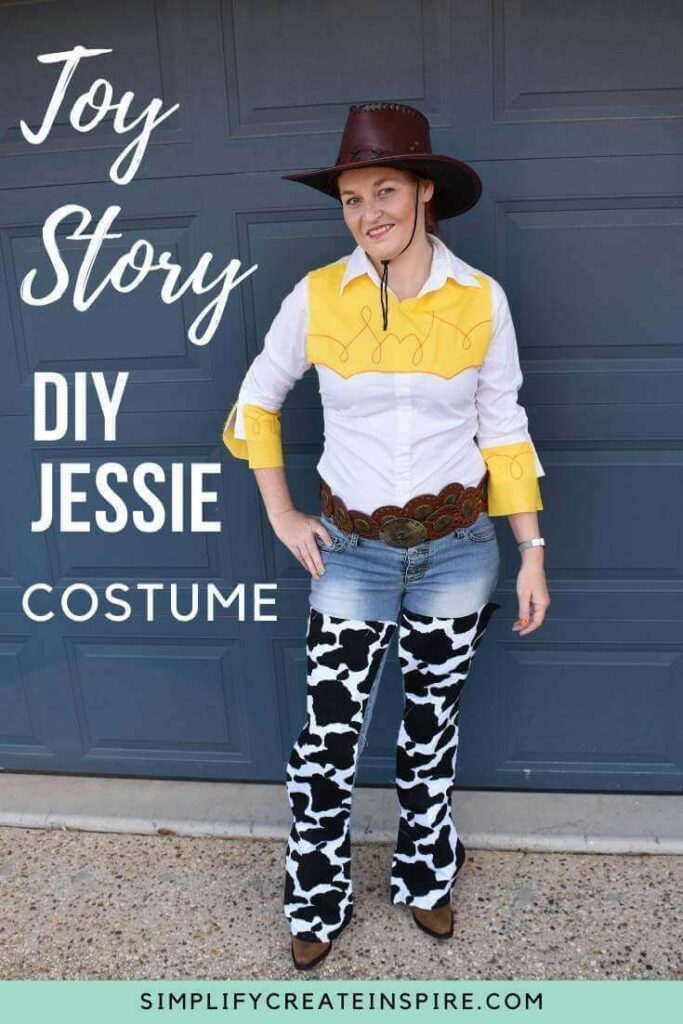 Alright, so maybe you're the type of cowgirl who likes to get her hands dirty with some serious DIY business. I adore this look created by Holly from Simplify Create Inspire, and it uses clothing pieces you can find in thrift stores to create an authentic Jessie look. The yellow accents can easily be made yourself, so this one isn't too hard to put together.
Best For: Best Overall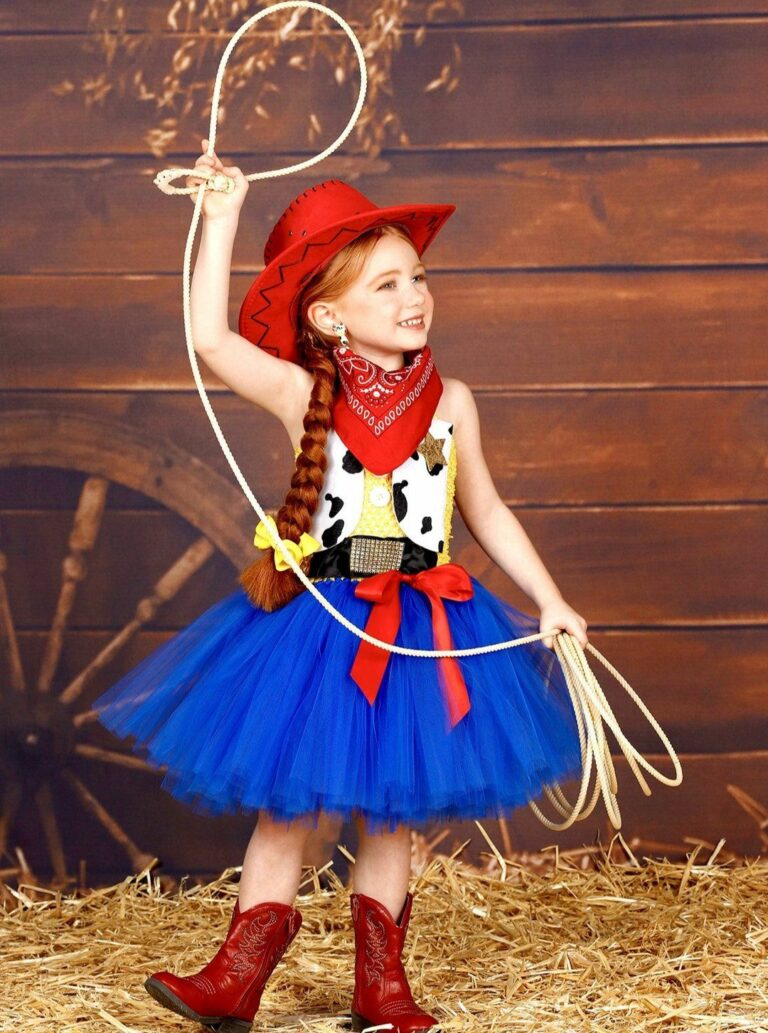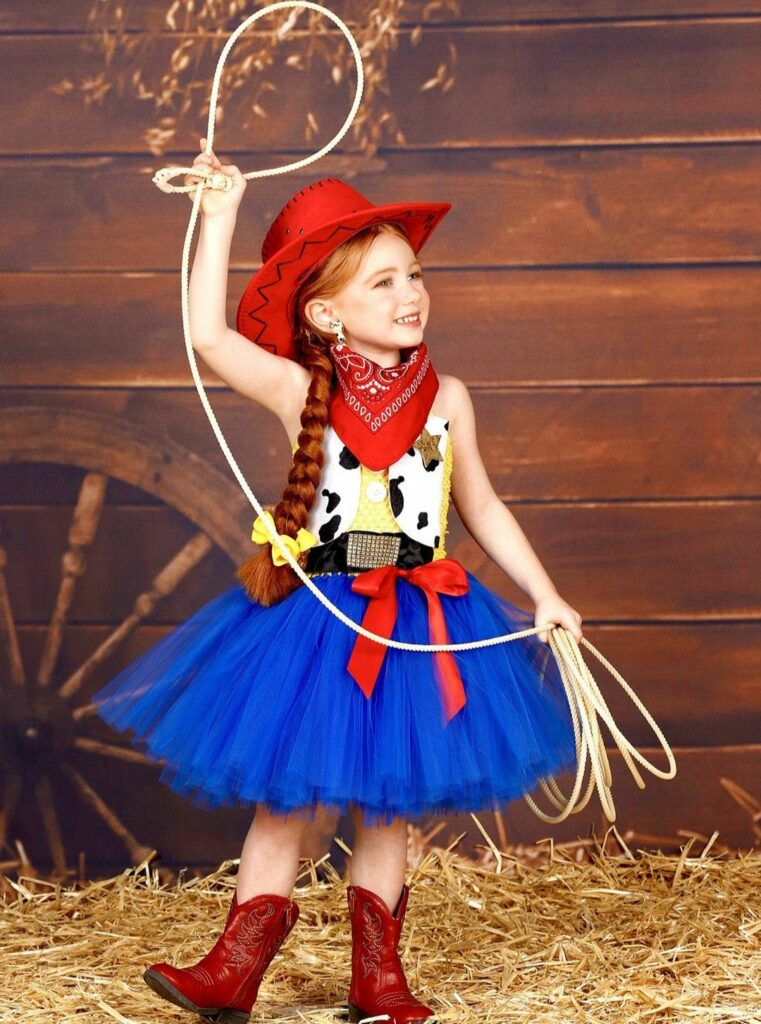 If your little one is inspired to hit the road and set out on adventures because of Jessie, I say buy her this costume from Mia Belle Girls. The cow print vest accents plus the little sheriff badge add classic pieces of Jessie's look to this dress. Authentic red cowgirl boots really make the outfit.
Best Forky Costume Ideas
It's Forky! If you're going to dress as Forky, I'm going to guess you probably want a fun and quirky costume, right? Well, you're in luck. These best Forky costumes are hilarious, convincing, and sure to make people around you smile. Let's dig in!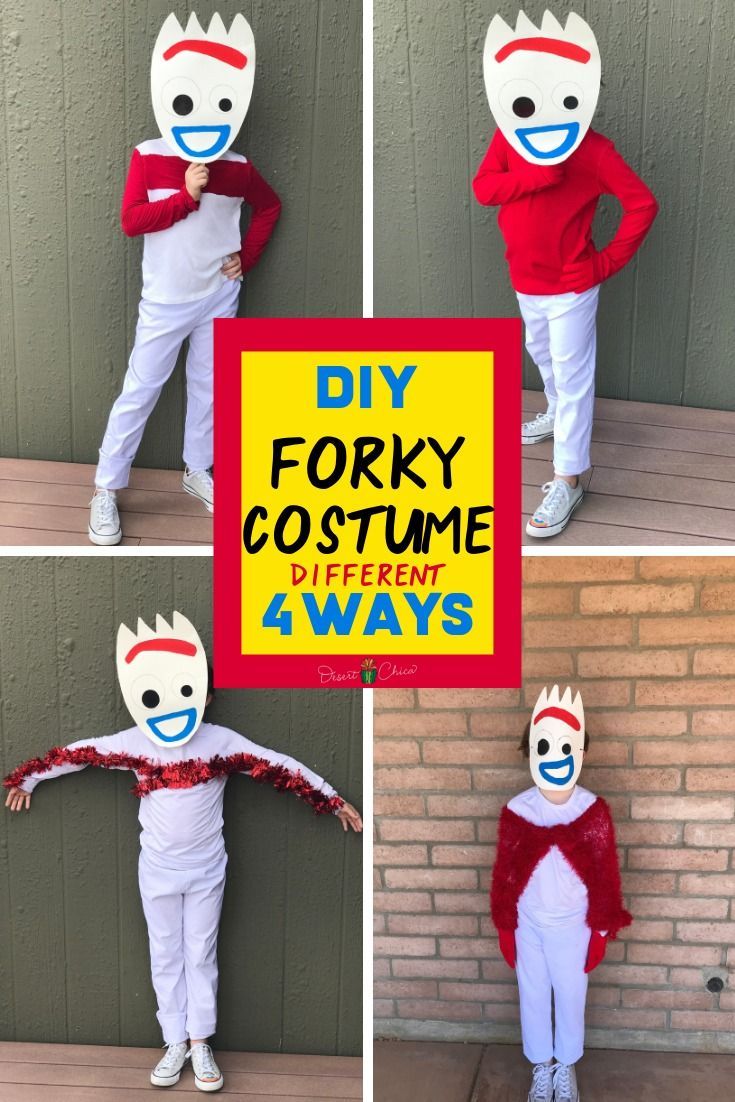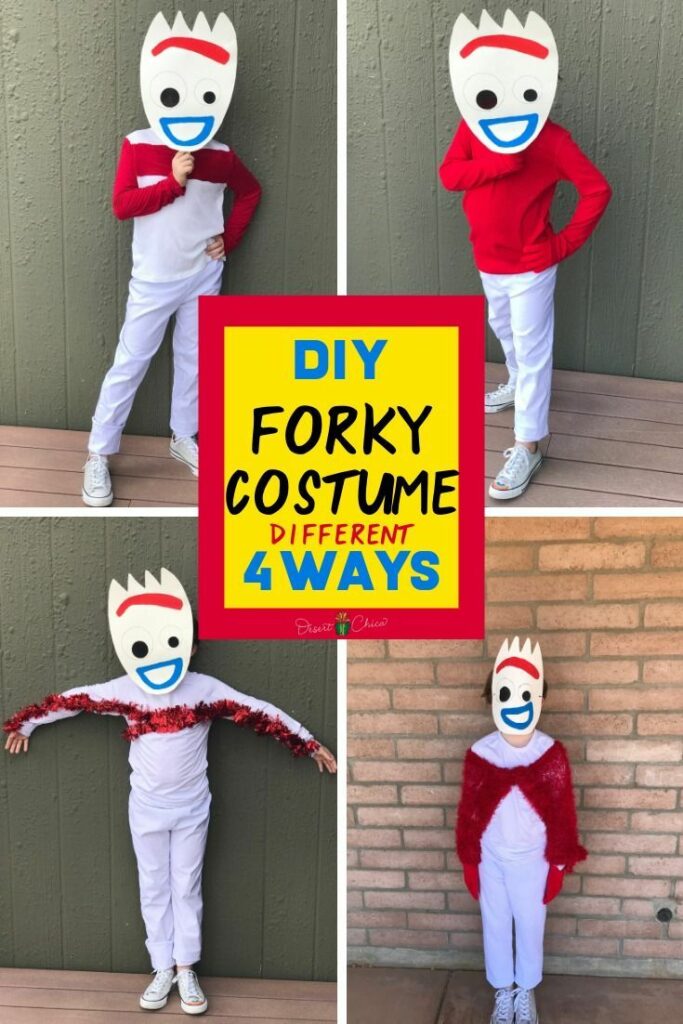 Everyone can be Forky! This guide from Redhead Baby Mama shows 4 different ways you can use common clothes and household items to transform yourself into Pixar's most beloved utensil. With minimal crafting supplies, you can make a big Forky face with this character's trademark goofy smile.
This DIY Forky costume looks the most like Forky. The best part? It's super easy to make yourself! Jessica Flanagan uploaded this Forky costume to Pinterest, which gives us all an easy example to follow. With red gloves, a red sweatshirt, a white shirt, and white pants, the only thing left you need is to make Forky's face.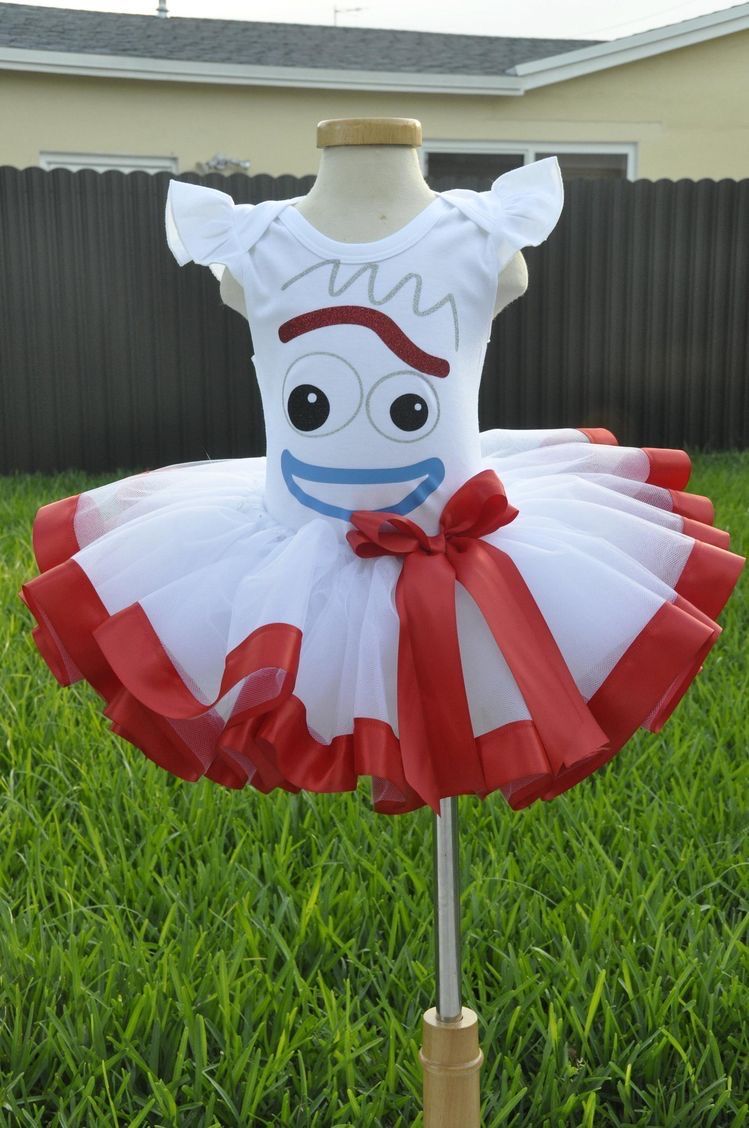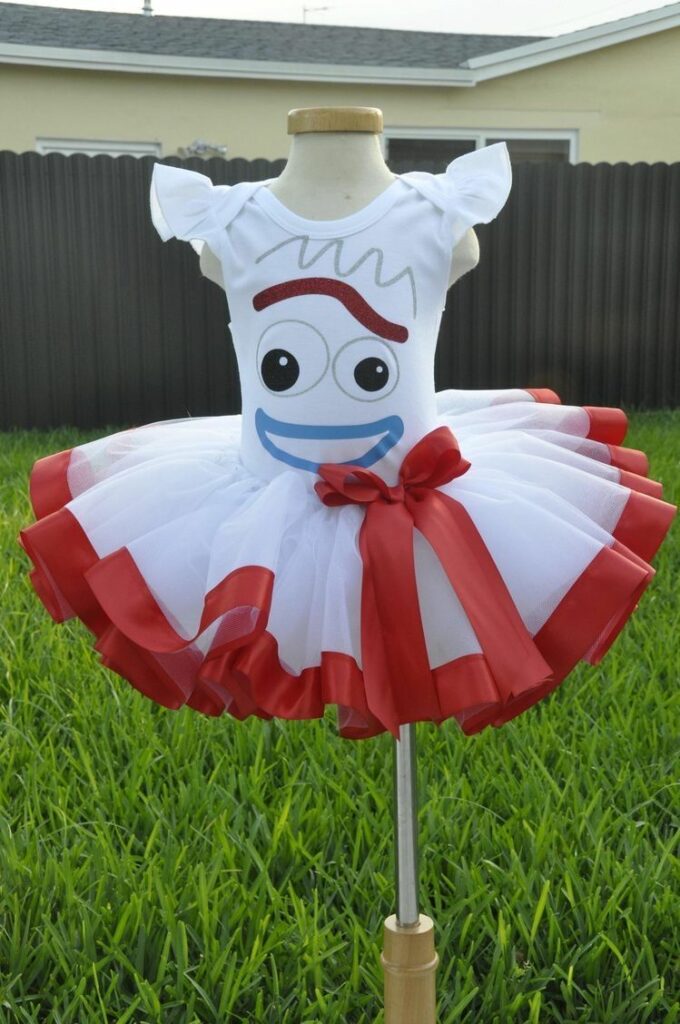 This is one of the funniest dresses I've ever seen, but it would be perfect if your daughter loves Forky. Forky's face is printed on the top of the dress while a white and red tutu makes up the bottom half. A red bow is placed on the side of Forky's face, which makes the dress somehow dainty despite its resemblance to a cartoon fork.
Best Toy Story Costume Ideas for Couples
So, you and your SO love Toy Story? You're not alone! That's why I've come up with this section to show you the cutest Toy Story couple ideas. There's more to Toy Story couple costumes than just Woody and Jessie, but I'll show you some of those, too.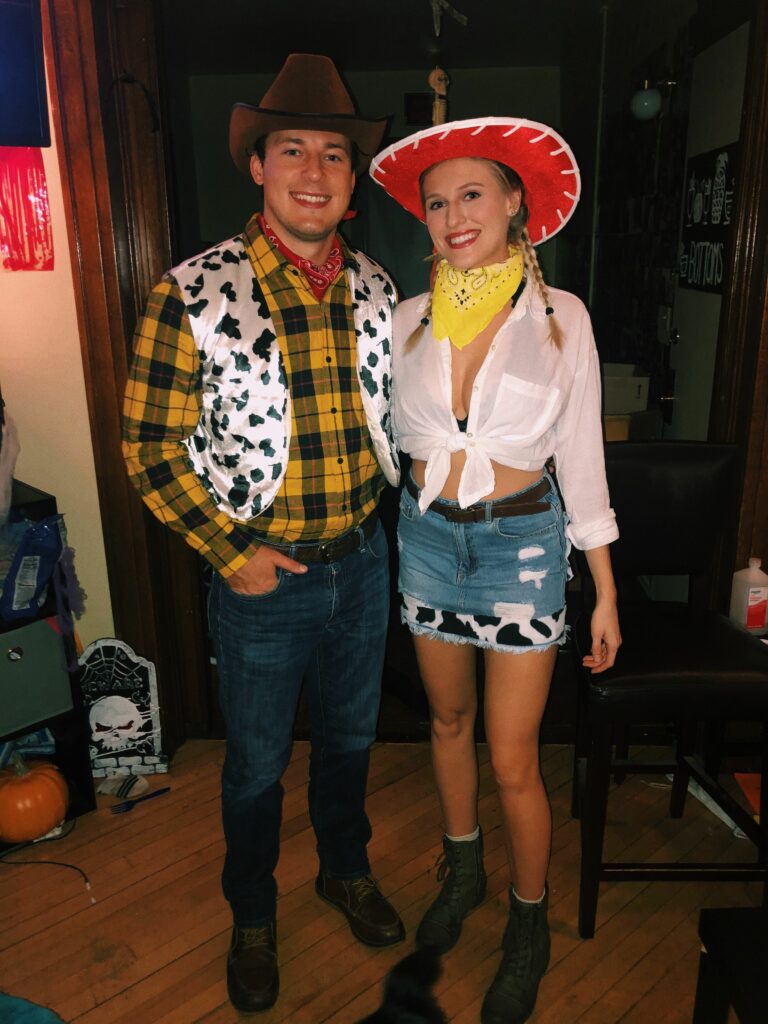 If you're aspiring to dress up as Toy Story's most popular character couple, then try out these DIY costumes of Woody and Jessie. Monica Buchholz, who uploaded the photo to Pinterest, said that you can make the cow print accent on the skirt by velcroing cow print fabric onto any denim mini skirt you have. It's easy to make the cow print vest for Woody, too.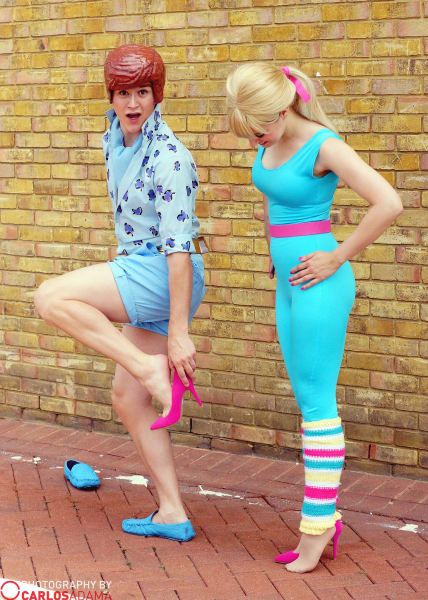 This bright, colorful, eye-catching idea for a couple's costume will have you and your boo dressed up as Workout Barbie and Ken. Ken's solid plastic hairpiece is so recognizably Ken, and Barbie's blue jumpsuit with a pink waist belt couldn't be cuter. The outfits are pretty easy to put together, too.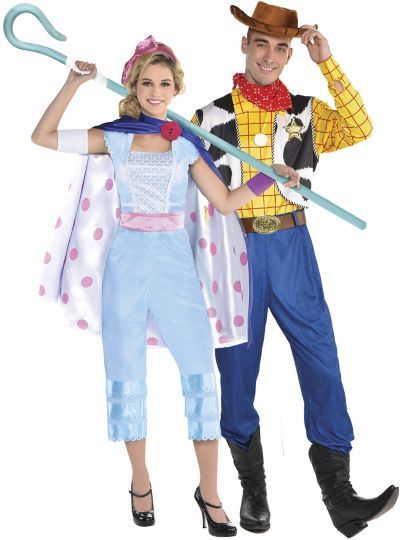 Party City makes it easy for you to wear Toy Story couples' costumes by offering some you can buy! Maybe you think Bo Peep is cuter with Woody than Jessie is, and if that's the case, check out these costumes featuring your favorite cowboy and your favorite shepherd.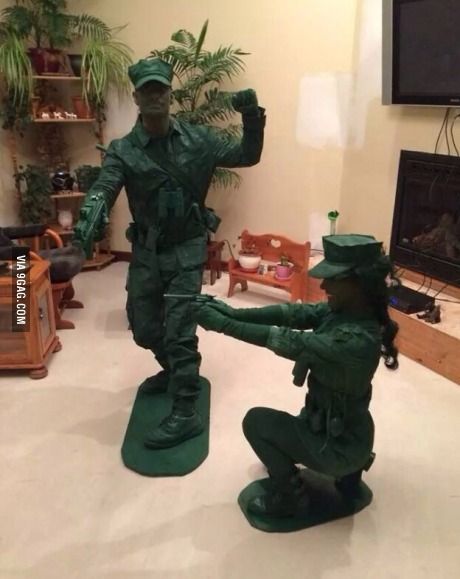 What easier costume is there than one where you just paint yourself completely green? You and your SO can both be green toy soldiers just like the ones in Toy Story. Buy some army clothes, dark green fabric paint, and dark green face paint, and you're good to go.
Best Toy Story Costume Ideas for Kids
Toy Story has grabbed the imagination of children for decades now. Toy Story 4 came out in 2019, so there are plenty of kids nowadays who love Toy Story as much as their parents did growing up. If your little one adores this story about friendship and adventure, look through some of these Toy Story costume ideas for kids.
Best For: Best Overall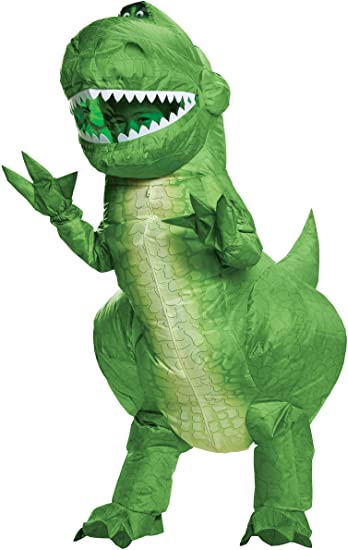 What kid wouldn't be thrilled to walk around like an inflatable tyrannosaurus rex? This one had to win best overall! Your kid will look just like Rex in this self-inflating costume. They can see out of Rex's mouth.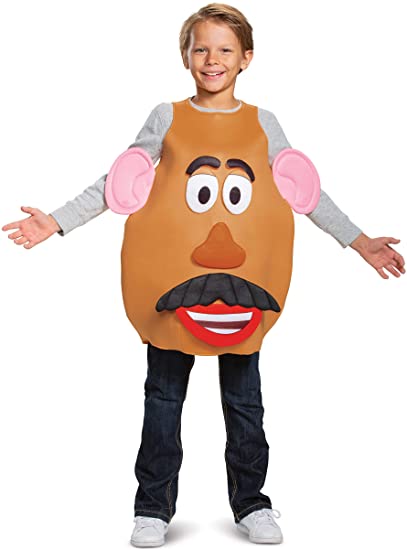 This Mr. Potato Head costume can be transformed into a Mrs. Potato Head costume with the facial accessories the costume comes with and the Mrs. Potato Head hat. This one-piece costume is simple to put on, and you won't have to worry about DIYing it.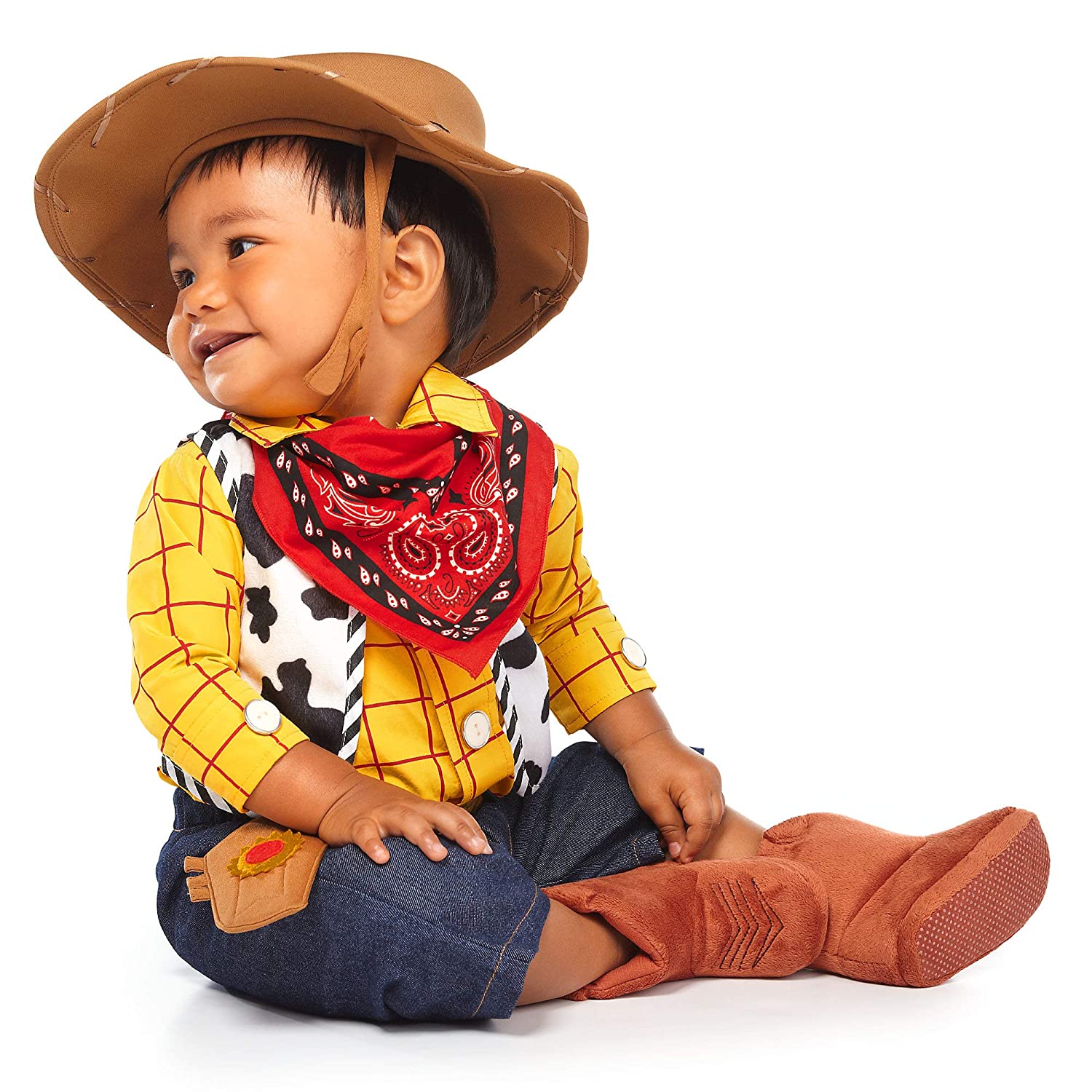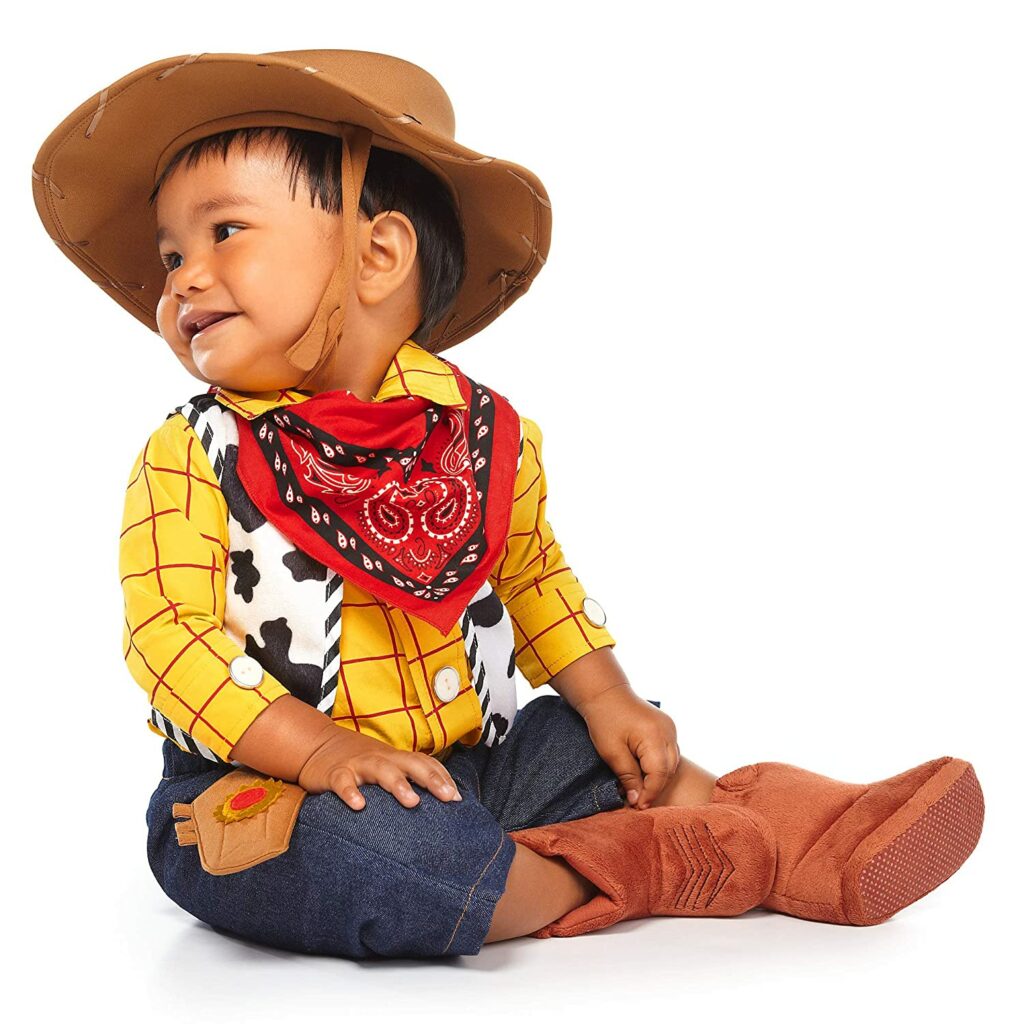 This Woody costume can be bought on Amazon for little ones 3 months to 2 years old. The tiny shirt, vest, bandana, pants, and more will make your child feel just like a cowboy adventurer. I'm sure you'll want tons of pictures of your little cowboy when they're all decked out in this official costume.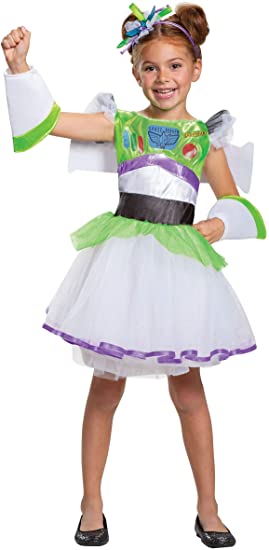 If your daughter loves Buzz Lightyear but would like to see her favorite character given a girlish twist, check this out. The bottom half of this Buzz Lightyear dress looks like a white and purple tutu. The headband uses Buzz Lightyear's color scheme, too.
Reasons to Get a Toy Story Costume
A Toy Story costume may sound fun, but maybe you're wondering, "Why would I need one?" I'm glad you asked. Toy Story costumes aren't just for Halloween, even though this holiday makes for a great excuse to dress up. I'll explain why you might need your Toy Story costume for more than just one day a year.
Halloween
It might only be once a year, but when Halloween comes around it's time to go all out when it comes to costumes. If you're a known Pixar fan, Halloween is the perfect time to take advantage of all the costume parties giving you a chance to dress up as your favorite Toy Story character.
Cosplay
Do you attend conventions? There are loads of Disney and Pixar conventions all across the country where fans dress up as characters from their fav movies. Some people like to cosplay and post pictures of their character-inspired outfits online, too.
Special Event
Toy Story costumes can be worn to any costume event, right? If Woody, Buzz, and Jessie are some of your favorite characters, then get decked out in a costume that brags about your love for this classic franchise.
Kids' Toy
Character costumes like Disney princess dresses, Star Wars helmets, and Toy Story dress-up pieces are all popular kids' toys. If you've got a kid that loves Toy Story, buying or making them a Toy Story costume could be the perfect gift.
Most Popular Toy Story Characters for Costumes
If you're buying a Toy Story costume for someone else and don't know much about Toy Story, don't worry! Check over these points describing 3 of the most important characters throughout the movies.
Woody – This is the main character of Toy Story and Andy's best friend. Woody is a loyal, caring, adventurous cowboy.
Buzz Lightyear – This is another one of Andy's favorite toys. Buzz is a space explorer with a jetpack. Sometimes he can be very serious, but he's a great friend.
Jessie – Known as the yodeling cowgirl, Jessie is introduced in the second movie as one of Woody's best friends. She's a brave and adventurous character with a heart of gold.
FAQ
Alright, friends, it's time that your most frequently asked questions about Toy Story costumes are answered!
Where Can I Get Toy Story Costumes?
There are lots of places to get Toy Story costumes! Especially around Halloween, you can pick up Toy Story costumes in places like Walmart, Target, and Halloween stores. You can buy them all year round on websites like Amazon and eBay. You can even buy handmade Toy Story costumes from Etsy. Check out places like Party City and the Disney store, too!
Who's the Most Popular Toy Story Character?
It's Woody! Woody, the main character of this iconic Pixar franchise, has been beloved by fans since his debut. Toy Story wouldn't be Toy Story without our trusty toy cowboy here to save the day with his best friend, Buzz Lightyear. This is why Woody costumes are some of the easiest Toy Story costumes to find.
Can I Make Toy Story Costumes?
You certainly can make Toy Story costumes! If you don't want to hand-sew an entire costume from scratch, I recommend checking out thrift stores to see what clothing pieces and accessories they have that match the character. Using craft supplies, you can add your own details like Woody's belt buckle design and the tassels that hang from his cowboy hat.
You've Got a Friend in Me
So, blast off into your costume party wearing an outfit just like your favorite Toy Story character. I hope you found it fun to learn about the best Toy Story costume ideas, and hopefully, you know what you'd like to do for your costume now.
Did you have a favorite of the costumes I showed you? The genderbent Woody is one of mine, for sure. Got any questions about how to bring Toy Story to life with your outfit? Let me know! And then check out our guide to the best Toy Story backpacks.
Find more fun and unique merch on these guides below:
Best Toy Story Merch Guide [2022]
Best Beauty and the Beast Merch Guide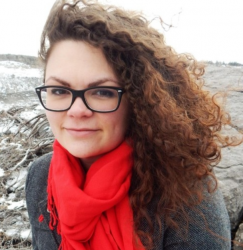 Latest posts by Candace Osmond
(see all)