Hunter x Hunter has avid fans, and for good reason. The expressive and exciting manga series is one of the best. It's suiting, then, that there are collections of official merchandise that you can buy today. But just as the series' future is uncertain, it's challenging to find the very best merch, unless you know what to look for. 
In this guide, I'll discuss some interesting facts you may not know about Hunter x Hunter merchandise. I'll tell you where to buy Hunter x Hunter merchandise, and my recommendations for the best items you can buy. 
Bottom Line Up Front Summary:  If I had to recommend just one merch item for Hunter x Hunter, it would be the Atsuko Hunter x Hunter Throw Blanket. This fleece blanket features a silk touch, is affordable, and has a high-quality design. It's of great value and can be used to keep warm, for decor, and for collecting. 
My Top Picks
Hunter x Hunter Merchandise: Quick Facts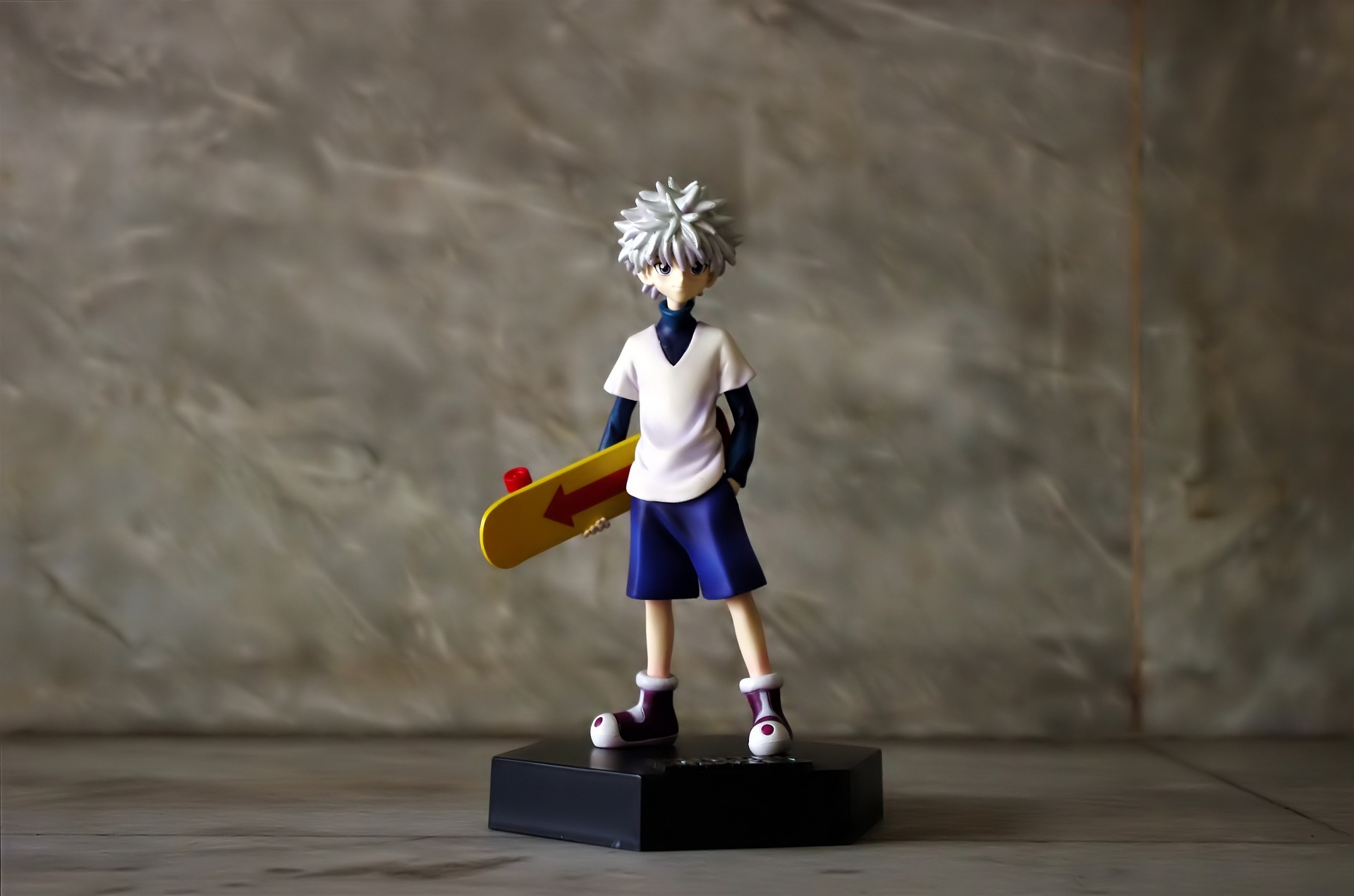 The story of Gon Freeoss has captured so many hearts, as the main character discovers his father's past of being a respected hunter. And while you may think you know the twists and turns of this narrative, fewer know some surprising facts about the franchises' merchandise. 
Hunter x Hunter Merchandise Isn't Intended For (little) Kids 
Although the Japanese series may seem compelling to many ages, it's intended for those 13 and up. Most of the merchandise follows suit, with shirts and collectibles intended for young teens and adults. 
Most Expensive Hunter x Hunter Merch 
The most expensive Hunter x Hunter merchandise is still priced within reason. Figures and cosplay outfits fetch a few hundred dollars. 
Hunter x Hunter Merch Controversy
Hunter x Hunter merchandise hasn't met any true controversies, but the official HxH merchandise store came under fire five years ago by some Reddit users. The lack of products features and strange sizing were all complaints. Luckily, there are more options today and it seems the official merchandise lines are stepping up their standards. 
Coolest Hunter x Hunter Merchandise Collab
Tie-dye hoodies, bucket hats, puffer jackets, and vibrant sweatpants: all of these are items from the Hypland x Hunter x Hunter Merchandise Collection. This collaboration is stylish and innovative and stands out. The worst part is that there isn't much in the way of a business profile– so I can't fully give the green light for shopping. 
What Makes Great Hunter x Hunter Merch
Here's a secret: what makes great Hunter x Hunter merch is all in the details. The description, the attention to detail in the designs, and the materials used are all ways to sort out lackluster merchandise from the best. 
Where to Buy Hunter x Hunter Merch 
Hinter x Hunter merchandise can be bought on Amazon and Etsy. You can also shop for Hunter x Hunter merchandise on Target, Hot Topic, Walmart, Atsuko, the official Hunter x Hunter merchandise store, Tee Public, Red Bubble, and Box Lunch. However, after investigating selection, product quality, and official licensing, there are a few places I'd most recommend. 
Atsuko 
Atsuko carries entirely licensed official merchandise. Their collection of Hunter x Hunter merchandise includes jerseys, button-downs, joggers, shorts, tees, hoodies, beanies, masks, and jackets. What strikes me about this collection is the use of color and balance. While you'll find all-over print, you'll also see block colors. All colors are vibrant and have a stylistic retro feel that does a great job of capturing the Magna series. Shop Hunter x Hunter Merch on Atsuko Here. 
Hunter x Hunter Shop
Straight from the source, this licensed merchandise store feature over 1,000 designs. If that doesn't excite you, what products are offered should? T-shirts, hoodies, accessories, posters, caps, and dazzling lamps are just a few options. If you want one-stop shopping that's organized, creative and consistent, give this shop a chance. Shop Hunter x Hunter Merch on the Hunter x Hunter Shop Here. 
Target 
Looking for Hunter x Hunter book collections? Target is your best bet. Target also carries useful accessories like tumblers and socks. For someone looking for budget-friendly or more versatile and subdued Hunter x Hunter tees, Target may also be a good choice. Posters and a few surprising items are all reasons why you should give Target's licensed merchandise collection a chance. Shop Hunter x Hunter Merchandise on Target Here. 
Find more in-depth Hunter x Hunter product guides below:
The Most Iconic Hunter X Hunter Posters
The Best Hunter X Hunter Sweatshirt Ideas
The Best Hunter X Hunter Hoodie Ideas Guide
Hunter x Hunter Merch: My Picks
Here are my top recommendations for the best Hunter x Hunter merchandise. My goal is to provide recommendations for products that are worth your time and help you express your passion for the series. All of these items capture some element of the show: the characters, beautiful artwork, or the sense of excitement. 
All of my selections are officially licensed merchandise, not knock-offs. Finally, these products were selected based upon the materials used, their approach to design, and their price. I've arranged my selections by category so you can find what you need. Check for more recommendations under my Final Thoughts. 
Hunter x Hunter Accessories
Jewelry, key chains, socks, and other accessories are great for gift-giving. These merchandise items add a touch of Hunter x Hunter whimsy and blend with your everyday life. The remarkable designs and fair prices make these officially licensed Hunter x Hunter accessories my top picks. 
Hunter x Hunter Beanie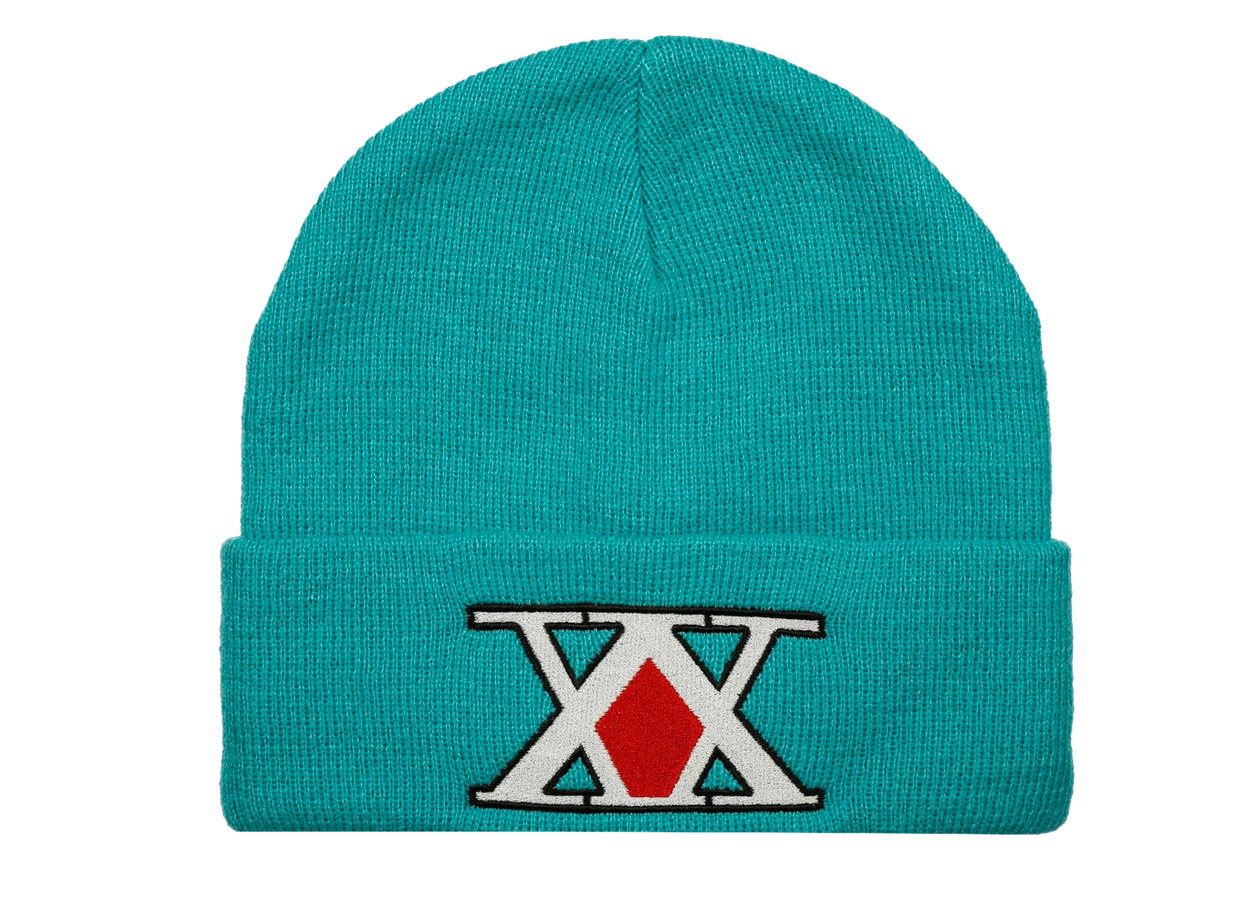 Keep your head and ears warm during cool weather with this teal beanie. The beanie is versatile, with an embroidered patch. The ribbed knit material is stylish and lightweight. This is a bright, crisp, and modern design. While simple, the design still is recognizable and thoughtfully designed. Buy Here. 
Pros
Ribbed Knit 

Soft and Lightweight

Embroidered Patch 
Cons 
No Lining 

For Cool, Not Extreme Cold Weather 
Hunter x Hunter Anime Character Crew Socks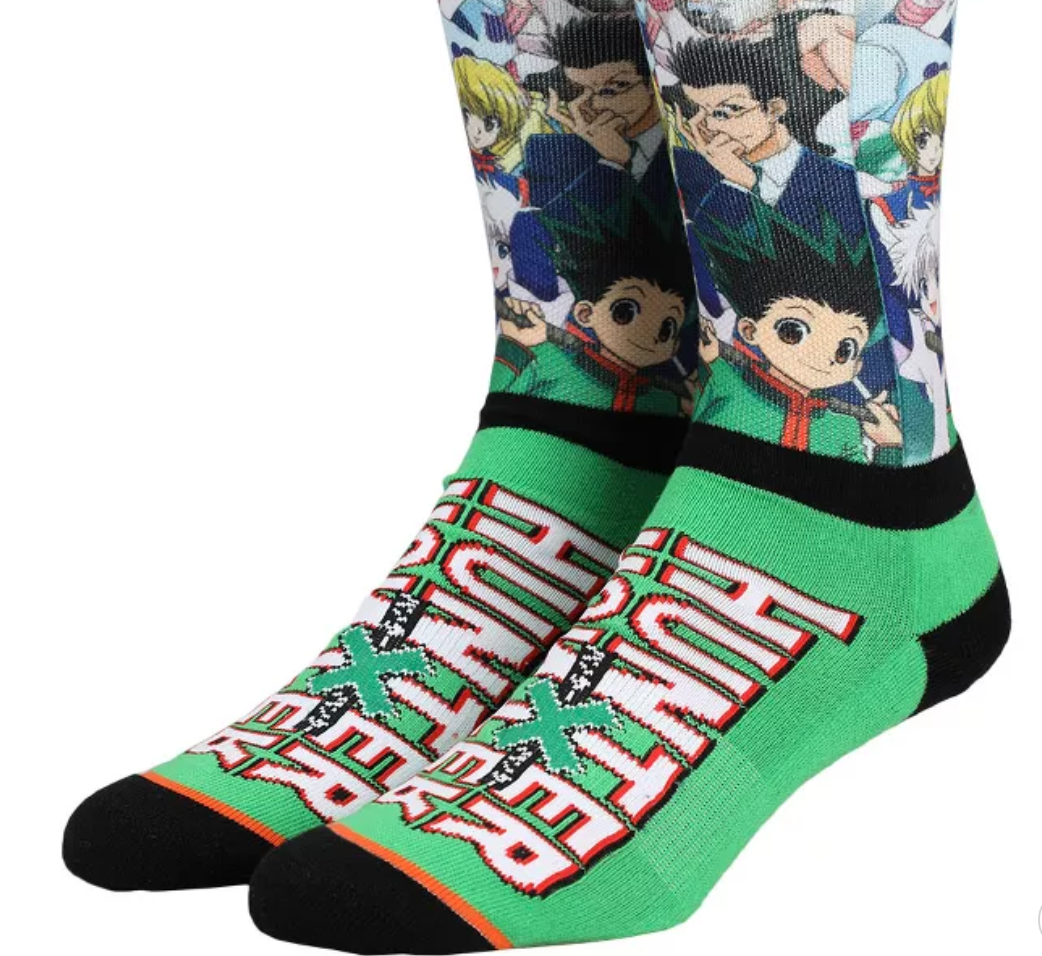 If you want a pair of bold Hunter x Hunter socks, look no further. These socks are budget-friendly and feature a dramatic print of nearly all your favorite Hunter x Hunter characters. Contrast soles and a polyester-spandex blend make these standout. They're lightweight, breathable, and machine-washable. Buy Here. 
Pros
Good Price

Polyester and Spandex Blend for Comfort

Contrast Soles and Character Print
Cons
Not Easy to Coordinate for Outfits

Only Shoe Sizes 8 to 12 
Hunter x Hunter Chibi Aop Mini Backpack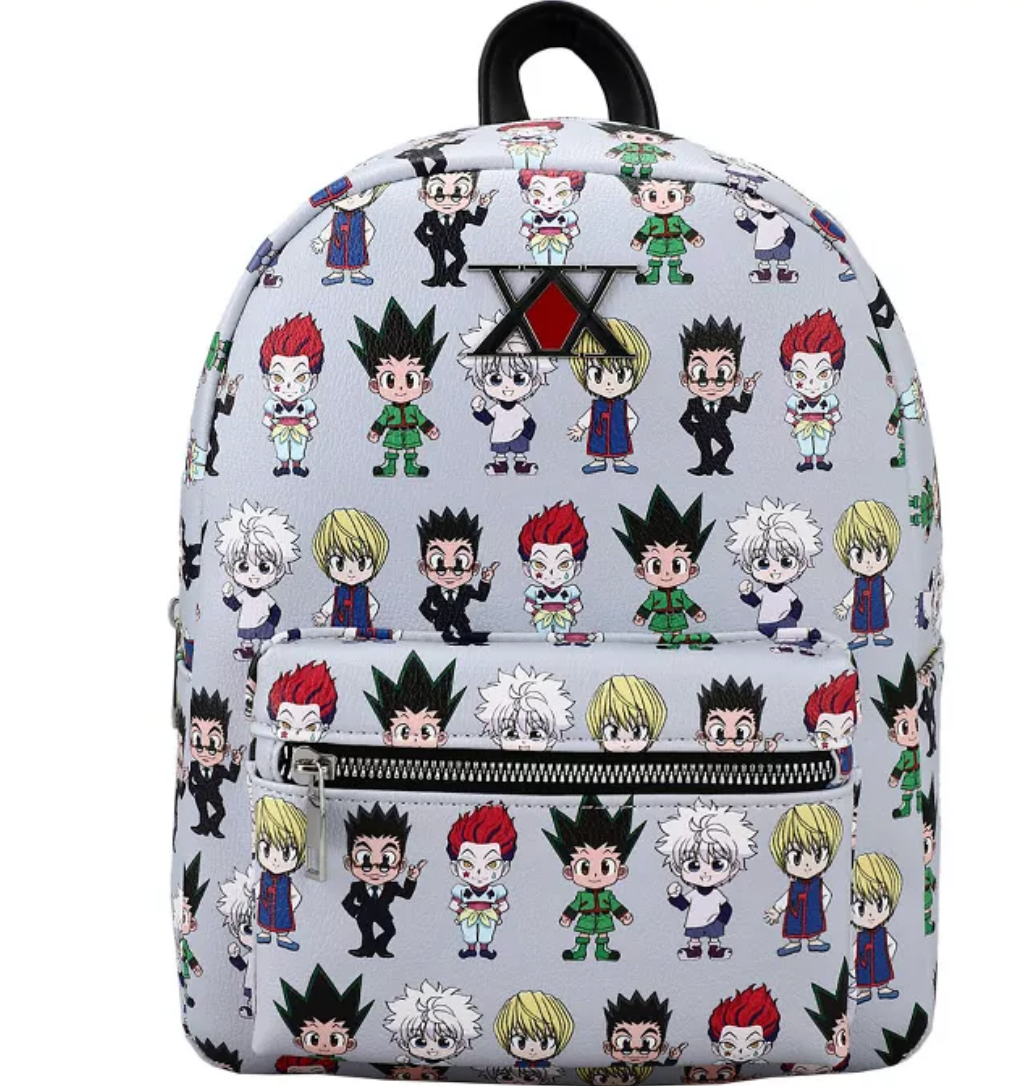 There are larger backpacks, but there's a reason why I selected this mini backpack. Ideal for light school loads, camping, sleepovers, or travel, the details are in the design. This backpack features an all-over print. That print is digitally enhanced for color and durability. You can get more out of storage space with interior pockets and a zipper pocket in front. It's built to last and won't get ruined by rain or other elements. Buy Here. 
Pros
Interior Pockets and Zippered Pocket

All-Over Digital Print

Premium Polyeurethane 
Cons
Too Small for Large School Load

Slightly Expensive For Size 
Hunter x Hunter Authentic Anime Bi-fold Wallet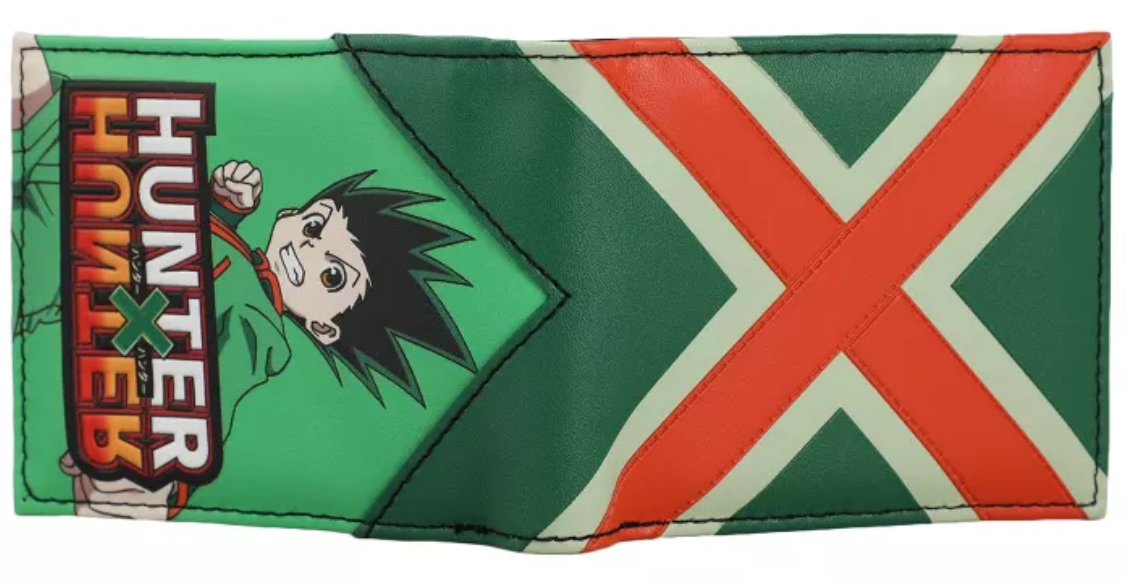 This fantastic wallet is affordable, unique, and built for everyday use. The custom design features vibrant colors and branding. Nylon and premium plastic make it durable even it gets caught out in the weather. There are 4 card slots, an interior pocket, and an ID pocket. Buy Here. 
Pros
Striking Design

Affordable

Suitable for Everyday Use 
Cons
Only 4 Card Slots

Not Leather or Other High-End Materials 
Hunter x Hunter Apparel 
From classic tees to soccer jerseys to cozy hoodies, joggers, jackets, and all-over print shorts, these pieces of official Hunter x Hunter apparel stand out for their unique and innovative designs. There'll be no denying your love for Hunter x Hunter when wearing one of these items. 
Hunter x Hunter Soccer Jersey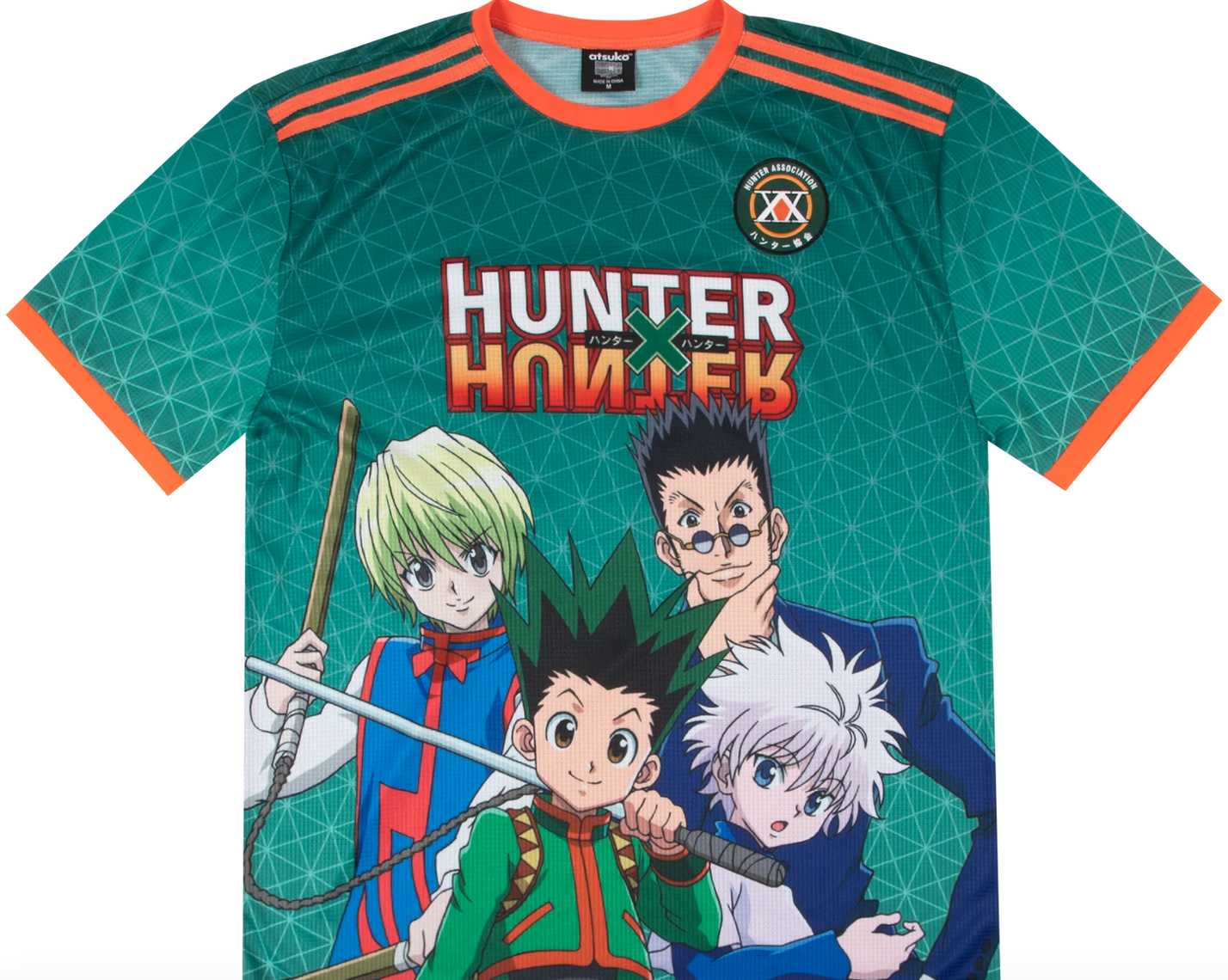 Maybe it's because I played soccer for years, but this is probably my favorite piece of apparel for Hunter x Hunter merch. This soccer jersey is made with 100 percent polyester. The fabric and mesh hole detailing is perfect for wicking away sweat and keeping you performing at your best. The embroidered graphics feature some of the most popular Hunter x Hunter characters. There's a back logo detail too. Buy Here. 
Pros
Moisture-Wicking Material

Striking Embroidered Details

5-Star Average Review
Cons
Wait list At Times for Smaller Sizes

Slightly Expensive 
Hunter x Hunter Repeat Shorts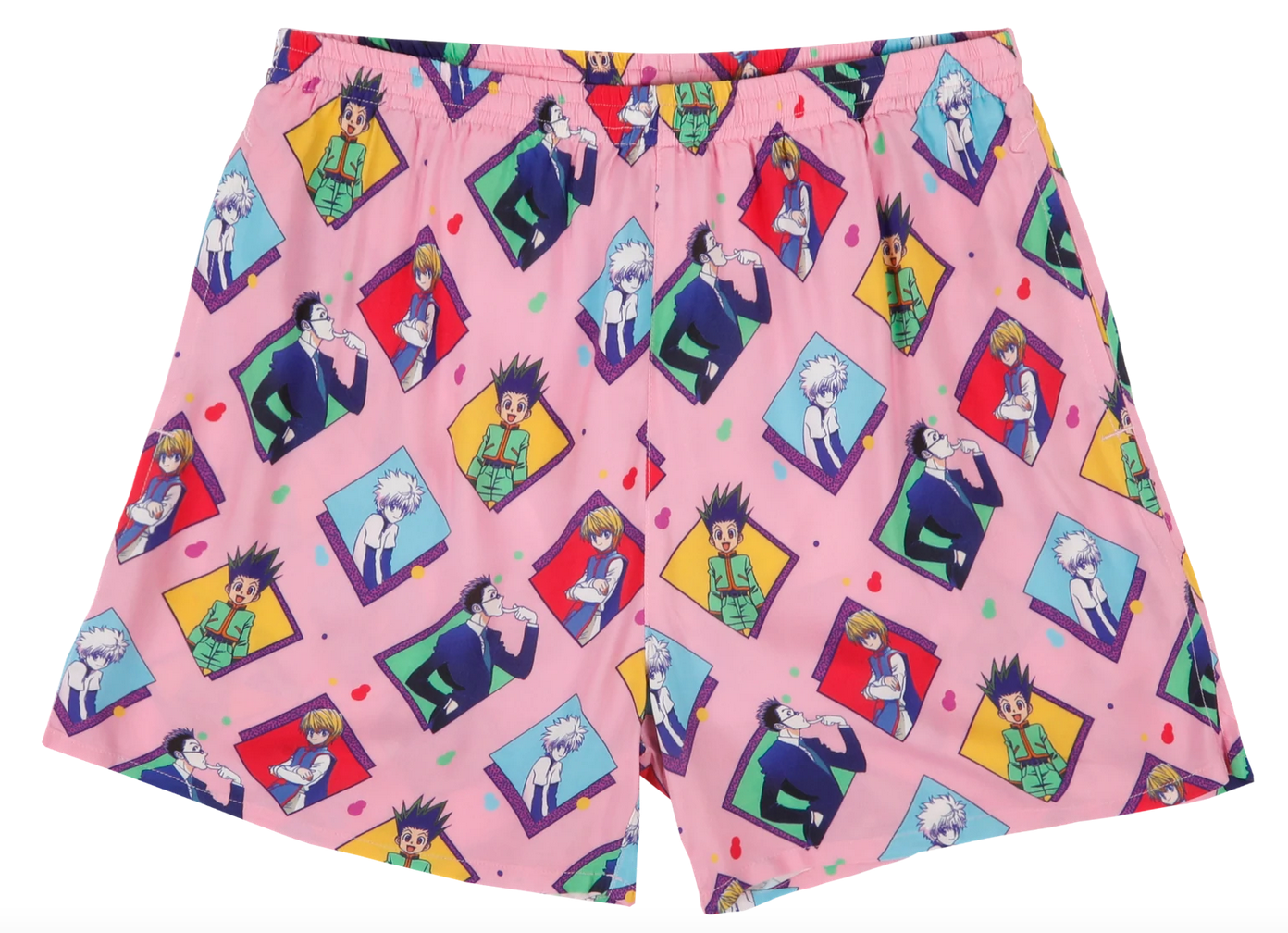 Pair these shorts with a matching shirt or wear them alone. These bold pale pink shorts feature a repeating, iconic design. The drawstring waist ensures a custom and comfortable fit. Side and back pockets can store a pair of keys or headphones. The mesh lining makes them breathable for workouts and active days. If you're not feeling the pink look, you can also try these Hakusho Blue Shorts. These are a little less versatile, but also just are that much more creative. Buy Here.  
Pros
Mesh Lining

Iconic Unique Design

Soft and Keeps You Cool
Cons
Rayon Can Shrink

Rayon is Not as Strong as Cotton
Hunter x Hunter Group Red Hoodie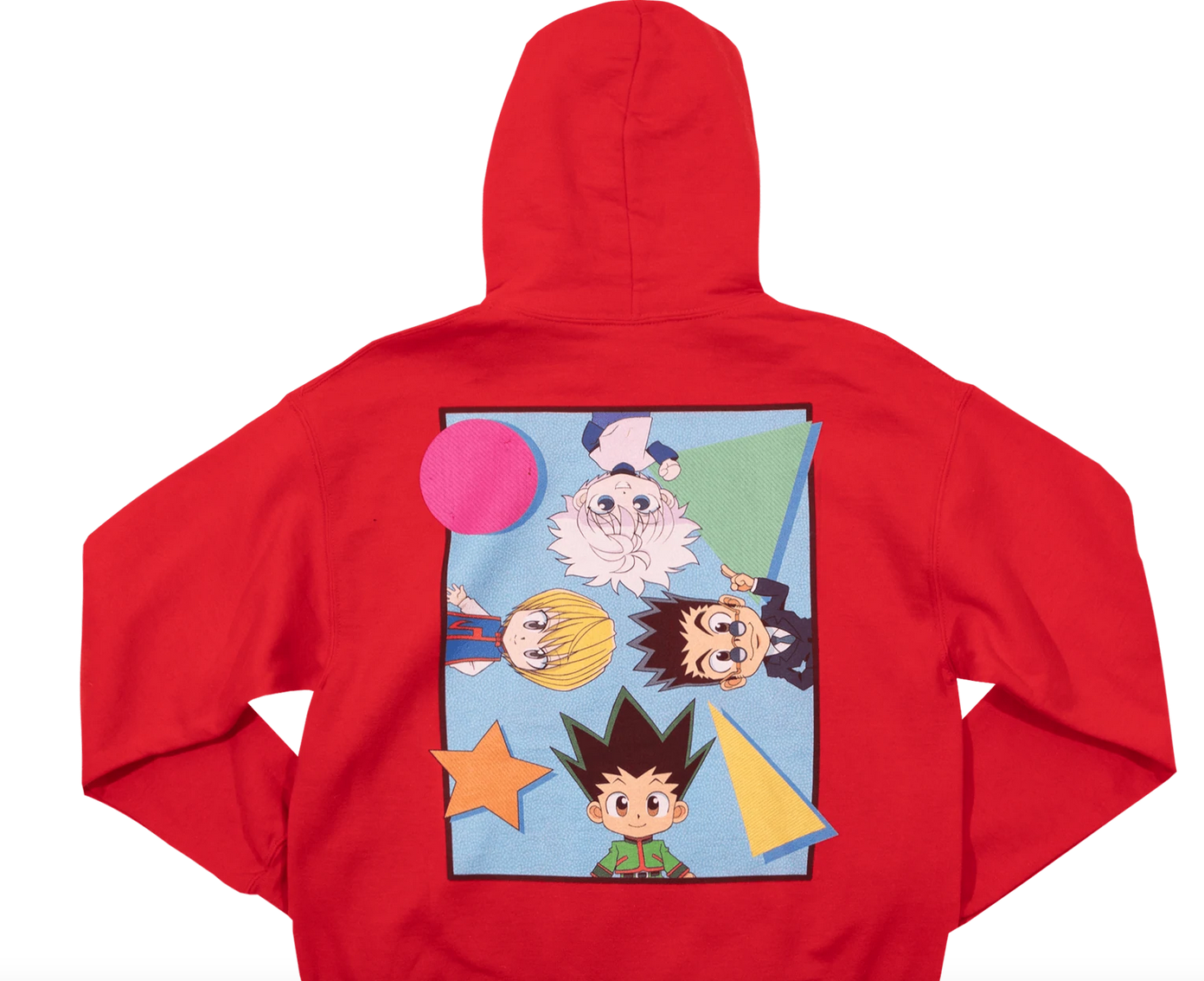 While there are many Hunter x Hunter officially licensed hoodies to choose from, this one stands out as one of the best. The screen print features the official logo on the front and the characters on the back. The drawstring hood is adjustable and comfy. The front pocket is handy for a phone or wallet. It's soft, made with 50 percent cotton and 50 percent polyester. Buy Here. 
Pros
High-Quality Screen 

Soft and Lightweight

Adjustable Hoodie
Cons
Hunter x Hunter Black Performance Joggers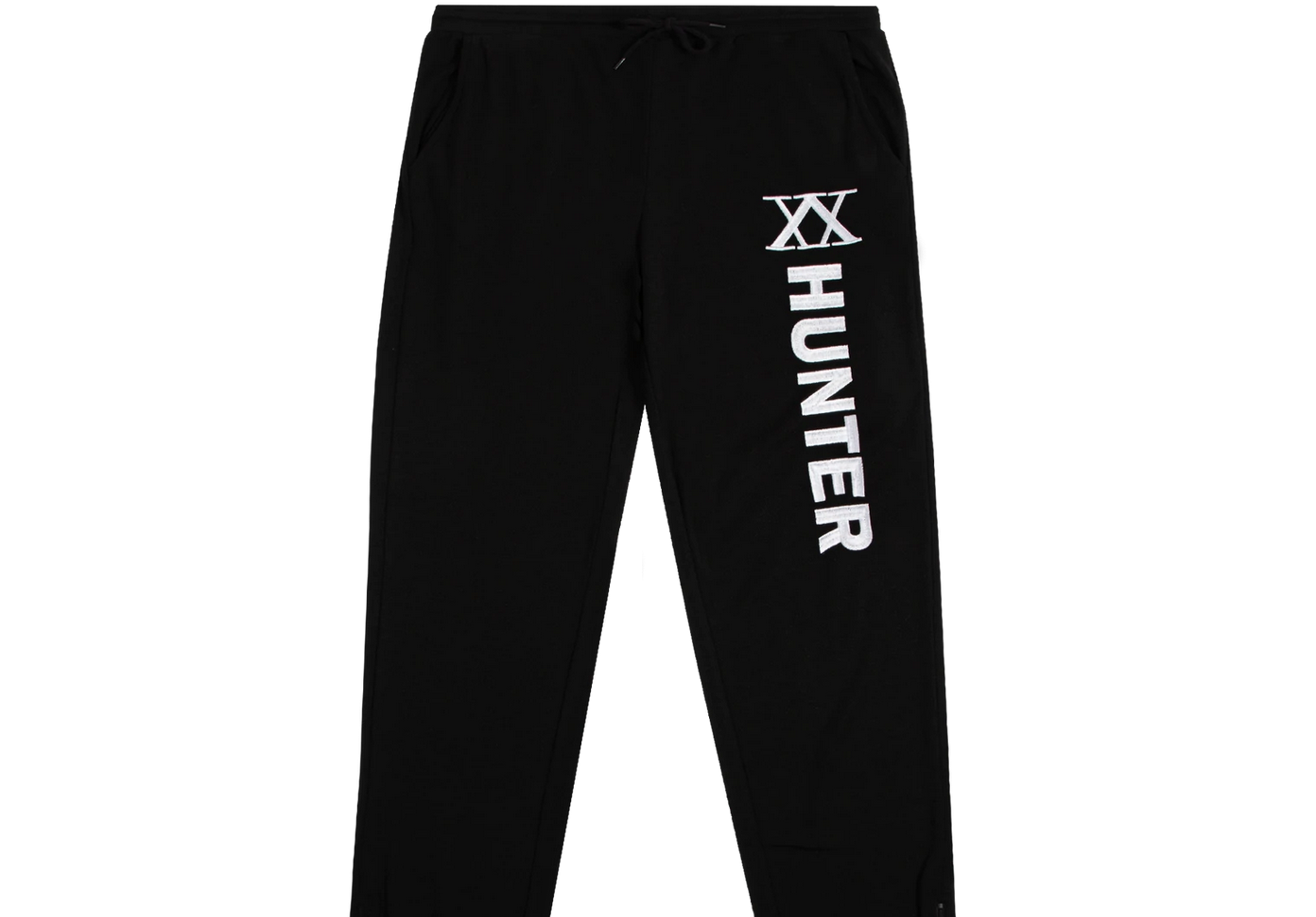 These joggers are versatile and are now offered at discount. The screen print graphics on the legs are bright and crisp. The drawstring waist ensures a comfortable fit. Side pockets and zip-up pockets The relaxed unisex joggers are made with 85 percent polyester and 15 percent cotton. Buy Here. 
Pros
Comfy and Lightweight

Side Pockets 

Zip-Up Pockets
Cons
Slightly Expensive

Wait list for XS 
Hunter x Hunter Gon & Killua White T-Shirt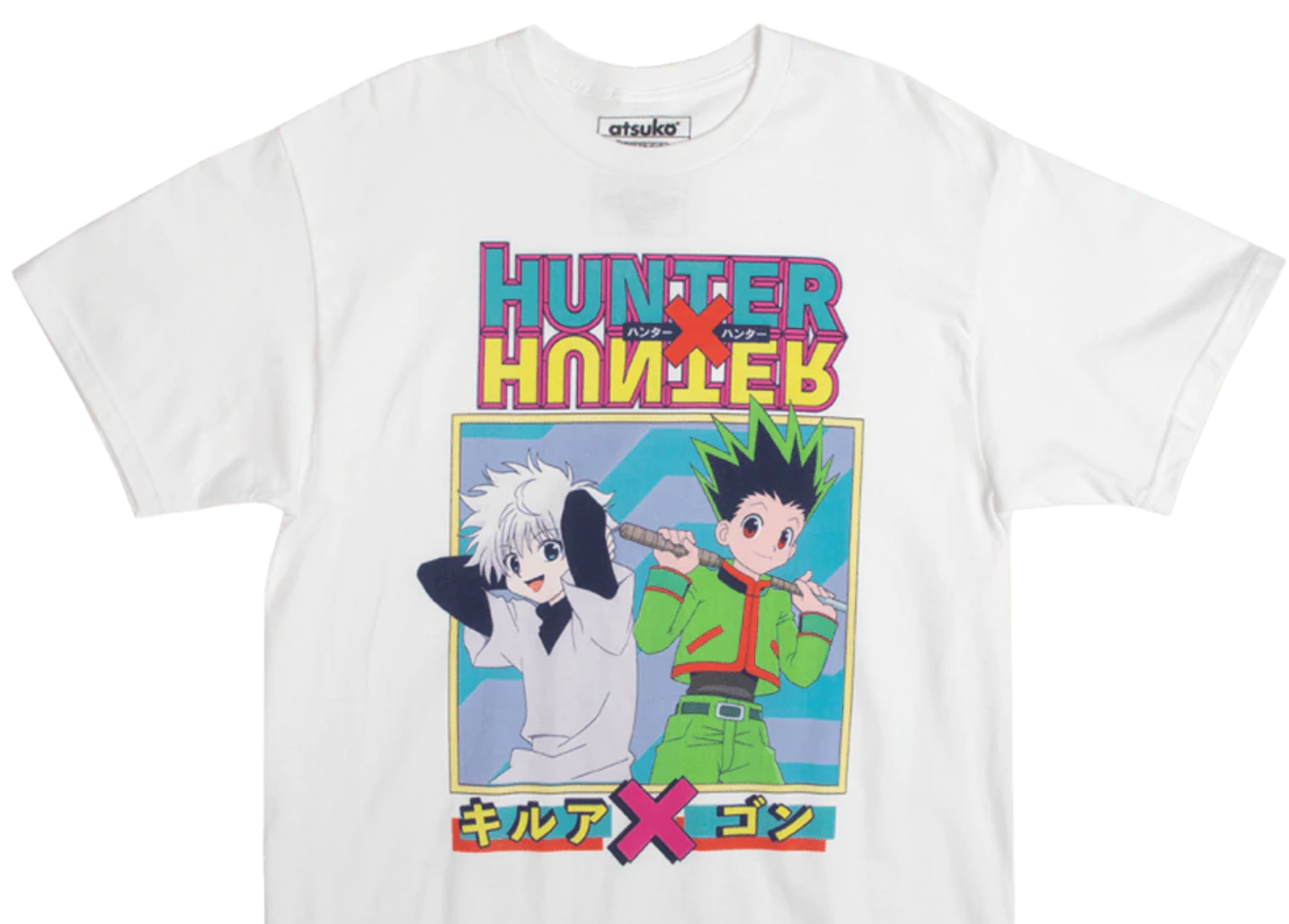 This isn't just your basic white t-shirt. The printed front design features characters Gon and Killua. The ribbed crew neck is classic. The 100 percent cotton is soft but shrink-free. It's sold exclusively at Atsuko, making it unique. Buy Here. 
Pros
Shrink-Free

Gon and Killua 

Exclusive Design
Cons
Hunter x Hunter Books 
What better way to immerse yourself than read anime? These collections are some of my favorites, all priced fairly. Immerse yourself into the lore and excitement of Hunter x Hunter all over again. Your best place to shop is a bookseller like Barnes and Noble.
Hunter x Hunter Book Series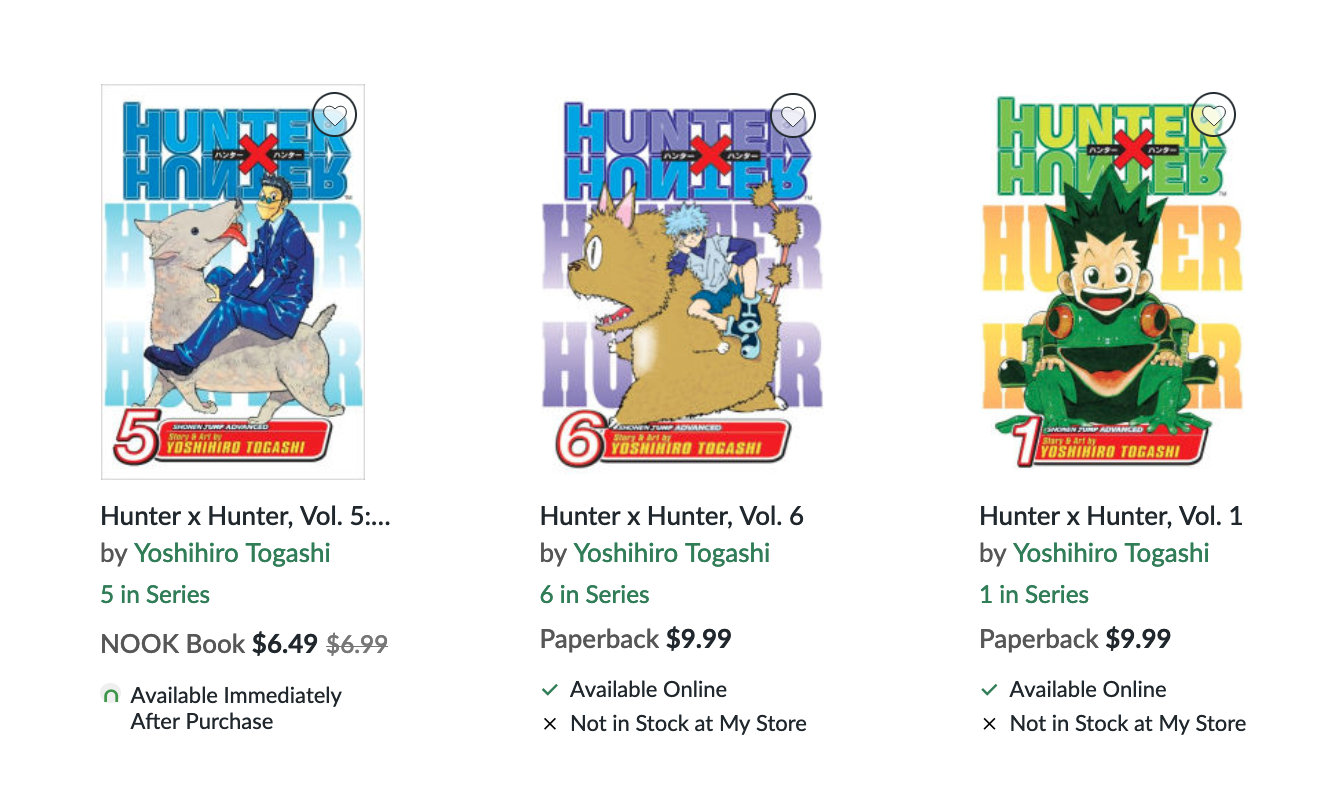 While you'll want to start with the first volume, I hope you'll be drawn into reading the series. Barnes and Noble carry nearly the entire collection in both paperback and e-book formats. Get ready for beautiful illustrations and compelling characters. Shop the Collection at Barnes and Noble Here. 
Pros
Beautiful Illustrations

Paperback and eBook Formats

Substantial Collection
Cons
No Hardback 

Challenging For Preteens or Kids 
Hunter x Hunter Home Goods 
Dazzling lava lamps and vibrant posters are my favorite ways to decorate your home with Hunter x Hunter merchandise. These officially licensed home goods products are sure to add style, flair, and personality to your room or home office. 
HxH Lamp – Killua Zoldyck Hunter X Hunter Night Lamp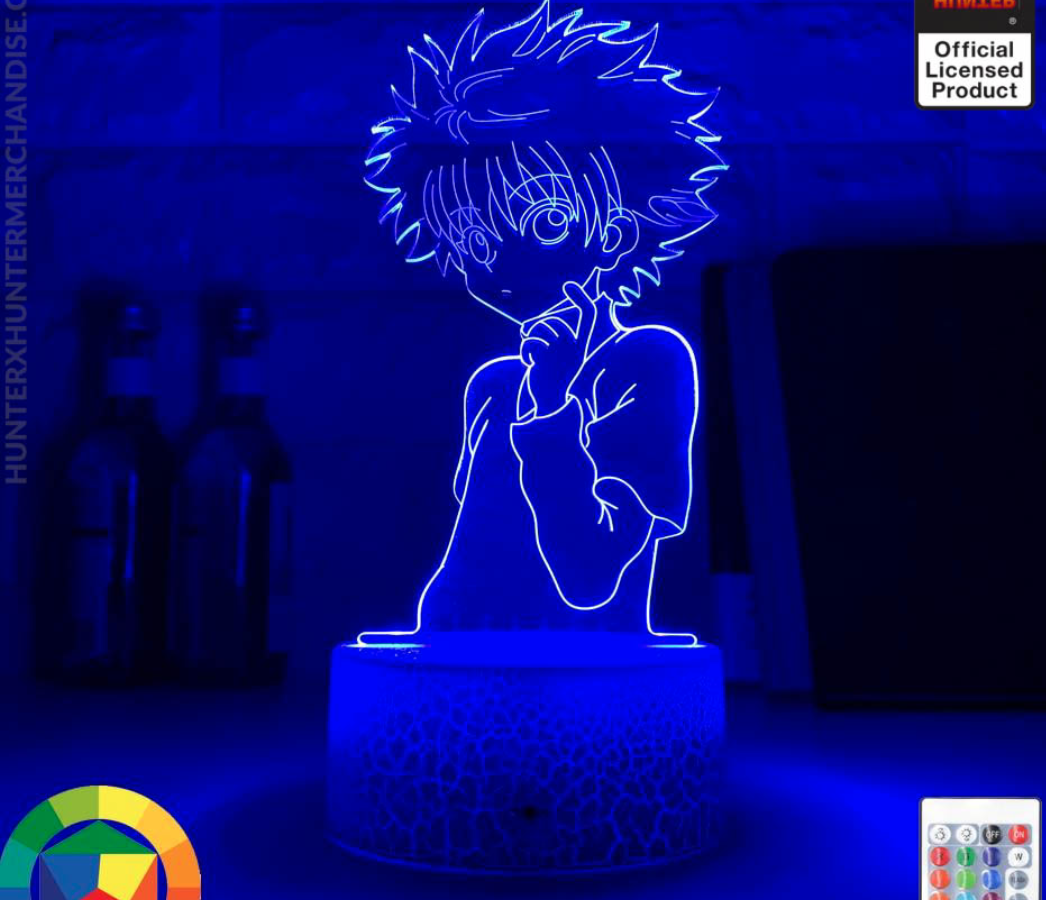 This striking Hunter x Hunter night lamp adds flare to a room. The lamp changes through 7 colors: crimson, yellow, blue, cyan, purple, white, and clear. A button allows changing color settings. A remote offers adjustments for brightness, flash, and more. I love that it's low-consumption, meaning you're using less energy and generating less heat. It won't flicker and can be used with a USB connection or batteries. Buy Here. 
Pros
Low Energy Consumption

7 Colors

Multiple Light Modes
Cons
Only Depicts One Character 

No Plug (USB or Batteries) 
HxH Merch – Hunter x Hunter Retro Posters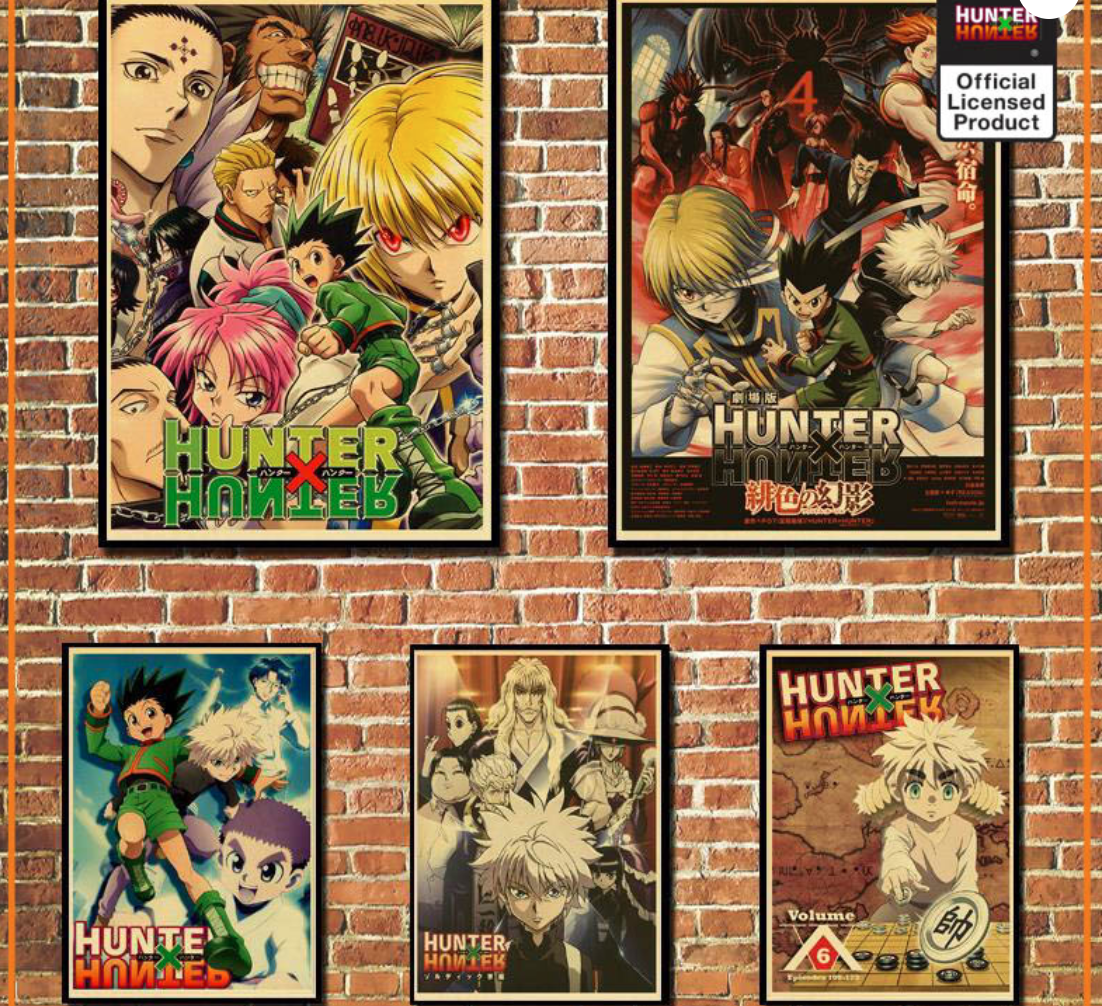 These retro-style Hunter x Hunter posters are great for casual decorating and collecting. The officially licensed posters are made to order and handcrafted. Iconic designs and characters are featured with retro Kraft paper. The illustrations are beautiful and instant classics. Buy Here. 
Pros
Countless Design Options

Affordable 

Handcrafted 
Cons
Frame Not Included

No Film/ No Waterproof
HxH Poster – Hunter x Hunter All Characters Classic Canvas Poster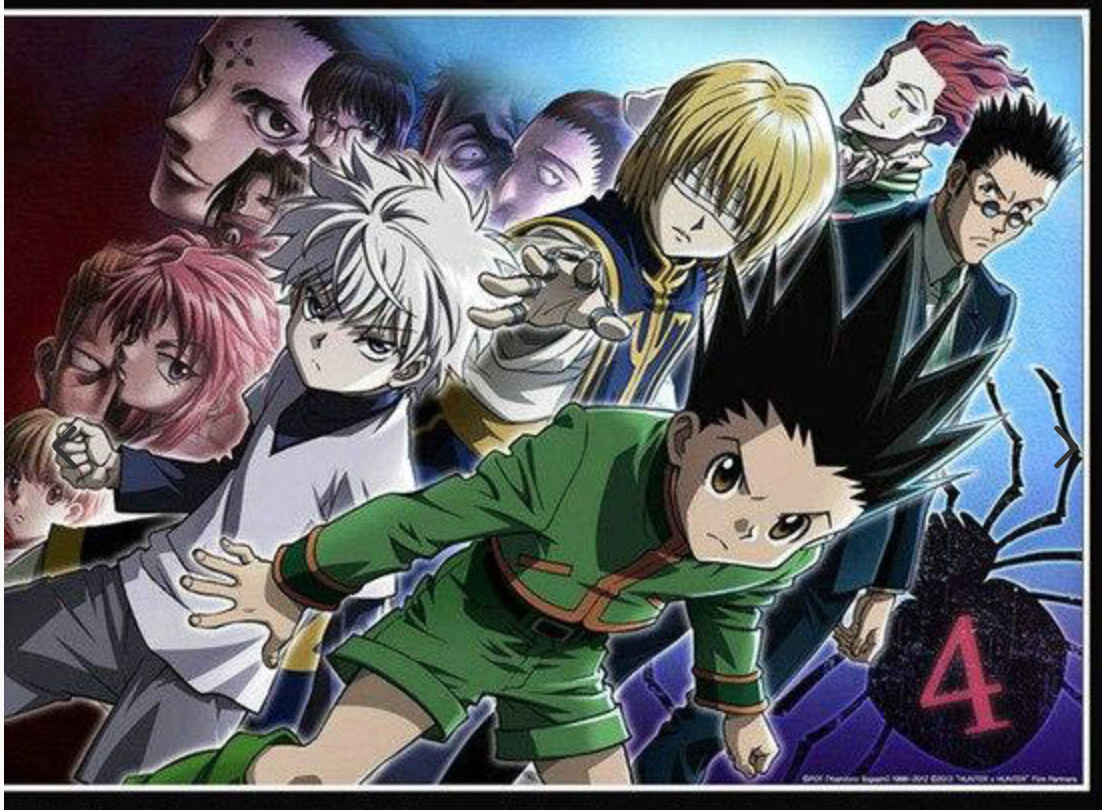 This is easily one of my favorite officially licensed wall posters. Celebrate all the characters from Hunter v Hunter with this eye-catching canvas. The high-quality print and details are striking. The canvas is available in 10 sizes and is shipped worldwide right to your door. Buy Here. 
Pros
Striking Art of All Main Characters

10 Sizes Available

Worldwide Direct-to-Door Shipping
Cons
Frame Not Included 

Design is Rather Busy 
Atsuko Hunter x Hunter Throw Blanket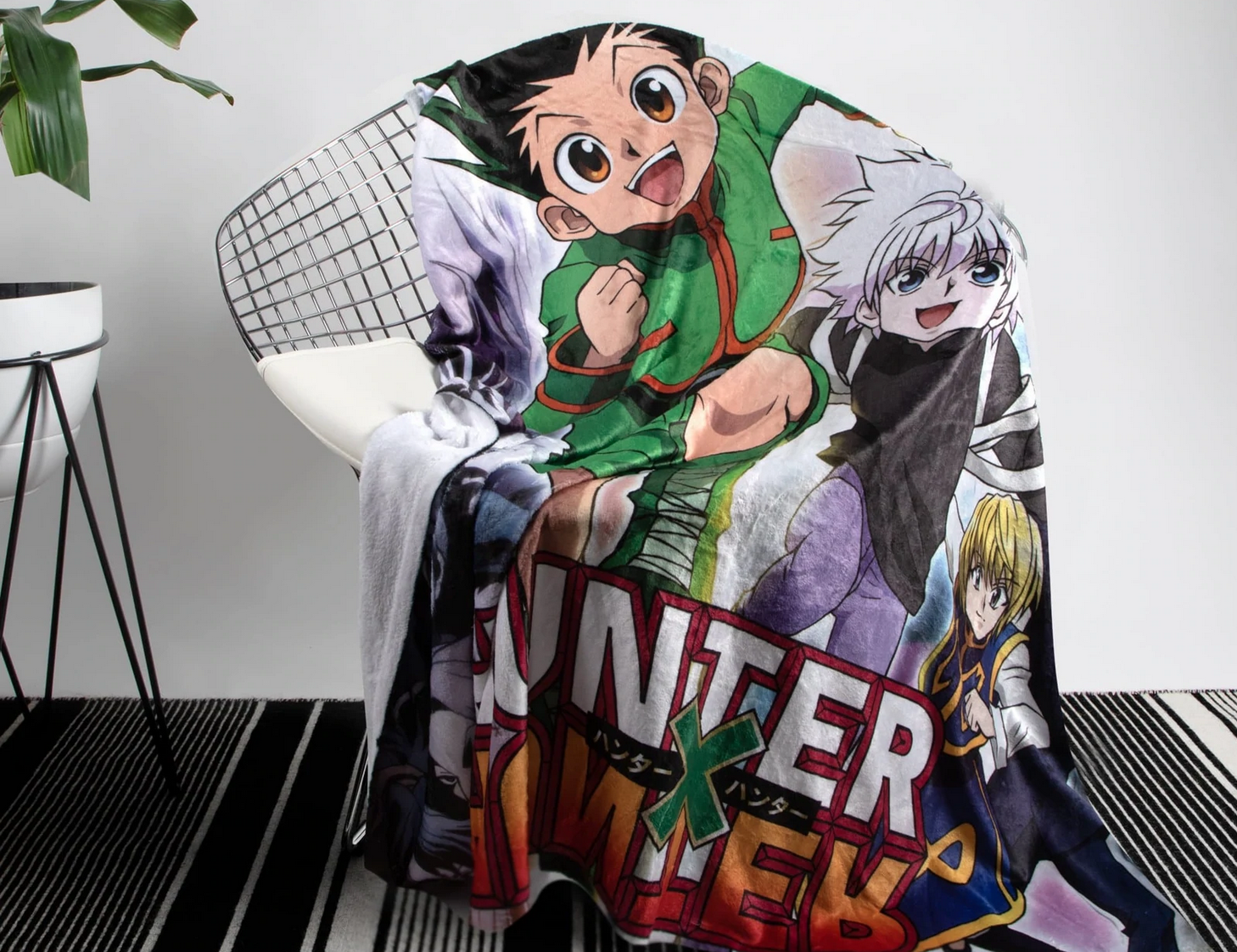 There's no doubt that this is my favorite officially licensed Hunter x Hunter blanket. If you catch it on sale, the value is especially hard to beat. The design is vibrant, with bold colors and detailed characters. This fleece throws blanket measures at 5o by 60 inches. You'll feel cozy and comfortable with its silk touch fabric. The sewn edges improve durability, so you or a loved one can use it for watching hours on Hunter x Hunter. Buy Here.  
Pros
Vibrant Design

Silk Touch

Nice Size 
Cons
Wash Alone

White Portions/ Underside Can Look Dirty More Quickly 
Frequently Asked Questions
Question: Will There be More Hunter x Hunter Merchandise?
Answer: For now, I'm happy that there are several merchandise items that there are, but I have no doubt there will continue to be new products. Whether or not Hinter x Hunter itself will return is less certain. You can be sure people will continue to create merchandise on Etsy, and I do think some of the official collections will be refreshed from time to time. 
Question: Can I Order Hunter x Hunter Merchandise in Japan, the UK, Australia, or Canada? 
Answer: Whether or not you can have Hunter x Hunter merchandise shipped depends on what website you're shopping on. If you're buying unofficial merchandise from Etsy, then many sellers can ship to different countries. The official Hunter x Hunter store ships worldwide, and it's free for orders over $50, so that's a huge perk. 
Question: Can I Buy Hunter x Hunter Merchandise on Zumiez?
Answer: Zumiez sells some Hunter by Hunter merchandise, such as this Hypland x Hunter x Hunter Graphic Tee. The store has online shopping and physical locations. Unfortunately, I wouldn't recommend shopping here. Based upon formally filed complaints, the store lags with a D- rating on the Better Business Bureau. There are plenty of other better places to shop. 
Final Thoughts
I truly hope that the frequent hiatuses come to an end and Hunter x Hunter makes a full return. This animated series features gorgeous illustrations and memorable characters. I also didn't love Netflix's decision to remove anime programs in general in 2021 and I hope 2022 will be a better year for Hunter x Hunter and other great series. Until then, there are some pleasing merchandise items to show off your support for the show. 
Hunter x Hunter Plush by Character
Plush toys are one of my favorite ways to collect merchandise for a franchise. Hunter x Hunter plush can be collected, displayed, and enjoyed by all ages. My selections are sold on Amazon through a company that provides officially licensed plush only. The details are extraordinary and customer reviews only further support these as great buys. 
Chrollo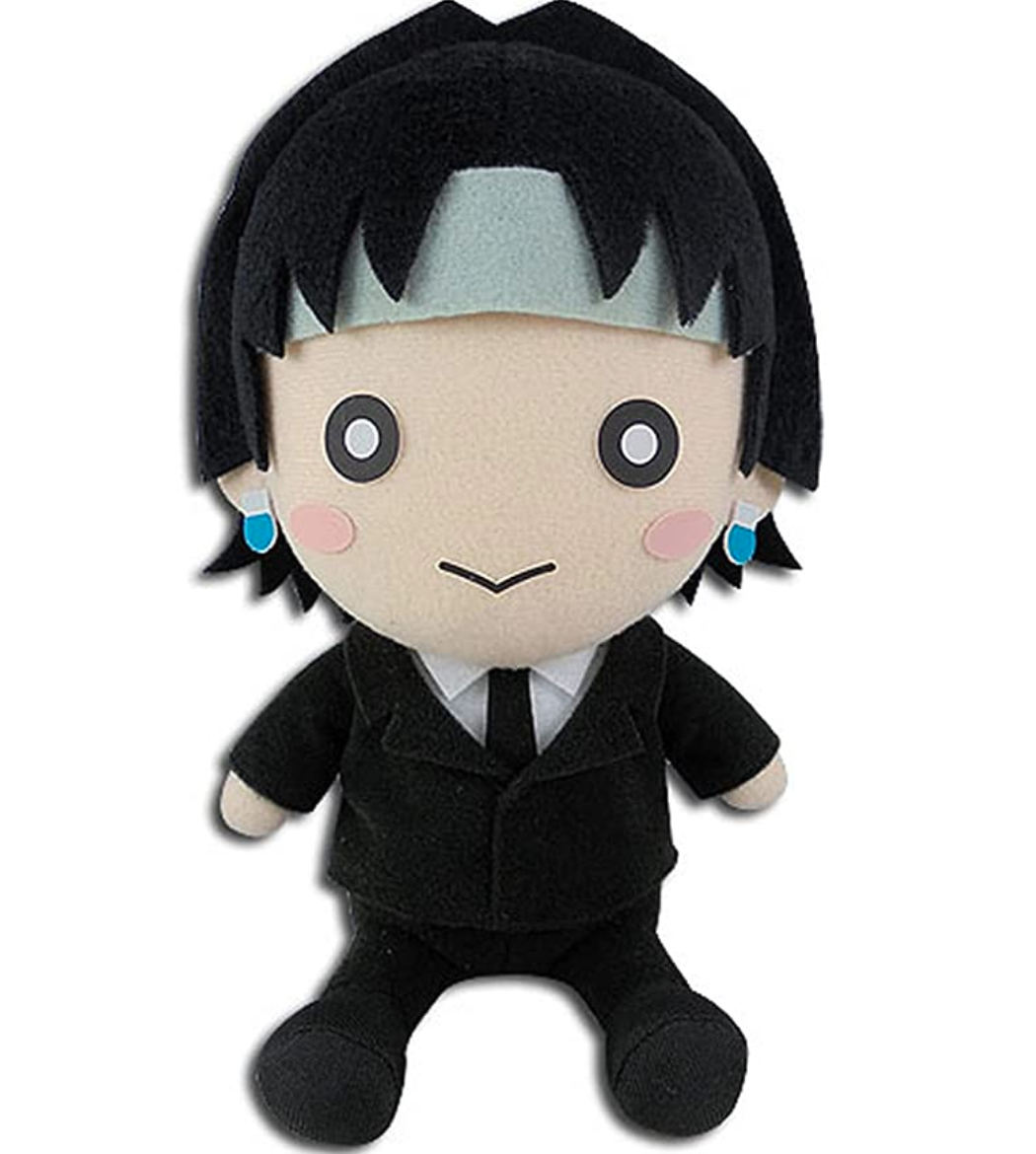 Chrollo is depicted as a 7-inch plush and can be bought in a standing or sitting position. I love the headband and tie. Buy Here. 
Pros
Accessory Details

Standing or Sitting Pose 
Cons
Doesn't Quite Capture Daunting Personality 
Ging 
Ging is depicted as an 8-inch polyester plush. A formidable expression, facial hair, and spiked cap are all great features. Buy Here. 
Pros
Characteristic Expression

Slightly Larger Plush
Cons
Gon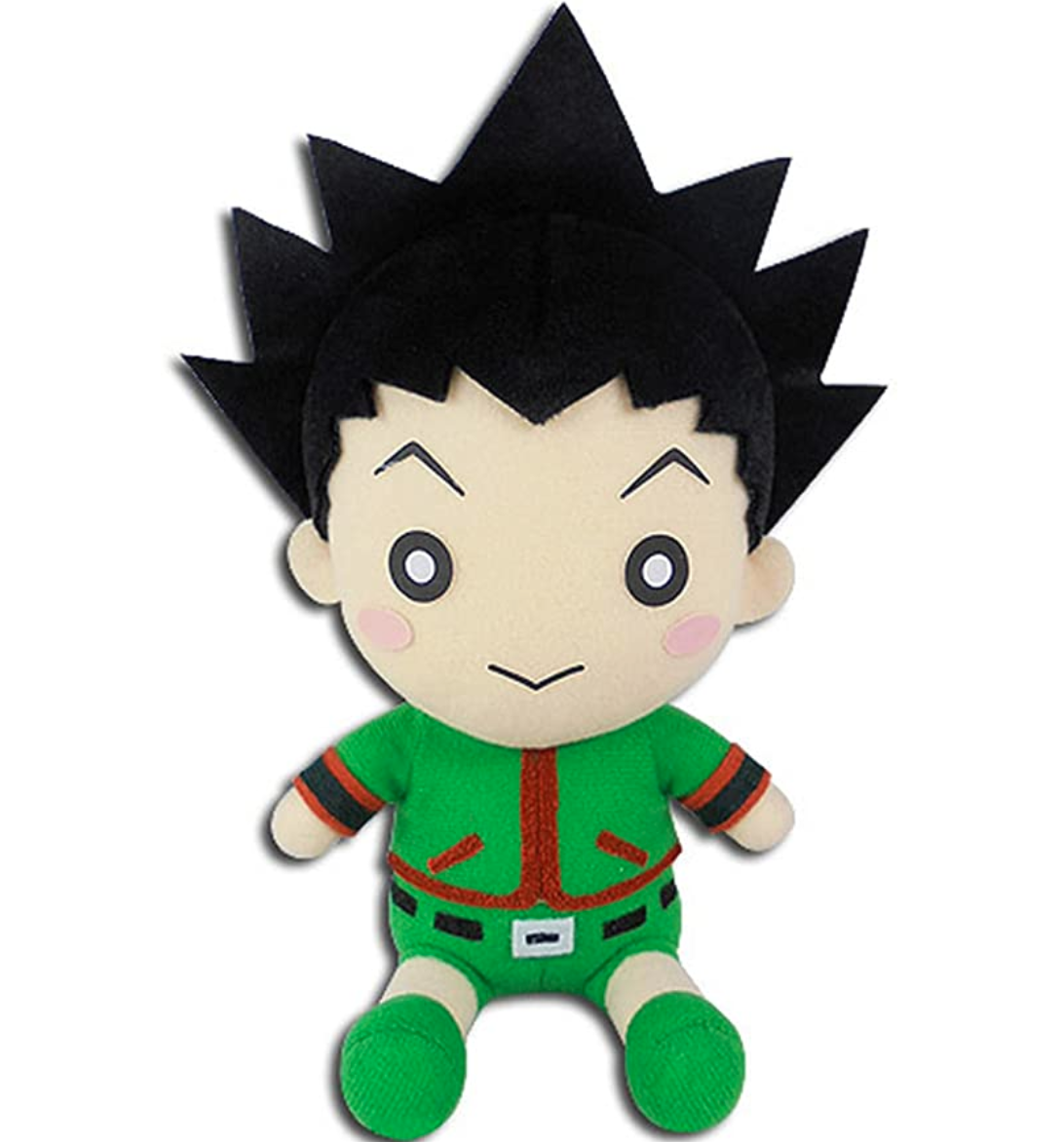 If you're going to buy any Hunter x Hunter plush, buy this one. Gon is a charming 7-inch plush who can be ordered sitting down, standing up, or as an adult. The colors are vibrant. Buy Here. 
Pros
Iconic Character

Multiple Buying Options
Cons
Details Are A Little Flat 
Hisoka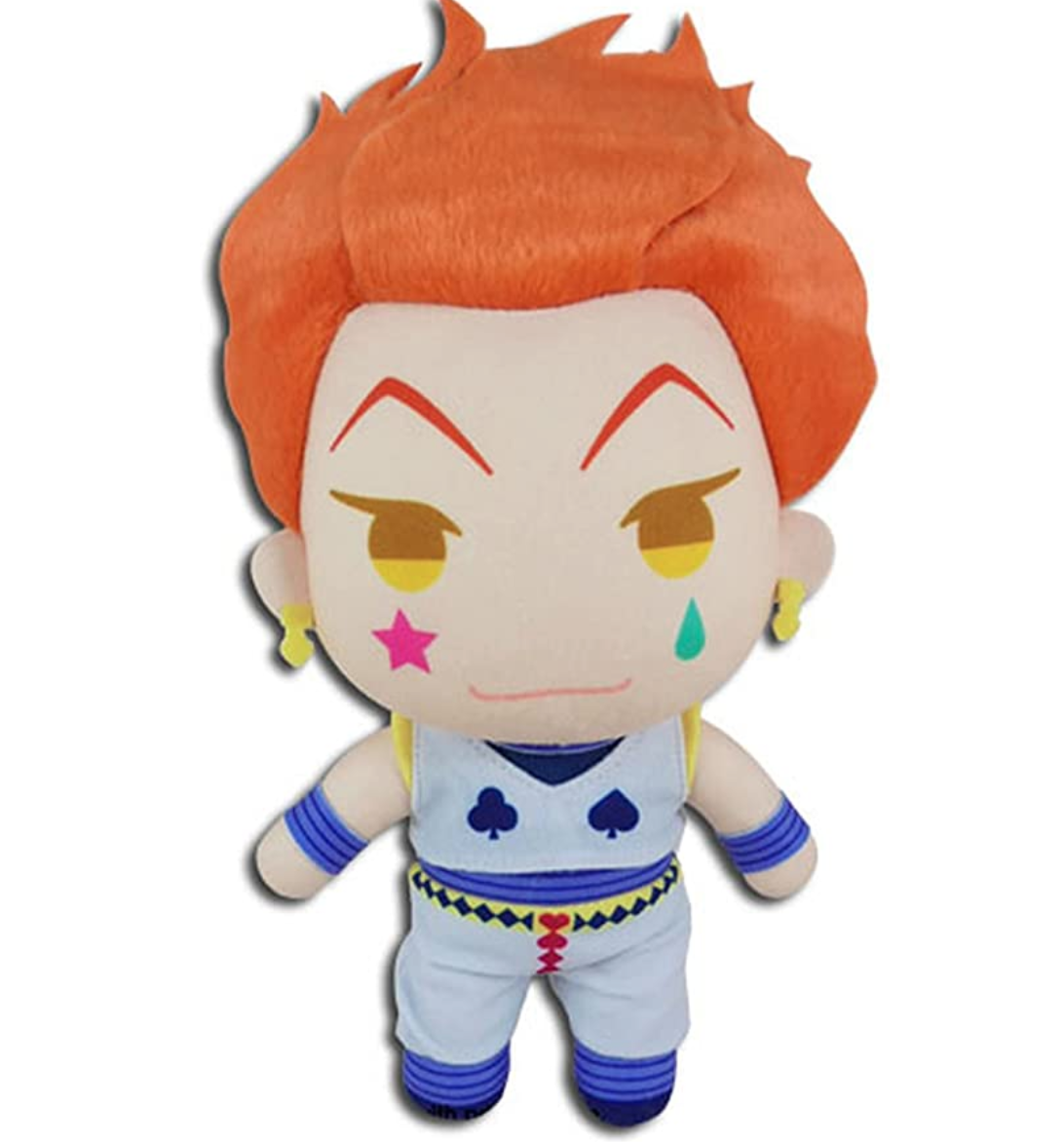 There's no denying that Hisoka is one of the most unique characters in terms of personal style. This 8-inch polyester plush delivers striking facial details and colorful motifs. Buy Here. 
Pros
Striking Colorful Motifs

Order Sitting Down or Standing Up
Cons
White Outfit May Show Dirt More Easily 
Killua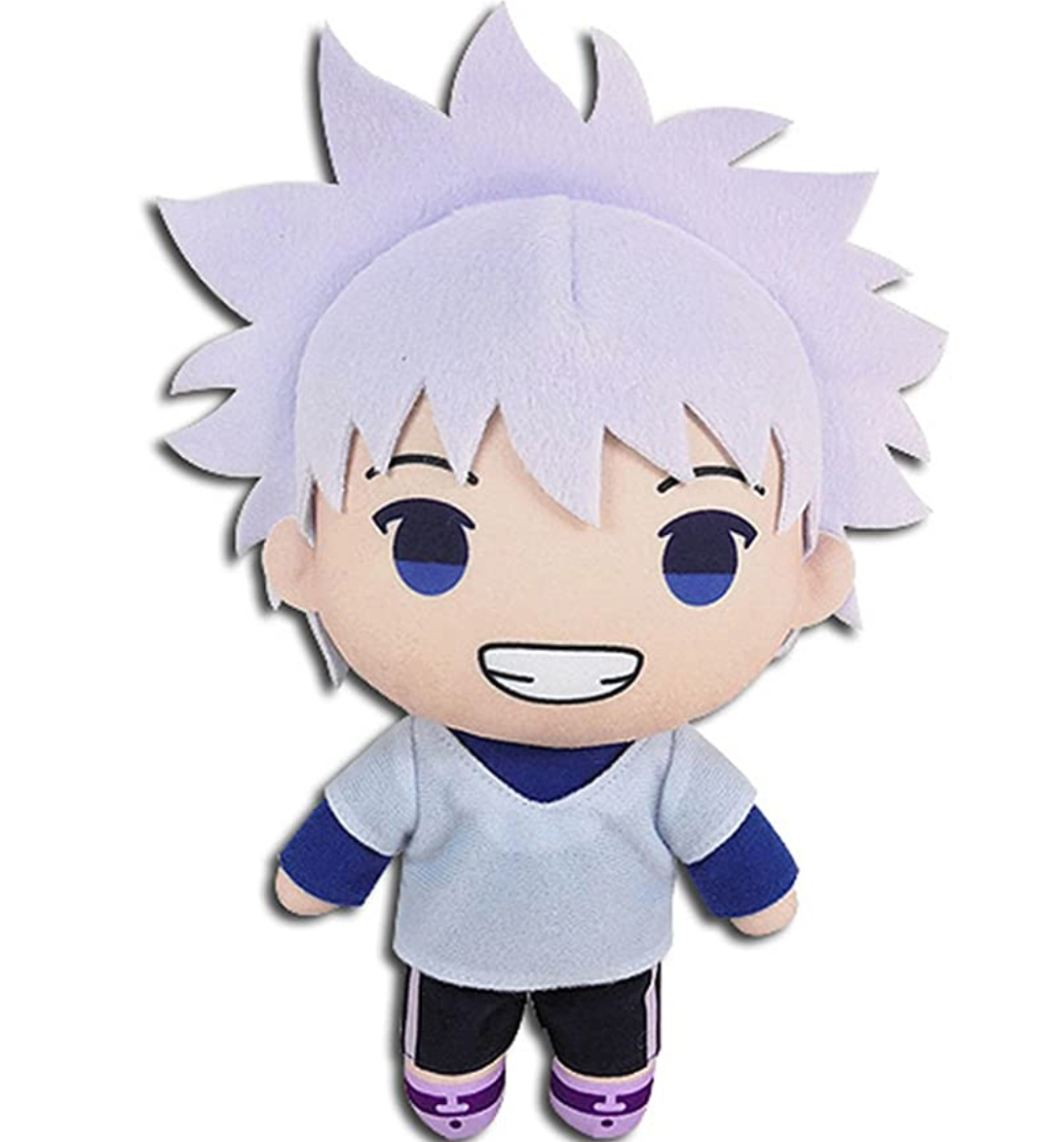 It's hard to look at the Killua plush without smiling. The 8-inch plush features Killua's characteristic lavender hues and has an expressive smile. Buy Here. 
Pros
Expressive Smile

Soft Jersey Shirt
Cons
Kurapika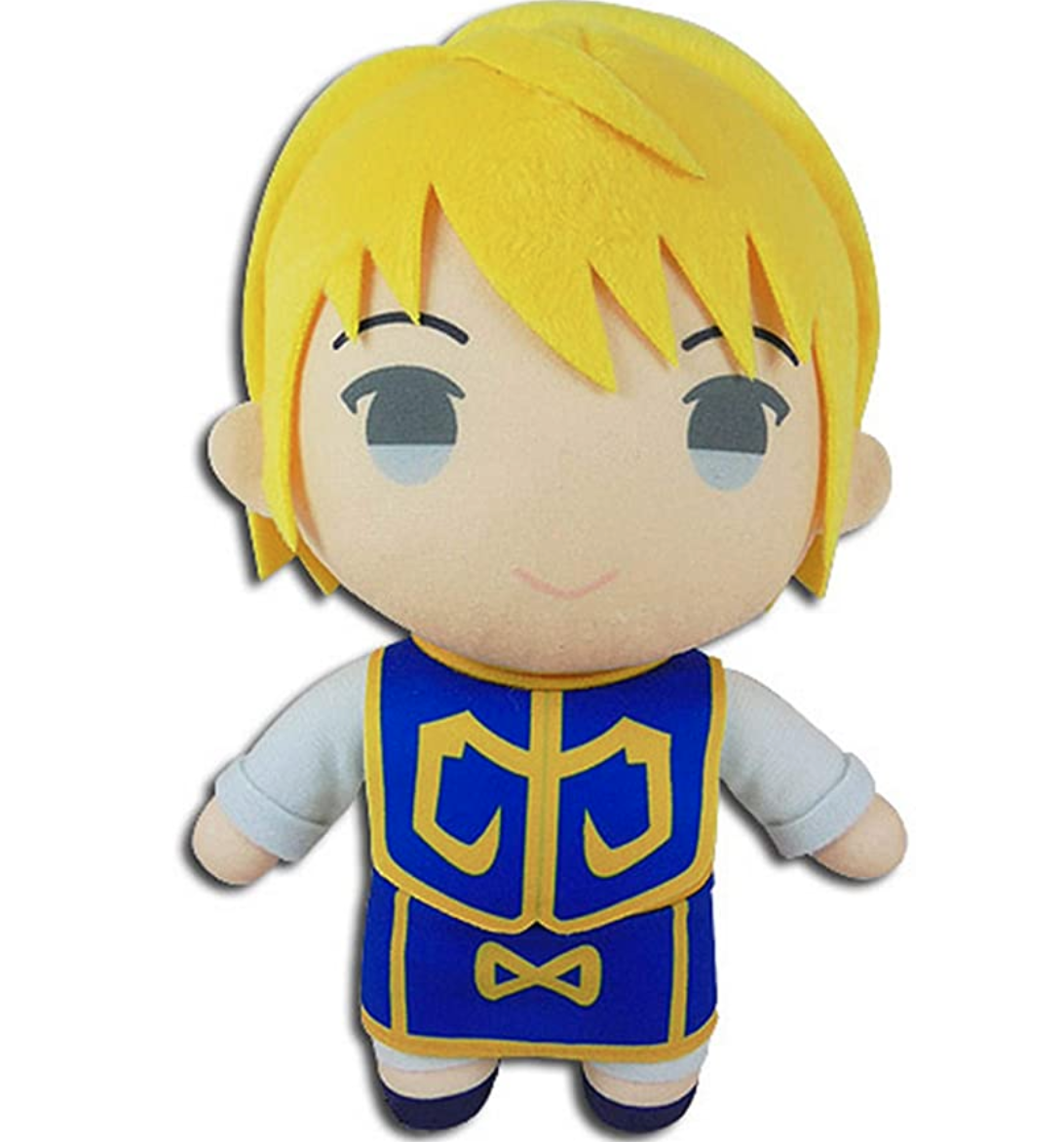 This 8-inch plush is attractive even at a distance. The blond hair and royal blue outfit are rendered with bold colors and embroidery details. Kurapika can be ordered in a sitting or standing pose. Buy Here. 
Pros
Striking Colors

Great Outfit Details
Cons
White Undershirt Requires More Care
Leorio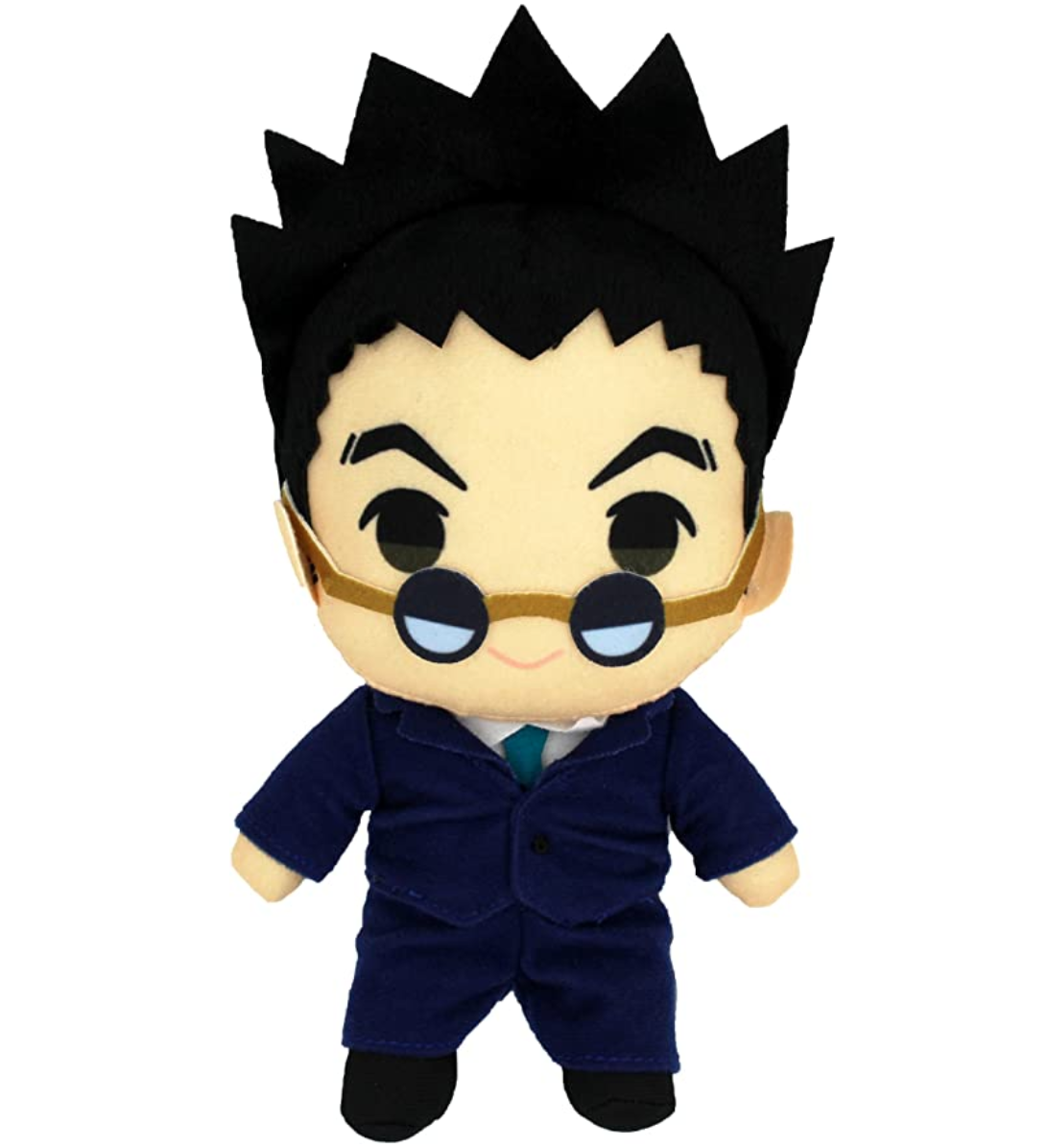 Finish your Hunter x Hunter plush collection with this Leorio plush. The Leorio plush is 8 inches and features the signature glasses low on the face, paired with a navy blue suit. Buy Here. 
Pros
Stylish Navy Suit

Glasses
Cons
Suit More Challenging to Clean
Final Buying Recommendations: Hunter x Hunter Merchandise on Amazon
If you read my section on plush, this final buying recommendation should come as no surprise. Amazon is tricky because you can find both officially licensed and unofficial/knock-off products for Hunter x Hunter. Because of this, anything you buy must be clearly labeled as official merchandise. If you're just looking for a place to browse and looking for some great deals, Amazon offers apparel, plush, and decor. Shop Hunter x Hunter Merchandise on Amazon Here.  
Find more cool merch below:
The Most Iconic Hunter X Hunter Posters
The Best Hunter X Hunter Hoodie Ideas Guide
Spiderman Merch Guide for 2022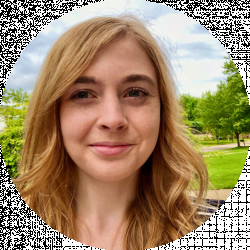 Latest posts by Erin Jamieson
(see all)