I love Hunter x Hunter; it's honestly one of my favorite anime. I'm sure you agree since you're here. And what better way to represent your favorite character than by having some nice Hunter x Hunter Sweatshirt ideas?
There are so many options, though, and it can feel overwhelming. So, whether you're looking for a nice sweatshirt for yourself or your child, I have you covered. Read on to check out these different Hunter x Hunter Sweatshirt ideas today
Bottom Line Upfront
With so many great options to choose from, it's hard to narrow down which is my personal fav. But I do love the Black Hoodie Hunter x Hunter because it's black and simple, and goes with just about any mood
Top Picks at a Glance
These are the top choices I rounded up based on their cool design, size options, and price.
Tips for the Reader
As you're going through this list, think about who will be wearing this. Consider whether it's for you, your child, or a friend. It's a good idea to have their favorite character in mind as well.
For example, they might love Hisoka but not Gon. Next, you'll want to think about the sizing and your budget. If it's coming from overseas, it's vital to double-check the sizes since they could be entirely different.
Selection Criteria
I try to find the most affordable options whenever possible. But I also don't want to sacrifice quality either.
This list mainly contains my favorite characters and what I feel will go with different outfits. If you love the design but not the color, check out the other available colors.
The Best Hunter X Hunter Sweatshirt Ideas
Pick from some of the best ones I could find online, including handmade designs from top Etsy makers!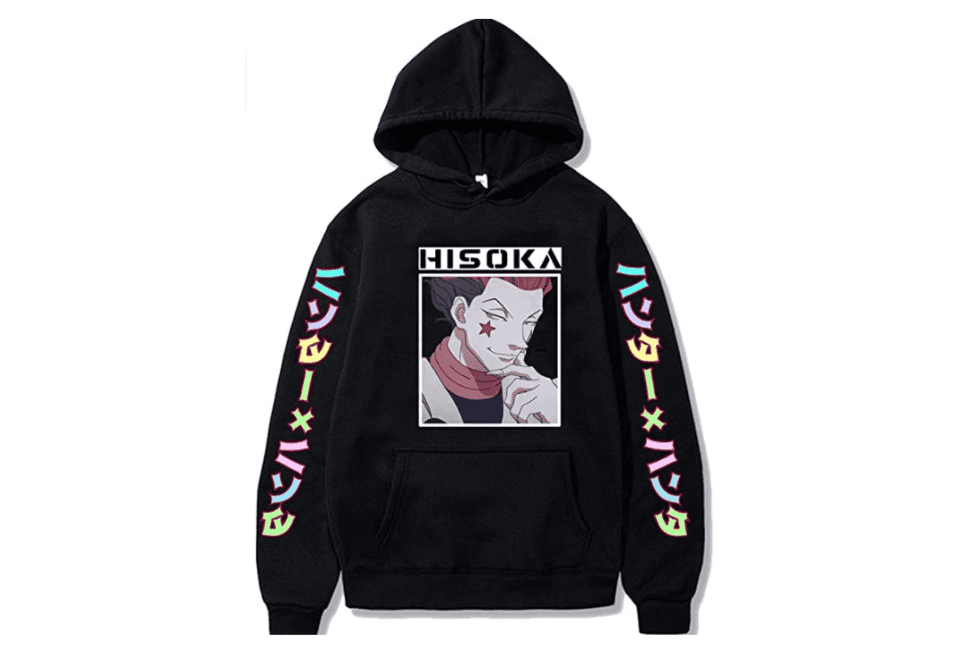 Get this unisex hoodie if you're a fan of Hisoka's antagonistic character! The apparel uses polyester as the main fabric, so you'll feel cozy and comfortable wearing it. The gift-friendly hoodie also has Japanese text on the sleeves that will appeal to any anime lover out there.
Pros
It uses high-quality polyester.
Inclusive size range.
It includes a protective hood and pocket for cold weather.
Cons
Handwash only.
Limited design.
Key Features
Sizes: XS-4XL.
Material: 60% polyester.
Color: Six Colors available.
Price Range: $28-$31.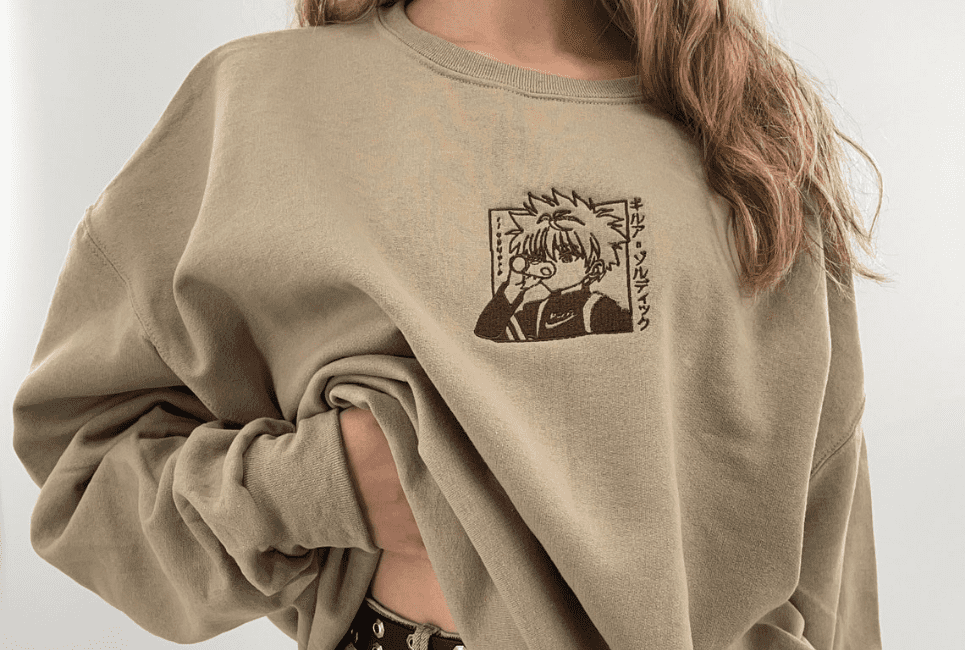 This embroidered crewneck allows you to show off your favorite anime while staying on-trend. It's available in three neutral tones to fit all types of outfits, including the Y2K aesthetic. It also features high-quality embroidery instead of the cheap heat press printing method.
The material of the crewneck comes from a blend of cotton and polyester. And all anime crewnecks are made to order and customized for every customer!
Pros
Free shipping.
Trendy crewneck and neutral colors.
Gift wrapping available
Cons
Does not accept returns.
Expensive.
Key Features
Sizes: S-3XL.
Material: 50/50 cotton and polyester blend
Color: Three neutral colors available.
Price Range: $60-$63.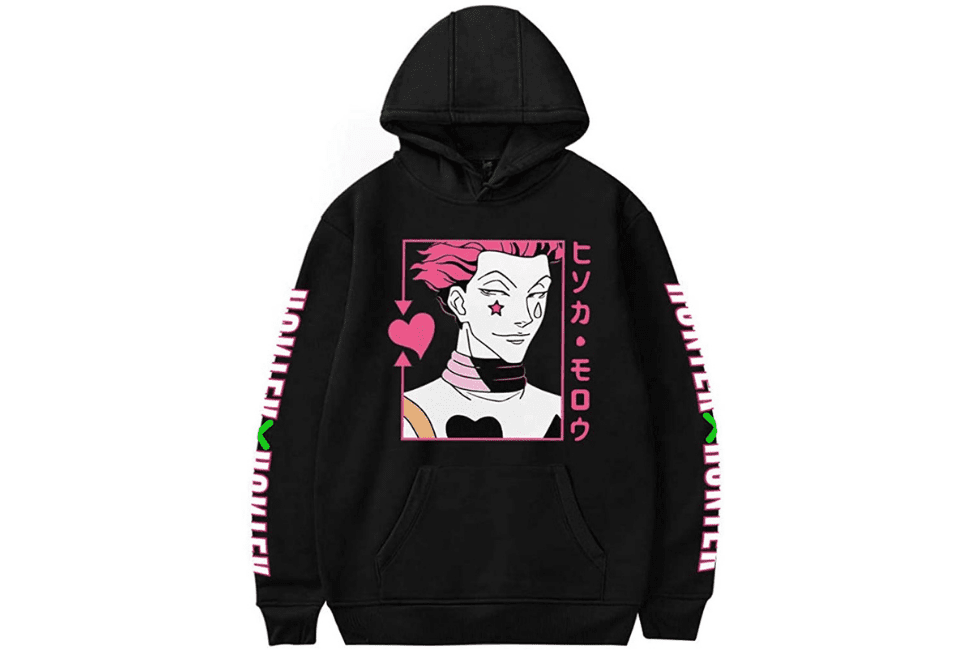 Here's another hoodie for HxH fans who want to keep it casual. The fabric of this hooded pullover is 65% polyester and 35% cotton. Choose between vibrant colors like red, pink, and yellow or neutral colors like black, gray, and white.
All sides of this Hisoka hoodie have beautiful prints. At the front and back are illustrations of the characters, while each sleeve contains either Japanese text or more anime drawings.
Pros
Available in different styles and colors.
Affordable.
Colorful designs.
Cons
Not true to size.
Thin material.
Key Features
Size: XS-4XL.
Material: Polyester, cotton leather.
Color: Six colors available.
Price Range: $16-$29.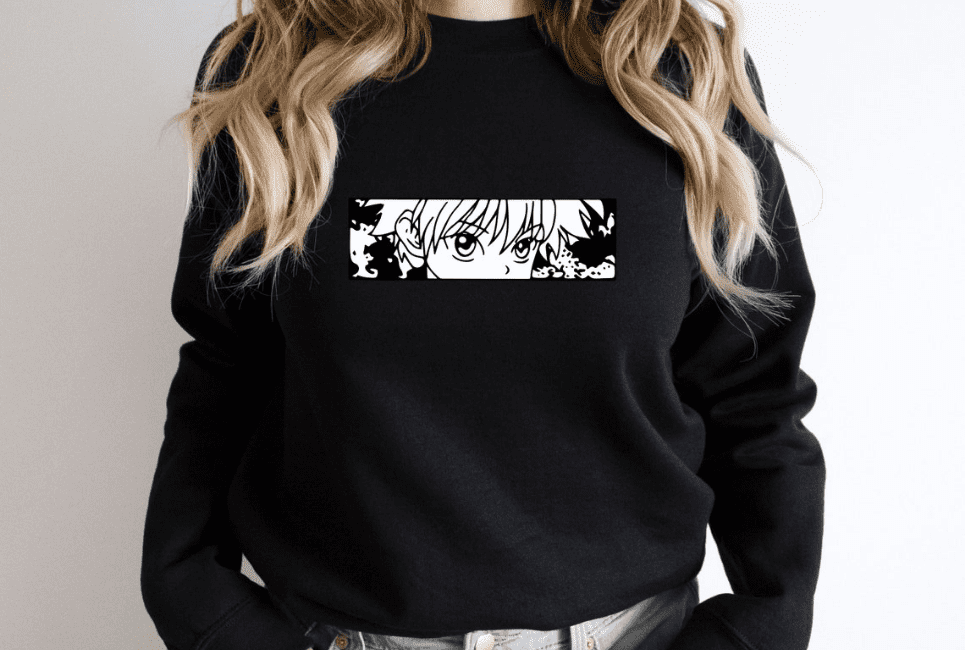 Weebs will love this minimalist crewneck shirt with a Hunter x Hunter design. The company markets the sweatshirt as unisex because its form fits all styles and body types. The sweater also features USA-grown cotton and double-stitching all throughout.
Even after several washes, the fabric doesn't pill, and the threads don't come off. You'll surely get more than your money's worth with this anime fit!
Pros
Pill-resistant air yet yarn.
Set-in sleeves.
Unisex, minimalist design.
Cons
Limited size range.
Limited colors are available.
Key Features
Size: S-2XL.
Material: 50% USA cotton, 50% polyester.
Color: Three colors available.
Price Range: $41-$44.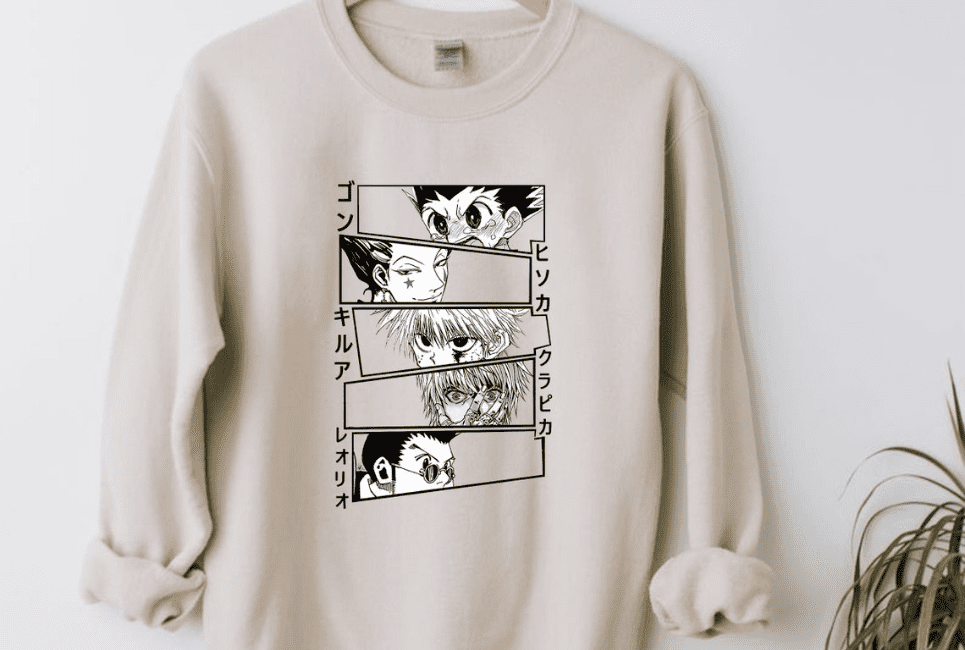 Can't pick between your favorite between Killua Zoldyck, Gon Freecss, and the other characters? This hoodie has everyone in it! Pick from their sixteen available colors to create a fire outfit.
If you live somewhere warm, there are shirt alternatives with the same designs and colors. They all use cotton and polyester fibers that are high-quality and flattering for both men and women.
Pros
Available in T-shirt and hoodie.
Broad size and color range.
Affordable.
Cons
The seller does not accept returns.
Key Features
Size: S-4XL.
Material: 50% cotton and 50% polyester.
Color: Sixteen colors available.
Price Range: $18-$51.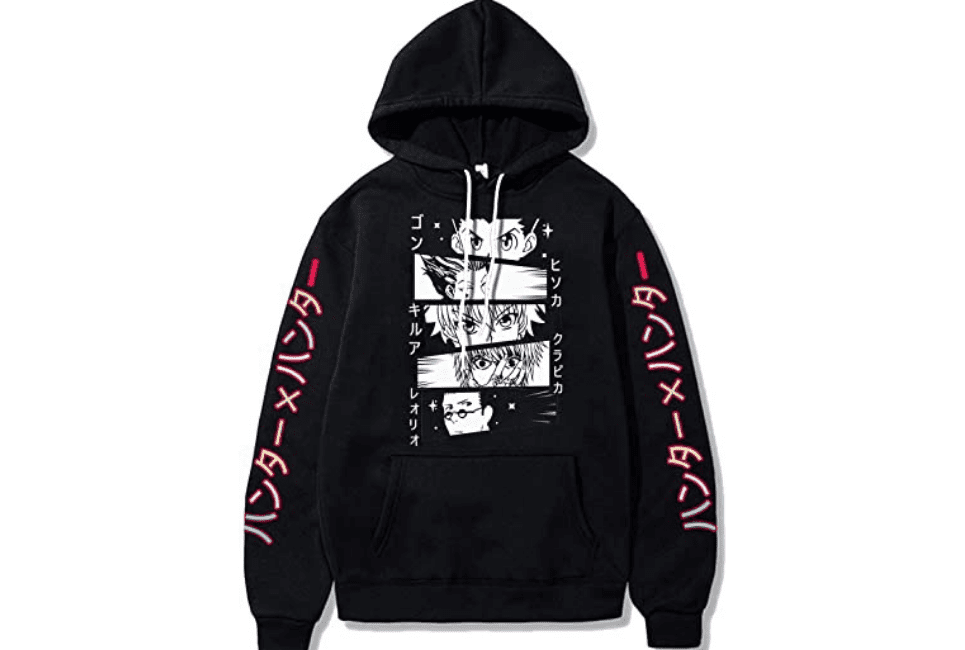 If you're in the mood to hoard Hunter x Hunter hoodies, check out these eight visually pleasing designs in black. Even though the hoodie is only available in one color, the prints are clear and vibrant.
The cartoon pullover is perfect for stage performances, dress-up parties, and daily wear. It's also comfortable to use because of the high-quality dry-fit material.
Pros
Diverse designs
Hoodie strings to adjust the hood.
Has a pocket to keep the hands warm.
Cons
Only one color is available.
Key Features
Size: M-3X.
Material: Polyester.
Color: Black.
Price Range: $16-$29.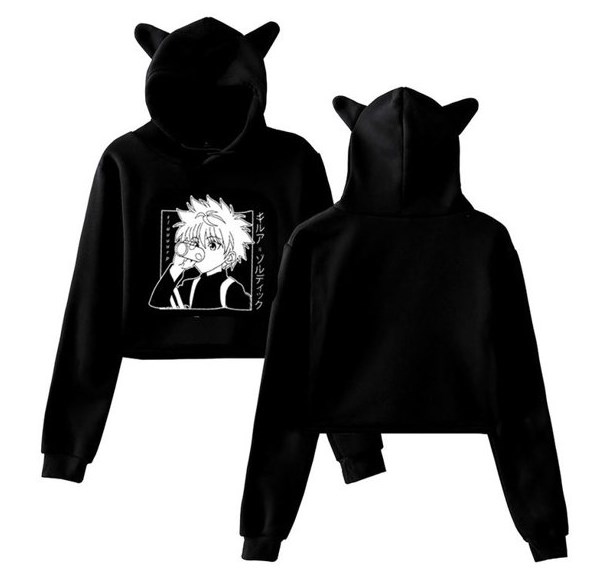 This HxH merchandise is out of the ordinary because of its sexy cropped design and cat ears on the hood. It's the perfect gift for girls and women who are anime enthusiasts and like to dress up for fun.
The cropped hoodie is hand-washable and machine-washable despite its premium materials. The polyester and spandex combination makes it soft, elastic, and comfy.
Pros
Unique cat ears design.
Trendy crop top style for women.
Free 30-day return
Affordable.
Cons
They have a limited size range.
Key Features
Size: S-2XL.
Material: 95% Polyester, 5% Spandex.
Color: Black.
Price Range: $18-$21.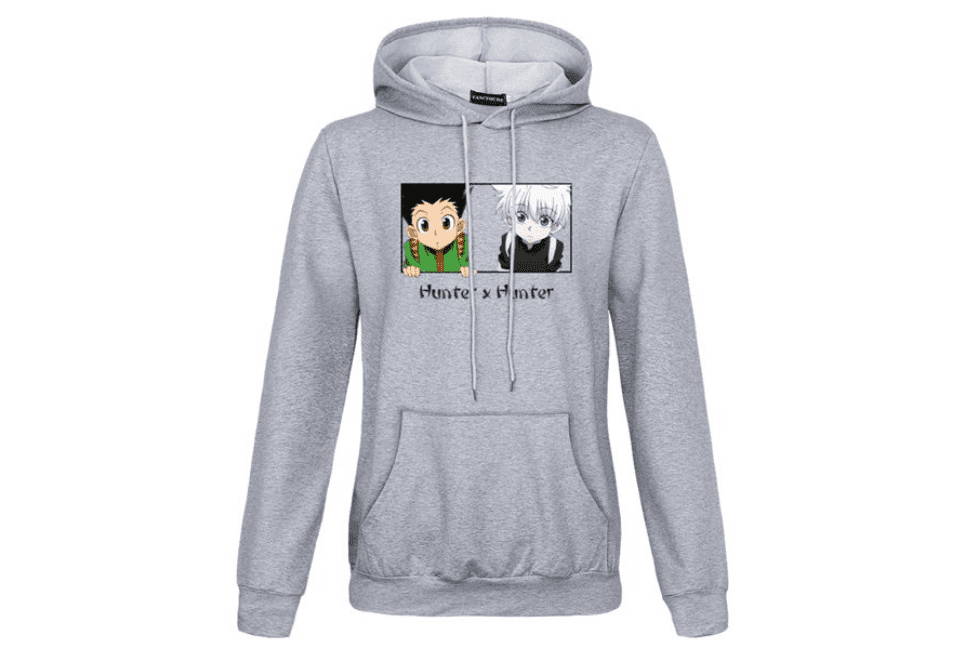 This simple anime hoodie is excellent for everyday activities like running errands and hanging out with your fellow weebs. It has a colored print of Killua and Gon beside each other, with the "Hunter x Hunter" text at the bottom.
The hoodie is made of breathable polyester and spandex. There's also a hoodie string on the hood so that it doesn't slide off your head.
Pros
Skin-friendly fabric.
Unisex design.
Hoodie strings to fit the head.
Cons
Key Features
Sizes: S-2XL.
Material: 95% polyester, 5% spandex.
Color: Black and gray.
Price Range: $33-$36.
How To Understand Chinese Sizing for Sweatshirts
Remember that Chinese sizing is different than other sizing charts. For example, you could find sizing in various body parts or numbers.
An extra small in the United States is about 88-90 in China. It's important to remember that Chinese sizes tend to run smaller than the sizing charts in the United States and the United Kingdom.
Larger sizes might not be as readily available. To better understand it and figure out your size, check out the description of the sweatshirt that you're considering and check the images. Sometimes, they might have a sizing chart or information about how large to go up.
Why Wear Hunter x Hunter Sweatshirts?
What better way to show off your favorite characters than by wearing shirts with them? Then, show off your favorite characters to your friends and family. They make great gifts for Hunter x Hunter fans too.
FAQS
Question: Does Hunter x Hunter Have an Official Merch?
Answer: Yes, head to the Hunter x Hunter Merch shop.
Question: Is Atsuko Officially Licensed?
Answer: Yes! They have licensed accessories, apparel, and more from your favorite anime.
Question: Do Atsuko Shirts Shrink?
Answer: You can shrink it with a couple of washes if that's what you're looking to do. They do tend to run a bit larger.
Checking Out Different Hunter X Hunter Sweatshirt Ideas
After exploring these different Hunter x Hunter sweatshirt ideas, you should better understand which option might be best. If it's a gift, remember to look at what characters they like best. Be sure to check out the sizing guide as well since the fit might be different than what you're used to.
While there are plenty of options to choose from, my favorite is the Hunter x Hunter Anime Hoodie in black. Hisoka is one of my favorite characters since he beats to his own drum, and many Hisoka fans will love this.
If you enjoyed this article, be sure to check out our website!
Check out our other articles today for even more best guides! 
Your Ultimate Guide to Buying Manga Merchandise Online
Best Final Fantasy Merch Guide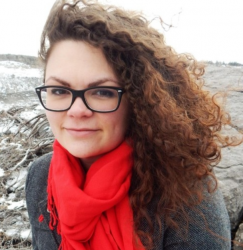 Latest posts by Candace Osmond
(see all)