Coming-of-age-story meets fantasy in a tale set in Italy. It was that premise that interested fans of Disney Pixar's 2021 Luca and that same magic that guides the best merchandise you can buy right now.
2021 was an exciting year for Disney Pixar. In many ways, the films produced were exactly what was needed in a prolonged period of uncertainty. Three films led the call for greater diversity and representation in children's films. These films also echoed important themes of love, family, and finding confidence in oneself.
Luca, alongside Encanto and Raya, shows how film can bring hope, representation, and unity amidst difficult times. A report by Variety explained that it's not even just simply about representation, but how it's done. Films like Luca are important because they are more detailed and personal than previous films. 
Diverse storytelling and compelling characters are by no means an ephemeral trend. No matter what critical reviews day, Luca was part of a bright spot in a discouraging year for many. 
That bright spot continues with a collection of whimsical, magical merch. I'll guide you to the best merch for the Luca fan in your life so you spend your money wisely. Get ready to bring home a bit of Italy, even if you can't travel. 
Bottom Line Up Front Summary:  If I had to recommend just one merch item for Luca fans, it would be the Luca Sea Monster Fleece Blanket. This blanket is made with soft fleece and won't shrink or fade. The vibrant 3D print depicts scenes from the film. Useful, vibrant, and true to the film, it's my number one choice. 
My Top Picks
What is the Story of Luca?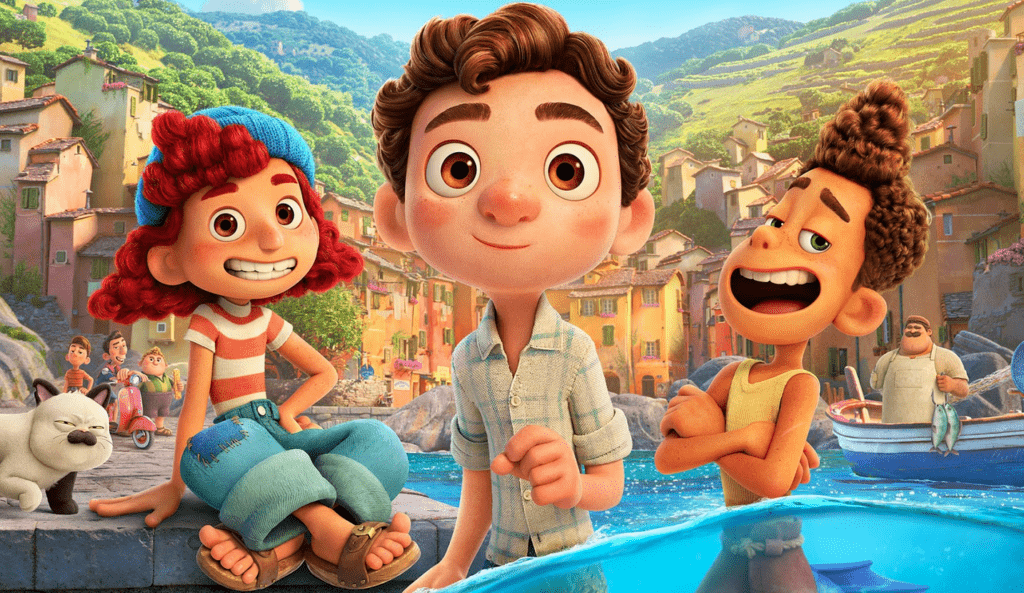 Luca blends coming-of-age and fantasy for a magical, creative tale. The tale is set over Summer and follows Luca and his best friend, Alberto.
The two experience life-changing things and mature. All the while, Luca is leading a double-life, with a fantastical secret. While he appears as a human on land, he transforms when he's in the sea. The film has a run time of 95 minutes and includes a colorful cast of characters. It was released in 2021 and distributed by Walt Disney Studios. 
Is Luca Based on Italian Folklore?
Luca is based on many things, rather than a single fairytale. I like how Luca has a basis in Italian culture and blends elements of fantasy and folklore for an entertaining but meaningful tale. The film is primarily based on director Enrico Casarosa's childhood memories. The director was previously nominated for an Academy Award for the 2012 Pixar Short, La  Luna.
In addition to his Genoa childhood, Casarosa did some research. Artists lived in the Riveria regions to sketch out details about both the scenery and local culture. For the magical twist to the tale, some local myths were the inspiration for making Luca transform into a sea creature. 
What is the Moral of Luca?
What I find enchanting about Luca isn't only about the plot itself but the deeper meaning. Pixar always does a nice job of adding layers to their stories to make them compelling for all ages. Luca is about finding yourself, pursuing your passion, and becoming vulnerable.
Like other Pixar films, it also speaks about the convergence of coming of age and parents who try too hard to protect their children from harm. In this way, Luca's moral is universal, and it shows how consistent Pixar is in its storytelling, even when the plot, settings, and characters are different. 
Where is Luca in Real Life?
Luca is from Portorosso, a fictitious small town inspired by small, sea-side villages in Cinque Terre, a region of Northern Italy. Portrosso is a seemingly close-knit town, with a central fountain, artwork, and gorgeous coast. At the same time, the town is close-minded, harboring fears about sea monsters. The town can be judgemental without questioning. 
What Kind of Character is Luca?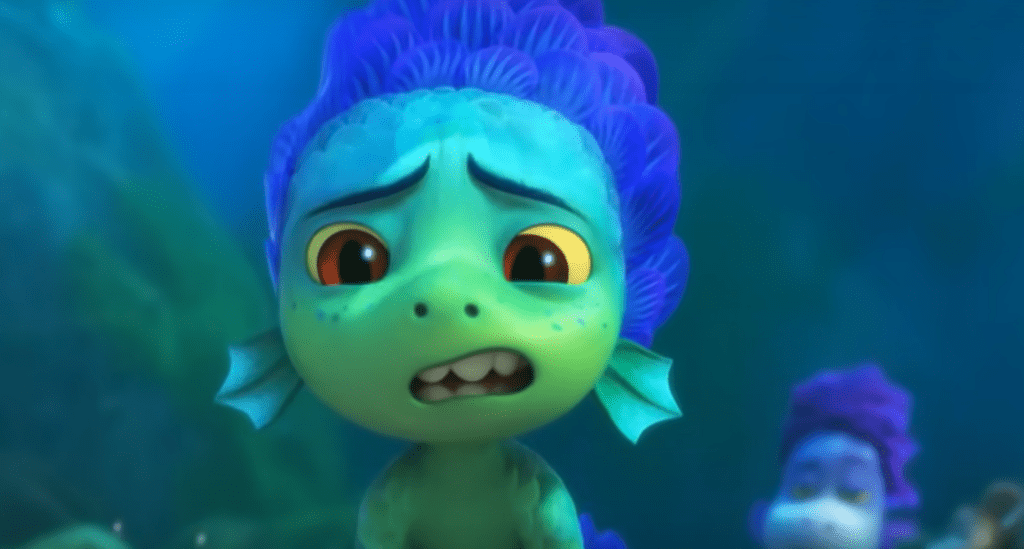 Luca is a 13-year-old boy living in a small seaside town in Italy. He's a student with a magical secret and a desire to make friends. He's naturally shy, compassionate, and driven by curiosity. He loves learning but has fears about rejection. He grows more confident as the movie continues. 
What Mythical Creature is Luca?
Luca is a type of sea creature. He transforms into a sea creature in the sea, and back into a human once on land. He at first doesn't believe he will transform or survive on land.
If his feet get wet, he transforms into a sea creature again. In this way, his transformation back and forth very much draws inspiration from past films about mermaids. He first transforms after his friend, Alberto, encourages him to swim to the surface. 
Who Are the Main Characters in Luca?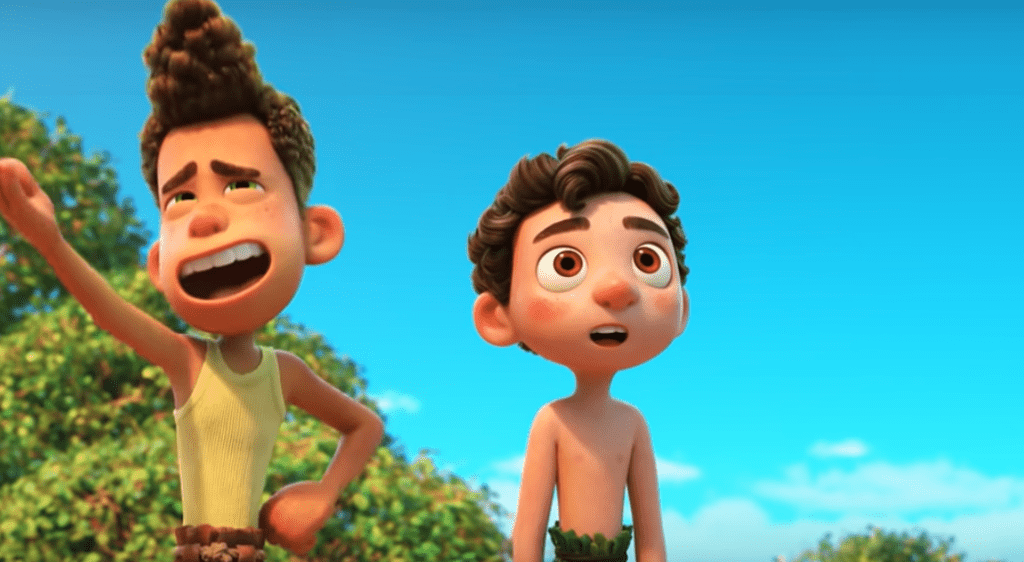 Luca is joined by a full cast of characters. Alberto, Giulia, Daniela, and Lorenzo round out the main cast. 
Who is the Villain of Luca?
Ercole is the main antagonist. Ercole is an 18-year old known bully. He's a professional competitor and winner in the Portorosso Cup. He has two sidekicks, is interested in advancing his reputation, and hates the unusual. Some have compared him to Harry Potter's Draco Malfoy. There are obvious differences between the two, but I understand the comparisons. 
Why is Alberto Called Bruno?
Alberto uses the name Bruno to quiet his self-critique. Alberto becomes Luca's friend. Like Luca, he's a sea creature that can transform into a human. Luca and Alberto have a complex relationship, with tension about if one will betray another and others wondering if they would end up together. 
Where is Alberto's Dad?
Alberto doesn't know who or where his dad is at the opening of the film. 
Who is the Most Popular Luca Character?
While Luca and Alberto are popular, there are other characters to love. Many love Giula's story arc, and her strong personality and determination. Luca's grandma and his mother, Daniela are nice balancing side characters. 
Is Luca Worth Watching?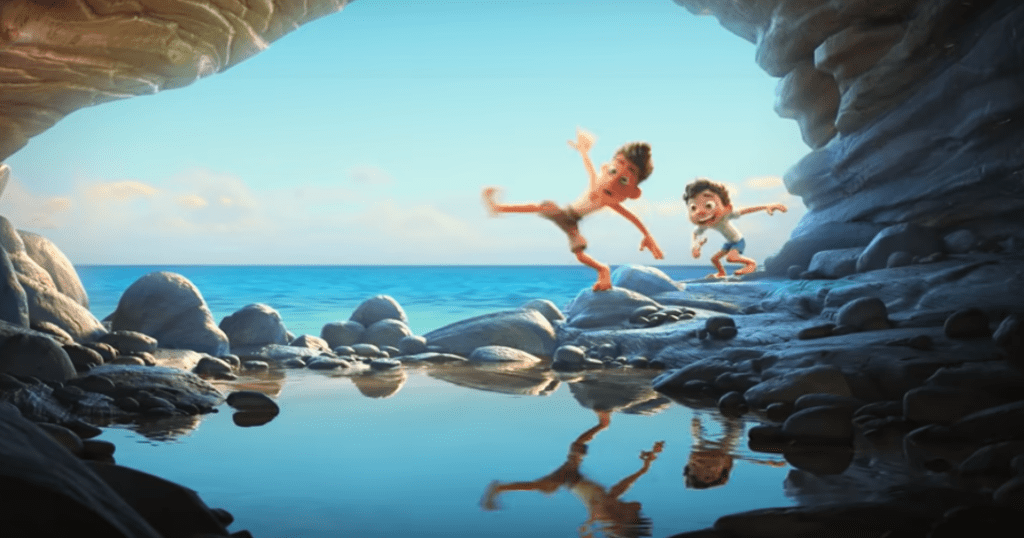 Luca has a universal theme, an enchanting backdrop, and an immersive location. It's a little on the short side, and the plot itself is not especially surprising for older fans. However, I think it's a decent movie, and by no means a bad movie. Experts tend to say that it's certainly not the worst Pixar movie, though not as noteworthy as others. If you can stream it, I think it's worth a watch. 
Why is Luca a Good Movie?
Despite a somewhat familiar plot, there's a lot to love. The graphics are stunning as usual. You get immersed in the world it's set in. Typical for Pixar, Luca has sad, heartwarming, and humorous moments. Friendship, companionship, coming-of-age, family, and acceptance carry the narrative.
Is Luca Good for All Ages?
Luca has a PG rating for "language, brief moments of violence, and some rude humor." It's family-friendly and meant for kids 8-10 and up.
Where Can I See the Luca Movie?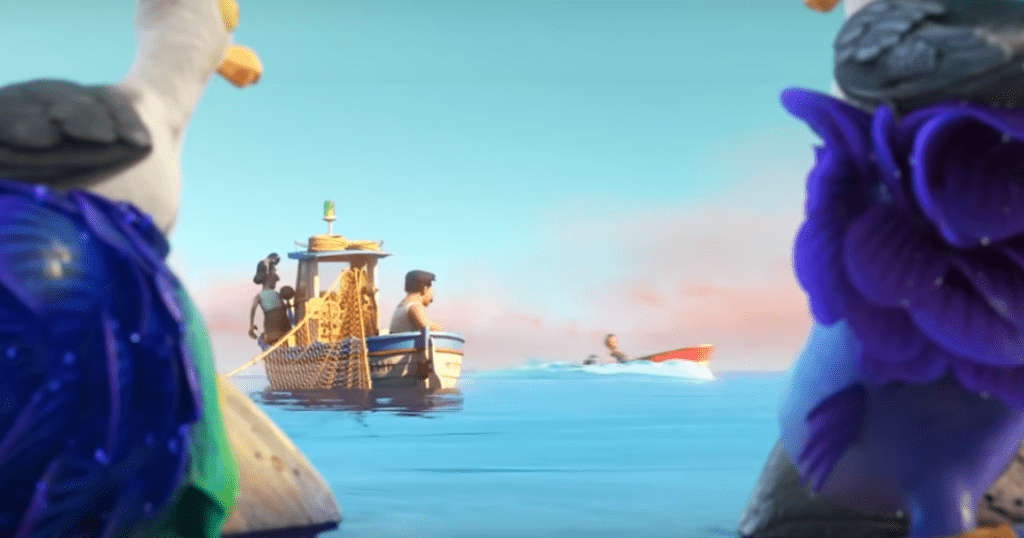 One thing I've always felt was a shame was the confusion surrounding Luca's release. Many assumed it would have a regular theatrical release. Understandably, the producers had a difficult decision to make. Many theaters were still shut down or at least struggling to attract enough moviegoers to net a profit. The decision was made that Luca would only be available through streaming services. 
Does Netflix or Hula Have Luca?
Luca is not on Hula or Netflix. While the decision is not surprising, the only way you can watch Luca is to Stream Luca on Disney Plus. Disney Plus costs a monthly subscription fee, with different membership plans. I think this is part of what has hurt Luca's reach. 
Did They Add Scenes to Luca?
There are six deleted scenes fans can watch. These scenes are small. One includes Giulia, Luca, and Alberto eating gelato together. There is no Pixar Short for Luca, but if you want to watch a short with a similar style, you can check out La Luna, which was produced by the same director. Make sure you watch to the end of Luca, too. There is a post-credits scene that features side characters. 
Where Can I buy Luca Merch?
Where is the best place to buy Luca merch? The answer to that question depends on where you are and what you value. Luca merch is available at both Disneyland and Disneyworld.
But if you're shopping online, you can find it on Etsy, Walmart, Amazon, and the official Disney Shop. There are some other websites with fan-made merch too. A Target near you would likely sell Luca the film, but not much merch. 
My picks are all official, licensed merch only. In addition, the merch I selected gives you the best value for your money, represents the franchise, and is either useful, collectible, or decorative. All of my picks come from verified websites and exemplify the spirit of the Luca film. 
Disney Shop Official Luca Merchandise 

My top place to shop for official Luca merch should come as no surprise. The Disney Shop is whimsical and true to the style of the feature film. Luca's official merch items include wall art, shirts, books, mugs, figurines, plush toys, jewelry, tote bags, pillows, and cell phone accessories.
The theme of travel and a sense of wonder is prevalent throughout the collection. You can even find luggage tags. Shop All Luca Merch at the Disney Shop Here. 
Luca To The Victory Throw Pillow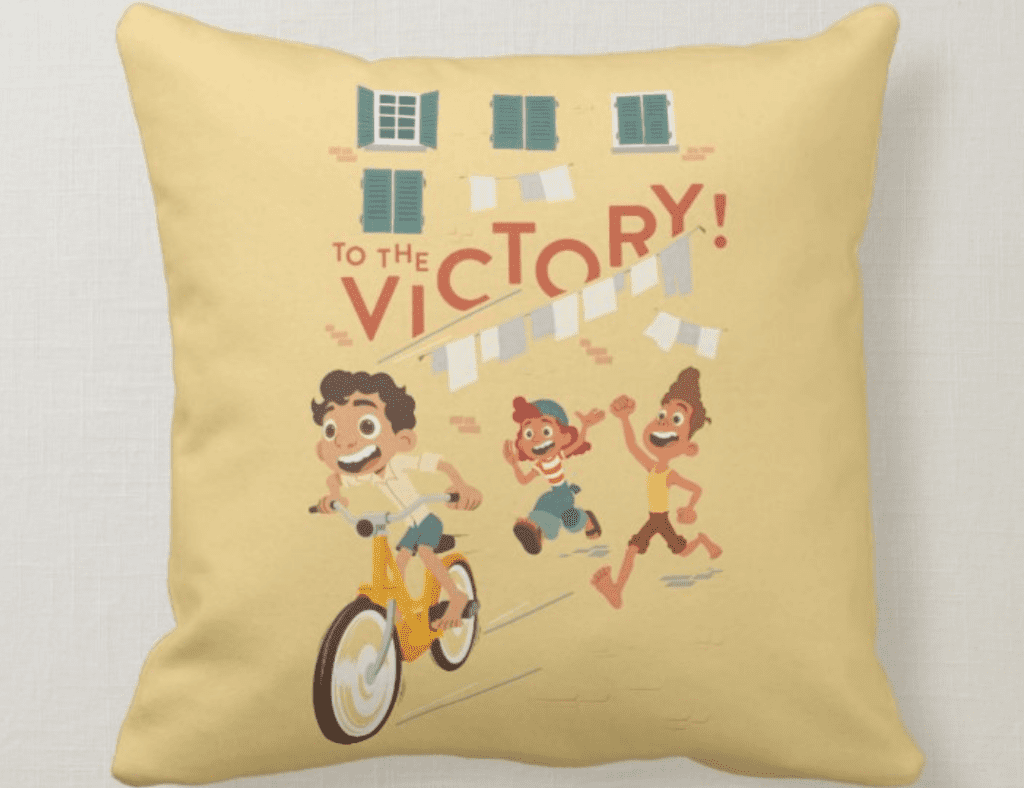 This throw pillow is great for decor or travel. The knit polyester fabric is 100 percent wrinkle-free. A hidden zipper enclosure keeps the design clean and easy to maintain. You can customize the design however you like (for a fee). The pillow is also machine-washable. But most of all, I love how the pillow captures Luca as a film, with a timeless sense of empowerment. Buy Here. 
Pros
Fully Customizable

Wrinkle-Free Polyester

Machine Washable 
Cons
Slightly Expensive

No Matching Sets 
Luca and Alberto Framed Wood Wall Art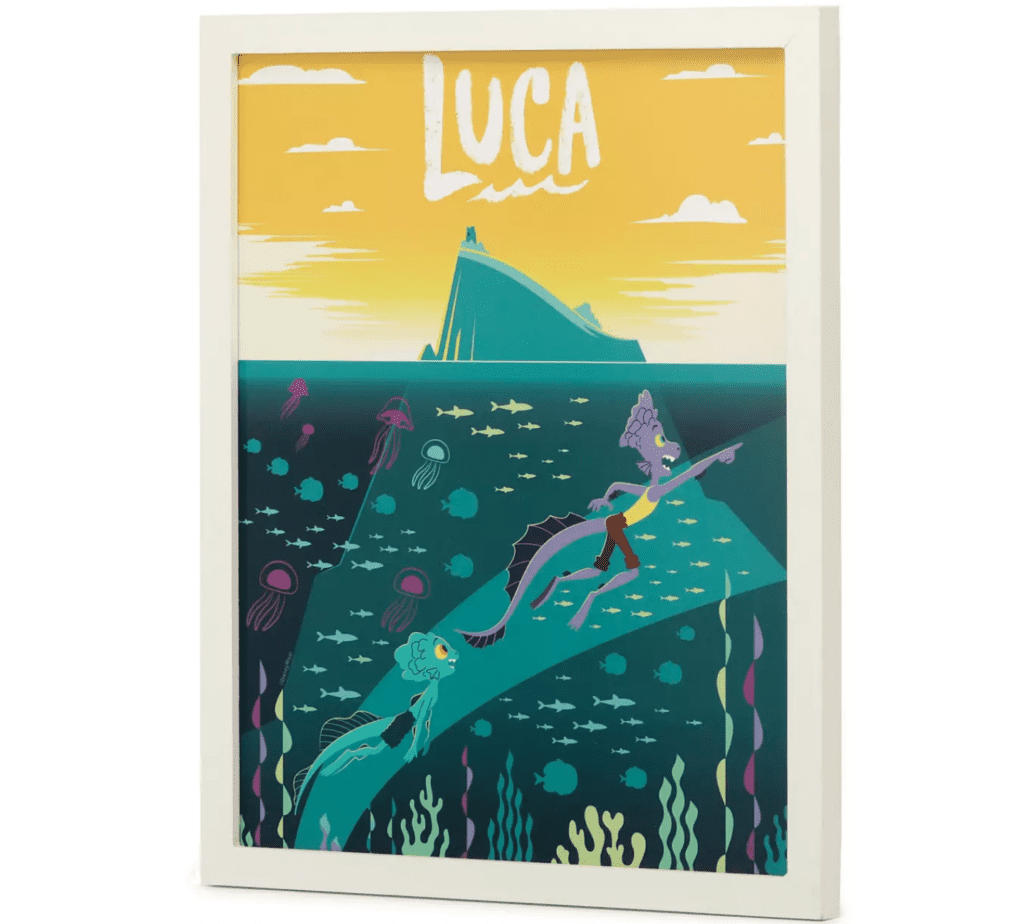 This artwork adds a magical touch to a bedroom. The artwork features Luca and Alberto as sea creatures, exploring together. The yellow and blue-green tones have a calming and creative effect. This picture is fun to look at a close-up, but also is compelling from far away. The art print comes with a flat wooden frame with a sawtooth hanger. Buy Here. 
Pros
Great for Bedrooms

Come with Hanger

Great Color Combination
Cons
Requires Adult to Help Hang

Only One Design 
Luca Portorosso Vintage Illustration Mouse Pad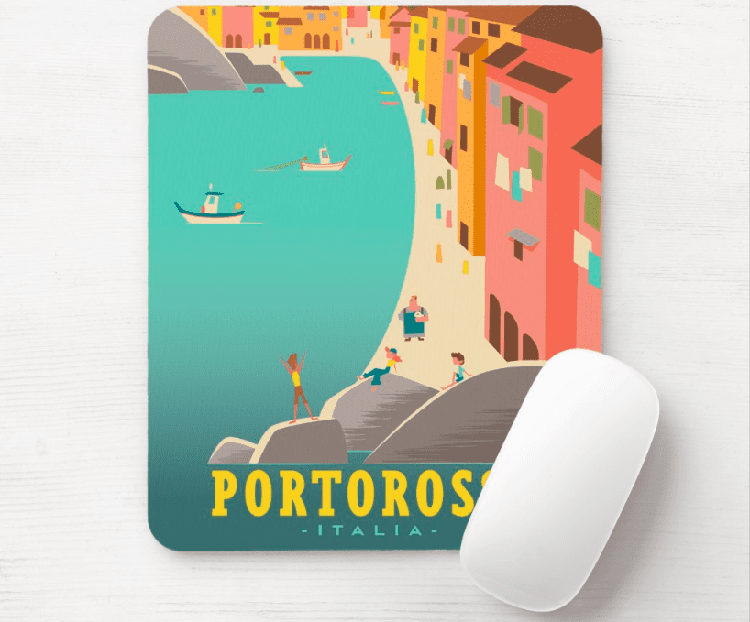 For the gamer at heart, this vintage-inspired mouse pad is an excellent choice. The mouse pad features high-quality print and a look at Luca's seaside town. It's a charming depiction, with muted, calming colors. As was true for the pillow I selected, you can customize this mouse pad for an additional cost. The mouse pad includes a stain-resistant cover, plus anti-slip backing. Buy Here. 
Pros
Anti-Slip Backing

Stain-Resistant Cover

Customizable
Cons
Customization Can be Pricey

May not Appeal to Youngest Fans 
Luca Wild & Free Tote Bag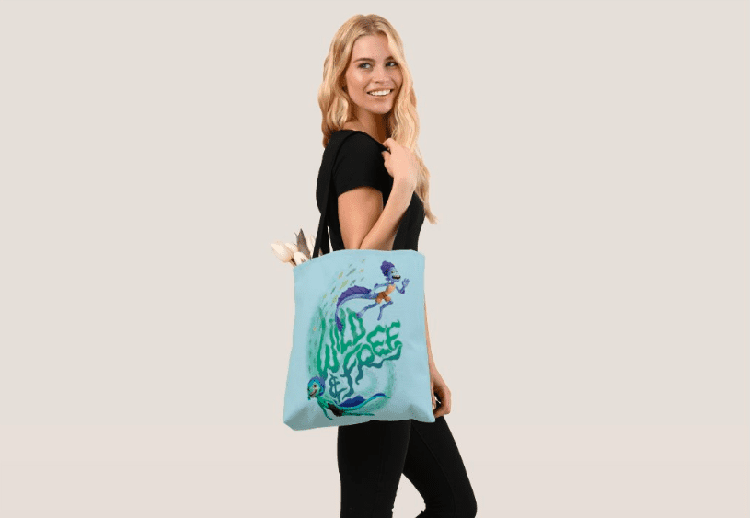 Feel free to explore this Luca tote bag. The tote features a brushed polyester exterior and laminate interior polyester construction. Sturdy cotton handles provide a steady grip.
Extra laminate inside adds up to a longer-lasting tote bag. You can use it for small shopping trips or just a day out. The print has an empowering message and a whimsical graphic. Choose from different sizes and customize however you like. Buy Here. 
Pros
Durable Polyester

Customizable 

Whimsical Design 
Cons
Dry-Clean Only 

No Zippers 
Amazon Official Luca Merchandise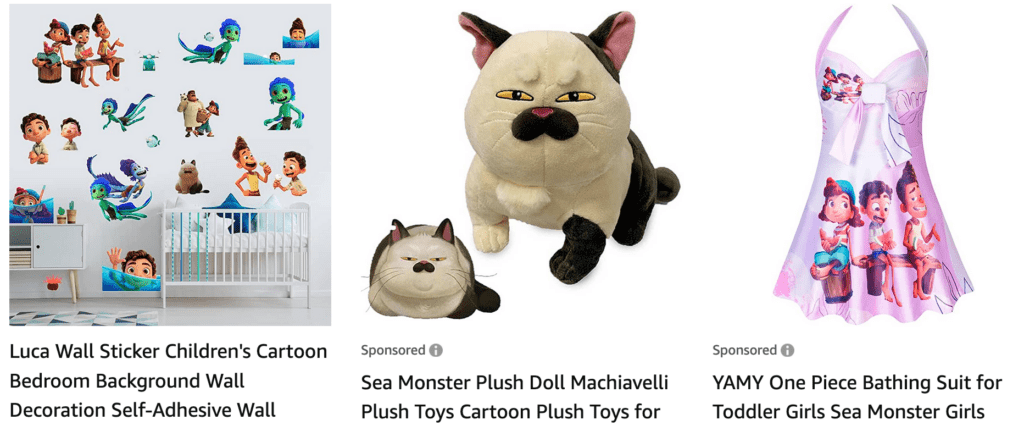 Amazon has a small line of merch of Luca that's playful and useful. The focus is on casual t-shirts for kids, teens, and adults, as well as playsets and wall decor. Plush toys, pajamas, and even a dress make this collection stand out from the options from the online Disney Store.
There are many toy options, too. As a whole, Amazon has a rather strong collection of Luca merch for young fans and a few options for other fans too. Shop All Luca Merch on Amazon Here. 
Disney/Pixar Luca Stargazers Pack Authentic Action Figure Movie Characters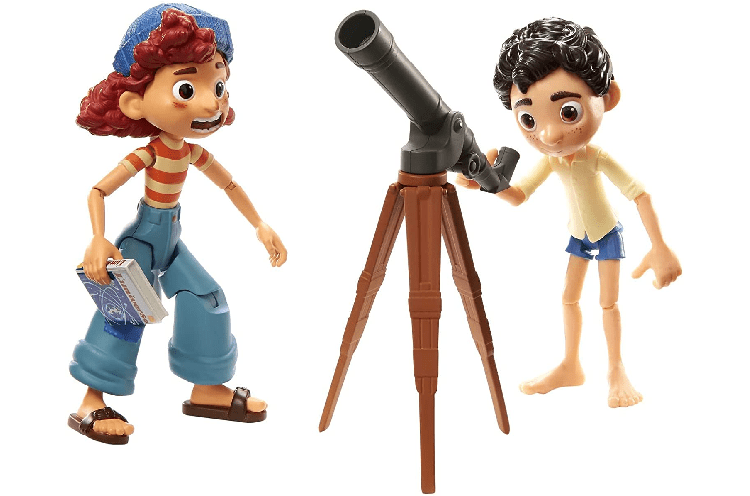 This pack is an Amazon Choice listing for its high customer ratings. The set includes popular characters Luca and Giulia as well as a telescope. The action figures are poseable and approved for children ages 3 and up. I also like that this set pairs with another set where you can swap out Luca's legs for fins. This set is reasonably priced and pleasing for young fans. Buy Here. 
Pros
Amazon Choice Product

Poseable

Luca and Giulia Included
Cons
Doesn't Include Alberto

Plastic 
Mattel Disney and Pixar Luca Scooter Build & Crash Pack
If you or your loved one is a fan of Alberto, the good news is that there's a great set for him as well. The popular set includes Luca and Alberto figurines- both as humans. (If you want a sea creature form, try this one). Accessories and a scooter make for a fun gift. The plastic figurines are expressive, poseable, and suitable for children ages 3 and up. Buy Here. 
Pros
Alberto, Luca, and Scooter

Highly Rated

Poseable and For Ages 3+
Cons
TANK Luca Plush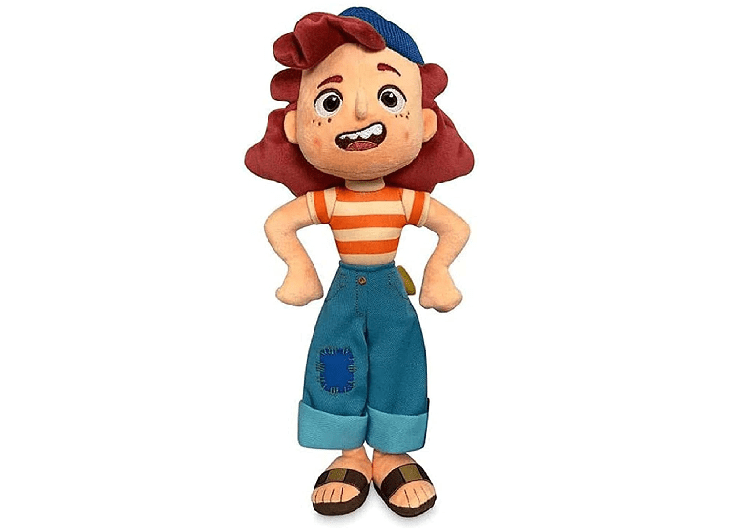 There's a lot to love about plush toys. They're popular, comfy, and a great companion for all ages. This plus toy depicts your choice of four popular Luca characters: Luca Sea Creature, Aberto Sea Creature, Machiavelli, and Giulia. Each plush toy is made with soft cotton. They're meant to be gentle on your skin and a nice size for playing or cuddling. Buy Here. 
Pros
Four Characters to Choose From

Soft Cotton

Approved for 3 Months and Up 
Cons
Can't Stand Up

Tricky to Clean 
Sea Monster Blanket Soft Cartoon Movie Throw Blanket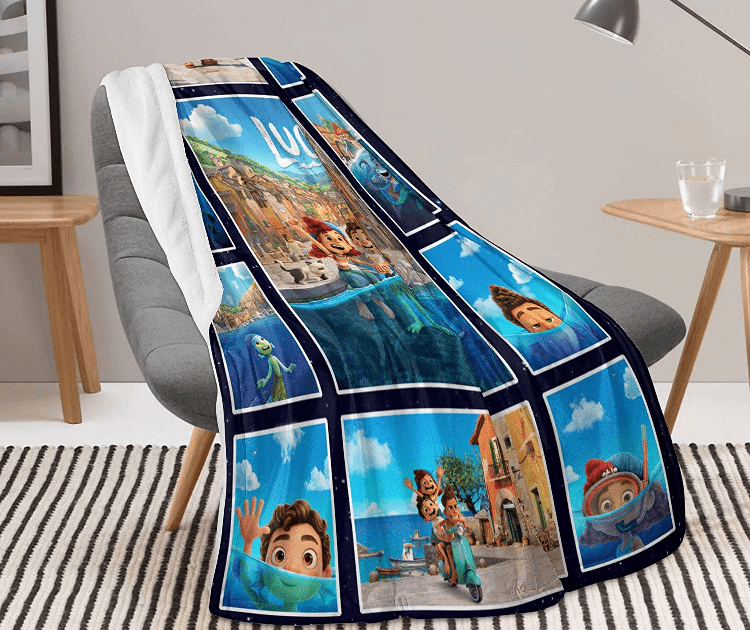 This cozy flannel blanket is made with anti-spilling fleece. It provides lightweight warmth and is resistant to shrinking or collecting lint. 3D print technology provides a vibrant pattern, with fade-resistant hues. Vivid scenes of the sea and popular characters make this blanket an instant favorite. Buy Here. 
Pros
Fade and Shrink-Resistant

Anti-Fade 3D Printing 

Vivid Hue and Pattern 

Machine Washable
Cons
Only one Pattern Available

The pattern isn't Versatile 
Frequently Asked Questions 
Question: Is Luca Connected to La Luna?
Answer: La Luna is a Pixar Short that marked Enrico Casarosa's directorial debut in 2011. The short film was shown alongside Pixar's Brave in theaters. It runs around 7 minutes long and follows Bambino, an Italian boy on a boat journey with her grandfather and father.
It drew heavy inspiration from Antoine de Saint-Exupery, the author of Le Petit Prince. The connection is that the director is the same as Luca. However, the characters are not confirmed to be connected. 
Question: What Does the Boy Say in Luca?
Answer: Alberto, a titular character says "Piacere, Girolamo Trombetta when he meets Luca. In English, this is simply a greeting akin to "it's a pleasure to meet you." 
Question: What Does Luca Say in Italian?
Answer: The most common phrase Luca says in Italian is Buongiorno, a greeting that simply is a form of a greeting for a good day, good night, or good morning. Ciao! (Hello) is also said in the film. 
Question: Will There be a Luca 2?
Answer: Fans of the first Luca won't have to wait long. Luca 2 has been confirmed to be a sequel in the works, with a planned release date of 2024. Like its predecessor, it will be released by Walt Disney Studios.
Question: Is Luca a Book?
Answer: There was a book released in honor of the Luca film. The narrative is included now in a Little Golden Book for young children. It was released alongside the release in 2021.
Final Thoughts
With Luca 2 around the corner, there's something to look forward to for fans. But in the meantime, there are plenty of official merch items to celebrate the dazzling Pixar film set in Italy. Make sure you only shop on secure websites. If you look for Luca merch on eBay, first read this Guide to Safe Buying on eBay.
With these tips, you'll be sure to get the best deals and the best quality for Luca merch. Still, it's best to shop official merch lines, given that there are many affordable options. 
Final Buying Recommendations: Hot Topic Luca Offical Merch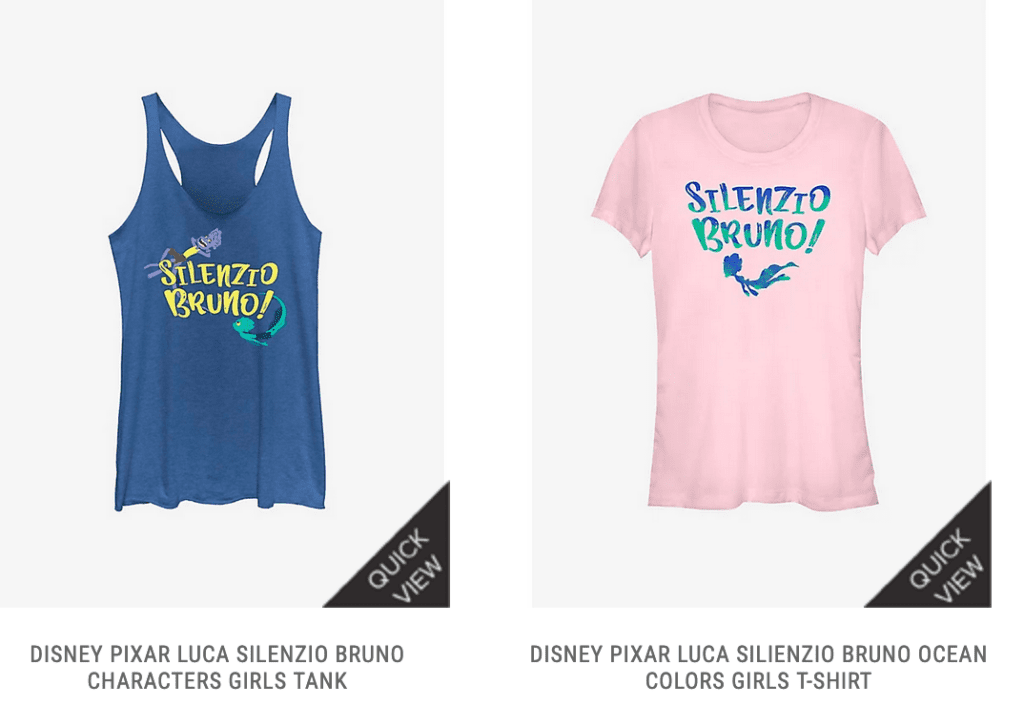 Hot Topic has a small line of official Luca long sleeve shirts, t-shirts, and tanks. Black is a common color, but there are also pops of blue, mint, and pink. This line of merch is intended for older Luca fans, offering junior's (teen) and adult sizes.
The shirts are lightweight, versatile, and made with 100 percent spun cotton. Most shirts have a classic, comfy fit. I like the variety offered, and it's also refreshing to see a different take on Luca-inspired merch. Shop All Hot Topic Luca Merch Here. 
Disney Pixar Luca Best Summer Ever Girls T-Shirt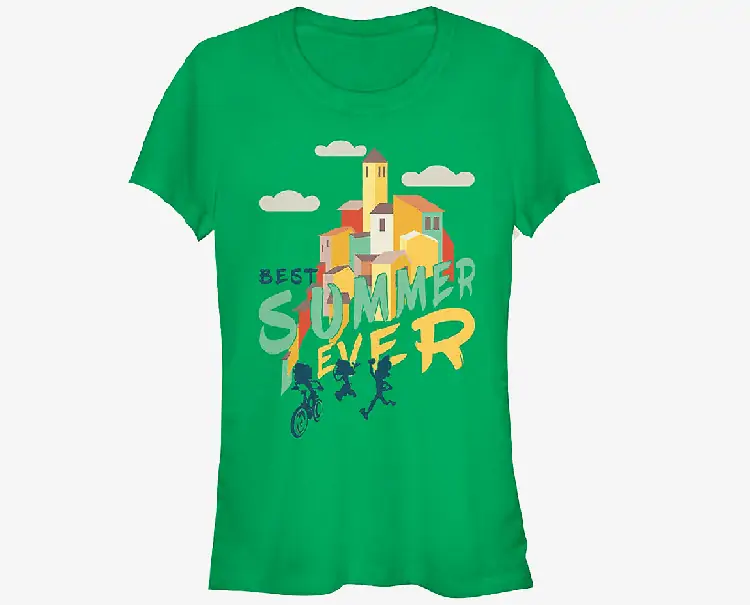 Pre-teens and teens have something to celebrate with these cheerful, Summer-themed Luca tee. The t-shirt is lightweight, constructed with 100 percent cotton. The t-shirt runs small (sizing up is recommended). This whimsical design looks great with jeans or sweats. It can be washed on a cool cycle and dried on low. Buy Here. 
Pros
Lightweight, 100 Percent Cotton

Whimsical Design 

Versatile
Cons
Runs Small

Dry on Low/ Not Pre-Shrunk 
If you want to find more worthy products, check the guides below:
Your Ultimate Marvel Merch Guide
Charli D'Amelio Merch Review: Your Buying Guide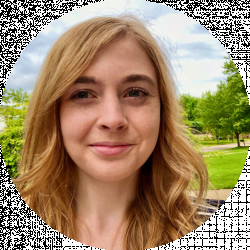 Latest posts by Erin Jamieson
(see all)