I was wowed by Billie Eilish's  2021 Met Gala look, and who wasn't? The off-the-shoulder blush gown was inspired by Marilyn Monroe. But what you might not know is that the gorgeous look was inspired by Eilish's favorite Barbie doll of all time! So it should come as no surprise that there is a collection of gorgeous and unique Billie Eilish dolls you can buy today.
Get ready to become the biggest fan yet. Here's my advice on how to find the best, authentic, Billie Eilish dolls for display, collecting, and play. By the end of my guide, you can select the best  Billie Eilish dolls and know how to shop smart. Wait until you see the dolls with her signature green hair or stunning yellow jumpsuits. It's time to complete your collection!

Bottom Line Up Front Summary:  If I had to select just one Billie Eilish doll, it would be the Bad Guy Doll. This doll represents an important point in her career, is sold at a fair price, and comes with a display stand. The hair highlights and bright, cozy outfits are spectacular. 
My Top Picks
How to Select Billie Eilish Dolls
I love Billie Eilish dolls for collecting or playing. We all know that Billie Eilish loves standing out from the crowd, so I wasn't surprised that her dolls are the same way. This gorgeous, unique dolls capture her imaginative spirit and I'm sure they will do the same for you! 

Types of Billie Eilish Dolls
Most Billie Eilish dolls are figure fashion dolls.  What is a figure fashion doll? They're simply gorgeous. These dolls are closest to Barbie dolls an average of around 10.5 inches.
You can find exciting dolls from her original release or unique Limited Edition dolls.  One example? The Murakami X Billie Eilish dolls are constructed to resemble an anime aesthetic. Funko Pops, American Girl Dolls, and Bratz have sometimes been customized by Billie Eilish fans and sold places like Etsy. People have also customized LOL dolls to resemble Billie Eilish. 
Doll Packaging 
Why does doll packaging matter? If you want to be the biggest collector, and if you want the best, you want it in a great package. We all know that Billie has a unique appearance, and so do her dolls–right down to the packaging! The best Billie Eilish dolls should come with an official box.
The box should have official Billie Eilish branding and be in pristine condition. This adds to the value of your Billie Eilish doll. Be wary if you see someone selling clothes: usually, dolls come with one outfit. 
Doll Appearance & Features
Inspecting a doll's appearance is important. No matter what type of Billie Eilish doll I'm considering, I look at the doll's hair– not just the color, but also the quality.  I want to look at a doll and see Billie staring right back at me.
She's gorgeous, and her dolls should be as well. I look to make sure it's even, has a shine or luster, and is strongly implanted. When shopping in person, looking for split ends or flyways is a good idea.
Facial features should be pronounced and have detailed enough to recognize who the doll is supposed to be. Bonus points go to dolls that can be posed- because we all know that Billie has some signature moves.

Where to Buy Billie Eilish Dolls
There's also to the matter of where and who to buy Billie Eilish dolls from.  I get it: if you're excited about finding dolls, it may be tempting to dump the first one into your cart.
Billie Eilish dolls are sold on Etsy, eBay, Amazon, Target, Walmart, Best Buy, and, of course, the official Billie Eilish merchandise website. eBay and Etsy sell custom dolls, used dolls, or handmade dolls. Handmade dolls are not collector's items or officially licensed merchandise. 
I compared the prices of the dolls and their availability. Walmart prices mean you'll pay more for the same official Billie Eilish dolls. Here's where I recommend shopping. 
Amazon
Amazon has a few official Billie Eilish dolls. These dolls are priced competitively. A plus side of buying from Amazon is if you have a gift card or are a Prime member. Amazon is known to have sales even on popular products like Eilish dolls.
I also like being able to read customer reviews and understand more about the doll. Pictures and detailed descriptions are important, especially when you're shopping for dolls online. The trick is to make sure that the dolls are labeled as officially from the Billie Eilish store. Shop Billie Eilish Dolls on Amazon Here.
Billie Eilish Store
But the biggest fans know that it's great to shop directly from the Billie Eilish store. It's aesthetically pleasing, and a go-to for other Billie Eilish merchandise.
The downside is that the selection of dolls is very limited. Her store does change and restock, so you can always check back. Rest assured that if you're buying a doll from the Billie Eilish store then you're buying an officially licensed doll of a reputable quality. Shop the Billie Eilish Store Here. 
Target 
The great thing about Target is the different shopping options available. You can have it delivered to your home, a store near you, and, some stores even carry these dolls in person. Just make sure you call ahead to see if they're in stock.
These officially licensed Billie Eilish fashion dolls are competitively priced. While the collection is usually small, there's the advantage of being able to potentially inspect the dolls in person. Shop Billie Eilish Dolls at Target Online Here. 
Top Billie Eilish Dolls: My Picks
Here are my selections for my favorite Billie Eilish dolls. My goal is to help you complete your collection so you'll be
"happier than ever." Quality and branding were both important for my selections. These Billie Eilish dolls are perfect for starting a doll collection. I've searched for the best prices, the most striking designs, and the dolls I feel represent Billie Eilish the most.
 My selections include Billie Eilish dolls inspired by music videos, live performances, and more. I've included Billie Eilish dolls from different release dates. Relive the dazzling concerts. Re-create the stunning music videos. It's time to sing the night away with a set of stunning fashion and figure dolls!

Fashion Dolls
These gorgeous dolls stand around 10 inches tall, with great attention to detail. What's so spectacular about these dolls is that they have had glossy, gorgeous hair and consistent facial features across each doll. I love the detail paid to each outfit. If you know where to shop, you can buy an official Billie Eilish fashion doll for a great deal.
L.A. Live Billie Eilish Fashion Doll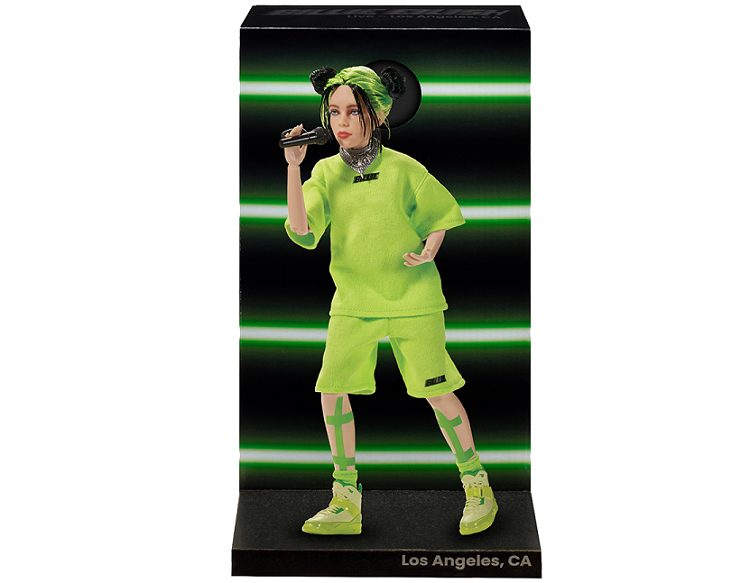 Love Billie Eilish on stage and love her neon green hair look? This captures a 17-year-old Billie Eilish in full force. 
The Scoop

Billie Eilish performed at the Shrine Auditorium concert in 2019. If you didn't see it, you almost had to be there to feel the excitement. Billie was even heralded as the "biggest anti-pop star." I'd say that still holds up today! She was only 17 at the time, and I remember when she first showed up with neon green hair and an outfit.
But what made a lasting impression was her musical performance. Crowds gathered to listen to 90 minutes of perhaps the most unique pop star we've seen in a very long time. It was, of course, only the beginning of her career. 
Doll Details
This doll is one of the most remarkable Billie Eilish dolls. The doll stands at just over 10 inches tall and is a great representation of the singer's unique and bold look. Her hair is in a signature updo, with black and neon green accents. Loose dark tendrils frame her face. She wears an oversized, soft lime green tee and matching shorts.
The tennis shoes, green paint, and metal collar are spot on. She comes holding her microphone and is packaged in an eco-friendly box. Buy Here. 
Pros
Striking Lime Green Accents

High Note of Early Career

Microphone Accessory
Cons
Fewer Points of Articulation

Slower Shipping 
Billie Eilish Live Cupertino, CA Fashion Doll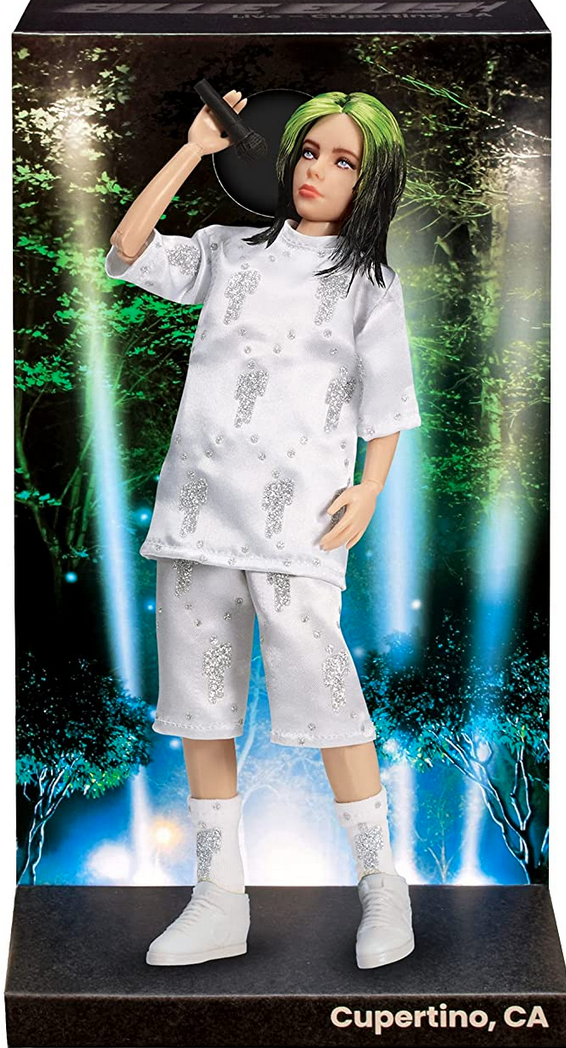 Love to see Billie Eilish on the big stage but want a good deal and fast shipping? This is the best official Billie Eilish doll for you. 
The Scoop

Who can ever forget her 2019 performance? The Apple Music Awards were a night to remember. Billie was awarded Album of the Year and Songwriter of the Year. It was so exciting to see her perform alongside her brother with a piano and guitar.
Everyone was cheering as she performed songs like Bad Guy and Bury A Friend. The stage was decorated with trees for a natural effect. Though the performance itself was impressive, it also marked another important milestone in her career. 
Doll Details
This is another Billie Eilish doll rocking her signature lime-green hair. The black roots and lime green streaks represent his signature style of this time. Her white high tops pair with knee-long shorts and an oversized top.
The top and shorts are adorned with embroidery with dazzling sparkling, jeweled details. Not only does this 10-inch doll come with a microphone, but she also comes with a stand. This doll is also shipped in an eco-friendly box. Buy Here. 
Pros
Embroidered Details

Stand and Box

Striking Lime Green Highlights
Cons
Eyes Appear to Be "Drifting"

Satin Clothing Can Show Dirt Easily 
Billie Eilish Doll – Bad Guy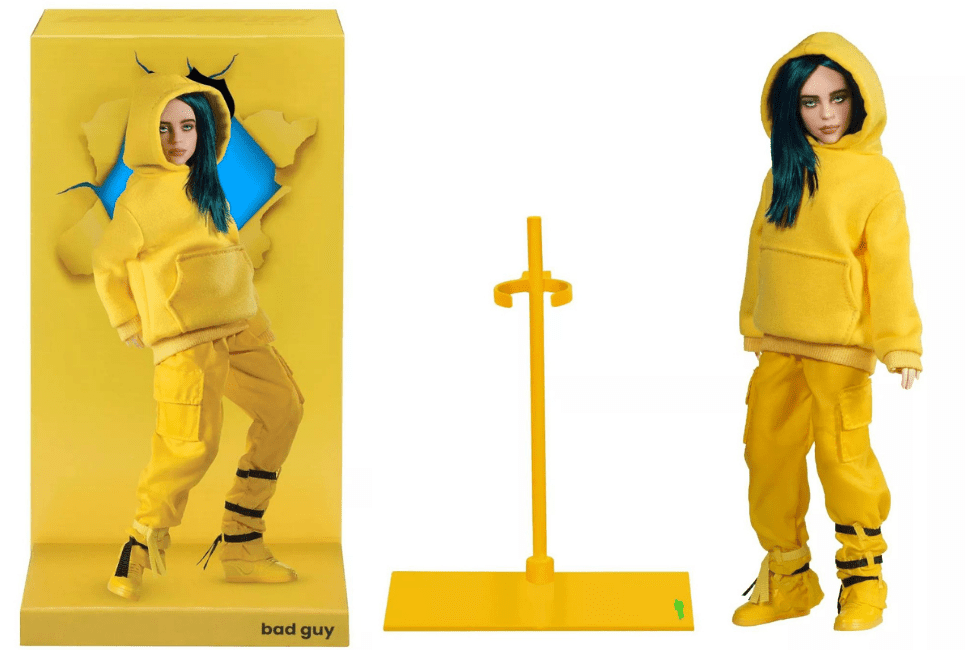 Longing for some color? This vibrant doll is affordable and marks an unforgettable part of Billie Eilish's career. 
The Low Down

Bad Guy proved to be an important single for Billie Eilish. To me, it was the sign that she was going to get others as excited as she got me with her dramatic music. I recall her even being compared with singers like Lorde. But Bad Guy was more than that. It's a song that still is played today.
At its height, the song hit second in both the US and UK Billboard charts. The song tackles the way people present themselves to impress– how little we see people being authentic. 
Doll Details
This doll is easily one of my favorite Billie Eilish dolls. The 10-inch doll is dressed in neon yellow cargo pants, a hoodie, and hightops. Her black-rooted hair features dark teal streaks. Her eyes are intense and fall of thought. The doll comes with her stand, also neon yellow. The details are simply spot-on, and I think you get a good sense of Billie's personality. She ships in an eco-friendly box. Buy Here. 
Pros
All-Over Neon Yellow Outfit

Doll Stand

Excellent Facial Details
Cons
Nylon Clothes Aren't As Strong as Cotton

Eyes Are Slightly Less Realistic 
Figure Dolls 
I love fashion dolls, but we all need variety. Just like Billie mixed up her sound in her latest album, buying a figure doll can help you mix up your current collection! There are a few differences between fashion and figure Billie Eilish dolls. Figure dolls are around 6 inches tall, vs 10 inches.
They are around half the price of fashion dolls. With more points of articulation, they're more like 'action figures' and typically do not stand on their own. Their hard shell body means their outfits cannot be taken off. However, figure dolls still excel with their facial features and soft, beautiful hair. 
Billie Eilish 6″ When The Party's Over Figure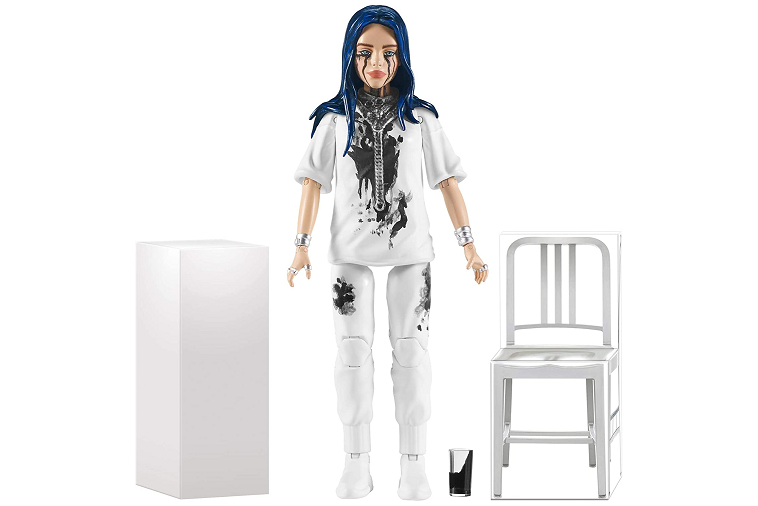 Love Billie Eilish's music videos? You'll want to collect this meaningful doll, which marks one of the earliest points in her career. 
The Scoop

Who can forget the music video this doll was inspired by? When The Party's Over is a  haunting song, and it's so meaningful, too.  Honestly, it's hard to believe that she was just sixteen years old when she wrote it.
The song means so much to me because it deals with heartache, lost love, and rage.  I love that  Billie paints the picture of an imperfect, flawed partner. That guilt, mingled with loss adds to its power, as does the strong visual components Billie employs in the music video. 
Doll Details 
I love a good deal, and if you do too, you'll love this doll too. This doll comes with the same statement outfit from the Parties Over music video, plus accessories and props. The doll's hair is deep black with a navy blue ombre.
Her mascara is dramatically dripping from her eyes with exceptional painted detail. She wears silver-toned cuff bracelets and a white bodysuit. The doll comes with a chair, pedestal, and accessories. It's all packaged in an eco-friendly box and offered at a hard-to-beat price. Buy Here. 
Pros
Props and Accessories

Affordable

Recreate the Music Video
Cons
Hard Body

Can't Swap Out Outfit 
All Good Girls Billie Eilish Figure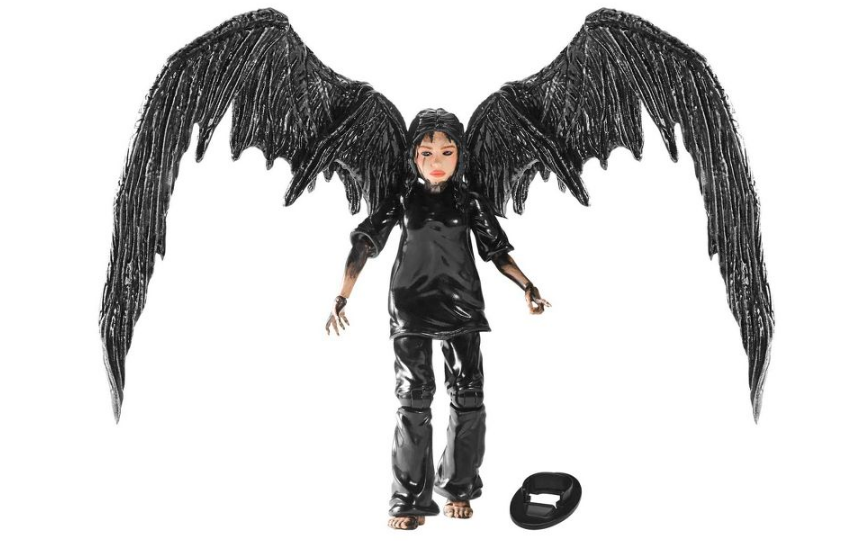 If you like an edgy look and you're a fan of Billie Eilish music videos, consider this affordable but official doll figure. 
The Scoop

All the Good Girls Go to Hell was a powerful statement. I'd argue that this music video was one of her most memorable, and it certainly was a highlight for 2019. This powerful music video depicts the Devil and God overlooking humans, who are bringing destruction to the earth.
If you've never seen it, maybe it would be hard to understand, but this music video showed me how Billie can uniquely capture deep themes. I love that it brought attention to the climate change crisis. The song was a hit, earning 46th and 77th out of the Top 100 in the US and UK. It was certified platinum in the United States and also reached international audiences. 
Doll Details 
I found myself looking at this doll and thinking it's as unique as Billie herself! Just as Eilish in the music video, who is covered in black oil, this doll depicts the devastation Billie sung about. She's dressed in a baggy shirt and pants, soaked head to toe in black 'oil'. The slight shine of Billie's outfit makes for a convincing aesthetic.
Her outstretched wings carry religious symbolism. Her hair is close to her face as if dripping with oil. It's perhaps the most unique Billie Eilish doll you can buy. Buy Here.
Pros
Iconic Music Video Depiction

Dripping Oil Detail

Outstretched Wings
Cons
Can't Swap Outfits

Won't Stand Up 
Frequently Asked Questions
Final Thoughts
Billie Eilish's fashion and figure dolls are beyond exciting. They capture her beauty and unique spirit. If you want a different way to celebrate her, I think a doll is a great way to start.
What I love is how down-to-earth this collection is: exactly what I would expect of dolls for Billie fans! I love that the dolls are affordable and can be used by younger and older fans alike. I only hope that there are more dolls in the future to celebrate her Happier than Ever era. 
Final Buying Recommendations: Billie Eilish Dolls from Best Buy
If you're already shopping at Best Buy for electronics, you can also pick up an official Billie Eilish doll. Best Buy normally sells a few of the most popular Billie Eilish dolls. It's unusual for them to sell dolls in-store, so shopping online is your best option. While the number of dolls tends to be modest, the prices are worth considering.
Best Buy is known to have sales, and it's not uncommon to find a new, popular Billie Eilish doll for a few dollars off. Hopefully, they will expand their collection of Billie Eilish dolls in the future. For now, it's still a great place to check for deals if you want to save a few bucks. Shop Billie Eilish Dolls at Best Buy Here. 
Find more cool merch on the guides below:
Your Complete Guide to the Best Harry Styles Merch
Charli D'Amelio Merch Review: Your Buying Guide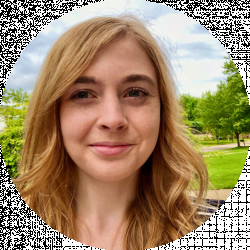 Latest posts by Erin Jamieson
(see all)