Welcome to the wizarding world of jewelry buying! It may seem like a mysterious art but picking out the perfect Harry Potter-inspired jewelry for yourself or a loved one is as easy as the wave of the wand. I'm going to discuss the best Harry Potter-inspired jewelry you can buy online and how to choose the jewelry piece your loved one wants most.
Bottom Line Upfront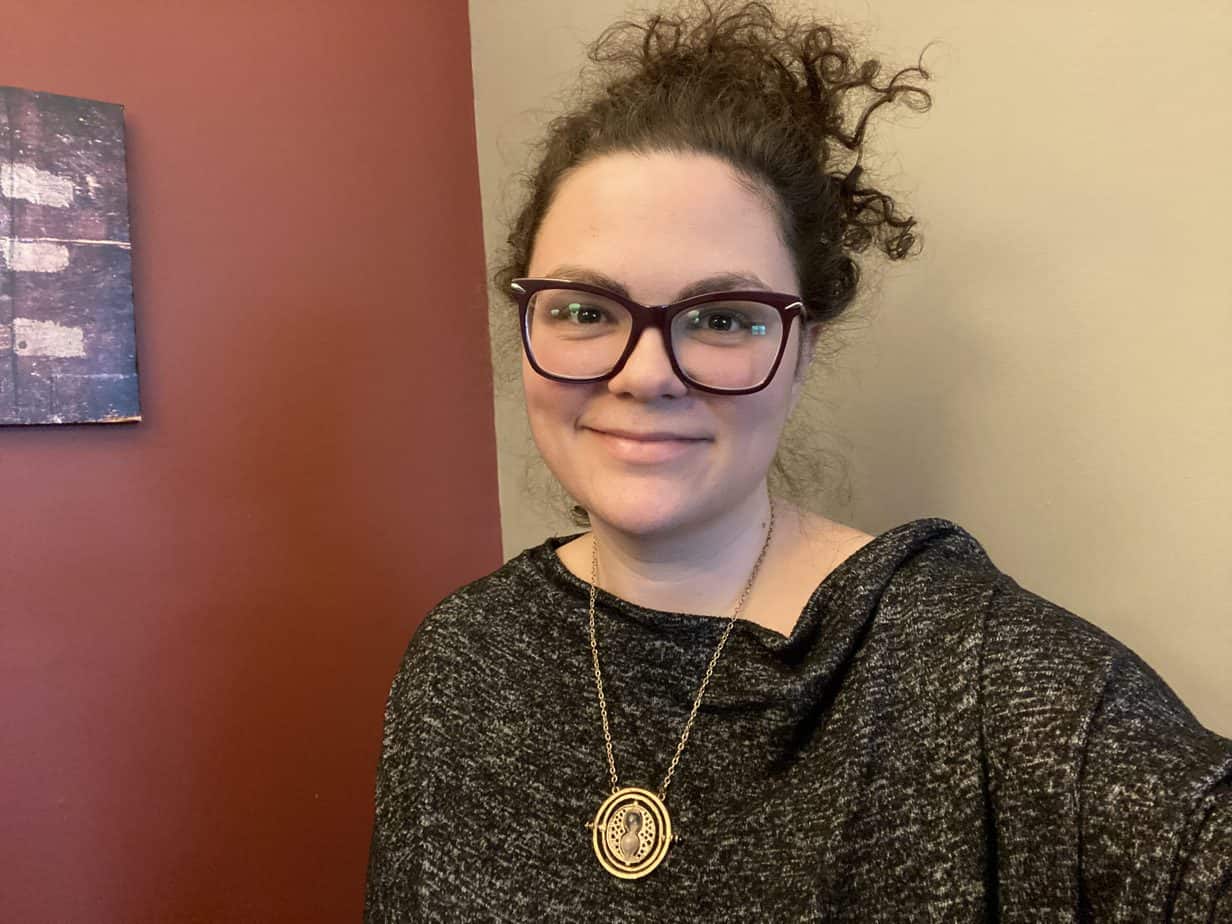 I'm a massive, and I mean MASSIVE Harry Potter nerd. I was one of those teens who stood in line at midnight to get a copy of the latest books. Now, as an adult, I've written dozens of my own Fantasy books, some with Time Travel. So, when I found Hermione's time-turner necklace years ago, I had to have it. I wear it to every convention I attend.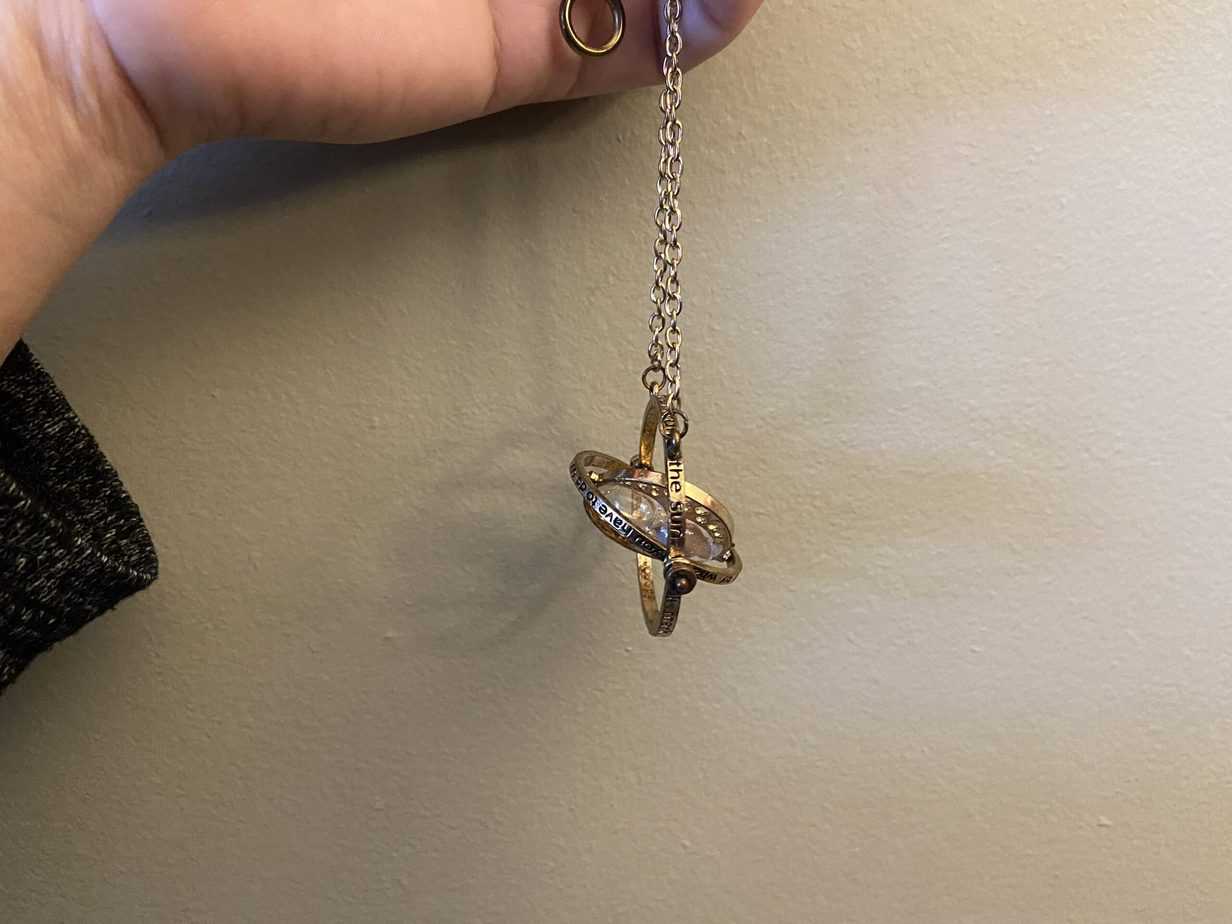 Top Picks at a Glance
When sorting through the mass amount of Harry Potter jewelry that's out there, these stuck out as the best of the best. Though I'll describe many beautiful jewelry pieces below, each of these stands out in terms of design, uniqueness, and quality. Take a look at these before we dive deeper into the jewelry of the wizarding world.
Types of Harry Potter Jewelry to Look for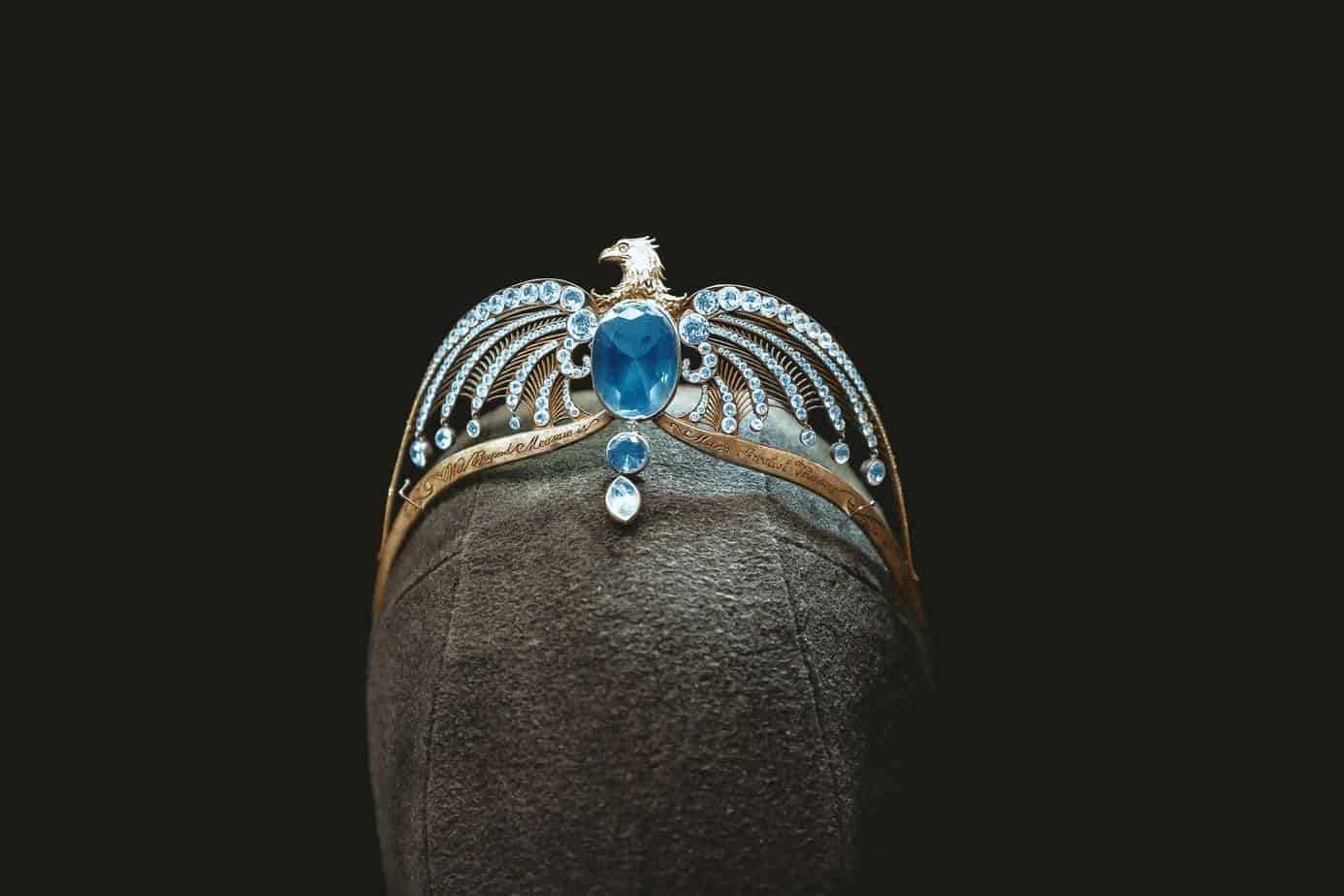 These are the 3 basic types of Harry Potter-inspired jewelry you'll come across. Take a look at these to make sure you're buying the kind of jewelry you want most.
Costume Jewelry
Usually, this is the least expensive kind of jewelry you can buy. Oftentimes, the official Harry Potter jewelry pieces will be costume jewelry, which means they've been made with imitation gems and inexpensive materials.
Handmade Jewelry
There are plenty of extremely talented jewelry makers who are Harry Potter fans. What does this mean for us? We've got a plethora of unique, sometimes one-of-a-kind Harry Potter jewelry to choose from on websites like Etsy, Shopify, Amazon Handmade, and more.
Luxury Jewelry
Since Harry Potter is such a massive powerhouse of a franchise, luxury jewelry brands have taken notice of the fact that fans like us will shell out big money for premium Harry Potter jewelry. Sometimes, you can find Harry Potter goodies from places like Kay Jewelers and Jerad. Pandora has made many Harry Potter charms, too.
Can You Wear Harry Potter Jewelry Every Day?
Oh, you certainly can. All of us may not want to proclaim our love for the series by wearing a giant choker featuring an edgy Slytherin emblem or earrings made to the size of a golden snitch daily, but there are ways to subtly incorporate your love for the franchise. I'll go over some more subtle Harry Potter jewelry down below.
Popular Designs for Harry Potter Inspired Jewelry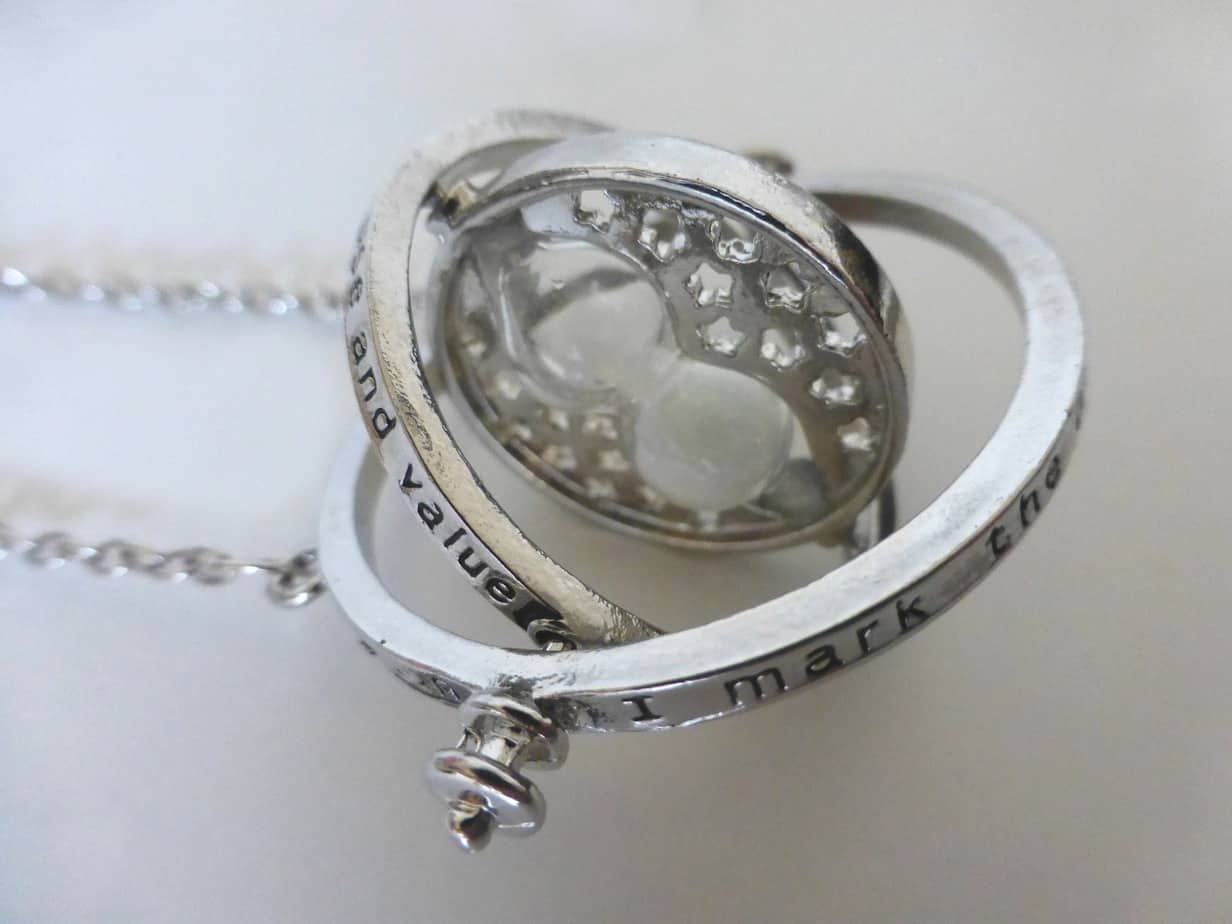 These are some of the most popular, recognizable symbols from the Harry Potter franchise, so they're commonly seen on pieces of jewelry, too. All fans will recognize these symbols, but in case you didn't go to Hogwarts, I'll discuss what each symbol means.
Time Turner Necklace – Hermione Granger's magical necklace which she used to warp time so she had room in her schedule for more classes.
Golden Snitch – This is an object used in the popular wizarding game, quidditch. You can catch the snitch to earn points.
Sign of the Deathly Hallows – This symbol represents the 3 legendary artifacts in the Harry Potter series, which are the Resurrection Stone, the Cloak of Invisibility, and the Elder Wand.
Tips for Gifting Harry Potter Inspired Jewelry
Picking jewelry out for someone else can be nerve-wracking, can't it? Well, I'm here to help prepare you, so you buy the perfect piece of jewelry for the Potterhead you love. Keep these easy tips in mind when you're choosing the right ring or unique bracelet set, and you'll be sure to get it right.
Hypoallergenic Materials
Make sure to buy jewelry made from hypoallergenic materials if you're buying for someone who's allergic to costume jewelry. Sterling silver and 14K solid gold are both hypoallergenic. I'll show you a few pieces down below made from these materials.
Right Chain Length
Does the person you're buying a necklace for like to wear short or long necklaces? Do they layer necklaces? Do they wear chokers? Know the length of the chain the person you're buying for would like best.
Quality
Even if you're buying costume jewelry, buying official Harry Potter merchandise will ensure the product you're buying is up to quality standards. That isn't to say there aren't plenty of amazing unofficial Harry potter jewelry, either, just make sure you know what the jewelry is made of.
Price
No one wants to shell out an inordinate amount of money for their favorite new pair of Gryffindor earrings, but sometimes quality comes at a price. Depending on what type of material the jewelry piece you're buying is, you may have to pay between $8-$30. You could also pay between $55-$200+.
Uniqueness
If you're buying from someone who already has a lot of other Harry Potter-inspired jewelry, try to get them something unique! Maybe they like an obscure character and there's a perfect necklace with their name on it, or maybe you found the most adorable Hufflepuff bracelet just for them.
The Best Harry Potter Inspired Jewelry
Expelliarmus! Wow, when I say it, the best Harry Potter-inspired jewelry appears out of thin air! You too can feel magical when you put on some of these jewelry pieces I've picked out, which are superior in terms of quality, price, uniqueness, design, and more. Check these out for the perfect gift for yourself or someone you love!
Best Harry Potter Necklaces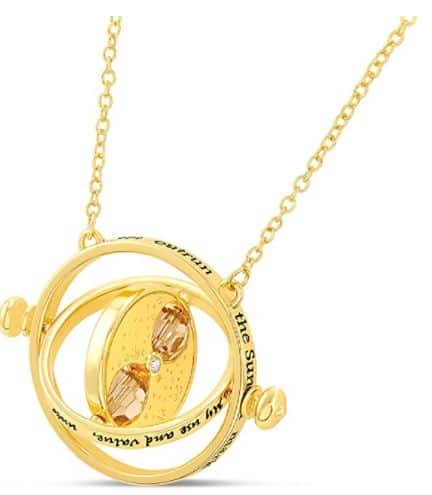 Best: Harry Potter Necklace
About
You should recognize this necklace as a replica of Hermione's time-turner necklace. Who doesn't want to warp time to make room for more classwork? If you're a fan of Hogwarts' most studious student, you'll be a fan of how this necklace is officially licensed merchandise. The hourglass sparkles because it's made from 2 crystals. An imitation diamond sits in the middle.
Price Range: $35-$45
Material: N/A
Featured Symbol/Character: Hermione's time turner necklace
This necklace comes to you in an official Harry Potter gift box. Its gold plated with a 22" chain and a lobster clasp. This is my fav on the list!
Pros
Replica of the most famous necklace from the franchise
Official Harry Potter merchandise
Beautiful crystals make up the hourglass
Cons
Some fans may wish there was sand in the hourglass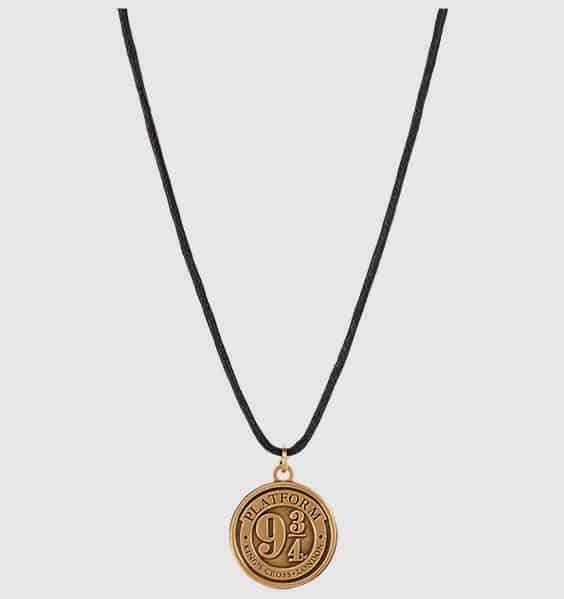 Best: Unisex Necklace
About
All aboard the Hogwarts Express! This necklace showcases the beloved sign from Platform 9 ¾. The circular, brass sign is attached to a soft black chord.
Price Range: $5-$9
Material: N/A
Featured Symbol/Character: Platform 9 ¾ sign
Below the phrase, "Platform 9 ¾," are the words, "King's Cross – London." All fans of Harry Potter should be pleased by this necklace, which will remind them of when the students would all pile onto the train to begin their new school year.
Pros
Beloved Platform 9 ¾ sign
Perfect for men and women
Comfortable cord chain
Cons
Some people don't like the look of cord chains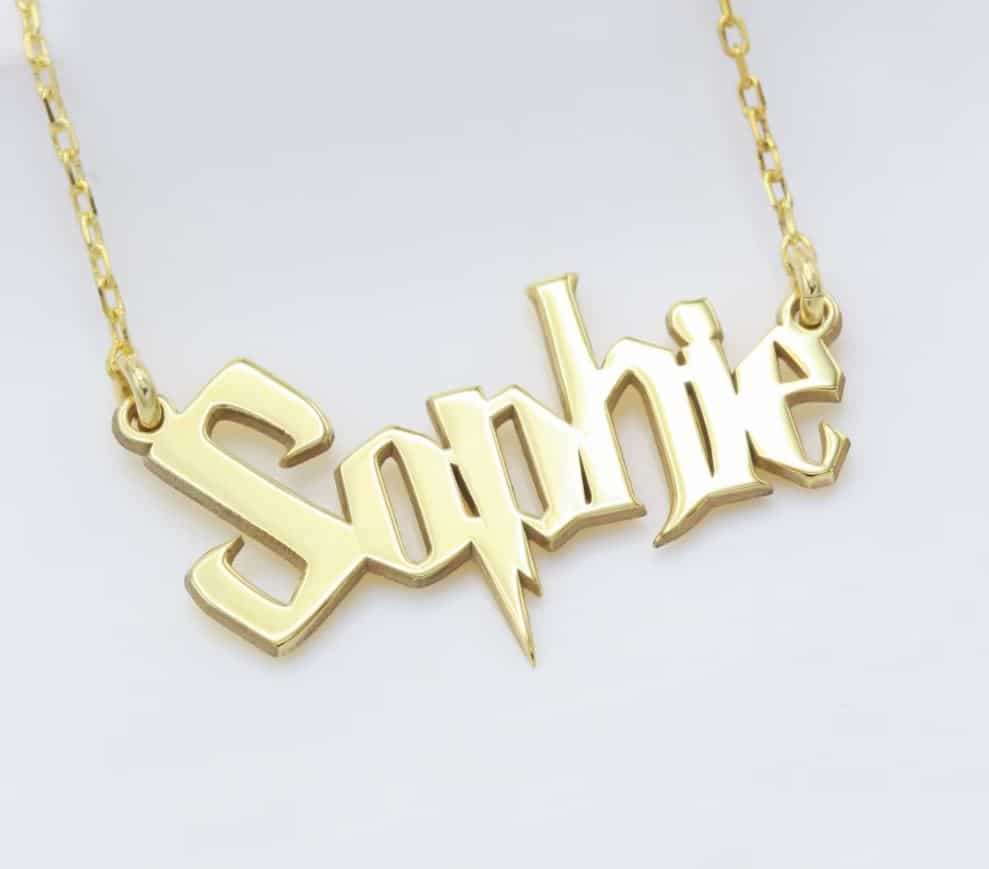 Best For: Personalization
About
If you're looking for a unique Harry Potter gift for someone who loves supporting small businesses, consider getting them a handmade jewelry piece like this necklace.
Price Range: $18-$28
Material: 14K solid gold or sterling silver
Featured Symbol/Character: Harry Potter font
Made from your choice of 14K solid gold or sterling silver, these quality necklaces use the trademark Harry Potter font to spell out whatever you want. You can spell out a name, nickname, or inside joke with the familiar H.P. lettering.
Pros
High-quality materials
You can personalize the necklace to say whatever you want
Handmade product
Cons
Doesn't have any specific symbols or characters from the franchise
Best Harry Potter Earrings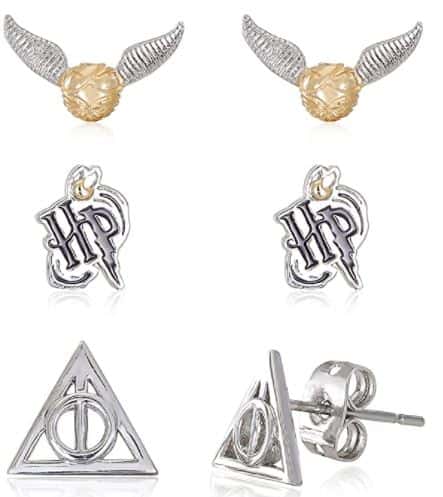 Best: Harry Potter Earrings
About
Have a Harry Potter fanatic in your life? They'll hit the jackpot with this set of 3 official Harry Potter earrings. One is shaped like a snitch with a gold body and silver wings. Another features the letters, "HP," in Harry Potter font with a snitch beside them. The last is the oh-so-familiar silver Deathly Hallows symbol.
Price Range: $35-$45
Material: Silver plated brass
Featured Symbol/Character: Snitch, Deathly Hallows symbol, and "HP" in Harry Potter font
Each pair of earrings comes with the basic friction clasp closure for your comfort. The earrings are made of brass and plated with silver.
Pros
3 different pairs of earrings in the set
Silver and gold
Official Harry Potter merchandise
Cons
Costume jewelry doesn't last as long as other kinds of jewelry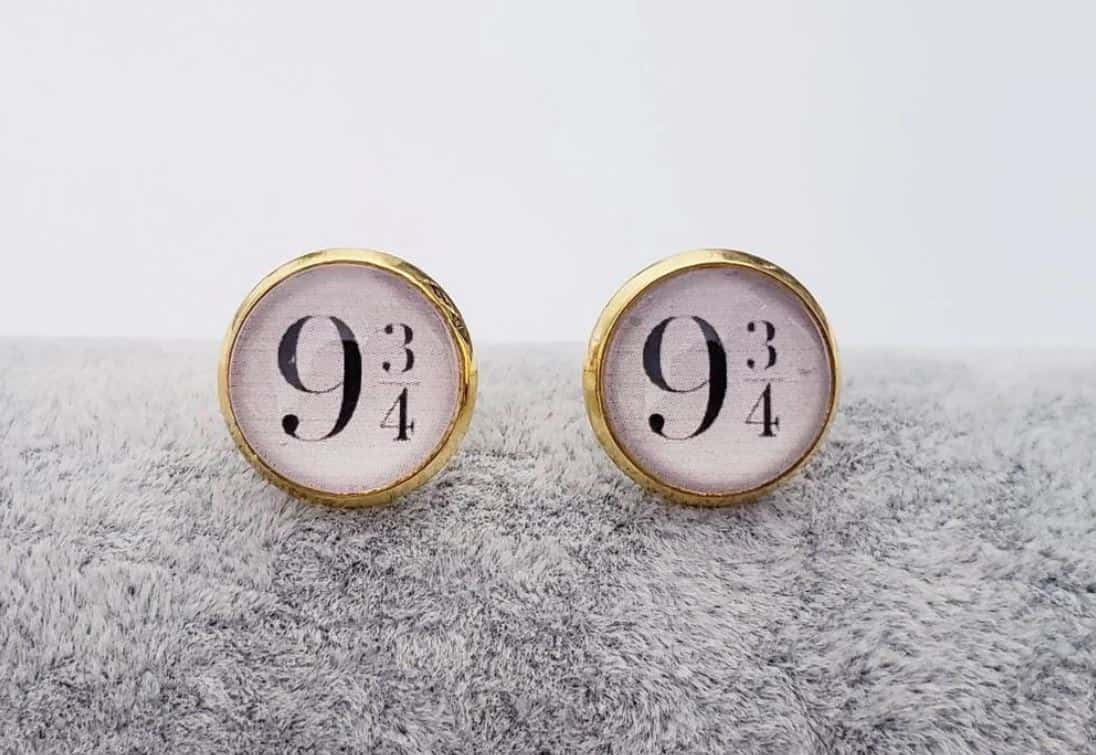 Best For: Subtlety
About
This is the perfect pair of earrings to subtly weave your love of Harry Potter into any outfit. They're simple, circular studs with a golden rim.
Price Range: $6-$16
Material: Sterling silver
Featured Symbol/Character: 9 ¾
The inside of the half-sphere features the numbers, "9 ¾," in black ink. You'll be happy to know this is a high-quality sterling steel item handmade by a seller with top reviews.
Pros
Dainty and subtle
High-quality sterling silver
Handmade
Cons
Not official Harry Potter merchandise
Best Harry Potter Bracelets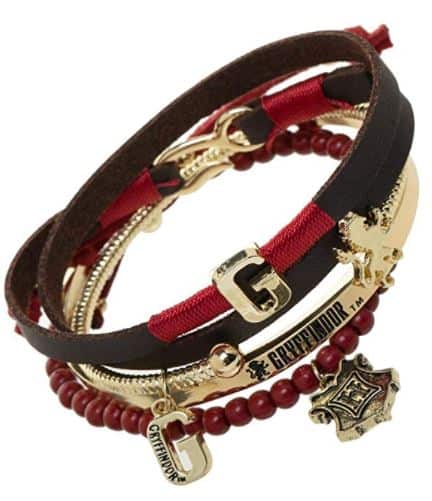 Best For: Gryffindors
About
Where are my Gryffindors? This bracelet set, containing 4 bracelets all Gryffindor-themed, is perfect for you! The bracelets are red, black, and gold.
Price Range: $16-$26
Material: Nylon and zinc alloy
Featured Symbol/Character: Gryffindor lion
You'll notice many Gryffindor charms and one Hogwarts charm that is Gryffindor-themed. You can show you stand with Harry, Hermione, and Ron with this officially-licensed merchandise. The design is made to be unisex, so it's perfect for men and women!
Pros
Unisex design
4 bracelets in one set
Official Harry Potter merchandise
Cons
Anyone who prefers Slytherin, Ravenclaw, or Hufflepuff wouldn't want this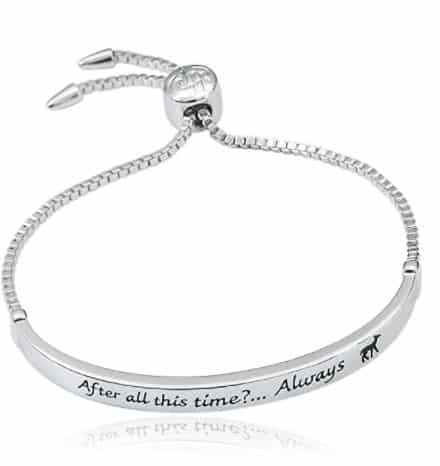 Best For: Elegance
About
This is a simple, elegant Harry Potter bracelet with the words, "Mischief Managed," printed on a thin plate.
Price Range: $25-$35
Material: Brass
Featured Symbol/Character: "Mischief Managed"
As an officially licensed piece of Harry Potter jewelry, fans will be happy with the Harry Potter gift box the bracelet comes in. Pick from either a silver or gold finish, though both bracelet types are made of brass.
Pros
Simple and elegant
Officially-licensed Harry Potter jewelry
Comes in a gift box
Cons
Only painted gold or silver, but not made of gold or silver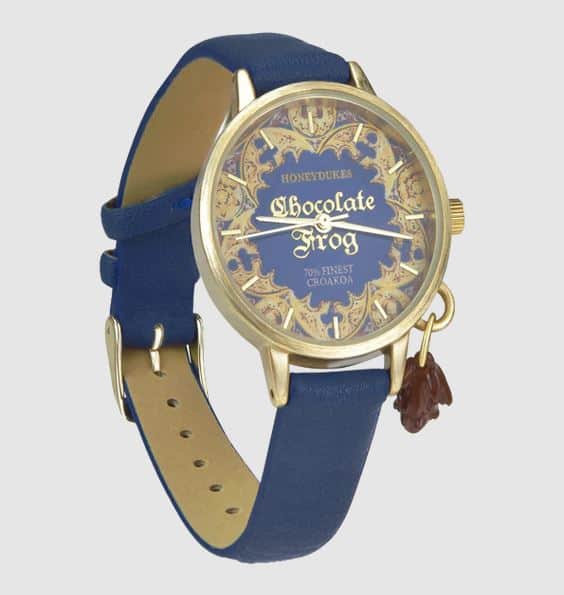 Best: Harry Potter Watch
About
What's one of everyone's favorite memories onboard the Hogwarts Express? Buying chocolate frogs, of course! This watch, which is official merchandise, is inspired by the official chocolate frog packaging.
Price Range: 28 euros – 38 euros
Material: Faux leather and silver-plated buckle
Featured Symbol/Character: Chocolate frog
It has a blue faux leather strap and a silver-plated buckle. The words on the watch say, "Honeydukes," Chocolate Frog," and "70% Finest Croakoa."
Pros
Unique design
A functional item that tells time
Inspired by official chocolate frog packaging
Official Harry Potter merchandise
Cons
Some people don't wear watches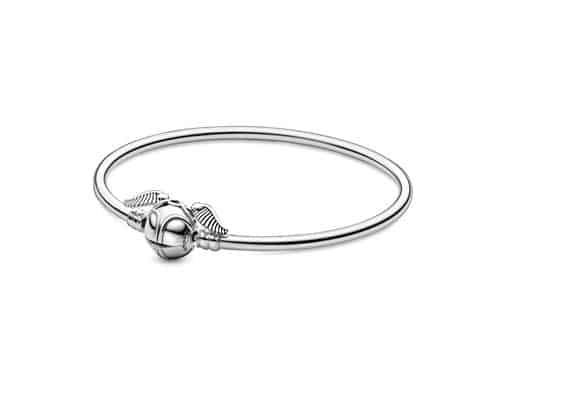 Best: Harry Potter Bracelet
About
This is the famed Harry Potter Pandora charm bracelet! Well, this is the page that lets you make your own custom Harry Potter bracelet.
Price Range: Varies by how many charms you want
Material: Sterling silver and 14K or 18K solid gold
Featured Symbol/Character: Many
That's the beauty of Pandora-you only have to pay for the charms featuring the symbols and characters you want, and none that you don't. Here are the Harry Potter charms that Pandora currently offers:
Harry Potter
Ron Weasley
Hermione Granger
Dobby
Gryffindor Crest
Slytherin Crest
Ravenclaw Crest
Hufflepuff Crest
Hogwarts castle
Hogwarts Express
Snitch
Pros
A top-notch brand with high-quality materials
Customizable
Variety of different Harry Potter charms to choose from
Cons
Best Harry Potter Rings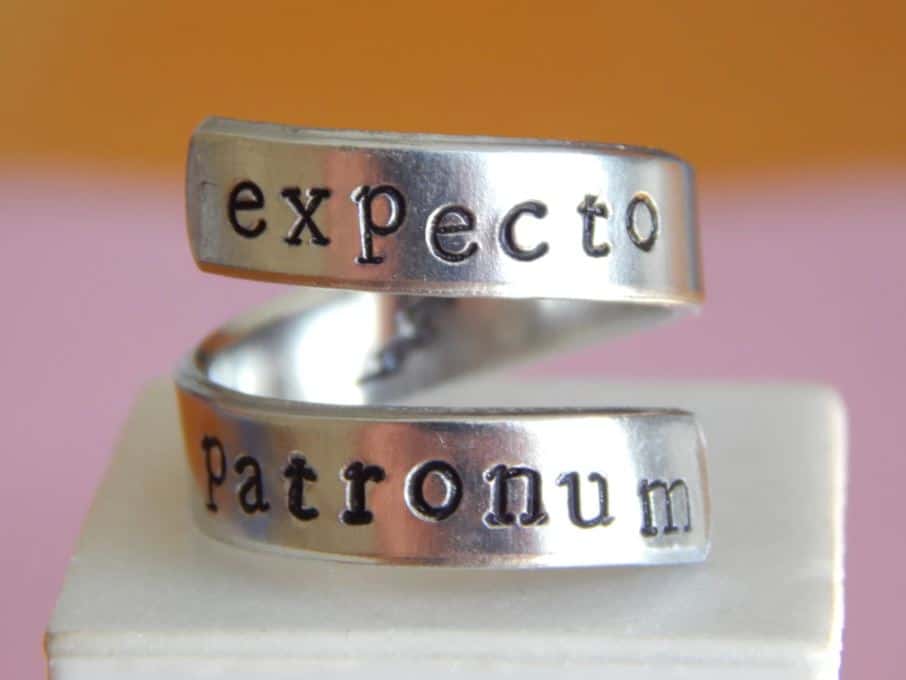 Best: Use of Text
About
This wrap ring is made beautifully by a seller on Etsy. "Expecto Patronum," can be seen printed on the outside of the ring, which is painted silver and made of aluminum.
Price Range: $8-$18
Material: Aluminum
Featured Symbol/Character: Expecto patronum spell
You'll be able to customize the ring by choosing a ring size and a special stamp to have branded on the inside. Your stamp choices are:
Lightning bolt
Magic wand
Heart
Sun
Star
Pros
Elegant use of wraparound text
Handmade product from a 5-star seller
Customizable stamp on the inside of the ring
Cons
Not official Harry Potter merchandise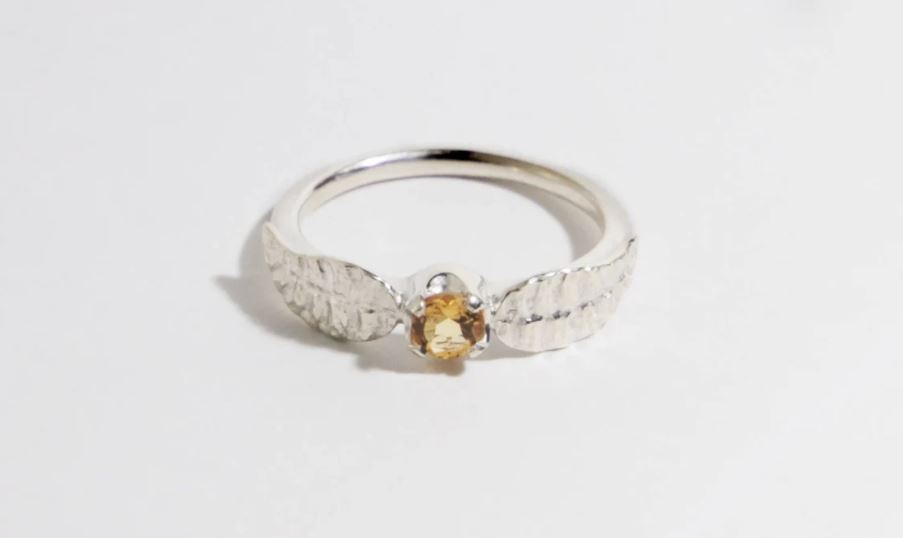 Best: Harry Potter Ring
About
Are you ready to propose to the one you love? Isthe one you love obsessed with Harry Potter? This engagement ring subtly looks like an elegant snitch.
Price Range: $88-$98
Material: Silver and citrine
Featured Symbol/Character: Snitch
The band, which makes up the snitch's wings, is pure silver. The gemstone in the middle which makes up the snitch's body is citrine. You can choose ring size to make sure the fit is perfect.
Pros
High-quality materials
Can be used as an engagement ring for hardcore fans
Gorgeous details
Cons
Not official Harry Potter merchandise
FAQ
In this last section, I'll answer your most frequently asked questions about Harry Potter-inspired jewelry.
Question: Is Pandora Discontinuing Harry Potter Charms?
Answer: No, Pandora is not discontinuing their Harry Potter charms. Their Harry Potter charms sell well because of how massive the Harry Potter fanbase is, so I doubt this line of charms is going anywhere anytime soon.
Question: What is the Harry Potter Necklace Called?
Answer: The most famous necklace in the Harry Potter franchise is Hermione's time turner necklace. This necklace allowed her to warp time so that she could attend more classes than a normal amount of time in the day would allow. The hourglass in the middle of her necklace makes it instantly recognizable.
Question: Who Made the Jewelry for Harry Potter?
Many companies have made jewelry for the Harry Potter franchise! Disney, Pandora, and many other companies have included Harry Potter jewelry in their product lines. Tons of sellers on websites like Etsy sell handmade Harry Potter jewelry pieces.
The Final Act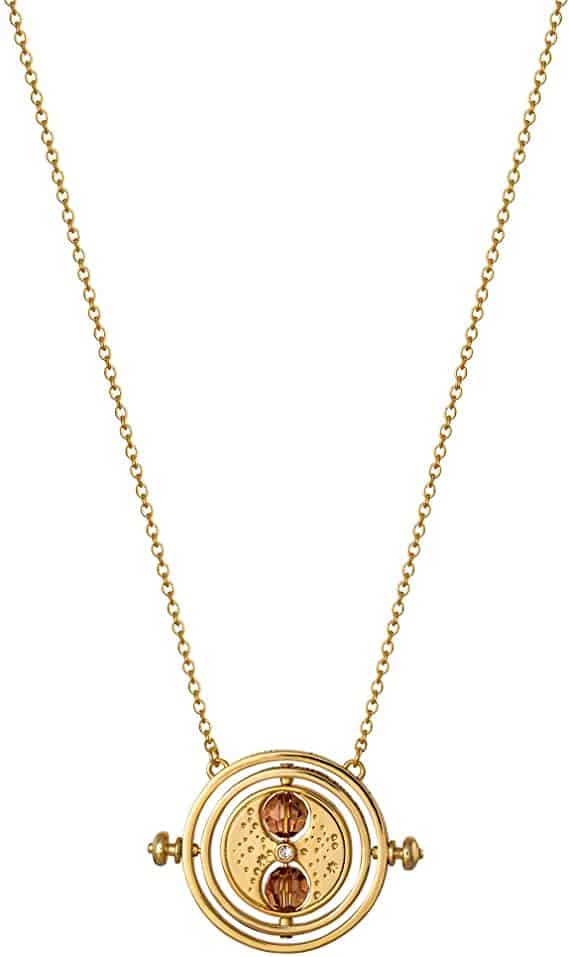 We've reached the last chapter of today's guide through the magical world of Harry Potter-inspired jewelry. Did you enjoy learning about different types of jewelry? After viewing the best Harry Potter-inspired jewelry on the internet, is there one you've got your eye on? I might be biased, but I definitely recommend Hermione's time-turner necklace! And guess what? We've got a ton of other geeky stuff to share, like our recs for the best Harry Potter blanket ideas!
Find more Harry Potter inspired merch by reading these guides below:
The Best Harry Potter Blanket Ideas
Best Harry Potter Loungefly Guide
Best Harry Potter Funko Pop Guide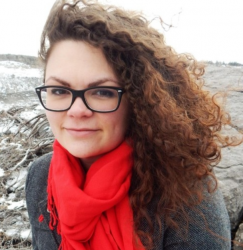 Latest posts by Candace Osmond
(see all)