Na, na, na, na ,na na, na, na, na, na, na, na, na…BATMAN! As far as multimillionaire superheroes go, Batman is likely the most popular one. I know he's one of my favs next to Superman. Plus, he has some of the best merch and apparel.
With a unique background story and the money to support his fight against Gotham's wrong-does, who wouldn't want a Batman backpack? Whether it's for adults or kids, these backpacks can make a statement of how big of a Batman fan you truly are.
Bottom Line Upfront
This article was so much fun because I'm a Batman super fan! I adored the Loungefly DC Comics Justice League Batman Mini Backpack and almost bought it myself. I may or may not head back and grab it on payday!
Top 3 Picks
About the Batman Universe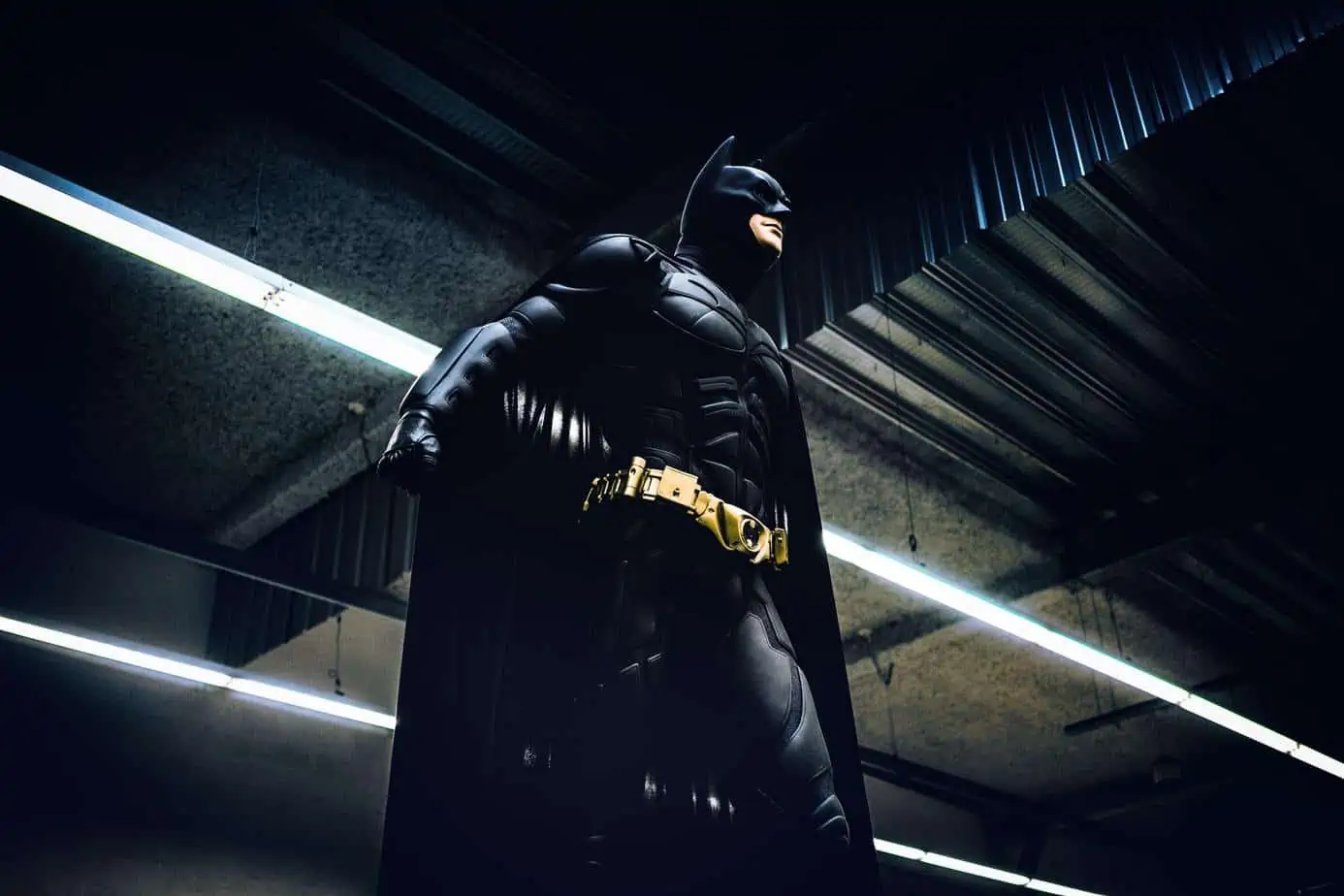 Come on, geek out with me for a second. It'll help you find the best Batman backpack for you. Or, if you're shopping around for a massive Batman fan, this info will help you out big time!
Origin
The Batman follows the story of Bruce Wayne. He was born into wealth, his parents were murdered at the hands of Joe Chill when Wayne was just a kid. Motivated by vengeance and anger, Wayne swears to rid Gotham City of all criminals.
In his quest, he employs a sense of justice, having both the motivation and the financial resources to build an arsenal of tools and weapons to meet this goal.
On the surface, a lot of people consider Batman a vigilante who needs to be brought to justice. However, those who followed his story know that Gotham City wouldn't have survived without Batman's physical strength, mental agility, and crime-fighting technology.
Comics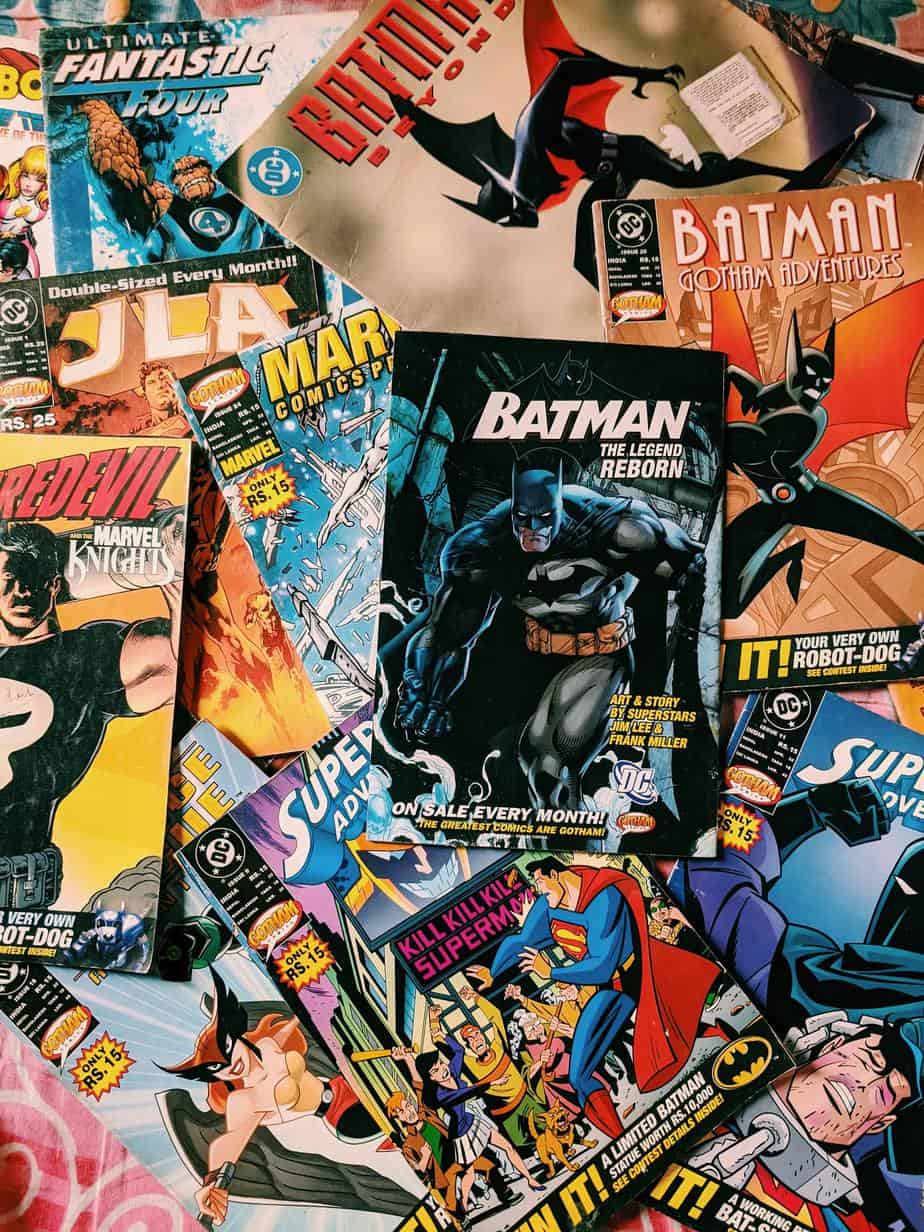 Detective Comics #27 published Batman's first appearance, which was in May 1939. Batman has made an appearance in various comic strips, graphic novels, and comic books ever since.
Batman became an instant hit. Batman's early exploits were brutal: he threw a criminal off a rooftop and killed a vampire with a silver bullet.
As Batman's popularity grew, his publisher feared that the comic's dark qualities would be replicated by its youthful audience. DC banned the use of firearms and severe force by Batman: no more murders.
Cartoons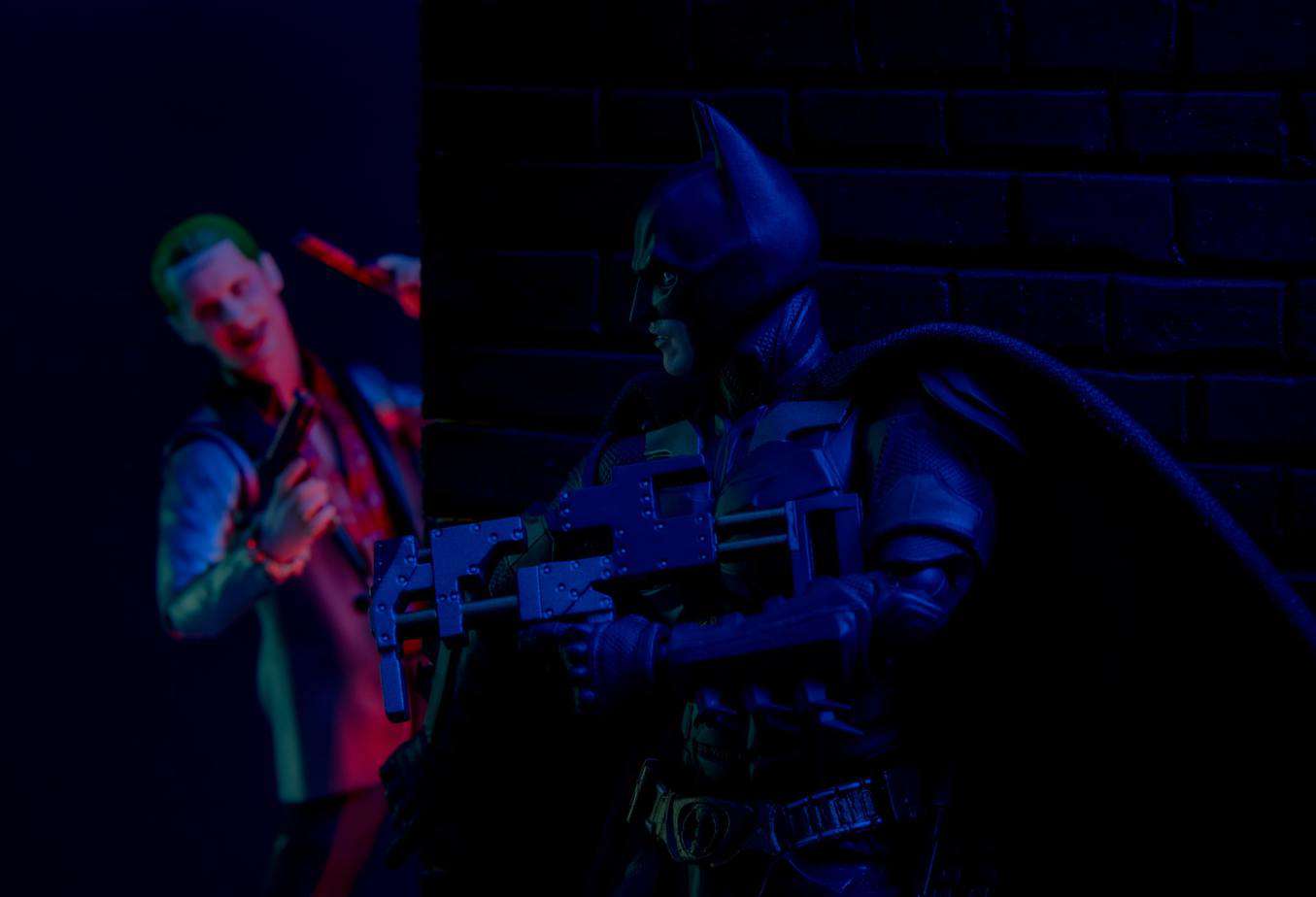 Batman: The Animated Series premiered on ABC on September 24, 2005. Aspects of the series that were acclaimed included its thematic intricacy, dark tone, noir aesthetics, creative presentation, and modernization of the title character's crime-fighting background, among other things.
Wizard magazine also listed it as the second-best animated television show of all time, behind only The Simpsons. According to TV Guide, it is the ninth-best cartoon of all time. As a result of the positive reception, the series was nominated for four Emmy Awards, including Outstanding Animated Program.
Movies
Batman first film appearance was in two serial films during the 1940s: Batman and Batman and Robin, and Batman and Robin. Batman also made an appearance in the 1966 film Batman. This was a feature film adaptation of the 1960s Batman television series, which featured Adam West and Burt Ward.
A relaunch of the Batman film franchise was launched in 2005 with the release of Batman Begins, starring Christian Bale, following the abandonment of two additional film projects.
Nolan returned to helm two more installments, The Dark Knight in 2008 and The Dark Knight Rises in 2012, with Bale starring in both films.
Immediately following the establishment of the DC Extended Universe by Warner Bros. in 2013, Ben Affleck was cast as Batman in the new broad franchise, which made its debut in 2016 with the Zack Snyder-directed picture Batman v Superman: Dawn of Justice.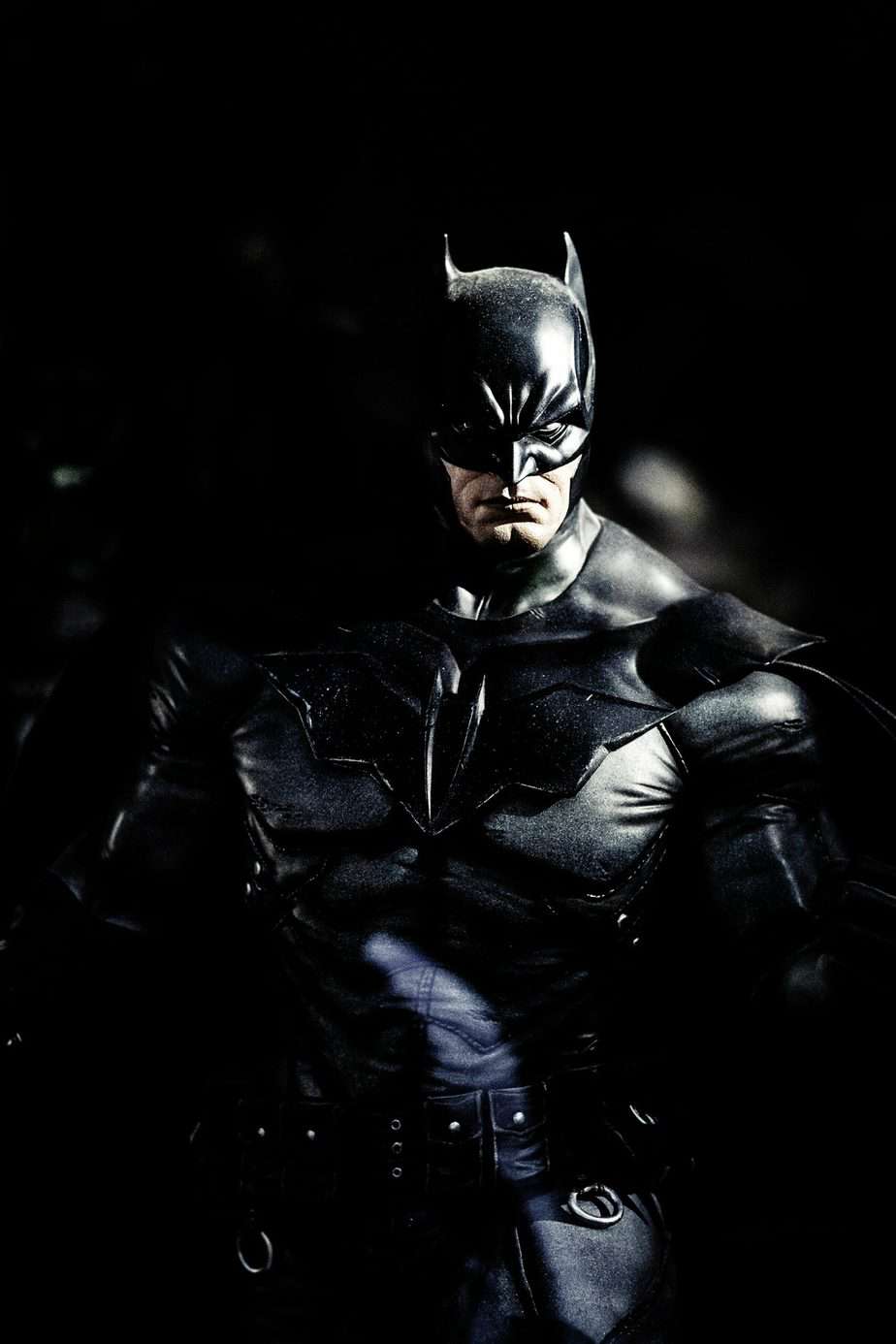 TV Show
Batman is a 1960s American live-action television series, which premiered on ABC in 1966. There are two crime-fighting heroes in Gotham City: Adam West plays Bruce Wayne/Batman and Burt Ward plays Dick Grayson/Robin.
In addition to its campy style and peppy theme tune, it is well-known for its purposefully humorous and naive morality. Included in this was promoting the need for seat belts, doing schoolwork, eating vegetables, and drinking milk, among other things.
What to Look for in a Batman Backpack
When you're looking to buy a new backpack, there are a few things that you have to pay attention to get the best products for your needs.
Size
Depending on how you intend to use it, you may need to get a backpack of a specific size. There is no doubt that you would want to know how much it could hold, what its average capacity was, or how much it could carry before it began to rip.
Price
To comprehend this, you must first realize that greater prices indicate higher quality. You wouldn't want to get a phony backpack that comes apart after a handful of usage and dumps everything within it on the floor.
Bags are available in a variety of pricing ranges that are reasonably priced. Some of them are around $30, while others could be in the hundreds of dollars range.
Comfort
When it comes to purchasing a backpack, this is unquestionably the most crucial factor to consider. Throw it on and test it out before you purchase (if you can). If you're ordering online, make sure it has a good return or exchange policy.
Check the bag's adjustable shoulder straps and make any necessary adjustments to limit the strain on your back to a minimum.
Materials
The material that is used to construct a backpack is equally important. It decides how long you will be able to use your backpack. Canvas fabrics have a tendency to survive significantly longer than, for example, a cotton-made bag.
Batman backpacks are made from a wide range of materials, including polyester, leather, nylon, pack-cloth nylon, and cotton canvas.
Style
A new Batman backpack has to be a good match for your personality and style. As an added bonus, if your child is a fan of Batman, you could easily acquire him or her a backpack that matches the color of their school outfit.
If that is the case, you can get a backpack that matches their present dressing style or fundamental hue.
Durability
This is yet another significant point to consider. If you are the type of person who doesn't mind purchasing a backpack every other month, you could probably overlook this section of the article.
Look at how durable it is if you want something that will endure a long time for your needs. Bags constructed of canvas fabric have a tendency to last for an extremely long time. Additionally, water-resistant fabrics are very popular right now. You might try it out before making a purchase.
Types of Backpacks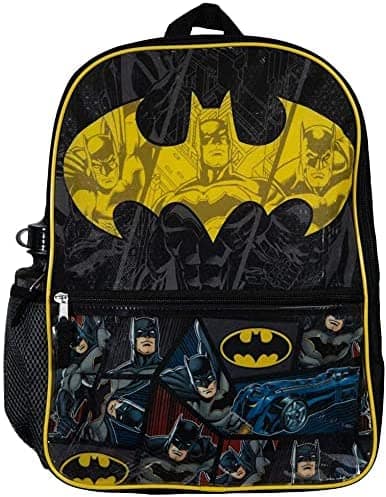 As you're looking for a new Batman backpack, it's important to determine what you need it for. When that's out of the way, consider the following types of backpacks.
Basic Backpack
A simple daypack was designed in the same way as a conventional backpack, with the main compartment that opened from the front, a large front pocket, a set of shoulder straps, and a grab handle. These don't normally have many features, and their sizes aren't really different from one another.
These packs are frequently lacking in functionality. You'll be lucky if you receive an interior pocket in one of them. And, in contrast to some of the other packs you'll see in this book, these are rarely equipped with padded and ventilated back panels.
Laptop Backpack
Laptop backpacks are bags that include a sleeve for a laptop computer inside. There are so many styles and designs available for these backpacks. The sleeves can be internal, exterior, or even removable depending on the situation.
They are compatible with 11-inch laptops, 13-inch laptops, 15.6-inch laptops (the most common size), and some are even compatible with 17-inch laptops.
When purchasing a laptop bag, it is important to ensure that the sleeve will accommodate your computer. First and foremost, you must pay close attention to what is happening.
The cushioning of the sleeve is the second element that needs to be taken into consideration. The thicker the cushioning, the greater the shock-resistance of the backpack, which will help to protect your laptop if you drop your bag.
Rucksack
In most cases, the main compartment of a backpack is closed by a zipper. On the other hand, Rucksacks are distinguished by the presence of a flap that covers the main compartment.
The flap is normally fastened to the body of the backpack by a buckle or a magnet, depending on the style. Rucksacks are typically smaller than conventional backpacks, which is due to the way they are constructed.
Drawstring Backpack
In essence, they're gym sacks with a drawstring closing and shoulder straps, therefore they qualify as a form of a backpack in some ways. And, yeah, they are a little bizarre and only barely functional.
For starters, they are often quite small, with a volume ranging between 10 and 25 liters. That is a small sum of money. However, it is sufficient for gym equipment, which is their most typical usage.
The fact that they are incredibly light in weight is one of the reasons why they are so popular. Even the largest drawstring backpacks are only a few ounces in weight, which is incredible.
Furthermore, because these packs are often rather small, you may easily toss them into another bag and always have them on hand in case you need them.
Hiking Backpack
These backpacks, as their name implies, are intended for persons who go hiking or trekking regularly. These backpacks feature multiple attachment points for all of the gear you'll need on your adventures, a large main compartment for your clothes, and other essentials.
The Best Batman Backpacks
I chose these based on their overall quality, function, price, and…coolness factor. Come on, it's Batman!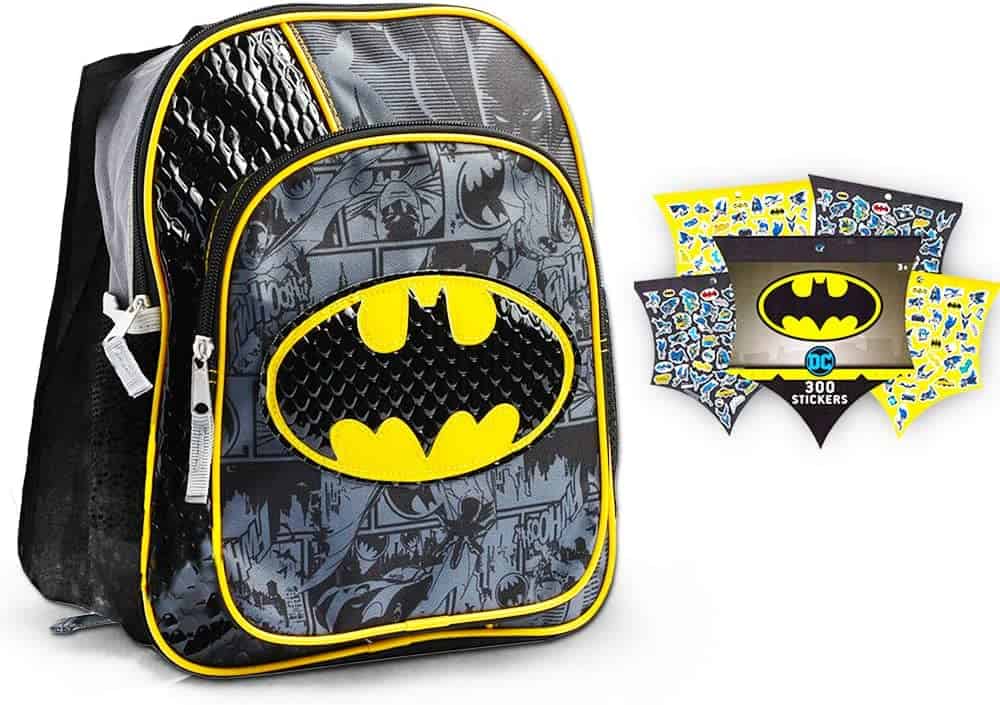 Budget Pick
If you have a toddler who dreams about being a superhero, this Batman backpack might be a gift that they'll truly appreciate. It even includes a bunch of stickers and a detachable cape.
Price Range: $10 – $20
Material: N/A
Size: 12-inch backpack
It features padded shoulder straps, zippered pockets, and a top loop that makes it easier to hang. If my kiddo had this one, he'd lose his mind.
Pros
Top loop for hanging.
Padded shoulder straps.
Zippered compartments.
Cons
Product page lacks material info.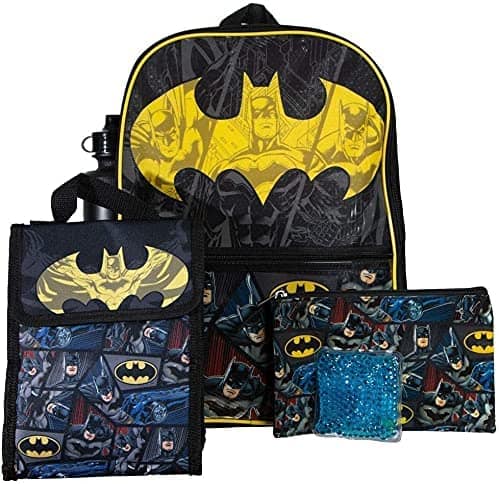 Best Batman Backpack for Comic Fans
If you want more than just a backpack for your child, here is a set that includes different goodies for kids that love batman. I know with my youngest, she loves it when everything matches. Her backpack, lunch bag, pencil case, etc. It's annoying, but I respect her commitment.
Price Range: $30 – $40
Material: polyester
Size: 16″H x 12″W x 5″D
The set comes with a Batman comic book-themed backpack that measures 16″H x 12″W x 5″D. It also comes with a zippered utility bag, a water bottle, an ice pack, and a tote lunch box.
Pros
Includes 5 Batman-themed items.
Tote lunch box has an insulated interior.
100% licensed and authentic.
Cons
The material feels pretty thin.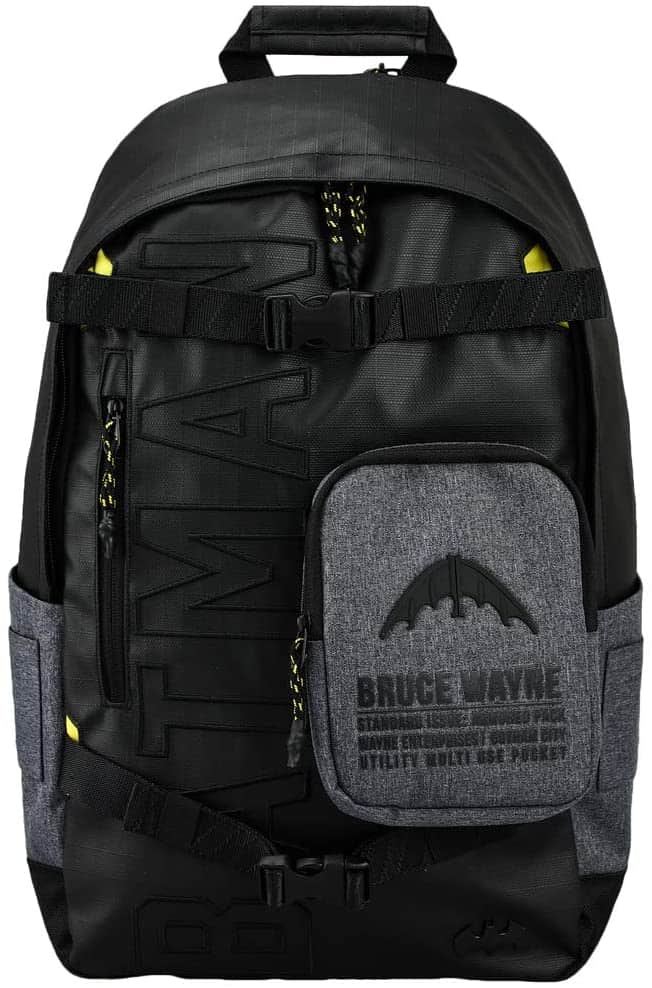 Best Bruce Wayne Backpack
"Nobody cared who I was until I put on the mask," Bane stated. I adore Bane's backstory. But, on the other hand, the same can't be said for the super-rich hero of our story: Bruce Wayne. Masked vigilante by night and philanthropist by day, Bruce Wayne is just as powerful without the costume as he is when he puts it on.
Price Range: $40 – $50
Material: coated polyester
Size: 12″ W x 19″ H x 6″ D
This Bruce Wayne backpack is perfect for all those who agree with me. It measures 12″ W x 19″ H x 6″ D, features skate traps, and comes with a padded laptop pocket as well.
Pros
Removable pouch.
Padded laptop pocket.
Easy to clean.
Cons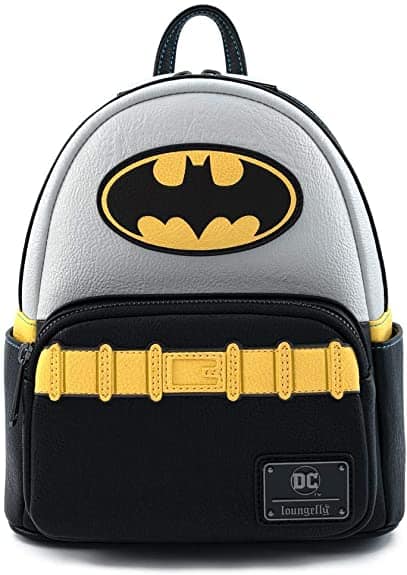 Best for Kids
I present this miniature backpack for small children who love being a part of the Batman universe. Designed with faux leather, the backpack features metal plaque details and measures 9 x 10.5 x 4.5 inches.
Price Range: $160-$170
Material: faux leather
Size: W: 9″ X H: 10.5″ X D: 4.5″
It comes with a top handle, a front zippered pocket, and two more pockets on the side. Plus, the interior has a liner printed with Batman comic details and characters. Honestly, it might even make a decent mini backpack for adults… *ponders*
Pros
Printed interior lining.
Easy to clean.
Metal plaque details.
Cons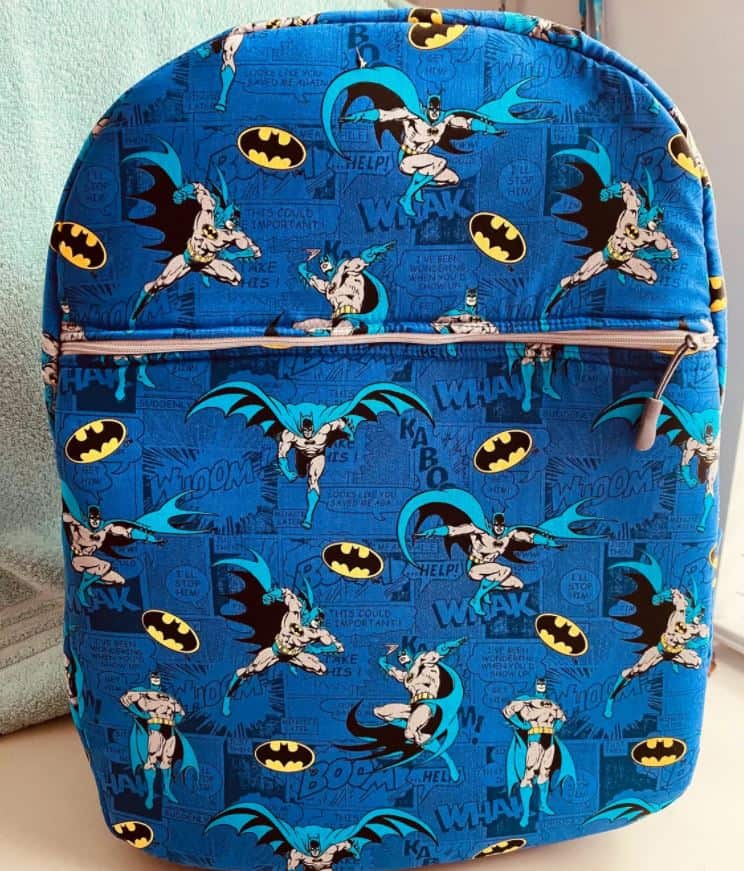 Best Handmade Backpack
When you want a truly unique Batman backpack, how about going for something a little more handmade? This way, you can be sure that each product has its unique details. Personally, I spend far too much money on Etsy, but…YOLO! Plus, I love supporting small businesses.
Price Range: $70 – $80
Material: Canvas
Size: Mid-sized (no dimensions listed)
This one right here is a blue backpack with great Batman-related details, making for a great purchase for comic book fans. I would have loved to see more details on the materials and size of this backpack.
Pros
Machine washable.
Zippered front pocket.
Adjustable straps.
Cons
More product info is needed.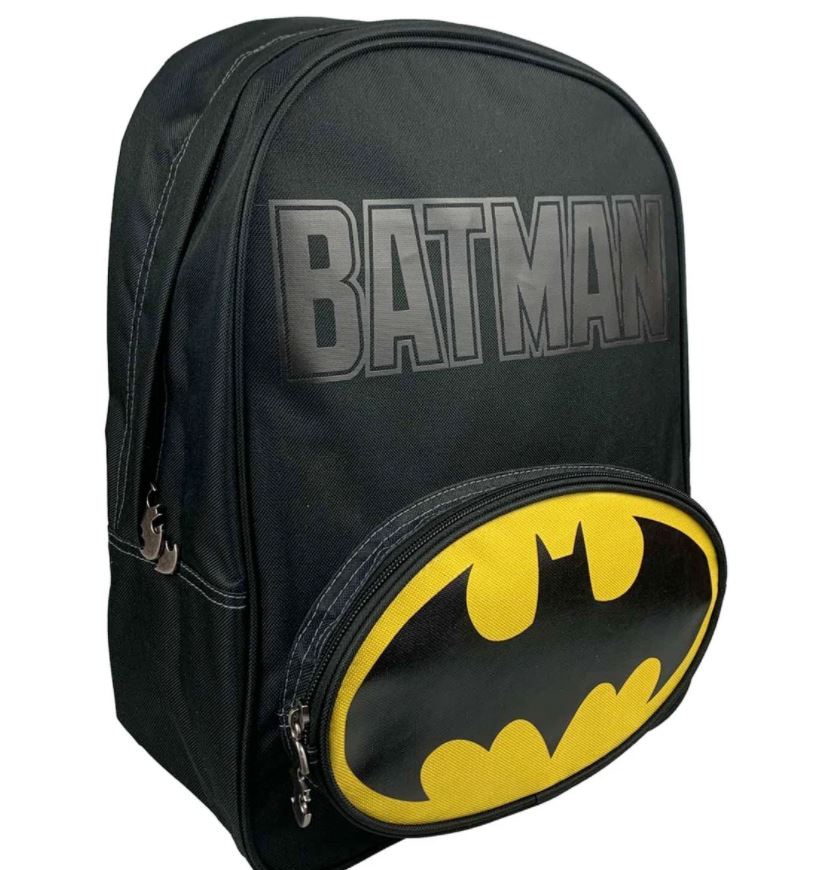 Best Old School Batman Backpack
For those looking for a classic Batman backpack, I have this suggestion. Staying true to the original colors, this black backpack features the black and yellow bat signal, alongside a few other elements that make it purchase-worthy.
Price Range: $20 – $30

Material: Canvas

Size: N/A
I mean, come on. You have to admit, this backpack is super cool! I love how simple it is. My kid could use it, but I could easily sport it around conventions. With zipper fastening, this backpack also includes a front zippered pocket for phones, keys, and wallets.
Pros:
Old-school design.
Works for adults and children.
Official merchandise.
Cons:
No info on size and materials.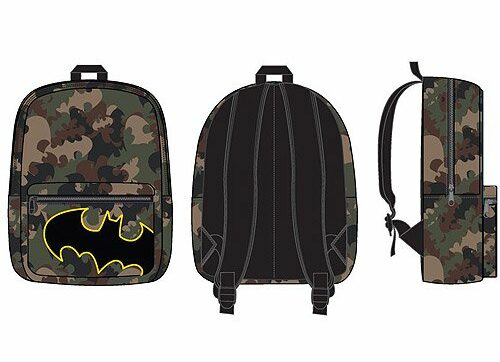 Best Drawstring Backpack
If you're looking for an affordable drawstring backpack that shows your love for the Batman, seriously consider getting this one! I can't recommend it enough!
Price Range: $20 – $30
Material: polyester
Size: N/A
I'm a little disappointed that the product page lacks information about the size, as this feels like an important aspect when you're buying a backpack. It's made from polyesters and sports that camouflage looks that some people love.
Pros
Easy to clean.
Lightweight.
Foldable and easy to carry.
Cons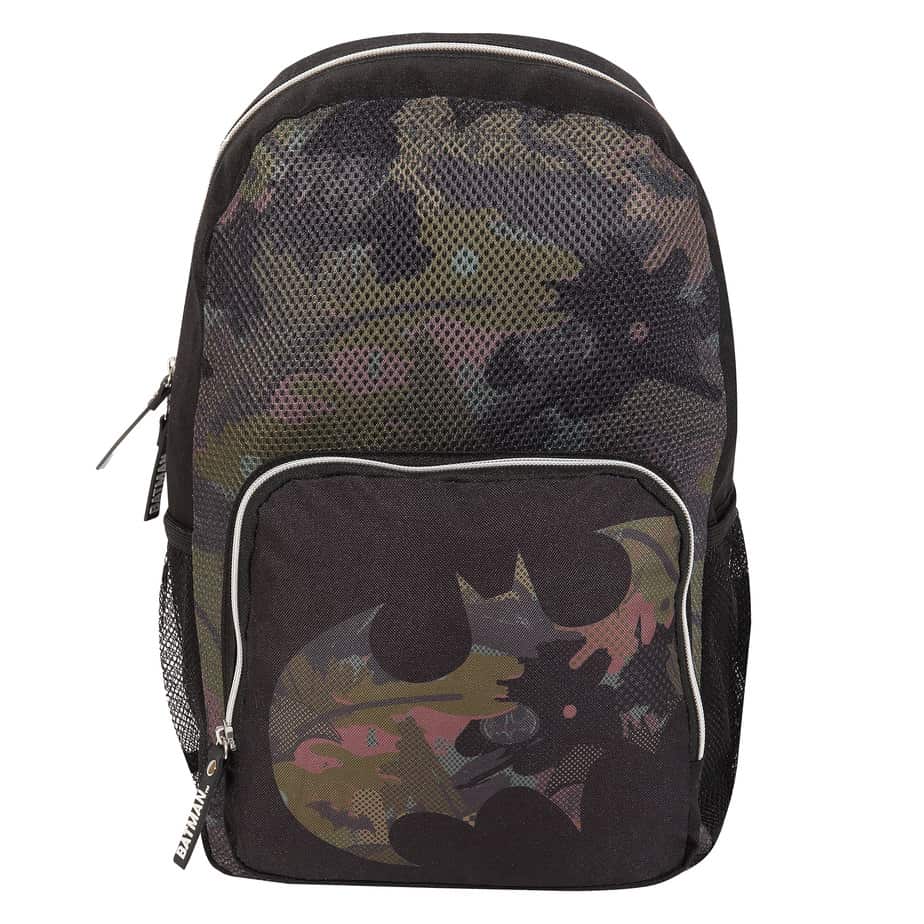 Best Camouflage Backpack
The nerdy little girl in me is screaming right now. I WANT THIS! This legally licensed piece of DC Comics goods displays a camo version of the classic 1990s Batman Logo on a baseball cap that is officially licensed by the company.
Price Range: $40 – $50
Material: polyester
Size: 3.14 x 18.9 x 15 inches
These backpacks, which are designed with helpful compartments and zips, are suitable for a variety of events. The backpacks are constructed entirely of polyester.
Pros
Adjustable straps.
Large capacity.
Mesh side pockets.
Cons
Questionable long-term durability.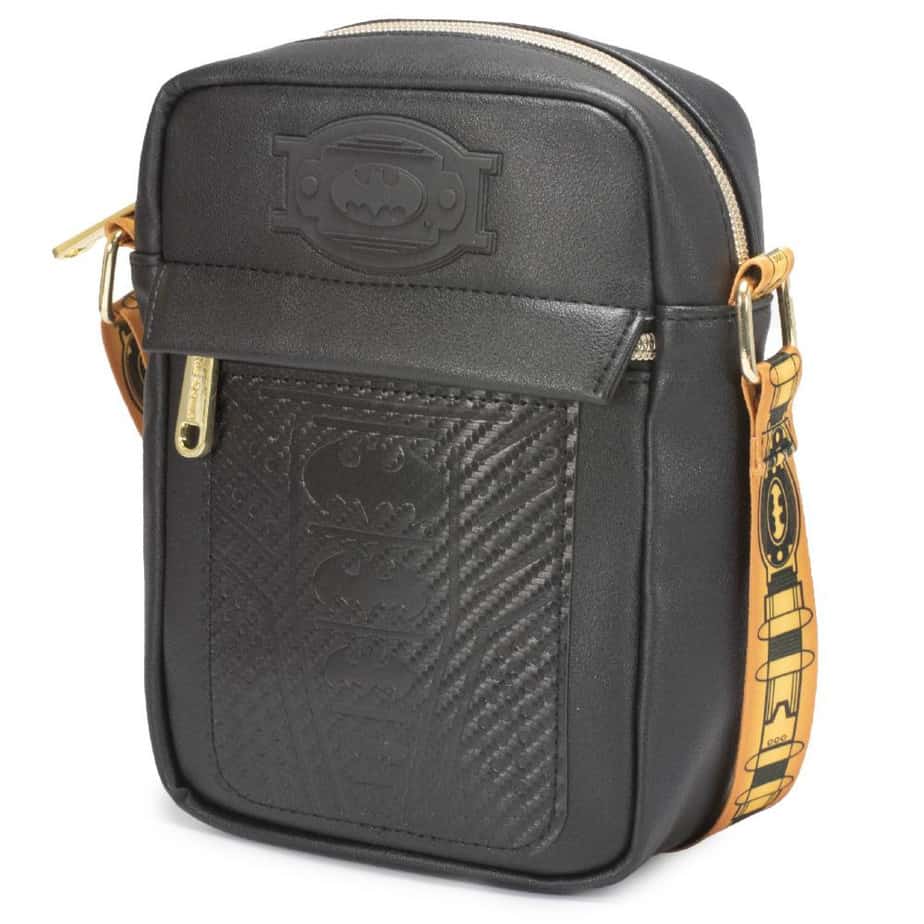 Best Dark Knight Backpack
As an author and screenwriter, The Dark Knight is by far one of my favorite superhero-themed movies out there (could also be because I'm a die-hard Tom Hardy fan). From the passionate acting to the morale of the story, I like everything about it.
Price Range: $30 – $40
Material: vegan leather
Size: N/A
Another thing I like is this stylish The Dark Knight-themed bag, which is more like a purse than a backpack itself, is that it's made from vegan leather.
Pros
Luxurious feel.
Zippered front pocket.
Easy to clean.
Cons
More of a purse than a backpack.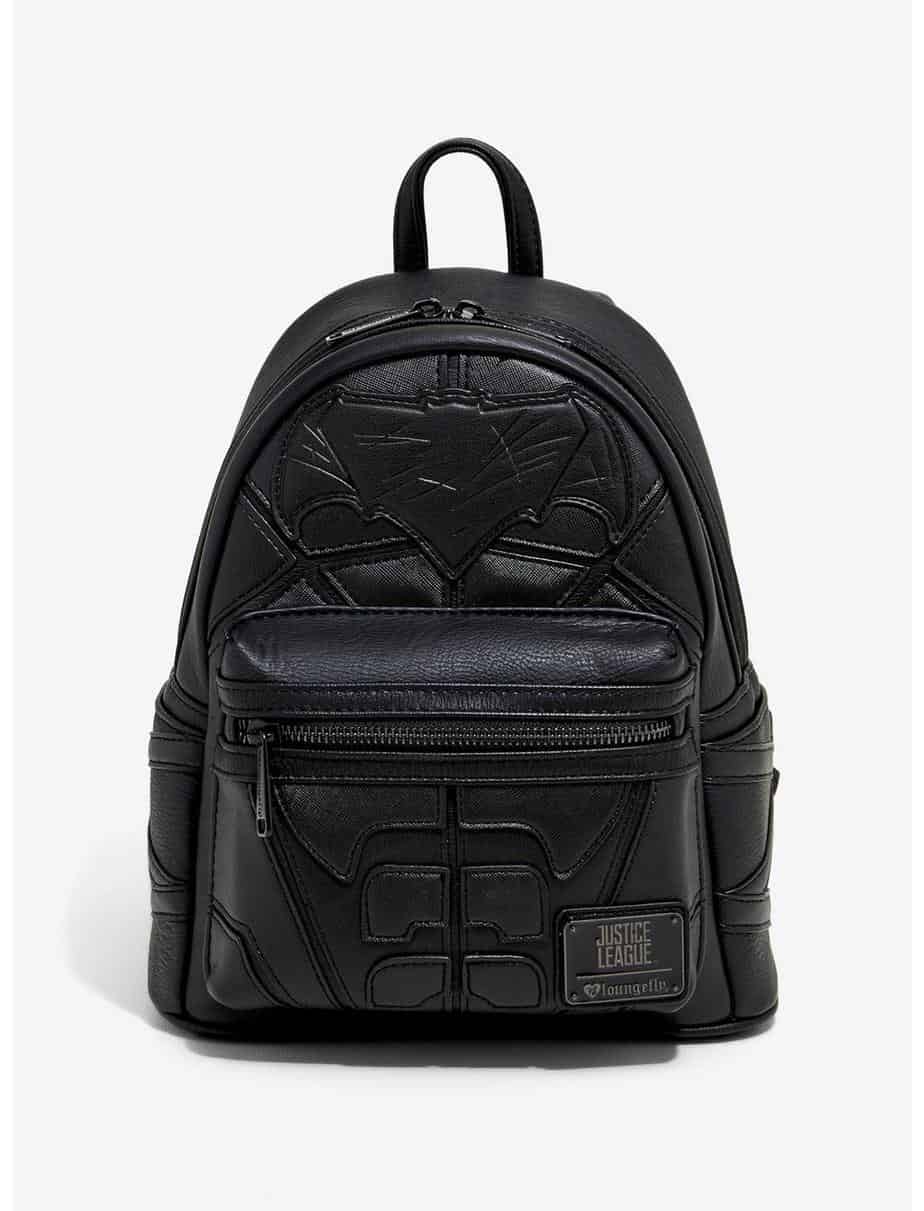 Best Justice League Backpack
Inspired by the Justice League version of Batman, this backpack is perfect for anyone who wants a miniature bag that's inspired by Gotham's ultimate protector. I totally love that it's all black and has a simple design. Kids would like it but also grown-ups.
Price Range: $70 – $80
Material: polyurethane
Size: 9″ x 4 1/2″ x 10 1/2″
It features applique details on the front and sides, offering a discreet Batman logo. There is a front zippered pocket, two more pockets on the sides, and adjustable straps.
Pros
Quality polyurethane construction.
3 exterior pockets.
Adjustable straps.
Cons
Only available in full black.
Batman Rainbow Logo Mini-Backpack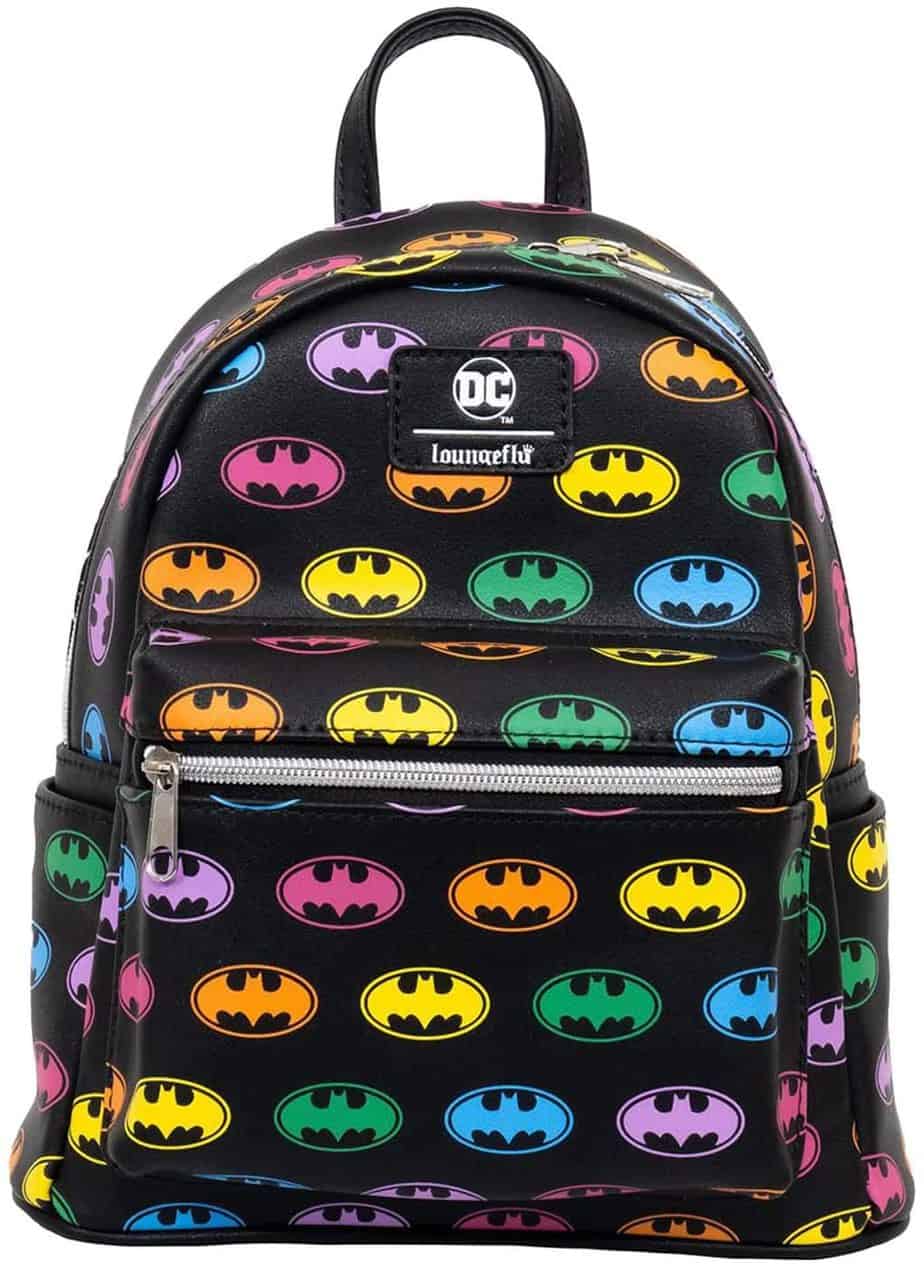 Best for Girls
Wanna know what I absolutely love about this backpack? How it embodies both Batman's darker nature with the colorful representation of the bat signal. And I just know that both my daughter and son would love it.
Price Range: $100 – $150
Material: faux leather
Size: 12 inches tall
Made from faux leather, this adorable little backpack comes with adjustable straps, a zippered front pocket, and a top handle. It is an officially-licensed DC product.
Pros
Adorable design.
Top handle.
Zippered pocket.
Cons
No zippered pocket on the inside.
FAQ
Question: Where can I get Batman Backpacks?
Answer: A never-ending list of online stores sell Batman backpacks, including Amazon and Etsy.
Question: Are Batman Backpacks Just for Kids?
Answer: No. Superhero-themed items are often more sought-after by adults than children (with that being everything from Funko Pops to backpacks).
Question: Who Makes Batman Backpacks?
Answer: There are plenty of manufacturers that make Batman backpacks, but you have to be aware of the fact that not all of them are licensed to do so. Always buy from trusted manufacturers if you don't want to end up with a cheap knock-off.
I am Vengeance…Er, I mean, This is the End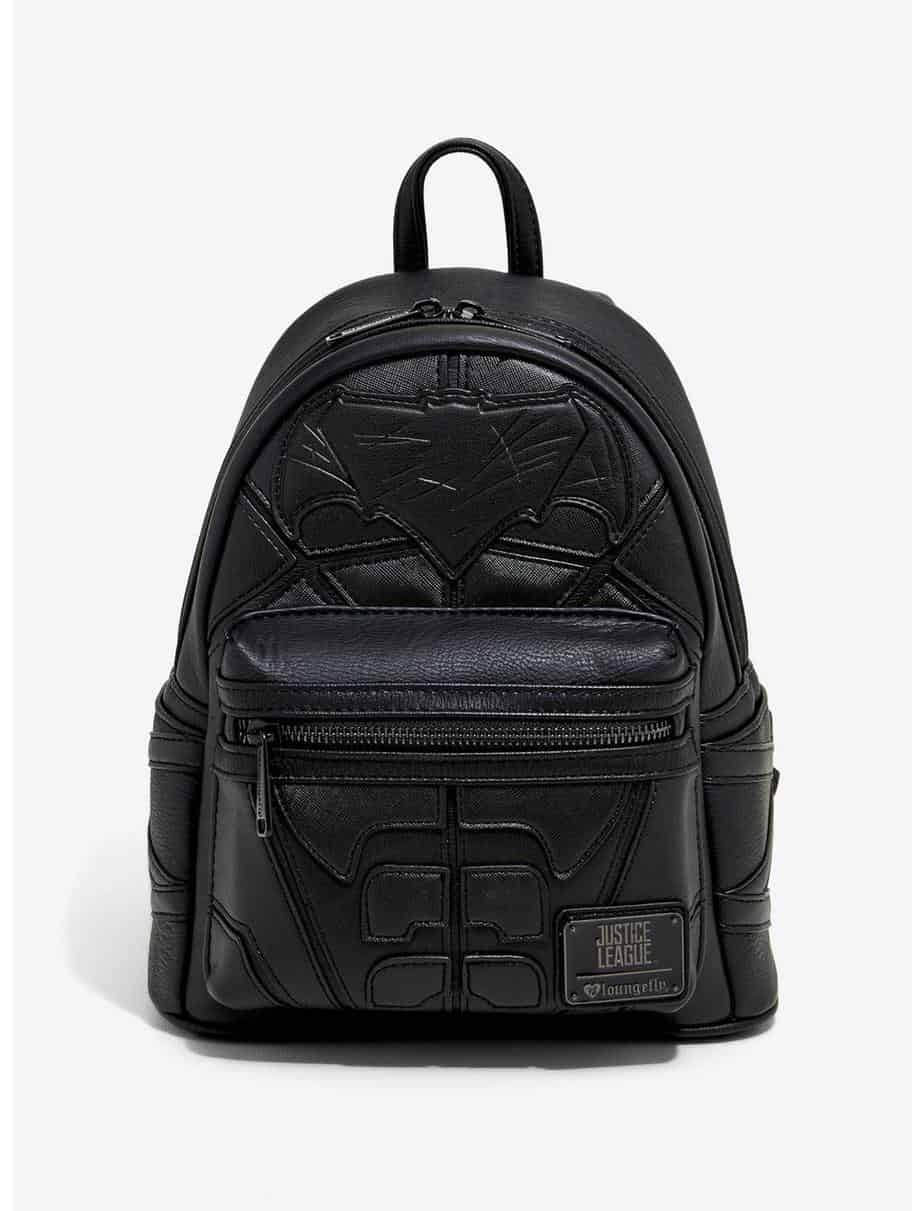 Batman's Universe is probably one of the most complex ones out there. As a writer, I'm totally obsessed. The superhero's story has been delivered to us in many forms over the decades. That helped develop an entire industry of products designed for Batman fans: from collectible figurines to backpacks.
Did you find one on my list that you loved? Let me know! Personally, I adored the all-black look of the Loungefly DC Comics Justice League Batman Mini Backpack and I almost bat-caved and got it (see what I did there?).
For more great Batman or DC recs like this, fly on over to our list of the best Batman merch!
Find more Batman-inspired merch, by reading these guides below:
The Best Batman Gaming Chair Guide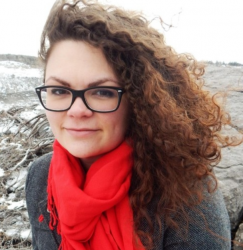 Latest posts by Candace Osmond
(see all)