With over 15 million copies sold, it's hard to underestimate the popularity of Stardew Valley. It's no surprise that there's plenty of merch to buy– but how do you select the best with so many options?
Since its release in 2016, Stardew Valley, a farming simulator, has captured players' imagination. The once-indie-startup has soared to become one of the most beloved games worldwide. Part of what I love about Stardew Valley isn't just the game itself, but the community surrounding it. 
That sense of community is how Stardew Valley continues to grow, even in 2022. Special events and contests are also playing a role. In Fall 2021, Stardew Valley hosted its first Stardew Valley Cup. The cup played upon the more competitive, co-op side of the farming simulator. Developer Eric Barone was one of the main commentators. 
Top Stardew Valley players competed for a total of $40,000 in prize money. Teams of four competed to earn in-game points and to complete certain tasks. While competitors were given a set of established tasks, there were some surprises along the way.
Though competitive, the live stream competition showed yet again how passionate players are. That rings true for those who love co-op and players like me, who prefer solo mode gaming. 
It's only natural that enthusiasm spills over into everyday life. Stardew Valley merch is unique and a way to show your passion, even when you're not gaming. But with so many options, I'm giving you a guide to help you sort through to find only the best merch. 
Bottom Line Up Front Summary:  If I had to recommend just one item for a new Stardew Valley fan, it would be the Stardew Valley Collector's Edition. This edition is something you'll want to save– and could even be valuable in years to come. Available for Nintendo Switch and PC, this bundle includes exclusive items to enhance your gaming experience. 
My Top Picks
Who Made Stardew Valley?
In case you're new to Stardew Valley or buying for a fan, I want to discuss this game's incredible history. Stardew Valley was developed by Eric Barone. He began working on the game in 2011 after graduating from the University of Washington- Tacoma with a BA in Computer Science. 
Inspired by Harvest Moon and unable to find a full-time position in the gaming industry, Barone wanted to do something better. While he originally loved the Harvest Moon games, he felt they'd deteriorated in quality. He also wanted to add elements of tasks, quests, and even battle. In 2013 he began working with Finn Brice of Chucklefish to set up a website and work on other marketing projects. 
The game was launched only after Barone was completely satisfied with the gameplay features. There was an initial release for Windows in 2016, and other platforms in later years. 
Is Stardew Valley Worth it?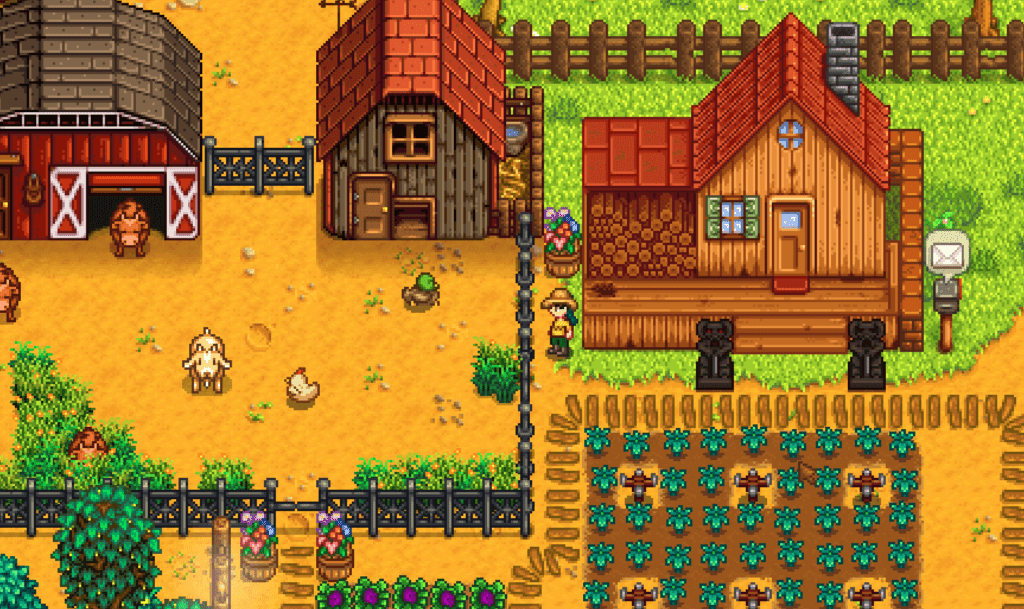 Stardew Valley is very worth it for its genre. The good part about Stardew Valley is that there are several ways to play. You can play online or offline and singleplayer or co-op multiplayer. You can focus on building a farm or completing challenges and tasks. What's so fun about Stardew Valley is that it feels like its own universe.
Unlike games with linear quests, you can also get more playtime with Stardew Valley. Whether you're challenging yourself, crafting a narrative, or just trying to relax, Stardew Valley is worth it if you like niche simulation games. 
Is Stardew Valley a Boring Game?
On the other hand, there is no one game for everyone. Some players not used to the genre find Stardew Valley boring. Many complain it's repetitive, and it can be if you don't either fully explore gameplay or mix up how you play.
If you care a lot about high-end graphics it may not be the game for you, either. It relies on pixelated graphics, which is not uncommon for the genre. Look at the types of games you normally play. If you love games like Harvest Moon or Animal Crossing, chances are Stardew Valley will not be boring for you. 
How Many Hours Does it Take to Play Stardew Valley?
Since there is no true ending to Stardew Valley, there isn't a set number of gameplay hours. If you're focusing on the major tasks you can complete, it takes an average of 52 to 54 hours. However, there are many things to do outside of the staple tasks. 
What is the Gameplay of Stardew Valley?
Stardew Valley allows you to create a farm, interact with other players, and complete tasks. All players start Stardew Valley with a house and a little land. You decide what type of farm you want to create, all the while growing crops and taking care of animal livestock. You can get married and develop relationships with townies.
Quests, farming, creating materials, and even battling malignant creatures are just a few things you can do. It's a free-form play, so you decide if you want to follow tasks or quests. Unlike some casual games, you'll also have a health bar. The game is divided into months, where different things happen to depend on the time of year. 
What Should I Play Stardew Valley On?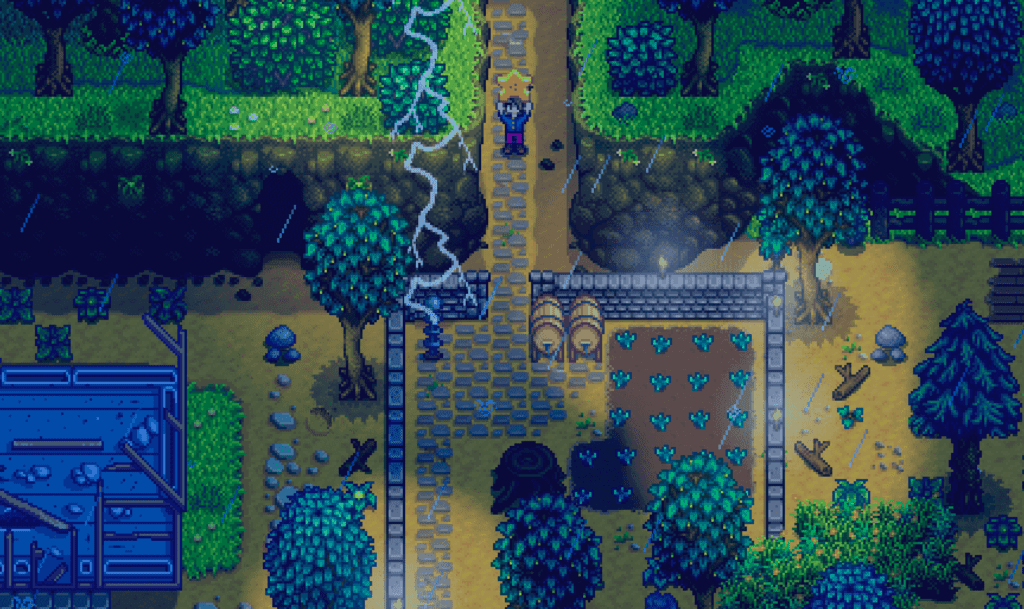 While Stardew Valley originally launched only on Windows, today you can play multiple platforms. There are pros and cons to each. 
Does Stardew Valley Cost Money?
Stardew Valley can be bought for PC/ Windows, macOS, and Linux on Steam. It's available for Nintendo Switch, PS4 and Xbox. . It's an affordable game, and I don't have prices going up soon. It's even available on mobile via the Google Store and the Apple Store.  Of these, it's the most expensive on Switch and the cheapest for mobile. 
Can You Play Stardew Valley Split-Screen and Online?
Splitscreen and online features are available in co-op mode. You can play with up to 4 players via IP or LAN addresses. This feature is available on all platforms except for the mobile version of Stardew Valley. 
Is it Better to Play Stardew on Switch, PC, or Mobile?
To help you decide on the best platform for your Stardew Valley gaming, see the pros and cons in the table below. You can also download or purchase Stardew Valley from the links provided. 
I prefer the original PC version most. Stardew Valley isn't a demanding game from a performance standpoint. However, with PC you get the full features, mods, and ways to customize your game. It's also less expensive than the Nintendo Switch version of Stardew Valley.
Ultimately, it can be enjoyed on any platform and I wouldn't call any platform bad. If you don't care about mods, customization, or multiplayer, you're going to get a pretty similar experience across platforms. 
Where Can You Buy Stardew Valley Merch?
The better question is: where can't you buy Stardew Valley merch? The combination of official and fan-made merch means you have an incredible selection of Stardew Valley clothing, plushes, themed gifts, decor, and much more.
The major platforms that sell Stardew Valley merch are Amazon, Etsy, and the official Stardew Valley merch store. All of these websites are secure and have fair customer policies. I highly recommend buying from the official store, then looking to Amazon if you want or need more options. The reason why I don't include Etsy is that fans technically don't have the right to sell Stardew Valley merch. 
How do I Find the Best Stardew Valley Merch?
My Selection Criteria 
My main criteria for finding the best Stardew Valley merch includes the following:
Unique or Creative Designed

Authorized Website

Highly Rated by Customers

Easily Recognizable as Stardew Valley- Themed

Good Price for Value

Versatility of Use 
Stardew Valley Merch: My Picks
For some items, I value creativity over versatility. However, all of my picks check the boxes for 5 out of 6 of my buying requirements. I do this to make sure you can find the best Stardew Valley merch. I also made sure to include a little something for everything. Here are my favorite finds from the official Stardew Valley Store and Amazon. 
Stardew Valley Official Online Shop Merch 
If you want official merch, there's no better place to shop than the official store. The Stardew Vallery merch shop sells plush, pins, apparel, prints, collector's editions, accessories, and more.
All of this merch is well-designed, with distinct logos and colors. I also like that the official Stardew Valley store keeps its prices reasonable for the most part. It's a vibrant, playful collection of themed gifts that will suit even the most avid fans. Shop All Items Here. 
Stardew Valley Collector's Edition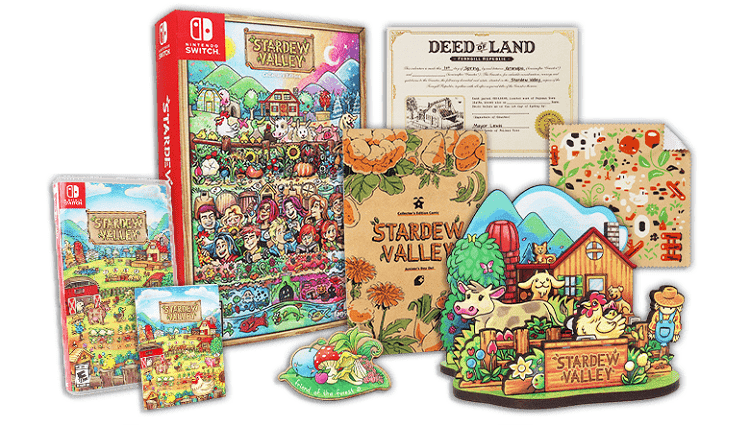 If you're only going to buy one thing for yourself or an interested player, consider the collector's edition. Even if you're already playing on one platform, you can play on another. This bundle is available for both PC and Nintendo Switch. Along with the game itself, the bundle also includes exclusive items. This includes a wooden stand, wooden lapel pin, comics, cleaning cloth, farm deed, and a box. All wood is sustainably harvested. It also comes with an official game manual and a physical game. Buy Here. 
Pros
Collector's Item

Sustainably Sourced Wood

Excellent Gift for New Player
Cons
Can't Buy Items Separate From Game

Expensive 
Ginger Island Beach Tote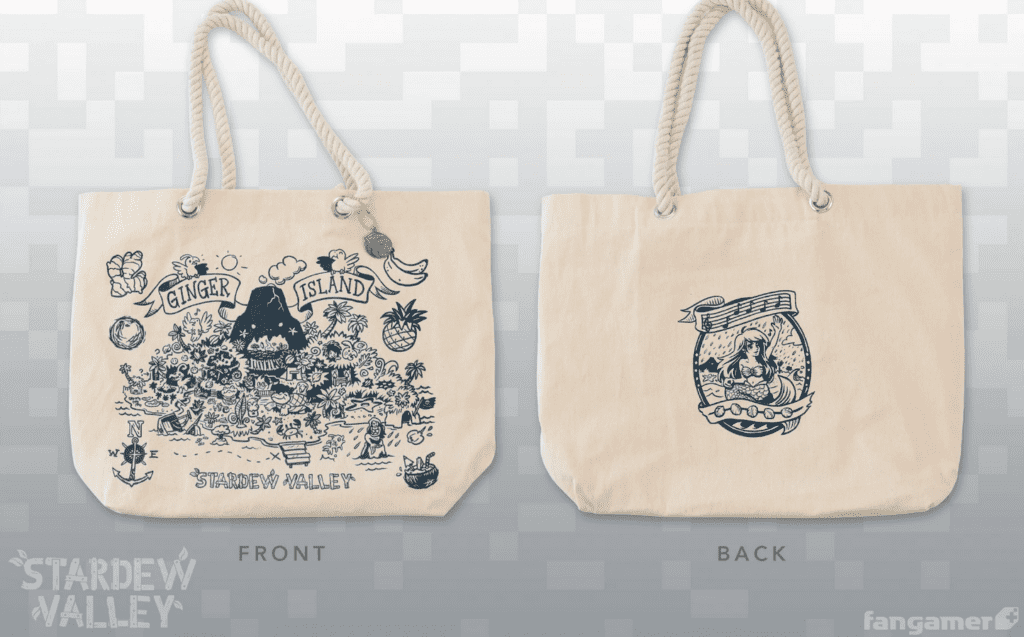 This tote bag features an official design by Tanline Printing. The canvas tote is 5 inches deep and 20 inches wide and comes with rope handles. I also like the charm as an added touch. It's a nice size for carrying sunscreen and a good book without being so large it's hard to store or use. Buy Here. 
Pros
Iconic Print Design 

Sturdy Rope Handles 

Great Size
Cons
Pelican Town Community Center Hoodie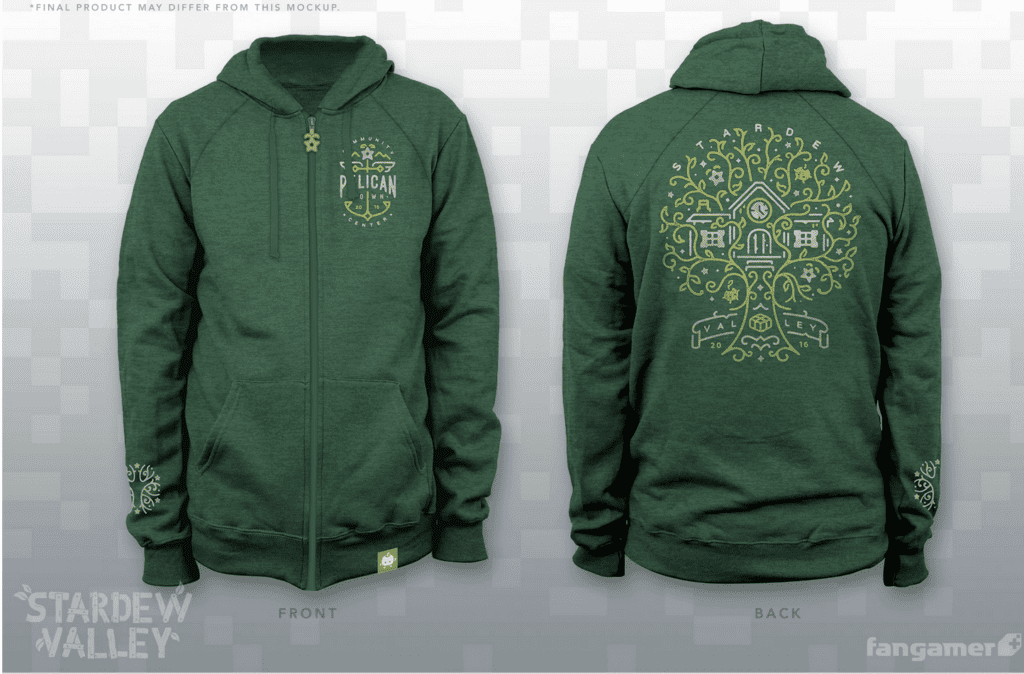 This cozy hoodie features a vibrant design and a zipper for changing weather. The medium-weight construction is ideal for a cool day, and the hood adjusts with drawstrings. This exclusive design by John Kay features print on the front, sleeves, and back. It's nice emerald green designs, with immediately recognizable details. The hoodie is available in XS through 5XL. Buy Here. 
Pros
Adjustable Hood and Zipper

Striking Design

Size-Inclusive 
Cons
Not Waterproof

A Little Pricey 
Stardew Valley CD Soundtrack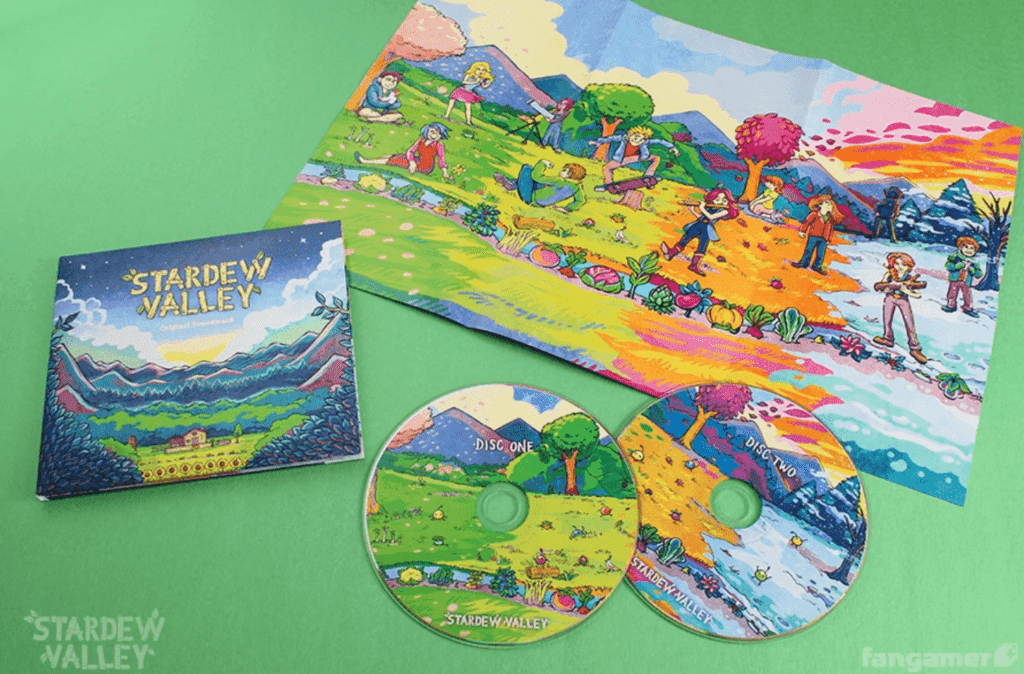 If you love the relaxing charm of Stardew Valley, you'll want to consider this soundtrack. The soundtrack features an incredible 77 tracks. It also has unique artwork with the same whimsical charm as the game. Buy Here. 
Pros
77 Tracks

Unique Artwork

Fold-Out Poster 
Cons
Stardew Valley Cross Stitch Kit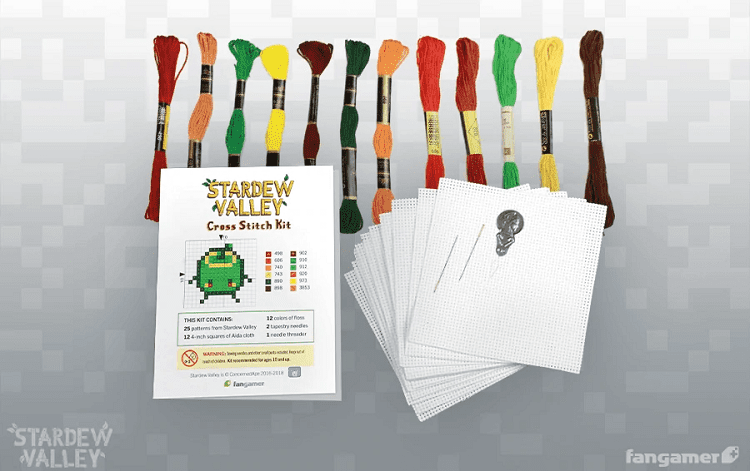 This would make a great gift for someone who already had traditional Stardew Valley merch. Inspire your inner creativity with this cross stitch kit. It comes with 25 unique Stardew Valley patterns, 12 sheets of cloth, and 2 needles. Buy Here. 
Pros
Creative Gift

25 Patterns

Cloth and Needle Included
Cons
Limited Use 

Cross Stitching May Need Further Instructions 
Stardew Valley Memaid's Pendant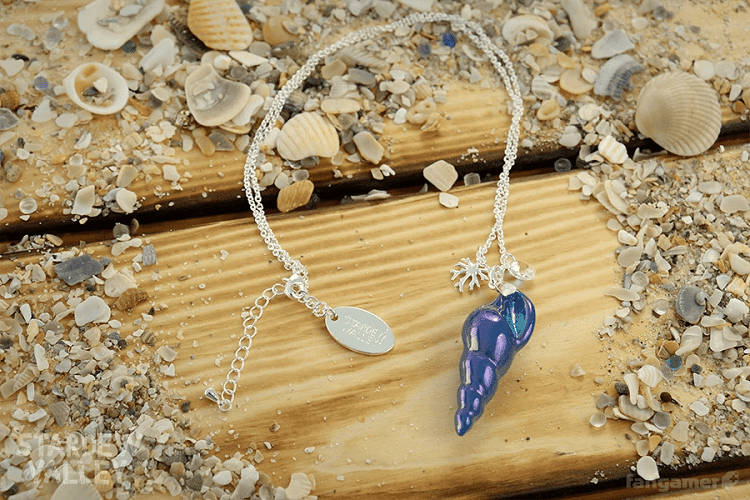 My final pick from the Stardew Valley official shop is this beautiful pendant. The pendant is meant to be a symbol of the mermaid's pendant in the game. Since the pendant is associated with marriage proposals and the sea, it's a romantic and meaningful accessory. The pendant is crafted with iridescent glass and set on a silver chain. The pendant comes in a clamshell container.Buy Here. 
Pros
Stunning Design

Romantic and Symbolic 

Wear with Anything
Cons
Glass is Fragile

Silver Can Tarnish 
Amazon Stardew Valley Merch
Unlike Etsy, you're buying for larger companies. There's a mix of official and unofficial merch but Amazon has a solid selection if you can't find enough on the official shop. You'll find popular items like a Junimo plush, Stardew Valley-themed mugs, blankets, puzzles, mousepads, wall decor, and more. Prices range widely.
Official collector's items are understandably more expensive than Stardew-inspired merch. The good news is that there's a pretty solid assortment of unique merch. Shop All Amazon Stardew Valley Merch Here. 
Stardew Valley Jigsaw Puzzle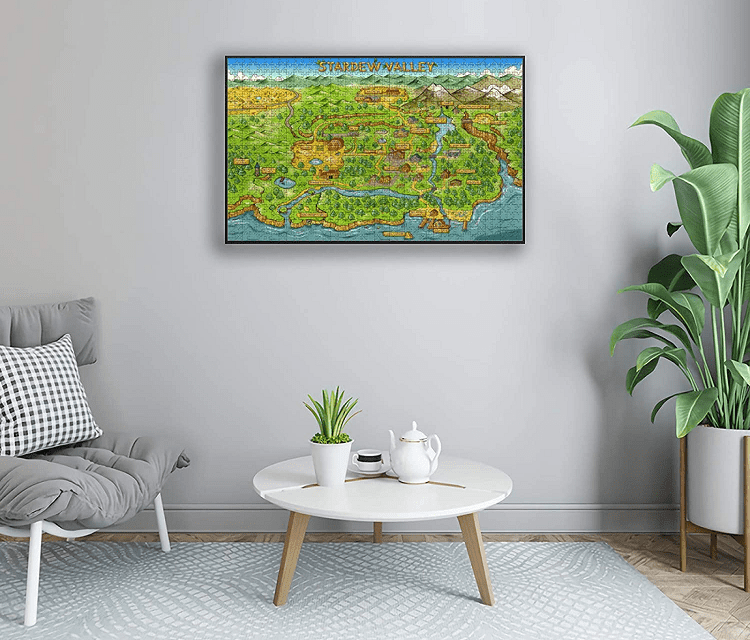 Stuck inside but don't feel like playing Stardew Valley? Unable to play on your usual platform? This Stardew Valley puzzle will keep you busy. The 1000-piece puzzle features a detailed and bright map. I also love that it can double as decor once it's put together. Buy Here. 
Pros
1000 Pieces

Bright, Branded Design

Doubles as Decor
Cons
Not Recommended For Very Young Children 
Laupuor Masks-Stardew Valley Face Mask Cloth Dust Masks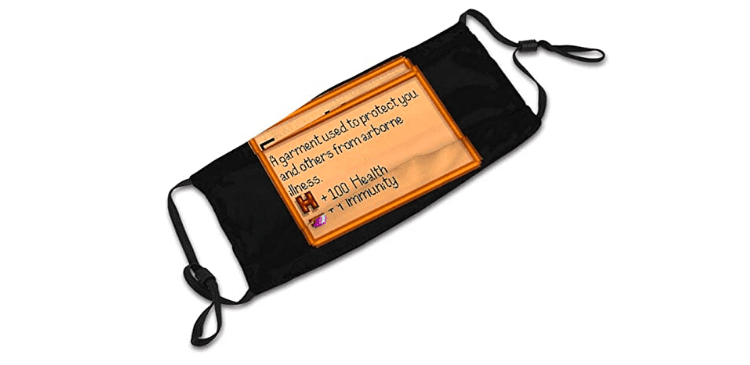 Keep you and your family protected with this unique cloth mask. The cloth mask features a playful Stardew-Valley inspired motif. It's adjustable and washable. The polyester material has a bit of stretch and should feel comfortable on your face. Buy Here. 
Pros
Practical Use

Quirky Design

Adjustable and Washable 
Cons
Not Medical Grade 

One Size 
Stardew Valley – Green Junimo Plush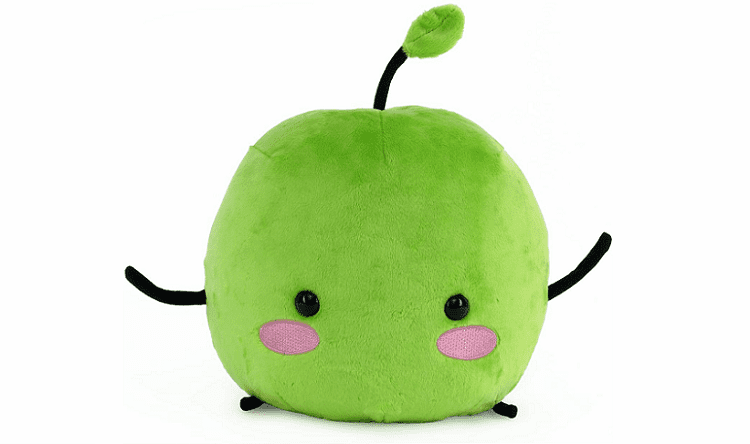 Jumio plushes are one of the most popular pieces of merch. This plush is an Amazon Choice, with high customer ratings. It stands at just below 9 by 9 inches, making it about the right side to have as a desk accessory while you game. It's also available in blue. Buy Here. 
Pros
Amazon Choice 

Desk Accessory

Soft and Bright
Cons
No Immediate Practical Use 
Stardew-Valley Soft Tapestry Wall Hanging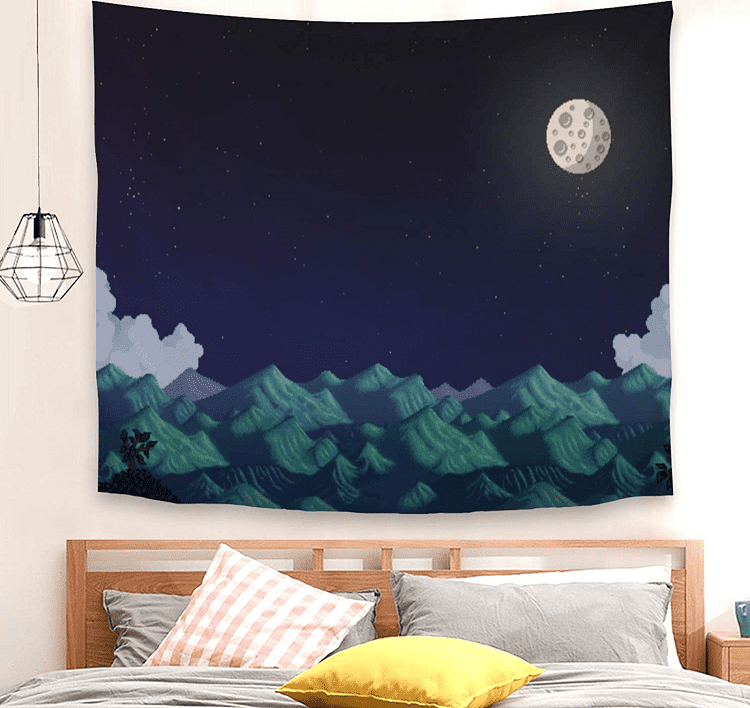 This wall hanging is Stardew Valley themed. At the same time, it's interestingly versatile, with a whimsical charm. The tapestry has a landscape orientation and looks great when hung on a bedroom or gaming room wall. The night sky is relaxing and atmospheric. Buy Here. 
Pros
Versatile and Whimsical

Wall Decor for Any Room

Relaxing Ambiance
Cons
Doesn't Come with Hanging Method

Not Many Customer Reviews 
Frequently Asked Questions
Question: Are Fans Allowed to Sell Stardew Valley Merch? (rights)
Answer: Fans don't technically have the right to sell Stardew Valley merch. In 2016, the developer made a direct statement on the matter. It's tricky, but you cannot use any official artwork or logos from the game. Many Etsy sellers do so. There are complicated cases– the bridge for creative remediation vs copyright. If you plan to sell Stardew Valley merch, it must be all original artwork. 
Question: Is Stardew Valley Still Being Updated?
Answer: Stardew Valley continues to be updated– or it did until recently. This is a testament to the developer's desire to create an immersive and player-friendly experience. However, an update that was planned for 2021 was delayed, and it's unclear about the future developer's plans. 
Question: Will Stardew Valley Go on Sale?
Answer: There are occasionally sales for Stardew Valley, most often on Steam for the PC version. These sales happen intermittently, however, and may only give you a discount of a few dollars. The good news is that Stardew Valley doesn't cost much in the first place. 
Question: How do I Get Married in Stardew Valley?
Answer: To get married to an NPC, you need to develop your relationship with daily interactions. Their relationship has to be at 10 hearts before you can propose. You'll also need to offer the Mermaid Pendant. This pendant may either be collected on the beach while it's raining or bought from the Old Mariner shop. 
Question: How do Stardew Valley Players Have Babies?
Answer: After you're married, you can to option to either have or adopt a child. You must be married and have to upgrade your home twice. The second upgrade provides the nursery with an additional room that you'll need. Wait patiently until your partner asks if you'd like to have or adopt a child. You can either accept or decline. 
Final Buying Recommendation: Stardew Valley Books
If you're new to Stardew Valley, a guide can come in handy. Sure, you can read blogs and articles, but there's something about having an official book. These books and guides can be purchased through Barnes and Noble's collection. Other outlets include thrift stores, Half Price Books, Walmart, and Amazon. 
Stardew Valley: COMPLETE GUIDE: Become a Pro Player (Erin Little) 
This handy guide is great for beginners but also regular players. The paperback guides provide a walkthrough, helpful tips, and strategies for getting the most of your Stardew Valley game. It's more affordable than the official Stardew Valley guides and offers fresh insights. Buy Here. 
Pros
Unique Perspective

Tips, Tricks, and Walkthroughs

Affordable 
Cons
Only Available in Paperback

Not "Official" Guide 
Find more cool gaming merch by reading these guides below:
Best Fire Emblem Merch Guide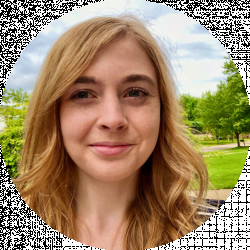 Latest posts by Erin Jamieson
(see all)