You know her music- but this guide will show you the very best merch the talented Billie Eilish is selling in 2022. 
To say that Billie Eilish has had an amazing past few years is a vast understatement. From the moment Billie's first song went viral in 2015, it was clear she was a singer not to be ignored. Alternatively known for her iconic singing voice and her unique fashion, the singer may just be headed into her best year yet. 
After lockdowns have dampened the music scene and canceled concerts, some fans are looking forward to an annual music event. Coachella is more than a music event– it's a celebration of community and fashion. That's why the announcement that Billie Eilish would headline Coachella 2022 stirred so much interest. 
Coachella, an event set for two three-day weekends, has always been a festive event. Not everyone was eager to physically attend, but the announcement goes beyond Coachella. When Billie Eilish was selected to headline the event, it showed how her influence is only growing. 
It's hard to say what we can expect next from Billie Eilish. In the meantime, this multi-award-winning singer has plenty of ways for fans to celebrate. Billie Eilish's official merch store is colorful, expressive, and truly one of a kind. From hoodies and t-shirts to baby onesies and more, there's something for everyone. 
In this guide, I'll show you my top picks for the best official Billie Eilish merch. I'll also share some great finds on Amazon for avid fans. 
Bottom Line Up Front Summary:  If I had to select just one item from Billie Elish's merch, it would be the Happier Than Ever Super Deluxe Box. This box has everything a fan could want for collecting: music, accessories, and a gorgeous, timeless design. 
My Top 5 Picks
Did Billie Eilish Grow Up Rich?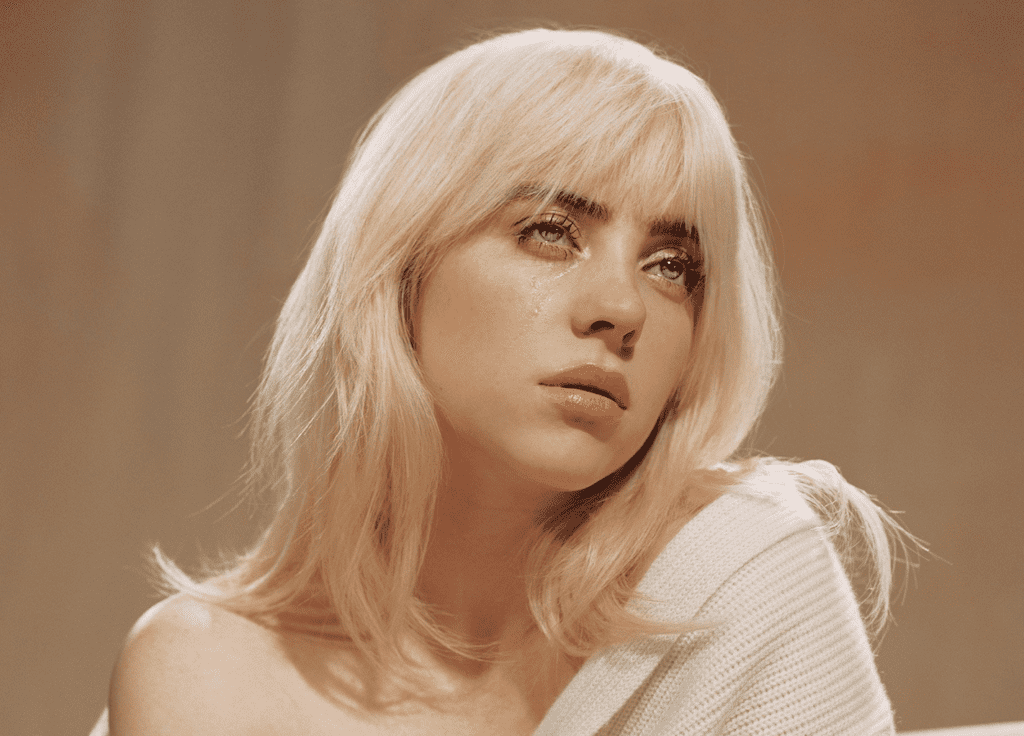 Billie Eilish's story is interesting, and there's a lot of confusion about the singer's upbringing. Billie Eilish has told fans that her parents occasionally struggled to pay for things. Her parents, however, were not, nor ever have been poor. They struggled to pay for extra activities, including horseback riding. Here's the story behind Billie Eilish's parents, upbringing, and current relationships.
Where was Billie Eilish Born?
Billie Eilish was born in Los Angelos in 2001. Her real full name is Billie Eilish Pirate Baird O'Connell. Both Billie and Finneas, her brother, didn't attend traditional schools. Their parents decided to homeschool Billie and Finneas so their kids would have more flexibility. That flexibility wasn't used idly. Both of Billie's parents were passionate about creativity. Billie sang in choirs, played the ukulele, acted in plays, and started writing songs– all by the age of 11. Billie Eilish has been mistaken as a trained dancer, but she learned on her own. She has not attended college, nor announced plans to do so. 
Are Billie Elish's Parents Rich or Famous?
Billie's entire family is now famous. Her brother, Finneas O'Connell, is a singer, music producer, and actor. Billie's parents are actors. You might recognize her father, Patrick Baird, from Iron Man and Without a Trace, though he's played side characters.  Maggie Baird now does voice-overs but previously appeared in popular shows like X-Files and Picket Fences. 
Does Billie Eilish Have Any Celebrity Friends?
Billie Eilish may be seen as different from celebs who love the limelight, but she's made some notable friends. Billie Elish is said to be friends with Miley Cyrus, Justin Bieber, Ariana Grande, Drake, and more. She's been amicable with others stars, including Selena Gomez and Taylor Swift. Rumors swirled about a rivalry between Billie Eilish and Olivia Rodrigo, but these seem to be inspired by fans more than reality. 
How was Billie Eilish Discovered?
With many stars, people assume they rose to fame overnight. While Billie Eilish already had semi-famous parents, her career did start quickly. Billie Eilish started singing and writing songs at the tender age of 11, but her first entry into the music industry was successful. Her first song, Ocean Eyes, debuted on Soundcloud in 2016. The song went viral nearly overnight. Music labels took night and the then-teenager was bombarded with offers. 
What is Billie Eilish's net Worth? 
The problem with celebrity net worths is that they're only estimates, and various sources disagree with each other. What is clear is that Billie Eilish is making quite a lot of money. The award-winning singer has an estimated net worth between $30 and $52 million. 
What Awards has Billie Eilish Won?
More importantly, Billie Eilish is already an award-winning singer. In half a decade, she's proven that she's a force to be reckoned with. Billie's awards include Grammy Record of the Year 2020 and 2021, Grammy Album of the Year 2020, Grammy Song of the Year 2020, Grammy Best Pop Vocal 2020, Grammy Best Artist of the Year 2020, Billboard Music Award Top Female Artist 2020, Grammy Best Song of the Year 2021, and countless other awards. MTV and Kid's Choice awards show just how acclaimed this star is. 
Can Billie Eilish Sing High Notes?
Billie Elish has distinguished herself with a whisper, low-tune approach to her vocals. She can hit high notes and belt. While she sometimes performs with her natural voice and an acoustic guitar, she also uses autotune. Autotune is used in her albums and as a recorded backup track for some of her performances. 
How Does Billie Eilish Write Her Songs?
Billie Eilish writes her songs, but with some help. She's known to collaborate with her brother and fellow music producer, Finneas. Some songs are written by Billie, but most are written by or with her brother. 
What Movies or TV Shows Have Billie Eilish Been in?
While singing is Billie Eilish's main claim to fame, she's also appeared in TV shows. She hosted SNL and has appeared on TV for various interviews. She also her documentary and has served as a director and producer for several of her music videos. 
Where Can I Buy Billie Eilish Merch?

Billie Eilish has an official merch store– which is where most of my top recommendations will come from. Her merch website is the best place to find merch because you're buying authentic pieces and supporting the artist. But there are some other great places to buy merch and still support the artist. She's collaborated with other stores to extend her sales. 
What Stores Have Billie Eilish Merch?
H&M, Target, and Hot Topic all sell some official Billie Eilish merch. You can also buy Billie Elish merch from Walmart and Amazon. 
How Much Does Billie Eilish Merch Cost?
The cost of merch depends on where and what you buy. That said, Billie Eilish merch has a reputation for being expansive. Many of her hoodies average around $150, and t-shirts can cost over $50. There are some more affordable options, but as a whole, you're spending a lot for Billie Eilish merch. 
Why is Billie Eilish Merch so Expensive?
Billie Eilish's newest merch stands out as even more expensive than her previous merch. However, it isn't expensive solely because of her popularity. Part of the reason why Billie Eilish's merch is expensive is due to the materials used. The majority of her hoodies and t-shirts are made with sustainably-sourced, organic materials. This stands apart from most celebrity merch, which is often mass-produced with lower-quality materials. 
How Do I Find the Best Billie Eilish Merch?
To buy the best Billie Eilish merch, you need to know that how the clothing fits and what to expect from your purchase. All Billie Eilish official merch has fairly consistent sizing. 
Is Billie Eilish Merch Unisex?
Billie Eilish's merch is mostly unisex. Her line includes generic sizes. What's important to note is that her merch runs small– and in my opinion, it's more based on women's sizes, even though not always defined as such. Most women find they need to go up one size for t-shirts and hoodies. So if you're normally a size Medium, order a Large. 
When Does Billie Eilish Merch Restock?
Billie Eilish's merch is pretty popular, and there are times when the most popular items are out of stock. Unfortunately, there's no regular answer to when it restocks. The official merch stores run out of items more quickly than her collaborations with H&M and Hot Topic. I'd check back every two weeks. In the case you order something that runs out of stock, you'll b contacted to see if you're interested in an exchange/ another item. 
How Long Does it Take for Billie Eilish Merch to Arrive?
If you order from the official Billie Eilish store, merch normally arrives 3-7 days after shipping for domestic, or up to 4 weeks after for international orders. It may take a while to process and originally ship your order. Also, keep in mind that shipping for almost anything is still slower than normal. You can track your order using the tracking number you'll receive via email/ Unfortunately, you are directed to contact the shipping company, not the store if you have delays or other problems. They do offer a refund if your item hasn't arrived within 60 days. 
Billie Eilish Merch: My Top Picks
But even with that knowledge, what is the best Billie Eilish merchandise you can buy? For my top picks, I focused on merch from Billie's official store, as well as her collaboration withTarget. The reason why I focused on these two collections is that they directly support Eilish, have consistent quality, and offer a nice variety. For each collection, I chose items based upon creativity of design, overall value, materials used, and either versatility or brand recognition. All of these pieces of merch offer something unique, and all can be purchased from one of two recognized, secure websites. 
Billie Elish Offical Online Store 
Not sure where to start? Billie Elish's official online store is my top choice. This store is immediately inviting, featuring bright and smiling photos and neutral and warm hues. Radiating the optimism of her music, Happier Than Ever, this merch store is unlike most celebrities. There's everything from onesies to socks, comfy pajamas, and notebooks. While a fairly small collection, I love how much of Billie's creativity and personality shine through. Shop All Here. 
Happier than Ever Super Deluxe Box Set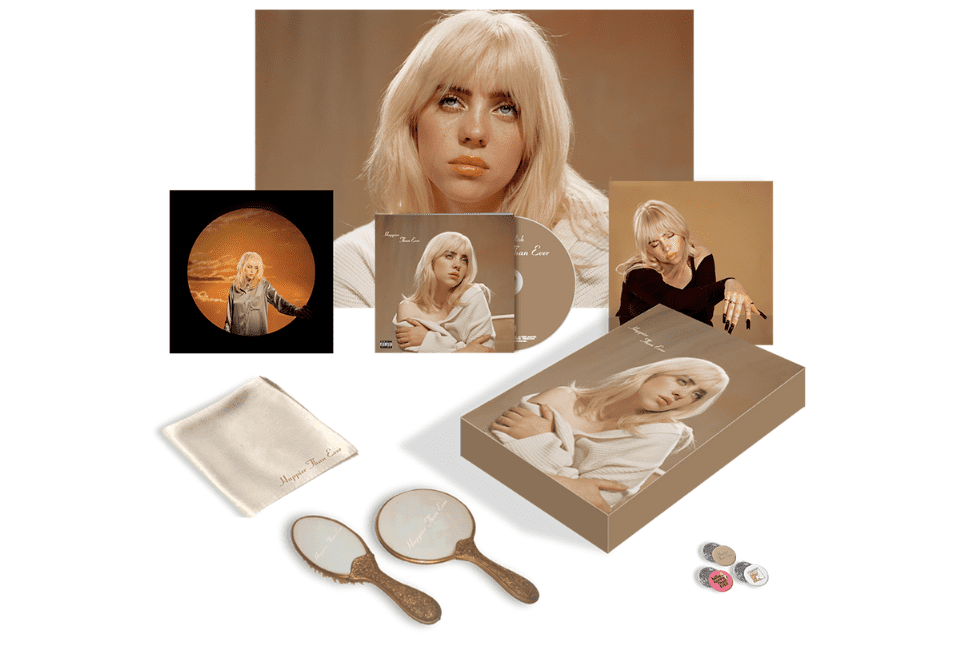 I love the convenience of digital downloads and Apple Itunes as much as anyone, but there's something special about having a physical copy. Looking at how much Billie has already achieved in her young career, this deluxe box set could become a collector's item one day. Along with her music, you'll get a pin sit, satin bandana, CD photobook, poster, two lithographs, and a brush and mirror set. There's an elegant aesthetic to all the items and a timeless charm. This would make an excellent gift for a fan. Buy Here. 
Pros
Collector's Item

Beautiful Set

Great for Gifting
Cons
Expensive

Pins Don't Add Much Value 
Happier Than Ever Doormat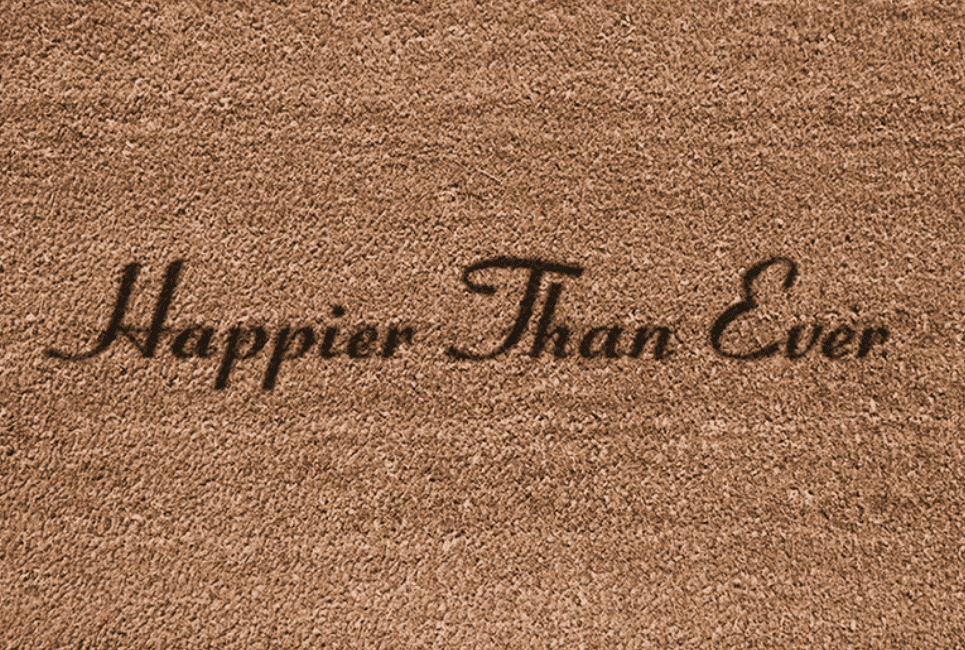 This charming doormat has a simple design with a fairytale feel. Happier Than Ever is scripted across a brown welcome mat. The mat is made out of 100 percent coconut fibers. The anti-slip backing ensures it stays in place even on slippery surfaces. Buy Here. 
Pros
Practical Use

100 Percent Coconut Fibers

Anti-Slip Backing
Cons
Fairly Simple Design

Not Obviously Referring to Eilish 
Lost Cause Swimsuit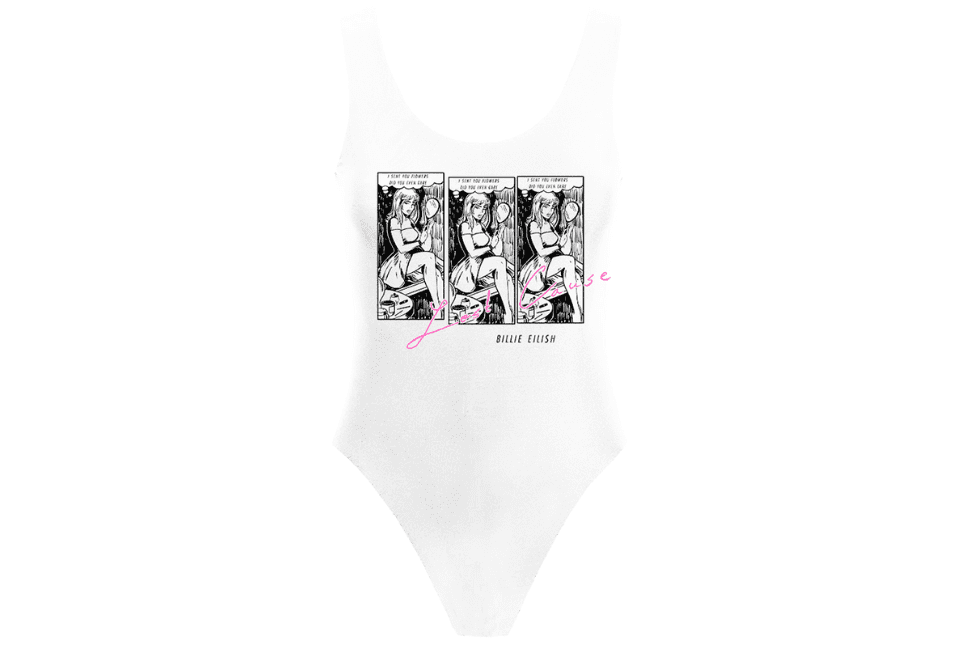 I admit: I didn't expect to find a swimsuit in a collection with cozy sweaters. But this clever swimsuit is a great surprise. The swimsuit is made in California with all recycled materials. A graphic print is playful, a bit retro, and recognizable. This is a swimsuit others aren't likely to have. For the materials, it's also a pretty good price. Buy Here. 
Pros
Very Unique Design

100 Percent Recycled Materials

Fair Price
Cons
Only Available in White

Sizes Sell Out Quickly 
Spotlight Festival Hoodie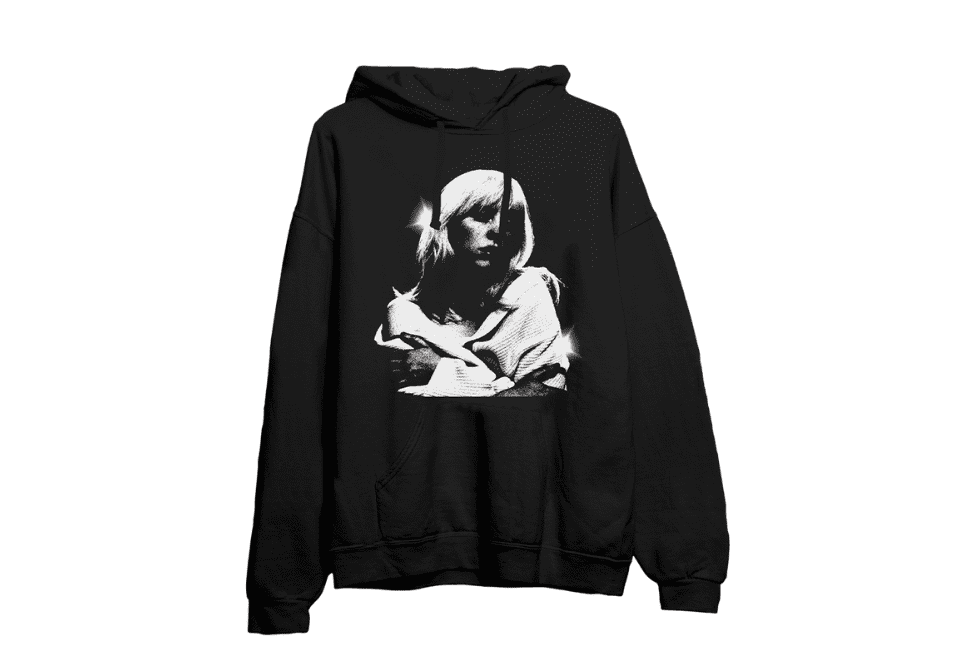 Billie Eilish sells many hoodies, but this one is available in more sizes. I like the classic design. The hoodie features a portrait of Billie Eilish with a vintage wash. The timeless hoodie is made with 100 percent organic cotton. It's midweight and ideal for cool days, with an adjustable hood and cozy fit. Buy Here. 
Pros
Vintage Wash

100 Percent Organic Cotton

Comfy Fit
Cons
Expensive

Only Available in Black 
Pretty Boy Sweatpants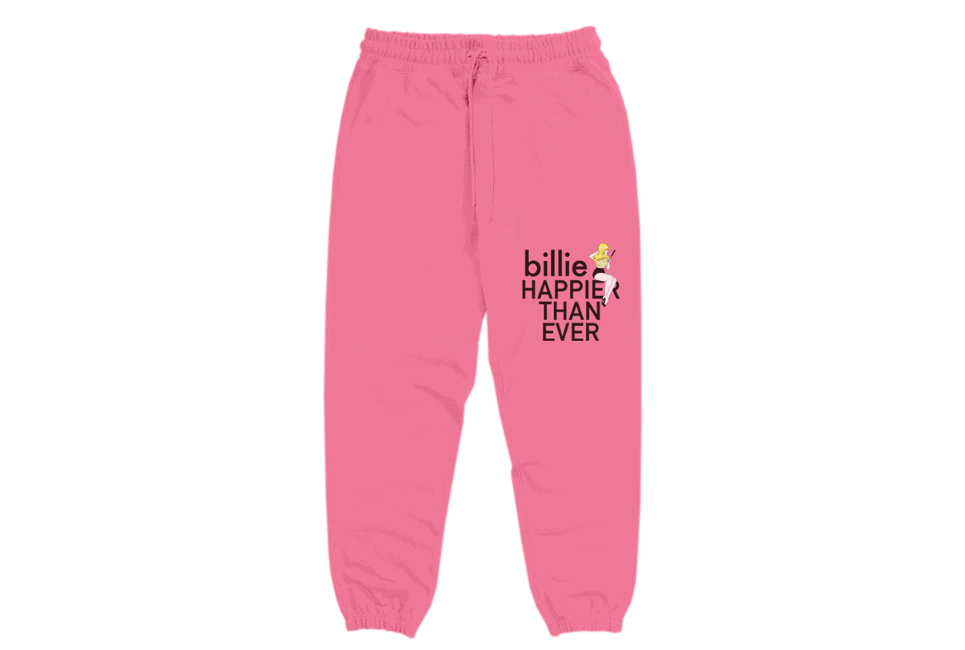 Get ready to lounge or work out in style. These aren't your ordinary sweatpants. The bright pink hue is given an upgrade with a Billie Eilish icon. The waistband features an adjustable drawstring and the seams are both comfy and trendy. The pants are made in California with 100 Percent organic cotton. Buy Here. 
Pros
Seam Detailing

100 Percent Organic Cotton

Vibrant Design
Cons
Not Super Versatile (One Color)

Expensive 
Billie Eilish Target Collection
This merch drop is bright, colorful, and harkens back to Billie Eilish's debut days. Compared with her official merch collection on her website, it's also more affordable. You'll find graphic t-shirts (plus size), figurines, and funky costumes, and loungewear. This collection may not feel as classic or versatile as Billie's online store, but it sure is a lot of fun. Shop The Entire Collection Here. 
Billie Eilish Figure- Bad Guy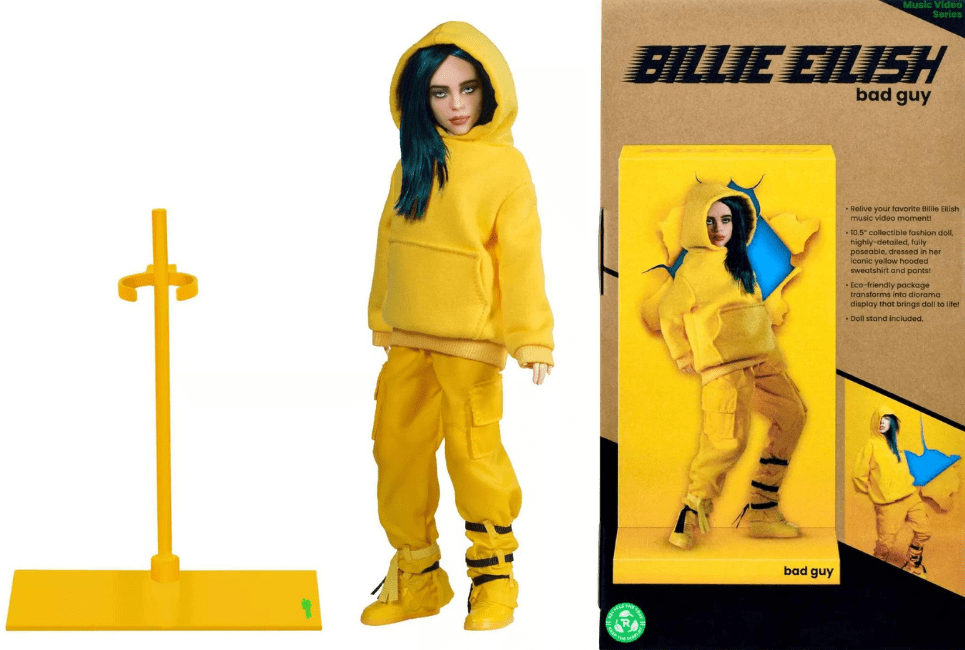 It's not every day that I recommend a doll or figurine for celebrity merch but here we are. This figurine is well-designed and playful. The figurine features Billie's iconic Bad Guy look, complete with a bright yellow hoodie, sweatpants, and shoots. You'll get Billie's iconic blue and black ombre. The doll is very poseable and is sold in an eco-friendly box that can be used for display. Buy Here. 
Pros
Highly Rated 

Eco-Friendly Display Box 

Poseable 
Cons
Display Platform is Plastic

Not Useful For All 
Read more about each Billie doll, checking this guide below;
Women's Billie Eilish Happier Than Ever Graphic T-Shirt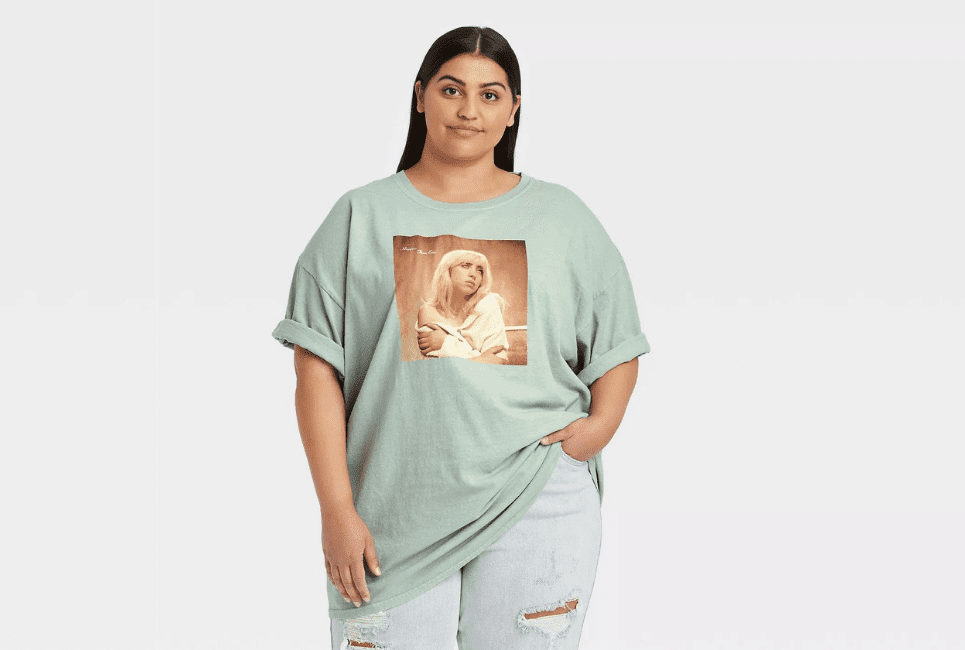 Want to show your support for Billie Eilish but don't want to pay a hefty price? This target shirt is a fraction of the cost of shirts on her official. While it's not made with the same organic cotton, it is playful, versatile, and captures the aesthetic. The crewneck t can be worn alone, layered, or tied for a cropped top look. It's available for women and plus-size, but the standard sizes tend to sell out. Buy Here. 
Pros
Versatile Use

Great Price

Recognizable Design
Cons
Standard Sizes Tend to Sell Out

Not Sustainably Sourced 
Billie Eilish Classic Tween/ Adult Costume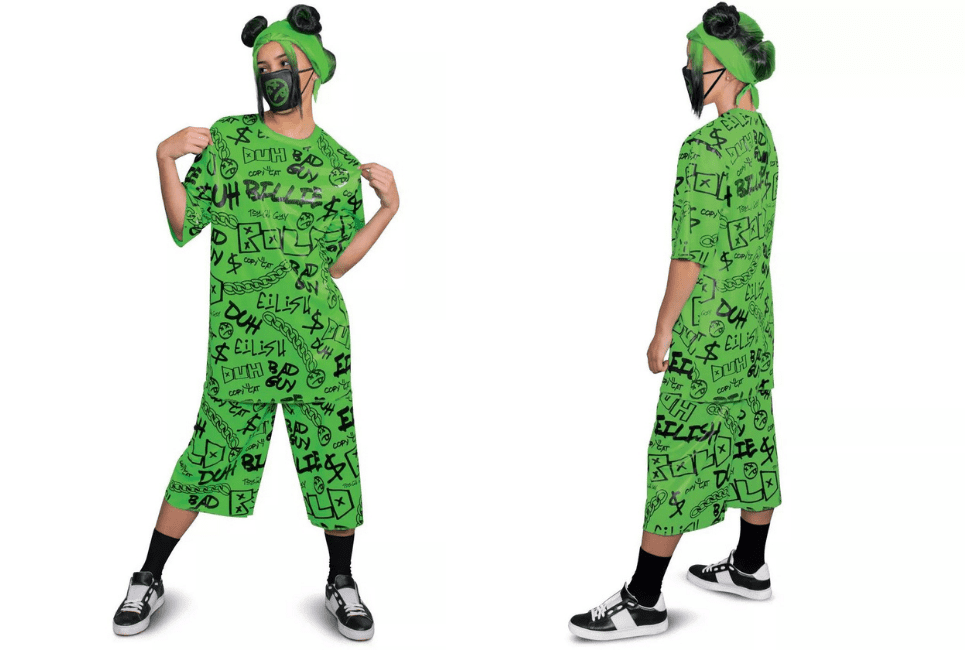 Whether you're cosplaying or just showing your fandom off, this costume is certainly unique. The bright lime green costume for teens and adults gives you that classic early-era Billie Eilish look. A graphic print covers the t-shirt and shorts. The costume also comes with a headwrap, plus a cloth mask. Buy Here. 
Pros
Unique and Recognizable

Fits Teens and Adults

Comes with Mask and Headpiece
Cons
Doesn't Come with Wig

Not That Practical (could longe in it) 
Frequently Asked Questions
Question: How Much is Billie Eilish's Concert Merch?
Answer: Billie Eilish's concert merch is about the same price as merch from her official store. Some fans have criticized how expensive Eilish's merch is. 
Question: Is Billie Eilish Merch Available in India?
Answer: Billie Eilish merch on the official merch store has an international shipping option. You'll have to pay an additional fee and delivery times will range from two to four weeks after shipping. 
Question: What is Billie Eilish's Clothing Style?
Answer: Billie Eilish's style is currently transforming. Eilish is opening up to more figure-hugging looks after her 2021 Met Gala gown and features with magazines. The singer, known for her grunge and punk-influenced oversized t's and pants, says her baggy clothing was in part a desire for others to not objectify her body. 
Question: What are Billie Eilish Fans Called?
Answer: Billie Eilish fans sometimes call themselves Avocados. This term is used as a reference to Billie Eilish's Instagram account handle. 
Question: Did Billie Eilish go to Space?
Answer: While some fans were hoping Billie Eilish would catch a trip to space in 2021, in wake of other celebrities traveling, Eilish will not be among them. In an interview with Jimmy Kimmel, Billy Eilish says she has no interest in traveling to outer space and singing. 
Question: Can Billie Eilish Speak French?
Answer: There's a video on Youtube featuring Eilish peaking three languages. Spanish has been featured in her work. However, it does not appear she is fluent in French or Spanish. 
Final Thoughts
There's no getting around it: Billie Eilish merch is more expensive than most celebrity merch. At the same time, Billie Eilish has taken steps to improve her merch by partnering with sustainably sourced materials. There's also no doubt that her merch is very much reflective of her transformation as an artist. With a nice selection to choose from, these pieces are sure to make a lasting impression–whether you're buying for yourself or gifting a fan. 
Final Buying Recommendations: Billie Eilish Merch on Amazon
While my favorite merch for Billie Eilish can be purchased from her online store or through H&M, Amazon is an alternative. On Amazon, you'll find some unique Billie Eilish merch, from guitars to affordable pieces. If you're not finding what you want on her official website, there are some unique and even exclusive Amazon pieces. These include dolls and figures, t-shirts, coloring books, and even a dazzling ukulele. Shop the Billie Eilish Amazon Collection Here. 
Billie Eilish Coloring Book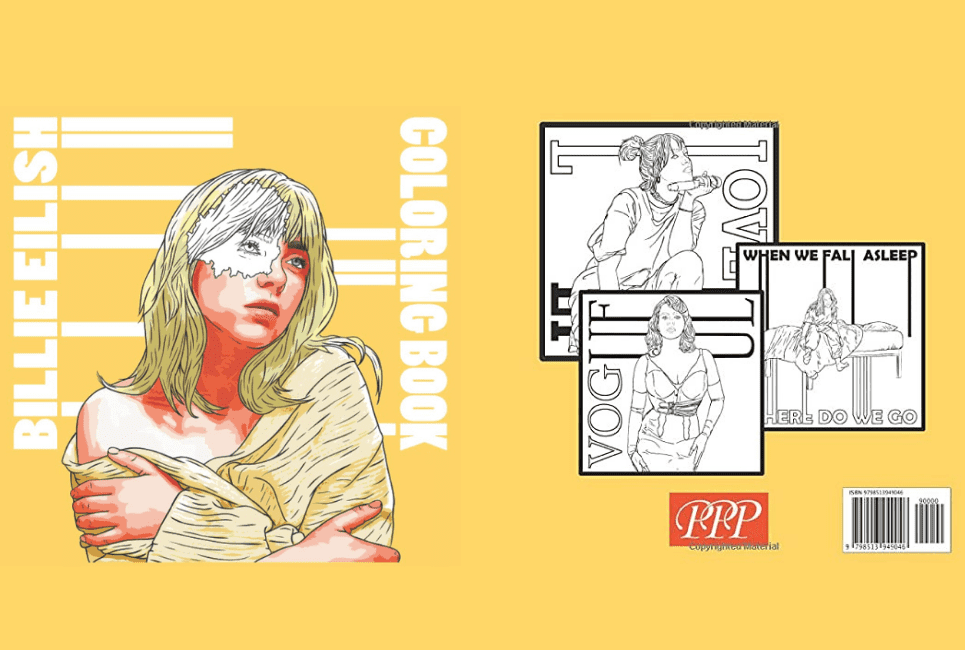 Coloring books for adults are everywhere, and I can attest to how relaxing they are. The act of coloring and taking to time out of your day is really helpful. You get a chance to express yourself and take time out of a hectic day. This coloring book features exclusive illustrations and designs inspired by her music. Buy Here. 
Pros
Relaxing and Creative Activity

Exclusive Designs

Inspired by Her Songs
Cons
Fender Billie Eilish Signature Acoustic-Electric Ukulele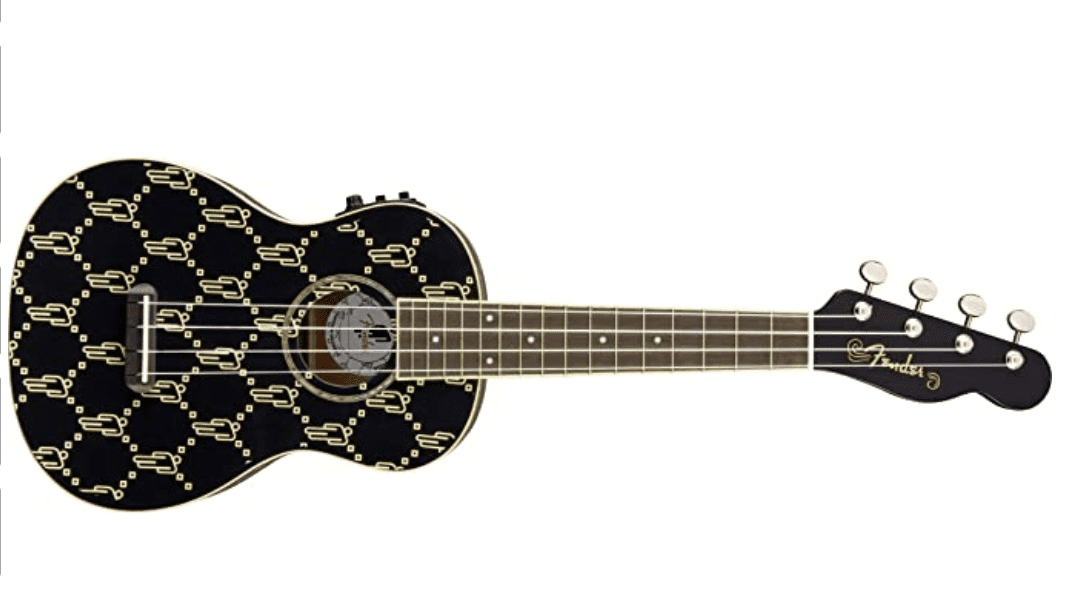 Get ready to channel your inner Billie with this spectacular ukulele. This Amazon Choice musical instrument is studded with Eilish motifs. It's concert-size, with a no-tie bridge. This is sure to make a fan delighted when they already have hoodies and t-shirts. Buy Here. 
Pros
Gorgeous Construction

Concert-Size

Amazon Choice/ Highly Rated
Cons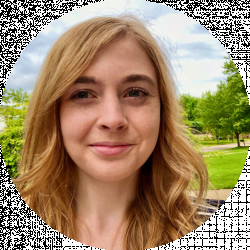 Latest posts by Erin Jamieson
(see all)