95 total games and 15 main games: Final Fantasy is one of the most prolific and beloved video game franchises. Along with that, some of the best merch is guiding fans to express their passion. But finding merch worth your money takes a little strategy.
Merch keeps getting more and more interesting for the Final Fantasy franchise. Need convincing? In December 2021, Square Enix announced a Japan-exclusive collaboration. That collaboration isn't just t-shirts of hoodies or even figurines.
Japanese fans of Final Fantasy can now drink wine and games at the same time. Square Enix (the producer of the Final Fantasy games) partnered to create the Special Collection by Isetan. This collection includes signature wine with Final Fantasy XIV motifs.
It's not all wine, though. The unique collaboration also included soaps, moonstones, bracelets, specialty socks, and more. It's a dazzling, magical collection. It's unexpected. In many ways, it's the type of collection that only games like Final Fantasy can pull off.
But even if you can't ship this 2022 merch to your home, I have good news. There are plenty of excellent merch items you can buy online right now. In this guide, I'll point you to the very best Final Fantasy merch.
Bottom Line Up Front Summary:  If I had to select just one piece of Final Fantasy merch, it would be The Sky: The Art of Final Fantasy Slipcased Edition. This beautiful hardcover book features artwork from the first ten Final Fantasy games are is a wonderful collector's item. Glossy stock paper and a great variety of illustrations make this a great gift for yourself or a Final Fantasy fan. 
My Top 10 Picks
What is Final Fantasy?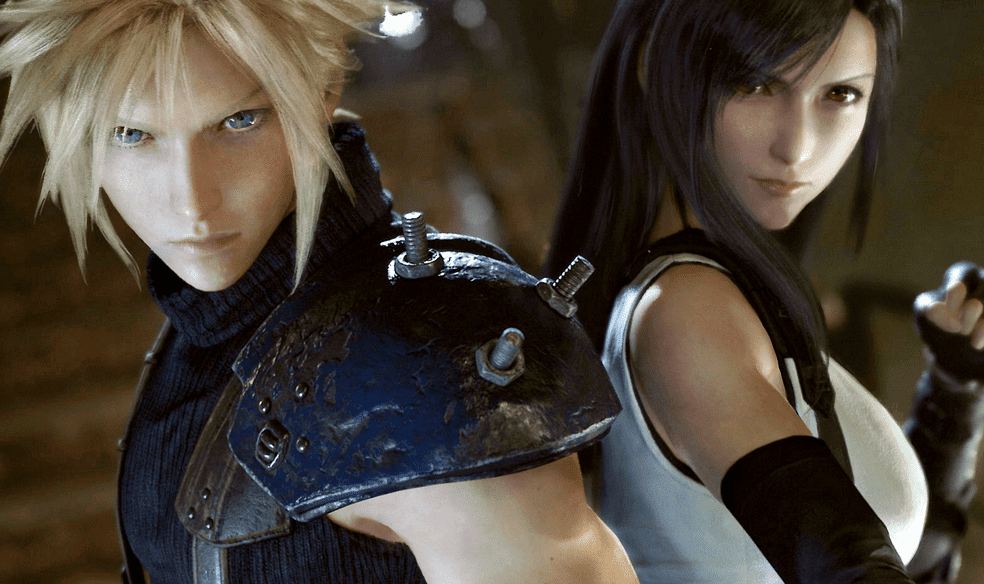 The term Final Fantasy refers to the entire franchise, though usually, it's referring to the video game series. Final Fantasy is a Japanese science fiction and fantasy series that took off in 1987. In the decade's sense, it's become a long series of video games, as well as branching off into movies, novels, anime, and much more.
Where Did the Name Final Fantasy Come From?
Final Fantasy was first pitched under the name Fighting Fantasy. The name had to be changed because another company had copyright under that name. Final Fantasy ended up becoming a more unique and suitable name, and it's been known as such since the first video game release.
What Company Created Final Fantasy?
Final Fantasy was created by Hironobu Sakaguchi, a game designer also known for games like Terra Battle and Blue Dragon. The first Final Fantasy game was produced through Square Enix (then Square) and remains under its jurisdiction. Square Enix is a Japanese-based gaming company that you might also know for Dragon Hearts and Kingdom Hearts. It was originally released in Japan and eventually reached gamers in Australia, Europe, and North America.
Who Draws FF Characters?
Final Fantasy characters are now drawn by Tetsuya Nomura. He's been a character designer for Square Enix since the 1990s. However, it was until the late 90s that he was selected to work on Final Fantasy. His first work with the Final Fantasy series was in 1997, for Final Fantasy 7.
Why Final Fantasy is so Popular?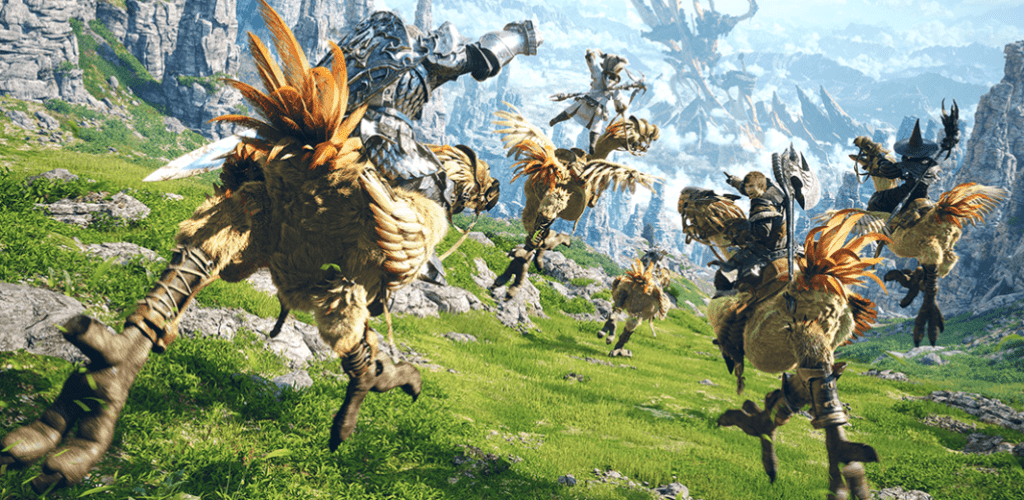 Final Fantasy is popular– but why? There are many reasons. Final Fantasy is especially popular amongst Dungeons and Dragons fans. It blends narrative, challenge, difficulty, and innovation. The graphics are fantastical and appeal to anime fans. The games are immersive, while always having their unique approach in the series. It's available in many formats and emphasizes unique and memorable characters.
What is the Point of Final Fantasy?
Every Final Fantasy game was a unique experience. However, all the main games focus on meeting new characters, navigating the universe, and encountering enemies and other obstacles. Each game has a stand-alone story with unique plots and characters. Certain narrative arcs repeat themselves in ways, but never exactly. The gameplay experience of unique characters, storylines, and exploration is something you have in every main and spin-off game. In this way, the main Final Fantasy games are not directly connected on a narrative base, but more so based on style and organization.
Are Final Fantasy Games Difficult?
The other factor behind the franchises' popularity is the level of difficulty. Final Fantasy games are normally friendly to beginners but there are also some in the series that are very challenging. I like the range in the challenge, and I do think there are spin-offs and main games for just about everyone when it comes to the level of difficulty.
What Final Fantasy Should I Play First?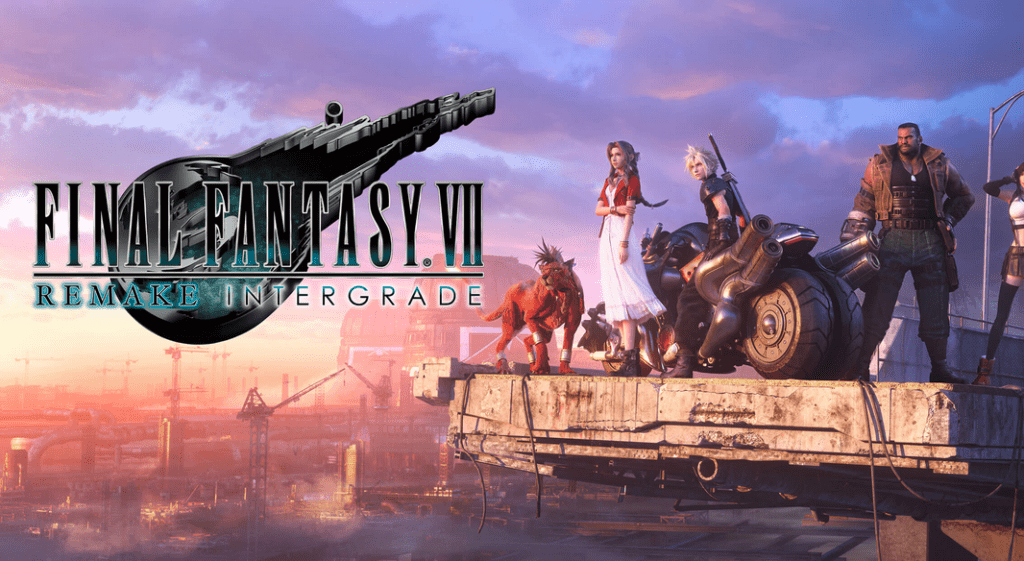 At the same time, their sheer number of Final Fantasy games makes it hard to know where to start. Even if you've been playing Final Fantasy for a while and are trying to decide which game to play next, it can be challenging.
How Long Would it Take to Play all Final Fantasy Games?
It's a good idea to decide on one Final Fantasy game at a time. With 95 games, including main series and spin-offs, you can imagine it would take a long time to play through them all. For the average person, it will take nearly 690 hours to complete all the main games. Those wanting to play all Final Fantasy games can expect to spend nearly 1,200 hours on average.
Why is FF7 the Most Popular?
If you're looking for the most popular entry, Final Fantasy Four 7 is the one to select. There's a reason behind its popularity, though. Final Fantasy 7 is loved for its amazing storyline. Many find it still one of the most immersive of the series. However, some find the graphics outdated.
What Final Fantasy Games are MMORPG?
MMORPG stands for a massively multiplayer online role-playing game. If you love interacting with others in a dynamic environment, then Final Fantasy 1 and 14 are your two options. The other final fantasy games are not massive online multiplayer.
What Final Fantasy game is Cloud in?
Cloud Strife is one of the most popular and well-known characters of the Final Fantasy franchise. Cloud appears in Final Fantasy 7, which was released in 1997.
Which is the Longest Final Fantasy Game?
If you're looking for the longest run time, Final Fantasy 14 is your best bet. Final Fantasy 14 provides an average of 120 hours of gameplay.  Final Fantasy 11 is also a great choice, providing an average of a little under 110 hours of gameplay. The next longest game–Final Fantasy 12– drops down to half that, with an average of 60 hours of gameplay time.
What's the Easiest Final Fantasy?
If you're new to Final Fantasy, I recommend starting with Final Fantasy 8, 9, or 10. These are generally considered to be the easiest of the franchise.
Which Final Fantasy Games are Free?
A few of the spin-off games are free-to-play. These are styled in the traditional free-to-play format. Your choices include NT Free Edition, Opera Omnia, All the Bravest, Record Keeper., Brave Exvius, Triple Triad, and War of the Visions.
Where Can I Buy Final Fantasy?
Final Fantasy can be purchased on Steam, the Xbox Store, and the Playstation Store, depending on the version you're looking for. It's also sold through stores like Game Stop, Target, Best Buy, Walmart, Amazon, and more.
Final Fantasy Merch to Buy Now: My Picks
Here are my top choices for the best Final Fantasy merch you can buy online right now. My selection criteria for these picks focused on creativity, versatility, value, and quality. You can buy Final Fantasy merch in many places– from Gamestop to Etsy to Amazon and the official Final Fantasy merch store. I'm recommending the official Square Enix Store and Amazon as my top choices. Here's what I choose, and why. Make sure you also check my honorable mentions under my Final Buying Recommendations section.
Square Enix Official Final Fantasy Merchandise
If you're looking for collector's items, this is the place to shop. The Square Enix shop includes only official, licensed merchandise for the Final Fantasy franchise. You'll find action figures, figurines, accessories, plush toys, music, books, and decor. They have filters to find what you're looking for and filter for only Final Fantasy items. Prices are on the expensive side but keep in mind that many of these items are focused on collecting. Shop All Square Enix Merch Here.
Final Fantasy VII RemakeTrading Arts Figure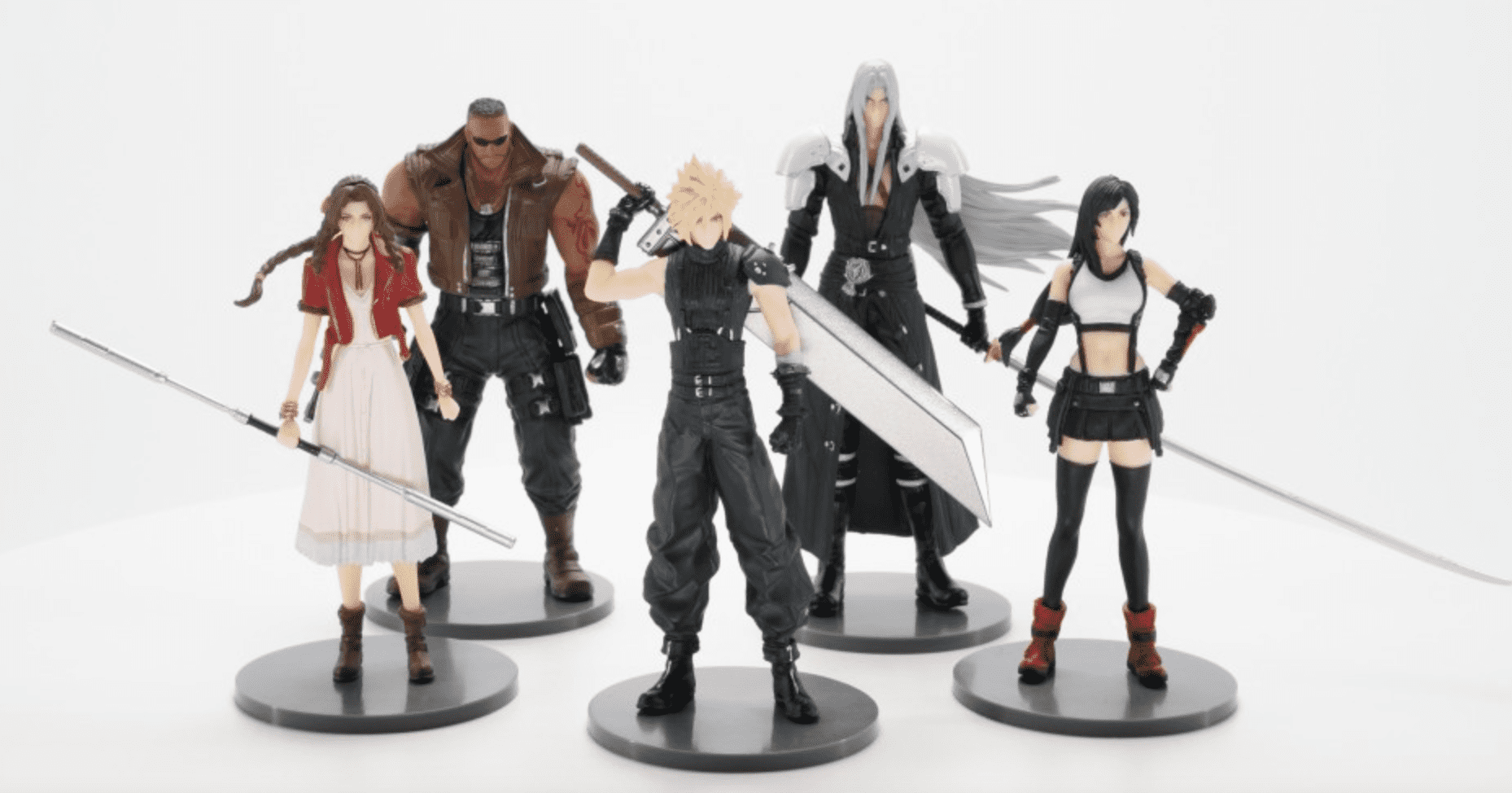 If you're looking for a reasonably-priced figurine set, this is your best option. The set includes 5 figurines from Final Fantasy 7- the most popular game in the franchise. Each figurine is crafted with distinct facial features, outfits, and weapons. They're situated on an attached stand. Cloud, Tifa, Barrett, Sephiroth, and Aerith are included. Buy Here.
Pros
Good Price
Iconic Characters
Stand on Their Own
Cons
Compact Design
Plastic Materials
Final Fantasy VII Remake Melody Clock Cloud Model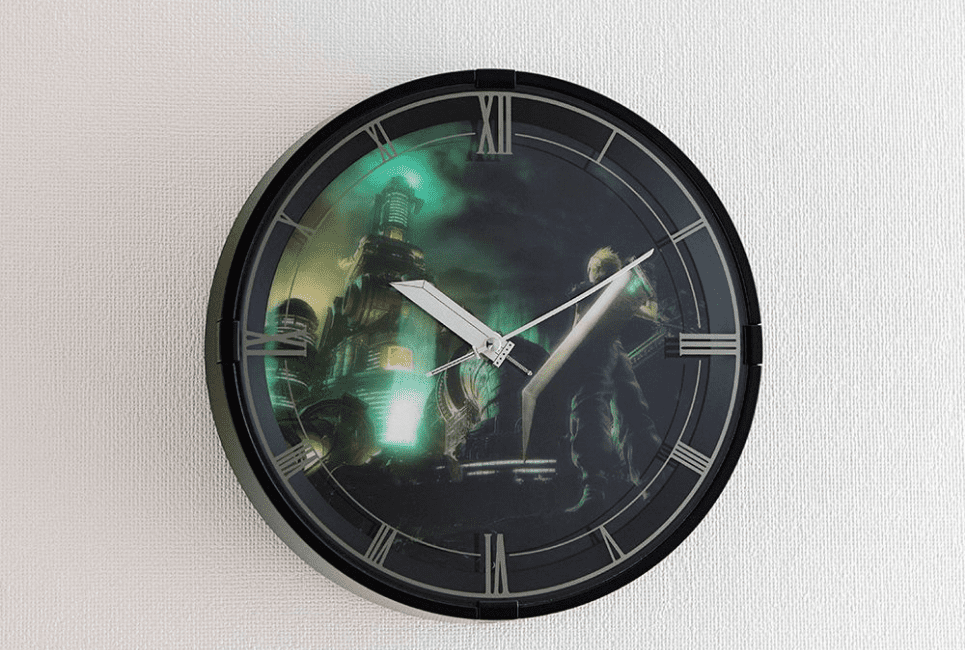 This clock is stunning- but there's more to it than meets the eye. The Final Fantasy clock features a light sensor that detects if the room is lit or not. If it is, the clock will play a song from the franchise every hour. The clock includes 12 songs, one for every hour. It required batteries (alkaline) and should be used in rooms with little condensation. It's the world most accurately in temperatures of 14 to 122 degrees, which shouldn't be an issue for most if used indoors. Buy Here.
Pros
12 Songs
LED lights and Light Sensor
Charming Design
Cons
Expensive
Not Suitable for Outdoors or Humid Environments
Final Fantasy Trading Card Game: Avalanche VS Shinra Two-Player Starter Set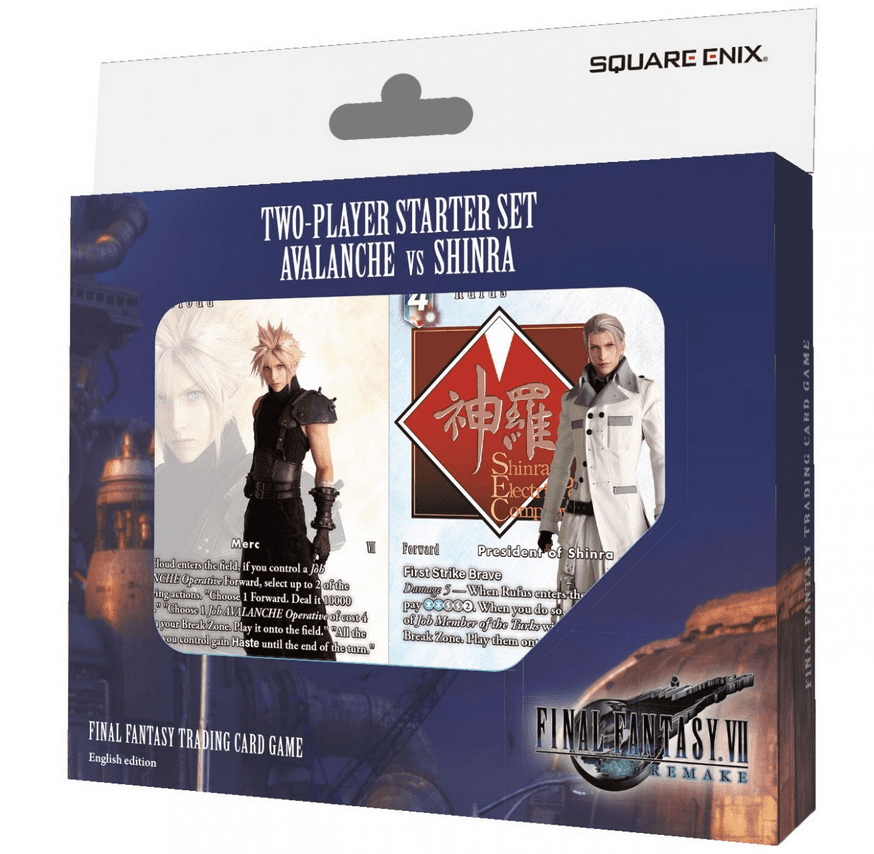 This is one of the most affordable products from the official Final Fantasy merch store. The trading card game features two decks of 50 cards and two starter guides. It can be played with two players or added to other card sets. It also doubles as a collectible. Avalanche and Shinra are featured from Final Fantasy 7. Buy Here.
Pros
Great Price
Play or Collect
Can be Combined with Other Sets
Cons
Only Two Characters
No Premium Foil Cards
Final Fantasy Collectible Figurines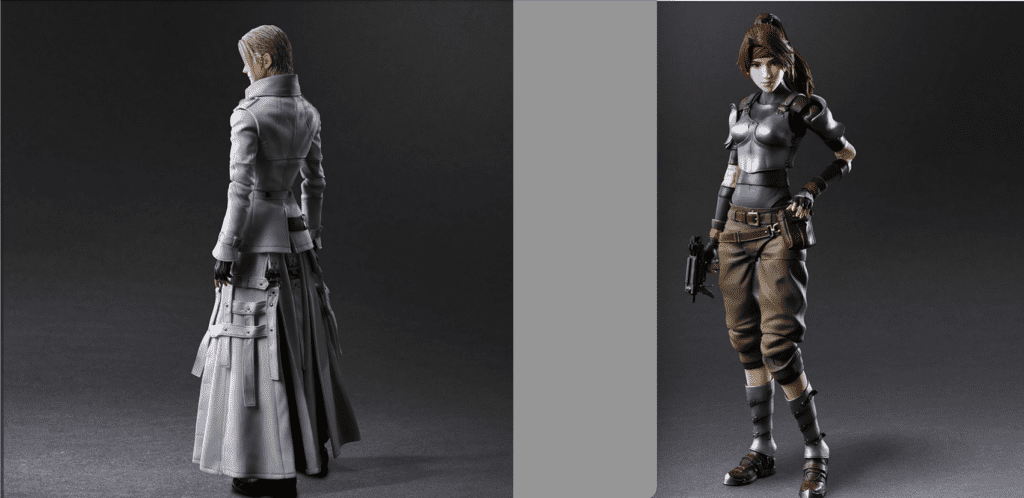 Unlike my first suggestion, these figurines aren't budget-friendly. What they are is highly collectible. They're crafted with detail. More distinct facial features,  a sturdier construction, and an average height of 9 to 10 inches make these worth considering. True Final Fantasy collectors will enjoy the quality of the designs, posable limbs, and customization options. Characters available include Kai, Aerith, Tifa, Chocobo, Rufus, Jessie, Cloud, Sephiroth,  and Aqua. Buy at the links provided.
Pros
Poseable
Highly Detailed
Customizable with Interchangeable Limbs
Cons
Expensive
Doesn't Come with Display Stand
Final Fantasy VII Remake Watch – SHINRA – MODEL 39mm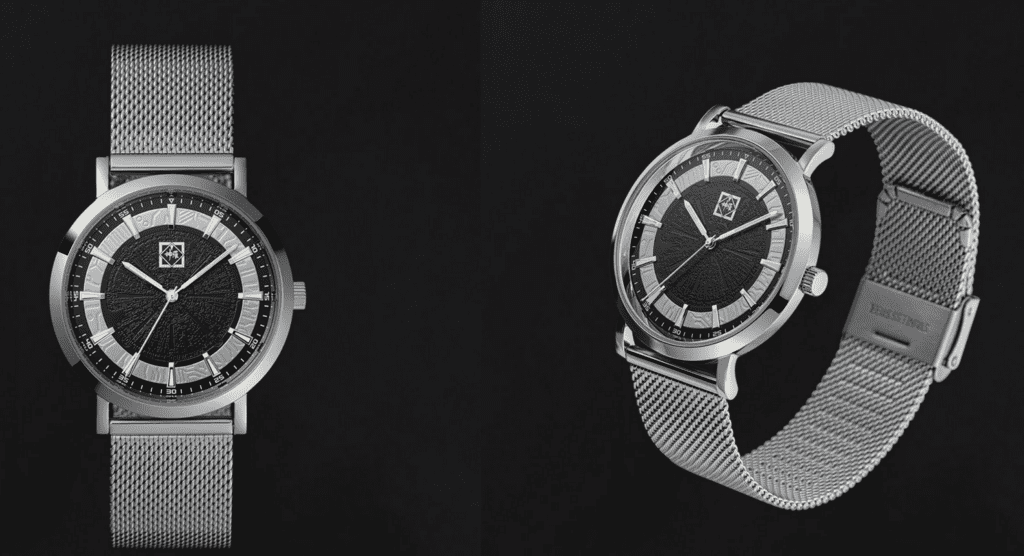 This dazzling watch is sure to impress. Made in Japan, the design takes inspiration from the Shinra Electric Company (Final Fantasy 7). It's made with durable and sleek stainless steel. It provides water resistance for everyday activities and comes with a case and adjustable fit. Buy Here.
Pros
Sleek Design
Durable Stainless Steel
Water-Resistant
Cons
Expensive
Not Immediately Recognizable as Final Fantasy-Themed
Amazon Final Fantasy Merchandise
If you're looking for more casual merch, Amazon is a great place to shop for Final Fantasy merch. That includes Final Fantasy socks, plush, polygon figurines, sword keychains, vintage-inspired play sword collection, books, card games, and home accessories. Prices are reasonable and all of my picks are highly rated by customers. Hopefully, Amazon will offer more Final Fantasy merch in the future and expand the collection. Shop Final Fantasy Merch on Amazon Here.
Cactuar Desert Final Fantasy Socks, Golden Saucer Apparel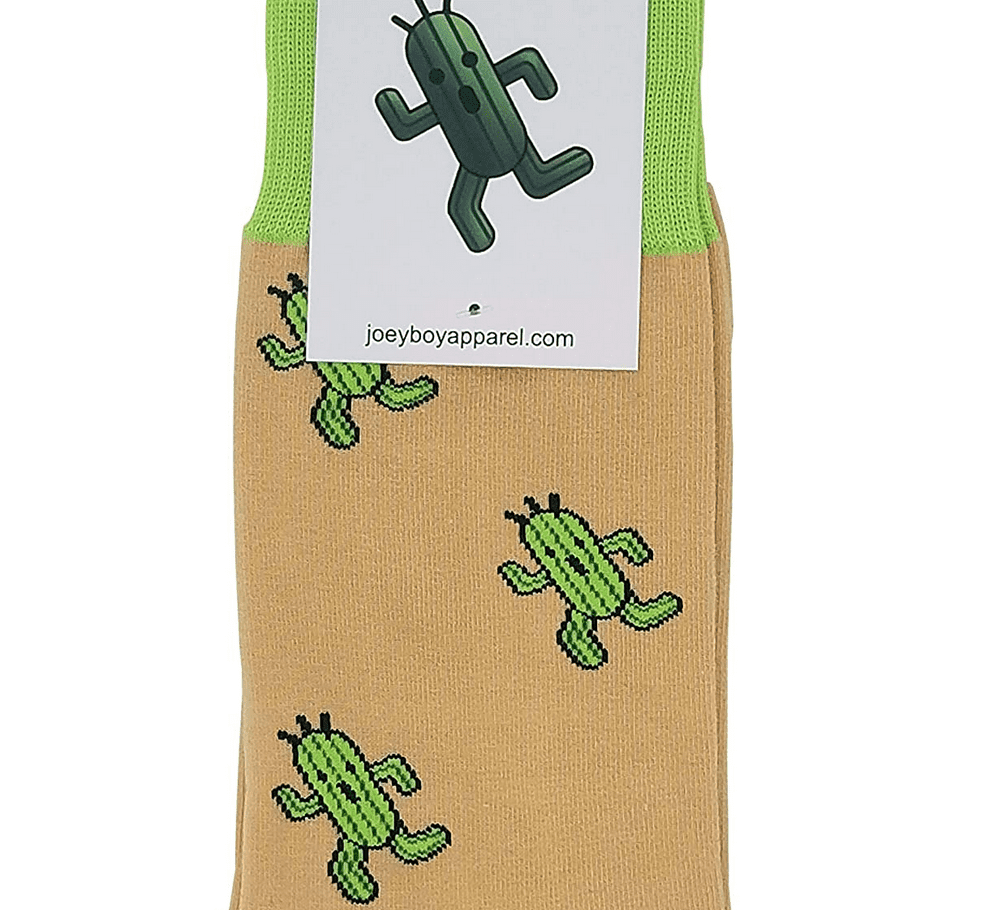 Cactuar is a plant character that debuted in Final Fantasy 6 and has appeared in several since. This quirk character is featured on a pair of comfy socks. The green character pops against the yellow background. The combed cotton makes for comfy socks that can be worn around the house, while gaming, or even a funky casual look. They're 100 percent cotton and machine washable. One size fits most. Buy Here.
Pros
Comfy Cotton
Vibrant Design
Fun Gift
Cons
Not Very Versatile
Adult Sized Only
The Sky: The Art of Final Fantasy Slipcase Edition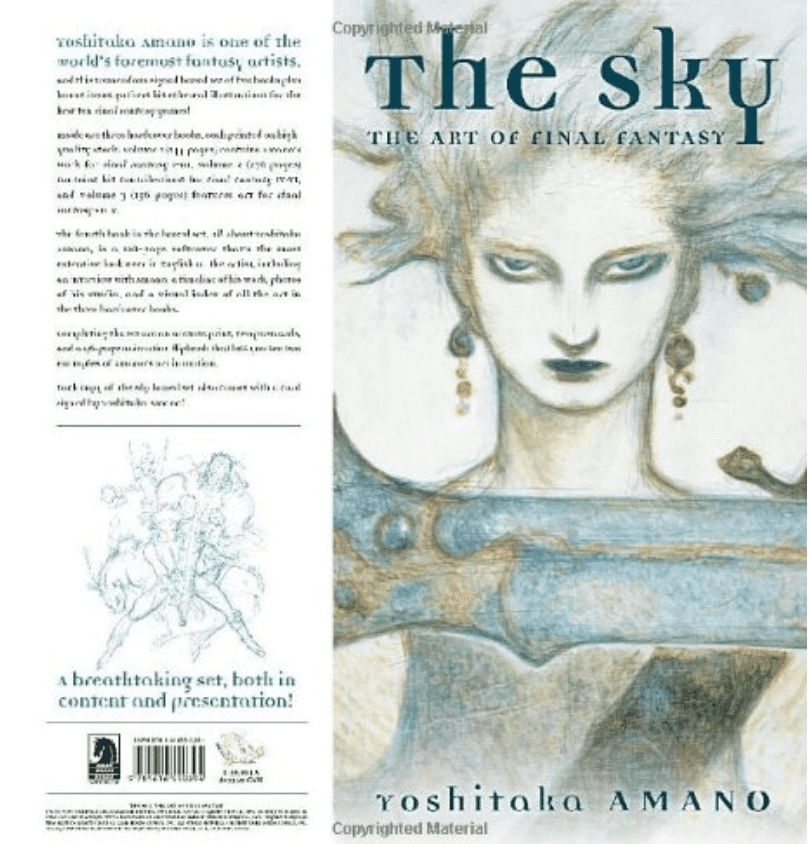 This collector's book is one of the most expensive Final Fantasy products on Amazon, but also my favorite. The beautiful hardcover books provide illustrations and insights for the artwork of the first ten main Final Fantasy titles. Glossy stock paper and a durable slipcase make this book a true collector's item. Buy Here.
Pros
Artwork from the First 10 Final Fantasy Games
Glossy Stock Paper
Collector's Item
Cons
Expensive
Doesn't Include Artwork from Final Fantasy games 11-14
Final Fantasy 7 Phoenix Appeal Beautiful Carved Wooden Music Box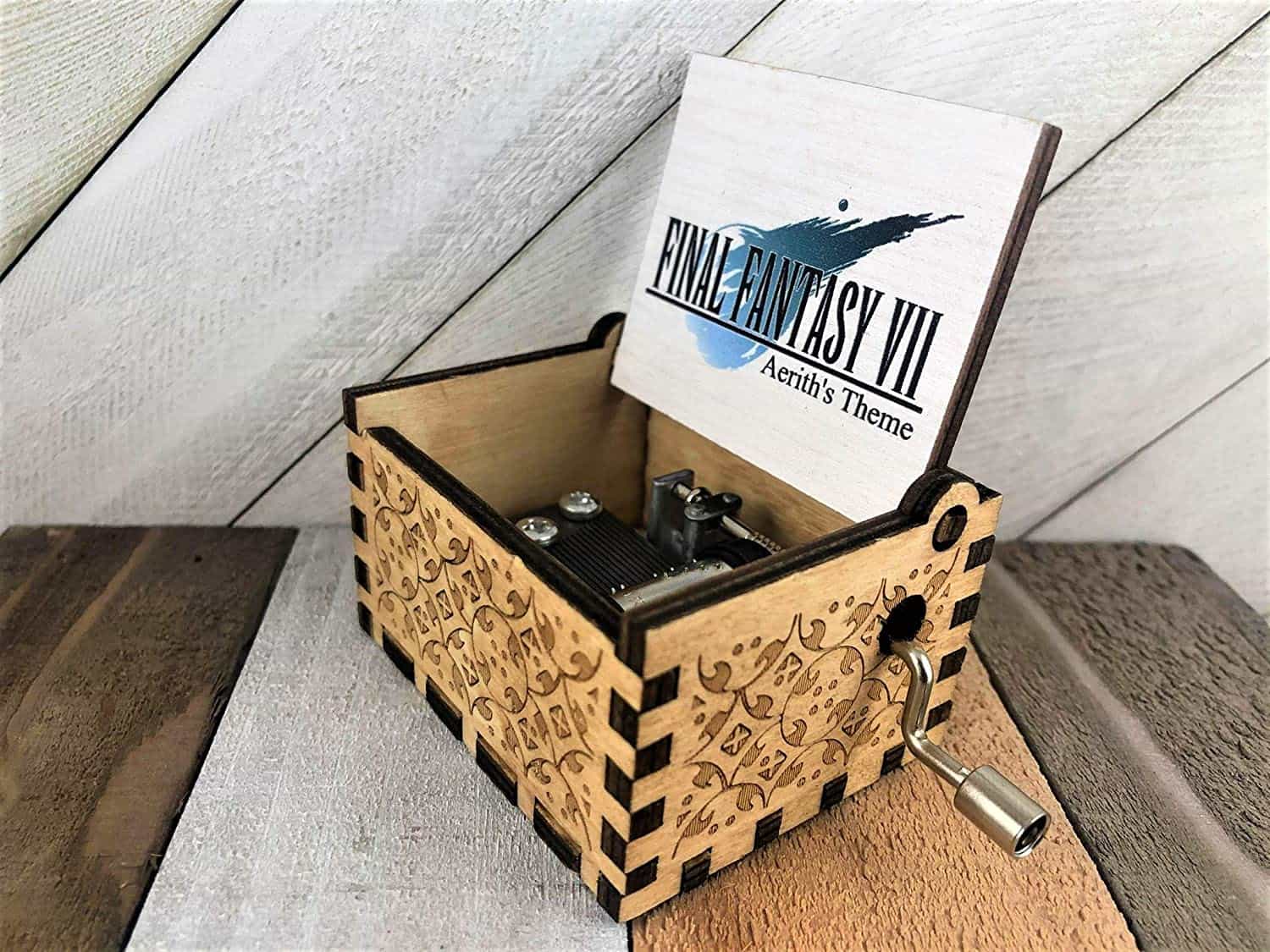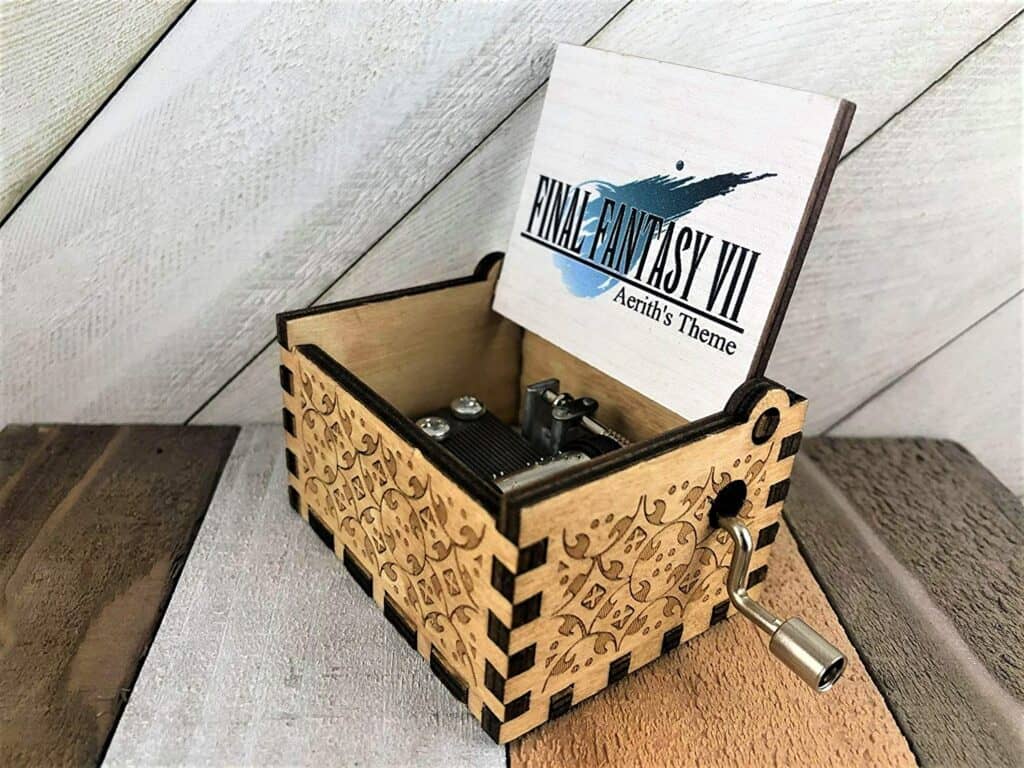 This tiny music box sits in your hand. The compact design features intricately carved details and solid wood. The song played is Aerith's theme from Final Fantasy 7. It's an old-fashioned, hand-cranked design. This would work as a stocking-stuffer. Buy Here.
Pros
Aerith's Theme
Intricate Wood Carving Details
Portable
Cons
Final Fantasy Gift Design Key Hooks Wall Holder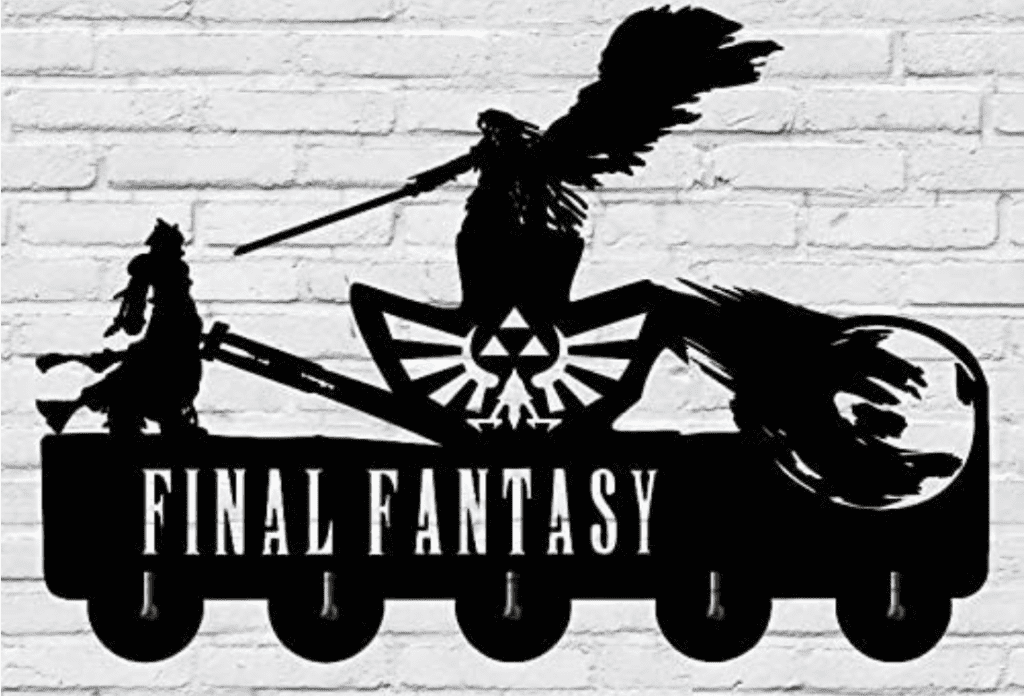 Always scrambling for your keys? This key hook will help you stay organized- and let you express your inner fandom, too. The metal wall mount comes with sticky pads and features solid construction. It holds up to 5 keys. Buy Here.
Pros
Keeps You Organized
Sturdy Construction
Final Fantasy Motif
Cons
Sticky Pads Can Wear Out
Only in Black
Frequently Asked Questions
Question: Is Final Fantasy More Popular than WoW?
Answer: World of Warcraft and Final Fantasy is no doubt both very popular games. Of the two, Final Fantasy is a bit more popular in two ways. For one, it has around 30,000 more players than WoW. For another, players tend to be more enthusiastic about Final Fantasy gameplay. That isn't to say that WoW is a bad game, by any means. However, Final Fantasy does have higher reviews.
Question: Where Can I Play the Original ff7?
Answer: Final Fantasy 7 is still available for Xbox One. It's in high demand, and one of the most popular games in the Final Fantasy series.
Question: Is Final Fantasy One Universe?
Answer: Nearly every Final Fantasy game has its own, unique universe. Some of the side games do share the same universe. It's become a mainstay, however, more all of the main series titles to be in their universes. This sets Final Fantasy apart from much other game franchise series.
Question: What are the Best FF Titles Out There?
Answer: There are so many Final Fantasy video games and spin-offs to play and enjoy. However, you may be wondering which games in the series are considered the best, or which ones to avoid, like Final Fantasy XIII, well, Here is our take
Question: Is Final Fantasy 14 Profitable?
Answer: Final Fantasy 14 proves that the franchise isn't slowing down. Final Fantasy 14 is not only profitable but the most successful in the series. It has over 24 million players. There will likely be more entries into the franchise in the future. There were some rumors that Final Fantasy 14 would end with Endwalker, but they turned out to be only rumors. In short, there's no sign that Final Fantasy is dying right now.
Question: Did Ffxiv Save Square Enix?
Answer: There's a possibility that Square Enix might have been saved by Final Fantasy. Up to the release of the latest version, Square Enix was struggling with profit and loss margins. Now, it appears that they're back on steady grounds.
How much money has Ffxiv made?
Final Thoughts
Final Fantasy is one of the most popular and long-lived video game series. The Final Fantasy games aren't dead but continue to inspire many players around the world. From the main series to side games, there are countless hours of gameplay. just as not every game is for everyone, not every piece of merch is, either. Some are looking for casual merch to express themselves, while others are searching for collector's items. If it's collector's items that you're after, then your best choices are on the official Final Fantasy merch store.
Final Buying Recommendations: Target Final Fantasy Merchandise Collection
Target has one of the largest collections for Final Fantasy Final merchandise you can buy online. I also love that these items are sometimes carried in-store and that you can ship items to a store. Target carries collections of books that are hard to find through Amazon or the official store. Of course, Target also carries Final Fantasy games.
Final Fantasy Book Series at Target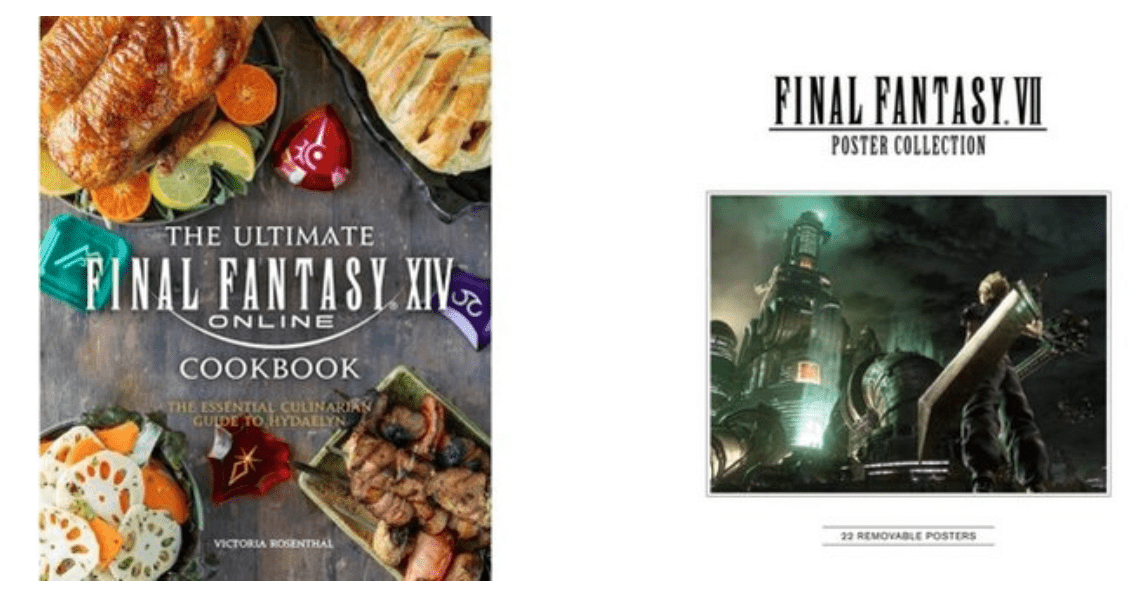 Final Fantasy VII and Final Fantasy XV are the most popular, but there are books for many versions of Final Fantasy. These Final Fantasy books range in storylines and prices, but many are highly rated. Reading is a great way to truly immerse yourself in the Final Fantasy series. There are also some fun surprises like the Final Fantasy Cookbook that take your fandom and creativity into the kitchen. Shop All Final Fantasy Books Here.
Pros
Wide Range of Books
Gets into the Lore
Reasonable Prices
Cons
Some Books Have No Reviews
Read more gaming merch guides below:
Best Stardew Valley Merch Guide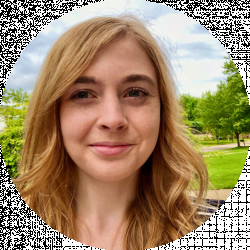 Latest posts by Erin Jamieson
(see all)