Spider-Man's a big deal. Spider-Man branded shoes are a big deal for you. You already have a glass case filled with rare Spider-Man comics and figures from the movies. You may even have Spider-Man-themed clothing, posters, and statues. So where should you begin weeding through the meh Spider-Man shoes vs. the have-to-have-them shoes?
If you are like me, I'm sure your closet is filled with one-of-a-kind shoes that keep looking new because you love them that much. I get it. Knowing where to draw the line when finding Spider-Man-themed items can be tricky. As a superfan, I'm sure you want just about anything you see boasting the super arachnid's brand. 
I have weeded through many pairs of shoes online to find what is the very most incredible looking and best all-around Spider-Man shoes for infants, kids, and adults. I will make an extensive list of pros and cons for each fabulous pair for you to study independently. As with anything else that's served as an opinion, please take it in stride and know that it is okay to disagree with me. Everyone has their very own style and spidey sense, after all. 
Bottom Line Upfront
The very best Adult-Sized Spider-Man branded shoes are Adidas Shell Toe Superstar Spider-Man: Miles Morales. I love the simple design on the back of the shoes!
More on My Top Picks
Infant-Sized Top Pick
My top pick for Spider-Man branded infant shoes is the Marvel Spider-Man Snap Booties in Red. They are so adorable and comfortable-looking that it would be difficult to say anything negative about them. 
Child-Sized Top Pick
My top pick for Spider-Man branded children's shoes is the Adidas Kids' Grade School D.O.N. Issue #3 Spider-Man Basketball Shoes. These shoes are very stylish, and any kid who loves Spider-Man will love these shoes. The tiny Spider-Man face on the rear of the shoe is pretty darn cute, too.
Adult-Sized Top Pick
My top pick for Spider-Man branded adult shoes is the Adidas Shell Toe Superstar Spider-Man: Miles Morales x Playstation. They are stunning in every way I can imagine. The Spider-Man eyes on the back of the shoes are perfectly creepy and awesome at the same time. I will list a few links where I have seen them listed. Typically, I would never list any item that is sold out or difficult to find, but I would be lying if I didn't say these were the best Spider-Man shoes for us grown-ups.
My Search Criteria
I weed through all the kid and adult shoes to find the best designs and quality.

I choose a wide array of different designs for everyone.

I include unisex shoes, even if the sizing says "boys." I have worn boys' shoes my whole life because sometimes they look much more fantastic than women's shoes.

I include a range of pricing that almost everyone can afford.

I share plenty of vegan alternative shoes for those who aren't down with leather.

I try to share only shoes that are well-stocked and available for purchase.

Marvel-branded shoes can have some excellent Spider-Man editions, but so can lesser brands, so I have included both. 

I share Spider-Man shoes from different eras (i.e., Spidey and Friends vs. Spider-Man comics vs. Spider-Man movies.)

I share the most original shoes showcasing their uniqueness.

I have included different styles of shoes for just about every type of person (basketball, running, baby, toddler, big kid, casual, etc.)
The Best Spider-Man Branded Shoes
Kids' Sizes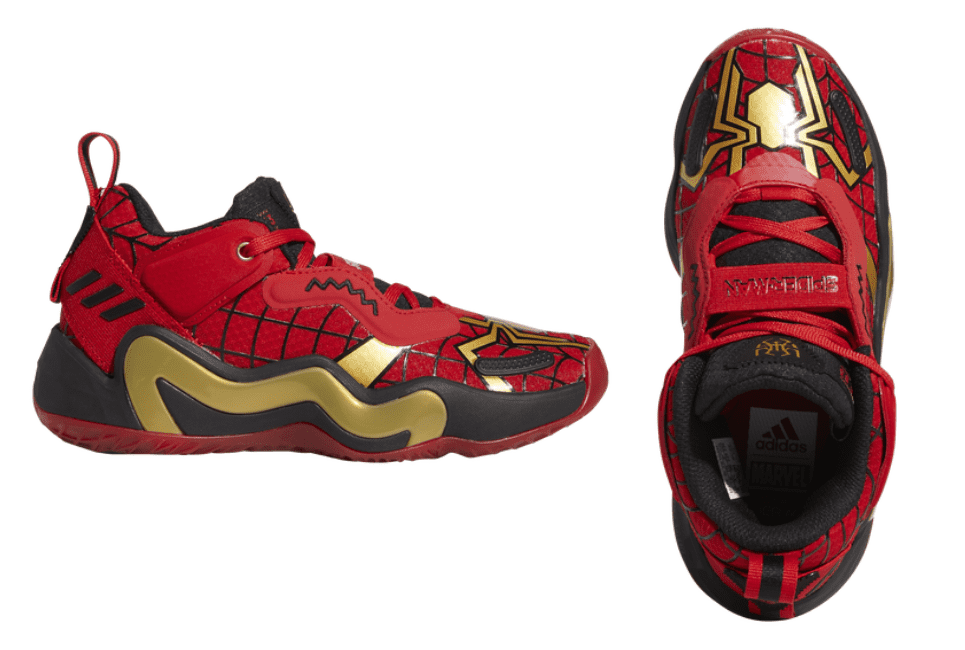 Brand: Adidas
Sizing: Boys/Big Kids 
Type: Basketball
Materials: Textile and Synthetic Leather
Secured by: Laces with Supportive Elastic Strap 
I love these vegan kids' basketball shoes! They are Donovan Mitchell's memorable victory Spider-Man shoes for kids. They represent not only Donovan's climb to fame but also the three stages of Spider-Man's success. I love the bold gold Spider-Man logo, loud and clear on the toe. Lastly, I especially like the bold black spider web lines. It gives these shoes a streamlined and clean look.
Pros
The mesh on the top of the foot and sides will let those not-so-tiny feet do some breathing.

The Spider-Man head on the rear ankle looks excellent and adds extra durability to an area all kids wear out.

The tip of the toe also has a wrap-around plastic bumper to keep the shoes lasting a while.

The wavy black and gold sides look stylish and stand out.
Cons
The off-red side-lace zig zag takes away from the sharp style and looks tacky.

The tread would be great for not slipping but will track mud and every tiny piece of gravel into your home.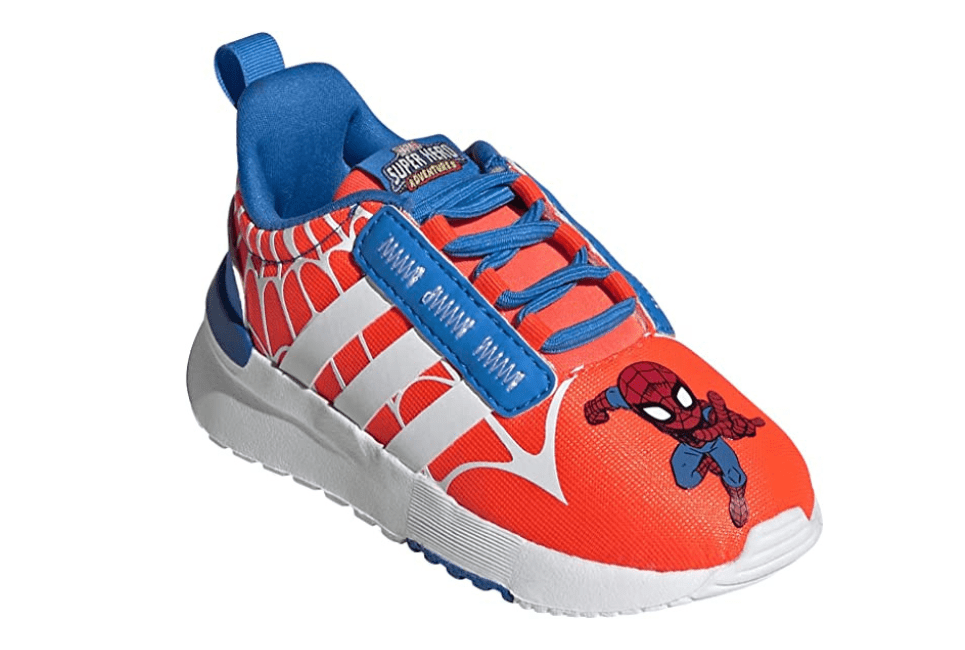 Brand: Adidas
Sizing: Infant and Toddler 
Type: Running
Materials: Textile, Rubber, and Cloudfoam Cushioning
Secured by: Elastic Laces 
These adorable vegan running shoes are perfect for that cute superhero kid on the move. They are clean and boast comfort with the Cloudfoam cushioning. I like how the contrast of the white stripes stands out and makes these little kicks visually appealing. Speaking of visual appeal, the brightly colored fabric helps you spot your child quickly at the playground or birthday party. This can come in extra handy if your little one likes to randomly take their shoes off and toss them into the void. Bright colors are easily spotted. 
Pros
Elastic shoe strings are great and will help your little one have a snug and secure fit. This will help those little fingers learn to pull their shoes on themselves a bit easier.

Spidey and Friends have become a hit with the super tiny humans, and I love that this running shoe has Spidey on the front. It's almost as adorable as the show itself. Now, they need some with Gwen the Ghost Spider from Spidey and Friends. 
Cons
Kids love getting in the mud, and these adorable shoes have a lot of white on them! Get yourself a good stain remover like Shout for spot cleaning. 

It's best to have a bendable sole on toddler and kid shoes. Their feet are still growing and need the ability to bend and stretch. These look sturdy, so they would not be great for all-day, everyday wear.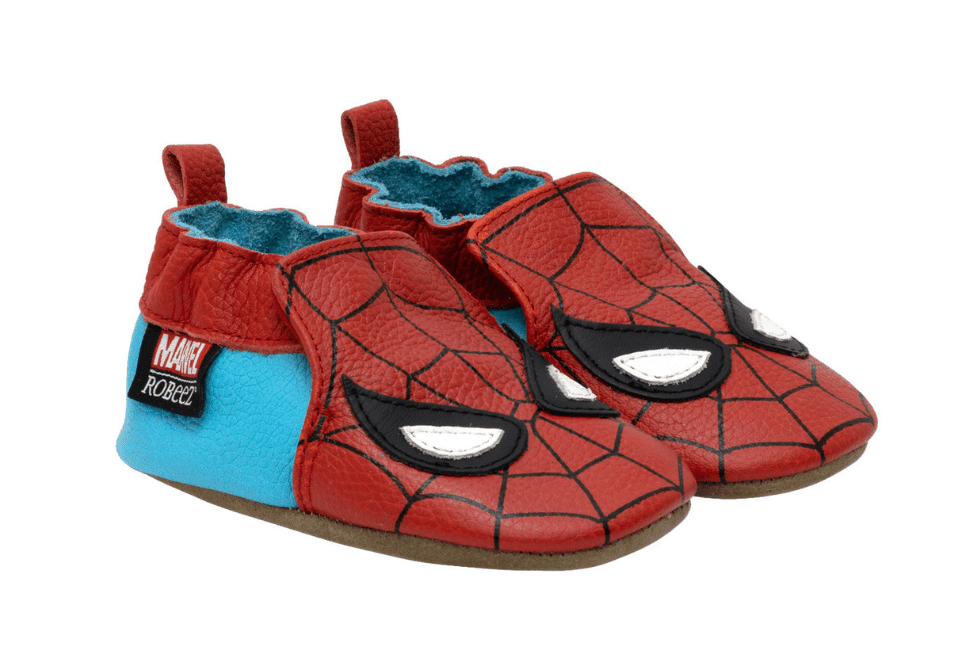 Brand: Marvel/Robeez
Sizing: Baby 0-24 Months
Type: Soft Shoes
Materials: Leather/Suede
Secured by: Ankle Elastic
These are sweet, tiny, and perfect for infants' feet since they are not stiff or conforming. Even the stitching is uniform and robust. These little shoes look to be very well made, which isn't always the case with kids' shoes or really any shoes anymore. Que the "back in my day" speech. Once your baby has outgrown these booties, you can add them to your collection if you are a Marvel collector. These booties are sure to be one of the cutest things you add to your collection. 
Pros
The soft suede interior of the bootie will provide comfort and warmth for your little one's brand-new piggies.

I like that the tint of the shoe's soft colors complements each other better than the colors on some of the different Spider-Man shoes.

I like that this isn't one piece of leather. Spider-Man's eyes look neat as a separate cutout entity. 
Cons
These adorable soft baby shoes will not last too long since your baby will outgrow them. 

I definitely suggest keeping these out of reach of your canine friends. Suede and leather make for some tasty chewing action. I speak from experience. I have lost many boots to that certain death.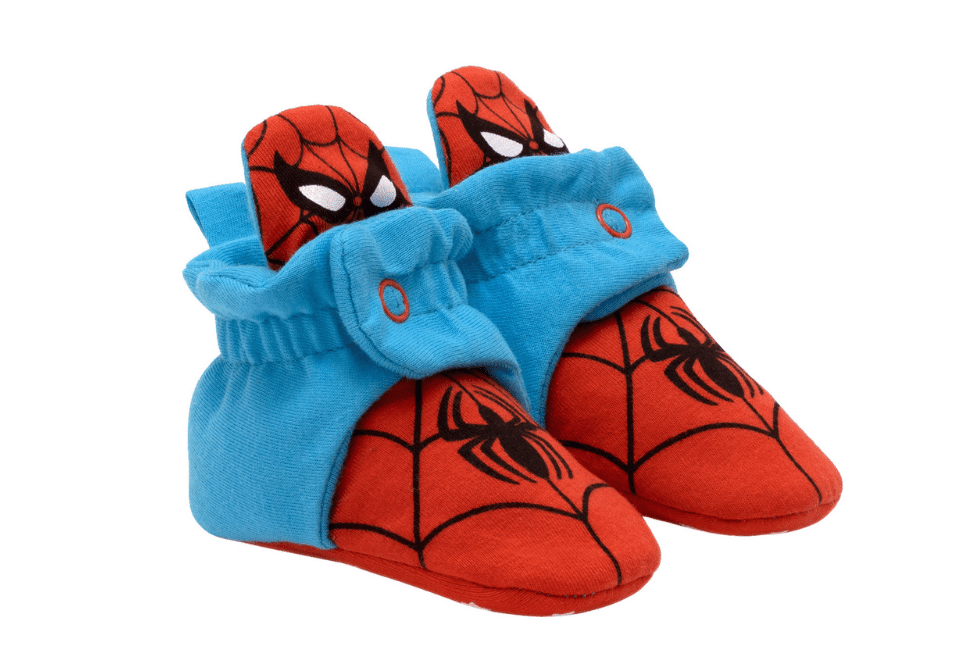 I have difficulty handling how cute and snuggly these little snap booties look. As a mother, I recommend some easy-snap booties for your infant's feet. I had several pairs and never regretted it. They are very easy to put on and take off in a hurry, and you can probably get away with doing it while your little one stays asleep.
As far as comfort goes for your sweet new baby, other footwear cannot compete with the fuzzy softness of these booties. The super cute bottom of the bootie is covered in slip-proof material for when your little one starts walking. This will save at least some of those "new walker" falls from happening. The stars and printed "Web Slinger" add to the adorable factor.
Brand: Marvel/Robeez
Sizing: Baby 0-18 Months
Type: Infant Booties
Materials: Cotton Fleece and Polyester
Secured by: Snap
Pros
I like how the bold web lines and the wrap-around blue material look perfect together.

I like how the snap is highlighted with a red circle. Also, two snaps for sizing on each bootie help extend their lives on your child's feet.

The fact that these have a loud and clear Marvel logo on the back adds to their cuteness.
Cons
These types of bootie materials tend to pill and fade over time. If you gently handwash them as opposed to tossing them in the washing machine, you should be able to avoid pilling, for the most part.

The white print on the bottom of the booties will not stay white for long unless you have an insanely immaculate home.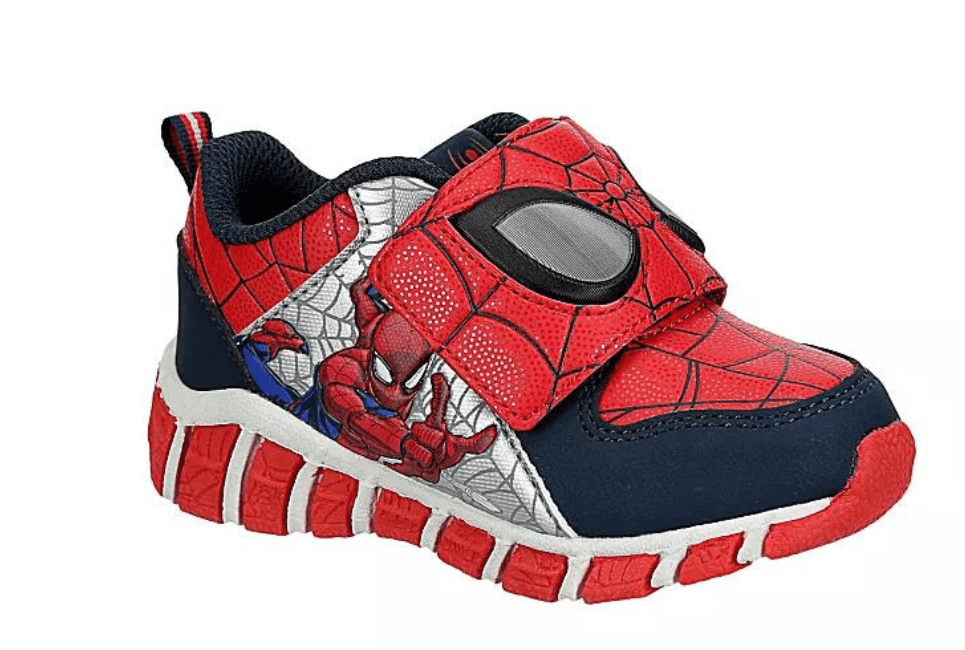 What little kid doesn't want Spider-Man shoes that light up? These are slick-looking shoes, and since they are available for shipping at Rack Room Shoes online, you won't even need to step foot into a store. Make sure to know your little one's size by measuring their foot before purchasing to save yourself a headache. 
Kids with super cool light-up shoes tend to want to wear them more often, which helps light the fire of their ability to put their shoes on all by themselves. These have velcro, which makes this a perfect first shoe for beginners. As with most Marvel-branded goodies, these shoes don't disappoint with their bright colors and striking design.
Brand: Marvel Spider-Man
Sizing: Kids 1-12
Type: Sneakers
Materials: Vegan Leather/Rubber
Secured by: Slip-On with Velcro
Pros
I dig the Spider-Man eyes on the velcro closure. 

The bottom of the shoes looks fantastic and won't track every part of the earth into your house when your little one comes rushing in. Plus, the Spider-Man impression on the bottom will leave little Spider-Mans in the mud, snow, or sand!

The webbing along the bottom of the sides is a nice, spidey touch.
Cons
The lack of traction on the bottom of the shoe could make these slick in wet weather.

The shoes are not all that flexible, which isn't the greatest for new feet. However, as long as your child isn't wearing them all day, every day, you should be fine.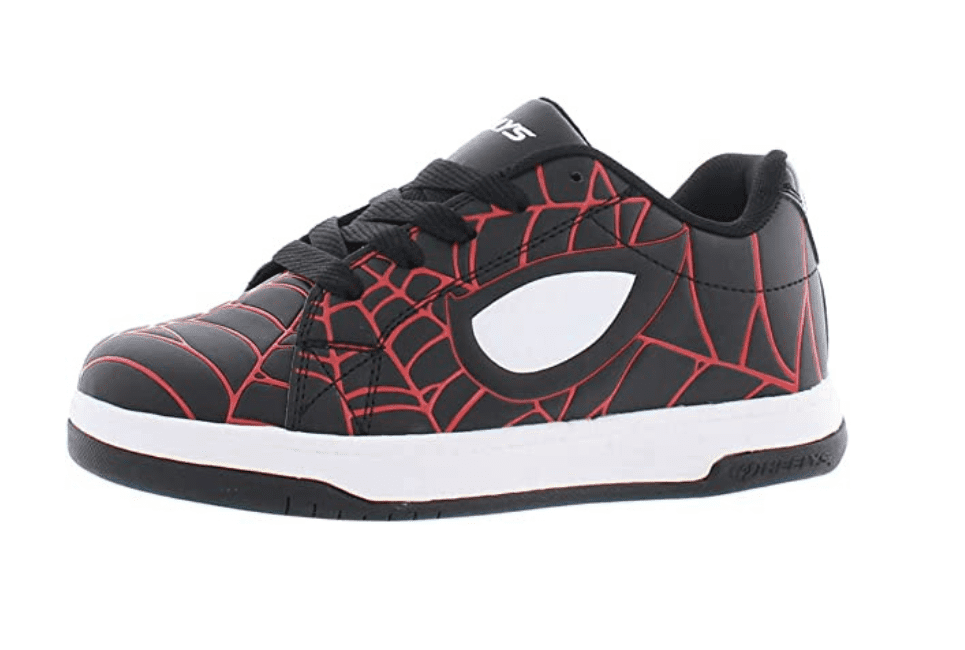 Heelys are fun and fast, which kids and adults can both enjoy with these Spider-Man themed shoes. You and your little one could even have a matching pair! These Heelys have quieter coloring than most other options for kids' Spider-Man shoes, which will help them blend well with a wider array of outfits.
Brand: Heelys/Marvel
Sizing: Little Kid, Big Kid, and Adult
Type: Sneaker with wheel
Materials: Synthetic/Leather/Rubber/Foam
Secured by: Shoestrings 
Pros
I like that the wheel is removable; you won't have to worry about your kid getting in trouble at school for rolling through the halls. Once they are out of school, you can give them the wheel back for some adventure-seeking.

Heelys are fun and will be a reason for your child to play outdoors a bit more and leave that tablet alone.
Cons
Since these are black, they will show scuffs and wear quickly.

Your child will probably have more injuries than one without Heelys.

The big white eyes on the sides could just as well not be there, and it would improve the look of the shoe, in my opinion.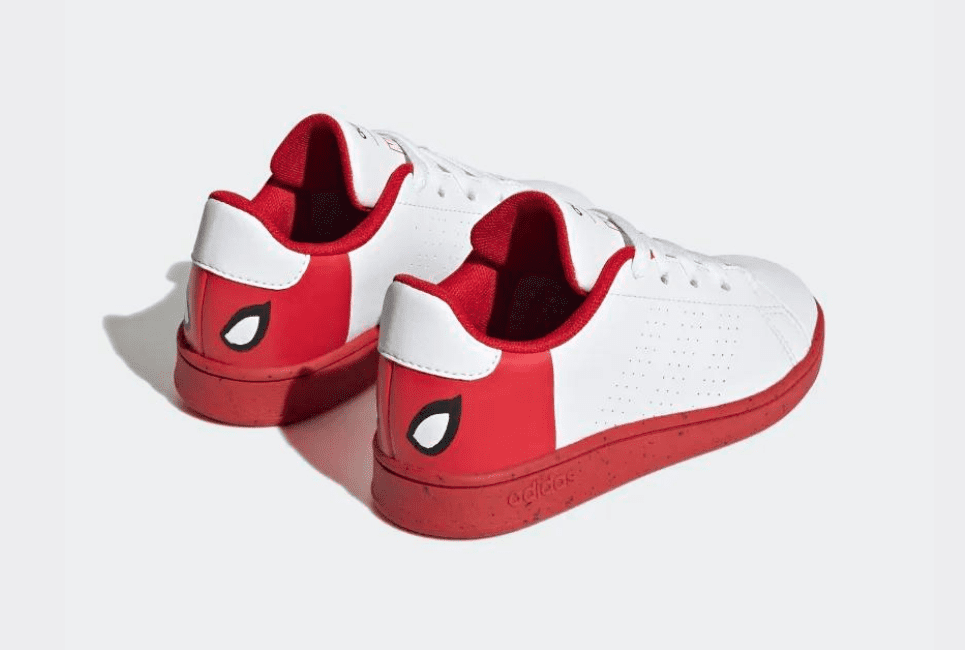 I generally think white shoes are boring, but these Spider-Man kicks are pretty nice! These shoes are very crisp and clean looking, like fresh linen. I also really like the recycled nature of the shoes. Not only do these look cool, but they are also cool since they are made of 50% recycled plastic bottles. Wouldn't it be great if all shoes were made from recycled materials?
Brand: Adidas/Marvel
Sizing: Toddler – Teen
Type: Sneaker
Materials: Synthetic/Vegan/Rubber/Cloudform Cushioning
Secured by: Shoestrings 
Pros
I like the Spidey surprise on the back. Dull in the front, party in the back.

I like that the honeycomb-designed bottom of the shoes is reminiscent of Spider-Man's costume texture.
Cons
I probably don't need to say it, but these are going to be a real pain in the ass to keep clean. Make sure to spray them with 

Crep Protectant

 when you take them out of the box.

White shoelaces look a little bland, but I'm betting you can find some 

cooler-looking ones

online

.

The honeycomb bottom is going to pick up mud and pebbles like a champ. Probably not a bad idea to invest in a boot cleaner.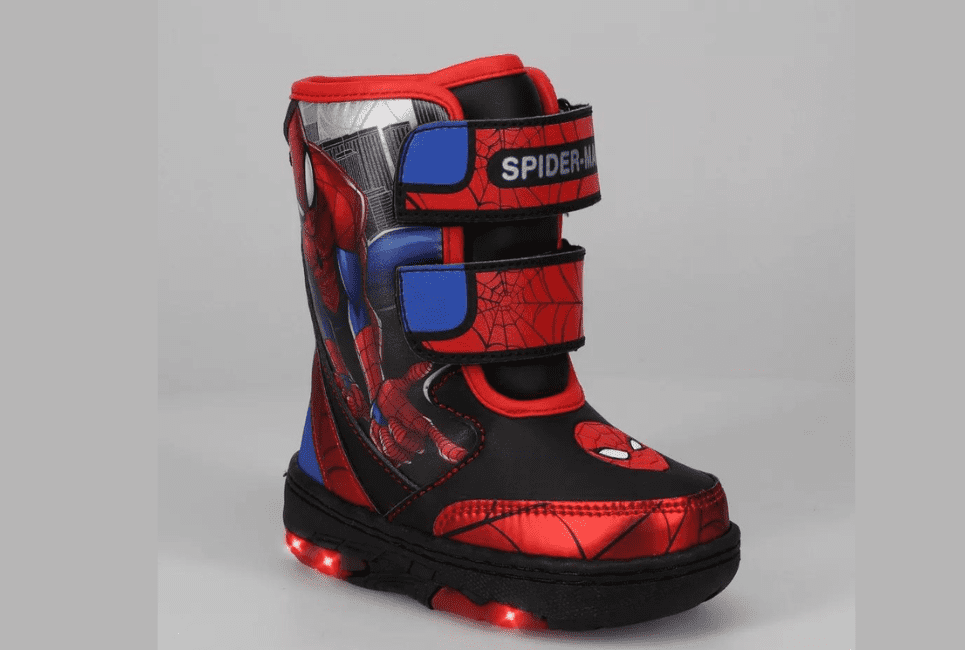 These little snow boots are spiderific and look oh so cozy. My own little man has a pair similar to this that we got from Target last year. They are close to being too small but he refuses to give them up.
Spider-Man makes a special appearance on the outside of the boots and hovers on a tall building, waiting to shoot some spiderweb and go adventure-seeking, just like your little one will be doing when wearing these boots.
The velcro/hook and eye closure will keep the boots snug and are easy for little hands to resecure if they come undone. They also have pull-on loops that work great for little fingers. The outer layer is waterproof, so puddle jumping and snow kicking are encouraged. Even the inner lining is warm and cozy, which will help your small friend's feet toasty when they're out building snowmen and forts. I like that the tongue of the boot is a little bit higher than the boot shaft. Snow tends to get in that little gap, and it makes the boot much more comfortable to have a longer tongue. There's little worse than having your fun snow day ruined by wet feet.
Brand: Marvel
Sizing: Toddler/Little Kid 
Type: Snow Boot
Materials: Polyurethane/Polyester/ Rubber
Secured by: Velcro/Hook and Loop 
Pros
The flashing lights and metallic red look great in the snow.
I like the spiderwebs on the front sides of the boots.
Cons
It's a shame these boots are only in toddler/little kid sizes because they are warm and look great.
The boot's tongue is not connected at the sides to the boot, and that gap can make for awkward tongue displacement and the possibility of snow coming in.
Some reviews state that the bottom of the boot is poorly made and may come detached. For the price, you could just glue the tread back together if needed. Kids' shoes never last long.
Adult Sizes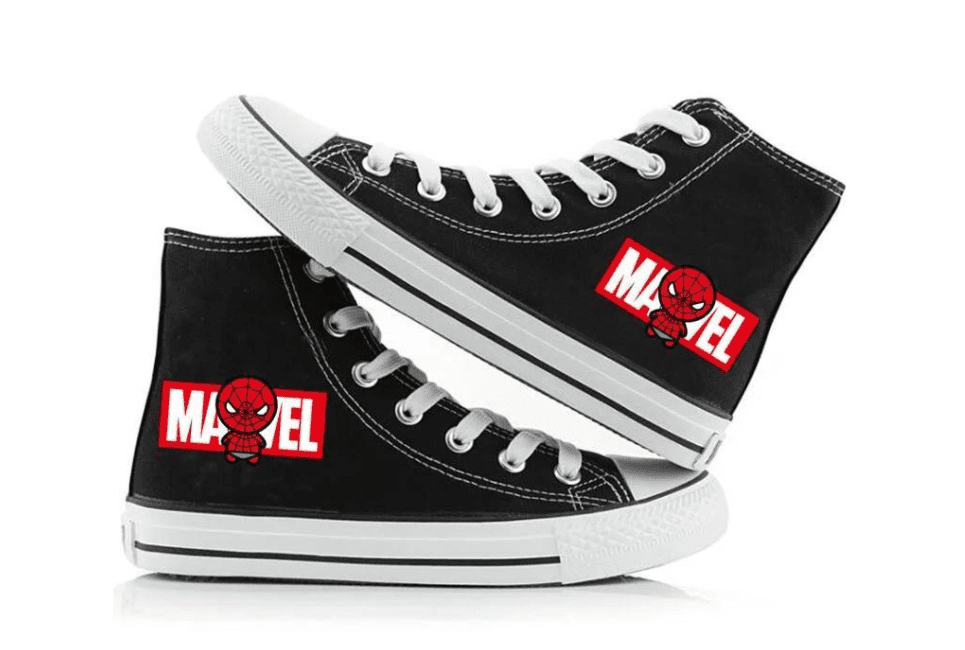 Brand: Marvel Spider-Man
Sizing: Adult
Type: Canvas High-Tops
Materials: Canvas/Rubber
Secured by: Shoestrings 
These all-around nice-looking Spider-Man shoes aren't nearly as loud as the kid's version. The coloring on this adult shoe is simple, and the shoe is not very detailed, so with that, you can rock your spidey-sense shoes and blend in a bit with the masses and most of the clothing in your closet. Also, canvas is vegan and washable; both are wins for these shoes.
Pros
The tiny Spider-Man cartoon on the side of the shoe is adorable.

High top shoes provide better ankle stability for those who might be lacking some.
Cons
Canvas shoes in this style tend to be rough on the feet when worn to work if you are on your feet the entire time. They have very little support and are only for casual wear.

I like the little cartoon Spider-Man but wish he wasn't covering part of the Marvel logo. I think it would look much better and more authentic if he wasn't covering part of the Marvel logo.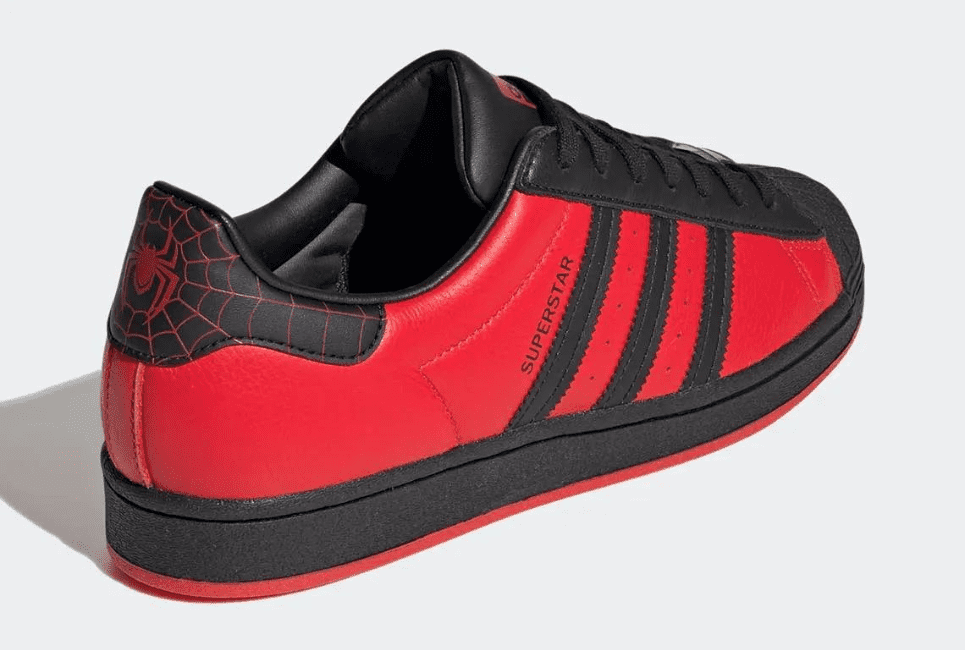 I am a huge fan of Adidas Superstars and Spider-Man. These shoes could not be much better. It may be a little tricky finding your size in stock, but remember, reseller sites always have what you are looking for, as long as you are willing to pay the price.
Black shell-toed shoes always look super sharp and can be worn with just about anything but they always look ultra-fresh with jeans. I love the red, then black on the soles. These shoes are so visually appealing to me that I would want to wear them every day.
Brand: Adidas
Sizing: Men/Women/Adult
Type: Low Top Shoe
Materials: Canvas/Rubber
Secured by: Shoestrings 
Pros
The bright red of the shoes matches Spider-Man's costume perfectly.

The Spidey eyes on the back of the shoes seal the deal for me.

I love that these shoes can be worn by any gender and still look amazing.
Cons
Unfortunately, scuffs will show pretty well on these, so take care of them.

These Spider-Man shoes are so original and remarkable that you might not wear them as carelessly as you would another pair of Adidas shell toes.

Currently, these kicks are hard to find, and when you do, be ready to pay some serious cash.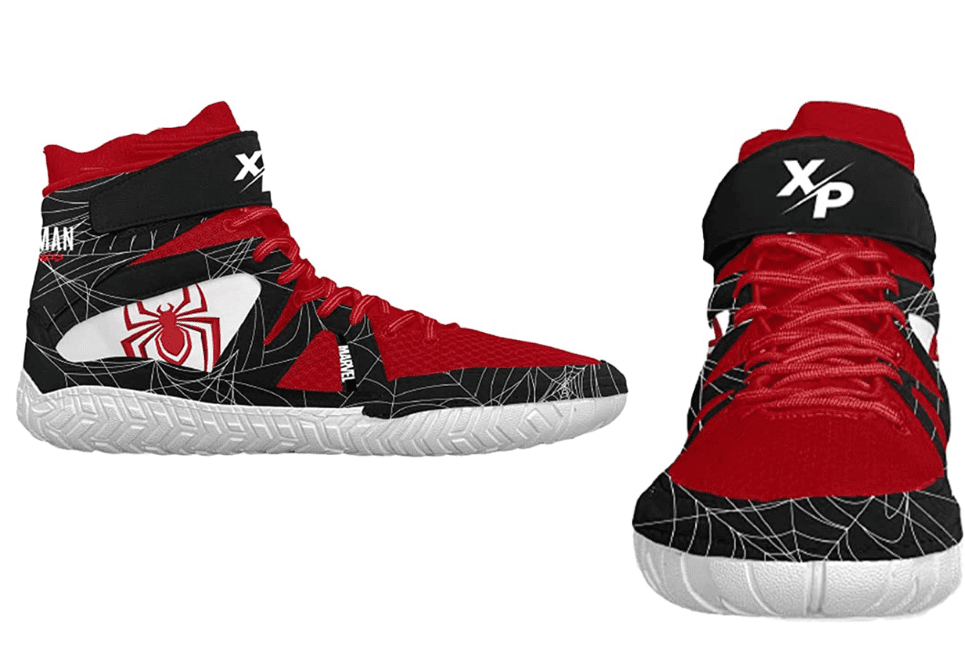 These are specialty shoes, but if you are into wrestling and Spider-Man, these are the shoes you need to win on the mat. In addition, the sizing is for kids and adults, so if you and your child enjoy wrestling together, you can have matching shoes.
The back of the shoe is covered in spider webs and boasts the Marvel logo and Miles Morales' name. I like the white spider design on the side of the shoe. It really makes these wrestling shoes stand out as Spider-Man shoes.
Brand: Xtreme Pro/Marvel
Sizing: Kids/Adult
Type: Wrestling Shoes
Materials: Mesh/Rubber
Secured by: Shoestrings and Velcro 
Pros
The mesh that covers most of this wrestling shoe will help keep your feet cool and dry during the big fights and cut down on stinky feet.

I'm sure you wouldn't want your laces coming untied at a crucial moment. You won't need to with the velcro strap that covers the laces and keeps them from tripping you up.

These are basically high tops, and with it being a wrestling shoe, that will make all the difference with ankle stability.
Cons
The Miles Morales font on the rear of the shoe should be bolder and outlined in white or gold to make it stand out more.

The shoelaces are ugly, but you can fix that easily.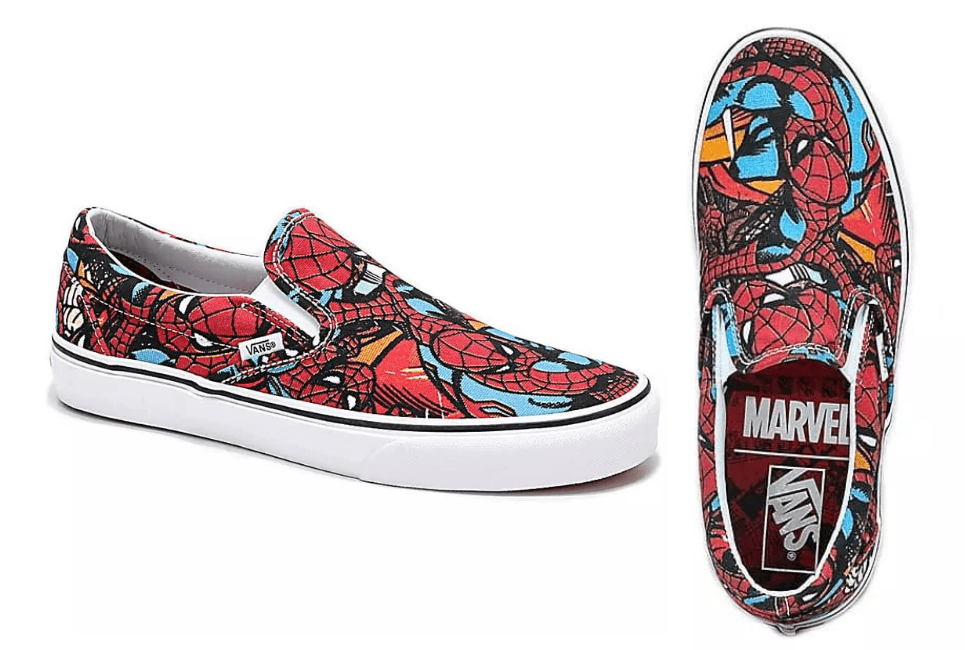 These are fantastic, and I love the all-over comic strip Spider-Man print. Vans are one of the best and most comfortable slip-on shoes out there. They are great for everyday existence and also skateboarding.
These are collectible and rare shoes that have been discontinued, but they are still available on certain sites, such as the one I've linked. As with many of the adult-sized Spider-Man shoes, these aren't screamingly loud and would look great with pretty much anything you might want to wear.
Brand: Vans/Marvel
Sizing: Men/Women/Adult
Type: Slip-On Shoe Skate Hi x Marvel
Materials: Canvas/Rubber
Secured by: Elastic Slip on Front 
Pros
Even the box the shoes come in is artistic and broadcasts how much you love Spider-Man.
Vans' waffle bottoms tend to be great on slick surfaces.
Cons
They are collectibles and are now discontinued, meaning when you do find a pair, they will be marked up in price.
Canvas tends to hold dirt better than synthetic materials or leather, so be sure to spray these down with your shoe water repellent and wipe them down periodically.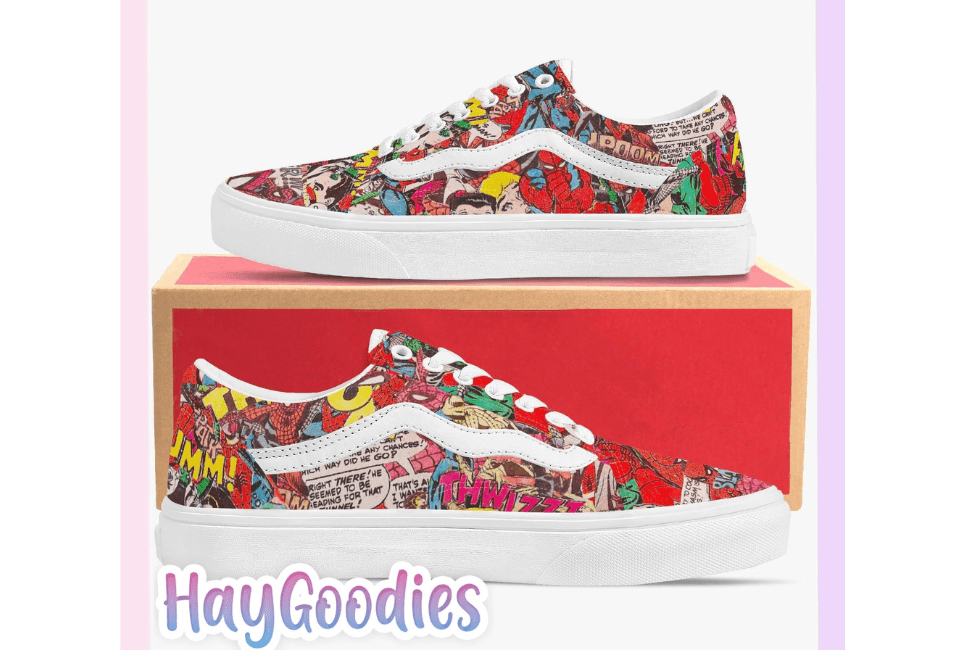 Take my money. These are seriously badass, especially since they are underdog, unbranded shoes. The shoes are cool enough to dress up a hipster look and casual enough to wear with anything. They would look great with skate shorts or a cute skirt.
Brand: Haygoodies/Unbranded
Sizing: Men/Women/Adult
Type: Low Top Shoe
Materials: Canvas/Rubber
Secured by: Shoestrings 
Pros
Vintage comic book print covers the surface of the canvas shoe and looks great and authentic.

Since they aren't leather or synthetic leather, they won't get scuffed up.

The graphics on the shoes are so busy that you won't notice if they get dirty.
Cons
I wish they did not have the wavy white line because they look like knock-off Vans. They were great without it.

You will likely spend a reasonable amount of time cleaning the white rubber sole sides because nothing that white stays like that for long.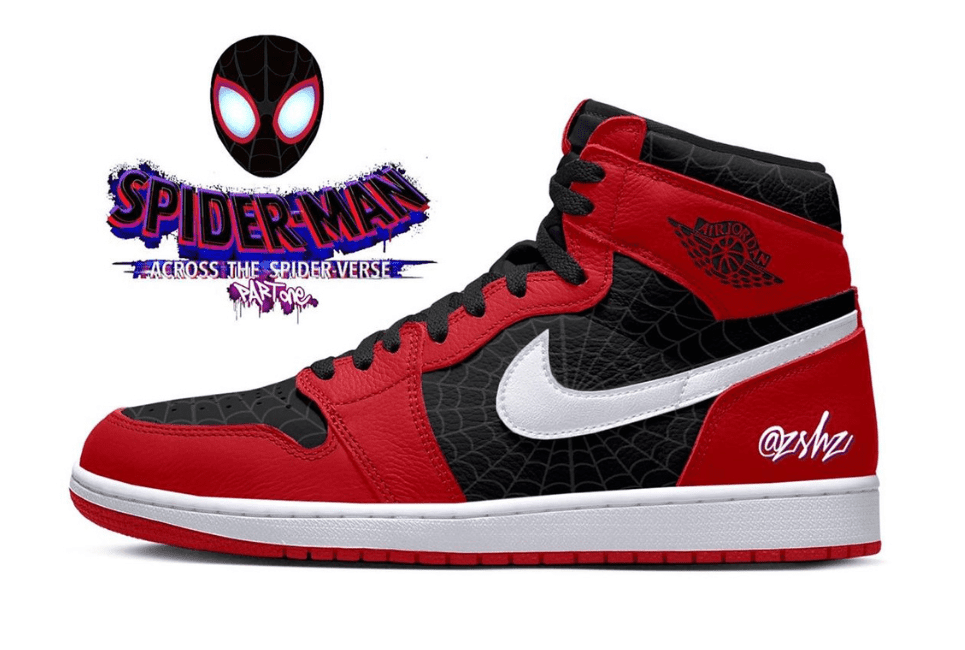 These are sure to be amazing and probably quite expensive. The photo in the linked article is a mock-up of what the Air Jordans might look like when released. These could be the most fantastic family-sized shoes in a long time and might even be the neatest shoes on this list. Time will tell. 
Honorable Mentions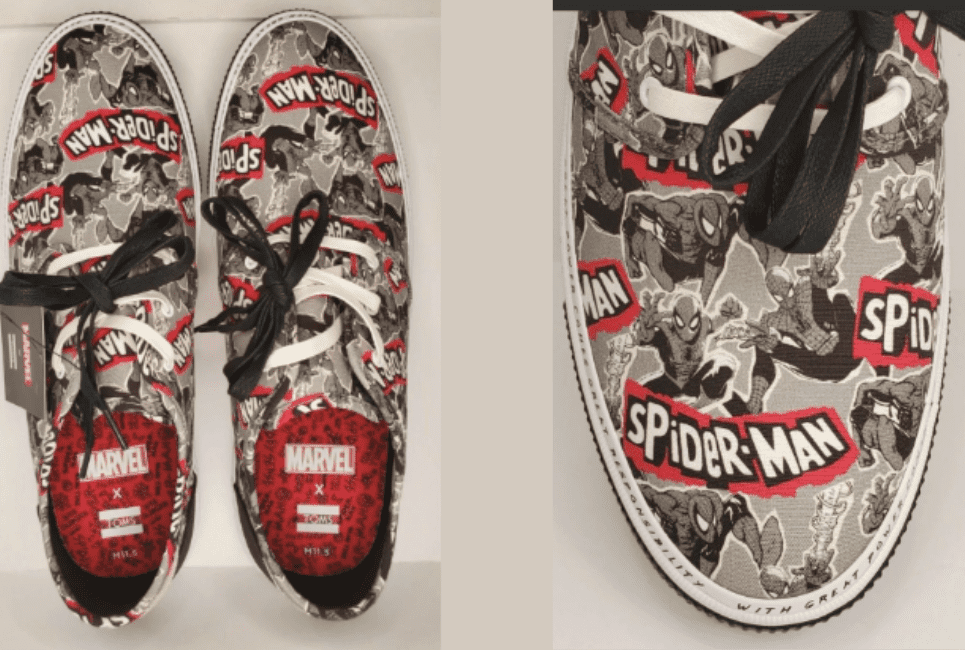 I wish these were still available in places other than resellers, but that's life. This link is just an example so you can see what they looked like years ago. They are my favorite but simply don't exist anymore.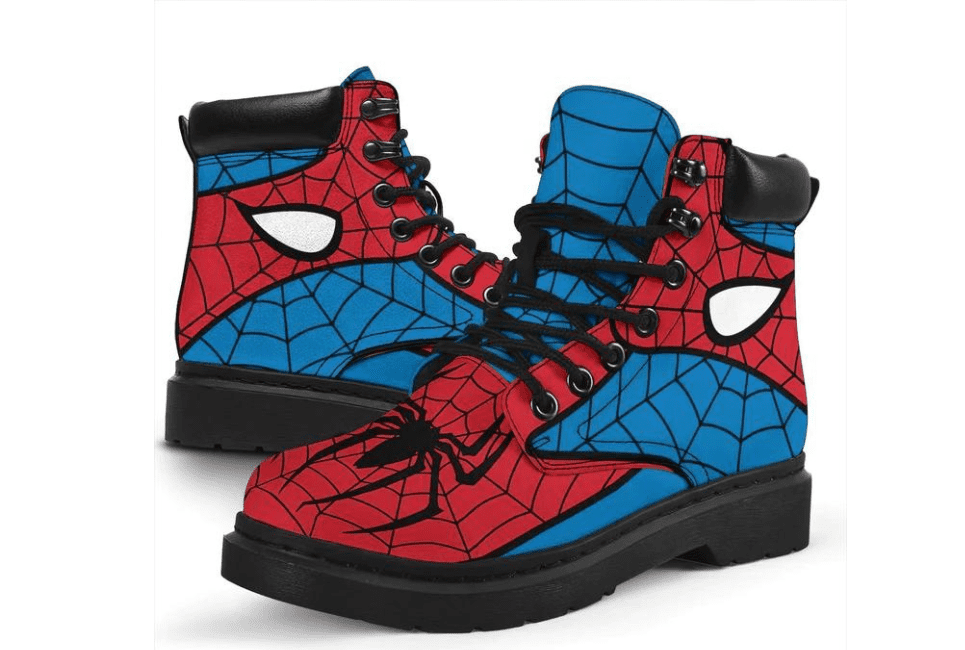 These are pretty sweet. If loud is your thing, these boots are for you. They come in men's and women's sizing.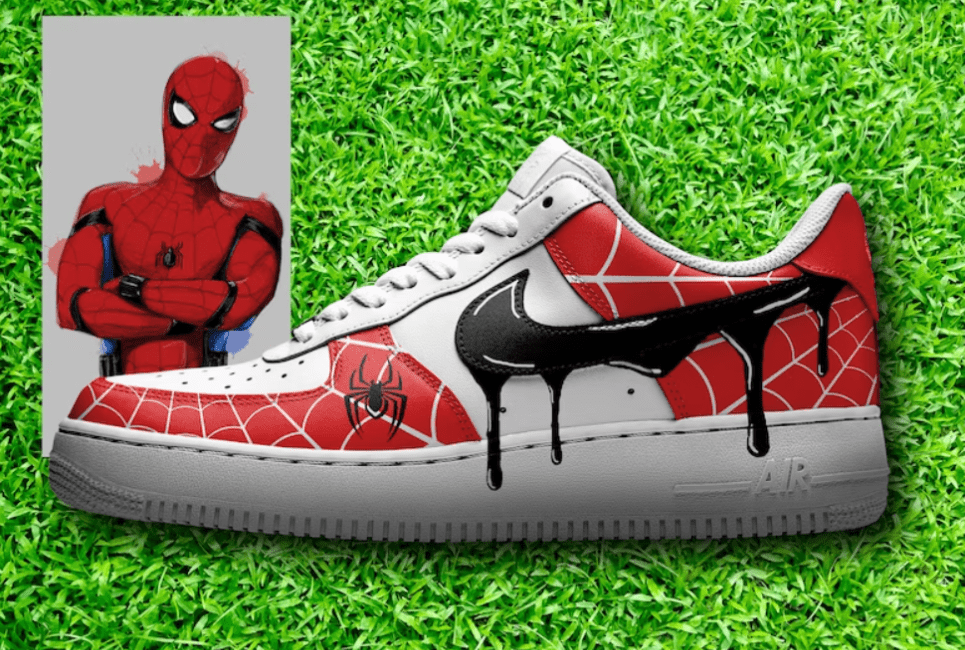 There's a chance these won't always be available, but they are handmade and worth a mention. 
FAQ
Question: What shoes did Spider-Man wear in the movie: Homecoming?
Answer: Good ol' Peter Parker was sporting Nike SBs, or Nike Skateboarding shoes. These specific shoes are designed for wear and tear more so than any other style of Nikes. Spider-Man certainly knows about wear and tear!
Question: What Shoes Does Miles Morales Wear in Homecoming?
Answer: Morales wears the retro high-top Nike Air Jordan 1 Spider-Verse Origin Story in Homecoming, the movie.
Question: What Shoes did Tobey Maguire's Peter Parker Wear?
With Great Shoes Comes Great Spidey Style
Whether you're a Nike fan, I have included enough excellent pairs of shoes to make just about anyone happy. In addition, if you surf the web enough, you can find a pair of Spidey shoes for your whole family. 
The sizing ranges from infant to adult, with the most fabulous shoes being for kids. Of course, the kids' shoes are also the most affordable, but that makes sense. If you know anything about kids, they outgrow shoes very quickly, so dropping $100+ per pair seems too extreme for most parents.
Just to recap on my top picks of Spider-Man branded shoes, let's revisit the three winners.
My top pick for Spider-Man branded infant shoes is the Marvel Spider-Man Snap Booties in Red. My child had booties in this same shoe style, and they didn't get kicked off, didn't make his feet too warm or too cool, and lasted until he needed a larger size or grew out of the style altogether. So if you love Spider-Man and have an itty bitty human, you should buy these immediately (babies grow fast).
That concludes the mysterious web of Spider-Man shoes. I hope you have enjoyed the journey as much as I have. Until next time, be nice to your friendly neighborhood spiders.
Looking for more interesting readings? Check out: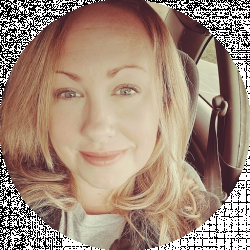 Latest posts by Katie Downey
(see all)