Are you looking to add a little extra "oomph" to your Spiderman obsession? Instead of just collecting toys or memorabilia, why not go the extra mile and show off your passion with something unique like a Spiderman rug!
Whether for yourself, as a gift, or even as a signature piece in your home theater room – there's no better way to pay homage to the friendly neighborhood hero. In this spidey-centric list, I'll explore some of the best Spiderman rugs. So, grab a snack, pick a rug, and start designing your entire room around it!
Bottom Line Up Front
Not to date myself here, but I'm pretty old school when it comes to my Marvel tastes. We have artwork on our walls of vintage comics, so this Oversized Comic Cover Rug would be so perfect in our rec room!
Top 3 Picks
Best Spiderman Rug Ideas
I gathered up this web-slinging list by keeping three things in mind:
Affordability
Overall design
Quality
With affordability, I looked at the average cost of a licensed rug and tried to find Spiderman rugs that fit that budget. For the overall design, I was on the hunt for a few classic looks for the older Spiderman fans but wanted to include a few unique, artsy options for kids and alternative home decor.
As for quality, I chose rugs that had a tight weave so the design would look sharp but also not too high of a pile. With rugs that have specific designs and shapes you want to see clearly, higher piles can sometimes distort the look.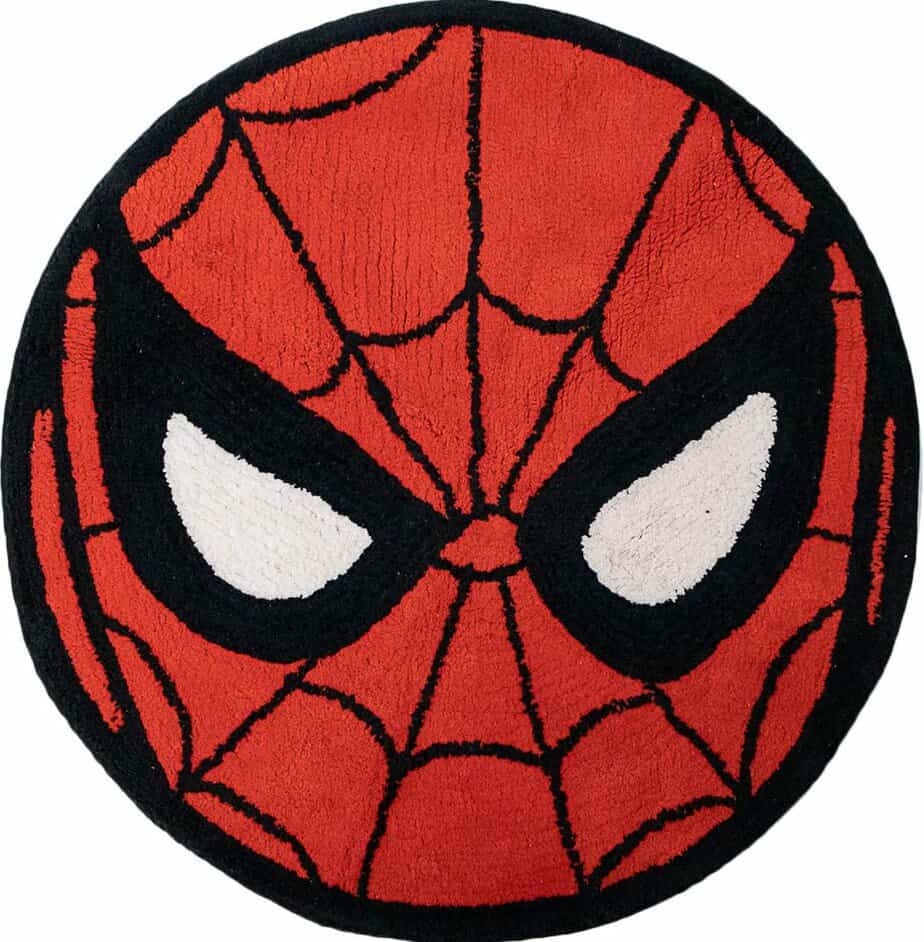 This adorable cotton rug is perfect for your little one's evening bathroom sessions. Granted, that red might not match every bathroom decor, but it does add a pop of color to a white or neutral bathroom, like the one in the picture. If you feel it doesn't match the decor, you can always take it out and put it on the floor only when bathing your toddler.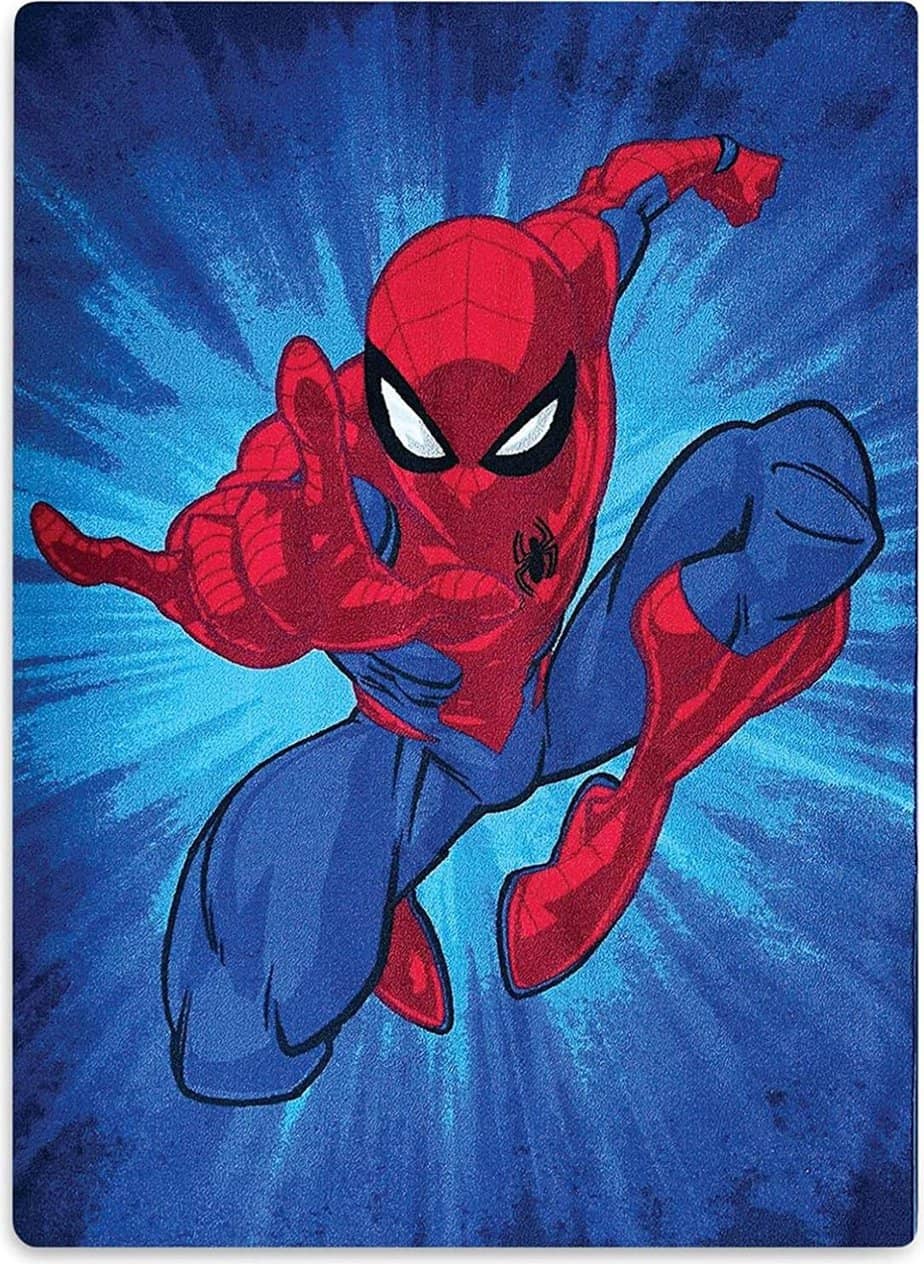 The Spiderman rug is ideal for Marvel enthusiasts who want to show their appreciation of the iconic superhero in their home. This red and blue rectangular rug packs style in its polyester pile, making it a great conversation starter at any gathering or friendly get-togethers.
Not only will visitors be impressed by the classic red and blue design, but they will also admire your fandom for the ever-lovable Spiderman. Investing in this rug can be a great decision for anyone looking to spruce up their room with a bit of red and blue excitement!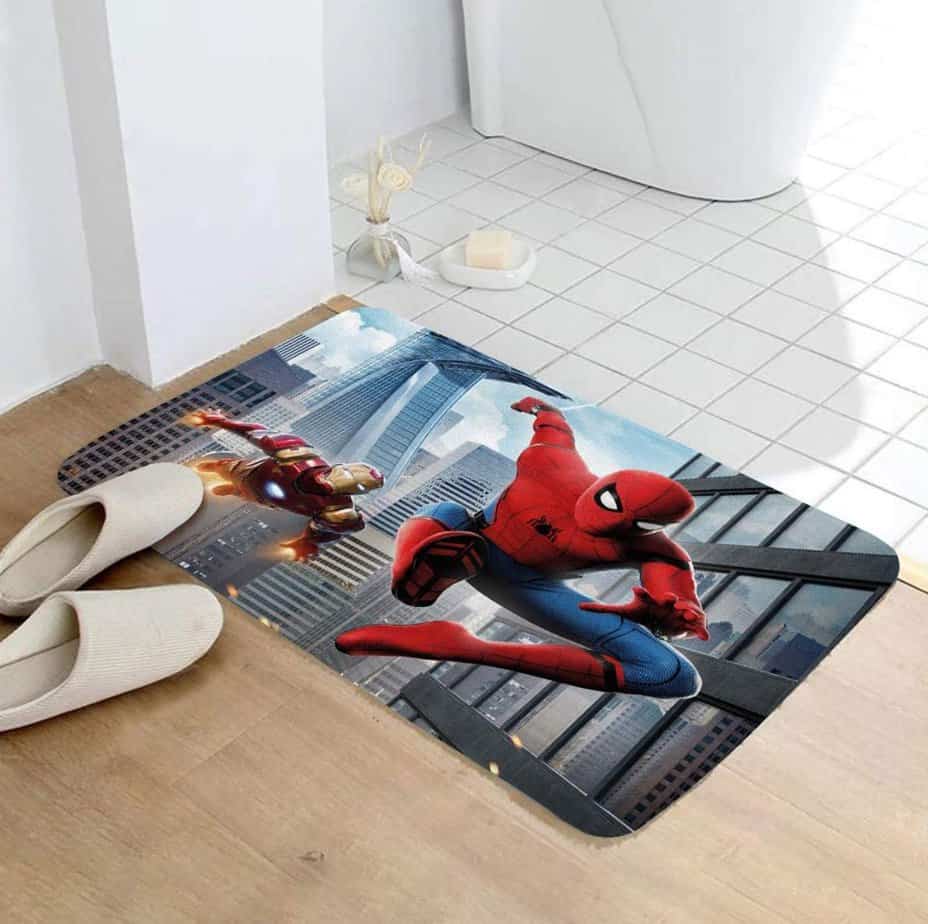 This bathroom Spiderman rug is the perfect way to help your child transition into a more independent and self-confident individual. Not only will it provide them with a non-slip backing and quality print, but the comforting cushion of memory foam can help promote positive behavior and reinforce positive learning.
Plus, the fun and vibrant rug design will liven up your child's bathroom, making it enjoyable for them to use while still keeping it cozy and practical. Plus, you have to love that Iron Man cameo!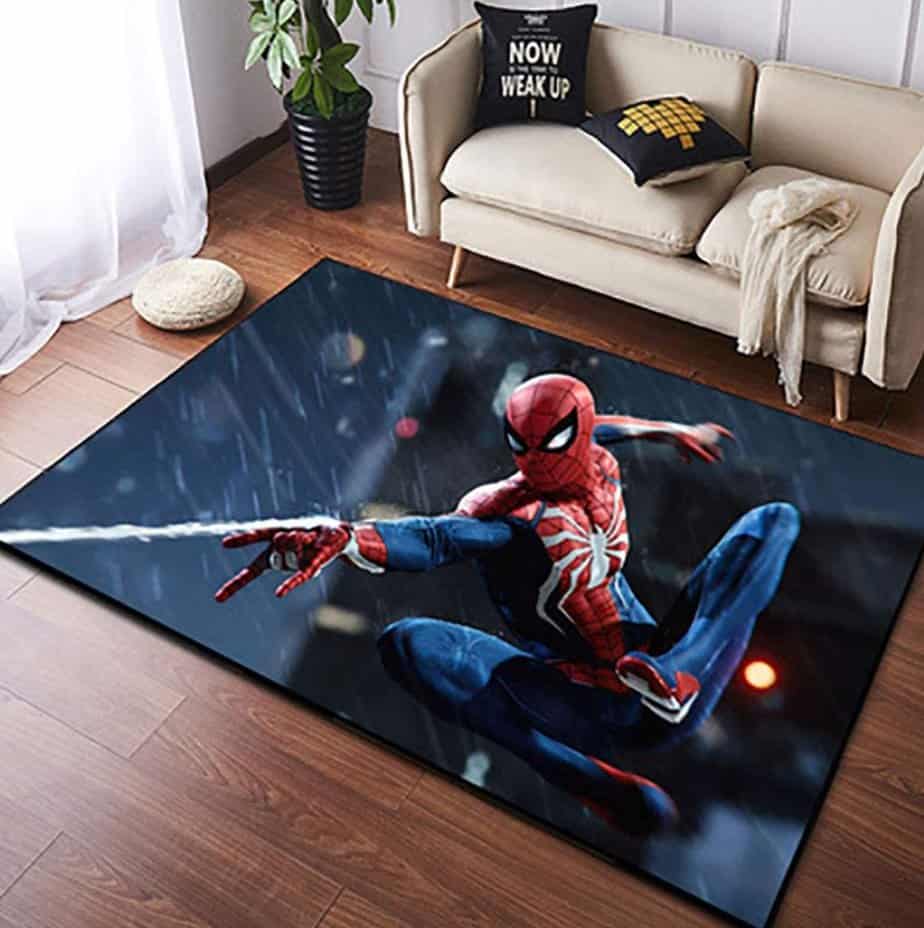 For those who want to add a 3D superhero design to their space, consider this Spiderman Rug. This rug is perfect for any room, featuring the web-slinger himself shooting his web. With its 3D printed design and non-slip plastic bottom, it can easily work in any bedroom, playroom, or living room.
I love the vivid colors, and I think this would also make a great addition to a gaming room! And, best of all, it will truly stand out as a focal point of your decor.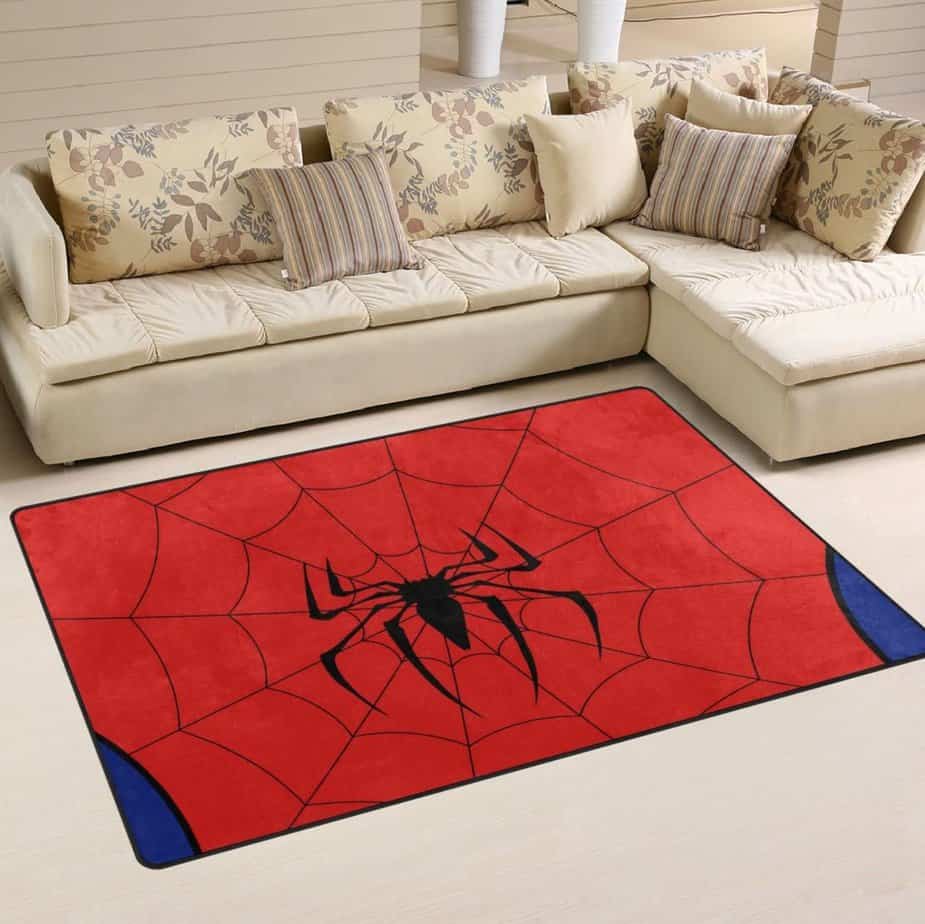 Looking for a bold addition to your bedroom, living room, or office? Opting for a Spiderman rug with the spider logo will surely add excitement and flair to your space. Crafted from cotton and polyester for comfort, it also features non-slip backing for safe placement.
A spider web gives it an extra edge that's perfect for any Spiderman fan. This rug is a great gift and a stylish choice to show off your fandom in any home or workplace.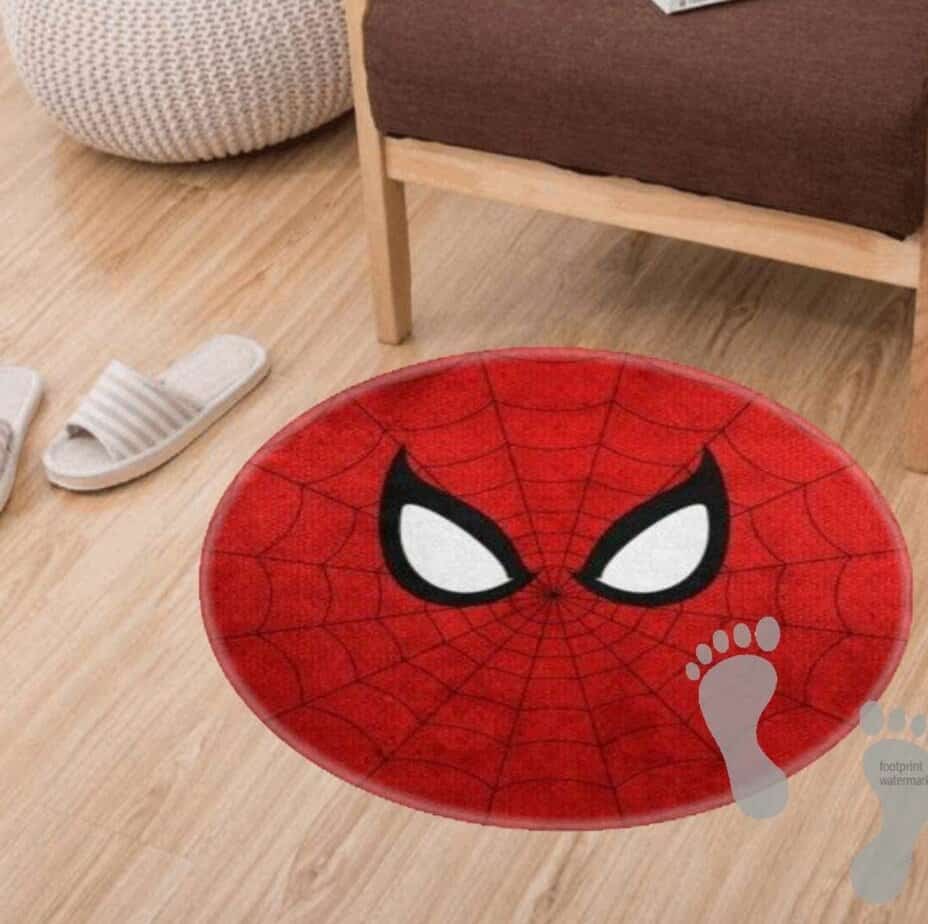 This round Spiderman rug with a spider web and Spidey's eyes is an ideal choice for any superhero enthusiast. Its velvet-like surface provides comfort and warmth, while its rubber bottom makes this piece a viable option as a doormat or in a child's room.
The unique shape of the mat creates symmetry and adds playfulness to any space, making it perfect for adding life to any dull corner of your home. This Spiderman rug is the perfect addition to any home, whether you are displaying your fandom with pride or protecting floors from dirt and debris.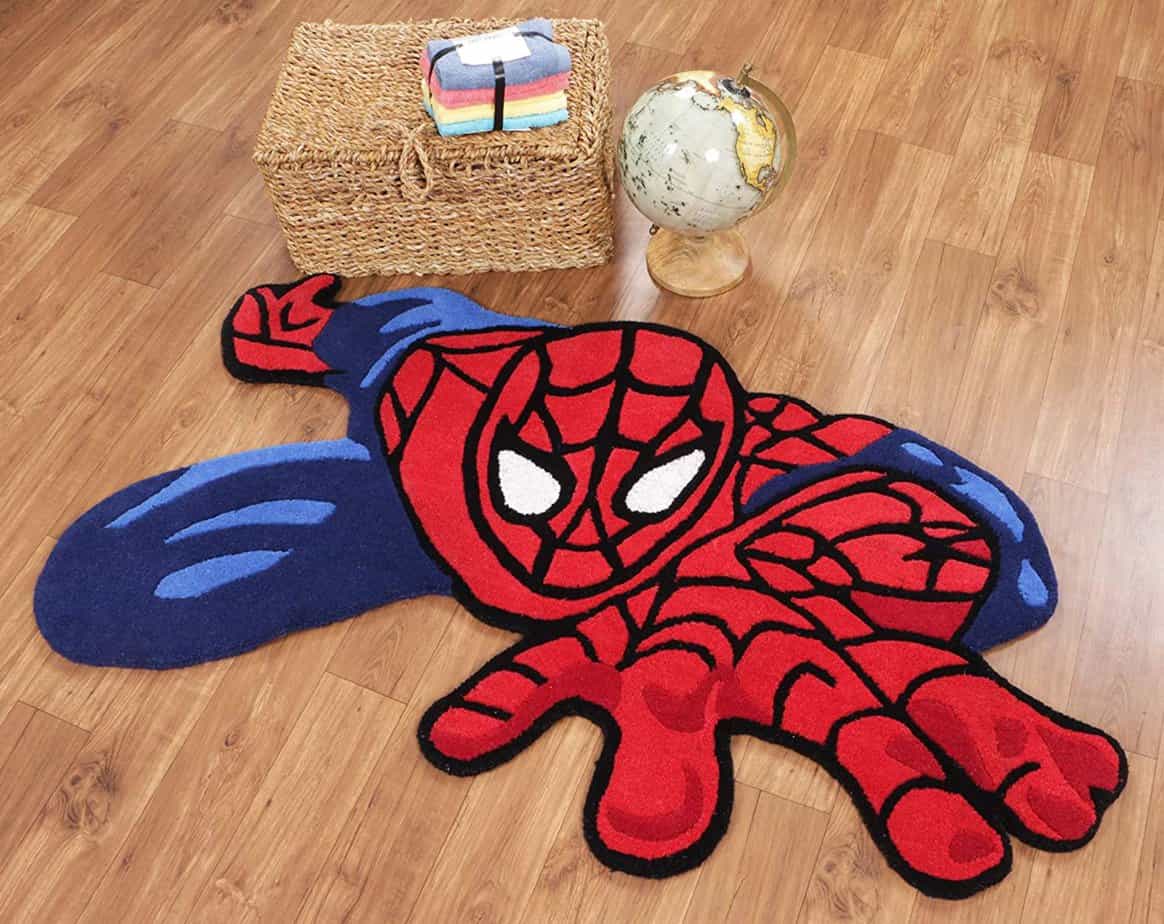 I love the idea of having a handmade Spiderman-shaped rug in any room I can imagine– from the bedroom to a hallway, even the living room. They are not only aesthetically engaging but also remarkably well-crafted.
This Spiderman-shaped rug is made from high-quality wool and has a cotton backing that keeps it durable and sturdy. It even keeps feet warm! With its intricate details, this rug provides an amazing addition to any home while having fun with its vibrant colors that speak loudly to any fan of Spiderman.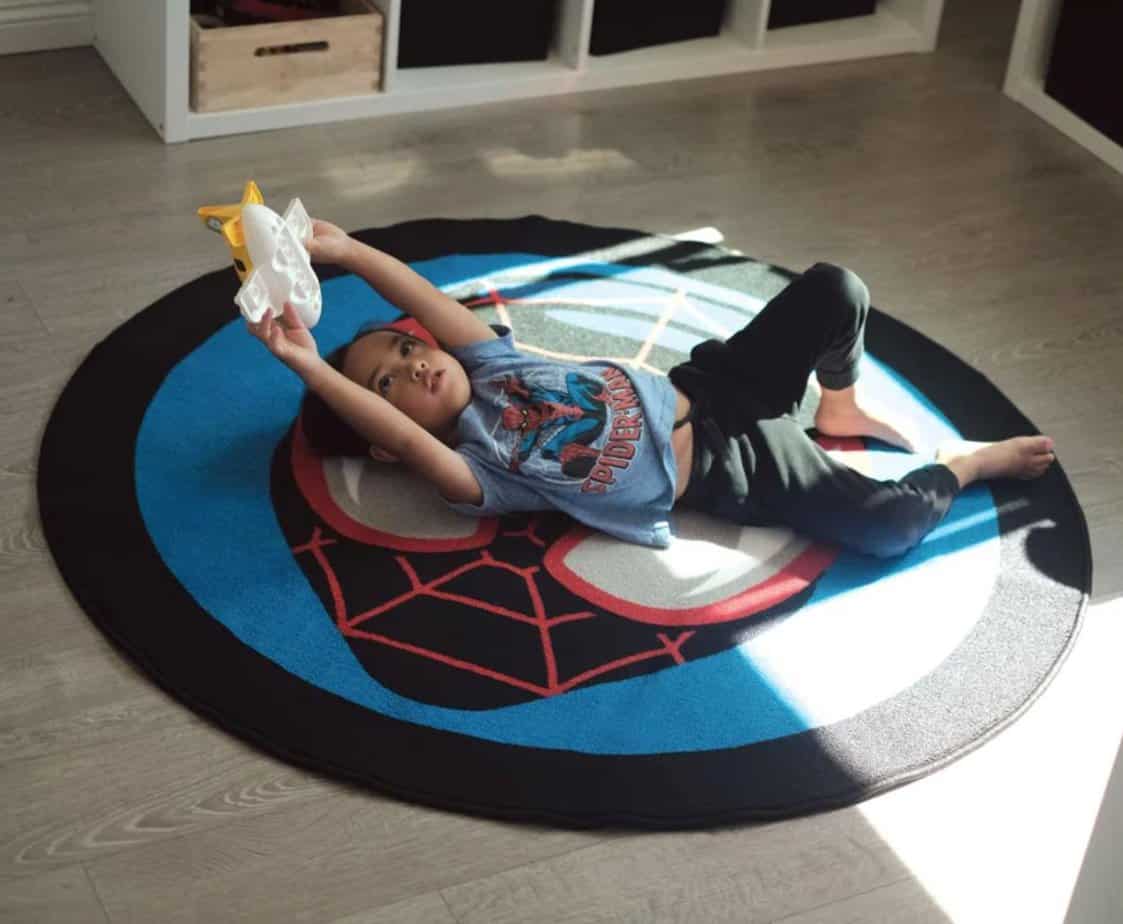 Why would anyone want a Miles Morales rug? Because he is an iconic character in pop culture and Marvel comics. Hailing from Brooklyn and attending a prestigious private school, Miles quickly discovers his unique superpower accompanied by great responsibility.
Since his debut in 2011, Miles has become more than just an African American hero, but an inspiration to many who resonate with his genuine struggle as a child of two diverse cultures. He captures attention through various outlets, such as video games and Marvel films for young and old fans alike, encouraging kids to reach for the stars with confidence and bravery.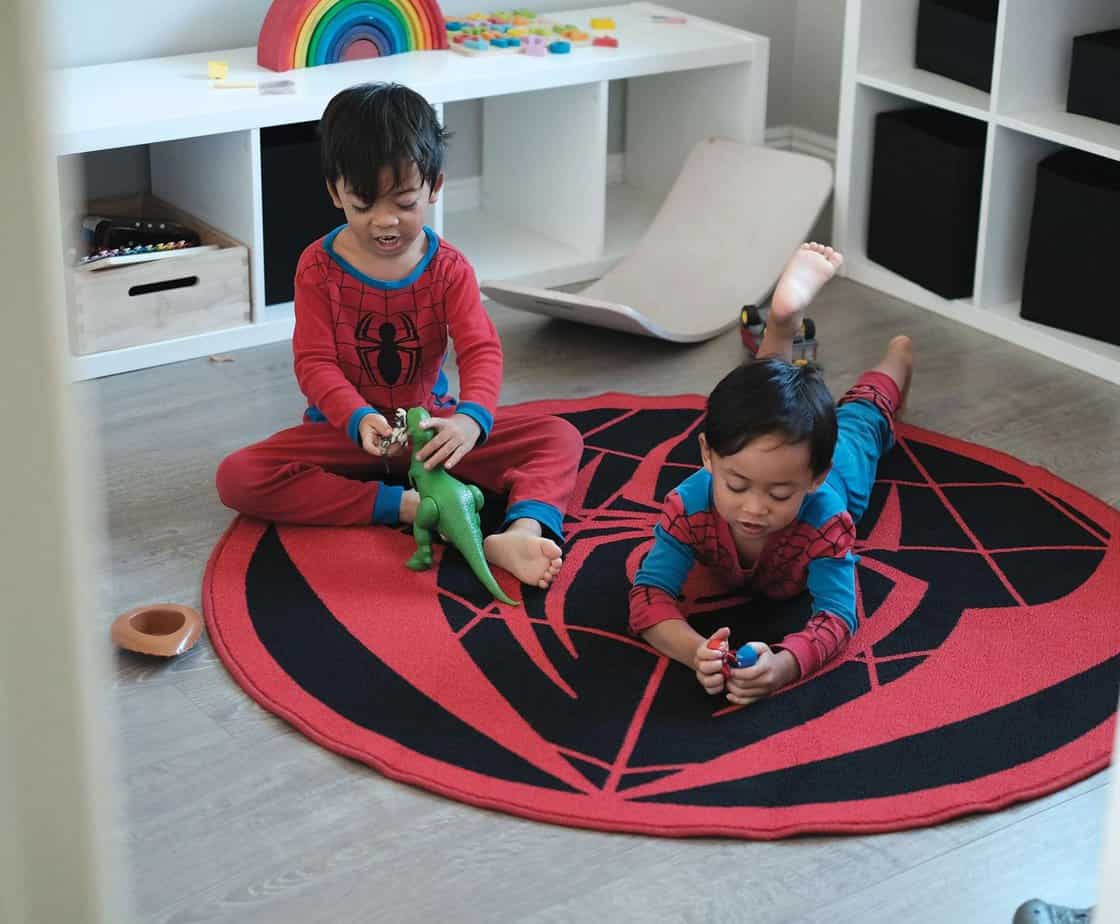 I love the look and feel of this round rug emblazoned with Miles Morales' chest logo. This premium polyester rug will last for years because of its superior durability and smooth surface. And I can rely on it to stay looking new and vibrant, wash after wash. I like that I can show off my passion for this iconic character in style — it has a unique look that will make a fashionable statement in any room. So, what's stopping you from getting one of these?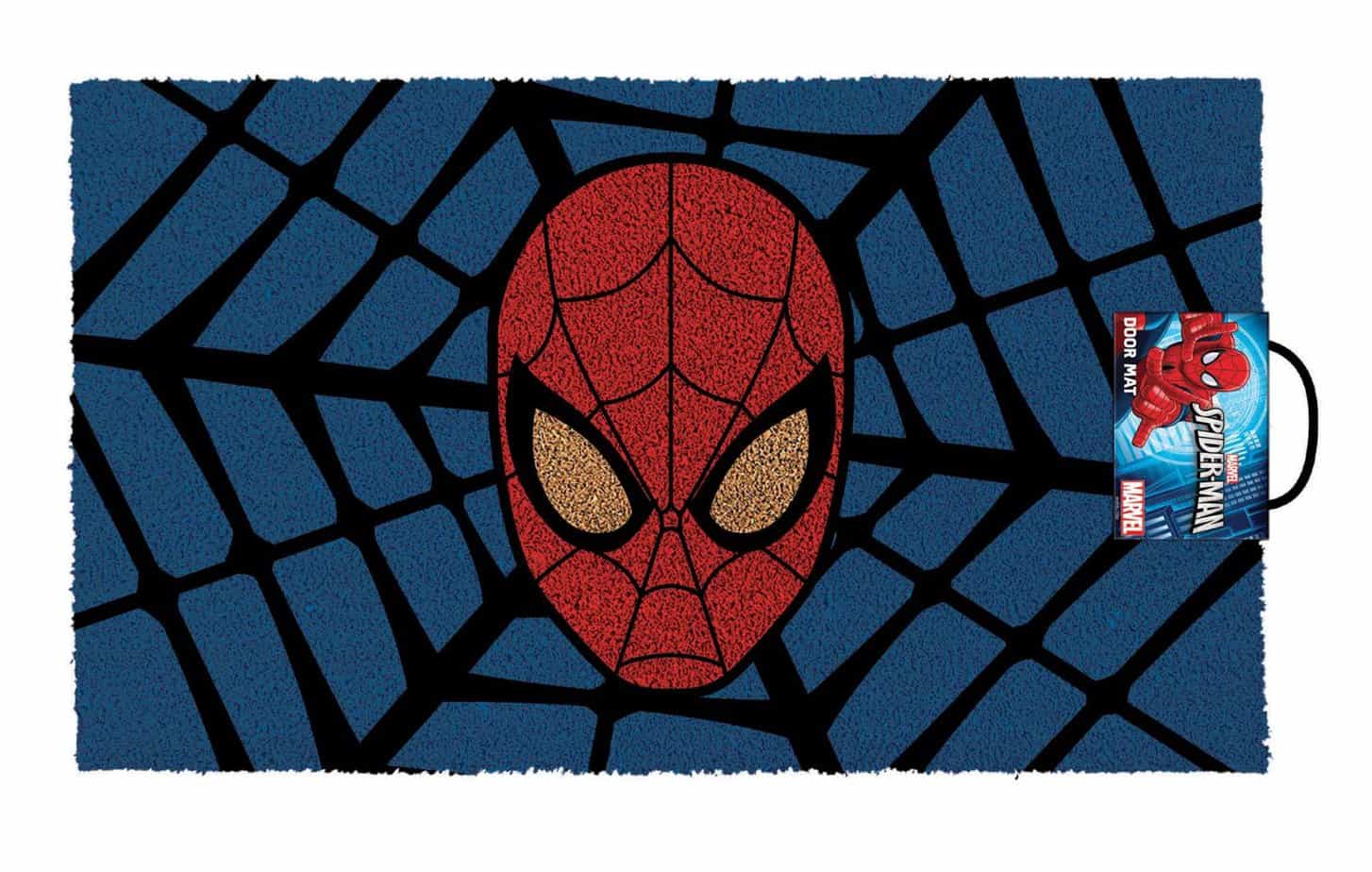 This indoor Spiderman doormat is an ideal choice for any superhero fan. It is made with biodegradable coco fiber and boasts a non-slip PVC backing to ensure your household's safety. Its intricate design adds character and charm to any indoor location, and its durability ensures that this unique mat will last through years of use. By purchasing this durable indoor doormat, you'll receive a complement of style and practicality that is sure to bring joy in any home.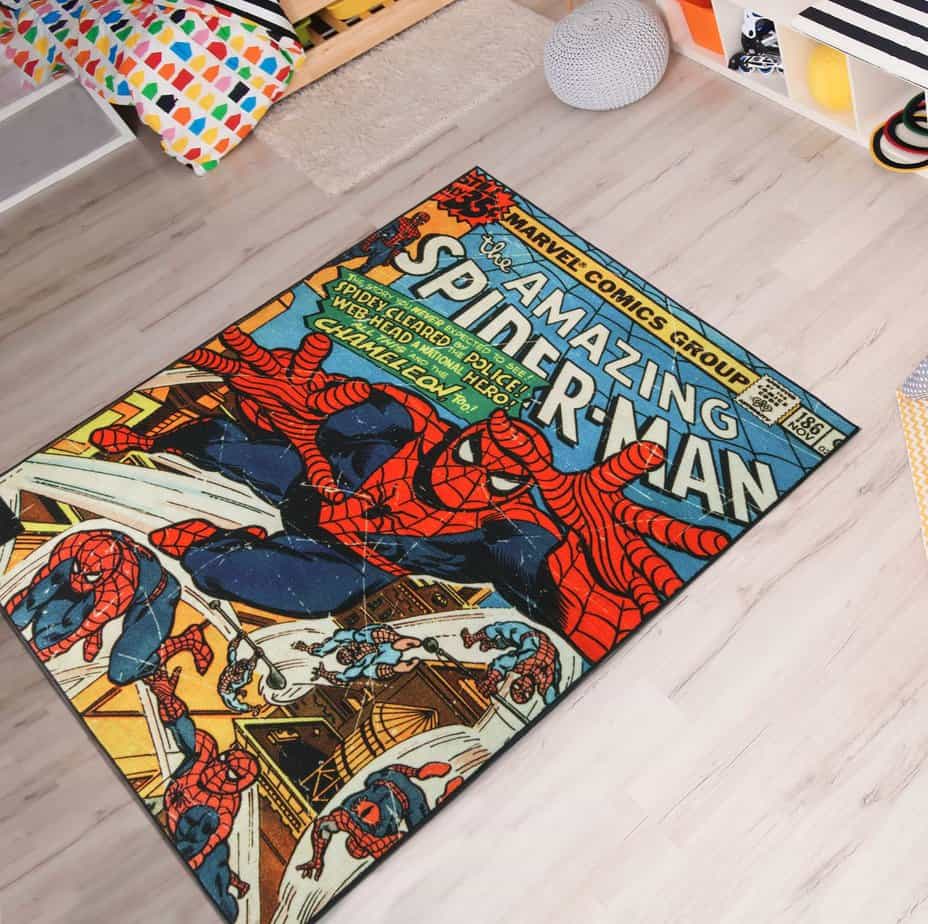 Have I ever told you how much I adore Spiderman? Well, now you can bring him right into your home with this digitally printed mat that looks just like the cover art from a November 1978 edition of the Amazing Spider-Man comic book. Made of polyester, this mat is a perfect fit for any Spiderman fan that wants to inject a bit of superhero style – and spidey sense – into their home decor.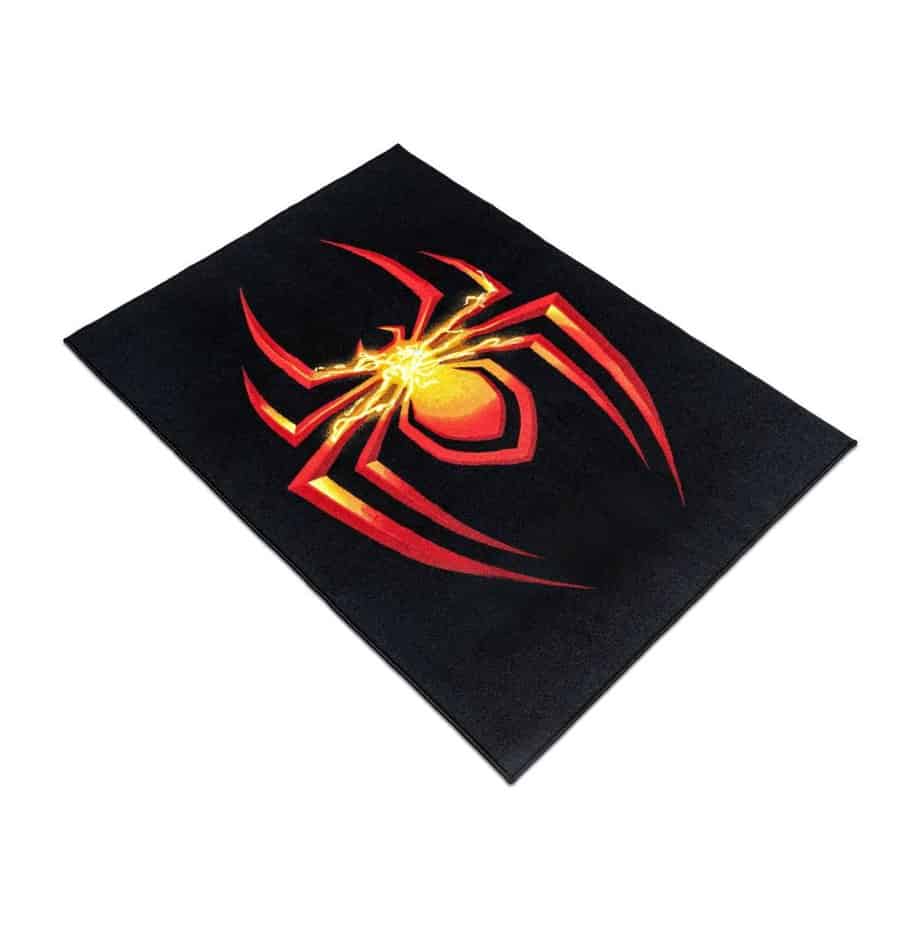 If you're looking to spread a bit of spidey sense all around your home, look no further than the Miles Morales rug! Boasting a black background draped with the iconic lit logo, this super snazzy rug will make any room more awesome. Crafted from 100 percent polyester, it even includes hints of bioelectricity, making it just as iconic as its inspiration and perfect for the resident superhero fan.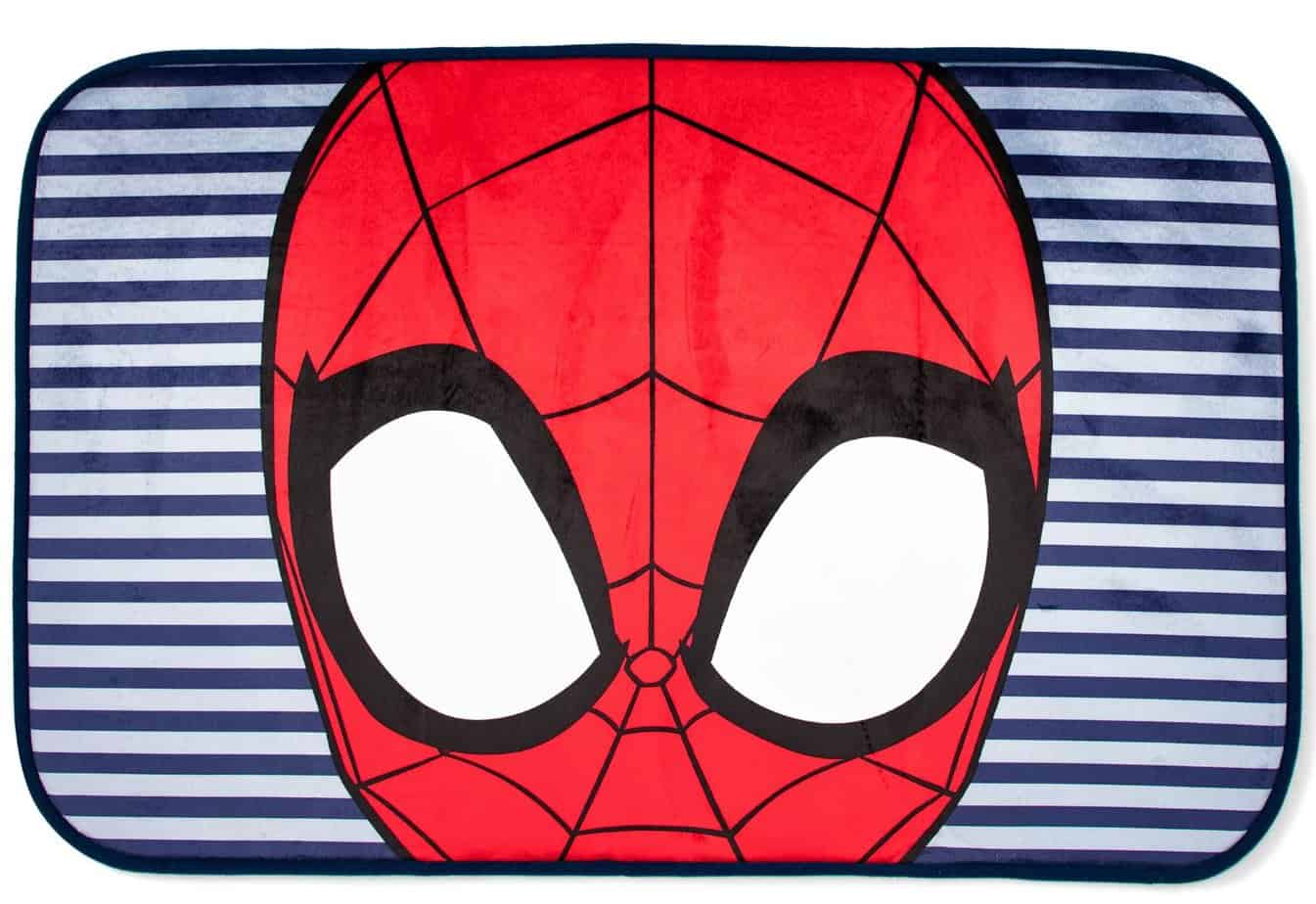 Making bathroom time fun is easy when accompanied by a Spiderman rug. Not only will young ones enjoy seeing the friendly face of Spiderman while they brush their teeth, but the microfiber and polyester fabric will also keep them safe and comfortable at all times.
Whether they want to jump around in the bathroom or cuddle up on a cold morning, this foam Spiderman rug offers both with its soft texture and striped background. Best of all, parents can know that they've made a purchase worth its value as this rug spruces up the bathroom interior.
A red background complemented by intricate details that look like they have been plucked straight out of a comic book – is there any better way to make your house look like something out of your childhood fantasies? You can do just that with this giant round rug featuring Spiderman shooting his web!
Not only will this statement piece take your home decor to the next level, but it also comes with a non-slip backing that provides maximum safety and comfort. Talk about the perfect combination of style and substance!
Spiderman is more than just a web-slinging superhero – he's also an avid coffee lover who has been seen enjoying his favorite beverage on numerous occasions in the Marvel universe. And if you're looking to bring that same beloved Spiderman spirit into your home, why not do it with a handmade Spiderman rug featuring him casually drinking coffee?
It's the perfect addition to any room, whether it's in a man cave where fans can show their appreciation for the neighborhood-friendly hero, or even in a living room that needs some sprucing up with one-of-a-kind decor. Plus – it's literally a piece of art that you can step on!
If you've ever wished for Spiderman to help peep under your door, that wish has now come true! This awe-inspiring doormat shaped like your favorite web-shooting superhero will wow guests with its amazing details and bring a unique flair to any entrance.
But don't worry – this mat is here to protect your floors, not cause damage to them like our dear Spidey might! As if that isn't enough, you can appreciate the effort put into creating such an eye-catching decoration, and – why not? – feel like a real superhero yourself whenever you step onto it.
Venom is a fictional character created by Marvel, and is known to be one of Spiderman's greatest nemeses. For those dedicated science fiction fans out there, you might also know him by his full name – Venom Symbiote! Venom and Spiderman have developed an unusual symbiotic relationship despite their quarrels throughout the years.
Depending on your point of view, they can either be rivals or frenemies. All jokes aside, Venom and Spiderman definitely play off each other extremely well in the comic book world. That's what makes this Spiderman and Venom rug even more awesome!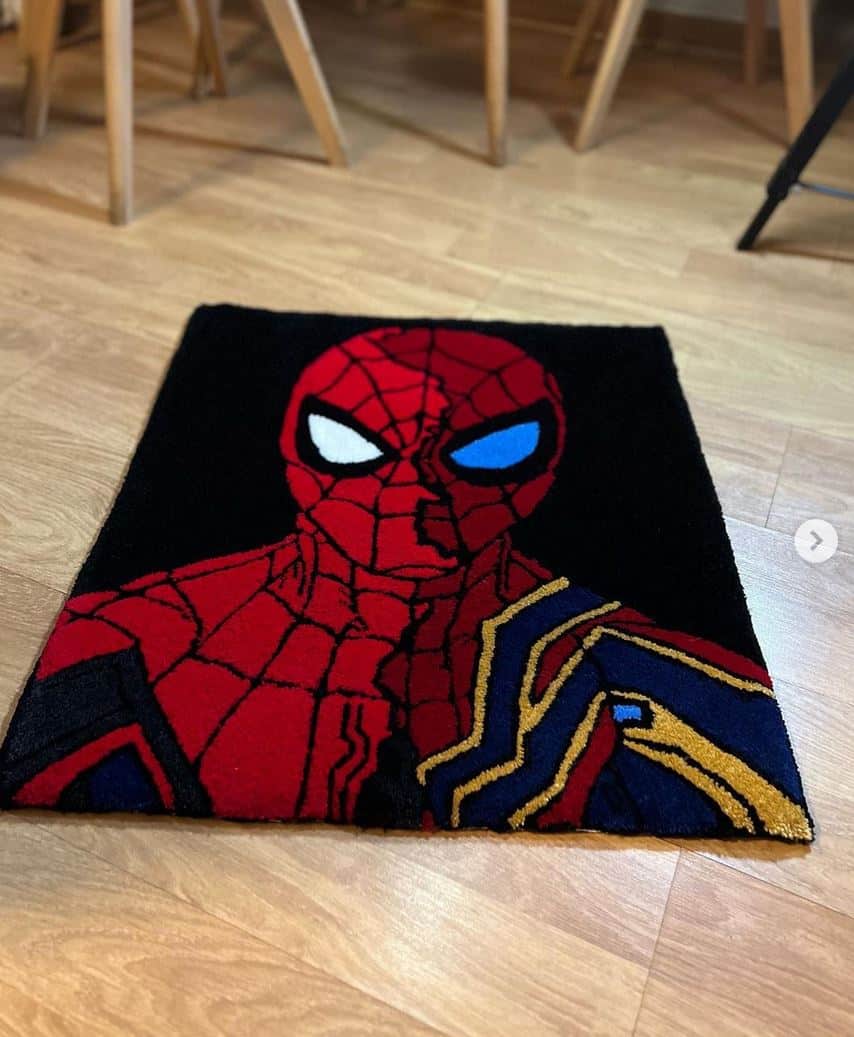 If you're looking for something amazing to spruce up your interior décor, look no further than a handcrafted Spiderman rug!
Not only are you supporting independent crafters when you roll out one of these amazing pieces, but its intricate details and high-quality materials mean it'll remain an eye-catching statement piece for years to come. Whether it's for a fan of Spiderman or just a sense of fun and adventure that the amazing arachnid brings, this handmade rug will make any room stand out in a crowd!
If you're looking for something amazing to spruce up your interior décor, look no further than a handcrafted Spiderman rug!
Not only are you supporting independent crafters when you roll out one of these amazing pieces, but its intricate details and high-quality materials mean it'll remain an eye-catching statement piece for years to come. Whether it's for a fan of Spiderman or just a sense of fun and adventure that the amazing arachnid brings, this handmade rug will make any room stand out in a crowd!
A handmade Spiderman rug is the perfect way to spruce up your home if you're a superhero fan looking for something unique! It brings a sense of pride knowing that you are supporting an independent crafter's effort in making it, but just look at how cool the rug is! It has a purple background with a black silhouette of our friendly neighborhood Spiderman on top of a building – so cool that even Doctor Strange would be impressed.
I think buying a giant Spiderman rug like this one makes perfect sense. Not only will they capture the attention of any visitor, but they are made with quality materials and black backgrounds that feature a large, woven red spider!
Plus, most of these rugs are handmade – you won't find anything like it anywhere else! I love how it brings an awesome comic feel to any room and provides a unique, eye-catching piece for people to appreciate.
FAQs
Question: Where can I get Spiderman rugs?
Answer: Due to the character's popularity, Spiderman rugs can be found in plenty of online and offline shops. Look for them on Etsy, Amazon, Wayfair, Walmart, and other such retailers.
Question: How do you measure for a rug?
Answer: It all depends on where you're putting it. For spaces like living rooms and rec rooms that can manage a large area rug, be sure to measure the footprint that the sofas take up, plus a little extra so the rug will securely side underneath.
Pro Tip for Area Rugs: Regardless of furniture placement, measure the whole room and minus about two feet from all sides.
For smaller areas such as kid's rooms or offices, measure the floor surface where you want the rug, a allow a few inches all around. This is especially so with rugs that have a specific design like Spiderman because you don't want to obstruct it in any way. Show it off!
Question: What is a good pile for rugs?
Answer: So, pile is the overall thickness of the rug and how high the fibers or "pile" are. A low pile hangs around a quarter inch thick, a medium is about half an inch, and a high pile rug (sometimes called shag rugs) can be as high as an inch.
Which Spiderman Rug are You Getting?
If you want a big rug and love that vintage look like me, go for this Oversized Comic Cover rug. A Spiderman rug is the perfect gift for Marvel fans everywhere. Not only does it look great, but its comfort and softness bring an undeniable joy when you step onto it each morning.
Imagine waking up and having your favorite superhero greet you as you start your day – what a great way to stay motivated! Deck out your space with even more Spidey stuff; we've got tons of recs on our site.
Looking for more interesting readings? Check out: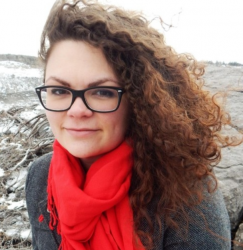 Latest posts by Candace Osmond
(see all)