I can't get enough of the Belcher family and their antics, from Linda's singing to Gene's jokes. And now there is even more to love as Bob's Burgers officially continues off the small screen and onto various pieces of merch.
Whether you're looking for clothing, housewares, or toys and games inspired by your favorite characters, you can find it all and more in my curated selection of the best official Bob's Burgers merchandise. So, sit back and enjoy while I take you on tour through some classic (and fun!) souvenirs inspired by one of my fav shows.
Bottom Line Upfront
Off, this is so tough to narrow down my one fav item; I love them all! But I think I'm gonna grab myself a Linda Belcher Funko for my collection and go re-watch the whole series again.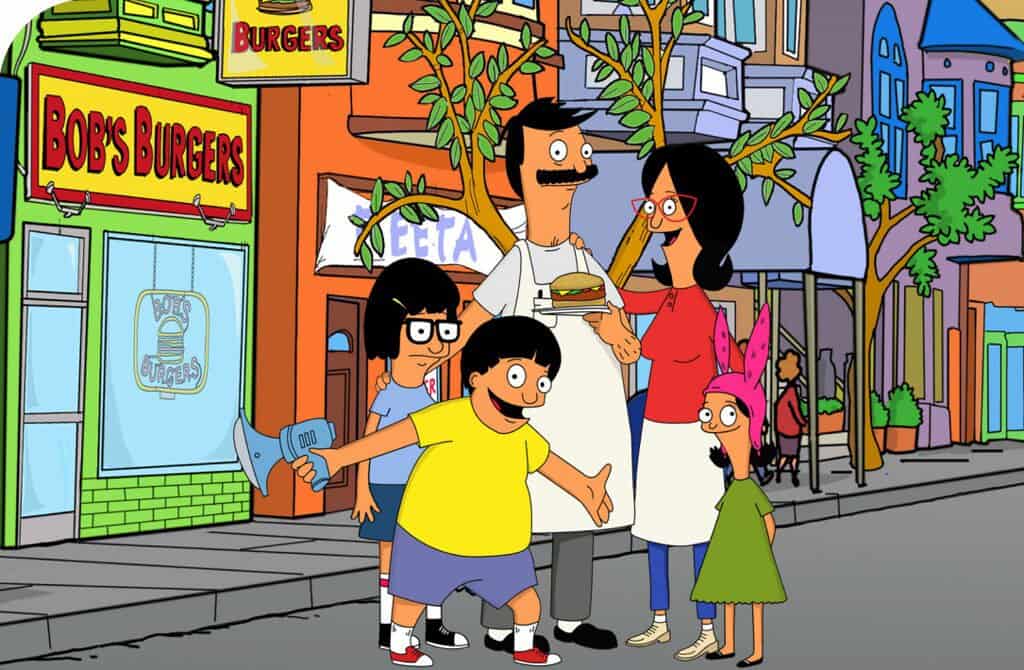 Top 3 Picks
What Is Bob's Burgers?
Bob's Burgers is a hit animated sitcom about the Belcher family, who own a small burger joint called Bob's Burgers.
The series, produced by Loren Bouchard and Jim Dauterive, has been on air since 2011 and follows the antics of parents Bob and Linda, as well as their three children Tina, Louise, and Gene, as they navigate their colorful lives running the business.
The show is chock-full of puns, odd characters (human and animal alike!), and wacky but lovable plotlines – all of which make for a hilarious dose of entertainment every week!
Whether you're looking for something to make you laugh or a lighthearted exploration of family dynamics, Bob's Burgers has everything.
Types of Bob's Burgers Merch to Look for
If you're a Bob's Burgers fan like moi, chances are you've looked all over for the perfect piece of merch from your favorite show. Whether it is an obscure mug or a Gene-approved t-shirt, there is plenty of Bob's Burgers merchandise to fill your needs. From beach towels to keychains, it seems like the possibilities for a true-blue fan are nearly limitless.
Need something more unique? Look no further than the bobbleheads and talking toys for those truly extreme superfans. With so much out there, you can proudly display your enthusiasm for Bob and his family everywhere you go!
Consider buying
Funko Pops
T-shirts
Hoodies
Posters
Wall art
Keychains
Notebooks
Backpacks
Bags
Shoes
Accessories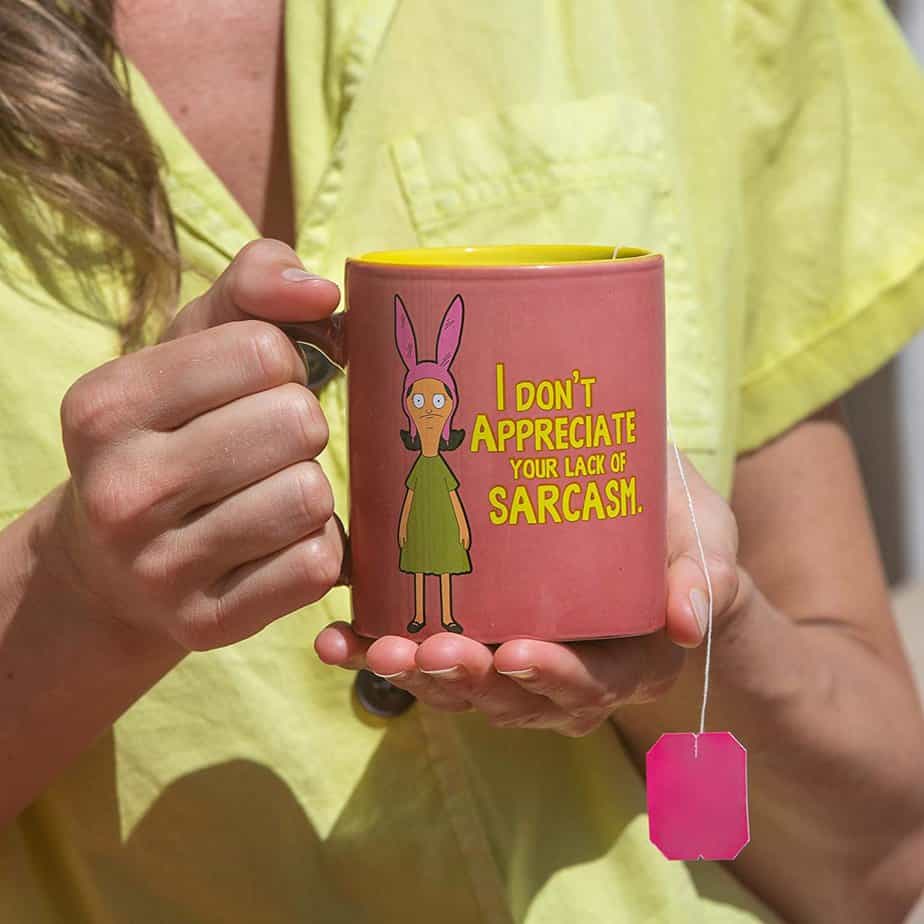 Bob's Burgers Characters
There are a lot of iconic characters in Bob's Burgers, but here are the most common ones people look after when looking to buy merch:
Bob Belcher
Louise Belcher
Tina Belcher
Linda Belcher
Gene Belcher
Mr. Frog
Jimmy Pesto Jr.
Best Bob's Burgers Merchandise
I've cleverly broken the best merch ideas down into categories so you can scroll through to exactly what you want! How did I choose the items for this list? Good question!
My Selection Criteria
Had to be humorous. I mean, it's Bob's Burgers. Boring merch just won't do here!
Not mass-produced merch you see everywhere. I love to collect things from my fav fandoms that are cool and unique. I'm hoping you do, too!
I tried to include items for fans of each character. We all have our fav (mine's Linda). So, there's a Funkos for each main character, plus other merch to match.
Best Bob's Burgers Funkos
Who's your fav character? I've included all the best ones, so pick yours or get them all for the ultimate bob's Burgers Funko collection.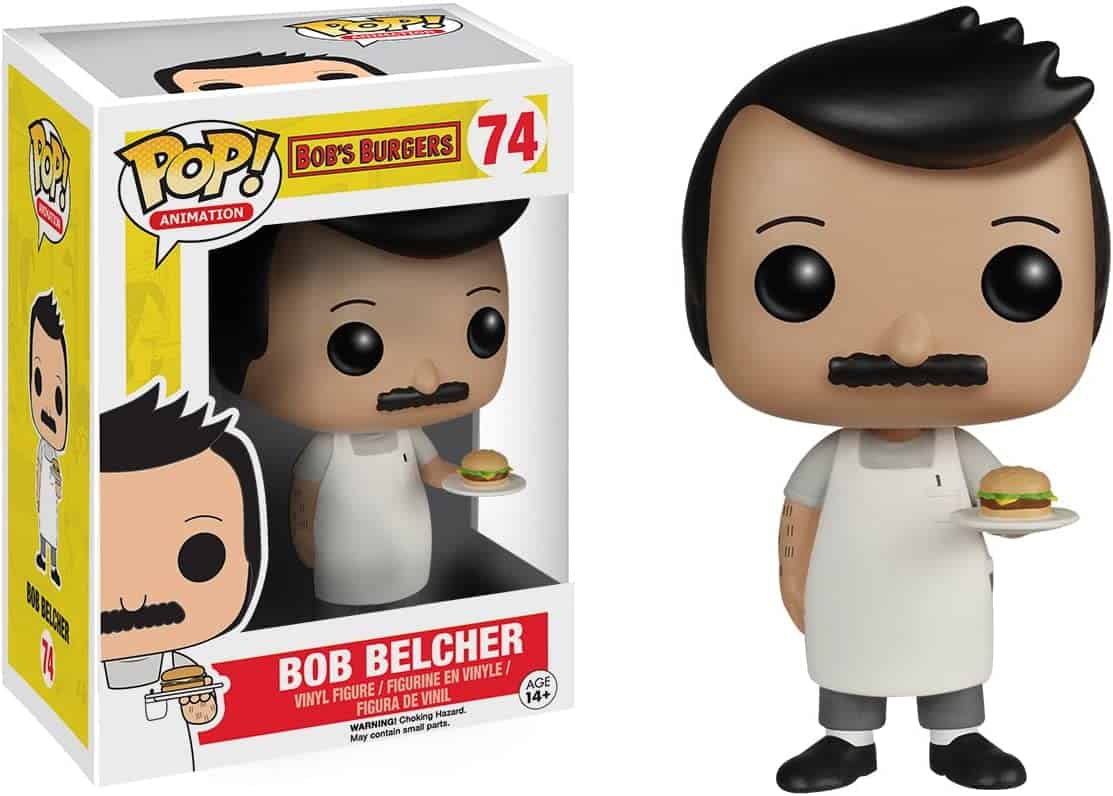 Bob Belcher, from the beloved animated series Bob's Burgers, is certainly a memorable character. Thanks to Funko Pop, fans of Bob Belcher can now own their miniaturized version of him and relive the show in their own home. The realistic 3 and 3/4 inch figure features Bob wearing his iconic white apron and carrying a plate with a burger – ready to serve wherever placed.
Pros
Depicts Bob serving a burger.
Quality construction.
Rich in detail.
Cons
Some claim there are irregularities.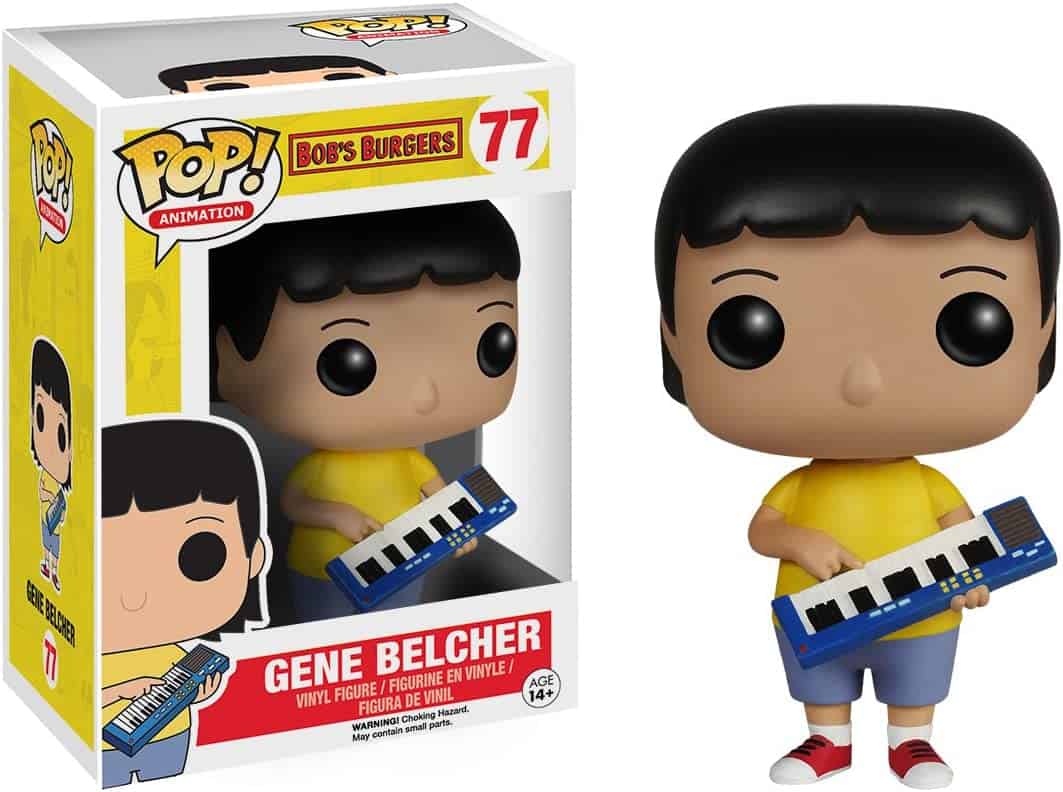 As a die-hard fan of Bob's Burgers and a fond admirer of Gene Belcher, owning a Funko Pop version of the character that depicts him with his Casio keyboard offers an unparalleled opportunity to show fandom. The figure is intricately detailed and colored with vibrant hues, allowing for each individual piece to draw attention. Furthermore, beyond making an interesting conversation starter, displaying the musical genius holding his beloved instrument will evoke warm memories of cherished episodes.
Pros
Cute inclusion of Gene's keyboard.
Vivid colors.
Rich in detail.
Cons
Some say the box came ripped.
Those familiar with the animated TV series Bob's Burgers know and love Linda Belcher, the red-framed glasses-wearing matriarch of the Belcher family. Fans deeply relate to Linda's catchphrase: "Gloria! I got it!" or her strong opinion against conspiracy theories like "Hamburglars" which makes a Linda Belcher Funko Pop an absolute must-have for every true fan. The perfect combination of snarky quotes and stylish red-framed glasses will give you enough reason to pick up a Linda Belcher Funko Pop for your collection!
Pros
Rich in detail.
Includes her cute red specs.
Vivid colors.
Cons
Complaints of damaged boxes.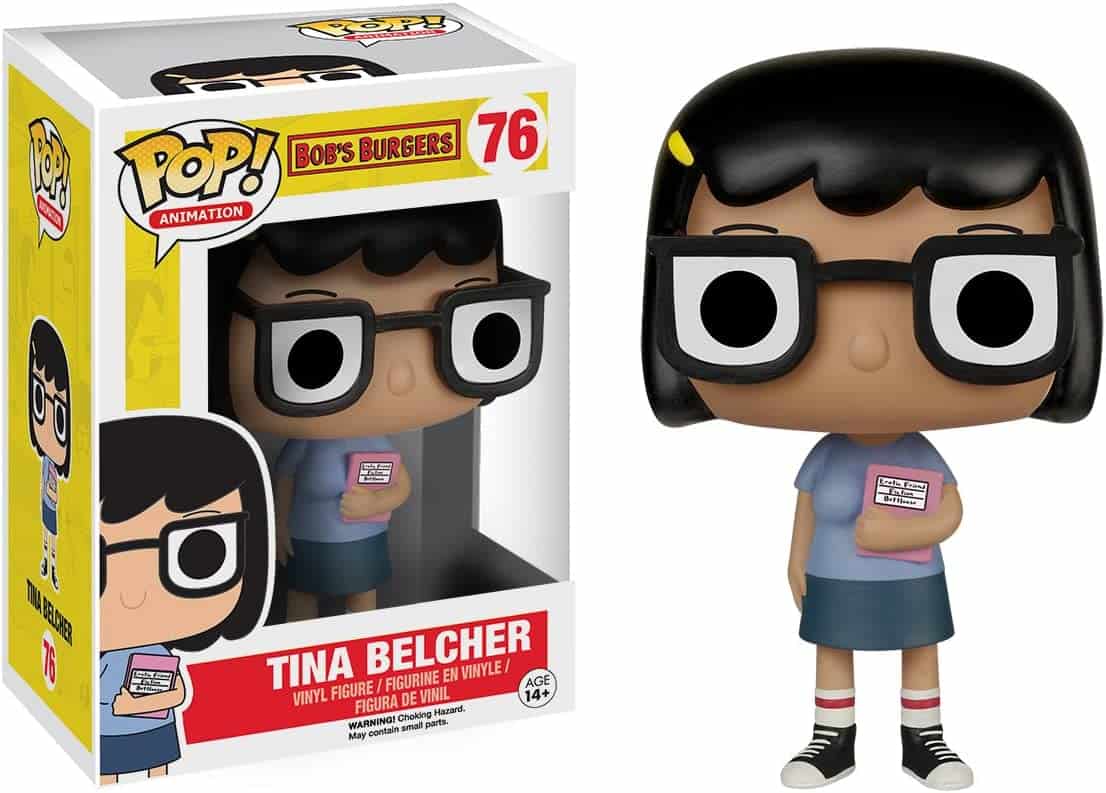 The Tina Belcher Funko Pop is a must-have item for any Bob's Burgers fan. With black-framed glasses, her notebook, and her signature yellow hair clip, this collectible captures the teenage girl in all her awkwardness and charm. Whether placed next to other Bob's Burgers characters or kept alone on your shelf or desk, it will certainly draw its fair share of attention wherever it stands.
Pros
Rich in detail.
Includes her iconic notebook.
Quality paint job.
Cons
Top heavy so doesn't stand on its own.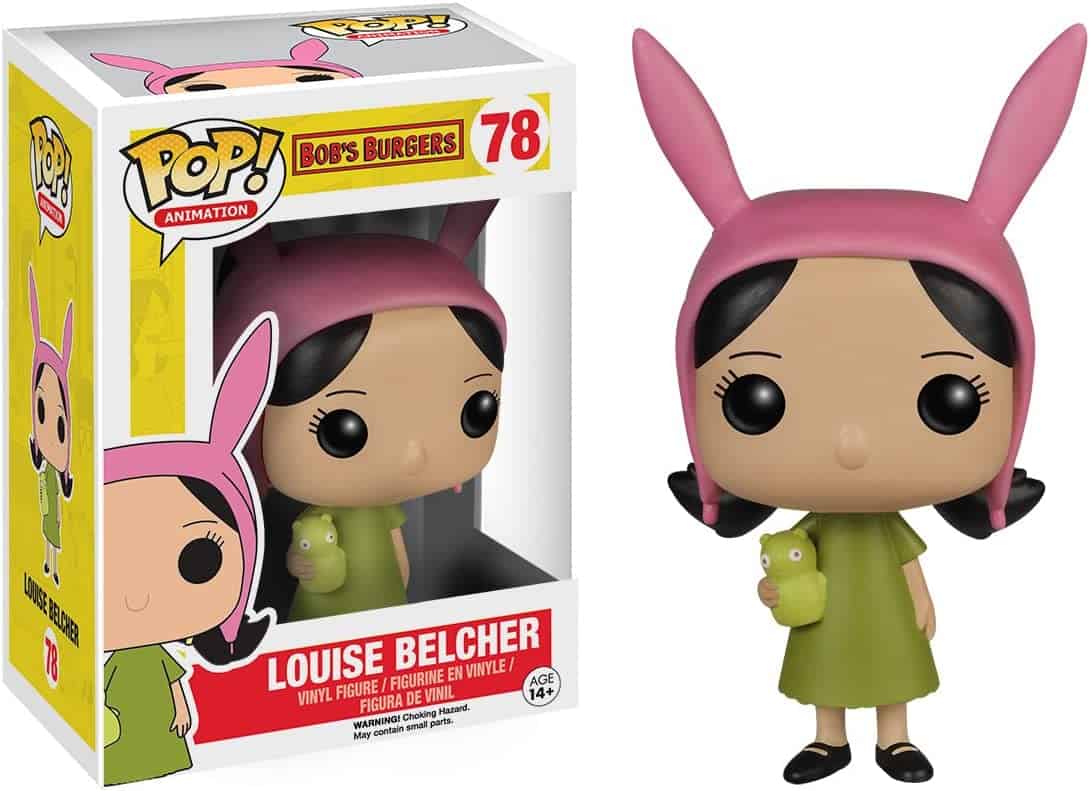 Louise Belcher, the feisty and spirited middle daughter of Bob's Burgers, is one character that deserves to be immortalized in an adorable Funko Pop. Sporting her green dress and bunny ears, the Louise Belcher Funko Pop is a must-have for any fan of Bob's Burgers. Capturing this precocious character with all its wacky spirit, the Louise Belcher Funko Pop upholds its reputation as a fun keepsake and conversation starter.
Pros
Adorable details.
Includes Louise's iconic bunny ears.
Quality paint job.
Cons
Complaints of box arriving damaged.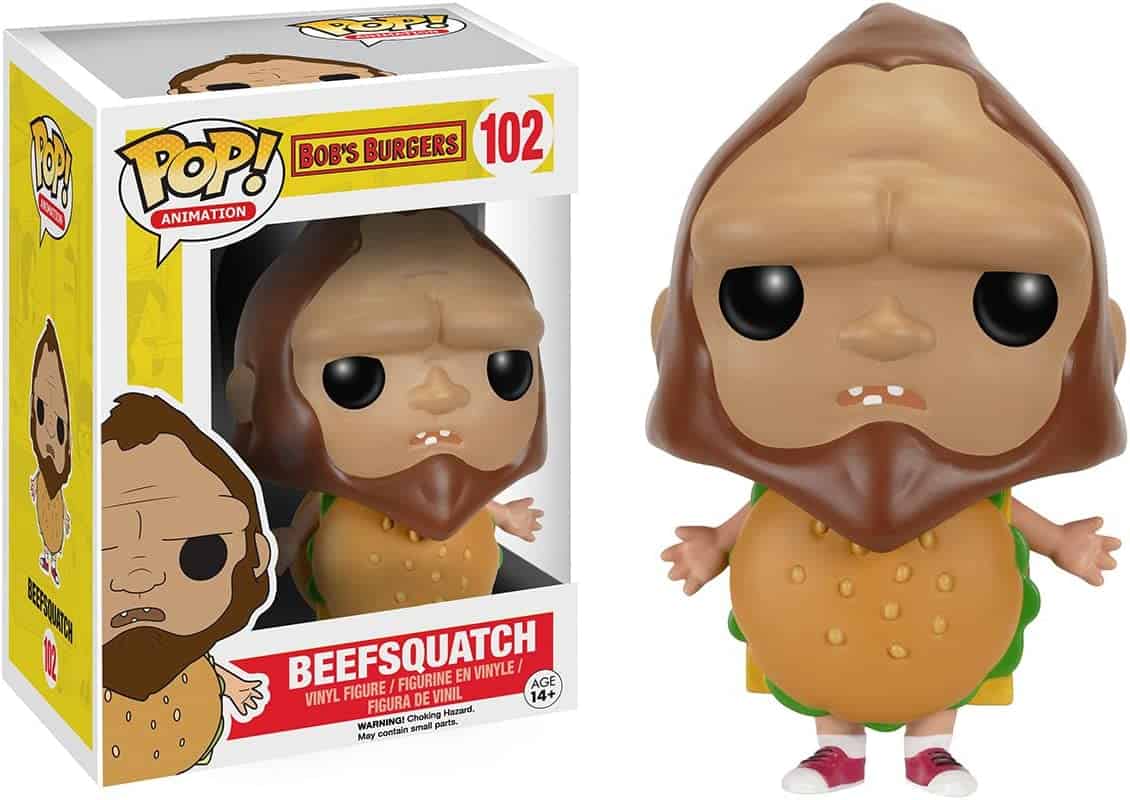 The Beefsquatch Funko Pop is an attention-grabbing item that stands out from the rest of the crowd, combining a unique and whimsical design with superior collectability. Not only is the figure aesthetically pleasing, but it also has immense appeal to anyone who values exclusivity due to its limited availability. With one of these ultra-rare Pop figures tucked away in your collection, you can rest assured knowing that very few owners worldwide have acquired such a coveted item.
Pros
Great collection starting piece.
Rich details.
Quality paint job.
Cons
Best Bob's Burgers Bags and Apparel
Who doesn't love to wear their fandoms? I grab t-shirts, totes, and backpacks whenever I can and there are definitely some on this next list that I'm adding to my cart.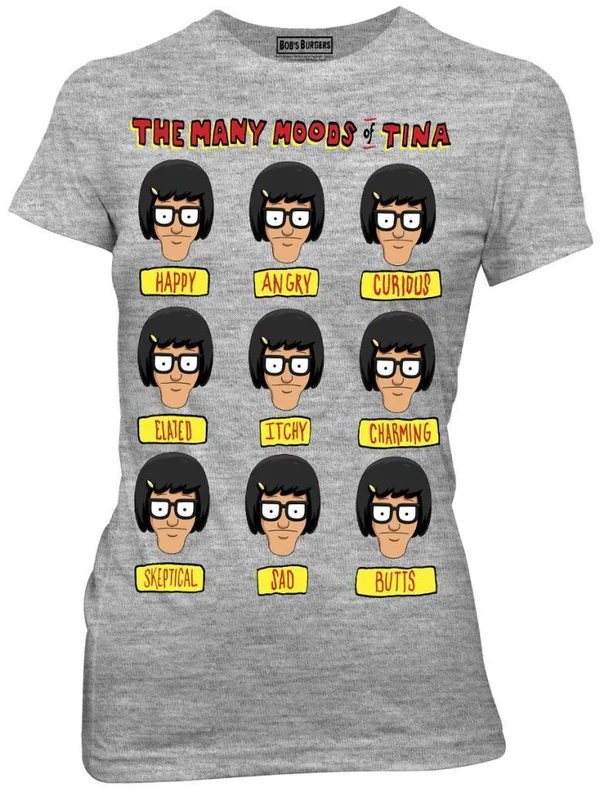 The Tina Belcher T-shirt from Bob's Burgers is a fashion statement like no other! It is made of cotton and polyester, making it soft and comfortable to wear. The gray background provides a great base for the multitude of Tina's moods that are displayed on the front of this shirt. Featuring an officially licensed print, this item allows its wearer to show their favorite character in subtle but fun ways. Not your average plain T-shirt creation, its unique graphics will ensure that you stand out in any crowd.
Pros
Officially licensed.
Comfortable cotton and poly construction.
Funny front print.
Cons
Only available in women's sizes.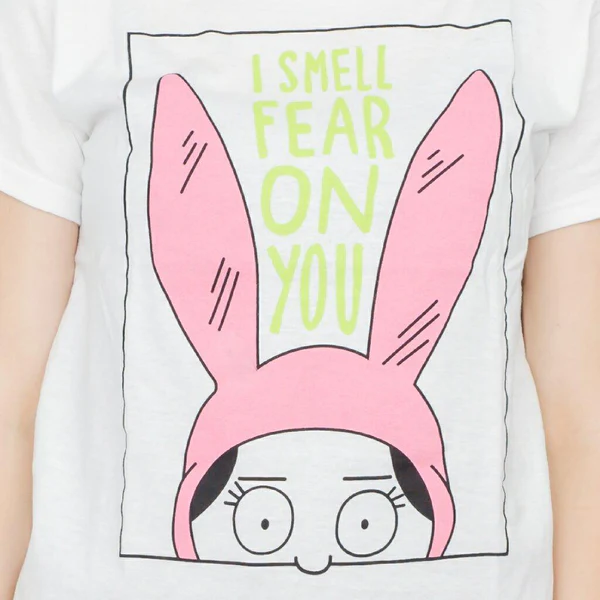 Gawd, this show has the best one-liners. This 100% cotton Louise Belcher T-shirt is officially licensed and an awesome representation of the irreverent style. The white design features a graphic of Louise with bunny ears, and this detail makes it stand out amongst similar shirts; truly capturing the fun and colorful essence of the Belcher kid. For fans of Bob's Burgers, this 100% cotton shirt is a must-have style essential.
Pros
Cute drawing-style print.
Multiple size options.
Quality cotton fabric.
Cons
Only available in women's sizes.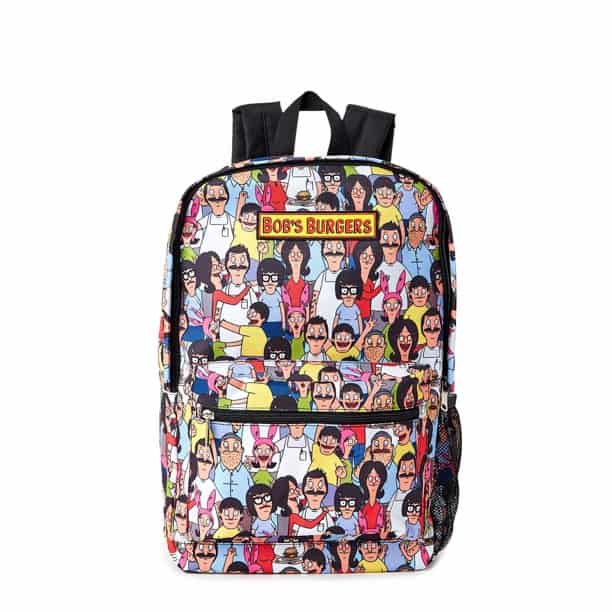 This Bob's Burgers backpack is a stylish and practical choice for those seeking a spacious and comfortable bag. The polyester fabric used ensures durability and extends longevity, while the funky printed design adds a touch of fun to an otherwise plain item. Standing at 18″ in height, the bag has plenty of room for transporting larger items or documents thanks to the adjustable padded straps that provide additional support and security; there is also an inner laptop sleeve allowing you to easily organize your belongings.
Pros
All characters included in print.
Features inner laptop sleeve.
Spacious.
Cons
Not much in the way of compartments for organizing.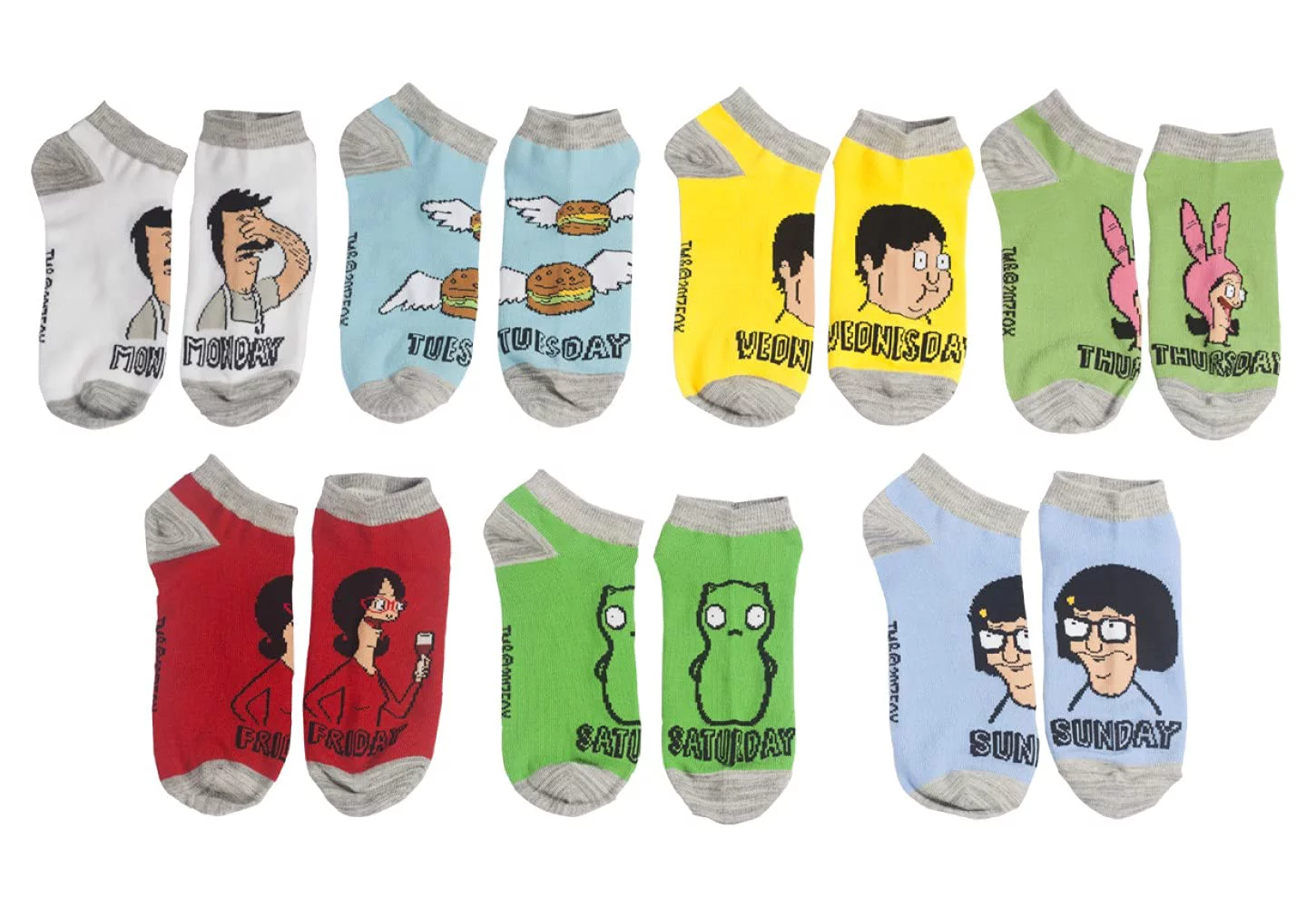 Bob's Burgers socks are an awesome product that no fan can pass up. Offered in one pair for each weekday, they feature all the show's main characters and come in different colors. Crafted with a perfect blend of polyester spandex for maximum comfort, these socks will make you laugh and smile every day and will keep your feet warm no matter what you're doing. Plus, they make a great gift for any Bob's Burgers fan!
Pros
Vivid colors.
Plenty of character variety.
Elastic fabric.
Cons
Only available in men's sizes.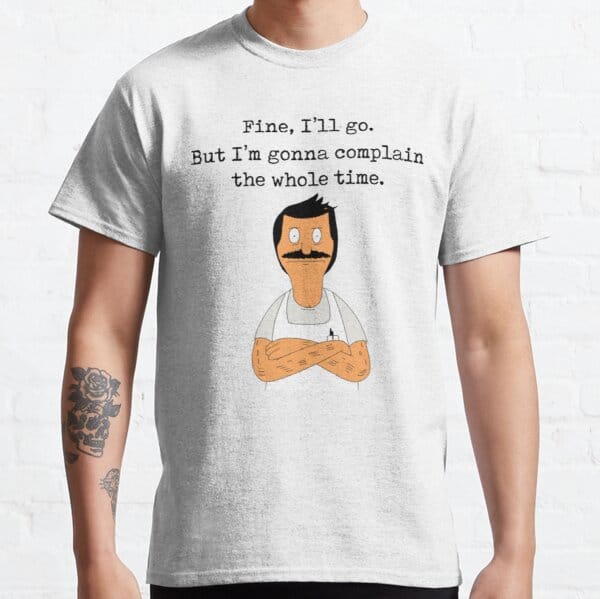 I feel like I need this saying on all my clothing. Bob's Burgers T-shirt is a must-have for fans of Bob's Burgers. This exciting T-shirt features Bob with a great quote that typifies Bob's attitude.
But it isn't only about the awesome Bob print, this T-shirt has been carefully crafted from a combination of cotton and polyester, reinforced by double-needle stitched hems. Moreover, Bob's Burgers fan has the opportunity to find their perfect size as this t-shirt comes in multiple sizes. All in all, Bob's Burger T-Shirt is truly an awesome addition to any wardrobe.
Pros
Plenty of size variety.
Good hem quality.
Breathable construction.
Cons
Best Bob's Burgers Posters and Art
As a teen, I covered my walls with all the things I loved. As an adult, that hasn't changed, I just do it more stylishly with frames and whatnot. If you're looking for nerdy home décor and you love this show like me, here you go!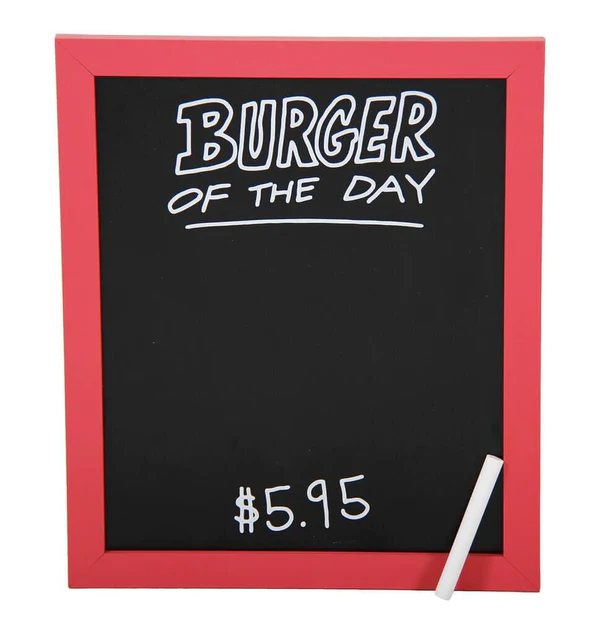 Bob's Burgers art is an awesome way for show fans to showcase their love. This blackboard art, made from wood and coming with chalk included, is a great addition to any fan's collection.
Featuring a classic blackboard design that you can write on and erase as needed, this Bob's Burgers blackboard art comes in at 10 inches X 12-inch size, making it perfect to fill up any wall or easily be placed anywhere you like. Its classic blackboard design can be used just like a normal blackboard but with added style thanks to the Bob's Burgers theme.
Pros
Can be written over and erased.
Officially licensed.
Durable design.
Cons
Runs pretty tiny so only good for small areas.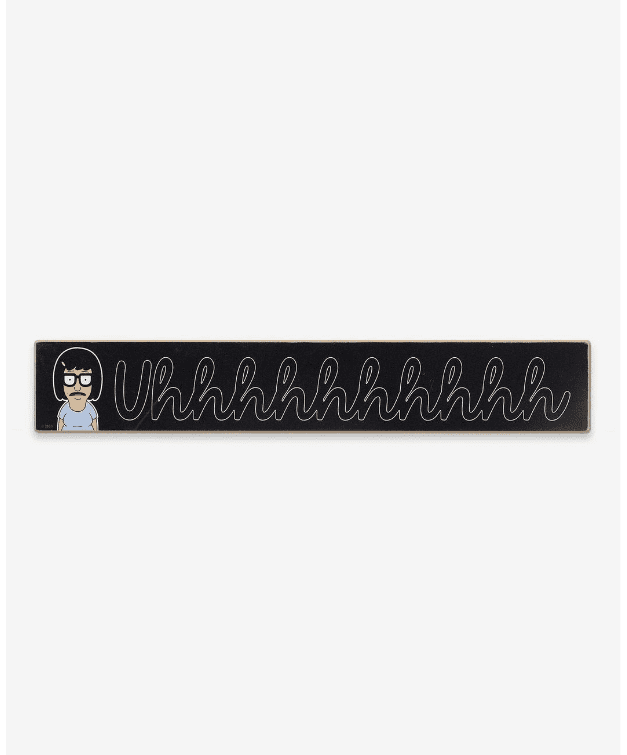 Bob's Burgers wall art is an awesome piece of art to own and admire. It is perfectly sized for any space, at 16.5 x 2.75″. The wood used for this wall art makes for a truly unique look – it gives the piece great texture, making it stand out from other printed media even more.
On top of that, it features a fun print of Tina Belcher, the beloved eldest daughter from Bob's Burgers. It features her in bright colors, standing out from its black background. Collectors of Bob's Burgers items are sure to love this wall art!
Pros
Quality wood construction.
Quality illustration.
Great collector's item.
Cons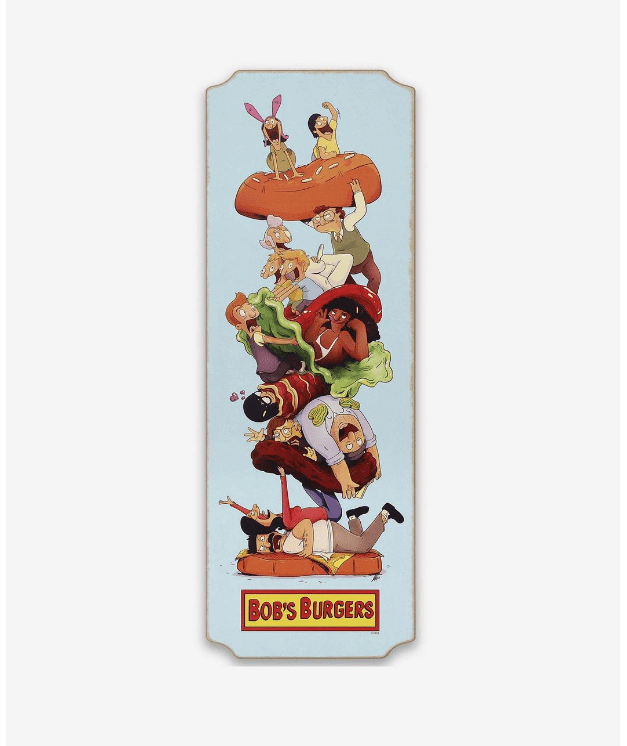 This 8.75 x 24.52″ Bob's Burgers wall art is a visually appealing addition to any home. The colorful print features all the popular characters from the hit show on a vertical wood sign for an eye-catching display that will liven up any space. This unique artwork is sure to be appreciated by fans of the show, adding character and style to any wall.
Pros
Quality wood construction.
Colorful print.
Includes important characters.
Cons
Cannot be shipped to P.O. Boxes.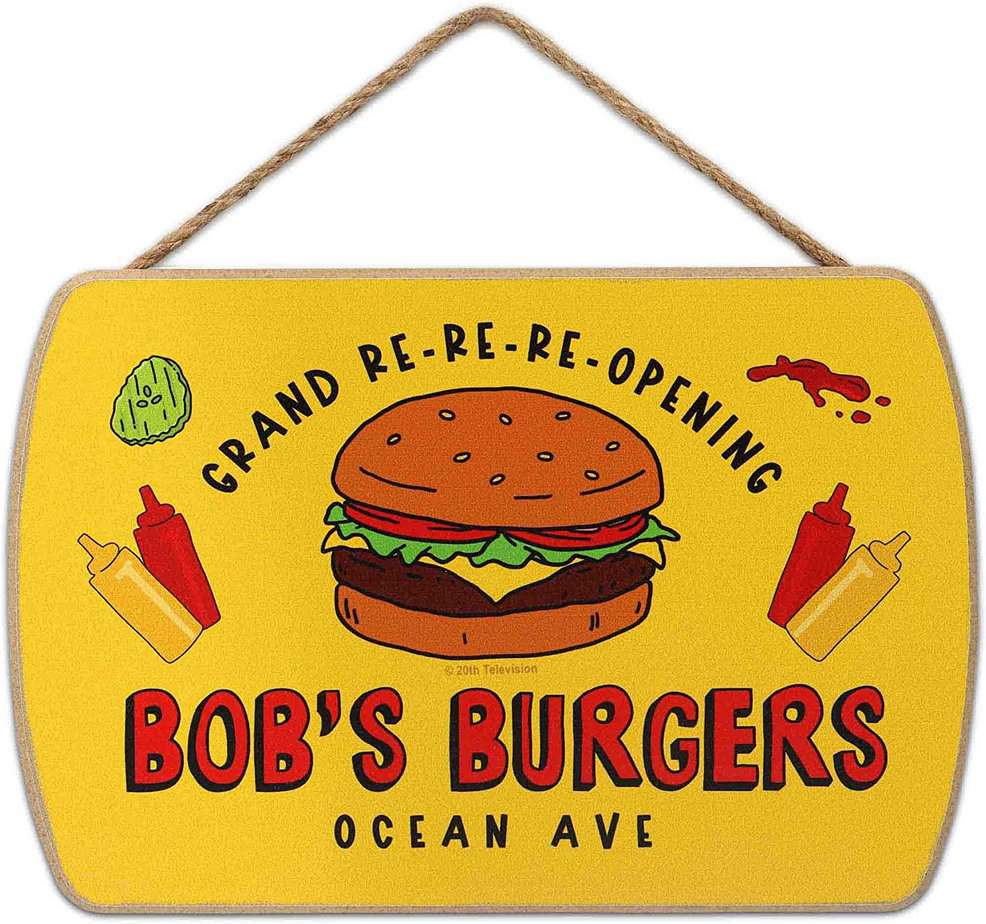 Bob's Burgers wall art is sure to be the highlight of any fan's collection. The "Grand Re-Re-Reopening" sign measures 8.25″ W X 5.5″ H X 0.25″ D and is expertly crafted from MDF with a rope attachment for display purposes. For fans who want to show their enthusiasm for one of the most beloved animated sitcoms on television, this piece of Bob's Burgers memorabilia is simply a must-have!
Pros
Vivid colors.
Durable MDF.
Great memorabilia.
Cons
No moisture resistance, so don't hang it in the bathroom.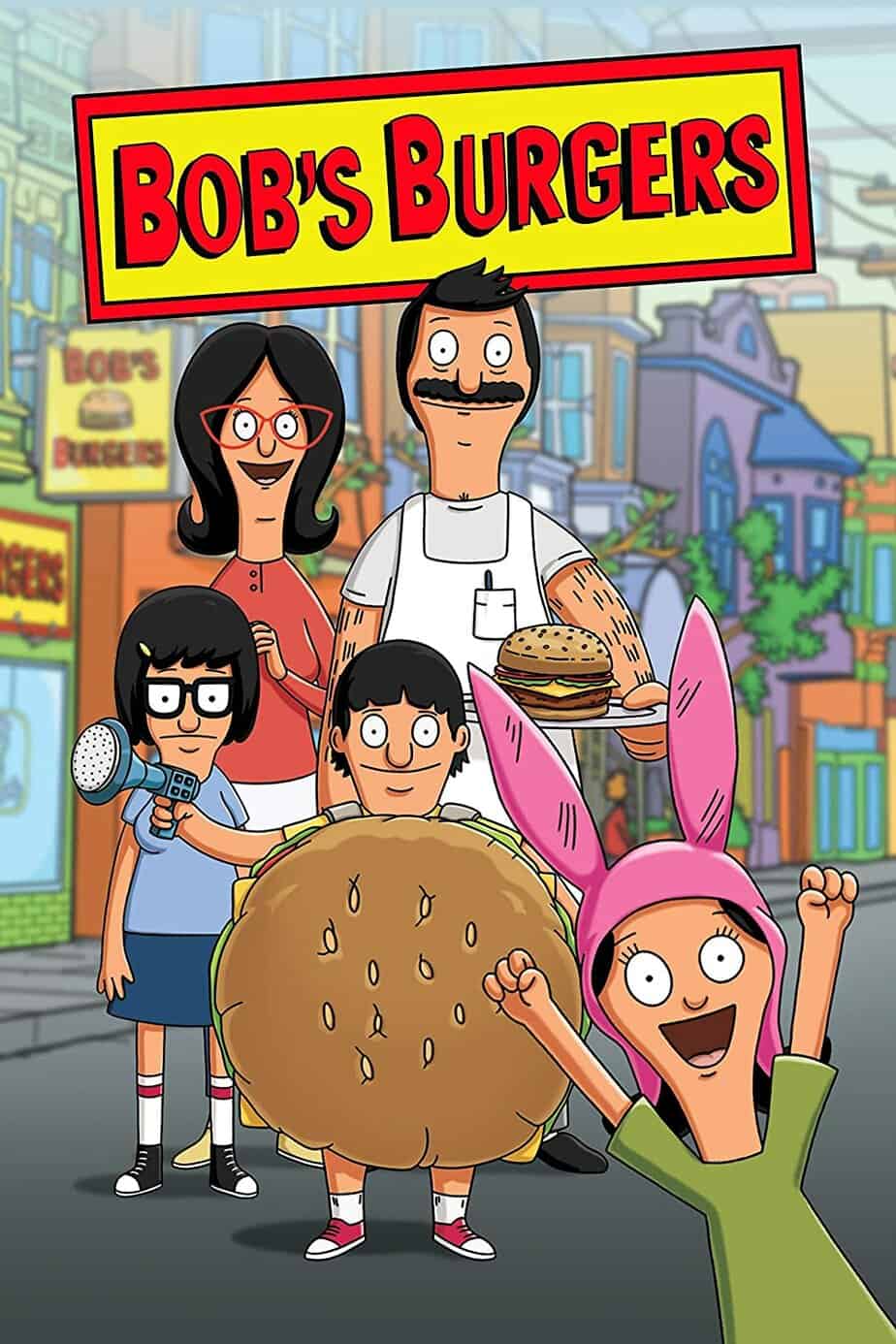 Boasting vibrant colors, this 11 x 17-inch wall art of every beloved Bob's Burgers character adds a touch of humor to any room. It includes the entire Belcher family in one frame, making it the perfect piece to showcase your fandom without overwhelming your space. The art comes unframed so you can choose what best fits your décor, and its high print quality makes framing it an easy task. Whether you are a long-time fan or are just discovering these loveable characters, this wall art is an ideal way to decorate an office desk, living room, or bedroom.
Pros
Great colors.
Works with any frame.
Carefully wrapped in a cardboard tube.
Cons
Framing it will cost you extra, but you're an adult.
Best Bob's Burgers Accessories and Dishware
If you're coming to my place for dinner, don't expect fancy grown-up dishware. You're getting your food served on nerdy plates and dishware. I've got everything from GOT to Star Trek and, of course, Marvel. But I don't have any Bob's Burgers dishware yet; let's shop this next list together!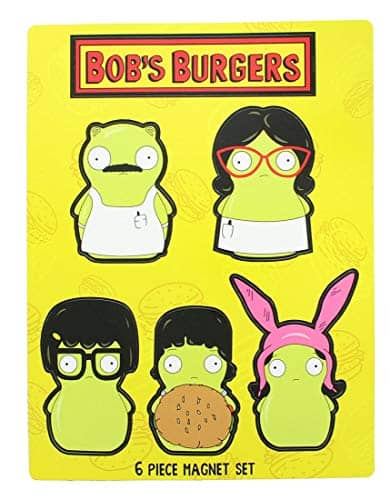 If you are a fan of the hit TV show, "Bob's Burgers," then you know how much Kuchi Kopi means to the Belcher family. These magnets shaped like Kuchi Kopi make an excellent collectible for true Bob's Burgers fans! Not only do these magnets feature Kuchi Kopi, but they also include other beloved characters from the series, such as Linda and Tina. Fans of Bob's Burgers can use these magnets to decorate their refrigerator or locker as a reminder of one of their favorite shows.
Pros
Great for fans of the show.
Includes all family members.
Great details.
Cons
Choking risk for small kids.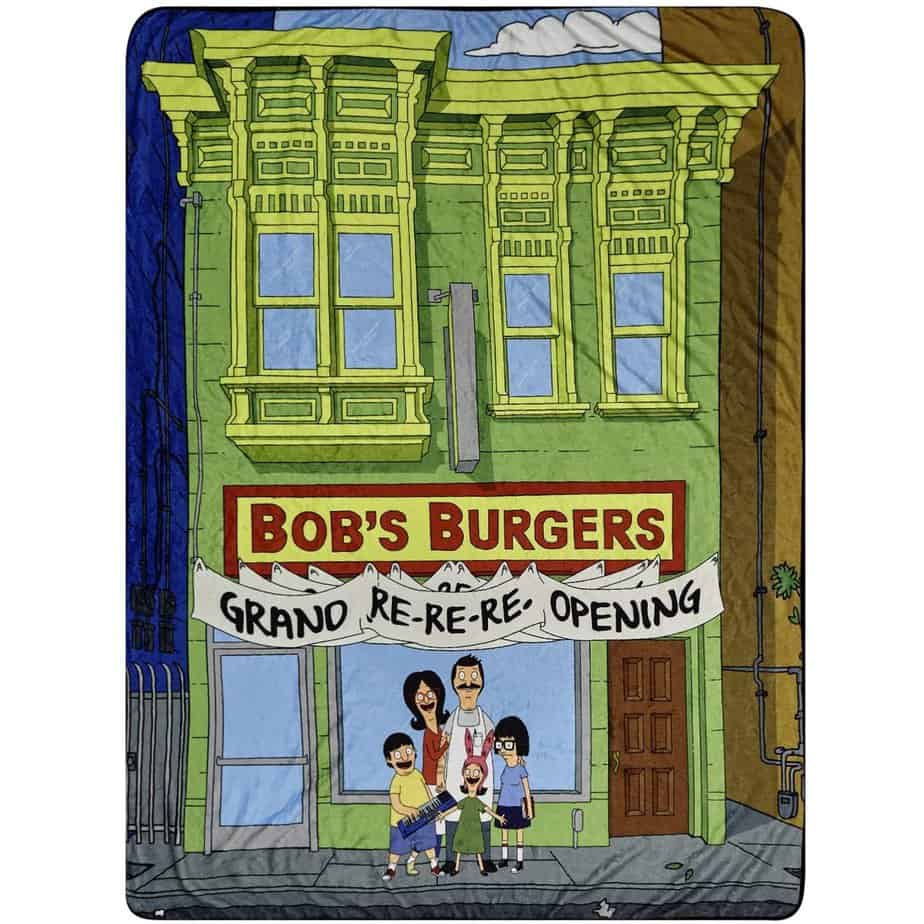 The "Grand Re-Re-Reopening" print on this Bob's Burgers fleece blanket makes it a great way to stay warm and cozy and a chic addition to any home. The vivid colors of the design allow one to bring a bit of cheerful Bob's Burgers fantasy into their living room or bedroom. Not only that, but at 45″ x 60″ it is large enough to provide comfortable coverage. You know you're getting a quality item when you purchase an officially licensed piece of Bob's Burgers merchandise. This unique blanket is ideal for anyone who would like to enjoy some extra warmth in style.
Pros
Vivid colors.
Great for travel.
Warm fleece fabric.
Cons
Prone to pilling, but it's fleece. *shrug*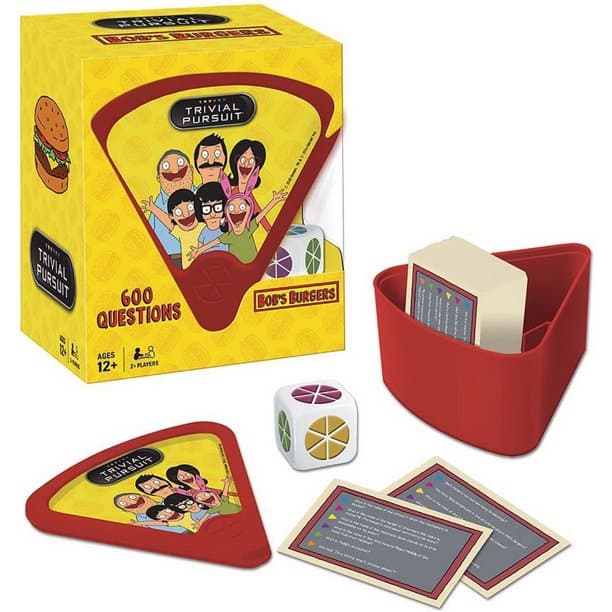 The Bob's Burgers Trivial Pursuit board game is truly a unique and engaging experience for fans and players alike. It includes 600 series-related questions that cover a wide variety of topics, from food to The Belchers made by the characters. Furthermore, it covers all nine seasons of the show, offering an expansive range of information from each one. With different categories, this board game is an interesting way for experienced and new players to gain further insight into the wonderful world of Bob's Burgers.
Pros
Entertaining questions.
A variety of Bob's Burger-related categories.
Hours of fun.
Cons
Choking hazard for children < 3 years.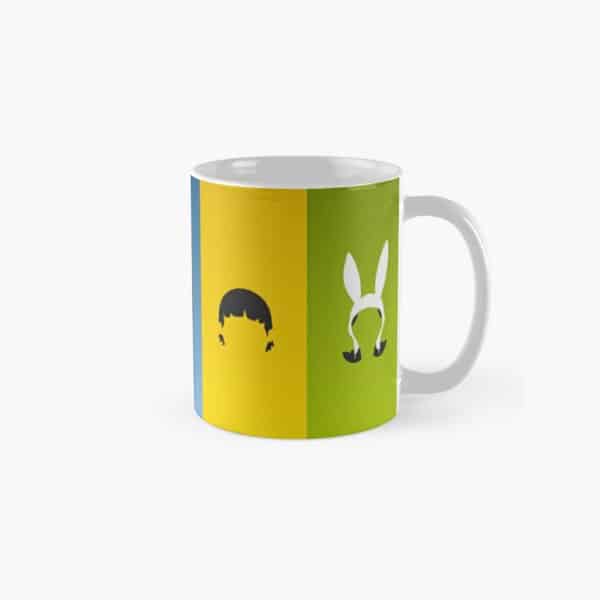 This 11 oz capacity Bob's Burgers mug is sure to be a hit with show fans! Its eye-catching design features an adorable print of the entire Belcher family, making it a beloved collector's item. Additionally, its wraparound layout means that this mug can be enjoyed from all angles showcasing the entire artistic design, making it perfect for showing off your fandom in style! And for ease of use and care, this mug is also dishwasher safe so you can wear your love of the show without worry. Get one quick and make every morning a Bob's Burgers experience!
Pros
Wraparound design.
Generous capacity.
Dishwasher-safe.
Cons
Print might not be microwave safe.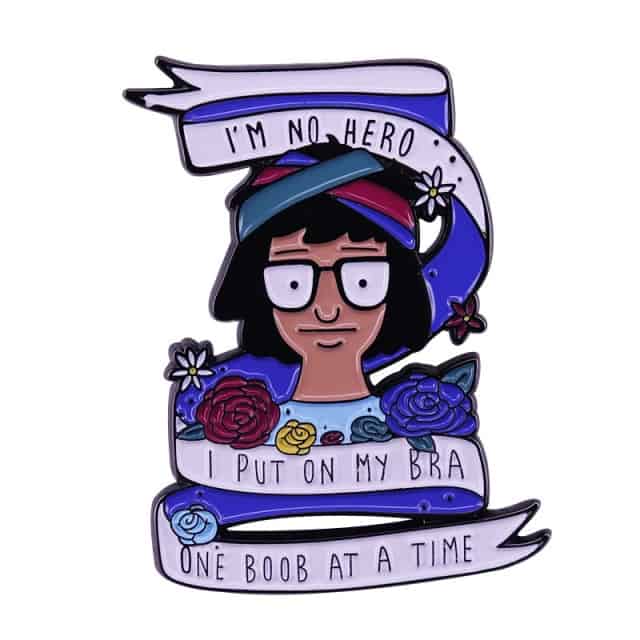 The Bob's Burgers pin of Tina Belcher is an awesome item for any show fan. With a 30 mm size, made from UV-resistant copper, and coated with a scratch-resistant finish, Tina stands out great in the vibrant colors used to depict her. To make her look even more amazing, a great quote adds to the persona she has become known for. An item of this quality is a perfect gift for anyone who appreciates Bob's Burgers, and especially its standout character, Tina Belcher.
Pros
Quality construction.
No-fade colors.
Durable copper pin.
Cons
Choking hazard for children < 3 years.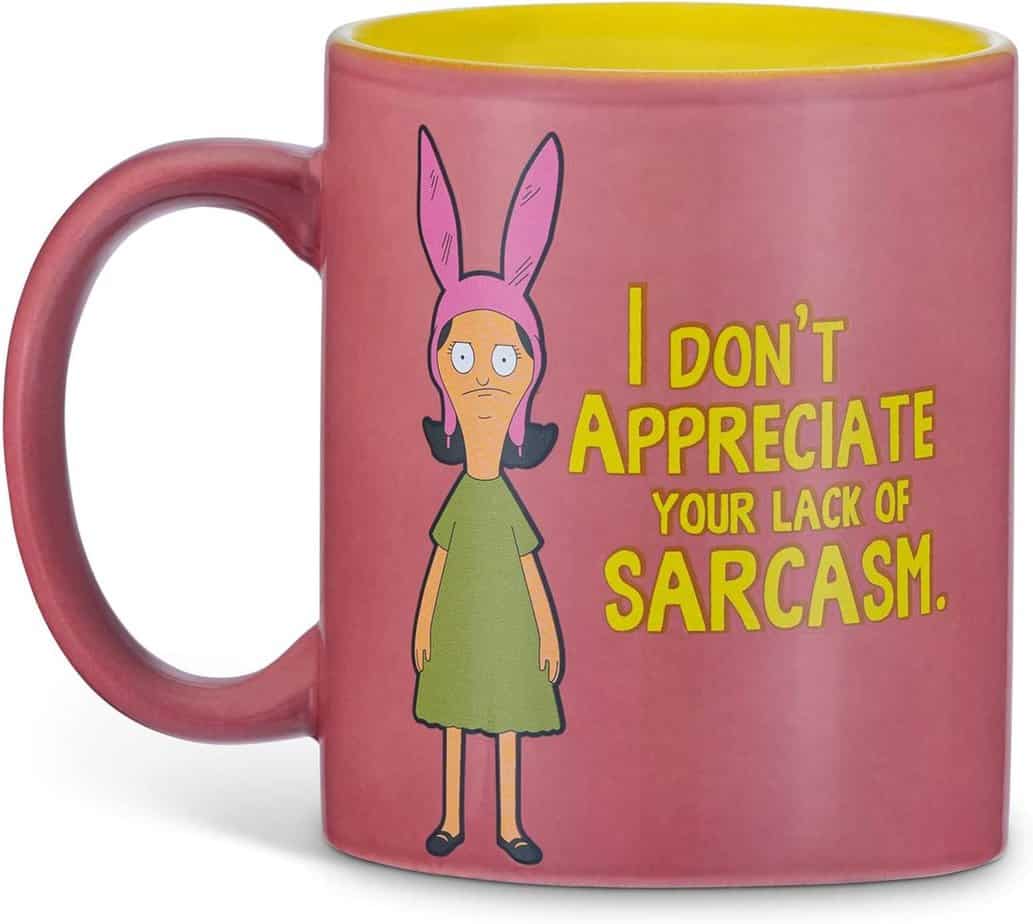 Mine! I'm totally getting this! Louise Belcher lovers can now express their admiration for Louise and her sassy catchphrases with this awesome Bob's Burgers Louise Belcher coffee mug. It boasts quality construction with durable ceramic capable of surviving the dishwasher and microwave without any damage.
Furthermore, the 12 oz capacity serves to remind all Louise fans that their drink will stay full as they watch some of Louise's favorite episodes and quotes. This unique Louise Belcher mug makes a great addition to any kitchen and will bring a smile to anyone who drinks out of it.
Pros
Dishwasher safe.
Microwave safe.
Spot-on Louise quote.
Cons
FAQs
Question: Where is the best place to buy Bob's Burgers merch?
Answer: Walmart, Amazon, Hot Topic, or the Bob's Burgers Official Shop are all great places to look for Bob's Burgers merchandise. At affordable prices, Walmart offers a wide selection of apparel featuring your favorite characters.
Amazon also has many options available ranging from cute tees to hard-to-find collectibles that you won't find anywhere else. Hot Topic is another great choice for unique merchandise, including accessories such as posters and bags and clothing based on lines from the show.
Question: Who is the most popular Bob's Burgers character?
Answer: Tina Belcher is widely considered the most popular Bob's Burgers character. Tina, a precocious and amusingly awkward preteen, is an iconic presence in the show's landscape, often spouting off comical anecdotes or making humorous observations about life events.
Tina perfectly balances her father's impulsiveness, her mother's work-driven drive, and her siblings' intellect and sensitivity. Tina's insight provides much of the show's comedic relief while simultaneously exemplifying relatability with viewers of all ages. Tina Belcher is truly an archetype in animation sitcom culture that continues to delight fans to this day.
Question: What is the most valuable piece of Bob's Burgers merch?
Answer: Bob's Burgers merch is not that expensive, making it awesome for show fans. One of the most expensive pieces is a Tina On Unicorn Pop! Ride Funko. It's a 2018 Limited Edition piece and may be hard to come by.
Closed: Come Back Tomorrow!
If you're a fan of Bob's Burgers, you know that buying the show's merchandise is a great way to show your support and enhance your fandom. From official T-shirts to collectible figures, there are many items available from reliable retailers to choose from.
Which item are you getting? If you collect Funkos like me, I suggest the Linda Belcher Funko. You can't go wrong! And for even more super duper nerdy recs like this, check out what else I share on our page!
Looking for more interesting readings? Check out: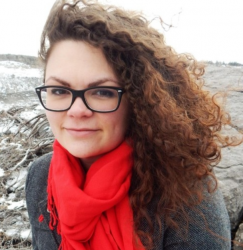 Latest posts by Candace Osmond
(see all)