Survival during the pre-historic era: the unique concept sets Conan Exiles apart from other games in the survival genre. Some of the best merch for Conan Exiles follows this lead with unique designs and uses. But to sort through it all, you'll need a guide. 
It's an exciting time for fans of Conan Exiles–from merch to game updates. One update that garnered attention was update 2.8, released in January 2022. The update included needed bug fixes and some quality gameplay improvements. One small mix was how you join servers. Now players are placed into a queue to join, rather than having to constantly hit the join button.
Players can not also update with a personalized greeting for followers and others in the game. That includes 50 emotes and different greeting methods. Players can also now taunt other players as well. 
One greatly troubling issue Conan Exile players was a crash relating to co-op mode. Crashing issues, in general, have frustrated players, so these fixes were greatly needed. Much-needed building upgrades included the ability to raise campfires and place stage floors near door frames and fences. 
All of these updates and fixes may not seem exciting to the outsider, but for Conan Exile players, they're signs that developers are continuing to invest in the game. Though Conan Exiles has had its share of problems, it has a fervent player base. Along with addressing problems and updating features, Conan Exiles is looking brighter. 
That's also true for Conan Exiles merch. There are more options than there used to be for buying Conan Exiles merch online, but not all of these choices are equal. To help you sort through to find the best, I'll guide you to my top picks. 
Bottom Line Up Front Summary:  If I had to select just one item from the official Conan Exiles merch store, it would be the Tower of the Elephant Table Top Game. This game serves as a collectible or source of entertainment. It includes iconic characters, the ability to play solo or with others, and a creative dive into the lore of Conan's universe. 
My Top Picks
What is Conan Exiles?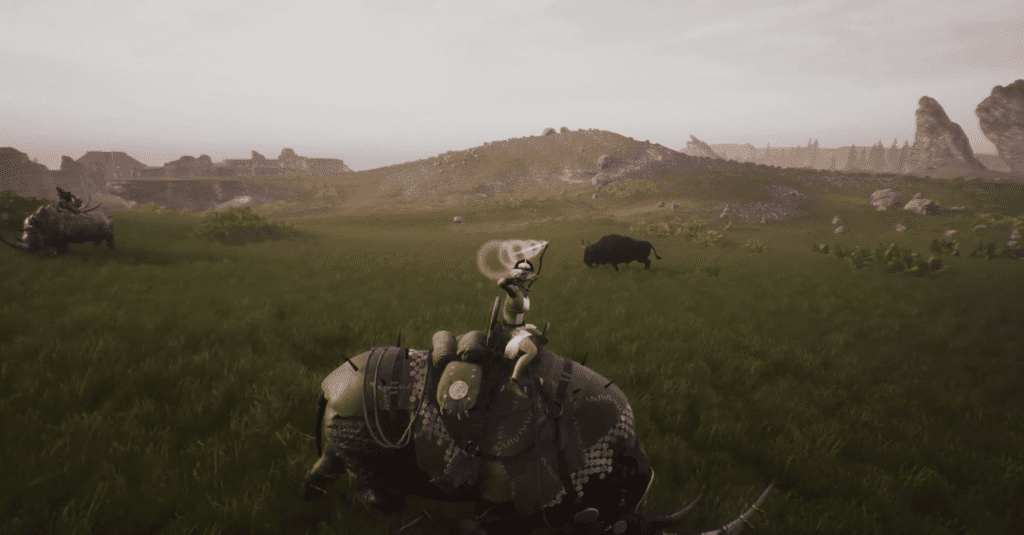 Conan Exiles is a survival-based game based in the Hyborian Age. The Hyborian Age is a fictionalized period of time based on Robert Howera's mythology. The name is taken from the Ancient Greek land that could be set anywhere from 10,000 BC to 32,500 BC. This unique setting and range of gameplay feature all make Conan Exiles stand out from many survival games on the market. 
Are Conan Exiles Based on Conan the Barbarian?
That unique backdrop is based on Conan the Barbarian. Conan the Barbarian was released as a 1982 film. This starred Arnold Schwarzenegger. However, it was based upon Robert E Howard's original creation of the character. Conan that Barbarian also appeared in films and other media.
What Company Made Conan Exiles?
Funcom developed and released Conan Exiles. Funcom is a video game company based in Norwegian. The company is known for multiplayer and online games including Anarchy Online, The Secret World, and The Longest Journey. Conan Exiles was released in 2017 initially for early access. The full game was launched 15 months later. The enhanced edition, for Xbox Series X and Series S, was launched a few years later, in 2021. 
How Many Copies Did Conan Exiles Sell?
Though there were concerns about the delayed production, the initial success of Conan Exiles is promising. Conan Exiles passed the 1.4 million sales mark by July 2018, just two months after its release. It became the fastest seller for the gaming studio. To date, Conan Exiles is the most popular of their games, even though critical reviews don't reflect this.
Is Conan Exiles a Good Game?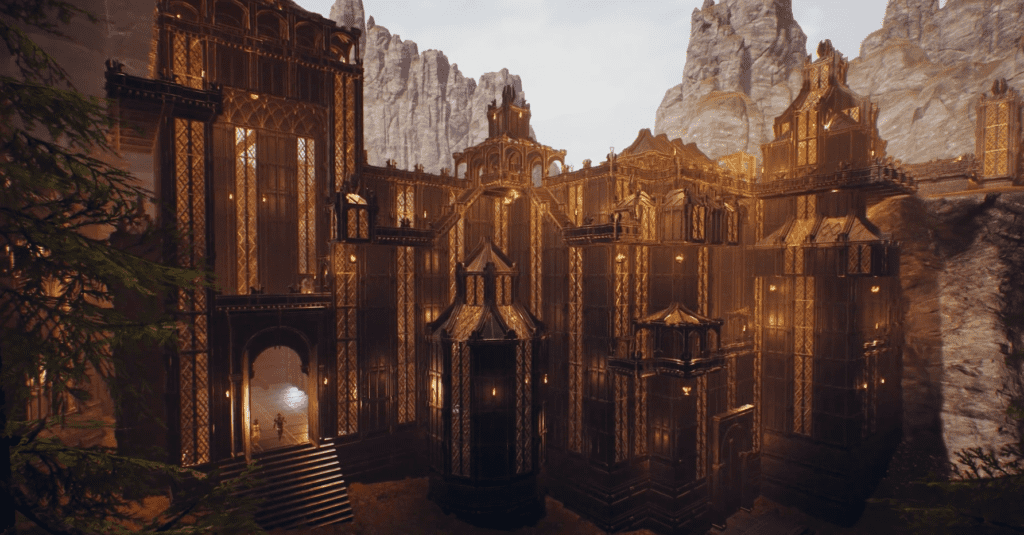 Conan Exiles certainly has its strengths and weaknesses. Often compared to games like the Arc, Conan Exiles is known for its lore, creativity, and multiplayer modes. Sites like Metacritic provide mixed reviews, with a Metascore of 68 out of 100. Conan Exiles offers versatile gameplay, interesting exploration, and building features. At the same time, it gets docked for some of its limitations and continued issues with bugs and glitches. 
Are Conan Exiles Still Popular?  
Conan Exiles averages around 8,000 players a month, or a peak of 16,000 active players. This is a growth from early 2021. Aside from the spikes in its initial release, popularity has slightly grown or held steady. Improvements, including a new map, and bug fixes, are helping it retain its popularity. 
Is Conan Exiles Co-op?
Conan Exiles has several modes, which I appreciate. These gameplay modes include co-op, single-player mode, or MMO (massively multiplayer online). It's a persistent MMO, which means the game is on its own time, continuing to run. Even better, a recent update allows players to now play offline too. I think it's these options that also set Conan Exiles apart from many other online survival games. The downside is that Conan Exiles does not offer crossplay/ multi-platform play. 
How Long Does Conan Exiles Take to Beat?
Conan Exiles consists of the main story, plot, and side quests. The main goal is to find a way to escape the confines of the exiled lands. At the start of the story, players travel to the Tower of Bats. There, staff must be covered with a creature's blood bound at the base of the tower. The main story and plot take off from there. However there are side quests you'll encounter, and, if you accept them, expand your gameplay. While it takes players an average of just over 30 hours to beat the main storyline, with quests, that expands to nearly 135 hours. 
What do I Need to Know Before Playing Conan Exiles?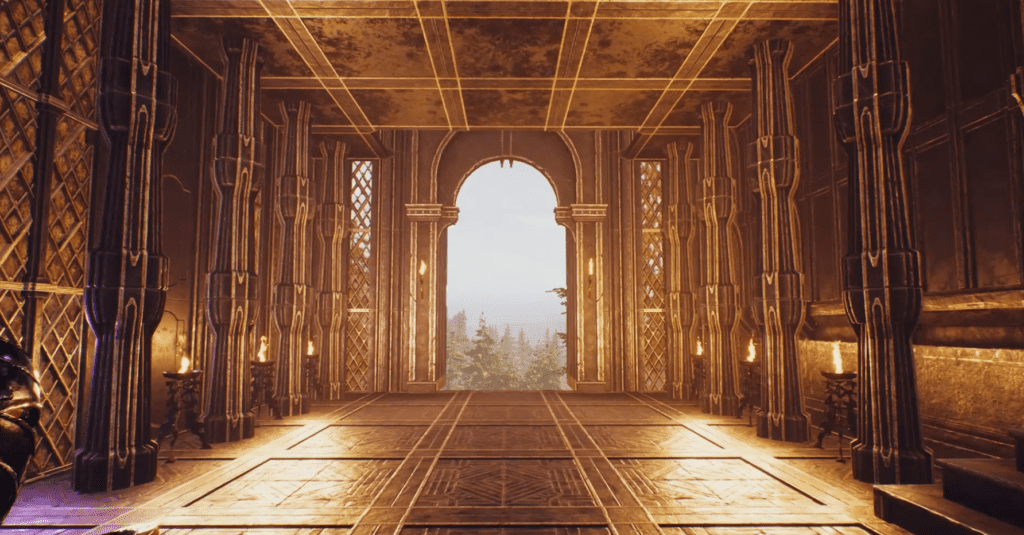 Before venturing into the world of Conan Exiles, I want to share some tips– from building to finding the best weapon. 
Are There Friendly NPCs in Conan Exiles?
If you're looking for somewhere you talk and interact with NPCs without fear, head to Sepermeru, also known as the City of Relics. This city is generally a haven and can be a helpful spot to spend time during your journey. 
What's the Best Weapon in Conan Exiles?
It's hard for me to place one weapon as the very best. Honorable mentions go to the two-handed spear, the predatory blade, shortsword from the Grey Ones, the Black Ice sword, and the Voidforge. Having great armor is something that many players neglect but it is also important, especially when facing the strongest enemy in the game– Winged Death. Thag, the final boss, is also no joke. 
What is the Best Religion in Conan Exiles?
Religions in Conan Exiles matter because they provide benefits, from potions to sacred suits of armor. Perhaps the strongest is the Set religion. Not only are you given protection against damage, but this god always provides helpful poison. Meanwhile, Yog is an excellent god for healing powers– increases your chances of survival.
How do you Build Things in Conan Exiles?
You can build many in places in Conan Exiles. This includes the Eastern islands, platforms overlooking a water source, the Howling Plateau, in crevices, rock overhangs, and overlooking civilizations. You need a home to have a secure place to retreat. It should be near a water source and hard for others to get to. To start building in Conan Exiles, select your character's menu, where you'll have a choice of different foundations. Each foundation will tell you what materials are needed. You select different options from the menu as you provide the required raw materials. The build limit is your lack of resources and time. 
What can you Play Conan Exiles on?
Conan Exiles can be played on PC, PlayStation 4, and Xbox One. The special edition is intended for PlayStation 5,  Xbox Series X, and series S. While it's included in Xbox's subscription, you don't have to have a subscription. Conan Exiles has been offered for free before, but it's not a free-to-play game.
Conan Exiles Merch to Buy Right Now
Here are my picks for the best Conan Exiles merch you can buy right now. These items range from clothing to collectibles to kits or bundles. The very best source for official merch is the Conan Official Store. Price, quality of materials, and a proper representation of the series were all important factors for my selection criteria. I took into consideration how useful or unique a product was. Conan Exiles merch is best when the price makes sense for the value of the product you're buying. 
Official Conan Store
If you want authentic, official merch, look no further than the Conan Store. This shop sells 100 percent licensed merchandise. Also known as Rialtio's Market, featured products include Conan Exiles t-shirts, pens, mugs, phone cases, and board games. There's a nice variety of products, even though it's a modestly-sized collection of merch. The store offers free shipping for orders over $100 to the US and Canada. Official merch is more likely to hold value over time, supports the developers of Conan Exiles, and is better if you're looking for Conan Exiles collectible items. Shop the Conan Exiles Official Store Here. 
Conan Exiles Fighting Pits Mug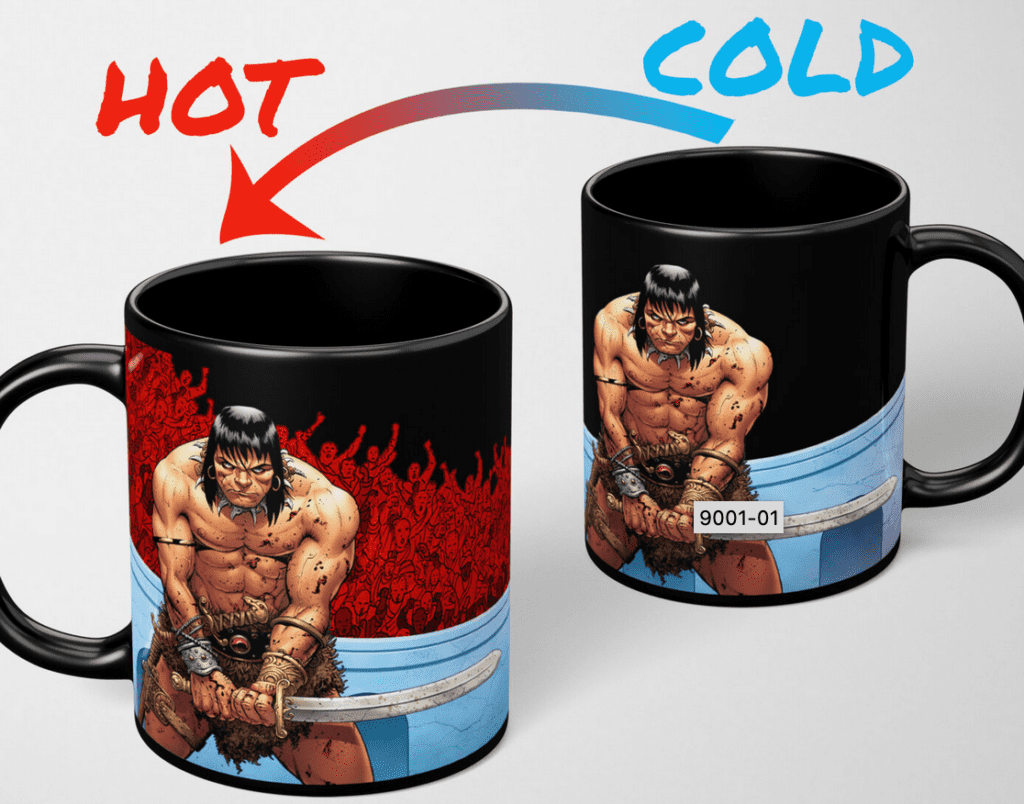 This Conan Exiles mug is excellent for both hot and cold beverages. The colorful artwork brings Conan to life, set with a brilliant red and blue backdrop. Conan yields a sword. The rest of the mug is black. The ceramic mug holds up to 11 ounces of hot and cold drinks. Buy Here. 
Pros
Hot or Cold Drinks

11 Ounce Size

Dramatic Graphic
Cons
Hand Wash Only 

Limited Run 
Thulsa Doom Bottle Opener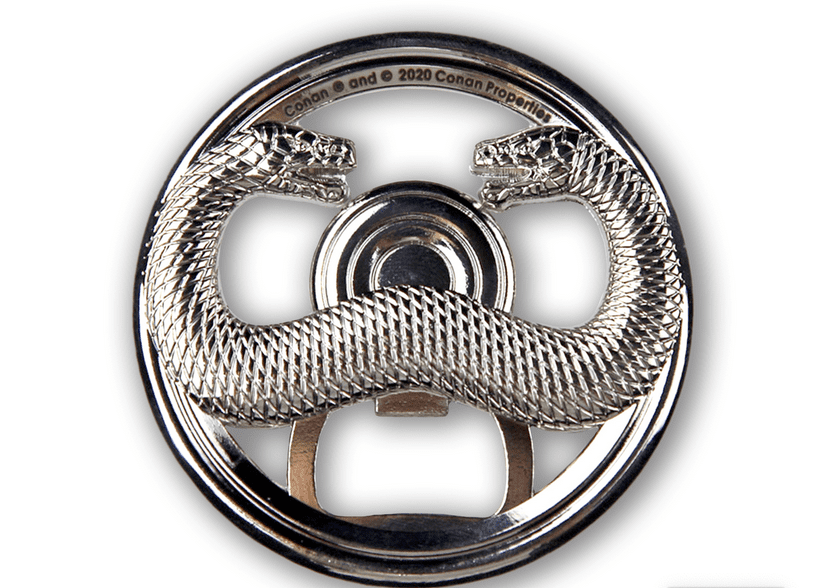 This Conan Exiles merch item is both collectible and practical. The bottle opener features a handsome chrome finish. The Great Serpent motif is meaningful in the Conan universe and points back to Set. It's symbolic of accessing potions, as well as a sign of devoutness. The bottle open is eye-catching and great for entertaining. Buy Here. 
Pros
Symbolic Serpent

Chrome Finish

Practical and Collectible
Cons
Can Tarnish 

Hand Wash/ Dry Only 
Conan the Cimmerian: The Tower of the Elephant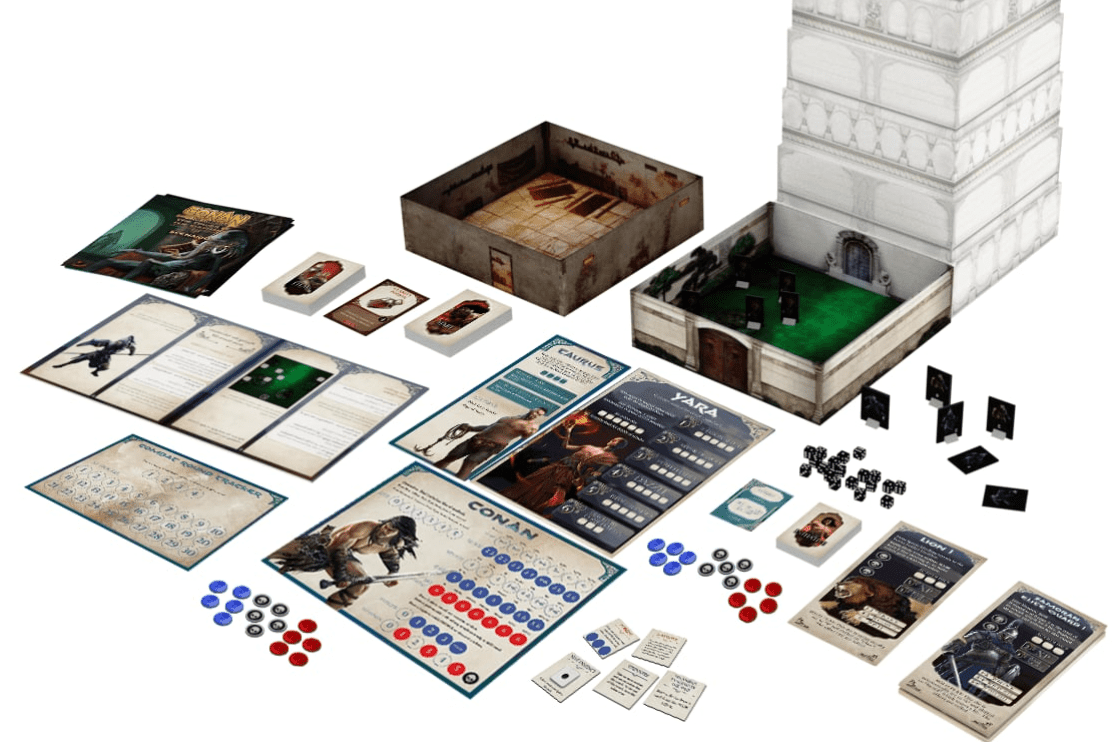 Want to get into the lore by opening up your game? This board game is one of my favorite items from the merch store. The tabletop game blends combat, adventure, and strategy. You can play by yourself in solo mode or with other players in battle mode. The main characters revolve around Conan, Taurus, Spider, and the wizard, Yara. The game comes with a rule book, 9 boxes depicting different locations, 4 miniature characters, 25 standees with bases, a skilled deck, plan and plot deck, 23 enemy cards, the combat round and experience trackers, tokens, and dice. Scenario cards increase the replay value. Buy Here.    
Pros
Solo or Battle Mode

9 Locations

Scenario Cards
Cons
Limited Number of Players and Characters

Not Additions Available     
Fighting Pits T-Shirt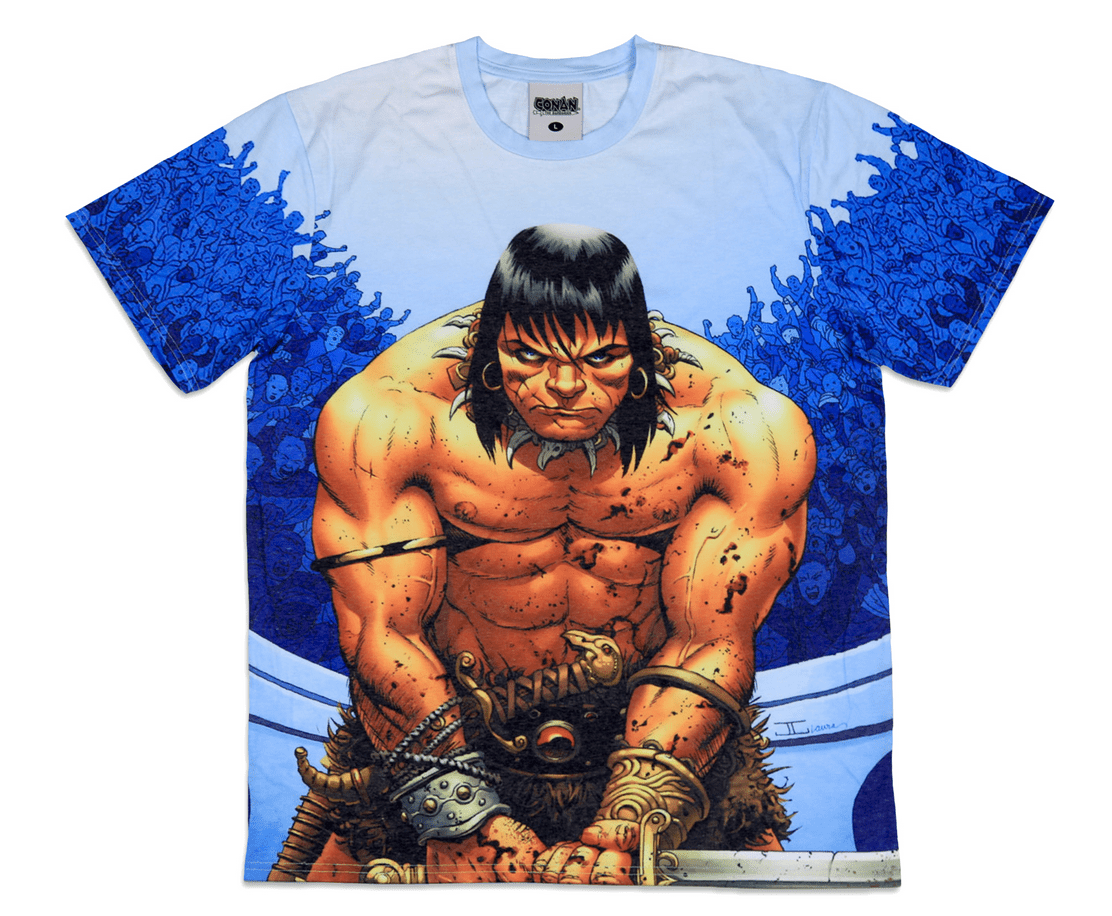 This t-shirt is the most striking option from the official Conan store. The level of detail on the graphic brings the iconic Conan to life. The vibrant blue hues contrast with Conan and evoke an icy environment. The limited-edition t-shirt is made out of a soft cotton and polyester blend and is available in sizes medium through extra-large. Buy Here.  
Pros
Vibrant Colors

Soft Cotton and Polyester

Iconic Design 
Cons 
Only in Sizes Medium through X-Large 

Not Pre-Shrunk         
Thulsa Doom Helm Pin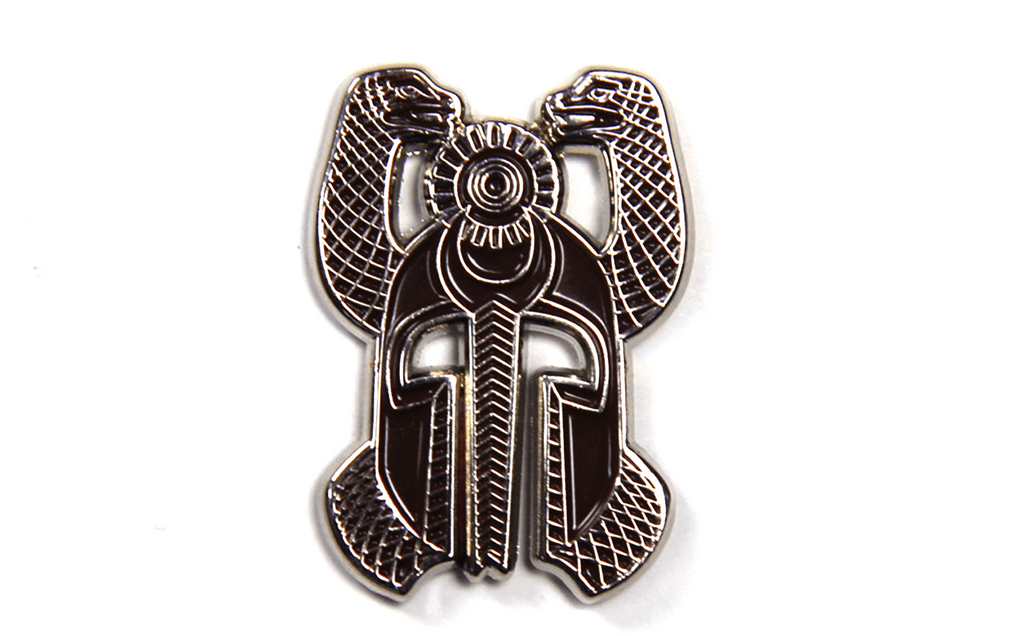 My final pick for the best of Conan Exiles merch is this helm pin. This pin is affordable, decorative, and symbolic. The helm pin is a motif for soldiers in the service of the god, Set. As such, it's also a symbol of both courage and loyalty. The pin is a zinc alloy with silver plating for extra shine. Buy Here.    
Pros
Affordable 

Symbolic

Great Detailing 
Cons
Silver Plating Can Tarnish 

Not Very Valuable         
Frequently Asked Questions
What Happened to Conan Exiles?
For a while, Conan Exiles was stuck in early access. Many wondered and worried if it would ever leave Conan Exiles. Luckily this ended. Conan Exiles was in early access for around 15 months and was finally released to the public. Now, it can be played by anyone and the game continues to receive updates and bug fixes. 
How Do you Activate God Mode in Conan Exiles?
How Do you Activate God Mode in Conan Exiles?
God Mode in Conan Exiles can be accessed through administrative mode. You'll need to navigate to the settings. The server settings have a range of autonomy. If it's set to the very far right, you can then opt to make yourself an administrator. Click Here For a Video Tutorial on Activating God Mode in Conan Exiles. 
Service to access admin mode press the pause button. And then settings. And then across to the server settings on the right side. And then click make me admin.
What Happens If you Take Off Your Bracelet in Conan Exiles?
The bracelet is a serpent's bracelet that has serious consequences. The bracelet is trying to keep you from escaping over the Cursewall that serves as a barrier for the Exiled Lands. While you can remove it through your main menu, you'll die instantly. 
Is Conan Exiles Getting a New Map?
Conan Exiles received a new map and plenty of places to explore with the release of the Isle of Siptah expansion pack. This new map provided new gameplay new challenges, and new mysteries to unpack. It's unclear if there will be subsequent expansions and new maps. 
Is Conan Exiles Better than Ark?
Ark is another online survival-based game. They are also MMO and sandbox games, so they naturally get compared often. Ark has the advantage of cross-platform play and a stronger, mod=supported build mode. Ark also is a bit stronger in terms of powerful weapons and combat. At the same time, Conan Exiles features more immersive lore, storylines, and graphics. 
How Do You Make a Conan Exiles Dedicated Server?
If you want a dedicated server for Conan Exiles alone, there are several steps you'll need to take. Start by installing the Conan Exiles server, which can be found in your Steam library. You'll see the yellow font. Copy that, and then tweak your server name and server password under settings. The benefit of having a dedicated server is better game performance. 
Final Thoughts
Conan Exiles is a survival game that stands out. It's far from perfect, and has had problems with delayed release dates and bugs- but in 2022, there's a lot to celebrate. The best merch expresses the full range of creativity and avid fan base. Whether you're looking for official merch to collect or just casual merch to showcase your enthusiasm, there are more options available than ever, and hopefully, they will continue to expand. 
Final Buying Recommendations: Conan Exiles Merchandise on Red Bubble
Red Bubble features Conan Exiles-inspired merch. While this isn't as valuable or collectible as official merch from the Conan Store, it's still a collection to consider. Board prints, stickers, posters, mugs, and tumblers are some of the products. The main draw is comfy, casual graphic-print t-shirts. These t-shirts feature Conan Exiles motifs, often with a quirky twist. All products are affordably-priced. Shop All Red Bubble Conan Exiles Merch Here. 
Conan Exiles Classic T-Shirt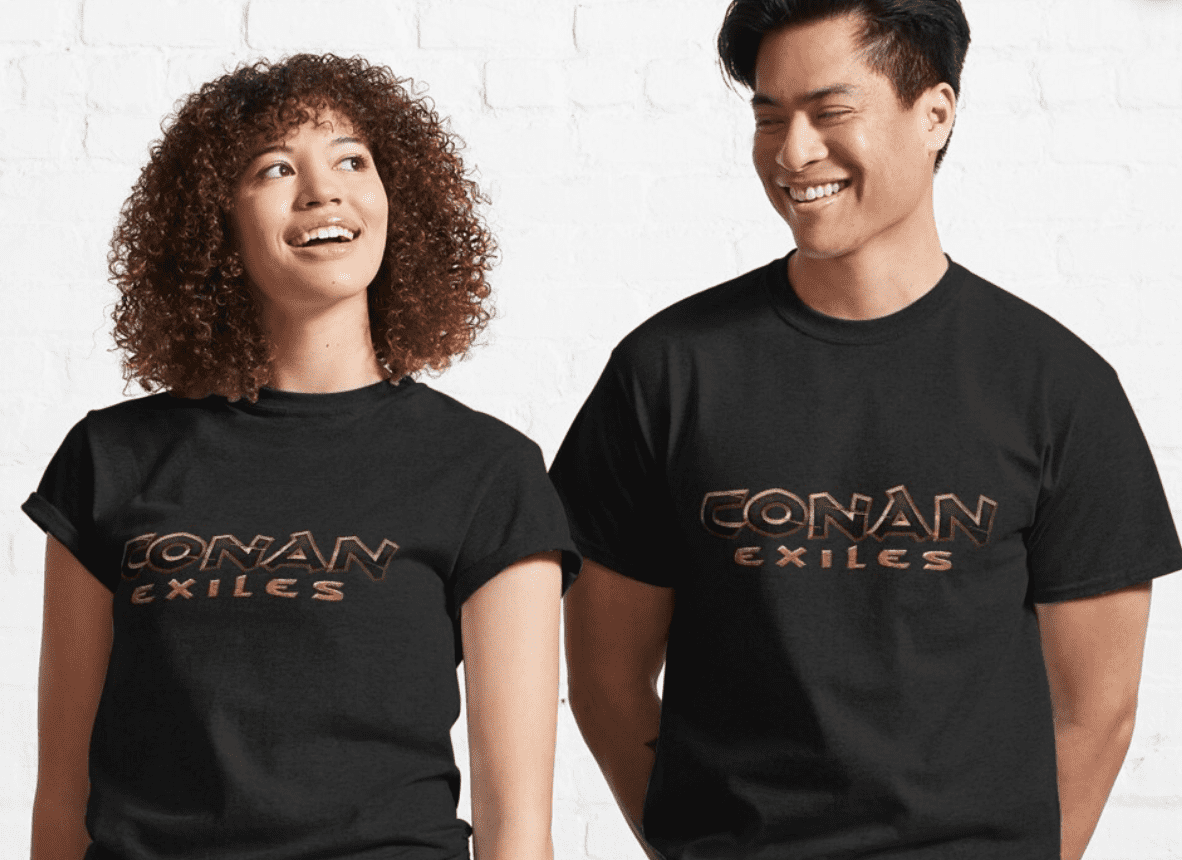 Sometimes you just want a simple t-shirt. I like this clean, crisp design for a versatile shirt nearly anyone can wear. The black shirt features the Conan Exiles lettering. It's a classic, generous fit for comfort or pulling off an oversized look. It's also available in 15 other colors, ranging from blue to cherry red. The black shirt is 100 percent pre-shrunk cotton. The other colors are a comfy cotton and polyester blend. These shirts feature double hemming on the collar. Sizes small through 2XL are available. Buy Here. 
Pros
Comfy Pre-Shrunk Cotton and Polyester

Sizes Small through 2XL

Versatile, Crisp Design with Many Colors
Cons
Not Very Creative

Not For Those Wanting a Fitted Look 
Find more cool gaming merch by reading these guides below:
Best Stardew Valley Merch Guide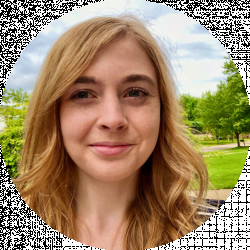 Latest posts by Erin Jamieson
(see all)