With over 350 million lifetime players and more than 80 million active players, Fortnite is anything but dead in 2022. There's enough merch to celebrate with that you'll need a guide to help you find only the very best products. 
Fortnite is a big game, and that calls for big collaborations. December 2021 ushered in Fornite X Marshemllo Skins. It's unlikely to be the last, either: Marshmello was featured in a 2019 update in the Battle Royale version. The collaboration also included an official merch launch on Marshmello's online store. 
That's no small news. Marshmello is a popular music producer and DJ. Many of his songs have been hits, including Happier, Silence, Wolves, and others. Many of his songs have gone platinum and been featured on the Billboard Hot 100. 
Of course, Marshmello isn't the only celebrity to be featured in Fortnite. Travis Scott, Ariana Grande, Ninja, Loserfruit, Neyman Jr, Karry Kane, LeBron James, Marco Reus, and Harry Kane are just a few notably celebrity skins. Professional athletes, streamers, and music producers both play and have been featured in Fornite.
But you don't have to love these celebrities to get in the hype. Fornite offers some pretty impressive merch, from decor to hoodies and more. In this guide, I'll tell you how to find the best official merch and what to avoid. 
Bottom Line Up Front Summary:  If I had to recommend just one item from the official Fortnite merch line, it would be the Fortnite Legendary Series 6 in Figure Pack. This doubles as an action figure and a collectible, with customization options, weapons set, and a solid value for the price. 
My Top Picks
What Exactly is Fortnite?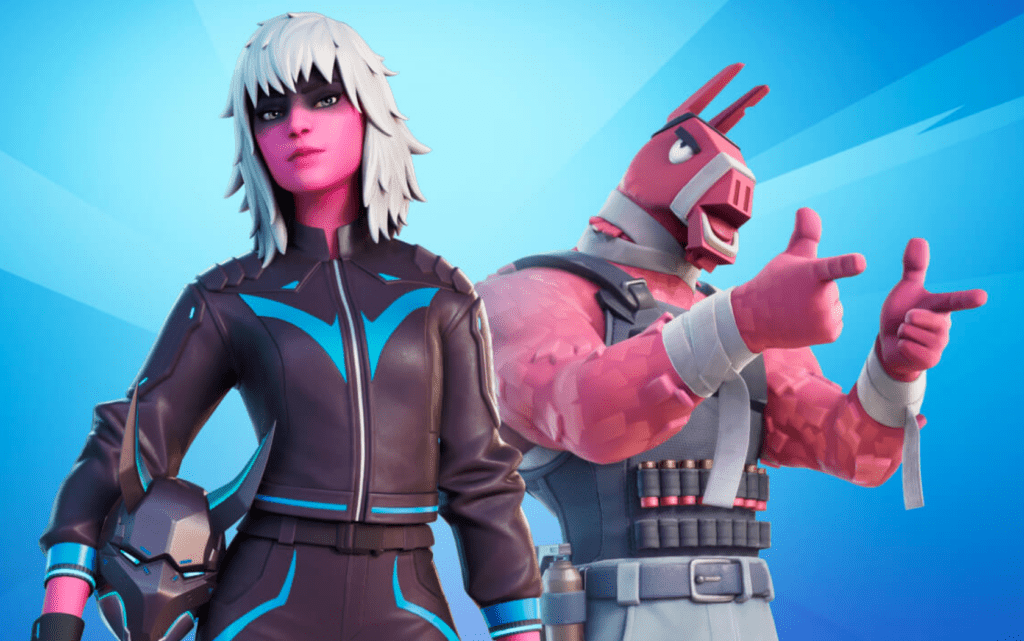 Fortnite is a survival-based online game that includes three player modes. Gameplay is distinguished by immersive environments and first-person mode. You explore and navigate battlefields, arenas, deserted areas, racecourses, and more. It's most popular for its player co-op Battle Royal, which allows up to 100 players at a time.
The competitive side of Fornite is a very notable staple in Esports gaming tournaments, where veteran and novice players compete alone or in teams to earn money. Fortnite owes a lot of its staying power for this reason. It's not hard to see why: Esports consists of over 234 million participants and spectators, and that number is only expected to grow.  
Fortnite is not marketed to kids but is recommended for players 13 and over. All the same, that doesn't stop many kids from playing Fortnite. 
How Was Fornite Created?
It wasn't immediately clear that Fornite would become the phenomenon it is now. Fornite was unveiled in 2011 at a gaming convention for Epic Games. At the heels of the release of Gears of War: 3, it had a potential player base but also big shoes to fill. At the time, it was marketed as a blend of Left 4 Dead and Minecraft.
The idea pitched was a focus on survival, crafting, and cooperation. Contrary to some myths, Fortnite is in no way based upon a true story. 
 Not everything went smoothly. It was a time when the gaming industry saw a sore in live services. Epic Games was also juggling development for Paragon. Amidst industry changes, Epic Games partnered with Tencent. This partnership gave Tencent a notable 40 percent share in Fortnite.
How has Fortnite Changed Gaming?
Fortnite has brought to light Esports even more– as well as how lucrative co-op games with microtransactions can be. It's given a lot of content for streamers and, like other games in the genre, launched content creators' careers. 
Has Fortnite Won Any Awards? 
Notable awards in the past few years include The Game Award for Best Ongoing Game, The Game Award for Best Multiplayer Game, BAFTA Game Award for Evolving Game, and a 2018 Teen Choice award for Choice Video Game. 
What Kind of Gameplay is Fortnite?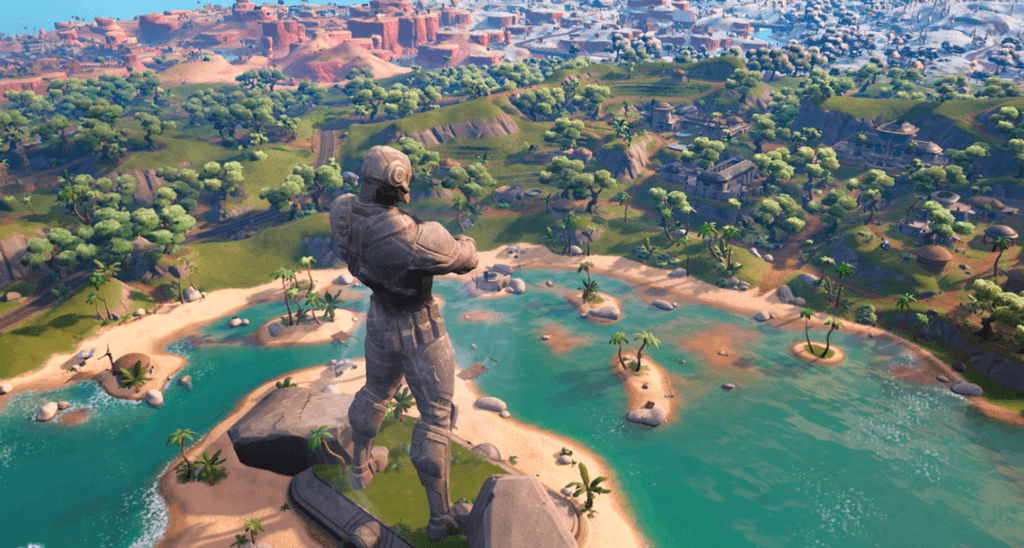 Most people know Fornite for its survival, crafting, and battle gameplay features. They also enjoy the crossplay features.  All modes, aside from Creative Mode, include AI bots.  However, there are three distinct gameplay modes. 
Fortnite: Save the world is a cooperative game where you team up for missions. The main mission is to survive zombie attacks. Erecting shelters and scavenging for resources is important but you also have to rescue survivors and complete challenges. 
Battle Royale, perhaps the most popular model, can accommodate up to 100 unique players at a time. You can team up or go it alone if you want a great challenge.
This focuses on arenas and more direct combat. The Battle Pass offers rewards to players that further help your gaming. Battle Pass rewards are earned through challenges. For Battle Royal, many players take advantage of the split-screen feature to coordinate with their team. 
The final mode available to players offers very different gameplay. Creative Fortnite allows you to explore and build without any set objectives. There are optional challenges if you are interested. By having several modes, it's clear that Fortnite did take some inspiration from games like Minecraft. 
Can Fortnite be Played Offline? 
One downside to Fornite is that servers going down is not an infrequent problem. Some players get quite frustrated by server issues. This is a problem because you can't play Fortnite offline at all. All gameplay modes are fully online.
How Much Does Fortnite Cost?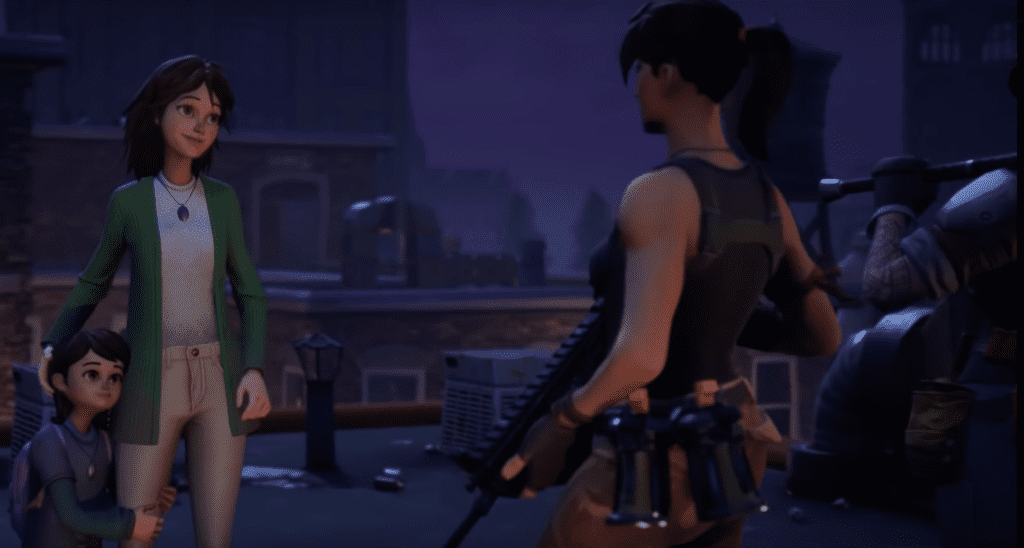 Perhaps another reason why Fornite has attracted so many players is because there is no entry free. Fortnite is entirely free to initially download. It's available for PlayStation 4, PC, Mac, Nintendo Switch, Xbox One, and Nintendo Switch. You can even play Fortnite on your Android phone. However, there's a catch. 
How Does Fortnite Earn Money?
No game is truly 100 percent free. Fortnite joins many other free-to-play, live service games. The hook is that you don't have to pay anything initially. However, in-game purchases (microtransactions) are a driving force of revenue.
Players are incentivized to upgrade their skins and weapons, all of which are more unique than the free options they must unlock. This may not sound like a great source of income, but it is. In 2019 alone, Fortnite earned around $1.8 billion on microtransactions. 
Do Fortnite Bundles Come Back?
Bundles are one-way players spend their money. Fortnite bundles are purchased in the Item Shop and alternate about twice a year or an average of every 180 days. 
Do Fortnite Gifts Expire?
Players don't only spend money on themselves, though. It's become common to see players gifting other players. This makes strategic sense if you're playing in Battle Royale mode. Gifts don't expire. However, there is a limit to how many gifts players can send to another player. That limit resets every 24 hours. 
How Do I Install Fortnite?
It's easy to start playing Fortnite, but there are a few caveats. For PC (Windows and Mac) platforms, you'll want to install the Epic Games Launcher. After installing, create and log into your account.
Navigate to the store and find the Fortnite icon. You'll have to select "Get" and then your free download will start. It should be in your game library once you're finished. To play, you'll need to launch via this platform. 
Can I Play Fortnite Without Downloading?
Aside from the Vortex Service, you'll need to download the game. You'll need to download on the Xbox One Store, PlayStation Store, Android Store , or the Epic Games Launcher (see above) for PC. 
Is there Official Fortnite Merch?
Fortnite sells official merch through its online store. They also have an official merch line you can purchase from Amazon. A few other stores–notably Kohl's and Target– offer Fortnite-themed gear and gifts. The sheer popularity of Fortnite means that you can find Fortnite merch online and even in some stores. 
My Selection Criteria
The find the best Fortnite merch, I look for items that are identified as official, licensed merch. I compare the price for the value of the merchandise I'm buying. I also look for merch that directly represents the excitement of Fornite.
All of my selections are fair prices and distinct or useful. A final requirement is that these items are from respected and secure websites or stores. 
Fortnite Merch: My Top Picks
Here are my top picks for the best official Fornite merchandise. My selections come from the official Fortnite Shop online and Amazon. I'll also include an honorable mention under my final buying recommendations. 
Official Fortnite Shop Merch
The originally Fortnite store is my first go-to. This store offers official, licensed Fortnite merch. Better yet, these are exclusive items you won't find elsewhere. The store sells t-shirts, unique lamps, iPhone cases, plushies, and posters, among other products.
I do find it a bit odd that they sell iPhone cases, given the ongoing issues with Apple pulling Fortnite from its stores. Regardless, it's a colorful, exclusive collection that should please most fans. Shop All Items from the Fortnite Shop Here. 
Fornite Raven T-Shirt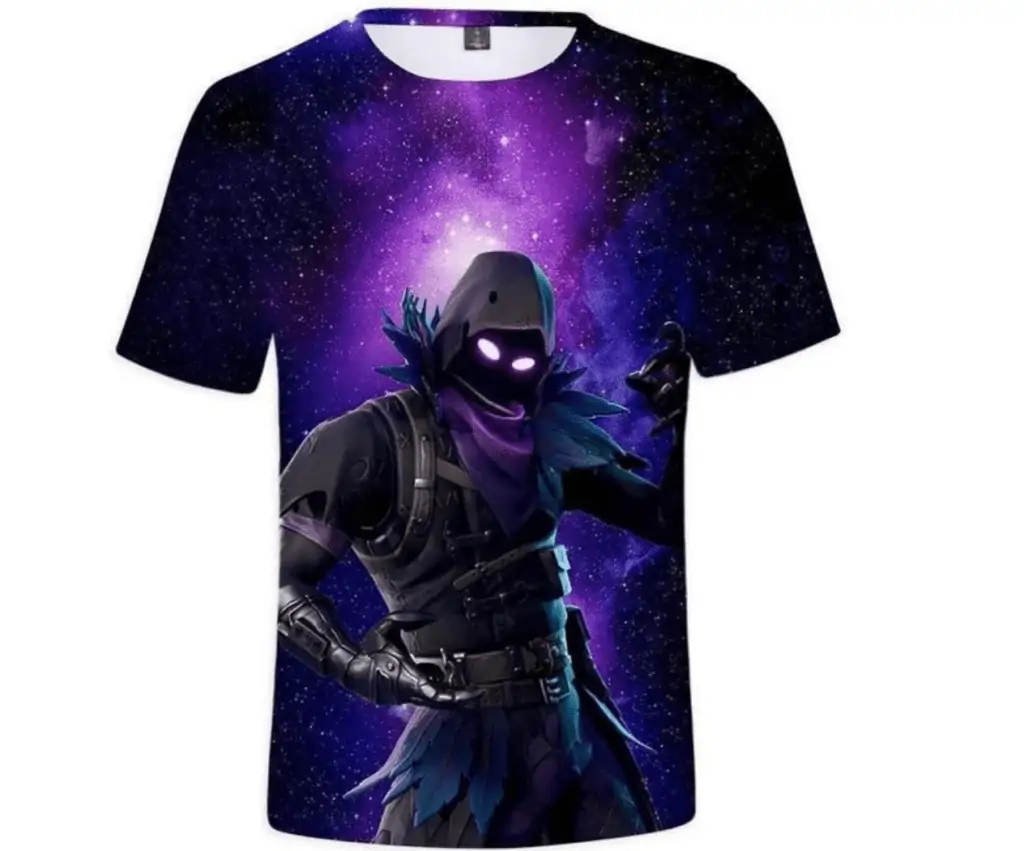 With a healthy collection of Fornite t-shirts, it's hard to pick just one. Still, I notice the most distinct, meaningful, and highly-rated shirts. This t-shirt is available in kid's sizes and adult sizes extra-small through 4XL, like most of their designs.
All t-shirts are made with a polyester and cotton blend for a flexible, comfortable fit. It does run small, so you should order one size up. Shop all shirts at the link above, or Buy this Design Here. 
Pros
Comfortable Polyester and Cotton Blend

Unique Skin

Size-Inclusive
Cons
Runs Small 

Not Pre-Shrunk
Fornite Collector's Lamps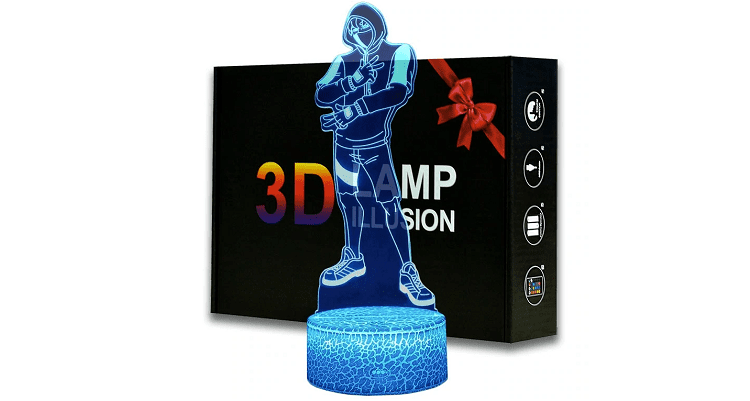 Whether you're a collector or searching for a playful desk accessory, you should consider the Fortnite Lamp Collection. All Fortnite lamps are acrylic, with both a USB and battery power mode.
Each lamp has up to 7 unique light settings, is lightweight, and features a unique character. You can swap out different base colors. Opt for a lamp with or without a remote controller. Buy Peely Lamp Here. 
Pros
7 Light Settings

USB or Battery Operated

Distinct Characters 
Cons
Fairly Small

Expensive with Remote Controller 
Fortnite Llama Loot Plush
Loot is a big part of gameplay in Fortnite, so I have to mention this. The rare llama plush toy measures 25 cm, making it the right size for a small addition to someone's collection. This plush is the best-rated and features iconic colors. It's soft and made out of 100 percent cotton. Buy Here.
Pros
Rare Llama loot design

Soft Cotton

Bright Colors
Cons
Small 

Not As Practically Useful 
Amazon Official Fornite Merch 
If this was the original Fortnite merch, this collection would be my top choice. While these items might be less exclusive, they're all still official merchandise. I love the expanded variety, too.
This collection does a nice job of including younger fans, with youth hoodies, colorful backpacks, unique bedding, and figures. This youthful collection could also be useful for collectors, and I love the variety and colors included. Shop All Amazon Fornite Merch Here.
Youth Pullover Hoodie and Sweatpants Suit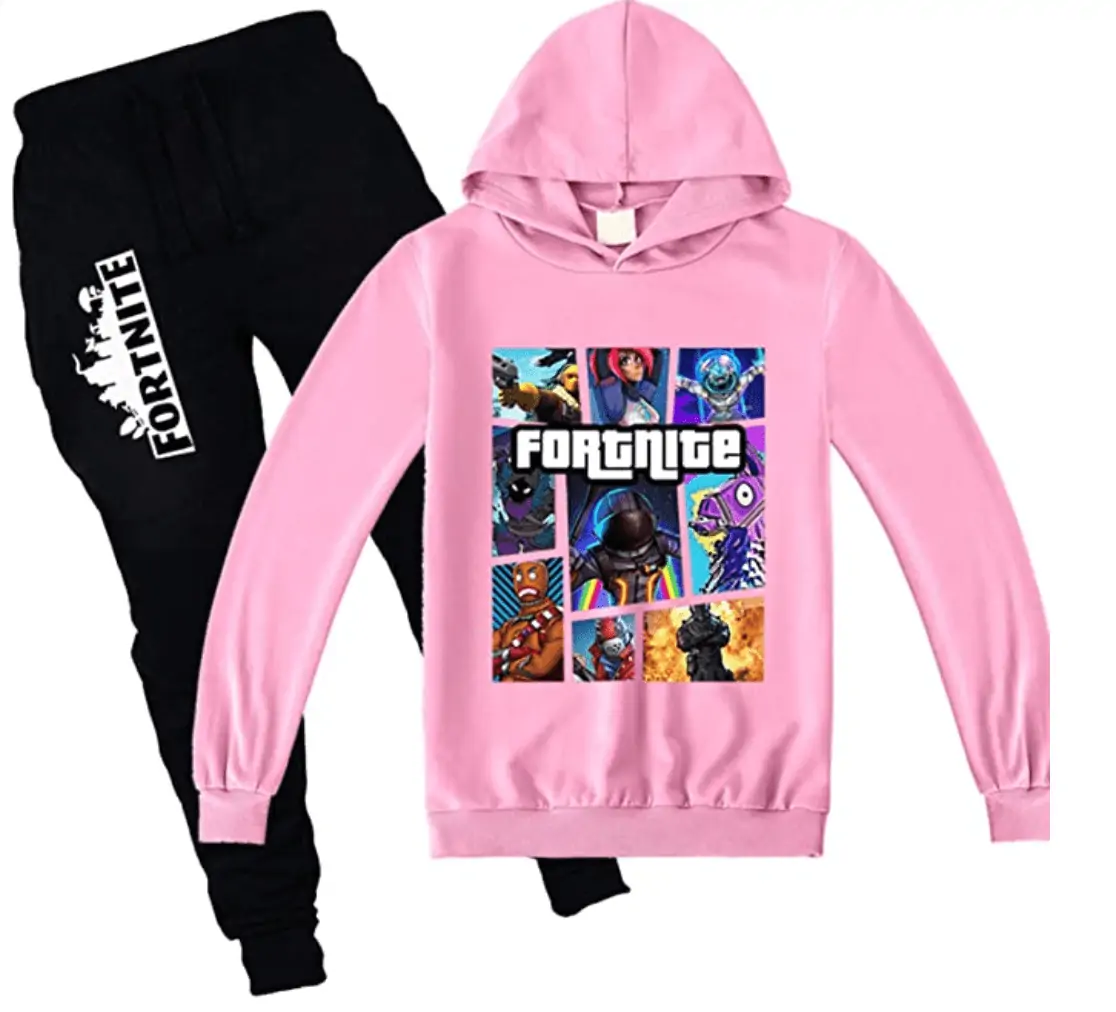 These unisex sweatpants suits are sure to keep younger players comfortable. It's available for toddler through teen sizes. The lightweight cotton fabric is comfortable and cozy with 35 percent polyester for a bit of stretch. The casual design is carefully printed. I love the iconic design, the slouchy style with ribbing, and the variety of hues. Buy Here. 
Pros
Lightweight and Breathable

Vibrant Design

Comfortable, Slouchy Fit 
Cons
Runs Small

No Adult Sizes
Fortnite Multiplier Backpack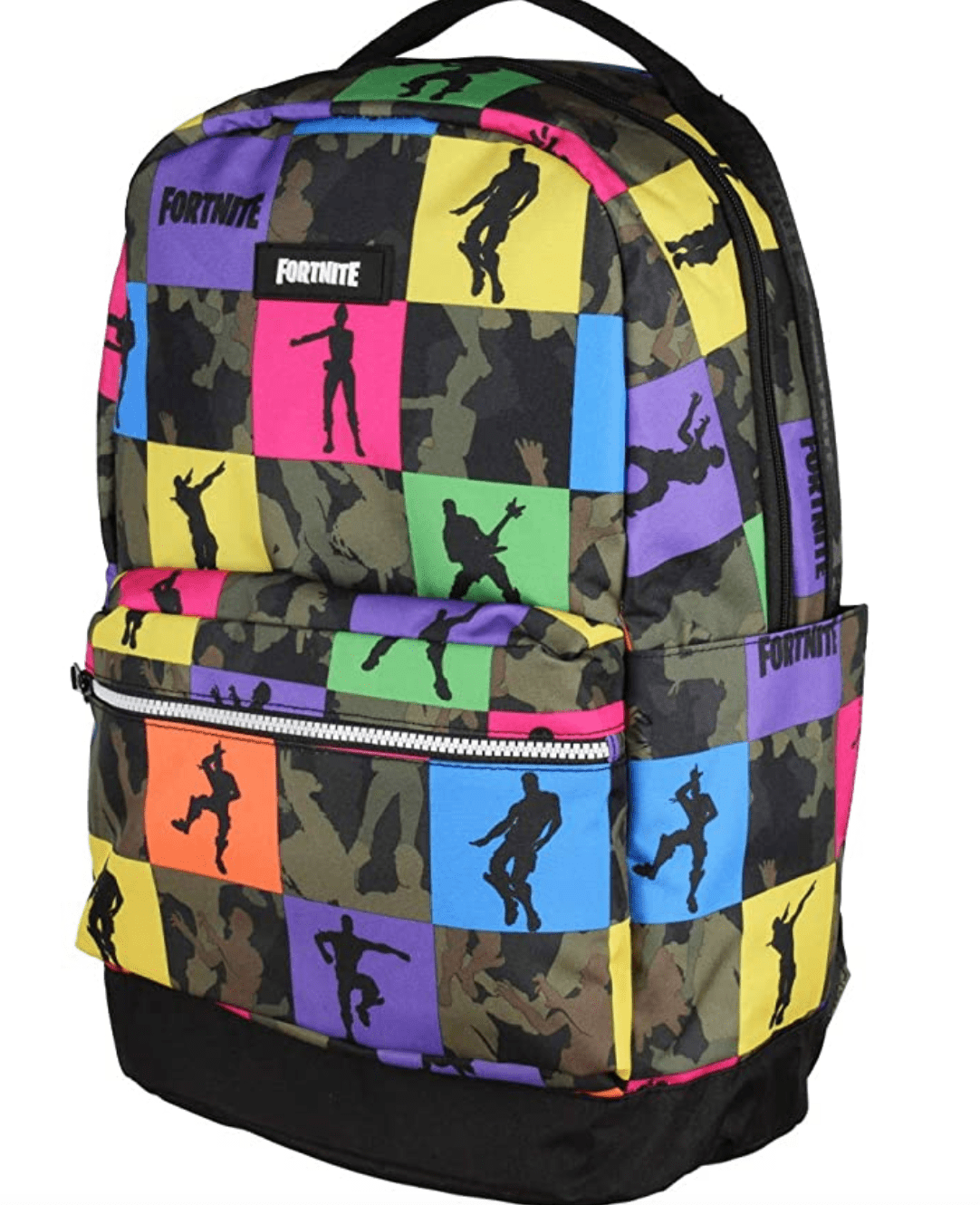 This is a popular backpack and for good reason. This Fortnite backpack is made out of polyester for a comfortable, water-resistant material. The straps have a 15-inch shoulder drop and there's room for the average book load.
The highly-rated backpack is 10 distinct patterns. While the style I show is my favorite, I also like that they offer subtle styles, with a simple Fortnite logo. Buy Here. 
Pros
10 Unique Patterns

Highly-Rated

Comfortable 
Cons
Hand Wash Only

May Not be Large Enough For Older Students 
Fortnite Legendary Series 6in Figure Pack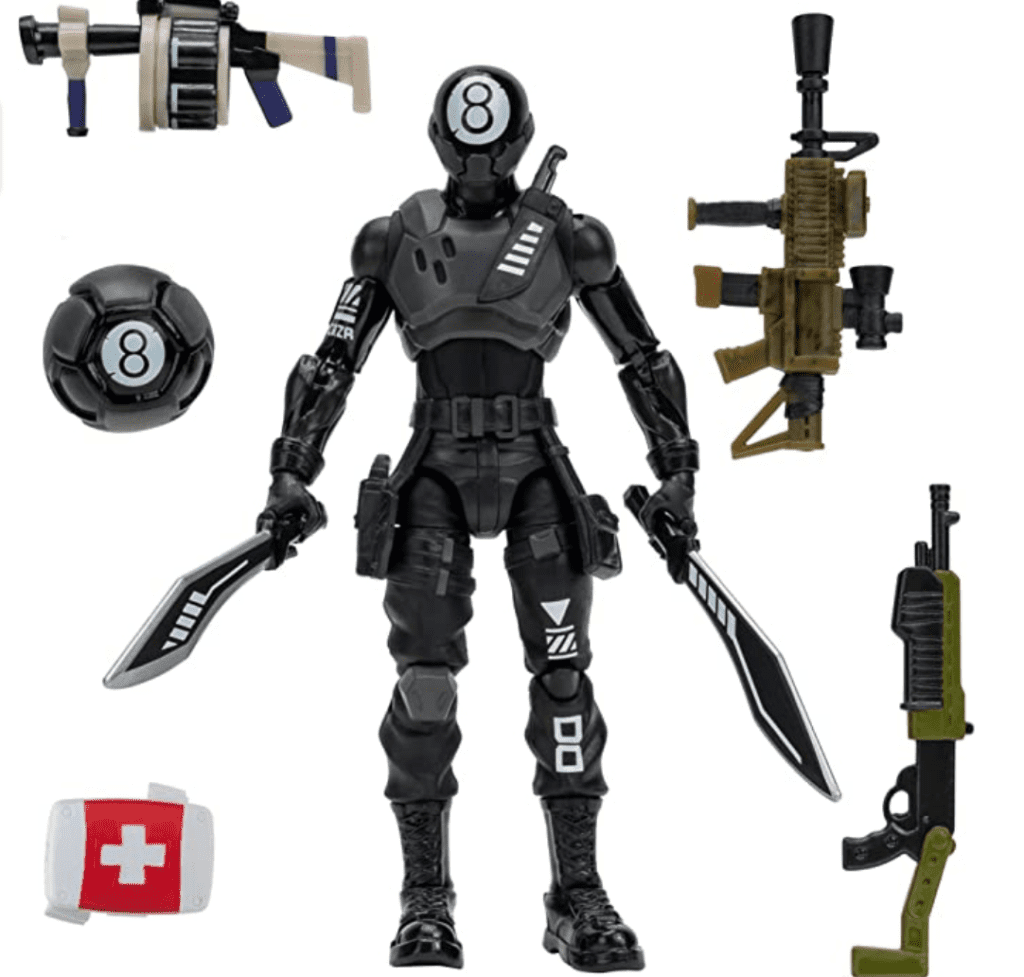 What do I like about this figure pack? It doubles as an action figure for younger players and a collectible for older players. But it also has special features. Figures come with a full weapons set.
They plan on releasing more outfits and sets that you can swap out with this figure. There are three character sets available: Midas, B-Ball, and Frozen Raven. It's a good price for all the pieces you get with your purchase. Buy Here.
Pros
Action Figure or Collectible

Customizable 

Weapons Set Included
Cons
Plastic

Have to Wait For Additional Accessories
Fornite Graphic Wallet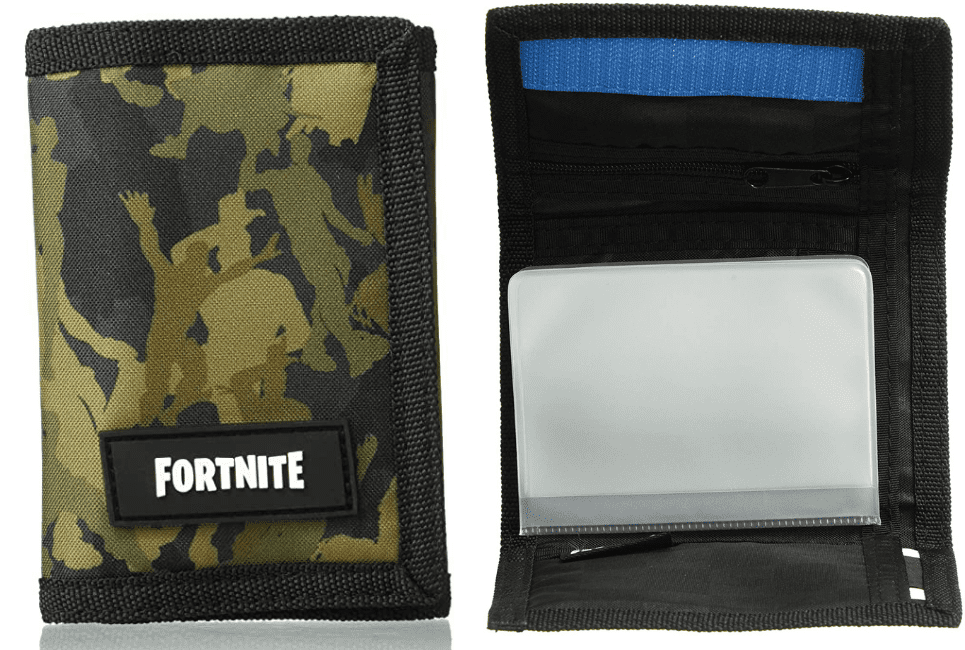 If you're looking for a practical gift, this wallet may be for you. A simple Fortnite logo is placed on the front of the wallet for a subtle-themed aesthetic. Color combos include camo, black and green, multi-colored llama print, blue llama print, gray with blasters, and black camo. The wallet has a tri-fold closure and a separate zipper coin. Buy Here. 
Pros
Practical Use

Separate Zip Coin

Iconic and Subtle Prints
Cons
Hand Wash Only

A Little Small 
Battle Royale Stainless Steel Water Bottle Travel Mug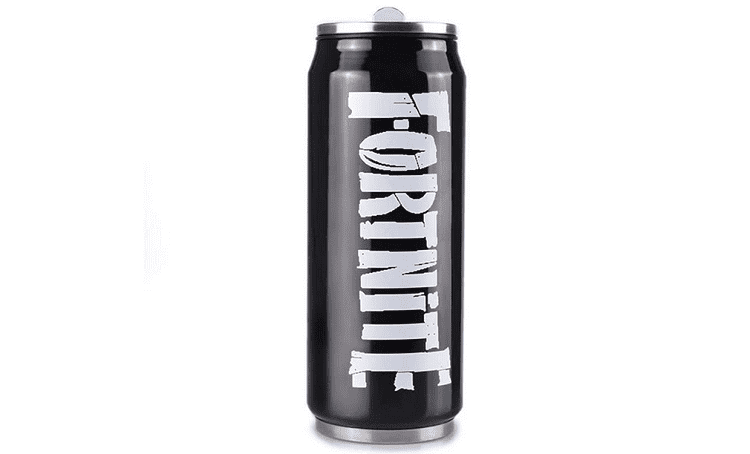 I hesitated to place this on the list because it doesn't come from the same official merch store. At the same time, so much of Fortnite merch available features distinct designs. This is an upside, but some prints aren't versatile.
If you love Fortnite but want more subtle and practical merch, this is a good option. Stay hydrated to game at your sharpest, no matter where you are. The stainless steel travel mug keeps your drinks temperature-regulated and includes a convenient sip cup. Buy Here. 
Pros
Keeps Drinks Warm

Subtle but Distinct Fornite Label

Sip Cup for Travel 
Cons
Not Very Unique

Not Collectable 
Frequently Asked Questions
Question: Can I Sell Fortnite Merch?
Answer: Avid fans do sometimes sell Fornite merch– but you need to be aware of legal restrictions. You cannot sell anything with official logos or licensed images. All images must be unique and your own. Any official images from Fortnite as subject to copyright. 
Question: How Many Fortnite Skins Are There? 
Answer: It's hard to say exactly how many Fornite skins there are. As of the beginning of 2022, Battle Royal had over 1,140 skins. This includes celebrity skins and special collaborations. This number will likely continue to grow, allowing players ultimate customization. 
Question: Can You Get a Fortnite Lego Set?
Answer: Unfortunately, there are no Lego sets that feature official Fornite branding. 
Question: Can I Return a Fortnite Gift Card to Target?
Answer: Fornite git cards are treated the same way as other types of gift cards at Target. The gift card return policy at Target sadly doesn't allow for credits or exchanges in most circumstances. This policy was adopted in 2020. 
Question: How Do You Get Stuff in Fortnite?
Answer: Fornite offers in-game purchases (microtransactions) which range from weapons to skins to perks. You can also take advantage of free items. Free things can be acquired by playing and succeeding at challenges within the game.
This is available through the Battle Pass version of Fortnite. Some players also reap the benefits of free items by opting for a two-factor sign in the authentication. This is a double bonus, as it helps prevent hacking.
Final Thoughts
While some claim Fornite is dead, the opposite is true. Fortnite continues to have a thriving community and solid player base. There are new updates that add dimension and customization for gamers.
Merch continues to sell, and there's plenty of official merch for just about every kind of player. Whether you're looking for a gift or buying something for yourself, now's as good of a time as ever to find the best official Fornite merch. 
Final Buying Recommendations: Target Fornite Merch Collection
My final buying recommendations come from Target's official Fortnite merch collection. This merch collection leans the youngest of all. While the official Fortnite Shop is aimed towards adults and the Amazon collection teens and pre-teens, Target is focused on products for younger boys.
Backpacks, boy's hoodies, blasters, and action figures are the main products. I like what's offered, but I'd love to see some older and some female fans included. Shop Target's Fornite Collection Here. 
​​
NERF Fortnite 6-SH Dart Blaster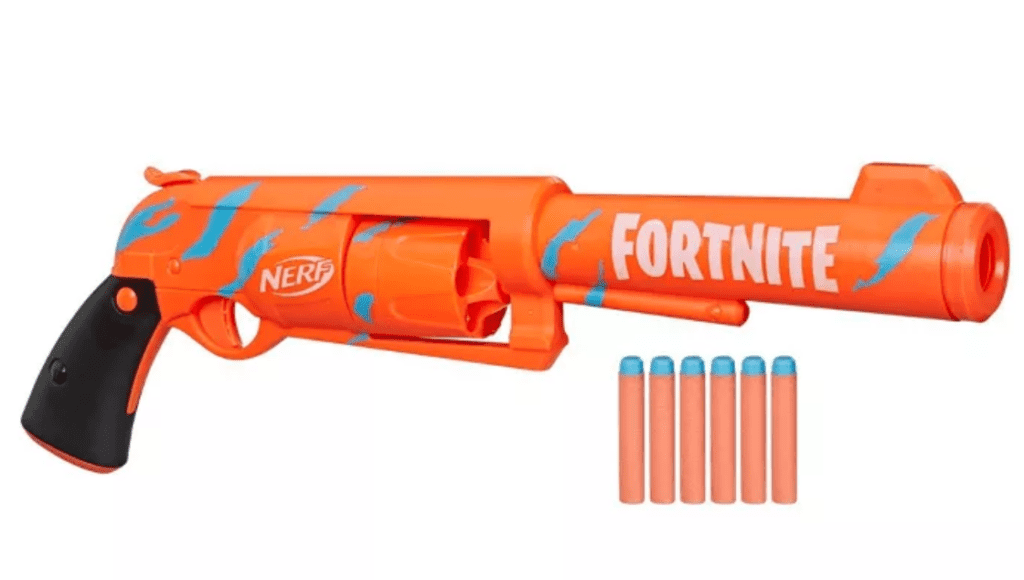 I still fondly remember playing with Nerf guns with my brother. The classic lives on, with a node to Fortnite blasters. This popular Fortnite Nerf blaster comes with pulse wrap, hammer action priming, and 6-dart rotation. The toy is approved for ages 8 and up. Buy Here. 
Pros
6 Dart Rotation

Hammer Action Priming

Fun Gift
Cons
Not For Kids Younger than 8

Possible Hazards with Improper Use 
Read more gaming merch guides below:
Best Stardew Valley Merch Guide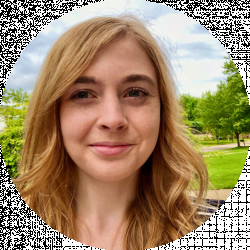 Latest posts by Erin Jamieson
(see all)