I doubt there's many people in the world who haven't heard of the phenomenal franchise that is Harry Potter. The magical series about a young boy wizard spawned a fan base of millions of people young and old, and it's still going strong long after the last movie was released. Unsurprisingly, there is a world of merchandise out there. Some items are absolutely epic, others… Not so much.
If you're looking to get a treat for yourself or a gift for a special Harry Potter fan in your life, it can be difficult to know where to start. It can be overwhelming seeing the sheer range of products on offer, so this guide is here to help. I've scoured the internet to find the best products in a range of different categories, so no matter what you're looking for, I've got it covered. Now, this list is by no means exhaustive, but if you're looking to narrow down your options to the best of the best, then this is perfect for you. So, let's take a look at what's out there!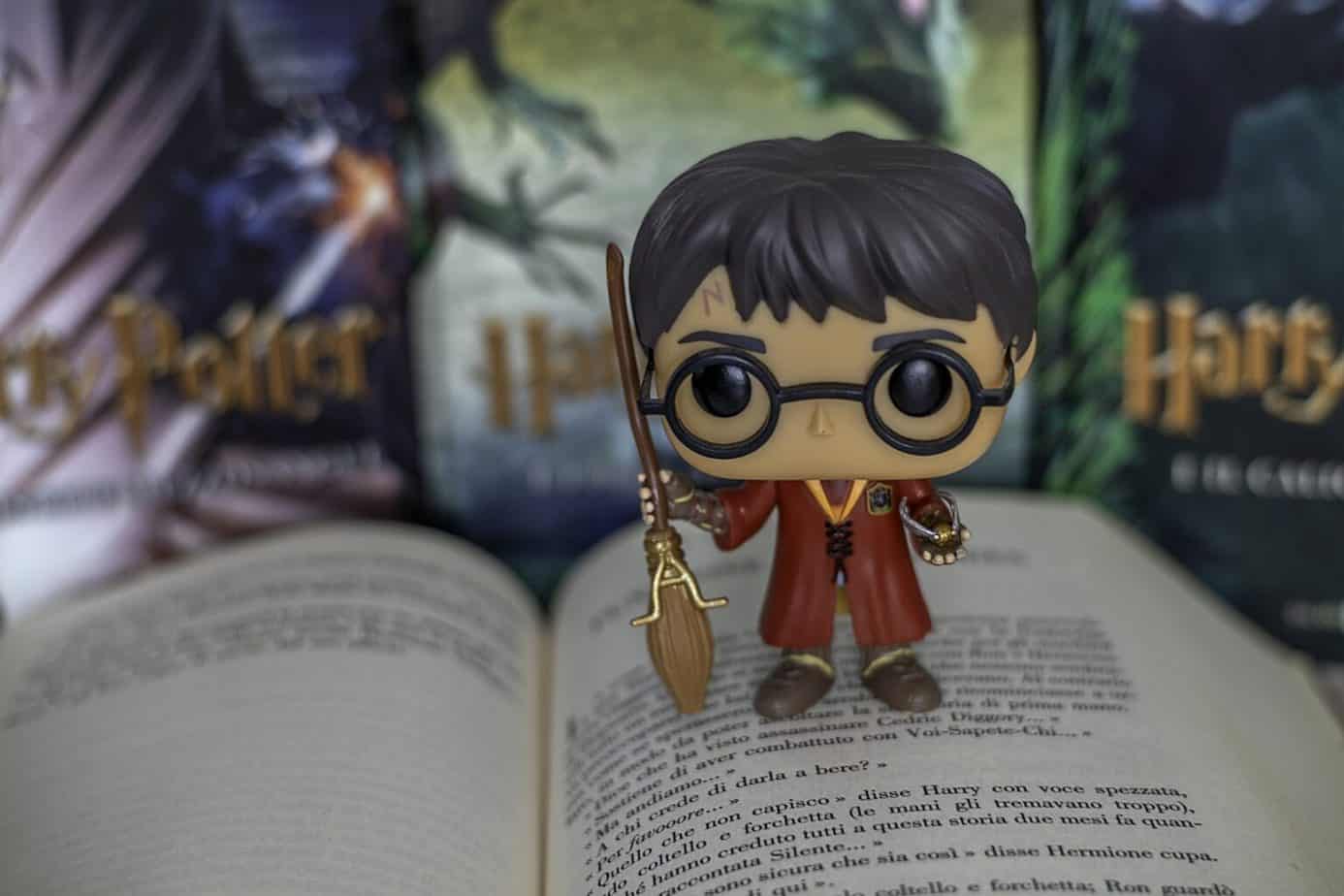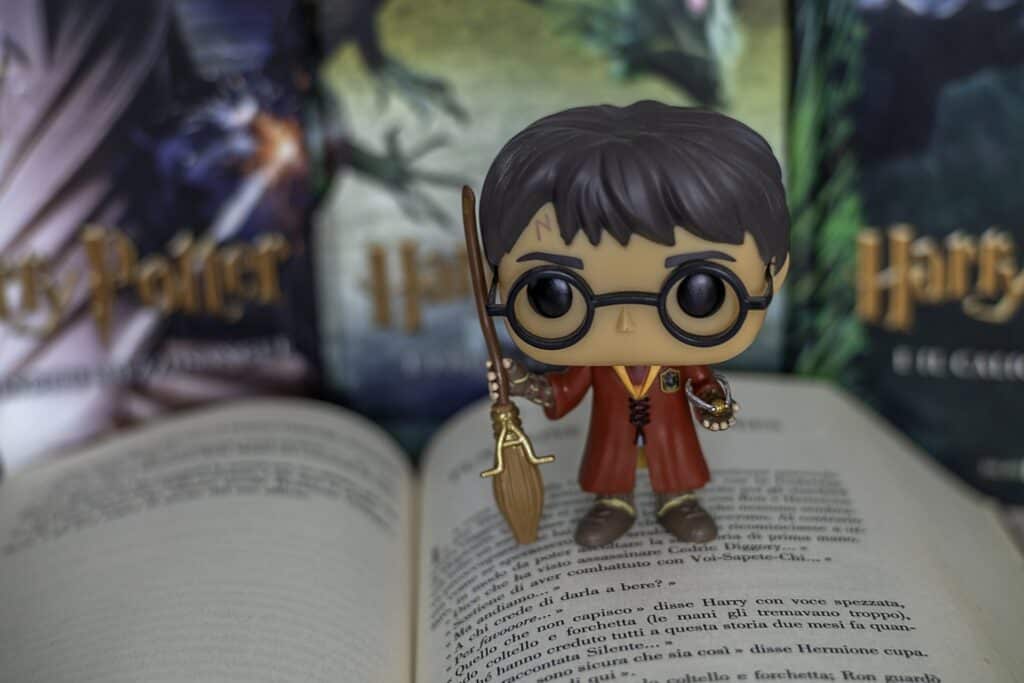 Bottom Line Up Front
Official Merch
For some smaller franchises, there can be a very limited pool of official merchandise. However, that's not the case with Harry Potter. Due to the popularity of the series, there are literally thousands of official merch items, and as fans, we're spoiled for choice. Buying officially licensed merchandise is a great way to know that you're getting an item of decent quality. It allows you to show your love for the series and find items that are perfect for Harry Potter fans.
Apparel
One of the best types of merch you can buy is apparel. Not only does it display your love for Harry Potter, but it also serves an actual purpose. Everyone needs clothes, so why not make those clothes something that represents your favorite fandom? There's an abundance of choice when it comes to Harry Potter apparel, but I've found some fantastic products for you. I've included a variety of designs so that it hopefully covers whichever aesthetic you're into.
T-Shirts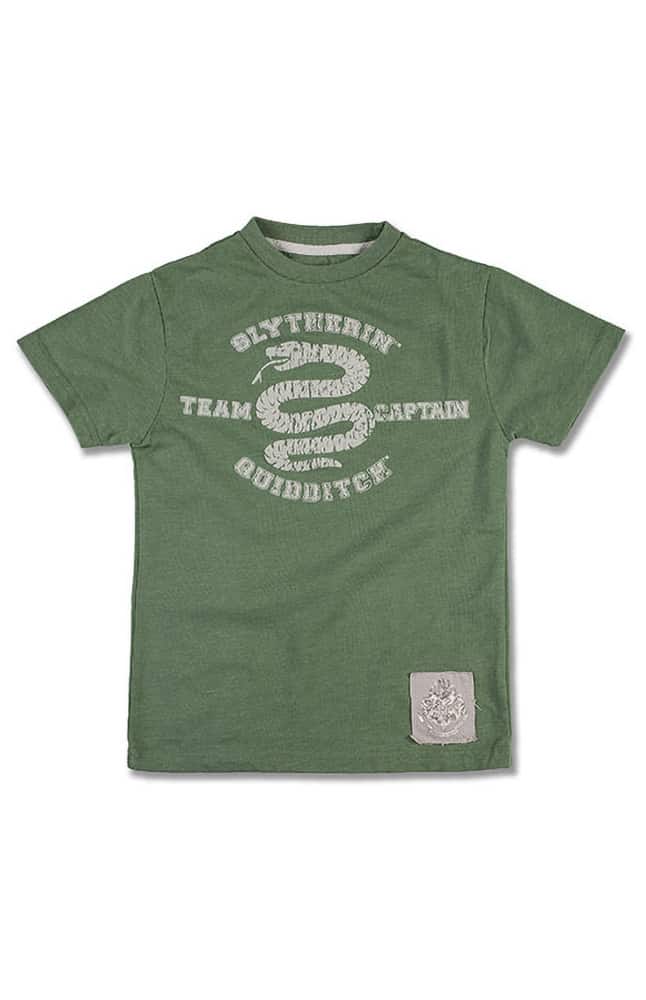 T-shirts are probably my favorite type of apparel, just because they're so convenient whatever the weather. On a hot day, you can wear just a t-shirt by itself, and on a cold day you can wear it underneath a jumper for an extra layer. They're also usually made of really thin, comfy materials. I like to feel clothes before I buy them to make sure they're going to be soft, and I can tell you, pretty much every t-shirt in the Wizarding World of Harry Potter gift shop was delightful to the touch.
There's an incredible variety of official t-shirts, it was so hard to choose just a few of them! I'm a Slytherin, and so I had to include their gorgeous Slytherin Team Captain Quidditch T-Shirt. I also love the vibrancy of the Weasley's Wizard Wheezes Poster T-Shirt, it's such a unique design. If you want to be loud and proud about your love for Harry Potter then the Hogwarts Crest T-Shirt has a very bold style that will stand out from the crowd.
Hoodies and Sweatshirts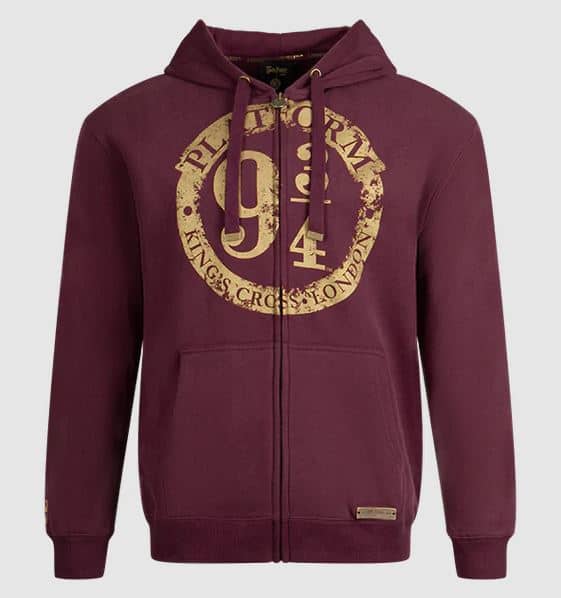 While t-shirts are great for any occasion, hoodies and sweatshirts certainly have their place. On colder days, it can be so refreshing to relax and snuggle in a cozy hoodie. It's even better when that hoodie is Harry Potter-related, and you can fondly remember your favorite scenes from the movies. There are some really brilliant products available in this category.
You can go for a classic casual look with the Platform 9 3/4 Burgundy Zip Hoodie or the Free the House Elves Hoodie. Or you might be interested in something more unique, such as the fascinating Deathly Hallows Velvet Tie-Front Open Sweater. I've never seen anything like it before, and it looks gorgeous. If you prefer the Fantastic Beasts and Where to Find Them series, then perhaps the Niffler Sweatshirt would be more your speed.
Hats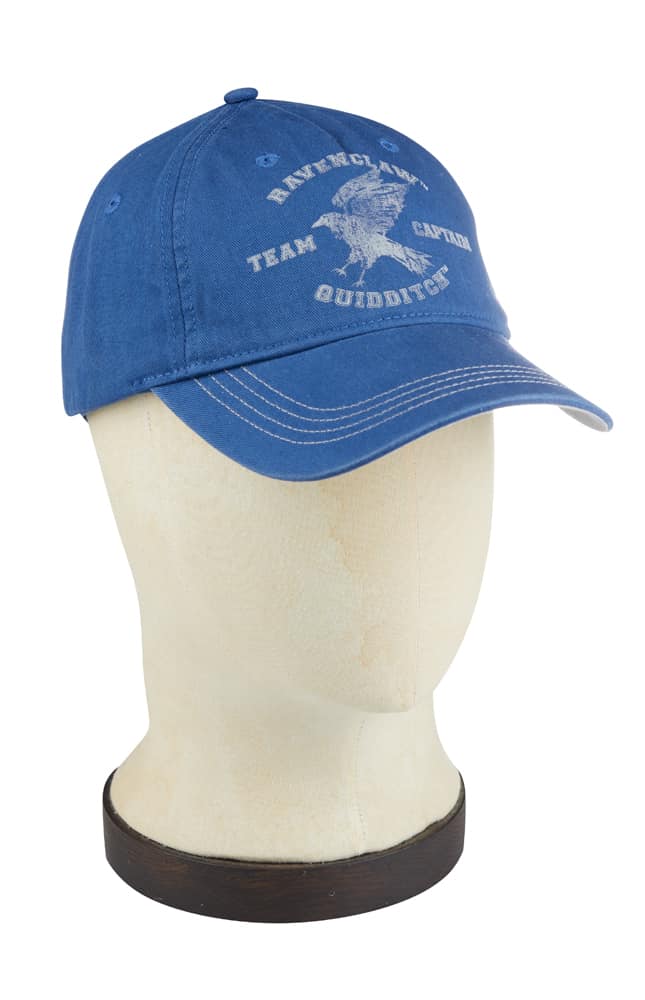 Looking for something cool to adorn your head? Let everyone who sees you know how much you love Harry Potter with one of these fabulous hats! I've tried to include one item for each house, but most of the hats have designs for all the houses, so feel free to browse if you like the style for a different house. My personal favorite has to be the Slytherin Crest Cap as I like how bold the design is. However, the Gryffindor Athletic Wear Mesh Cap looks awesome too. If you want something a bit different, check out the Hogwarts Symbols Snapback Cap.
Shoes, Slippers, and Socks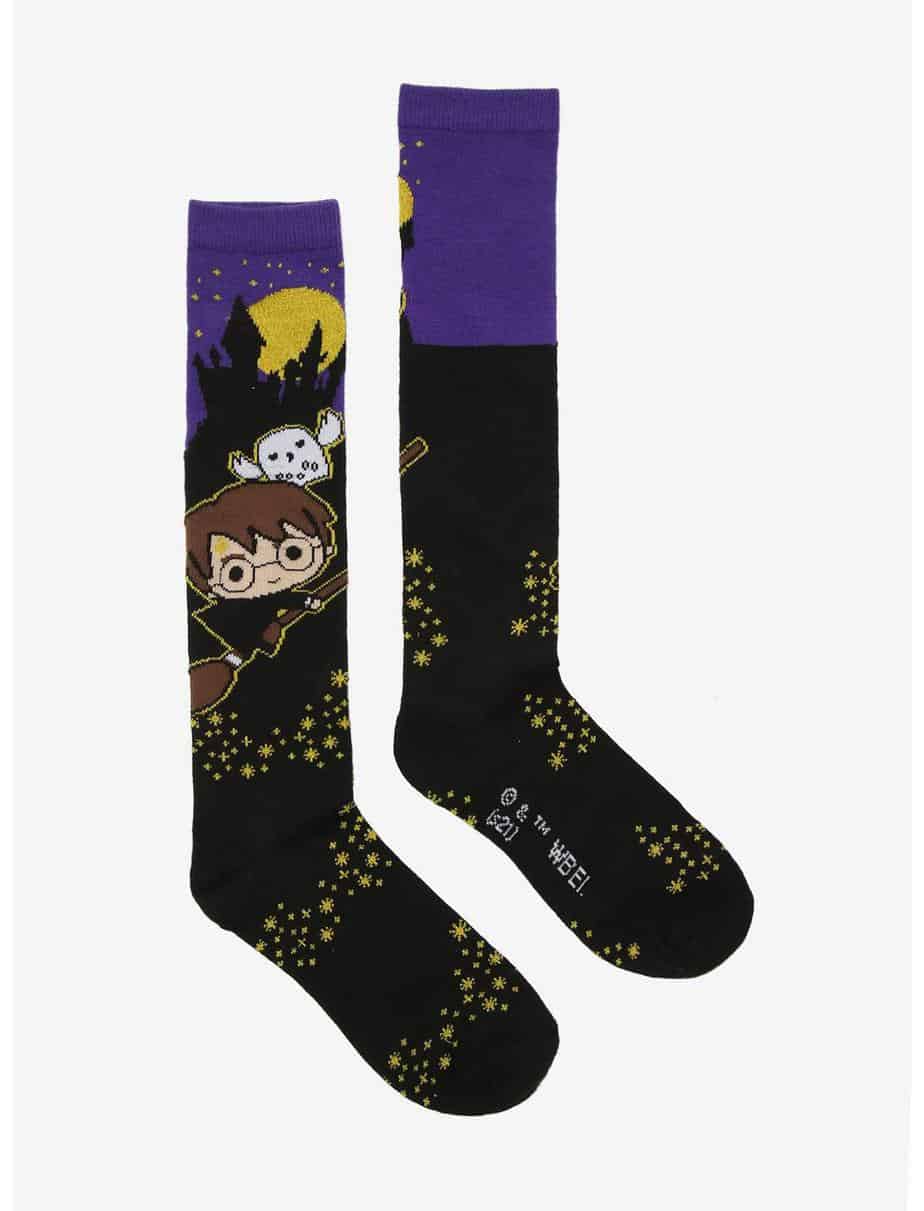 While most people probably won't notice any merch you have on your feet, you'll know it's there. Sometimes it can be nice to own something a bit more subtle that won't draw attention. But it's still nice to be able to look down at what you're wearing and smile as you see the Harry Potter goodness.
The first thing I thought of for this category was the range of Harry Potter Vans that were released a few years ago. Although they're unfortunately out of stock on the official website, I was able to find them from a show reseller, and my favorites have to be the Marauders Map Slip-On Vans. My other favorite shoes were the Chibi Lace-Up Sneakers. I was blown away by the fantastic designs for socks, and I just love the Floral Deathly Hallows Socks. I was also really impressed with the value on the Advent Calendar Sock Set.
Bags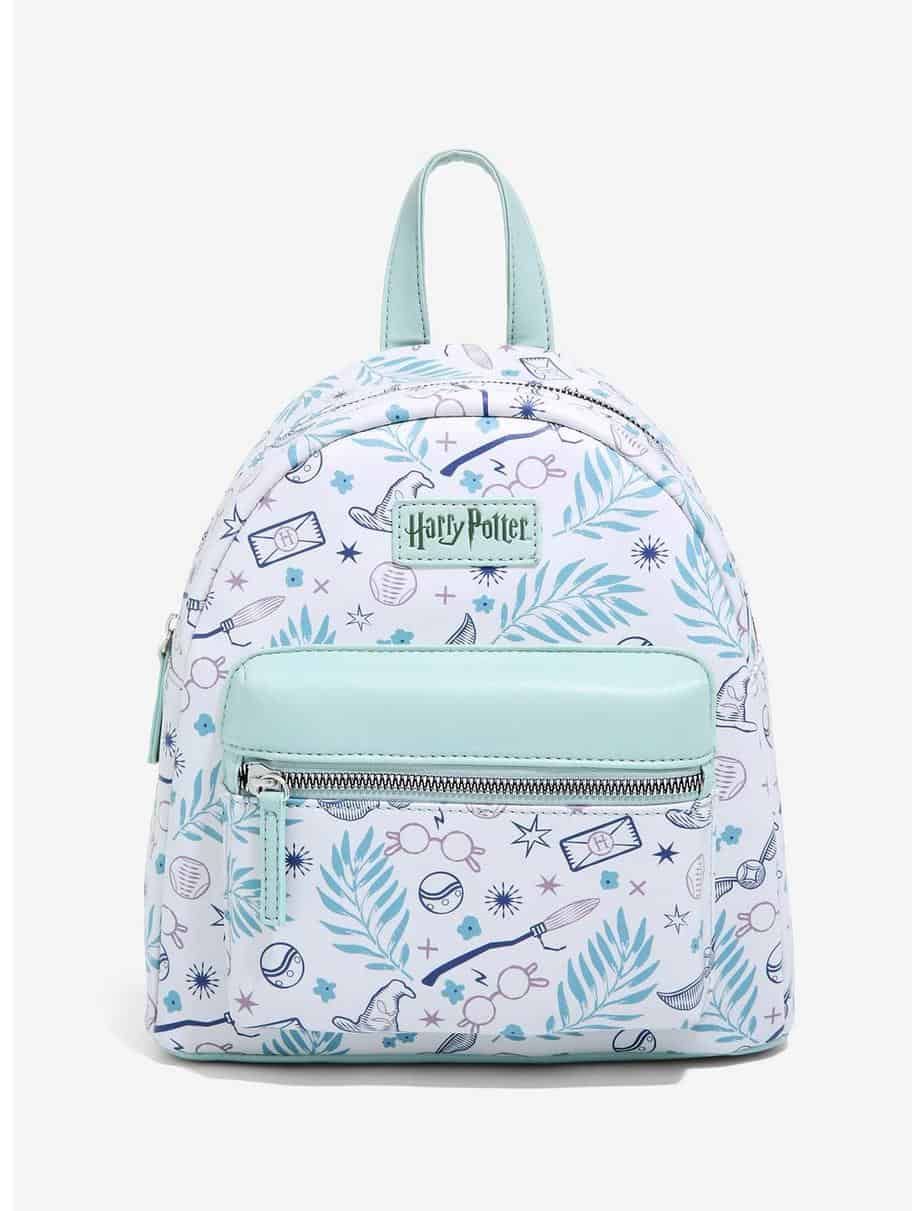 Bags can be super convenient if you do a lot of walking to and from places. You don't want to have to lug all your items around individually, so placing them in a bag is the best way to carry them. I've accounted for several different styles of bags, as I know everyone has different preferences.
I love to go hands-free whenever I'm carrying anything, and sometimes a regular backpack can be too big. So I love the Slytherin Drawstring Backpack. However, I'm also enamored with literally all of the Loungefly mini backpacks as they have such cute designs. I think my favorite is the Loungefly Luna Lovegood Crossbody Bag. If tote bags are more your style, then you'll love the Hogwarts School List Burgundy Tote Bag.
Jewelry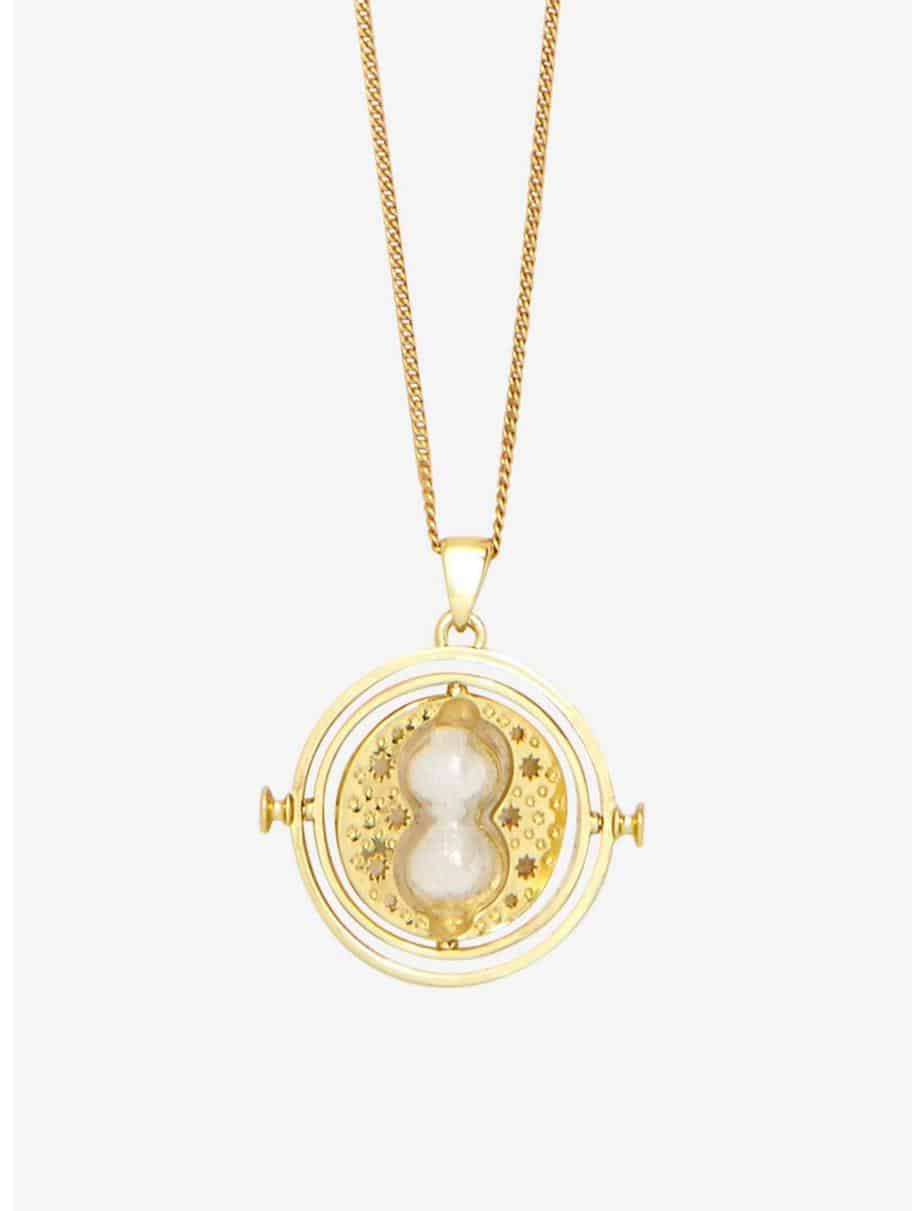 Sometimes you just want to look pretty. There's nothing like accessorizing with some jewelry to help activate your inner sparkle. There are plenty of themed Harry Potter jewelry items out there, and I've tried to find some of the very best examples for this guide.
I really enjoy the Time Turner Necklace from Hot Topic as it's based on the one that Hermione uses in Harry Potter and the Prisoner of Azkaban. I also think the Gryffindor Bracelet 4-Pack has a striking design that stands out from the other products. The Silver Plated Deathly Hallows Pendant is elegant and understated, and perfect if you're looking for something more subtle.
Costumes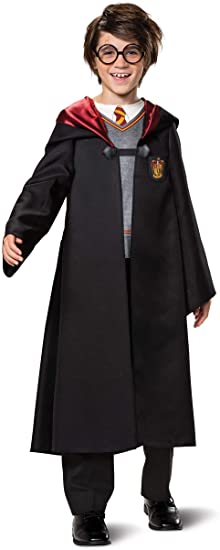 While most apparel is intended for daily usage, sometimes you may want to dress up as your favorite characters. Pretend you're a part of the Harry Potter universe with these fantastic costumes. These are great for playing with or for cosplaying at a convention. I've chosen a mix of adult and children costumes.
I think the Hermione Granger Yule Ball Gown is utterly stunning, and perfect for young children. It's made with beautiful shades of pinks, and is easily my favorite. I also really like the Dumbledore Replica Hat, because it's not something I've seen before, and I think it's such a unique item. The Professor Snape Costume is incredibly expensive, but it's also an incredible replica. It looks just like Snape's robes in the movies, and would be perfect for cosplay.
Decorative Merch
Although apparel is brilliant, you may be looking for merch which you can display prominently. There are some incredible items of Harry Potter themed decorative merch, and I can't wait to share them with you. As with before, I'm accounting for a range of tastes and budgets, so hopefully you'll find something that's perfect for you!
Prints and Posters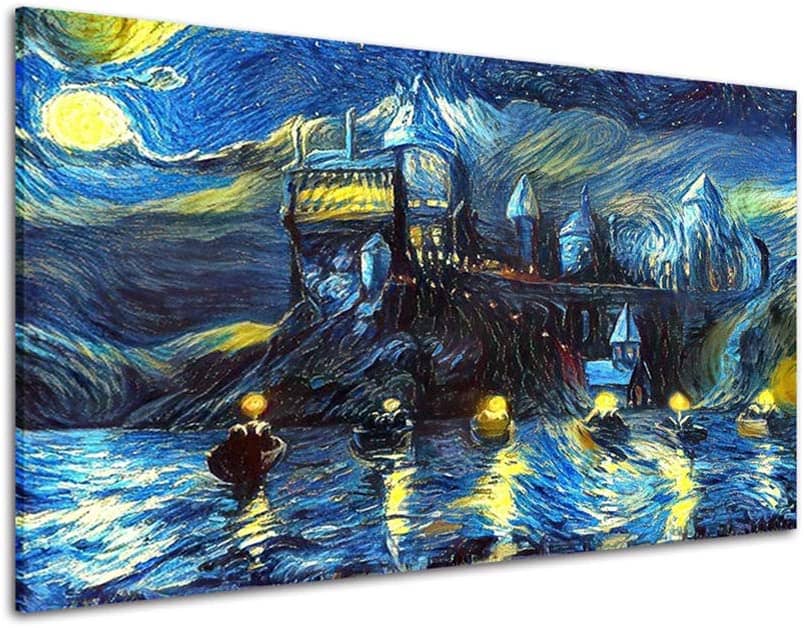 The great thing about prints and posters is that they're so thin, and can be attached directly to walls. That means that even if your space is limited, you can make the most of it. I love the varied art styles that people have, and it was a joy finding the best Harry Potter prints and posters for you.
I adore the colors in the Hogwarts Crest Watercolor Poster. It's so imaginative and beautiful. I'm also a huge fun of the Love Leaves Its Own Mark Poster as it's such a unique concept, and the colors are so vibrant. It's a memorable quote too and is great for spreading some positivity. If you prefer more traditional designs, the Quidditch at Hogwarts Poster could be right up your street.
Replicas
If you really want to elevate the status of your Harry Potter merch collection, then you should include some official movie replicas. These are based on authentic props from the Harry Potter movies, and look truly incredible. I wanted to showcase some of the best replicas that you can buy online.
When it comes to collectible wands, the Noble Collection is far and away the best brand. They put extra care and effort into getting all the details right. Their Dumbledore's Army Wand Collection showcases some of their best wands on a fancy stand designed to look like the sign-up sheet. The Cinereplicas Nimbus 2000 Broomstick is expensive, but has every right to be. Not only does it look sleek and exciting, but it's made of high-quality materials. I think my favorite replica has to be Professor Slughorn's Hourglass as I love the vibrant shade of green alongside the metallic silver. However, I'm also a huge fan of the Ravenclaw Diadem Horcrux.
Funko Pops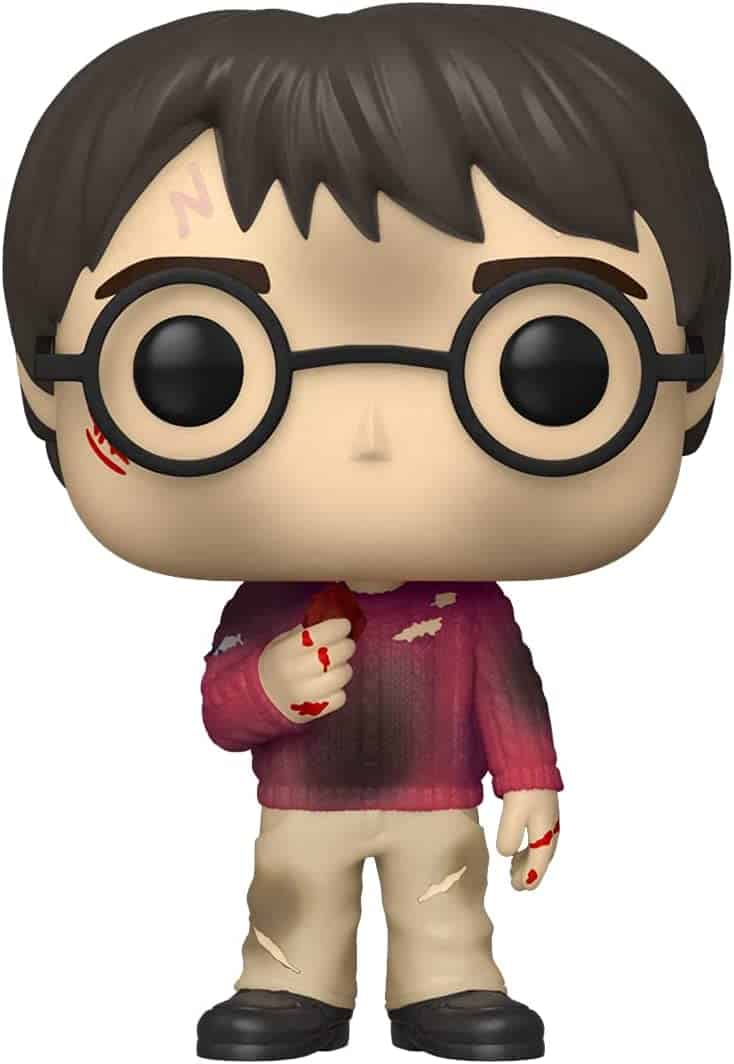 I'm a big fan of Funko Pops, and they're probably my favorite type of collectible. If you've not heard of them before, check out this handy guide to collecting Funko Pops. They're essentially collectible figures with a distinct shape (oversized head and round black eyes) that cover a wide range of franchises. Among them are some truly epic Harry Potter Funko Pops.
Unfortunately, a lot of the older ones are no longer available or are incredibly expensive, but there are still some stunning and very affordable figures out there. My personal favorite is Hermione Granger Yule Ball, and I have it in my own Harry Potter Funko Pop collection. I also have the Harry Potter Quidditch Outfit one, which contains lots of delightful detail. Dumbledore with Hogwarts is from the Town Funko Pop range and is a more complex figure as it comes with the building as well.
Enamel Pins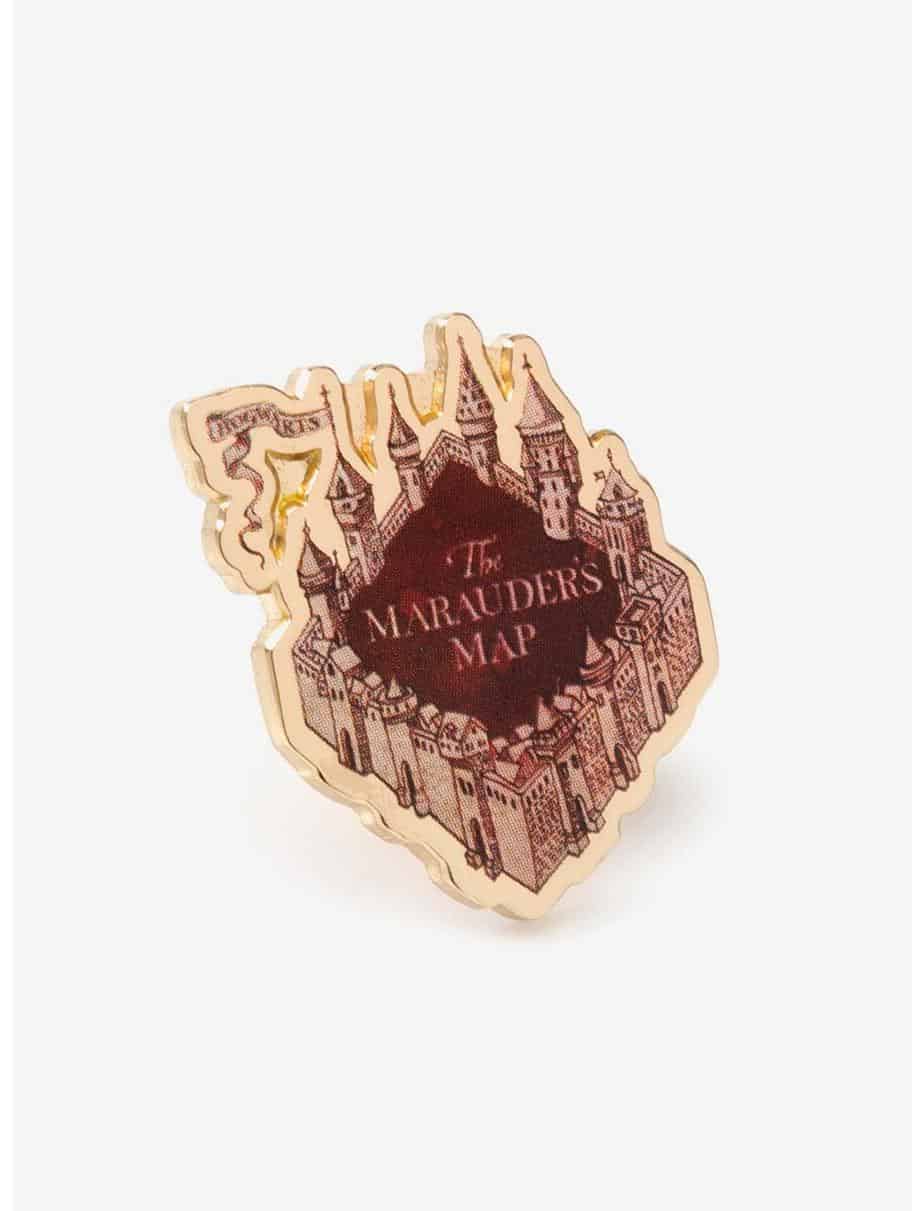 I'm a passionate collector of enamel pins and have several across a wide range of fandoms. I've found that the official Harry Potter enamel pins can be very hit or miss. Some of them are absolutely gorgeous, and constantly have me rethinking my budget as I try to justify buying them. Others look pretty tacky, and feel as though they're designed to fool non-fans who are looking to buy a gift for someone else. To help you avoid falling into that trap, I've included some of my favorites.
I know some of you may be looking to show some house pride, so I included pin designs for all 4 houses. I think the best style is the Ravenclaw Metal Crest Pin, but obviously, you might have a different preference. The Hufflepuff Attributes Pin is definitely a clever concept. I'm a huge fan of the Loungefly Magical Creatures Enamel Pin 4-Pack and I think the designs are so unique and stunning to look at. Also, as an avid collector of Funko Pop figures, I love the Funko Pop Fawkes Pin as the design is gorgeous and the colors are striking.
Cushions, Bedding, and Blankets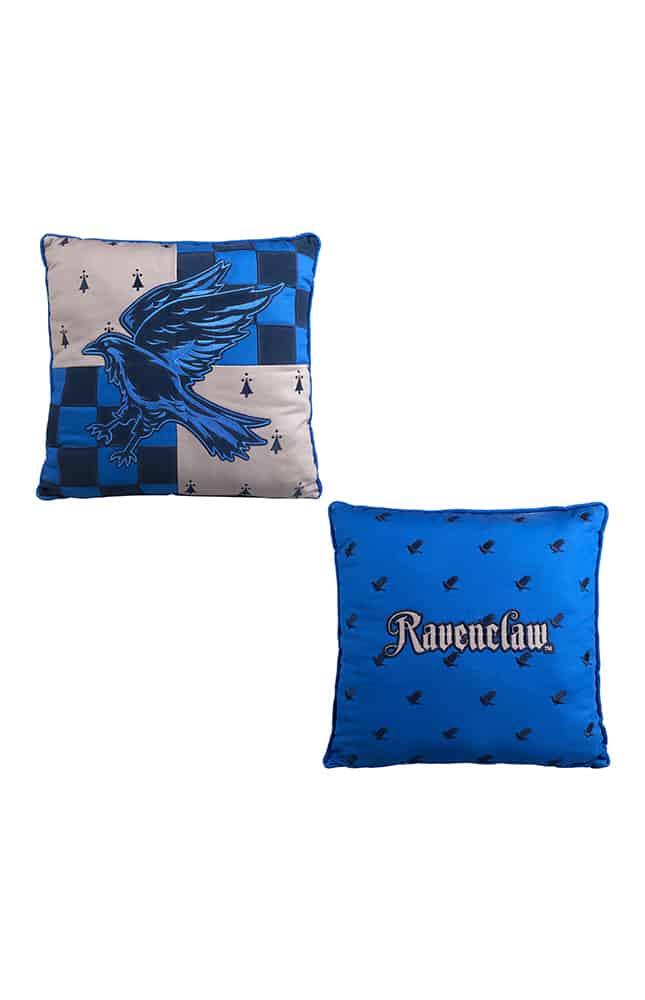 Want to give your room the personal touch? Check out these awesome merch pieces related to bedding. Whether you use them purely for decorative reasons or for an extra level of comfort, you're bound to love these wonderful Harry Potter-themed cushions, blankets, and bedding.
I love the It Does Not Do to Dwell on Dreams Quote Cushion as it's my favorite quote from the movies, and it's something I often remind myself of. I see it as my personal motto, and it would be awesome to have it on a cushion to see it every day. I'm also impressed by the quality of the Luxurious Gryffindor Bedding. I'm not a Gryffindor myself, but I can appreciate the stunning vibrancy of the red and gold. Hot Topic has pulled out all the stops with their The Three Brothers Blanket, and the colors really appeal to me.
Lego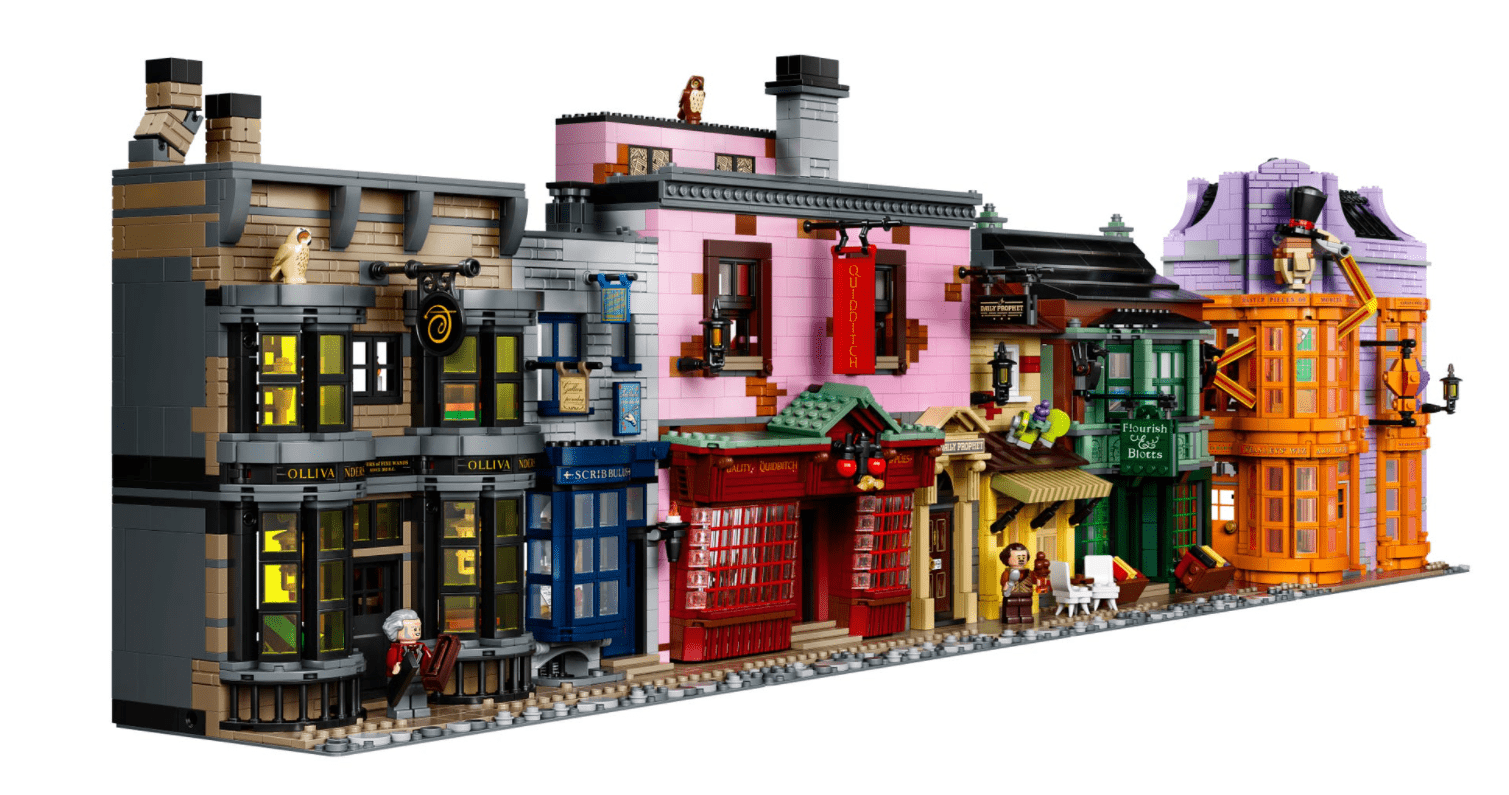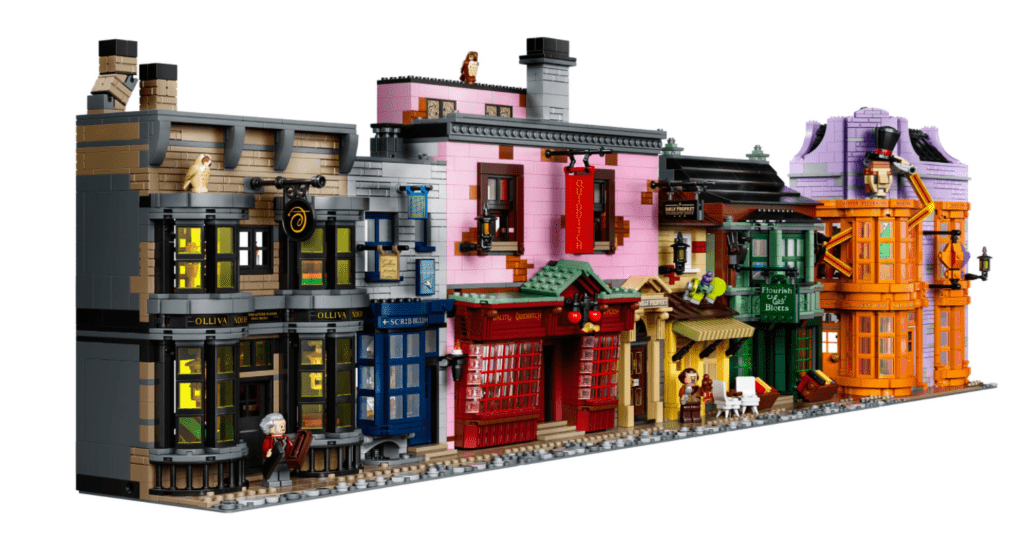 I sure do adore Lego. It's such a simple concept, but it can provide hours of fun. Although the market has evolved to have similar products from other brands, Lego have stayed on top for a reason. They have licenses with so many popular franchises, and their Harry Potter sets are brilliant. I've built several myself, and I know I'll buy many more in the future.
Easily my favorite is their Diagon Alley set, which is full of vibrant and eclectic colors. It's a truly magical build, and one I'd recommend to anyone who can afford it. If you're looking at a budget under $100, then Hogsmeade Village Visit is a fantastic choice. It's got both Honeydukes and The Three Broomsticks, and is a really fun build with a range of minifigures. Polyjuice Potion Mistake is fantastic as a cheap piece of Lego merch for a Harry Potter fan, and it even comes with a golden Harry minifigure.
Other Merch
While lots of Harry Potter merch items fall under either apparel or decorative, there are plenty of other products too. It's hard to categorize them under one umbrella term, so I'm putting everything else here. Of course, this isn't an exhaustive list, but I've tried to find a range of useful or interesting merch items that people might enjoy. These are perfect as gifts, or just for yourself.
Mugs and Glasses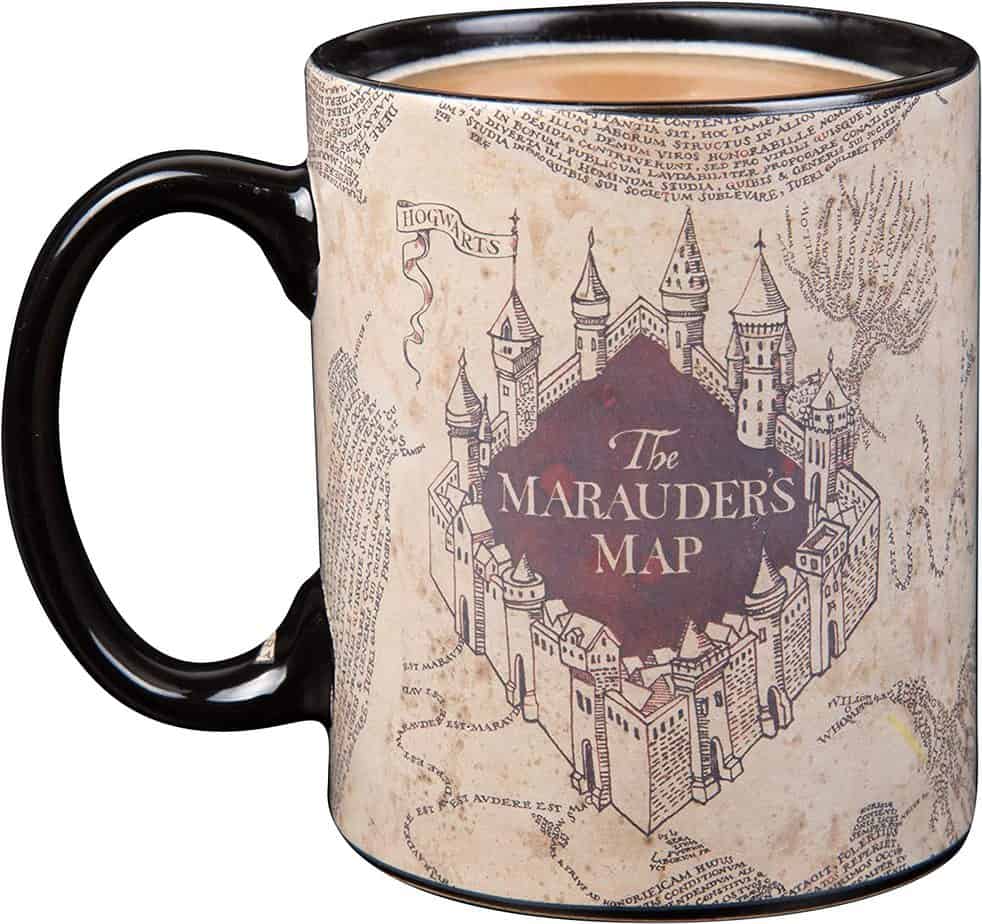 Most people love hot drinks, and you can never have too many mugs. That's what makes them such great gifts, and they make the perfect merch for the Harry Potter fan in your life. And if they don't enjoy hot drinks, then there are plenty of Harry Potter-themed cups suitable for cold drinks too.
I love the cheery design of the Honeydukes Boba Acrylic Travel Cup, and it's reasonably priced as well. The Hogwarts Christmas Camper Mug is the perfect gift for the holiday season, and its large size means it can hold plenty of delicious tea/ coffee. The Hufflepuff Loyal Mug has a striking design that would appeal to many fans. That style is also available for the other houses.
Stationery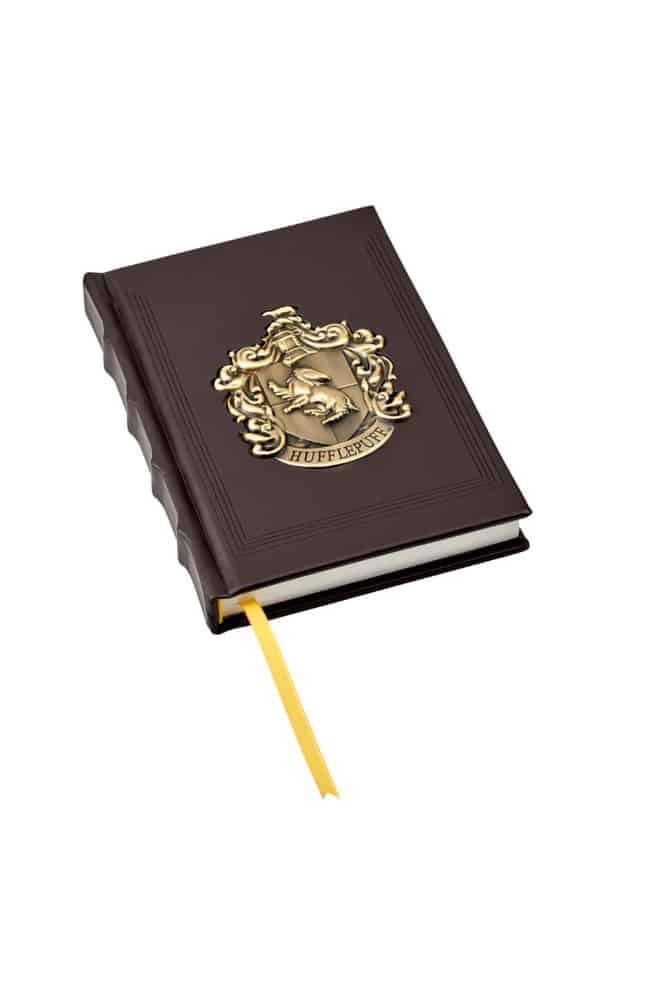 This past year or so I've gotten really into journaling, and it opened my eyes to the incredible world of stationery. There are so many fantastic items out there that can be useful in a variety of settings. I love all things sleek or colorful, and this is certainly the category for people with an artistic eye. Unsurprisingly, there's an excellent range of Harry Potter stationery, and I've chosen some of my favorites for this merch guide.
I'm a big fan of the Harry Potter Icons Washi Tape. It has so many uses, because it can be used decoratively for crafting, but also works when wrapping a gift. The Accio Lined Long Notepad is a really convenient size for making lists. Use it to plan grocery shopping, or write down your daily tasks. It even has a magnetic strip on the back so you can attach it to your fridge. I adore the style of the Chibi Sticker Bundle. If you like scrapbooking they'd be great for adorning the pages, but would also work well as laptop stickers.
Wallets and Card Holders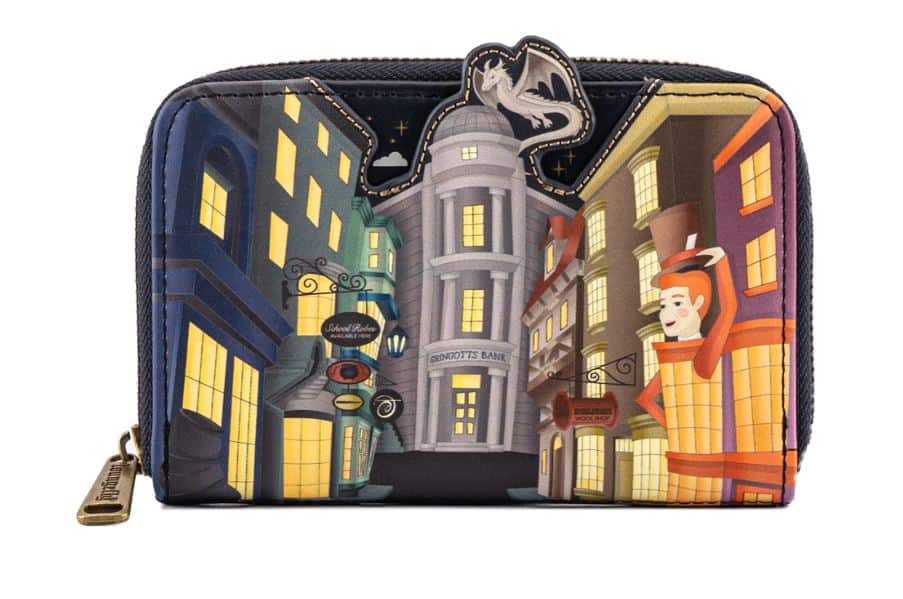 Keep your money safe in style with these awesome Harry Potter wallets and cardholders. Even though they're only pocket-sized (or at least small enough to fit in a handbag), it's amazing the amount of detail that they've managed to fit into these designs. Some of them have zips, some of them don't. Some are designed for cash, others just for cards. I've tried to account for different preferences and budgets, so see which of these strike your fancy.
I'm in love with the Loungefly Floral Deathly Hallows Wallet, and would definitely buy it for myself if I had the budget for it. If you can afford it, I highly recommend it. The Slytherin Crest Card Holder is totally my style, and the camo aesthetic is simple but effective. The design is available for all the other houses, too. I must admit, the Dumbledore Has Style Wallet looks ridiculous, but I've included it for the meme value. I think it's the kind of thing that younger Harry Potter fans would love because it's funny.
Kitchen Accessories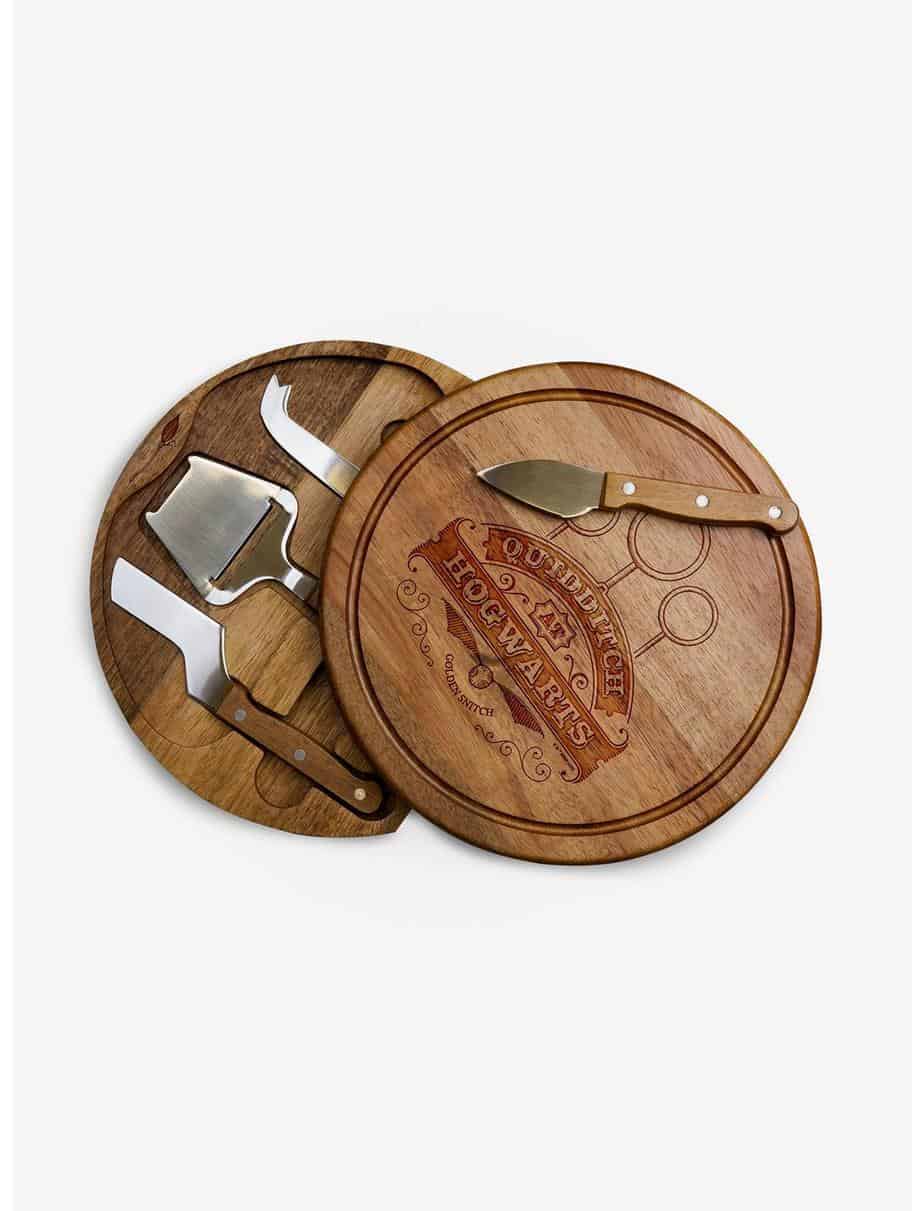 I really love to cook, and it's always exciting to find new kitchen accessories. Better yet when they're Harry Potter themed. If you spend a lot of time in the kitchen (or you want to buy a gift for someone who does), then this is the category for you. Some items are kitchen essentials, others are more unusual. I was happy to see that there were so many great options.
The Hufflepuff Appetizer Plate looks elegant and would be perfect for dinner parties. The style is also available for all 4 other houses too. The Ceramic Cauldron Soup Bowl with Spoon is such a unique Harry Potter-themed way to enjoy your soup, as you can pretend you're drinking some magical potion. If you have the funds to spend on it, the Hogwarts Quidditch Cheese Board and Tools is a luxurious and classy way to serve your cheese course. It's expensive but is bound to earn appreciative compliments.
Miscellaneous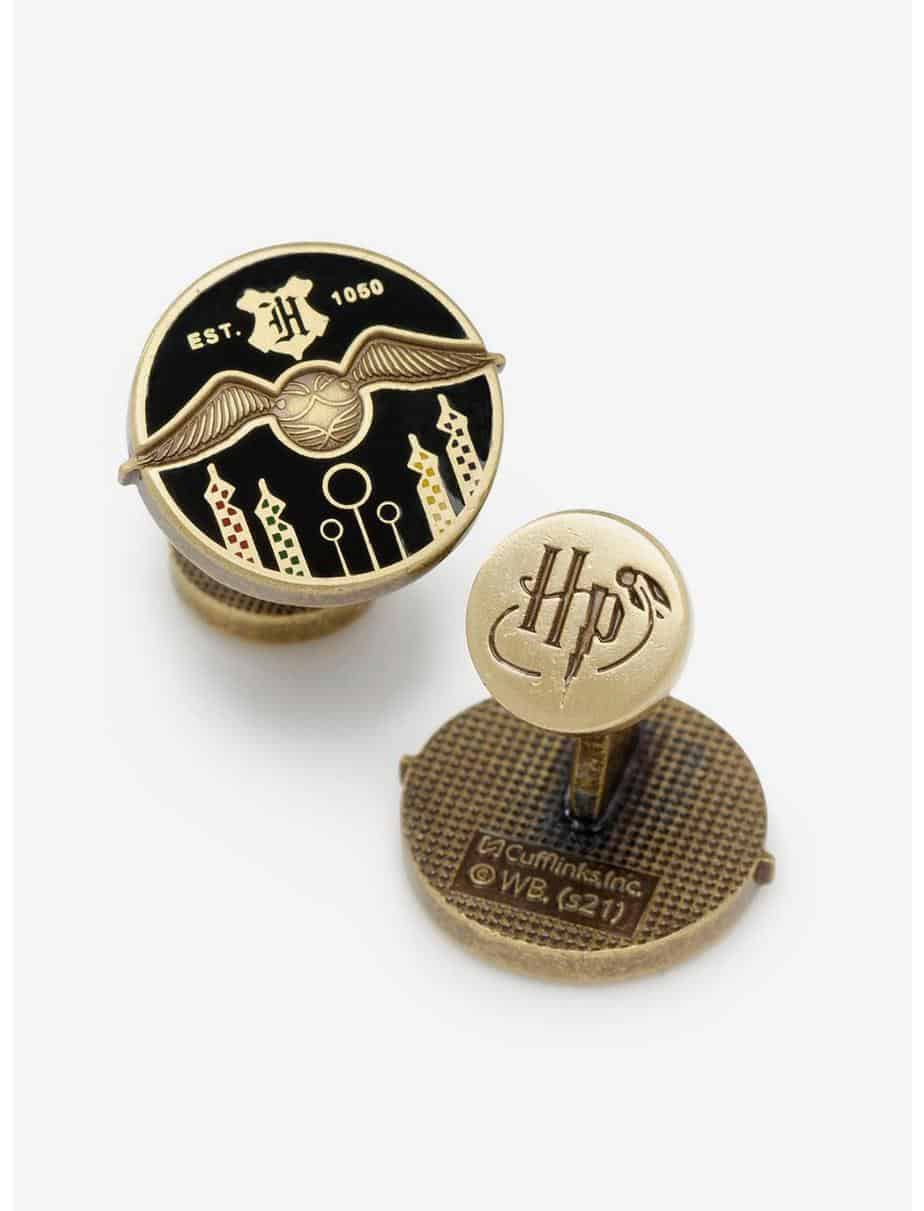 Obviously, there are plenty of Harry Potter merch items I could've put in this miscellaneous category seeing as it covers literally everything else. It would take forever to try and list every type of product available out there, and also wouldn't be very useful for you as a consumer as you'd be overwhelmed with choice. As such, I've chosen just one example in a handful of categories, and hopefully, something will jump out at you.
I love the charming elegance of the Quidditch Field Cufflinks. They're a great way to bring your personality into a fancy event of some kind. The Ravenclaw Scented Candle not only has a beautiful design but can also help your house smell pleasant. It's available for all 4 of the houses. I adore the art style of the Trio Illustration Puzzle, and think it's a wonderfully unique item of merch. I've also never seen anything like the Hedwig Plush Bank, and think it's a fun and adorable way to save up your money.
Conclusion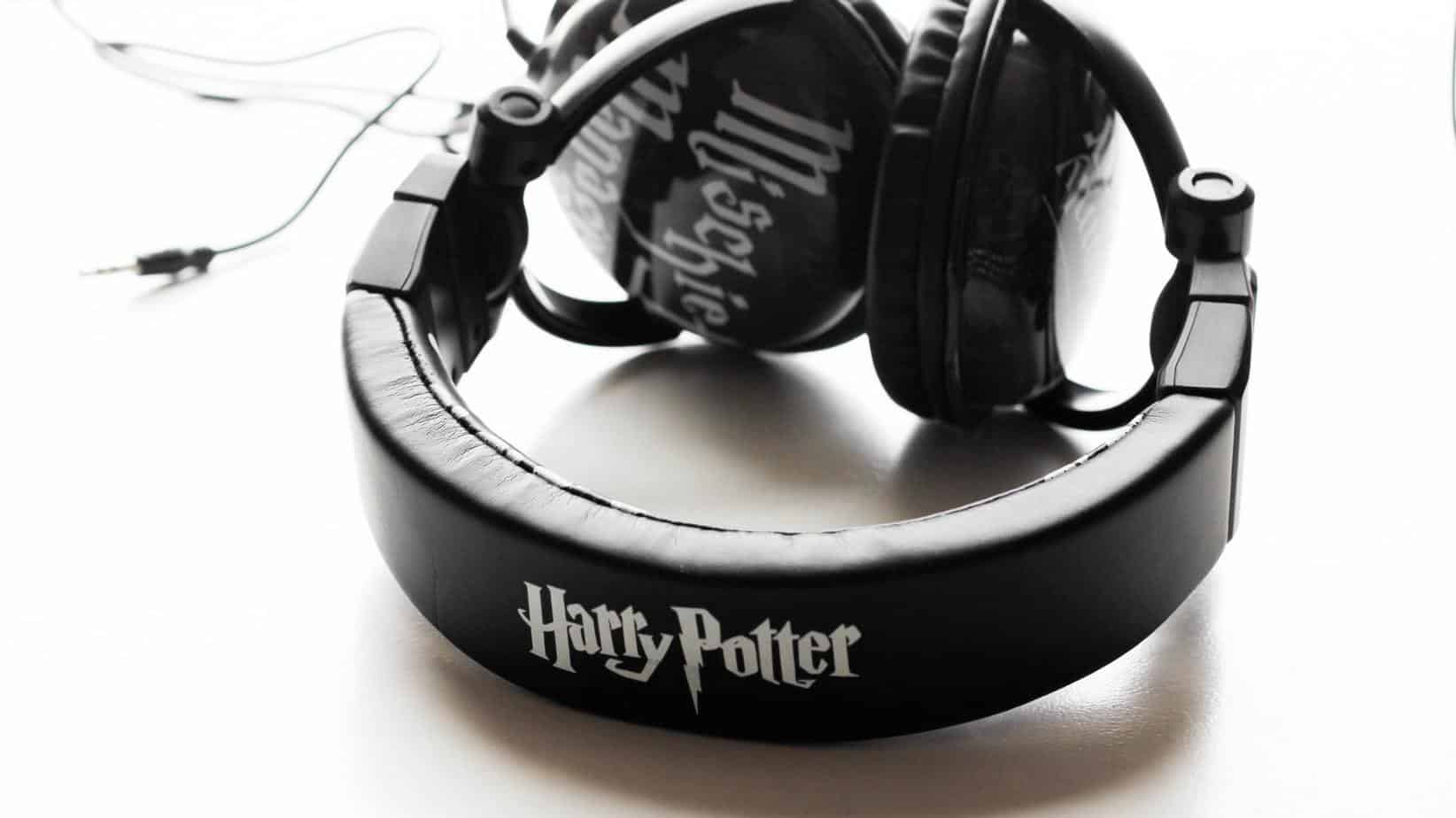 All in all, there's an incredible selection of Harry Potter merch out there, and this guide barely scratches the surface of what's available. Nevertheless, I feel I've chosen some of the best products there are, and I'm confident any Harry Potter fan would be pleased to receive these as a gift. The series is still as popular as ever, and new merch is being released all the time, so even though this guide contains some excellent items, don't be afraid to branch out.
Harry Potter is a large enough franchise that there are plenty of official items, but if you prefer to support small sellers, you can find plenty of unique handmade items. If you want to get something one of a kind, then you can check out Etsy and find merch that's just right for you. Just be careful to check the seller's feedback first, and be aware that the items won't be officially licensed. Have fun finding yourself some wonderful new merch!
FAQs
Question: What Harry Potter Merch Should I buy as a Gift?
Answer: As with any gift, it always depends on the recipient. If you don't know much about them, then apparel is always a safe bet. An officially licensed Harry Potter t-shirt could be the perfect gift, as they're pretty much universally enjoyed by everyone. If you're close with the recipient, think about their interests, and choose something they're likely to use. Perhaps an enamel pin or kitchen accessory. Just be sure to know what house they are in (if they're a Harry Potter fan, then they'll have a favorite). You don't want to buy Gryffindor merch for a Slytherin!
Question: How do I Know if Harry Potter Merch is Official?
Answer: Officially licensed merch will state so in the listing. No matter how high quality the merch item looks, if it doesn't say it's official, then it probably isn't. This doesn't apply to brands such as Hot Topic, Box Lunch, or the Noble Collection that have a partnership with Warner Bros, and their listings may sometimes skip mentioning the official license. If you're unsure, you can Google the name of the store and see if it's official. But if you find it on a site like Amazon, then it probably isn't official.
Question: Are Hogwarts Houses Important for Merch?
Answer: In a word, very! Most Harry Potter fans feel a strong connection to one of the 4 houses, and wouldn't want to receive merch for the wrong one. The 4 houses are Gryffindor (red and gold), Slytherin (green and silver), Hufflepuff (yellow and black), and Ravenclaw (blue and bronze). If you're unsure what house someone is in, just ask them, and they'd be happy to tell you.
Find more Harry Potter inspired merch by reading these guides below:
The Best Harry Potter Blanket Ideas
Best Harry Potter Loungefly Guide
Best Harry Potter Funko Pop Guide
Gorgeous and Epic Harry Potter Purse Ideas
You Won't Believe Some of These Amazing Harry Potter Inspired Jewelry