Have you ever walked out of a Harry Potter movie desiring to wave a wand and shout Expecto Patronus in the middle of the street? Or perhaps you were so impressed with Star Wars that you wanted to purchase a lightsaber that very instance.
Whether we like capitalism or not, movie merch is a billion-dollar industry. Before you spend your money recklessly on T-shirts and keychains, let me reveal this best movie merch guide I've put together.
Bottom Line Upfront
One thing you'll learn from reading my guides is that I'm a massive nerd for so many fandoms! I've got the Harry Potter – Hermione's Time Turner necklace, Twilight Exclusive Dust Jacket Set for my Twilight books, Harry Potter wands, A Pirates of the Caribbean sword, and so much more. So, I can't pick just ONE favorite from this guide. There are too many!
Movie Merchandise Fun Facts
Even if not all of them are allowed to do so, some brands will slap a movie name on their product and benefit from that cloud to advertise the item. While this is typically not legal, it's also a very common practice.
Throughout the years, movie merchandise has become something that we are all very fond of because it's our way of feeling closer to the story and the characters. That's why I wanted to share some cool facts about movie merchandise.
Mean Girls Gone Bad
Arguably the most popular teenage movie of my generation was Mean Girls. In 2011, seven years after the movie was released, Nintendo launch the game based on the movie. Since the start of the movie, Lindsay Lohan, was not what you would expect your teenage daughter's role model to behave like, the developers erased the actress off the cover of the game.
Alien Toys for… Kids?
As a way of capitalizing on the unexpected global success of its Star Wars toys, Kenner was eager to acquire any major science fiction film that it believed had the potential to be the next great thing. Unfortunately, the film it chose was Ridley Scott's Alien, which was disappointing.
It wasn't a family-friendly space adventure, but rather a violent, claustrophobic, and horrifying horror film instead. However, before it realized what it had done, it launched a quite spectacular 18″ xenomorph figure that was quietly pulled after a slew of complaints that it wasn't exactly an acceptable toy for children.
Soundtrack from the Movie with no Soundtrack
The Blair Witch Project is a discovered footage film that popularized the notion. It does not contain any soundtrack. After it rose to become one of the most profitable films of all time, a soundtrack CD was released to try and capitalize on the film's popularity.
Albums of music titled 'From and Inspired By The Motion Picture' that are only remotely related to a movie aren't unheard of, but this one was marketed as a mixtape with actually had a combination of spooky black metal and goth rock. It allegedly came from the car of the missing people.
Most Expensive Movie Merchandise Ever Sold
From costumes to movie props, cinephiles all over the world were to spend tremendous amounts of money on unique items of high value. While some of these amounts are ridiculous, here is how much money people have spent on movie-related stuff.
Robby the Robot from Forbidden Planet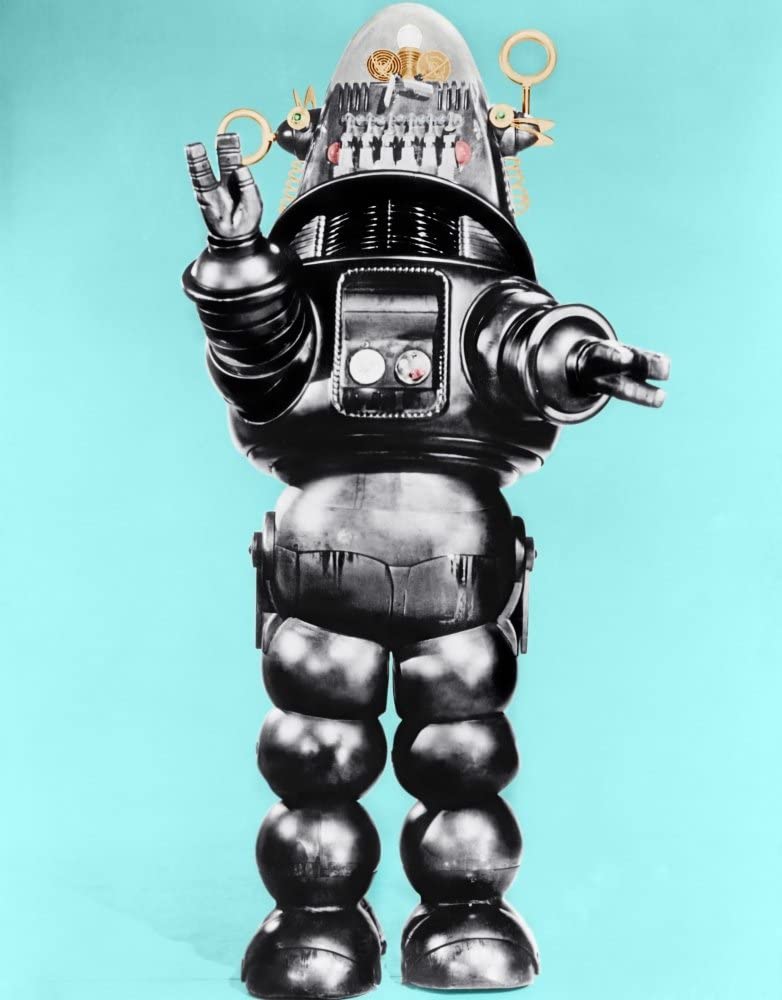 After making his debut in Forbidden Planet in 1956 and later appearing in The Addams Family and The Twilight Zone, Robby the Robot became the most expensive movie prop ever sold at auction, selling for $5.375 million.
Indy's Hat from Raiders of the Lost Ark
In his four Indiana Jones films, Harrison Ford and his famed explorer have come out on the other side of many a scrape — with the actor frequently reaching for and retrieving the character's characteristic hat from danger just in time.
One of Harrison Ford's hats from the first Indiana Jones film, Raiders of the Lost Ark, was auctioned off for $424,000 during an auction in 2018.
Ruby Slippers from The Wizard Of Oz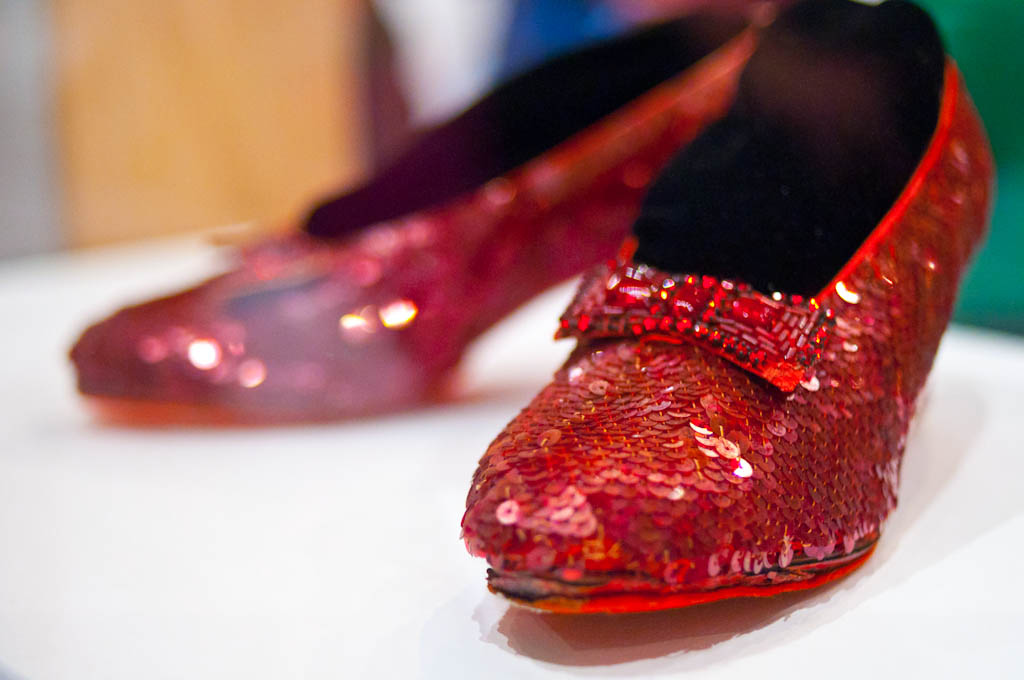 This is a film that most of us remember from our childhood. As well as the film's fascinating pair of ruby slippers, which were worn by Judy Garland, we all remember the movie to some degree.
In reality, just four pairs of shoes were ever produced. The last pair was sold at auction in 2000 for $660,000, and another is presently on display at the Smithsonian, which is open to the public.
Marylin Monroe's White Dress from The Seven Year Itch
This dress was in the film The Seven Year Itch where she donned a delicate white dress, and the scene in which the wind blew her dress aloft and she grabbed it down was instantly immortalized.
It belonged to Debbie Reynolds, who intended to use it as the centerpiece of a museum dedicated to her extensive collection of Hollywood costumes, but her plans fell through. Instead, she put the dress up for auction, where it sold for a whopping $4.6 million.
Aston Martin DB5 from Goldfinger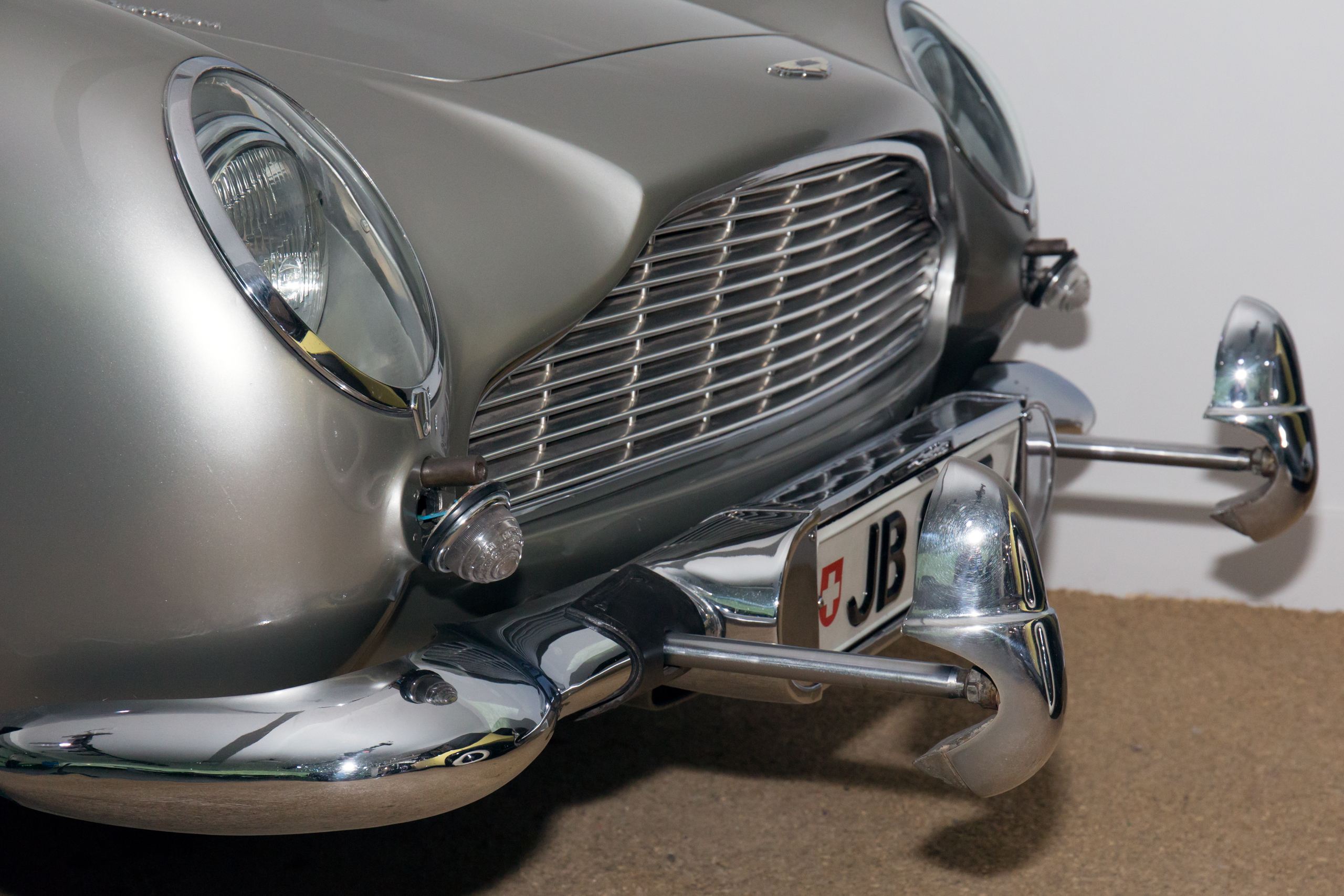 It was driven by Sean Connery in his best Bond movie, and two DB5s were used in the production of Goldfinger. Machine gun tail lights and rotating license plates were installed on the car dubbed the "Effects Car" while the "Road Car" was designed for everyday driving. 4.6 million dollars was paid for one of them in 2010.
Movie Franchises with the Best Merch
For the longest time, I've wondered if movie merch is so popular because of the movie or if all these mugs and shirts are just a way to advertise the movie itself. Whichever way it works, it's brilliant and it makes money.
After a film's premiere, the traditional movie-making procedure continues indefinitely. After all, the film's existence is only just getting started. Traditionally, after a theatrical release, a film will be released on DVD or Blu-ray, followed by a television broadcast.
It may also have well-known merchandising products that earn millions of dollars in revenue all around the world, as well
In many cases, filmmakers and producers begin thinking about merchandise before they have finished writing the final script for the film. Consider the implications of this.
How many times have you become emotionally attached to a major character in a movie? Or with a piece of clothing, a tool, or a doll that appears in the scene? This is not a coincidental occurrence. It's a highly engineered piece of equipment.
In the film industry, Harry Potter and Star Wars have been the films that have earned the most money through their merchandising strategies, and they are two excellent examples of this type of marketing engineering at work. So, what are some other movies that have made sick money by selling merch?
DC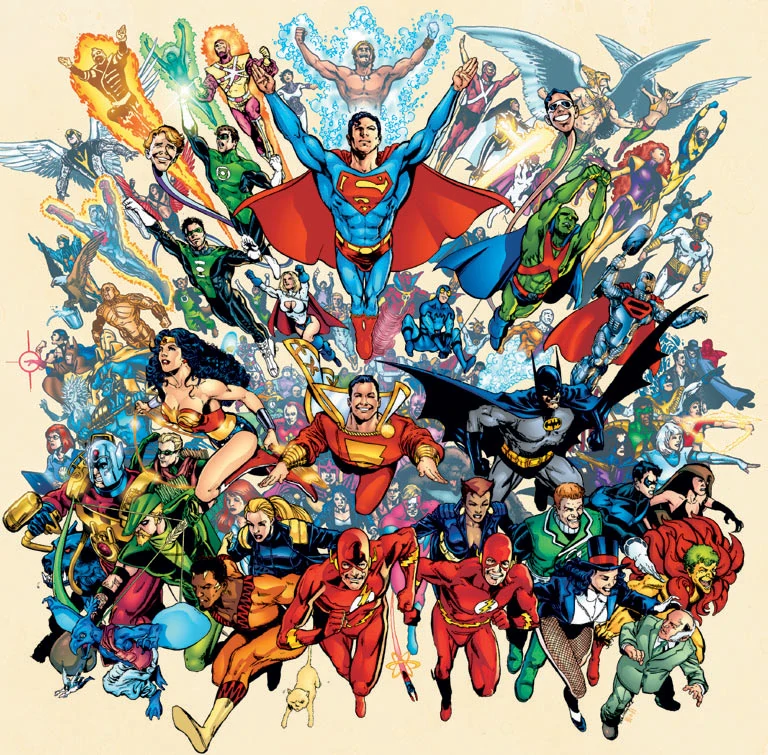 I believe it is important for you to understand that DC Comics and the DCEU are two entirely different entities. The DC Extended Universe is currently owned by DC, whereas the DCEU, on the other hand, is a film series centered on superhero characters who share a common universe.
The blockbuster film Man of Steel, released in 2013, was instrumental in bringing the DCEU into being. That was the point at which DC decided to put the franchise into full swing. Since then, nine major motion pictures have been released, grossing a whopping $5.6 billion in ticket sales worldwide in the process.
Because consumers are returning to the theaters on a more regular basis, more films are projected to be added to the schedule in the coming years. Suicide Squad, Black Adam, and possibly a sequel to Shazam! are among the projects in development.
As far as movie merch goes, I don't think there's an item you could think of that couldn't bear the DC mark. Collectible figurines and statues, comic books, video games, water bottles, throw pillows, keychains, towels, you name it.
Marvel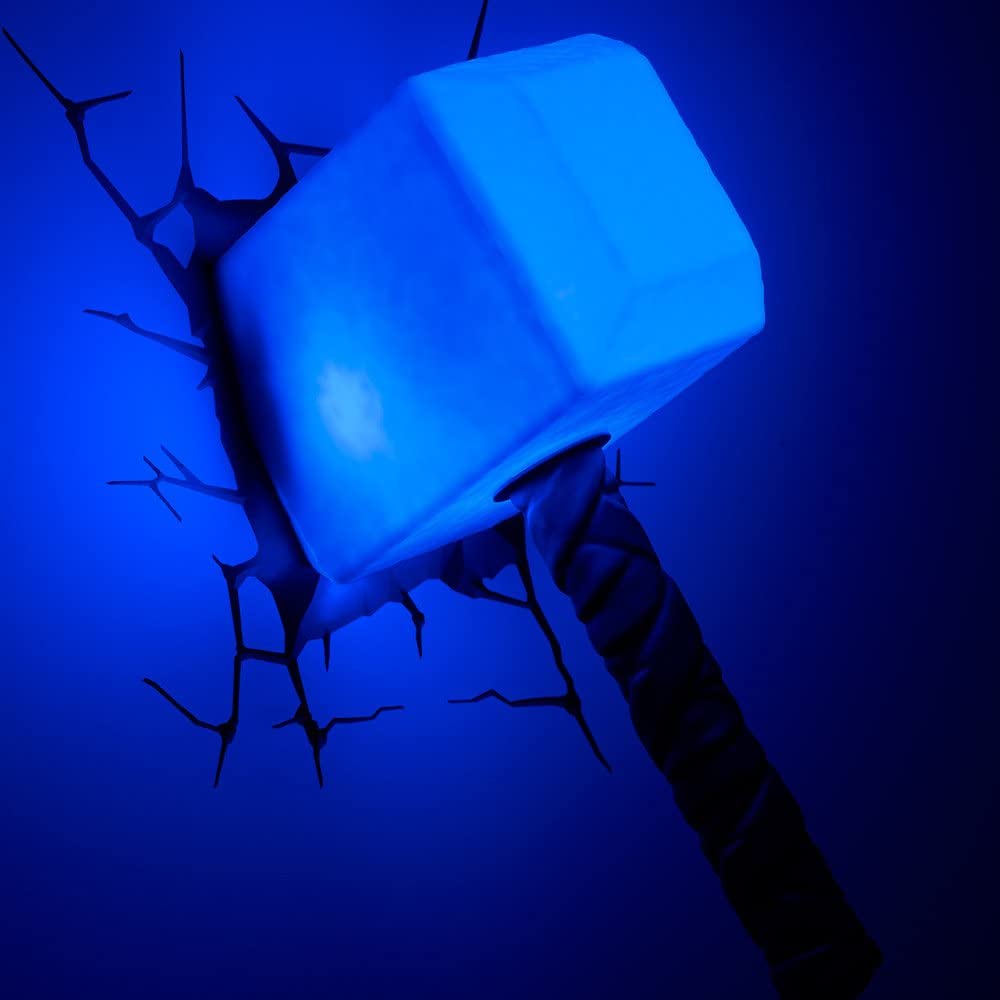 Merchandise based on Marvel has been around for a long time and continues to be a big part of our pop culture. As the Marvel Cinematic Universe has elevated these superheroes to new levels of popularity, Hasbro and designer Dave Vonner have released several waves of new action figures.
From costumes to collective figurines, they have all become increasingly popular as a result of the Marvel merchandise explosion in recent years. The infinite variety of characters in the universe means that marketing possibilities are virtually limitless. Even if you don't have the cash, you can still amass every piece of Marvel memorabilia there is.
Disney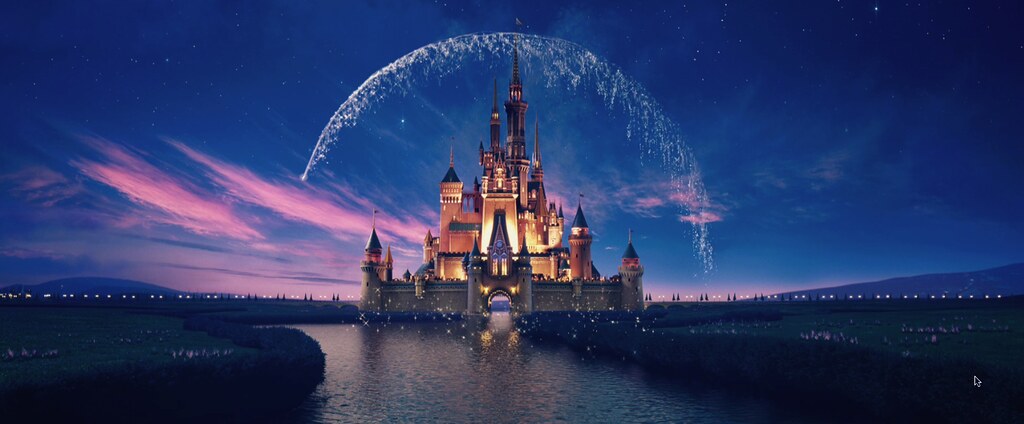 From Toy Story to The Lion King, Disney has made a fortune selling merchandise. However, even with some movies becoming huge box-office hits and their merchandise selling like hot pancakes, there is one movie that rules them all, and it bears the Disney banner.
For a long time, it looked as if the classic Disney fairytale had passed into obscurity. Disney's signature magic is alive and well in children, as "Frozen" proved. The "Frozen" fever may have worn out some parents' wallets. It's likely that if your parents bought you "Little Mermaid" and "Lion King" toys and clothing as a kid that as an adult, you'll have a difficult time saying "no."
Frozen (and Disney merchandise in general) includes everything a kid could want: blankets, backpacks, shoes, posters, shirts, mugs, dolls, wallets, tiaras, and even Funko Pops
Star Wars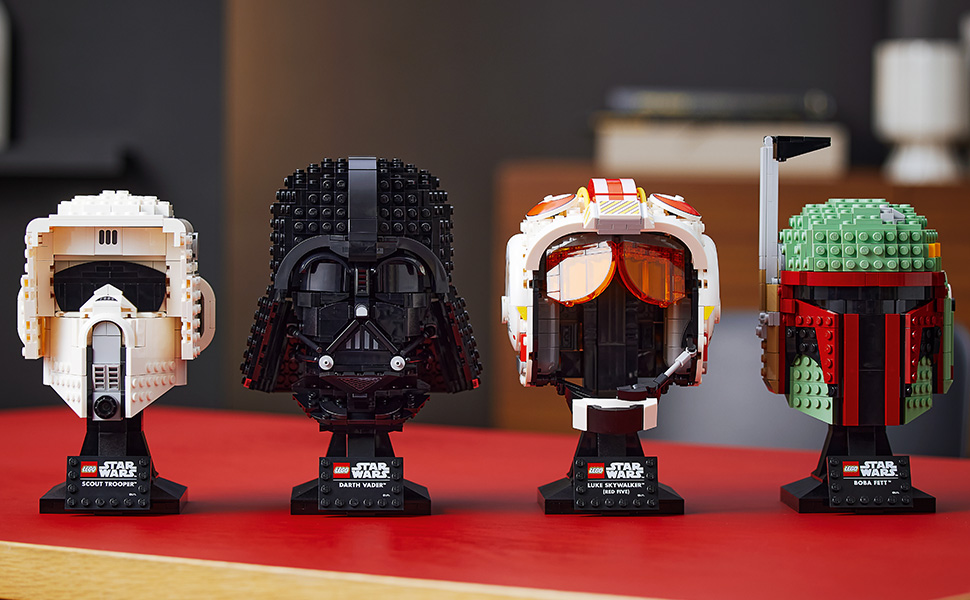 Some people might argue that Star Wars is more than just a movie series; it's a religion. George Lucas purchased the merchandise rights to "Star Wars" from 20th Century Fox in 1977 because studios were ill-equipped to market films at the time.
Since "Star Wars" is now the most successful film merchandising franchise in the world, this was a big mistake for them. The popularity of "Star Wars" action figures and plastic lightsabers shows no sign of abating.
Toy sales for "The Phantom Menace" were booming even before the film was released in 1999. If you're a Star Wars fan, you can buy everything from pins and badges to coffee mugs and Lego Battlestar Galactica.
Harry Potter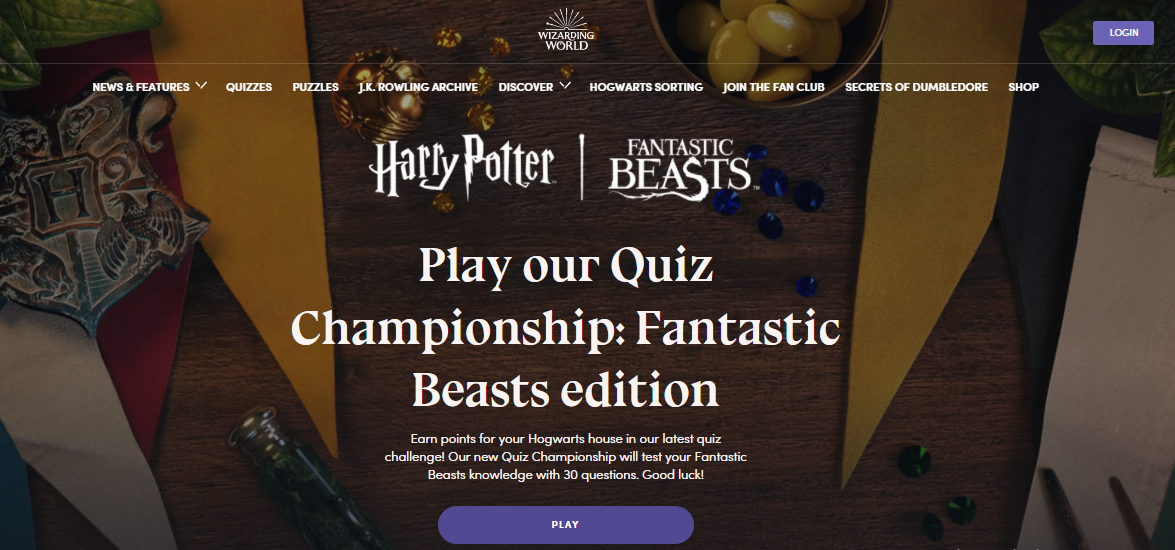 J.K. Rowling created one of literature's most fantastical worlds with her "Harry Potter" books. The film adaptations, as well as the merchandise, brought Rowling's world to life. As a true Harry Potter fan, you've undoubtedly purchased several T-shirts, bags, spectacles, sticker books, or wands.
If you're a die-hard fan, you've probably spent all of your money on expensive replicas and collectibles of the costumes and props from the show. You'll need to visit the Wizarding World of Harry Potter to get the full Hogwarts experience. You get your money's worth out of this journey.
Lord of the Rings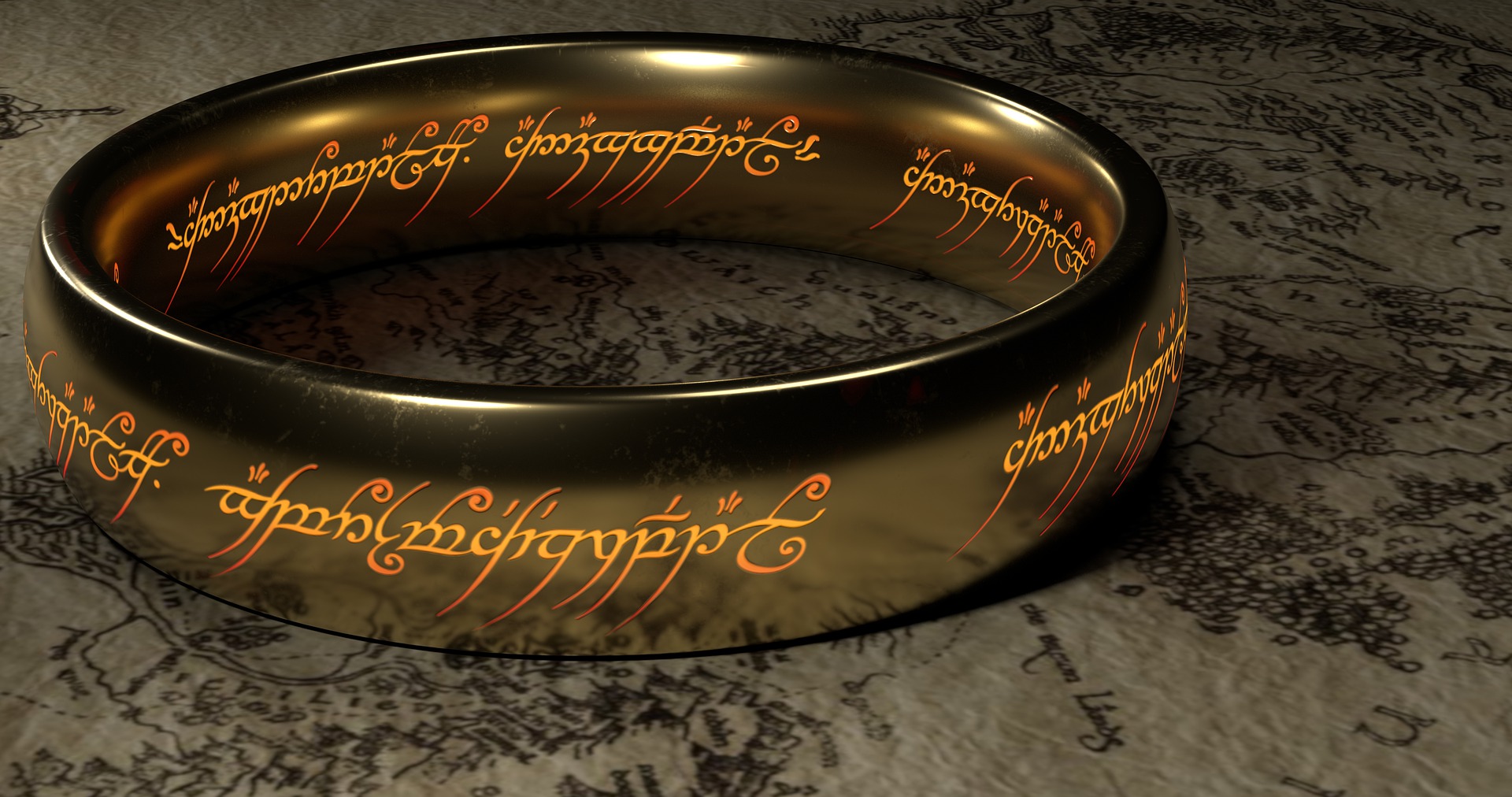 When talking success and numbers, the Lord of the Rings trilogy is a jaw-dropper. Since being released in 2001, it has become widely recognized as an iconic and enduring film series. Is one of the most successful film series of all time with worldwide receipts of $2.991 billion.
With the massive amount of merchandise that has sprung up as a result of this massive mix of literary and cinematic adaptations, the entire value of the Lord of the Rings franchise continued to grow with each new film release, including extended video editions of the theater versions that include commentary from the cast and crew as well as deleted scenes.
Pirates of the Caribbean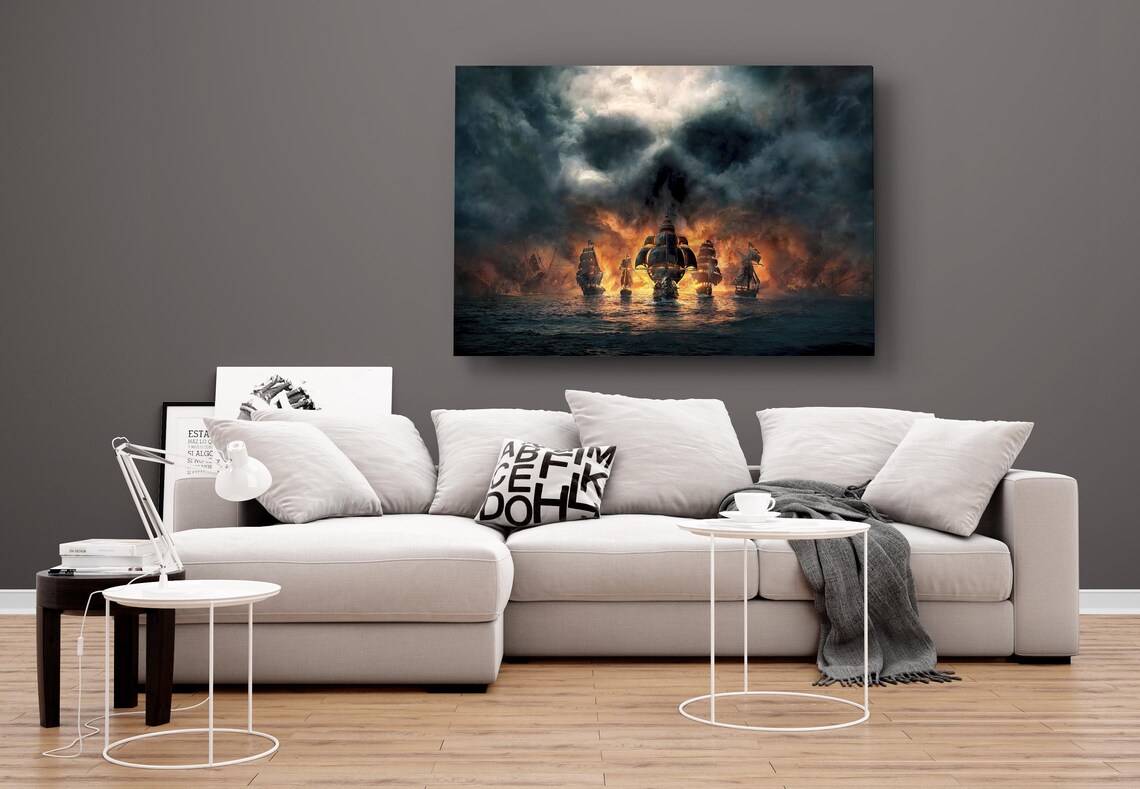 If you think about it, it's hard to believe that a theme park ride at Disneyland was the inspiration for a $4.5 billion film franchise. When the first trilogy came to a close, many people speculated that the Pirates of the Caribbean franchise would be on its way out. However, Depp was paid $55 million to reprise his role as Captain Jack Sparrow.
As for the merchandise, the collection is rather impressive. I've seen everything from medallions to treasure maps. You can find interior decorations that look like they were stolen from aboard The Black Pearl. You have T-shirts, badges, Funko Pops, and many more.
Twilight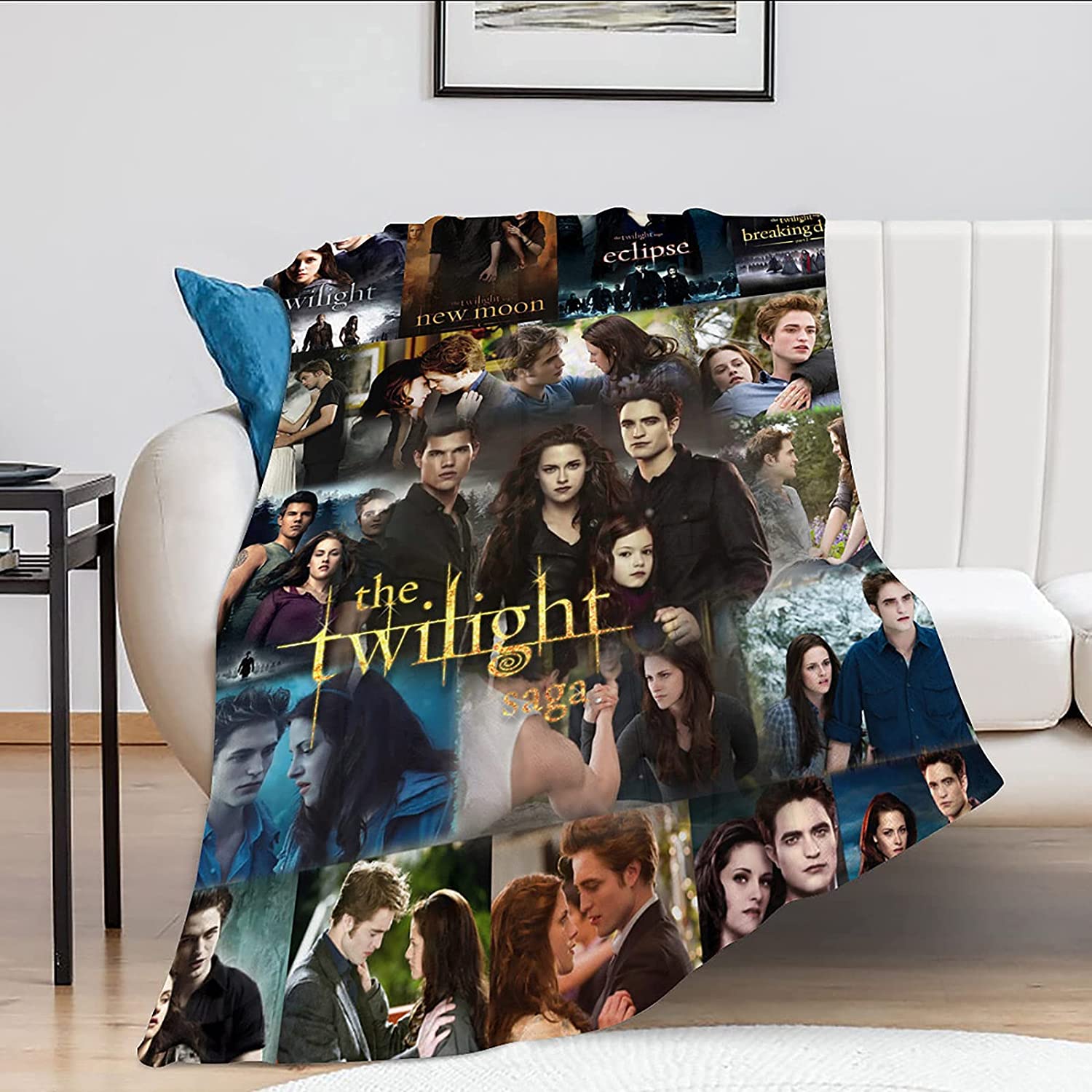 The Twilight Saga is that movie series that you either love or hate, there's no in-between. The series has made more than $3.3 billion in worldwide box office receipts so far, and it currently consists of five feature films.
I mean, what's not to love? It's a spicy love story, your typical mortal girl meets a vampire guy but also kinda likes a werewolf, which can make it difficult to choose. Whether you're Team Edward or Team Jacob, you can find merchandise that warms the soul and puts you in the spotlight as a true Twilight fan.
I've seen it all: from purses to keychains, from mugs to wall posters, and even Funko Pops that bring the Bella-Edward-Jacob love triangle to your very own bookcase.
Best Places to Shop for Movie Merchandise
If you love a movie and want to support it and also showcase how big of a fan you are, I've listed some shop ideas to know where to start looking for items.
Amazon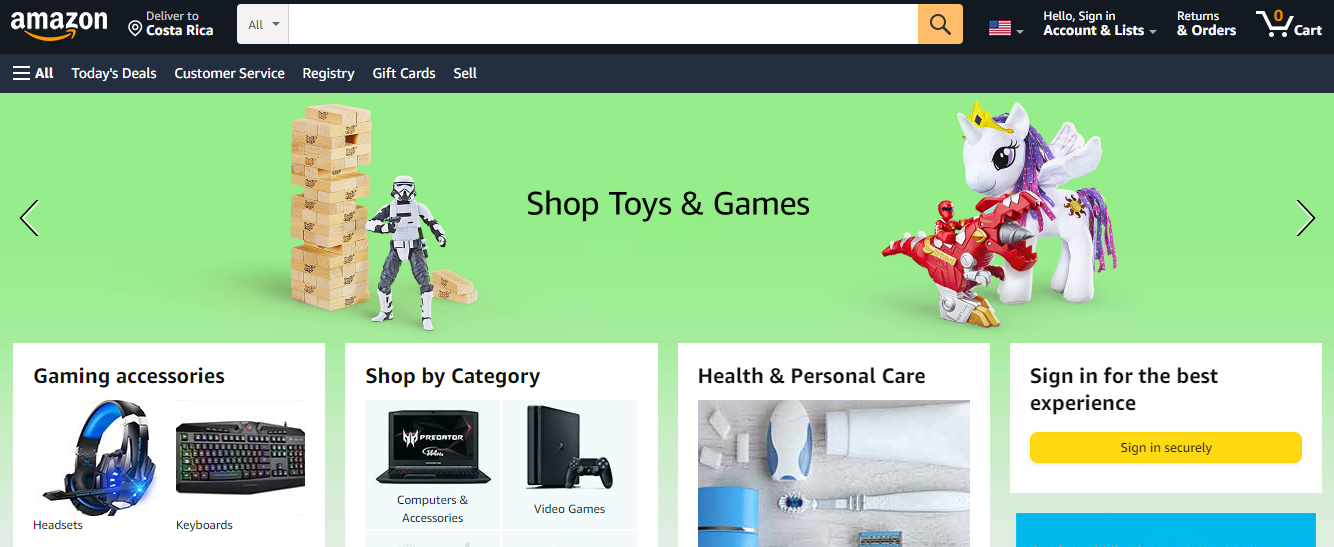 One of the best places to shop is the world's largest retailer: Amazon. One of the greatest things about buying stuff here is that you can find anything. Do you want a Mandalorian plushy? Or maybe a Batman keychain? Amazon has it all. If you have Amazon Prime, that's even better. You get loads of delivery offers and your package usually arrives faster.
The major downside of shopping on Amazon is that any seller can make a profile and start selling stuff. That means that you're not always going to find quality items.
Knock-offs bought on Amazon have disappointed their fair share of consumers. You're going to have to read plenty of reviews before buying a product and make sure you take a look at the seller profile to make sure you're getting good merch.
Etsy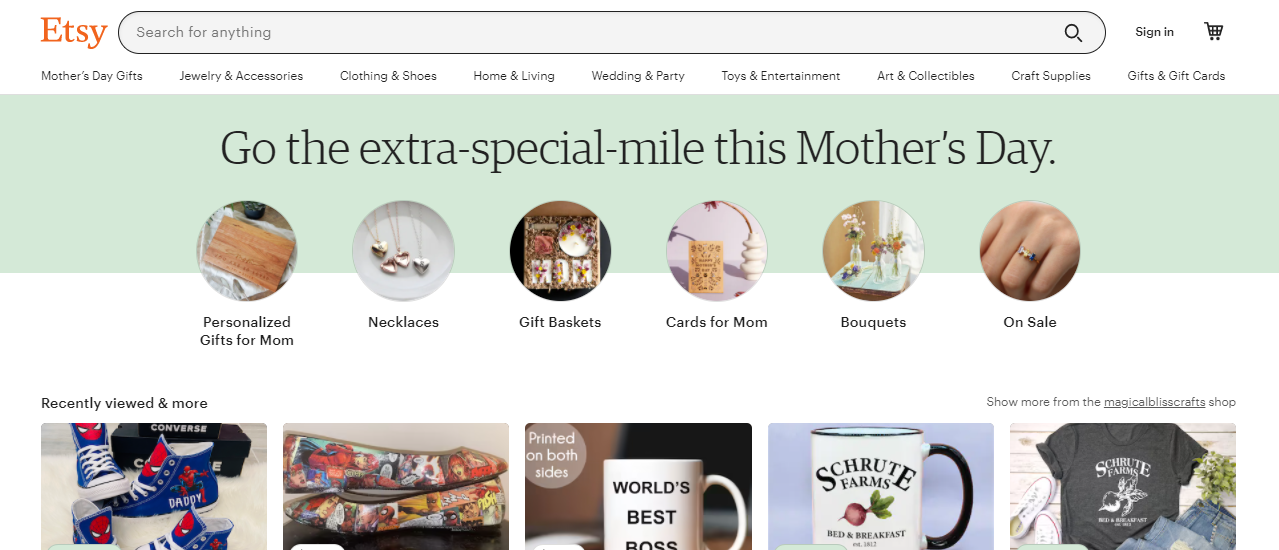 If you ever shopped on Etsy before, you already know that there are a lot of unique items. That means you're more likely to find an original hand-painted pair of Harry Potter sneakers (compared to Amazon, where multiple identical copies of the same product are to be found.
Etsy is a place for originality and while most pieces are astonishing and unique, there are a couple of downsides worth mentioning.
First of all, movie merch on Etsy tends to be more expensive. This is because a lot of sellers are individuals or small businesses that don't have the means to mass-produce merch. That makes it more time-consuming for them to make one piece, which also means they charge more for it. Handmade pieces will always cost more than mass-produced items.
The second disadvantage is a more subjective one and it relates to branding. If you find a T-shirt with a Lord of the Rings image on a small Etsy shop, they likely do not have the license to produce that. Some shops will violate copyright infringements. You decide if you want to support a small business or will settle for nothing less than the "real deal".
Official Websites
Buying from official movie websites always ensures that you're getting the best quality items. It also means that you're directly supporting the movie franchise, which could mean more and better movies in the future.
You always have good return policies and warranty coverage, but you'll pay more than what you pay for Amazon products.
The thing about using official websites is that you can usually find high-quality items that might not be available elsewhere.
Licensed Shops
In terms of quality and customer care licensed shops are probably the best place to shop for movie merchandise. You know no you won't be getting any cheap knock-offs because these shops are allowed to use the official logo of the movie and are not allowed to sell poor-quality merch.
As you can imagine since you are buying these high-quality products you can also expect to pay more compared to the cost of Amazon products. However, this also means that you are getting items made from quality materials, you have good delivery rates, and can make use of really good customer service
Official Movie Merch Ideas
Now that you understand a little bit more about the world of high-quality movie merchandise, I want to show you some very specific products that are related to some of the best movie franchises in the entire world.
Apparel
From t-shirts two branded socks apparel pretty much encompasses everything that you can wear and is somehow related to a movie. every piece of clothing imaginable can be somehow related to movies such as Harry Potter or Twilight. By now, you must have seen hundreds of people wearing Marvel shirts or DC Comics socks.
The quality of the apparel that your purchase is directly related to where you're purchasing it from. granted there are hundreds of t-shirt models on Amazon but some of them are made with very cheap polyester fabric and the colors or the prince will wash off in no time.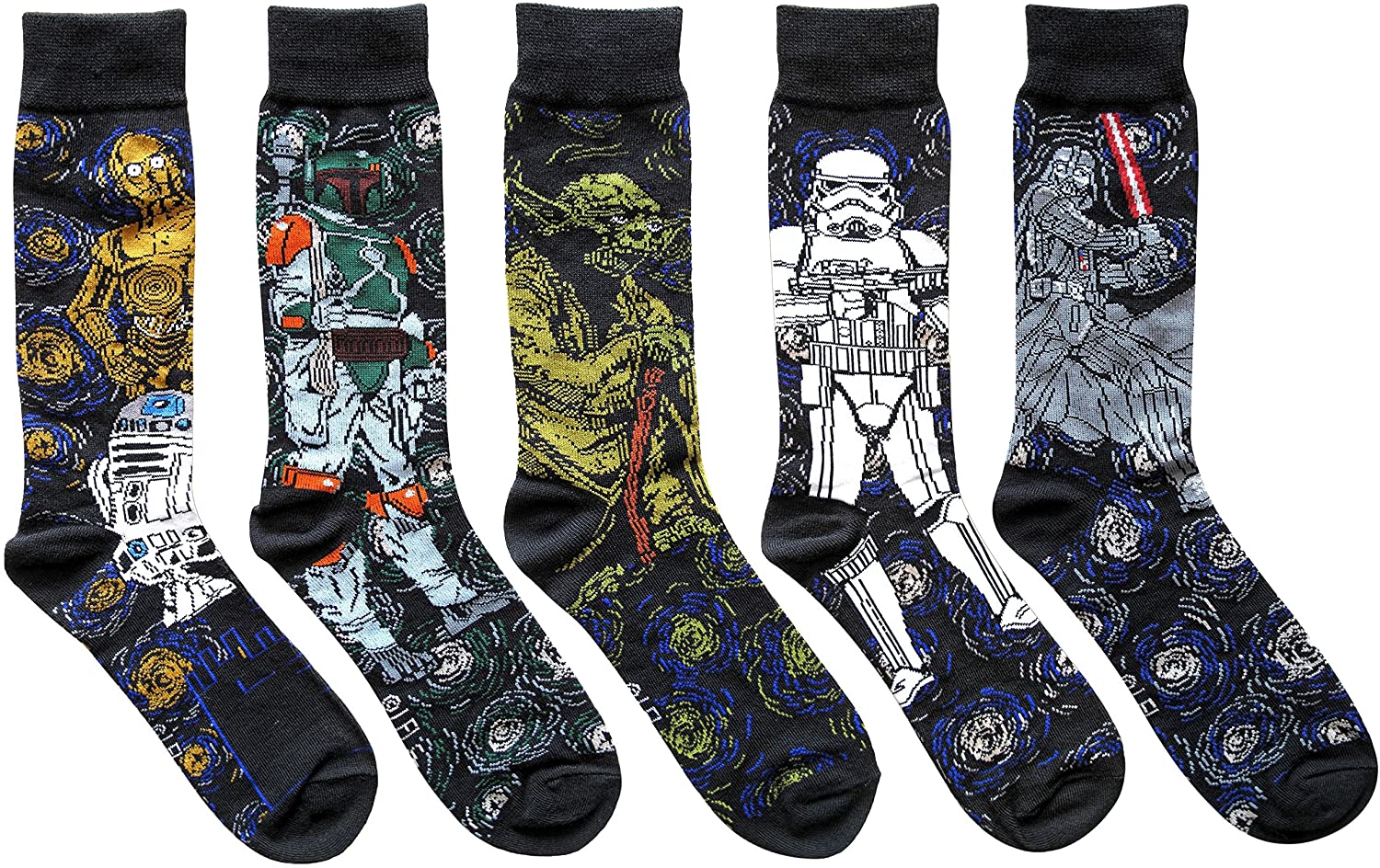 If you purchase from official websites or licensed shops, you are more likely to get apparel made from quality materials.
Games
As far as movie merch is considered, games usually fall under one of two categories: board games and video games. When it comes to pretty much every fantasy/superhero movie, you will get a video game with insane graphics (such as the case of Shadow of Mordor – can you guess what movie it was made after?).
Board games related to movies are usually just expansion packs for the base game but that's not always the rule. From Jaws to Friends-themed Monopoly, the beauty of board games is that you can play them with anyone.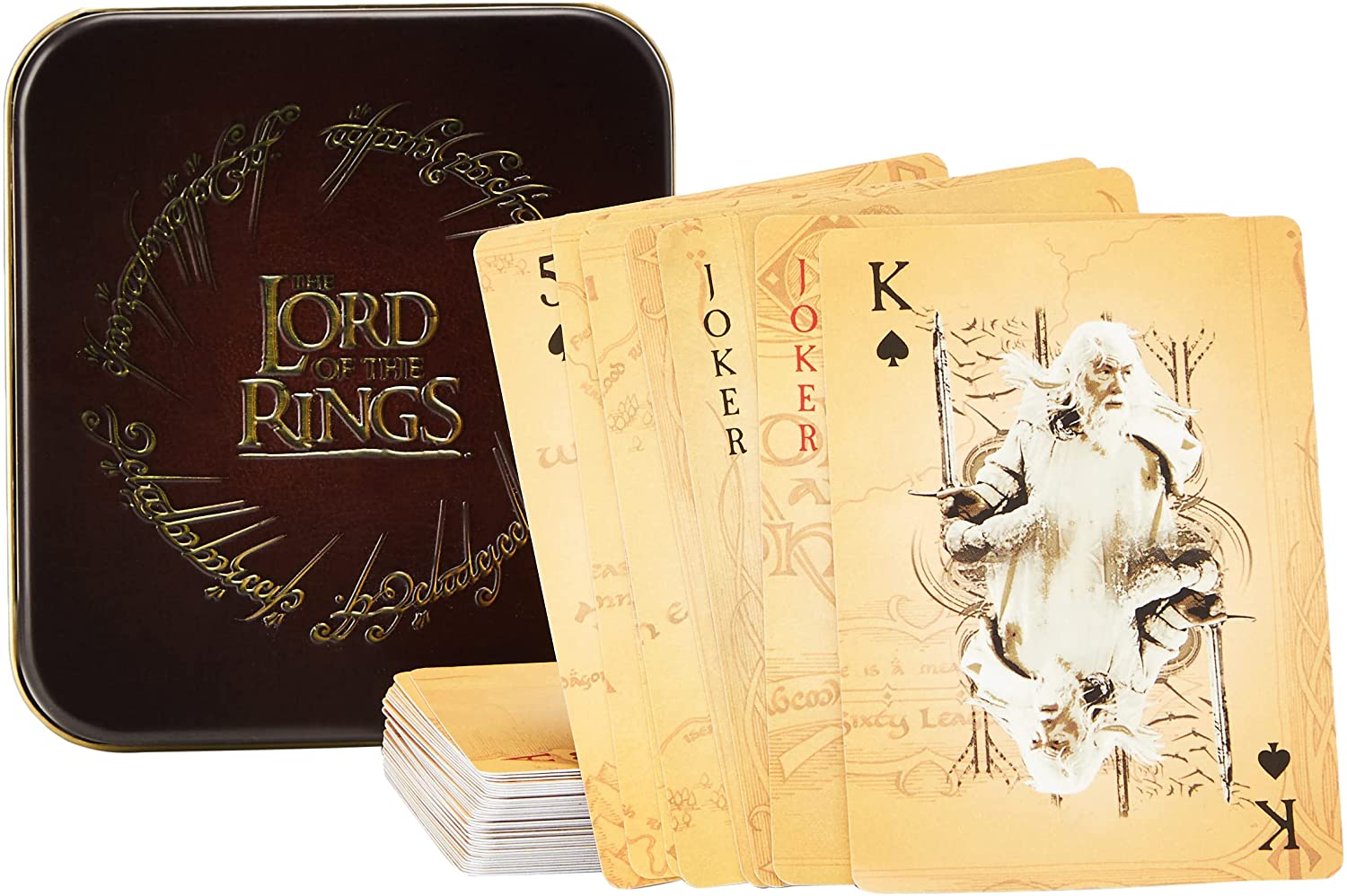 Bags
If you want to proudly show how much you love a certain movie, bags are the way to go. I just want to point out that movie merch encompasses pretty much everything from coin purses and wallets to backpacks and purses. The versatility of bags and the wide range of movies they are related to are astonishing.
Do you have a kid that loves Marvel characters? Then you could easily find a backpack fitting for their school items with something Marvel-related. Are you a fan of Harry Potter? Then you can easily find bags and briefcases with the logo of your representative Hogwarts house.
From canvas tote bags to leather suitcases, it shouldn't be difficult to find branded merch to represent your love for a certain movie franchise.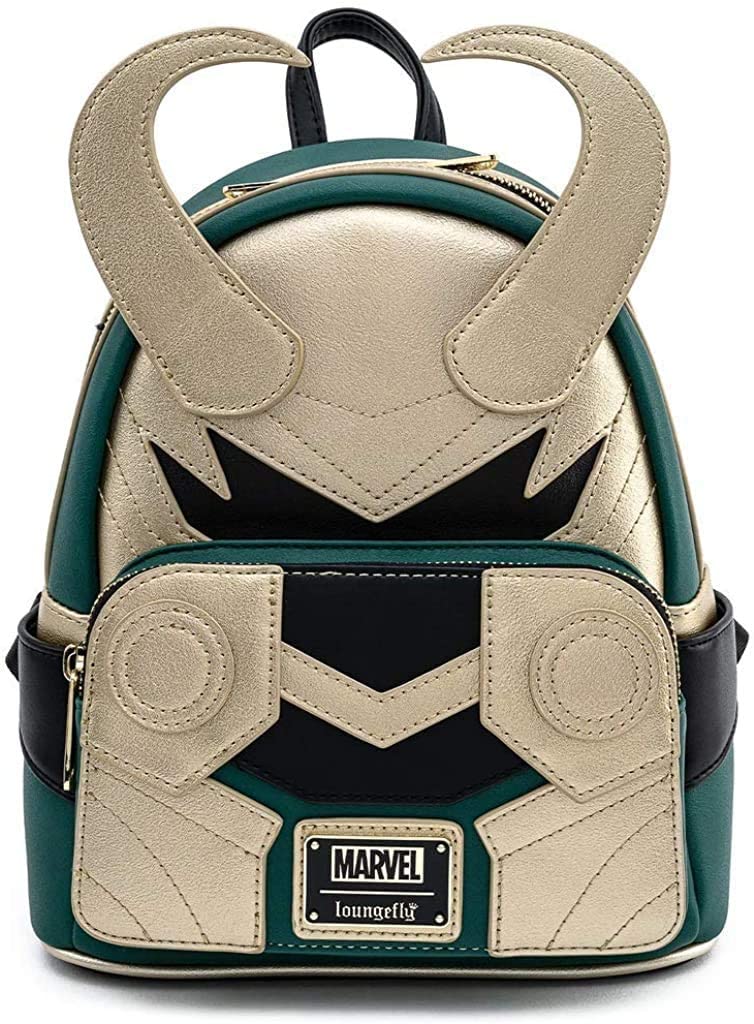 Books & Comics
Some of the best movies and franchises in the world are based on either books or comic books. Older editions of comic books now sell for ridiculous amounts of money, so if you have a Batman issue that's like 20 years old, take a look and see what it's worth these days.
Most of the movies we've talked about today have an amazing series of books behind them. Twilight, Disney, Lord of the Rings, and Harry Potter – were all best-selling novels even before they ended up on the big screen. So, if you're a true Harry Potter fan, are you a fan if you don't own the books yet?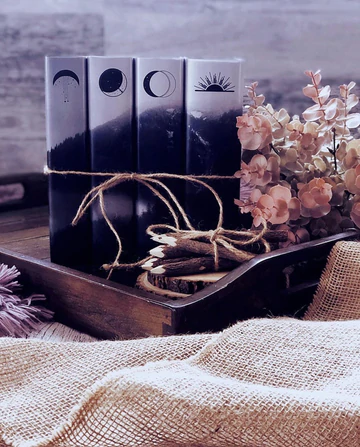 Jewelry
Now and then, we see a memorable piece of jewelry in the movies that we most love. Ever since Lord of the Rings hit theaters worldwide, the ring that rules them all quickly become a sought-after wedding band. I have attended a wedding where the bands were engraved using Black Speech inscription, the same one to be found on the ring in the movie.
While this is probably the most well-known piece of jewelry in cinema history, there are other iconic ones you need to be reminded of. The infinity stones could be present in a lot of jewelry pieces, while Hermione's Time Turner will leave you wishing time traveling was a thing.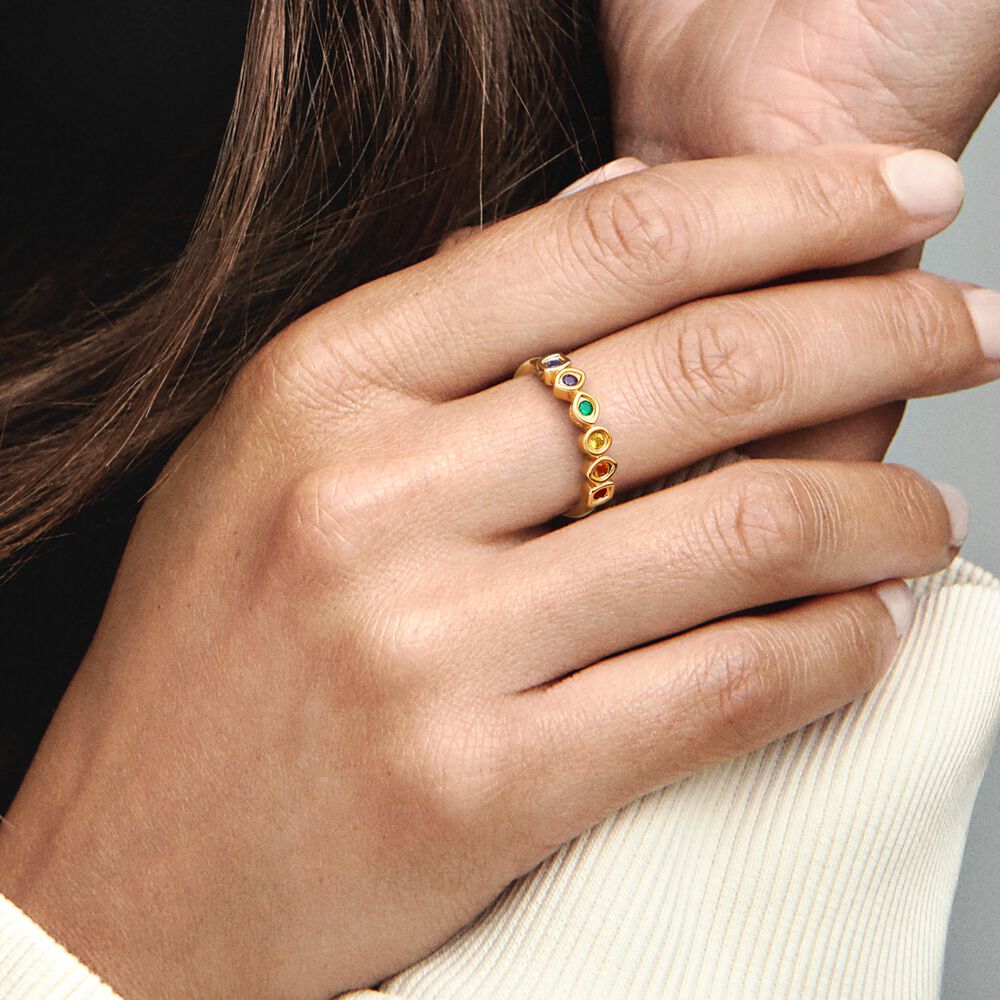 Socks & Shoes
If you want some fancy footwear that lets everyone know you're a die-hard Clark Kent fan, look no further than this category. The best part of buying socks is that everyone needs them and they're usually very cheap. Movie merch socks are excellent for Secret Santa gifts at the office but they're also a great gift you can give yourself.
As far as footwear is concerned, there are two options: you can either pick models that mimic whatever the characters wear (such as the famous red ruby slippers in The Wizard of Oz) or get some custom-made sneakers painted with the DC logo.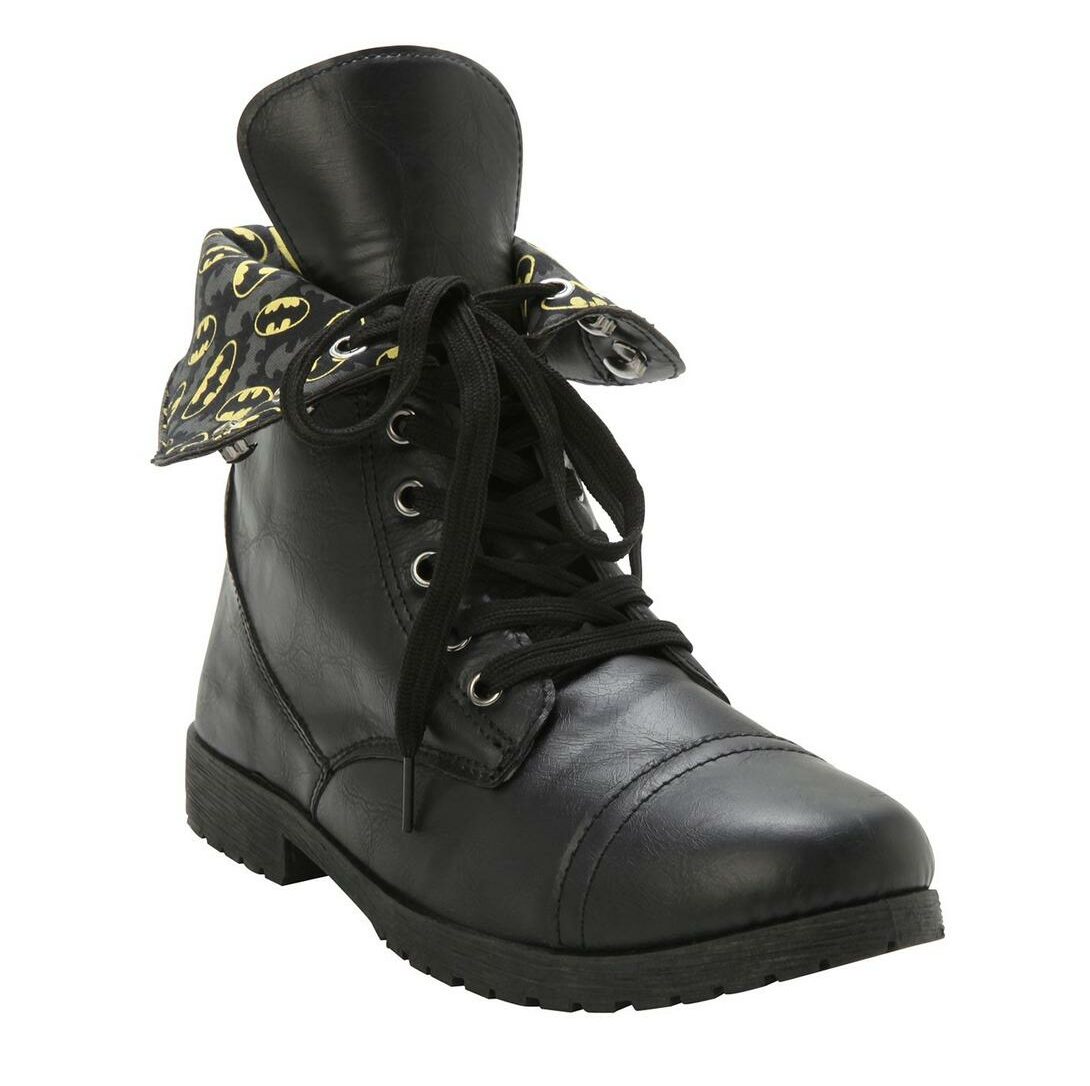 Figurines & Plushies
Some might argue that figurines and plushies fall under the "toys" category and they wouldn't be entirely wrong. However, plushies and figurines are a special kind of movie memorabilia because people often buy them and have them showcased on a display and occasionally dust them from time to time.
Figurines, much like Funkos, are often collected because they will likely increase in value in time. Toys are mostly designed so you can play with them, but figurines and plushies are more decorative than anything else.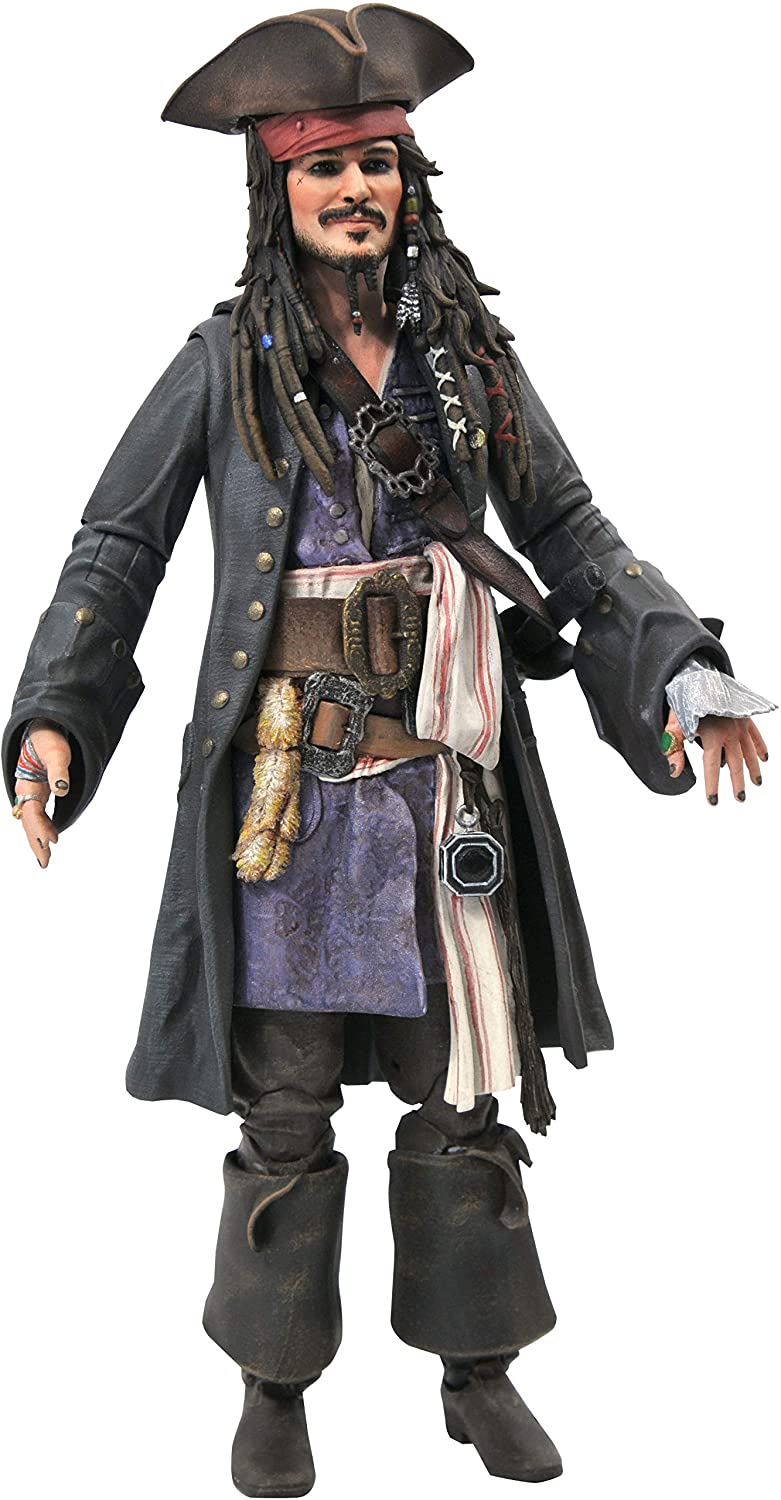 Funko Pops
Funko Pops are collectible figurines. Known for their big heads and remarkable details, there is at least one Funko Pop for every important character that you've ever seen in a movie franchise in the past decade. It doesn't matter if you're a Marvel or a DC fan if you love Supernatural or Game of Thrones, or if you think Twilight is the best love story ever told.
It all started with these characteristics: they are 3.75 to 4 inches tall, have a square-shaped head with rounded edges, have beady little black eyes, no nose, a small mouth, and are 3.75 to 4 inches tall. It is possible that these characters are based on real people or that they are based on fictional characters from movies, comic comics, and other media.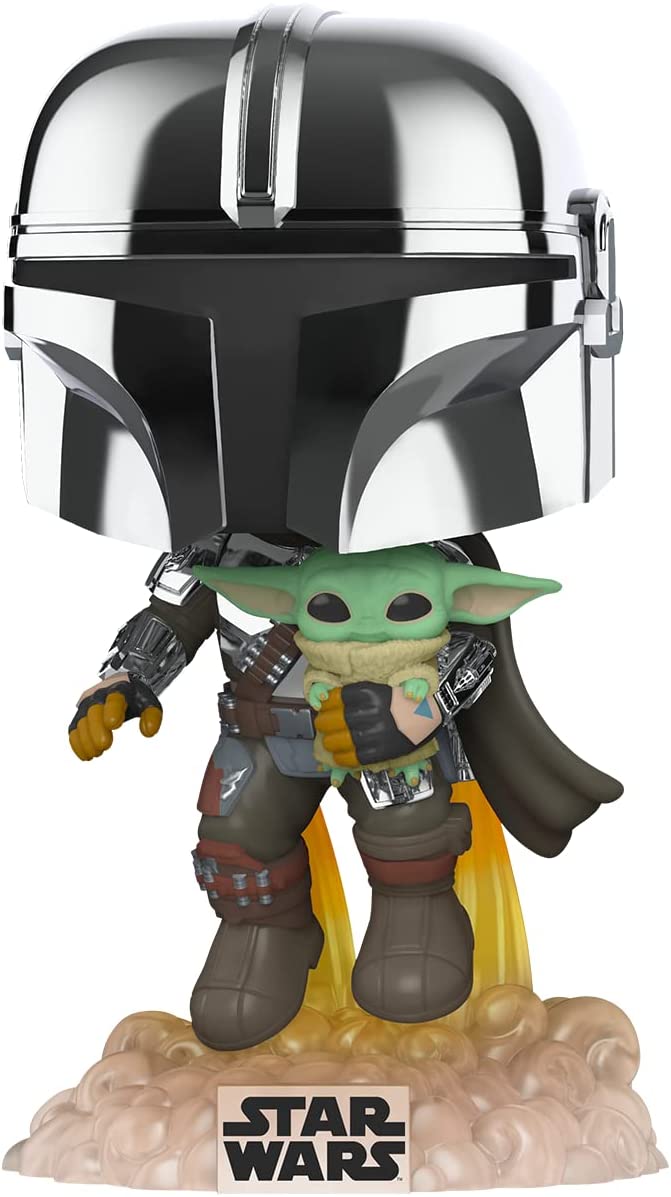 Wall Art & Décor
Back in the 1980s, when you loved an actor, the closest thing to movie merch was the poster you would rip out of the magazine pages so you could tape it to the wall. Generations grew up with posters of James Dean and Marilyn Monroe. Granted, posters today are an upgrade from what they used to be 40 years ago, but they are still a thing.
Today, posters are made with top-quality sheen, printed using some of the world's best printers, and some are even autographed by your favorite actors.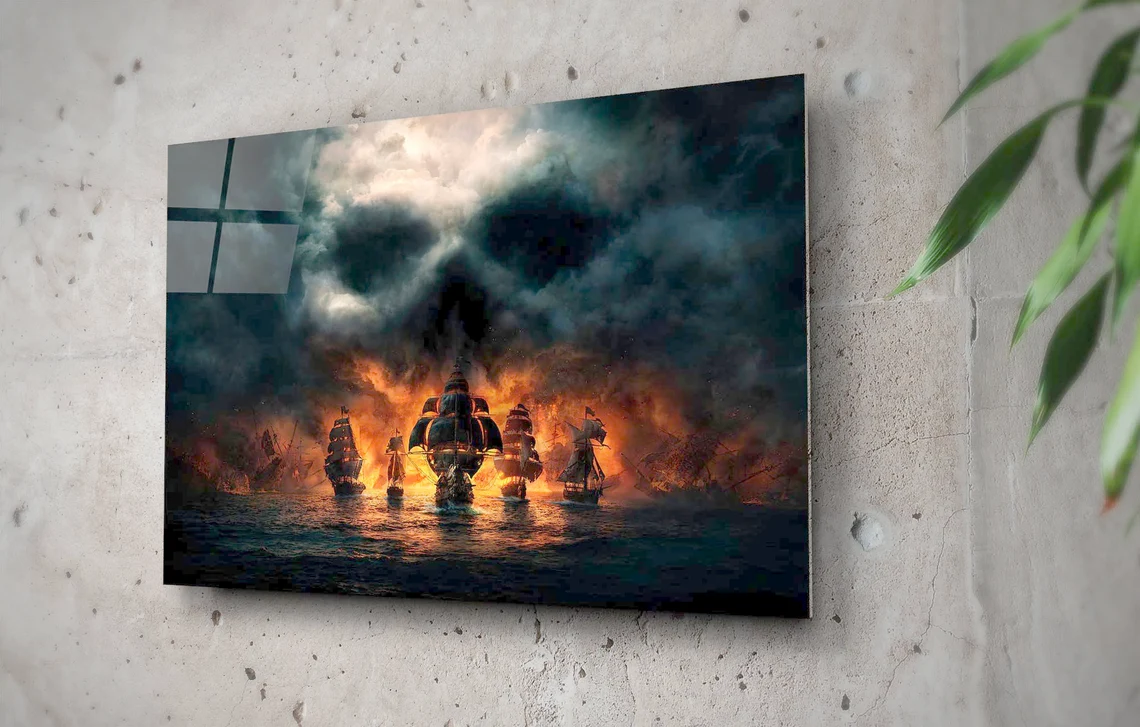 Toys
Toys are a very special category of movie merch. Probably because they are a kids' favorite that has somehow turned into an adult favorite as well. Decades ago, nobody could have predicted that today's generation of fathers would be even more excited to assemble a Battlestar Galactica Ship than some kids.
From Harry Potter wands that you can wave around and cast spells to shields, dolls, and even harmless "weapons", toys are likely one of the best-selling categories of movie merch out there.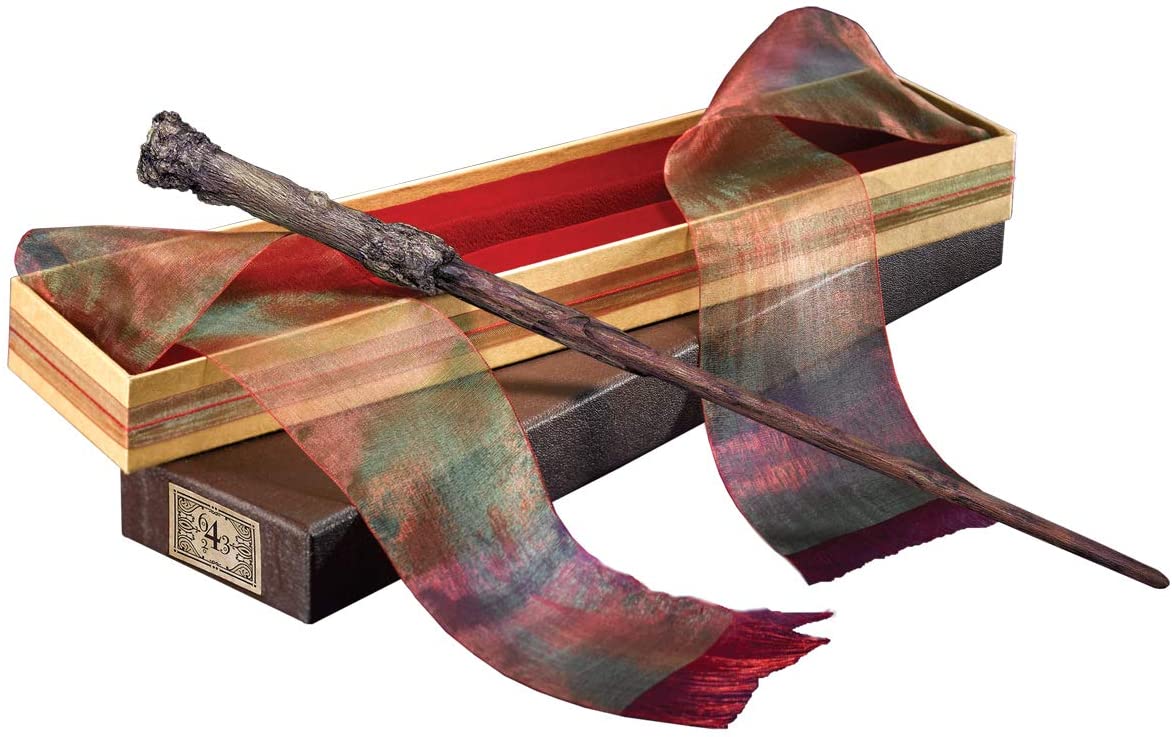 Cups & Tumblers
Cups are another type of Secret Santa gift you can't go wrong with. It stays within your budget and since there are so many prints to choose from, the chances of someone getting the same mug twice are very small. If you don't want to purchase any of the movie cups you come across, there's always the option of making a custom one.
Pretty much any shop that personalized items should be able to put your favorite Jack Sparrow pose on a ceramic mug. Just know that if you make your mugs, you're not really allowed to sell them, so they'd be mostly for personal use or gifting to close friends.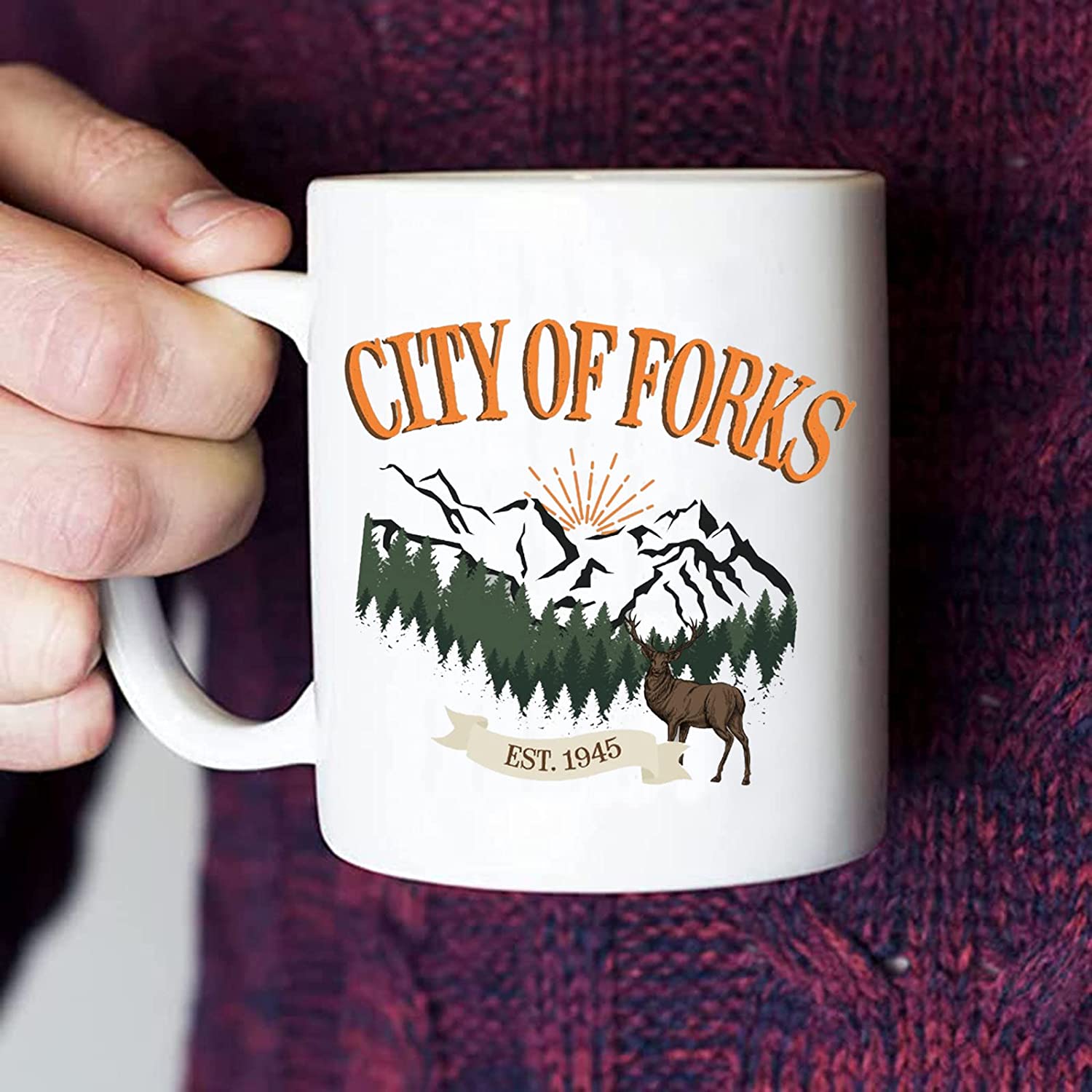 FAQ
Question: What is the Biggest Movie Franchise in the World?
Answer: The Marvel Cinematic Universe is among the most iconic film franchises in history, having released 23 films in only 12 years. The MCU has grossed over $22.5 billion worldwide since 2008. "Avengers: Endgame," which is currently the highest-grossing movie of all time, is part of the franchise.
Question: What is the #1 Movie of All Time?
Answer: Avatar, the highest-grossing of five films, has raked in more than $2 billion in box office receipts worldwide.
Question: Is Marvel the Biggest Movie Franchise?
Answer: Yes. The Marvel Cinematic Universe currently has 27 movies and has surpassed other iconic films, such as Harry Potter, Star Wars, and James Bond.
Question: What is the Most Valuable Movie Merch Item in the World?
Answer: There is somewhat contradicting information on this topic. Some say the most expensive item ever sold was Marilyn Monroe's white dress, while others claim it was Robby the Robot's suit.
Final Thoughts
Movie merchandise is a form of business that will never go out of style. Everyone wishes they could slap a picture of Robert Pattison's new Batman on a T-shirt and sell it like pancakes.
And there's no better way than saying "I love Harry Potter" than by wearing round spectacles with a black frame. What's your fav movie fandom? Did you find something in our guide that you loved like my top pick Harry Potter – Hermione's Time Turner? Let me know! And then head over to see our guide to the best The Office-themed gifts for all ages!
Continue reading:
The Best Harry Potter Blanket Ideas
Best Harry Potter Loungefly Guide
Best Harry Potter Funko Pop Guide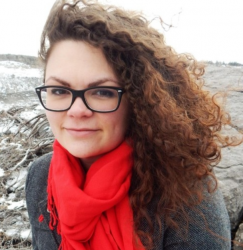 Latest posts by Candace Osmond
(see all)