Are you in need of a The Office-themed gift, but you never really watched it yourself? It's difficult to understand why people find this show to be spectacular if you've never seen it or don't find the jokes particularly funny.
The Office has slowly become a TV show religion, so if you don't like it, then you know someone who loves it. And for their birthday or special occasion, I've come up with some of the best The Office-themed gifts.
Bottom Line Upfront
Okay, full disclosure. I'm a MASSIVE fan of the show. So, I have a ton of  The Office stuff. I love my pack of The Office stickers, but I also cherish my Pam and Jim-inspired teapot (in red). But, honestly, any of the items on this list would make a great gift!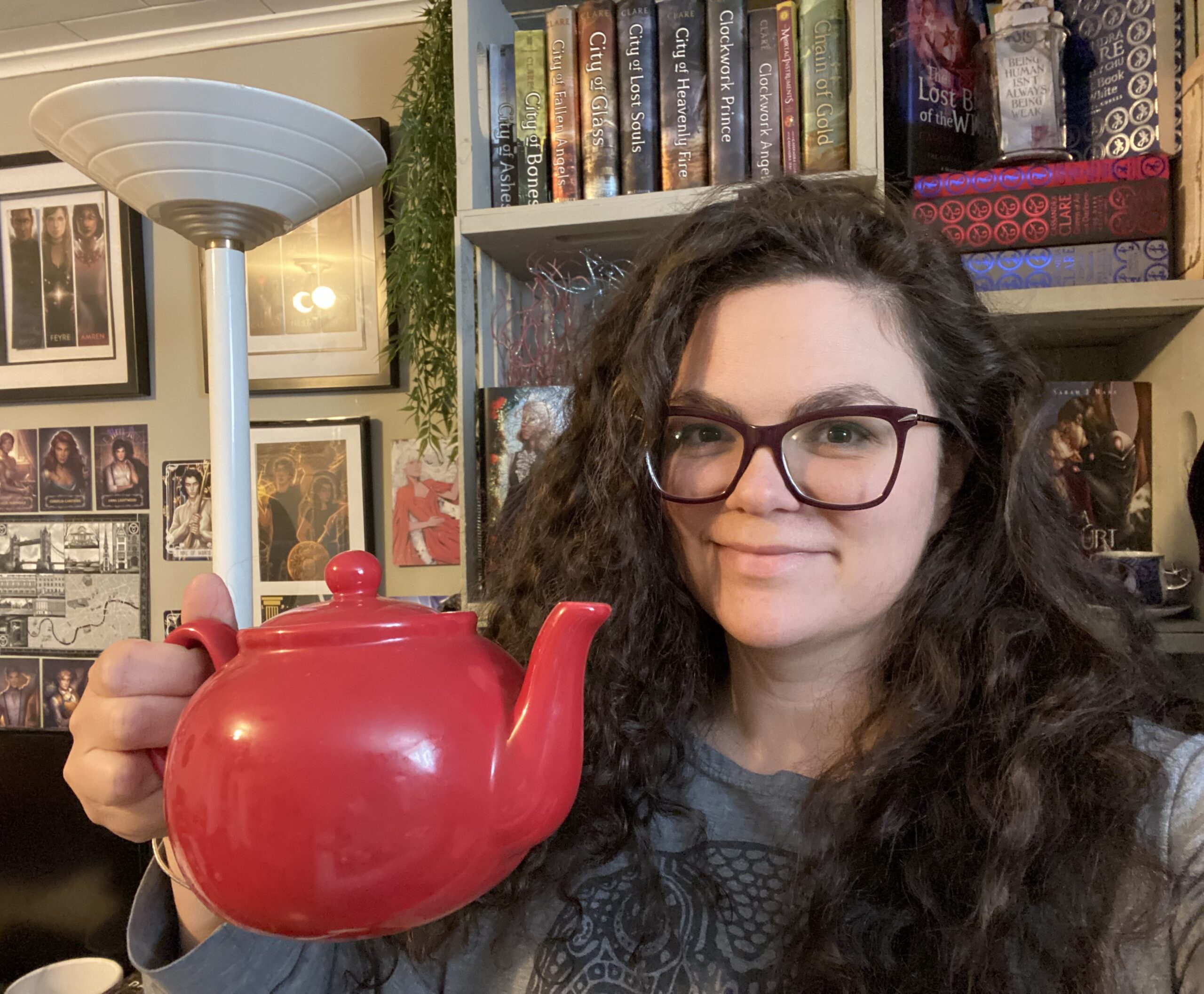 Top Picks
What Is The Office?
The Office is most likely one of the most popular and highly acclimated sitcoms across the globe. It's a mockumentary that follows the day-to-day office life of Dunder Mifflin's (paper company) Scranton branch.
Led by goofy regional manager Michael Scott, the team of employees at Scranton face several professional and personal challenges with a level of relatable humor that made this show so very popular.
The Best The Office Gifts
I divided my choices into categories based on who you might be giving them to. And all my gift ideas were picked based on quality, fan factor, and price.
Best The Office Gifts for Anyone
Looking for a general The Office gift for your friend, neighbor, or co-worker? These ideas should spark some interest!
Okay, I had no idea this even existed until I began research for this article. Now it's currently being shipped to me for our next big game night with friends.
What Do You Meme? is a spin of the Cards Against Humanity game but focused on memes instead of word replies. However, this particular version focuses on The Office-themed memes (and Lord only knows there are plenty of them).
You get a set that includes 300 caption cards and 75 cards with The Office characters making hilarious faces that could easily be captioned by a meme. It's a guaranteed fun night and would make a perfect gift for board game lovers.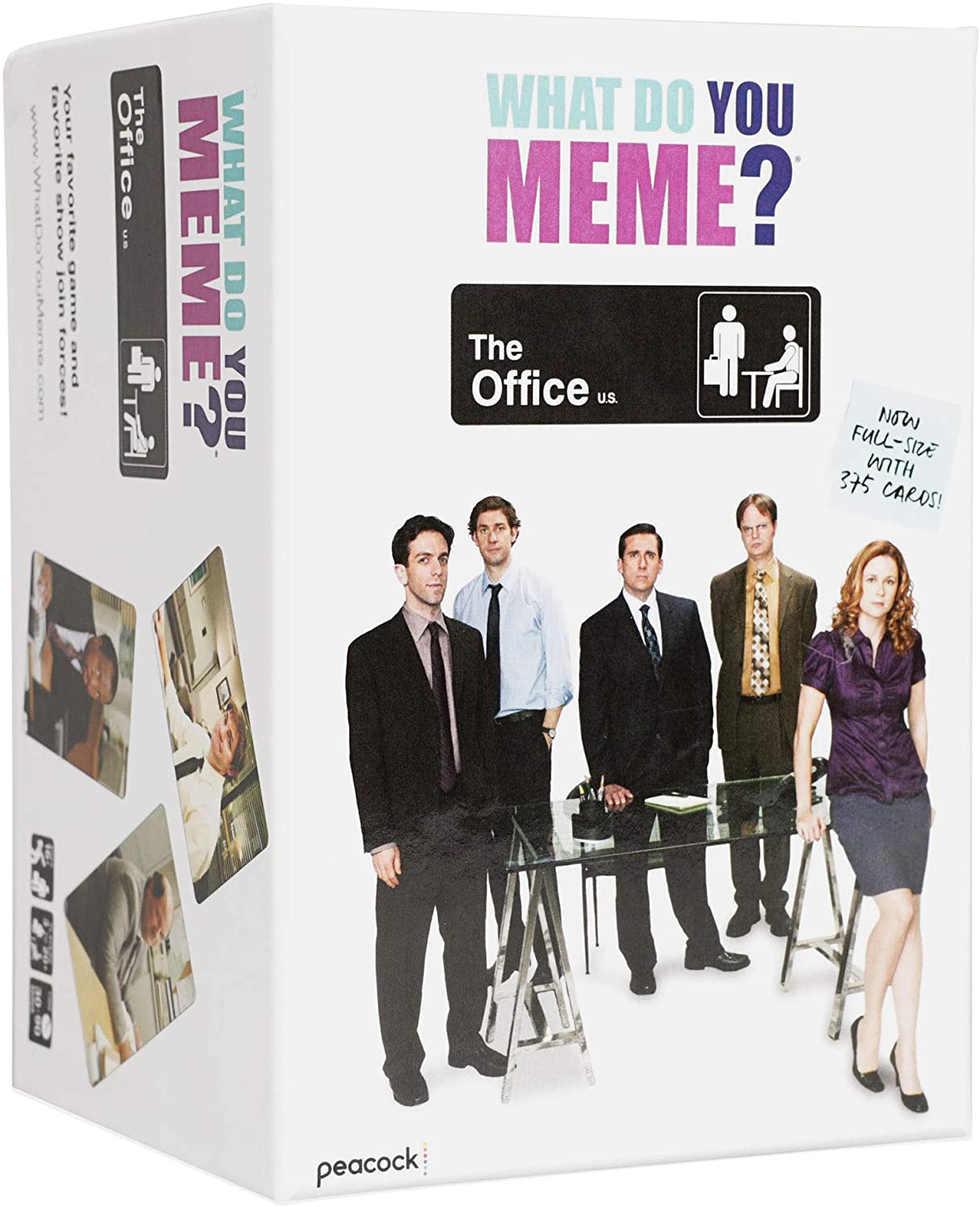 Pros
Fun for most ages.
Can be played over and over.
Quality plastic cards.
Cons
It could use an expansion pack.
This is a gift suggestion suitable for every The Office fan because everyone needs coasters, right? This set comes with six wooden coasters, each with its own The Office pun or suggestive image/catchphrase.
You have the Schrute Farms logo, the Dunder Mifflin logo, and even a reminder of how awesome and anticipated Pretzel Day is at the Scranton branch. The set includes support for the coasters and a themed keychain.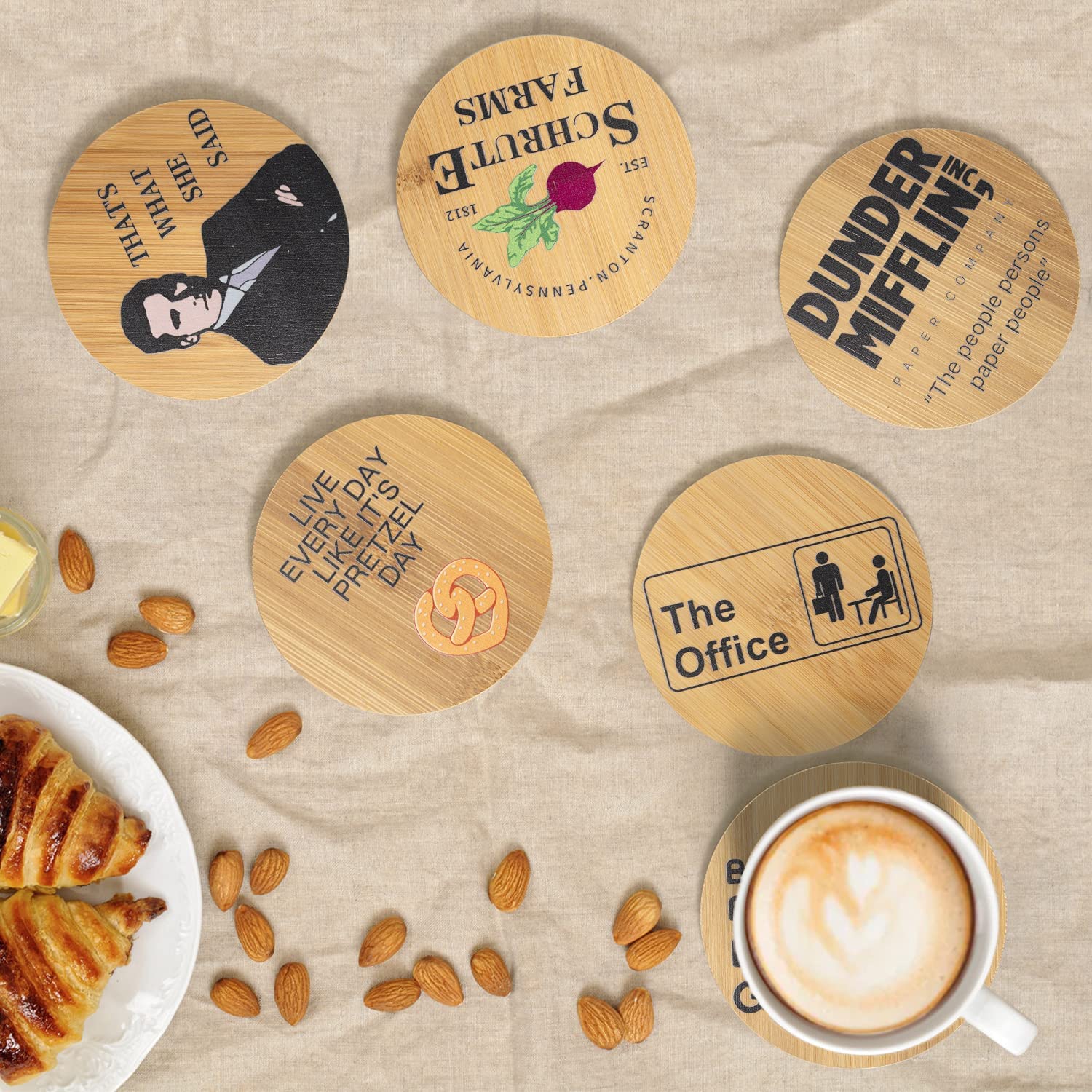 Pros
Each coaster has its print.
Keychain included.
Coaster support included.
Cons
Questionable long-term durability.
What I love about stickers is that you can get creative with how you'll use them. While the page suggests sticking them to your laptop, they could be used for anything from a customized phone case to a junk journaling spread with The Office theme. The set includes 100 stickers plus 50 smaller ones.
My hubby got these for me as a stocking stuffer last year and I'm still looking for places to put them! I've got them on my laptop, phone case, planters, and notebooks.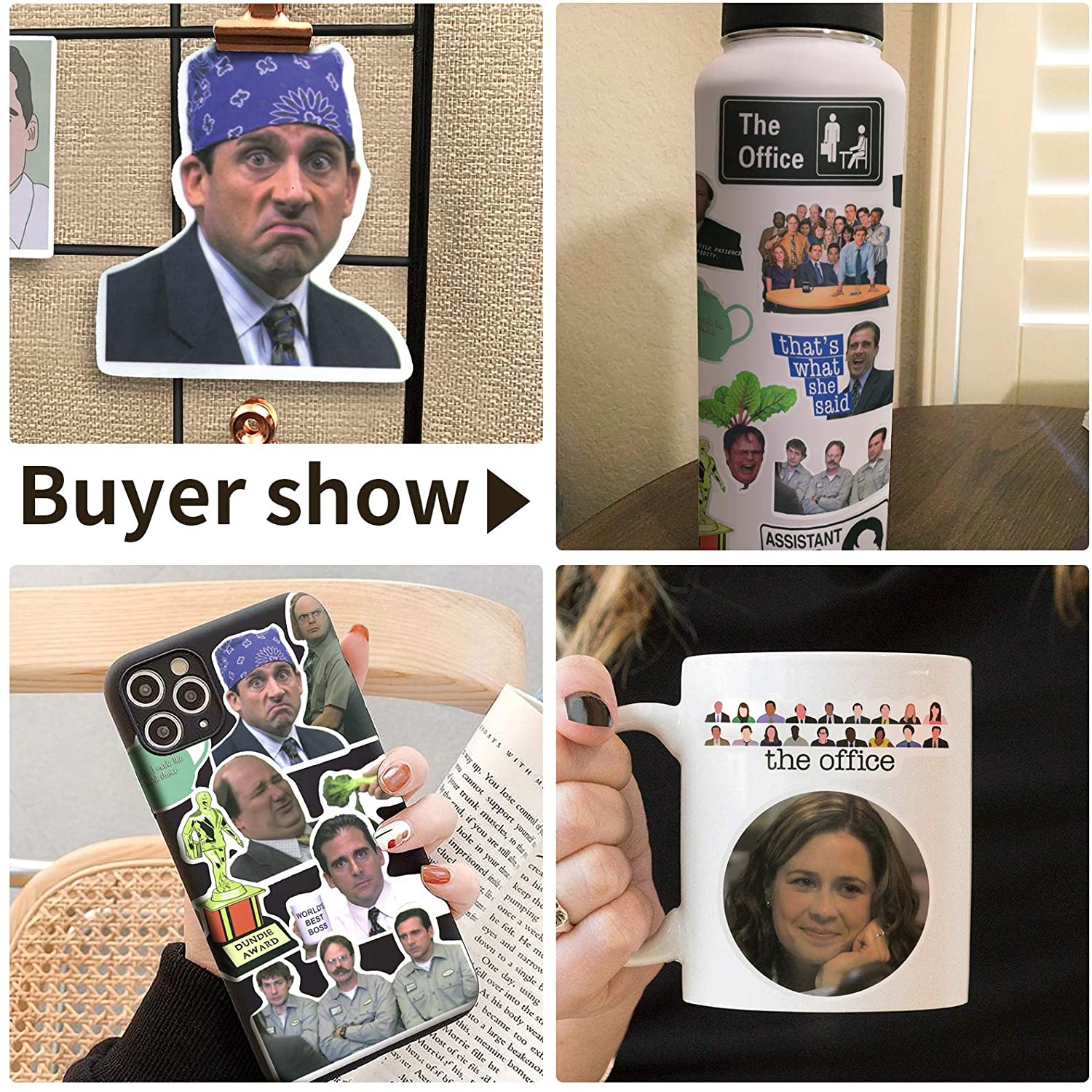 Pros
Great value.
Includes small and large stickers.
Has all the show's characters.
Cons
Back adhesive eventually wears out at the edges.
Best The Office Gifts for Pam & Jim Fans
I stan Pam and Jim forever. Mostly because it's pretty the exact love story of my husband and me. So, picking these next few ideas was easy peasy!
When you think back to Jim and Pam's love story, the teapot is probably the most iconic item that comes to mind.
If you want to express your love to your significant other, what better way to say it than by gifting this iconic teapot keychain? It also comes with a gift box that has a very suggestive love message.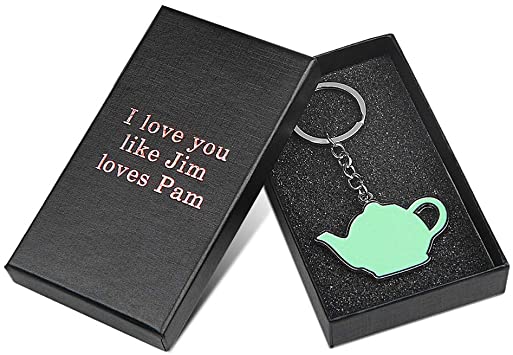 Pros
Great product for couples who love the show.
Can be used with keys, wallets, purses, backpacks, etc.
Includes an adorable gift box.
Cons
Paint on the keychain is not top-quality.
Perhaps you need a housewarming gift for a couple who love The Office. Or maybe you want a gift for your beloved while also getting something adorable (and a little bit cheesy) for yourself.
This is a set that includes two pillowcases (from Jim to Pam and vice-versa) with the most adorable drawings on the show's most beloved couple. Each pillowcase measure 18 x 18 inches and is made with cotton linen fabric.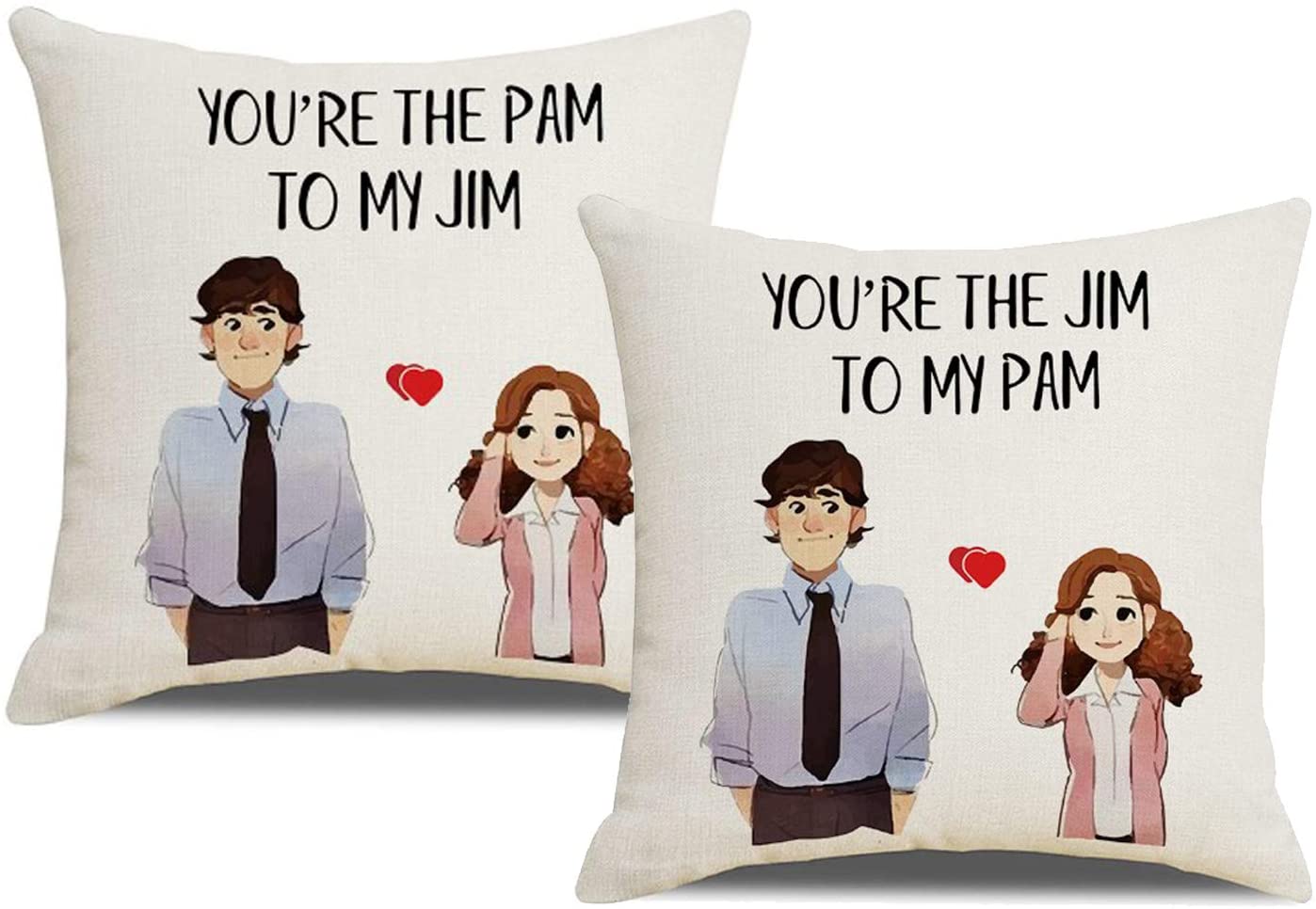 Pros
Includes two pillowcases.
Smooth material.
Not prone to wrinkles.
Cons
Pillow inserts not included.
The teapot is a leitmotif in Pam and Jim's love story. As Jim picked Pam for secret Santa, he put together a few (seemingly random) items and placed them inside the teapot. My husband got this for me for our anniversary one year and I cried!
Each of the little gifts inside was related to their (friendly) relationship or as part of their inside jokes. The gift was accompanied by a love letter that Jim eventually decided not to exclude, giving Pam the teapot alone.
Knowing this, how can you possibly not want to declare your love towards someone with this teapot?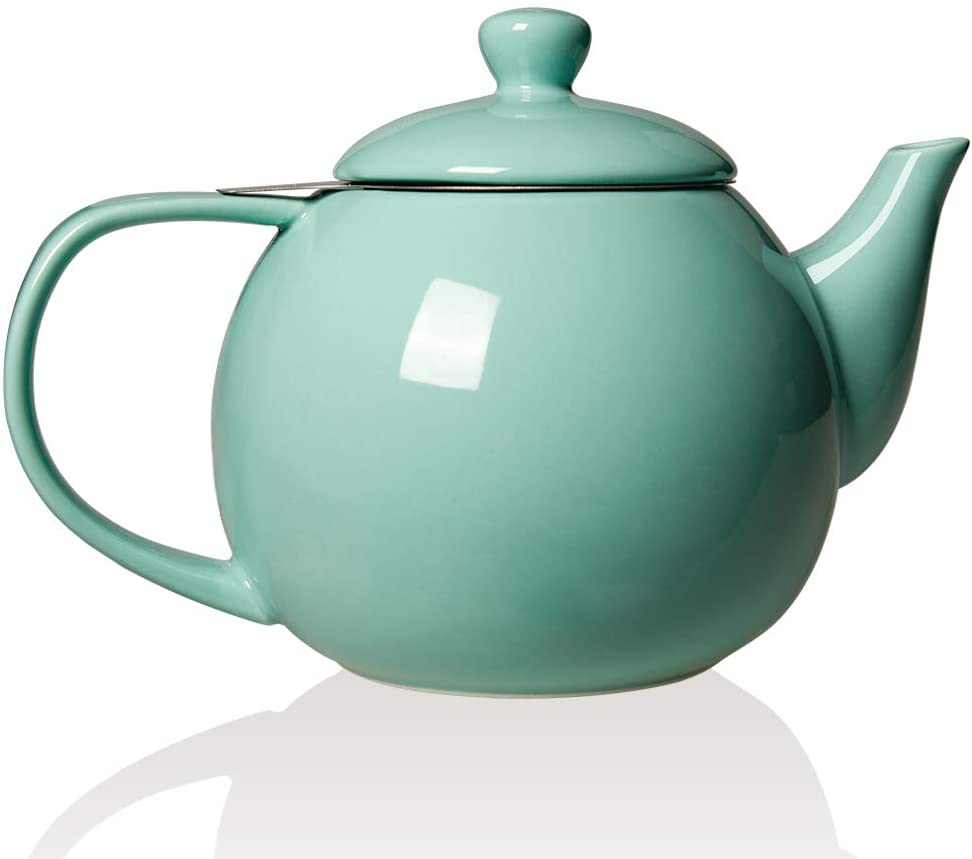 Pros
Quality porcelain teapot.
Multiple color options.
Microwave safe.
Cons
Can't be used as a kettle.
Best The Office Gifts for Michael Scott Fans
Who doesn't love Michael Scott? I mean…really? He's one of the most iconic comedic characters of this generation. If you don't know or like him, you surely have someone in your life that does!
Granted, Prison Mike is not everyone's favorite character. He is one of Michael's most horrible personas because is a stereotype and an embodiment of what Michael thinks all prisoners are like.
But it's precisely this type of stuff that makes Michael Scott such a colorful character. If you know someone who is a fan of Prison Mike, this 16 x 16-inch pillowcase might make the perfect gift.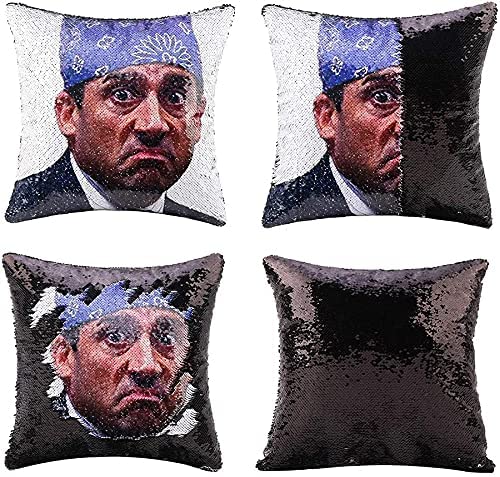 Pros
Reversible sequins design.
Multiple color options.
Soft suede back.
Cons
Nothing says "Michael Scott" more than a Michael Scott having a Michael Scott figure to stare at the entire day. Equipped with the self-gifted "World's Best Boss" coffee mug, this is just one of the many different Michael Scott Funko Pops out there.
You can also find Michael Scott Classy Santa, young Michael with longer hair, and even Michael equipped for the big basketball game with the guys down at the warehouse.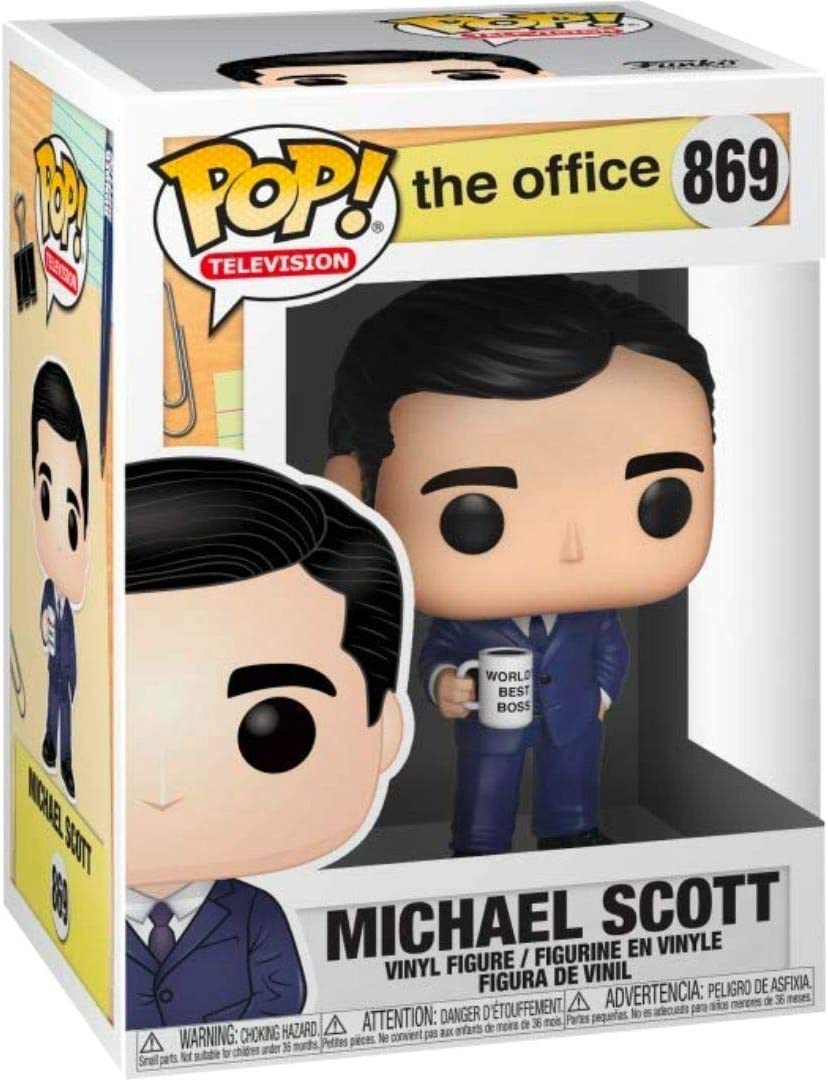 Pros
Quality vinyl construction.
Great collection starter.
Quality paint job.
Cons
Some boxes are damaged during shipping.
Best The Office Gifts for Dwight Fans
I actually couldn't stand Dwight at first. But after season three, I couldn't help but fall in love with the nut. I even named my avocado plant after him. (don't @ me, I'm weird)
If you're a true Dwight fan, then you already know that one of his dreams was to remove the "to the" from his title and become Assistant Regional Manager. This mug set isn't just the best gift for a Dwight fan, but also a great set for you and your boss or your number 2 in command. True office fans will recognize the value of this gift immediately.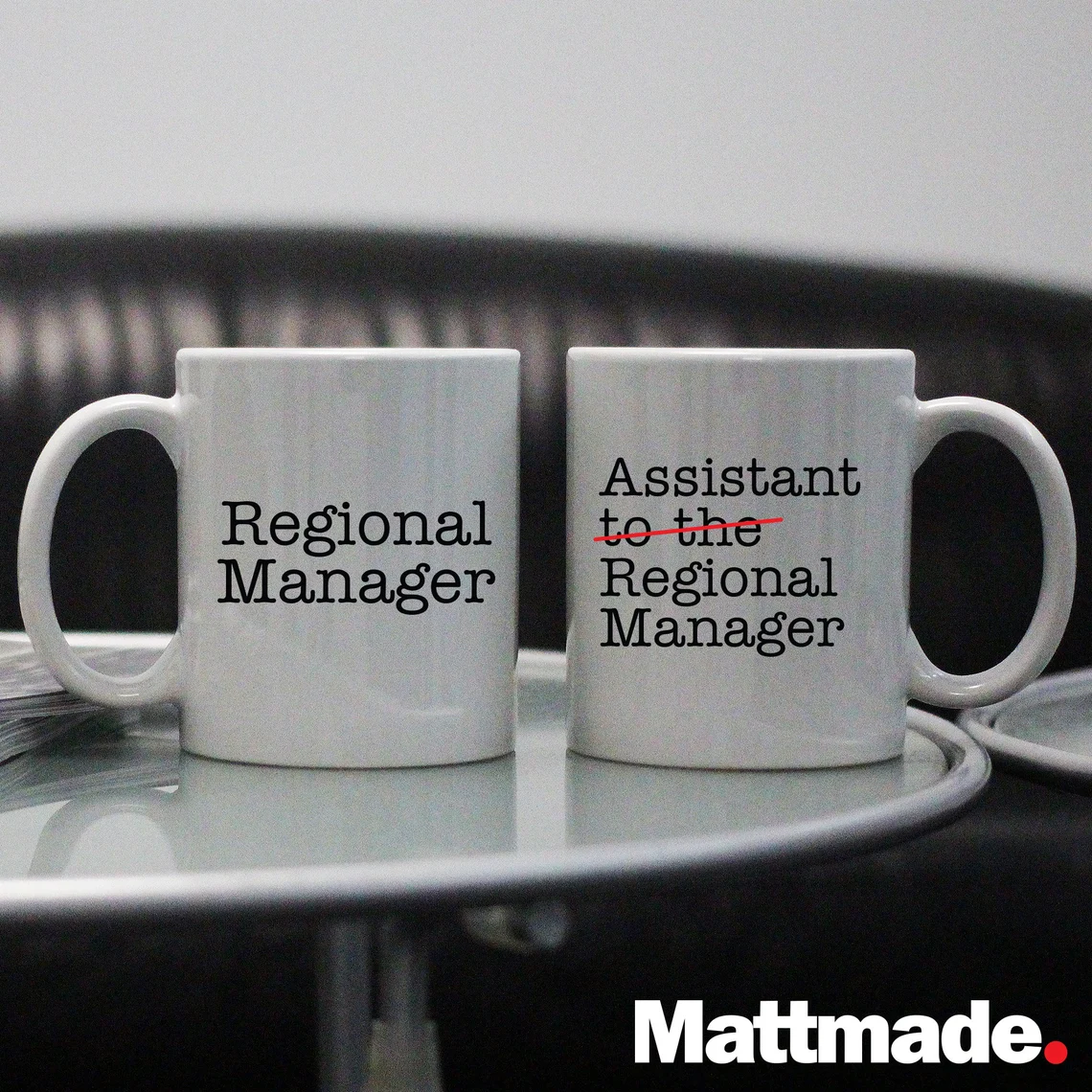 Pros
Includes 2 mugs.
Great for coffee lovers.
Made with quality ceramic.
Cons
Location of the print is not as pictured.
Something that comes to mind when thinking about Dwight is the infamous Schrute Farms. As a fan, I've always wanted to go there, or somewhere just like it.
Home to Dwight and his cousin Mose, Schrute Farms is a family legacy; a place that serves as a beet farm, a bed and breakfast, and even a country-side venue for all sorts of events (such as weddings). If you know someone who loves Schrute Farms, these T-shirts would make a perfect gift.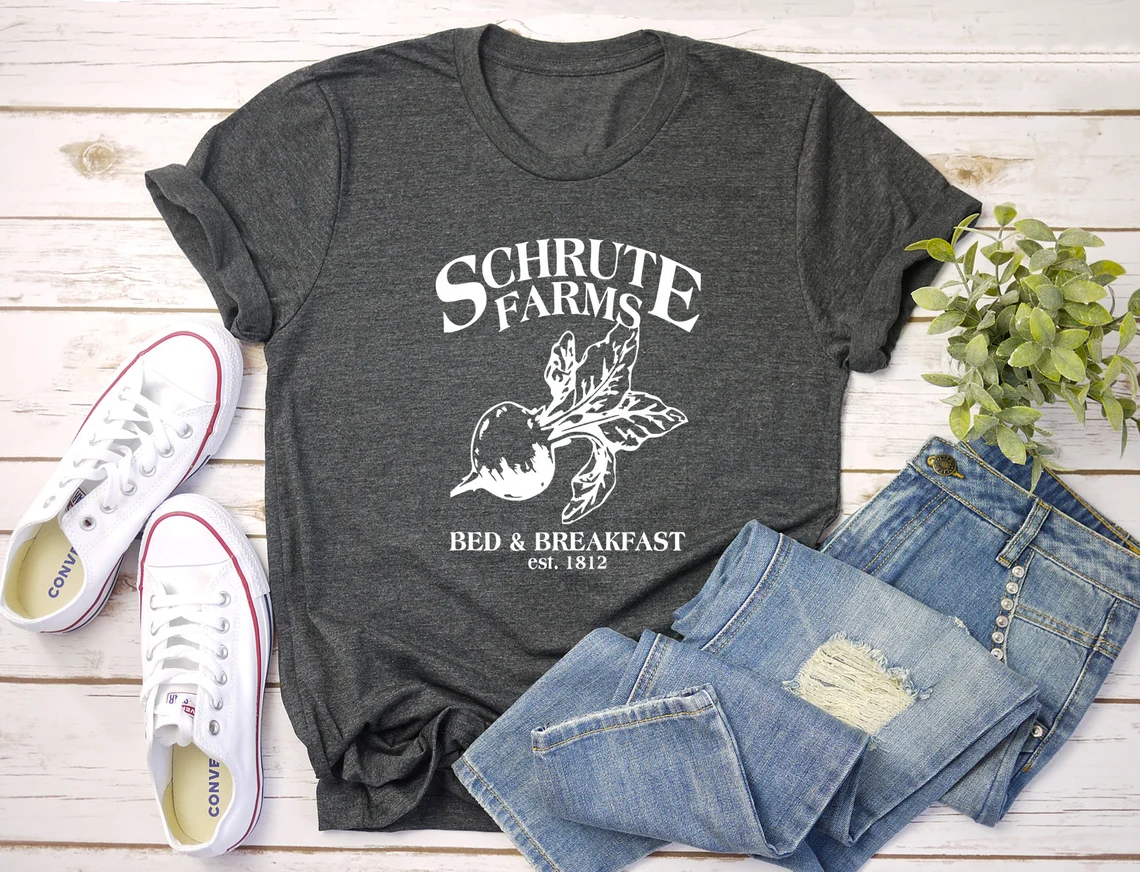 Pros
20+ color options.
A lot of size options.
Can be personalized with a message.
Cons
Returns are not accepted.
Why stop at T-shirts? Why not order this retro-style mug with the colored logo of Schrute Farms? You can choose between multiple styles and colors, as well two capacity options.
The design is printed on both sides of the mug, so it makes a great gift for ambidextrous people. Bonus!  It's dishwasher and microwave safe too!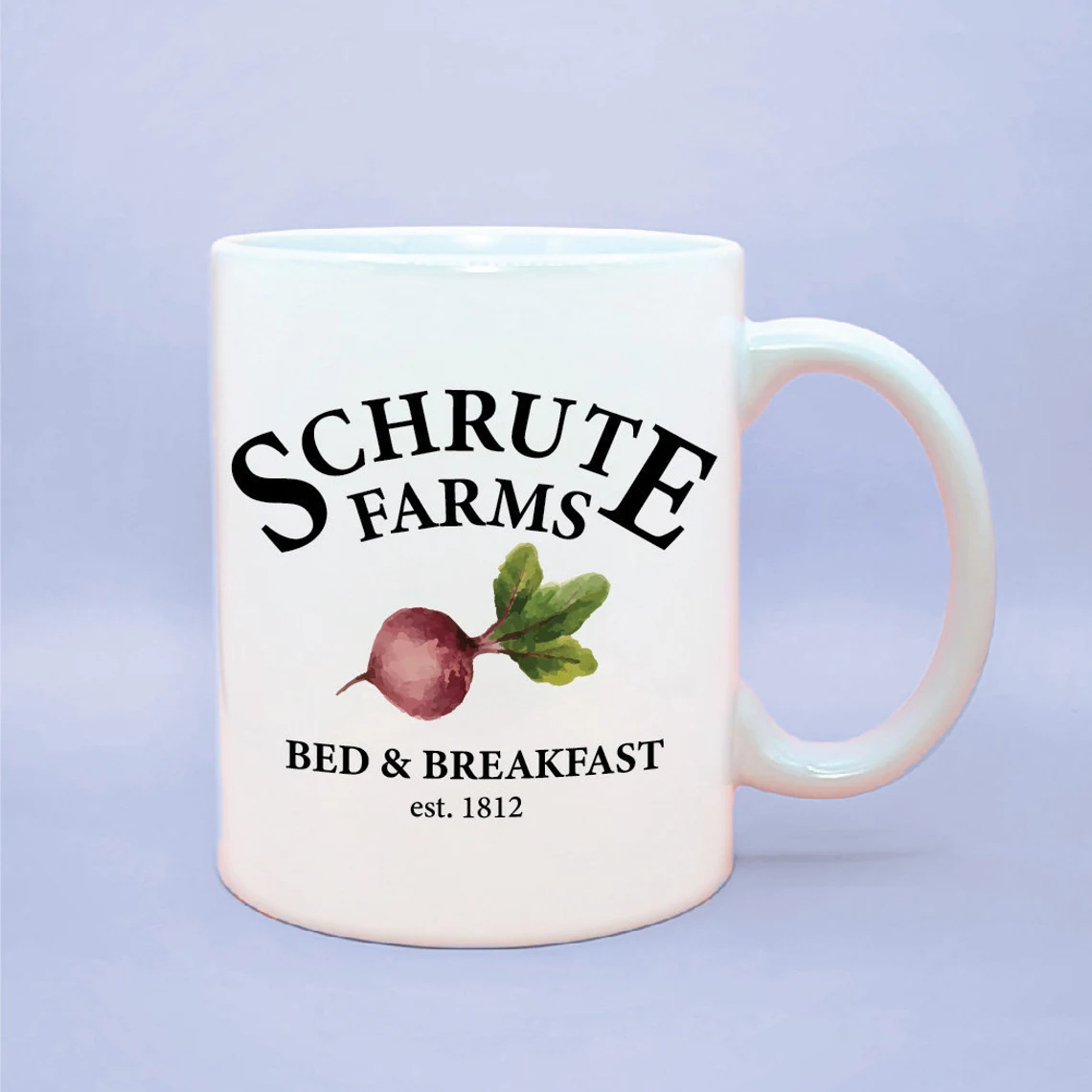 Pros
Dishwasher and microwave-safe.
Two capacity options.
Multiple color combinations.
Cons
International shipping is very expensive.
Best The Office Gifts for Kids
My two littles watched the entire series with us during the pandemic and now they spurt off one-liners all the time! So, I had done some digging around for gift ideas for them for Christmas and this is what I found.
Granted, some of the jokes in this TV show won't be understood by kids but most of The Office doesn't contain any foul language, so some parents are OK with their little ones watching it. If you have or know a kid passionate about the series, this is another gift worth looking into.
It is a small tin case branded to suit the theme of the series. It contains four PEZ dispensers with Michael, Jim, Pam, and Dwight. This may be a gift for kids, but I can picture some adults wanting this collectible item.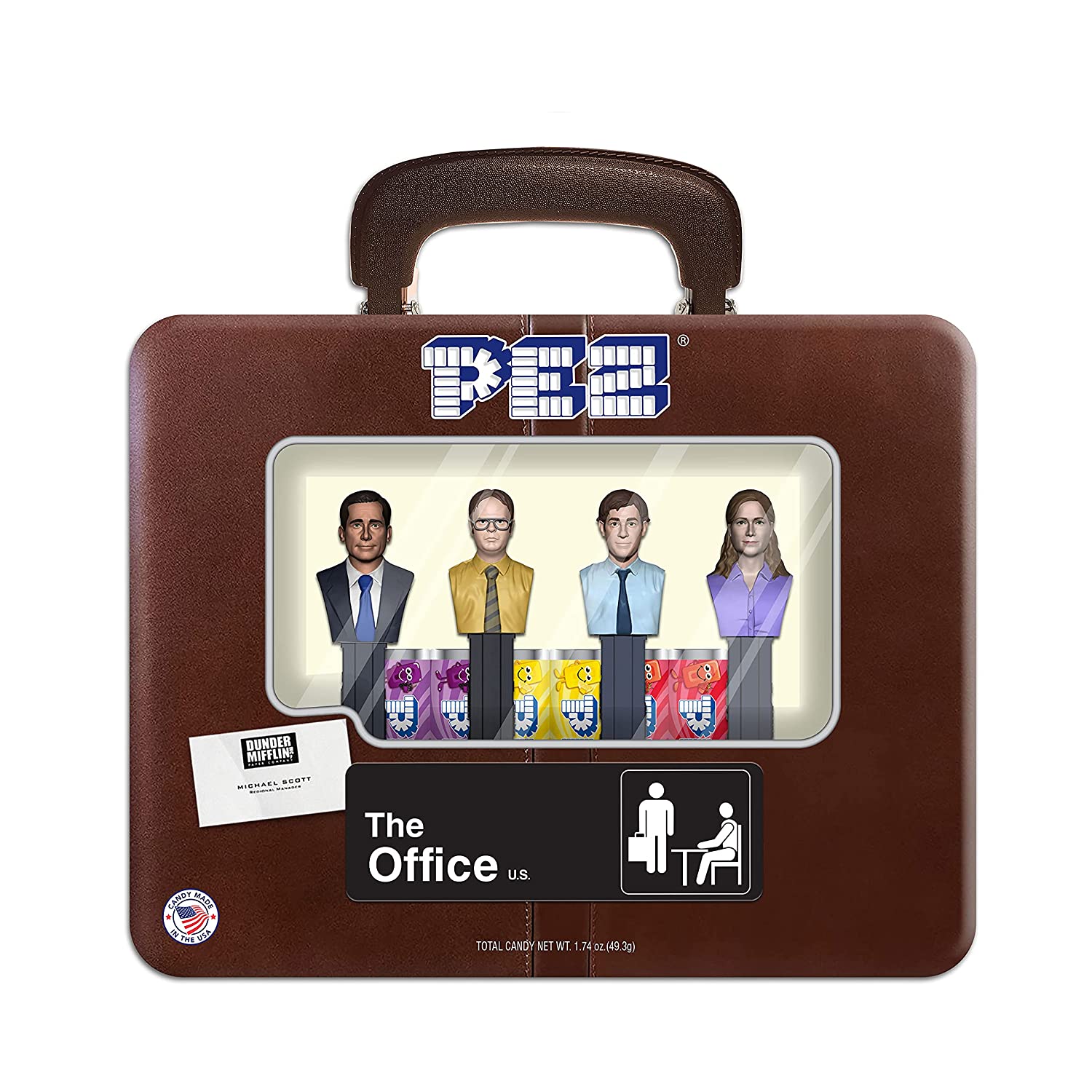 Pros
Includes candies.
Versatile tin container.
Comes with 4 PEZs.
Cons
Whether you're looking for a gift for children or adults, this figurine set is a great choice. It's something worth showcasing along with some of your other The Office collectibles.
It's a set of four small figurines of Dwight, Michael, Jim, and Pam. All of these figurines are adorable but keep in mind they are really small (1.57 x 8.66 x 2.76 inches) and might pose a choking hazard for very small children.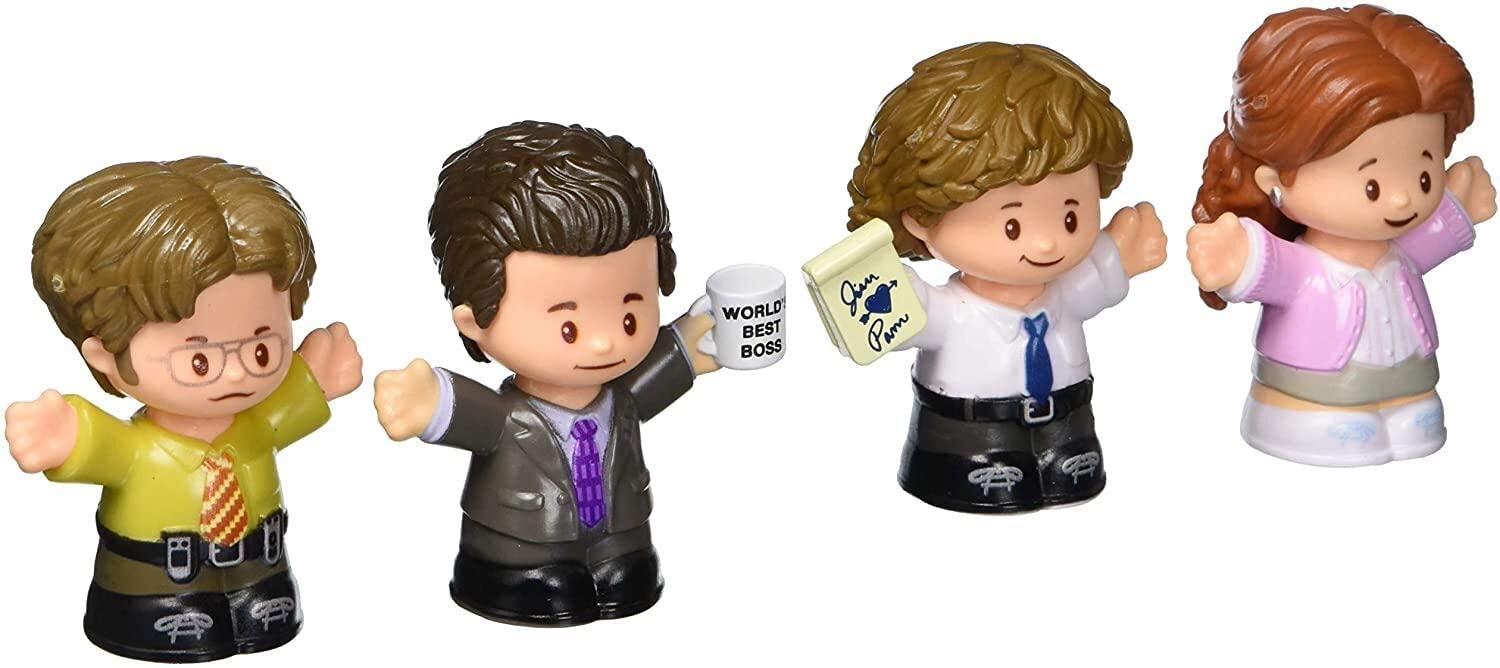 Pros
Built to last.
Great paint job.
Figurines are rich in details.
Cons
Might pose a choking hazard.
Out of all these The Office gifts for kids, this has to be one of my favorites. Think of it as an adorable children's book with The Office characters as the main protagonists.
I got two copies for my kids for Christmas last year and they loved it!
It introduces one of the best TV shows in its category to young readers, who get to know Michael Scott as the Line Leader at Dunder Mifflin Elementary. The drawings are adorable and resemble the characters in the show very well.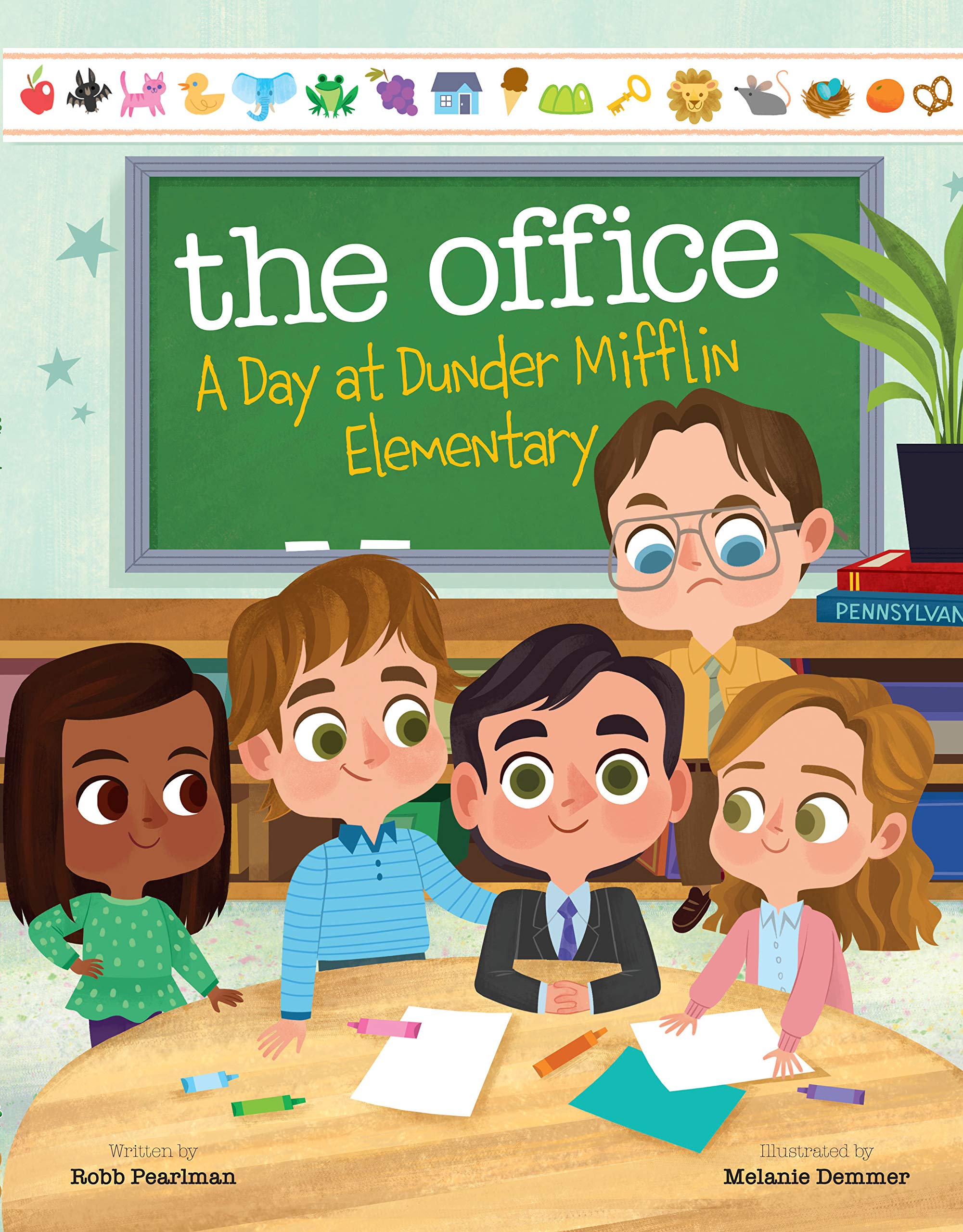 Pros
Adorable drawings.
Characters stay true to the show.
Kid-friendly The Office-related story.
Cons
Some complaints about damage during shipping.
Best The Office Gifts for Your Boss
Even if your boss isn't a fan of The Office, these gifts still work great!
The Office is very well known for its black and white logo, the sign of a man standing with a briefcase while another is seated behind a table. If your boss is a fan of Dunder Mifflin's Scranton branch, they will appreciate the true value of this gift.
I almost want to get one for my home office! *hovers mouse over by button*
A boss with a sense of humor is bound to have this mounted on an office wall or, even better, on the door outside their office. The sign measures 9 x 3 inches and comes with adhesive strips for self-mounting.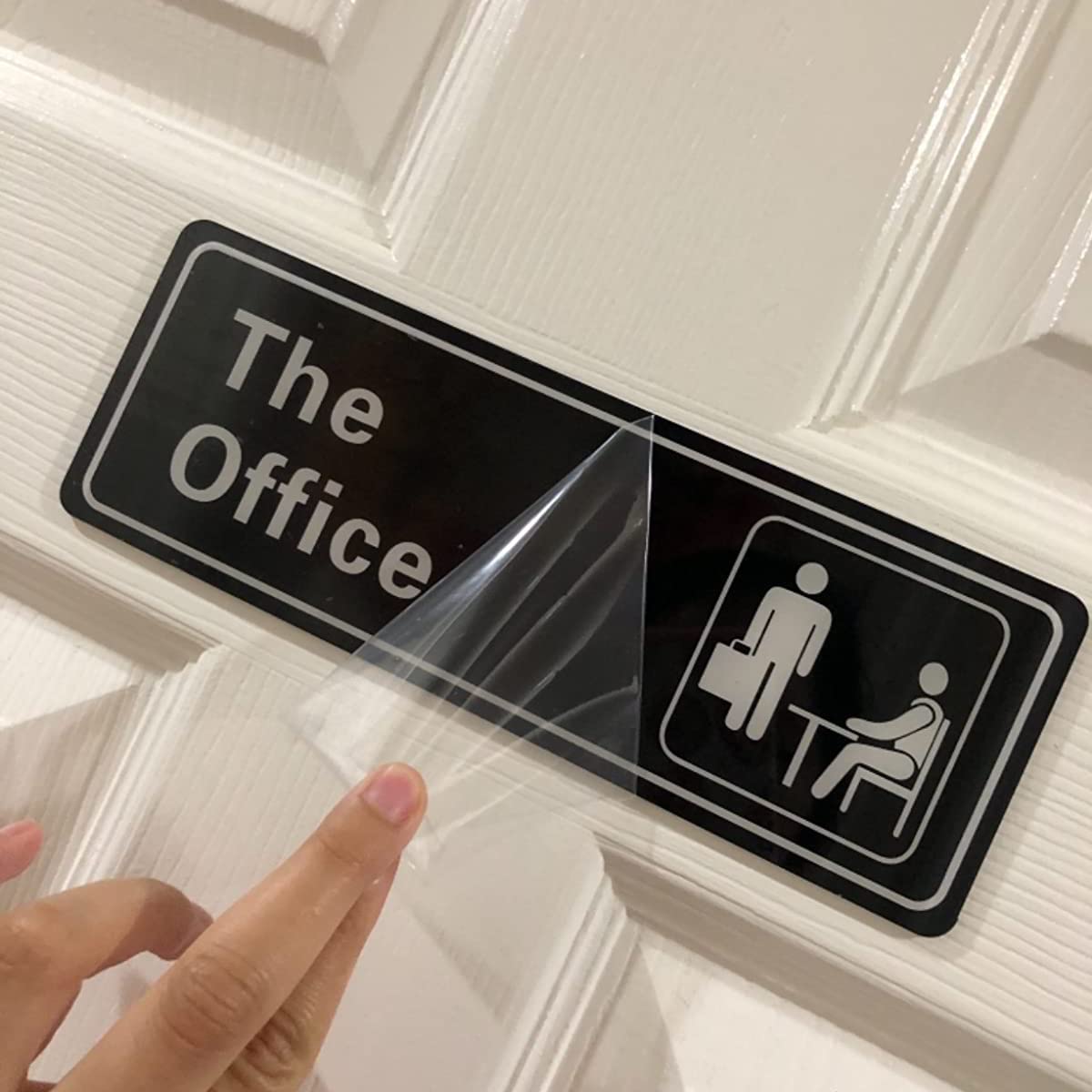 Pros
Logo as seen on the show.
Beautiful glossy surface.
Will not peel or fade.
Cons
Some people argue that Michael is the most delusional character in the series. From the very first episodes, he presents himself as being the "World's Best Boss", proudly holding a coffee mug with that message and leading us to believe it was a gift from his employees.
Even if we later learn that he made the mug for himself, this label stuck in the memory of the show's viewers and now makes one of the most iconic objects in the series.
Michael might not have been the best boss in the world for his Scranton branch, but you can gift this mug to your boss, regardless of whether or not they are fans of the show.
I'd get this for myself but I'm my boss. Wait…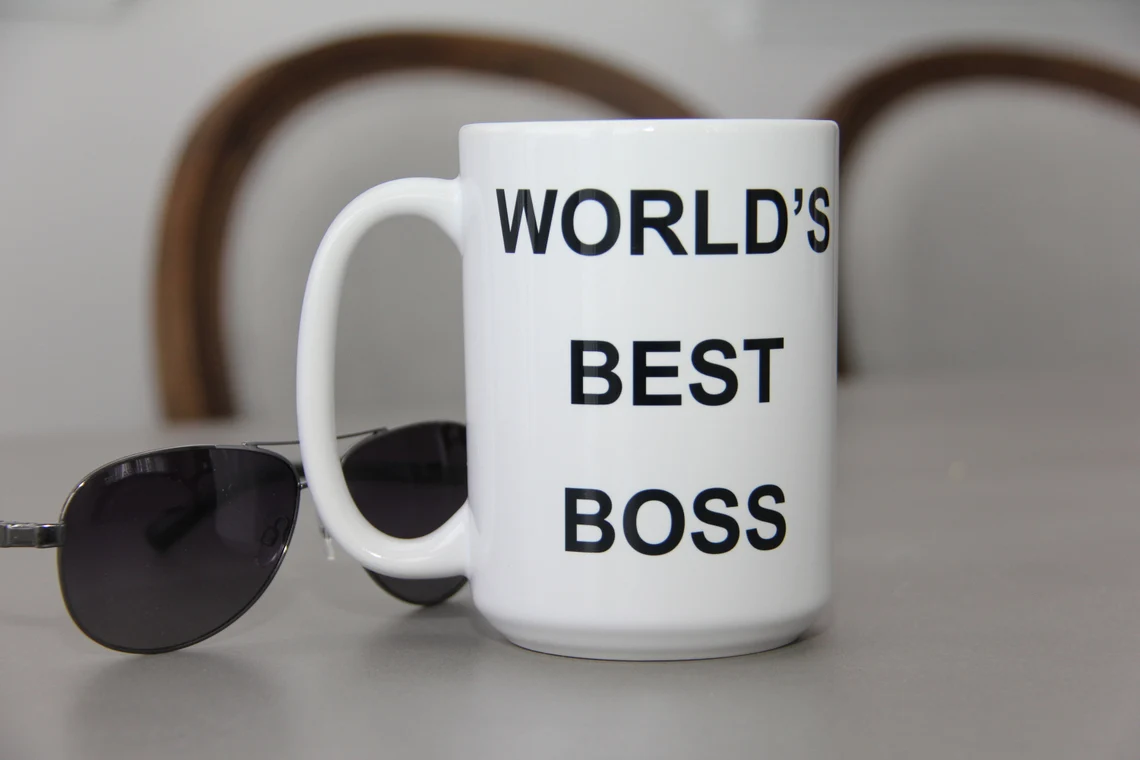 Pros
Multiple size options.
Printed on both sides.
Multiple color choices for mug inside.
Cons
Doesn't ship to all countries.
Why The Office Themed Gifts Are So Great?
The Office is more than a TV show. It created a culture that people all across the globe can resonate with. That's because the characters in the show are very relatable not just from a workplace point of view. Across its nine seasons, The Office has shown us the personal life of characters that made us grow attached to them.
That's why true fans of the series will appreciate The Office-themed gifts with any occasion. Besides, the product pool is incredibly generous, so you'll like to have gift ideas to last a lifetime.
Tips for Gifting the Office Themed Gifts
If you are a fan, choosing gifts for another The Office fan is easy. However, if you're not familiar with the characters or jokes from the show, making a themed gift can be more difficult.
Because of that, I've put together a list of things for you to try and (subtly) find out before choosing a The Office-themed gift.
Favorite Character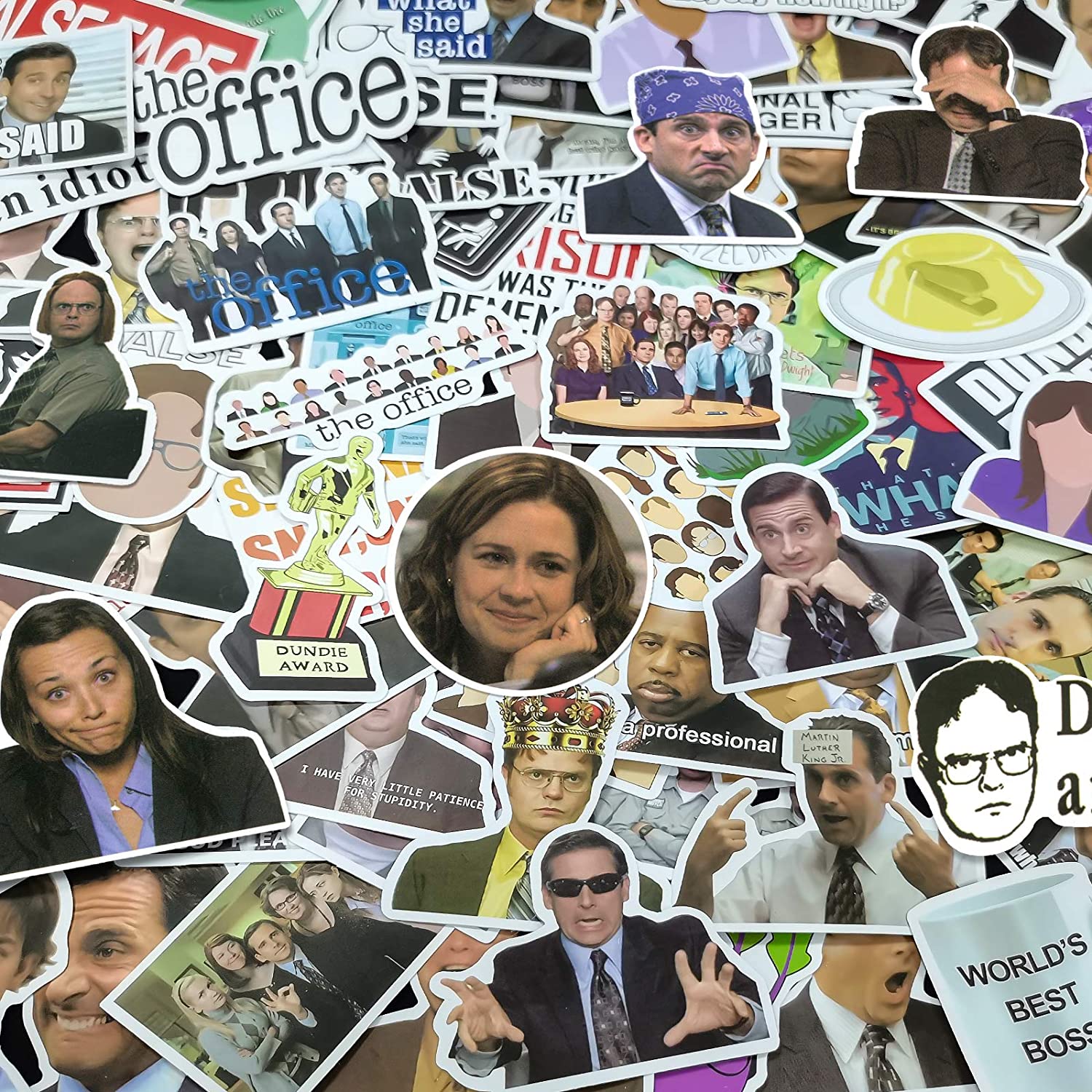 A lot of The Office-themed gifts are based upon a character. It could be a T-shirt or a mug with Jim or Pam, or a Funko Pop set with Michael and Dwight. Knowing what the recipient's favorite character on the show is will make purchasing the gift a whole lot easier. Read the article to discover a list and short descriptions of the show's main characters.
Favorite Quote
There are tons of memorable quotes that each of the characters said throughout the show. If you can discover what the recipient's favorite quote is, I've made a list of some iconic quotes from different characters on the show.
Most Popular the Office Quotes
To be fair, The Office is such a masterpiece that you could fill pages with quotes and (stupid) life lessons given each episode. If you're not a fan but would like to get a fan something personalized with a quote from the show, here are some of the most popular ones:
"I'm glad Michael's getting help. He has a lot of issues, and he's stupid." — Phyllis Lapin-Vance
"Bears, beets, Battlestar Galactica." — Jim Halpert
"If I don't have some cake soon, I might die." — Stanley Hudson
"When you're a kid, you assume your parents are soulmates. My kids are going to be right about that." — Pam Beesley
"I love inside jokes. I'd love to be a part of one someday." — Michael Scott
"Sorry I annoyed you with my friendship." — Andy Bernard
"Power points are the peacocks of the business world; all show, no meat." — Dwight Schrute
"Me think, why waste time say lot word when few word do trick." — Kevin Malone
"I've been involved in a number of cults, both a leader and a follower. You have more fun as a follower, but you make more money as a leader." — Creed Bratton
Practical vs. Gag Gifts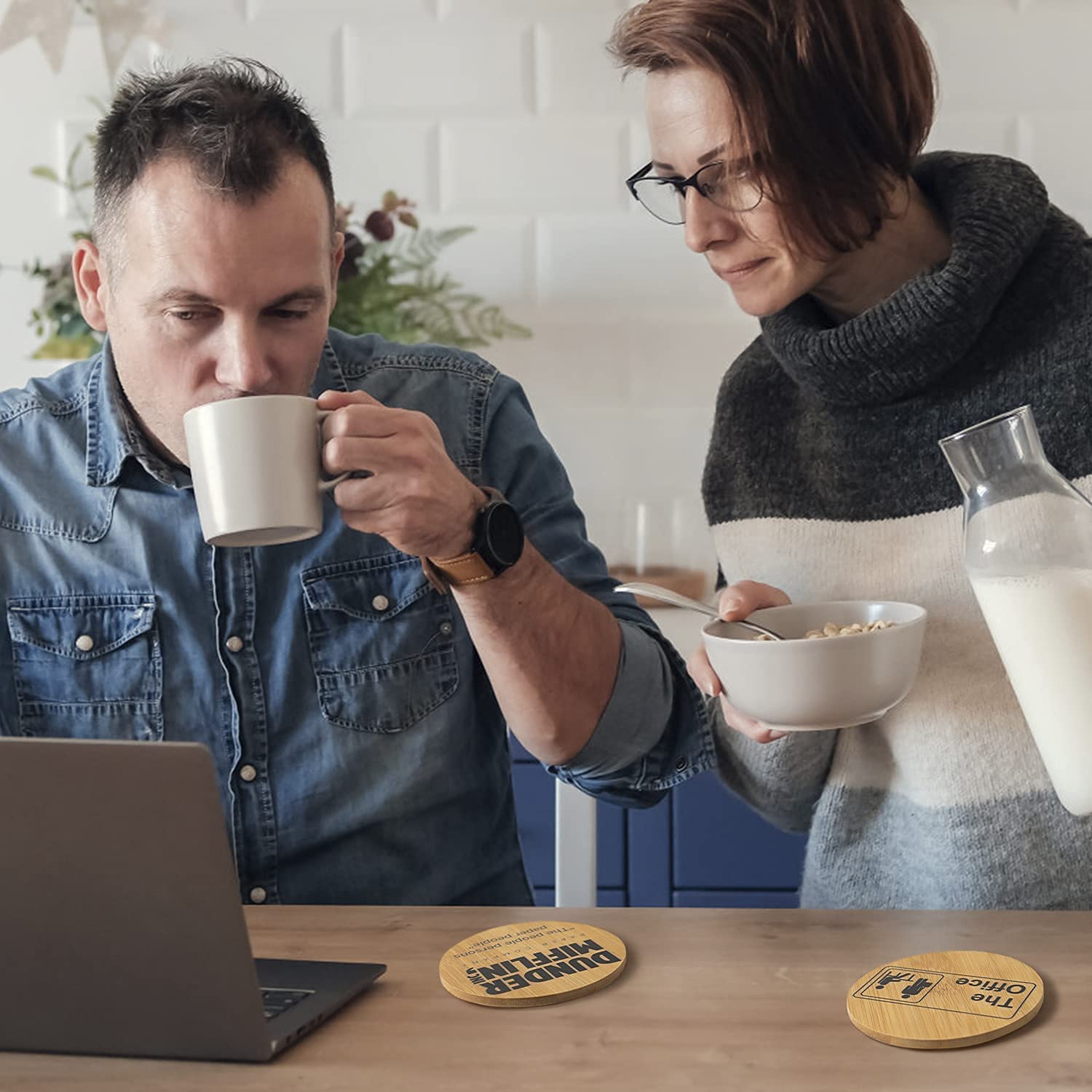 Some Office-themed gifts can be both funny and practical. For instance, mug sets, blankets, pillowcases, and even T-shirts can be incredibly useful for a fan of the show.
Gag gifts don't have any practical use but serve as collectibles or funny items that a fan of the show would love to have (try putting a stapler in Jell-O and gifting that to a fan to see how they would react).
Price
You can spend as little or as much as you want. The Office-themed gifts can be as cheap as a few bucks (for something like a themed keychain or a "World's Best Boss" coffee mug) or even cost a few hundred dollars (like the 880 Jim Halpert 3-hole Punch Funko Pop).
Most Popular the Office Characters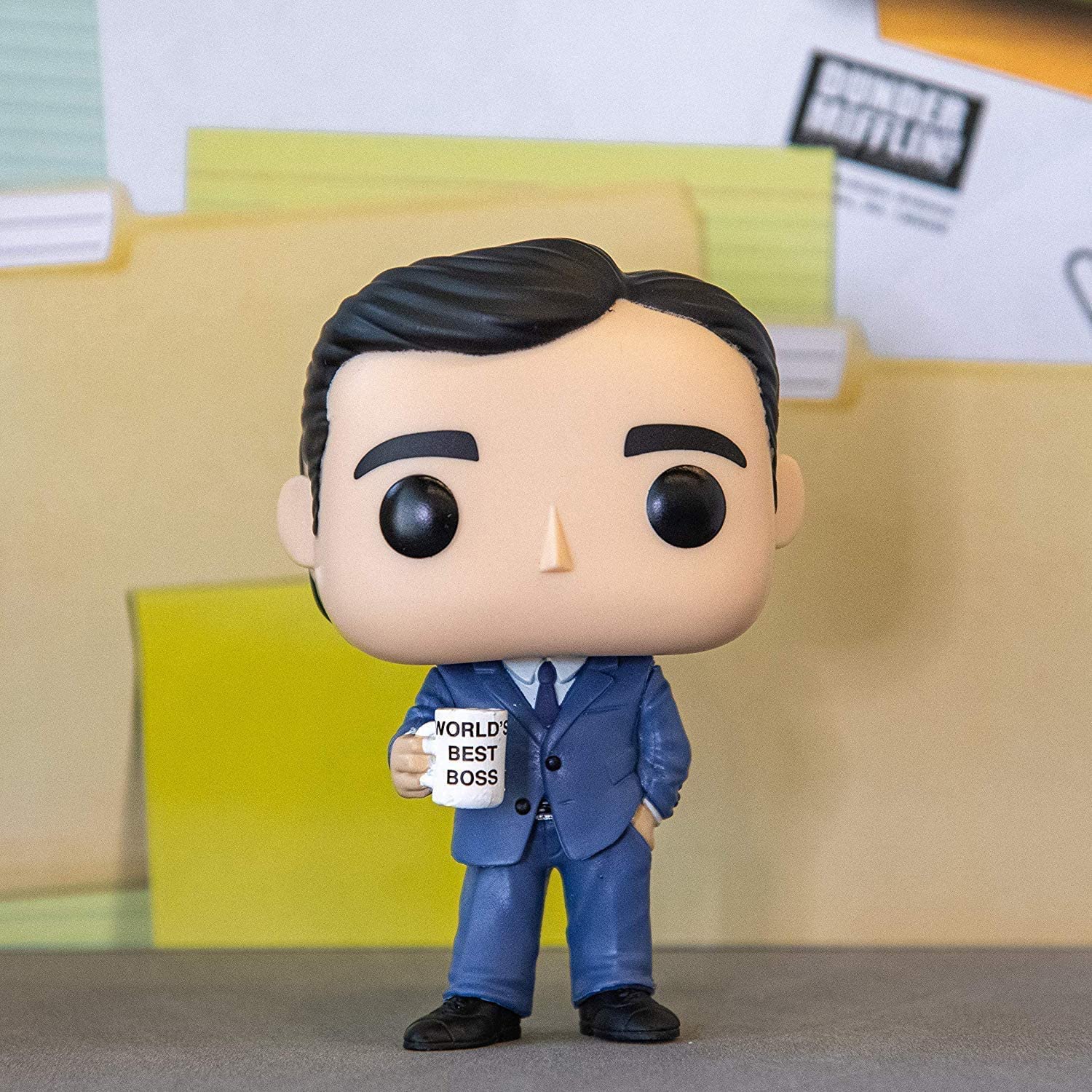 I always like to say that all characters in The Office are an important piece of the puzzle. Can you imagine the show without Creed's awkward mysteriousness or Stanley's grumpy old man attitude?
If you ask me, every character in the show is of tremendous value to the culture behind Dunder Mifflin but let me briefly tell you about those that are considered the show's main characters:
Michael Scott: Regional Manager – Boss, selfless lover, makes inappropriate jokes, thinks he's more charismatic than he actually is.
Dwight Schrute: Assistant TO THE Regional Manager – Top-notch salesman, law volunteer, has a sense of justice, naiver than you may think.
Jim Halpert: Top Salesman – Lazy, spends most of his work time pranking Dwight, (not so) secretly in love with Pam.
Pam Beesly: Receptionist – Shy, introvert, very creative, puts up with Michael daily, takes too long to discover she's in love with Jim.
Toby Flanders: HR Rep – Calm, always talks in a passive voice, receives way too much-unjustified hatred from Michael for "not being fun".
Ryan Howard: The Temp – Business student turned Dunder Mifflin temp turned sales rep turned receptionist turned VP of sales turned convicted fraud.
FAQ
Question: Why was The Office UK Canceled?
There were some rumors as to why the UK version of The Office was canceled. The show seemed to have low ratings. Ricky Gervais later stated that The Office felt like a one-man show stating that "It's so intense, particularly when you do everything yourself, it's not like there was a team of 20 writers and producers."
Question: Is The Office Good for 12-year-olds?
The Office is generally considered suitable for ages 13 and up. It's doesn't have any explicit bad language but it's a form of comedy that not everyone might like or understand.
Question: Why is The Office so Popular?
This is due to a decision that was taken from the beginning: that the show would be a mockumentary. This decision has made the show extremely relatable. During most episodes in the show, you see the characters interacting with the audience, making it feel like Michael, Jim, or Angela are talking directly to you, the viewer.
Final Words
When it comes to buying The Office-themed gifts, your possibilities are endless. Pretty much every object that can be personalized with a meme, a quote, or a picture for the series is a valid gift.
Even if you don't know much about the show, this guide should give you a pretty good perspective on what would make a good fit for The Office fans. And, in my opinion, you really can't go wrong with the Schrute Farm coffee mug! Want more The Office merch ideas? Check out our list of the best The Office-themed blankets!
Find more cool merch below:
The Best The Office Themed Blanket Ideas for Hardcore Fans
The Office Funko Pop Guide for the Ultimate Fans and Collectors
Your Ultimate Marvel Merch Guide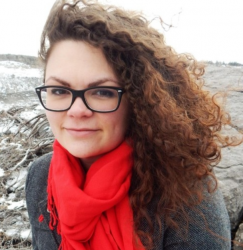 Latest posts by Candace Osmond
(see all)