Do you ever stop and wonder if you'll ever find a TV series as funny and heartwarming as The Office? I've re-watched the entire series a million times because nothing else compares.
Throughout the decades, certain TV shows were so impressive they became a religion. The Office is one of them, and I'm definitely a loyal follower. And if you love The Office-themed goodies, let me show you some very cool Dunder Mifflin blankets.
Bottom Line Upfront
As a huge The Office fan, it was hard to pick my fav from the list. But if I absolutely had to choose, I'd go with the Seven Times Six The Office Big Face Dwight Schrute Blanket. I mean…come on. It's Dwight!
Top 3 Picks
About the Office TV Show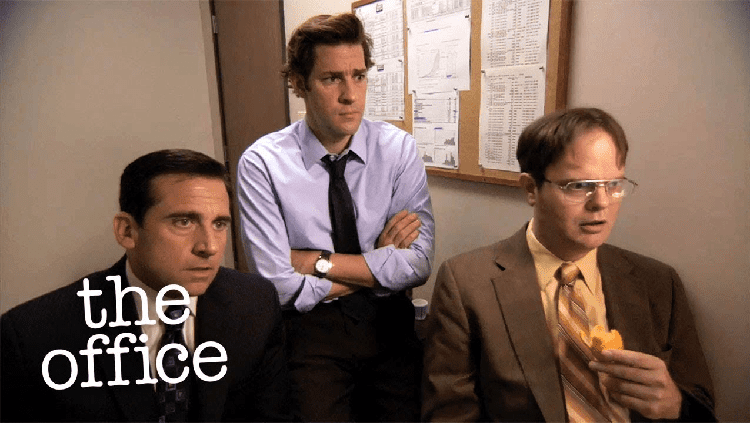 The Office is a mockumentary sitcom created by the brilliant and comedic mind of Ricky Gervais working together with Stephen Merchant. The US adaptation of the series, which was the longest-running version, aired for nine seasons from 2005 to 2013, resulting in 201 episodes.
It's safe to assume that if you're reading this, you're a The Office aficionado as yours truly. As true fans of the show, allow me to share some of the interesting and lesser-known facts about this series (WARNING: Spoilers ahead!):
The first person to ever be cast for The Office was B.J. Novak, who plays Ryan the temp.

Seth Rogen also auditioned to play the role of Dwight.

John Krasinki was meant to audition for the role of Dwight but convinced everyone that he should play Jim instead.

In 2011, it was actually possible to buy Dunder Mifflin paper.

Michael's kiss with Oscar was improvised (originally meant to be a hug).

The showrunners were the only ones who knew Michael would make one more appearance in the season finale.

The tips given on the show when Michael arranges a CPR training session at the office helped save someone in real life.

Pam and Michael had an improvised "farewell" scene when Michael left. The tears were genuine.
Best Ideas for the Office Blankets
Even though these are selected based on user reviews, quality, and design, I handpicked this list because I want ALL of them personally. I've never faced self-control like I have when writing this article.
The Office Blanket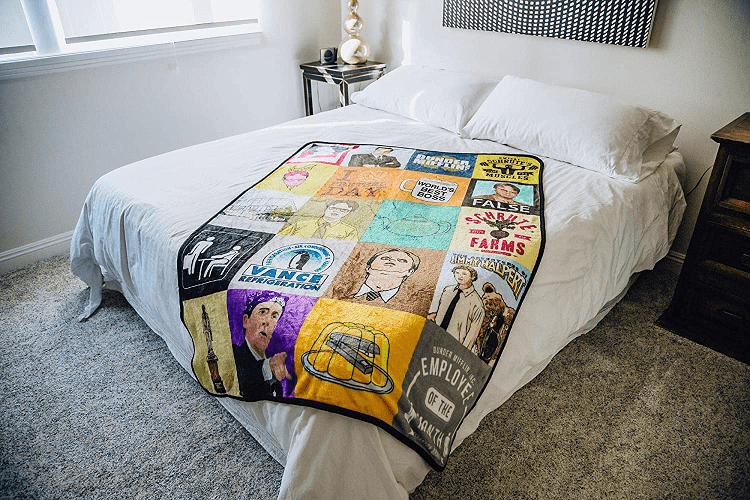 Fleece, silk, Battlestar Galactica. No, that's not right… The first blankie on our list is a fleece and silk blanket with loads of references that only true The Office fans will understand.
Measuring 45 x 60 inches, the blanket features 20 images that remind us of the Jim Halpert comics Pam created, the iconic Christmas teapot gift, The Dundees, and the self-praising coffee mug that Michael made for himself.
Jay Franco The Office Dundees Blanket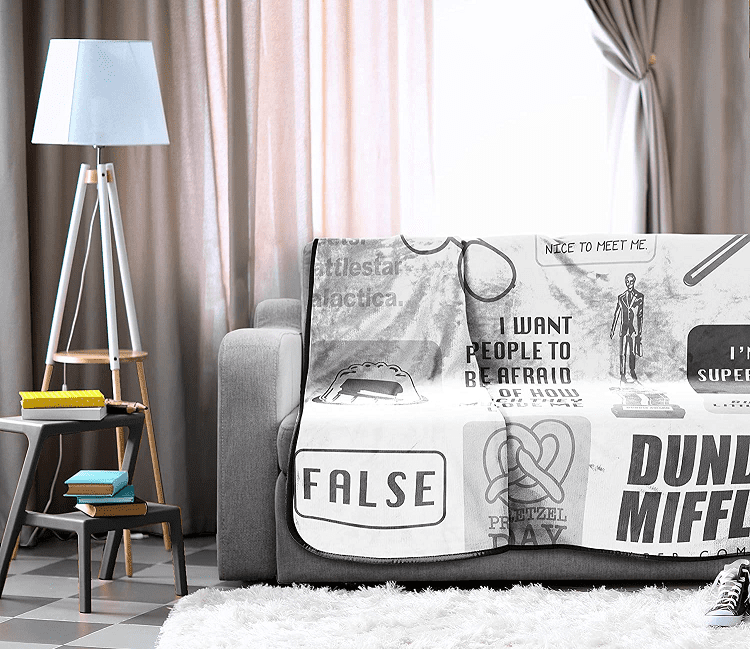 One of the major events revolving around life at Dunder Mifflin is The Dundees. It is Michael's version of the Oscars, with awards and titles being handed out to employees based on some of the weirdest criteria you've ever seen.
This blanket honors that event, showcasing a few other things specific to the Scranton branch's world. The blanket is made from fleece and measures 60 x 90 inches if you're going with the large version.
DAIMAIZHANG The Office Iconography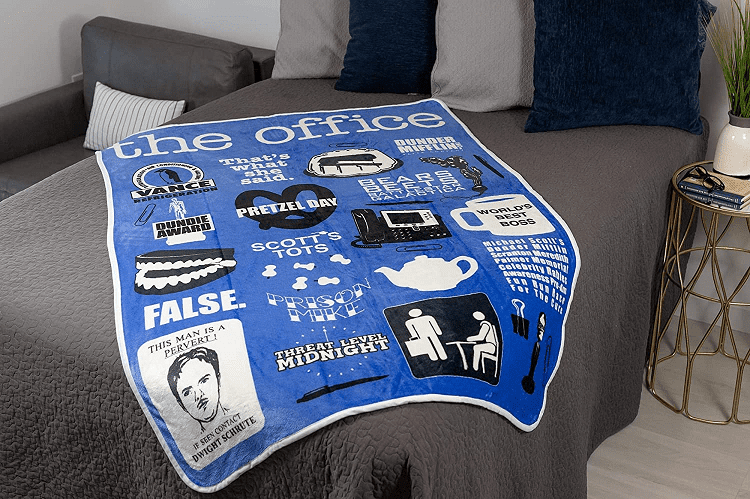 The DAIMAIZHANG blanket is similar to the ones we've seen before, except it comes with a blue background. It measures 45 x 60 inches and is also made from fleece material. It's filled with images and phrases that reference specific elements and moments of the show, including Pam's receptionist phone and Pretzel Day.
The Office Throw Blanket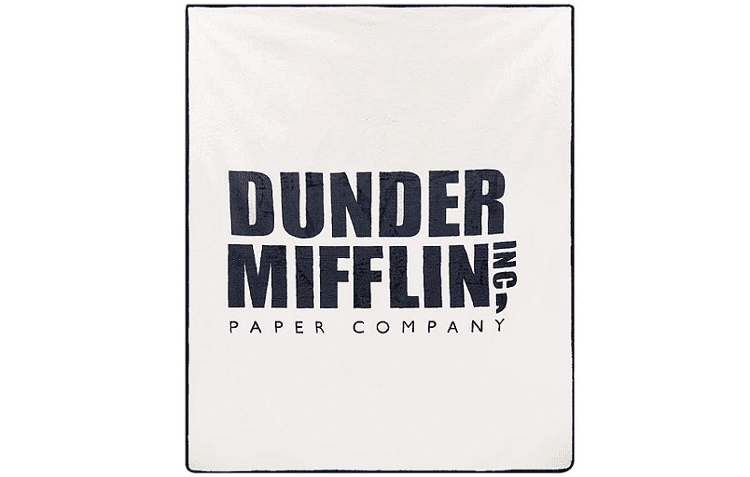 I would love nothing less than to spend an afternoon curled up on the couch, watching the adventure of Michael Scott's crew while also being covered in a soft polyester Dunder Mifflin blanket. It has a reversible design and bears the company's logo across its surface, making us proud to be fans of the show.
The Office Fleece Throw Blanket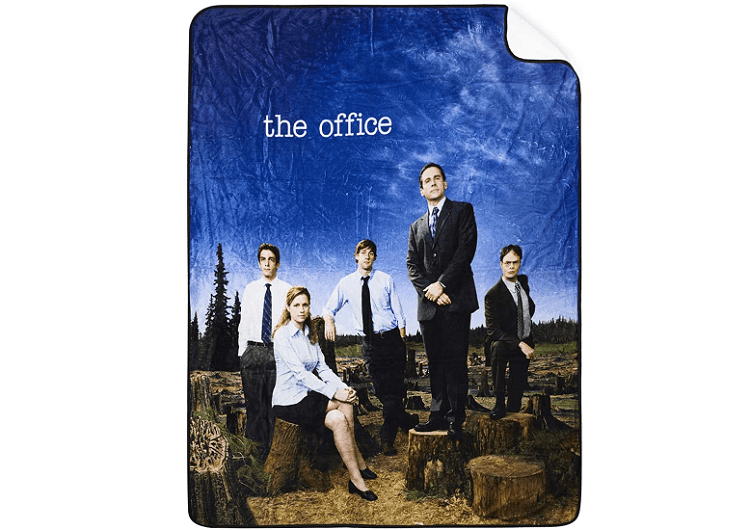 If you could turn a cool The Office poster into a blanket, this is probably what it would look like. Made from fleece, this 45 x 60-inch blanket depicts five of the show's favorite characters posing on stumps of trees that were most likely turned into paper for Dunder Mifflin.
Gmhnssdszd The Office Blanket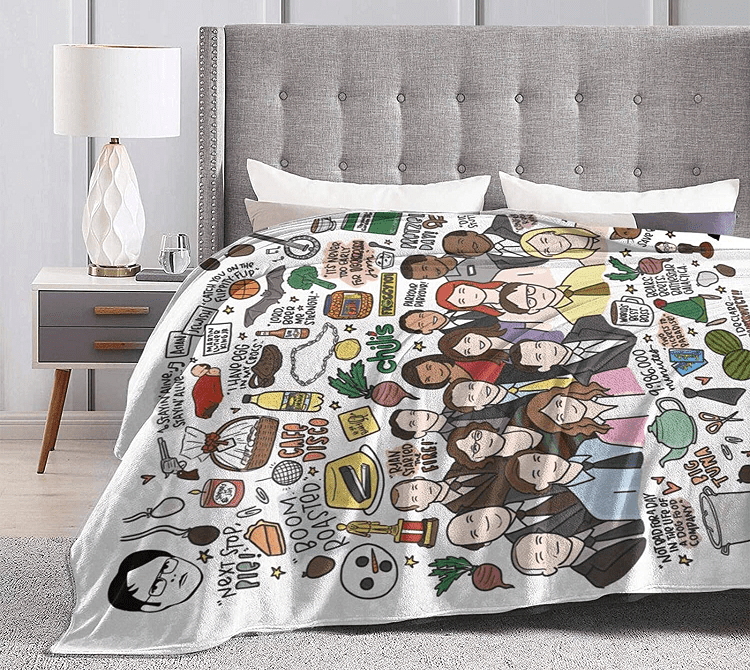 This adorable The Office throw blanket is available in three different sizes. It offers a more cartoonish approach to the characters.
You can spot drawings of Pam, Angela, Michael, Creed, Kelly, Kevin, and the entire squad. You also have some iconic elements here, like beets, the gold medal from the office Olympics, and even Dwight stapler Jim so kindly covered in Jell-O.
Seven Times Six The Office Big Face Dwight Schrute Blanket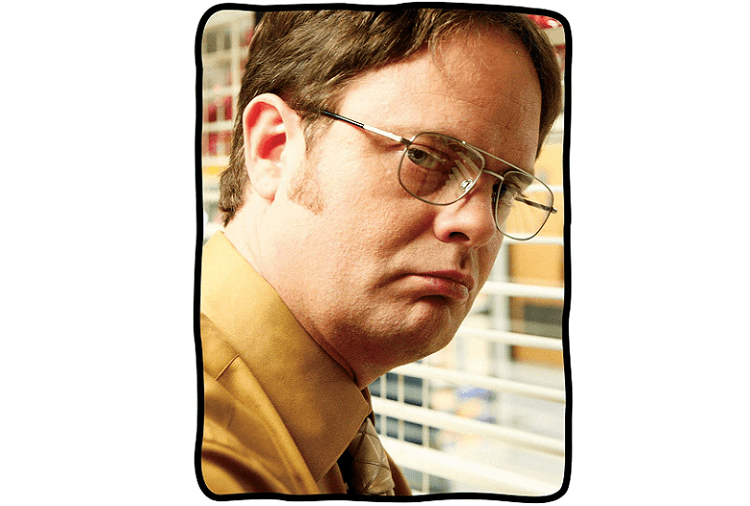 I've never one-clicked something to my cart so fast. Beyond a shred of a doubt, Dwight is one of the best characters in the show.
Despite his complete lack of social skills, he is a courageous and straightforward character, which makes him the character with probably the strongest personality in Dunder Mifflin. If you'd love to see Dwight's face more often, I'd suggest looking at this 46 x 60-inch polyester blanket.
FlashprintDesigns The Office Blanket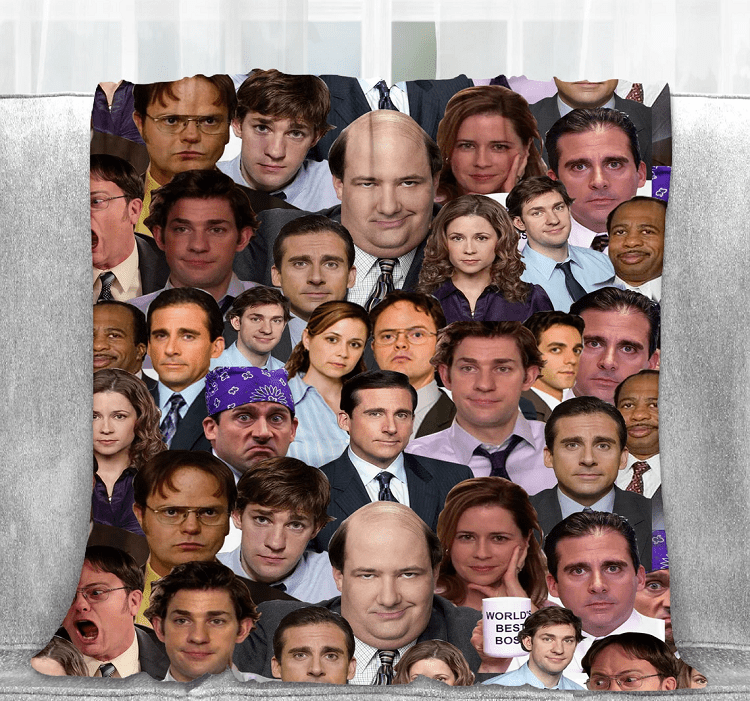 I can't help but bust-a-gut laughing whenever I look at it. With the possibility to choose between three different sizes, this The Office blanket feels like the show's characters are always by your side. From Kevin's quirky smile to Dwight's skeptical grin, this Minky blanket brings you close to the show that's sadly over.
PinupbabyBoutique Shrute Farms Blanket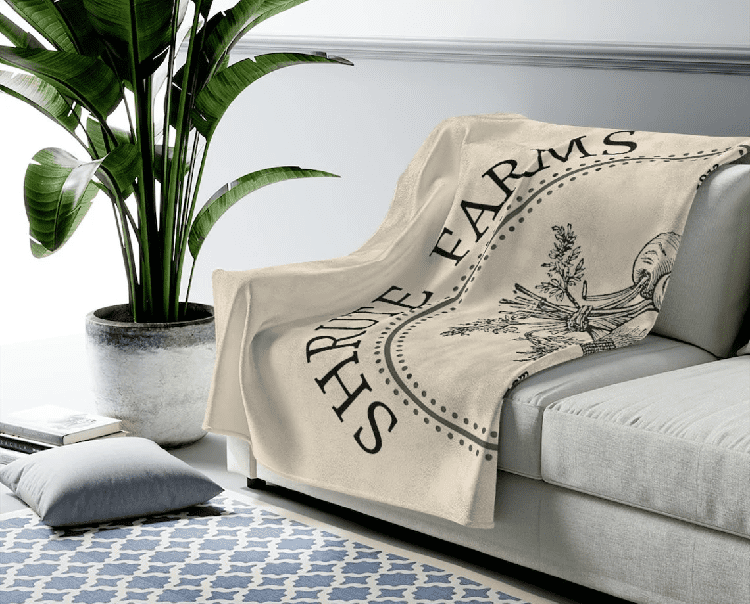 Fun fact about my fav TV show: did you know that you can actually find Schrute Farms on Trip Advisor? You can't really book a stay there because you get a clear message stating that this is a fictional place.
The show agrotourism attraction serves as the home for Dwight and Mose Schrute, and it's an iconic place where important events occur in the show. Here is your chance to get your hand on a Schrute Farms blanket!
Beymill Dunder Mifflin The Office Blanket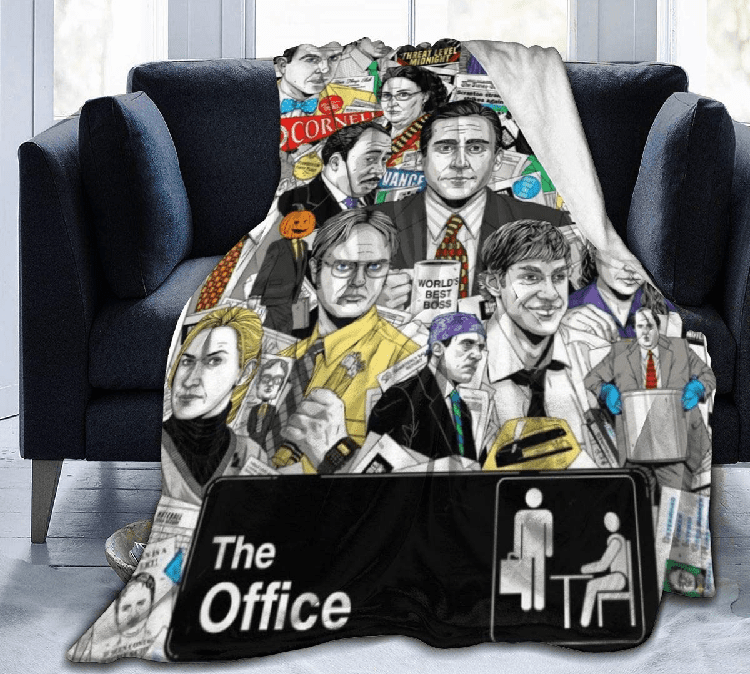 The Beymill blanket brings forth a part of what The Office is all about. It includes drawings of all major characters in the show. You can also spot prison Mike, which is a terrible prisoner stereotype that Michael uses to try and show the people at work how awful prison is.
The Office Collage Throw Blanket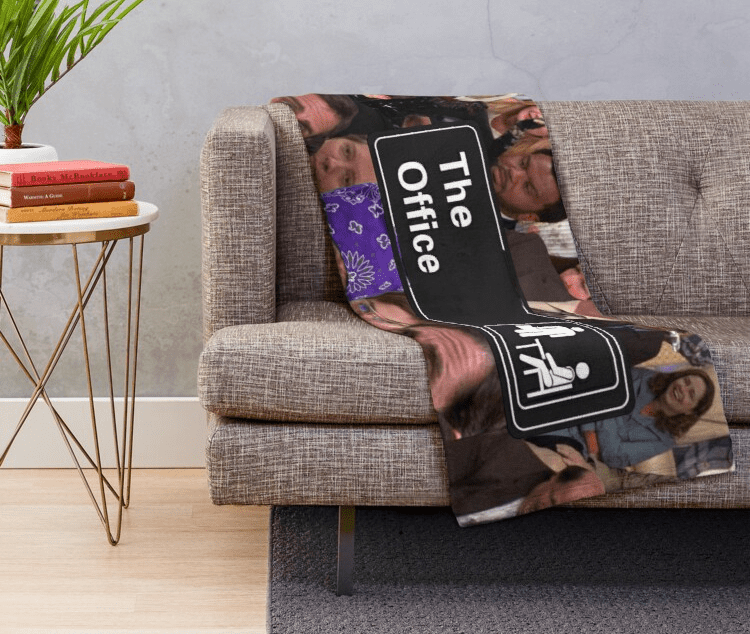 If you want to drape your couch in style, what better way to do so than with this iconic throw blanket that showcases your love for Dunder Mifflin?
The majority of the blanket is covered in the show's logo, with a background image of Pam smiling, Darryl doing Lord-knows-what, and some of the other employees at the paper company.
The Office Dunder Mifflin Sherpa Blanket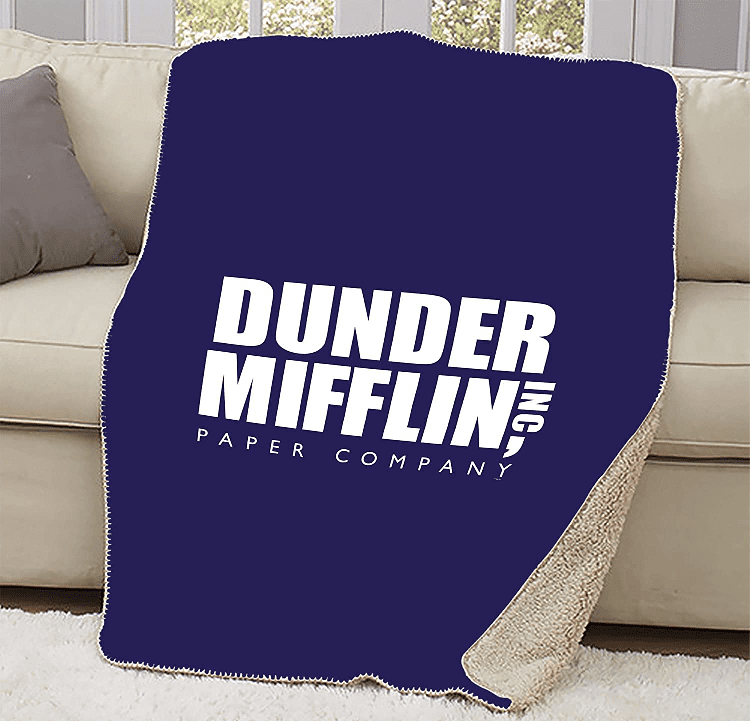 Sherpa blankets are warm, cozy, and extremely comfortable. And when your love for Dunder Mifflin knows no boundaries, having a sherpa blanket with the paper company's logo makes sense.
The design itself is pretty simple, so if you were hoping to see more of Michael's face, there are other The Office blankets more suitable to your taste.
The Office Schrute Farms Sherpa Blanket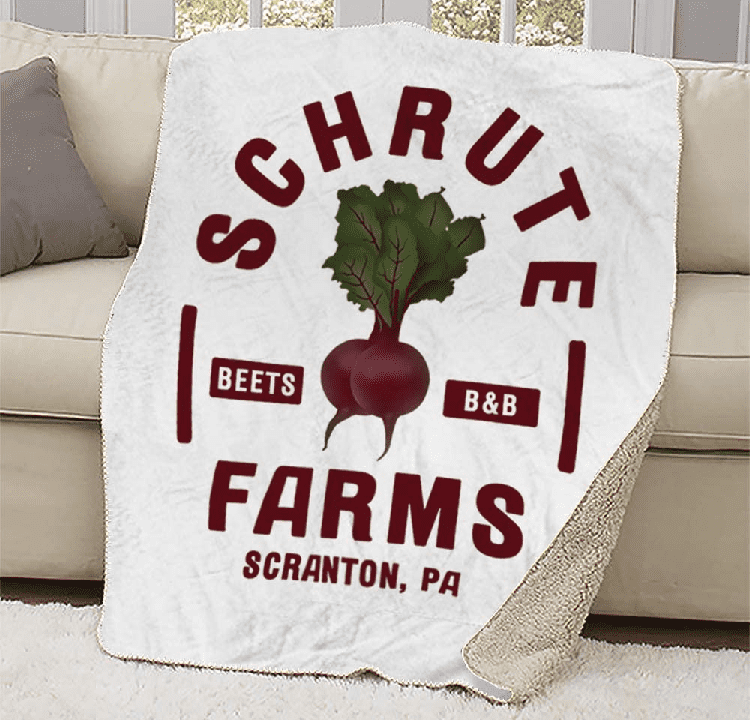 If The Office fans were given a chance to spend a night at Dwight's iconic bed and breakfast, they would most likely agree to do it.
Schrute Farms is a charming place that transports you back to a simpler time (so simple that you had to churn your own butter). Take pride in owning a blanket with the Schrute Farms logo, giving you the sense that you're actually supporting Dwight's business.
The Office Bedspread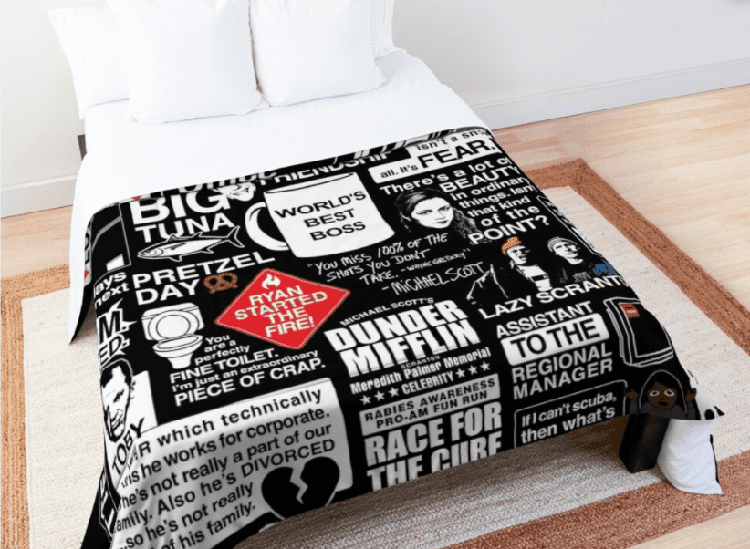 The Office is a TV series that left us with many memorable puns, catchphrases, and other quotes that we'll always cherish. If you're a fan of words and this TV show, how about a bedspread that gathers some of the most well-known ones?
It includes Andy's nickname for Jim (Big Tuna), the famous Race for the Cure, and even Dwight's official title – assistant TO the regional manager.
The Office Blanket Crochet Pattern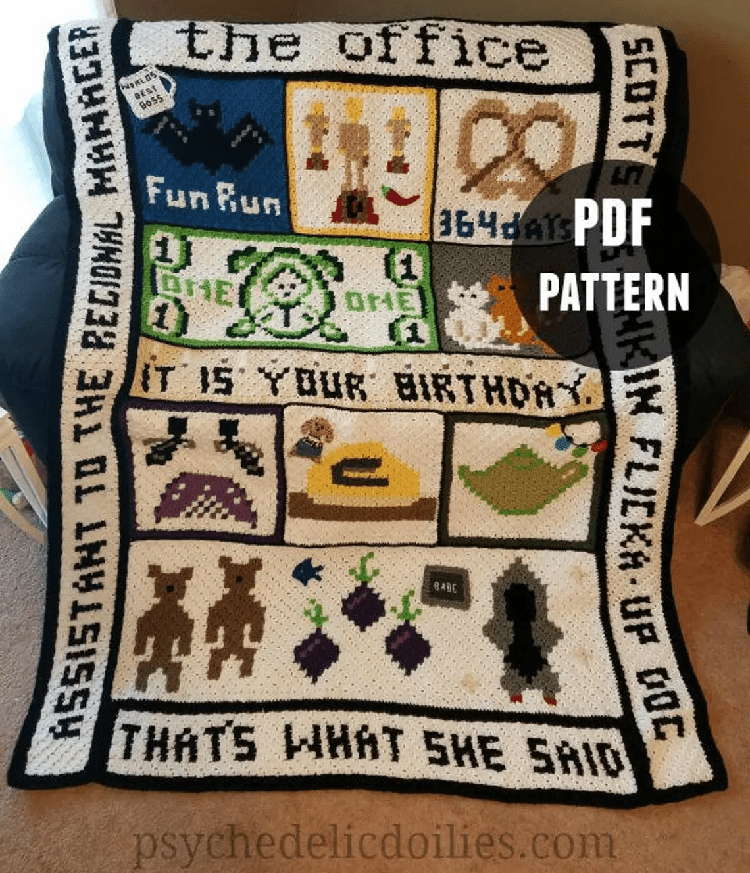 If you're into crocheting, how about making your own The Office Blanket? If my grandmother were still alive, I'd be getting her the pattern for this SO FAST.
You can download the patterns needed to create something truly unique and stunning. Beets, bears, Schrute dollars, pretzels; this blanket could have it all. And you get to take credit for telling everyone you made it yourself.
Most Popular Characters on the Office
For true fans, every character in The Office is a popular one. The way each character on the show is built makes them a significant part of the story. Even the characters you don't see every day are like a piece of the puzzle and are essential in the grand scheme of things.
However, The Office is considered to have four main characters that appear in almost every episode throughout the series.
Michael Scott, Portrayed by Steve Carell

Dwight Schrute, Portrayed by Rainn Wilson

Jim Halpert, Portrayed by John Krasinski

Pam Beesly, Portrayed by Jenna Fischer
Types of Blankets to Consider
Throw
In the context of bedding, a throw is a blanket that is intended for usage mainly around the house rather than in bed. In general, throws are 70 inches by 50 inches in size, with many of them being lighter and more decorative because they are typically draped over chairs and sofas.
Quilt
A quilt is a sort of blanket that contains an inside layer made of cloth that has been stitched together and is covered with another layer of material. Quilts are typically distinguished by the presence of a decorative design on the external stitching.
Weighted
This sort of blanket has an additional weight, which can range anywhere from 5 to 30 pounds, integrated into the blanket's construction.
Grounding is a practice that some people use to make them feel more at peace in bed due to the additional pressure. According to some theories, this causes the production of favorable hormones for sleep and mental well-being to increase in some people.
Heated
As the name suggests, these blankets have an internal electrical wiring system that allows the blanket to heat up. They usually have a power cord and require an outlet to function.
Coverlet
Coverlets are thin bedspreads. Their primary role is to cover the mattress top and are mostly decorative. They typically have a woven face that has either linen or cotton backing.
Best Materials for Blankets
The materials used to make a blanket will tell you about its properties, durability, ease of care, and overall quality.
Cotton
Cotton is utilized in a wide range of sleeping products with its smooth feel, including mattresses and pillows. It is normally smooth and soft, and it absorbs moisture, which allows it to breathe reasonably well in most situations.
Wool
Wool is a naturally antibacterial and moisture-wicking material derived from sheep. It provides significant warmth while remaining highly breathable, making it suitable during any season. Wool isn't as soft as other materials, but it is still quite soft in its own way.
Polyester
Polyester blankets are typically a less expensive alternative to other materials. The versatile material can be formulated in various ways to achieve a variety of textures and properties. Polyester isn't as breathable as cotton and is particularly prone to static electricity build-up.
Fleece
Fleece is a man-made fiber similar to wool. It is generally less expensive than wool; it provides comparable warmth, density, and feel and is frequently a good alternative for people allergic to wool. Fleece is less breathable than wool and might be inconvenient during certain seasons.
FAQs
Question: How Big is a Blanket?
Answer: You can find throw blankets as small as 45 x 60 inches or as large as King-sized blankets, which measure 108 x 100 inches.
Question: Where Can I get The Office-themed Blankets?
Answer: There are tons of online stores that sell The Office-themed blankets, including Etsy and Amazon.
Question: Can I get Custom Blanket Designs With The Office Themes?
Answer: Yes. You can turn to a print shop and have a blanket printed with a custom The Office image or logo. You can also turn to Etsy to find crafters that can make the blanket for you.
In the End
If you're the type of The Office fan that loves to binge-watch a series in style and comfort, a warm blanket is surely a great product to consider.
The assortment of options and prints to choose from is very generous. And, if you're a true The Office fan, why stop at blankets? There is plenty of The Office merch and memorabilia that you could collect, from T-shirts to teapots.
Continue reading:
The Office Funko Pop Guide for the Ultimate Fans and Collectors
The Best Harry Potter Blanket Ideas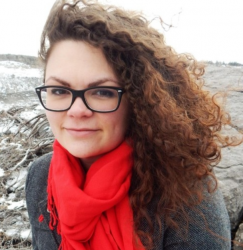 Latest posts by Candace Osmond
(see all)