Are you a fan of one of the best comedies of all time, The Office? If not, you're in the wrong place, buddy. I'm a superfan and I'm about to nerd out on two things I love: the show and Funko Pops.
If you dreamt about the love between Pam and Jim or think that Michael is the best boss in the world, you likely love The Office. And if you want to get your hands on as many collectibles as possible, let's look at the best The Office Funko Pop guide.
Bottom Line Upfront
Okay, how can I possibly pick my fav from this list? I want them all! But, I have to say, I might buy Dwight with Gelatin Stapler because I actually did that to my husband once when we both worked at a home builder!
Top 3 Picks
How Many the Office Funko Pops are There?
If you want to start collecting The Office figurines, you have 77 toys that could go into your collection. Some of them are from 2020 NYCC, 2020 ECCC, or 2019 NYCC. The entire The Office Funko Pop collection is priced at around $1,465.
Popular the Office Characters to Look For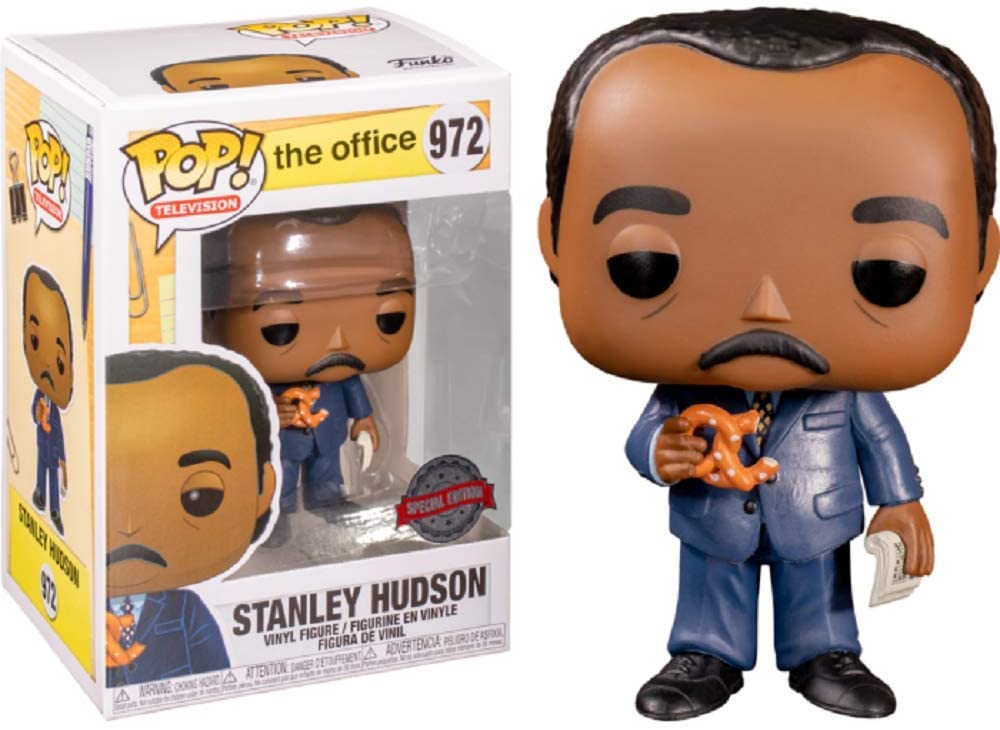 One might argue that every character on the show is popular because they are so well-built, they feel essential to the whole comedic image of The Office.
However, some characters appear in almost every episode, including Michael Scott, Jim Halpert, Pam Beesly, Dwight Schrute, Andy Bernards, Darryl Philbin, and Ryan Howard.
What Is the Rarest The Office Funko Pop?
While not necessarily the rarest, the most expensive Funko Pop is 880, Jim Halpert. It currently has an average price of around $121. Some rare Funko Pops include Phyllis 1131, 870 Jim Halpert Bookface Chase, and 882 Dwight Schrute w/ Bobblehead – 2019 NYCC.
What's the Most Popular the Office Funko Pop?
If were to consider the most popular The Office Funko Pops as being the most expensive ones, the list would look something like this:
880 Jim Halpert – $121
1103 Dwight Schrute Basketball (Chase) – $77
1104 Creed Bratton (Chase) – $73
Funko Pops Features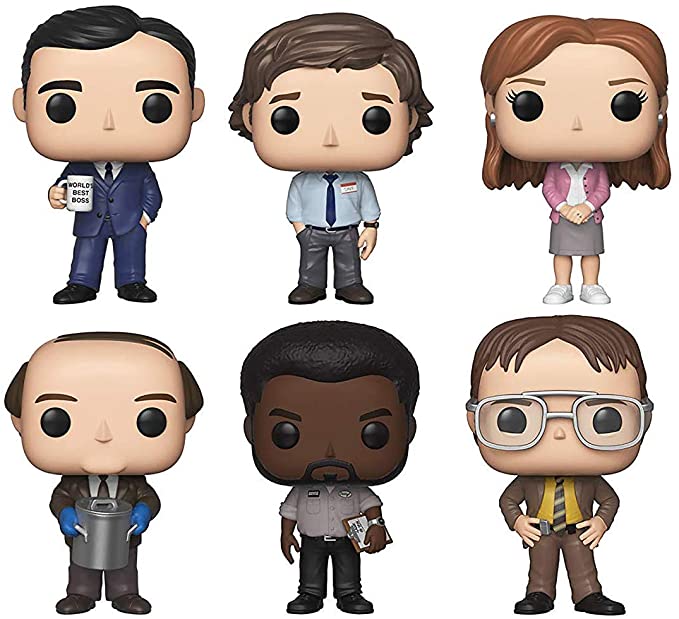 Every Pop has its own unique features, depending on the character they're portraying. But these few points are common with all of them.
Bobblehead
Bobbleheads are figurines with huge heads that use a spring-like mechanism to bob up and down. The designs of Funko Pop Bobbleheads are dictated by license agreements, even if fans demand something different.
As these pop lines continue to introduce new designs, bobblehead Funko Pops are becoming increasingly popular. Not every Funko Pop is a bobblehead, as some may believe. A bobblehead can be found on every Star Wars Funko Pop figure, and the majority of Marvel figures are also bobbleheads.
Non-Bobblehead
As you probably figured out, most Funko Pops are not bobbleheads. Some pops have heads that you can rotate but, for the most part, Funko Pop heads are meant to face forwards and their heads have a fixed position.
Fixed Stand
Funko Pop stands are platforms on which your figures can stand to stabilize their feet and secure them so that they can be displayed on a display shelf.
These stands provide the necessary support for your Funko Pops so that they can remain still and upright at all times (forward-facing). Pops that are unbalanced make for a poor-quality figure display, which is something most collectors want to avoid.
Modern Funko Pops, with their large heads and small bodies, perform jumping or flying poses on stands to demonstrate their agility.
A single or two small pillars or connectors support each stand. These connectors are used to attach the feet of a Funko Pop to the body of the figure. As a result, the Funko Pops become more stable, preventing them from suffering any damage from a fall.
Even though this is fundamentally how stands work, some stands allow you to mount them to any wall, eliminating the need to construct a shelf. Everything is as simple as plugging the stand into a wall and placing your Funko on top of it. You can now put stable Pop on display without the use of a shelf.
Removable Stand
Certain Funkos have removable stands, as some of the Star Wars pops. Only a few Funko Pops have holes in their feet, indicating that they require a stand or a base to remain stable.
These Funko Pops are packaged with display stands. However, you may come across a Pop that requires a base but does not have any holes, and you may come across Pops that do not require bases but do have holes in their feet.
A Guide to the Best the Office Funko Pops
Okay, this wasn't hard. There are tons of great choices, but I rounded these up based on their uniqueness, price range, and popularity.
Michael Scott Funko Pops
Is Michael your fav on the show? Then you need at least one of these.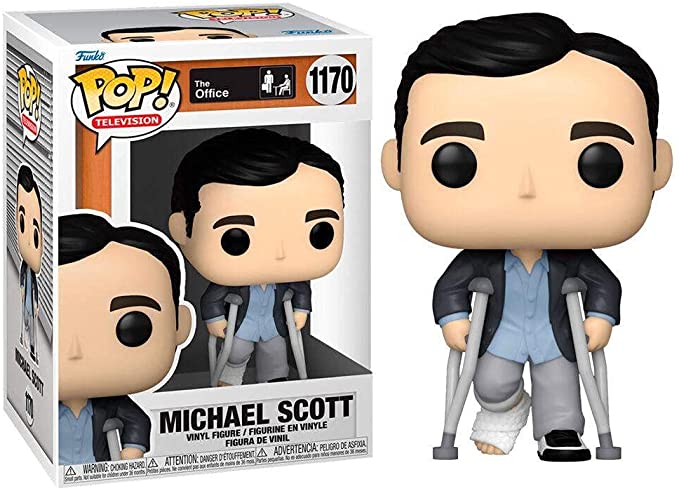 In the 12th episode of the second season, Michael somehow manages to burn his leg by stepping on a George Foreman Grill. The episode is called "The Injury" and it is one of the show's best episodes. If you want to relive those funny moments in your mind over and over again, here is a Funko Pop with Michael with crutches.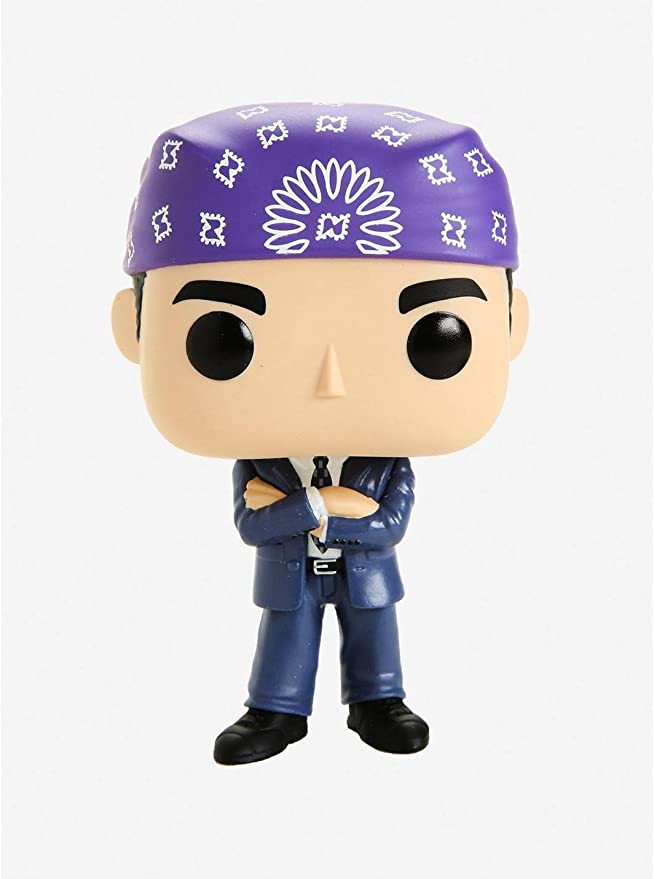 One of Michael's many personas (and probably the most controversial one) is Prison Mike. He is a terrible stereotype that Michael adopts when he wants to show his employees how awful prison life is. This Funko Pop is an excellent piece for those who love Michael Scott. Like all the other Funkos, this one is made from vinyl and it measures 1.97 x 1.97 x 4.33 inches.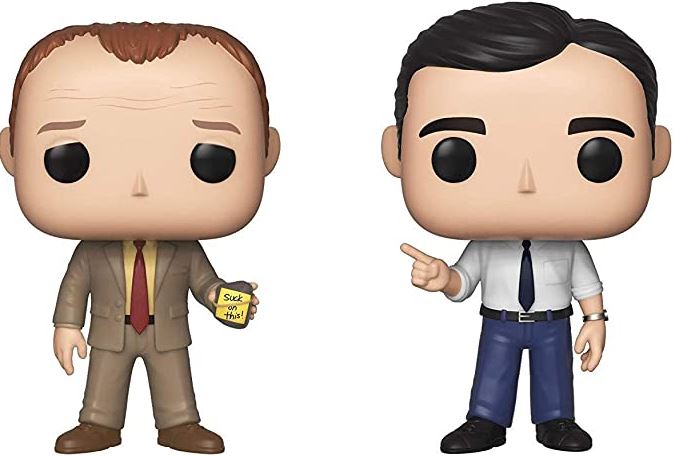 Dwight and Jim have the most popular rivalry on the show, but fans know that it's mostly friendly fun. The true rivalry in The Office is between Michael and Toby. Most of the time, it is unclear why Michael hates Toby so much, but we do often see him calling Toby a "buzzkill".
What better way to express this rivalry than by collecting this pack of two Funkos representing these two characters?
Dwight Schrute Funko Pops
Dwight's my fav character aside from Michael. In my opinion, the show wouldn't be the same without him.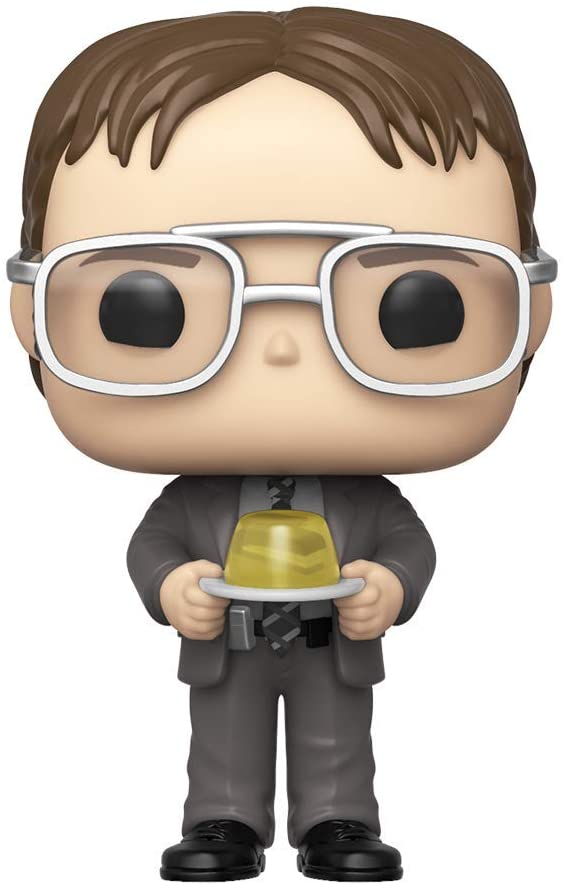 One of the most famous pranks that Jim pulls on Dwight in the series is having all the stuff on his desk covered in Jell-O. If you want to capture the moment forever and have a Dwight figurine while he's holding his gelatin stapler, this Funko Pop is the perfect choice for you. It's also one of the cheapest The Office Funko Pops out there, so it's a great collection starter.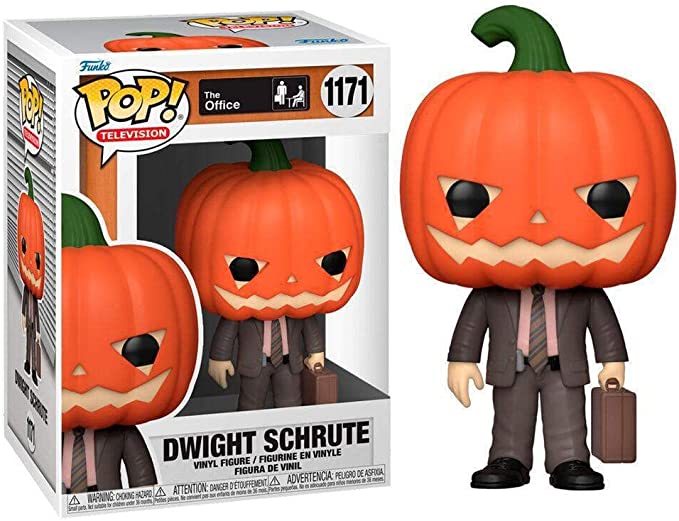 In the episode called "Here Comes Treble" we get to see our favorite angry German salesman Dwight wearing a pumpkin on his head. However, when he tries to remove it, he discovers that it's stuck!
Dwight is confined to it for the remainder of the day and predicts that it will be removed in a few months. Now you can have your own Dwight with a pumpkin on his head if you purchase the 1171 Funko Pop.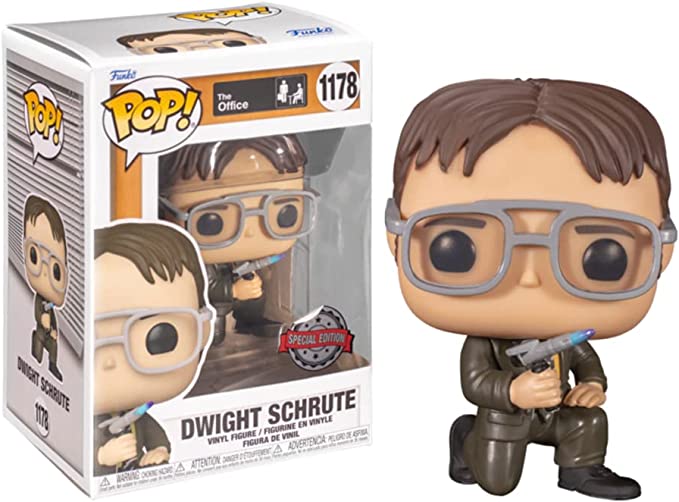 In his attempts to be very helpful, Dwight often causes mayhem. In season 5, Dwight performs a highly realistic fire practice to see if his coworkers are ready in case of an emergency.
With his blowtorch, he makes all of the doorknobs hot, which would imply a fire is raging behind the door. To begin the simulation, he starts a fire in a rubbish can. This figurine captures that moment for eternity, so you can always remember that day at the office.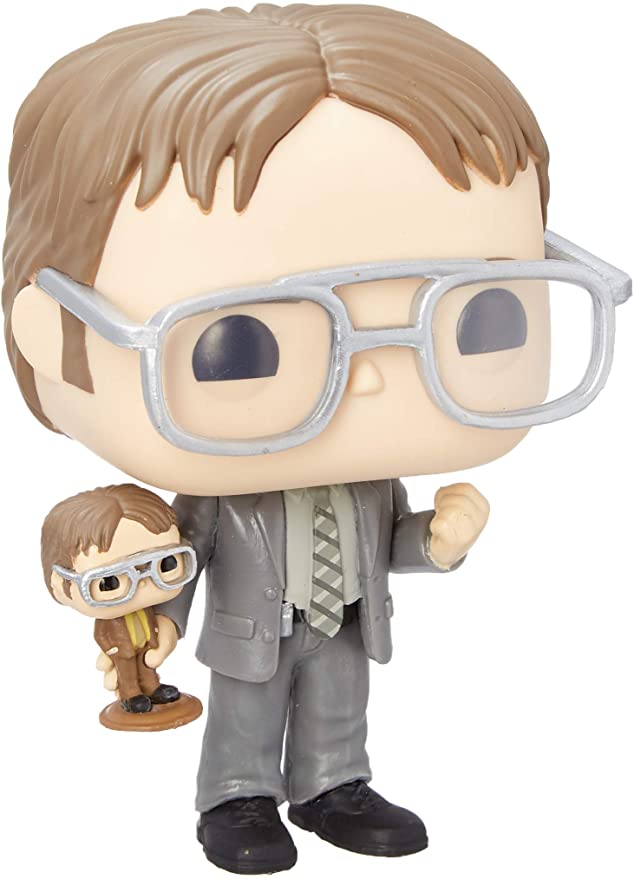 A custom-made bobblehead doll of Dwight patterned after he was given to him by Angela in the episode "Valentine's Day" of season 2 of The Office. Dwight said it was the finest gift he had ever received.
It was a wholesome moment (which shows just how much Dwight loves himself) that's captured by this Funko Pop. We see Dwight holding the bobblehead statue Angela made for him.
Jim Halpert Funko Pops
When I realized the show was basically a love story for Jim and Pam, it made me love them even more.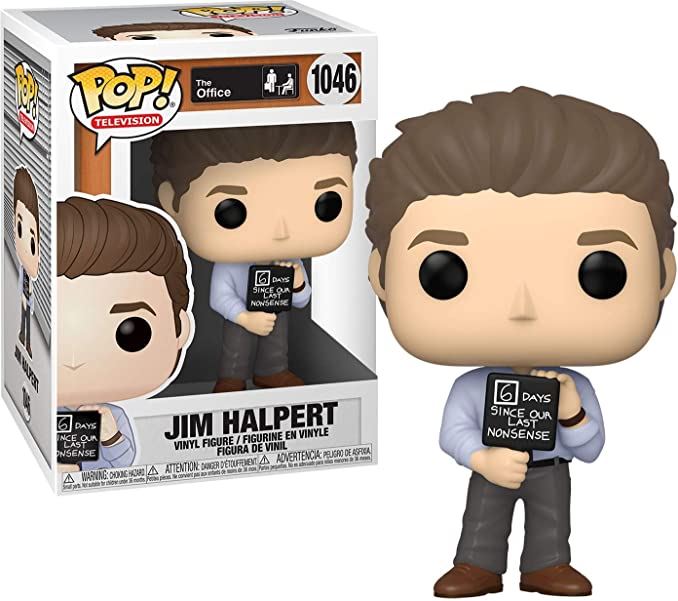 When Jim tricks Dwight into making him assistant to the assistant to the regional manager, he is seen holding a sign saying, "6 days since our last nonsense". That's because Dwight's policy is to have a work environment without any fun or pranks. That moment is forever immortalized in this adorable vinyl Funko Pop.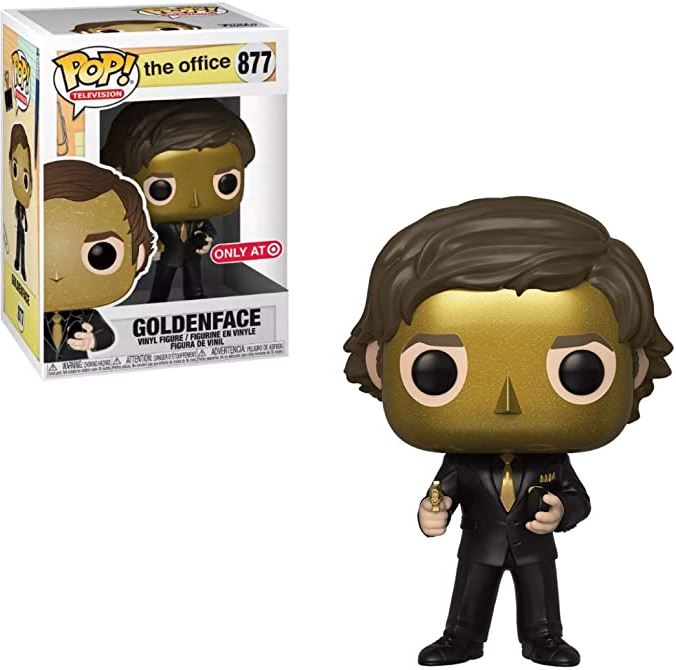 Goldenface is a character in the film Threat Level Midnight that Jim plays (with Michael being the writer, producer, and director). An explosive puck is in one hand, while a pistol and a black and gold outfit are in the other. Villain Jim is here for the pleasure of all Funko Pop collectors, so you can get your hands and this gorgeous figurine. The details on this are amazing.
Pam Beasly Funko Pops
She's arguably the most boring character on the show, but I have a soft spot for her. Near the end, she really blossomed, and I loved seeing her take charge of her life.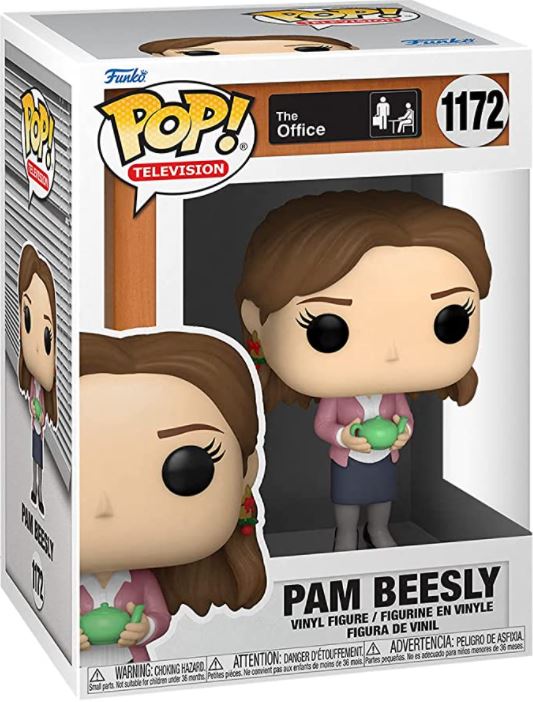 When you think about Jim and Pam's love story, there are a few iconic moments that come to mind. One of them is the episode with Secret Santa when Jim draws Pam and puts together a few items he knows she'll love in a teapot. If the relationship between Jim and Pam was one of the reasons why you love The Office so much, this Funko figurine is a must-have.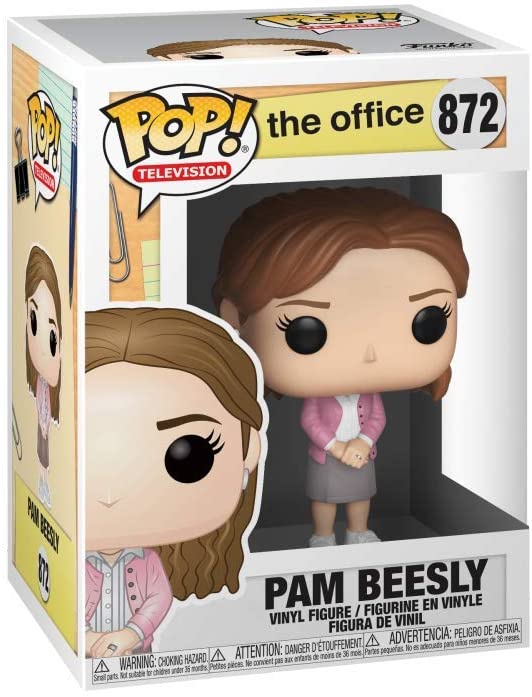 Receptionist, faithful friend, reliable co-worker, and the best partner Jim could have asked for. Pam Beesly is the introvert you quickly grow fond of.
Depicted in her white shirt and iconic pink jacket, Pam Beesly can make her way into your home and heart thanks to this adorable Funko. Measuring 2.5 x 2.5 x 3.75 inches, this is the most adorable pocket version of Pam you're ever going to see.
Must-Have The Office Funko Pops
Yeah, there's the main characters, but the supporting character are what encompasses the entire sitcom. These Funkos are a must-have.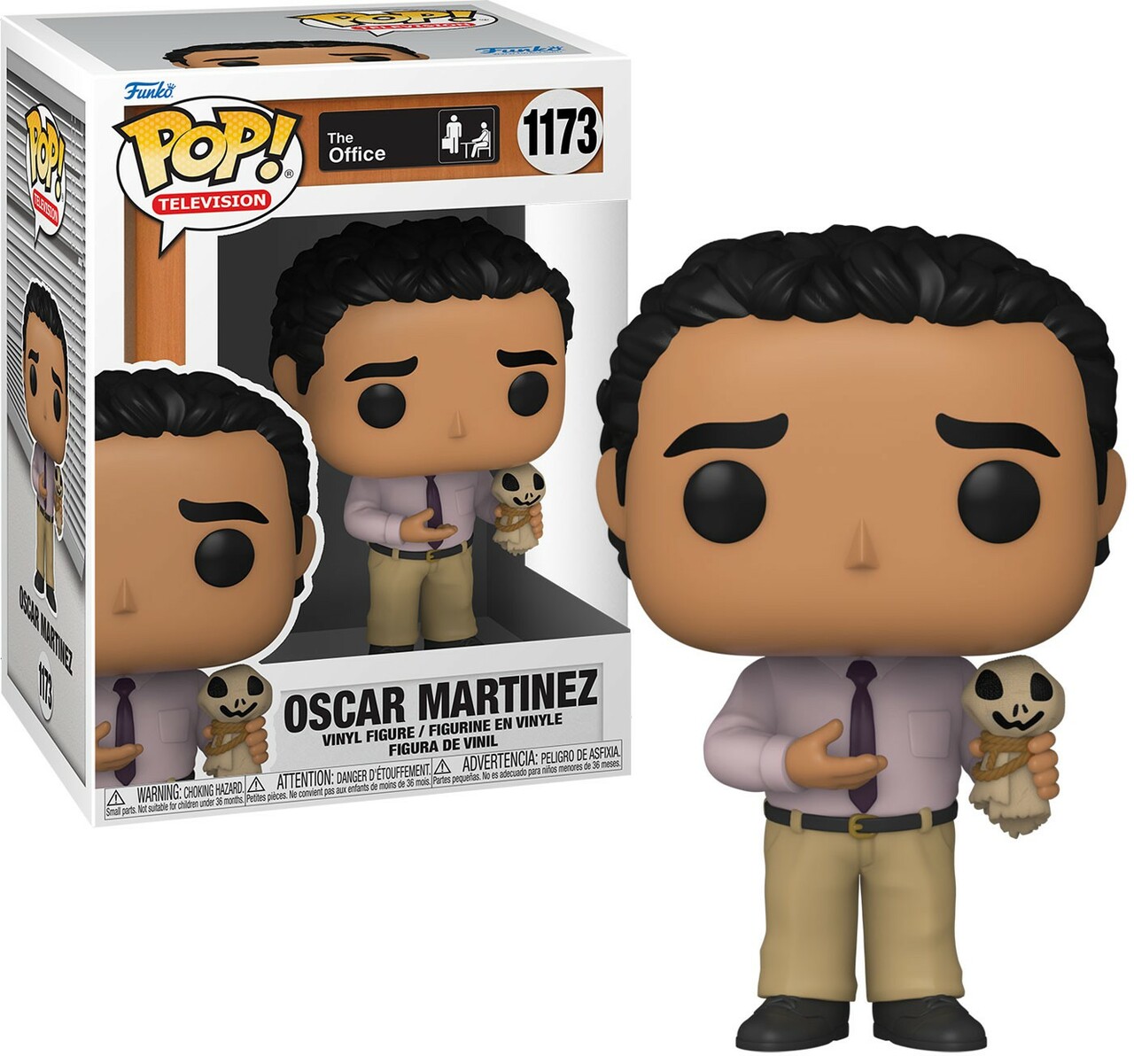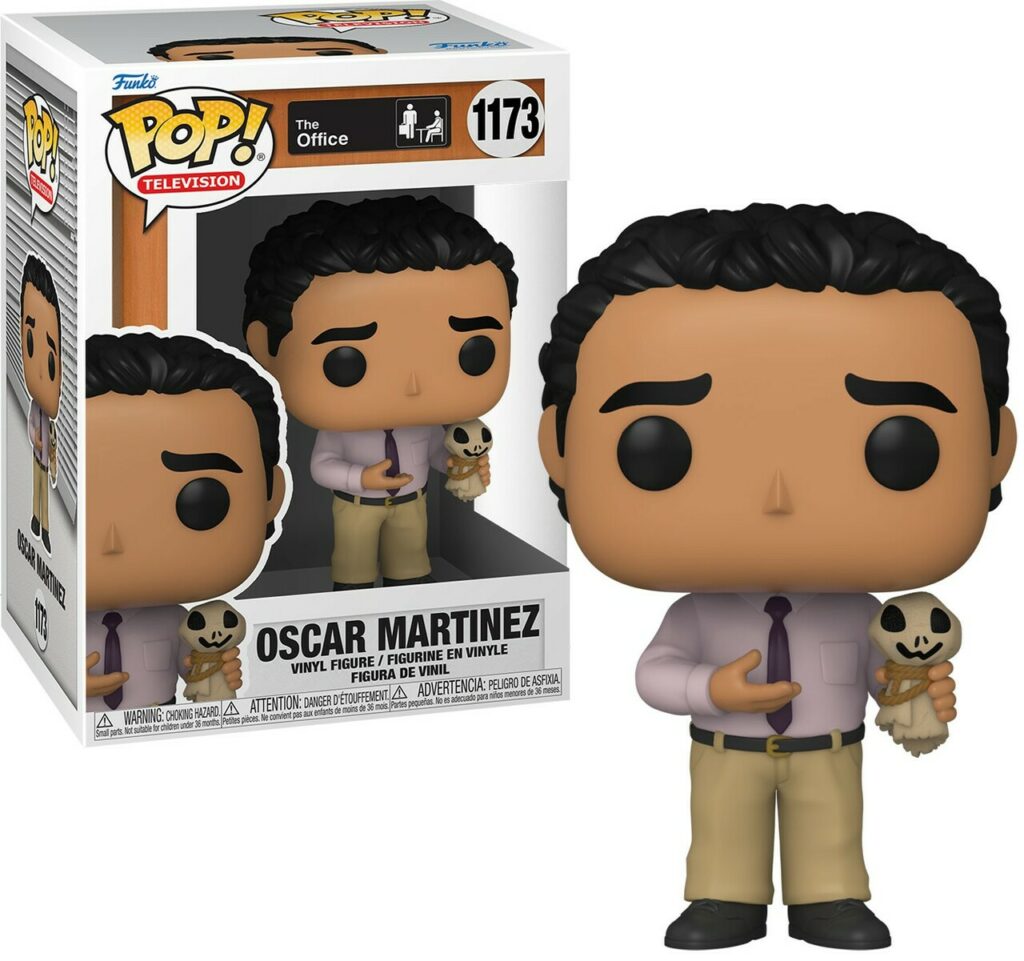 Michael gave Oscar a homemade scarecrow in celebration of Oscar's "brains" in one of the funniest and most excellent goodbyes.
Initially, you find the gift ludicrous, but then Michael, who made it look like it was produced "by a two-year-old," has a good laugh at Oscar's "condescending gratitude." Now you can have your very own miniature Oscar Martinez holding this terrible gift if you purchase the 1173 Funko Pop.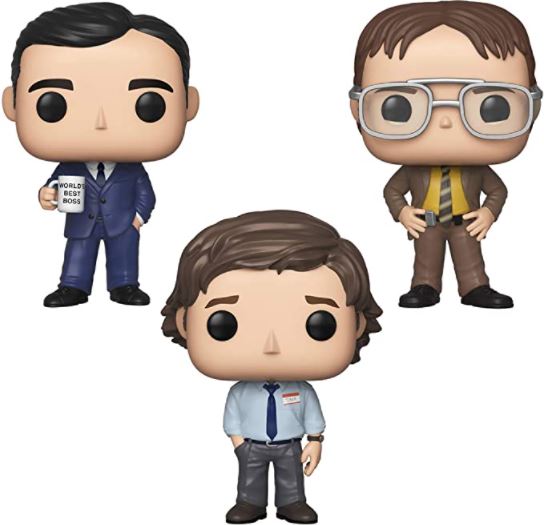 As far as male characters are concerned, Dwight, Michael, and Jim are the most popular ones. If you want to buy them all in one swoop, here is a pack with all three of them.
Michael is holding his famous coffee mug, Dwight adopts his alpha-male pose, while Jim is just casually standing with a hand in his pocket and wearing his nametag.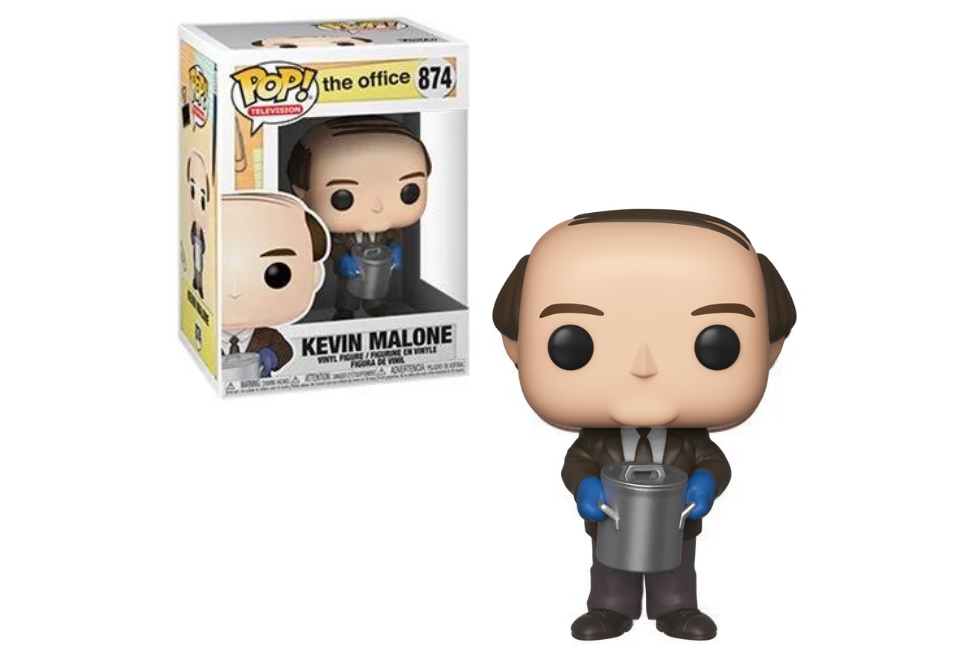 "Casual Friday" (season 5) opens with Kevin Malone bringing his annual Kevin's Famous Chili to work. As soon as he gets there, he spills chili over the floor and tries his best to clean it up, but he falls numerous times, stains his clothes, and damages the reception desk's office equipment.
We love Kevin's goofiness and we always want to remember him, which is why this Funko is so exceptional. You can see him wearing oven mittens and holding a large pot of chili.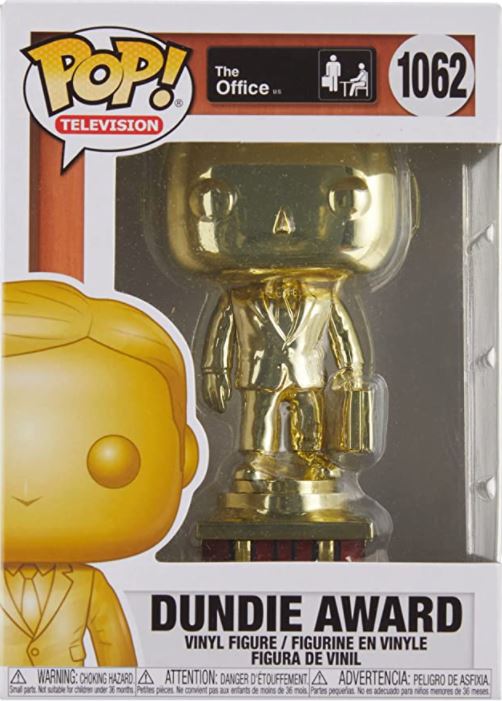 The gold chrome Pop! from The Office is a stunning addition to any fan's trophy case. It's time for the Dundie Awards! With the help of the personalized plaque, you may give praises to a buddy or reward yourself for a job well done.
The plaque allows you to write or engraved a customized message, so this is one of those Pops that's a perfect gift for true The Office fans.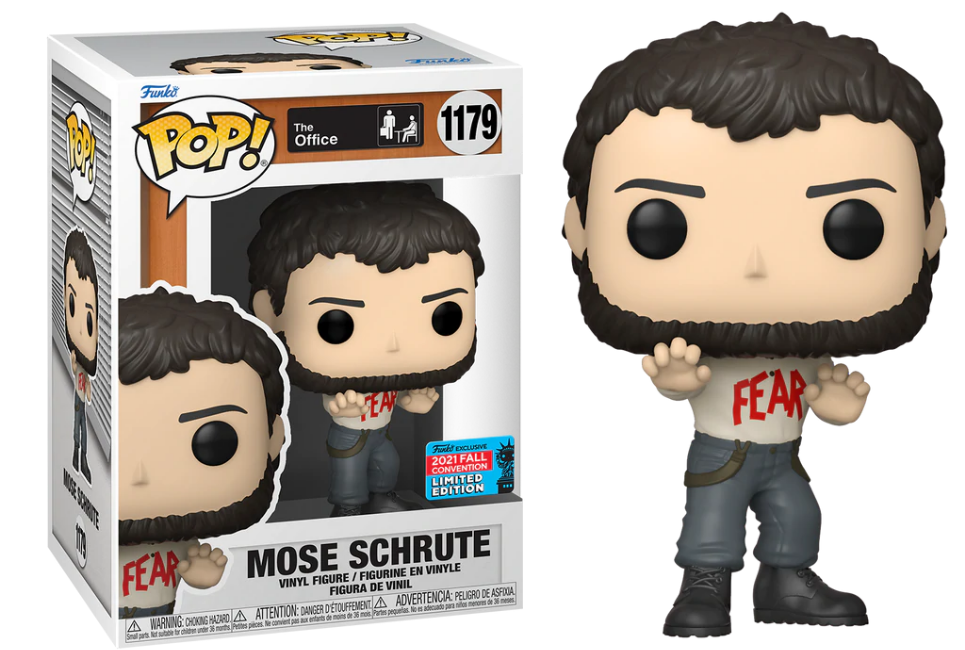 As you already know, Dwight owns and lives on Schrute Farms. The only other person living there with him is one of his 70 cousins, Mose Schrute. Often portrayed as savage, Mose is a character who doesn't speak and usually does Dwight's bidding.
When Dwight attempts to initiate Ryan into the world of paper salesmen, he says one must face their fears. Mose appears with a shirt with the word "FEAR" emblazoned with red duct tape on the front. That's how this Funko Pop was born. It depicts Mose ready to wrestle Ryan.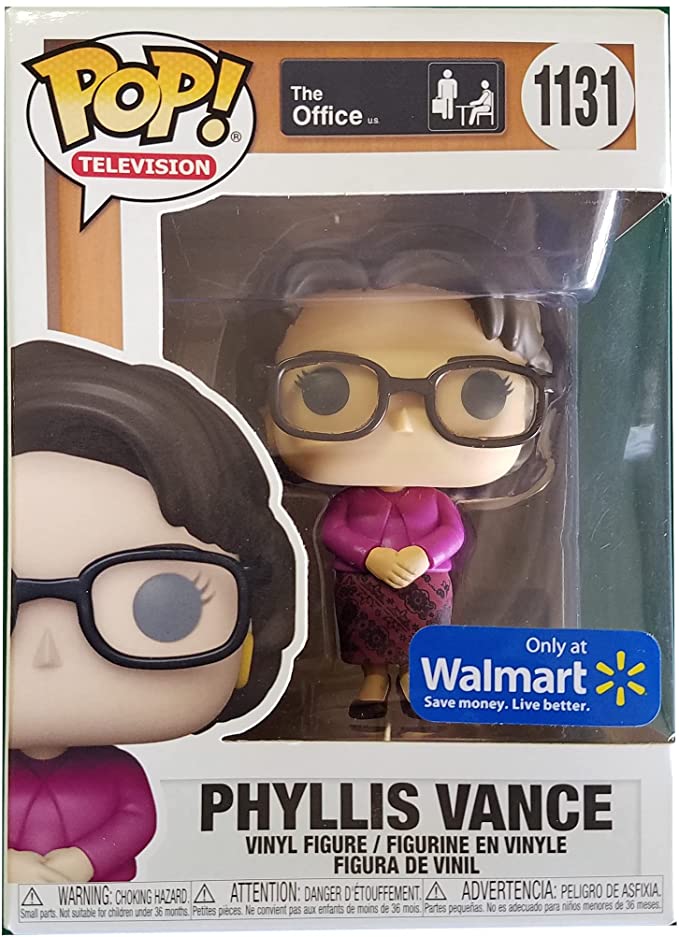 Phyllis Vance is one of the salesmen at Dunder Mifflin. She is an introvert who likes gossip and attended the same school as Michael (even though he talks about her as if she were significantly older than him).
Married to Bob Vance, Phyllis is probably one of the most "normal" characters on the show. Her attachment to her purple sweater and her iconic giant glasses are two important details that can also be seen in this Funko Pop.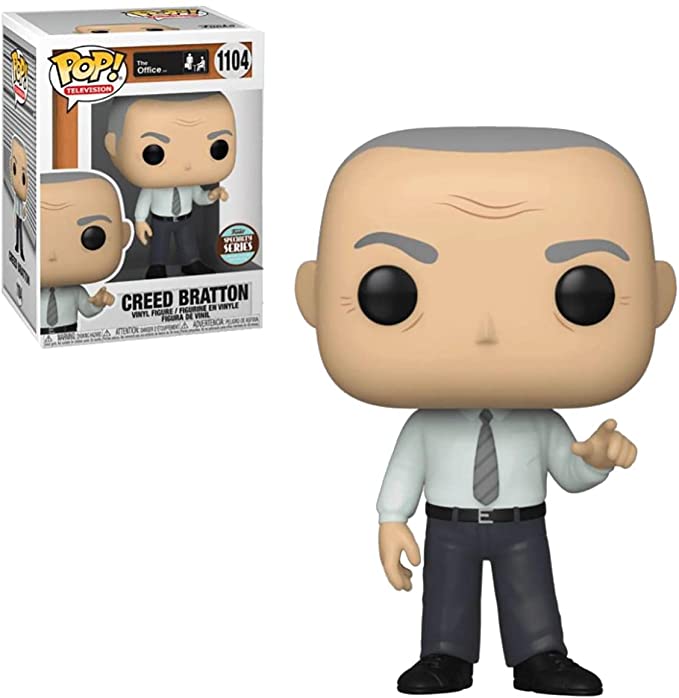 Creed Bratton works as a quality assurance manager at Dunder Mifflin's Scranton division. He is a deviant, ex-hippie, and homeless guy. Creed is an enigmatic character who frequently makes weird or perplexing statements.
Known for being one of the most peculiar characters on the show, Creed gets his own Funko Pop. Fun fact: Did you know that the actor who plays Creed Bratton is a musician called… Creed Bratton?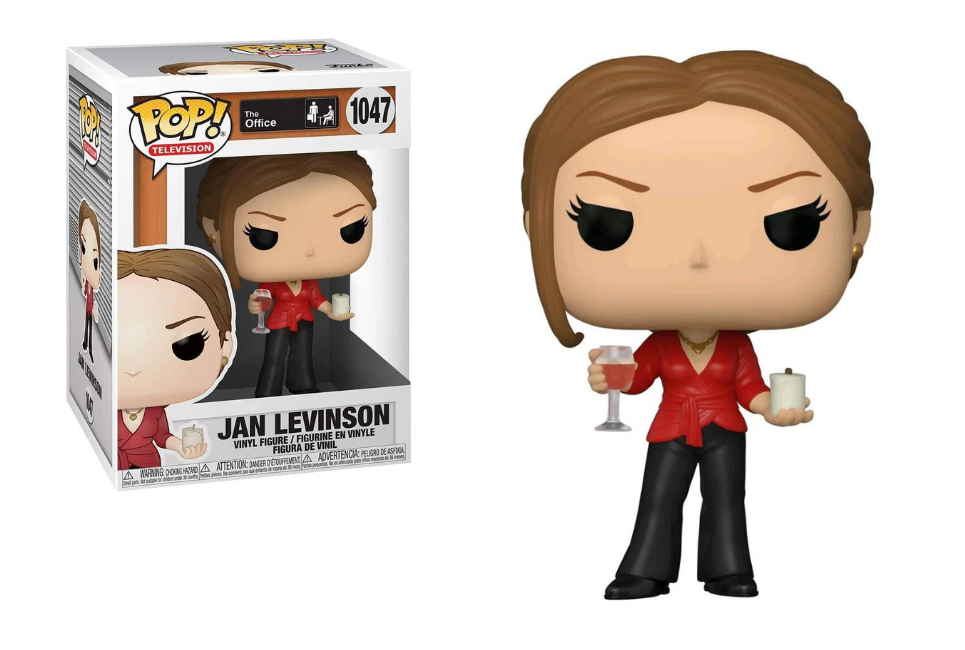 Jan Levinson starts the show off by being Vice President of Northeast Sales at Dunder Mifflin. After a series of very twisted events that lead her to lose her job, she moves in with Michael and attempts to start her own candle business. This Funko Pop shows Jan wearing a casual house outfit, with a wine glass in one hand and one of her candles in the other.
"Michael Scott's Dunder Mifflin Scranton Meredith Palmer Memorial Celebrity Rabies Awareness Pro-Am Fun Run Race for the Cure" a.k.a. The Fun Run is a sporting event that Michael decides to organize to raise awareness of rabies. The event is held after Michael runs over Meredith with his car and makes it look like he saved her from rabies.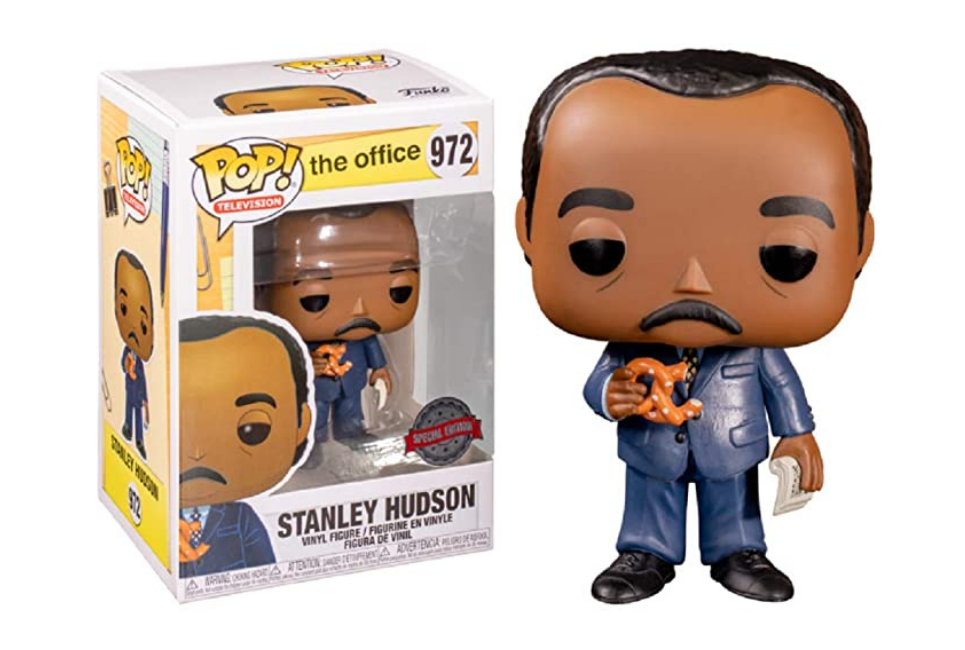 If there was a Grumpy Cat-type of character in The Office, that would be Stanley Hudson. Counting down the days until retirement, few things still keep Stanley motivated to come to work. One of those reasons is Pretzel Day.
He loves this day because it gives him a respite from his "job that pays too little." This Funko Pop depicts Stanley enjoying his "hard-earned" pretzel. Trust me, that's his happy face.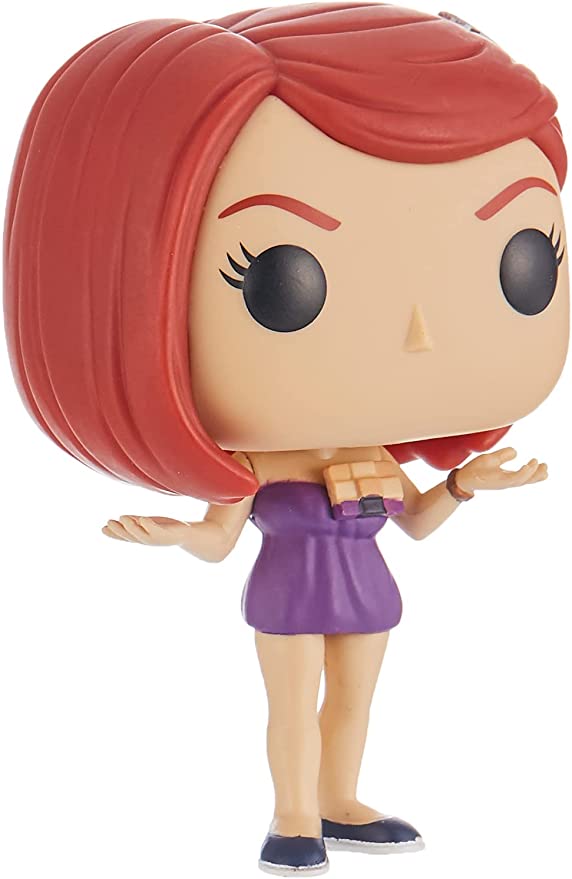 On Fridays, employees are encouraged to wear more relaxed attire to work. Toby gets a whine from Angela about Oscar's sandals at work and how uncomfortable it is to see his feet.
Meredith's concept of a casual Friday was a touch out of the ordinary, and her too-exposed clothing ultimately led to the cancellation of the event. If you look closely at this Funko Pop, you can even see some pixels, covering some of Meredith's overexposure.
FAQ
Question: How Many Funko Pops Does Dwight Have?
Answer: Dwight currently has 24 Funko Pops.
Question:What are the New Office Funko Pops Coming Out?
Answer: You can start pre-ordering your Phyllis Vance Funko Pop with her very own autograph.
Question: What is the Most Exclusive Funko Pop?
Answer: The Clockwork Orange is considered one of the rarest, most expensive, and most exclusive Funko Pop. Presented in a window display box, this Funko Pop vinyl art toy sold for more than $13,000 on eBay.
You're Now Leaving Scranton: Come Back Soon!
What I love about The Office Funko Pops is that each comes with details and props that you only really pick up on if you are a true fan of the show. For instance, the Pam Funko comes with white sneakers, which is what got her a Dundee on the show. Which one did you pick? Was it my fav, the Dwight with Gelatin Stapler? Let me know! And then check out my picks for the best The Office-themed gifts!
Continue reading:
The Best The Office Themed Blanket Ideas for Hardcore Fans
Guide to the Best The Office Themed Gifts for All Ages
The Office Funko Pop Guide for the Ultimate Fans and Collectors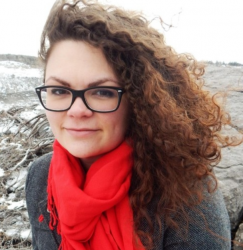 Latest posts by Candace Osmond
(see all)