For some, Toy Story shirts are a no-brainer when taking a trip to Disney or throwing a kid's party. But where oh where can you get some for your next geeky outfit? If you're a massive nerd like me, you probably just want a few for your everyday wardrobe.
After a thorough search of the thousands of the best Toy Story shirt ideas, I have gathered a list of the best products you can get. These t-shirts are available in various designs, styles, sizes, and colors. There's something for everyone, even the dog!
Bottom Line Upfront
Honestly, you can't go wrong with any of these. But I love the "I'm a Nervous Rex" Shirt because a) I AM a nervous wreck, and b) Rex is one of my fav characters from the franchise.
Top Picks
Best Toy Story Shirt Ideas and Picks
This list is exhaustive, in a good way! I tried to pick something for everyone. But mostly, I chose these based on their availability, style, and price.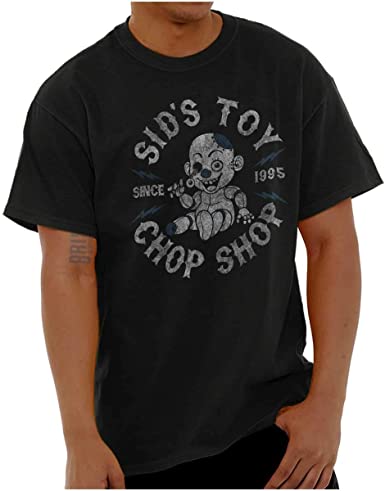 We all knew a Sid growing up, didn't we? This Toy Story shirt has an edgy twist on the kids' movie. The black cotton tee has a "Sid's Toy Chop Shop" print and the Big Baby character in the middle. Its material is surprisingly high-quality for its affordable price, and you can machine-wash the item.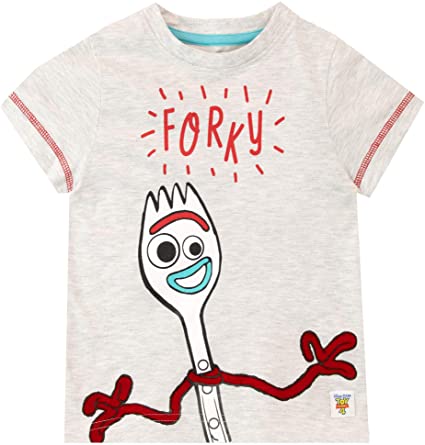 I recommend this one for anyone as kind and naive as Forky. It has a large character print featuring his cute googly eyes and pipe cleaner arms in velvet material. You'll also find red stitching around the sleeves for an added style.
This shirt is an excellent gift for a Disney fan because it's officially licensed as Disney merchandise. There's even an embroidered Toy Story badge close to the hem!
Are you planning to buy a Toy Story shirt but can't pick between the characters? Why not include all of them? This official Disney merchandise looks like the movie poster of the Toy Story movie.
It has Woody, Buzz Lightyear, the aliens, Rex, and more on the super soft fabric. Although the shirt is tagless, you'll have one less problem because it's already pre-shrunk. If my husband loved this series as much as I did, I might just buy it for him.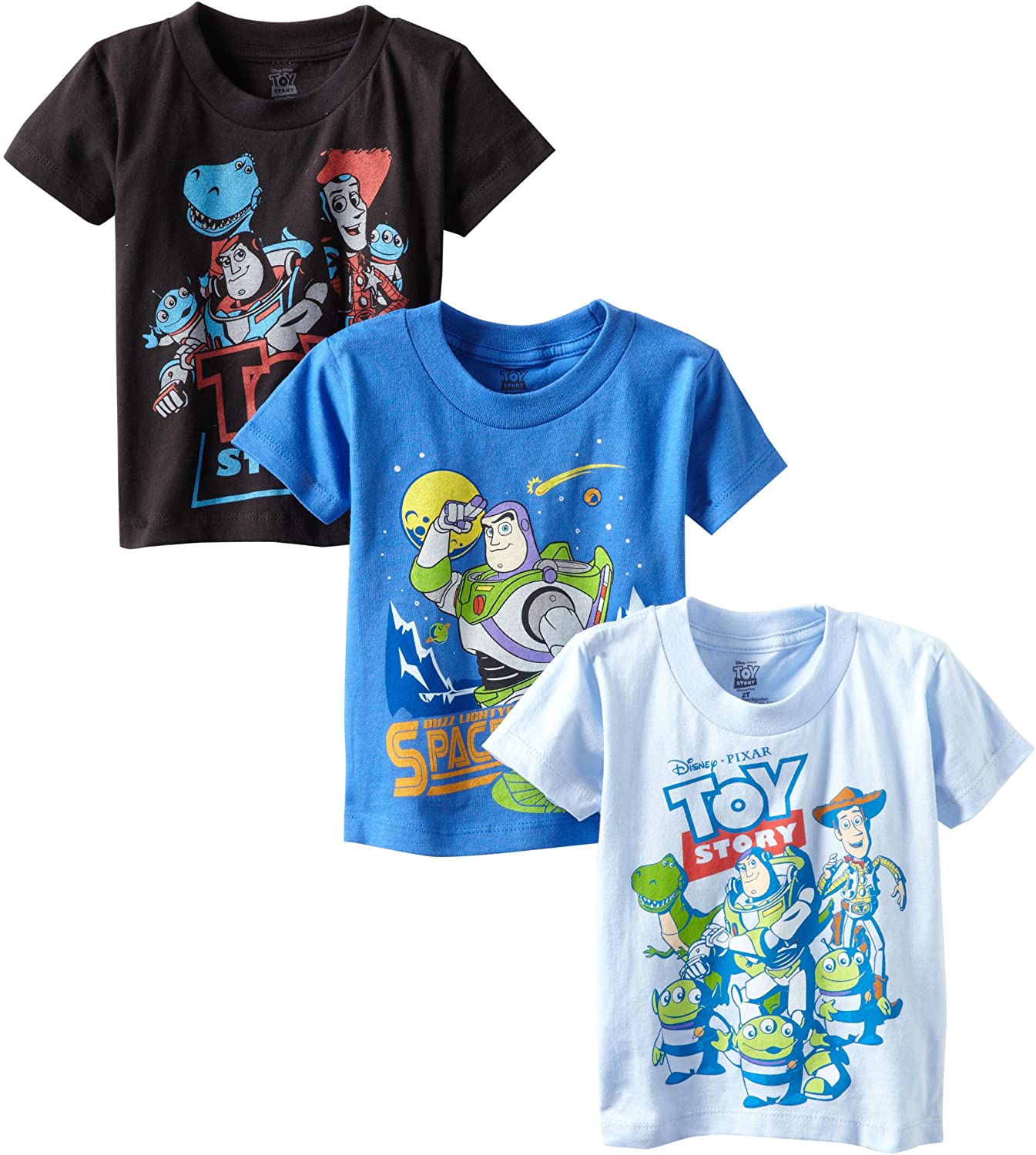 Three is always better than one, right? And when it comes to my kids, I buy in bulk when I can. This Toy Story product comes in a set of three t-shirts for toddlers. Give it as a present to your son so he can use them in rotation.
The large graphics will surely amuse them! Each shirt comes in different colored palettes and designs that don't fade after several washes.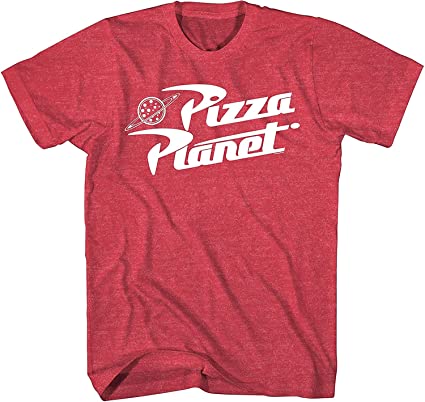 This would be a wicked addition to my convention wardrobe. This t-shirt is a quirky choice for Toy Story enthusiasts! Those who haven't watched the film might think you're a pizza delivery guy. But real fans know that Pizza Planet is the restaurant frequented by Andy and his toys.
The sizes for this shirt are inclusive, from XS to 3XL. You can also pick from their five colors to match your whole outfit.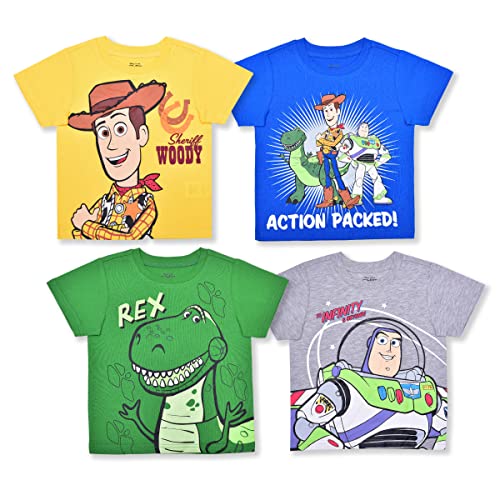 Get this four-piece shirt set for your little guy if three isn't enough for you. If they're anything like my rambunctious little man, you'll need as many as you can get. Each design features three Toy Story Characters: Sheriff Woody, Buzz Lightyear, Rex, and all of them.
It's the perfect summer outfit because it has short sleeves. The material also wicks away sweat and moisture, leaving no room for discomfort. Polycotton also stretches well so they can quickly play and move around while wearing the shirt.
Do you know a kid at heart who likes Sheriff Woody? (hint…it's me) This t-shirt is the best gift because it doubles as a costume. It has the cow-printed vest, checkered shirt, badge, and golden belt printed on the shirt.
Wear it to Halloween, around Disneyland, a toy convention, or a casual day out! You'll surely be a head-turner.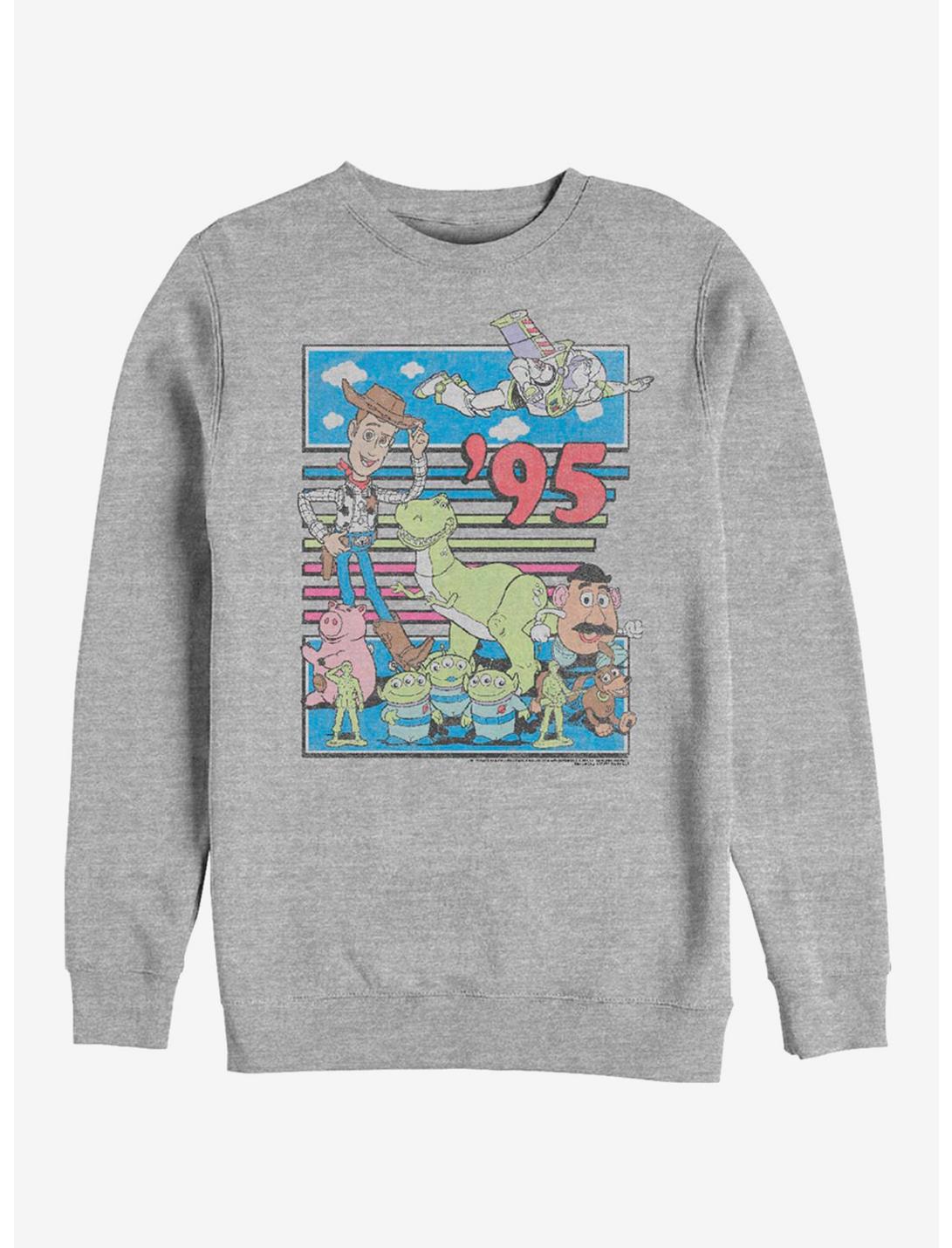 Gawd, I love Hot Topic. They have some cool merch or apparel for every fandom. Every '90s kid's heart will melt over this crewneck sweatshirt with a vintage print of the first Toy Story movie. It even has the year "'95" printed on it. The characters also look like the old animation on the cotton-and-polyester blend sweatshirt.
This imported product is machine-washable. Set it on cold wash and low heat to dry to avoid damage.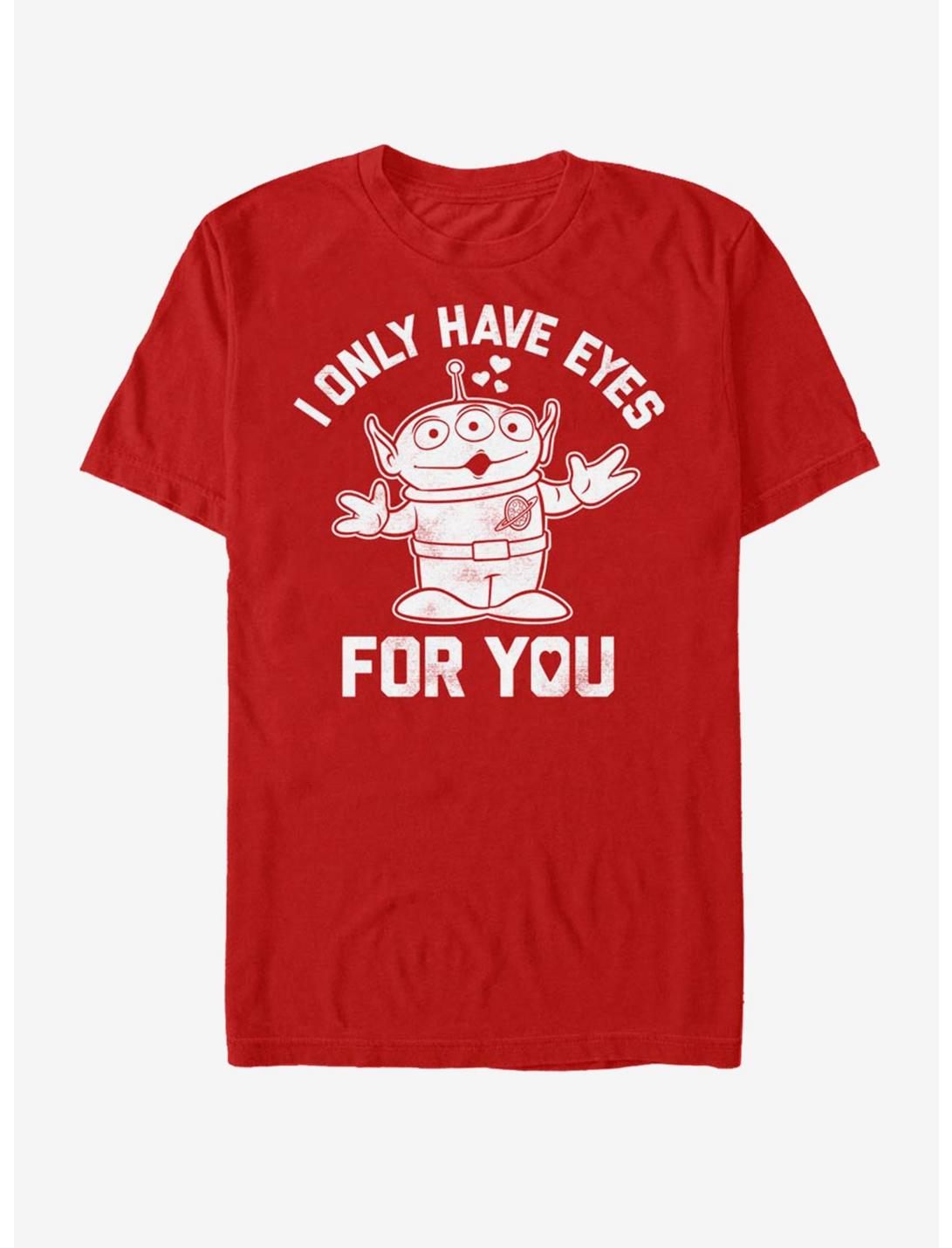 The Little Green Men are one of the most underrated characters from Toy Story because of their mime-like attitude. But this shirt will have you falling in love with them. It has the words, "I only have eyes for you," referencing the aliens' three eyes.
This high-quality product comes from 100% combed ring-spun cotton. Make sure to wash it on cold settings and dry it on low.
OMG! I need this! This shirt is made for you if you're a fan of Toy Story and Star Wars-like me! It's from a scene in Toy Story 2 where Zurg tells Buzz that he is his father. This was a clever parody of that famous scene in Star Wars, where Darth Vader tells Luke Skywalker that he is his father.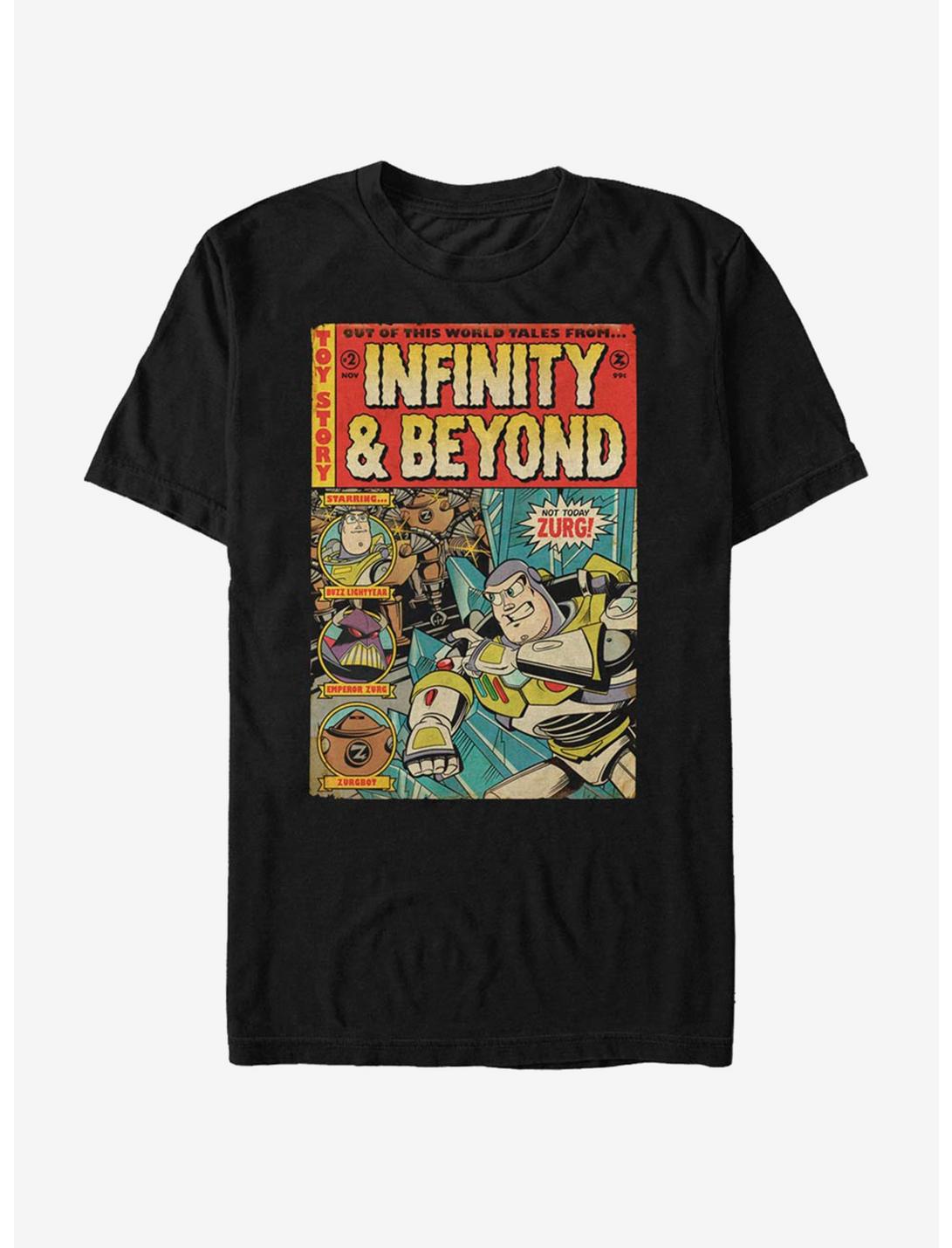 Here's another vintage Toy Story shirt you will love. The black shirt has a print of the comic cover, Infinity & Beyond. The comic stars Buzz Lightyear, Emperor Zurg, and Zurgbiy. This unisex product is made of 100% cotton and comes in seven sizes.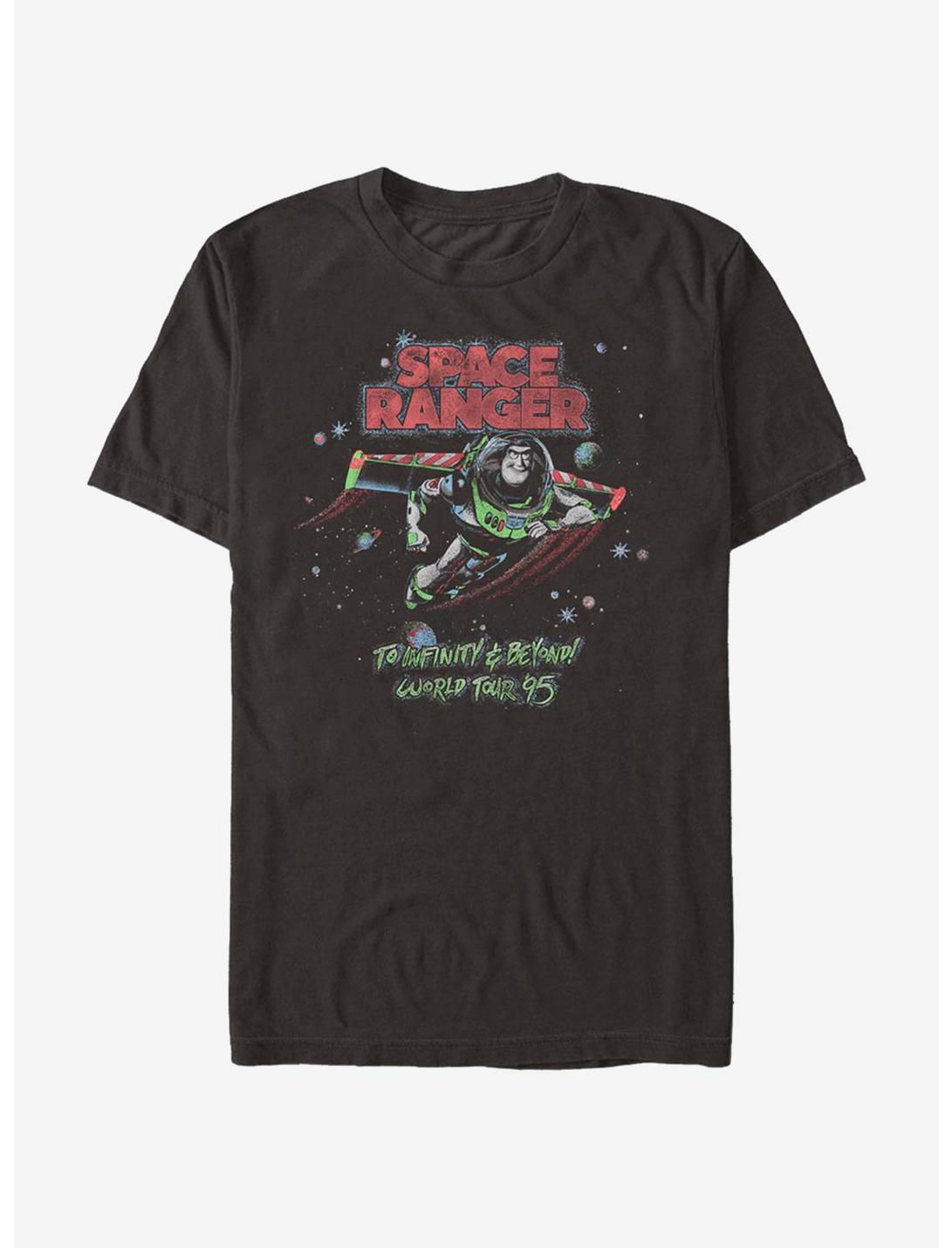 This creative t-shirt looks like the official merch for Buzz Lightyear's world tour. It has the words "space ranger" on top, which is the kind of superhero that the fictional character is. This shirt is a cotton-made product that every Buzz fan will appreciate. I know I do!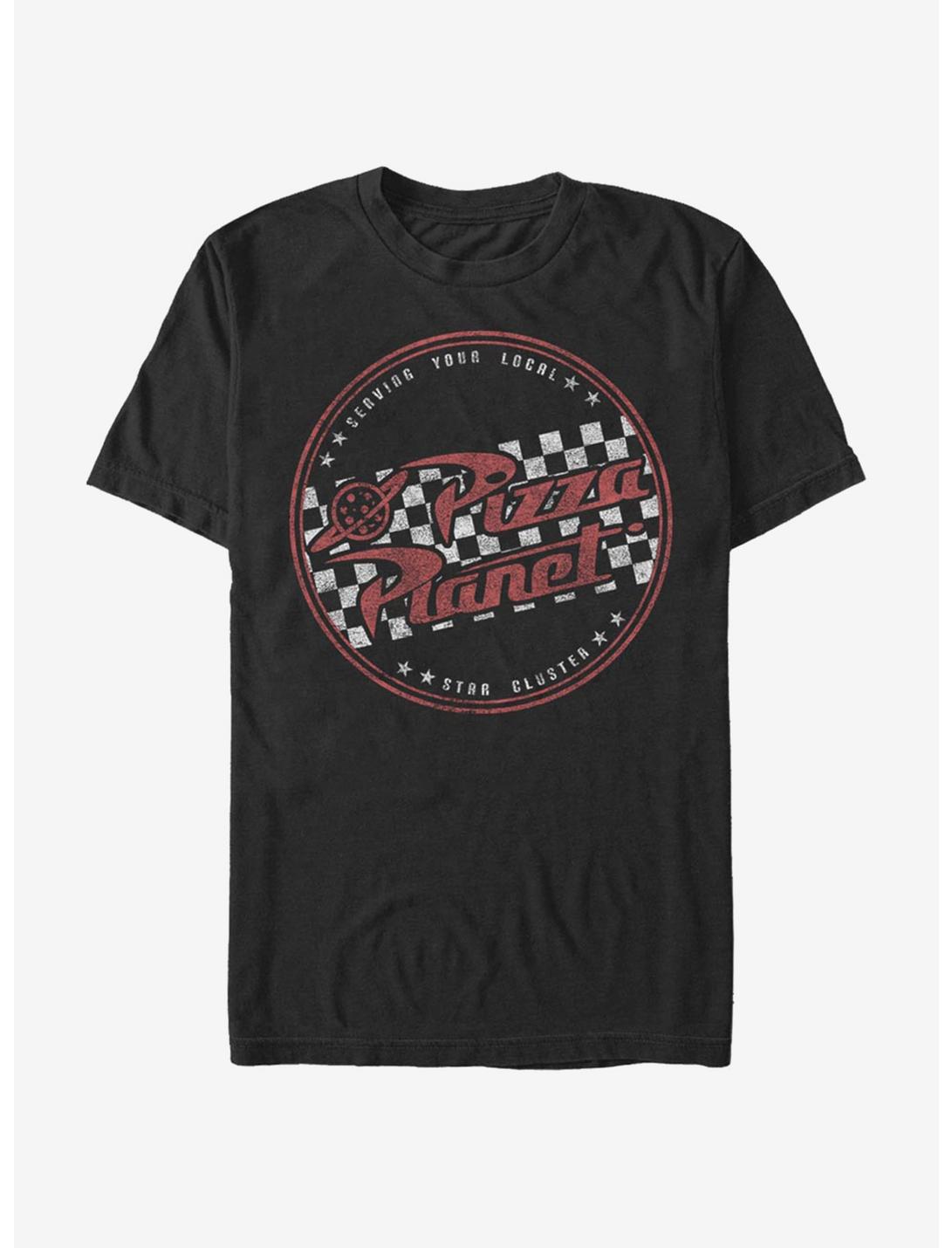 Anyone who has watched Toy Story wonders what it's like to experience the best pizza slash arcade in the galaxy. Fulfill your childhood ambition of working at Pizza Planet with this logo t-shirt! Maybe you'll have Andy and his friends as your customer!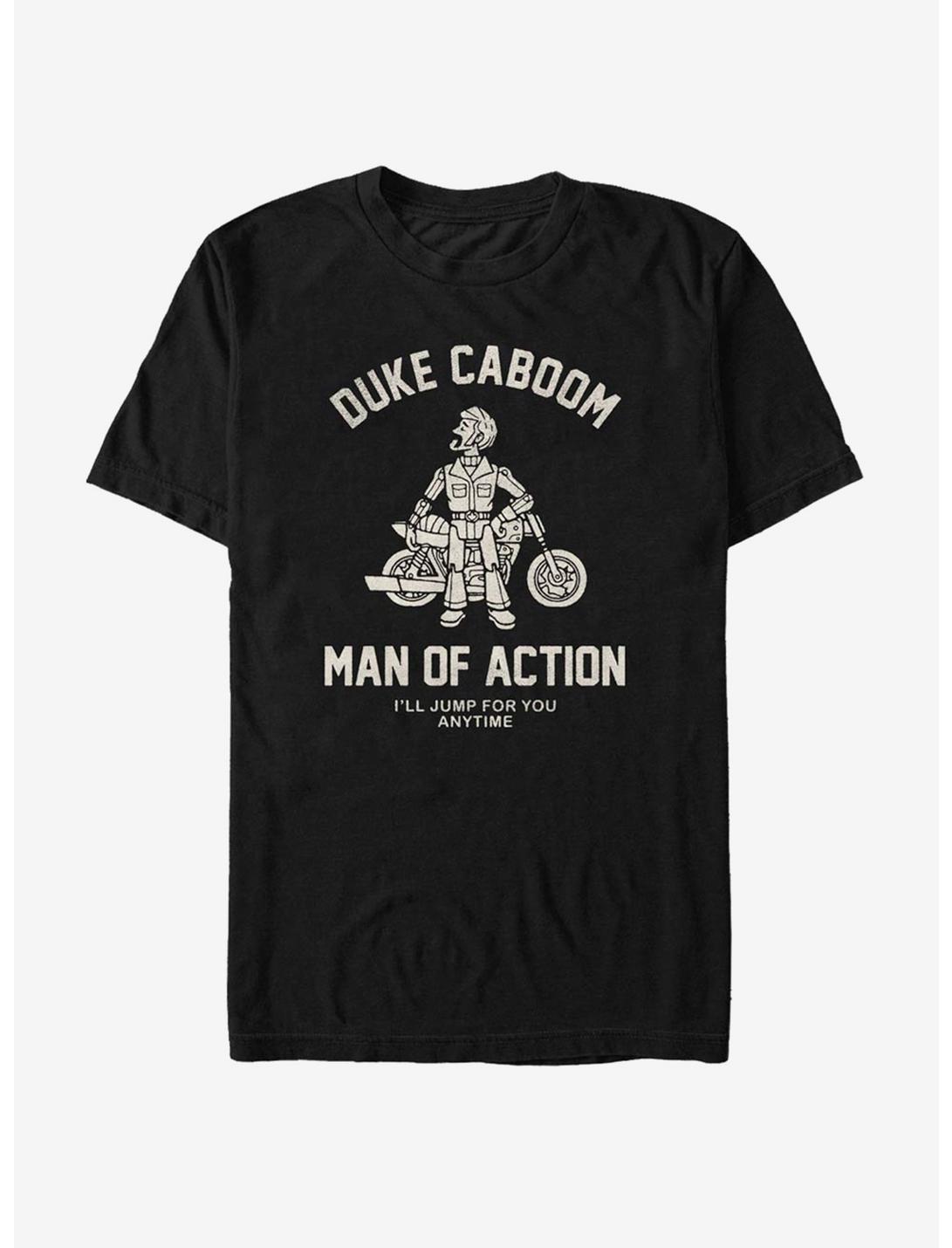 Okay, any fellow Canadians out there? When we watch the newest film in the franchise, we all squealed over Duke Caboom, the Canadian stuntman. Being voiced by the dreamy Keanu Reeves was just a bonus. This black t-shirt with a minimalist print features the boisterous daredevil Duke Caboom. It's made of 100% lightweight cotton fabric, and it's perfect for someone who's a "man of action" like the Canadian stuntman toy.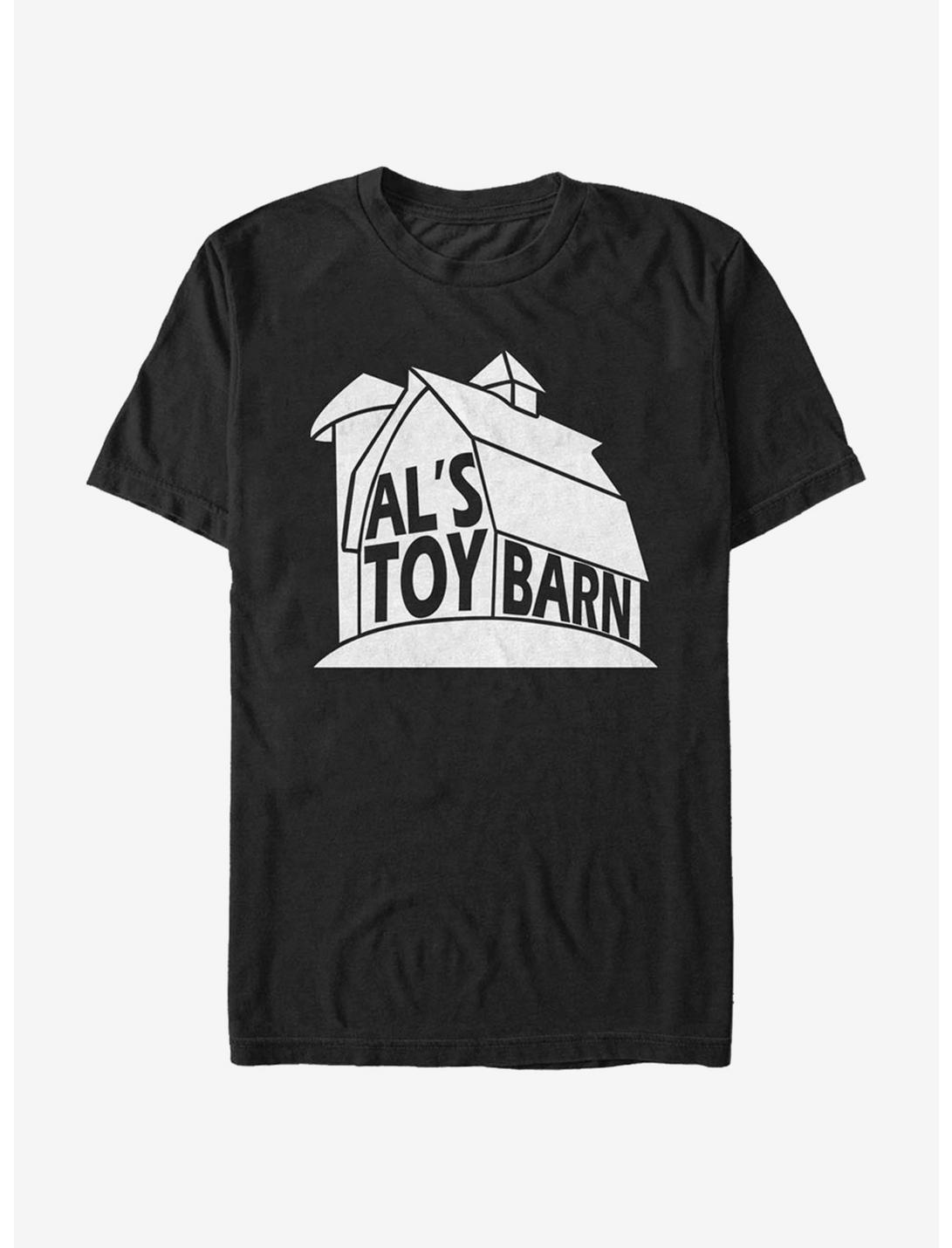 Another important setting in the movie Toy Story is Al's, Toy Barn. And this shirt has the perfect modern minimalist design for adults! The place was first seen in a TV commercial that advertises Buzz Lightyear toys. I had to throw this one on the list because my husband has this shirt and I steal it from him all the time. It's super soft and comfy.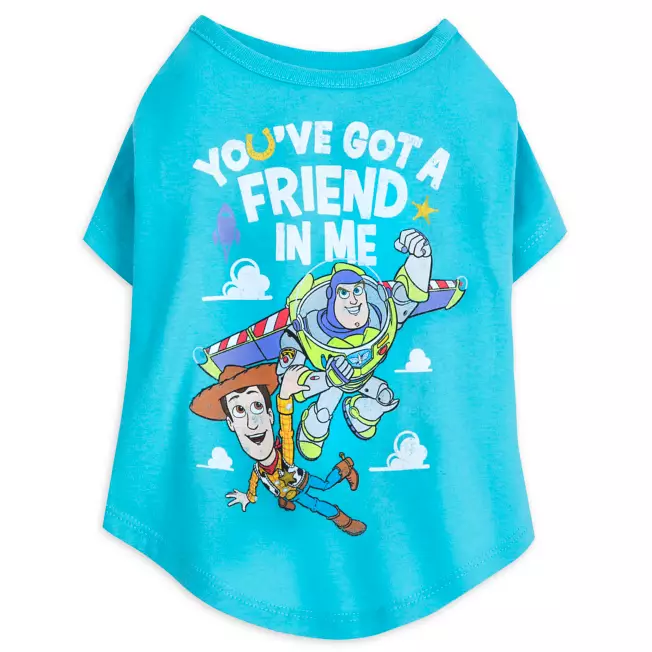 Go twinning with your dog using this Toy Story shirt for dogs! The soft material is made of 100% cotton, with Buzz Lightyear and Woody pictured on their back. The text, "You've got a friend in me," is the perfect description of the man's best friend! Just not MY best friend because she's far too beefy for a dainty shirt like this. If they make one for chunky bulldogs, let me know.
This shirt fits small to medium-sized dogs and has a ribbed crew neck for their comfort.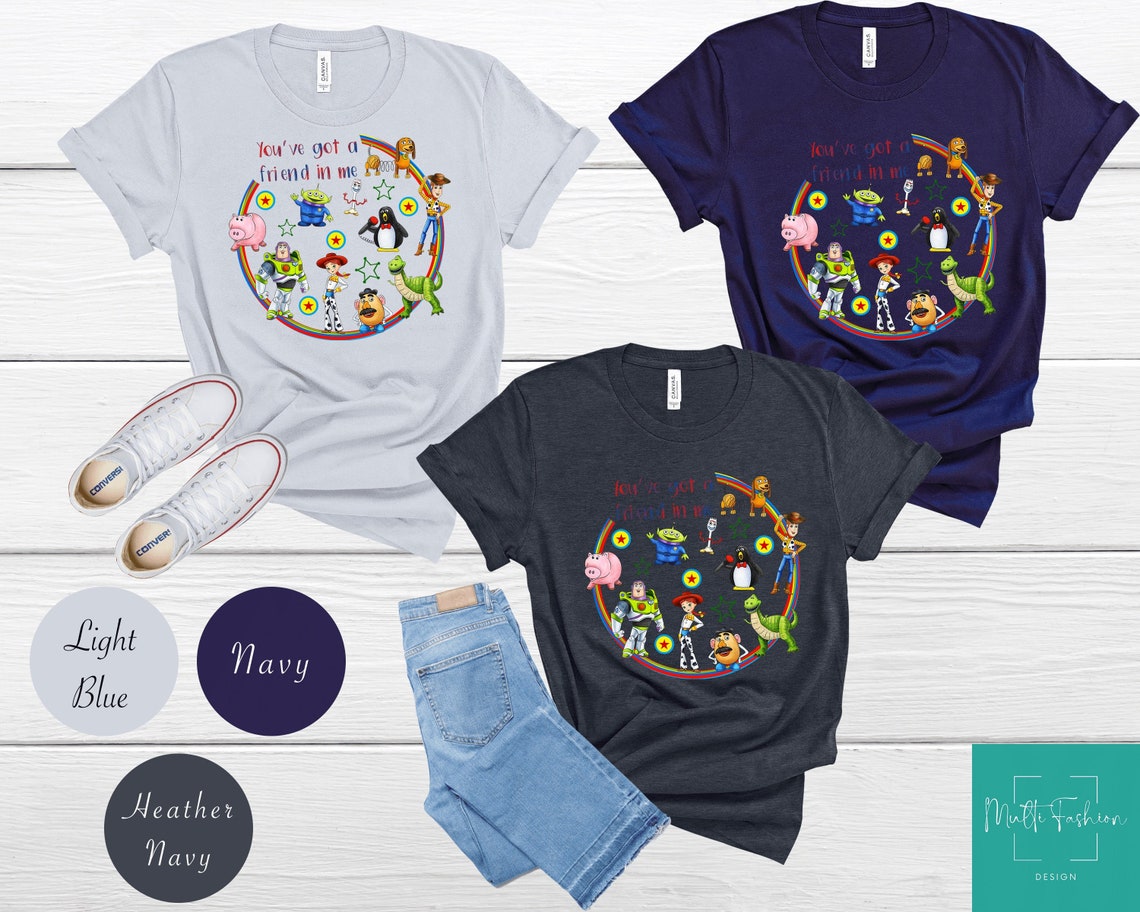 Are you going on a Disney trip with your family? Buy matching Toy Story tees with the "You've got a friend in me" print! It includes several characters like Woody, Buzz Lightyear, Mr. Potato Head, Hamm, and Slinky Dog.
This family shirt is available in both kids and adult sizes, ensuring that you feel like a child again! And feel free to pick from the 21 colors available.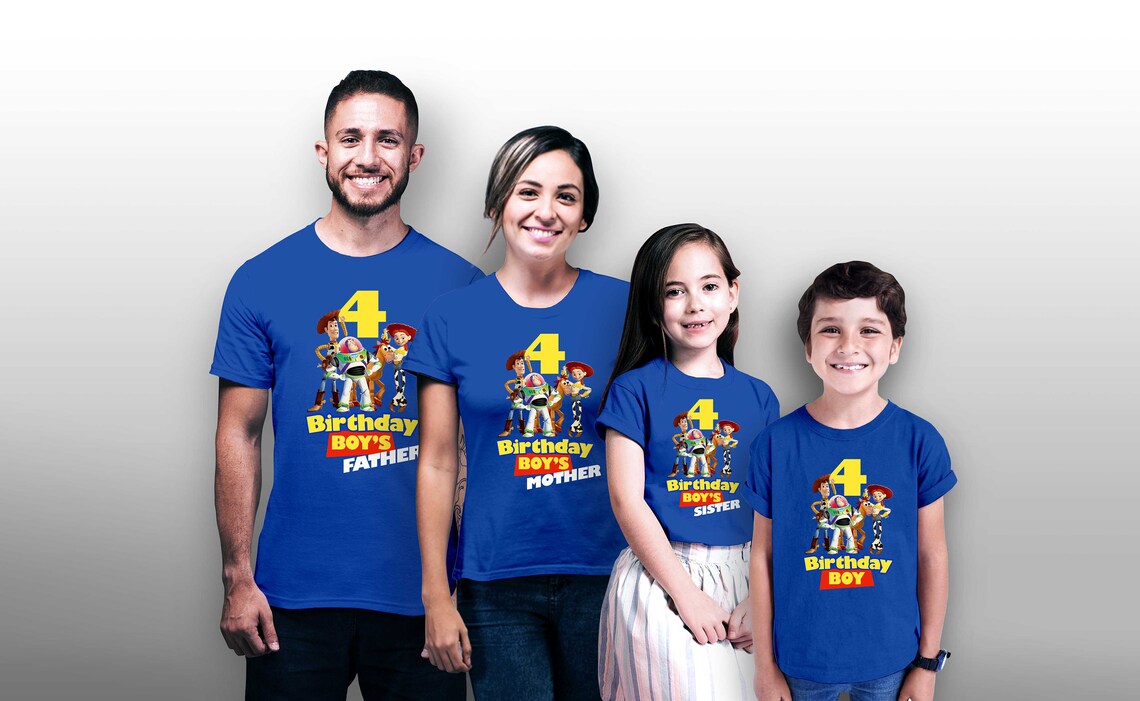 Ohhhh, this is just too cute. Have your shirt personalized with Buzz Lightyear, Woody, and Jessie pictured next to your desired text. This family set is perfect for birthday parties and trips! You can also request a print of the birthday boy's age.
Add you and your family member's name so you can wear the same outfits with a customized touch. Or just let them add "sister," "mother," and "father"!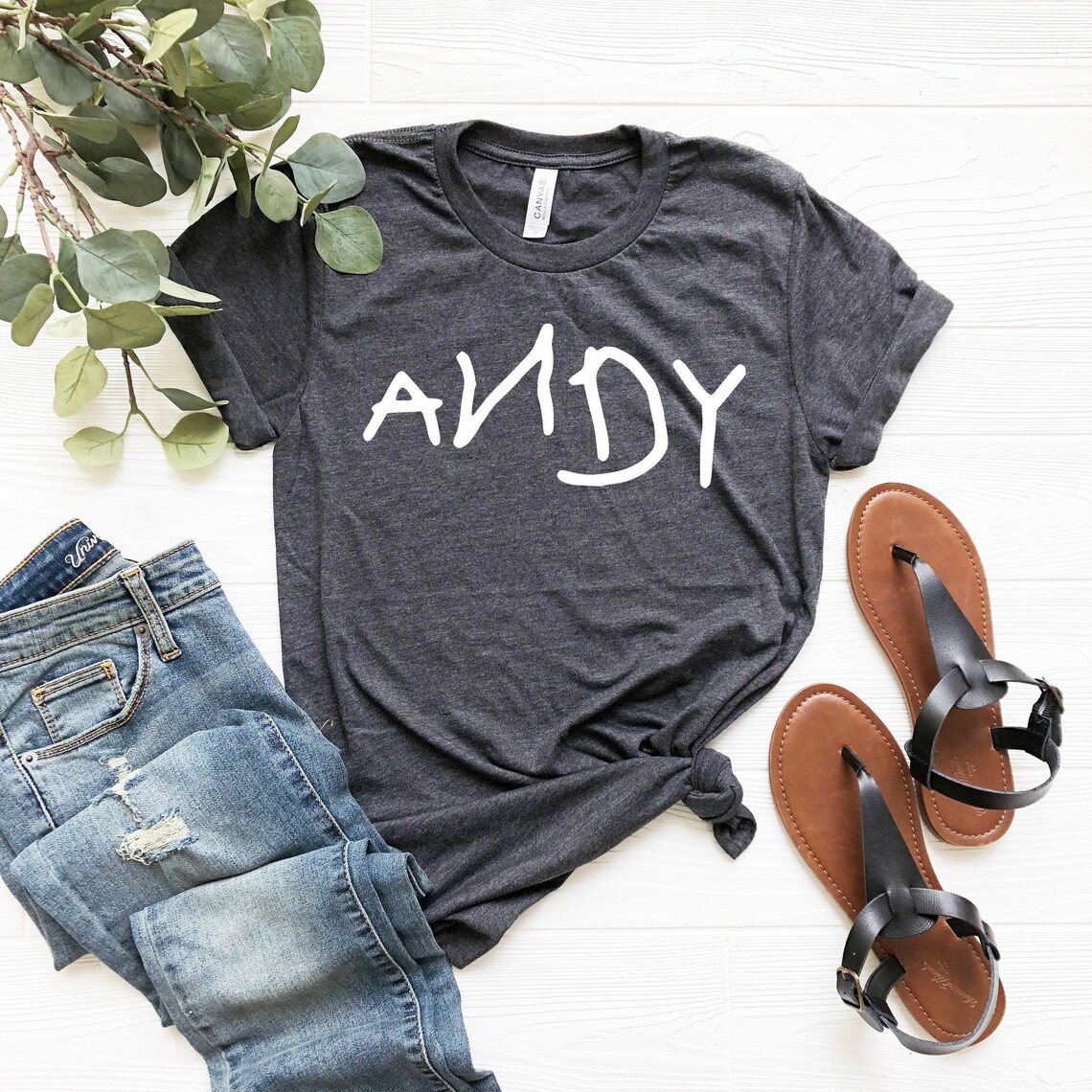 This simple "Andy" shirt is reminiscent of Andy's handwriting of his name on Woody's foot. It's perfect for men and women whose hearts belong to the imaginative Andy.
The shirt is made of 100% pre-shrunk ring-spun cotton. There's also a long-sleeved version of the shirt for the colder season!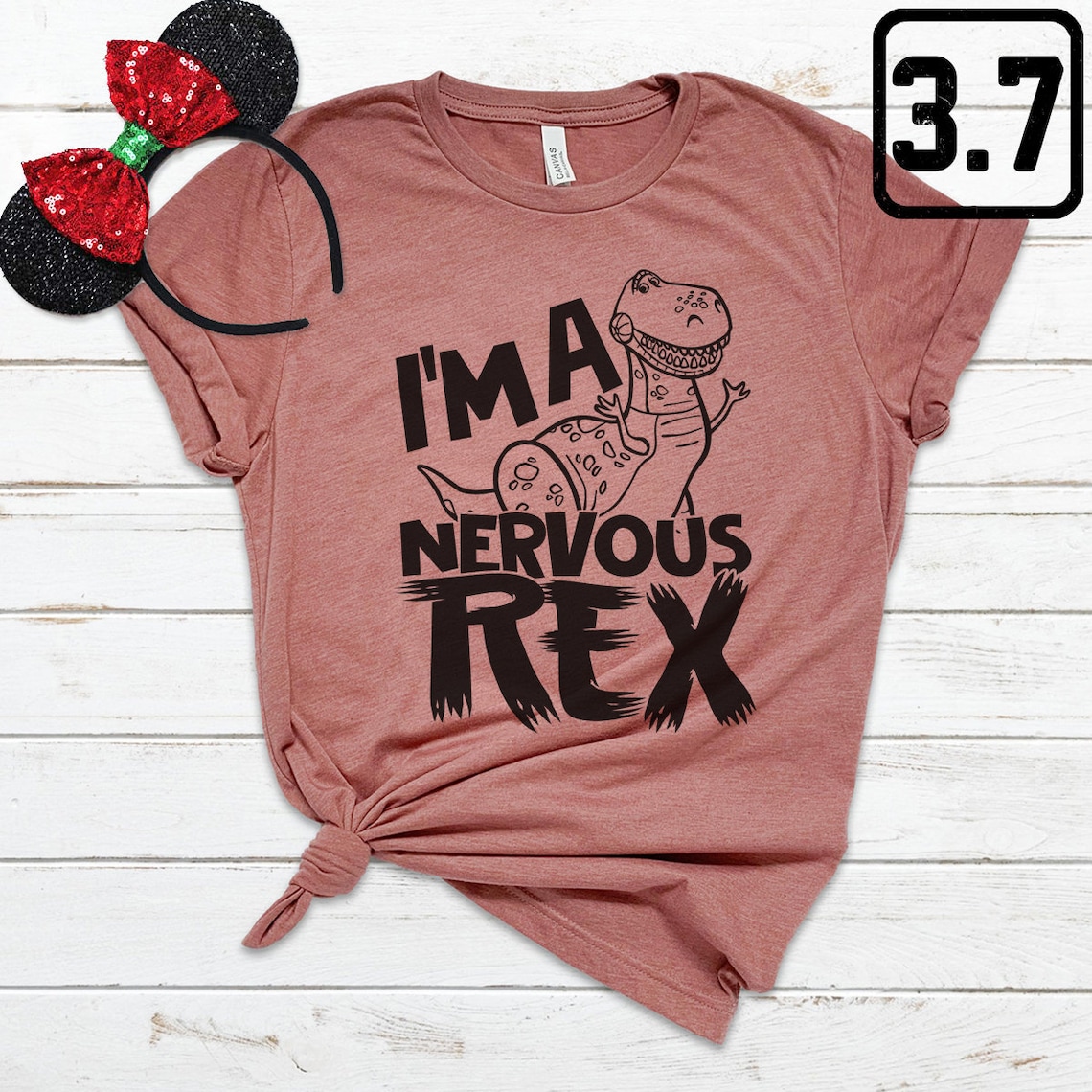 Okay, okay. I'm buying this. If you're the personification of the nervous Rex, this dinosaur t-shirt is perfect for you. The tee features feminine sleeves that will look flattering on you! But it's also available in kids' sizes.
Tie the bottom part of the shit in a knot for a girly style. You can also pair it with your favorite jeans! The store also has all your favorite colors. Athletic Heather, Heather Mint, and Kelly Green are the best ones.
What's the Best Material for Shirts?
The proper material is essential to buying or making your t-shirt. Your choice should depend on the type of print you want and your comfort level. Here are the most common materials to try.
Cotton
Cotton is the most popular fabric for shirts because it's economical and easy to print. It's a natural fiber that is known for its softness and breathability. It's perfect for casual wear, but not for fashionable outfits.
It's ideal for colored designs, especially if you're using a 100% cotton t-shirt. But there are a few disadvantages when choosing cotton. It may cause discomfort, especially if you're using tri-blend materials.
Cotton also shrinks after the first warm wash. That's why I recommend picking a pre-shrunk shirt. When washing, run the machine on a cold setting, and dry on low.
Pima Cotton
Pima Cotton is another desirable fabric for shirts because of its soft and appealing finish. Compared to regular cotton, Pima cotton is more tear- and wrinkle-resistant. And the print won't fade over time. It's hard to find this material, so expect it to be more expensive than plain cotton.
Supima Cotton
Supima is another fantastic shirt material choice because it has more advantages than the regular cotton shirt. Aside from being softer and more breathable, Supima is also premium-quality. It's made of extra-long staple cotton fiber from the United States, twice as strong as plain cotton.
Polyester and Cotton Blend
You may also opt for polyester and cotton blends for your t-shirt. This soft fabric undergoes a chemical process so that you don't see any loose polyester growing outside. It resists sweat and moisture better than pure cotton. It's also wrinkle- and tear-proof!
Polyester is an artificial fiber popular in sports clothing since it instantly wicks moisture. It also maintains its shape after several washes.
Rayon
Some people think cotton is the best shirt for printing. But they probably never heard of rayon. Rayon is an excellent fabric that lets you weave and knit perfectly on its smooth surfaces.
But it takes the correct ink to produce a beautifully vibrant design. It also requires proper, repeatable ink modifications. Once you get your way around this, the result is a clear, crisp, and bright shirt.
Rayon material is made of wood pulp, wood chips, or bamboo plant fiber. It's a synthetic material because it requires several chemicals to create an absorbent fabric when manufacturing the threads.
Types of Shirts to Look for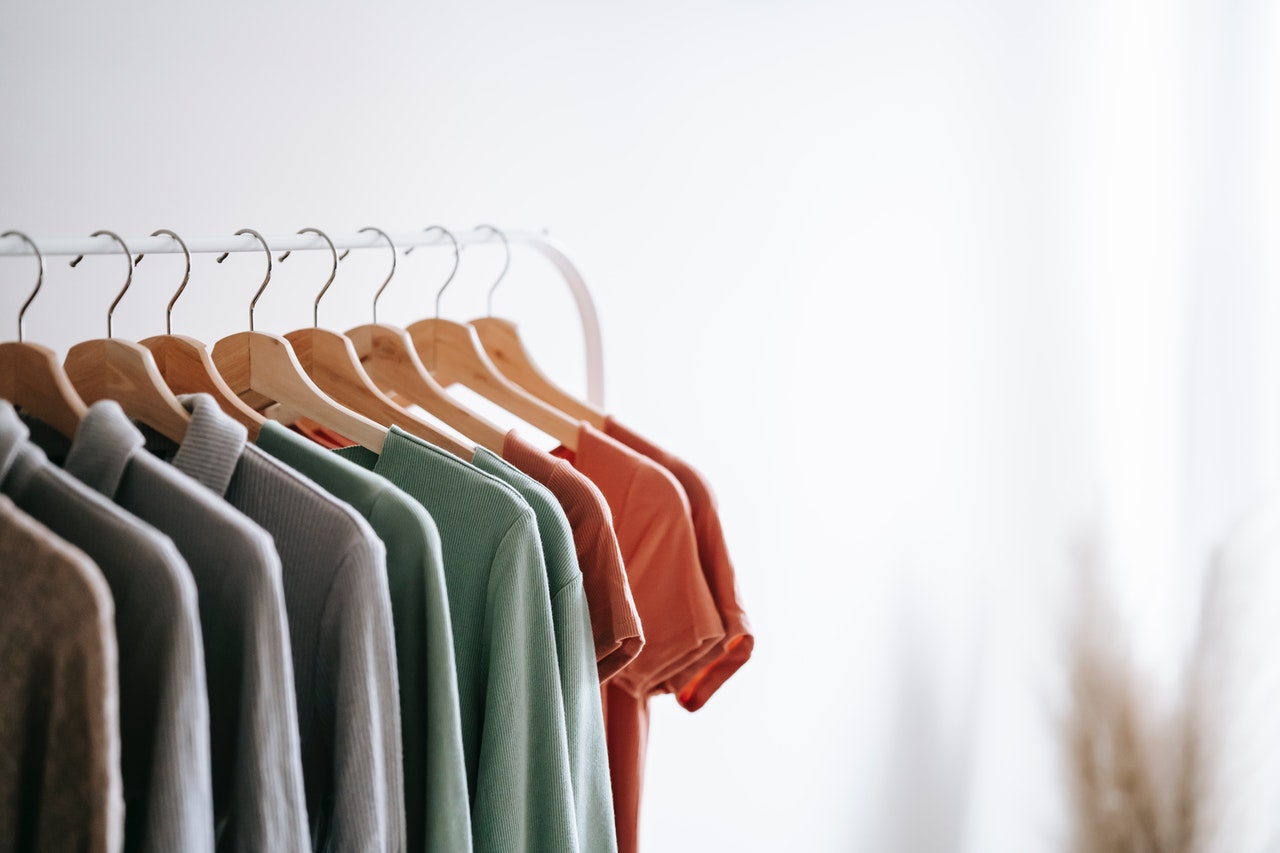 T-shirts come in different sleeve styles and necklines. Here are the most popular types to look for.
Basic Half-Sleeve T-Shirt
The basic shirt is the most simple and affordable style in t-shirts. This most common design features a crew neckline almost close to the neck. It sits along the neck's base, making it ideal for both men and women.
V-Neck T-Shirt
The v-neck shirt is the same as the basic half-sleeve shirt, except it has a v-shaped neckline. This design is also called a Football Jersey.
Douche Bag Neck T-Shirt
The douche bag neck t-shirt is also known as the scoop neck shirt. It also has a V neckline, but it goes vertically to the top. This shirt shows more of the body than a regular t-shirt.
Cap Sleeves T-Shirt
A cap-sleeved shirt adds a groovy twist to the regular twist. It extends to a certain distance over the shoulders. This style also doesn't cover the underarm, forming an extension that looks like a cap.
Long-Sleeved T-Shirt
Long-sleeved t-shirts are exactly how they sound. They are t-shirts with long sleeves, also known as winter t-shirts or warm-up shirts.
One variant of the long-sleeved t-short is the henley shirt, which has three buttons. They're mostly found in the men's section close to the polo shirts. Henley shirts do not have a collar, but they sometimes have a pocket on the side.
Sweatshirt
Sweatshirts are different from long-sleeved t-shirts because of their material and structure. It's heavier than the regular t-shirt, and it has a round and collarless neckline.
These comfortable shirts are excellent sources of warmth, often made of 100% cotton. Both men and women also wear this style.
Fitted T-Shirt
Fitted shirts are more common for women. But some sweatshirts have fitted options for men. You can sport them around the gym or wear them for a casual day out.
FAQ
Question: Where's the Best Place to Buy Toy Story Shirts?
Answer: You can buy different Toy Story shirts online. But make sure to order from an official Disney merchandise seller so you can ensure its originality, quality, and warranty.
Question: Can I Get Custom Toy Story Shirts?
Answer: Yes. There are several customized Toy Story shirts on Etsy, where you can request to have your name printed. Personalized designs are perfect for family trips and birthday parties.
Question: Do I Need a License to Sell Toy Story Shirts?
Answer: Several sellers don't have licenses to sell Toy Story shirts. That's because the Toy Story logo does not adhere to the originality threshold needed for copyright protection. However, it's better to be an officially licensed Disney merchandise seller.
Bottom Line
Whether you're going to Disneyworld or having a movie night at home, sporting your favorite Toy Story t-shirt is always a nice idea. Both kids and adults love the movie because of its story of friendship and the transition from childhood to adulthood.
Pick a t-shirt that is made of premium and comfortable material. Go for official Disney merchandise sellers, so you don't need to worry about quality! Or, if you're like me and love to support small, crafty businesses, consider getting the "I'm a Nervous Rex" Shirt.
Check out more of our Disney-related merch recs like this list of the best Toy Story costume ideas!
Continue reading:
Best Toy Story Merch Guide [2022]
The Best Toy Story Costume Ideas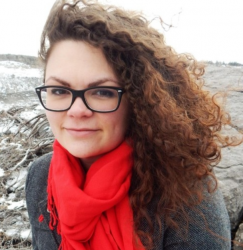 Latest posts by Candace Osmond
(see all)