From Grand Theft Auto IV to Vice City, the 2005 trilogy, or more, there's little doubt that GTA is one of the most popular and exciting long-running games. With 220,000 active players at its peak, Grand Theft Auto is going strong and offers a collection of official merchandise for its biggest players. But you'll need a guide to find the best, licensed merchandise or risk buying a knock-off. 
In this guide, I'll tell you some details that may surprise you about GTA merchandise. More importantly, I'll explain why it's difficult to buy GTA merchandise and give you my recommendations for only the best products. Whether your favorite version is GTA V, San Andreas, or another game, here are my tips.
Bottom Line Up Front Summary:  If I had to select just one merchandise item for GTA fans, it would be the Grand Theft Auto V Kubric Set. This set is collectible, complete with 5 figures and a collector's box. It's officially licensed and sold through the Rockstar Games store. 
My Top Picks
GTA Merchandise, Games and Items: Startling Facts 
Grand Theft Auto is no stranger to controversy, of course. GTA is so controversial, of course,e because it includes violent and sexual content. But there's been a few mishaps– and strange things– about its merchandise and in-game apparel. Here are some crazy details about in-game items and designs. 
Most Expensive GTA In-Game Item
There is countless GTA purchase you can make for your game. At the same time, there are certainly more expensive items than others. In GTA Online, several items catch high prices. Players can spend $10 million in their game on a sleek  Buckingham Luxor Deluxe golden plane. 
Biggest Rockstar Store GTA Mishap
The Rockstar Store sells official merchandise, and, of course, GTA games. But while many players were excited about the re-release of GTA Trilogy for PC in 2021, it didn't go so smoothly at first. As eager players downloaded the trilogy, many found it unplayable. Rockstar Games had to temporarily remove the trilogy. Luckily it's not back up and fully playable. 
Great GTA Merchandise is Hard to Find– Both In Games and Real Life
GTA items come and go, and even in-game you have to be quick to find the best items. In Grand Theft Auto V, you have to complete the meltdown mission to unlock clothing stores. Even then, inventory can and does change. Real-life merchandise is tricky to find, because most of it is fan-made, not officially licensed merchandise. 
Where to Buy GTA Merchandise 

You'd think that there'd be countless places to buy new and classic GTA merch. You indeed have a few options. You can find GTA merchandise through websites like Red Bubble, Tee Public, and Etsy. The problem is that none of these options are officially licensed merchandise. They are all fan-made. While I admire what's offered on Etsy, with high-quality, handmade designs, it simply is not the same as officially licensed merchandise. 
After searching websites like Hot Topic, Amazon, and other online retailers, I can only fully recommend one source for officially licensed GTA merchandise. 
Rock Star Games Official Store 
Rock Star Games, is, of course, the publisher for the GTA series. It seems fitting that this is the number one place to buy officially licensed, collectible GTA merchandise. Their merchandise collection includes long and short sleeve graphic tees, from basic black and white to vibrant colors. Alongside this classic apparel, this store carries gear and collectibles. 
From keychains to water bottle zippo lighters, it's a small collection, but also a collection with a respectable degree of variety. You can count on these being collector's items, and I like how the collection spans different games, from Vice City to Grand Theft Auto V and more. Shop Grand Theft Auto Merchandise Here. 
GTA Merchandise: My Picks
Here are my top recommendations for GTA merchandise. My selections are officially licensed merchandise from the Rockstar Games Store. These items were selected based upon the overall value, creative design, and how well they represent the GTA franchise. I selected GTA products to represent as many players as possible, and ones that stand out as especially creative or versatile. My selections include apparel, accessories, and collectibles so you can enjoy gaming in style. 
GTA Accessories
Gear and accessories for GTA fans include keychains, reusable water bottles, keychains, and covers for iPhones and iPads are a few accessories that you can you buy. These are versatile products that add a subtle touch of GTA for daily life. 
Sprunk Water Bottle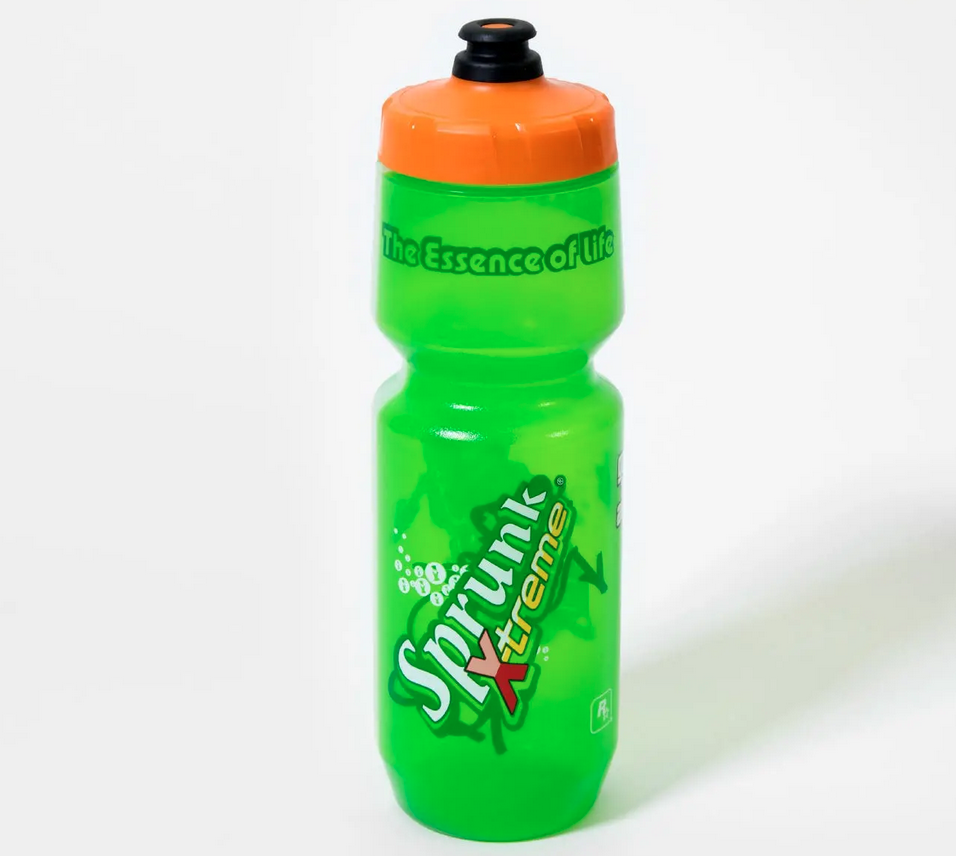 Want to game at your best? Staying hydrated is important. This handy water bottle holds 26 ounces of water so you won't have to worry about constantly refilling. The plastic bottle is made with 100 percent BPA-Free, FDA-Grade plastic. The Essence of Life and Sprunk branding, of course, is a reference to lemon-lime soda featured in the GTA games. Buy Here. 
Pros
BPA-Free

Leak-Proof

Easy Squeeze 
Cons
Not Insulated

Not For Hot Drinks 
Chop Leash and Collar – Large/Medium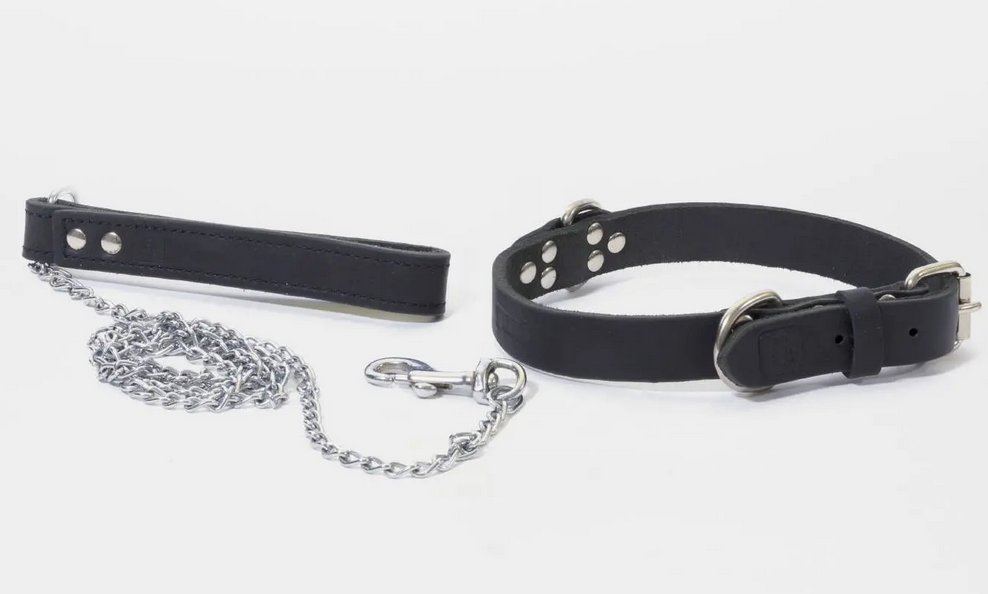 There's GTA merchandise available for your pet, too. This unique leash and collar set is made with premium leather. The Grand Theft Auto V set features riveted metal rings and fasteners. The collar and leash are sleek and modern. The GTA V and Rockstar Games logos and motifs add expressive touches. The leash is made with a sturdy handle and metal bolt. This set is available in two sizes and is intended for medium and large dogs. Buy Here. 
Pros
Premium Leather

Riveted Metal Fasteners

GTA V and Rockstar Games Logos
Cons
No Smaller Sizes

Non-Flexible Chain
iFruit iPhone Case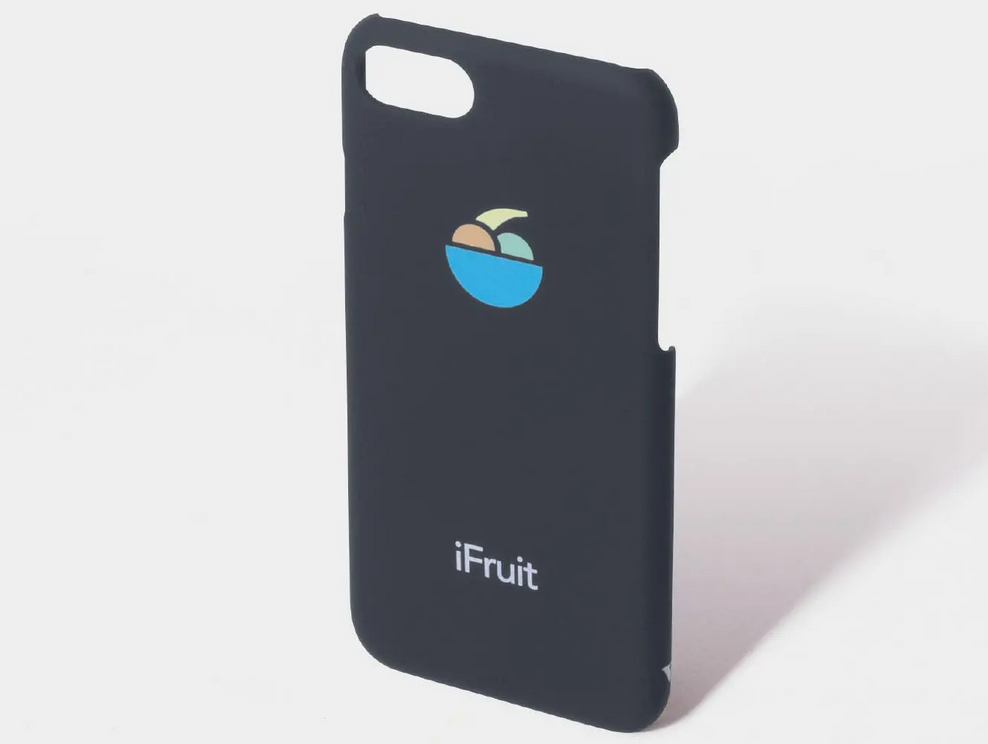 This is a more suitable merchandise item. The fruit symbol refers to the mobile app used for playing GTA on the go. This case features a slim construction. It's soft to the touch, but the heavy-duty corners provide protection. The phone case has an iFruit logo, a V logo on the side, and a Rockstar logo. The case comes is available for iPhone 6, 7, 8, and X models. Hopefully, they will add cases for more phones in the future. Buy Here. 
Pros
Four-Corner Protection

Ultra Slim Design

V, Rockstar Games, and iFruit Logos
Cons
Not Available for Android

Only Available for Some iPhone Models
GTA Apparel
If you're looking for comfy and versatile GTA apparel, the good news is that this is where you have the most options. Both short and long sleeve graphic tees are available in everything from black and white to sunny yellow and more hues. These are comfy, with a classic fit. Almost all of these shirts are available in both men's and women's sizes. There are a few hats too. 
San Andreas Republic Tee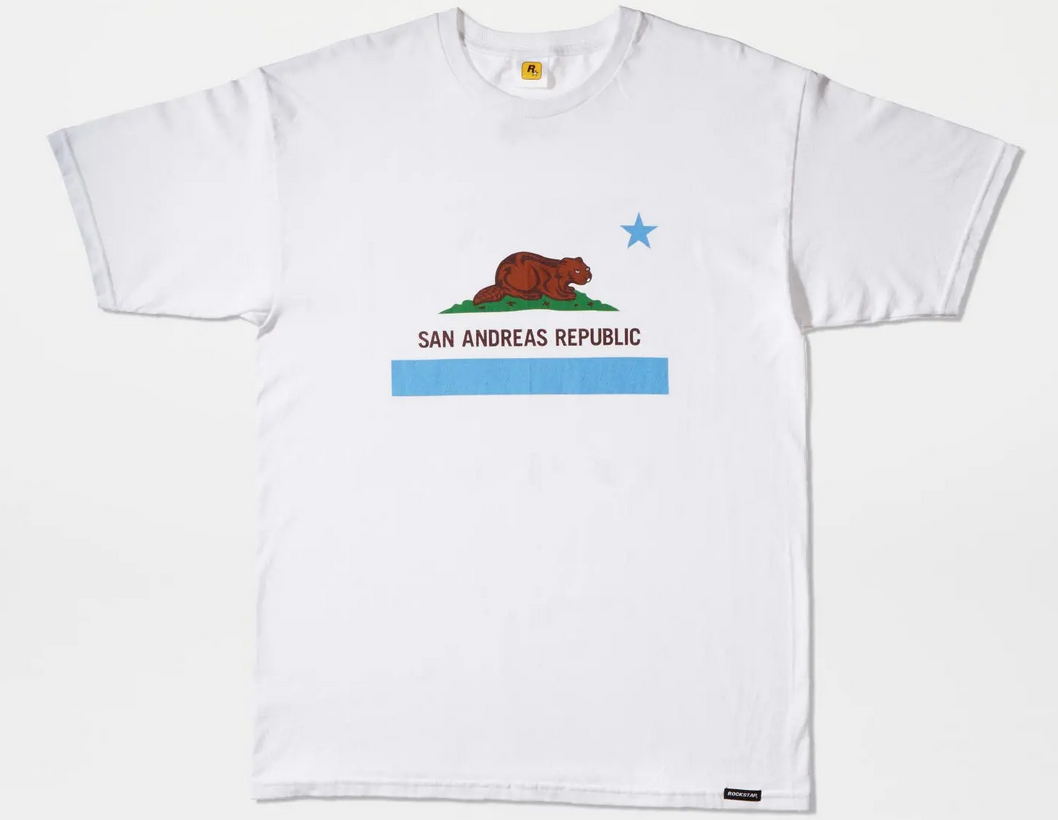 This cozy cotton t-shirt is a great buy for fans of San Andreas. The flash of San Andreas is depicted on the front. A subtle Grand Theft Auto V motif is printed along the neck and the back. A pull tag with the Rockstar Games logo is featured just at the wait. This is a classic crew neck tee, available in sizes small through XXXL for men and women. Buy Here.
Pros
Grand Theft Auto V and Rockstar Logos

San Andreas State Flag

Soft and Lightweight 
Cons
Grand Theft Auto III Tenth Anniversary Tee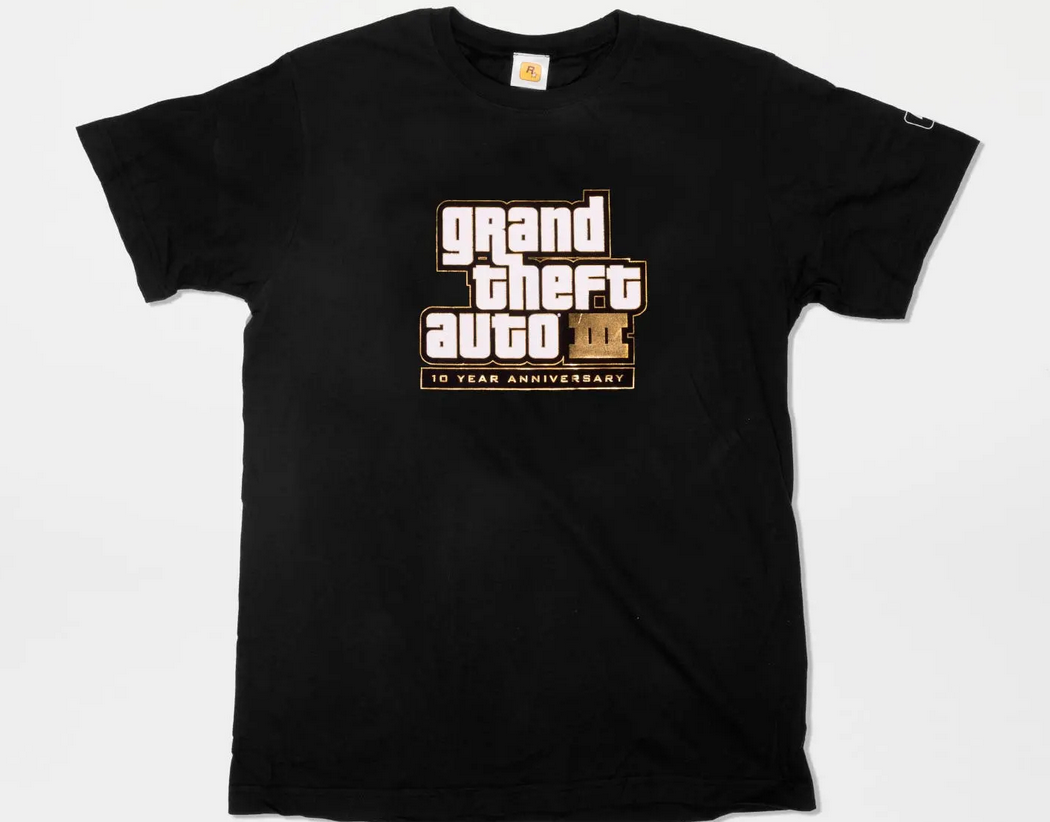 This GTA Auto 3 anniversary tee also is fun for collecting. The tee celebrated its 10th anniversary and is made with 100 percent soft cotton. I like the gold-tone, gilded print on the front. A subtle Rockstar logo provides balance on the neckline on the back of the shirt. The design is celebratory, crisp, and classic. This t-shirt features a classic crew neck and is available in sizes small through 3XL. Buy Here. 
Pros
Anniversary Item

Rare GTA III Item

Gold-Tone Logos and Print 
Cons
Grotti Polo Shirt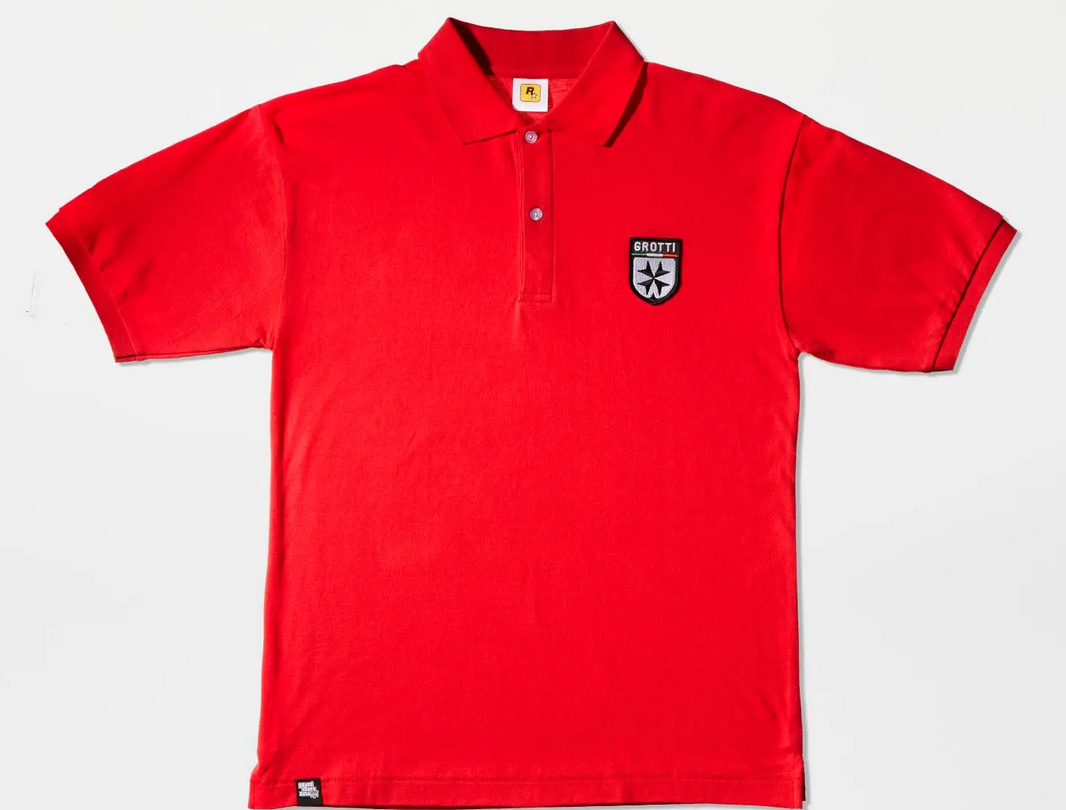 This striking red polo shirt steps up for the GTA apparel collection. As indicated by the name, this polo's design takes inspiration from Grotti Carbonizzare and Grand Theft Auto V. The 100 percent cotton polo is constructed with a two-button flag and a ribbed collar. The Grotti patch on the check and Rockstar logo on the sleeve add signature touches. There's also a GTA V-branded pull tag at the waist. This bright red polo is available for men and women in sizes small through 3XL. Buy Here. 
Pros
Cherry Red Color

Ribbed Collar

GTA V, Grotti, and Rockstar Games Logos
Cons
Republican Space Rangers Tee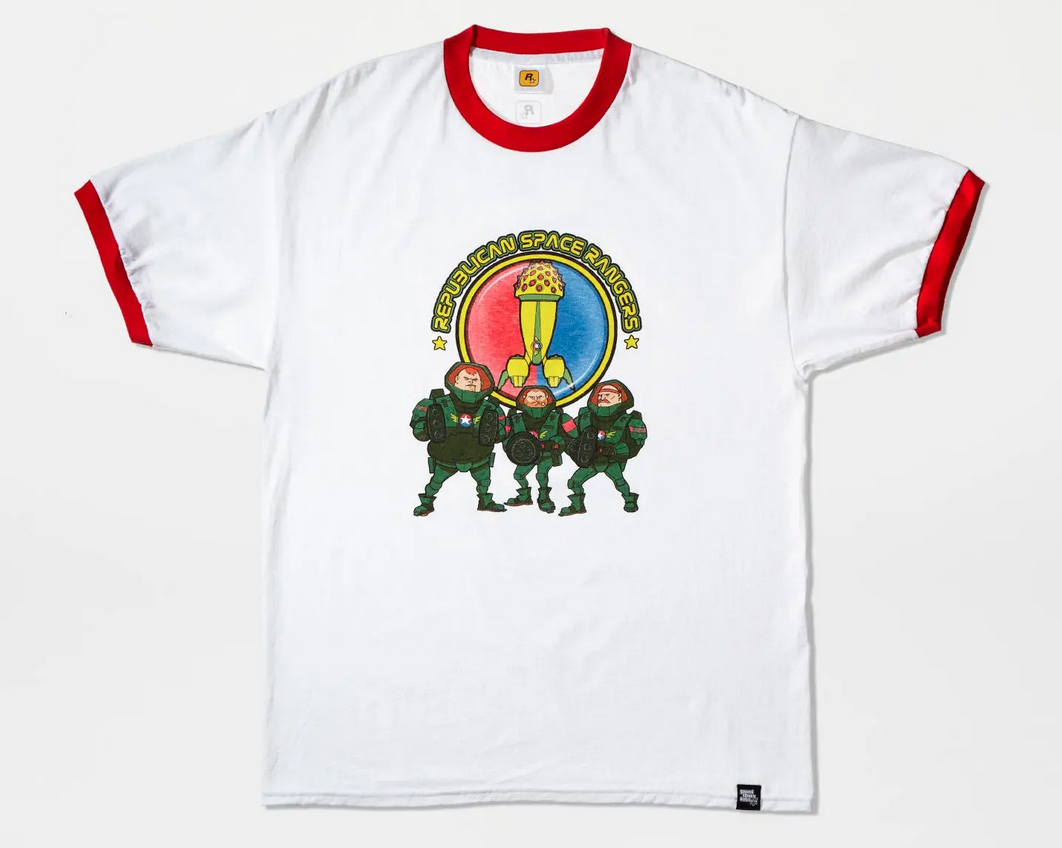 This colorful GTA tee is suited for fans of GTA IV, GTA V, and GTA Online. The Republican Space Rangers cartoon is given a nod with this creative tee. The ribbed collar and sleeves are vibrant red. The Space Rangers logo is rendered with thoughtful illustrations. There's also a Rockstar logo on the back just below the neckline. It's available in men's and women's sizes small through 3XL. Buy Here. 
Pros
Red Collar and Sleeve Trim 

Striking Illustrations

Represents 3 GTA Games 
Cons
Not As Versatile

100 Percent Cotton- Can Shrink 
The Ballad of Gay Tony Tee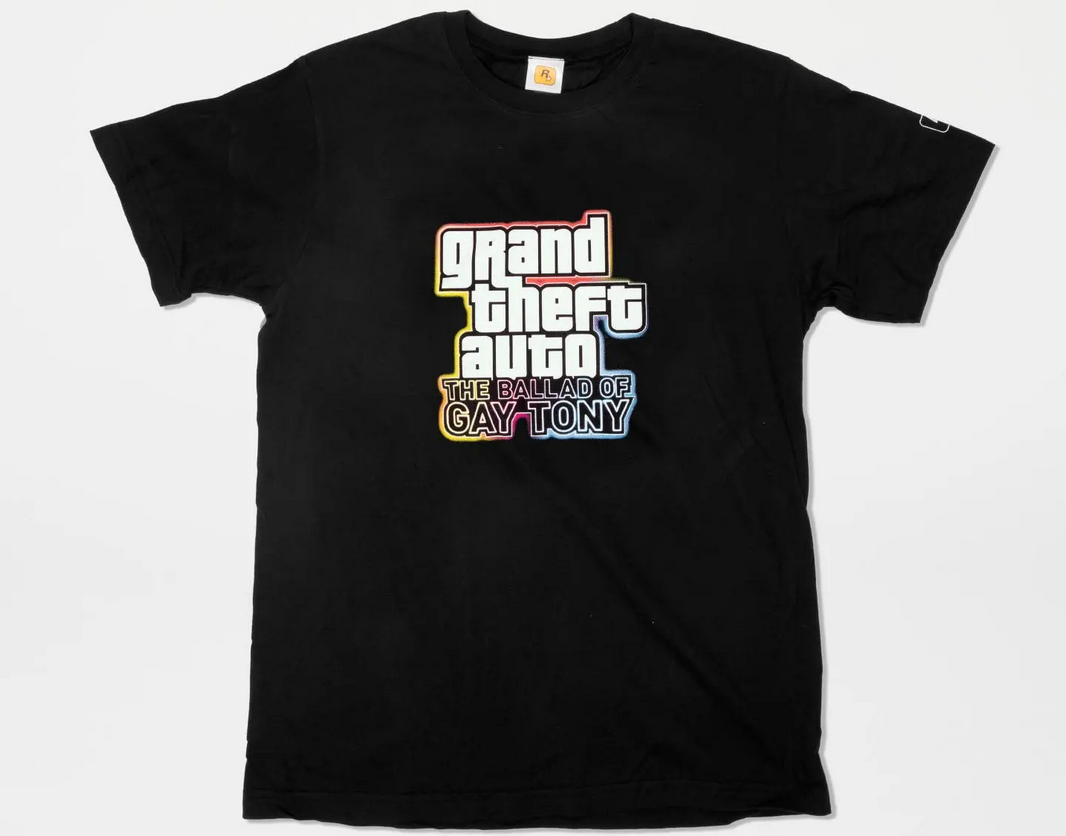 This short-sleeve tee is made with 100 percent cotton. The black tee is striking with a multi-hued logo. The Ballad of Gay Tony refers, of course, to an episode from Liberty City. The design is immediately recognizable and there's a sense of GTA timelessness with the main logo. This t-shirt is available in men's sizes small through 3XL. There's also a t-shirt of the same design, in pink. It's a solid t-shirt for collecting, all with a classic fit and classic crew neck. Buy Men's Black Here or Buy Men's Pink Here.
Pros
Classic GTA Logo

Multicolored Design

Unique GTA IV Shirt
Cons
Only Available in Mens' Sizes

May Shrink 
Degenatron Tee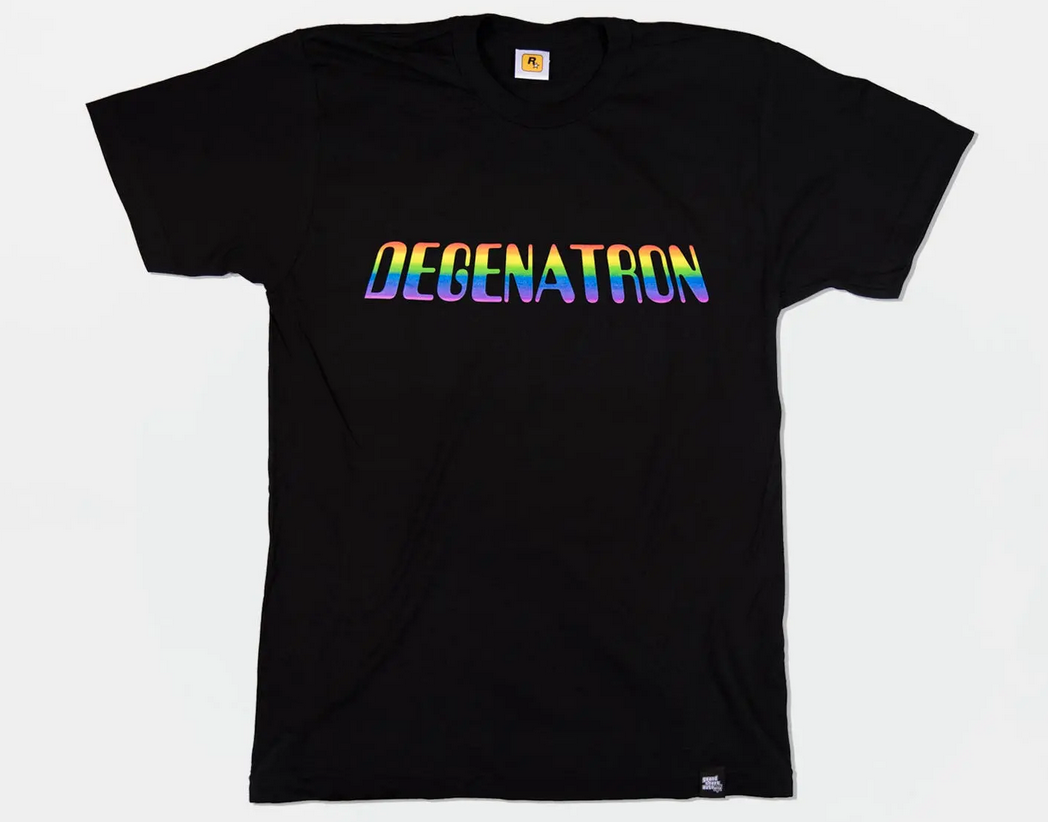 This tee is available in men's and women's sizes small through 3XL. Whether you're celebrating Defender of the Faith, Streets of Crime, Monkey's Paradise, or another classic, this t-shirt is a great find. The deceptively simple design features a Degenatron logo with electric colors, suited for representing the arcade machine. Buy Here. 
Pros
Vintage Appeal 

Electric Colors

Unique Design 
Cons
Can Shrink (100 Percent Cotton)

Not As Obvious to Those Who Don't Play GTA
Los Santos Sheriff Trucker Cap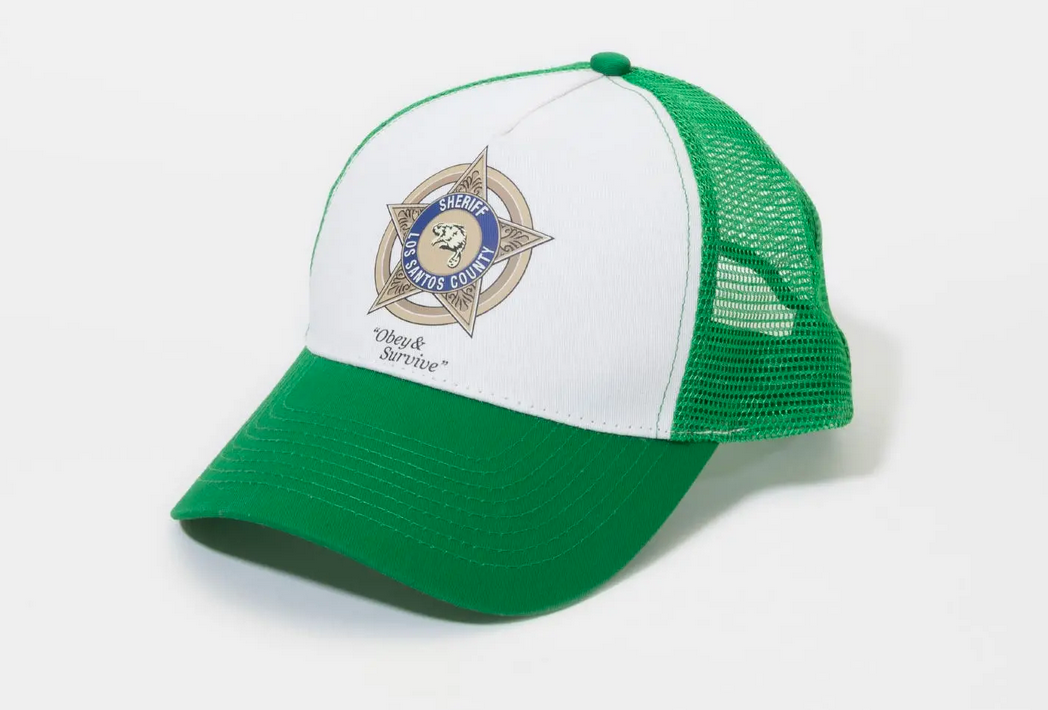 Shade the sun from your eyes with the officially licensed hat. The baseball hat is made with a crisp green and white design, along with a Los Santos Sheriff logo. The mesh on the sides makes this hat breathable and comfortable. Symbolic of the law enforcement unit that appears in both GTA V and GTA Online, it's an adjustable hat you can wear for a sunny side. Buy Here. 
Pros
Mesh Sides

Crisp Design

Sheriff Logo 
Cons
Spot Clean

White Shoes Dirt More Quickly 
GTA Collector's Items
These collector's items include figurine sets and lighters. They serve as decor and add a little GTA touch to your gaming setup. 
Grand Theft Auto IV Kubrick Set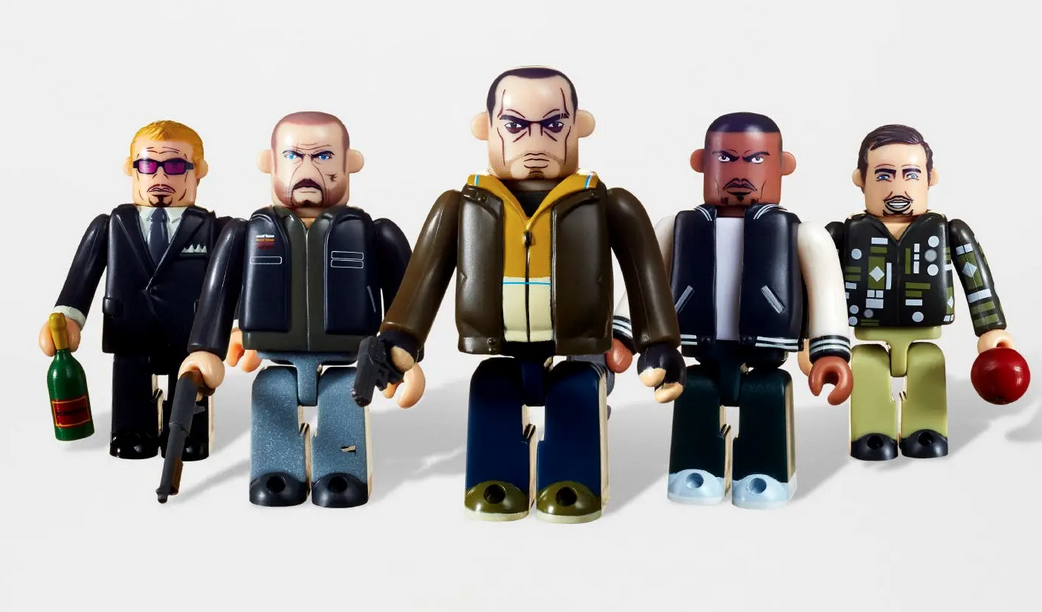 This collectible figurine set was launched to celebrate the tenth anniversary of GTA IV. This Grand Theft Auto 4 set included: Niko Bellic (former member of the military and a Liberty City immigrant), Roman (his cousin), Johnny Klebitz (from the Lost Biker Gang), as well as Tony Prince (Ballad of Gay Tony), and Luis Lopez. The figures come in a collector's box. Each figure has a LEGO-like appearance but expressive details and accessories. Buy Here. 
Pros
Tenth Anniversary Edition

5 Figures

Collectible Box
Cons
No Display Stands

Figures Are Small 
Grand Theft Auto V: Heist Edition Kubrick Set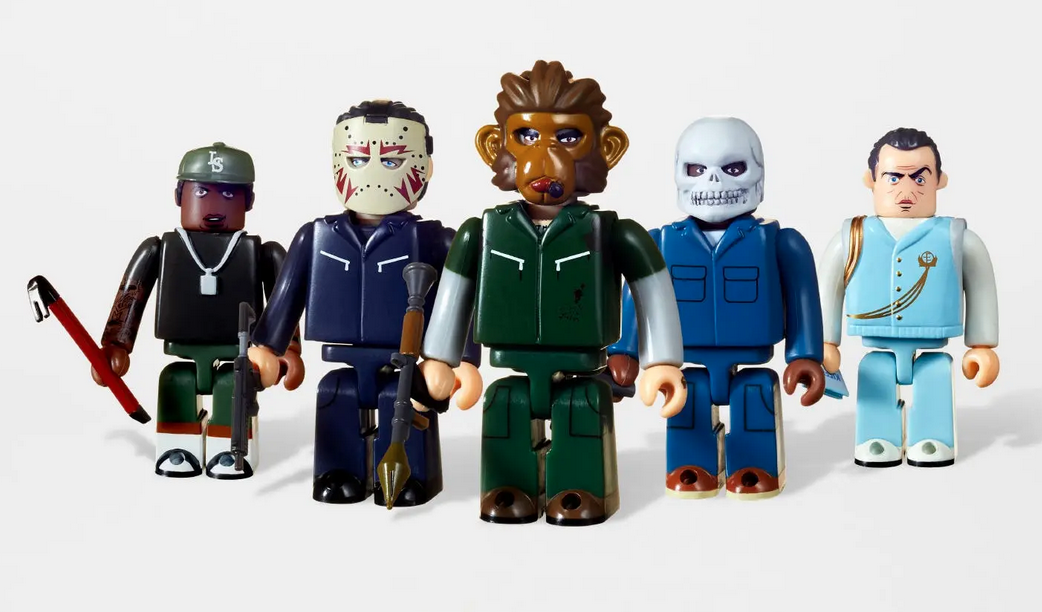 Grand Theft Auto V fans might want to consider this collector's set. The unique set includes 5 figures meant to exemplify the exciting heists in GTA V. Figures include Michael, Trevor, and Franklin– all disguised with masks from Blitz Play. For so small of figurines, you get several notable details. Along with these characters, you'll also get Cris Fromage (leader of Epsilon) and Lamar Davis. Buy Here. 
Pros 
5 Figures

Unique Heist Accessories

Collector's Box
Cons
No Display Stands

Modest-Sized Figures 
Frequently Asked Questions
Question: Does the Rockstar Games Store Offer Any Refunds or Exchanges? 
Answer: The online store offers refunds for digital download within 14 days. For physical merchandise, you can seek refunds for orders that are not received, or anything that is deemed damaged or defective. Depending on the refund request, you may issue a full or partial refund. Refunds are issued by contacting Rockstar Games Support, while exchanges (wrong size or color of a shirt, for example) are managed through  Rockstar Games Supp. 
Question: Will There be Merchandise for GTA 6? 
Answer: Rockstar Games has confirmed that GTA 6 is in the works, but there's no official date when it's coming out. The base for GTA 6 will likely cost around $70, but that's as far as projections go. I have little doubt that there will be merchandise for the sixth iteration of the main game series, though it'll probably be confined to the Rockstar Games store and fan-made merchandise on other websites. 
Question: Can you Buy Merchandise for GTA on eBay? 
Answer: Sadly, there isn't much in the way of GTA merchandise on eBay. You can catch some sales on used or new games, for all platforms. You can also purchase GTA game manuals. However, you aren't going to find great t-shirts, other apparel, and not much in the way of genuine collectibles, either. Of course, it's always wise to be selective about who you buy from, too. Read this Guide for Buying Safely on eBay. 
Question: Is GTA Merchandise for sale on Amazon?
Answer: Amazon sells a small selection of GTA games as well as gift cards or bundles. However, I wouldn't say that this selection is superior to other stores. A place like Gamestop, for instance, will give you more variety for GTA games. There isn't much advantage to shopping on Amazon in my opinion. 
Final Thoughts
With Grand Theft Auto IV in the works and plenty of main and side games to choose from in the meantime, I'd say there's still a lot ahead for the franchise. Producers have hinted that GTA 6 will push boundaries. Take-Two's CEO mentioned the need for the games to stay "fresh" and "bring consumers what they want," according to a report on PC Gamer. But GTA 6 speculation aside, I do know that there's a small but respectable collection of merchandise for collectors and gamers to shop. If you want to expand your options, your only choice is to buy second-hand or buy fan-made merchandise. 
Handmade GTA Figures by Character 
Plush and figurines are always fun to collect. Display them on your desk or another shelf. Since the Rockstar Games store doesn't offer much in the way of GTA plush or figurines (except collectors sets), my selections are fan-made. It's important to note this is not the same as officially licensed merchandise. That said, while these are not valued as much for collecting, I did apply standards to my selection. These were selected for their attention to detail and affordable price. All of these purchases support independent creators or small stores. 
GTA 3 Claude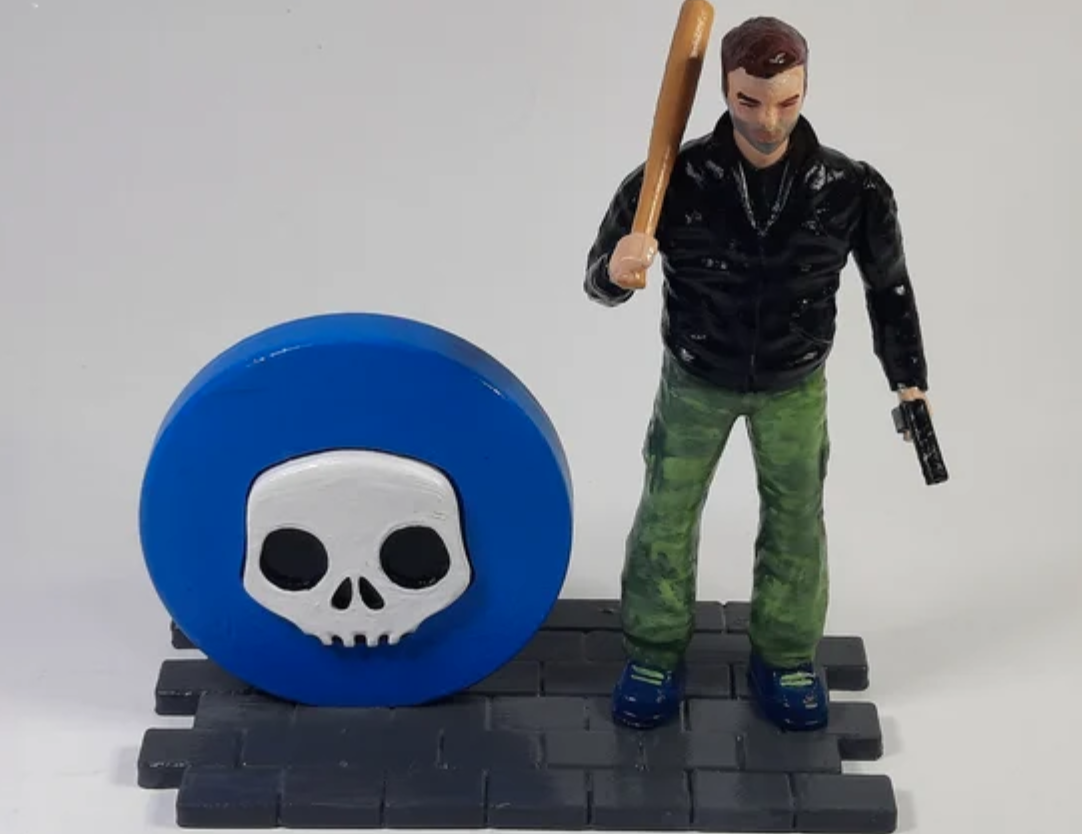 Claude from GTA 3 is 4.8 inches tall and hand-painted. The Claude figure is a character in both GTA III and also makes a minor appearance in GTA San Andreas. He's painted with biodegradable acrylic. Buy Here. 
Pros
Hand-Painted Biodegradable Acrylic

Affordable
Cons
GTA San Andreas Carl Johnson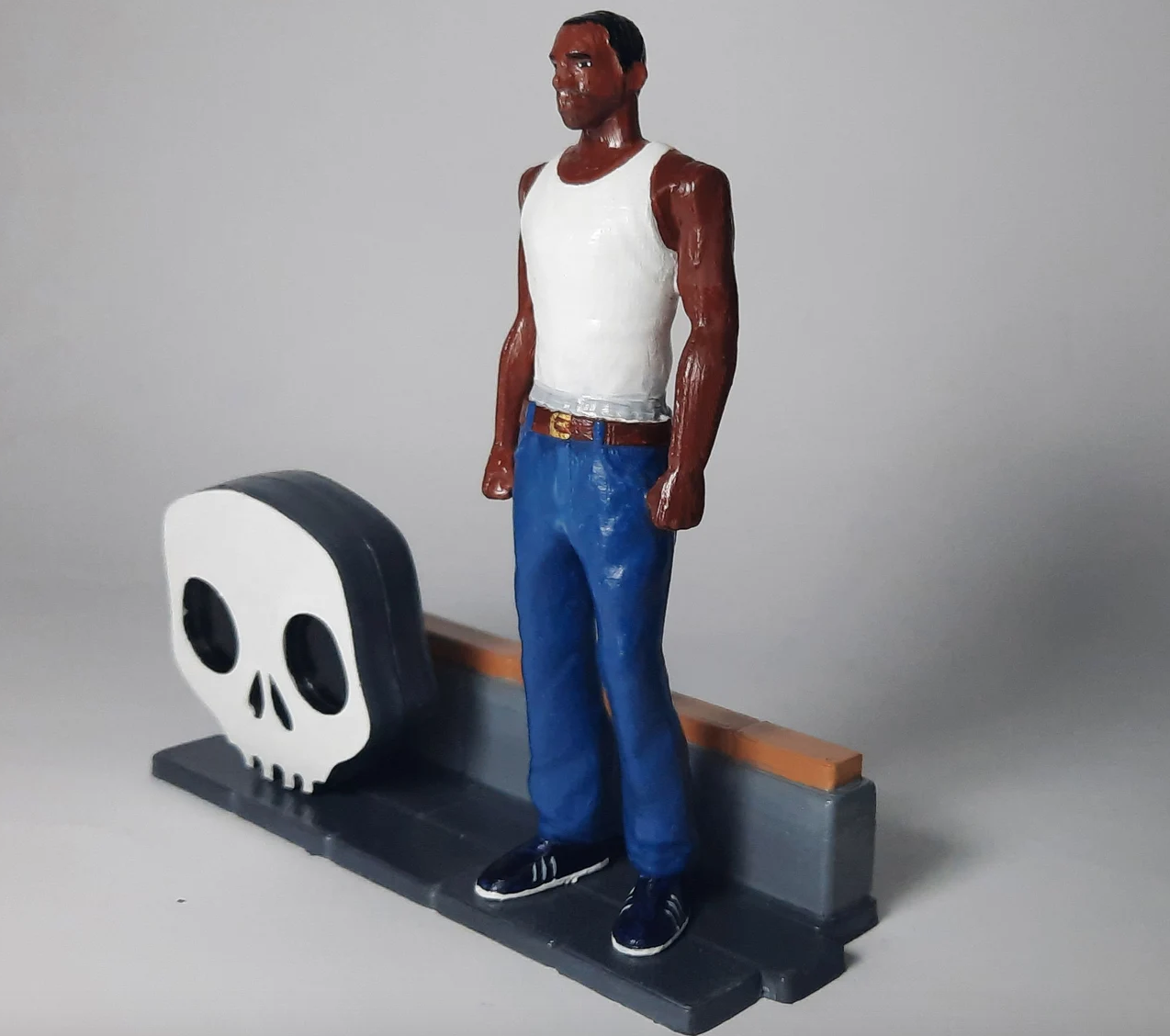 CJ from GTA San Andreas is re-imagined with this figurine. The second commander of the Grove Street Families gang, CJ is featured with his white muscle shirt. He stands on a base beside a mission icon. Buy Here. 
Pros
Mission Icon

Hand-Painted
Cons
Facial Features Aren't As Detailed
GTA 4 Niko Bellic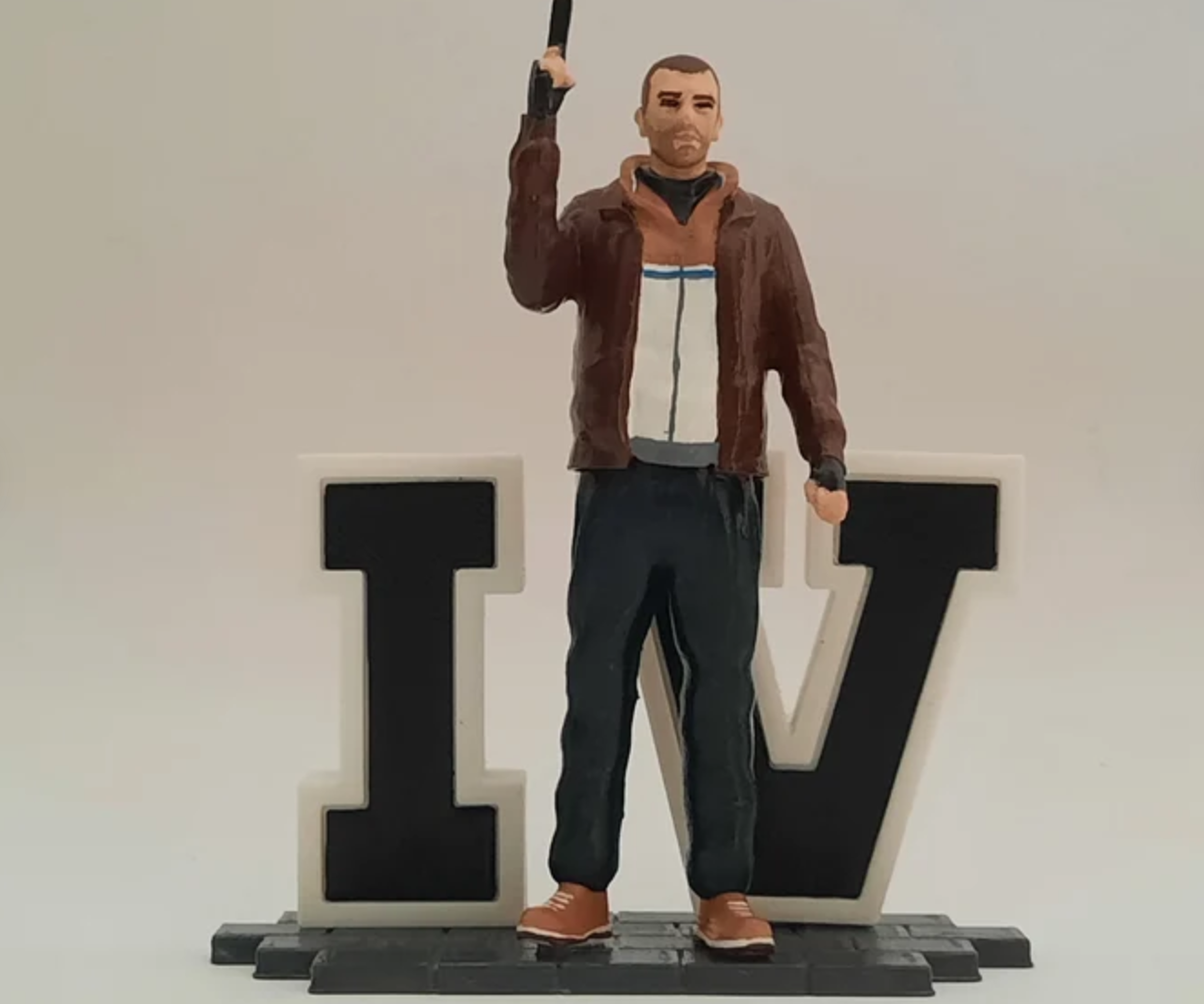 The protagonist of GTA IV and a character in both The Balls of Gay Tony and The Lost and Damned, the Niko is rendered with this figure. The figure is hand-painted, with a textured jacket and gun. He stands in front of IV to represent his main appearance in the GTA series. Buy Here
Pros
Detailed Jacket and Accessories

IV Symbols
Cons 
Short (Only 4.8 inches Tall) 
GTA 5 Michael and Trevor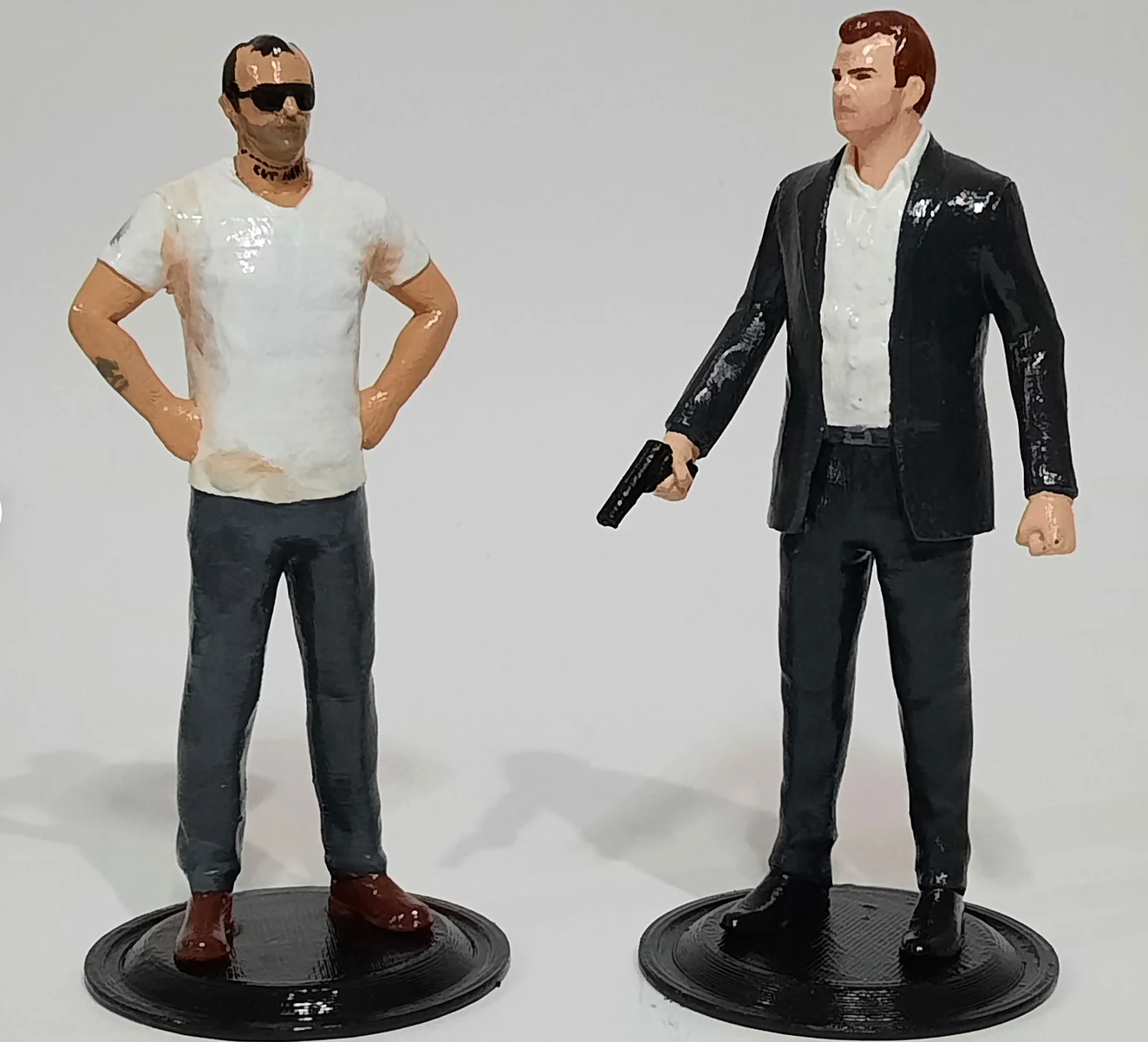 If GTA V is more your game and you don't want to spend on an official collector's set, these handmade figures are an option. Michael and Trevor and fan favorites. Sunglasses, a gun, and a signature suit are a few details with this two-figure set. Michael and Trevor have individual stands. Buy Here. 
Pros
Sunglasses and Gun

Two Figure Set
Cons
Final Buying Recommendations: Grand Theft Auto Merchandise on Etsy
Etsy carries fan-made, handmade Grand Theft Auto merchandise. While it's not officially licensed merchandise, I can tell you there are some high-quality, unique products. On Etsy, you'll find stickers, coffee mugs, custom couples' portraits and other posters, desk accessories, party supplies, apparel, figurines, and more. I recommend paying attention to customer reviews, detailed descriptions, and the shop/ artist's history of sales. Shop GTA Fan-Made Merchandise on Etsy Here. 
Find more cool merch below:
Best Final Fantasy Merch Guide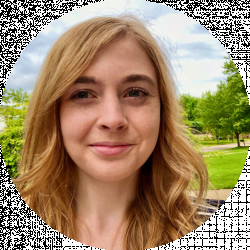 Latest posts by Erin Jamieson
(see all)