Unisex T-Shirt at Old Navy
Since its first release in the 1980s, the Legend of Zelda series has stuck out to me as one of the most exciting and imaginative. But just as Zelda games are challenging without a sense of direction, you'll need a guide to find the best officially licensed merchandise. 
In this guide, I'll tell you where to buy Zelda merch, from apparel to collectibles. I'll give you my strategies and selection criteria for finding official merch. I'll even share some final buying recommendations and great finds based upon your favorite Zelda characters. One thing is clear: the Legend is still very much alive, and there's a lot of merchandise to celebrate with—if you know where to look.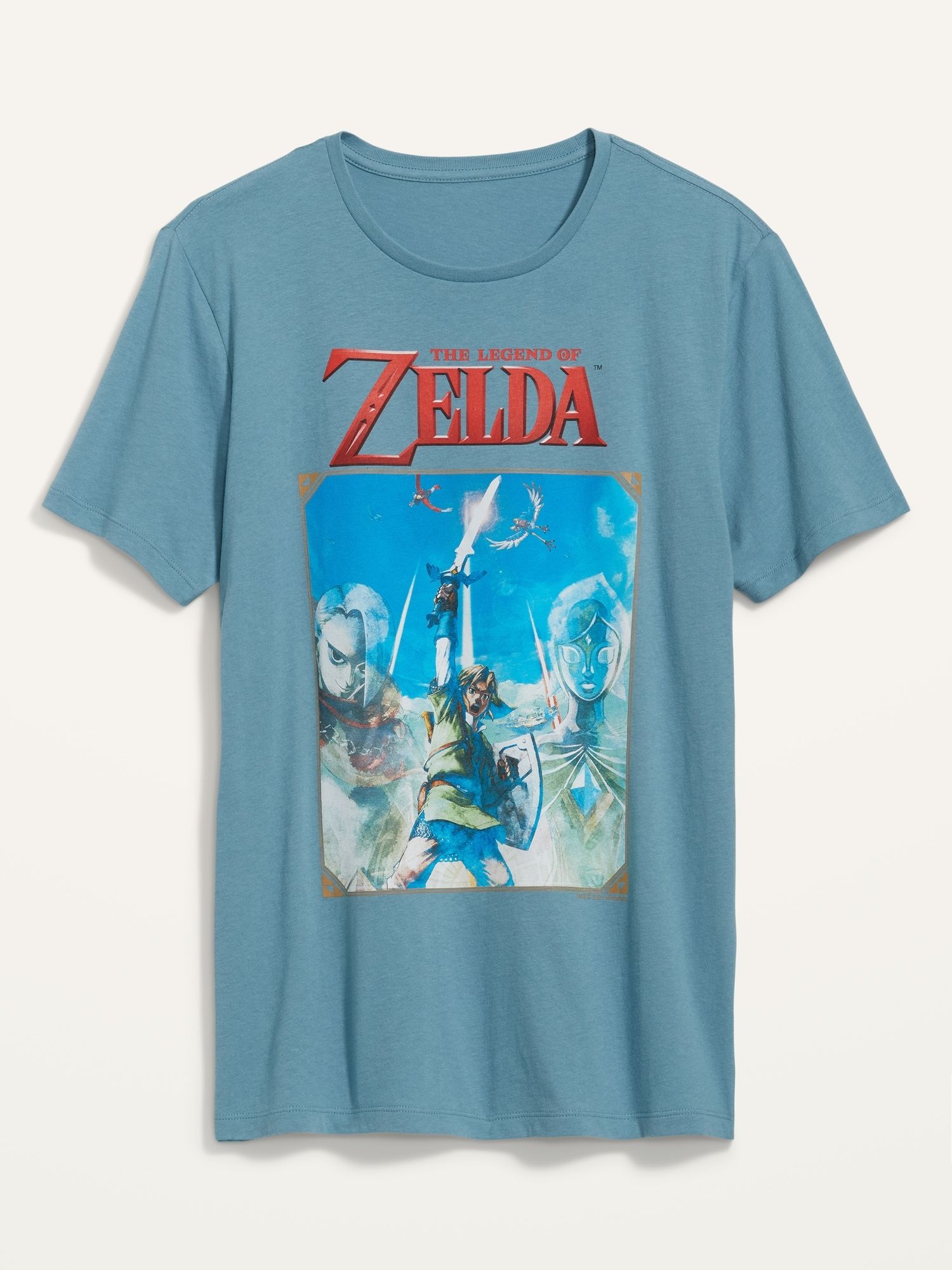 Bottom Line Up Front Summary
If I had to select just one merchandise item for Zelda fans, it would be the Amiibo Link Breath of the Wild. Amiibos offer in-game bonuses and double as decor and collector's items. Link is rendered in great detail, for a fraction of the price of a Link collector's statue. 
My Top Picks
Where to Buy Zelda Merch
You probably don't need me to tell you that you can buy Zelda merchandise just about everywhere you can imagine. When I was younger, it was exciting to see how much hype there was about Zelda. But now I look at things more analytically, I see there are better and worse places to shop. 
You can buy Zelda merchandise on Walmart, Old Navy, Amazon, and even find some cheap or rare merch on eBay. The problem is that the quality is inconsistent. Many of these websites also carry a mix of official and unofficial Zelda merchandise. If you want official Zelda merch that's collectible, there are a few places I recommend most.
Gamestop Zelda Merchandise Collection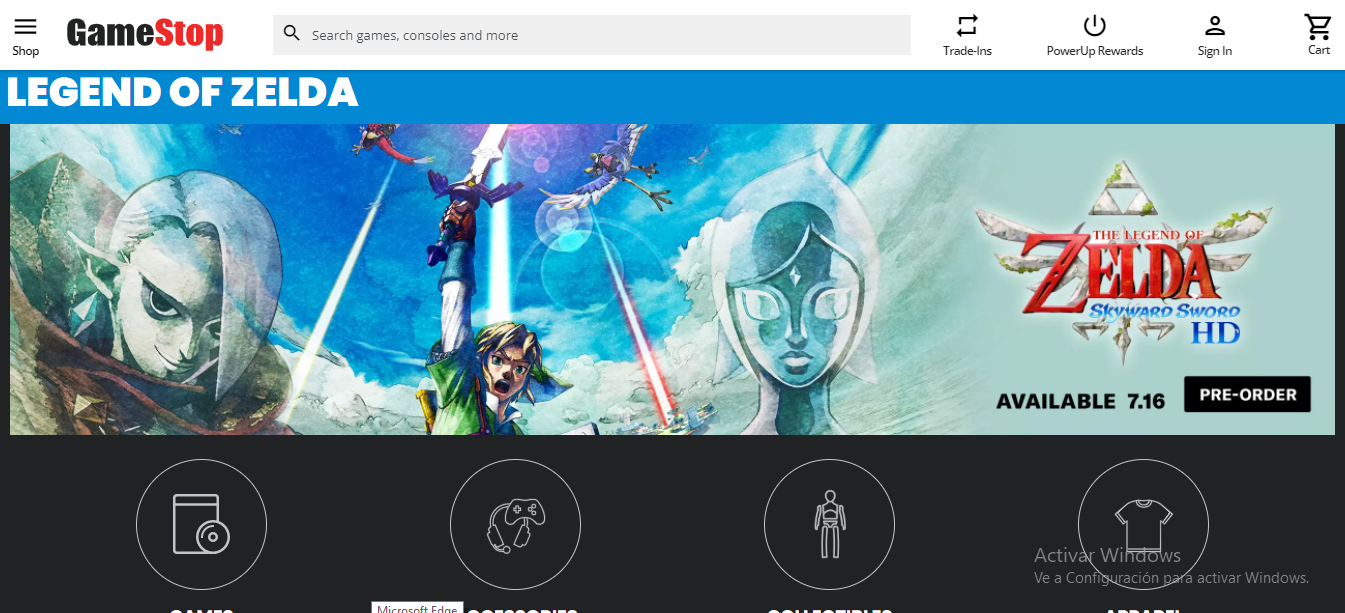 Gamestop is a popular place to shop for official merchandise, and their Zelda collection holds up– though it is small. Not only can you buy any Zelda games you're missing, but there's also plenty of merch. They carry apparel, including both graphic tees and accessories like tote bags. The biggest downside is that the collection is smaller than my next two suggestions. Shop Zelda Merch on Gamestop Here. 
Nintendo Store Merchandise Collection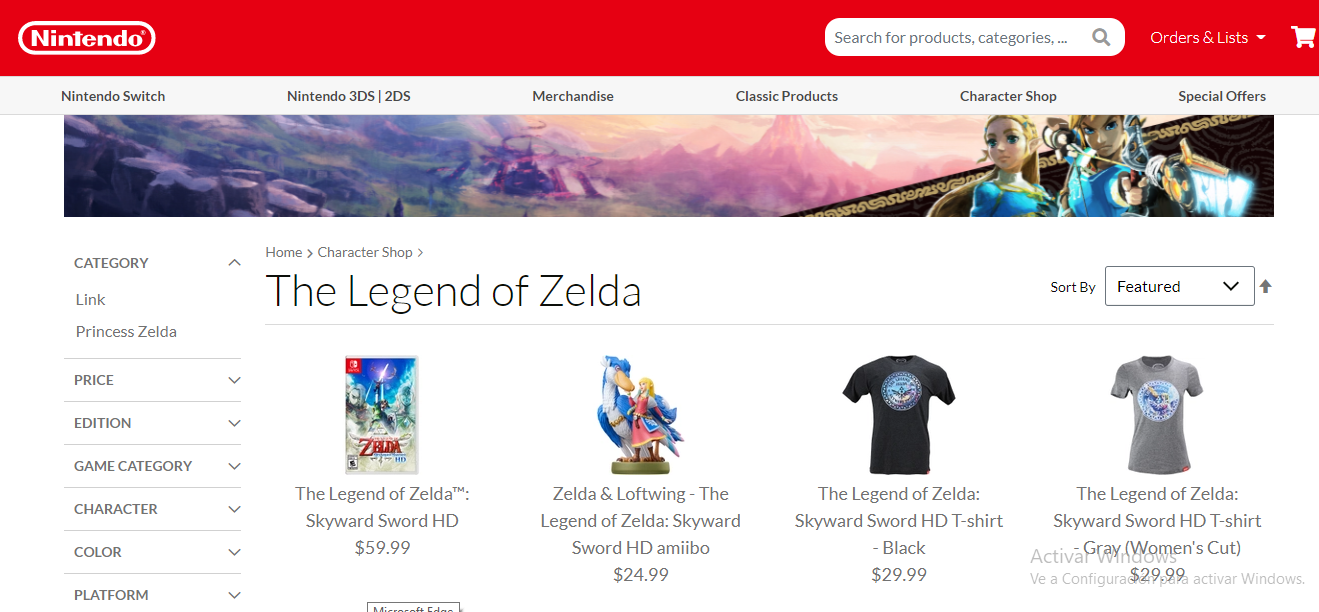 Something the Nintendo Store does well is that it presents its merchandise in an organized way. You can even shop by Link and Princess Zelda products in their character shop. This collection includes plush toys, hoodies, t-shirts, and some accessory pillows and other decorative accents. Of course, the Nintendo store also sells Zelda games. Shop Zelda Merch on the Nintendo Store Here. 
Target Merchandise Collection

If you're longing for a variety of licensed Zelda merchandise, look no further than Target. Figurines, books, accessories, costumes, and more are available. This collection includes items for both kids and adults and is colorful, vibrant, and easy to shop for. With Target, you may find some items in-store, but you also have the option to have items shipped to you or a local store near you. Shop Zelda Merchandise on Target Here. 
Zelda Merch: What to Buy Now 
Here are my top picks for the best Zelda merchandise you can buy right now. All of these merchandise items come from Target, the Nintendo Store, or Gamestop. For Amiibos, I have included some selections from Walmart or Amazon but focused on the same quality standards.  All of these items can be purchased online, but some may be carried in stores or be shipped to stores. Every item is officially licensed merchandise, so they're great for collectors. 
In addition to ensuring that all items are officially licensed merchandise from reputable retailers, I wanted to select the best products for your money. These products are striking in their design, thoughtfully constructed, and at a fair price. They stand out to me as the best products for your money, no matter your age. 
All of my picks are organized by category. Don't forget to check my final buying recommendations, as well as my top plush toys for your favorite Zelda characters. 
Zelda Accessories 
Wallets, mugs, tote bags, and even socks are included in my selections for the best Zelda accessories. I separated this category from apparel (see below) to highlight the excellent prices and quality designs. 
Legend of Zelda Breath of the Wild Cinch Sack
This tote bag is affordable, highly rated, and a great Game Stop-exclusive merch item. The sky blue bag includes adjustable dusky yellow drawstrings. The Breath of Wild Zelda illustration is spot on. The 100 percent polyester makes it easy to clean and keep clean. This is great for a quick day trip, pick-up sports, and more. Buy Here.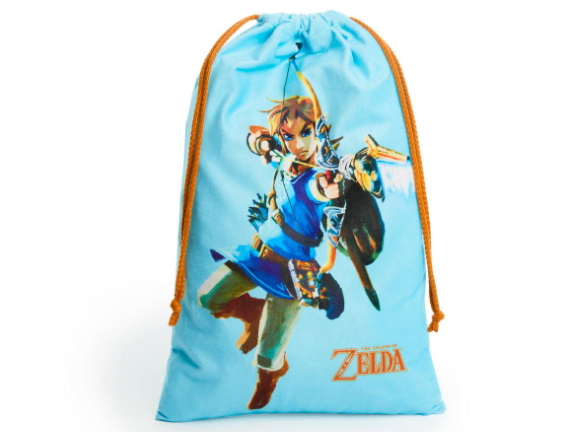 Pros
Excellent Price

Striking Design

Easy to Clean
Cons
Fairly Small

No Interior Pockets 
Legend of Zelda Princess Zelda Wallet by Danielle Nicole
If you're looking for a more masculine wallet, is a reasonable option. But this wallet is my top choice for its construction and space. This Princess Zelda wallet provides a generous 12 slots for cards. The removable straps increase its versatility. The gold accents against the cream white are striking, elegant, and recognizable. Buy Here.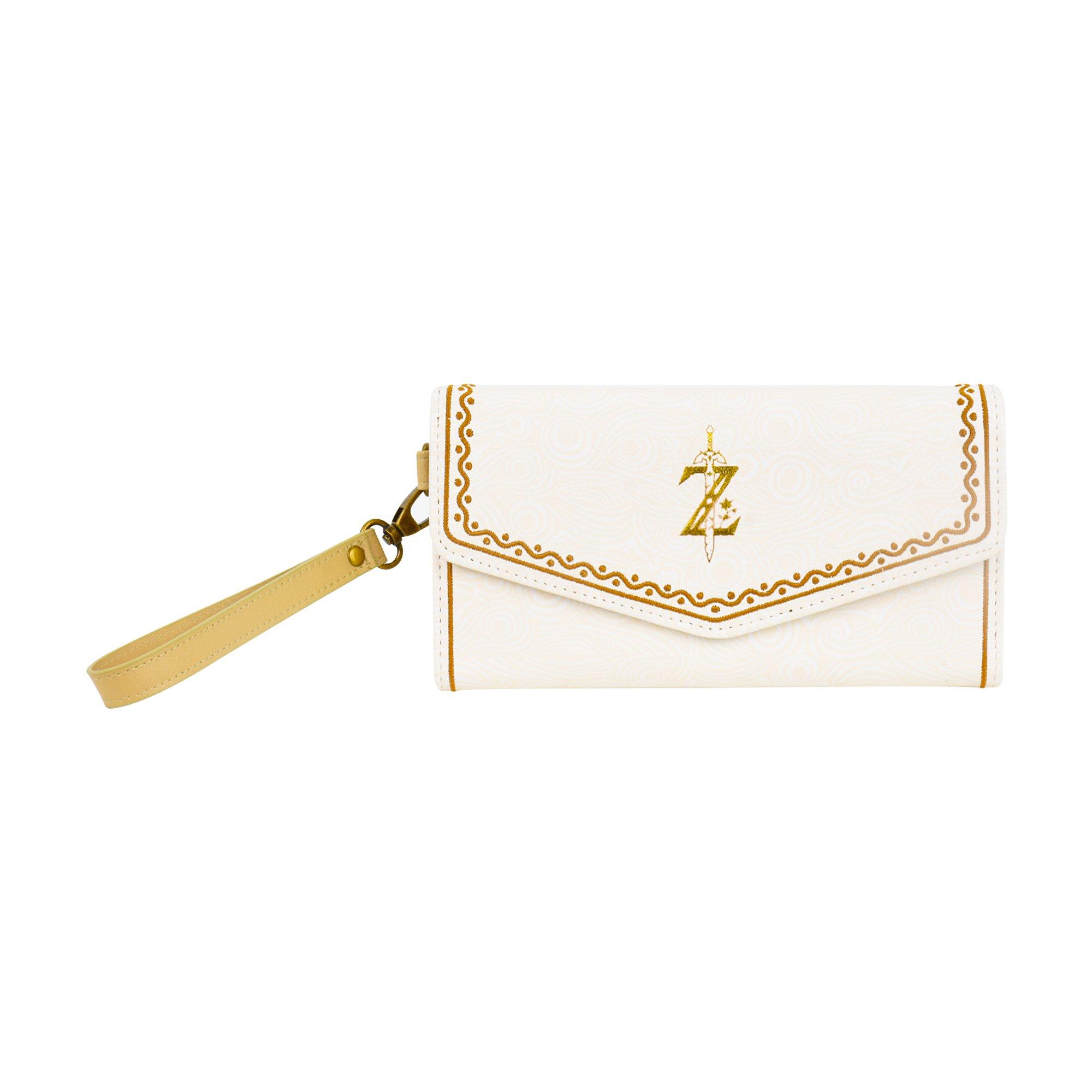 Pros
12 Card Slots

Removable Strap

Elegant Design
Cons
White Shoes Dirt More Easily 

Not As Zelda
Legend of Zelda Triforce Wings Logo Five Pack Casual Crew Socks
These socks upgrade your style. The five-pack of crew socks includes five unique and distinct styles. The contrast and color-blocking of these Zelda socks are striking but that's not the only reason that they top my merchandise recommendations. Since the socks are constructed with 98 percent spandex, they provide excellent stretch. They're machine washable and cozy too. The triforce and winged symbols are powerful motifs for fans of Link and Zelda. Buy Here.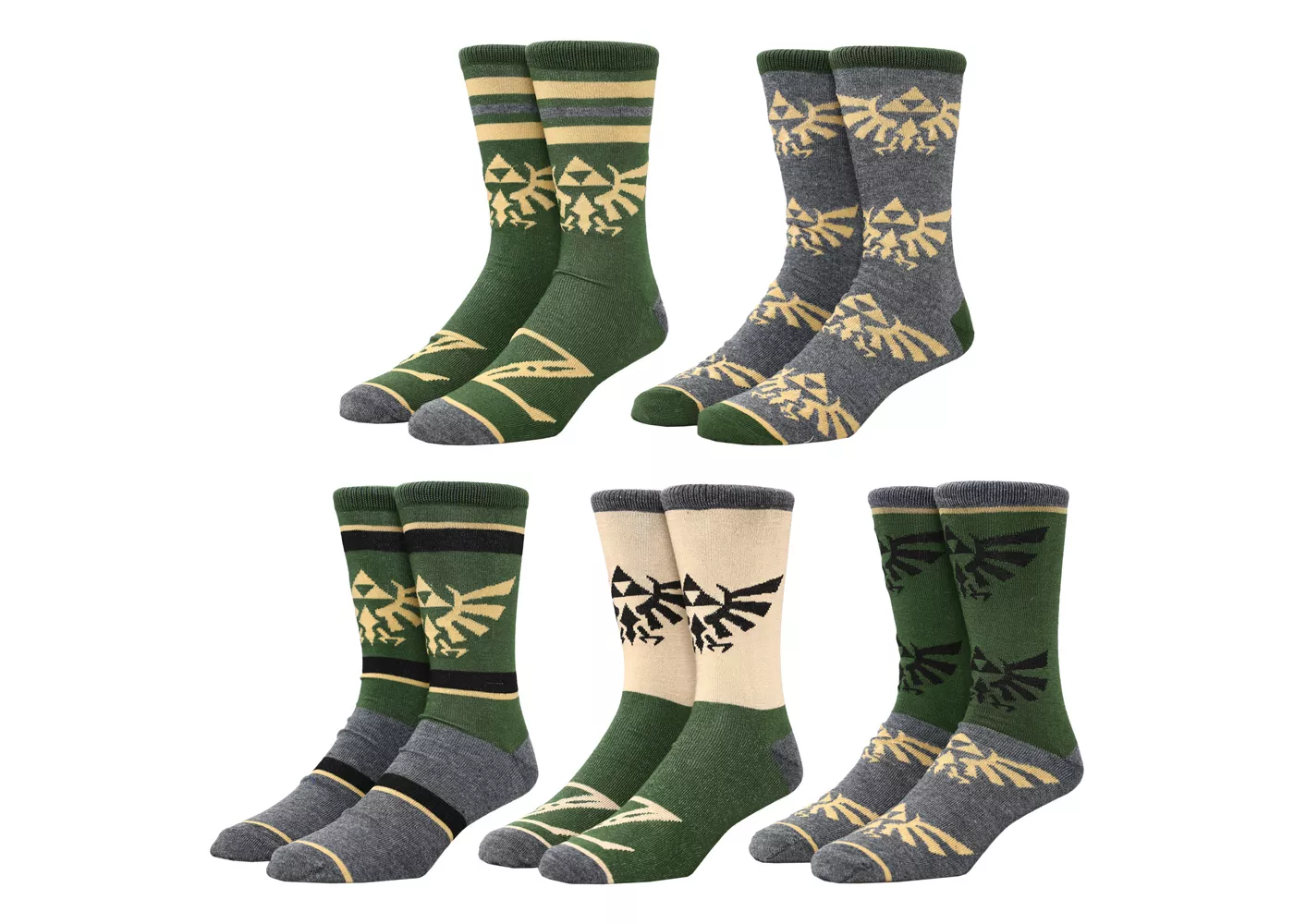 Pros
Triforce and Winged Patterns

5 Pairs, 5 Distinct Designs

Comfortable Stretch 
Cons
Not Very Versatile

Lack of Reviews
Slim Travel Case: Hyrule Hero Link
Keep your Nintendo Switch protected. This slim travel case keeps your Switch case wherever you go. The lift strap means you can remove the case single-handed. It includes a tray for storing a Nintendo Switch Lite, too I love that this case includes an integrated stand. This makes playing comfortable when you're traveling. Even with all these features, the design is anything but bulky. That's not even including the black and gold design, with Link brandishing a bow with arrows. Buy Here.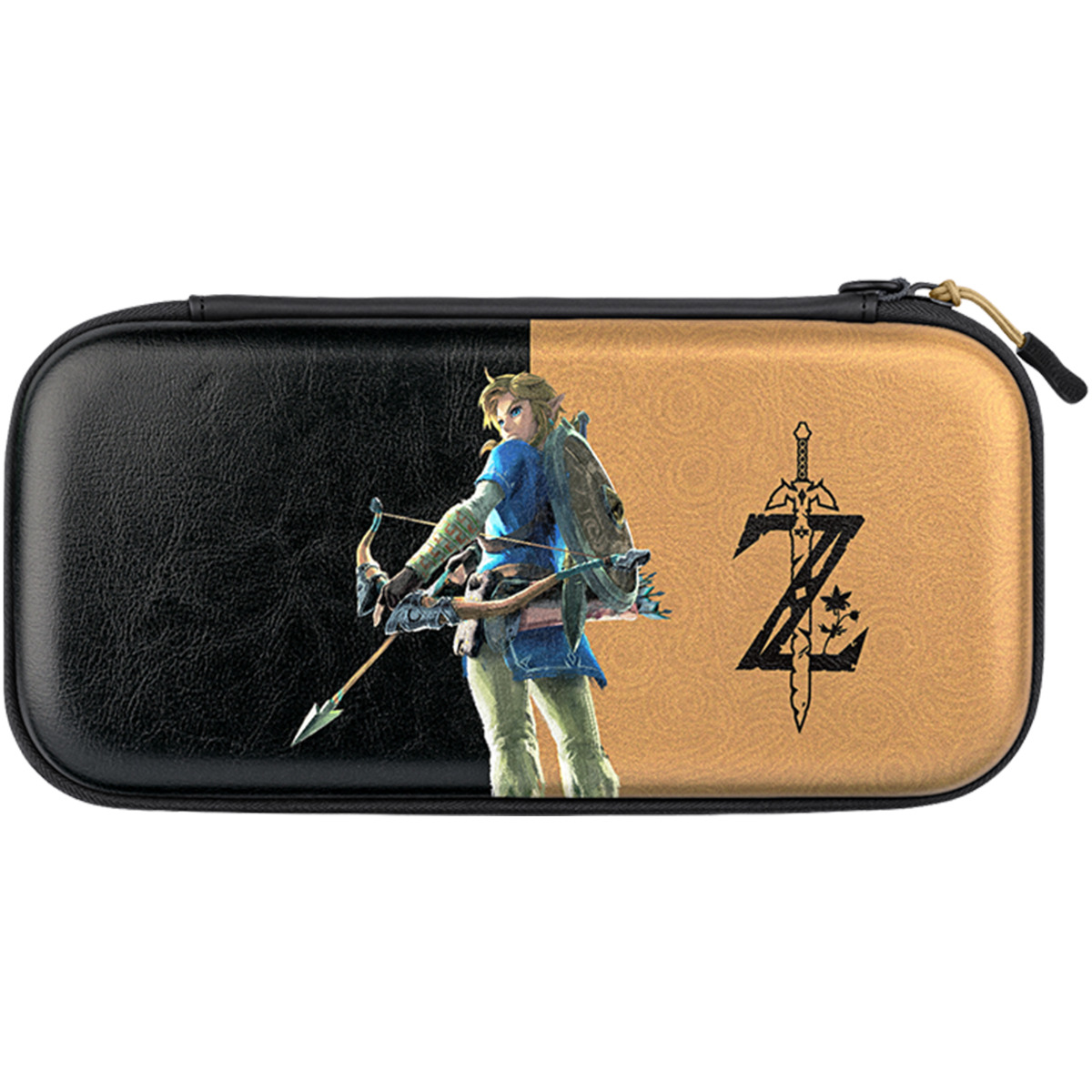 Pros
Integrated Stand

Tray for Nintendo Switch Lite

Sleek Design
Cons
Only For Nintendo Switch/ Switch Lite

Imported 
Zelda Amiibos
Amiibos are used for storage and wireless connection for Wii U, Nintendo Switch, and Nintendo 3Ds games, including Zelda. When scanned, they provide in-game bonuses.  All of my picks are designed with details that will please even the most avid fans. I've extended stores to include your options. Make sure you buy an amiibo that is compatible with your region or not region-restricted. Also, ensure it's compatible with your device. 
Zelda & Loftwing – The Legend of Zelda: Skyward Sword HD amiibo
This Amiibo from the Nintendo Store is one of my favorites. It features the striking Loftwing and Zelda. This figure can be scanned to enter the sky in-game from anywhere. Simply scan it again to return. Buy Here.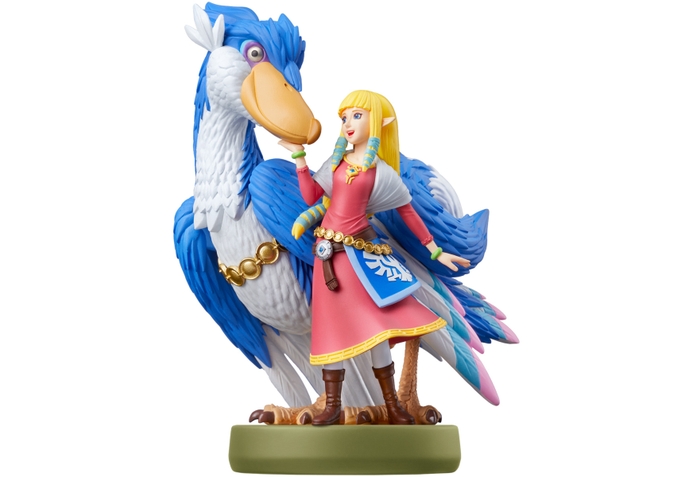 Pros
Zelda, Loftwing 

Scan to entering Sky

Attention to Facial Details
Cons
Amiibo Zelda – Breath of the Wild
Breath of the Wild fans, take note. This amiibo is your best option. Tap to get a Hylian shield, gems, or star fragment. The chest also provides an assortment of vegetables, herbs, and flowers. Buy Here.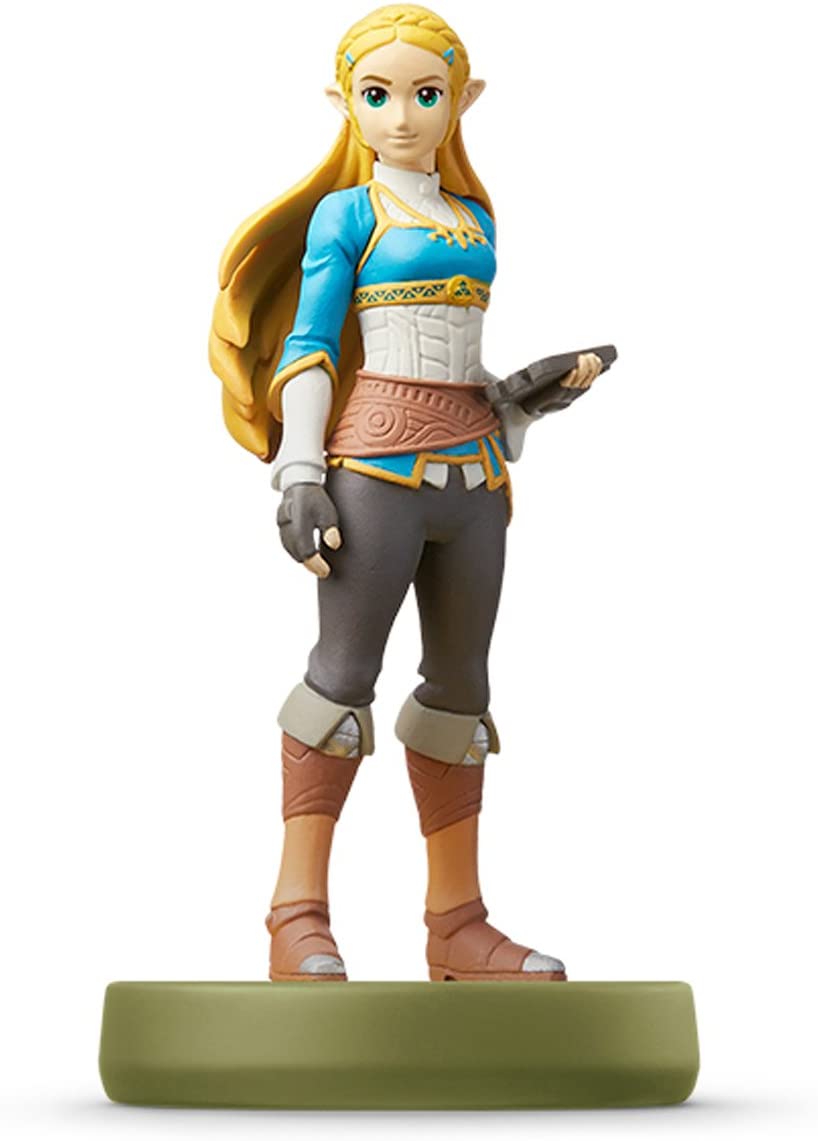 Pros
Chest with Flowers, Herbs, Vegetables

Bonus Shield, Star Fragment, or Gems

Bright Colors
Cons
Amiibo Link The Twilight Princess
For Twilight Princess fans, this Link Amiibo is a bit expensive, but still a solid option. When scanned, you'll get bonus fruit and accessories. Link brandishes a shield and sword with thoughtful details. Buy Here.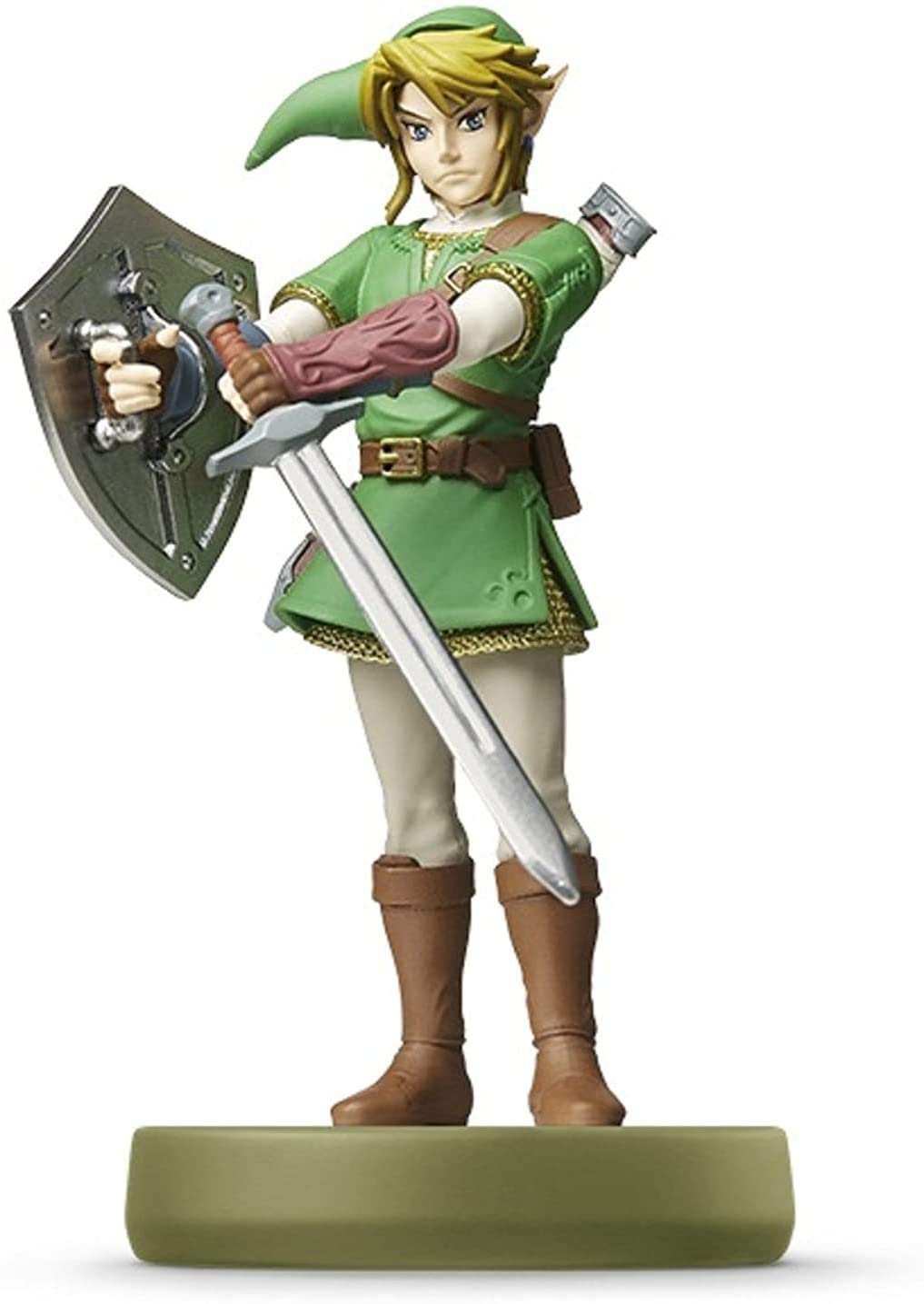 Pros
Fruit and Bonus Accessories

Popular Item 

Link with Sword and Shield
Cons
Zelda Apparel
From hoodies to graphic t's, Zelda apparel is a great gift for any fan. I've selected apparel for children, teens, and adults. Everything is rated well by customers and stands out for design and construction. 
The Legend of Zelda Crest Unisex Hooded Sweatshirt
The Gamestop-exclusive hoodie stands out as the best, officially licensed Zelda sweatshirt you can buy. The unisex hoodie is made with a comfy blend of 50 percent cotton and 50 percent polyester. The air jet yarn is softer and more durable than your average sweater. It's pre-shrunk and the material won't pill as much. This fleece hoodie has a dramatic design with gold against black featuring the Legend of Zelda Crest. Buy Here.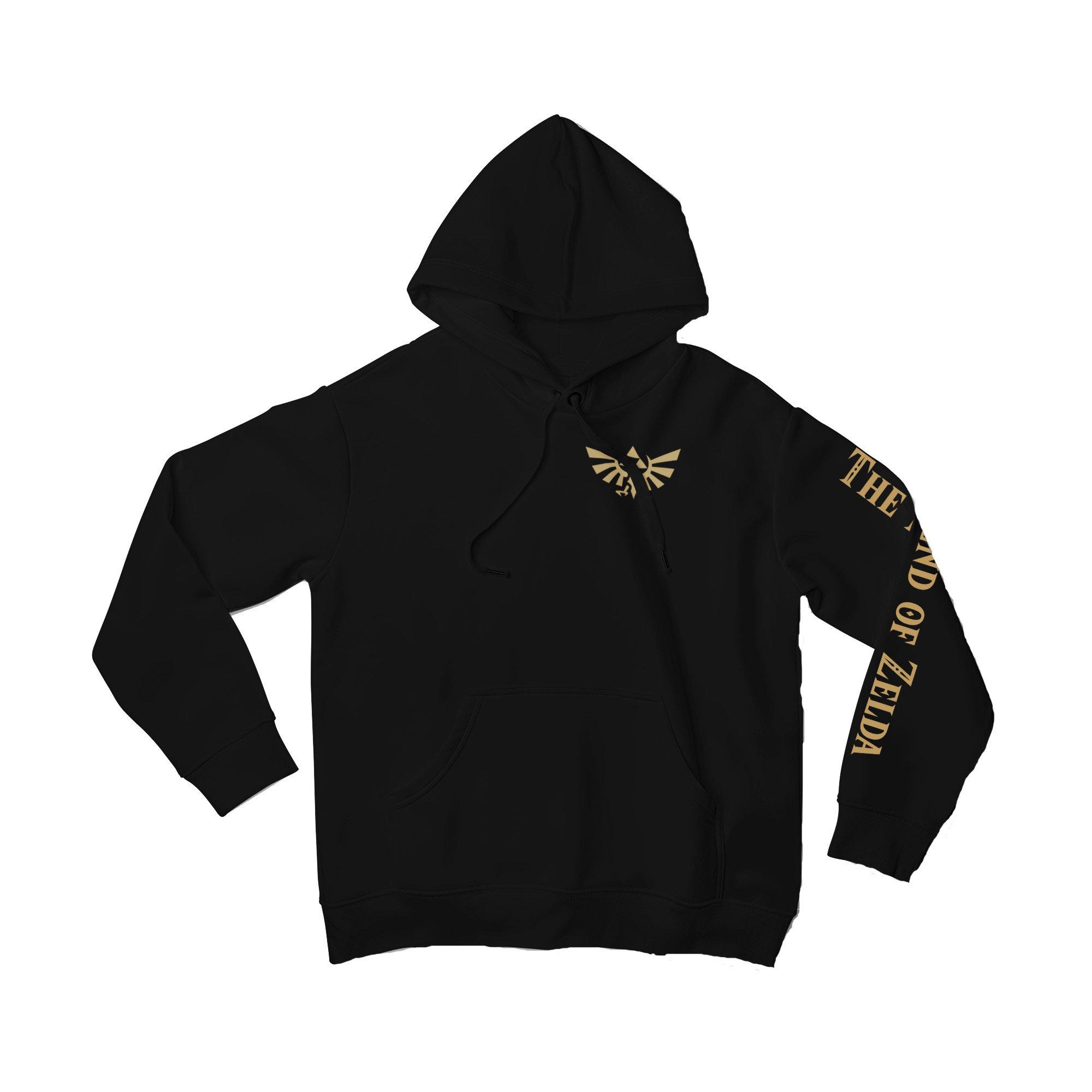 Pros
Pre-Shrunk with Reduced Pilling

Comfy Air Jet Fleece 

Striking Legend of Zelda Crest 
Cons
No XS and No Sizes Above 2X

The front is Fairly Plain 
The Legend of Zelda The Wind Waker Link Faces Long Sleeve T-Shirt
This long sleeve t-shirt is highly recommended. The long sleeve shirt features a Link on the back and left sleeve. This design provides a nice balance of graphics and space. The shirt features a classic crew neck. Buy Here.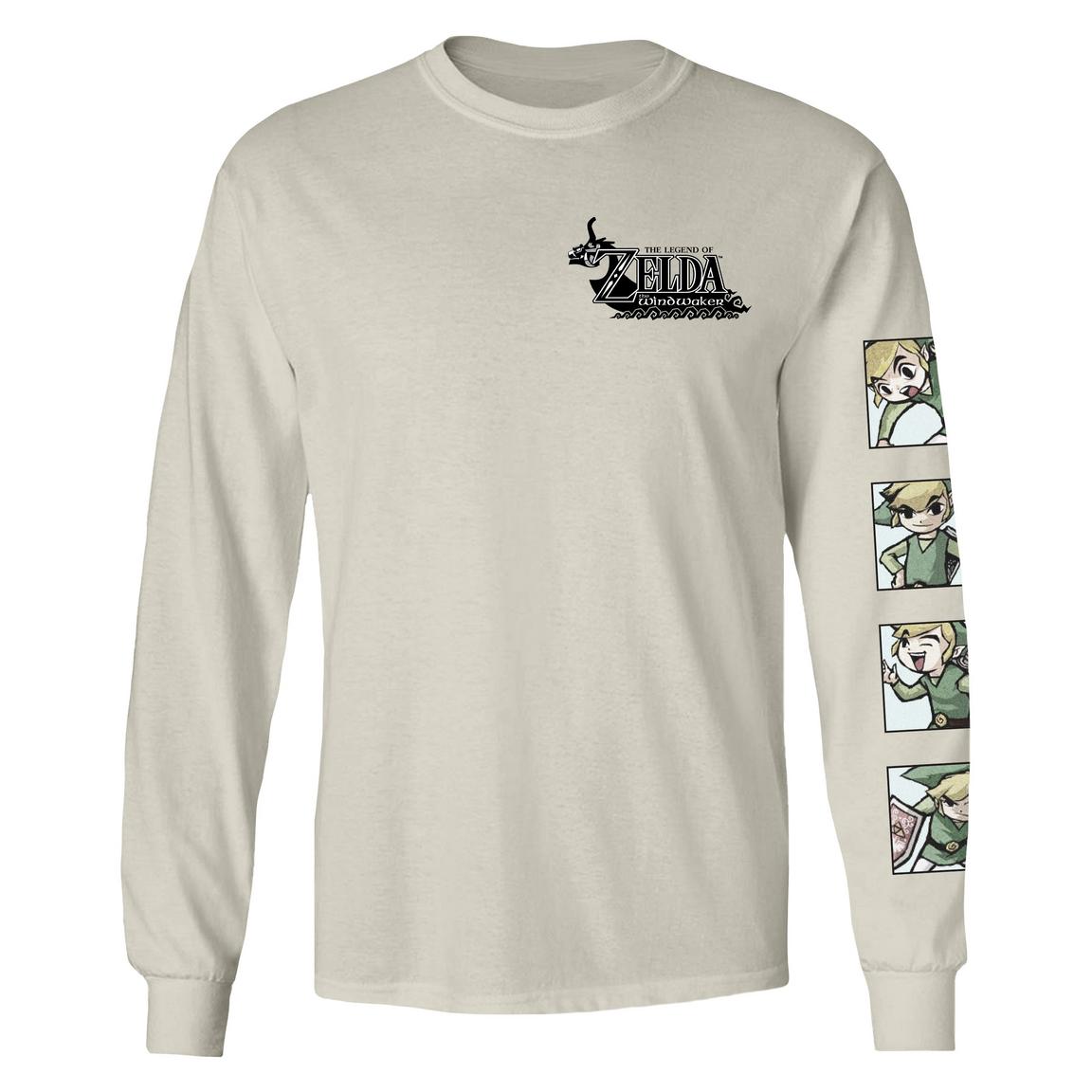 Pros
Link on Back and Sleeves

Classic Crew Neck

Balanced Design
Cons
Can Only Dry with Low Heat

Only Men's Sizes
The Legend of Zelda Majora's Mask Link Manga Style T-Shirt
It's hard to select just one short sleeve t-shirt, but both the price and the design of this officially licensed shirt stand out. The Magna-style t-shirt is budget-friendly and printed in the USA. The shirt features Link, Marin, and the Triforce. It's printed with attractive water-based ink and machine-washable. Buy Here.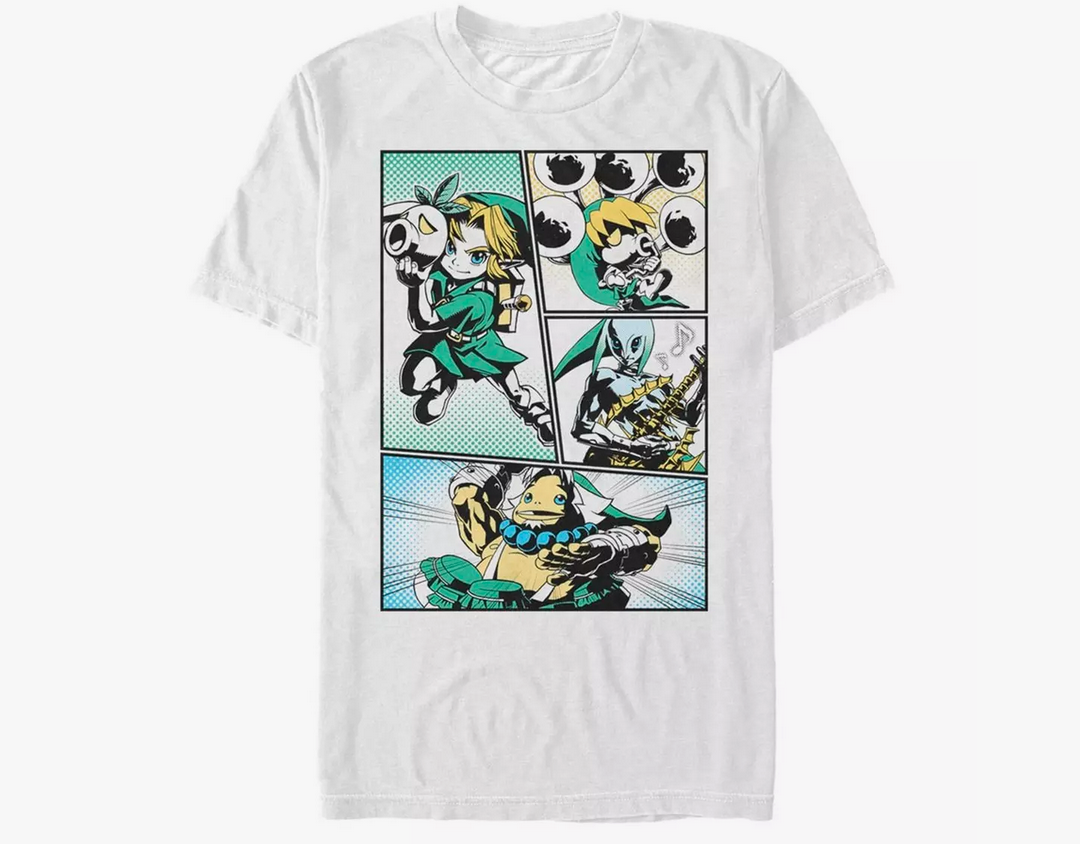 Pros
Unique Magna Style

Good Price

Printed in the USA
Cons
Not Pre-Shrunk

No Extra Small or Above 2XL 
Kids' Zelda Short Sleeve Graphic T-Shirt
Young fans can show their love for Zelda with this graphic t-shirt. This t-shirt is made with a comfortable blend of 50 percent cotton and 50 percent polyester. The crew neck tee is machine-washable and features a soft, relaxed fit. The bright Zelda graphics are accompanied by 'Legend of Zelda' text. Plus, it was a great price. The biggest downside is you may need to wait for the right size.  Buy Here.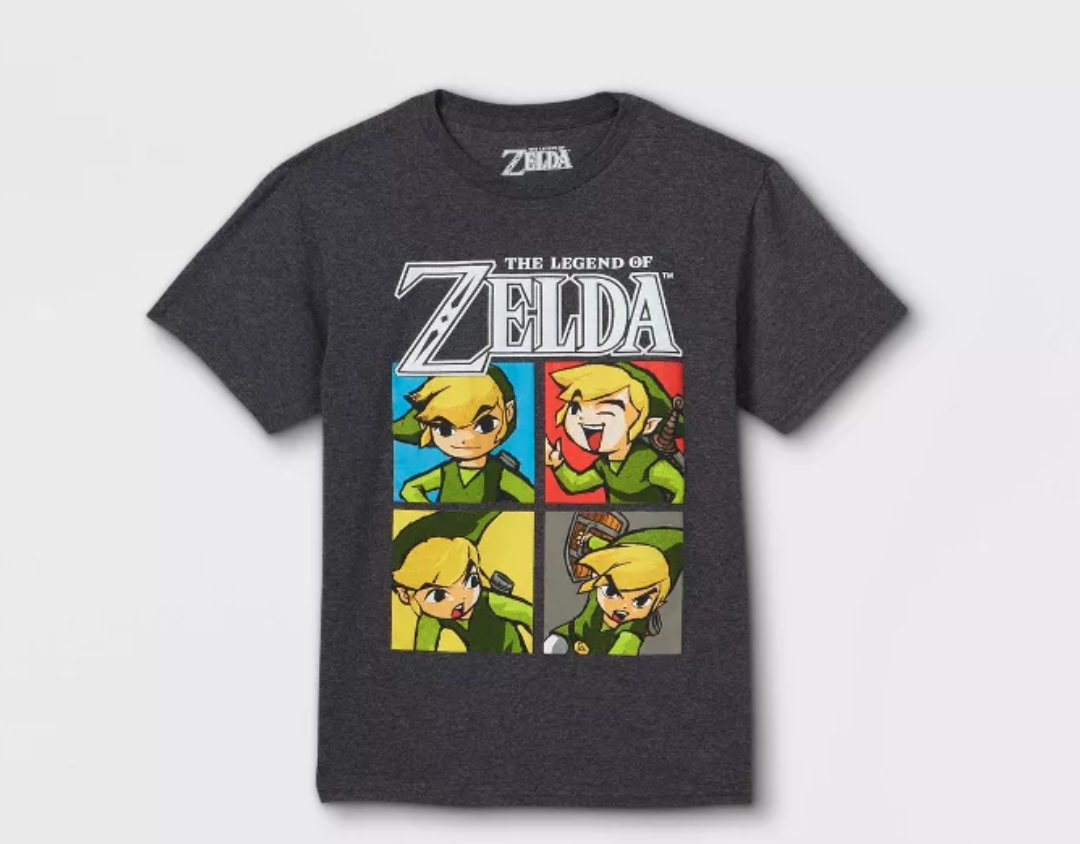 Pros
Soft, Relaxed Fit

Great Price

Bright Graphics
Cons
Not Pre-Shrunk

Need to Wait For Additional Sizes (Can Opt to Be Notified) 
Zelda Figurines
Collectors will love all of the Zelda figurines you can shop for. My goal in selecting figurines holds consistent with my selection criteria. Every figurine is highly detailed, collectible, and impressively designed. All of these are a bit more expensive, as they are collector's items. 
The Legend of Zelda: Breath of the Wild – Link 10″ PVC Statue Collector's Edition
This collector's edition Link is for fans of Breath of the Wild. The PVC figure stands at 10 inches high. The base includes an LED light. The statue is carefully painted and ships with a collector's box. Link wows with his bow and arrows, poised and ready. Buy Here.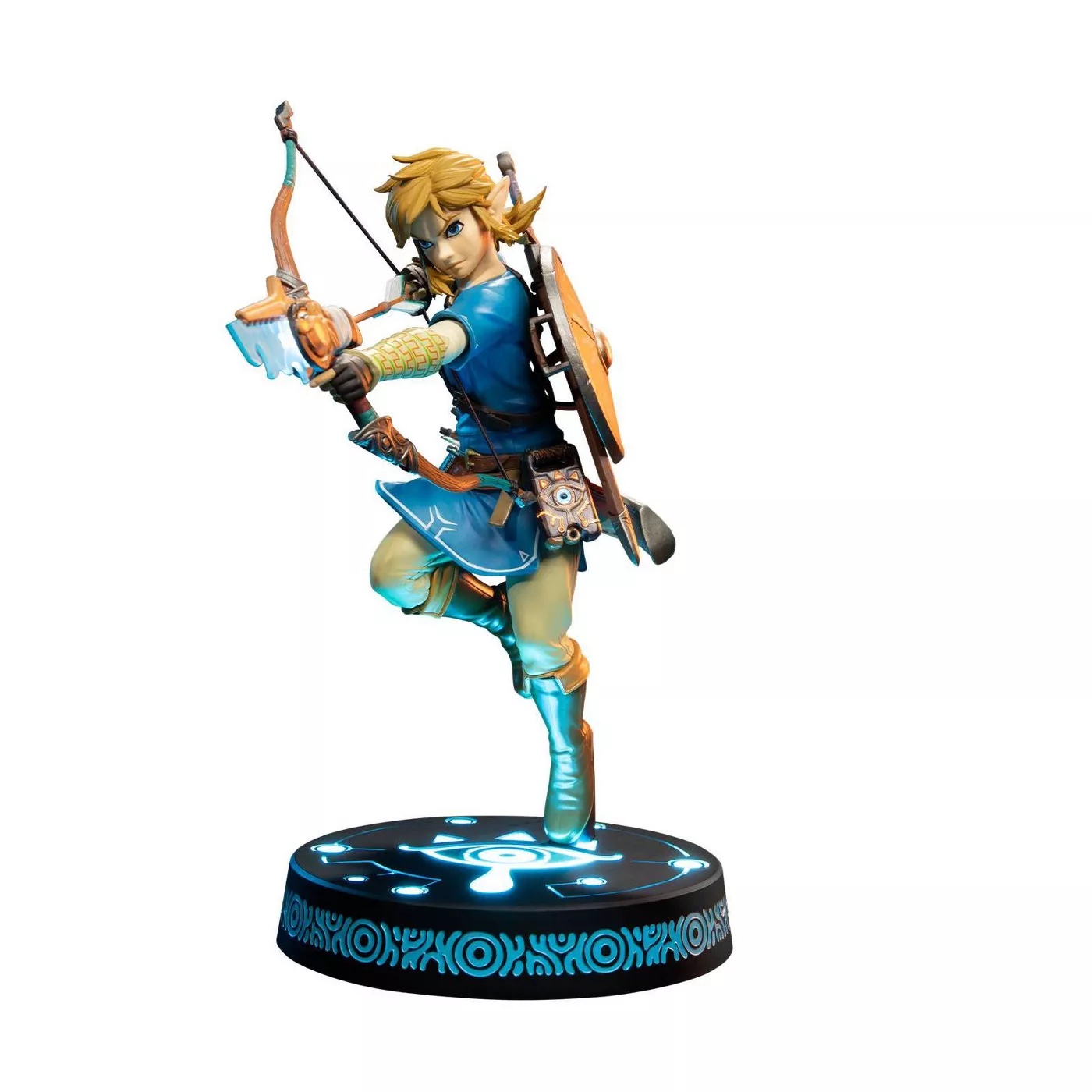 Pros
LED Light

Collector's Box

Leaflet with Reward Points 
Cons
Expensive

No Articulation
The Legend of Zelda: Breath of the Wild – 11″ PVC Revali Statue Collector's Edition
This impressive collector's statue is more unique. The PVC statue stands at 11 inches high and is highly detailed. The base includes two LED lights. A leaflet includes 500 award points, and the figurine comes with a collector's box. Buy Here.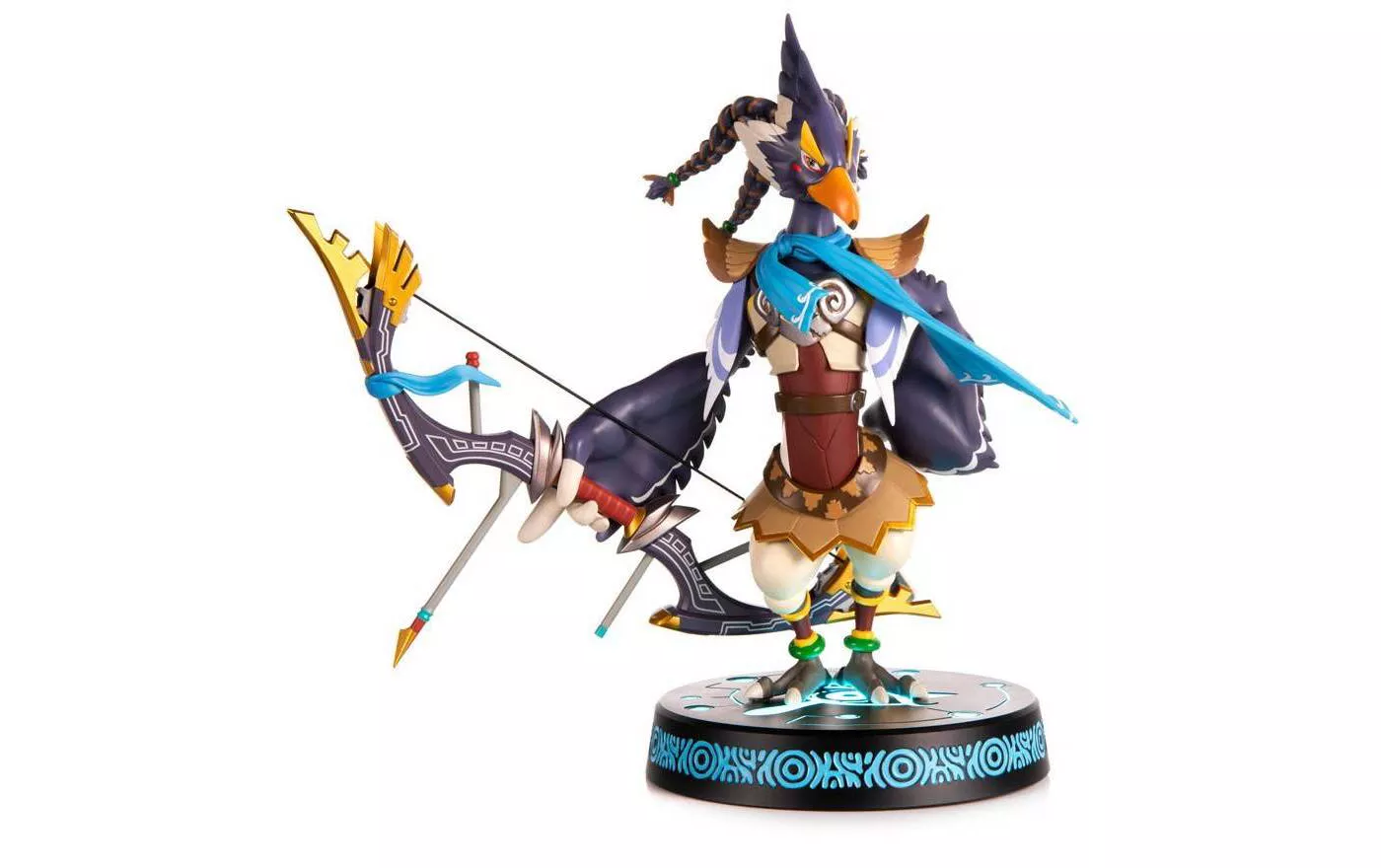 Pros
500 Award Points

Highly Detailed

Base with 2 LED Lights
Cons
No Points of Articulation

Expensive 
Good Smile The Legend of Zelda Twilight Princess Zelda Figma Action Figure
This collectible figurine is for serious collectors only. The price is quite high– but there's no denying how impressive it is. Unlike knock-offs, with cheap construction, the attention to detail is incredible. It's hard to find such a well-crafted Princess Zelda for serious collecting. This figure has smooth, moveable joints and includes a sword and bow. Buy Here.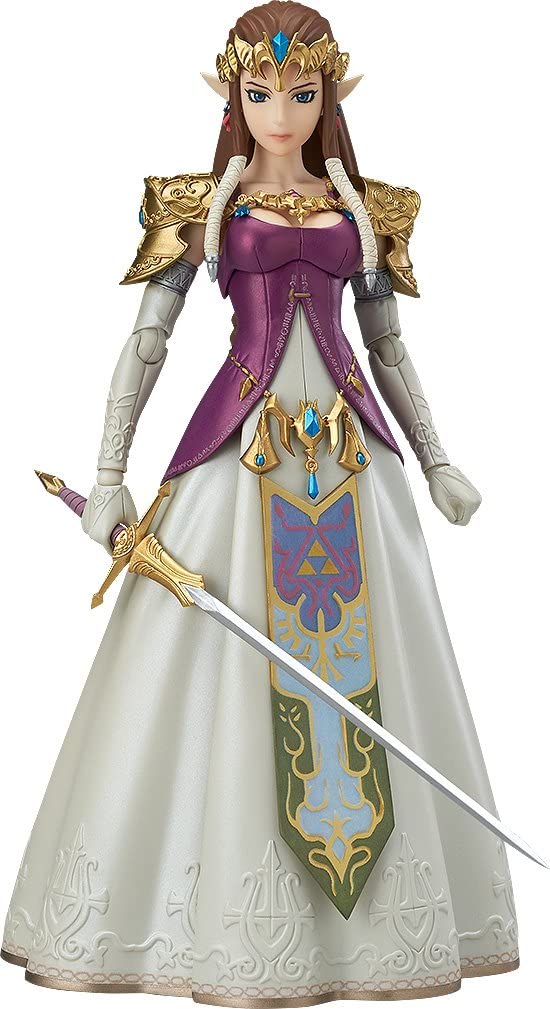 Pros
Beautiful Attention to Detail

Sword and Bow Accessories

Points of Articulation
Cons
Very Expensive

Doesn't Come with Base
Zelda Plush by Character
Collectible plush toys can be displayed on shelves, in baskets, toy hammocks, and more. They are great for decor and display but also play, even with young fans. These Zelda plush toys were carefully chosen based on their design and quality. I've included a few popular characters. All of these plush toys are available through the Nintendo Store, so you know that you're only buying officially licensed merch.
Bokoblin
This 12-inch plush toy captures the crafty and dangerous creature. The striking red is accented with signature floppy ears, piercing blue eyes, a skull necklace, and a club for combat. Buy Here.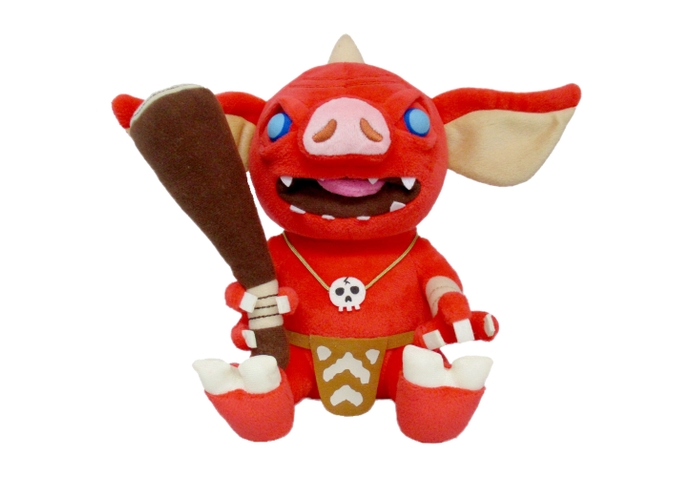 Pros
Club and Skull Necklace Accessories

Great Size 
Cons
Accessories Permanently Attached
Link
You can't have a Zelda plush collection without Link. A link has a commanding stare and is dressed in attire from the Breath of the Wild. This plush s 12 inches and as soft as my other recommendations. Buy Here. 
Pros
Excellent Outfit Details

Belt and Earrings
Cons
Specific to Breath of the Wild 
Mocchi
This mega plush is an unexpected and fun addition. Mocchi is soft, cuddly, and brightly colored. This plush has a unique, signature shape. Buy Here.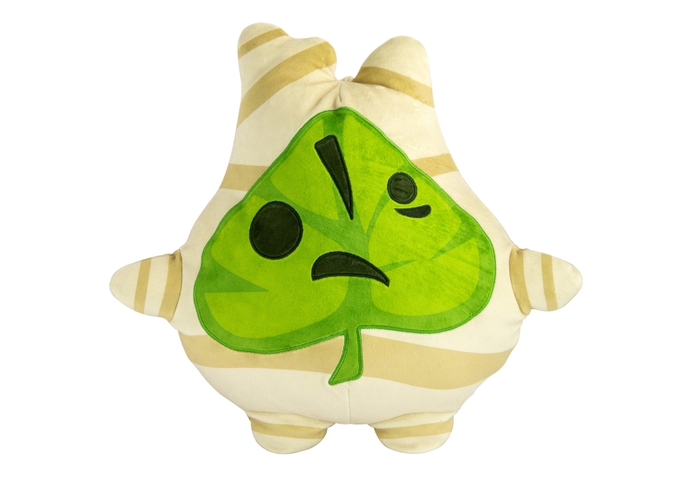 Pros
Unique, Squeezable Shape

Bright Colors
Cons
Princess Zelda
Just as no Zelda plush collection is complete without Link, you can hardly forgo Princess Zelda. This Princess Zelda plush features her signature gown and a bright, inviting expression. Buy Here.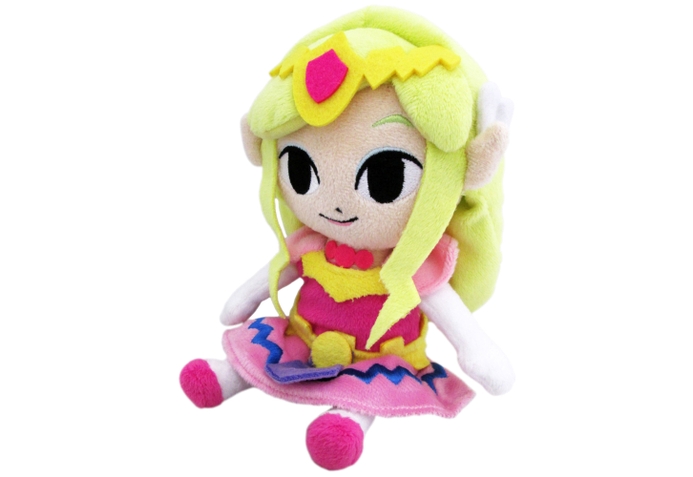 Pros
Iconic Character

Brightly Colored Outfit
Cons
Frequently Asked Questions
Final Thoughts
From the original Legend of Zelda game to Twilight Princess, Ocarina of Time, Skyward Sword, and over two dozen more, the franchise is well and alive. While no one piece of merchandise can fully express the breadth and imagination of Zelda, I do believe that there is something for everyone. Exercise caution if you're shopping for Zelda merchandise on a website like eBay. While you can find rare and cheap merchandise, make sure you're confident in the description and photos posted before bidding. 
Final Buying Recommendations: Zelda Apparel from Hot Topic
My final place to shop for Zelda merchandise is Hot Topic. Like my previous suggestions, all products are officially licensed merchandise. This collection includes an appeal for teens and adults, as well as a Zelda Breath of the Wild figurine. The graphic tees and hoodies are comfortable and feature both classic and modern fits. I love that Hot Topic has sales on its online exclusive options, and many of these shirts are versatile for wearing alone or wearing. Some Zelda tanks and long sleeve shirts also provide a bit more variety than your average collection. Everything is organized and easy to shop for. Shop For Zelda Merchandise from Hot Topic Here. 
Find more cool merch on these guide below:
Your Ultimate Marvel Merch Guide
Best Harry Potter Funko Pop Guide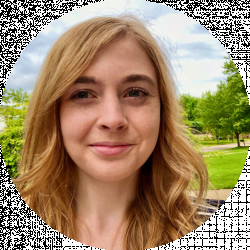 Latest posts by Erin Jamieson
(see all)