From comics to Tobey Maguire to Tom Holland and Andrew Garfield, Spider-man is one of the most beloved superheroes and my personal favorite. But just as Spider-man has to use intuition to get him out of some sticky situations, you'll need a guide to find your way to the best merchandise.
In this guide, you'll find out to best places to buy Spider-man merch. I'll give you my top merch item picks, as well as my selection criteria. I'll give you gift ideas for adults, kids, and teens. Whether you're looking for a Spider-man hoodie, lego set, or other memorabilia, there's something for you.
Bottom Line Up Front Summary
If I had to select just one merch item for Spider-man fans, it would be the Web Swing Street Art Graphic Thow Pillow. This pillow is suitable for all ages, customizable, and based upon classic comic graphics.
My Top Picks
Where to Buy Spiderman Merch
Spiderman merchandise can be bought almost anywhere. You can buy Spider-man merchandise on Amazon, Walmart, Hot Topic, Kohl's, and many other places. Merchoid and other merch sites also sell Spider-man. The problem is Merchoid has a history of poor customer service. Not every online store is selling officially licensed products, either. While I love the creativity and often the quality of Etsy Spider-man products, they're fan-made.
I'm recommending a few collections, from which I'll b selecting my very top Spider-man products. All of these websites are secure and sell officially licensed products with a nice degree of variety for fans of all ages.
Hot Topic Spider-man Merchandise Collection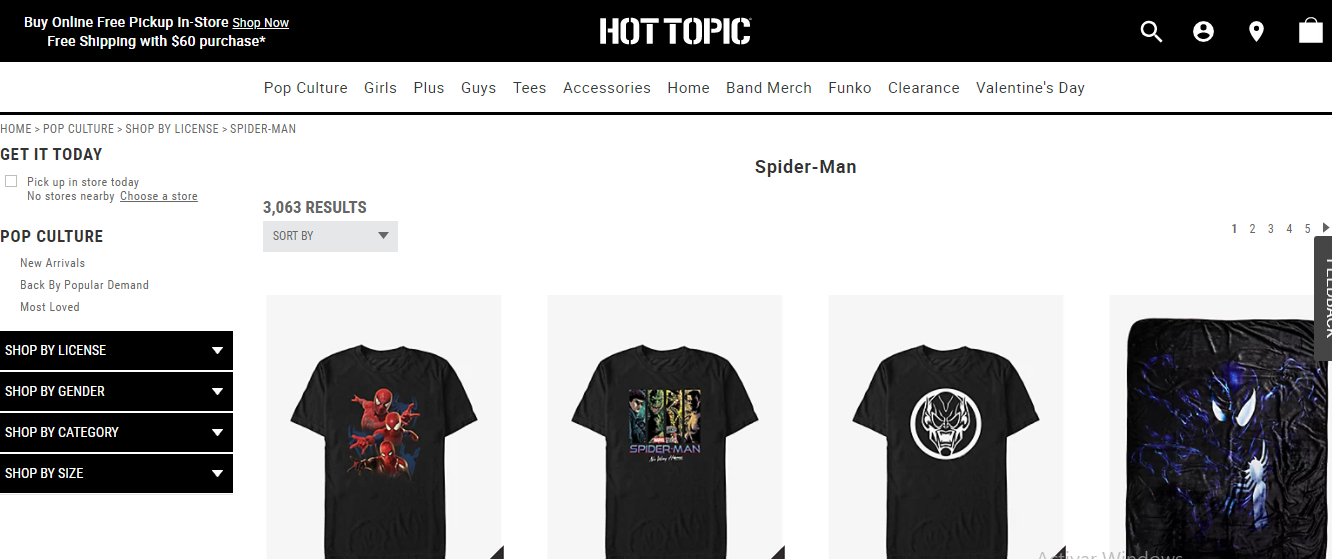 Hot Topic has a striking collection of official Spider-man merchandise. This collection of merchandise goes beyond what I'd normally expect from Hot Topic merchandise. You have splashy graphic tees, but also throw blankets, cozy hoodies, and even something for your pets. Merchandise is inspired by the original Marvel comics, as well as No Way Home. Apparel is in adult and teen sizes. Shop Spider-man Merch at Hot Topic Here.
Official Disney Store Spider-man Merchandise Collection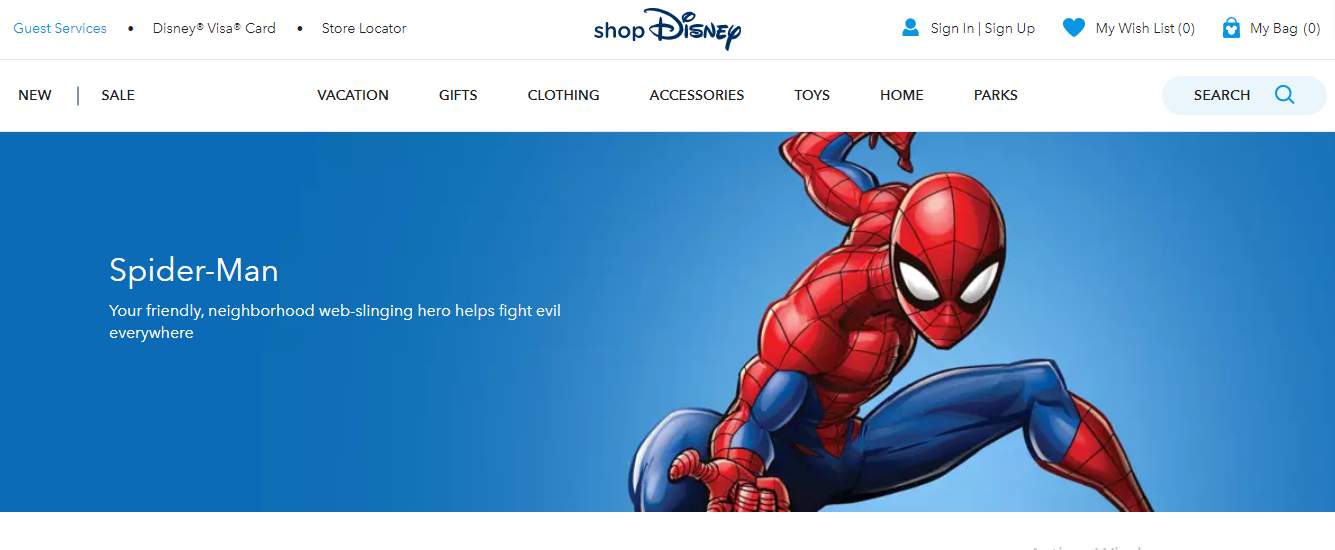 It should come as no surprise that the Disney Store is a great place to shop for Spider-man merchandise, especially for younger fans. While Hot Topic focuses on teens and adults, Disney caters to kids. This collection includes apparel for kids, from swim trunks to accessories to graphic tees. But there are a few options for adults, especially No Way Home merch. Unexpected items are also included, from umbrellas to board games. Shop Spider-man Merch at the Disney Store Here.
Target Spider-man Merchandise Collection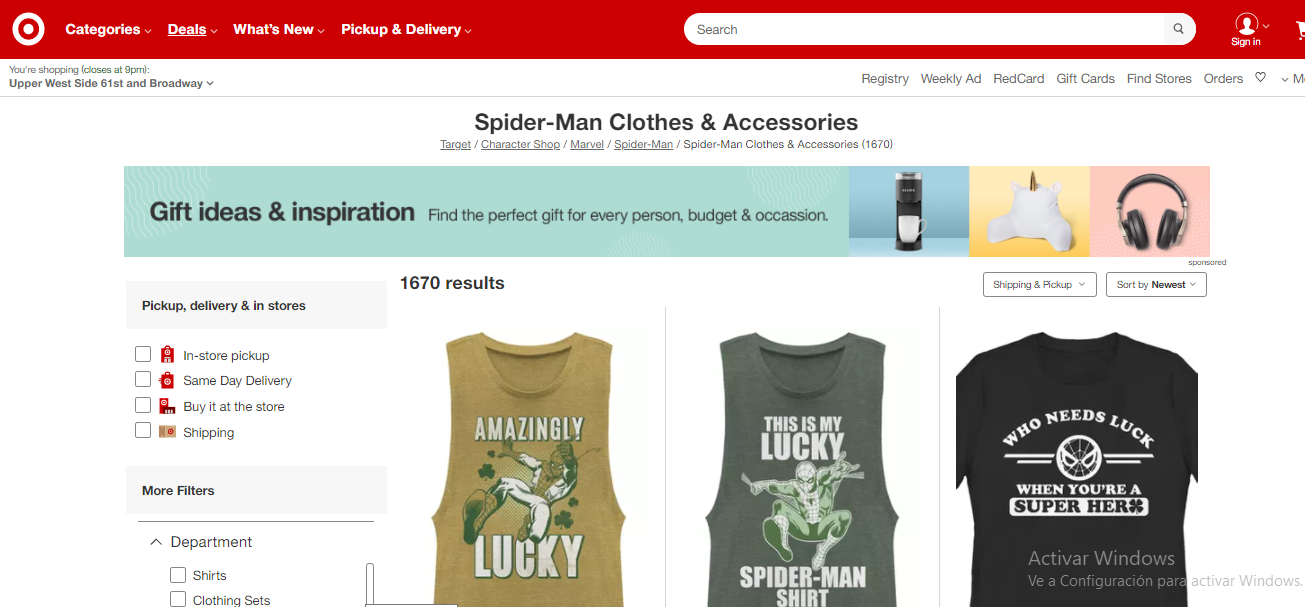 If you feel like the Disney Store and Hot Topic are still too limiting, the sheer volume of Spider-man merchandise is worth a look. This collection includes Spider-man merchandise for the Amazing Spider-man, Spider-man No Way Home, Avengers, the comics, and so much more. Graphic t's, accessories, toys, books, home decor, party supplies, and about any movie or video you could ask for is just the tip of the iceberg. The worst part about this official merchandise collection is it can be overwhelming if you don't know what you're shopping for. Shop Spider-man Merchandise at Target Here.
Spider-man Merch: My Picks
Here is my top recommendation for the best Spider-man merchandise you can buy online or in stores. Every item was carefully selected to keep in mind Spider-man fans of all ages. Picks represent the original Marvel comics, as well as merchandise for the Amazing Spider-man, No Way Home, and other films.
Every product is officially licensed Spider-man merchandise and sold through a reputable store. I select products based on quality, creativity, construction, and price. With fair return and customer policies, there's also less risk to ordering online.
Spider-man Apparel
Spider-man apparel is easily the largest category and it can be overwhelming. Graphic tees for all ages, hoodies, socks, shoes, and costumes are a few options. Spider-man apparel is inspired by Marvel comics, No Way Home, and The Amazing Spider-man. My selections cover kids, teens, and adults. I've selected apparel based on design and comfort.
Marvel Spider-Man: No Way Home Three Poses Hoodie
No Way Home fans, this hoodie is for you. The highly-rated hoodie is cozy, striking, and versatile. Offered at a fair price, especially on sale, the hoodie is made with a blend of soft cotton and polyester. It provides lightweight warmth with a drawstring hood. The hoodie's three Spider-men is truly iconic. Buy Here.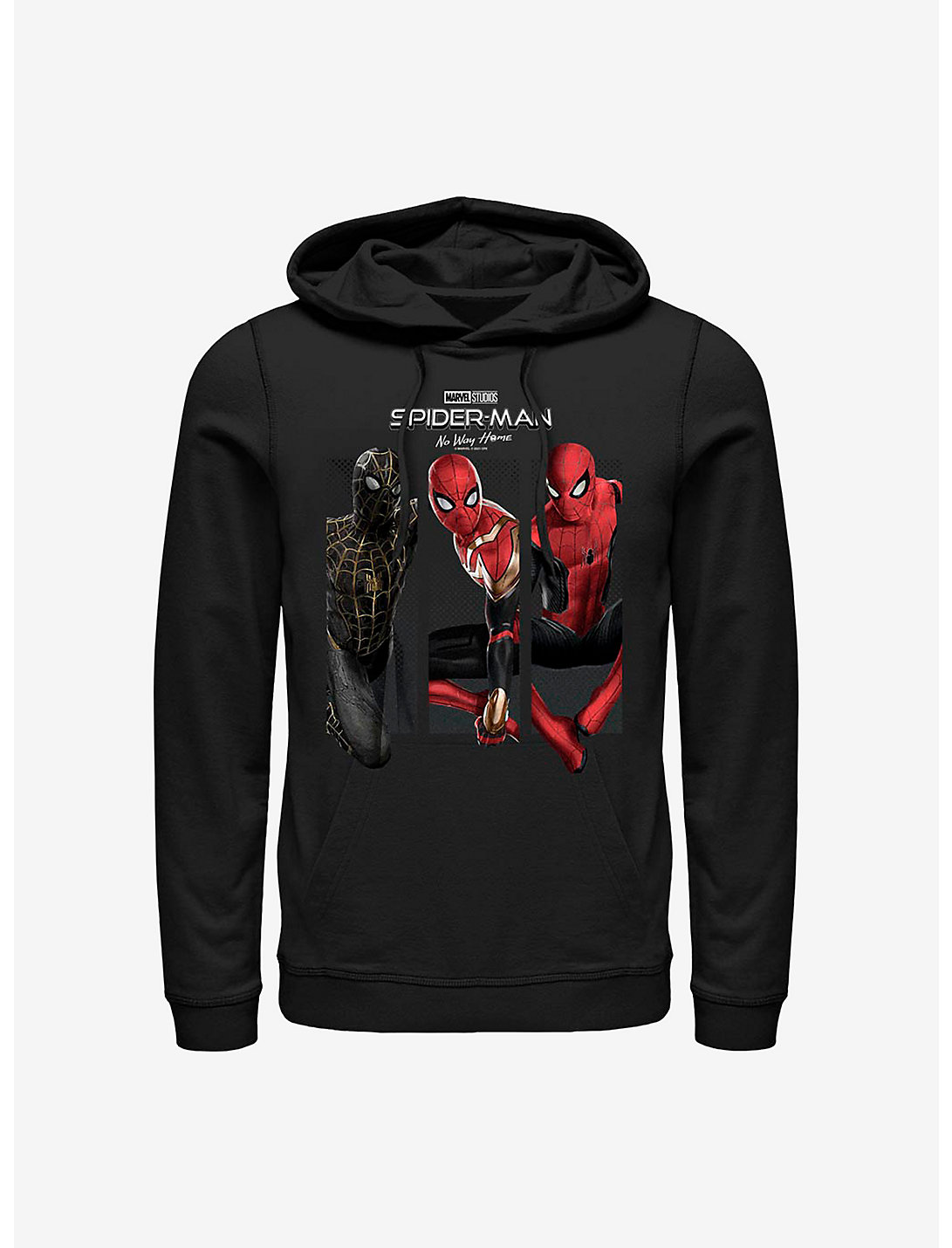 Pros
Lightweight and Cozy
Adjustable
Iconic Design
Cons
Only Men's Sizes– May be Oversized on Women
Not Pre-Shrunk
Marvel Venom Grin Hoodie
Spider-man fans looking for a more villainous sweatshirt will love this official Venom hoodie. The hoodie features an eye-watching Venom design that's hard to look away from. It's made with a soft and lightweight blend of cotton and polyester. The adjustable hood and slouchy look are ideal for lounging or a cool day out. Buy Here.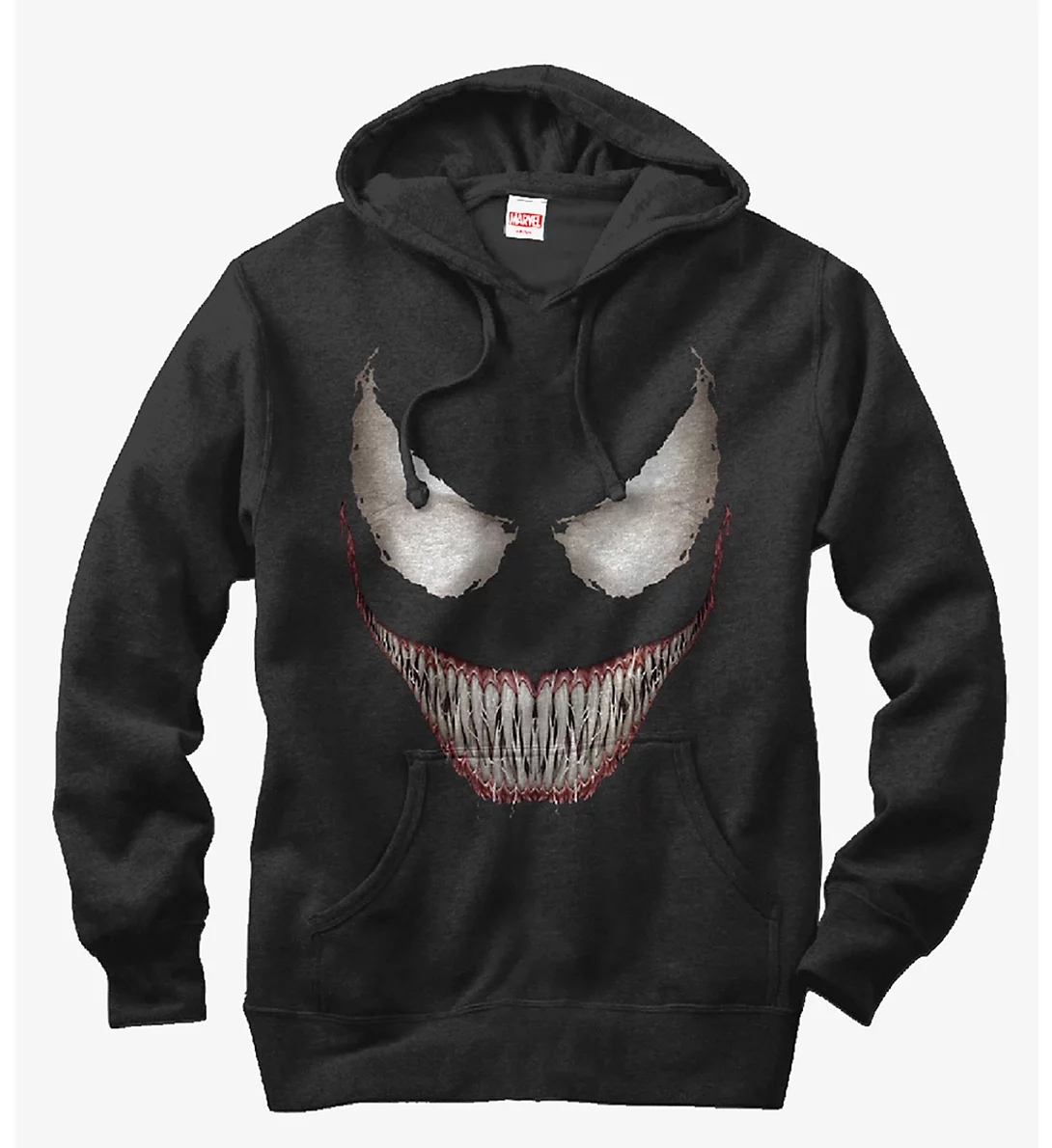 Pros
Unique, Striking Design
Good Price
Lightweight and Cozy
Cons
Tumble Dry Low Only
Maybe Oversized on Small Frames
Spider-Man: No Way Home Long Sleeve T-Shirt for Adults
Too cool for a short sleeve and too warm for a hoodie? This long sleeve t-shirt is my top choice for teen and adult Spider-man fans. The No Way Home t-shirt is made with 100 percent cotton and a classic crew neck. The soft jersey knit is comfortable and the ribbing adds durability and detail. It's made with eco-friendly screen print. Buy Here.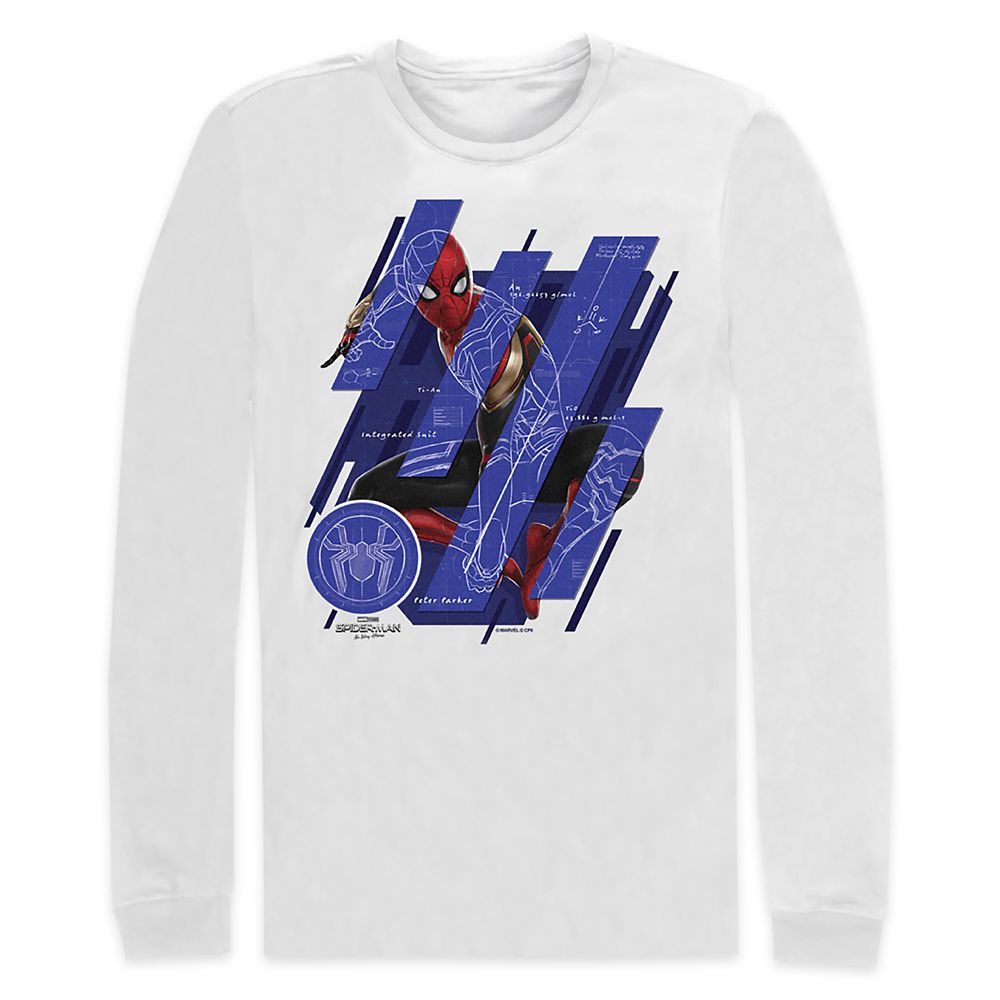 Pros
Soft Jersey Knit
Eco-Friendly Ink
Newly Printed Upon Order
Cons
May Shrink
Only Standard Sizes S through XXL
Spider-Man Rain Boots for Kids by Native
Rain boots are not normally in my top recommendations for merchandise. However, I couldn't pass these kids' rain boots up. These rain boots will please young Spider-man fans with their radiant design. But unlike many budget Spider-man shoes, these boots are made with care. The animal-free PU coating is both water-repellent and easy to care for. A pull tab makes it easier to take these boots on and off. The rubber sole provides traction and durability. Inside there's an EVA and PE mesh liner to keep socks dry. Buy Here.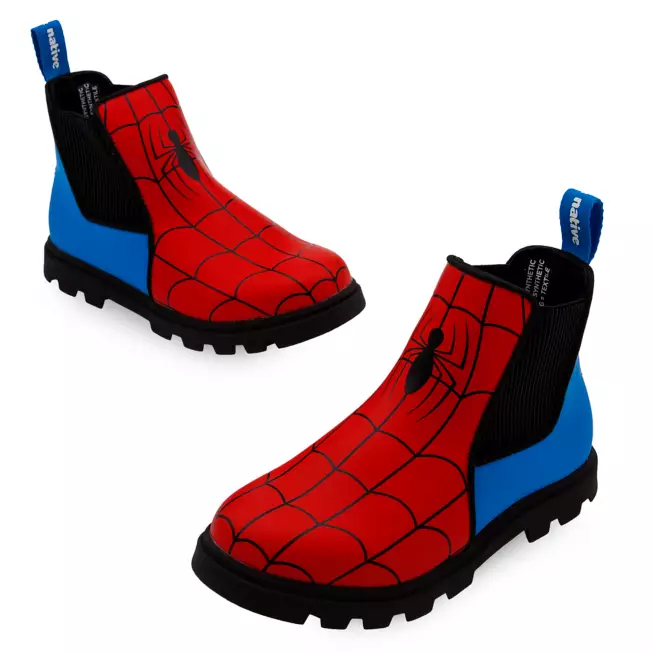 Pros
Durable Rubber Sole for Traction
Animal-Free Water-Resistant Coating
Mesh Liner
Cons
Spider-Man and Company T-Shirt for Kids – Sensory Friendly
This is my top recommendation for a t-shirt for young Spider-man fans. Sure, you can find cheaper t-shirts. However, this t-shirt is worth the little extra you pay. The jersey knit fabric is a soft, breathable blend of cotton and polyester. The ribbed scoop neck is modern and comfortable. Flat seams, soft fabric, and a tag-less, wide neck make it sensory-friendly. Buy Here.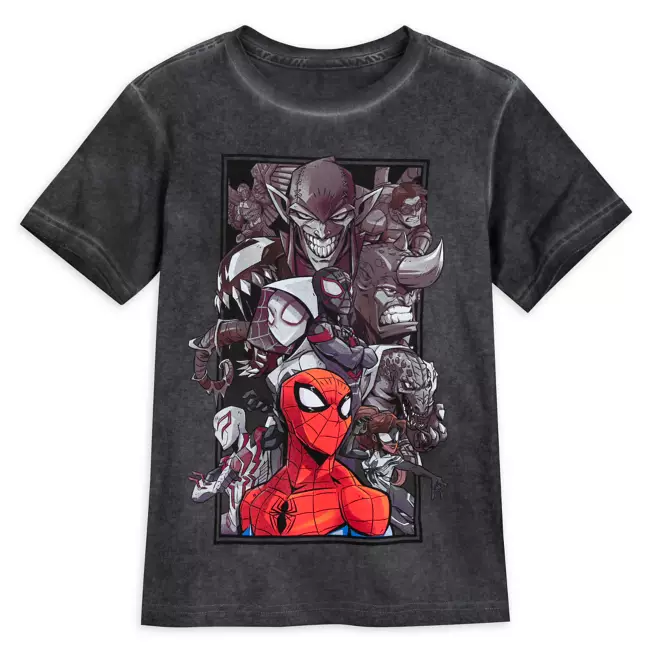 Pros
Sensory-Friendly
Jersey Knit Blend
Generous Neckline
Cons
No Sizing For Toddlers
Only One Color Combo
Spider-Man: No Way Home Deluxe Reversible Costume
The costume is your best option. There are countless Spider-man costumes, and if you want more options, both Target and Amazon are possible places to shop. That said, this deluxe costume stands out. It's reversible, with detailed netting, a muscle body construction, a face mask, and more. The costume allows you to wear classic red and blue and k suits. It's inspired by No Way Home. Buy Here.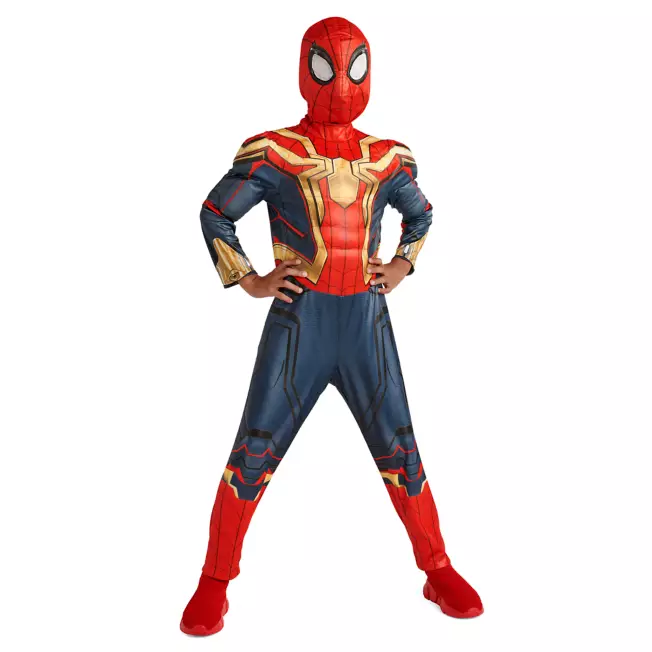 Pros
Reversible
Muscle and Web Details
Highly Rated
Cons
Limited Sizing
More Expensive than Other Options
Spider-Man Reversible Rain Jacket for Kids
While this is a rain jacket, it's likewise useful for mild weather. This striking rain jacket for kids comes with ribbed cuddles, contrast colors,  appliqué eyes, a high neck, and a full-zip. The design is completely reversible. One side is black and red and the other is red and blue. Marvel symbols on the side seams complete the look. The raincoat is made with polyester, perfect for keeping young fans dry. Buy Here.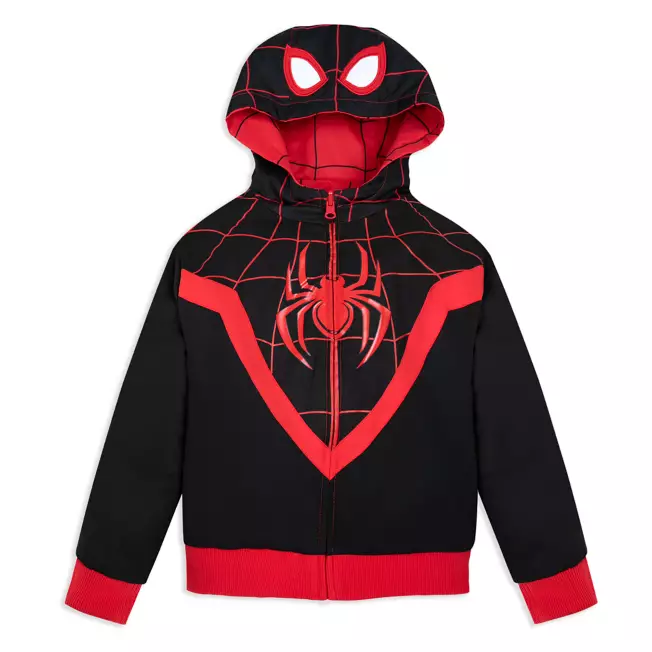 Pros
Fully Reversible Design
Ribbed Cuffs and Contrast Colors
High Neckline and Zip
Cons
More Expensive than Some Jackets
Must be Careful With Drying
Spider-man Collectible Figurines
These figurines are true collector's items. They're expensive but also valuable, licensed merchandise. Due to the higher price point, I only selected figurines crafted with ornate, exemplary details. For collectibles be vary careful. Seemingly reputable stores like Eagle Modd have a failing reputation on the Better Business Bureau.
Spider-Man Web slinger Pewter Figurine by Royal Selangor
This collector's figurine is sold through the Disney Store and is exceptionally crafted. The pewter figure is set on a sturdy base and stands 5 inches tall. This depicts Spider-man during his battle with Venom. He's in motion, preparing to send webbing at his opponent. The sense of motion and details is hard to miss. He ships with Marvel Official packaging and is part of the collection by Royal Selangor. Buy Here.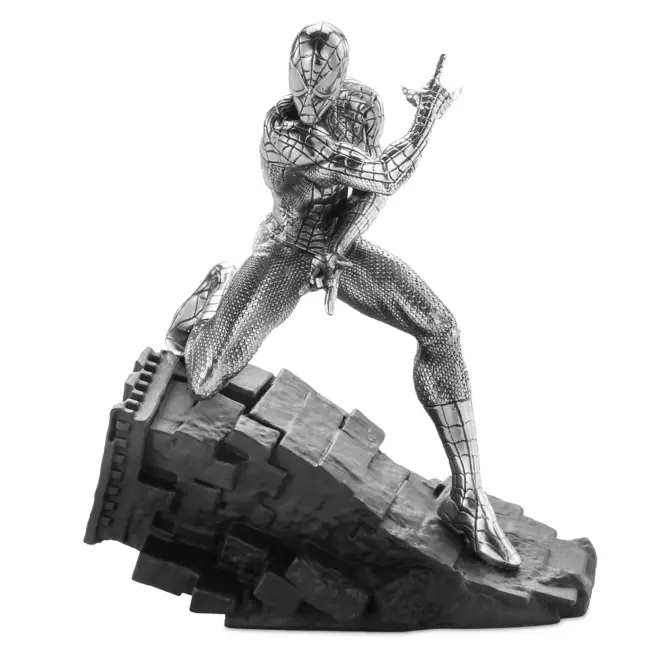 Pros
Collector's Package
Talented Sculptor and Designer
Solid Pewter with Base
Cons
Expensive
Only 5 Inches Tall
Marvel Spider-Man Multi Movie Collection Pack
The collector's pack doubles as more affordable collectibles and action figures. Every figure is made with 5 articulation points and crafted with exceptional detail. This set includes 9 heroes and villains along with accessories. The figures are approximately 6 inches tall and come with branded packaging. This is a good option for a younger fan wanting to collect and play. Buy Here.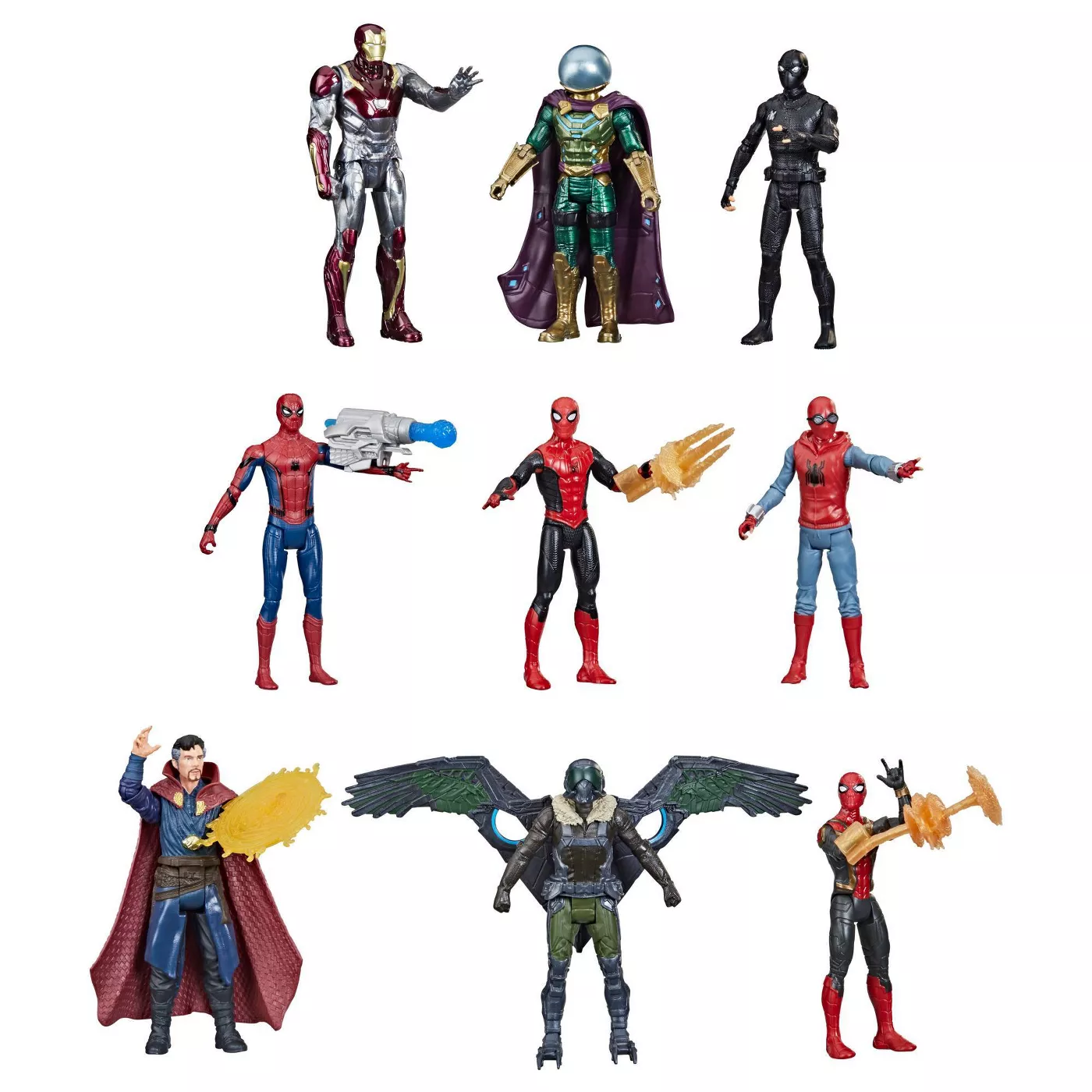 Pros
9 Figures
5 Points of Articulation
Great For Kids and Teens
Cons
Not As Premium Materials
No Stands
Spider-man Home Goods
Decorate your home with Spider-man merchandise. Comforters, blankets, pillows, utensils, and wall decor are all great ways to bring Spider-man into your home. There are merchandise products for bedrooms, home offices, and kitchens. My picks cover all ages, have high customer reviews, and are striking designs.
Web Swing Street Art Graphic Throw Pillow
This isn't just a pillow. This Spider-man pillow is decorative, a good size for travel, and even customizable. The throw pillow measures 16 by 16 inches and is made with a soft, wrinkle-free polyester cover. The hidden zipper is attractive and makes it easy to throw into the washing machine. It's entirely made in the USA, and you can add to or tweak the design. Buy Here.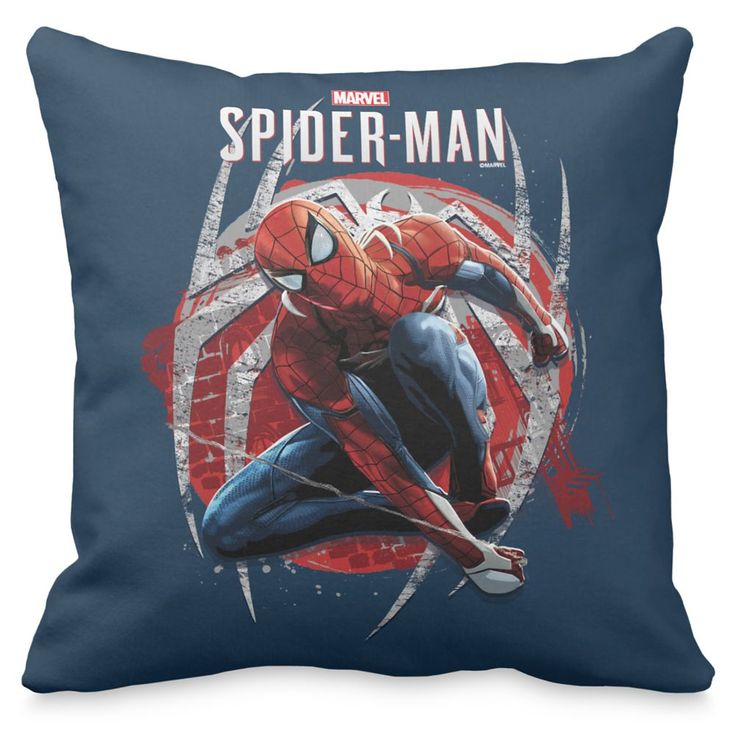 Pros
Wrinkle-Free Fabric
Made in the USA
Machine-Washable
Cons
Only One Smaller Size
Fulfilled through Third Party
Spider-Man Bedding Set for Toddlers
This bedding set is well-made and stands out as the best for young Spider-man fans. The set includes a fitted sheet, flat sheet, pillowcase, and comforter. The comforter has a city landscape, while the sheets feature Spider-man's mask. The screen art is designed with the Disney Junior series in mind. Everything is made with moisture-wicking, breathable polyester. Buy Here.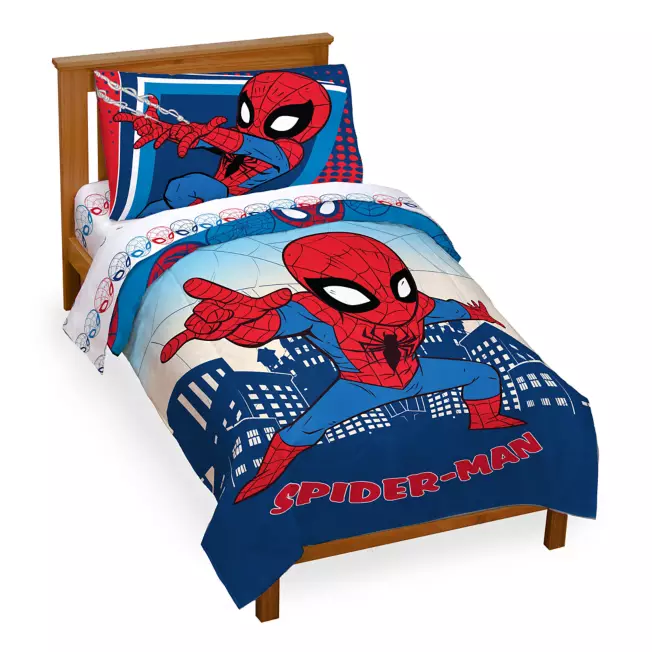 Pros
4 Piece Set
Inspired by Disney Junior
Vibrant Designs
Cons
Not Highest Thread Count
Only for Toddler/ Small Beds
Spider-Man Comic #100 Table Lamp
This table lamp is official merchandise that will appeal to kids to adults. Use this lamp in a bedroom or gaming room. You have a choice of a silver or white base and 14 different trim colors. The design is based on a classic Spider-man comic and can be customized for an additional fee. The lamp stands 20 inches high, weighs 2 pounds, and accommodates 120 volts, with up to 60-watt light bulbs. It includes a 6-foot power cord and standard 2-prong USA plug. The shade is made with rice paper, linen, and film polyester. Buy Here.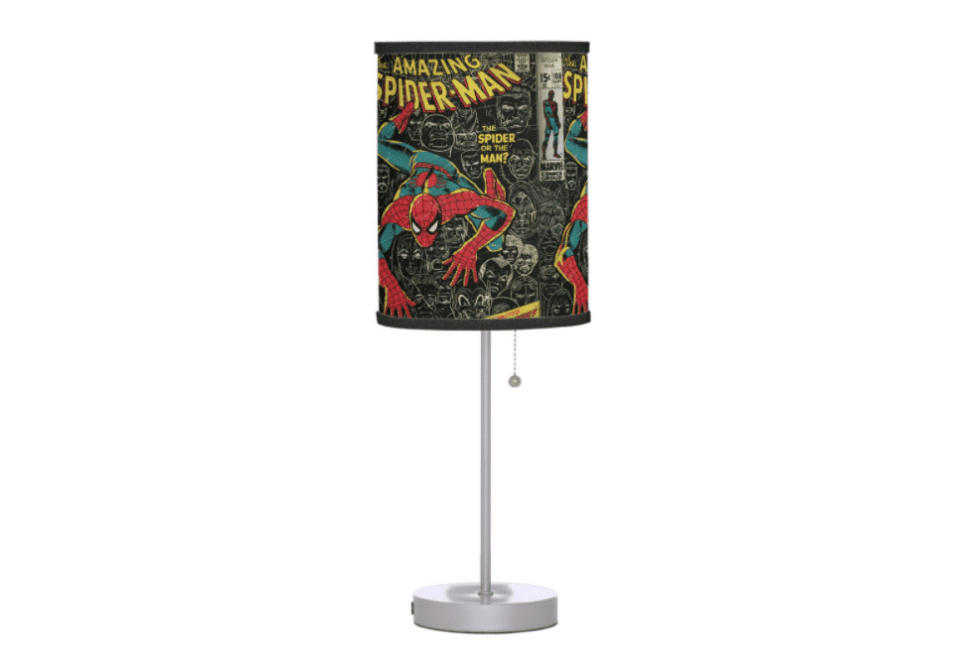 Pros
Premium Screen Printing
6 Foot Power Cord
Based on Classic Comic
Cons
Hard to Match with Other Decor
Slightly Expensive
Marvel Spider-Man Throw Blanket
This cozy throw blanket is affordable, brightly printed, and useful. Decorate a bed, use it for travel, take it camping, or just have it for lounging around. The throw blanket measures 46 inches by 60 inches and is made with 100 percent polyester. You can throw it in the washer and drawer whenever you want. Buy Here.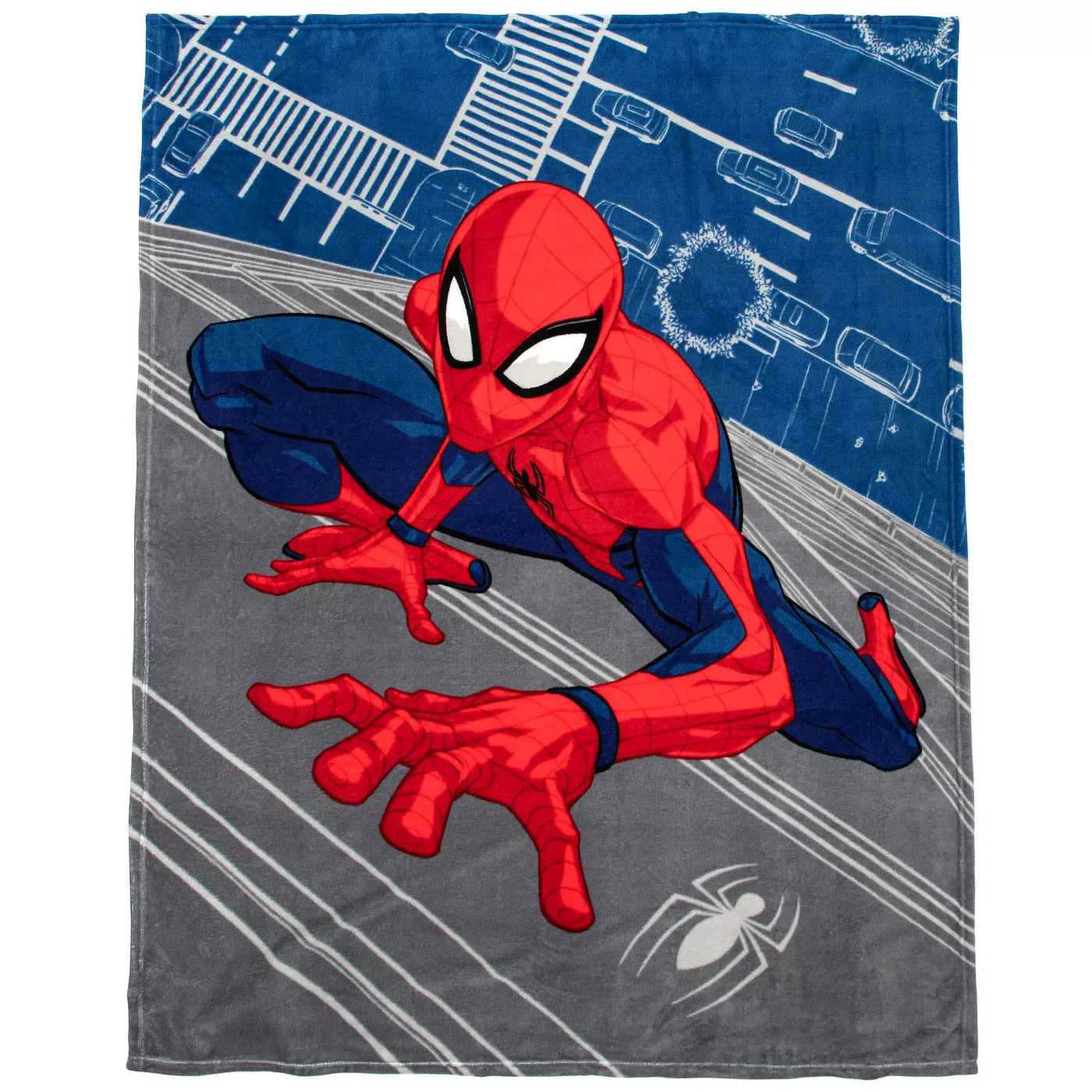 Pros
Machine Washable
Budget-Friendly
Multi-purpose
Cons
Not As Thick as Some Blankets
Only One Size Available
Spider-Man Toys
Action figures, blasters, key-chains, and web slingers are some of the most popular Spider-man toys. These are not only for kids, though: families and teens can have fun.. I've selected products based upon quality design and detailed features.
Spider-Man Web Shooter Play Set – Spider-Man: Far from Home
This web-shooter playset is pure fun. Unlike some web shooter sets, it's officially licensed merchandise and highly rated. The set is approved for fans ages 3 and up. With your purchase, you'll receive a set of gloves, wrist launchers, and six plastic darts. Each dart can fire up to 10 feet away. The wrist launchers include red Spider-man beams and are elastic. Meanwhile, a reserve dart clip makes playing quick and fun. The set is inspired by Spider-man: Far From Home. Buy Here.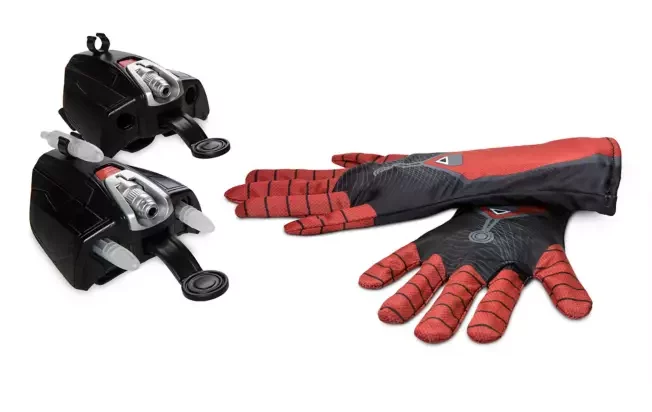 Pros
Best Value Web-shooter
Spider-man Icon Beams
Shoots up to 10 Feet
Cons
One-Size Gloves Maybe Small For Older Kids or Large For Youngest
Plastic Darts Can Wear Out with Heavy Use
Spider-Man Monopoly Game
Get ready for a Spider-man-themed family game night with this 2022 Monopoly board game. As is typical for Monopoly, it's intended for ages 8 and up. Your purchase includes a Monopoly game board, 24 villain cards, 15 Daily Bugle cards, six Spider-Power cards, six tokens, 15 Spider-Sense cards, as well as coins, tracers, two dice, and a rule pamphlet. You can play Peter Parker, Spider-man, Silk, Spider-Ham, Spider-man 2099, or Ghost-Spider. Buy Here.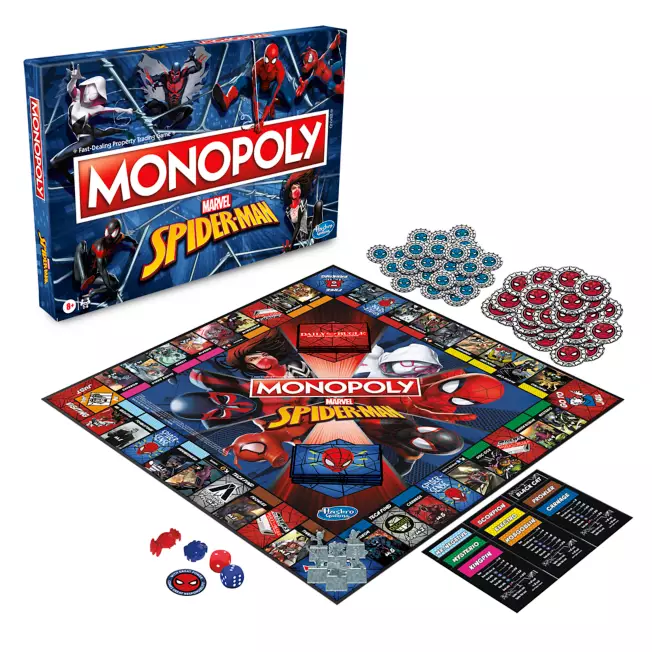 Pros
Collectible
Classic Monopoly Game-play
6 Figurines/ Characters
Cons
Too Old For Young Kids
Doesn't Revolutionize Game-play
Marvel Spider-Man Spidey and His Amazing Friends Spidey Web Crawler
Looking for a Spider-man toy for a smaller budget? This highly recommended toy feature is perfect for younger fans. Inspired by the animated series, you get Spider-man and his Web-Crawler vehicle. Spidey is 4 inches and has 6 points of articulation. The design is bright and bold and perfect for hours of play. Buy Here.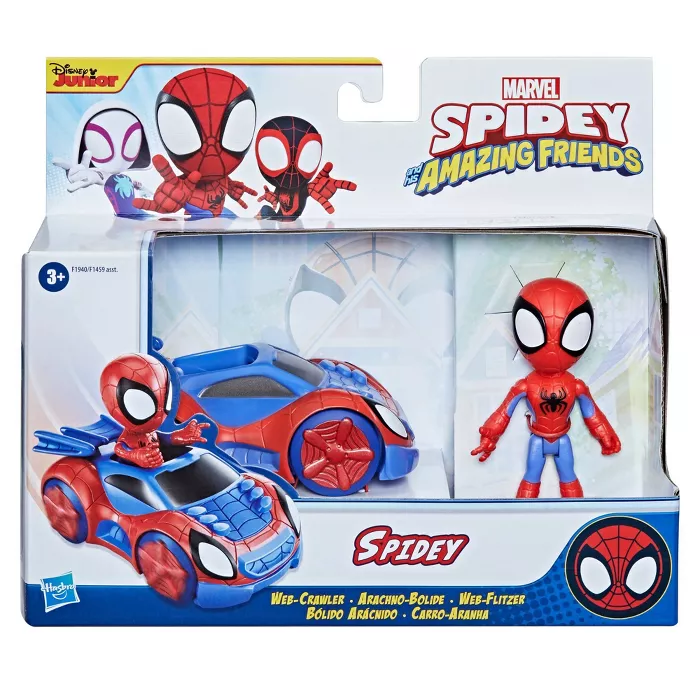 Pros
Budget-Friendly
Suitable For Younger Kids
Points of Articulation
Cons
Wheels Are Stiff
May Not Appeal to Older Kids
Marvel Spider-Man Titan Hero Series Blast Gear Action Figure
Looking for official Spider-man action figures? Target's Collection should be your go-to. The action figures are well-made, mostly well-rated, and fairly priced. But of these my top recommendation is this Titan Hero Series Spider-man action figure. This action figure was a 2021 Toy of the Year Finalist and features an adjustable, 12-inch figure. The figure comes with a blast launcher that you can easily load. Buy Here.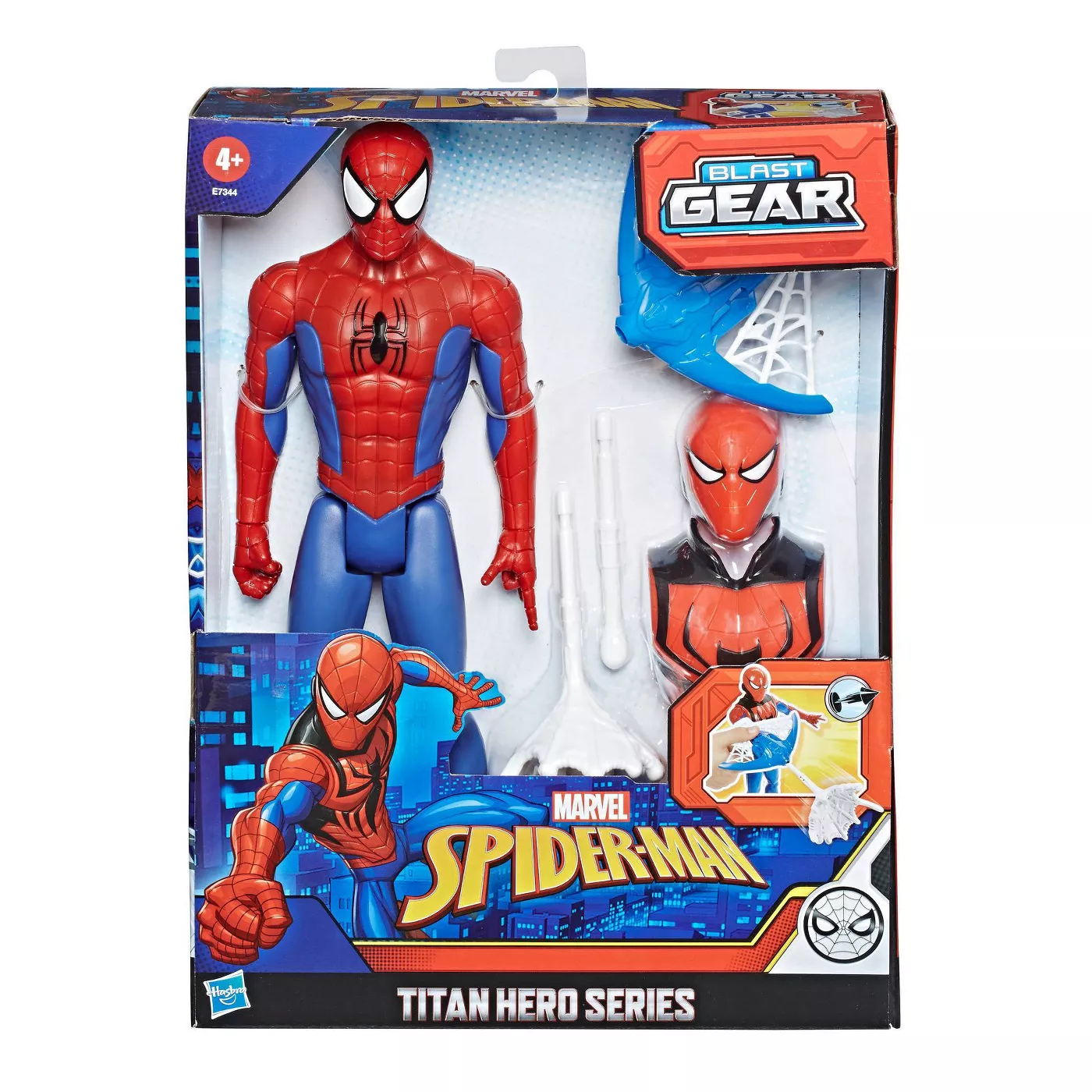 Pros
Loadable Launcher
2021 Toy of the Year Finalist
12 Inches Tall
Cons
Doesn't Come with Stand
Doesn't Easily Stand on Own
Spider-man Plush Toys/ Funko Pops! by Character
Plush toys are perfect as a room or desk decor. They're collectible, affordable, and suited for young to adult fans. This Spider-man plush was selected based on customer reviews and product quality. I've squeezed in two Funko Pops.
Doctor Octopus
Doctor Octopus is a classic, complex villain. Here, Doctor Octopus is rendered as a vinyl bobble head Funko Pop, perfect for collecting. He has his signature sunglasses and striking green and yellow bodysuit. Buy Here.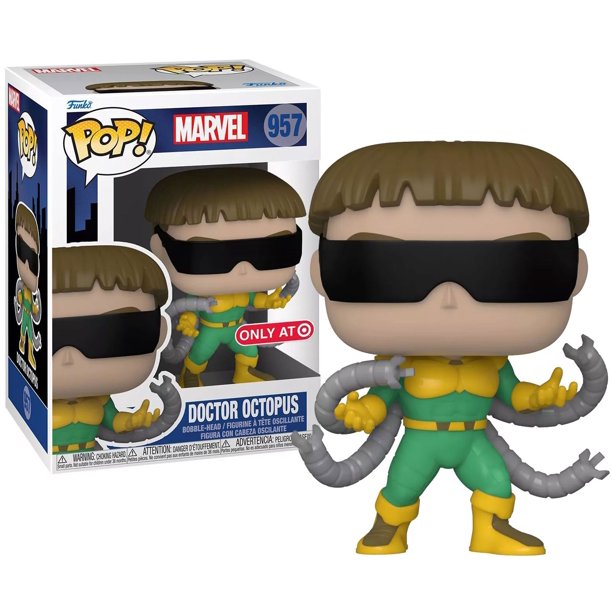 Pros
Sunglasses
Hooked Tentacles
Cons
Ghost Spider
This Gwen Stacey Ghost Spider plush doubles as a pillow. The 18-inch plush is made with soft polyester and is easy to take off. Buy Here.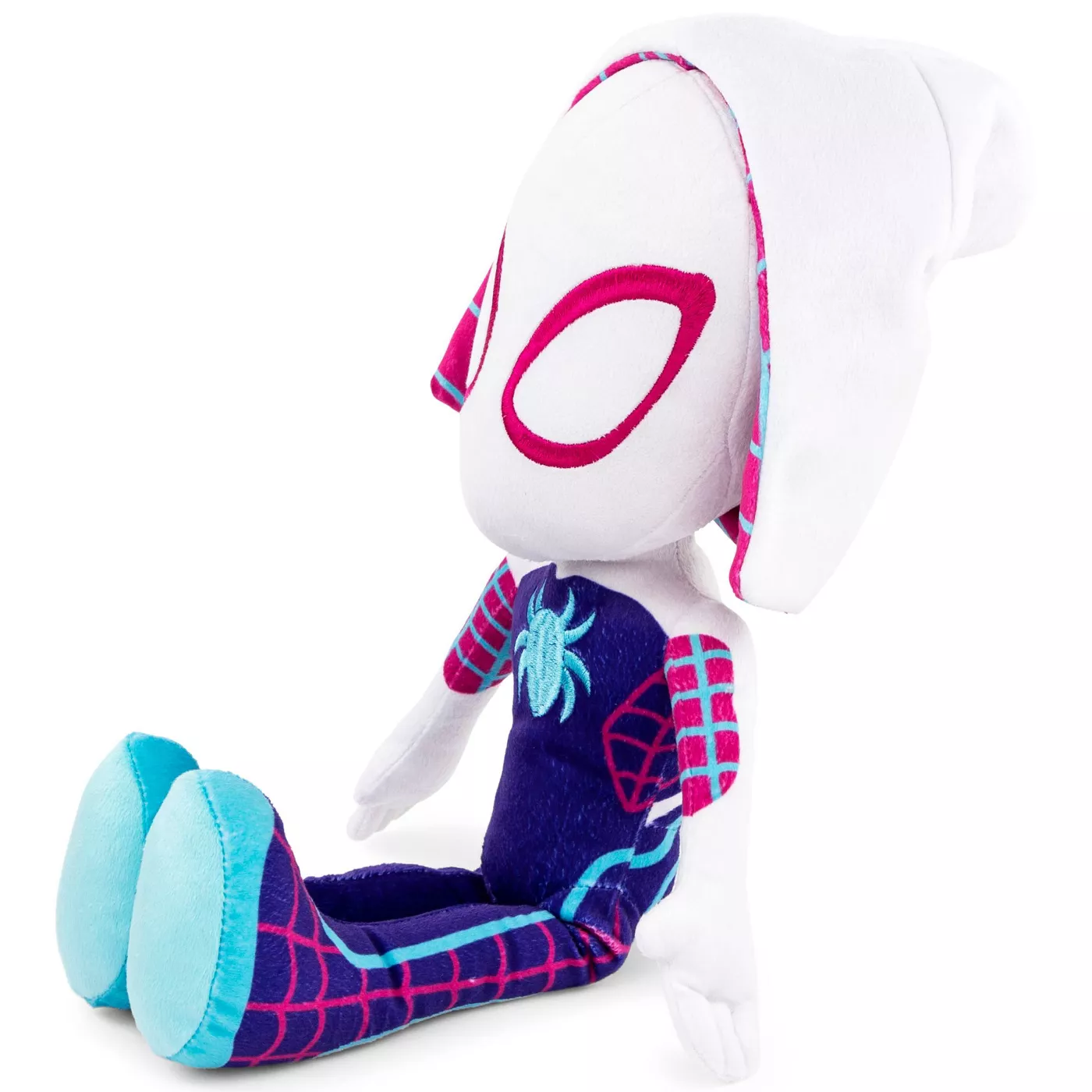 Pros
Doubles as a Pillow
Soft Polyester
Cons
Green Goblin
The Green Goblin comes to life with this small, detailed plush. The plush takes some creative liberty with colors, while still capturing the essence of the villain. Buy Here.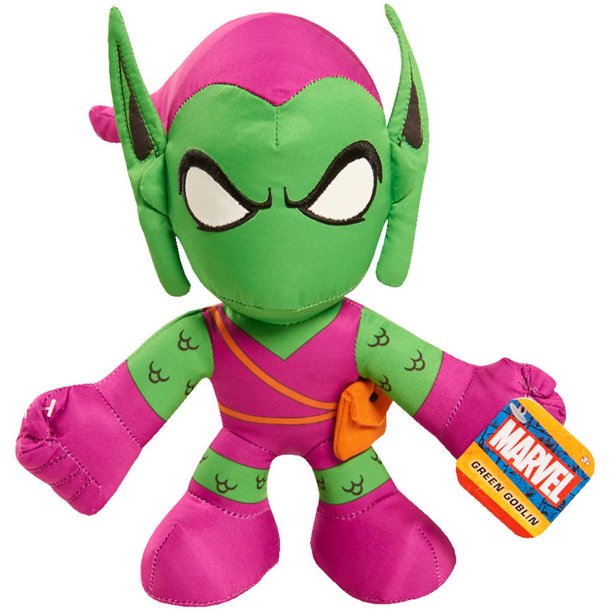 Pros
Unique Design
Part of a Collection
Cons
Mary Jane
Spider-man's best-known love interest is crafted into a Funko Pop. This Funko Pop features extended eyelashes and a simple outfit. She carries a Spider-man plush, which is a fun touch. Buy Here.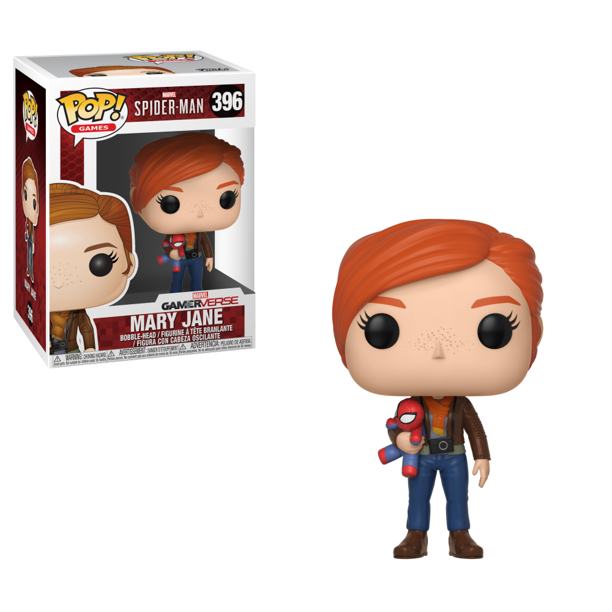 Pros
Spider-man "Accessory"
Eyelash Details
Cons
Spider-Man
There are countless Spider-man plush toys to choose from. However, I came across a TY beanie baby and knew it'd be the one I'd recommend. Beanie babies are simply classic, and you can count on consistent quality. That's true for this one, with its striking features despite the compact design. Buy Here.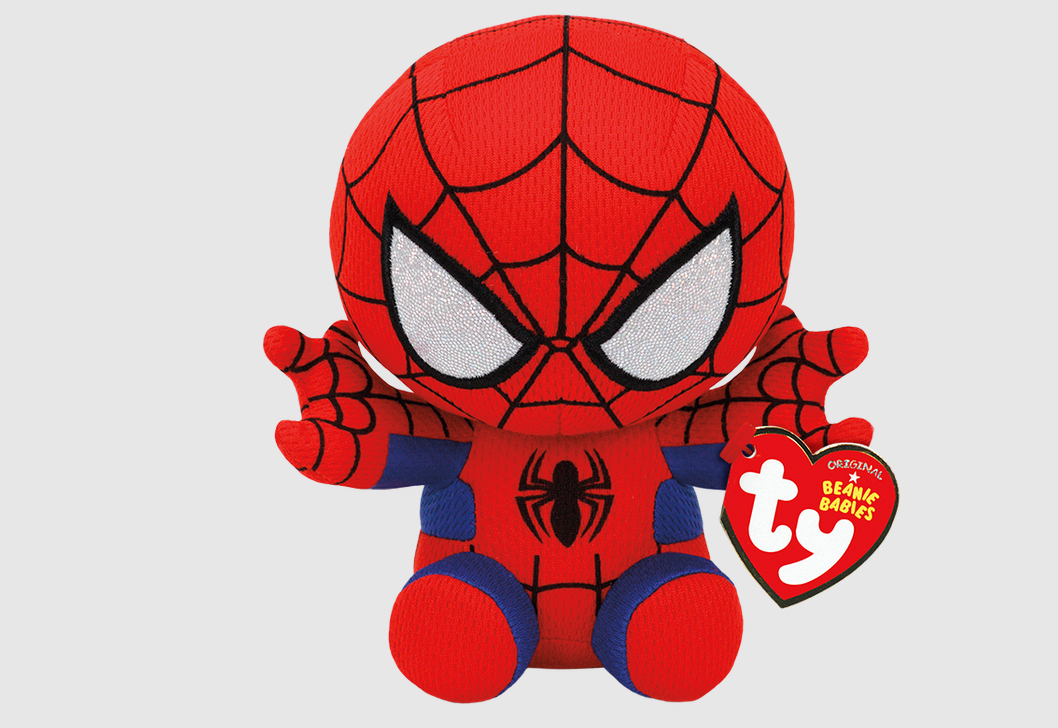 Pros
Official TY Beanie Baby
Great For Collecting
Cons
Final Buying Recommendations: Spider-man Merchandise From  the IGN Store
The IGN store is my final recommendation for a great place to buy Spider-man merchandise. If you're overwhelmed by large collections, you may appreciate the organized and smaller collection offered through the IGN store. IGN's collection includes Spider-man graphic tees and hoodies as well as unique collector's books. This collection is mostly inspired by the comics and includes some classic and retro styles. Shop Spider-man merchandise from the IGN Store Here.
Frequently Asked Questions
Question: Is There Spider-man Merchandise Available at the Avengers Campus?
Answer: The Avengers Campus has a few Spider-man merchandise items. The main draws are Marvel Funko Pops (which includes Spider-man) and the spider-bot. The spider-bot can be customized and be upgraded for an extra cost. Finally, the Avengers campus also has a web-slinger (called WEB bands) that can likewise be customized.
Question: Does Disneyland Sell Spider-man Merchandise?
Answer: Spiderman: No Way Home merchandise is being sold at Tomorrow land (Disneyland), The Star Trader is your go-to for merchandise inspired by Tom Holland's portrayal of Spider-man. You'll find both collectibles and Spider-man merchandise gifts.
Question: What's the Best Spider-man Game for PS4/ PS5?
Answer: One of the hottest Spider-man games for PlayStation right now is Marvel's Spider-man: Game of the Year Edition. This game has been heralded as the best PS4 game by Nerdist, and IGN has also heaped praise. Since PS5 is backward compatible with PS4, you can play it on either console system.
Question: Where can I Buy Vintage Spider-man Merchandise?
Answer: If you're looking for genuine vintage merchandise you need to shop cautiously. You can buy vintage merchandise on Etsy and eBay, and you may find some at a thrift store. However, you should always carefully inspect the description, photos, and seller history.
Final Thoughts
Let's face it: we'll never all agree on the best Spider-man. I'll always say that Tobey Maguire captured Spider-man best, while others argue that Tome Holland or even Andrew Garfield deserves that acclaim. What matters isn't who did it best, but the avid fan base behind it. From the comics to the live-action films and crossovers, Spider-man is truly iconic, and fans should celebrate only with the very best, official merchandise. I've provided my favorite ideas, but here are a few more products to consider, including plush toys and one final merchandise collection.
Find more cool merch below:
Your Ultimate Marvel Merch Guide
Best Harry Potter Funko Pop Guide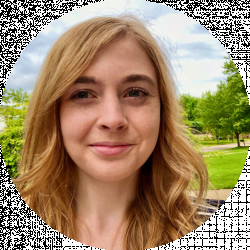 Latest posts by Erin Jamieson
(see all)