When Tangled first came out, I was enchanted by the songs, beautiful visuals, and quirky additions to Rapunzel's traditional storyline. Over a decade later, the film continues to enchant, guided by some of the best merchandise that Disney sells. 
Even though it's been over 10 years since Tangled was released, fans and critics alike continue to see its relevance. The film was most recently compared with Encanto, a 2021 Pixar musical.
It wasn't just the bright graphics or musical components that drew comparisons, however. Critics argue that both Tangled and Encanto explore family dynamics with a magical backdrop. The similarities continue when you consider the extent both unpack deleterious relationships and somehow still make the films entertaining for kids. 
Those similarities aren't a stretch, especially when you consider that both Encanto and Tangled were co-directed by Bryon Howard. Though the films tackle these difficult subjects, they manage to do so in an accessible and engaging way. Both films also undeniably have a theme of self-discovery, hope, and healing.
In other words, Tangled, like the newer Encanto, continues to make a lasting impression. It's a beautiful film and leaves behind a sense of importance. For that, it's only suiting to find the best merch to honor it now.
I'll guide you to the best official merch you can buy. From Tangled figurines from the Disney Shop to modern tanks from Hot Topic, there are many possibilities. 
Bottom Line Up Front Summary:  If I had to select just one product for Tangled fans, it would be the Rapunzel Classic Doll. She's pose-able for play, but with her glittering skirt and attention to detail, she also will please collectors. 
My Top Picks
What is Tangled Known for?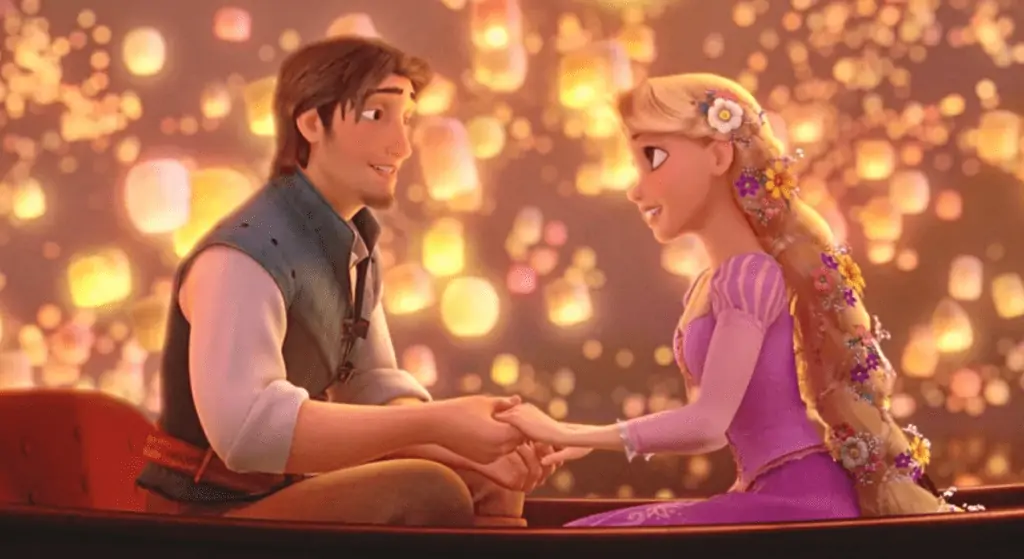 Tangled blends musical, adventure, and fairy-tale genres. The animated 3D feature film is a spin-off of the classic fairy-tale, Rapunzel. The reason it's called Tangled and not simply Rapunzel is that the film provides some modern updates– as well as a new, prominent character in Flynn Ryder. 
What was the Inspiration for Tangled?
While there are differences, Tangled, of course, takes inspiration from the original Brothers Grimm fairy-tale, Rapunzel. Going in deeper, Rapunzel was inspired by Petronella, a Neapolitan fairy-tale produced around 1634. The character of Rapunzel is likely based on a real person– Saint Barbara. Saint Barbara lived during the third century and had a controlling father who forced her to live inside a tower, supposedly because of her beauty attracting men. 
Why is Tangled Different from Rapunzel?
Tangled, as I mentioned, is not a direct representation of the classic fairy-tale. Then again, no Disney movie replicates Brothers Grimm fairy-tales exactly. The desire to appeal to a younger, modern audience always causes changes. Tangled showcases a more free-spirited, and brave heroine. It also prominently features Flynn Rider, a character not traditionally in the fairy-tale. Along with that, you have Pascal, Rapunzel's sidekick, and more added to the villainous Mother Gothel. Characters are given more personality and more of a backstory. There's a lot more whimsy, with musical scores and beautiful scenes. 
Who Produced Tangled?
Tangled was produced by Roy Conli, who later produced Encanto. Tangled is interesting in that it was released through Disney but two Pixar chiefs worked on its animations. Thus, Tangled is technically a Disney, not a Pixar film, but you can see Pixar's influence. 
Why was Tangled so Expensive to Make?
It took six years to produce Tangled. Not only that, but it was one of Disney's most expensive films to make, costing around $260 million. The drawings and extent of animations, at the time, made it very expensive and painstaking to make. 
Why is Tangled so Good?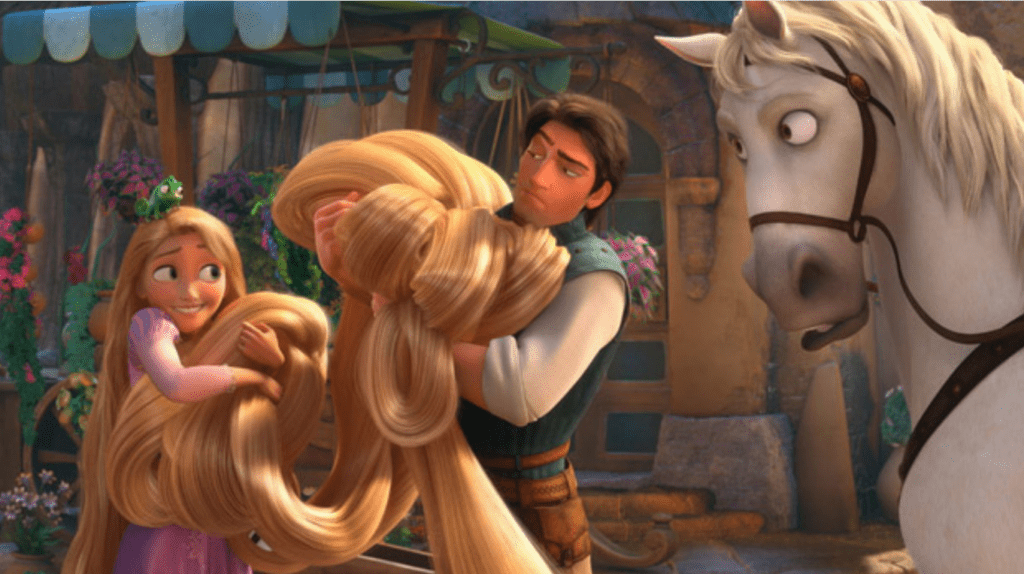 I find a lot to love about Tangled. While the general idea of the film seems familiar, adding in new characters, there's a lot more life to it. The animations and visuals are beautiful. There's also the quirkiness of the characters, the memorable songs, and the pacing. All told, what's good about Tangled is that it's very well put together and brings forth a story that is at once fun and heartwarming. Like many Disney movies, it touches some deeper topics– such as finding yourself– but in a bright package. Tangled explores its characters and makes a memorable two protagonists. 
What is the Plot in Tangled?
The main conflict, on paper, is familiar. Rapunzel has spent her life locked up in a tower by her seemingly overprotective mother. She spends her days doing artwork and chores but longs to learn more and experience the world outside. Her long blonde hair has magical healing powers. Unknown to her, Mother Gothel is keeping Rapunzel locked away not for Rapunzel's safety, but to achieve eternal youth. However, the plot has some twists and turns. 
How Old was Rapunzel When she was Kidnapped?
Rapunzel is 18 years old during the movie, and obviously, she's lived almost her entire life in the tower. All of this amplifies just how much she hasn't explored and experienced. 
Who are the Main Characters of the Story Tangled?
The main characters bring Tangled to life. The addition of characters outside the classic Rapunzel tale, the distinct personalities, and the fun play between them all makes it enjoyable. Granted, Rapunzel and Flynn are the most well-rounded characters, and the rest are not as many. Still, it's an enjoyable cast of characters.
Character Name 
Description

Rapunzel (18 years old)

Rapunzel is recognizable with her long blonde hair. But it's her optimism, great curiosity, creativity, and resourcefulness that set her apart. She has a sense of wonder about the world. 

Flynn Rider (26 years old) 

Real Name: Eugene Fitzherbert

Rather than the typical Disney Prince, Rapunzel's love interest starts as a thief. He is mischievous, sarcastic, daring, and has a soft heart underneath his profession. 

Pascal 

Rapunzel's sidekick is a chameleon with red eyes. Rapunzel has a chameleon as a sidekick as this was meant to showcase her unique personality. Pascal is energetic, outgoing, and loyal. 

Mother Gothel (1,000+ years old)

Mother Gothel is the main villain of the film. She claims to love Rapunzel, but she truly loves Rapunzel's hair for what it can do for her. She's estimated to be very old– over 1,000 years old at the start of the film. She uses manipulative tactics to keep Rapunzel locked up. 
Other characters include the Captain of the Guards, the Stabbingtons, and the King and Queen (Frederic and Arianna). 
Where is Tangled Available?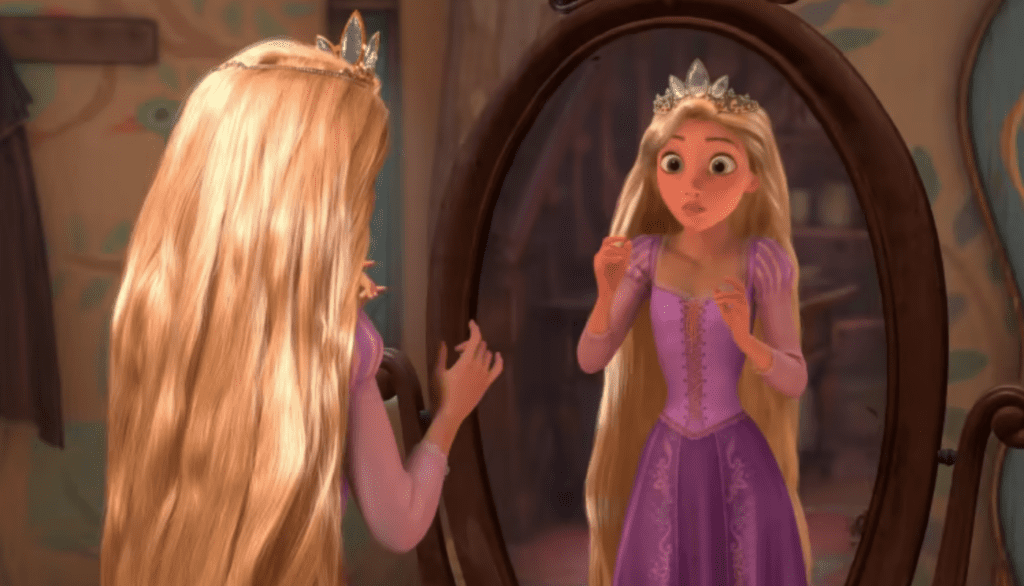 If you're interested in Tangled, you can always buy a DVD. DVDs are sold from all the places you'd expect, from Target to Best Buy to Amazon and the Disney Store. But if you want to stream, your best option is to stream on Disney Plus. 
Is Tangled on Netflix or Hulu?
Tangled is not available on Netflix or Hulu. It's also not on HBO. This is not surprising. Once Disney introduced its streaming service, that was a signal that's where you'd be able to enjoy Disney movies. 
Is Tangled Appropriate for Kids?
Of course, Tangled isn't for everyone. It may be scary for very young kids with some scenes with Mother Gothel. It's rated PG for a brief scene of animated violence. That violence is more silly, with frying pans used as a weapon, for instance. Another thing to consider is the deeper thematic issues of Rapunzel being locked away. It should be a good film for most kids 8 and up. Kids 6 to 7 should be able to watch with their parents. 
Where can I Buy Tangled Merch?
You can buy Tangled merchandise at Disney World, but let's face it: most of us aren't traveling a lot right now. Luckily, there are many places you can shop online for Tangled merchandise, whether you're looking for her companion, Pascal, or just a great Tangled t-shirt. My criteria are to include only official, licensed merchandise. This makes sure there's consistent quality, and they can even double as collectibles. I selected products that offered either great practical use or creative design. It was also important to me to select items with a great value for the price. Finally, customer reviews played a factor. My top picks come from the Disney Shop and Hot Topic. 
Disney Shop Official Tangled Merchandise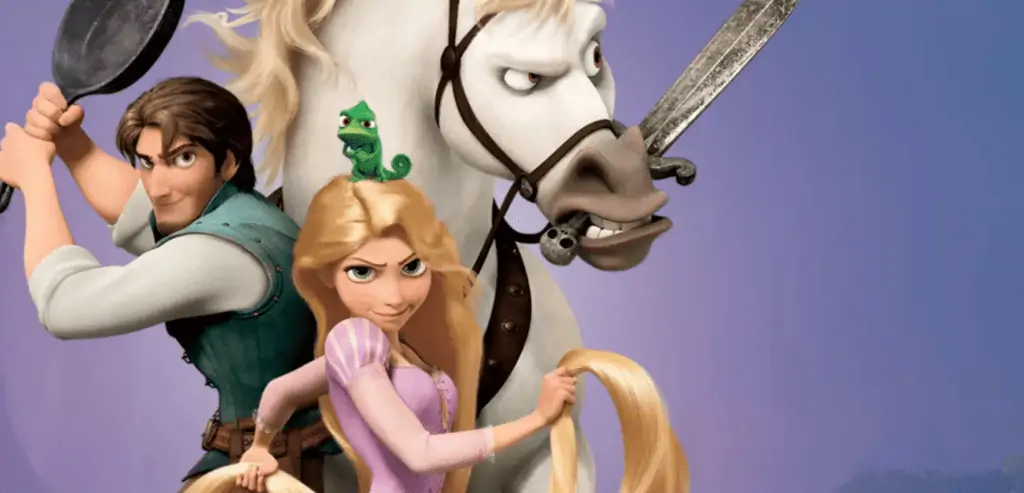 If I had to select just one place to buy Tangled merch from, it would undoubtedly be the official Disney Shop. The store features figurines, costumes, books, sheets, and room decor. It's a smaller collection than I expected, but it's still a great collection. As you'd expect, it's mostly for younger fans, and there's plenty of magical whimsy. Shop All Tangled Merch from the Disney Store Here.
Rapunzel Classic Doll – Tangled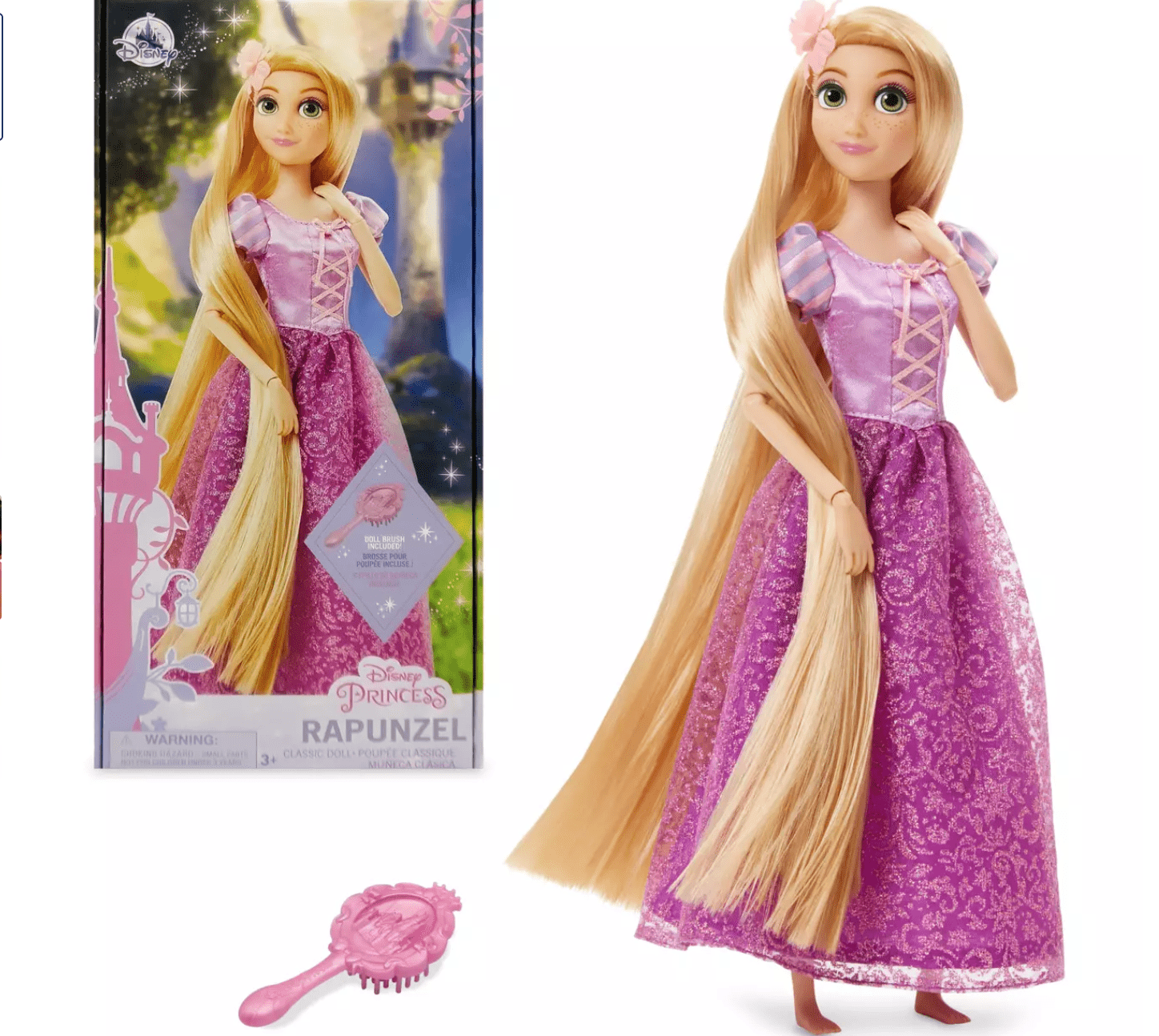 This gorgeous Rapunzel doll is great for playing with or even collecting. Rapunzel is pose-able, with long blond hair, a flower hair accessory, and a brush. Her skirt features glitter details for a magical touch and her face is expressive and full of wonder, just like in Tangled. She's intended for ages 3 and up. Buy Here. 
Pros
Glittering Skirt 

Long, Beautiful Hair

Pose-able

Cons
No Stand 

Hair is Hard to Maintain
Tangled  Rapunzel – Best Day Ever Throw Pillow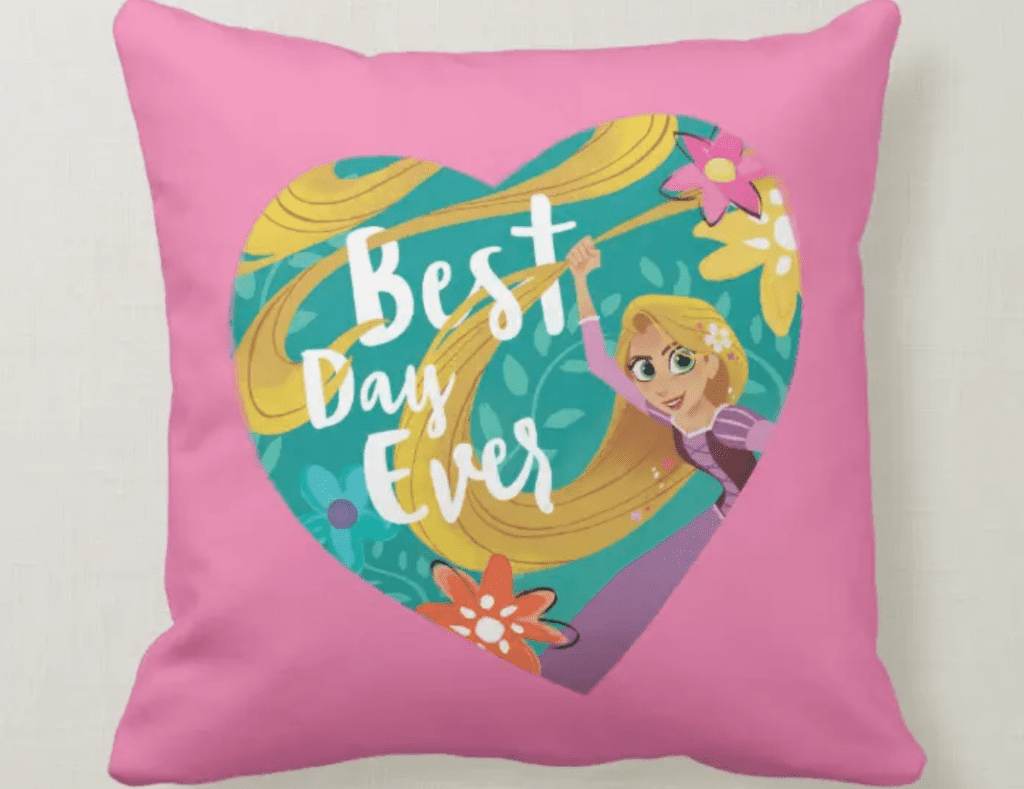 This throw pillow adds the wonder and creativity of Tangled to any bedroom. The pillow cover is made with 100 percent polyester knit fabric that's wrinkle-resistant. The hidden zipper enclosure makes for a modern look. While I love the Tangled-inspired design, you can even customize it to make it more personal. This pillow is made in the United States and machine-washable. Buy Here. 
Pros
Machine-Washable

Customizable 

Hidden Zipper 
Cons
Customization Can Be Expensive

Only One Size 
Tangled | Pascal – What's Your Mood Today? Two-Tone Coffee Mug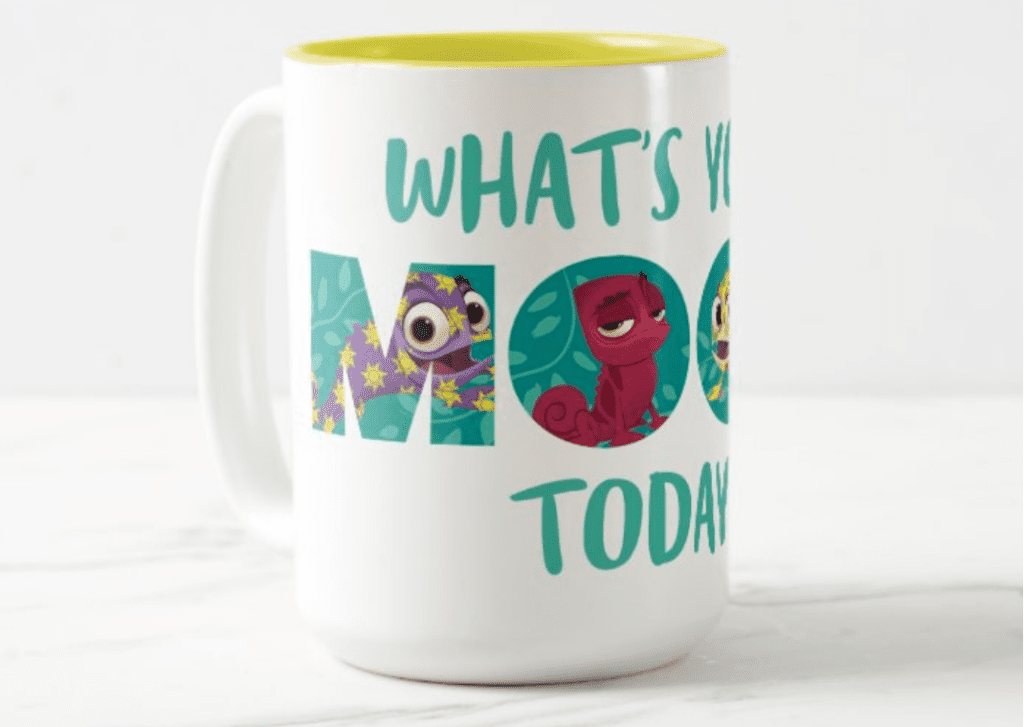 For the coffee, tea, or hot chocolate lover, this mug is sure to put a smile on your face. The two-tone mug features a white ceramic base, with your choice of color for the interior. Pascal is charmed by his changing looks. You can customize by swapping out colors and even adding details to your liking. This mug is either 11 or 15 ounces, FDA safe, microwave, and dishwasher-friendly. Buy Here. 
Pros
Unique Design

Customizable

Dishwasher and Microwave- Safe 
Cons
Not Made in the USA

Back Side is Plain 
Rapunzel Costume for Kids – Tangled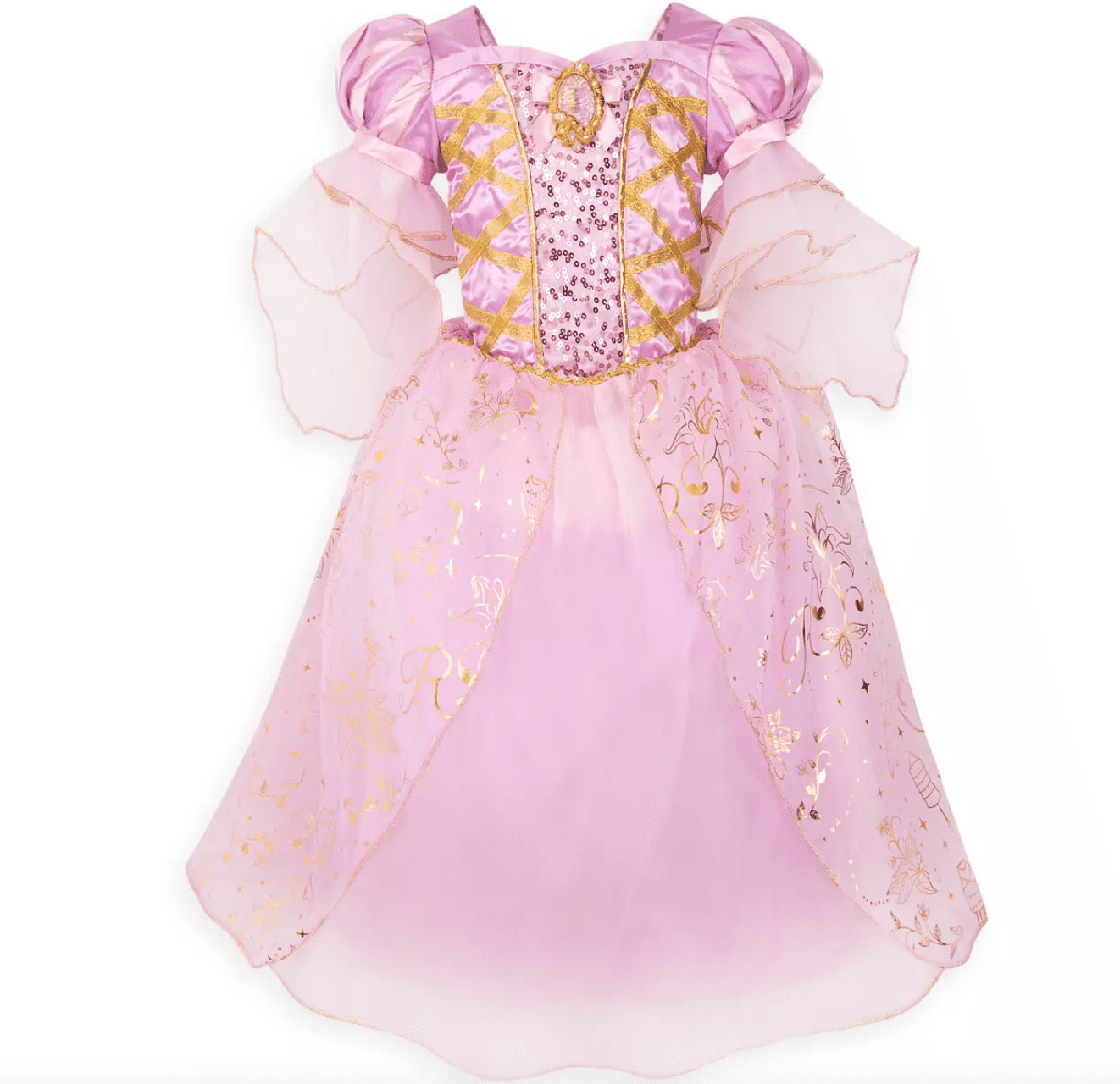 There are many Rapunzel costumes you can buy, but this Tangled costume stands out from the rest. This Tangled costume is highly rated by customers, and it's easy to see why. The dress features a satin bodice, organza with sequin details, and golden ribbon detail. I also love the satin puff sleeves, draping, and trim around the waist. The tulle and satin underskirt adds volume. Though it catches the light, it's glitter-free, so you won't have to worry about glitter coming off everywhere. It's available in sizes 3 through 13, though larger sizes are not always available. It's a beautiful costume that brings Rapunzel to life. Buy Here. 
Pros
Rapunzel Fairy-tale Moments Sketchbook Ornament – Tangled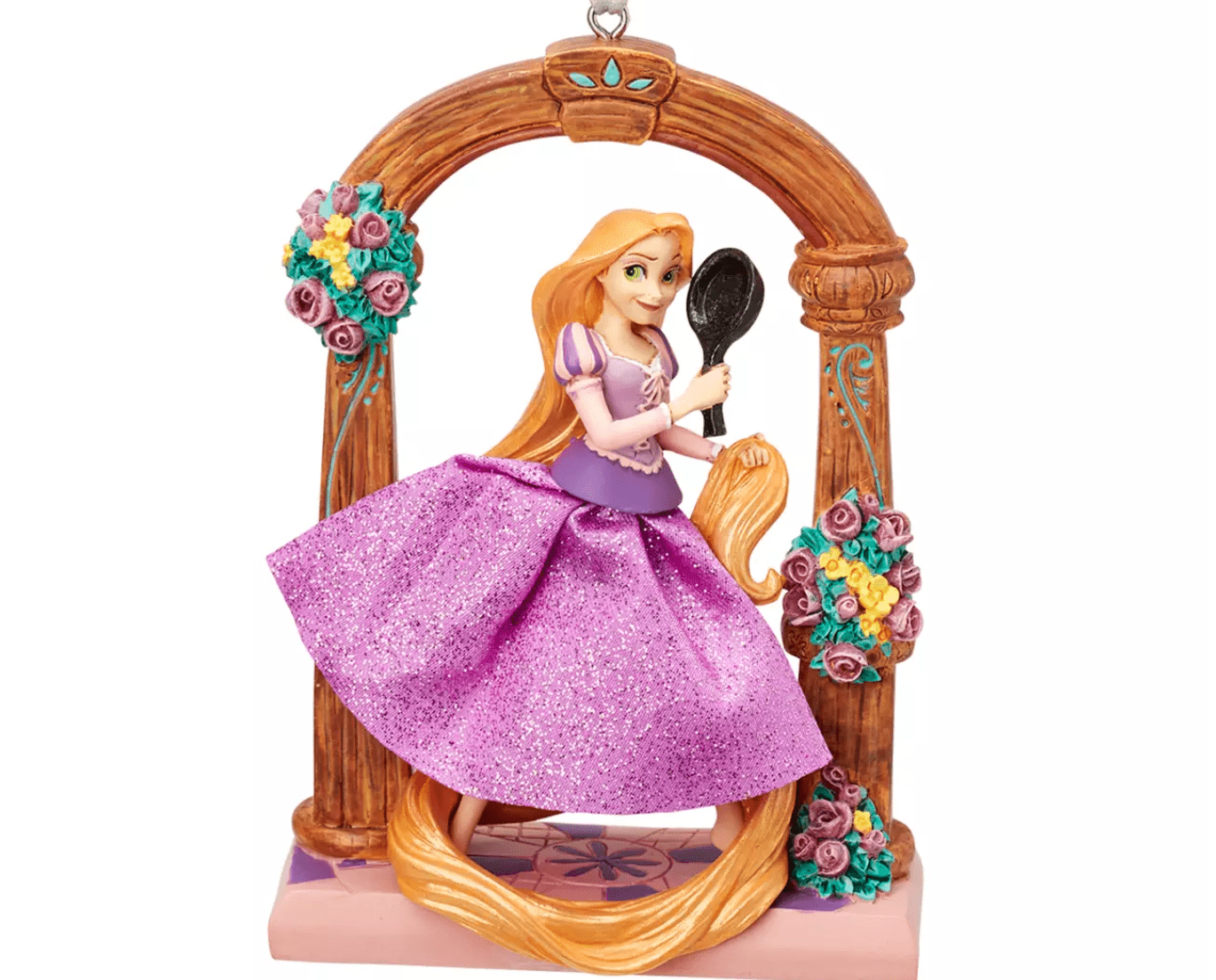 An ornament is a great keepsake and one that can be enjoyed year after year. This Tangled ornament depicts Rapunzel with her magical golden hair. Her skirt glitters in sunlight and the detailing along the bodice is something to praise. True to the theme, the ornament is hung with a satin ribbon. Buy Here. 
Pros
Glittering Skirt

Sturdy Construction

Great Keepsake 
Cons
Facial Features Not Exact as Film 

Slightly Cross-Eyed 
Hot Topic Official Tangled Merchandise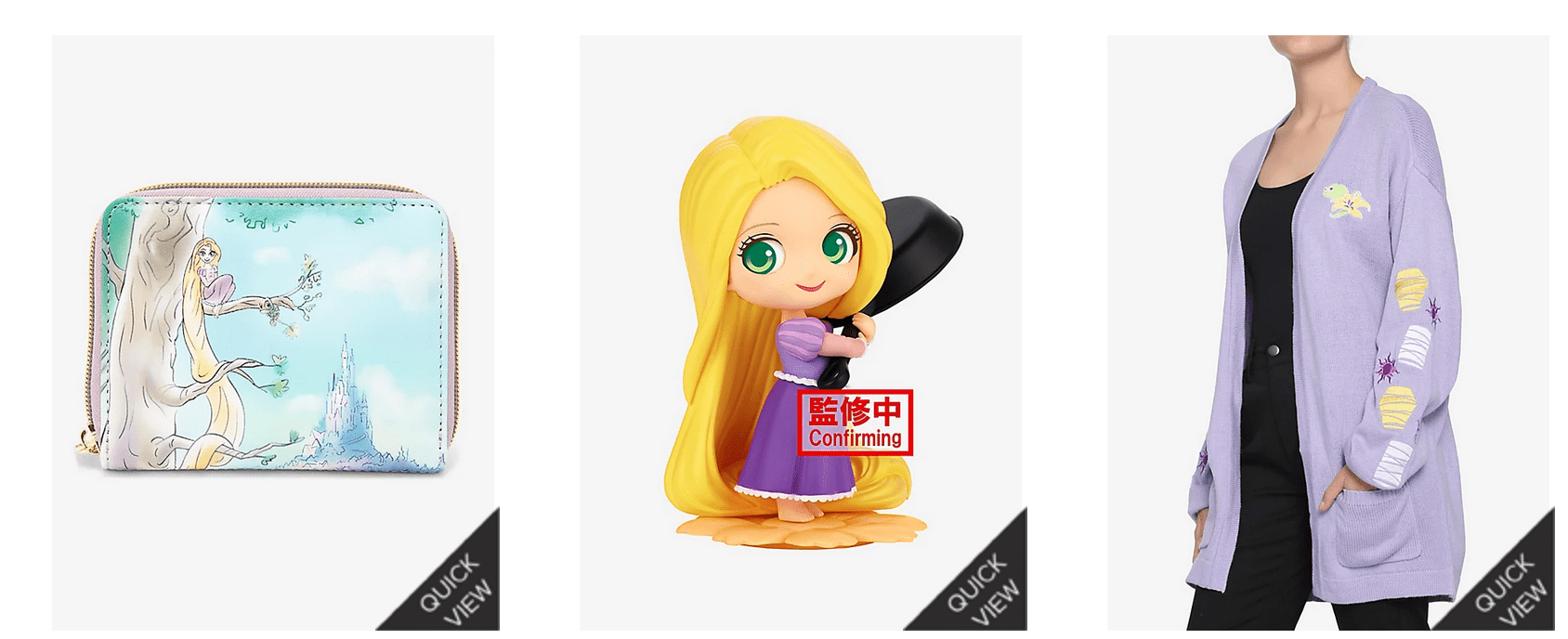 If you love Tangled but are looking for t-shirts and tanks, Hot Topic is a great place to shop. This collection of official merchandise offers even more items than the official Disney Shop. You'll find casual tees, but also blouses, wallets, backpacks, and other accessories. It includes items for children but also teens. I love how they interpret Tangled in a modern way. Shop All Hot Topic Official Tangled Merch Here. 
Disney Tangled Rapunzel & Pascal Lace-Up Sneakers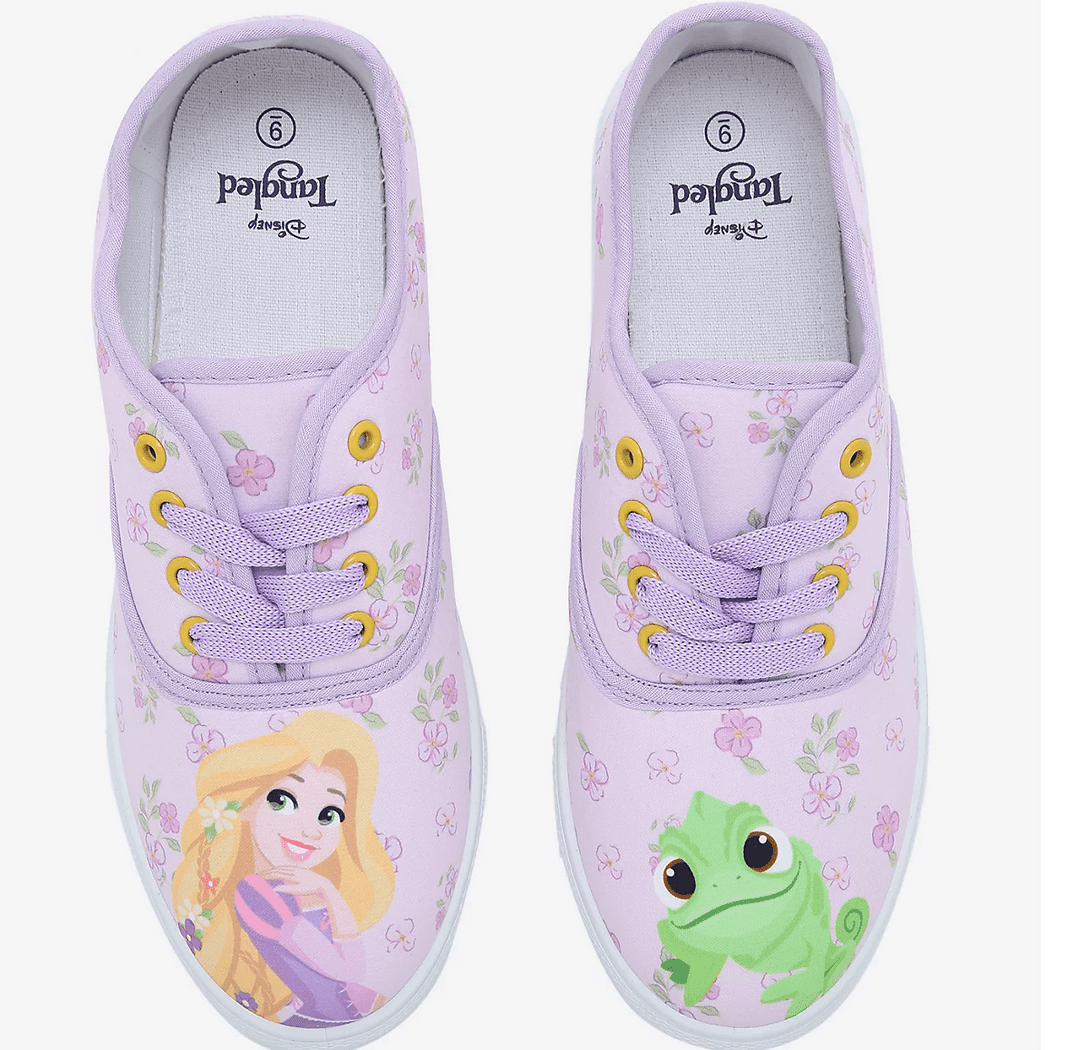 Hit the streets with quirky style. These lace-up sneakers are simply fun and very on-brand for Tangled fans. The exterior is a highly-quality print canvas, with rubber soles. The print features Rapunzel and Pascal with floral and pastel motifs. These soft violet shoes are available in sizes 5 to 11. Buy Here. 
Pros
Whimsical Design

Lace-Up for Adjusting 

Reasonable Price
Cons
Not Much Support

No Narrow or Wide Sizes
Lounge fly Disney Tangled Painted Landscape Mini Backpack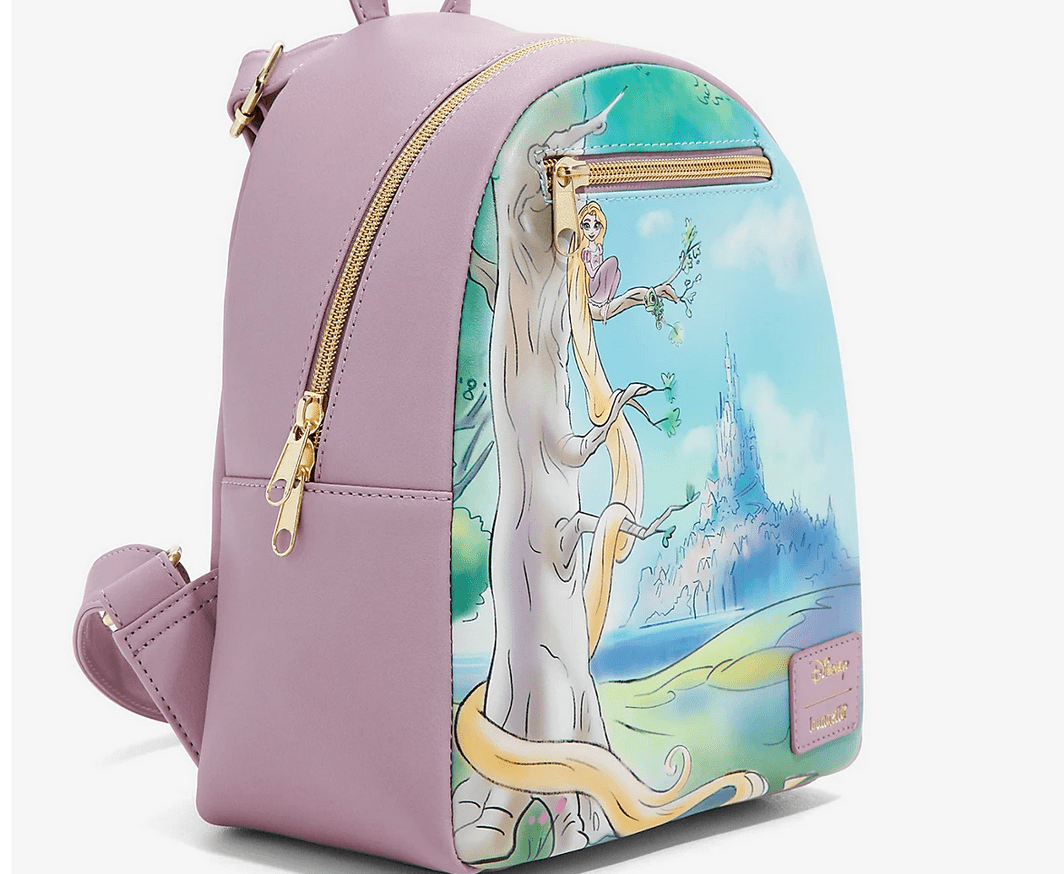 Get ready for wherever the day takes you. This mini backpack works for day trips, travel, or younger students with a light workload. The backpack comes with front and interior pockets, adjustable straps, and gold-tone detailing. Rapunzel is featured on the front and pal Pascal on the back, all in a dreamy painted look. Buy Here. 
Pros
Adjustable Straps 

Interior and Exterior Pockets

Painted Aesthetic and Gold-Tone Details
Cons
A Little Small

Slightly Expensive 
Disney Tangled Let Down Your Hair Girls T-Shirt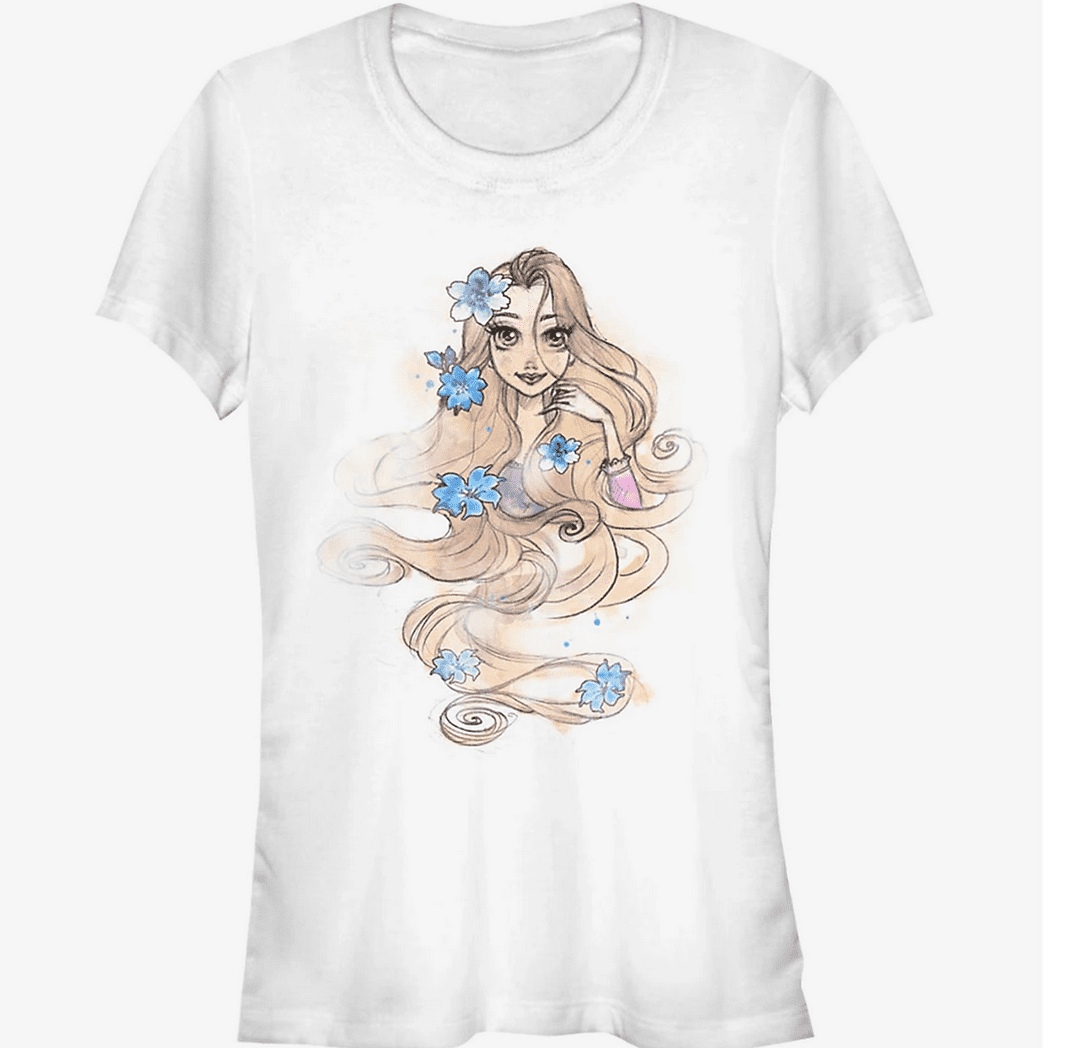 There are many t-shirts to choose from, but this t-shirt is one of the highest-rated and noteworthy. While staying recognizable, the sketched look is a bit more updated and artistic than other designs. This t-shirt is made with 100 percent lightweight, spun cotton. It runs a size small and is available in junior's sizes small through 2XL. Buy Here. 
Pros 
Soft Cotton

Artistic Sketched Look

High Ratings
Cons
Runs Small/ Limited Sizes

Only Available in White 
Disney Princess Tangled Rapunzel & Pascal Lantern Leggings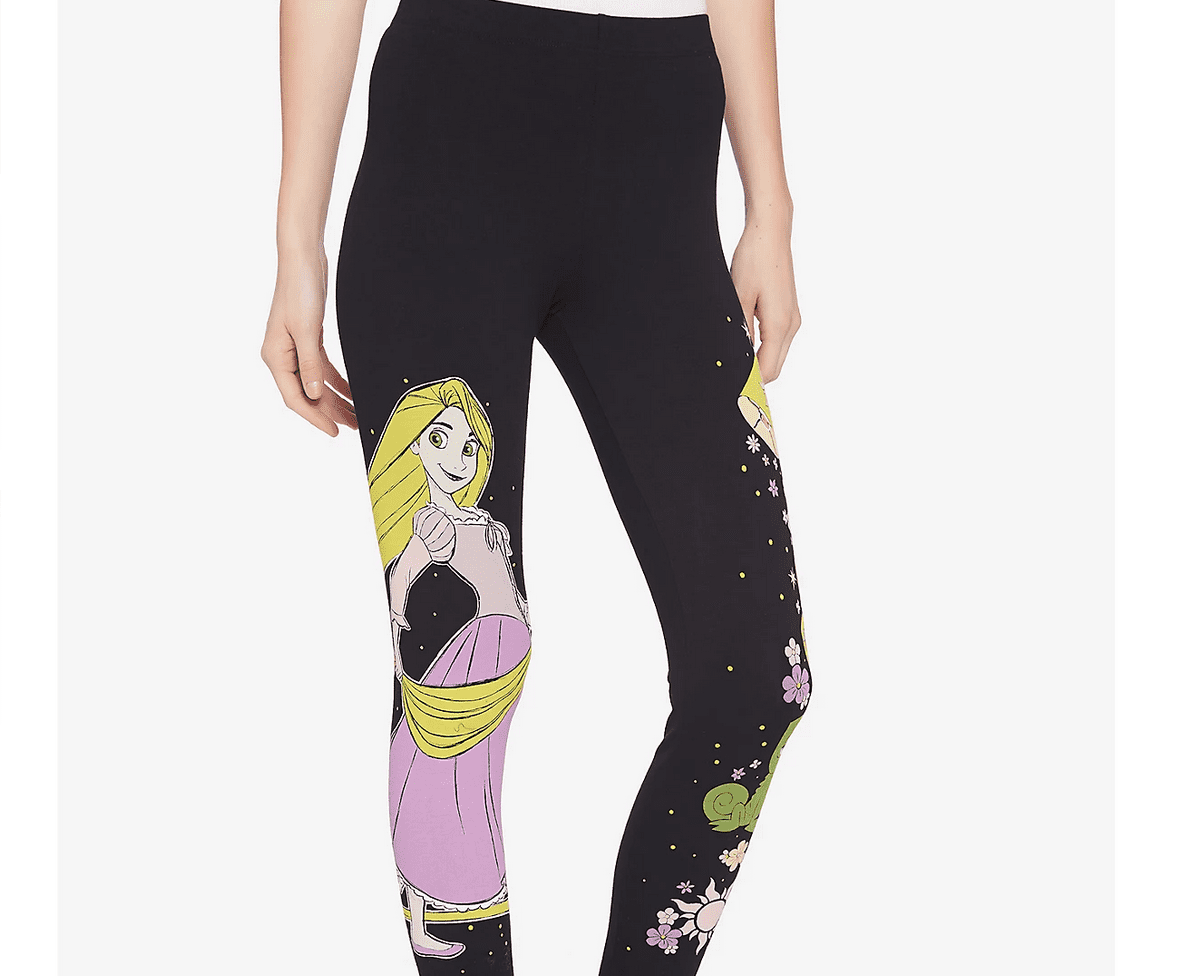 These leggings are truly unique. Tangled motifs add a decorative and spirited touch to these comfy, high-waist leggings. The leggings are made with a blend of 95 percent cotton a 5 percent spandex. You get to stretch and lightweight comfort for everyday wear, though they don't have moisture-wicking for athletic performance. They're normally available in junior sizes XS through 3XL, though some sizes do sell out. Buy Here. 
Pros
Comfort Stretch'

High Waist 

Whimsical Design
Cons
Sizes Sell Out

Not for Athletics 
Frequently Asked Questions
Question: Was Rapunzel in Frozen?
Answer: If you thought you say Rapunzel in Frozen, you're seeing correctly. Rapunzel and Eugene make an appearance in the coronation scene where Anna sings "For the First Time in Forever." They are guests to the event, which proves that they exist in the same world. It's not too surprising, as Disney has a habit of adding Easter eggs from past films in its new ones. I've seen some claim that Tangled is better than Frozen, or vice-versa, but ultimately the stories both have their strengths and weaknesses. 
Question: Is Elsa and Rapunzel Related?
Answer: Though Rapunzel appears in a cameo scene in Frozen, there is no structural evidence that she and Elsa are related. Of course, that hasn't prevented avid fans from speculating about possible connections between the two princesses. The strongest claims are that they are cousins. Some go as far as to claim that they have the same mother and are twins separated at birth. In my personal opinion, the evidence is pretty weak for them being twins, but it's an interesting theory. 
Question: Does Rapunzel Have a Child?
Answer: Rapunzel had a daughter, Princess Ruby, in the Disney Channel series, Descendants. However, we don't know if Rapunzel from Tangled will have a child. 
Question: What Disney Movie Came Out After Tangled?
Answer: Tangled was released in 2010, following after 2009's Princess and the Frog. After Tangled, Disney released Winne the Pooh (2011) and Wreck-it Ralph (2012). The live-action film Alice in Wonderland (2010) also came out around this time. 
Question: Why was Tangled 2 Cancelled?
Answer: While there's no confirmation that a sequel will happen, it's inaccurate to say that Tangled 2 was canceled. If anything, there's hope for a sequel. The producer of Tangled mentioned that a sequel is being "actively" considered. This was back in 2015, so some assume that means it won't come. However, keep in mind that the first Tangled took several years to make. In addition, it's not unlikely that the pandemic may have disrupted some plans. 
Final Thoughts
Tangled is an enchanting tale. Even though it was released over a decade ago, fans still want to see a sequel. For now, there are ways to relive the magic of Tangled. Disney and Hot Topic both offer a great collection of merch for every fan. From t-shirts to decor and figurines, you can bring the spirit of Tangled into your home. Plus, I have an honorable mention for even more of the best merchandise you can buy online today. 
Final Buying Recommendations: Amazon Tangled Merchandise 
My final recommendation for where to buy Tangled merchandise is Amazon. The reason it's going under my honorable mentions as opposed to a top choice is that the options are more limited than the official Disney Store and Hot Topic. Still, I like some of the products that Amazon carries. There's a dazzling jigsaw puzzle, costume crown, plush toys, mugs, and home decor. Shop All Amazon Tangled Merch Here.  
F-FUN SOUL Night Castle Tapestry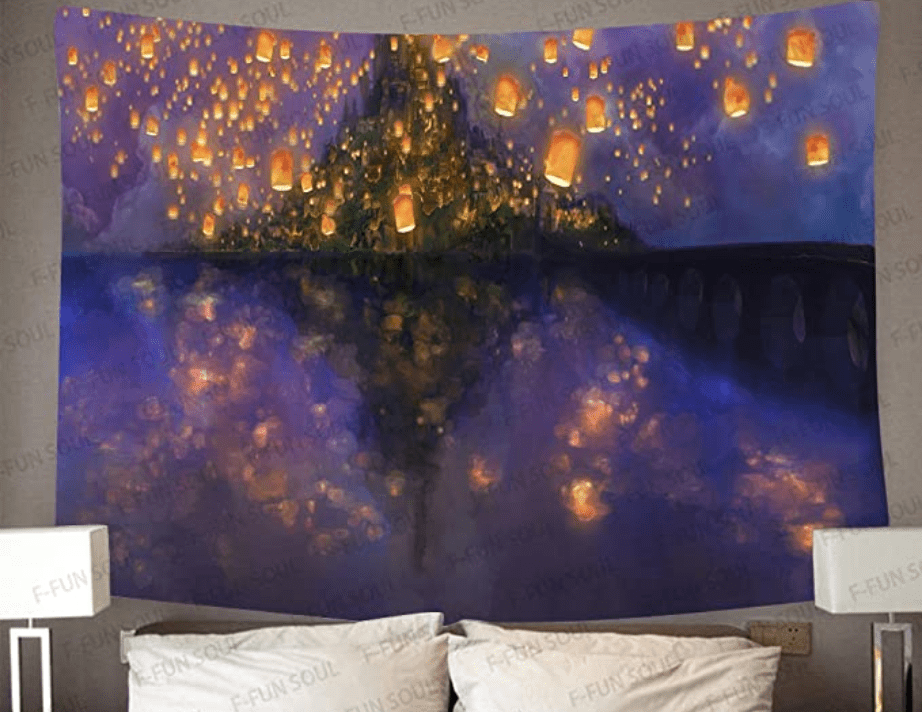 It may not be official merch, but this tapestry is nothing short of stunning. The tapestry brings the romantic lantern scene from Tangled to life, while staying versatile enough it could be hung anywhere. This tapestry measures 60 by 40 inches and is made with lightweight flannel. It can be used indoors or outdoors. Buy Here. 
Pros
Gorgeous Print

Multi-Purpose Use 

Lightweight 
Cons
Doesn't Include Hanging Accessories




Irons and High-Pressure Washing Can Ruin Tapestry 
Further Disney merch readings: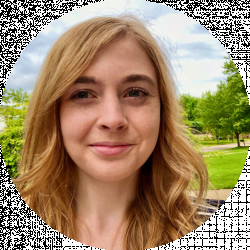 Latest posts by Erin Jamieson
(see all)