I'll be honest: it's nearly impossible to keep up with all the new Marvel merch. From graphic t's to backpacks, usable water bottles, collectibles, and more, now's a better time than ever for Marvel fans. But sometimes you need a guide to steer you to the best Marvel merch, especially with so many options. 
One of the newest merch collections is a unique collaboration of Iron Maiden and Marvel products. Eddie pairs with favorites like Wolverine, Deadpool, Venom, and others.
Iron Maiden fans will celebrate with odes to popular songs like Fear of the Dark, The Trooper, and Killers. The choice to mix Marvel and Iron Maiden is meant to bring fan bases together and breathe new life into some of the most respected Marvel characters. 
In explaining the collaboration between Iron Maiden and Marvel, it was Paul Gitter, the SVP of Marvel that explained it wasn't such a surprising combination.
Marvel, he explained, has been in connection with artists and musicians in the past. Gitter went so far as to hint that Marvel was looking to expand into more collaborations in the future. 
A preview of the Iron Maiden and Marvel collection gave consumers a look at the way these two universes are being brought together. The focus is on graphic t's with Marvel and Iron Maiden logos and comic graphics. Both short and long sleeve, black and white t-shirts were showcased. 
But you don't have to be an Iron Maiden fan to enjoy Marvel merch. In this guide, I'll tell you what you need to know about finding authentic Marvel merch, covering some of your favorite Marvel merch characters. I'll tell you where to buy merch so you can find the perfect collectibles for yourself or a gift for someone else.
Who created Marvel?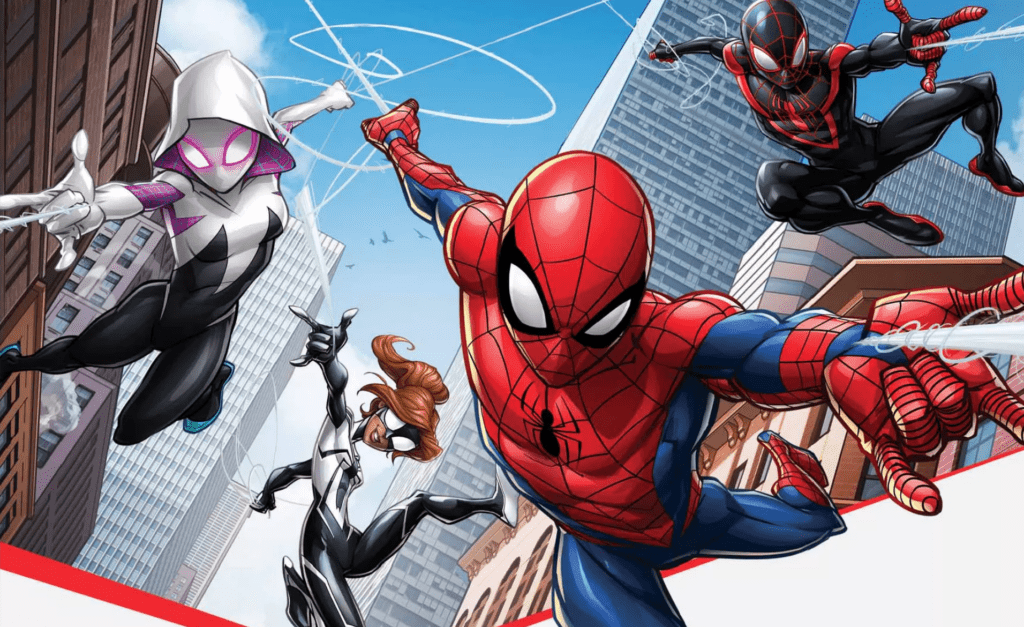 First, a little history about the Marvel universe: Marvel was created by Martin Goodman in 1939 under what was known as Timely Comics. The first huge hit for Marvel was arguably the introduction of Captain America in 1941.
The company had to improvise after the second World War, publishing a wide variety of genres in addition to comics, including Westerns, crime, period pieces, spy narratives, and more. In 1951, Marvel was now under Atlas Comics.
By the 1960s, the launch of Fantastic Four increased Marvel's presence, and later decades would see Marvel expanding into radio, TV, feature films, and more. 
Who Owns Marvel?
In 2009, Walt Disney Company bought up Marvel, and it's still owned by Disney. What was then a $4 billion acquisition was an LLC (limited liability) as it remains today.
The purchase by Disney was admittedly a boon to the franchise, as Marvel's sales have been struggling from the '90s into the new millennium. To compensate, Marvel, unfortunately, sold off some of its characters. And while Spiderman did provide income for Marvel, the acquisition with Disney was a must at the time. 
How Much Does Universal Pay Disney for Marvel?
Universal Studios purchased rights to create a theme park under the Marvel name during a downturn for Marvel. Though Disney owns Marvel now, there's a deal between Disney and Marvel. Though Disney has owned Marvel since 2009, Universal Studios still owns the park and does so by paying checks to Marvel. 
How Many Marvel Characters are There?
Likely you already have a favorite Marvel character, but you may not be aware of just how many Marvel characters there are. It's also not uncommon for some to get popular DC and Marvel characters mixed up.
Marvel has over seven thousand characters to date, though some who count one-time villains or appearances count as much as over 50,000. So while you can't buy merchandise feasibly for every character, it is good to know some of the most prominent characters in the Marvel vs DC universe. 
Who was Marvel's First Character?
This is one many Marvel fans may not know, but if you're looking for an iconic character, the Human Torch was Marvel's first-ever character. The Human Torch was unveiled in Marvel's first comic in 1939 alongside the Masked Raider, Sub-Mariner, Ka-Zar, and Angel.
The Human Torch is the first-ever member of the Fantastic Four and inherited his powers the same way the others did: a spaceship with cosmic rays. 
Who Was the First Marvel Villain?
Marvel's first villain was Mole Man, who appeared in the first Fantastic Four comic ever published. Mole Man is now an established villain of the Fantastic Four, with goals for ruling the Earth. His backstory is that he was once a nuclear engineer and was nearly blinded when he stumbled into a cave with diamonds.
He's known as the ruler of the Subterranean as well as caverns surrounding the Monster Isle. He's undergone many schemes, from a potential reform to reverting to his villainous ways. While gifted in hand-to-hand combat, he's also known for his intelligence. 
Who is the Newest Superhero?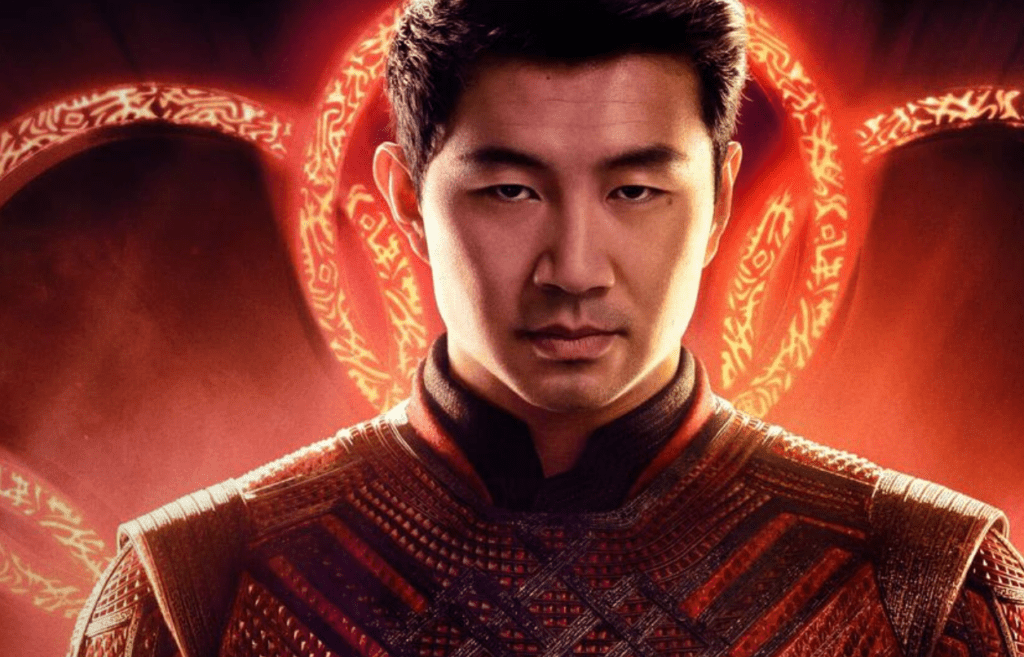 Shang-Chi is the newest superhero for Marvel, and some think the new superhero will become one of the most influential of Marvel's characters for years to come. Shang-Chi hit the scenes with the 2021 film, Shang-Chi and the Legend of the Ten Rings- even though the character had been brainstormed as far back as a decade earlier.
The film brought in $423 million at the box office, making it the second-highest film since the pandemic. It also earned mostly positive reception, with a 91 percent rating on Rotten Tomatoes.
Film aside, the character of Shang-Chi now has his own comic book stories and is exemplified as one of the most notable fighters, known for martial arts and a thirst for pursuing justice as an Avenger. 
Who is Marvel's Main Character?
It's hard to say who Marvel's most prominent character is. As you can imagine, it depends on your criteria. Is it the most popular character? Some of the oldest? The one who's drawn in the most revenue? A report by Towards Data Science studied the analytics of various Marvel characters to get to the heart of this question. 
There's little doubt the Avengers End Game team is amongst the most successful, and many credit Iron Man for much of its success. But the analysis is mostly focused here on Robert Downey Jr.'s portrayal of Iron Man – and determining the value of a character has more factors than that.
Still, if you want in-demand Marvel merch, Iron Man is a safe bet. There's also plenty of arguments to be made for Captain America as Marvel's leading character as well as Thor. Black Widow is a strong contender for a very important character as well.  
Is Wonder Woman a Marvel?
Wonder Woman is a DC character and does not appear in the Marvel universe.
Is Deadpool a Marvel or DC?
Deadpool, on the other hand, is owned by Marvel. Deadpool was introduced in 2016 as a superhero film, amassing $782.6 million at the box office. It earned praise for its humor and mixing up the typical superhero formula, with some more daring mature themes.
Deadpool is also known as Wade Wilson and "Merc with a Mouth." Along with his ability for regeneration, Deadpool is also known for his loudmouth personality. 
Does Marvel Own Hulk?
Marvel and Universal are the co-owners of Hulk. It's unlikely there will be a movie solely dedicated to the Hulk because of the complicated rights situation– but the comics are under Marvel.
The Hulk is a former scientist, Bruce Brenner, whose exposure to radiation turned him into the superhero he is known to be. Known for his enormous physical strength, the Hulk's skin resists many weapons.
Is Star Wars a Marvel?
Star Wars has an interesting history. It was introduced in Marvel comics in 1977 and also appeared as a comic strip in newspapers from 1979 to 1984. Walt Disney bought Star Wars in 2009. In 2012, Lucas Films acquired rights.
But as of 2015, Marvel once again owns rights to Star Wars. Dark Horse, meanwhile, will be the publisher for new graphic novels and comics in 2022. As such, it's hard for many fans to keep track of the rights and acquisition of Star Wars. 
Is Venom a Marvel Character?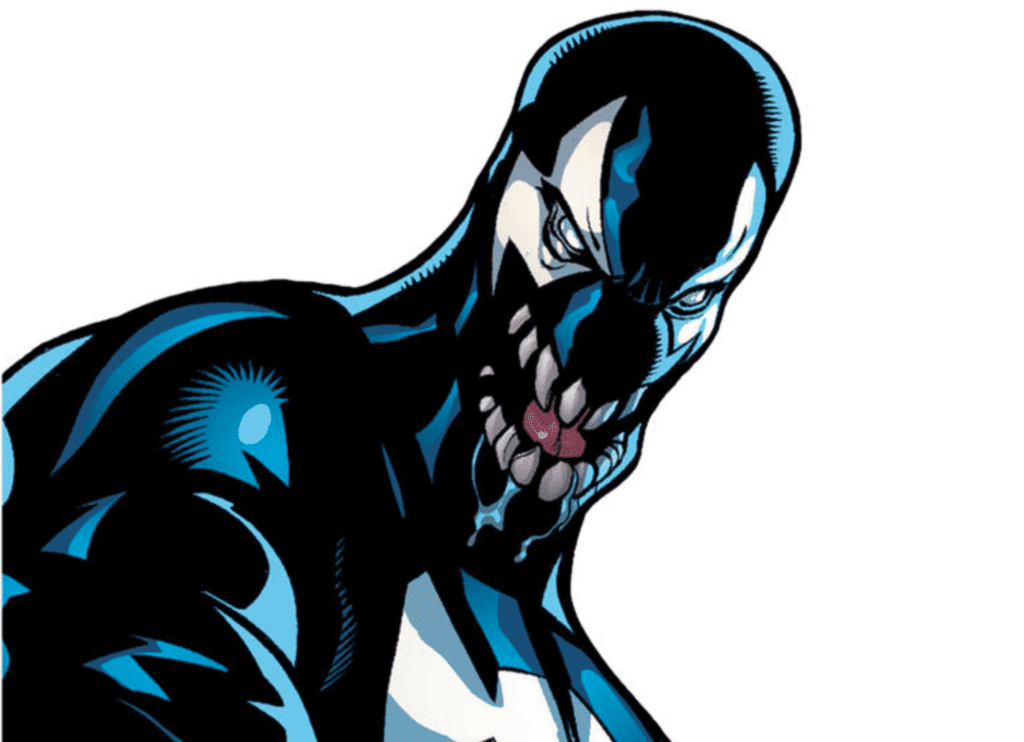 Venom is another popular Marvel character. Venom first appeared in a May 1984 version of The Amazing Spiderman and has appeared in countless comics since.
The liquid alien form overtakes other heroes with evil intent. Notable characters that have been possessed by Venom include Spiderman, Eddie Brock, Scorpion, Flash Thompson, Lee Price, Tel-Kar, Malekitch, and many others. 
Who are the Original 7 Avengers?
Of course, if Marvel is known for anything. The Avengers are among the most popular. The first Avengers included Hawkeye, Hulk, Iron Man, Captain America, Black Widow, and Thor. 
Who Was the Very First Avenger?
The first Avengers made its appearance in September 1963, with Iron Man, Thor, Ant-Man, The Wasp, and The Hulk. 
Is Wolverine an Avenger?
While Wolverine was not originally part of the Avengers, Wolverine eventually became an Integer in 2006 under New Avengers #5. At the time, many fans didn't agree with the decision, but Wolverine has become one of the most prominent symbols of a changing philosophy for Marvel character creation and features.
Using statistics and algorithms, characters began to be assessed for how well they were being received by fans. While a New Avengers was not the original plan, Marvel took the risk that paying attention to fans and consumer outcomes may be a wise strategy to boost sales for the Marvel universe.
Who Are the 28 Avengers?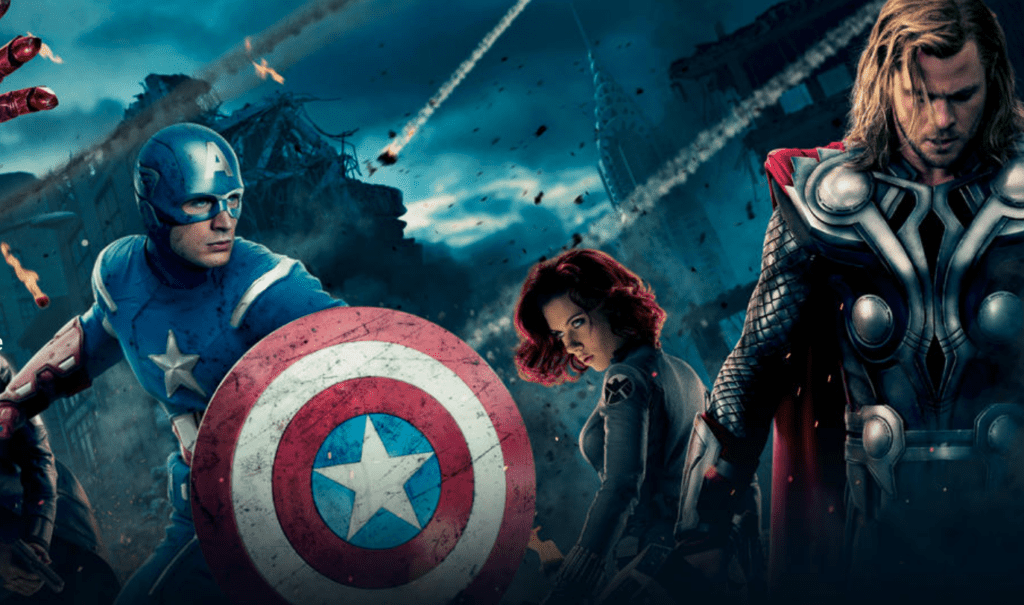 An easier way to get behind who all the Avengers are is to look at the different iterations of the Avengers Team- which has changed multiple times over the decades.
This chart is not perfect nor all-inclusive- and there have been some disagreements amongst fans as to who is or isn't truly an Avenger. Rather, this chart showcases some of the most prominent Avengers teams. 
| | |
| --- | --- |
| First  | Iron Man, Captain America, Hulk, Thor, Black Widow Hawkeye |
| Ultron  | Iron Man, Hulk. Thor, Black Widow, Hawkeye, Scarlet Witch, Vision, Quicksilver |
| New Avengers | Wolverine, Captain America, Black Widow, Scarlet Witch War Machine, Falcon, Vision |
| Civil War  | Iron Man, War Machine, Vision, Captain America, Hawkeye, Scarlet Witch, Falcon |
| After Civil War  | War Machine, Iron Man, Captain America, Black Widow, Hawkeye |
| Infinity War  | Spider-Man, Iron Man, Thor, Scarlet Witch, Falcon War Machine, Black Widow, Captain America |
| After Infinity War  | War Machine, Rocket Racoon, Nebula, Black Widow, Captain Marvel, Okoye |
| Endgame | Iron Man, Nebula, War Machine, Black Widow, Ant-Man, Hulk, Captain America, Thor, Rocket Racoon |
| Battle of Earth | Iron Man, Spider-Man, Ant-Man, Captain America, Hulk, Thor, Hawkeye, War Machine, Nebula, Rocket Racoon, Okoye, Scarlet Witch, Captain Marvel  |
| Astonishing Avengers (Not Official Members) | Mystique, Enchantress, Carnage, Sabretooth, Absorbing Man, Jack O'Lantern, Hobgoblin, Dr. Doom, Magneto |
| Dark Avengers (Not Official Members) | Iron Patriot, Bullseye, Scorpion, Daken, American Son |
| New Dark Avengers (Not Official Members) | Superia, Skaar, Ai Apaec, Toxie Doxie, Gorgon, Trickshot, Ragnarok |
| Hydra Avengers (Not Official Members) | Superior Octopus, Black Ant, Chon |
| Initiatives  | Iron Man, Abomination, Captain America, Thor, Hulk, Black Widow  |
What are the Female Avengers Called?
The A-Force was introduced as a companion to the Avengers series in 2015 and featured a female-only team of Captain Marvel, Medusa, She-Hulk, Singularity, Dazzler, Dazzler Thor, and Nico Minoru. It was canceled after just one year, but there are other female Avengers as well– and the characters themselves did not disappear.
Other female depictions of Avengers include the Black Widow, Scarlet Witch, Shuri, Gamora, Sersi, Spectrum, Valkyrie, Wasp, Sif, America Chavez, and more.
Some Marvel characters are classically depicted as female, while others have occasionally been adapted for feature films from classically male characters. Avengers teams are always changing, and there are countless Avengers characters to explore. 
Does Marvel Have an Official Merch Store?
When it comes to finding the best merch, you should know that Marvel sells official merch through their stores and verified vendors. You can find officially licensed merch through retailers such as Target, but your best bet for extensive, exclusive merch is in one of two places. 
Does Marvel Have an Online Store?
The first of those places, which I'll be exploring in this guide, is Marvel.com, the official online store for Marvel. The Marvel online store features movies, comics, subscriptions, games, and merchandise by character.
It can be a little overwhelming to navigate through at first if you've never shopped in the store, but it is an impressive selection of merchandise. 
Can You Buy Marvel Stuff at Disney World?
It should come as no surprise that you can buy some great Marvel merchandise at Disney World. Do note that you won't find any Spiderman or Hulk products, as those are co-owned by Universal. However, there will be an Avengers campus in California, and there those characters can be featured. 
At Disney World, there's a store called Super Hero Headquarters, located in between Candy Cauldron and Star Wars Galactic Outpost. This is your best place for Marvel merch, where you'll find clothing, accessories, action figures, and more in the modestly sized shop.
Other places to shop for Marvel merchandise at Disney World include the Dress Shop at Disney Springs, the LEGO store, Uptown Jewelers in Magic Kingdom, and Legends of Hollywood within Hollywood Studios. 
But you don't have to visit Disney World– the online Disney store may not be as exciting as a magical trip, but it does sell some great Marvel merchandise. 
Where Can I Get Free Marvel Comics?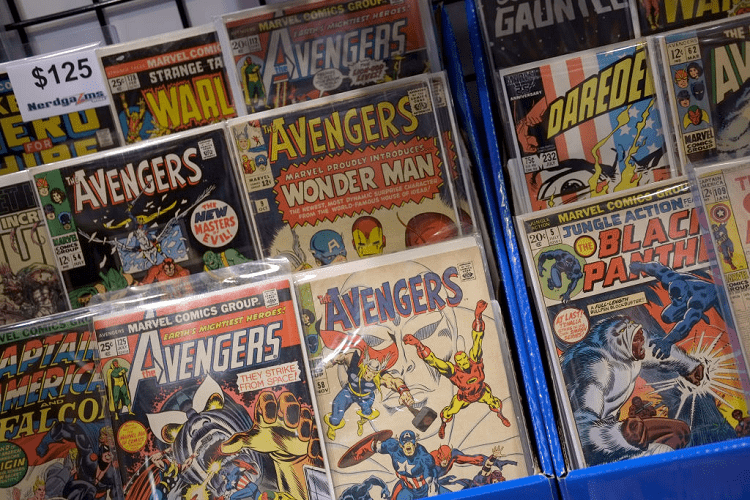 Did you know that you can get some Marvel comics, 100 percent free? You'll need to download the Marvel Unlimited app, available for both iOS and Android at Apple and Google Play stores. You should see a free comics option on the main page.
The great thing about this is you don't even have to enter payment details or sign up for a subscription. Of course, the selection of free comics doesn't provide all Marvel comics, but it's free and always adding new comics.
With Marvel Unlimited you have access to over 29,000 comics, making it the best Marvel app for comic book reading. 
Which Marvel App is Best?
There are other apps I'd also recommend for Marvel fans. In addition to Marvel Unlimited for comic books, some fun apps include Marvel: Color Your Own (color different characters, all with a variety of colors and brush tools – by no means limited by age); Marvel: Contest of Champions (fighting game for Android and iOS, both online and offline); and Marvel: Puzzle Quest (just as it sounds, this Android and iOS app provide many puzzles, but with increasingly challenges levels so you don't get bored). 
Marvel Merch: Best Buys from the Disney Store 
Now I'll show you my top picks for the best Marvel merch you can buy, my trip to Disney World required. My criteria for selecting the best Marvel merch was important in my ultimate selections.
These pieces of merch come from either the official Disney store or the official Marvel store and represent the range of merch.
From clothing to accessories to figurines and more, these Marvel merch picks are not representative of everything you can buy but are a good value for the price point and either collectible, fun, or even practical.
Perfect as gifts or just forming your collection, here are some of the many Marvel merch items that top my list– and the pros and cons of every pick. 
The Disney Marvel store often runs deals, especially around holidays, which includes sitewide deals. You'll also get free shipping for orders over $75. Shopping online with the Disney store is easy, as you can sort by clothing, accessories, fan favorites, or Avengers characters.
They are more focused on Avengers characters than some other characters, though you'll find a variety of products. Home goods, collectibles, and more are here for all ages.
It's a pretty decent collection. Products can get pricey, but there are fair prices and deals as well. I love how bright the website is, and how much there is to find. Shop All Official Marvel Merch Here. 
Marvel's Spidey And His Amazing Friends High-Top Sneakers for Kids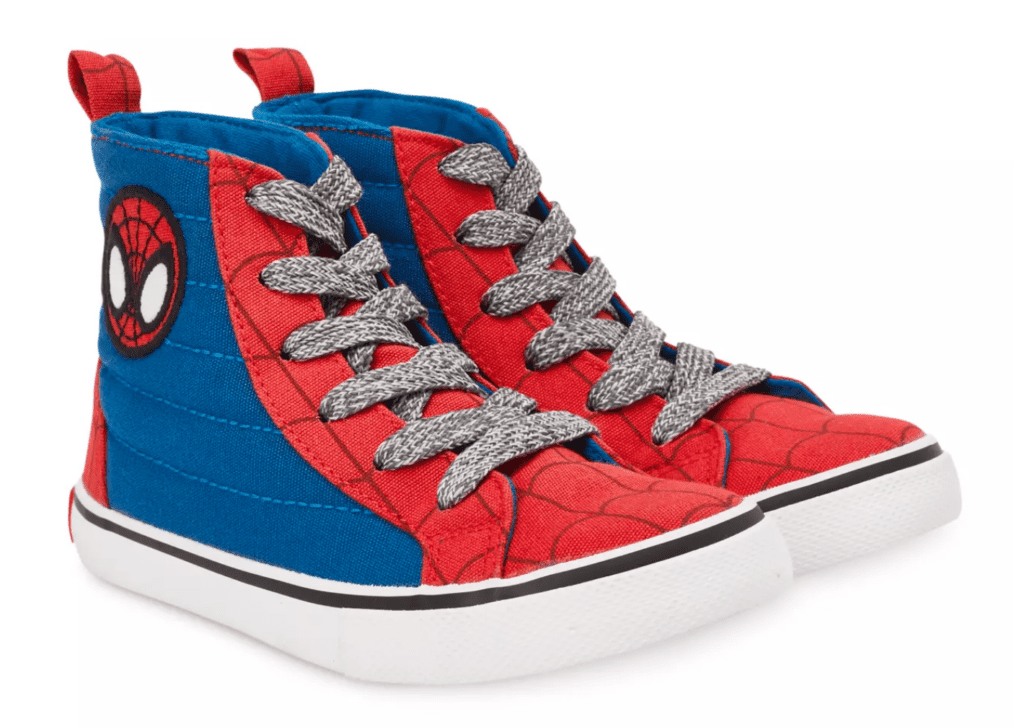 These charming high-top sneakers are among the most popular Marvel merchandise under the accessories category. The bright web pattern and red and blue hues feature a lace-up closure, gray and white laces, and a Marvel logo on the heel.
A heel tab makes slipping these shoes on and off a breeze, while the rubber non-slip soles make them practical for everyday wear. Available in Sizes 6 to 12, though larger sizes sometimes sell out. Buy Here. 
Pros
Heel Tabs For Easy Wear

Non-Slip Soles

Bright Colors
Cons
Only for Kids

Limited Sizes 
The Story of Marvel Studios: The Making of the Marvel Cinematic Universe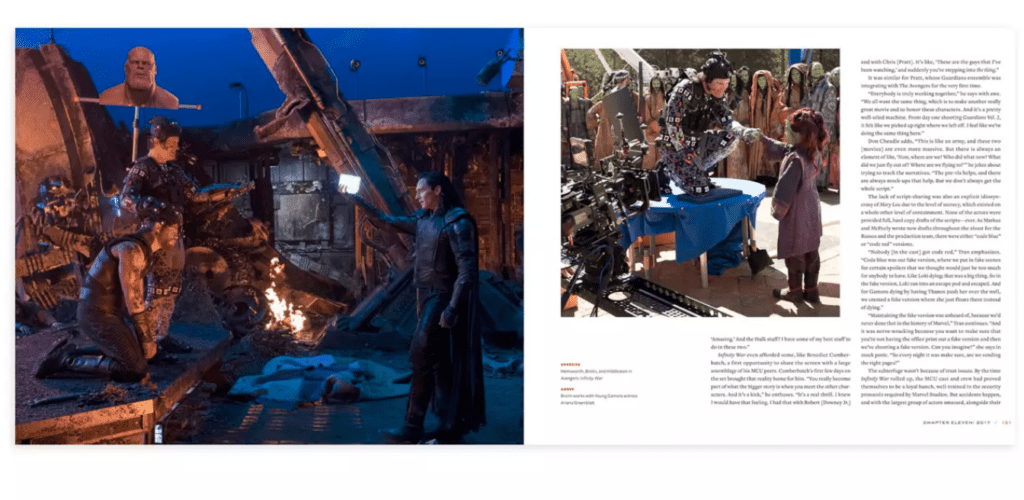 This beautiful 512-page book is the first "all-access" history of Marvel, with insights from producers, directors, writers, artists, VFX artists, and more. The book follows Marvel's evolution by different eras and projects, filled with stories, interviews, discussions about milestones, and company obstacles.
The Focus is on Marvel's feature films, tracing from 2008 to Spider-Man: Far From Home. There's archival footage, behind-the-scenes photos, and a total of over 500 pictures in total. Buy Here.  
Pros
500+ Photos 

Limited Time Purchases Go Towards the

First Book nonprofit organization

, which donates books and educational materials to kids 

Behind the Scenes and Interviews 

Reinforced Slipcase
Cons
Heavy/ Bulky Book

Expensive
Avengers Emblem Socks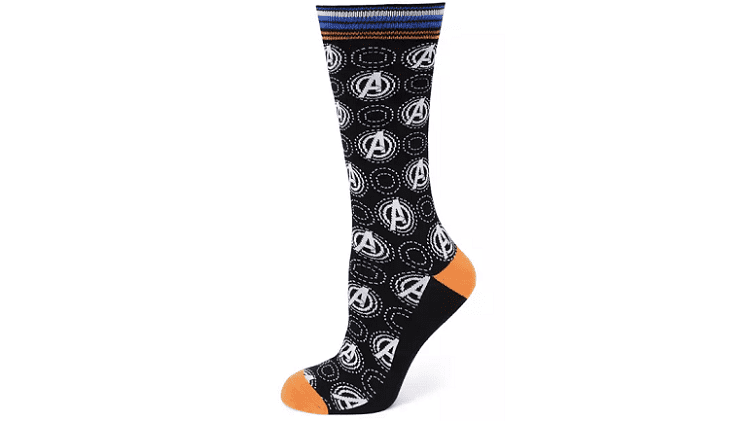 Want to show off your love for Avengers, but don't have use for a t-shirt? These socks are great for lounging around or playing a game of soccer.
A blend of cotton, rayon, and acrylic features a classic crew style. The contrast toe and heel is striking paired with the Avengers A pattern and array of emblems and circles, with stripes at the top. One size fits most. Buy Here. 
Pros
Comfrey Cotton, Rayon, and Acrylic Blend

Classic Crew Style

Unique Avengers Design
Cons
One Size May Not Work For All

New- No Reviews Yet 
Avengers Deluxe Figure Play Set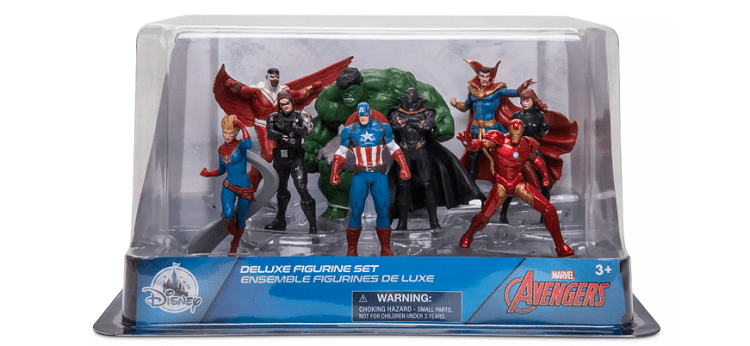 For kids and collectors, this deluxe figure set is affordable and features nine of the most popular Marvel characters.
Characters featured include Hulk, Captain America, Iron Man, Black Panther, Black Widow, Dr. Strange, Winter Soldier, Captain Marvel, and The Falcon. It's a simple starter set if you don't have any Marvel merch yet. Buy Here. 
Pros
Iconic Avengers

Great Price

Perfect for Families
Cons
Plastic

Not as High Quality as Collectibles
Marvel Symbols Bedding Set – Twin/Full/Queen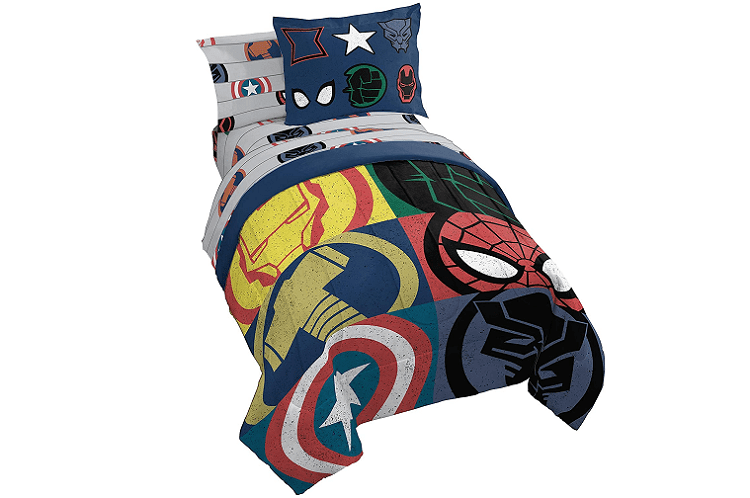 This bedding is truly iconic, with a unique design and a fair price. Every set comes with a comforter, fitted sheet, flat sheet, sham, and pillowcase. The comforter is reversible, with bright Marvel characters and symbols on one side, but a solid blue on the other – making it much more versatile.
Sheets are made with a Marvel character print, as are the shams. Pillowcases are blue with character icons. You'll see favorite Marvel characters, including Black Panther, Iron Man, Spider-Man, Captain America, Hulk, Thor, and others. The main material is soft polyester, making it breathable and easy to care for. Buy Here. 
Pros
Reversible Polyester

Twin, Full, and Queen Sizes

Vibrant Design with Marvel Characters
Cons
Print is Rather "Loud"

No Reviews 
Marvel 80th Anniversary Pillowcase
Bedding too much for you? Get comfy with this Marvel 80th anniversary pillowcase– which would become a collector's product in the future. The polyester pillow is reversible. On one side is Marvel Comics and the Spiderman logos in screen art.
The other side features Iron Man, Captain America, Hulk, and other Marvel characters in a comic strip pattern. Each purchase comes with one pillowcase. Buy Here. 
Pros
Could Become Collectible

Reversible 

Easy Care Polyester
Cons
Doesn't Come with Pillow

Not as Vibrant of Colors 
Retro Marvel Heroes Outline Pattern Table Lamp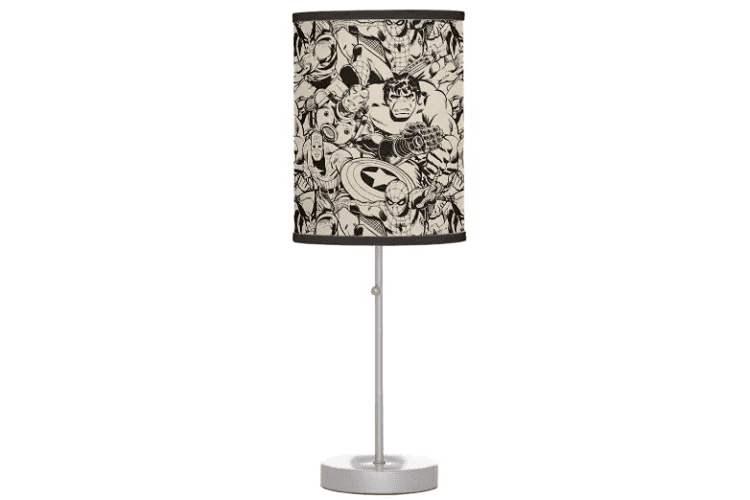 This table lamp is sure to add a custom touch to any room. Available in your choice of polyester, rice paper, or linen shade, the vintage Marvel print is a great statement.
Unique with versatile colors, this would look at home in a bedroom or home office, all made with fade-resistant ink. The lamp weighs 2 pounds and accommodates 120 volts with a 6-foot power cord and a 2 prong plug and pull chain. Buy Here. 
Pros
Practical Use 

Fade Resistant Print

Comes with 6 Foot Power Cord
Cons
Light Bulb Not Included 

Must be Gentle with Pull Chain
Captain America Silk Tie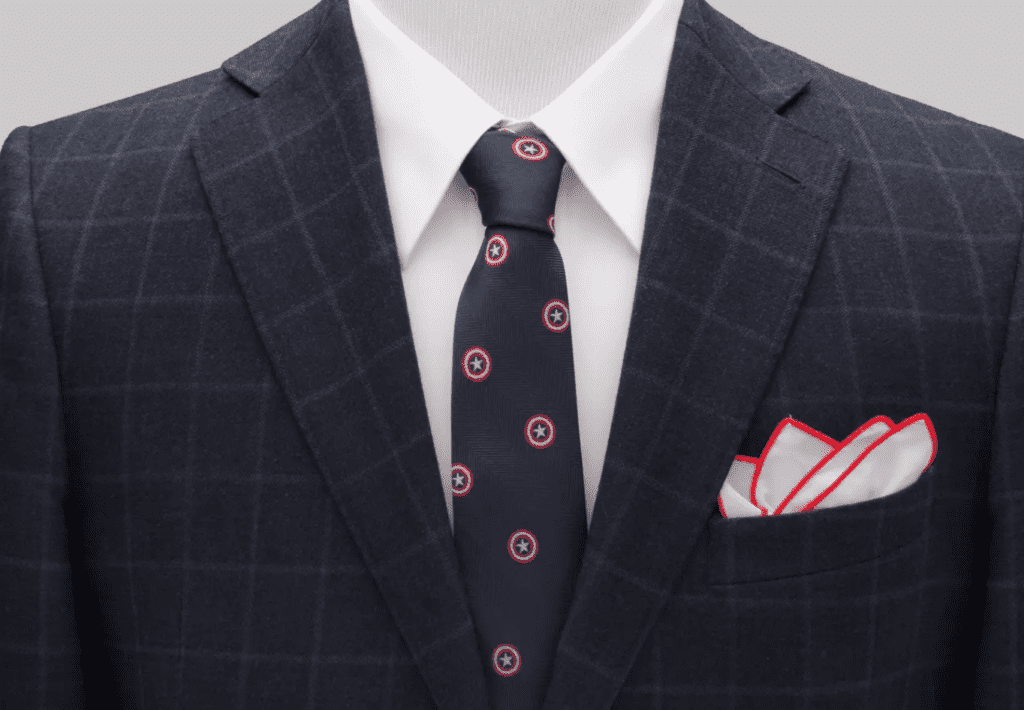 Who knew you could celebrate your love for the Avengers and dress up? This print silk tie allows you to do just that. Measuring 59 inches long and 3 inches wide, the tie is made out of 100 percent silk Herringbone wave fabric.
The embroidered Captain America shield design is distinct but still formal, all with a keeper loop and shipped with a presentation box.
Other tie options include the Spider-Man Tie, Iron Man Tie, and Black Widow Tie. It makes for a great gift for someone who already has collectibles and decor. Buy other designs at the links above or Buy the Captain America Tie Here.  
Pros
100 Percent Silk

Presentation Box

Marvel Logo on Label
Cons
Only Available in One Size 

Limited Use for Outfits 
Iron Man Pewter Mini Figurine by Royal Selangor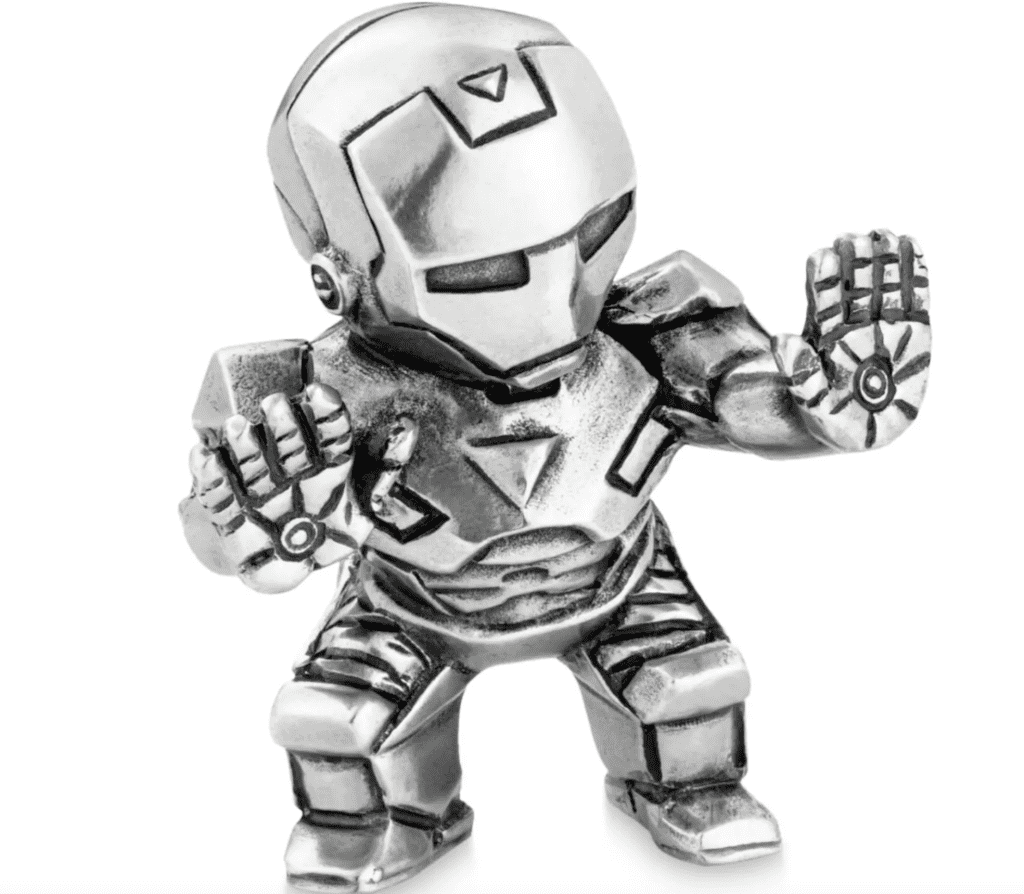 The Disney store has several pewter figurines to choose from, but the mini ones are about half the price- or less– than full size and a great option if you want a small bit of desk or room decor.
In addition to Iron Man, other mini pewter figurines include Captain America, Spider-Man, Hulk, Black Panther, Thor, Baby Groot, and Wolverine.
Each mini figurine is free-standing, made out of pewter, and two inches tall. It also includes official Marvel merchandise packaging and makes for a nice small collectible. Buy at the links above or Buy Iron Many Mini Figurines Here. 
Pros
Pleasing Pewter Design

More Affordable Collectible

Several Characters Available
Cons
Fairly Small

California P65 Warning (see listing for details) 
Spider-Man: No Way Home Color-Changing Water Bottle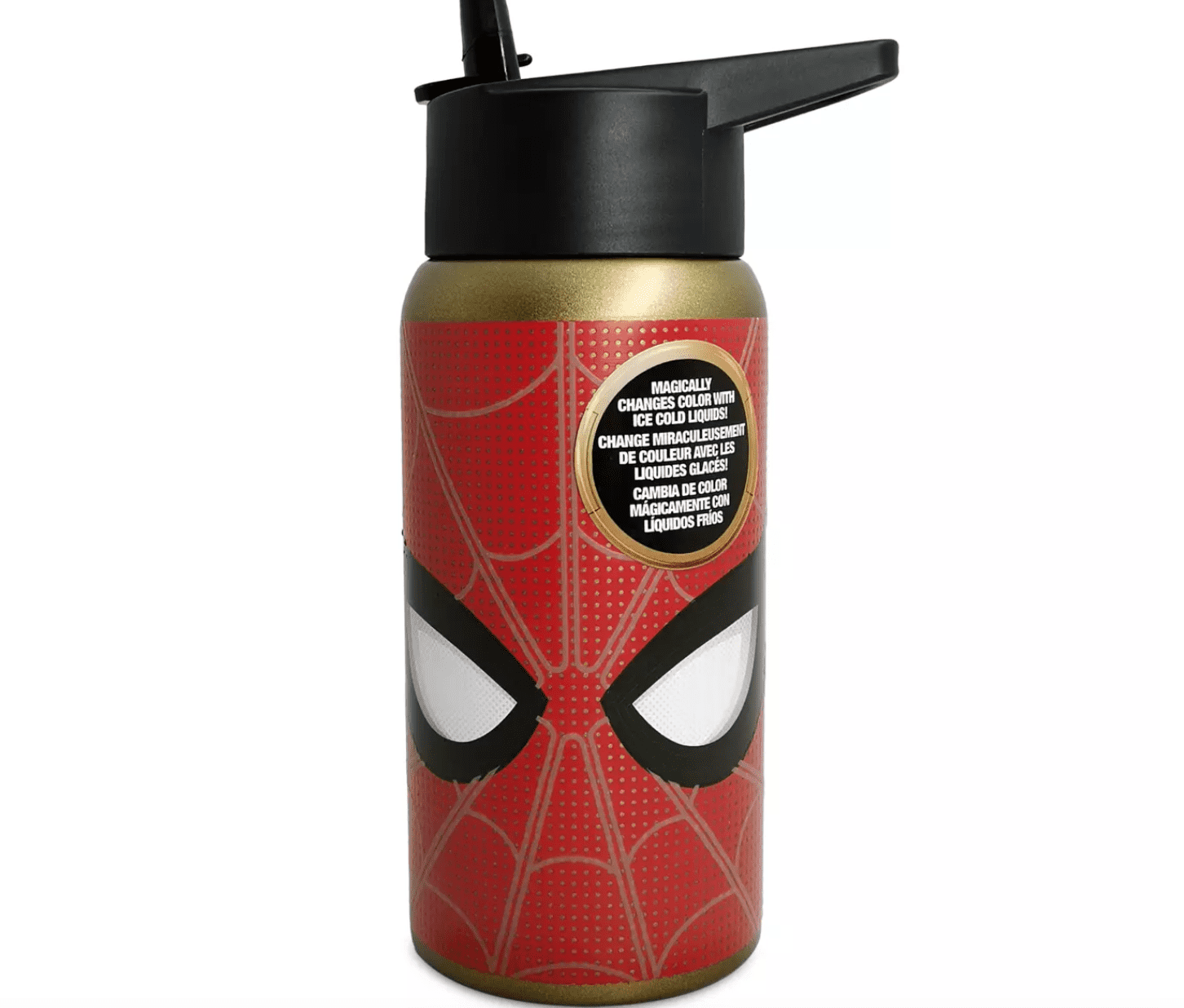 It may seem strange at first glance to include a water bottle as one of my top picks. But this isn't just any water bottle, and it's quite useful as a piece of merch when someone already has a lot of Marvel merch.
As one of the most popular pieces of Marvel merch right now, this color-changing stainless steel water bottle can be taken on the go.
The red background turns from red to black and the web detailing turns cold when cold water is added. The bottle comes with a flip-up spout and a loop for easy carrying. The water bottle can hold up to 19 ounces of fluid. Buy Here. 
Pros
Durable Stainless Steel 

Unique Color Changing Technology

Flip Spout and Carrying Loop 
Cons
Single Wall- Less Insulation

Can't Use in Microwave or Dishwasher
Customizable X-Men Group and Logo Throw Pillow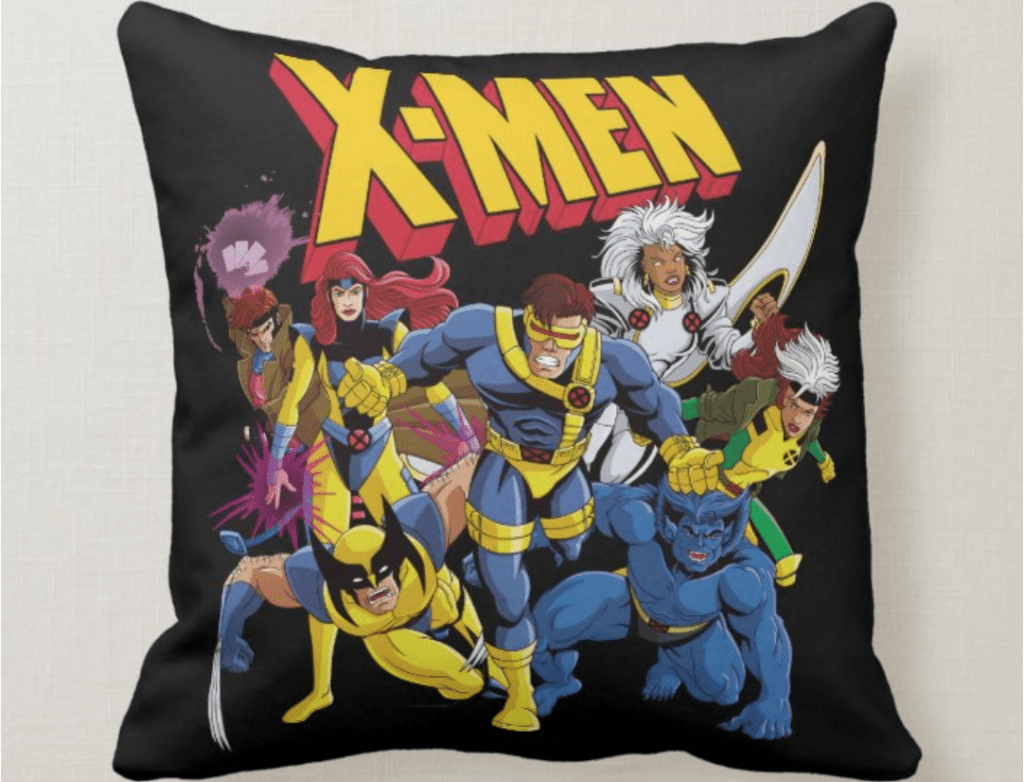 That's right: another pillow made my list for the best Marvel merch, but it's easy to see why. This pillow can be made to order– in coordination with Zazzle–you can even change colors, the background, add text, and other detailing.
The polyester pillow measures 16 by 16 inches, with great fabric stretch and wrinkle resistance. Aside from the customization options and bold X Men design, it's also made in the United States and machine washable for easy care. Your pillow includes a hidden zipper. Buy Here. 
Pros
Wrinkle Free and Machine Friendly

Customizable

Made in the USA
Cons
Fulfillment with Third Party

Customization Can Add Costs
Ikaris Reversible Jacket for Adults – Eternals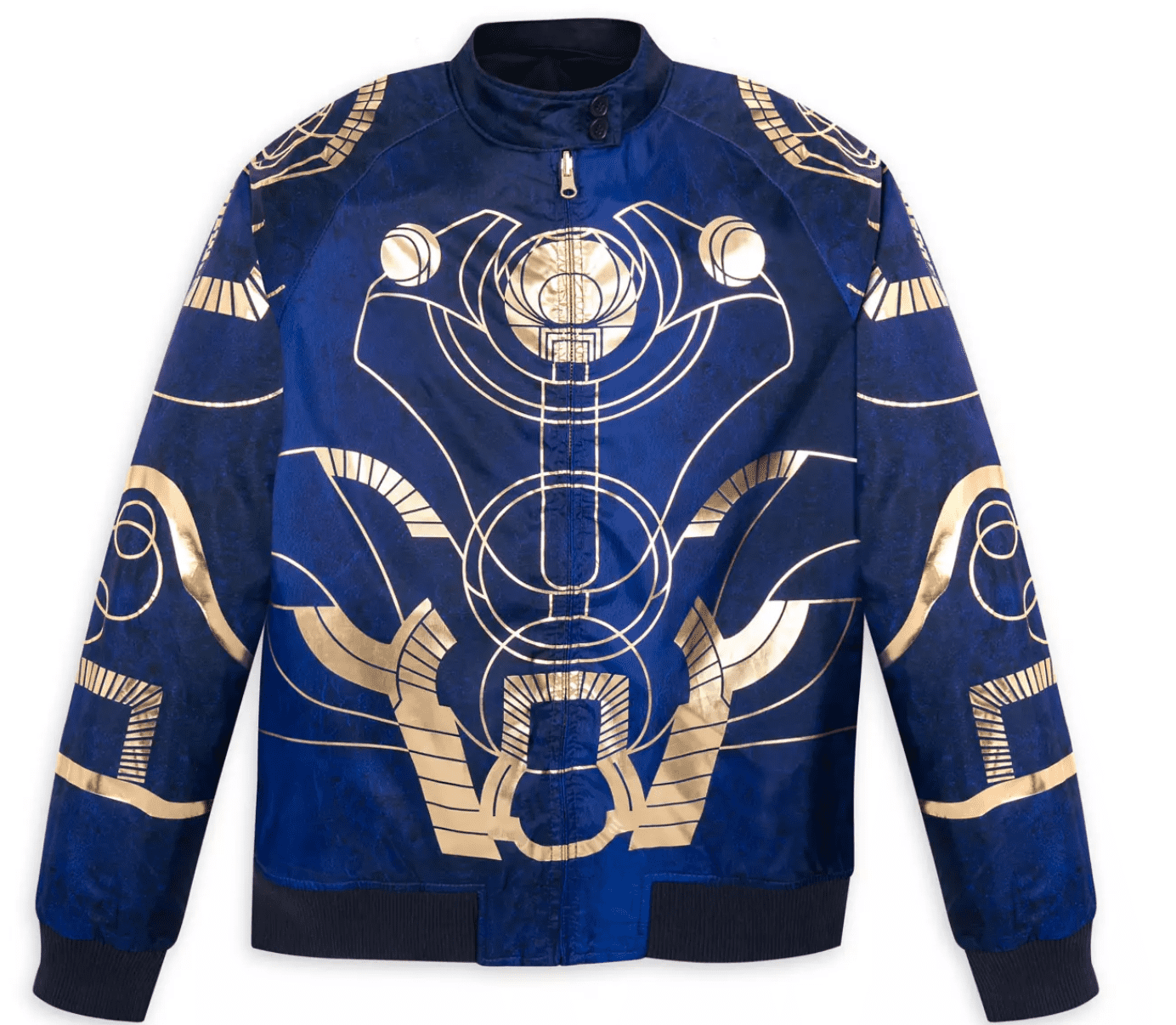 This jacket is striking and dramatic. The twill jacket is embroidered with gold Eternals logos and Ikaris patterns. The high neckline features a two-button closure, with front pockets.
Ribbed cuffs provide finishing details, along with a Marvel logo tag inside. The outside material is mostly cotton, but the lining is polyester to keep you comfortable. It's also reversible, a nice bonus for a well-loved design. Buy Here. 
Pros
Reversible

Striking Gold and Blue Design

Pocket Space
Cons
May Not Be Machine Washable

Unisex Sizing for Adults Only 
Black Widow Reversible Jacket for Girls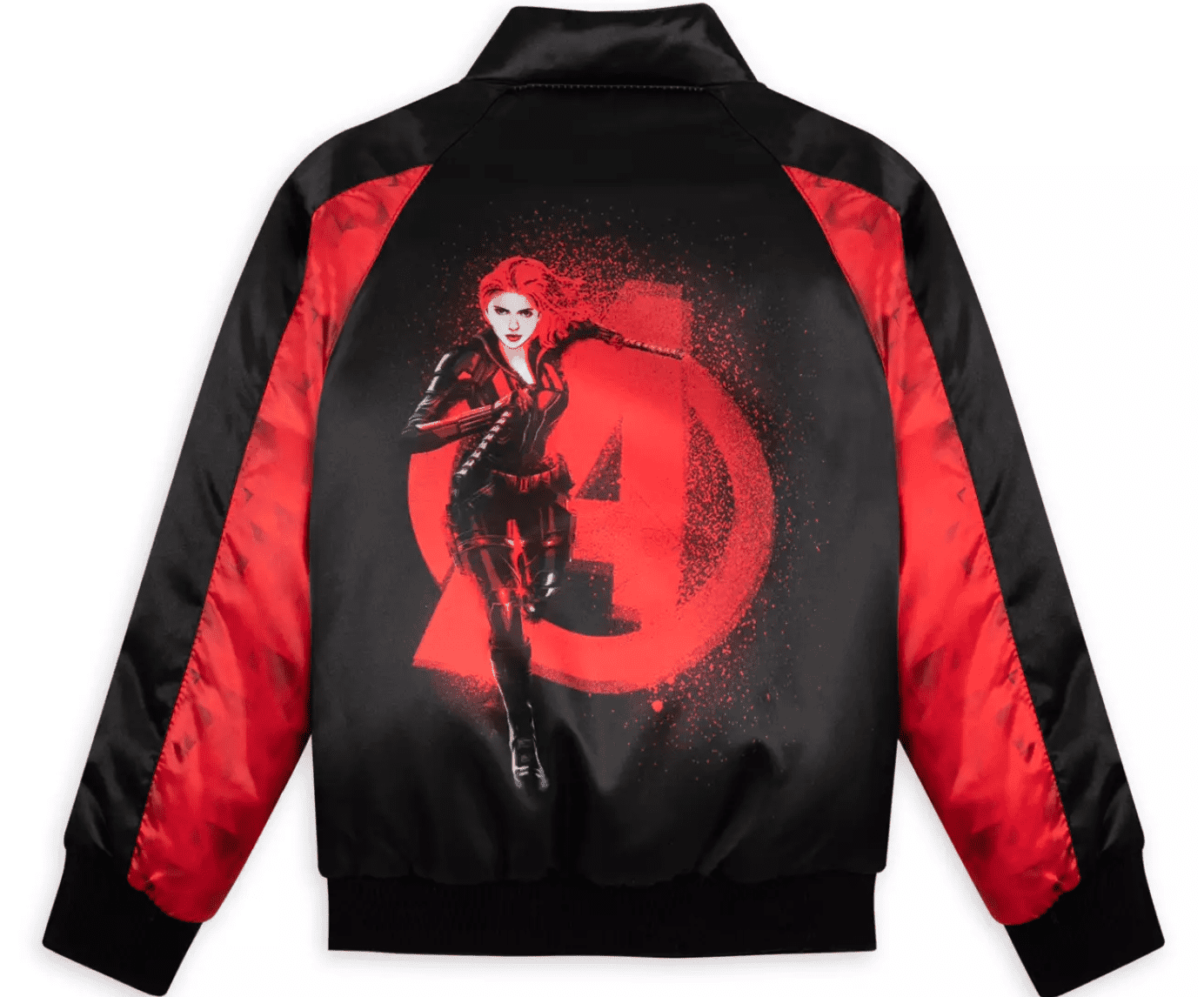 Of course, if I have a great jacket option for adults, I want to include options for kids as well. This Black Widow jacket is easily one of the best pieces of Marvel merch right now.
The iconic symbol of the Black Widow is featured with a reversible design. The red and black side is immediately eye-catching, while the white side features contrast with graystone details.
The jacket is finished with a cadet collar, pockets in the front, and ribbed cuffs. The polyester fabric is lightweight and provides a bit of stretch for comfort. Buy Here. 
Pros
Reversible

Bold Red/ Black or Subtle Gray/ White Design

Cadet Collar and Front Pocket
Cons
Only in Girl's Sizing

Some Sizes Sell Out 
BB-8 Pullover Hoodie for Kids – Star Wars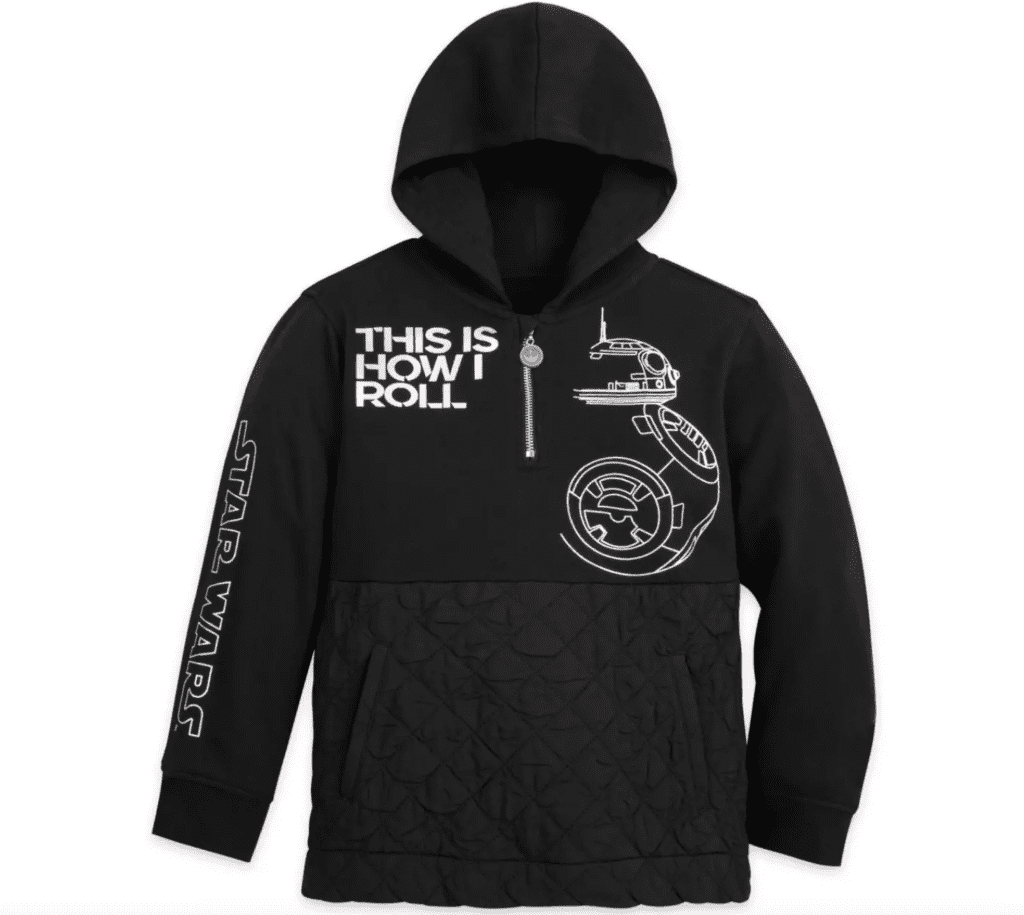 This new hoodie adds a modern touch to classic Star Wars logos, but it isn't just an ordinary sweatshirt. The pullover hoodie features a one-quarter zip to keep cozy or cool, with ribbed cuffs at the sleeves and a quilted midsection.
The hood is lined for cold days and the metallic ink design makes it both in theme and fashion-forward. It's a soft blend of 80 percent cotton and 20 percent polyester. Buy Here. 
Pros
Lined Hood

Ribbed Cuffs and Quilted Midsection

New and Vibrant Design
Cons
Limited Sizing

No Reviews Yet 
Captain Marvel Loungefly Backpack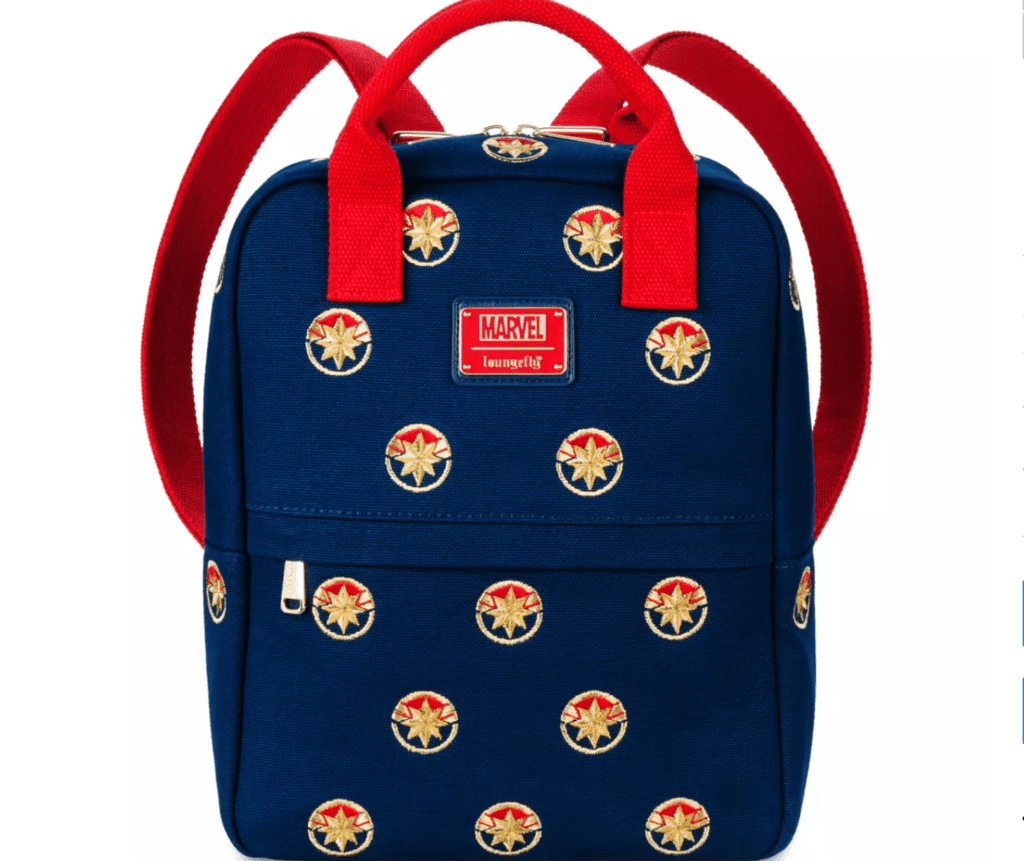 This backpack works for a school or even a day trip. The Captain Marvel logo is immediately obvious, with a generously spaced design. Contrasting blue and red makes this easy to spot for a while away. The main compartment includes a double zipper.
Adjustable shoulders and a top handle make it easy to transport. The interior includes Captain Marvel-themed designs with the Goose, which complements the Loungefly and Marvel logo plate on the exterior. This polyester backpack measures 19 by 12 by 5 inches. Buy Here. 
Pros
All Over Captain Marvel Details

Adjustable Straps and Top Handle

Logo Plate
Cons
Limited Storage Space

Fulfilled with a Third Party 
Marvel Villainous: Infinite Power Game
This game is great for parties and families who love Marvel. With a twist on your typical Marvel game, here you get to play as a villain: Hela, Thanos, Ultron, Taskmaster, or Killmonger. It stays true to storylines but leaves plenty of room for strategic gameplay and twists.
The game comes with five character tokens, five decks of Villain cards, six decks of Fate cards, five Reference cards, five Villain guides, 15 Strength tokens, 40 Power tokens, 15 Soul tokens, a nice design, and playing instructions. Each game takes around 40 to 80 minutes to complete, and you'll need two to four players. Buy Here.  
Pros
Unique Strategic Gameplay

Marvel Villains Featured

Generous Number of Cards
Cons
Requires 2-4 to Play

Limited Characters to Choose From
Loki – Variant L1130 Trifold Wallet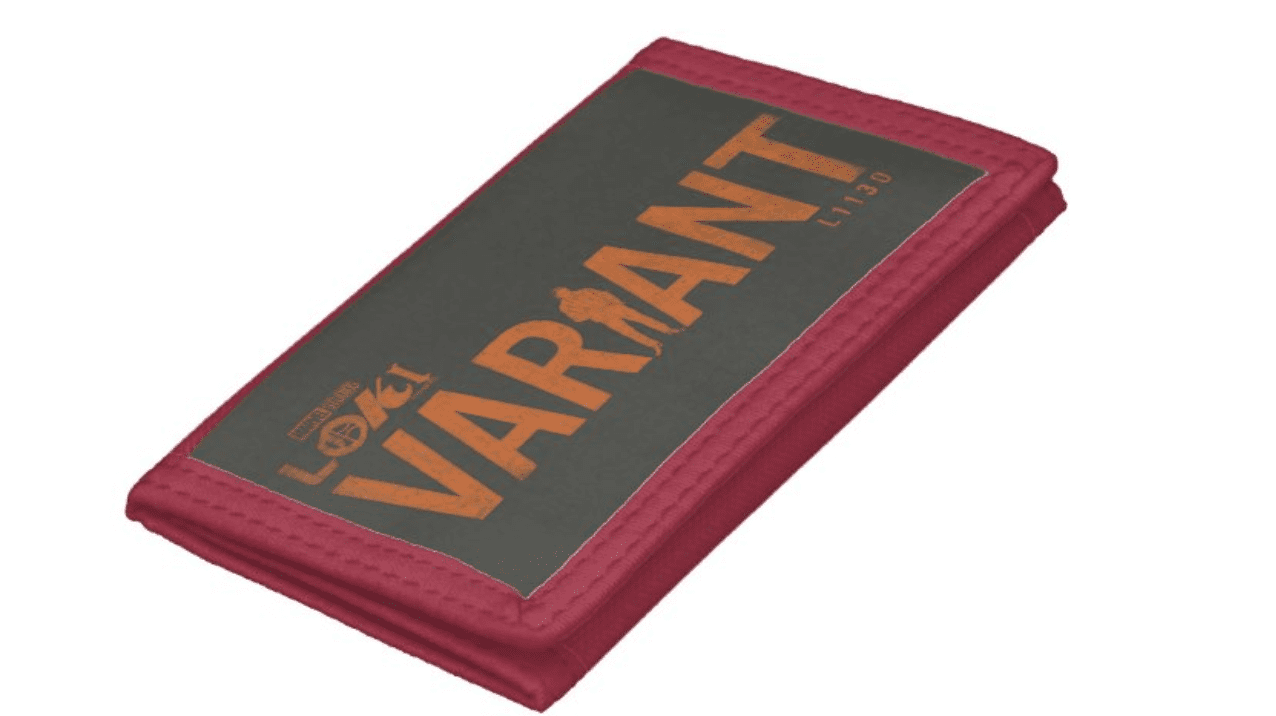 This trifold wallet is perfect for the Loki fan who wants practical merch. The 100 percent nylon wallet can be customized with the main background color, text, photos, and more.
The regular length pocket is equipped to hold two credit cards, plus an ID pocket. The nylon should be weather resistant, and the base price is quite reasonable. Buy Here. 
Pros
Durable Nylon

Loki Symbol

Fully Customizable
Cons
Limited Storage Space

Customization Can Add Costs 
Frequently Asked Questions
Question: Who is Richer: Marvel or DC?
Answer: Although both Marvel and DC are well-loved, there is a difference between their revenue– one which has gone up and down over time. Currently, Marvel is well outpacing DC's revenue, but it's not so much about the characters as much as the push for feature films.
Marvel now has just shy of 50 movies, and a collective gross of around $11.8 billion from their movies alone. DC, on the other hand, has just under 30 movies, with a total gross of around $6.7 billion for those movies.
If DC were to amp up their filmmaking, who's to say what could happen? But for now, Marvel is on a winning streak and the clear winner in terms of revenue. 
Question: Will Disney Ever Buy DC?
Answer: It's unknown at this time whether or not Disney would buy DC. However, there is some speculation that such Disney could move to buy DC eventually, just as they eventually bought up Marvel.
By having both DC and Marvel under its control, Disney could be an even greater force than it is now. As of May 2021, it was reported that Disney is looking to buy DC comics, but we have yet to see what will happen. 
Question: Why is it Called Marvel?
Answer: Marvel used to be under the Timely Comics name, but there was always a Marvel comics division. The Marvel brand name was eventually featured as the comics gained prominence, and it's known as such today. 
Question: Are There Marvel Stores?
Answer: Marvel does have a few official stores. At Disney World, there's the Marvel Super Hero Headquarters, and also merchandise spread across stores.
You can find other merch at Walt Disney World in locations such as Epcot, Magic Kingdom, Hollywood Studios, and Disney Springs. You can also find merchandise at Marvel Super Hero Island at Universal Studios. 
Question: Is There an Avengers Campus in Florida?
Answer: Unfortunately for fans living near Florida, there's no Avengers campus currently, or planned. In September 2021 it was announced that there would be an Avengers Campus in California's Disneyland, but not Florida's Disney World.
The reason: the Universal Studios theme park in Orlando. At the Universal Studios park, there's Marvel Super Hero Island, which not only features many Marvel attractions but opened in 1999. The reason why this is important is that Disney only retained rights to Marvel in the 2000s.
Because of this, there are complicated restrictions as to where and what Marvel characters can be featured at Disney-owned parks.
Without getting into the complications of the agreement, it's unlikely that an Avengers Campus will be built in Florida. Thus your best bet for Avengers is either Universal, or the campus coming to Disneyland. 
Final Thoughts
There's no shortage of Marvel merchandise, whether you're shopping from the Marvel online store, the Disney Store, or even a theme park.
The Marvel universe is expansive and it only makes sense that the array of merch you can buy is too. Of course, there are other places you can snag Marvel merch, which is where my final buying recommendation comes in. 
Final Buying Recommendation: Target Marvel Collection
Target may not be your first pick for where to buy Marvel merch, but they have a decent collection. The Target Marvel collection is part of their Character Shop, available online (items can often be shipped to stores and some are carried in stores). 
The Marvel Collection consists of an astonishing number of over 7600 items. You'll find clothing and accessories, Marvel home decor, Marvel toys, Marvel music and movies, video games, books, and collectibles. There's even the Marvel Target Exclusive Collection. This collection has 40 items, including figures, novelty plush pillows, collectibles, and even vinyl. Shop All Target Marvel Products Here. 
Find more marvel related merch by reading these guides below:
Spiderman Merch Guide for 2022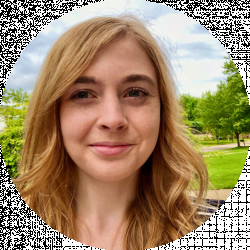 Latest posts by Erin Jamieson
(see all)