I was three years old when the first Toy Story came out, and I never would have guessed how this franchise has only built upon its charm and success. Today I'll guide you to only the best Toy Story merch so you can show your love for one of the most remarkable Disney franchises of all time.
In this guide, I'll explain how I selected the best products. From t-shirts for adults to action figures for kids, this guide will provide ideas for the fan in your life.
Bottom Line Up Front Summary
If I had to select just one piece of Toy Story merch, it would be the Trends International Wall Poster from Target. This wall poster features brilliant colors, high-quality printing, and is easy to hang. It will please young Toy Story fans and collectors alike.
My Top Picks
Where to Find Toy Story Merch
As one of the most beloved franchises of all time, it should come as no surprise that there is plenty of Toy Story merchandise you can buy, both in stores and online. It's not difficult to find t-shirts for ages toddler to adult or catch great sales on Toy Story merchandise. Mattel is the main company that makes Toy Story toys. Below is a list of the main places you can find Toy Story merchandise:
Walmart
Target
Hot Topic
Official Disney Store
Amazon
Kohl's, JC Penney and Macy's
You can also find fan-based, unique Toy Story merchandise from Etsy and Tee Public.
Toy Story Merch from the Disney Store

Whether you're visiting in person or shopping online, the official Disney Store delivers with its official Toy Story merch. Collectible action figures, talking toys, mugs, accessories, and wall decor all carry the fun of the beloved franchise. I love how the Disney Store also carries some unexpected Toy Story products, from a pizza maker to a lamp and home decor. Better yet, there's Toy Story t-shirt, hoodies, and other apparel for everyone from toddlers to adults. This collection really does offer something for every fan. Shop All Toy Story Merch at the Disney Store Here.
Toy Story Merch at Target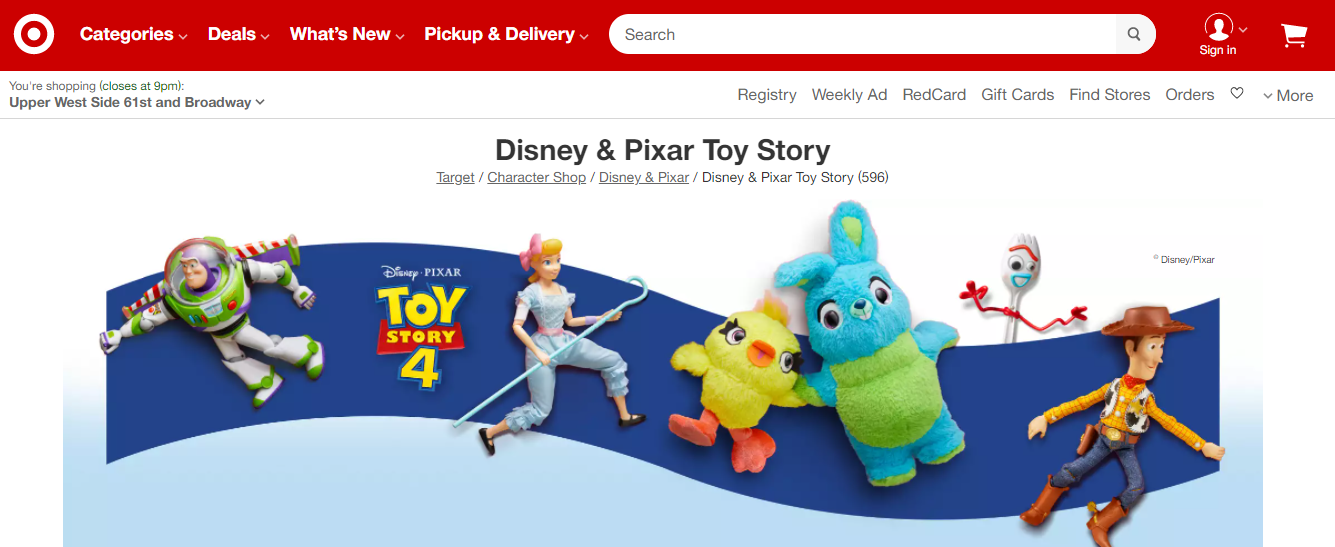 That's right: you can snatch up some of the best Toy Story merch from your Target store. While not all products will be carried in stores, you have to option of shipping to your home or a local store. With multiple ways to shop, Target's collection of Toy Story merch is the most convenient. However, there are other reasons why this collection makes my list. To Story figurine sets, lunch bags and water bottles, socks, costumes, blankets, and plush toys are just a few of the products sold. You'll find Toy Story merch for toddlers and kids for the most part. I really like their selection of pictures and storybooks, which can help young gans become more deeply immersed in the story. Shop All Toy Story Merch at Target Here.
Toy Story Merch at Hot Topic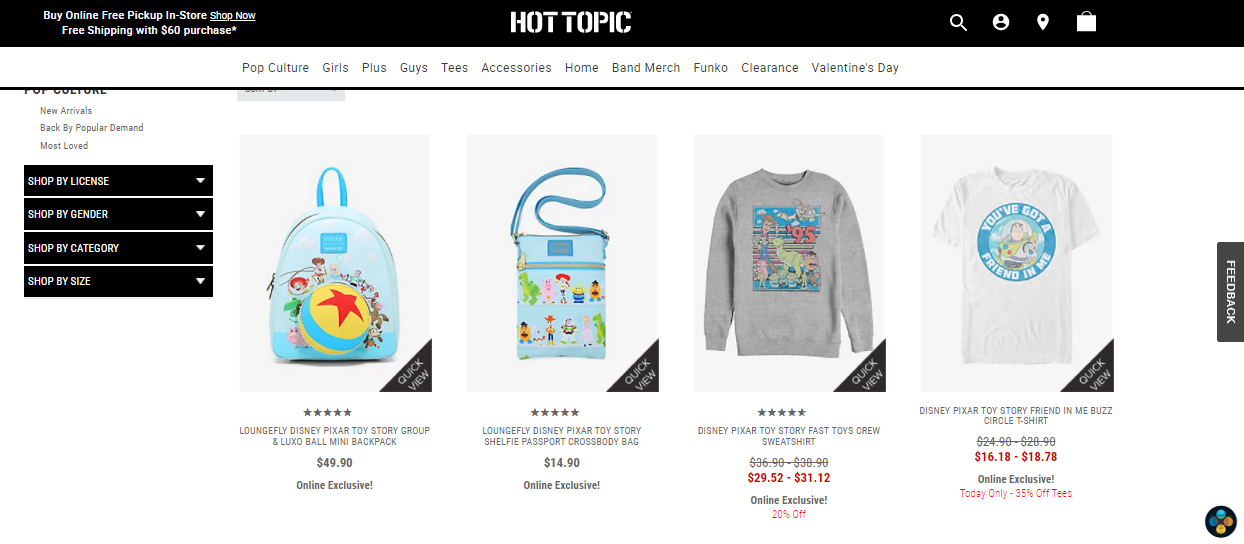 Something that I've noticed about most Toy Story merch is that it's made mostly for young kids, with a few pieces for young adults. But Hot Topic fills that gap with Toy Story merch not only for adults but also teens and preteens. This collection of official, licensed merch is playful, with comfy graphic t's and hoodies. Colorful socks and a crossbody bag are also included. You can buy festive Toy Story merch for a different season, but also apparel for working out or enjoying your favorite Toy Story movies at home. I like that this collection of merch takes classic symbols of the Toy Story franchise but modernizes them. Shop All Toy Story Merch from Hot Topic Here.
Toy Story Merch: My Picks
Selection Criteria
All of my choices are sold through reputable outlets and represent Toy Story with authenticity. Product quality is as consistent as possible, and descriptions are transparent and detailed. While I'm showing products at a range of prices, I only selected merch that was fairly priced. Finally, my picks are highly rated by fellow customers and mostly can be returned or refunded if you're not.
Best Toys and Figurines
Woody Plush – Toy Story 4 – Medium – 18"
There are other Toy Story plush toys, including Buzz Lightyear Plush and Jessie Plush. While there's nothing wrong with those options, this Woody plush is highly-rated and has one of the best prices. The plush is soft and suited for younger kids, but there are great details too. The face is sculpted with charisma. The faux suede cowboy hat, vest, and boots are convincing. I also like the thoughtfully-constructed denim jeans and printed bandana. In honor of Toy Story 4, "Bonnie" is printed on the bottom of one boot. Buy Here.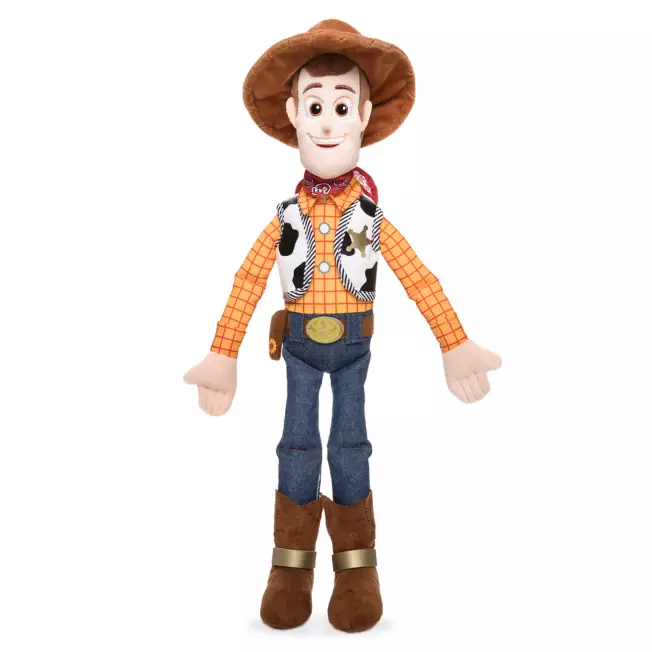 Pros
Sculpted Details
Easy Care
High Reviews
Cons
Made with Inexpensive materials
Imported
Rex Interactive Talking Action Figure – Toy Story – 12"
Rex may not be the titular character from Toy Story, but he's a lovable one. Of the talking action figures Disney sells (including Woody, Buzz Lightyear, Jessie, Bullseye, Zurg, and even a Toy Story Alien) Rex is your best option. This highly-rated talking action figure comes with 11 phrases from the Toy Story films. The action figure is interactive and senses motion. It will also interact with other Toy Story interactive action figures. Rex's jaw, neck, shoulders, and tail move. There's an option to switch the talking features on and off at your convenience. Buy Here.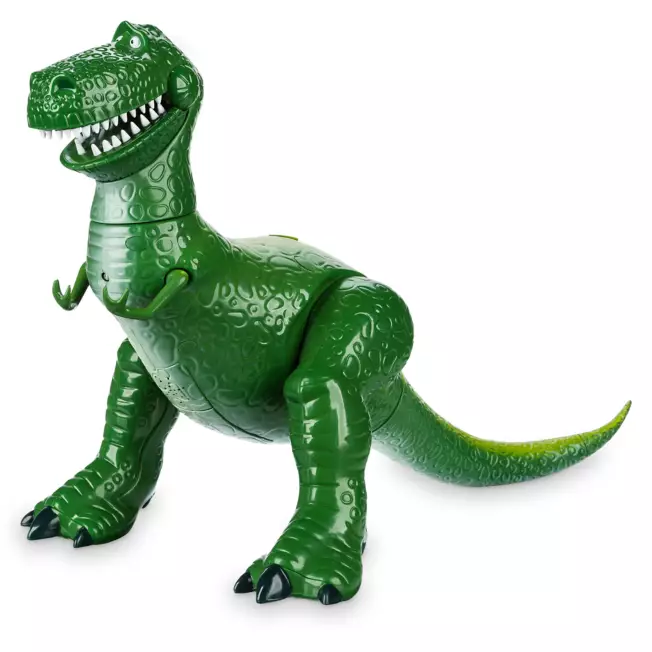 Pros
11 Unique Phrases
Interactive Sensor
Moving Jaw, Tail, and Shoulders
Cons
Phrases Get Repetitive
Most Interesting With Other Talking Figures
Disney Pixar Toy Story RV Friends 6pk Figures
The Toys of the Year Awards are hosted by the Toys Association. These awards honor the very best toys while donating to charity. It just so happens that this Toy Story action figure collection was an award winner, and continues to impress. The 6 piece set includes Woody, Rex, Slinky, Buzz Lightyear, Jessie, and Forky. The colors are bright, the details are spot-on, and every figure is poseable. These figures are intended for ages 3 and up, but are delightful for affordable collecting, too. Buy Here.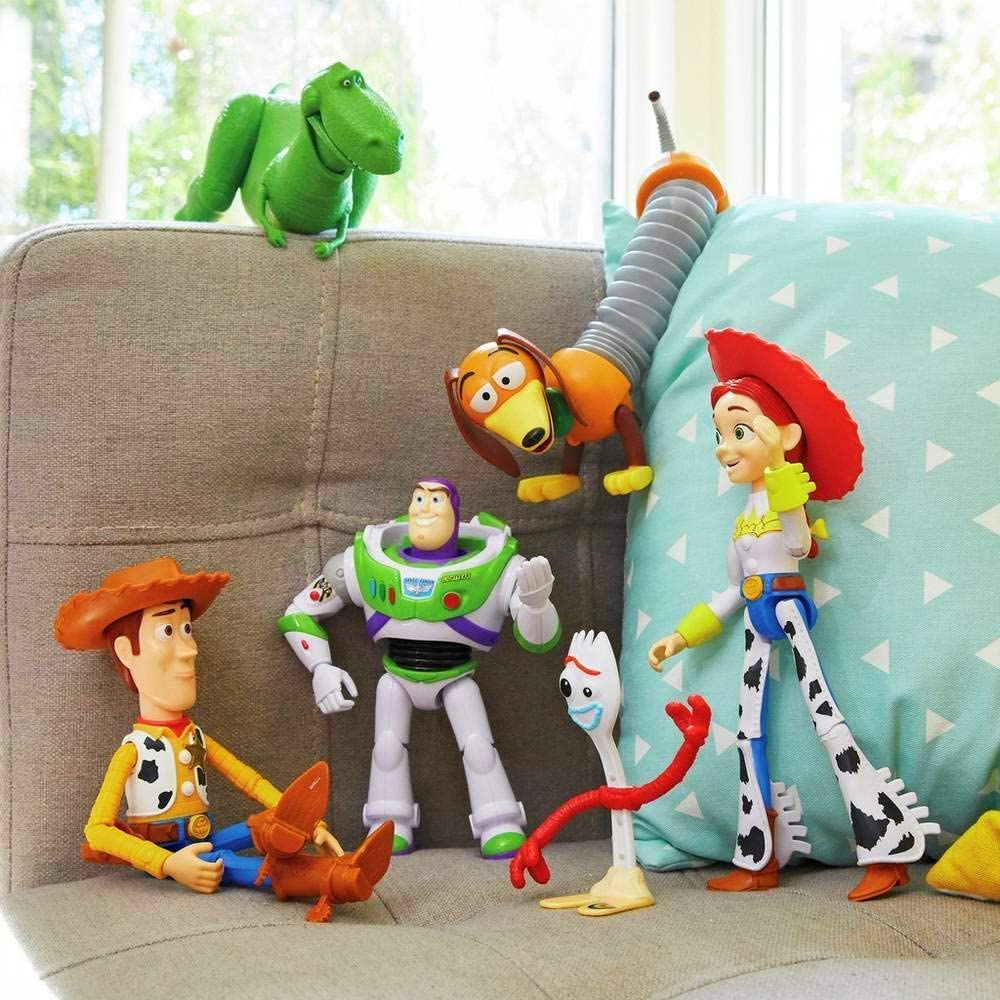 Pros
Awarded Toy of the Year
All Pose-able
6 Figures at a Fair Price
Cons
Won't Stand on Their Own
Buzz Doesn't Have Full Helmet
Best Clothing
Woody and Buzz Lightyear Stretchie Sleeper for Baby/ Toddler – Toy Story
Even the youngest fans can celebrate Toy Story with this cozy onesie. The one-piece sleeper features long sleeves and a comfortable crew neck. The diagonal snap closure allows you to keep the baby warm or cool and is convenient for changing. Non-slip rubber padding is practical for babies and toddlers who are becoming more mobile. "You've Got A Friend In Me" and "Andy" are both featured with puff print. The sleeper is made with 100 percent cotton. Buy Here.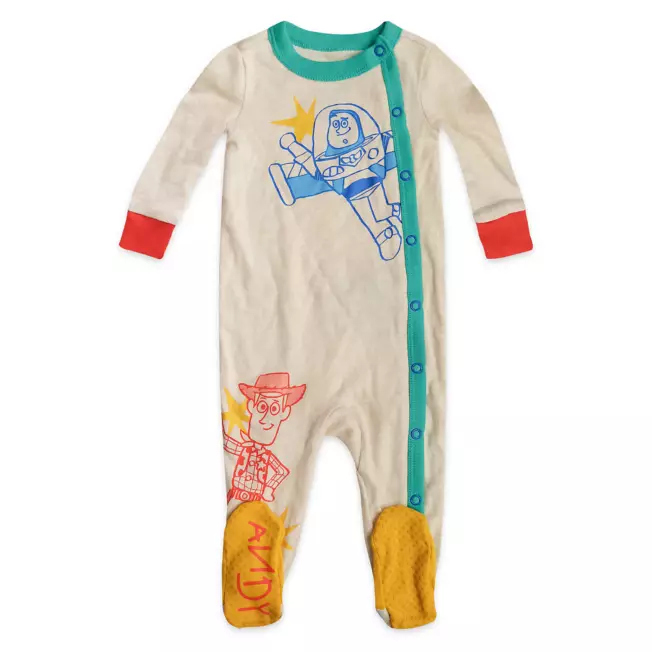 Pros
Snap Closure
Puff Printing on Both Sides
0 to 24 Months
Cons
Not Pre-Shrunk
Illustrations are Flat
Toy Story 4 Pullover Sweatshirt for Kids
I was surprised by this sweatshirt. On the surface, you might like the design but pass it up. But the details reveal why it's one the best Toy Story sweatshirts you can buy. This sweatshirt features a vintage wash, with the cast of Toy Story 4. The pullover sweatshirt includes fleece inside. The ribbed crew neck, cuffs, and hem make it both comfortable and stylish. I also love that it's made from 100 percent organic cotton. Buy Here.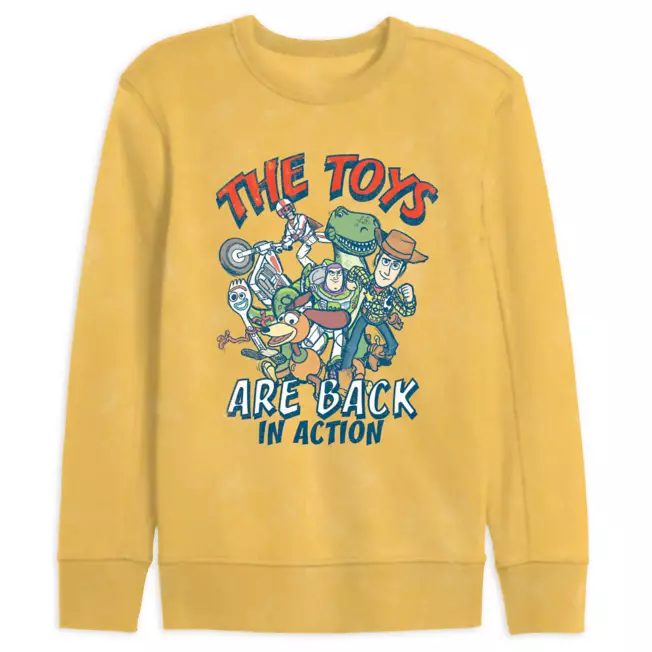 Pros
Organic Cotton
Ribbed Crew Neck, Cuffs, and Hem
Vintage Detail
Cons
Not Pre-Shrunk
Only One Color Available
Kids' Disney Toy Story 6pk Ankle Socks
I don't often recommend socks for the best merch, but these Toy Story socks deserve a spot. The ankle socks are fun and playful, featuring favorite Toy Story characters. They're comfortable to wear and are constructed with midweight spandex. They're flexible and soft. I also love how the rib-knit cuffs help the socks stay in place. The pack of six is sure to add a little Toy Story charm to a kid's wardrobe. Buy Here.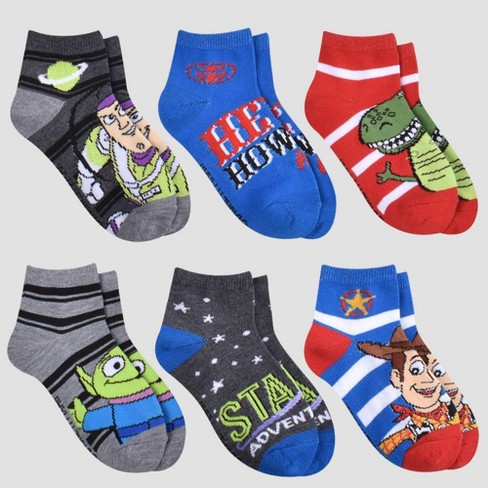 Pros
Flexible Spandex
No-Slip Cuff
Featured Characters
Cons
Only in Smaller Sizes
May Be Difficult to Size
Disney Pixar Toy Story Fast Toys Crew Sweatshirt
Adults and teens have a friend in this Toy Story crew sweatshirt. Cozy up with this pullover sweatshirt. The crewneck includes hems are the neck, sleeves, and bottom. The sweatshirt is made with a comfy fleece and polyester blend. Long-time fans will appreciate the vintage appeal and nod to the year the first film came out. This is a great sweatshirt for wearing around on a cool day or while enjoying your favorite Toy Story films. Buy Here.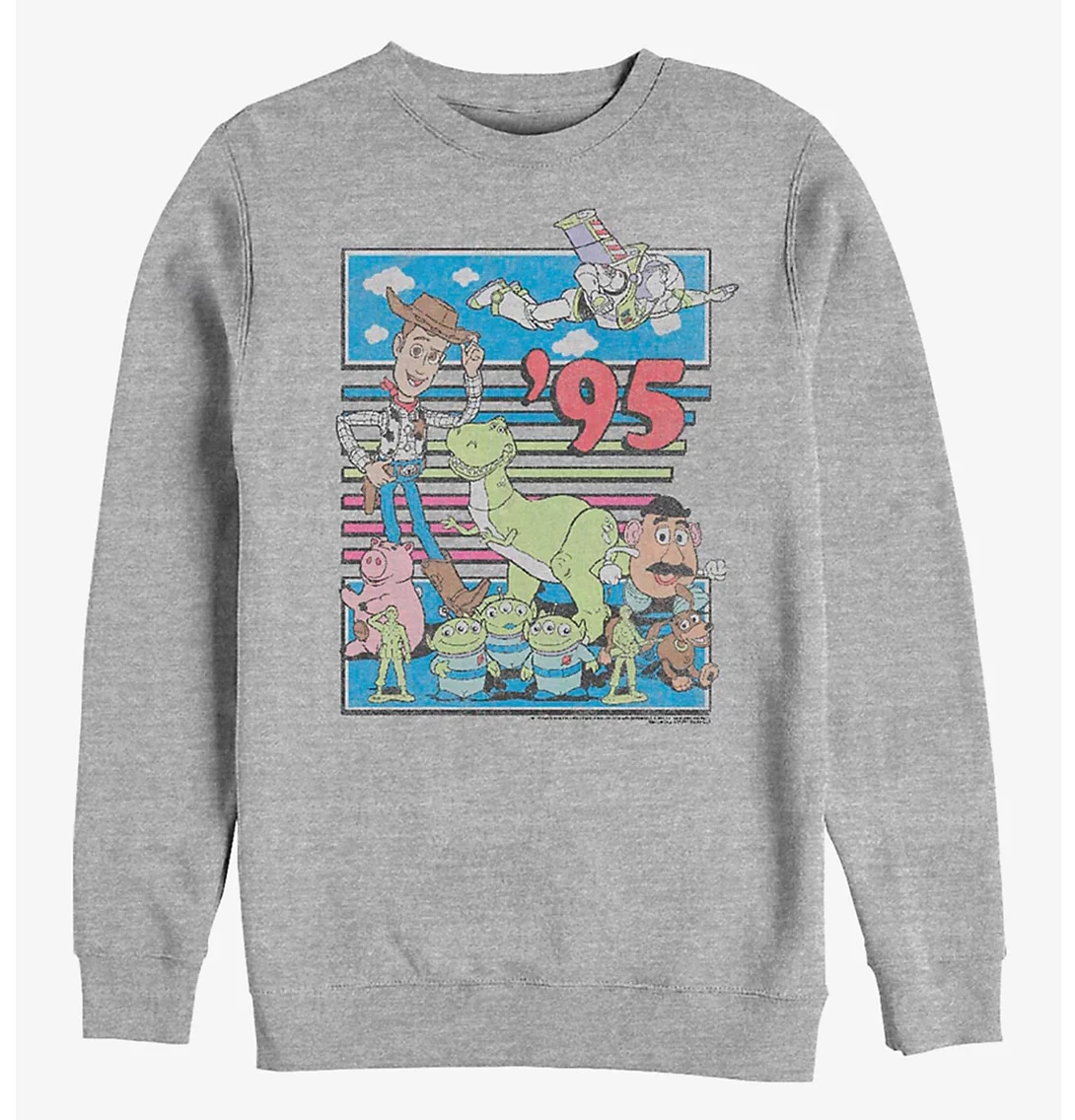 Pros
Classic Crewneck
Cozy Cotton and Polyester
Vintage Style
Cons
No Kids' Sizes
May Shrink
Disney Pixar Toy Story Friend in Me Woody Circle T-Shirt
Some of the best merch is simple and versatile. That's just one reason why this Friend in Me t-shirt (also available for Buzz Lightyear) is one of the best. This Toy Story t-shirt features a crisp white design with a circular frame. Woody looks as good as ever. The graphic tee is lightweight and slightly fitted for a more stylish look. It runs true to size and can be worn for lounging, light activity, or casual pants. Buy Here.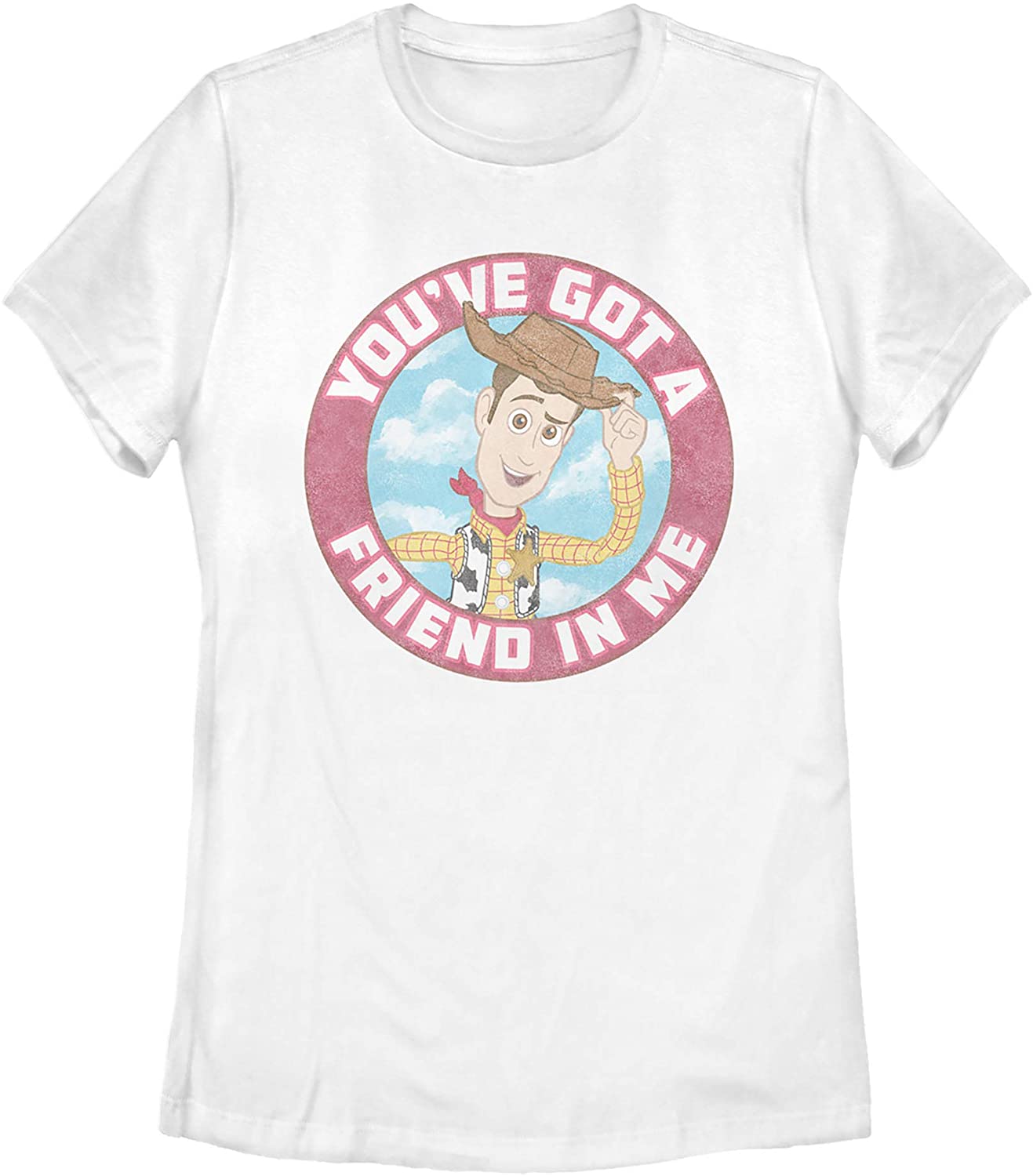 Pros
Lightweight and Slightly Fitted
Simple and Versatile
Classic Design
Cons
Available Online Only
Not Pre-Shrunk
Best Home Goods and Books
Disney Toy Story 4 Made To Play Kids' Lunch Tote
Kids can bring the spirit of Toy Story to school with them. This lunch tote is large enough to fit the main lunch, drink, and snack. It's PVC-free and comes with an insulated interior. The side mesh pocket is handy for an ID, while the reflective front panel makes it easy to spot. I also like the Forky dangle and the character print. Wipe it off for easy care. Buy Here.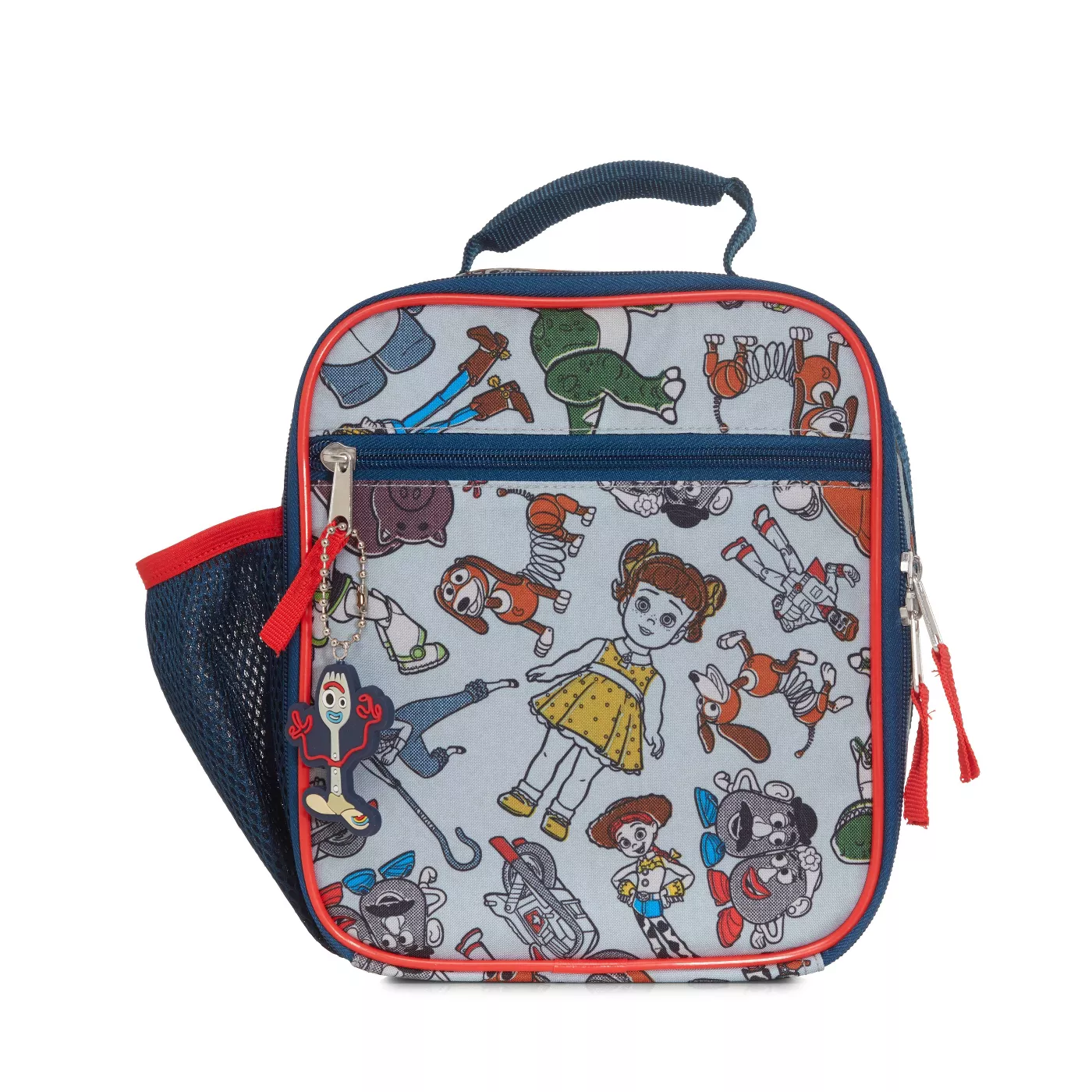 Pros
Insulated Lining
Reflective Panel
PVC- Free
Cons
Childish for Older Fans
Design is Busy
Toy Story (Disney/Pixar Toy Story) – (Little Golden Books)
It's hard to go wrong with a Little Golden Book. Read this to young children or collect them. This Little Golden Book is very affordable and tells the story of the first Toy Story. The hardcover book features 25 pages of full color and classic illustrations. The story is condensed for young children to understand but retains the spirit of the franchise. Buy Here.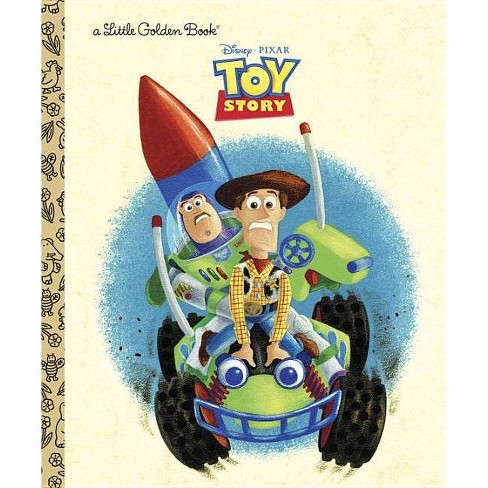 Pros
Collector's Item
Great for Teaching Reading
Full-Color Illustrations
Cons
Story Young for Kids over 8
Short Story
Trends International Disney Pixar Toy Story 4 – Collage Framed Wall Poster Prints
If you're looking for Toy Story merch that'll brighten your home, I recommend this framed poster print. Add spunk to a bedroom or office with high-resolution characters. Premium-grade paper and vibrant colors make this especially inviting. Your purchase comes with your choice of different hanging options and different poster sizes. This poster captures the spirit not only of Toy Story 4 but also the franchise as a whole. Buy Here.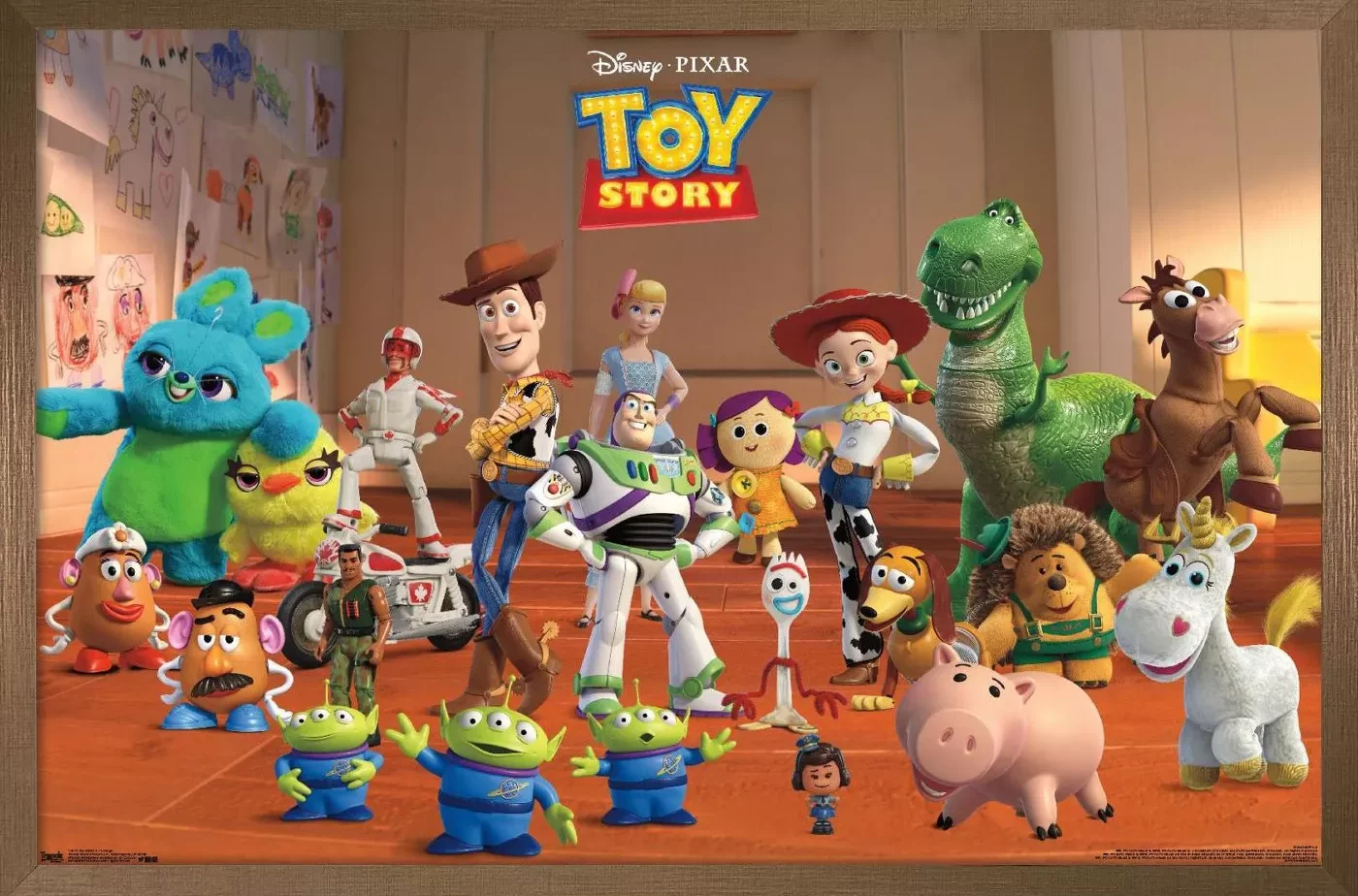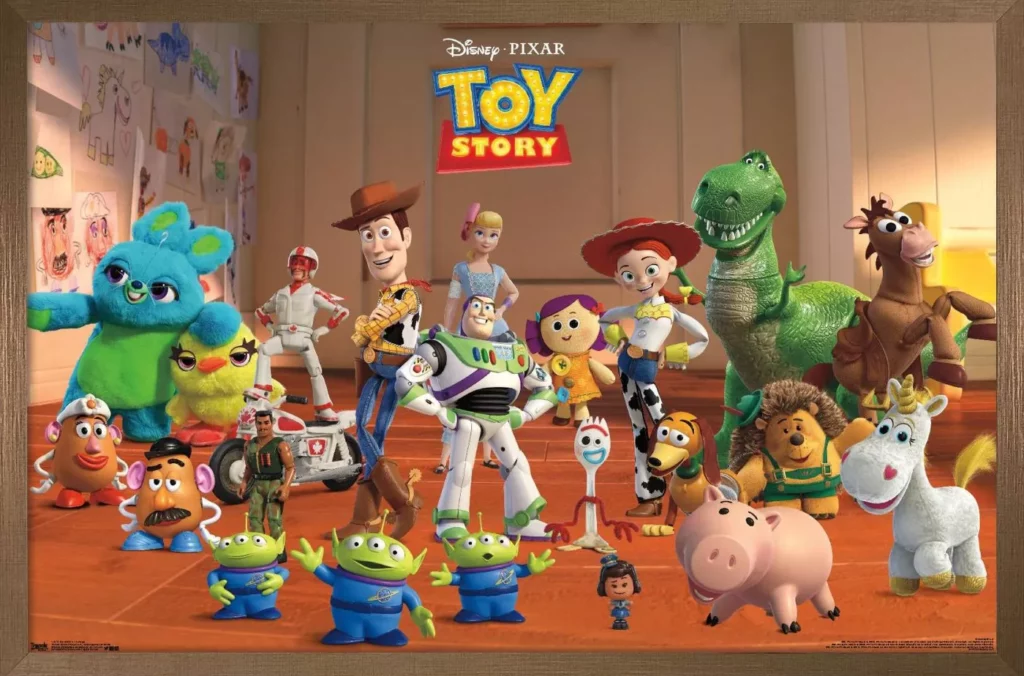 Pros
High-Resolution Print
Premium Paper
Easy to Hang
Cons
Slightly Expensive
Newer Product/ Less Tested
Loungefly Disney Pixar Toy Story Shelfie Passport Crossbody Bag
This playful crossbody bag has undeniable charm. While it's not ideal for everyone, it still stands out as one of my favorite Toy Story merch items. This crossbody bag is equipped with a front zipper pocket, gold-tone hardware, and a top zipper. The adjustable strap ensures a more comfortable fit. It can be used for everyday shopping, travel, or a small day trip. The sky blue background is a great complement to the Toy Story character print. It's made out of polyester, which is easy to wipe clean. Buy Here.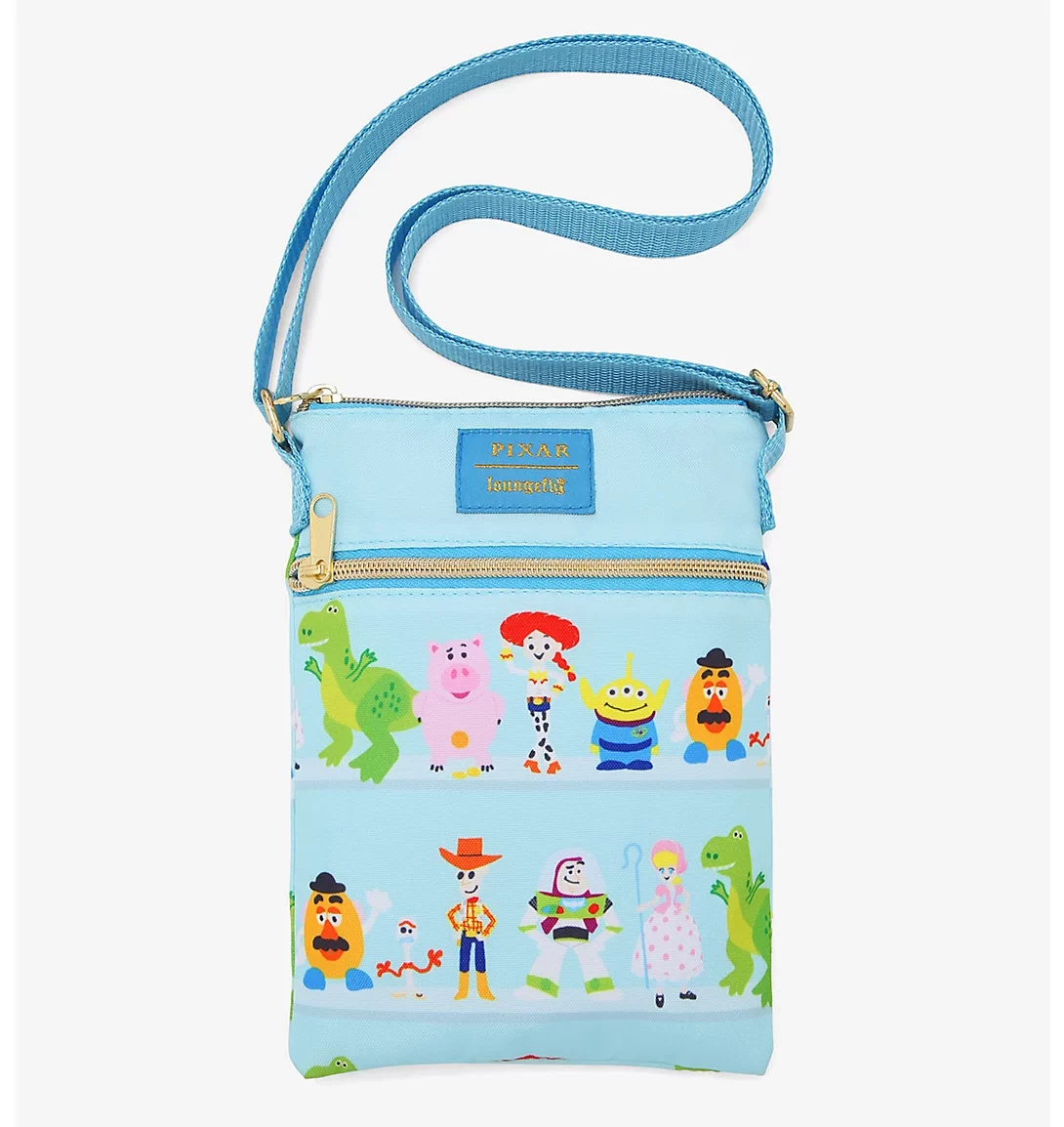 Pros
Two Zipper Compartments
Adjustable Strap
Great Price
Cons
MONOPOLY: Pixar Edition Board Game
Get the whole family ready for fun. The classic game of Monopoly features Toy Story and other iconic Pixar characters. Themed character tokens, locations, and more immerse players in the worlds of Toy Story, The Incredibles, Coco, Up, Finding Nemo, Cars, and more. It may not be solely Toy Story-themed, but it's the quality you expect, with all the fun of classic Monopoly gameplay. Buy Here.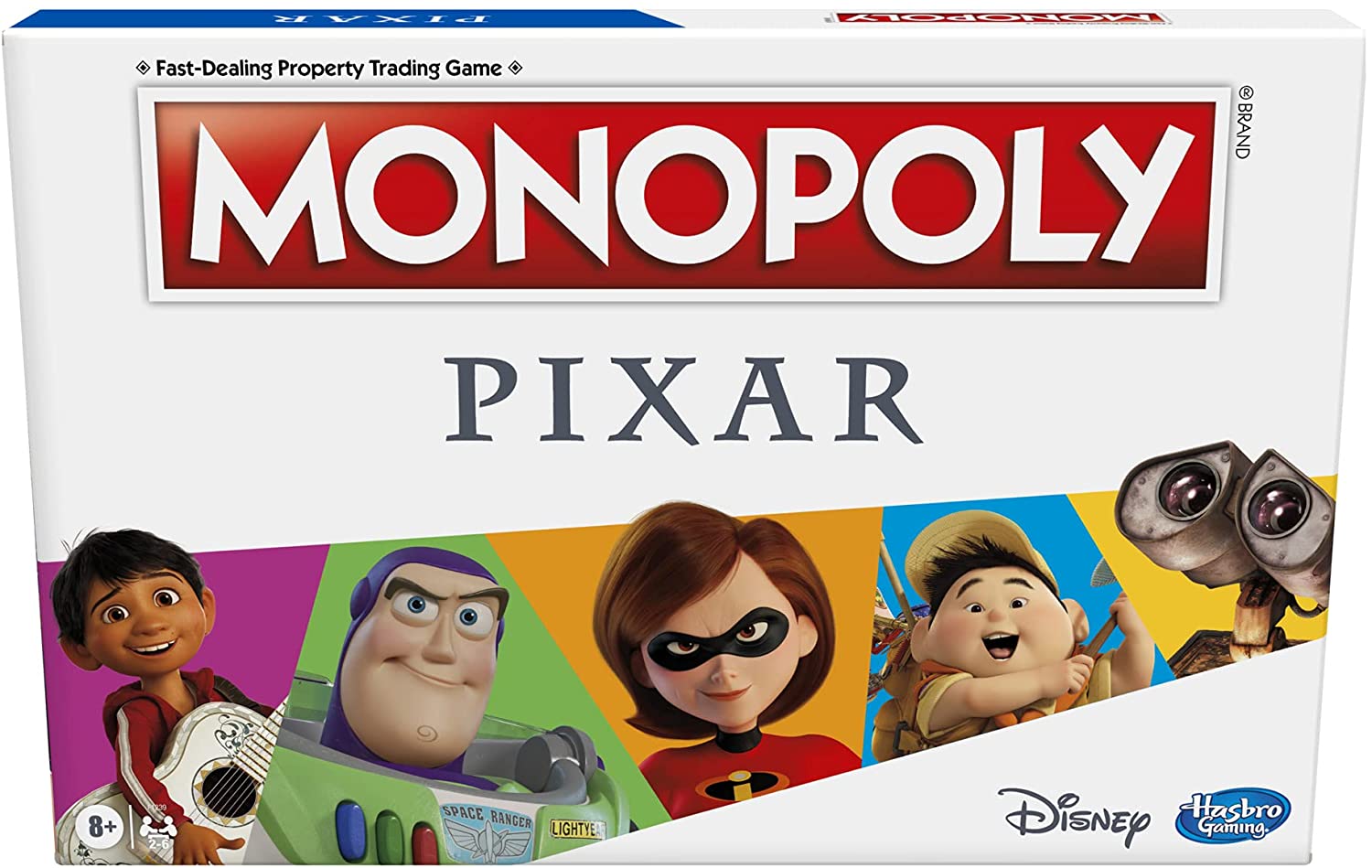 Pros
Classic Monopoly Gameplay
Iconic Pixar Characters
Fun for the Family
Cons
Not Solely Dedicated to Toy Story
Too Difficult for Younger Kids
HairPhocas Cute Pink Pig Money Box Plastic Piggy Bank
My final pick for Toy Story merch may come as a surprise. This piggy pank is an Amazon Choice product, however, and is useful too. It looks as great as the Toy Story character and features easy coin removal and depositing. The piggy bank is made with durable and non-toxic plastic, so you won't have to worry about it breaking. Buy Here.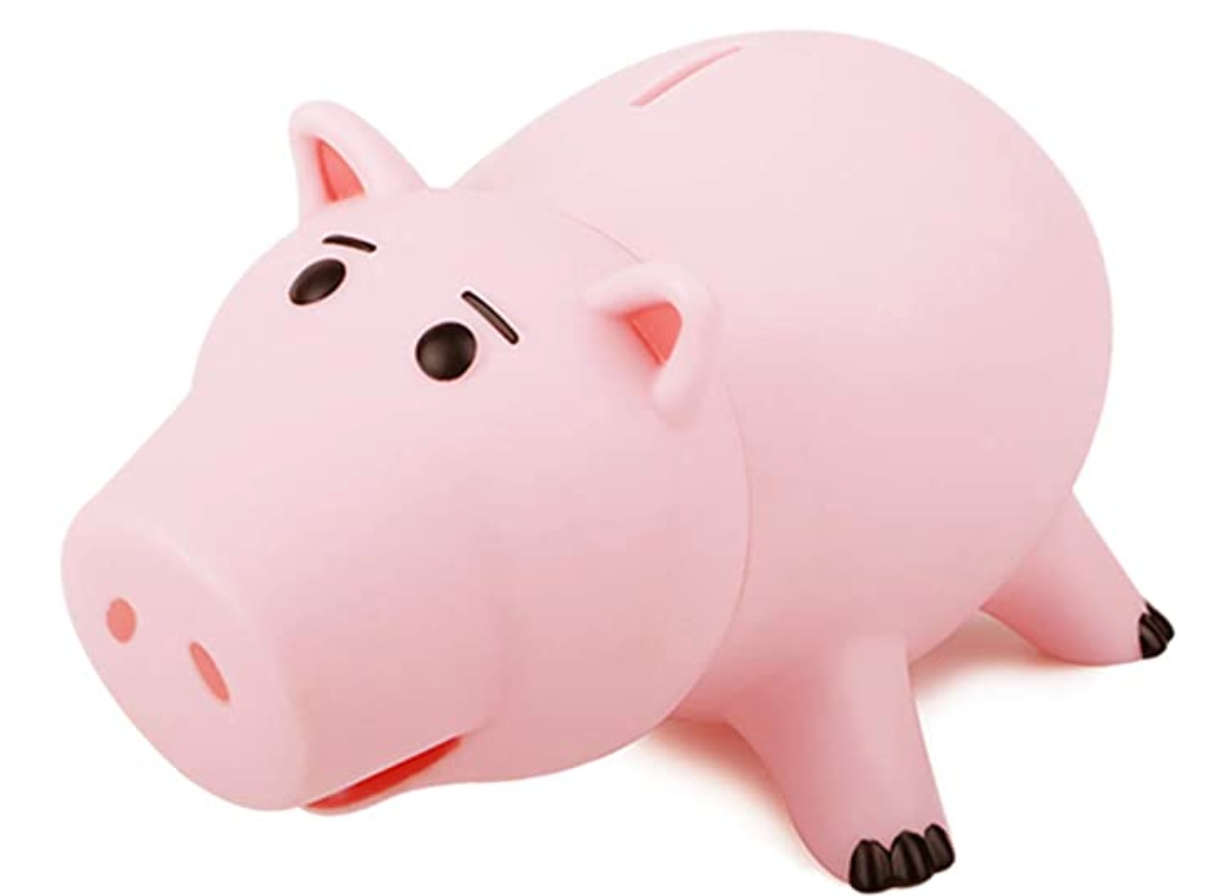 Pros
Non-Toxic, Durable Platic
Easy Deposit and Removal
Amazon Choice Product
Cons
Modest Capacity
Small Coins Can Get Stuck
Frequently Asked Questions
Question: Are There Ever Sales on Toy Story Merchandise?
Answer: Toy Story merchandise is usually affordable- and it also often goes on sale. I've seen sales on Toy Story merch from the Official Disney Store, Hot Topic, and Target. Sales are almost always happening but looking right before the next season starts scores you the best deals. You can also comparison shop. Some items are more expensive on the Disney Store, for example than similar items at Target or Amazon.
Question: How Much Revenue Does Toy Story Merchandise Make?
Answer: It's hard to estimate how much revenue Toy Story merchandise has made over a lifetime. However, it was reported that Toy Story 3 merch made over $2.4 billion alone.
Question: What's the Best Toy Story Merchandise for Adults?
Answer: While Toy Story merchandise often caters to kids, there are so many adult fans like myself. T-shirts and hoodies from Hot Topic and Amazon are a great choice. I also recommend Toy Story wall art as a collectible.
Question: Can Toy Story Merchandise be Shipped to Canada, the UK, or Australia?
Answer: Toy Story merchandise from Hot Topic and the Official Disney Store ships internationally. There will be an extra shipping cost and extended shipping time. Target's USA website, however, will not ship internationally.
Final Thoughts
As a fan of Toy Story myself, I understand just how much some merch items from the franchise can mean. Whether you're decorating your home or just want a comfy Toy Story tee, there are many options. If you're looking for a sale on Toy Story merch, this will occasionally happen as new inventory is coming in. The best times to catch sales on Toy Story merchandise are at the end of seasons as well as in the lead-up before Christmas, Thanksgiving, and the school year.
Final Buying Recommendations: Toy Story Merch from Amazon
If you can't find any Toy Story merch you like from the Official Disney Store, Hot Topic, or Target, there are even more products available on Amazon. Amazon's collection of Toy Story merchandise very much caters to children. The youthful collection includes hoodies, Legos and Duplex, t-shirts, board games, and action figures for very young and middle-grade children. Plush toys, cozy print pajamas, piggy banks, and reusable wall decor round out the collection. This Toy Story merch on Amazon is mostly for play, rather than collecting. Nonetheless, it's an affordable place to buy Toy Story merch if you just need a few more options to choose from. Shop All Toy Story Merch on Amazon Here.
Find more fun and unique merch on these guides below:
Best Beauty and the Beast Merch Guide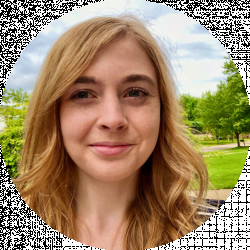 Latest posts by Erin Jamieson
(see all)