New celebrity merch hits the internet every year, from music artists influencers on YouTube. And I'm happy to report that now's a great time to find some of the best celebrity merch– from unique styles to comfy classics, all in a guide made just for you. 
One of the most surprising celebrity merch options? A collaboration between singer Justin Bieber and the Canadian- based coffee chain Tim Hortons. 
Tim Hortons can be found in the United States, but it's hard to underestimate its presence in Canada. As the largest fast-food chain in Canada, Tim Hortons averages over $6 billion in revenue every year and has well over 4,800 locations worldwide. Though the coffee and donut chain's most popular items– such as the Iced Capp, English Muffin Sandwich, and Glazed Timbits– often capture attention, it's quality that keeps customers coming back.
But while I expect fresh food from Tim Hortons, I can't say I saw the merchandise deal with Bieber coming. Late November 2021, Bieber and Horton's announced limited-edition flavors of Timbits, as well as merchandise, available for both US and Canadian locations.
Those flavors are bright and playful: sour cream chocolate chip, birthday cake waffle, and white chocolate fudge were all announced. While the connection between Bieber's music and Horton's may seem unclear, the singer revealed that the merch line was a dream for him. Hortons reminds Bieber of his childhood hometown.
The report also mentioned that Biefer is far from the only celebrity to launch a food-related merch collaboration recently. Other examples include Megan Thee Stallion Haute Sauce at Burger King and Naomi Osaki's salad bowl with Sweetgreen.
What this points to is innovation. Now, more than ever, there are unique ways– but still, practical ways to make the most of celebrity merch. In the guide, I'll be focusing on fashion and home goods that are perfect for gifting or just enjoying. From cozy hoodies to jigsaw puzzles, I'll tell you all about buying celebrity merchandise and share my top picks. 
What are the 4 Types of Merchandise?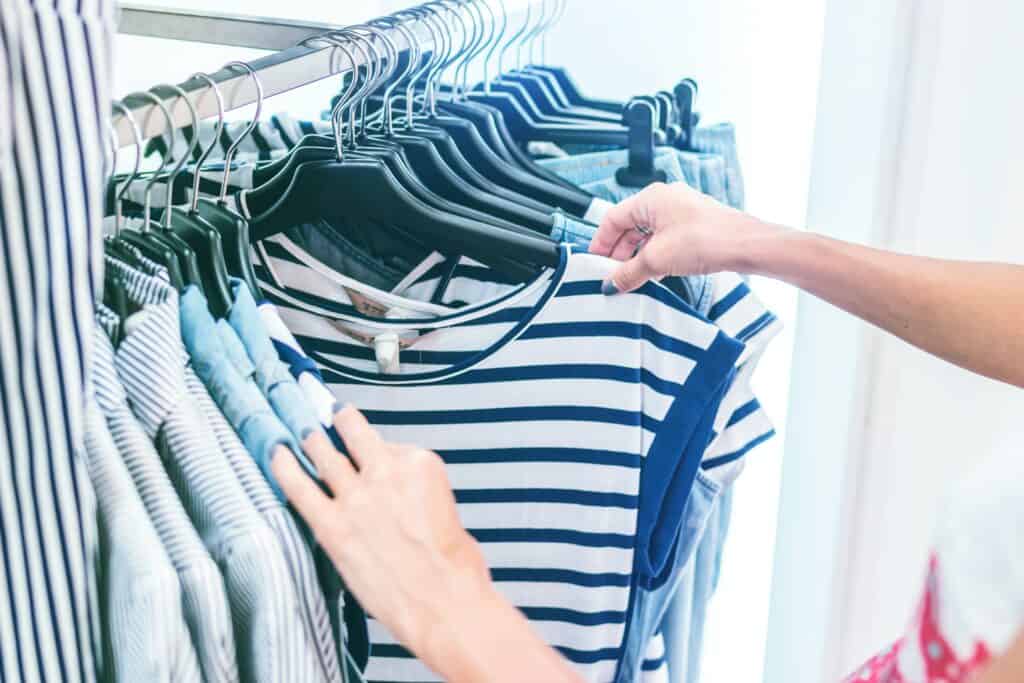 Before I discuss the best celebrity merchandise, I want to cover a few myths. When I say merchandise, the first thing that comes to mind is probably a sweatshirt with a logo. And while I love a good, comfy hoodie, there's a lot more to merchandise than that. Now, if you're talking about merchandise in general, there are 4 broad categories: digital marketing, omnichannel marketing, visual merchandising, and retail. Of course, when I'm looking at celebrity merchandise, I'm covering the retail end of it: products you can buy and gift or enjoy for yourself. But it's not limited to just clothing. 
Is Food Considered Merchandise?
Food, like Bieber's collaboration with Tim Horton's or Megan Thee Stallion's Haute Sauce, is a form of merch. But beyond that, celebrities self journals, ornaments, accessories, makeup, and more. While clothing remains the most common form of merch, you'd be surprised by what you can find, from music artists to TV personalities and more. 
What Type of Celebrity Merch Sells Best?
There's no doubt that athleisure wear reigns supreme in terms of sales, as well as classic t-shirts. Tote bags, hats, mugs, other home products, and branded accessories are also quite popular. 
What Does Exclusive Merch Mean?
If you see the term exclusive, it simply means that you can only find that merchandise from that source. So, if you're browsing a celebrity's online store and there's an exclusive merch label, you can be assured that no one else is permitted to sell it. The only exception is if someone is selling used exclusive merchandise. 
What's the Meaning of Limited Edition Merch?
Limited edition merch means that it's only available for some time. Limited edition merch is a great marketing strategy– but it may also be worth buying. Limited edition merch tends to be more valuable with time and at least keeps if not exceeds its original value depending on what it is, who it's from, and the condition it's in. While it's not as valuable as a first edition, the limit on items sold does make it special. Sometimes, limited edition merch comes with a personal touch, like when YouTube Mr. Beast personally signed t-shirts and hoodies for two weeks straight — for a total of over 60,000 pieces of merch. 
Do Actors Have Merch?
While it's quite common for singers and YouTube personalities to have their merch line, with actors and actresses sometimes it's a bit different. Actors and actresses often have merchandise based on their movies or TV shows. While some may have some separate merch ventures and/ or entire companies (such as Gwenyth Paltrow's controversial Goop beauty and health products)– you won't see them having their merch directly related to creative projects they've been a part of. 
Find more in-depth celebrity merch guides by checking these guides below:
Do Actors Get Paid for Merchandise?
If you do find merch featuring a celeb, but it's not their line, legally, the actors and actresses are receiving a cut of proceeds. The average rate is around 5 percent royalties, though agents can negotiate for different rates, as high as 12.5 percent– and sometimes, the contract is for a royalty rate as low as 2.5 percent. 
However, the tricky part is that merchandise for a movie may be classified as promotional. If something is considered to be promotional materials, then the actor or actress may not be paid. An example may be collaborations with fast-food restaurants to advertise a film– like action figures in a Happy Meal. 
What Do Actresses Do With Their Dresses?
If you're hoping to get your hands on clothing worn exclusively by a celebrity, it's unlikely. Celebrities famously often wear attire to an event only once– and that goes for both formal suits and dresses. For Red Carpet and related events, the clothing may be rented out in the first place. They also may gift clothing to friends and family. It's not common for celebrities to directly see attire they've worn though it can happen. 
Who Makes the Most Money Off Merch?
The celebrity that sells and makes the most money off of merch is Harry Styles. The British singer makes an average of over 22 million dollars a year on merch sales alone. For YouTubers, the winner is the gamer PewDiePie, with around 6.8 million dollars in profit from his merch sales every year. 
Why Do all Youtubers Have Merch?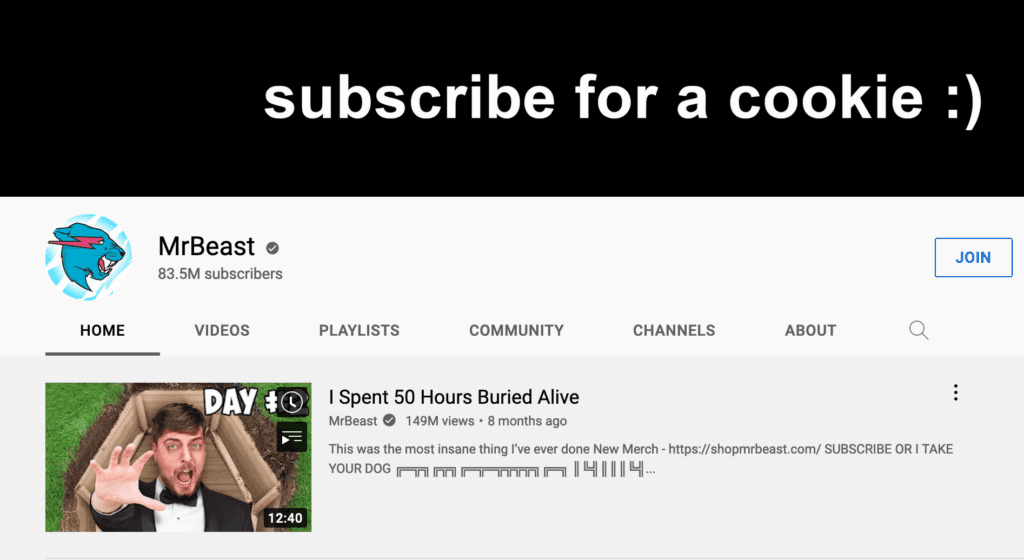 Not all YouTubers have merch, but many do. The reason is as simple as you'd imagine—but perhaps a little more complicated too. YouTubers make money through Google AdSense and any sponsorships they have– but this isn't always enough to support a living, nor is ad revenue always predictable. But merch is a way to double-dip and advertise: if someone's wearing merch from a channel, it serves as a form of name recognition and advertising. Plus, there's a surge in demand for merchandise, and it's a way for fans to connect. 
Where do Youtubers Make Their Merch?
Most merchandise is made through online third-party sites. Popular options include TeeSpring, Printify/ Printful, Shopify, Etsy, and more. These services work by allowing the creator to design products, but the third party handles production. Very popular content creators may have other resources to create their merch. 
Why Should I Buy Celebrity Merch? (Selection Criteria)
If you're buying directly from celebrity stores, there are a few reasons to buy merchandise. While buying merch is not always worth it for everyone, buying the best merch will make a memorable gift or a product you'll use time and time again. You're supporting the celebrity or artist, expressing your interest, and it can make a good conversation starter. Merch can also be useful, from a cozy hoodie to keep you warm to a notebook to doodle in. You can even use merch as a form of decor. Meanwhile, limited edition/ exclusive merch may be worth more in the future. Here's how I select my celebrity merch: 
Directly Supports Celebrities/ Content Creators
All of my picks are directly owned by the celebrity, artist, or musician. While celebrities don't receive 100 percent profits, these are their stores and their merch. Thus, when you're buying merch, you know you're supporting a celebrity that you're fond of. I also make sure the website is secure and verified. 
Practical or Unique
I selected merchandise that stands out: either it's very versatile and something you can use every day– or something that stands out for its creativity. 
Design Quality
I also look at the design itself. Is it well planned? Is it trendy or versatile? Designs should look purposeful and attractive, no matter the product. Instead of going for any merch produced through a celebrity, I want to find designs that will stand the test of time. 
Fair Price
Now, what's considered a fair price is always challenging. Celebrity merch tends to be more expensive, averaging around $80 to $100 for a hoodie. Still, I like to look for merchandise that's within a fair price range for what's being offered– and even hunt for a few deals in the process. 
Celeb Merch: What to Buy Now 
Here are my picks for the best celebrity merch you can buy now. I've focused on clothing, accessories, and home goods– through I'll also sneak in some food merch ideas under my final buying recommendations. 
Harry Styles Merchandise
Since Harry Styles left One Direction to pursue single projects, he's earned countless awards. Including a Grammy, two Brit Awards, and the Ivor Novello Award. And what celebrity merch list would be complete without Harry Styles? To be the top seller of all celebrity merchandise, Styles has a very comfy line and in style, with casual but unique graphic art on hoodies and t-shirts. Almost all of his mercy comes in black, white, red, and white, as well as sizes Small to XXL. While hoodies are pricey normally, you can snatch them on occasional sales for as much as half off, so I recommend not paying full price. 
Best Buys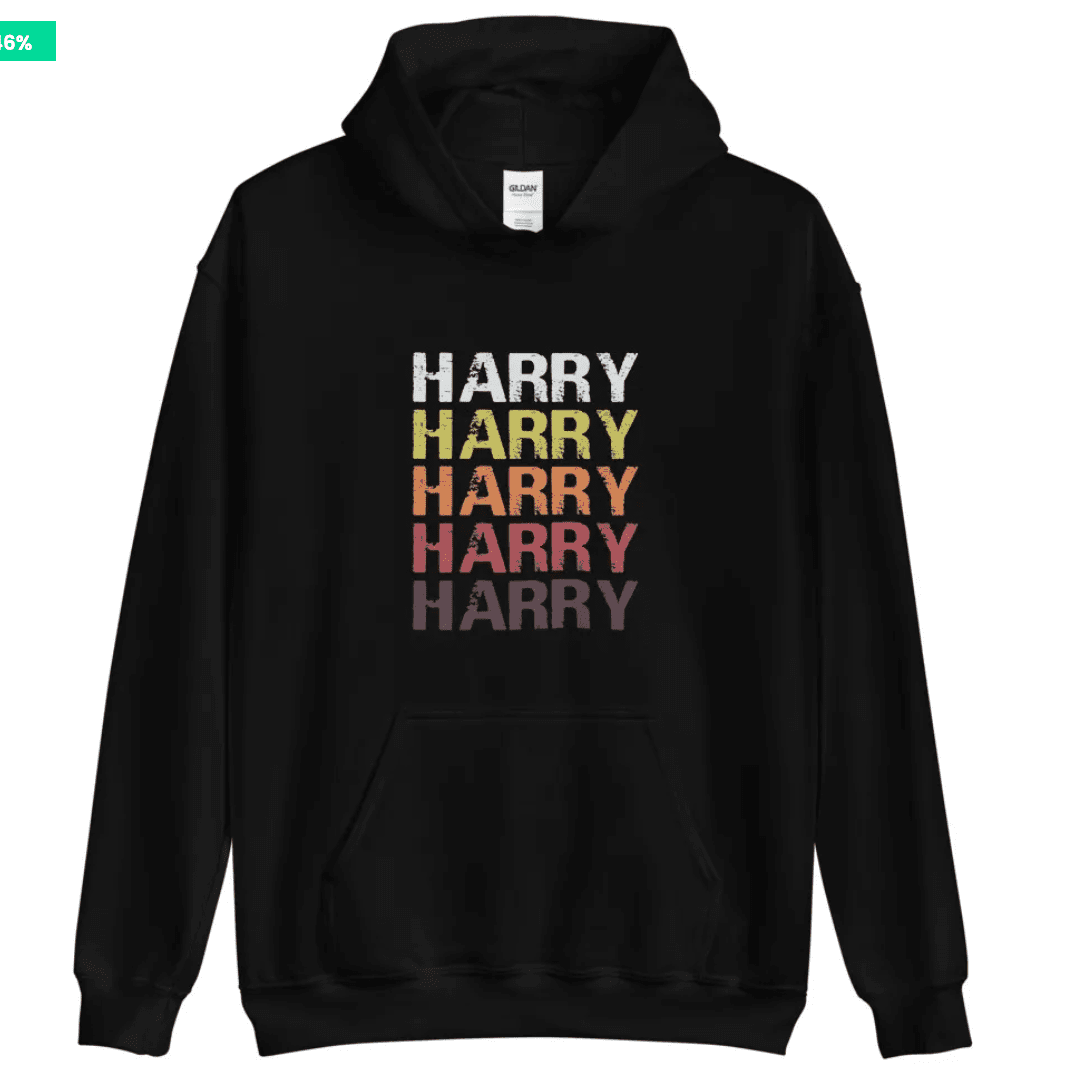 The Harry Style Vogue Pullover Hoodie pays a nod to One Direction roots, complemented with a Watermelon Sugar logo, all with a casual, 80s feel. Make your fandom clear with the Harry Styles Lettering Pullover Hoodie, featuring a series of colored lines repeating the actor's name. It's a clean, classic, and vibrant design. 
Where to Buy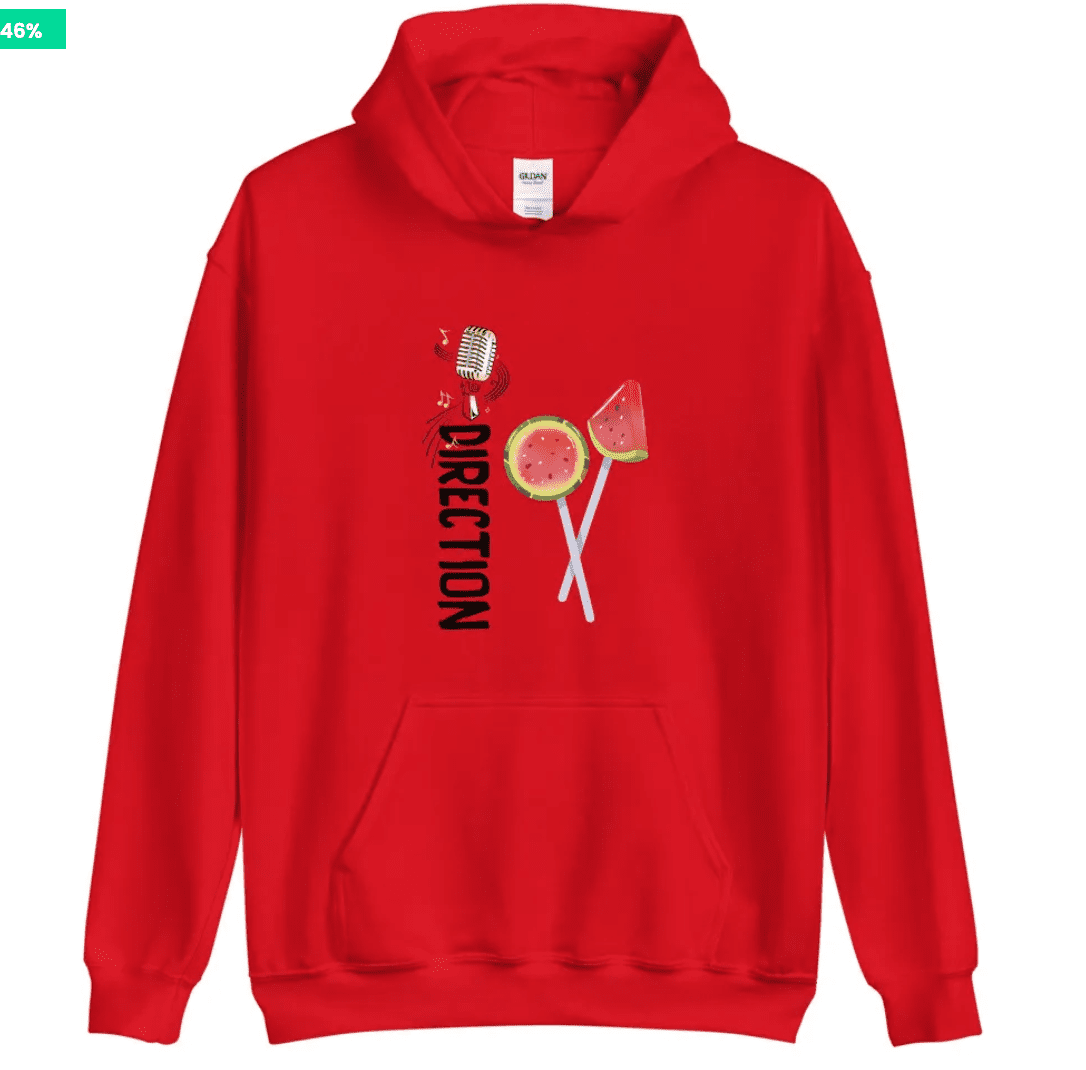 Shop my picks at the links above, or Shop All Harry Styles Merch Here. 
Pros
Most Popular Celebrity Merch Collection

Comfy Hoodies

Clean Versatile Designs
Cons
Expensive at Regular Price

Mostly Just Hoodies

Generic Sizes May be Limiting 
Ariana Grande Merchandise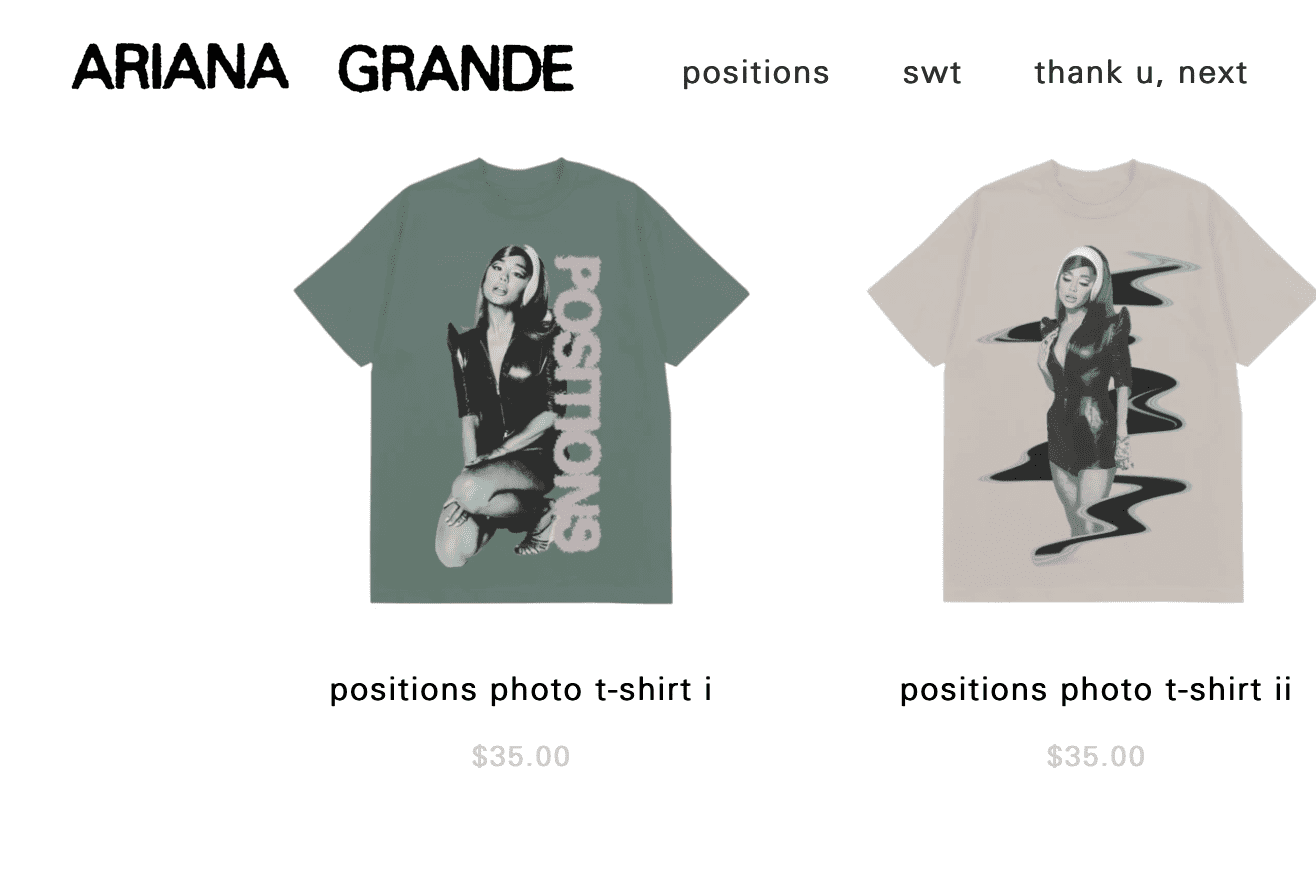 Since her debut album made No. 1 on the Billboard 200, Ariana Grande has been a force in the music industry, and there are no signs she's slowing down. But she's also been admired for her fashion choices, from sporty casual to her modern Grammy Cinderella moment, featuring a 20 ft wide Givenchy dress.
It should come as no surprise that her merch line is an excellent and unique choice, with a focus on comfy clothing, soft colors, and some festive touches. You'll find sweatpants, cropped crewneck, hoodies, t-shirts, and a fanny pack. She also sprinkles in seasonal goodies– for Christmas, that means whimsical hoodies and mugs. Sizes range from Small to 2XL. 
Best Buys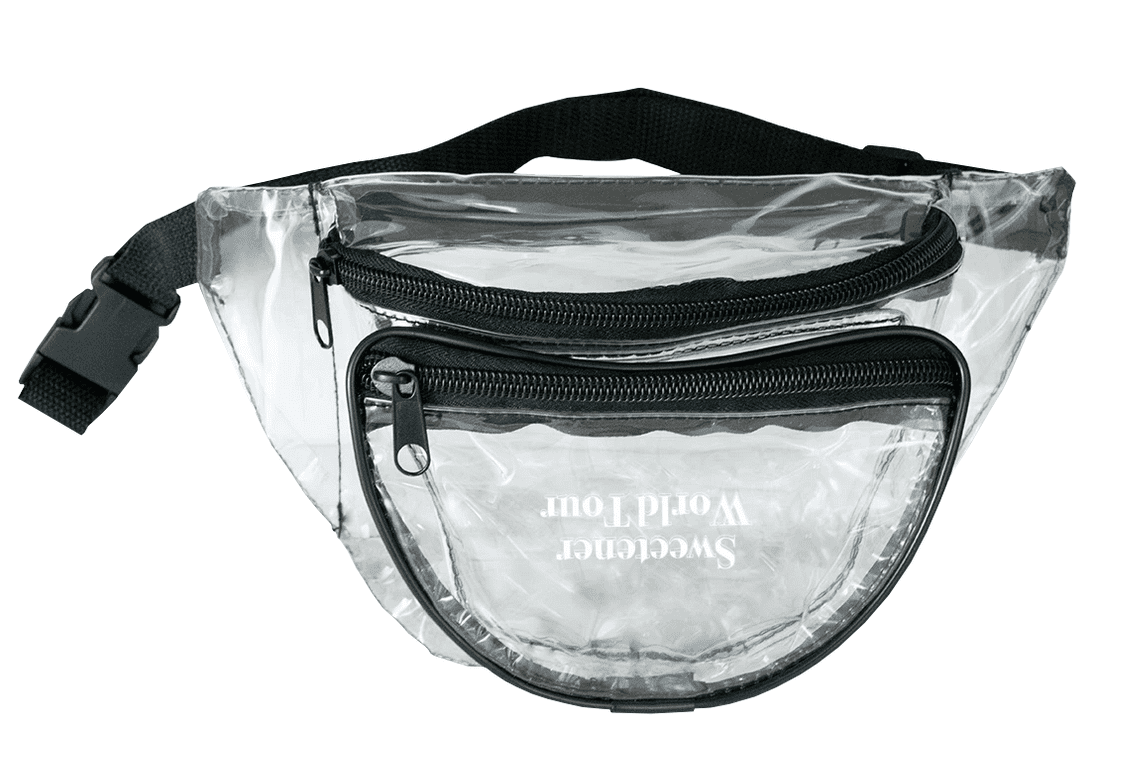 The Positions Mint Sweatpants are a unique hue, with subtle screen print branding on the side (but you'll need to wait for more sizes, as many are sold out). The Fanny Pack costs under ten dollars and pays ode to her World Sweetener Tour, and you can't go wrong with a classic Photo T-Shirt. 
Where to Buy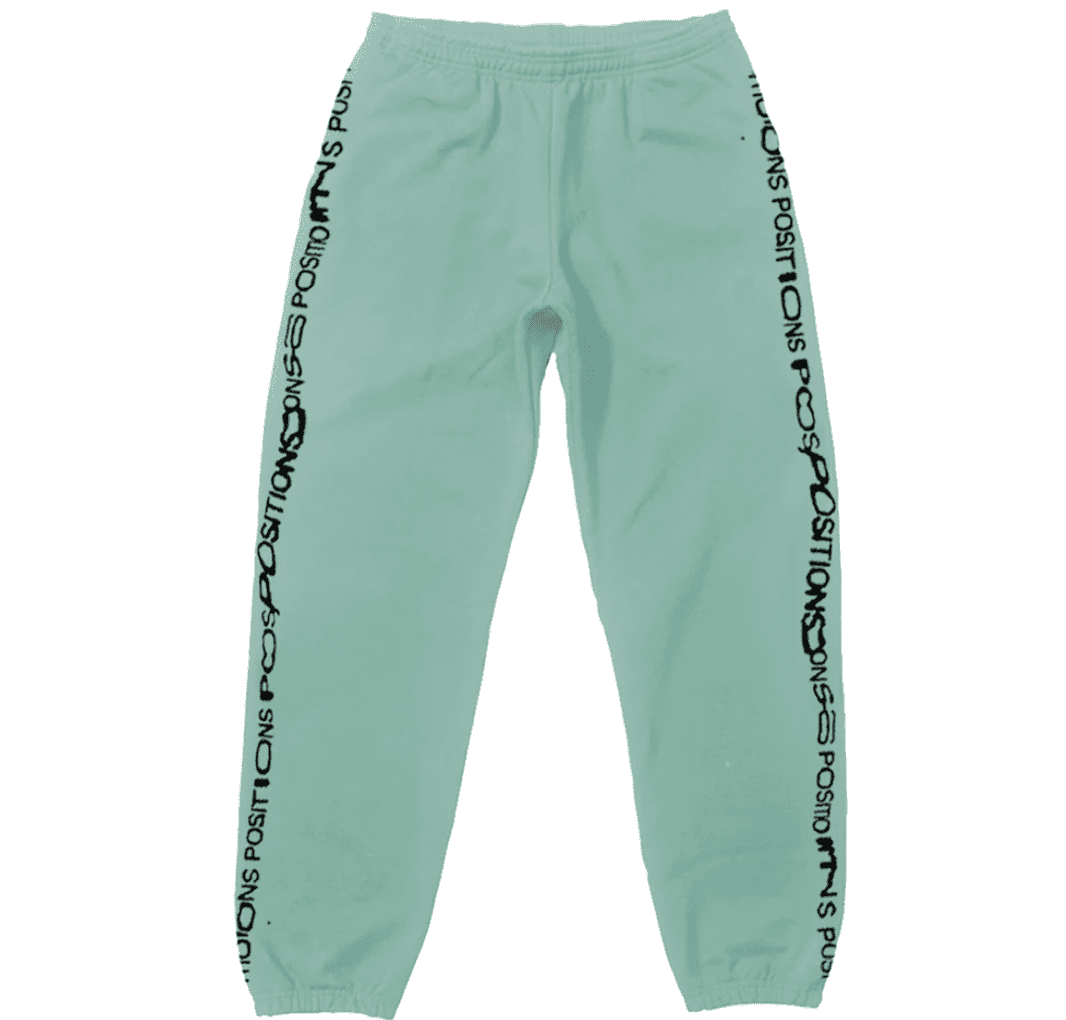 Shop my picks at the links above, or Shop All Ariana Grande Merch Here. 
Pros
Unique Pastel Hues

Affordable Options

Up to 2XL 
Cons
Many Sizes Sell Out 

Holiday Collection is Limited

Some Print is Rather Large
Lady Gaga Merchandise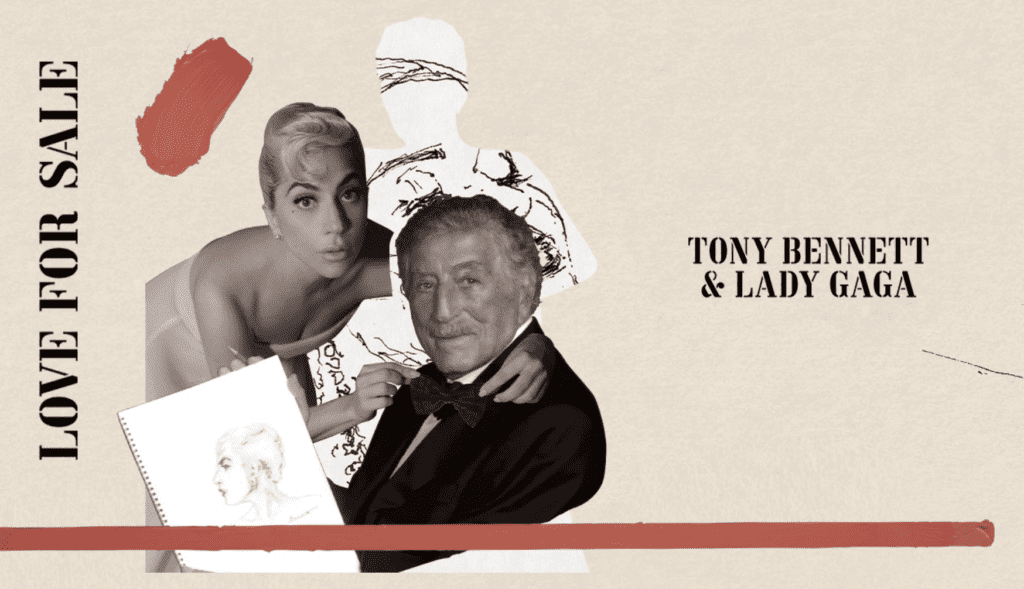 Lady Gaga may have entered the music and fashion industry in a loud way– from her high-energy songs to her unique fashion choices, including a memorable meat dress— but this new era calls for romance and vintage touches. Her merch line now centers around her second musical collaboration with Tony Bennett, Love For Sale. All her merch is focused on romantic themes, making it unique from other celebrity merch. You'll find champagne flutes, beautifully designed t-shirts, keychains, a journal, and even a jigsaw puzzle. Clothing sizes S to 2XL.
Best Buys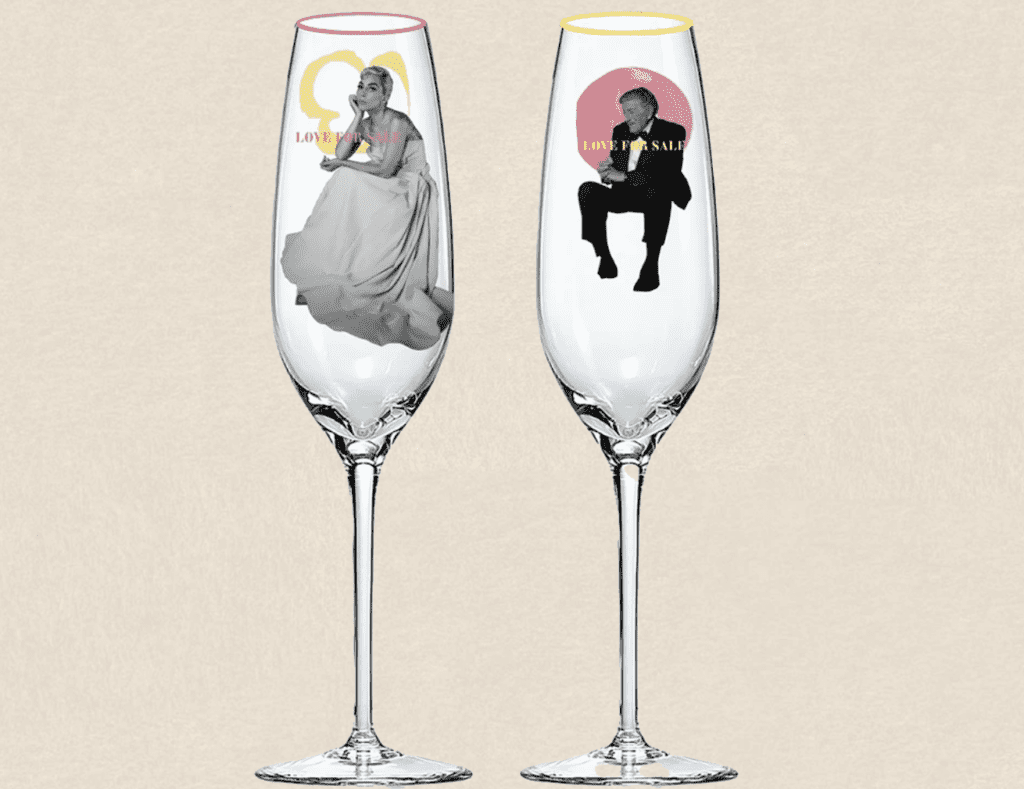 Since Lady Gaga has a unique collection, I shy away from t-shirts and recommend other options, like the Love For Sale Champagne Flutes, the 200 page Love For Sale Notebook, and for the avid collector and fan, the Love For Sale Limited Edition Box Set. 
Where to Buy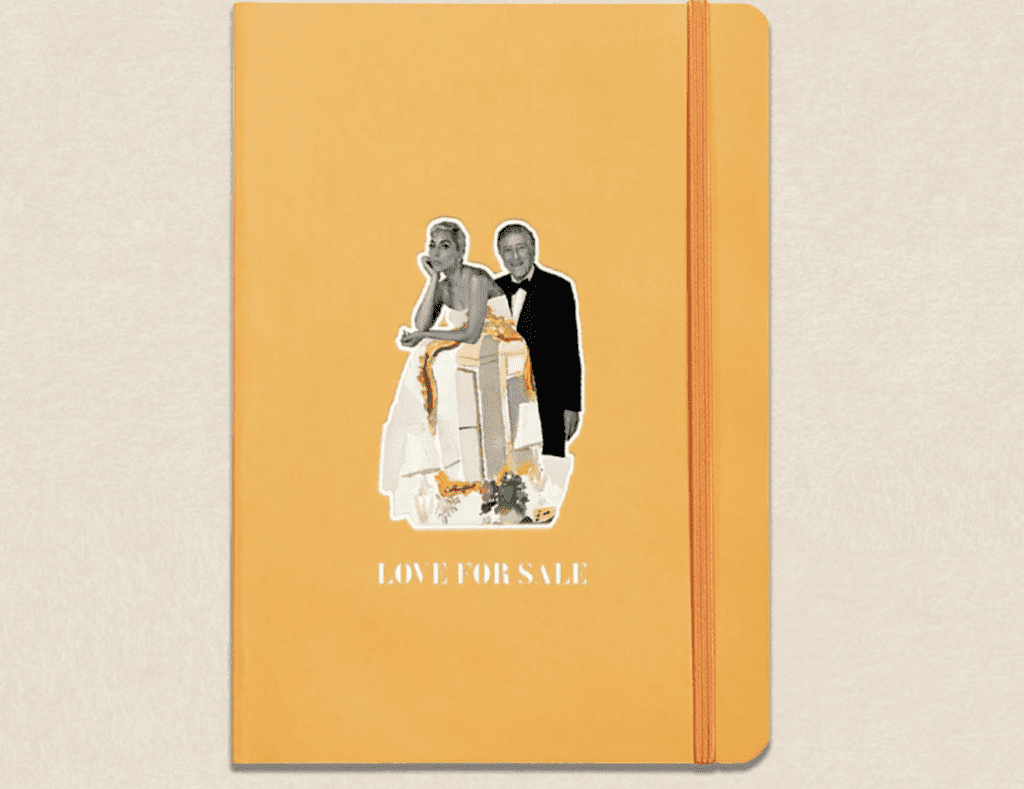 Shop my picks at the links above, or Shop All Lady Gaga Merch Here. 
Pros
Romantic Vintage Appeal

Limited Edition Items

Goes Beyond Hoodies & Tees
Cons
All Designs Based on Love For Sale

Small Selection

Clothing Sizes Sell Out
Selena Gomez Merchandise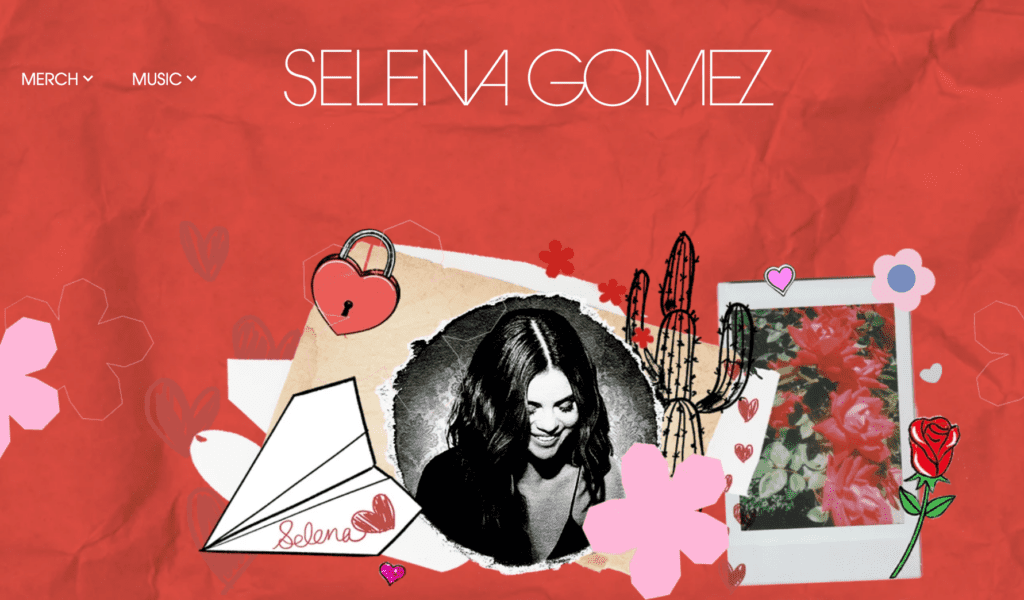 Looking for colorful, vibrant celebrity merch at great prices? Selena Gomez delivers with her collection of hoodies, t-shirts, socks, and necklaces. The pop singer and actress radiate energy in everything she does. By age 17, she's already sold over seven million albums and was honored as Billboard's Woman of the year. Now 29, her bright spirit and confidence exude, including in this playful but more affordable celebrity merch collection. 
Best Buys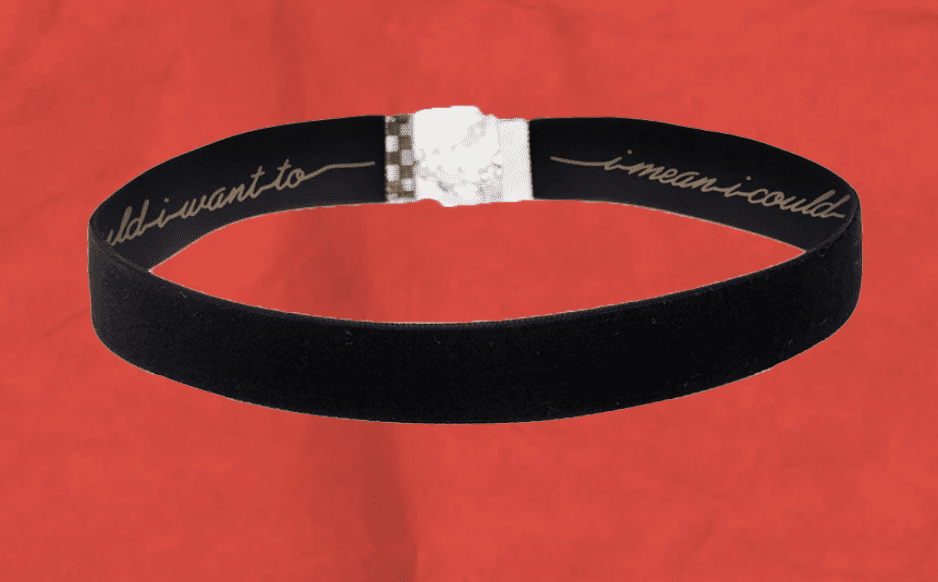 While I love the splashes of color for her photos, I also think that Gomez's merchandise shines with its versatility. There's the I Mean I Could Choker or the currently sold out Revelación Heart Keychain both for under $20. The bright Look at Her Now Socks would be fun paired with the Vulnerable Crop Top. 
Where to Buy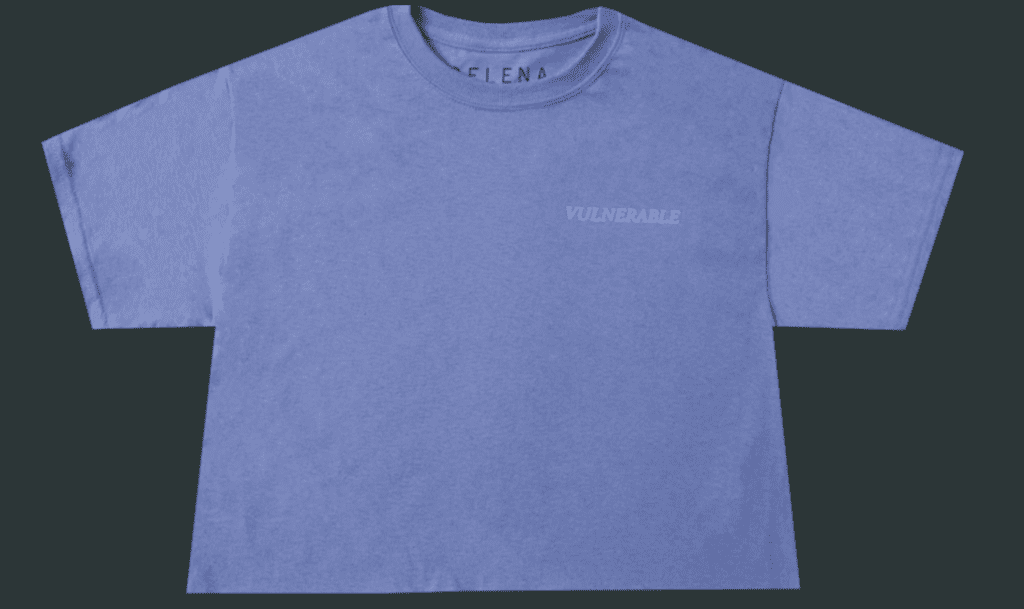 Shop my picks at the links above, or Shop All Selena Gomez Merch Here. 
Pros
Bright and Colorful

Great Prices

Unique Accessories
Cons
Some Sizes Limited, Up to XL

Items Sell Out Quickly
Beyoncé Merchandise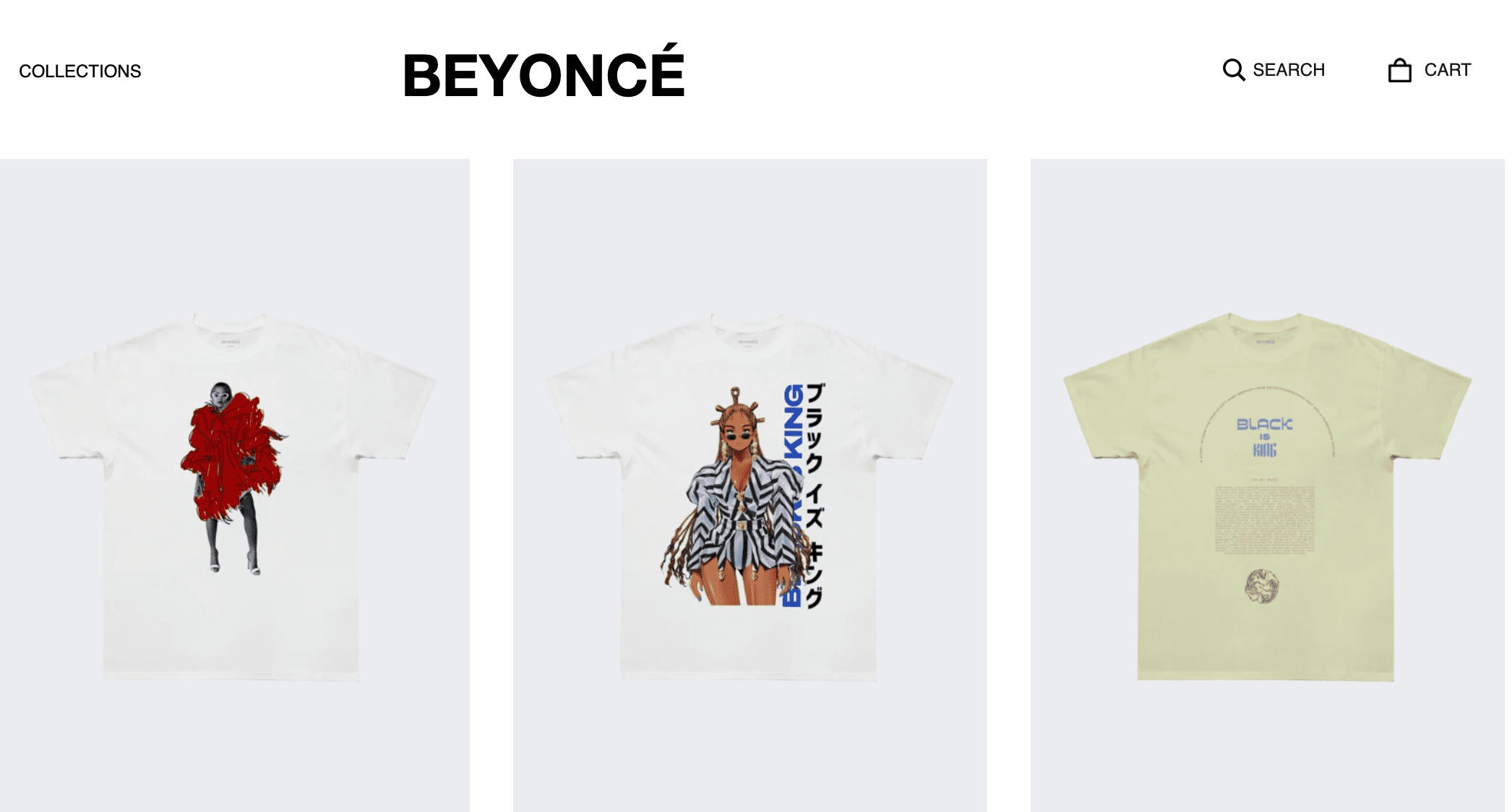 Beyoncé has been a force in the music industry since the 1990s. With over 118 million records sold and counting, to say she's made an impact is a vast understatement. By 2014 she earned the distinction of the highest-earning black music artist ever. She's also known to be a trendsetter, as well as involved in activism. Her merch collection is impressive, with a modern art touch to nearly everything, from her t-shirts, hoodies, totes, posters, and more. You'll even find face masks, bodycon dresses, biker shorts, military shorts, and so much more. 
Best Buys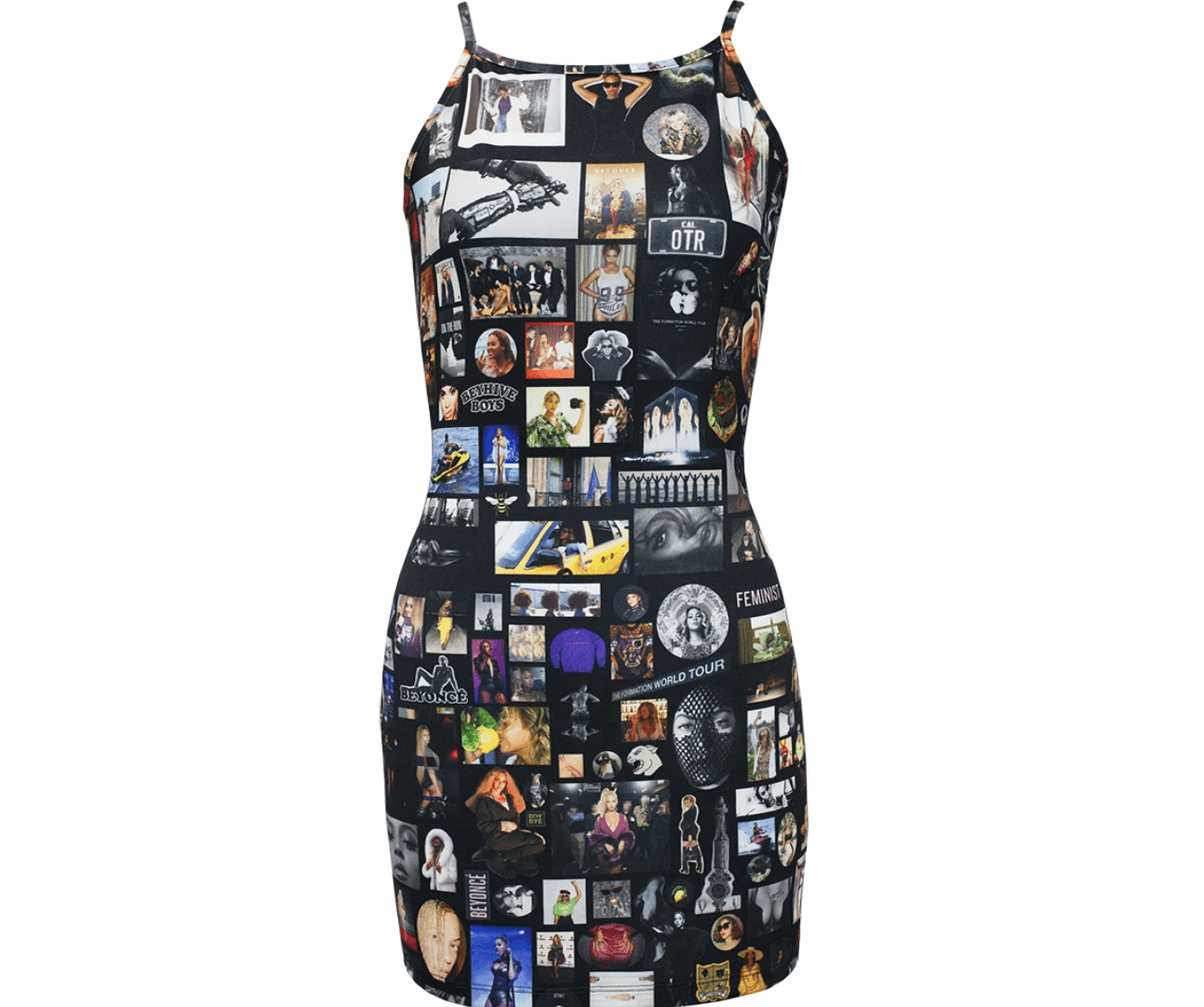 This collection has so many items to choose from, it's hard to choose just a few pieces of merchandise. But if I'm looking for unique options you won't find anywhere else, I'm going for the Limited BeySearch Bodycon Dress, the artistic Festive B White Tee, Beyhive Mesh Bodysuit, or the cozy Holidayoncé Knit Scarf. 
Where to Buy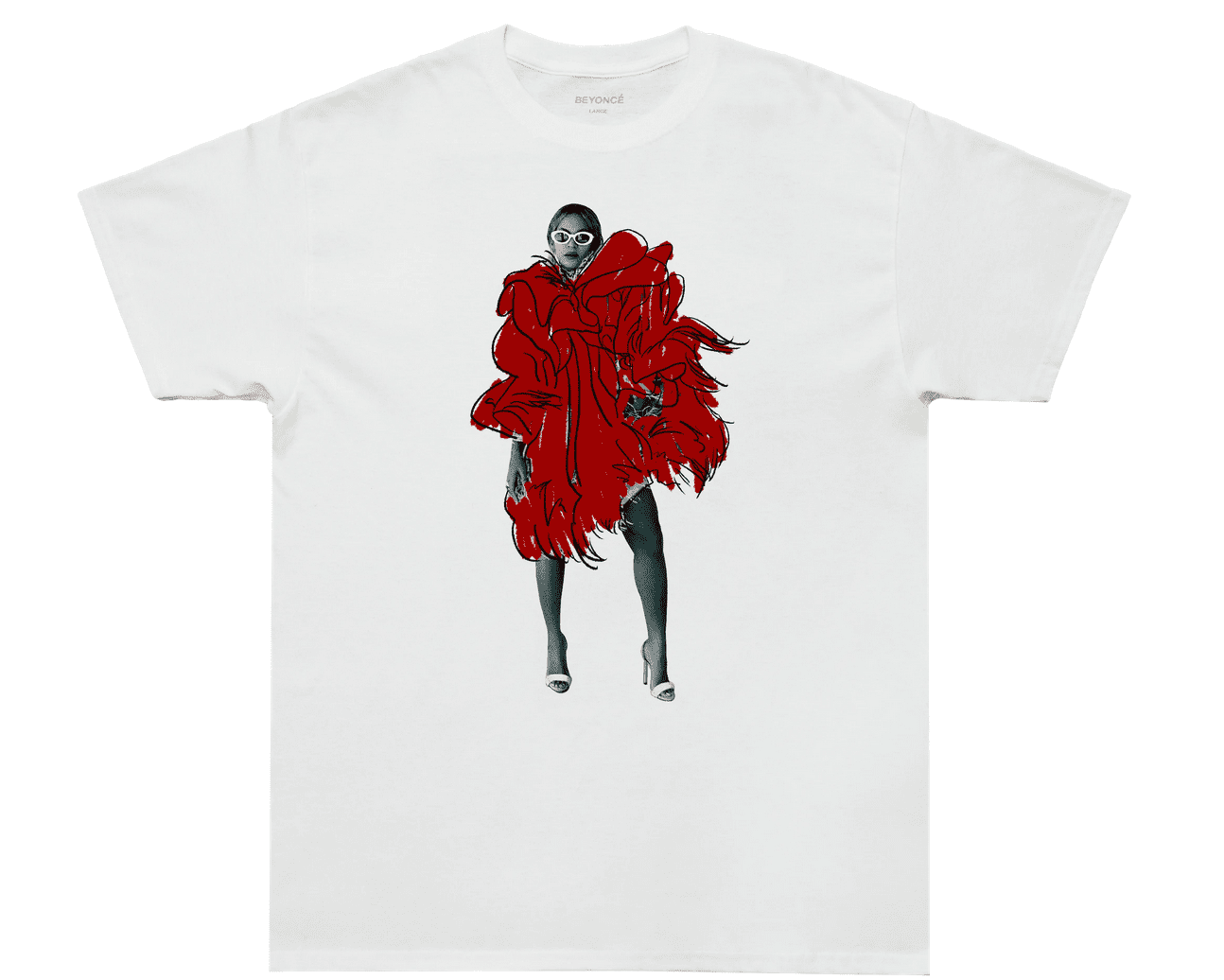 Shop my picks at the links above, or Shop All Beyoncé Merch Here. 
Pros
Modern, Artistic Designs

Wide Selection of Merch 

Unique, Statement Pieces

Sizing Up to 4XL
Cons
Can Be Overwhelming Due to Large Inventory

Items Sell Out Quickly
Justin Bieber Merchandise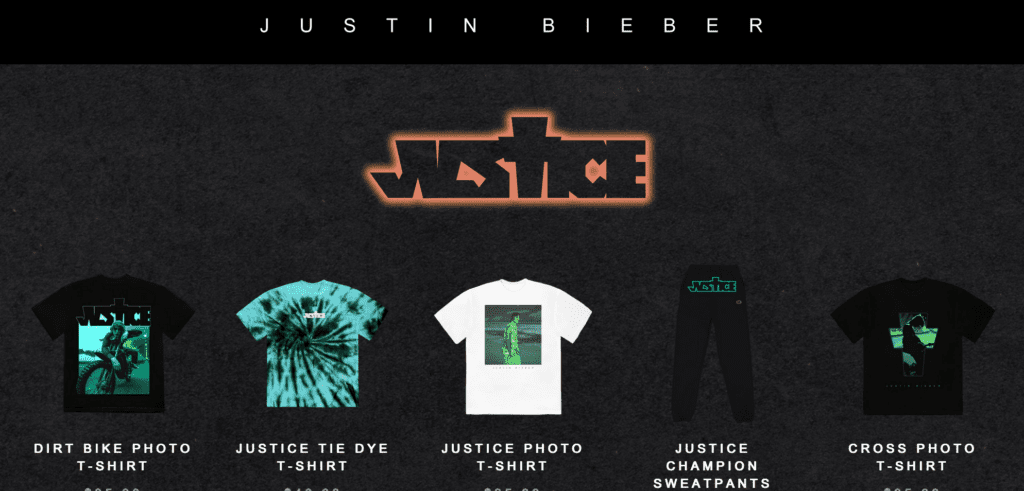 Justin Bieber rose to fame as a teen in 2008, when he became the youngest solo male artist to top the Billboard charts for just shy of five decades. And while Bieber's music career– and even spiritual life– has greatly evolved since, one thing that's remained somewhat consistent is his clothing style. Baggy pants and t's and casual wear with accessories with splashes of color very much inspire his playful celeb merch collection. Crop t's, hoodies, face masks, relaxed sweatpants, and stickers are all available. 
Best Buys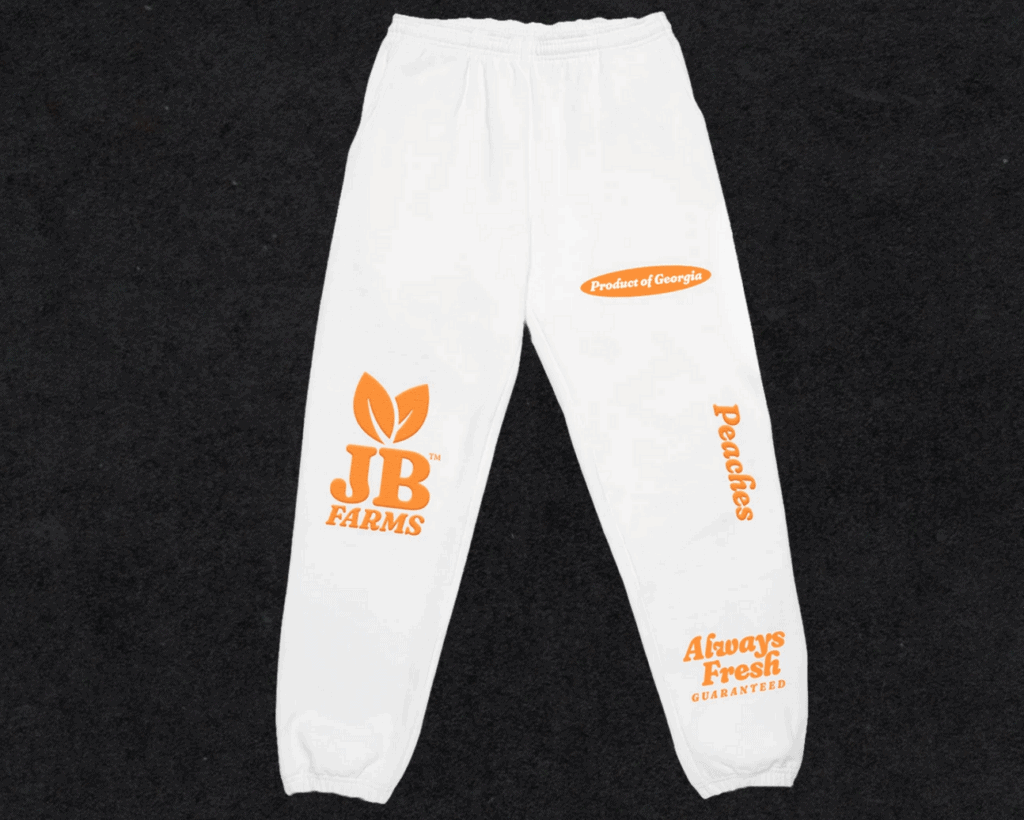 Get ready to show off her Bieber fandom with a bright new pair of Peaches Sweatpants or a matching Peaches T-Shirt. For the modern romantic at heart, there's the Stuck On U T-Shirt. Headed out and want to keep yourself protected? The Holy Face Covering is reusable and washable. 
Where to Buy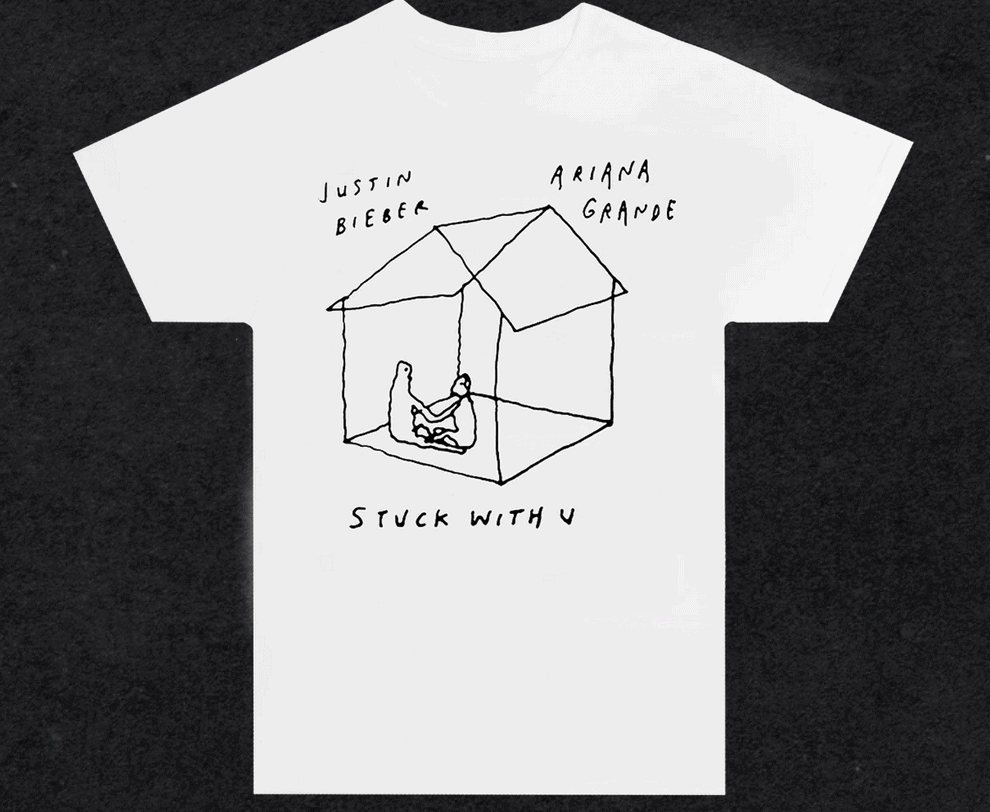 Shop my picks at the links above, or Shop All Justin Bieber Merch Here. 
Pros
Casual and Comfortable Wear

Up to 2XL

Some Profits Go Towards Charity
Cons
Rather Plain Styles

Boxy Shapes
Katy Perry Merchandise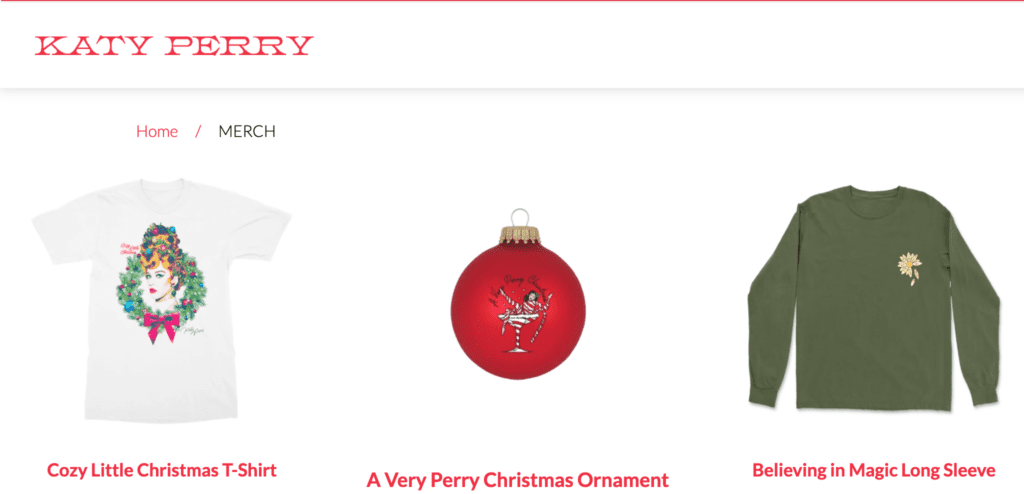 At a time of great uncertainty, Katy Perry released her optimistic sixth studio album, Smile. While it wasn't as successful as some of her previous albums, it did provide a bit of light during the pandemic. Perry, one of the best-selling music artists worldwide, who's sold over 143 million albums to date, continues to influence the pop world with her music, appearances, and even her merch. Her current merch collection exudes enthusiasm, a love for life, and encouragement. Bright colors, tie-dye details, and a little touch of retro all make her collection something to smile about, from hoodies to hats, t-shirts, and onesies. 
Best Buys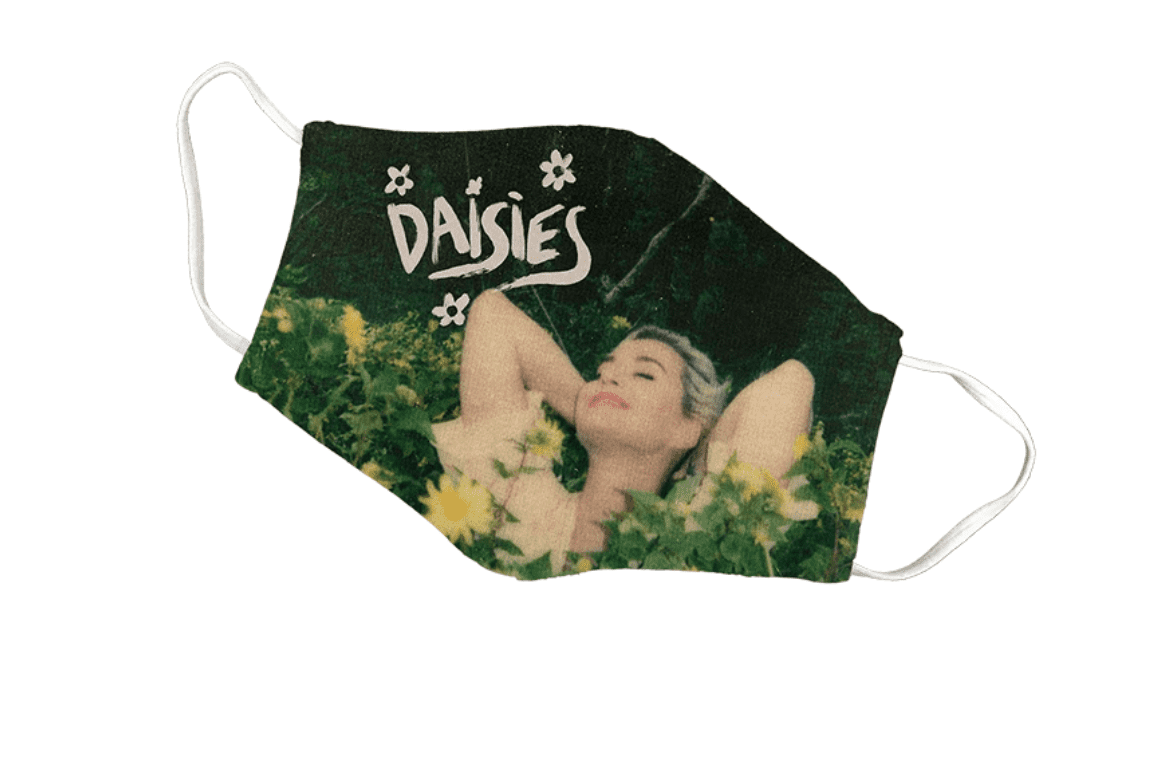 It may not be immediately attention-grabbing, but something is charming about the simple aesthetic of the Believing in Magic Long Sleeve Tee and Daisie's Socks— but they're currently sold out. In the meantime, I like the reusable Daisies Face Mask, and the comfy Keep on Dancing Cropped Hoodie. 
Where to Buy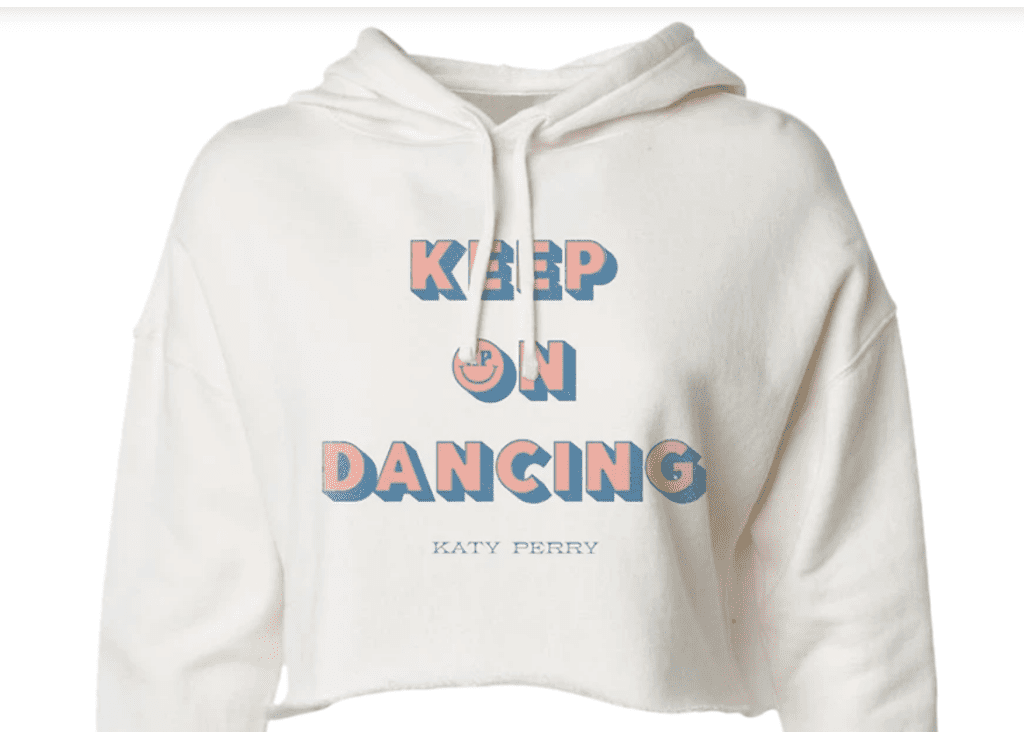 Shop my picks at the links above, or Shop All Katy Perry Merch Here. 
Pros
Some Profits Go Towards Charity

Financing Available– But Mostly Affordable

Cheerful Designs
Cons
Many Sell Out 

Not Very Unique
Billie Eilish Merchandise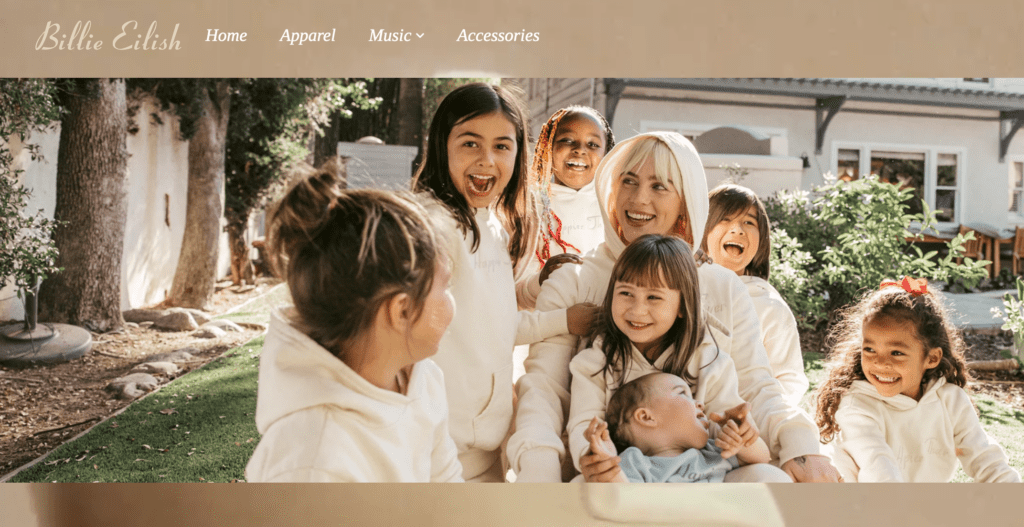 At just 19 years old, Billie Eilish has won seven Grammy Awards, made top 15 charts in the US, Canada, UK, and Australia, and set records, including Youngest Artist in Grammy History. Amongst her countless awards, she's also respected as someone who's gone with her style and preferences, setting forth her path and unique identity.
Her merchandise line shows how the singer continues to transform and surprise– as one of the few celebrity merch lines to offer baby, toddler, and youth clothing. Soft knits, plaid, and holiday merch complete the inviting collection. But what stands out most is quality, with 100 percent organic options made in the USA. That's hard to find in a celebrity merch collection. 
Best Buys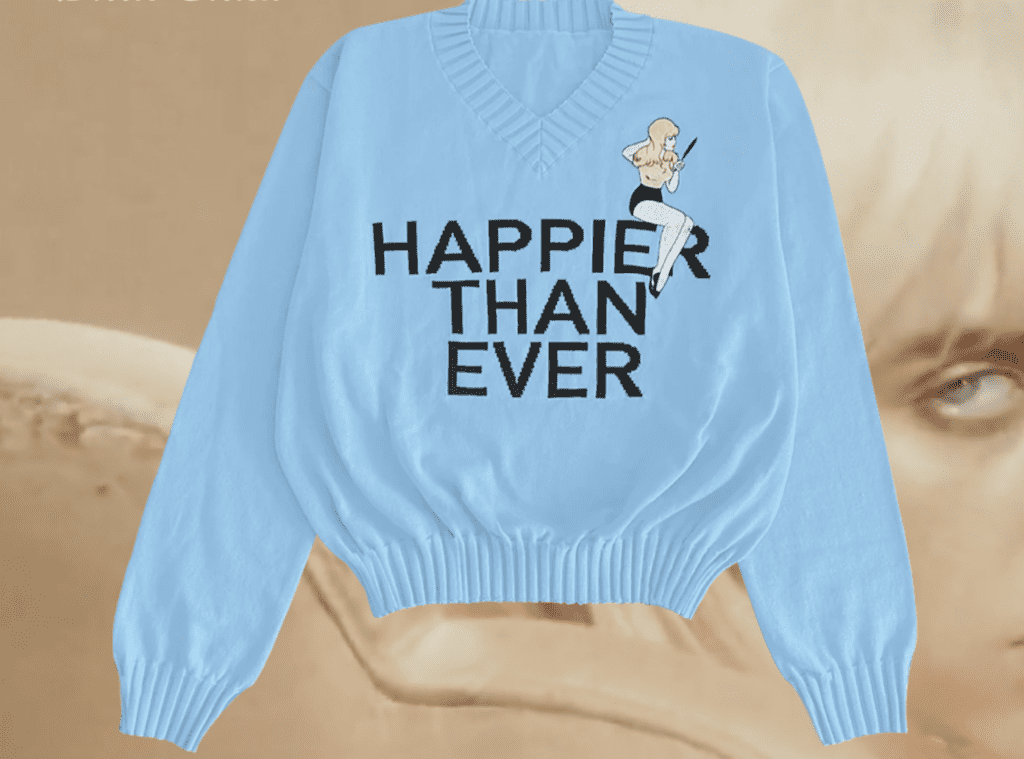 I love that Billie Eilish offers clothing for younger fans, from the Happier Than Ever Organic Hoodie to the adorable Blooms Organic Pink Onesie. For older fans, the Happier Than Ever Knit Sweater paired with the Happier Than Ever Blue Beanie is great for cool weather. While it's less obviously Eilish, I even love the Happier Than Ever Doormat for a great housewarming gift. 
Where to Buy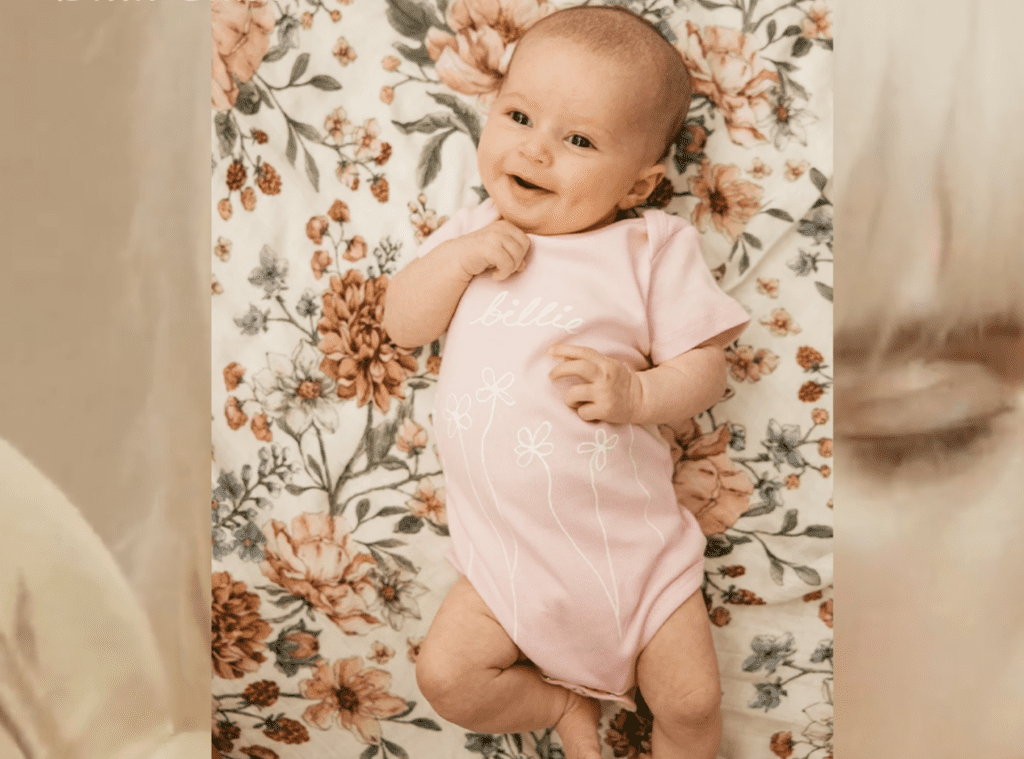 Shop my picks at the links above, or Shop All Billie Eilish Merch Here. 
Pros
100 Percent Organic Cotton

Mostly Made in the USA

Merch For All Ages

Soft Hues, Subtle Designs
Cons
Not As Immediately Recognizable

Hoodies Are Pricey 
Nicki Minaj Merchandise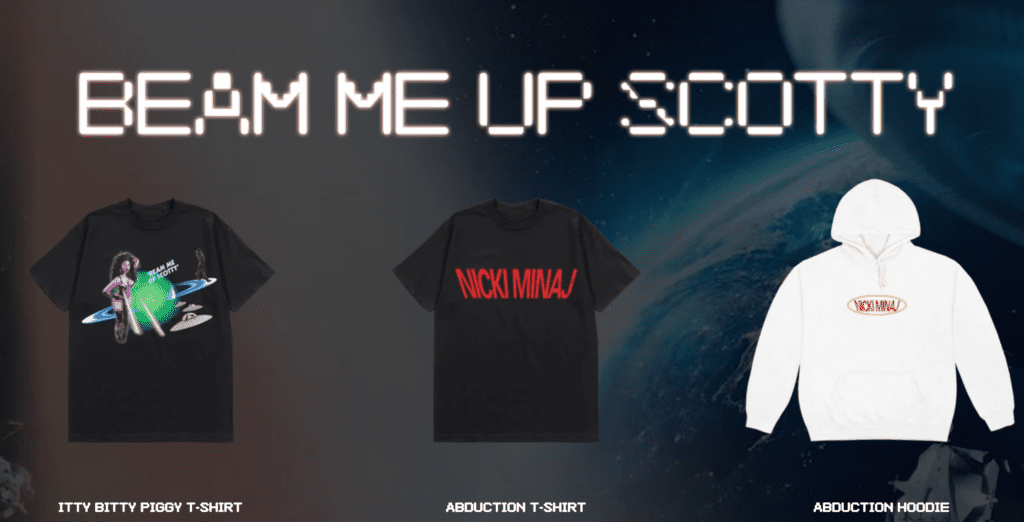 If you listen to any rap or hip hop- and even if you don't, chances are you know Nicki Minaj. The rapper and songwriter are known for their energetic songs and animated performances. She's likewise known as one of the most prominent female artists, boasting over 100 million record sales, eight American Music Awards, five MTV Music Awards, and countless others. Her vibrant personality and confidence translate into her merch line, with neon colors, space alien themes, and daring but still comfy designs. Biker shorts, track pants, hoodies, and phone cases round up a small but interesting collection of celebrity merch. 
Best Buys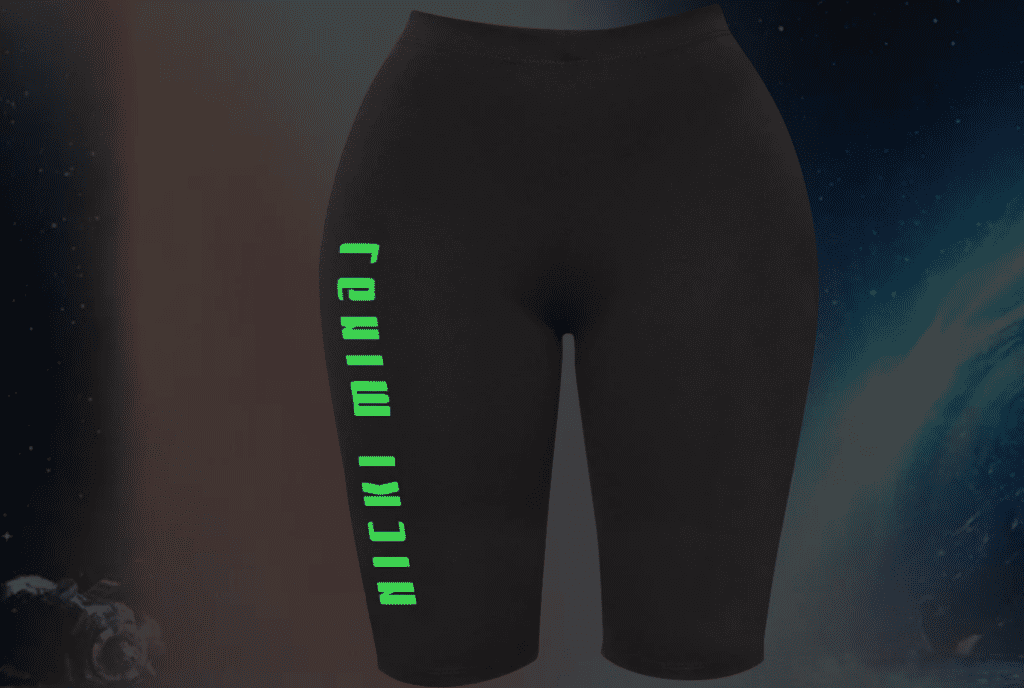 This is a small collection of merch, but there still are a few great finds. The Itty Bitty Nylon Track Pants feature a bold neon print and a comfy gathered waistband. Biking shorts are popular not only for bikers for hanging out, and the Nicki Minaj Biker Shorts are a great option– but most sizes are sold out right now. 
Where to Buy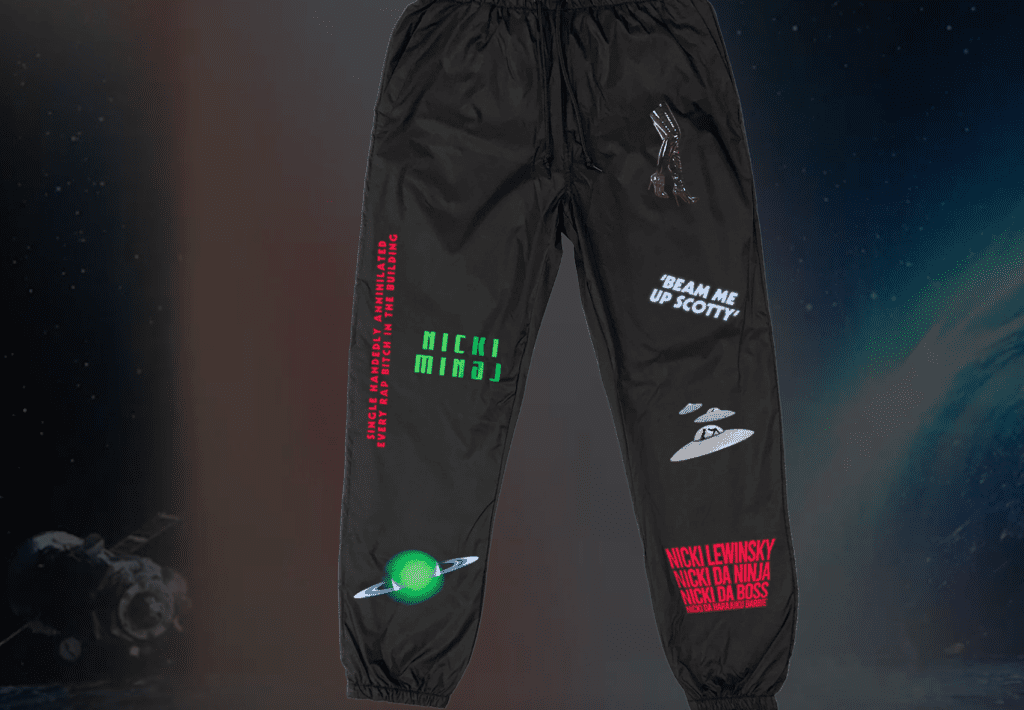 Shop my picks at the links above, or Shop All Nicki Minaj Merch Here. 
Pros
Vibrant Designs

Recognizable

Great For Athletic Wear and Hanging Out
Cons
Many Sizes Sell Out

Limited Colors
BTS Merchandise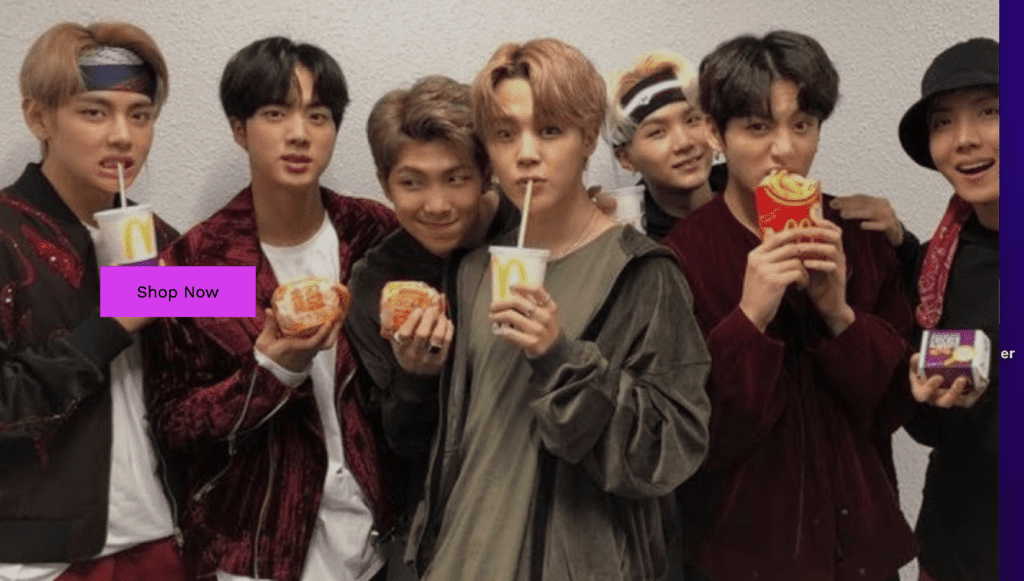 BTS is one of the hottest groups not only for KPOP but dominating the music industry in general. By 2017– just three years after dropping their debut– the boy band had earned global recognition, becoming the first South Korean music band to top Billboard charts in the United States.
To date, they have some of the most viewed videos on YouTube and an avid fan base that's hard to match. And as you can imagine, their merch line is one of the largest celebrity merch lines available. Playing to a youthful fan base, merch options include not only apparel but also dolls and plushies, posters and stickers, home decor, accessories, and even a collab with Black Pink. 
Best Buys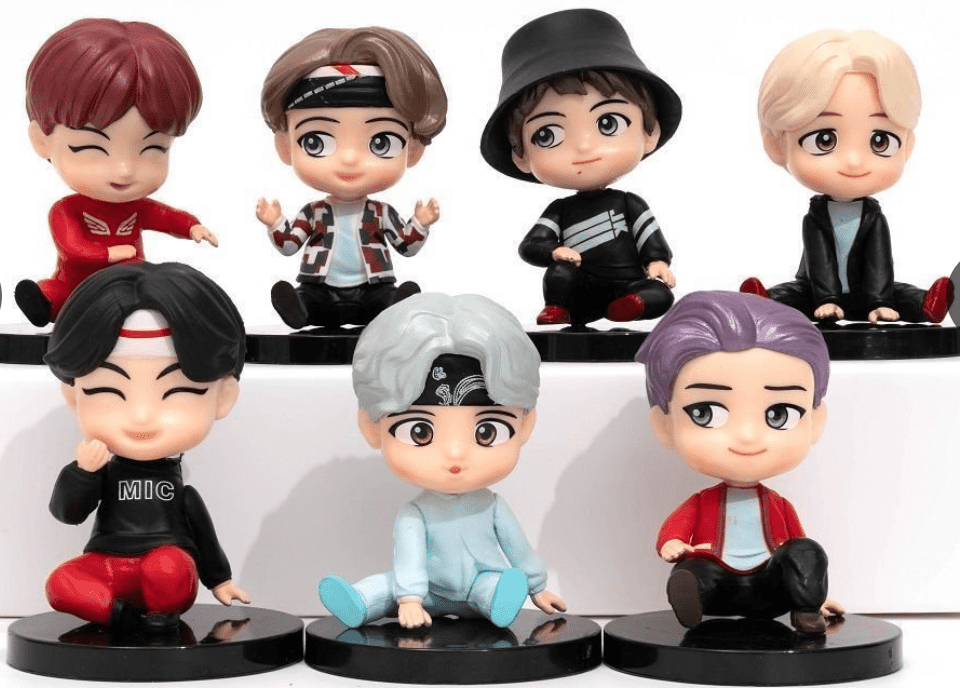 This vast collection of merchandise has plenty of fun and affordable options for many fans. More unique options include TinyTan Sitting Figure Dolls, playful Emoji Pillowcases, and a stylish Dynamite Zip Backpack. If you want more typical merch, I love their Colorful Hoodies.  And the Permission to Dance Gift Box makes a great present. 
Where to Buy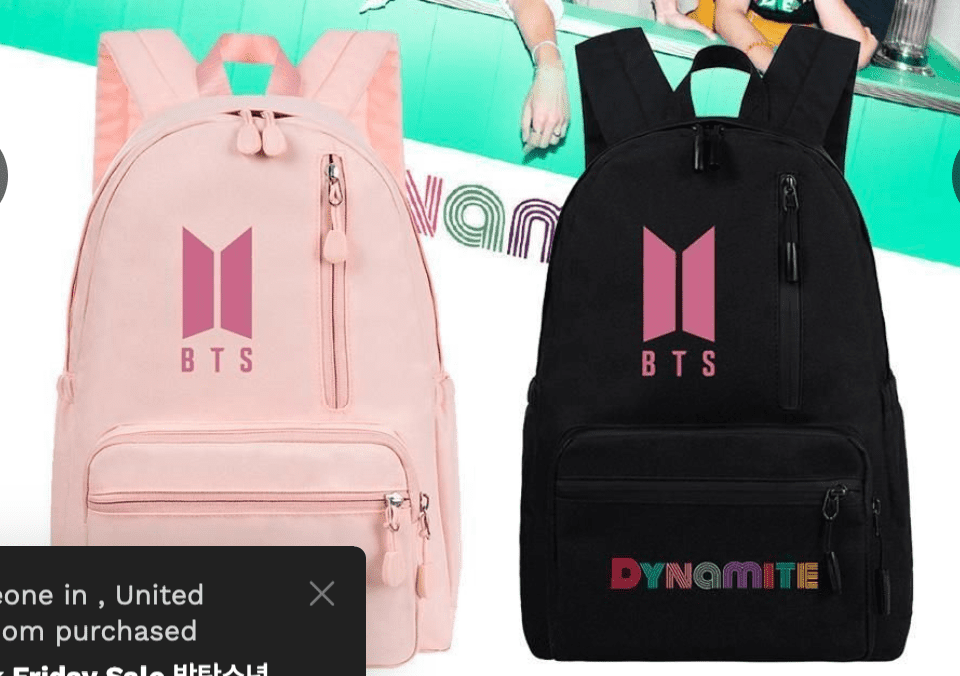 Shop my picks at the links above, or Shop All BTS Merch Here. 
Pros
Collectibles For All Ages

Trendy, Youthful Designs

Huge Selection + Affordable Options
Cons
Limited Sizes

Takes a While to Ship
Mr. Beast Merchandise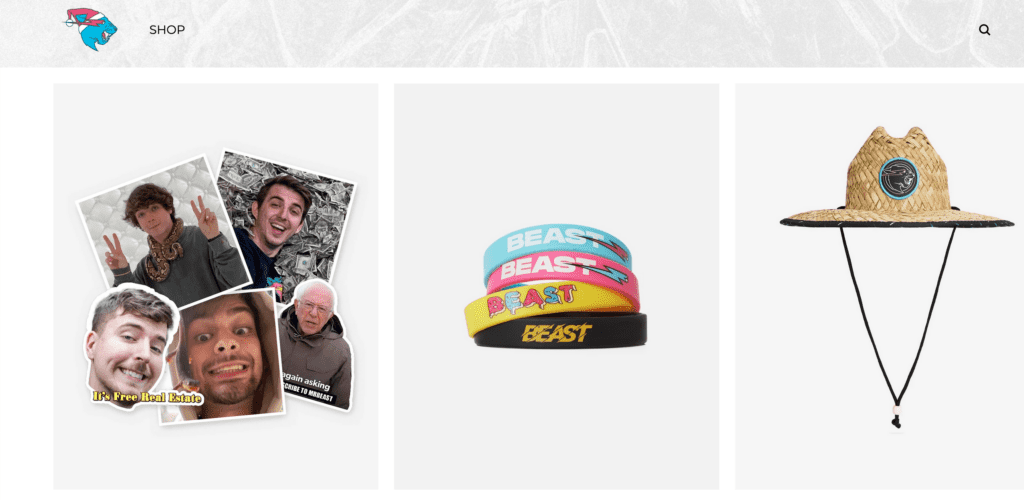 Sure, Mr. Beast doesn't live in Hollywood, and you won't see him at Red Carpet events. But with over 153 million combined subscribers across his YouTube channels and some of the most viral videos on YouTube overall, he's certainly well known enough to be considered a celebrity. At just 23, he's raised money for several causes and has given away not only millions of dollars but also homes, cars, and more.
Though he dips into gaming and reactions as well, he's most well known for his generosity and creative videos where he surprises people with money or free products. In an interview with fellow content creators, Mr. Beast has opened up and shared he has to have his merch line and other channels to break even on his tremendous giving– so when you're buying merch from Mr. Beast, you're funding more charitable giving– not to mention entertaining videos. 
Best Buys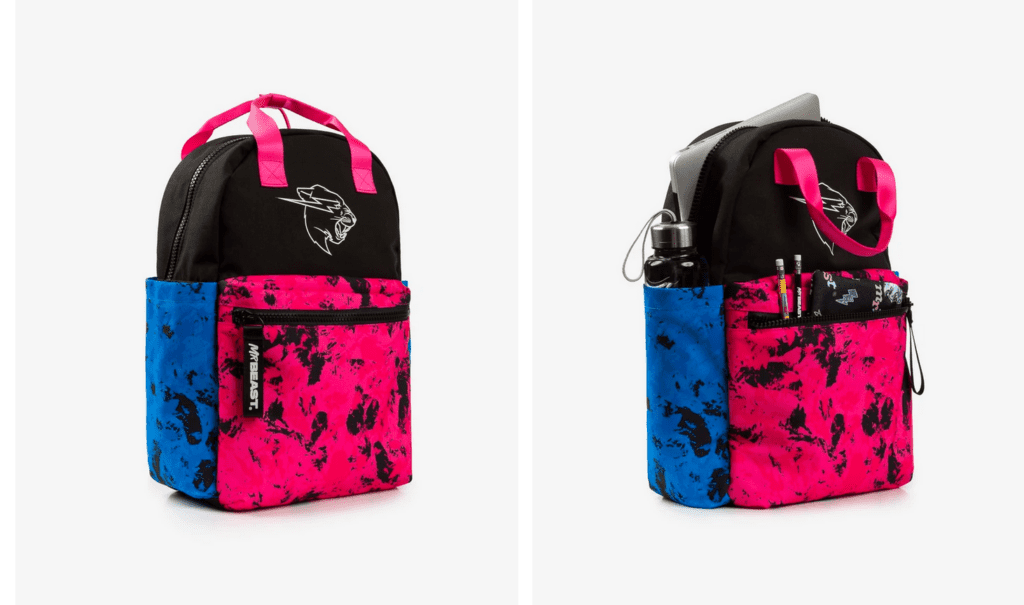 Another thing I appreciate about Mr. Beast merch is affordable and useful. It's a fairly small collection right now, but some of my favorite options include the Mr. Beast Pink/ Blue Splatter Logo Backpack, colorful Mr. Beast 4 Pack Wristbands, and a Nike Dad Mr. Beast Hat. 
Where to Buy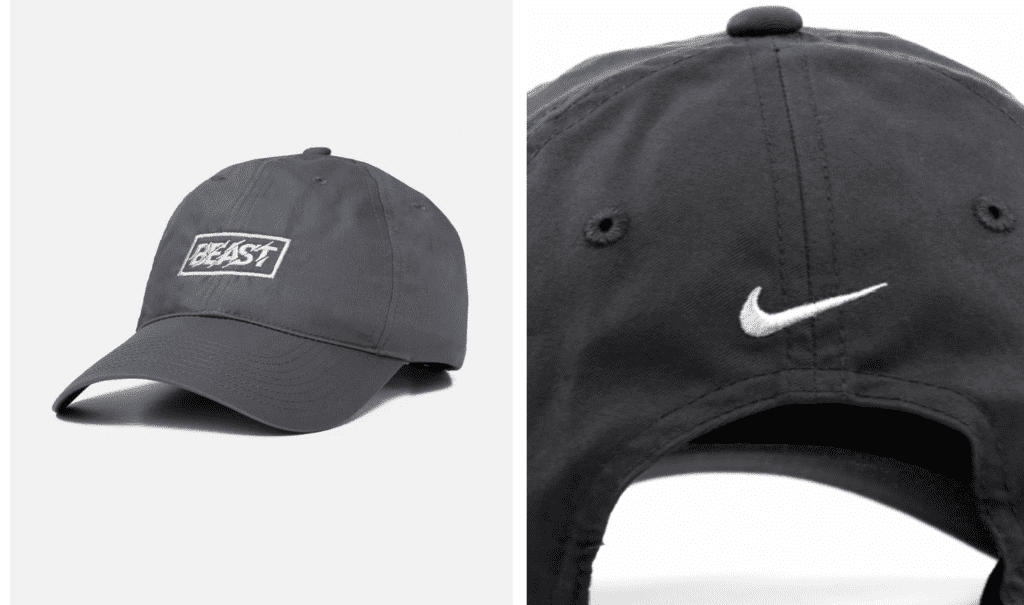 Shop my picks at the links above, or Shop All Mr. Beast Merch Here. 
Pros
Budget-Friendly

Supports Future Content & Donations

Playful Designs
Cons
Limited Selection

Sales Are Final During Promotions
Taylor Swift Merchandise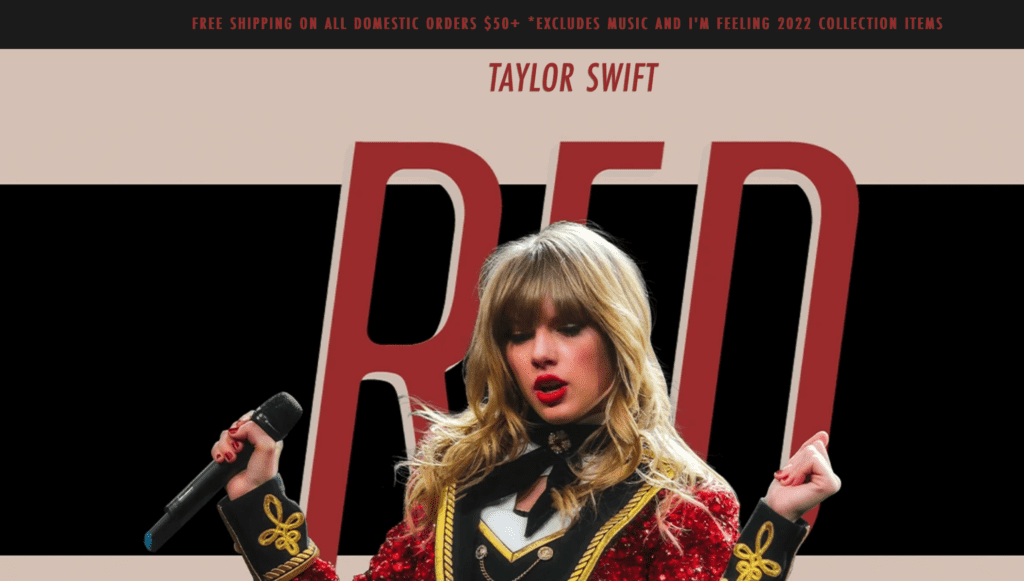 You'd have to be living under a rock to not know Taylor Swift. The singer and songwriter are among the most celebrated artists of all time, having sold over 200 million albums and counting, along with awards such as 11 Grammy Awards, 23 Billboard Music Awards, 34 American Music Awards, and others. Swift is known for her narrative songwriting, ability to connect with fans, and transformation, from country pop to rock to folk. Her merchandise changes regularly to keep pace with this prolific artist's many projects. As such, there's always something new to look at, and all of her merch is very much on theme with her current era. 
Best Buys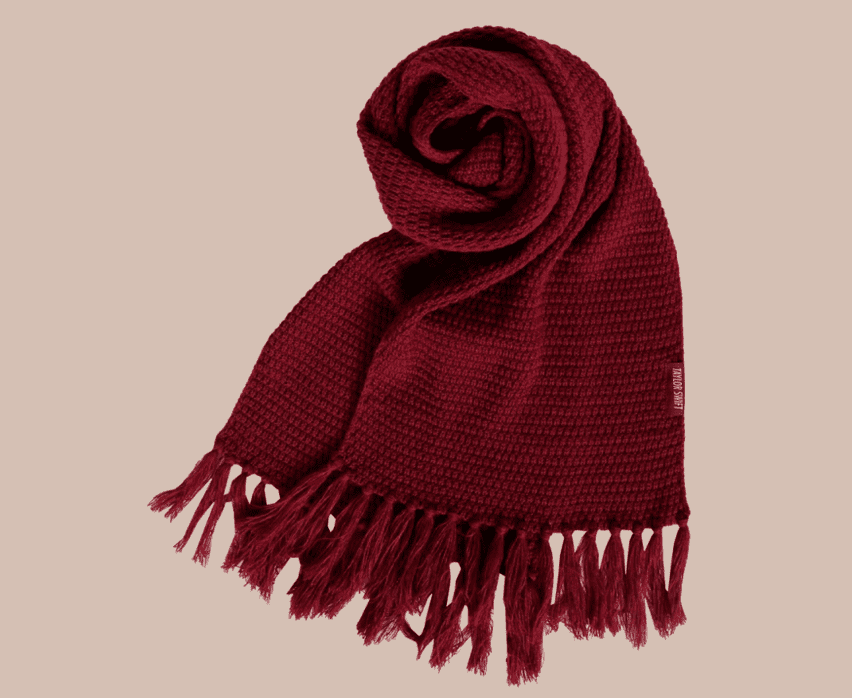 A caveat about my best buys: since Taylor Swift's merch collection is always changing, these are just my recommendations for now. "All Too Well" is perhaps Taylor's most beloved song by fans, and there's a lot of merch to love to celebrate the release of her 10-minute version of the song and re-recording of Red. My favorites are the All Too Well Notebook, the We'll Run Locket, and cozy accessories like the Red Beanie and All Too Well Red Scarf.  
Where to Buy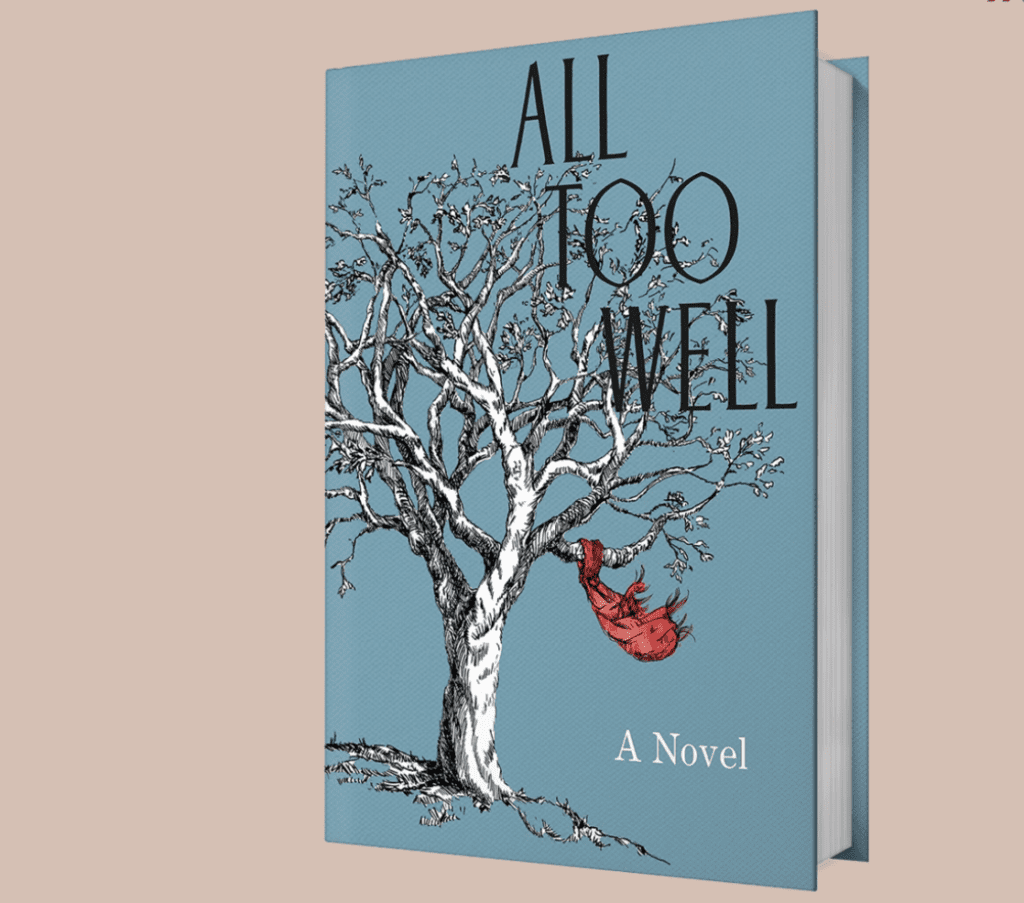 Shop my picks at the links above, or Shop All Taylor Swift Merch Here. 
Pros
Excellent Variety

Merch at All Price Ranges

Very on Theme 
Cons
Many Sizes Sell Out Quickly

Merch Changes Quickly 
Dua Lipa Merchandise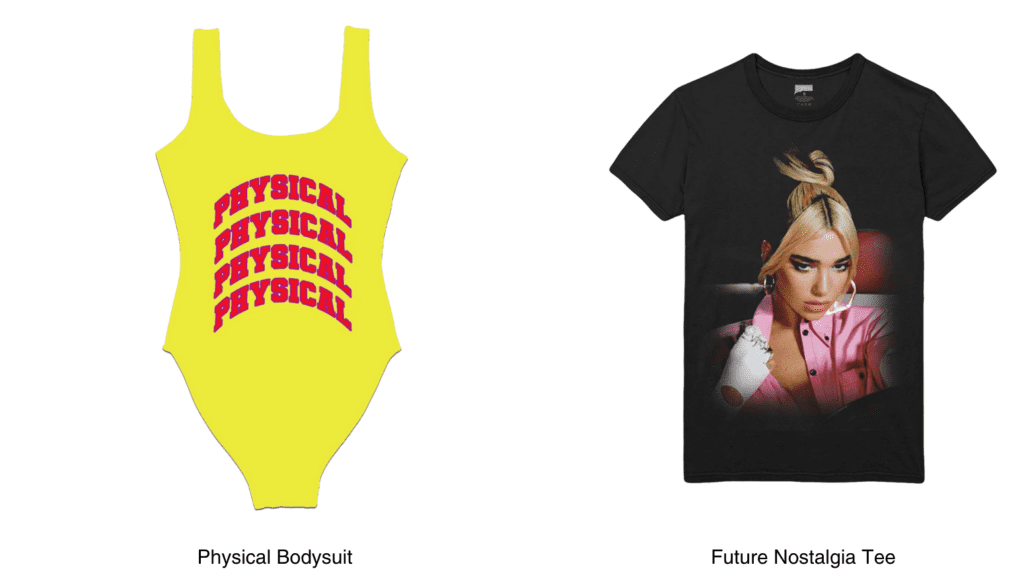 Singer and model Dua Lipa made a splash on the music scene with her debut album in 2017, which topped at number three on the UK charts. Her sophomore album, released in 2020, earned her five Grammy nominations and the title of 2021 British Female Artist of the Year.
Her mix of pop, disco, and a little R&B makes her music popular, but she's full of talent, helping design some of her outfits and still pursuing modeling. Her busy, lively lifestyle is reflected in her cheerful merch, which features both seasonal options as well as staples like bodysuits, sweatpants, and t-shirts. 
Best Buys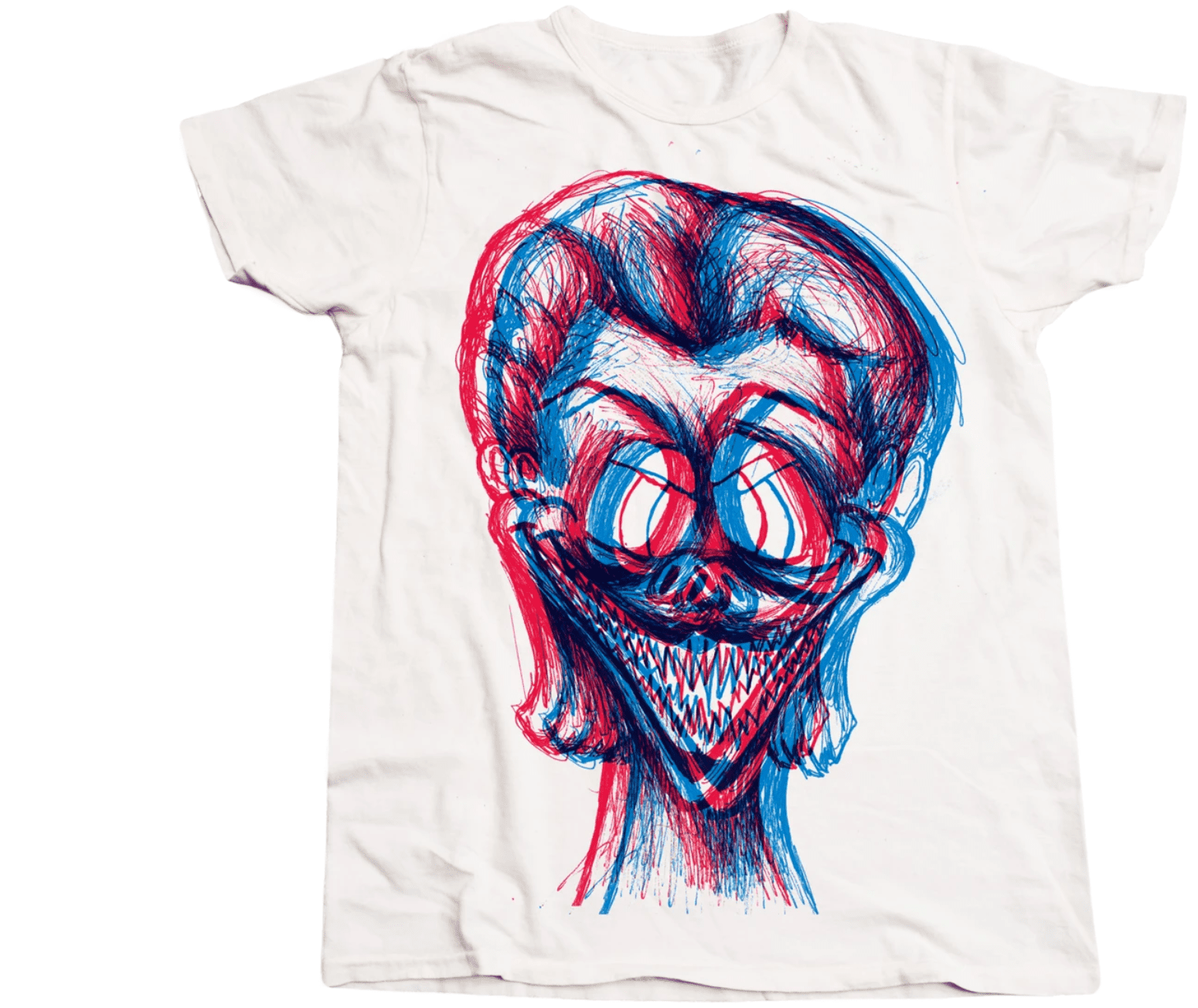 I can't give recommendations and exclude the Pray For Albania T-Shirt, with 100 percent of proceeds going towards victims of a November 2021 earthquake in Albania. The Physical Bodysuit is bright and very retro, but since so many sizes are sold out, most may need to opt for the Physical Yellow Tee. Meanwhile, the Physical Lean Back Hoodie is sure to keep you cozy, with a black backdrop and unique Dua Lipa design. Dua Lipa also carries accessories, but nothing stood out to me, aside from the items related to her holiday collection. 
Where to Buy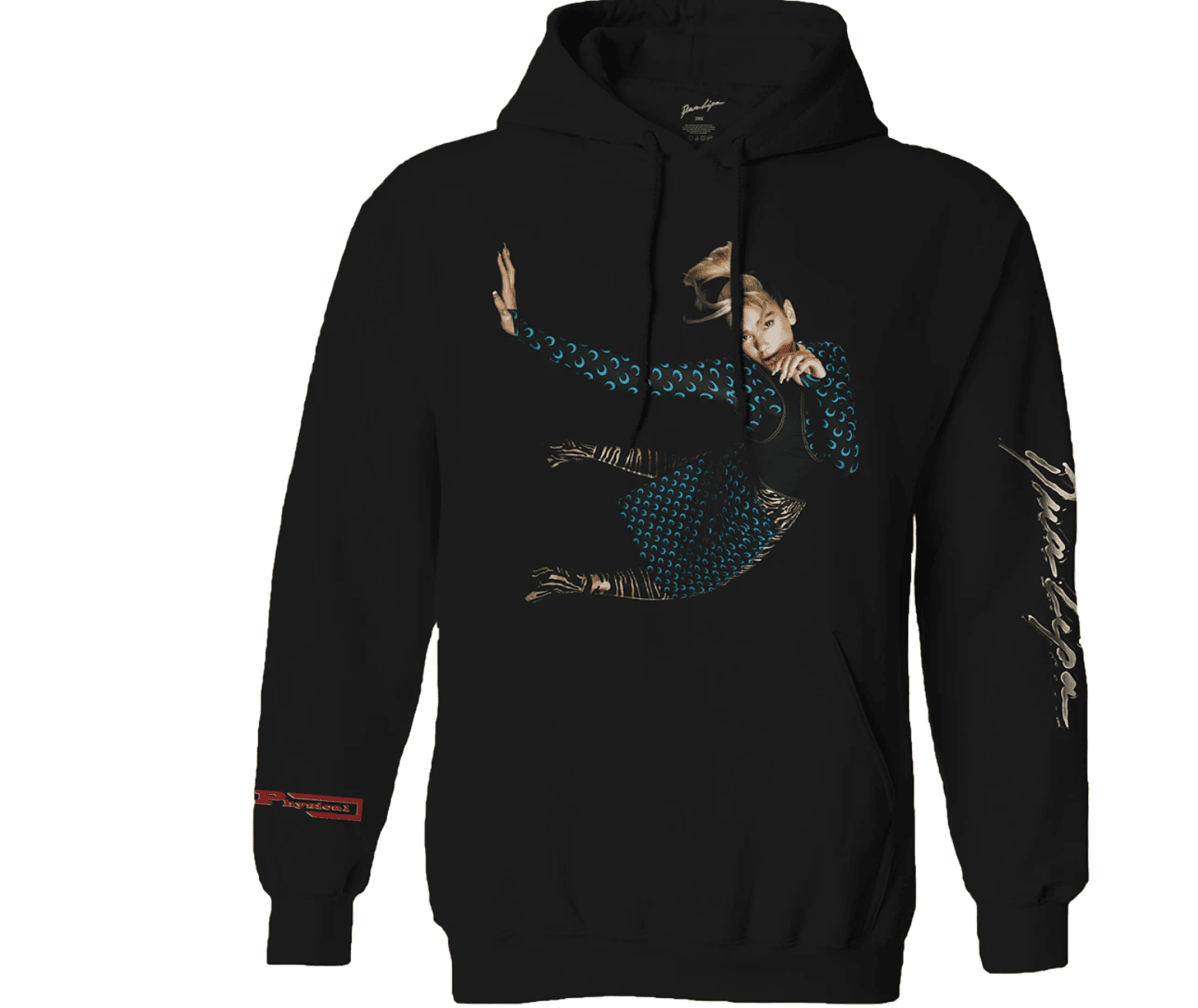 Shop my picks at the links above, or Shop All Dua Lipa Merch Here. 
Pros
Albania T-Shirts Benefits Victims

Fun, Retro, and Stylish

Regular and Holiday Merch 
Cons
Sizes Sell Out 

Very Loud Styles– Not as Versatile 
Ed Sheeran Merchandise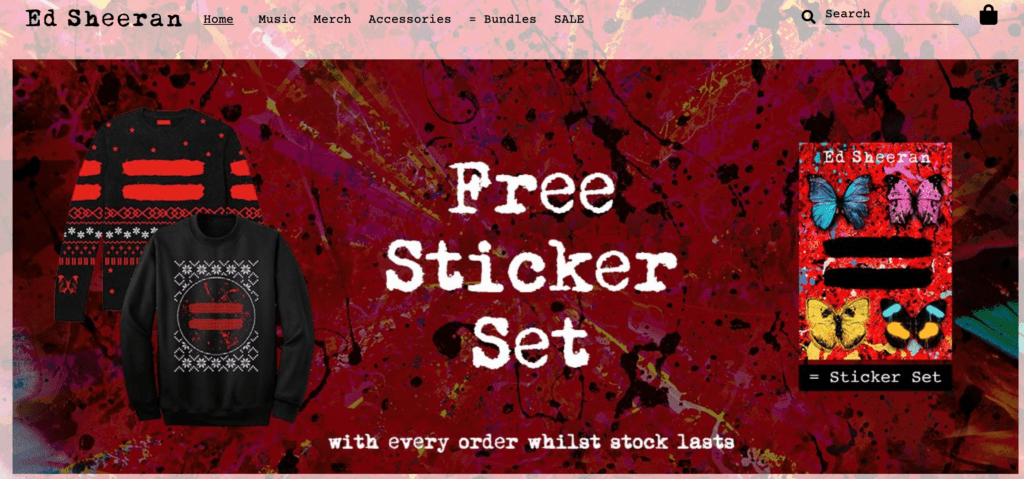 Ed Sheeran may be known for his reddish hair and British accent by others– but he's a force in the music industry, with melodic and catchy songs that have captured hearts worldwide. His 2011 debut topped UK charts, while his second album won a Brit Award for Best Album of the Year.
His third album was only more successful, and now he's sold over 150 million copies in total. Sheeran has also had small acting gigs– mostly cameos and commercials– and is known for his activism as well.  His merchandise is warm and inclusive, with options for unisex, men's, women's, and kid's merchandise. 
Best Buys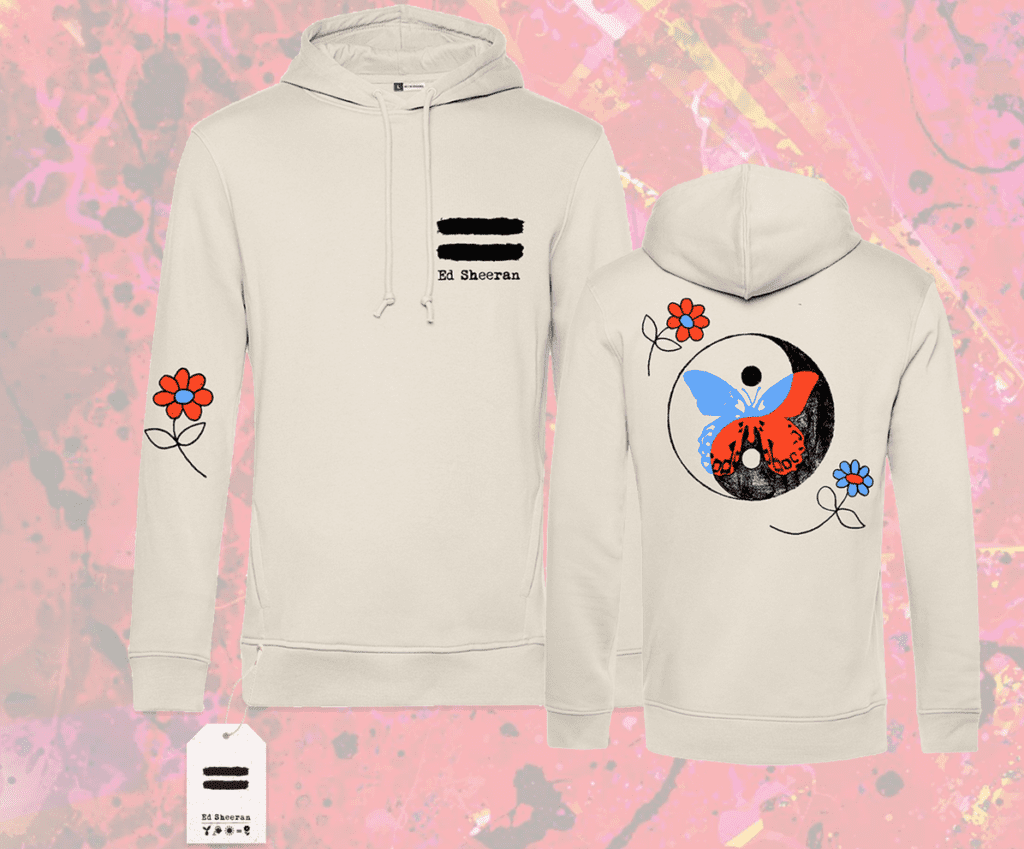 There's a lot to unpack with Sheeran's merch line, with both clothing and accessories for all ages to choose from. I'm fond of the optimistic and symbolic design of the Equals Splatter Hoodie, as well as the whimsy of the Yin Yang Butterfly Hoodie. Shop at your local store with the spirited Sunshine and Flowers Tote Bag or lounge in Perfect Jogger Sweatpants. He also has a fantastic holiday collection. 
Where to Buy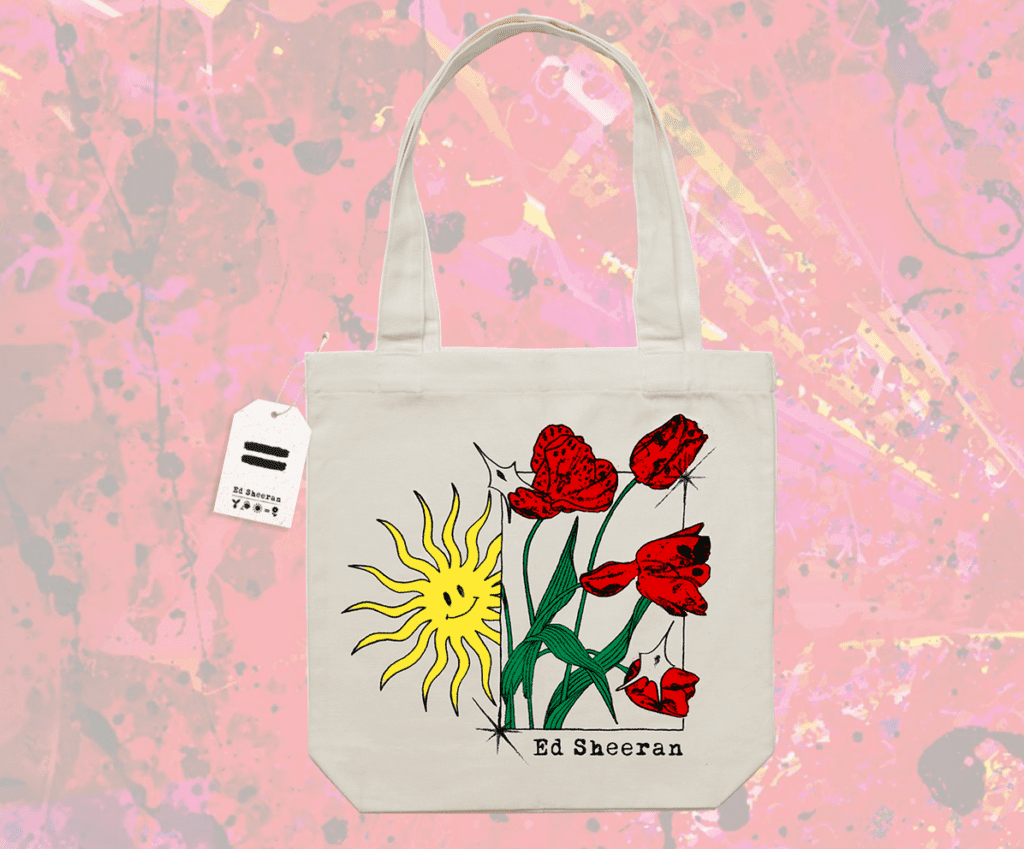 Shop my picks at the links above, or Shop All Ed Sheeran Merch Here. 
Pros
For All Ages and Genders

Spirited and Optimistic

For All Weather
Cons
Prices are in UK Pounds/ Some Are European Exclusive

Shipping May Take a While
Pink Merchandise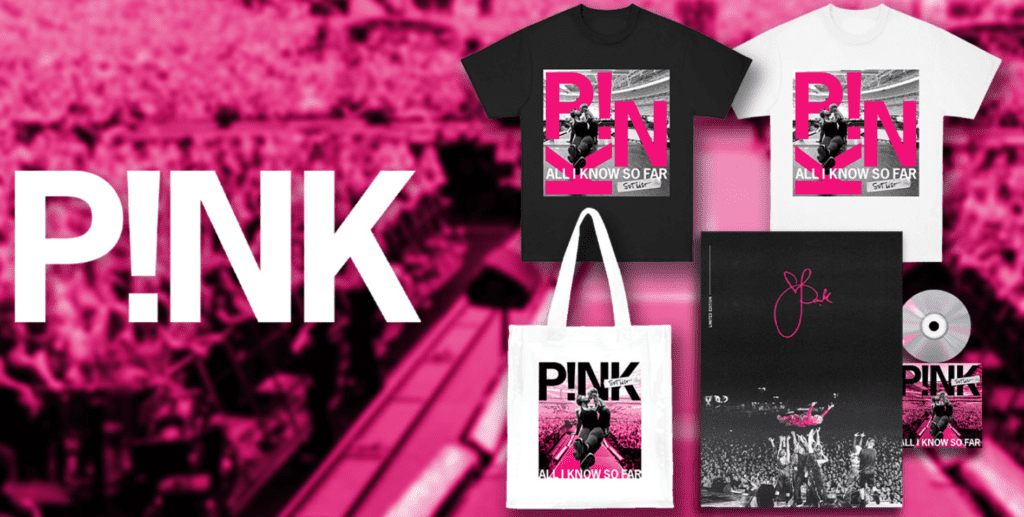 Pink made an impression over two decades ago when her debut solo album went Double Platinum. She's sold over 100 million albums to date, but she's known also for her unique fashion, robust personality, and her incredible acrobatic stage performances. She carries distinctions of three Grammy Awards, two Brit Awards, MTV awards, and others. She's known for her advocacy for animal rights and the LGBTQ+ community. Her daring and adventurous side shines in her merch, which goes beyond basic t's and also includes off-the-shoulder crew necks, a full winter coat, denim and camo jackets, and more. 
Best Buys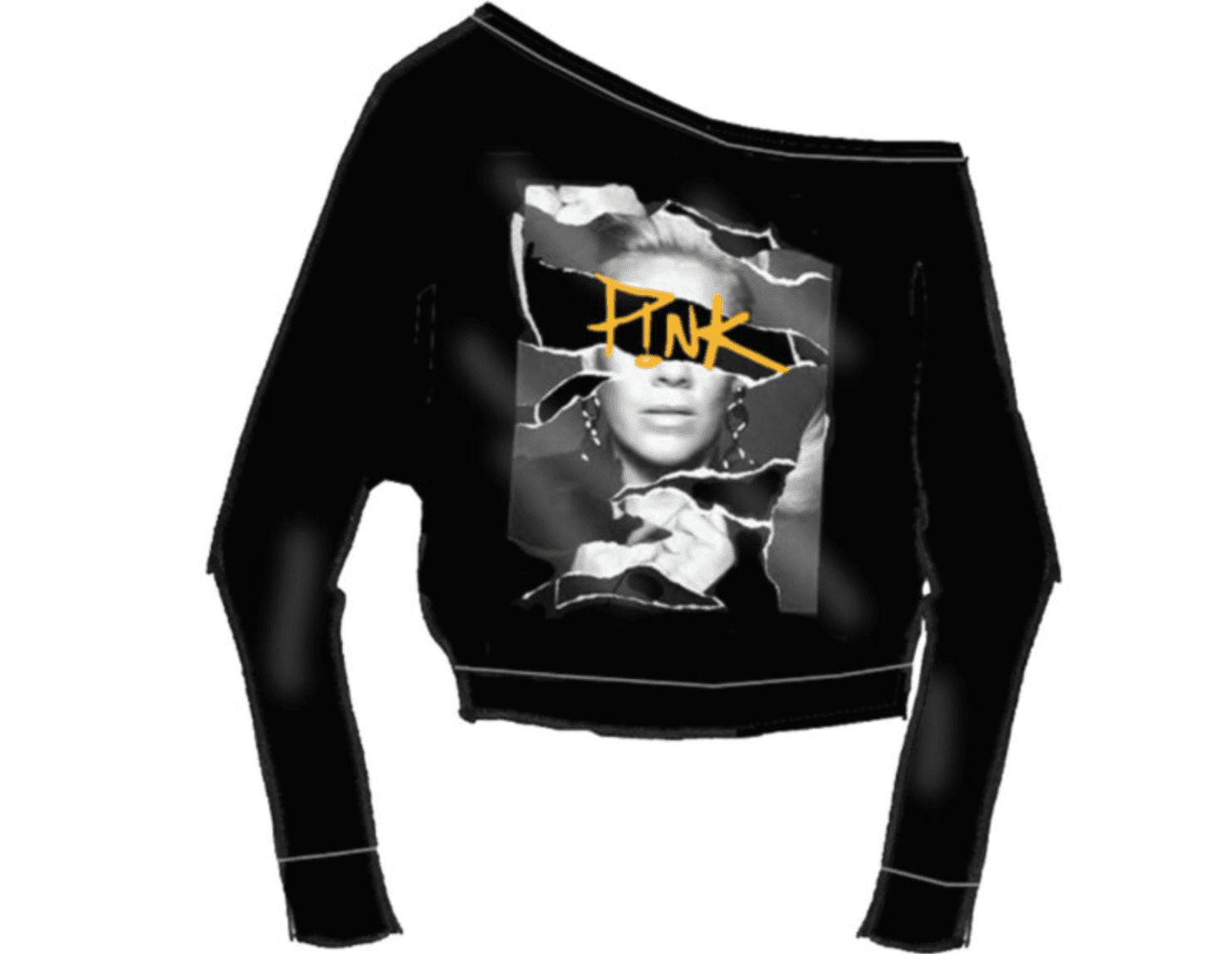 It's hard to know where to start. Pink merch may not be cheap, but some of these are substantial pieces that you'll wear heavily. The Custom Black Bomber is made with satin and detailed ribbing, along with a symbol of one of her tours. Her Special Edition Denim Jean Jacket is limited edition and combines classic and retro styles. On the more affordable side, there's the playful Revenge Long Sleeve T-Shirt and a stylish Off the Shoulders T-Shirt. 
Where to Buy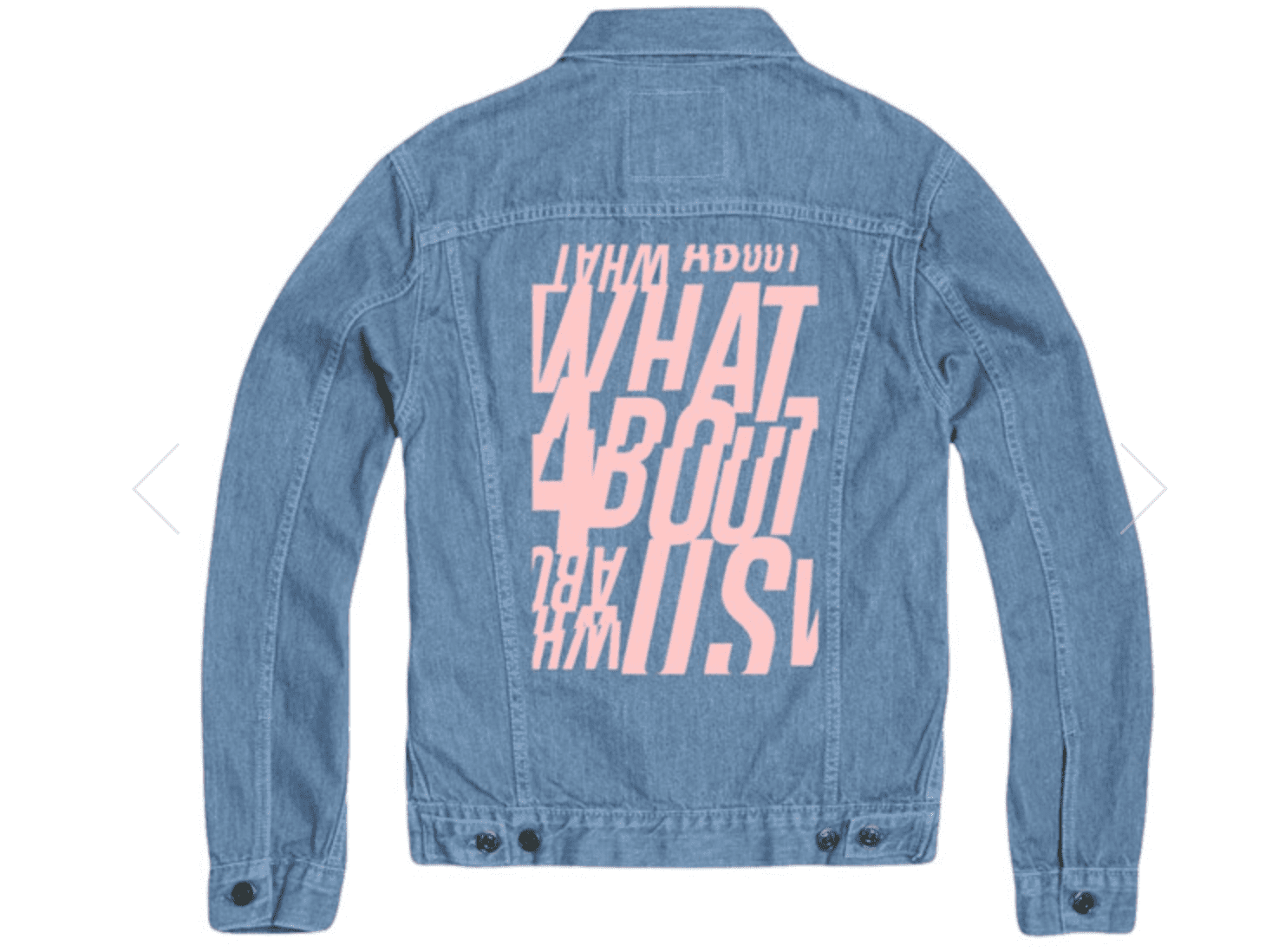 Shop my picks at the links above, or Shop All Pink Merch Here. 
Pros
Limited Edition and Custom Designs

High-Quality Jackets

Unique and Versatile
Cons
Can be Expensive

T-Shirts Are Heavily Printed and Not as Versatile 
Frequently Asked Questions
Question: Can I Sell Merchandise on Patreon?
Answer: Thinking of selling your merch? There are many options, and one of them is through Patreon. As a content creator, you can set up different tiers for memberships that give them access to exclusive products. Of course, you don't have to go through Patreon. If you have a streaming channel, Youtube channel, or another account, you can also use something like LinkTree or pinned comments or for your profile for another site, such as TeeSpring or Etsy. 
Question: Who Has the Best YouTube Merch?
Answer: Part of how you decide you have the best YouTube merch is through customer reviews but also based on what you're looking for and who you want to support. I love Sierra Schultzzie's Merch for its positive messages about body image, self-worth, and size-inclusive line (up to 4XL). Of course, no discussion about YouTube merch would be complete without PewDiePie Merch. The merch line takes on comic book art styles, pop art, and is very representative of the energy he brings to his content. 
Question: How Do Artists Sell Their Merchandise?
Answer: Independent artists of all kinds have a variety of ways to sell merchandise. They may host their websites, sell art at shows or musicians can sell some through platforms like Spotify. There's no one right way to sell merchandise, and it depends on individual artist taste, preferences, budgets, and target audiences. 
Question: What is Google Merchandise?
Answer: Google merchandise is an online store dedicated to selling Google products. Customers are offered storewide promos. 
Question: Should I Buy an Artist's Merchandise?
Answer: If you love what an artist does, buying merch is a great way to support them. Of course, you should only buy the merchandise you think you'll use– and you'll want to pay attention to shipping policies and reviews. Artist merch can also make a great gift, while limited and special edition artist merch can increase in value over time. 
Question: Do MCU Actors Get Royalties?
Answer: Marvel Universe actors are only paid royalties for official merchandise related to the film– and it must be included in their contract. Other promotions, commercials, and related content may not be directly supporting the actors. Nor do Marvel actors and actresses get reimbursed for merchandise simply related to the characters they play. 
Final Thoughts
There are too many celebrity merchandise lines to mention in one guide, so I selected some of the most popular and highest in value in terms of design and creativity. Not all celebrities have their merch lines, so be aware that buying off a third-party site likely will mean you aren't directly supporting the artist. 
Final Buying Recommendations: Celebrity Food Merch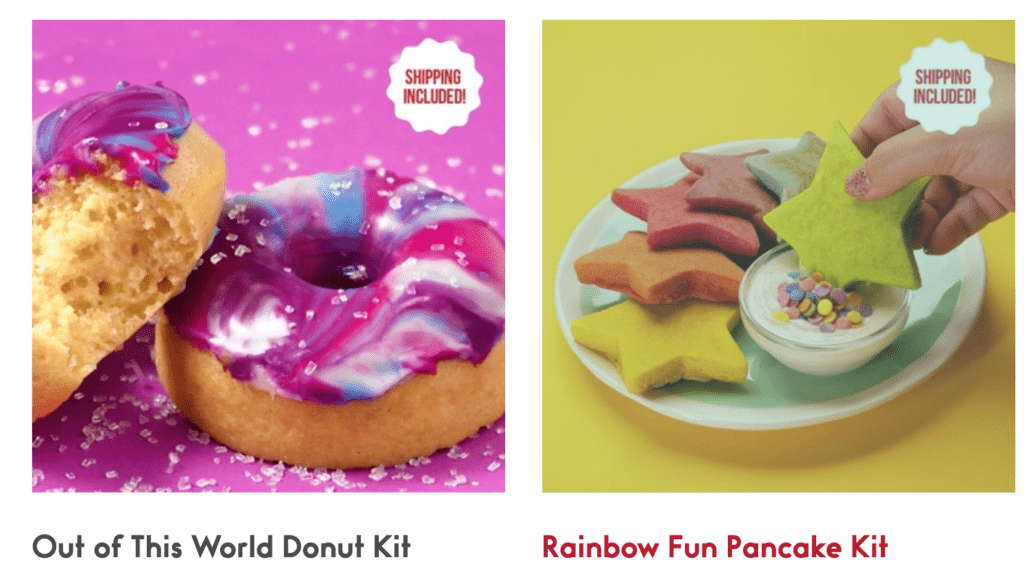 There are delicious ways to support your favorite celebs, too. Some of the most notable celebrity food merchandise lines include former Buffy the Vampire Slayer's Sarah Michelle Gellar: Food Stirs (organic baking supplies and mixes); Tennis Star Maria Sharapova's chocolate and candy line, Sugarpova, and of course any Food Network personalities such as Bobby Flay.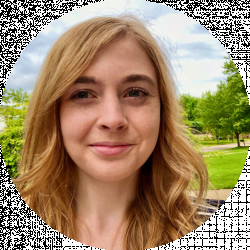 Latest posts by Erin Jamieson
(see all)