Not counting its sequel, Finding Nemo has made over $940 million on the film alone. Yet it's Finding Nemo merchandise that is serving as a guide for fans new and old even now. 
As someone who's always found Finding Nemo to be a colorful, whimsical, and touching film, I want to share my favorite merch items. In this guide, I'll show you the best places to shop for Finding Nemo apparel, home decor, toys, and more. From toddlers to adults, this guide is full of Finding Nemo gift ideas for the most avid fans.
Bottom Line Up Front Summary:  If I had to select just only
My Top Picks
Where to Buy Finding Nemo Merchandise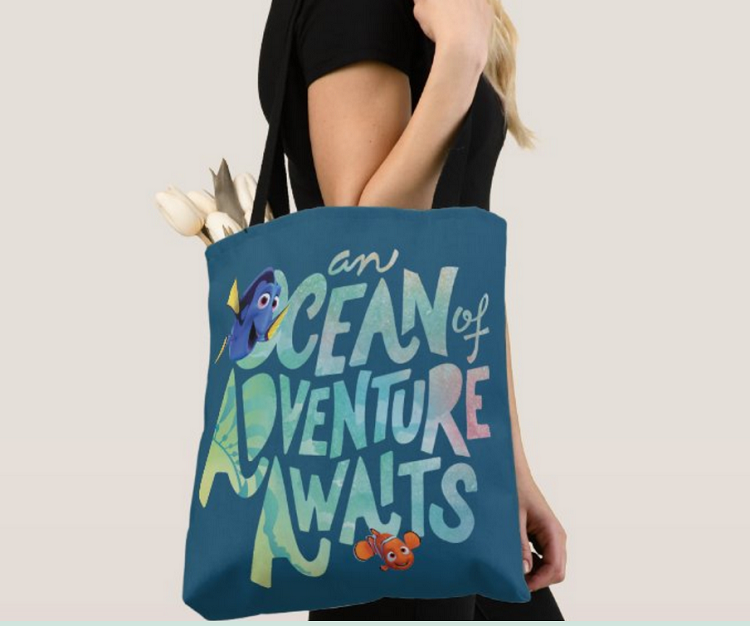 Marlin may be on a journey to find his son, Nemo, but you don't have to shop for Finding Nemo merchandise without directions. Finding Nemo is still popular enough that you can shop for merchandise in stores and online.
Walmart, Amazon, Hot Topic, the Official Disney Store, and Kohl's carry Finding Nemo merchandise. Etsy sells handmade, fan-inspired Finding Nemo merch. Of these, a few collections stand out for the variety and quality of Finding Nemo merchandise products. 
If you're taking a visit to Disney World, you'll have Finding Nemo merchandise to choose from as well. The Sea Base Alpha Gift Shop sells Finding Nemo plush toys, t-shirts, and related accessories. It's not the most economical way to shop, but this is all officially licensed merchandise made with consistent quality.  
Amazon Finding Nemo Merchandise 
Amazon sells a nice variety of Disney Finding Amazon merchandise. Plush toys, graphics t-shirts, swimming pools, wall decals, other decorations, and a few books are the main options. Amazon's selection of party toys and decor as well as Finding Nemo baby products are two categories that distinguish it from other collections.
Prices are mostly budget-friendly. The two downsides to shopping for Finding Nemo merch on Amazon are that not all of it is official Disney merchandise and it's also not as well organized. Shop Finding Nemo Merch on Amazon Here. 
Disney Store Finding Nemo Merchandise
I was surprised by a few things about the Disney Store's Finding Nemo merch collection. On one hand, it's a fairly small selection of products to choose from. On the other hand, that collection has a lot of variety. Books, t-shirts, wall art, reusable water bottles, and ornaments are all offered.
This collection appeals to a range of ages, with colorful designs and a small but joyful presence. While there's an expensive product here and there, most Finding Nemo merchandise is affordable. Shop Finding Nemo Merch on the Official Disney Store Here. 
Hot Topic Finding Nemo Merchandise
Hot Topic is a great place to shop for Finding Nemo merch if you're looking for pre-teens, teens, and adults.  While Hot Topic typically leans into its roots with dark hues, this collection stays true to Finding Nemo, offering shades of blue alongside basics. Graphic tees, backpacks, tanks, and hoodies are a part of this playful collection.
The designs are unique, the materials are soft and comfy, and it's all officially licensed merchandise. There are even a few surprises. Shop All Finding Nemo Merch From Hot Topic Here. 
Finding Nemo Merch: My Picks
Here are my top selections for Finding Nemo merchandise you can buy online today. Finding Nemo merch items were selected after comparing them to other listings. My goal is to provide merch items for ages toddler through adult, as well as a variety of product types.
These items were selected based upon customer reviews, product creativity and quality, price, and creativity. I hope that there's something for everyone. 
I've organized this guide by category, so you can shop quickly for what you need. Check out my final thoughts for additional buying recommendations, including plush toys for each of your favorite Finding Nemo characters. 
Accessories & Apparel for Finding Nemo Fans
T-shirts, hoodies, and more– there's Finding Nemo apparel for all ages. My picks are soft, comfortable, and great for enjoying a movie night in. For toddler clothes, see my final buying recommendations. Accessories include totes and backpacks. 
Nemo Emoji T-Shirt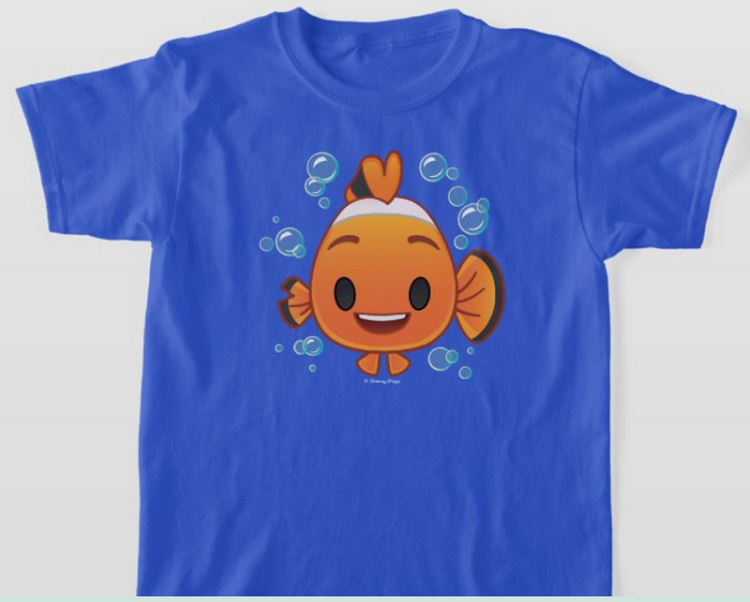 This modern Nemo shirt will appeal to younger fans– and it's entirely customizable. Sold through the Disney Store, this kid's tee is also available in adult sizes. A colorful Nemo emoji is set on your choice of a black, blue, green, red, pink, navy, maroon, light green, or gray backdrop.
The cotton is pre-shrunk and soft. The cover stitching at the collar and double hemming means it'll last wash after wash. Buy Here. 
Pros
Customizable 

Double Stitching 

Soft, Pre-Shrunk Cotton
Cons
Not A Classic Design

No Youth XS or XL
Finding Nemo Just Keep Swimming T-Shirt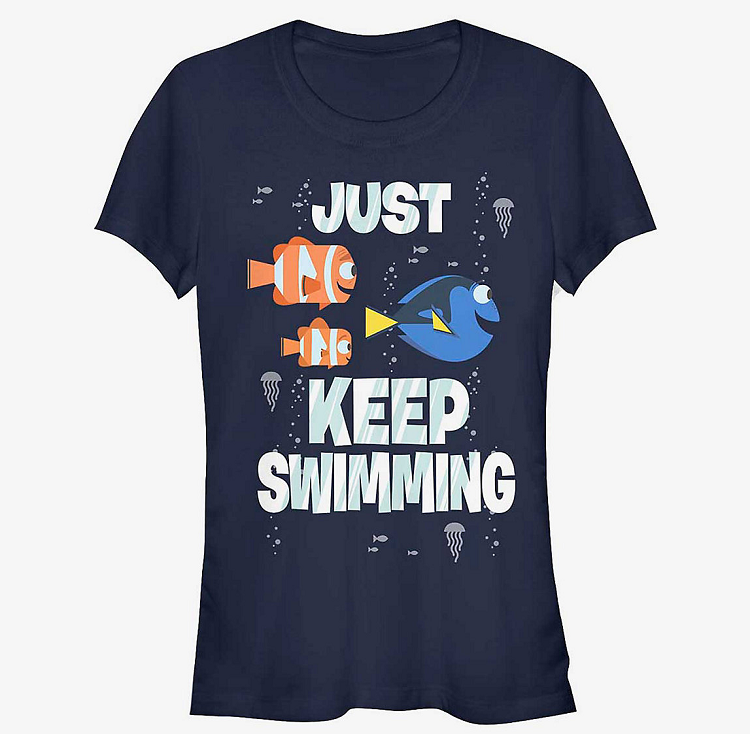 This t-shirt blends modern and classic designs and is at once stylish and vibrant. The t-shirt is constructed with 100 percent lightweight ring-spun cotton. The navy blue backdrop is a perfect complement to Nemo, Marlin, and Dory. The shirt is playful but also inspirational. Buy Here. 
Pros
100 Percent Lightweight Cotton

Modern Design with Classic Characters

Inspirational 
Cons
Only Junior's Sizes

Runs Small; Size Up 
Finding Nemo Will You Be Mine Hoodie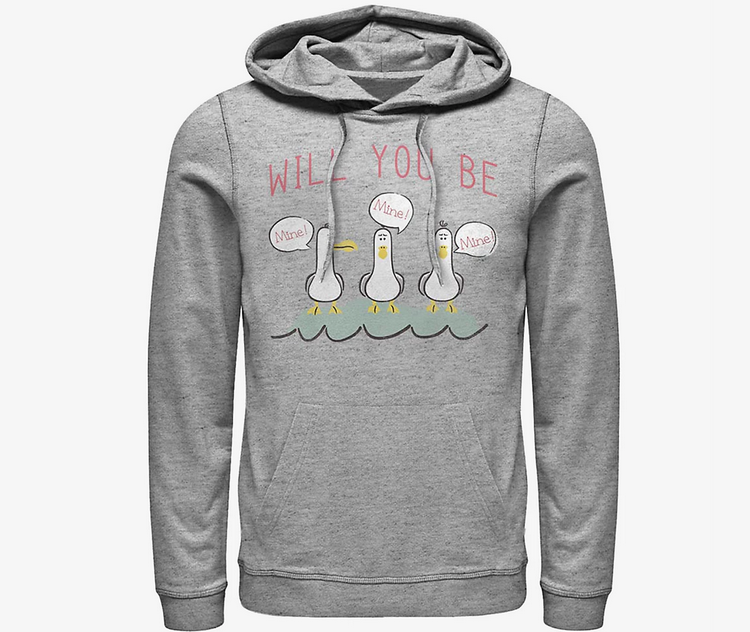 This hoodie is a bit silly, a bit romantic, and creative. Sure, Nemo and Dory get a lot of the spotlight, but this hoodie reminds me that many other characters should be featured.
The birds get their day with this quirky but versatile hoodie. The 50 percent cotton and 50 percent polyester blend is cozy without being bulky. The hood includes adjustable drawstrings. Buy Here.  
Pros
Cozy Cotton and Polyester Blend

Unique, Quirky Design

Adjustable Hood
Cons
Limited Sizing 

Not Pre-Shrunk 
​​Loungefly Disney Pixar Finding Nemo Watercolor Character Mini Backpack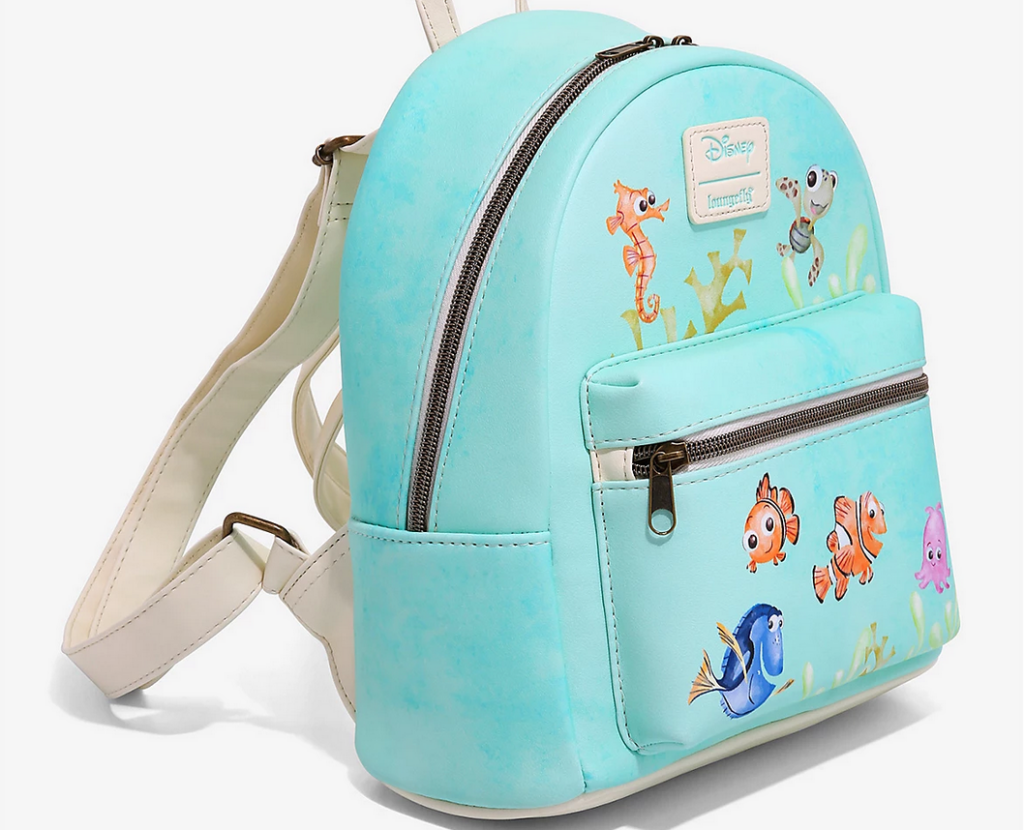 This mini backpack is simply charming. With adjustable straps, a front zipper pocket, and a drop pocket inside, it's both comfortable and convenient. This mini backpack would work for young kids with light loads, or as a day trip bag. The pastel turquoise design features Nemo, Marlin, Dory, and other friends. Buy Here. 
Pros
Bright Design 

Adjustable Straps

Convenient Zipper Pockets
Cons
Too Small for Heavy Loads

Slightly More Marbled Appearance than Pictured (Also a Pro)
An Ocean of Adventure Awaits Tote Bag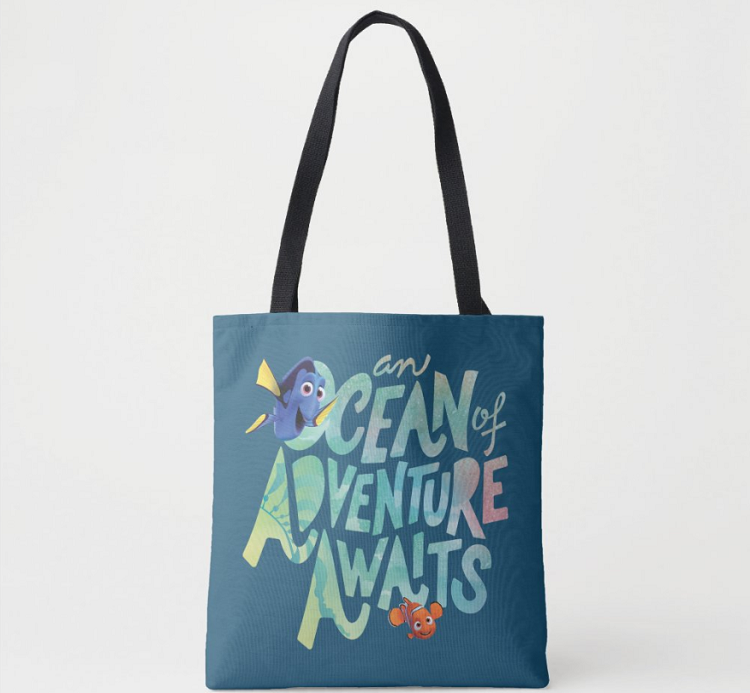 This tote bag is from the Disney Store and features Dory and Nemo with a splashy, vibrant design. The tote bag can be purchased in a medium or large size and is made with 100 percent polyester (brushed exterior and nonwoven laminate interior).
The cotton web handles are sturdy. Laminate lining and edge-to-edge details help it last for many adventures. I also love that this tote bag is customizable- just edit the design and add your name, symbols, or anything else that makes this more personal. Buy Here. 
Pros
Customizable Tote

Extra Lining 

Easy to Care For 
Cons
No Zippers

No Interior Pockets 
Books for Finding Nemo Fans
Expand beyond the story beyond the film with these books inspired by Finding Nemo. While many books are for young readers, there are some options for young artists, too. These books are all officially Disney's and include classic touches and entertainment. 
Finding Nemo Read-Along Storybook and CD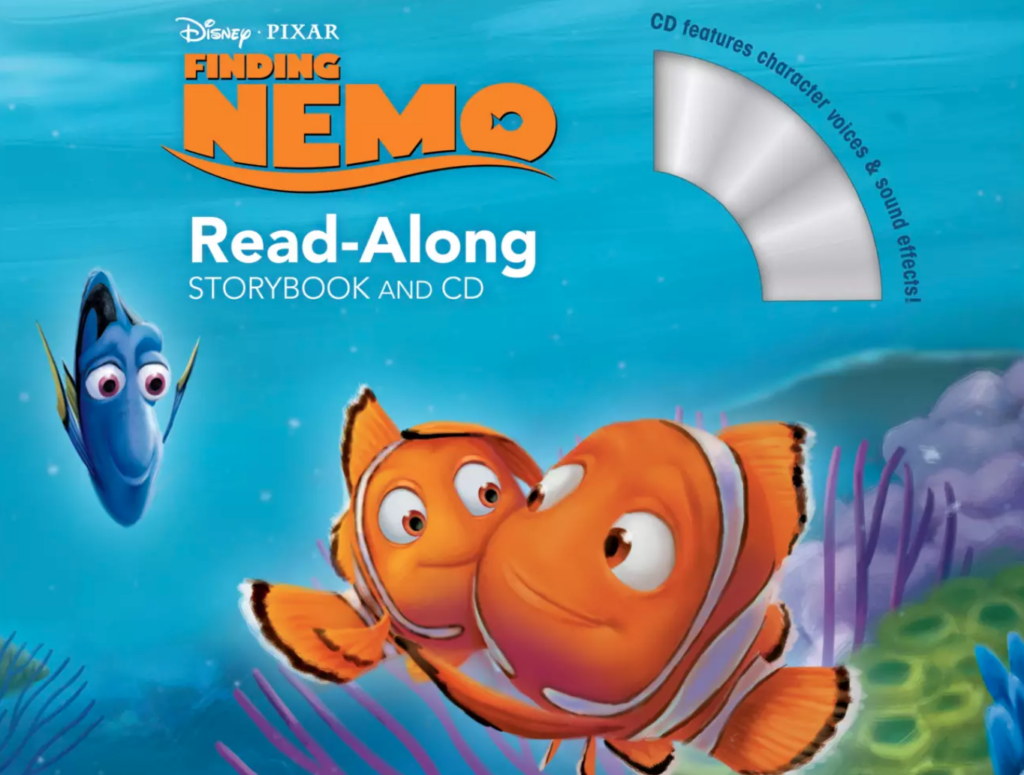 Can't decide between Finding Nemo music and a good book? Why not buy merch that offers both? This Finding Nemo storybook comes with a CD that you can read along with. Even better, characters are voiced by the original voice actors.
All 32 pages are illustrated by Disney artists and the book is entirely made in the USA. This product is recommended for children ages 3 to 7. Buy Here. 
Pros
CD Featuring Original Voice Actors

Illustrations from Disney Artists

Great for Travel and Learning to Read
Cons
Short Story 

Only Available as Paperback 
Disney/PIXAR Finding Nemo and Finding Dory: The Story of the Movies in Comics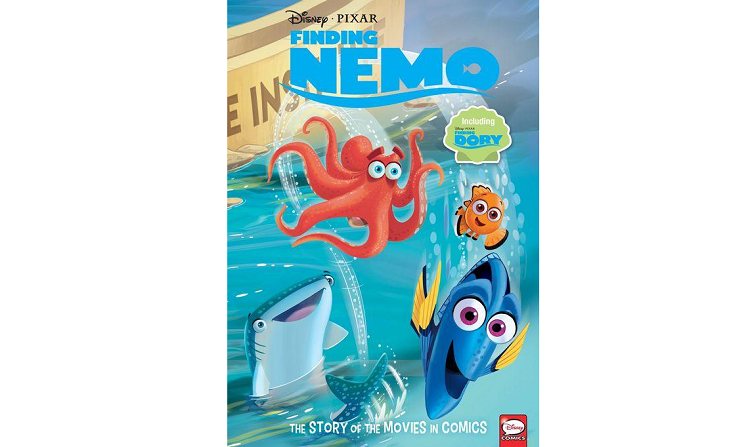 This book combines the story of Finding Nemo and the sequel, Finding Dory. In a creative spin, the films are interpreted in comic book form. Comics are a fresh and engaging take on the stories, which remain true to the original narratives. This hardcover book will appeal to fans ages 8 to 12 years old. Buy Here. 
Pros
Unique Comic Book Style

Appeals to Older (8 to 12 years) Kids 

Combines Finding Nemo and Finding Dory 
Cons
Only Available in Hardcover 

Doesn't Expand Upon Stories 
Disney Manga: Pixar's Finding Nemo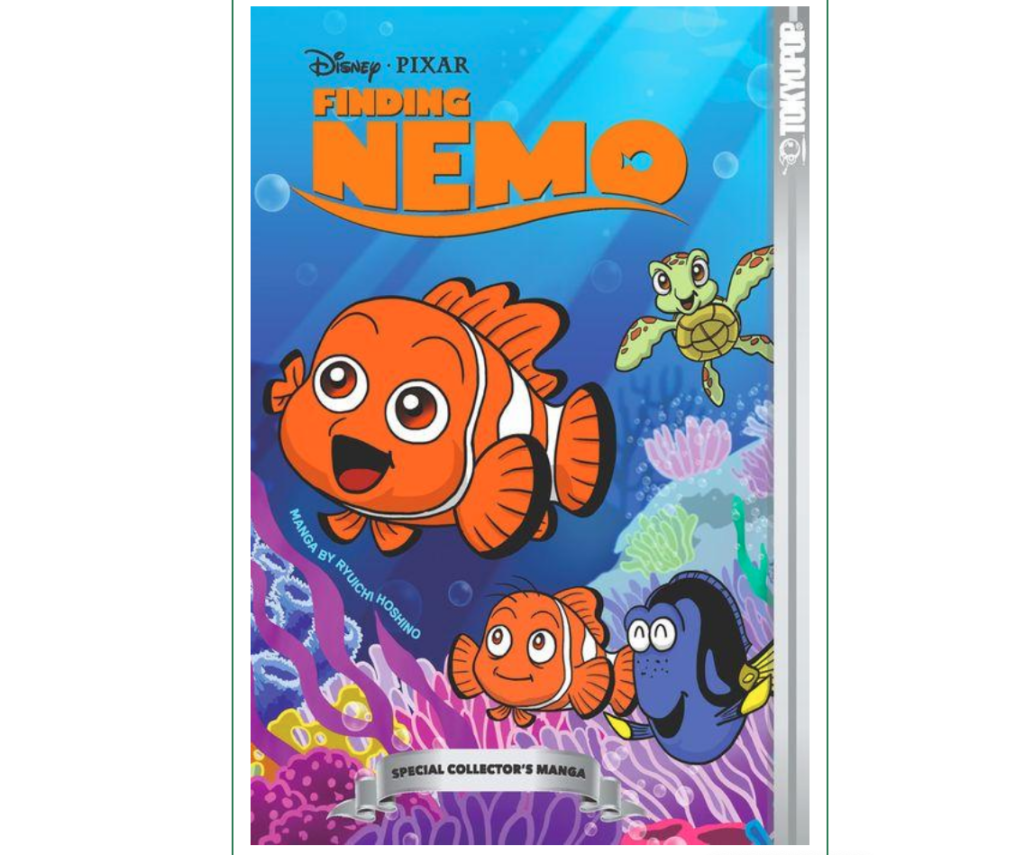 Manga fans will find this Finding Nemo book charming. The book retells the original film with Magna illustrations. The book also includes sketches, original artwork, and more bonus features. The illustrations are highly detailed and the story is told engagingly. It's an unexpected way to tell this story and reach crossover audiences. Buy Here.
Pros
Unique Storytelling

Bonus Features

Detailed Illustrations
Cons
Only in Hardcover

Black and White Illustrations 
Home Decor and Bedding for Finding Nemo Fans 
Wall art, bathroom sets, and bedding sets help show off your love for Finding Nemo. Whether you're decorating a kid's room or even adding a beautiful painting to the main room, there are more options than you'd imagine. 
GEHIYPA Four-Piece Finding Nemo Bathroom Set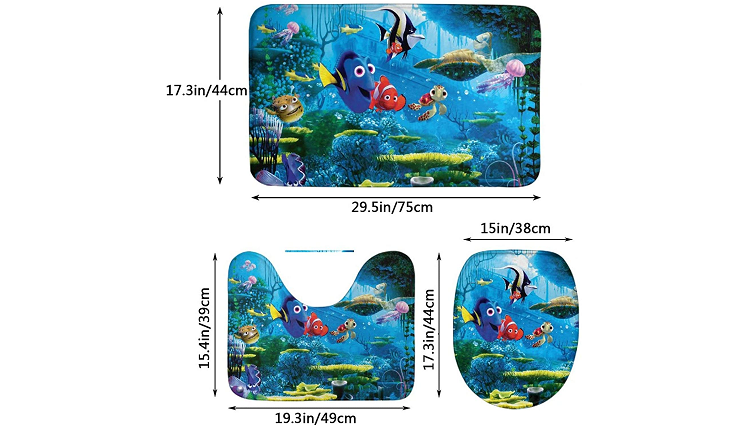 This 4 piece Finding Nemo set transforms into a bathroom. For a good price, the set includes a shower curtain, toilet cover lid, u-shaped mat, and shower curtain mat. The shower mat features non-slip construction for safe use.
Everything is printed with high-quality, high-color designs. The materials are lint-free and resistant to bacteria and mildew– important for keeping everyone healthy and safe. This bathroom set is truly unlike most you'll see in stores. Buy Here.
Pros
4 Pieces at Great Price

Non-Slip Mat

Mildew, Lint and Bacteria Resistant 
Cons
Expect Shipping Delays

It Maybe Overwhelming in Small Bathrooms 
4-Piece Toddler Bedding Set by Disney

You can buy Nemo Crib Sets too but I love the overall package of this toddler bedding set. While it's inspired by Finding Dory, the characters featured here are from Finding Nemo, too. This Disney bed set for toddlers features a vibrant and smiling Dory and Nemo.
The set includes a quilted bedspread, fitted bottom sheet, top sheet, and matching pillowcase. This bedding is made with soft polyester microfiber for a good night's rest. The design is striking and sure to bring a smile to a young fan's face. Buy Here. 
Pros
Polyester Microfiber Bedding 

Vibrant Print

Machine Washable 
Cons
Wash Separately on Cold

Made in China 
Art Studio Finding Nemo Watercolor Wall Art Decor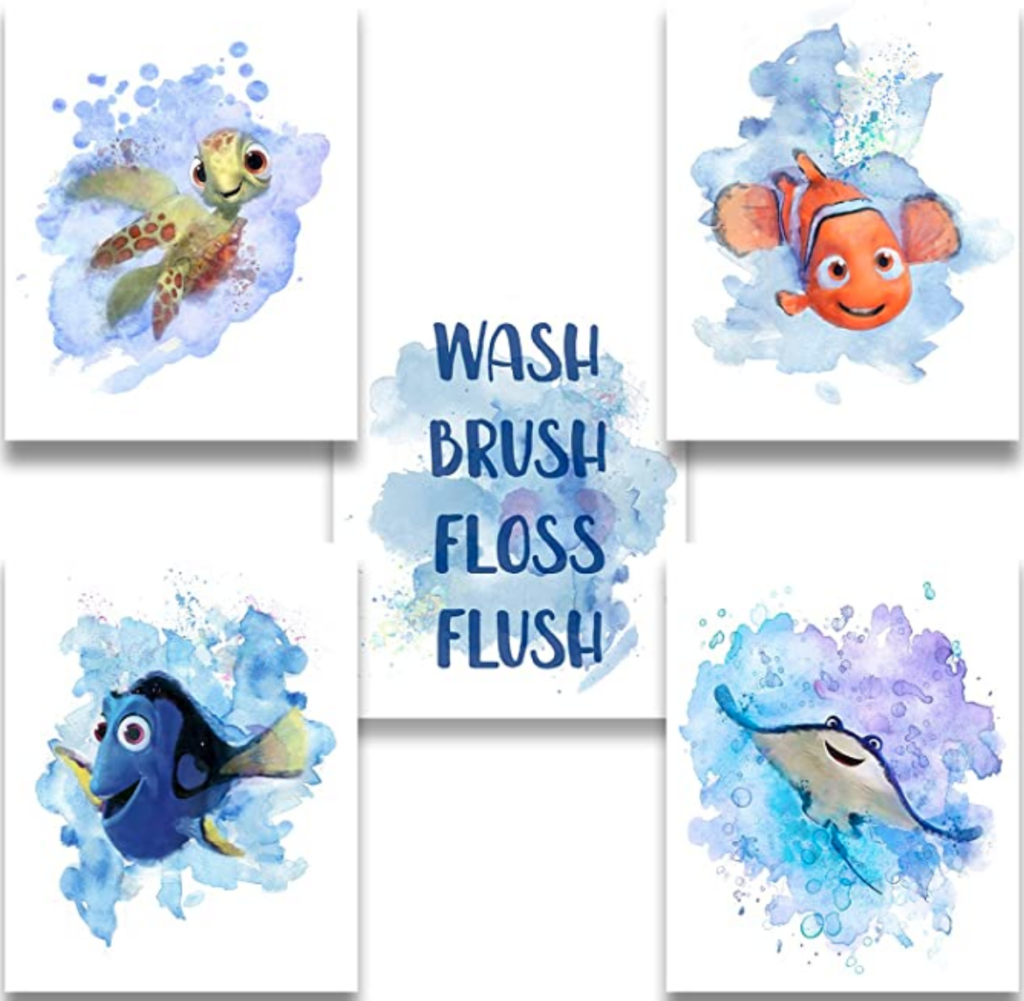 If you're looking for affordable Finding Nemo wall decor, I wanted to include this listing. Unlike nearly all of the selections, it's not officially licensed Disney merch. The upside is that it's well-priced and beautifully executed.
These unframed art prints render Nemo, Squirt, Dory, and Mr. Ray is beautiful watercolors. The pack includes four 8 by 10-inch prints for a good price. Buy Here. 
Pros
Beautiful Watercolor Prints

Iconic Characters

Affordable, Amazon Choice Product
Cons
Not Officially Licensed Disney Merch

Not Framed 
Beistle Under The Sea Door Cover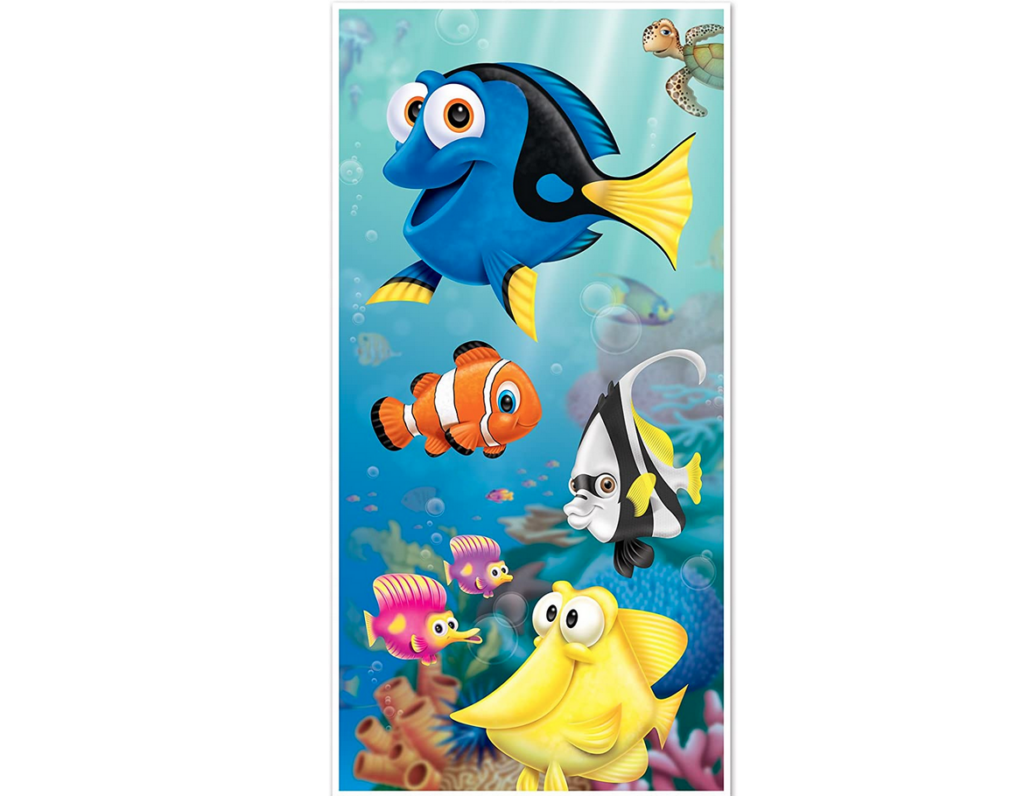 Sometimes a little decor makes a world of a difference. This Finding Nemo door cover is affordable and makes an impression as an entrance or inside a bedroom. The plastic door cover features Dory, Nemo, and other fish with splashy, vibrant designs. The door cover fits standard door sizes. Buy Here. 
Pros
Great Value

Unexpected, Unique Decor 

Free Returns
Cons
Somewhat Fragile

Adhesive Not Included 
Toys for Finding Nemo Fans 
Playsets, pool toys, Funko Pop, toss games, and other fun awaits Finding Nemo fans. These are designed for hours of play and bring the Finding Nemo characters to life.
Finding Nemo Squirt Bath Toys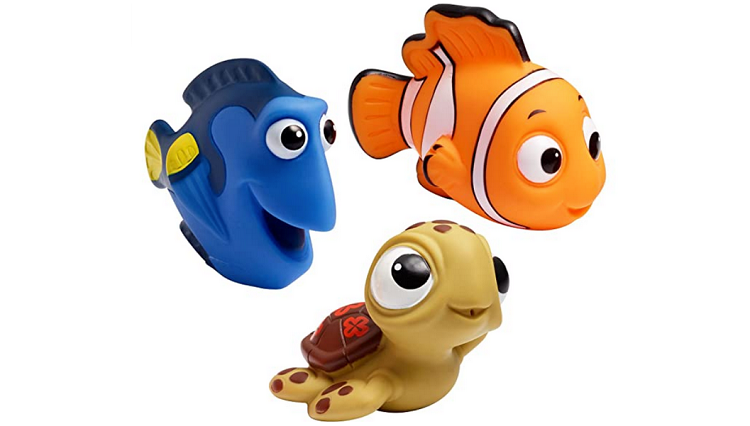 These squirt toys make baths or an inflatable pool more enjoyable for Finding Nemo fans. These three packs of plastic squirt toys are easy to grip even for the smallest fans.
These squirt toys are approved for kids as young as 6 months old and feature a pleasing design. They are listed as an Amazon Choice and the squirt toys collection has over 26,000 customer ratings.  Buy Here. 
Pros
Approved for Toddlers

Easy Grip

Bright Design
Cons
Some Color Inconsistency Can Occur

Not All Characters Featured 
SwimWays Mr. Ray's Dive and Catch Game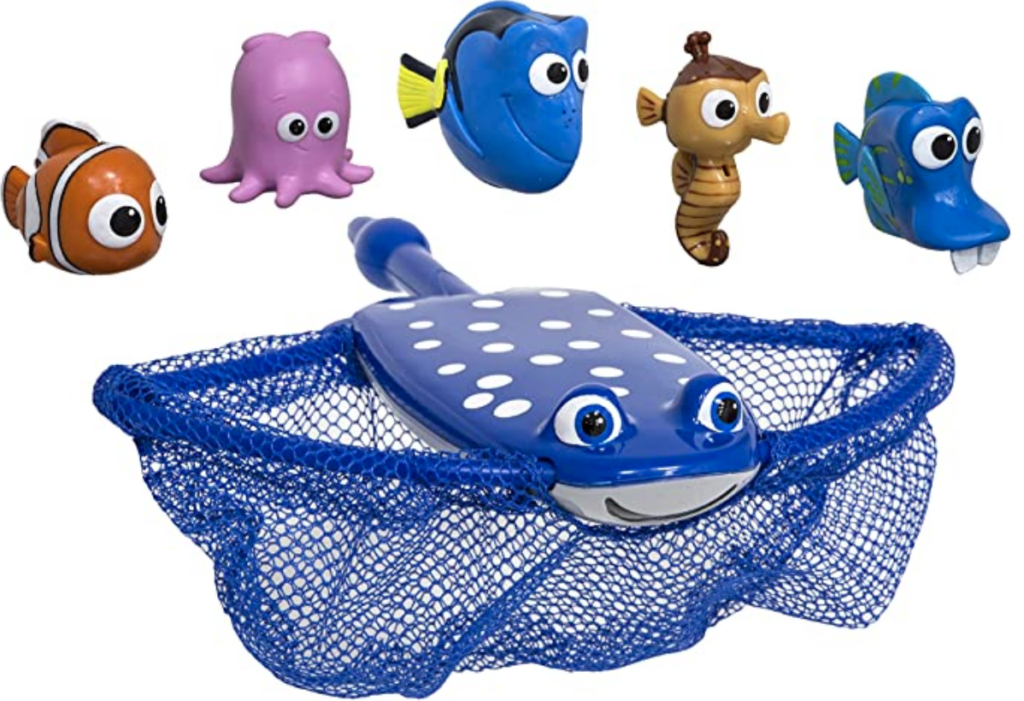 This game is perfect for a long day at the pool. Mr. Ray, Nemo, and his classmates are featured. The pool toy includes dive characters and a net to catch them.
What's interesting about this set is that every character floats at a different depth. It's fun to play with friends and helps kids practice swimming. Of course, the set can also be used for bath time. Buy Here. 
Pros
Use in Pool or Bath

Characters Float at Different Heights 

Amazon Choice Listing
Cons
Simplified Character Art 

Details Can Wear With Use 
GoSports Disney Pixar Finding Nemo Bean Bag Toss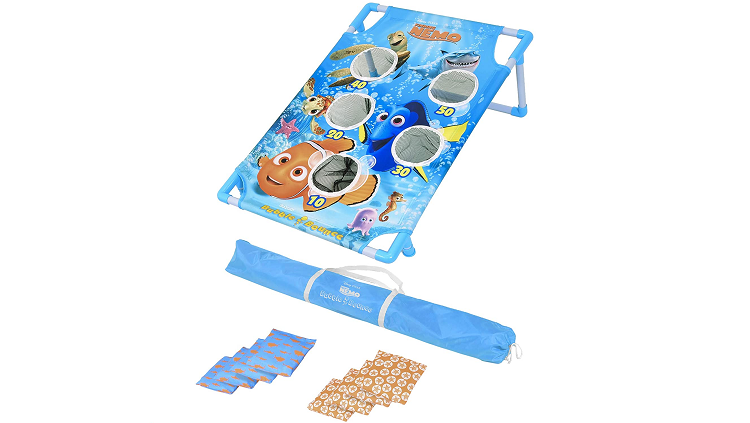 Throw a party or celebrate with the family. This bag toss game features Nembo, Dory, Squirt, and even Bruce. The ocean backdrop and characters are brightly printed.
The tossing game includes targets of varying point levels, so you can make up your own game as you like. This is an officially licensed game set with 5 targets and two sets of bean bags.
You can play three different games or make up your own. It can be assembled in a minute and it's lightweight– ideal for travel and vacations. Buy Here. 
Pros
3 Games

Lightweight and Easy to Assemble

Tear-Proof Materials
Cons
Slightly Expensive

Two Old for Toddlers 
Frequently Asked Questions
Question: Where Can I Find Finding Nemo Matching Shirts?
Answer: The Disney Store and official merchandise collections don't sell matching shirt sets. However, if you don't mind fan-made merch, there are several handmade sets on Etsy. This Collection of Matching Find Nemo Shirts offers shirts for couples and friends.
However, there are event listings for a matching Finding Nemo t-shirt and baby clothing. I love this collection for its whimsy, iconic characters, and range of colors.  
Question: Does Any Finding Nemo Merch Have Songs?
Question: How Can I Buy Finding Nemo Bonus Features?
Answer: Bonus features are included in 2 Disc Collector's Edition DVDs and Blue-Rays. Bonus features cover a short documentary about the making of Finding Nemo, virtual aquariums, design galleries, and deleted scenes with commentary.
I own the collector's edition and think it's worth the extra few dollars. The virtual aquariums alone are relaxing and the documentary is insightful. 
Question: Does Finding Nemo Merch Ship to the UK or Australia?
Answer: If you want Finding Nemo merch shipped to the UK or Australia (or anywhere outside the US), your best options are to shop on either the Official Disney Store or Etsy (see below). Fees and shipping times will vary by seller and location. 
Final Thoughts 
Finding Nemo was successful enough that Pixar followed up, over a decade later, with Finding Dory. The story of Finding Nemo is rich with vibrant characters and even more vibrant settings.
While merchandise collections aren't quite as popular as they once were, this story and its fans continue to resonate with all ages. No matter where you buy your Finding Merch from, make sure it's a secure website with a history of positive customer feedback. 
Plush Toys by Character
Plush toys are popular and for good reason. Plush toys are generally safe for young kids, great for travel, and even taking naps. They also can be displayed and collected. Here's one quick recommendation for each character. Sadly, Marlin and Mr. Ray plushes are only available used right now. 
Nemo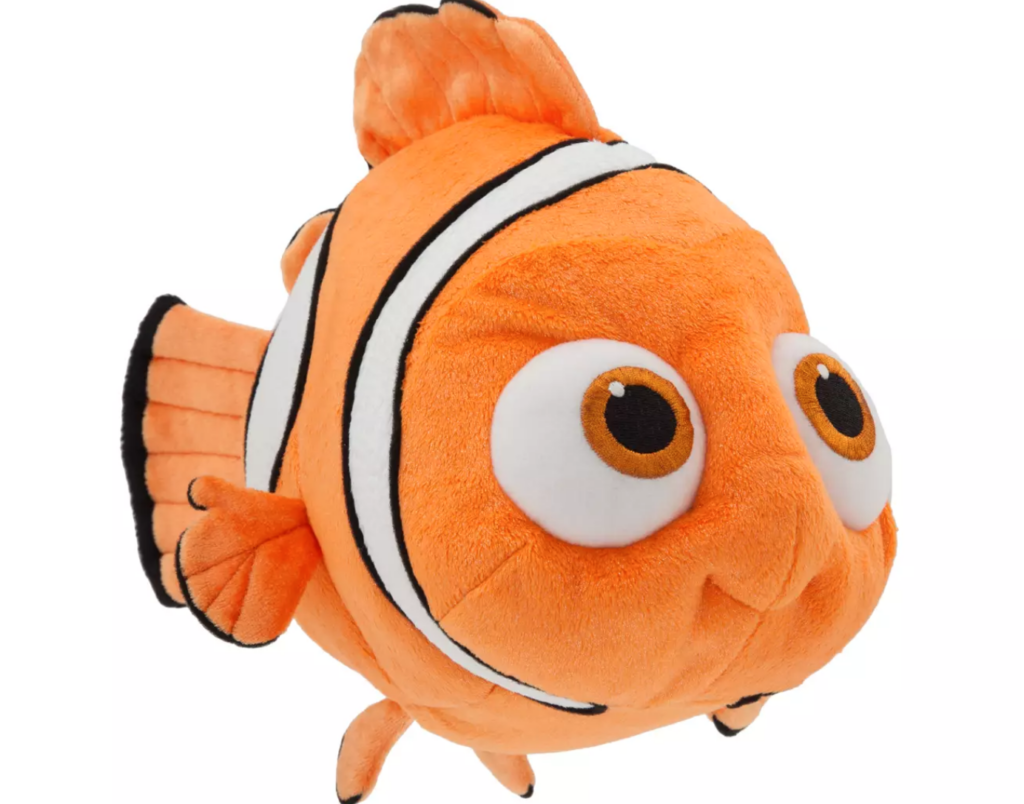 This Nemo plush is from the Finding Dory Collection through the Official Disney Store. Nemo is a medium plush with embroidered and sculpted details. The bright colors and soft polyester make this an instant favorite. Buy Here. 
Pros
Embroidered and Sculpted Details

Soft Polyester
Cons
Dory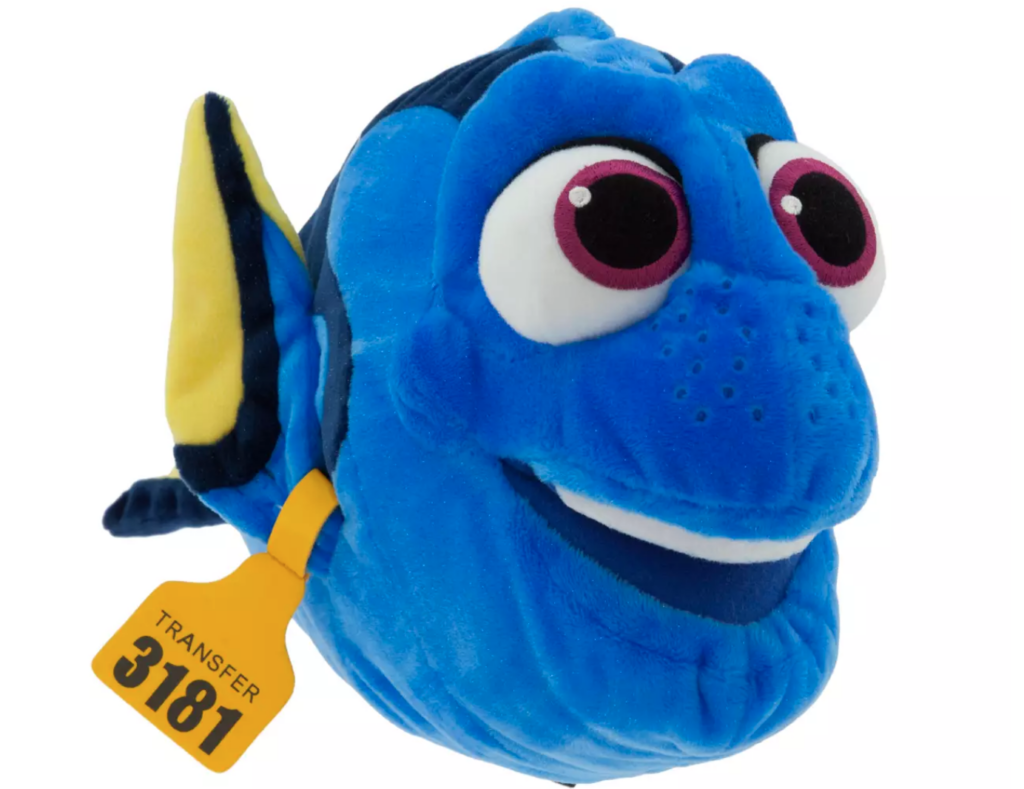 What is Finding Nemo or Finding Dory without Dory herself? This soft medium plush toy is the same high-quality construction you'd expect from the Disney Store. She measures 17 inches long and features vibrant hues. Buy Here. 
Pros
Vibrant Colors and Features

Embroidered and Sculpted 
Cons
Reference Specific to Finding Dory 
Squirt

Squirt is the love-able turtle and featured in one of the most beautiful scenes in Finding Nemo. This Disney plush is well-priced and an Amazon Choice product. The spotted details and wide eyes are simply adorable. Buy Here. 
Pros
Amazon Choice Product

Spotted Details
Cons
Smaller than Nemo and Dory 
Bruce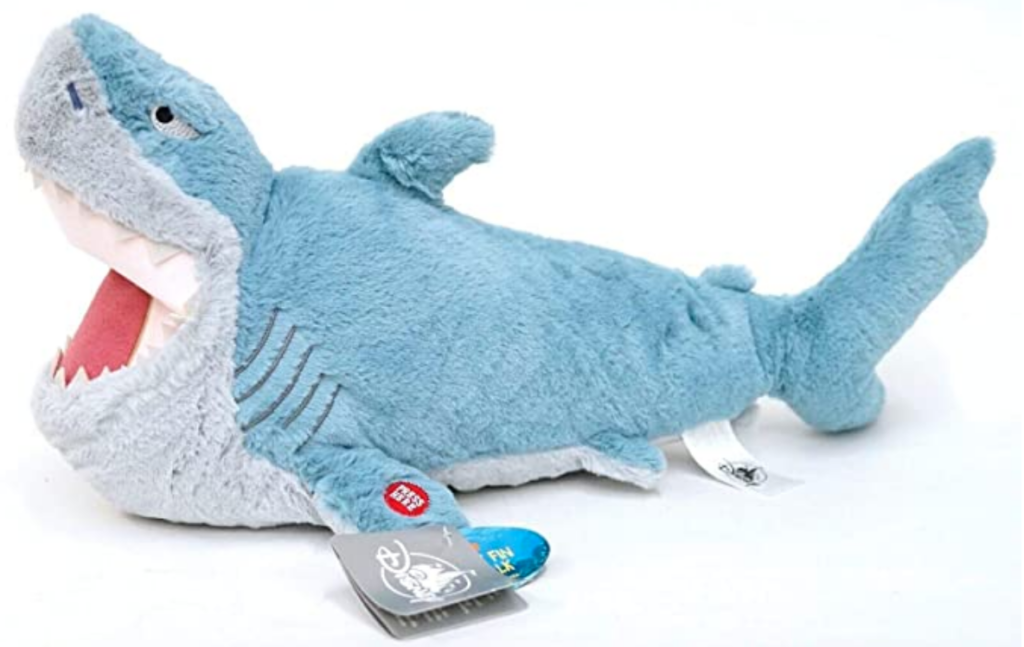 The lovable villain comes to life with this unique Bruce talking plush. The talking shark features a few of his iconic lines from the film. The plush measures are 17 inches long. Buy Here. 
Pros
Says Phrases From Finding Nemo

Unique Find
Cons
Sea Life Collection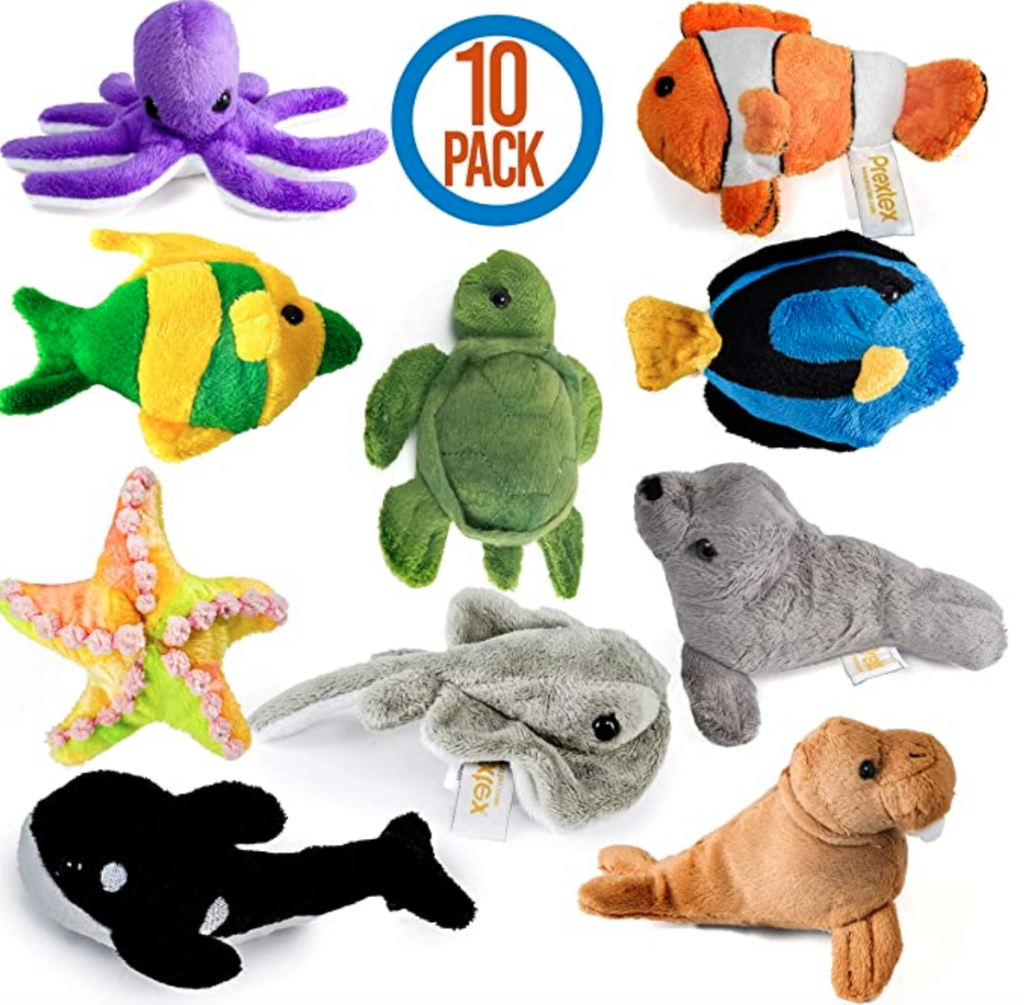 This is not an official Finding Nemo collection but it's a great option if you want to collect plush toys at a great price. Many of the species featured are the same as those featured in Finding Nemo. The 10 pack includes 4 to 5-inch mini plush toys, soft and safe even for toddlers. Buy Here. 
Pros
Many Species from Finding Nemo

Great Price
Cons
Not Official Finding Nemo Characters 
Final Buying Recommendations: Finding Nemo Merchandise on Etsy
One last idea for finding unique Finding Nemo merchandise is shopping on Etsy. I have a soft spot for Etsy because you're not only shopping for unique products but also supporting small and independent businesses. These listings include handmade merchandise inspired by Finding Nemo.
While these handmade merchandise items aren't officially licensed merchandise, they are truly unique, and many can be customized, as they are made to order. Examples of Finding Nemo merchandise on Etsy include t-shirts, skirts, shoes, baby clothing, and wall decor, among others.
I love the creativity of this collection. Just make sure you only buy from a seller with transparent policies and a record of positive sales. Shop Finding Nemo Merch on Etsy Here. 
For more interesting merch guides, check these links below:
Best Toy Story Merch Guide [2022]
Best Peter Pan Merch Guide [2022]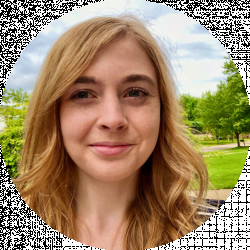 Latest posts by Erin Jamieson
(see all)