Cinderella is an iconic–if not the most iconic– Disney Princess. But even with countless adaptations, many fans feel she's underappreciated. This guide will show you how to give Cinderella the appreciation she deserves, with the best official merchandise you can buy online or in stores. 
At first glance, it seems preposterous to claim that Cinderella is underappreciated. After all, she's the most popular princess and she's enjoyed the most spinoff movies snd shows. But while Cinderella is recognizable, many are questioning if she's been misunderstood. 
Cinderella is known for her glass slippers, her fairy godmother, and her magical carriage. Her silver dress (often mistaken as blue) is also iconic. But Cinderella herself is often dismissed as a passive princess who falls into stereotypes.
Spinoffs have challenged that notion. In A Cinderella Story, Hilary Duff's character has a goal of attending college. In the less popular but more recent 2021 film, Cinderella is a dressmaker with strong feminist ideas about careers and marriage. Drew Barrymore's portrayal in Ever After 
But even without those adaptations, Cinderella deserves more. As Collider argues, Cinderella is not just a princess, but a heroine. Even if she does marry a prince and dress in a beautiful gown, she shows the strength of character with her hard work, determination, and unbreakable spirit. Cinderella is not just a princess: she cares about others and she possesses quiet inner strength.
To celebrate Cinderella and how much she's influenced pop culture, it's time to dive into great merch you can buy online. In this guide, I'll share my favorite places to buy Cinderella merch, and the very best products to buy. 
Bottom Line Up Front Summary:  If I had to pick just one iconic Cinderella merch item, it would be the When the Clock Strikes Twelve Two Pillow. This pillow not only captures the iconic Cinderella story, but it's soft and fully customizable. 
My Top Picks
The Origins of Cinderella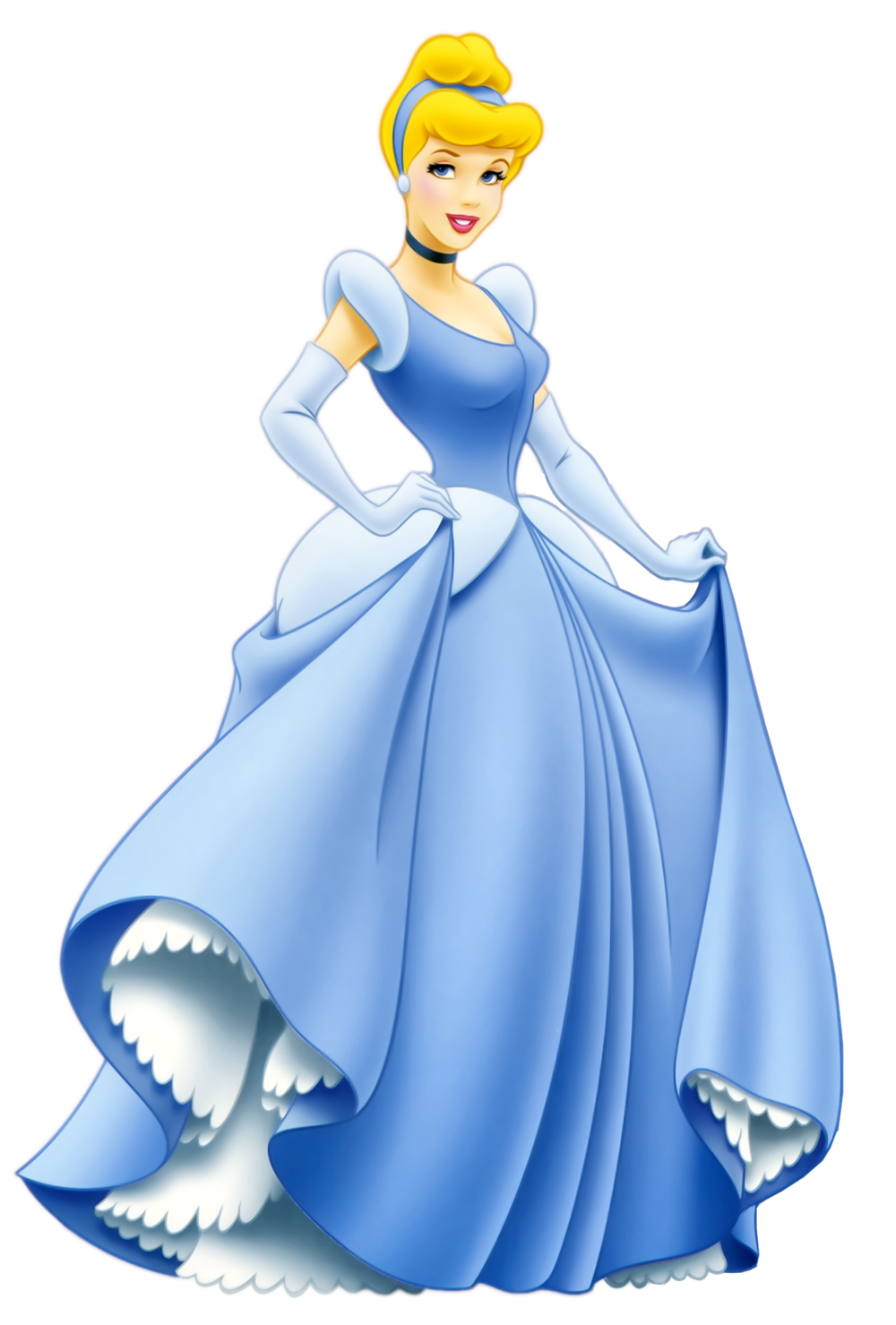 Disney didn't create Cinderella. Her tale stretches back thousands of years across cultures. 
Is Cinderella a True Story? 
The origins of Cinderalla are less known to many fans. Cinderella can be tied to countless myths, and it's unclear which is the original story. In the ninth century, a Chinese folktale followed a young woman named Ye Xian. She wishes for a beautiful gown to help her find a husband, and it's magically gifted to her. 
There was also an Ancient Greek myth.  In this myth, Rhodopis is the Cinderella figure. Her shoes are swept and carried by eagles. Eagles, revered during that time, were taken as a sign of something from a god. The shoes were carried to the Egyptian King. 
Was There a Real Cinderella?
Unfortunately, there is no firm evidence that Cinderella is based upon a real woman. While Cinderella's story can be found in many cultures, there isn't one historical figure I can point to for inspiring the beloved fairytale. 
What is the Main Problem in Cinderella?
The main problem is fairly consistent across all modern stories, even if the setup is different. Cinderella is under the care of her stepmother and stepsisters, who are jealous of her. They prevent her from pursuing a happy life and dreams. She is in servitude to them. Her family also tries to prevent her from attending a ball, or dance. She longs for freedom and to be treated with kindness. 
What is the Moral of Cinderella's Story?
The moral or hidden meaning of Cinderella depends slightly on the version of the story you're reading or watching. However, the overarching theme is kindness and compassion wins out. Cinderella is a hard worker and kind to others, even under poor circumstances. Her beauty is most apparent in how she treats others, as well as how she pursues a better life for herself. 
What Social Conditions are Portrayed in the Story of Cinderella?
In the original Cinderella story and other stories set in a similar setting, social conditions are also noteworthy. Many overlook how the story showcases the roles women were expected to fill, as well as the wealth disparity. In a spinoff like Ella Enchanted, meanwhile, issues of discrimination are also displayed.
Cinderella as a Character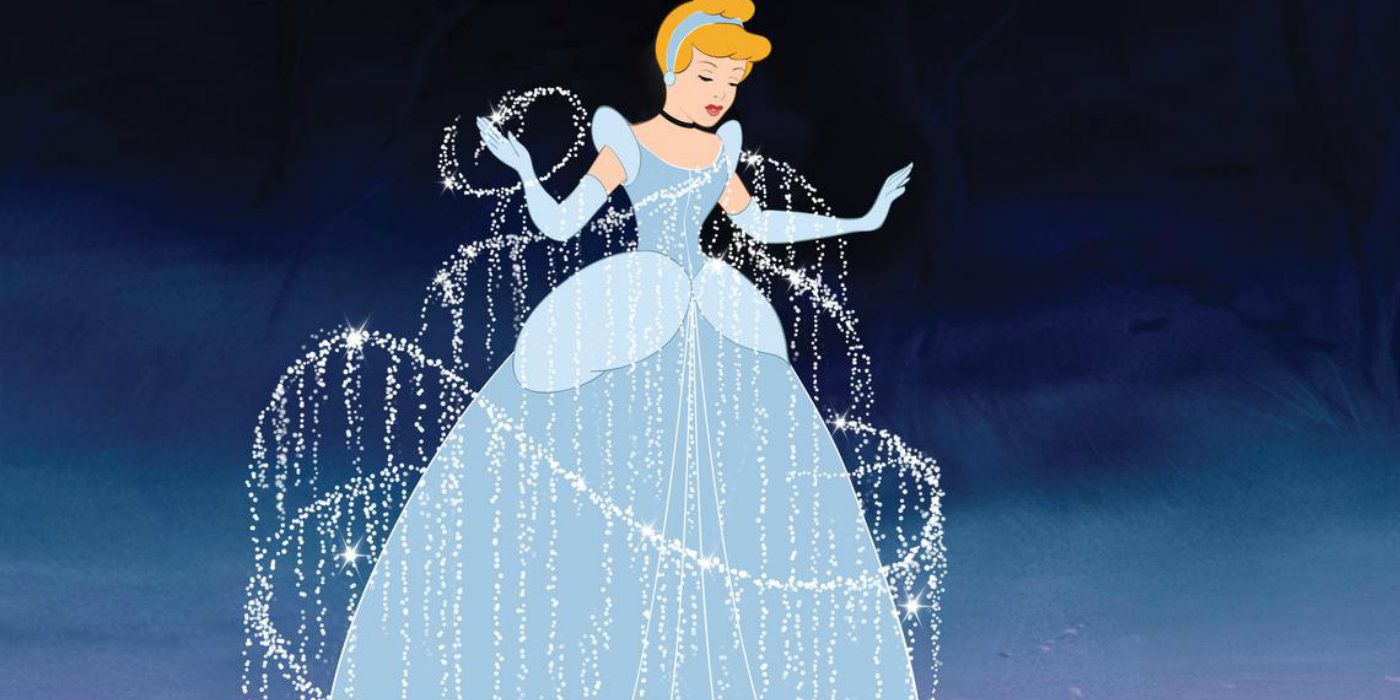 You may think you know the original Cinderella story, but re-examining it reveals more about her as a character. 
What is Cinderella's Real Name?
Cinderella's real name, is, of course, Ella. She is nicknamed Cinderella because her cleaning includes being near cinders (chimney ash). Some spin-offs have different names, such as Sam in A Cinderella Story. 
Was Cinderella a Princess?
Cinderella becomes a Disney princess by marrying the prince. However, she is not nobility by blood. 
What Personality Type is Cinderella?
Admittedly, newer versions of Cinderella have done a better job of fleshing out her personality– at least some of them. Classic Cinderella is thought to be an ISFJ on the Myers Briggs Personality Types. ISFJs are supportive, patient, observant, and hard workers. They're known to be loyal to those they are close to and reliable while still having a sense of imagination. On the other hand, personalities like Cinderella can overwhelm themselves and take the words of others too much to heart. 
Why is Cinderella a Good Character?
Many argue that Cinderella is a bad role model because much of her story is about meeting a prince. However, if you pay attention to her perseverance and kindness, she is a strong character. More modern versions have added character depth to both her and the prince she marries. 
Cinderella Films and Main Spinoffs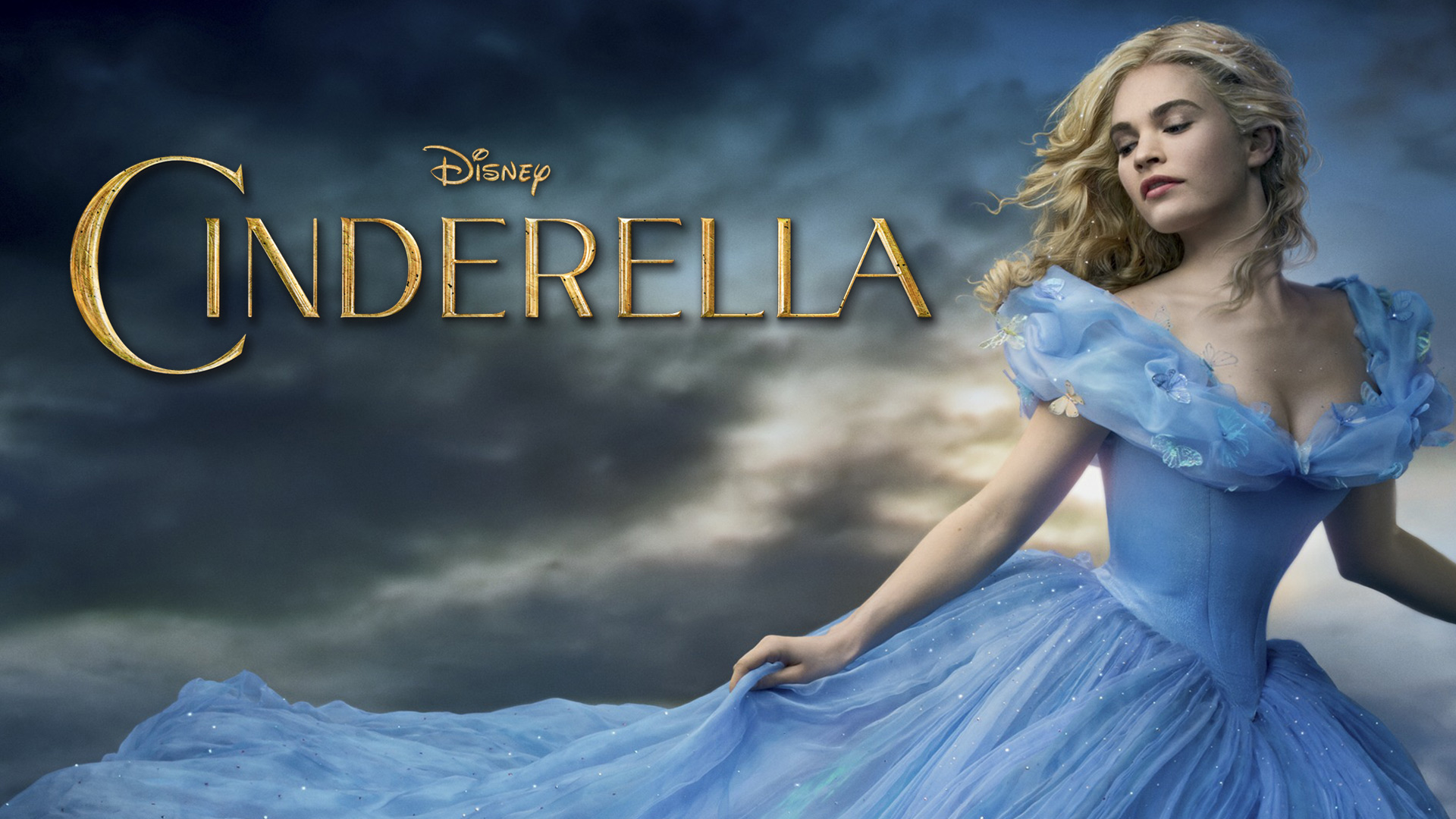 It's impossible to discuss every Cinderella film and film inspired by Cinderella. These are the most discussed. 
Which Cinderella Movie is the Original?
The original Cinderella movie takes place in France during the 19th century, though this is not obvious in the Disney version. In the Disney version, Cinderella wears a silver dress to the ball after her stepmother destroys her pink gown. She has mice as sidekicks and a magic carriage. The climax is when Cinderella leaves behind her glass slipper at the ball at the stroke of midnight. Ilene Woods is the singing voice for Cinderella in the 1950 classic. 
What is Cinderella 2015 all About?
The 2015 Cinderella movie is one of the most popular. The film starred Lily James and was filmed at Pinewood Studios in England. It's worth watching for the costume work, filming, and the attempt to develop Cinderella's backstory more. Cinderella's dress in this version featured 12 layers of silk, a corset, and gorgeous butterfly details. Lily James' wedding dress was created by costume designer Sandy Powell and features hundreds of crystals. Most importantly, the 2015 film won several awards, including best fantasy film and makeup awards. It was also nominated for countless other awards. 
Is Cinderella 2021 Disney?
2021 is the most recent Cinderella film. It's a playful musical that stars singer Camila Cabello. In this version, she dreams of being a dressmaker and makes her dresses. She wears a corset dress to the ball designed by Ellen Mirojnick. While the costumes are interesting and the music is fun, this version has mostly bad reviews. Many felt that the plot changes were contrived and the music was not high quality. 
How Many Cinderella Spin-offs are There?
There are too many spin-offs to count. Examples of spinoff include Another Cinderella Story (Selena Gomez, 2008), A Cinderella Story (2004, Hilary Duff), Ever After (Drew Barrymore, 1998), Ella Enchanted (2004, Anne Hathway), Enchanted, The Glass Slipper (1955), Into the Woods (2014, Anna Kendrick), and others. 
Cinderella Offical Merch: My Picks
Here are my top picks for the best Cinderalla merch you can buy right now online. These merch items come from the Disney Store and Hot Topic. I selected these two places to shop because they both carry official merchandise with consistent quality and are representative of the classic Disney tale. It was also important to me to include Cinderella merch for all ages, from kids to teens to adults. While my choices vary in price, all prices make sense for the product offered. In many cases, these products are top sellers or highly rated by customers. From anniversary items to casual tees, here are my top picks. 
Cinderella Merch from the Official Disney Store
The official merch store has no shortage of Cinderella items. There are some jaw-dropping items, like a 50th-anniversary castle and dream homes. Stunning jewelry and tiaras add glamour to this collection. Stunning canvas wall hangings bring the allure and magic of Cinderella to your home. But what I love most about the Disney Store's collection is its variety. As amazing as the more extravagant merch items are, you'll also find practical products, from mugs to t-shirts to dresses and costumes. This collection is expensive at times but truly enchanting for child and adult Cinderella fans alike. Shop All Cinderella Merch Here. 
Cinderella Costume for Kids
No list would be complete without a Cinderella costume. While there are many places you can buy Cinderella costumes, the Disney store delivers with a gorgeous design. This dress features a satin bodice, layered organza skirt, and sequin details. The dress sparkles without glitter and has gorgeous trim details. You can buy the Live Your Story Collection if you want all of Cinderella's iconic outfits, but this dress is beautiful on its own. Buy Here.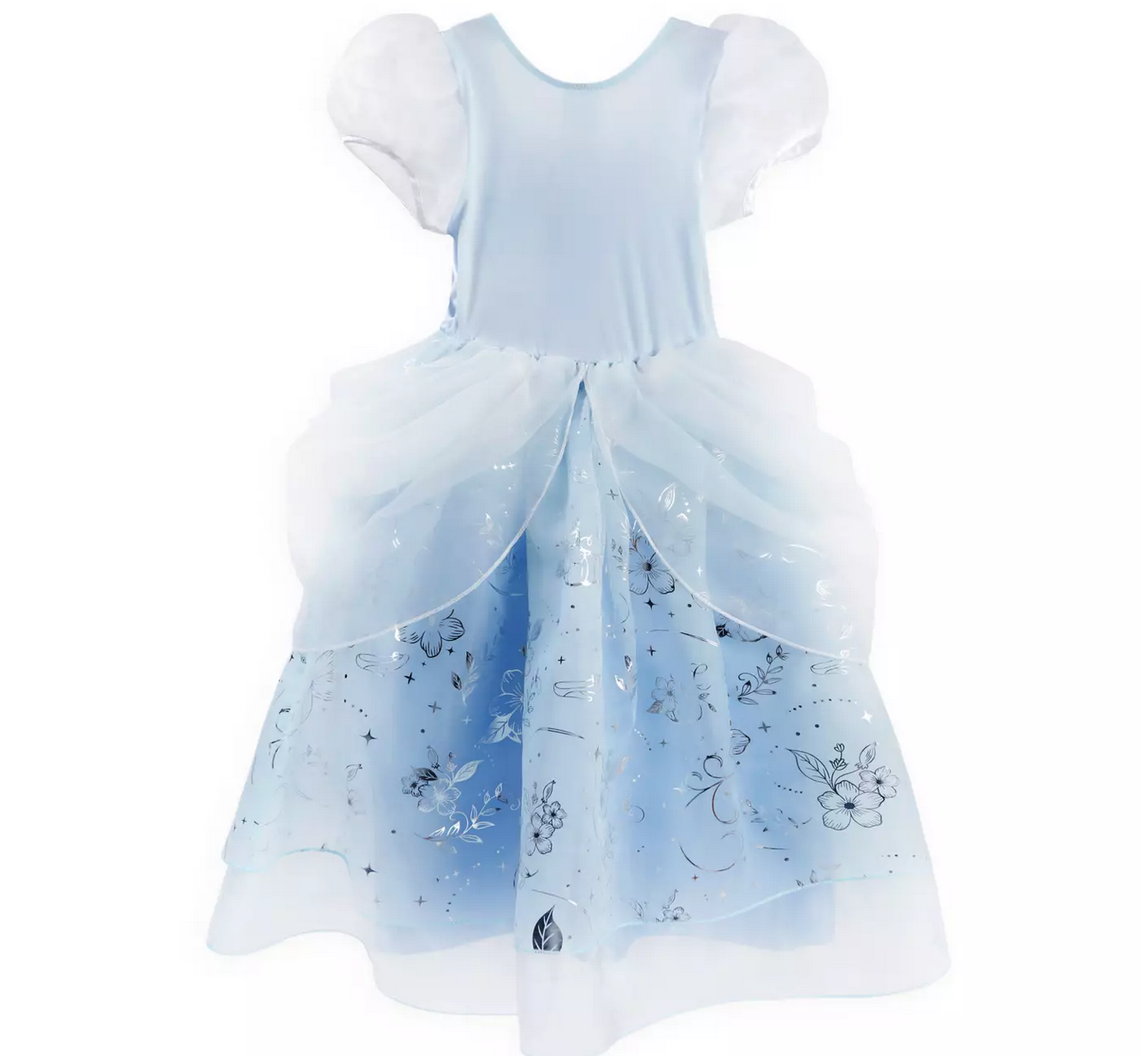 Pros
Real Satin and Organza

Glitter-Free with Sequin Details

Beautiful Design 
Cons
Doesn't Come with Accessories 

Only For Kids
Cinderella Classic Doll – 11 1/2"
This classic 11-inch doll is great for play and collecting. Cinderella comes to life with a gorgeous gown, eco-friendly packaging, and a brush. The gown is satin, with the iconic puff sleeves, filigree details, and peplum. Cinderella has her choker and white-glove accessories and even some faux glass slippers. Buy Here.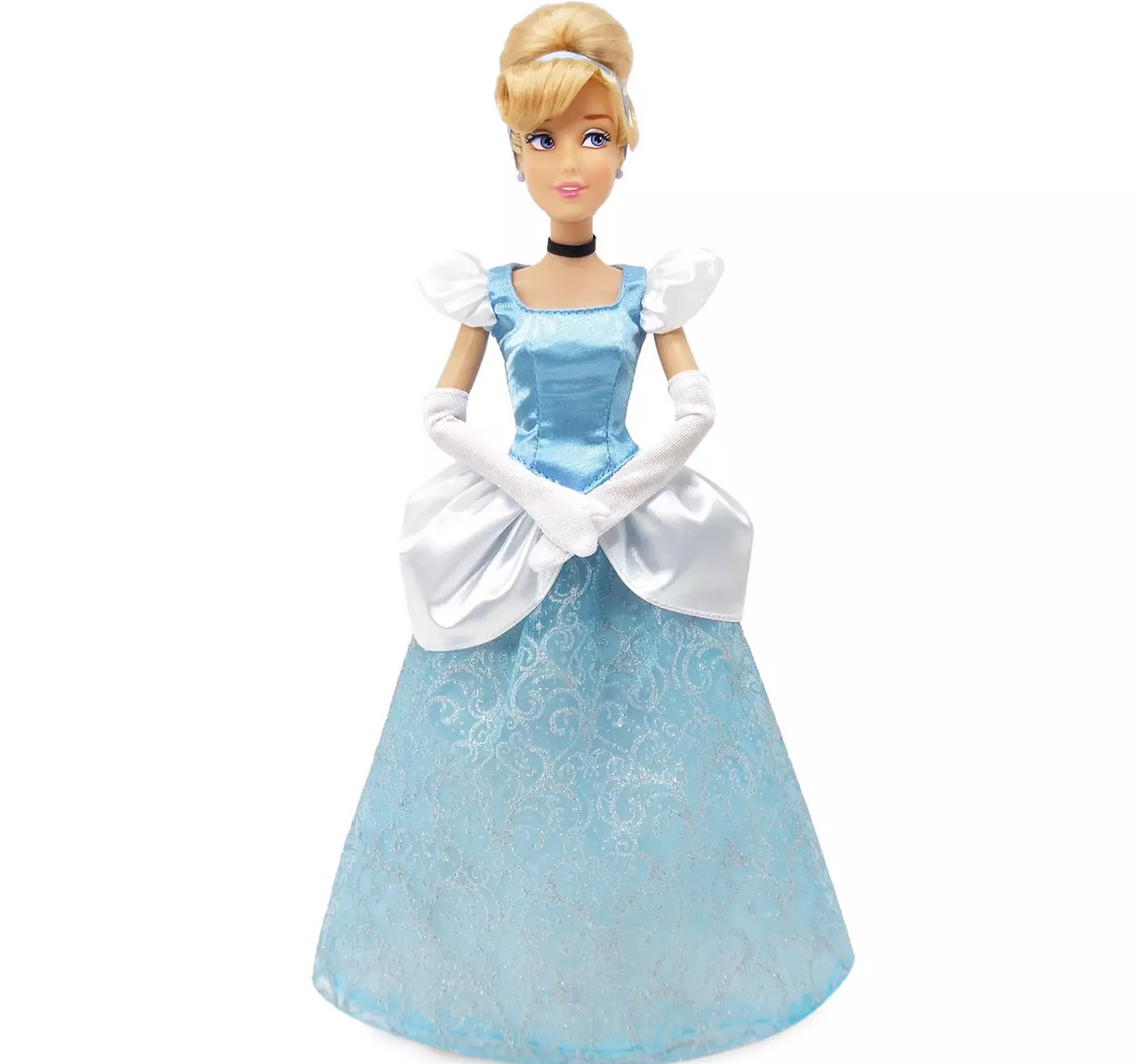 Pros
Satin Dress with Beautiful Details

Chocker and White Glove Accessories

Highly-Rated
Cons
Doesn't Include Stand 

No Other Outfits Included 
Cinderella Castle "40 Magical Years" Deluxe Print by Noah
There are many enchanting pictures and prints you can buy from the Disney Store. Some are simply stunning. My favorite design, however, costs over $700. If you don't have hundreds of dollars to spend and want an iconic bit of Cinderella's story in your home, this is my top recommendation. This beautiful print features Cinderella's Castle sprinkled with pixie dust. The 40 years make it a collector's item. It's sure to add a stunning touch to almost any room. Buy Here.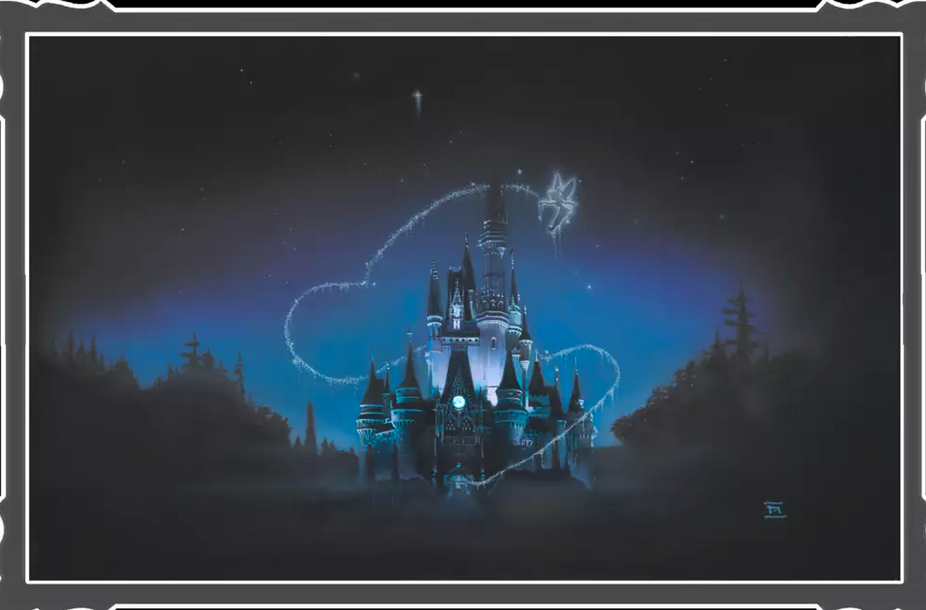 Pros
Collectible

Beautiful, Versatile Design

Customize with Your Frame
Cons
Doesn't Include Frame

Doesn't Show Cinderella 
When The Clock Strikes Twelve Throw Pillow
This isn't your typical pillow. This pillow is sold through the Disney Store in partnership with Zazzle. The striking design features Cinderella's live-action 2015 look, just as she's leaving the ball. The pillow is made with 100 percent polyester knit fabric that is soft and wrinkle resistant. The hidden zipper allows you to easily throw your pillowcase into the washing machine. You can even customize the design for an extra cost. Buy Here. 
Pros
Soft Polyester Knit Fabric

Machine-Washable 

Customizable 
Cons
More Expensive than Typical Pillow

Only One Size Available (16 by 16 inches) 
Cinderella Castle Loungefly Wallet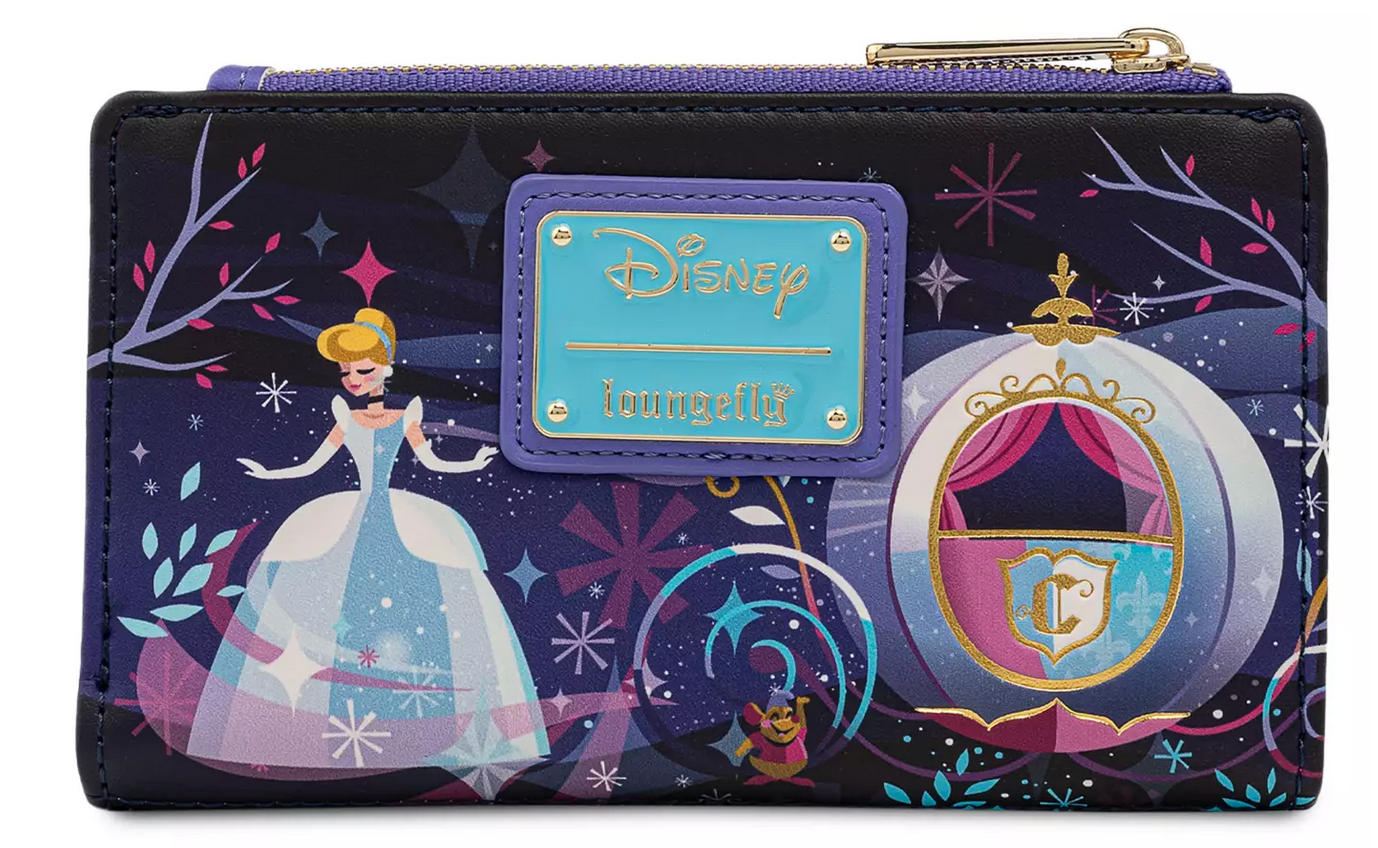 Treat yourself to Cinderella's glamour every time you shop or pay your bills. This faux leather wallet is simply enhancing, with details on both the exterior and the interior. Cinderella's Castle, Pumpkin Coach, and other motifs make an appearance, along with Cinderella herself. Golden accents add a touch of glamour. The inside holds seven cards, an ID, and your bills. There's also a separate compartment for change. Buy Here. 
Pros
Iconic Coach and Castle Designs

Details for Exterior and Interior

7 Card Slots and ID Slot 
Cons
Slightly Expensive 

Bill Compartment Isn't Large 
Cinderella Merch from Hot Topic 
You can also find official Cinderella merch from Hot Topic. Hot Topic's collection of Cinderella merch is mostly aimed towards teens and adults. This collection includes modern graphic tees, backpacks, pullover sweaters, tanks, and travel mugs. This collection draws inspiration from the original adaptation and the popular 2015 film. I love how updated and versatile these items are. The essence of Cinderella is captured, with more innovative and modern interpretations than you'd find shopping at the Disney Store. Shop All Cinderella Merch from Hot Topic Here. 
Disney Cinderella Have Courage And Be Kind Doodle Tee
This comfy t-shirt is inspired by the 2015 live-action Cinderella film. The message is beautiful, proving that you don't have to have Cinderella's castle, carriage, or even dress to make a statement. This soft shirt reminds us all to be a bit kinder and believes in our inner strength. I also love that it's lightweight and soft, made with 90 percent cotton and 10 percent cotton. All sizes are junior's. Buy Here.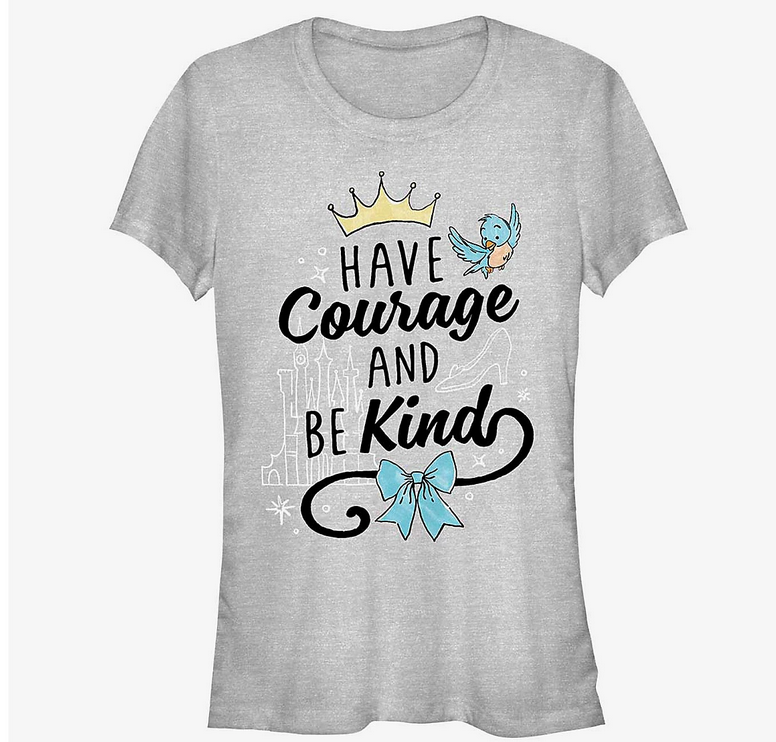 Pros
Empowering Message

Versatile. Modern Design

Lightweight and Comfortable
Cons
Not Shrunk Before Purchase

Runs Small 
Disney Cinderella Run Like It's Almost Midnight Crew Sweatshirt
Cozy up or get ready to break a sweat with this quirky crew sweatshirt for adults. The sweatshirt is a blend of 50 percent cotton and 50 percent polyester. The print features an ombre blue to pink, symbolizing the two dresses Cinderella is known for. I love how it's a playful and clever spin on Cinderella while staying true to her story. Buy Here.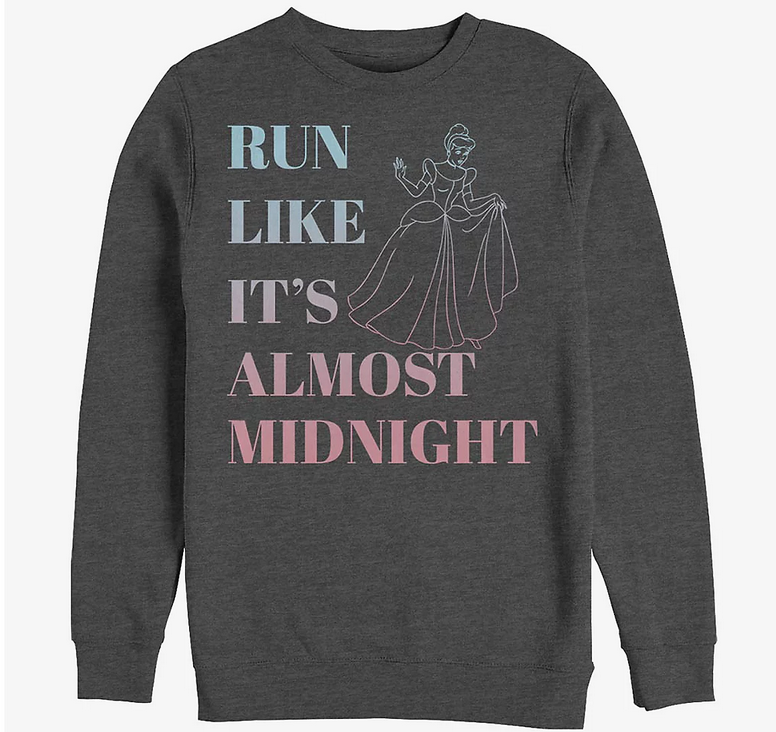 Pros
Comfy Cotton and Polyester Blend

Unique Ombre Effect

Iconic Motifs but Versatile
Cons
Loungefly Disney Cinderella Passport Crossbody Bag
This crossbody bag is receiving high ratings and is an online exclusive. Up for accessory game and showcase your love for Cinderella. Jaq, Gus, Peria, and Suzy get the spotlight instead of Cinderella. The crossbody bag features an adjustable strap and zipper pockets for storage. The crossbody bag is made out of polyester and can easily be wiped clean. Buy Here.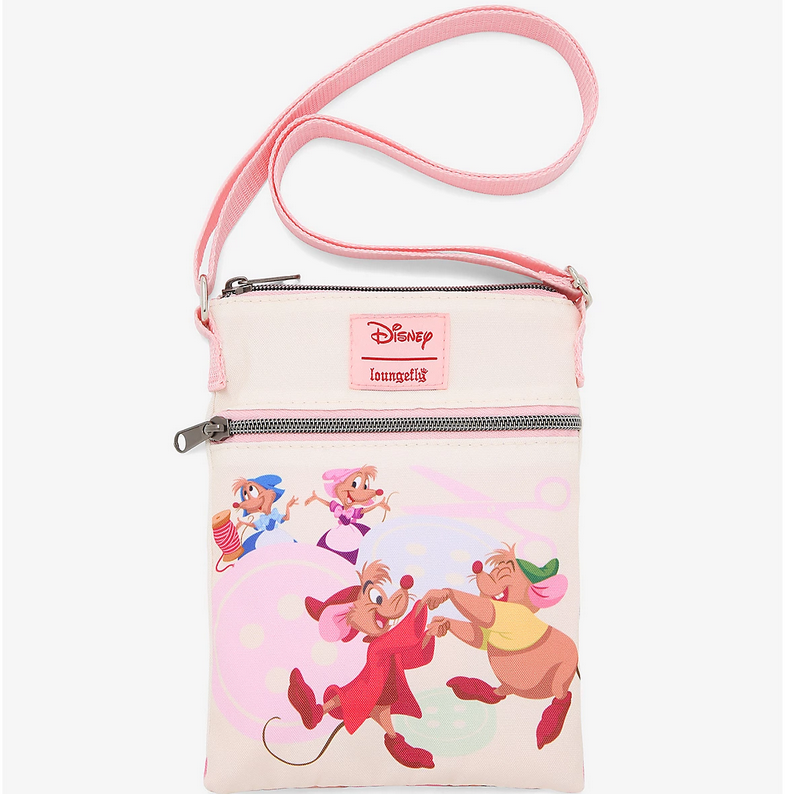 Pros
Adjustable Strap

Zipper Space 

Unique Take on Cinderella Merch
Cons
Strap is Short

Only Available in Pink
Disney Cinderella 70th Aniversary 24oz Classic Tumbler With Lid
Always on the go? This classic tumbler keeps your drinks warm with style. The tumbler features double-walled insulation for both cold and warm drinks. It's designed to reduce condensation and it's BPA-free. You can place this tumbler in your freezer, microwave, and dishwasher. It's made in the USA, and, best of all, features an iconic 70th-anniversary design. Buy Here.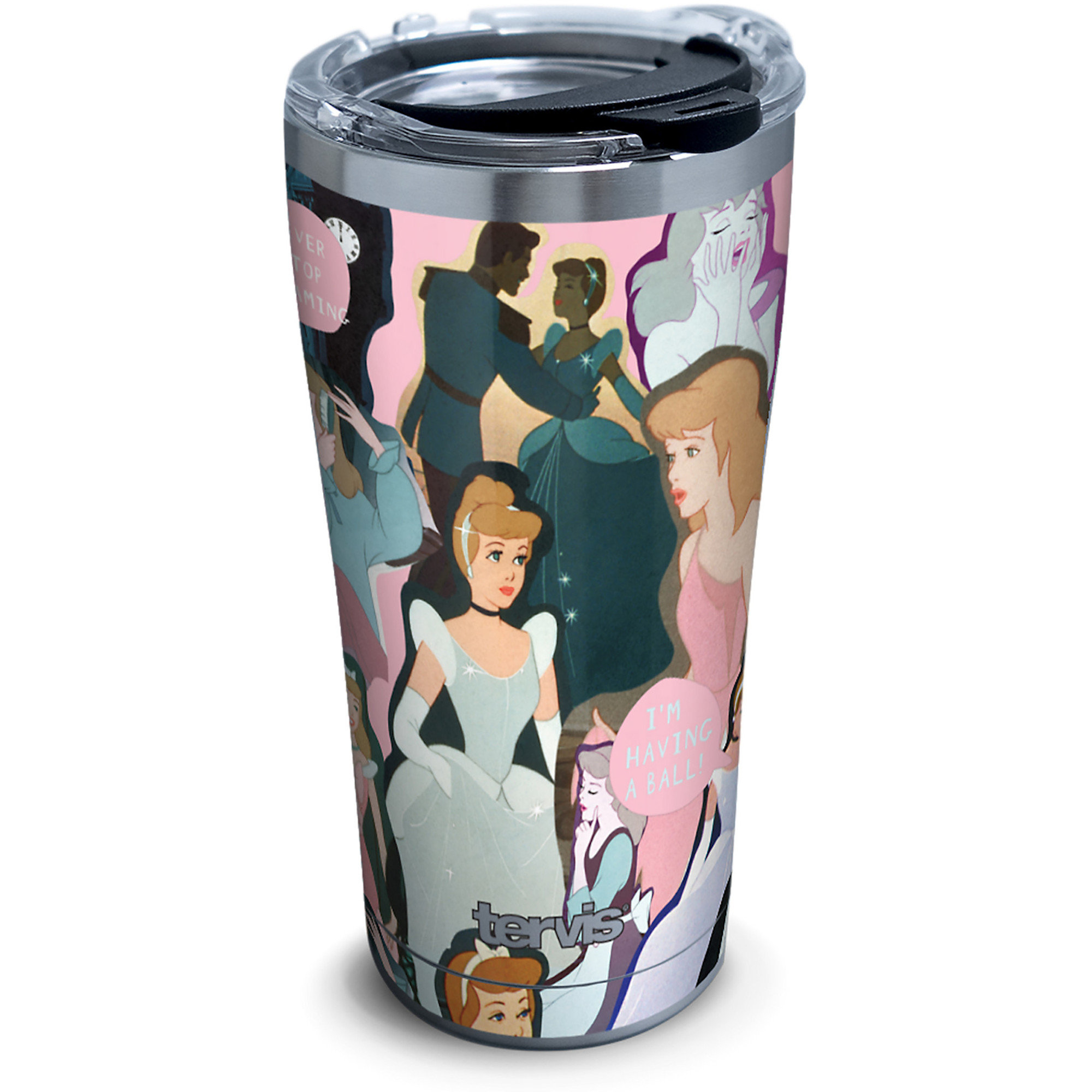 Pros
BPA-Free

Microwave, Freezer, and Dishwasher-Safe

70th Anniversary Design
Cons
Final Buying Recommendations: Cinderella Merchandise from Amazon
Amazon earns my honorable mention for one of the best places to buy Cinderella merchandise. Amazon's collection is a bit more playful, with unique pendant designs, ornaments, and charms. Carriage motifs carry the collection. This is a good place to shop if you're looking for a whimsical accessory without needing to show Cinderella herself. Shop All Cinderella Merch on Amazon Here. 
Cinderella Carriage Bluetooth Speaker
Bring some magic to your music. This Bluetooth speaker features Cinderella's glittering carriage. These wireless speakers are compatible with any Bluetooth device, including tablets, computers, phones, and more. It can play music up to 30ft away and doubles as decor. Buy Here.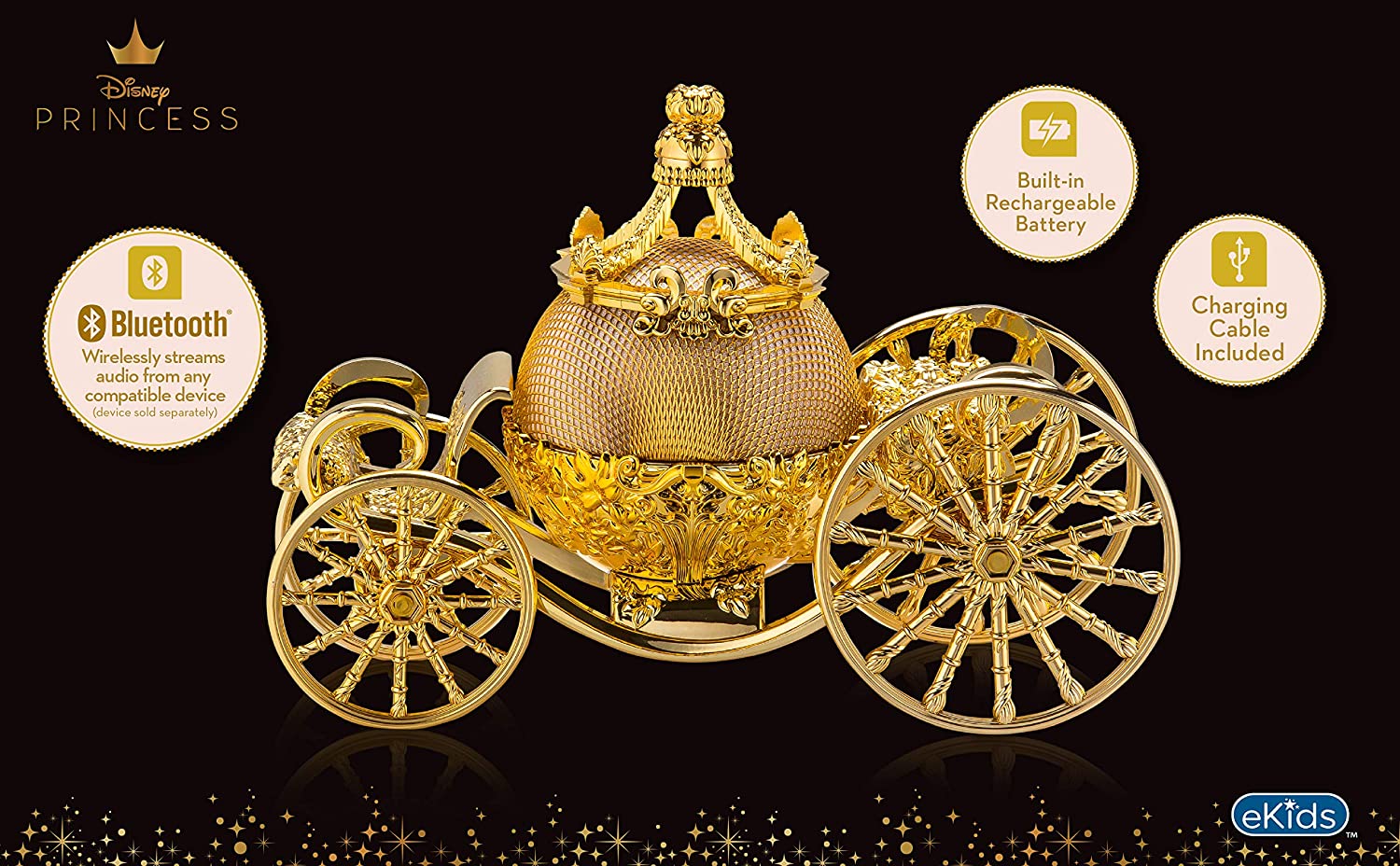 Pros
Dazzling Design

Bluetooth Compatibility

4.7 out of 5 Stars from Customers
Cons
Delicate for Children

Not Premium Quality Sound 
Frequently Asked Questions
Question: Is Cinderella Older than Rapunzel?
Answer: The age of Disney princesses varies some, with the most common age hovering around mid to late teens. Cinderella and Tiana are the older Disney characters, both estimated to be 19 at the start of their stories. Rapunzel is just a year younger (18). Of course, the adaptation will change how old the princess is. 
Question: Why is Cinderella The Main Princess?
Answer: Cinderella doesn't carry the official title of the best Disney princess, but she's one of the most known. She's an iconic symbol and is the most popular princess to this day. Cinderella was a booming success for Disney and continues to be with spin-offs and sequels. Those newer versions have addressed some of the critiques associated with the original character. Cinderella has a timeless message of being kind to others and overcoming difficult circumstances. 
Question: Do Cinderella and Prince Charming Have a Kid?
Answer: In the original adaptation of Cinderella, the story ends with Cinderella and Prince Charming marrying. Most depictions don't show the couple having a kid. The exception is their appearance in The Descendents and the Once Upon a Time series. 
Question: Does Cinderella Wear a Pink Dress?
Answer: In the original Disney adaptation, Cinderella wears a pink dress for a brief period. She plans to wear it to the ball before her stepfamily tears it apart and destroys it. 
Final Thoughts
No matter what version you love most, Cinderella is iconic. From teen flicks like A Cinderella Story to the gorgeous 2015 Cinderella to the classic, this fairytale lives on. The merchandise for Cinderella fans is among the most impressive for Disney princesses. I love that you can find extravagant products but also versatile products, like mugs and tees. 
Find more fun merch guide below: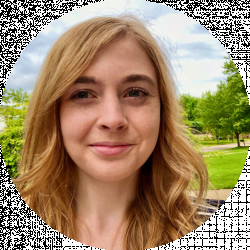 Latest posts by Erin Jamieson
(see all)