Harry Potter is one of those franchises that appeals to people of all ages. There are the millenials who grew up reading these books and watching the films as children. The gen x and older generations who read the books to their kids and grandkids (or maybe to themselves to see what all the fuss was about!). And there are the gen z and younger generations discovering the series for the first time. Anyone and everyone can find something to love with this magical series.
It became a global phenomenon, and as you'd expect from our capitalist society, that meant full steam ahead on monetization! Merch was pumped out like lightning, including plenty of toys. Now you can go into pretty much any commercial toy store in the world and find at least one thing that's Harry Potter related. But with so much choice, how do you possibly decide which toys to buy? Luckily for you, this guide is here to help! I'm going to talk through the best toys on offer in each category. And don't worry, I recognize that sometimes adults like toys just as much as kids do, so several of the items on this list are tailored towards adults too.
Bottom Line Up Front
Selection Criteria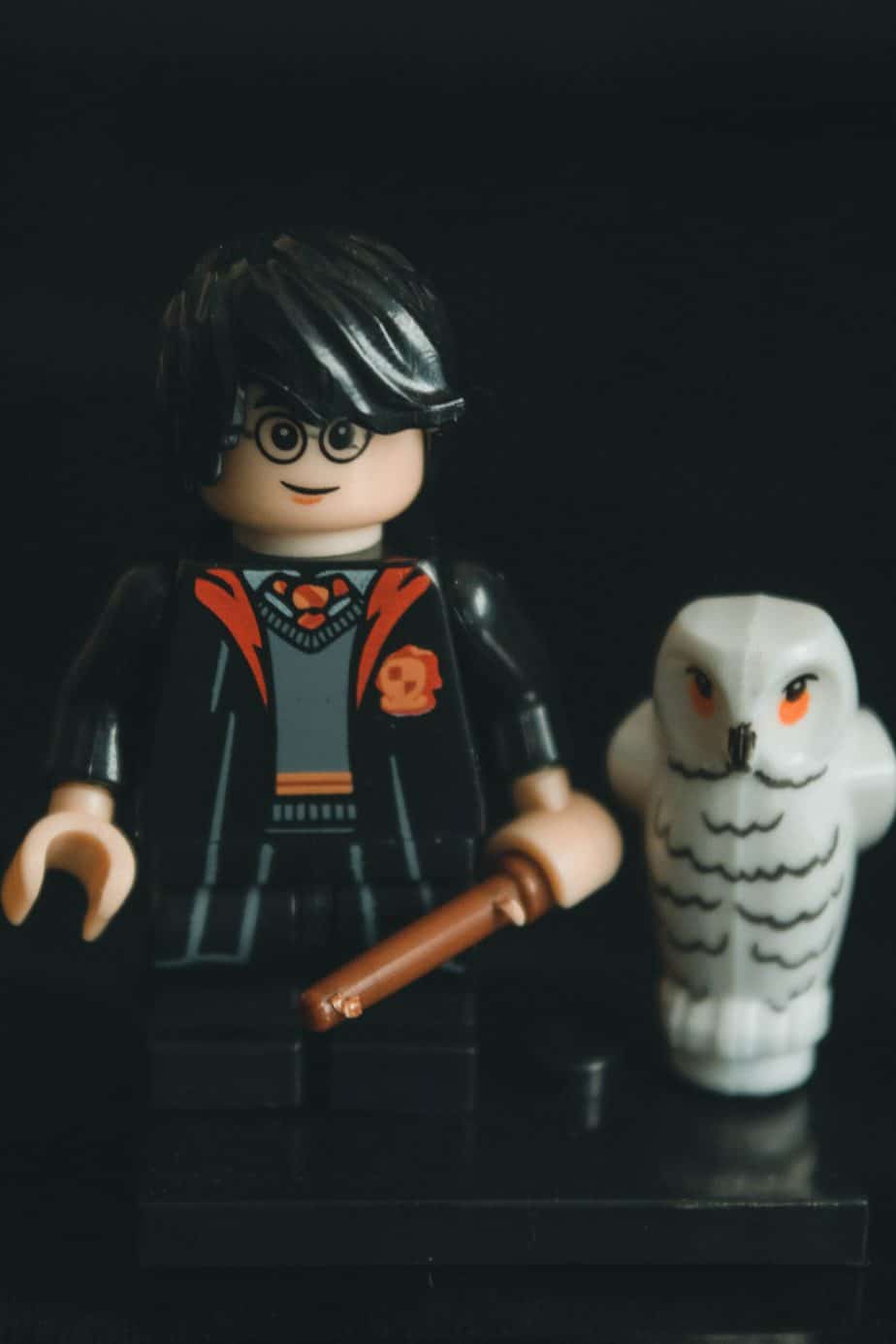 When deciding this list, I considered three main factors. The first is the most important – fun. Toys are designed to be used and played with. I wanted to find ones that brought the maximum possible enjoyment. I was looking for bright colors, moving parts, imaginative uses, that kind of thing. I wanted something that a kid (or an adult) would pick up and want to spend time with.
Secondly, I considered quality. There are a lot of Harry Potter toys out there that seem like they'd be fun, but are actually just made of cheap plastic and fall apart easily. That's no good, because you'd end up wasting money on a toy you'd hardly get to use. I was looking for medium – high quality materials, and sturdy designs. The toys also had to look the part, with consistent paint jobs/ fabric dyeing, etc. I wanted it to be clear that the manufacturer had put effort into them.
Lastly, I wanted to find toys that were excellent value for money. I'd like to clarify that this has nothing to do with cheap vs expensive. Sometimes a toy has a high price attached to it, but is worth every penny. Other times a toy costs next to nothing, but you still feel like you're being ripped off because it's so poor. With this guide, I looked for toys that were well-priced for what you get.
Figuring Out Your Budget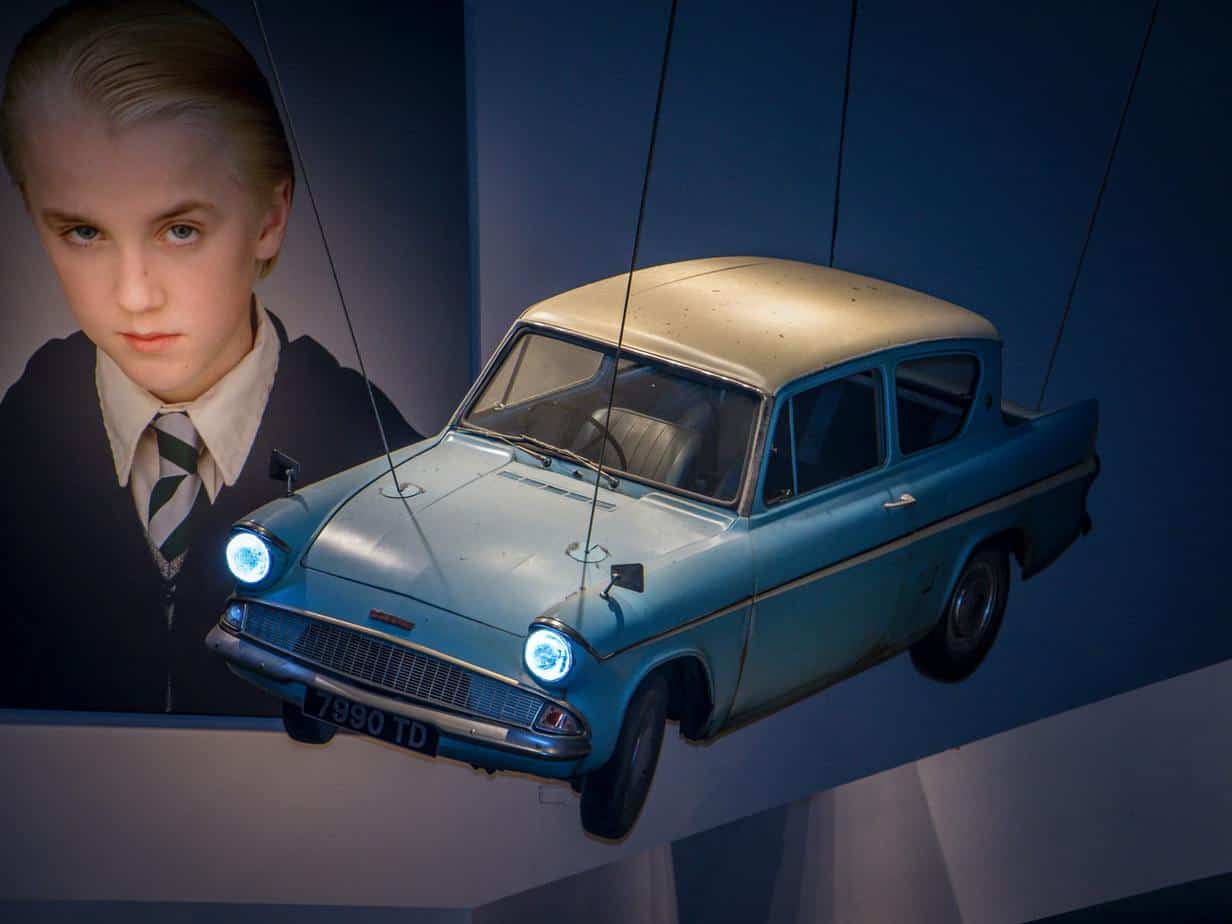 Whenever I write a guide where I recommend products, I always keep budgets firmly in mind. I'm writing a general guide that will be useful to anyone. But the thing about that is that everybody has a different financial situation, and I think it's very important not to exclude anyone. That's why with this article, you'll find a huge range of prices.
Some items will only be $10-20, whereas others will be several hundreds of dollars. That's no accident. I want to account for the various price categories that customers may be looking at. Most of the items will fall somewhere in the middle, but hopefully you'll find plenty of variety within your budget.
Speaking of which, it's important to stay within your personal limits. There are some incredible toys in this guide, and I know it can be tempting to go out and buy them. I get it, I had to resist the urge to buy half these products myself! But you don't want to get into debt over something like this. I'd recommend deciding ahead of time how much you're looking to spend, and then look through this list with that in mind.
Try to consider the reason behind your purchase. If you're treating yourself to something, then perhaps consider cutting down on some of your other unnecessary expenses so you can justify the purchase. If you're buying a birthday or a Christmas gift then you'll probably want to spend more than if you're buying a gift 'just because'. Whatever your financial situation, please think responsibly when buying one of these fabulous Harry Potter toys.
Where to Buy Them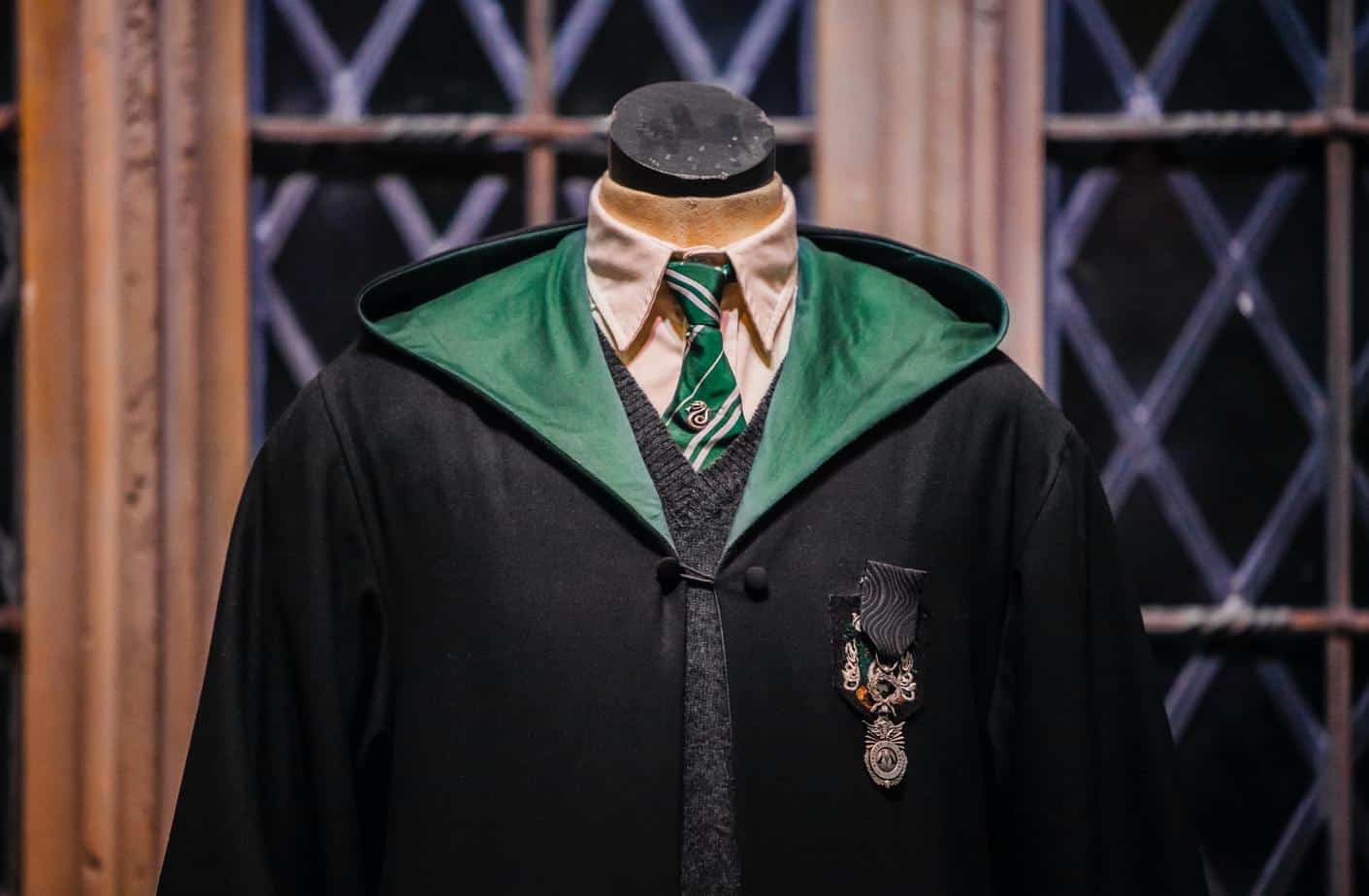 Thanks to its huge popularity, it's not hard to find Harry Potter toys pretty much anywhere. In this article I've included direct links to where you can buy each of these products. The links will be to online shops where you can find these toys, however those places are rarely exclusive.
Many of these products will be available at websites like Amazon, Walmart, or Target, so if you have shopping preferences then definitely consider looking for alternative links. I promise I won't be offended! You can also find many of these products in physical shops. If you ever find yourself at the Wizarding World of Harry Potter or the Warner Bros Studio Tour then you'll have access to plenty of excellent toys.
If you're on a tighter budget, then it's worth checking out second-hand retailers. You may get lucky in a thrift shop, but your best bet would be something like eBay. You can often find brilliant bargains on new or almost-new products. There's no shame in buying your Harry Potter toys pre-loved.
Plushies
Plushies are the perfect toys for all ages. They're cuddly, soft, and can appeal to anyone. Children can enjoy befriending their toy as if it were real, and adults can get pleasure from how cute plushies are. They also make for great display pieces to show your love for Harry Potter. The convenient thing about plushies is that they're not overly expensive, and you can get most of them for a decent price. I've included some higher and lower priced examples of the best Harry Potter plushies available.
Large Pink Pygmy Puff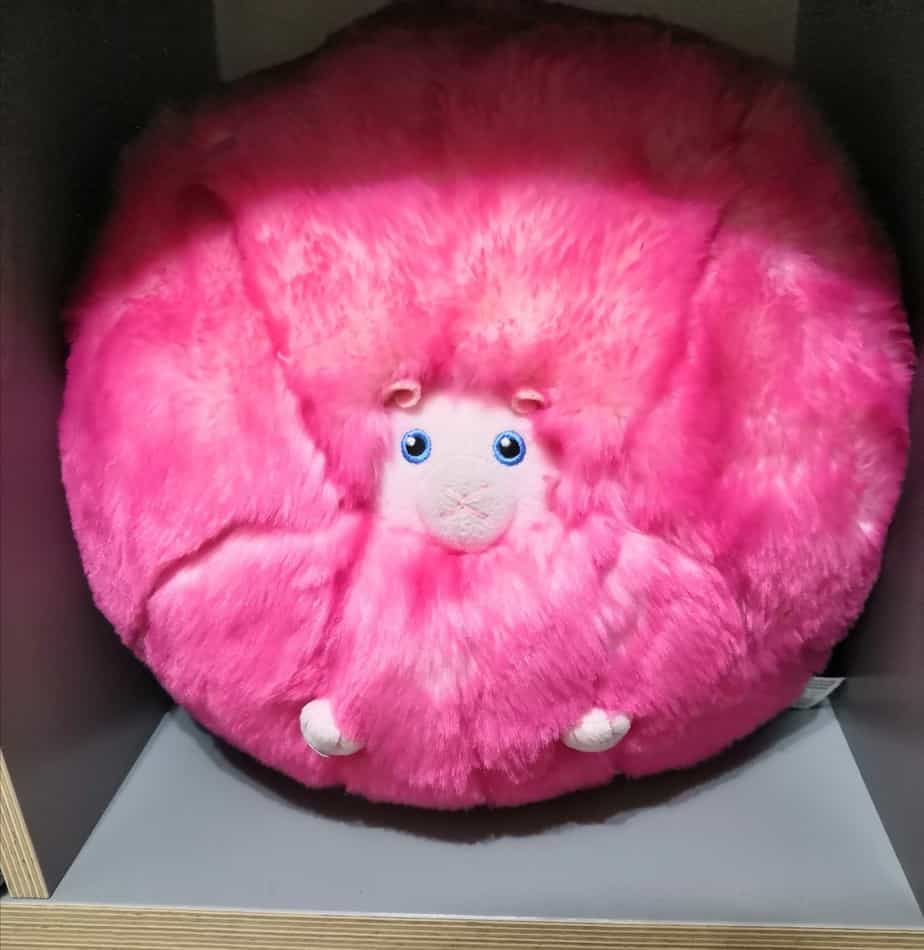 I have this adorable pygmy puff toy myself, and it's easily one of the best purchases I've made. I also have the purple one, which I also love, but I do think the pink one is the better of the two. Fans of the franchise will recognise pygmy puffs as the cute pets that Fred and George bred to sell at Weasley's Wizard Wheezes. What's funny is that they were intended to be tiny versions of the already existing magical creature, a puffskein, yet this pygmy puff plush toy is so large that it defeats the purpose of why they were bred.
Still, this is a toy, and so realism is less important than enjoyment. Let me tell you, this is probably the snuggliest thing I've ever owned. This toy is so soft! It's perfect for cuddling, or rubbing your face into. The large pink pygmy puff would be perfect for children who are looking for a furry companion but aren't ready for a real pet. It's also great for adults who enjoy plushies.
Its round shape and softness make it perfect for many forms of play. It can just be snuggled with, or kids can pretend it's a real pet and roll it around to follow them. They can even throw it between each other like a ball. Overall, this is a really fantastic purchase. It is a bit expensive at $34.95, but the high quality makes up for the price tag.
Bearington Drift Plush Owl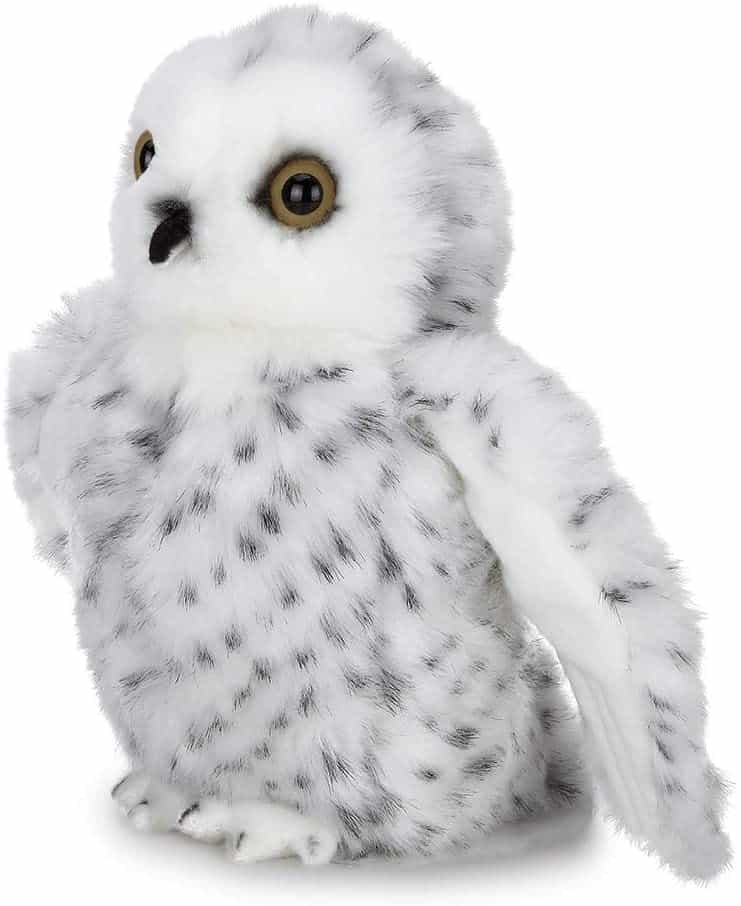 Okay, so this one technically isn't an official Harry Potter product. However, it's clear that this snowy owl plush toy is based on Hedwig, and they've just not mentioned the name so as to avoid licensing issues. The lack of an official license means that they can charge less for it, and this one will only set you back $13.99.
It has Hedwig's gorgeous golden yellow eyes with black pupils, and the design is instantly recognizable. The black beak is perfectly proportioned in the center of the owl's face, giving a quality appearance. The speckled gray dots all over the white body and wings complete the effect. It really does look just like Hedwig from the movies.
You can tell how soft it is just by looking at it, and I feel like I want to reach through the screen and cuddle it! The wings are stitched on at the perfect angle to give hugs, and it seems like such a friendly owl. This would be perfect if you want to buy a high quality Harry Potter plush toy and you're on a budget.
Lego
The gold standard of interlocking brick systems, there are many companies that imitate Lego, but none come anywhere close. Lego has official licenses with many popular franchises, including Harry Potter. There are some gorgeous sets available such as the Hogwarts Castle, but as this guide is about toys, I wanted to focus on playability. I obviously chose sets that were good for display as well, but that wasn't the priority. I wanted moving parts, multiple sections, and plenty of minifigures. I've chosen the top 3 sets in my opinion for budgets ranging from high to low.
Diagon Alley 75978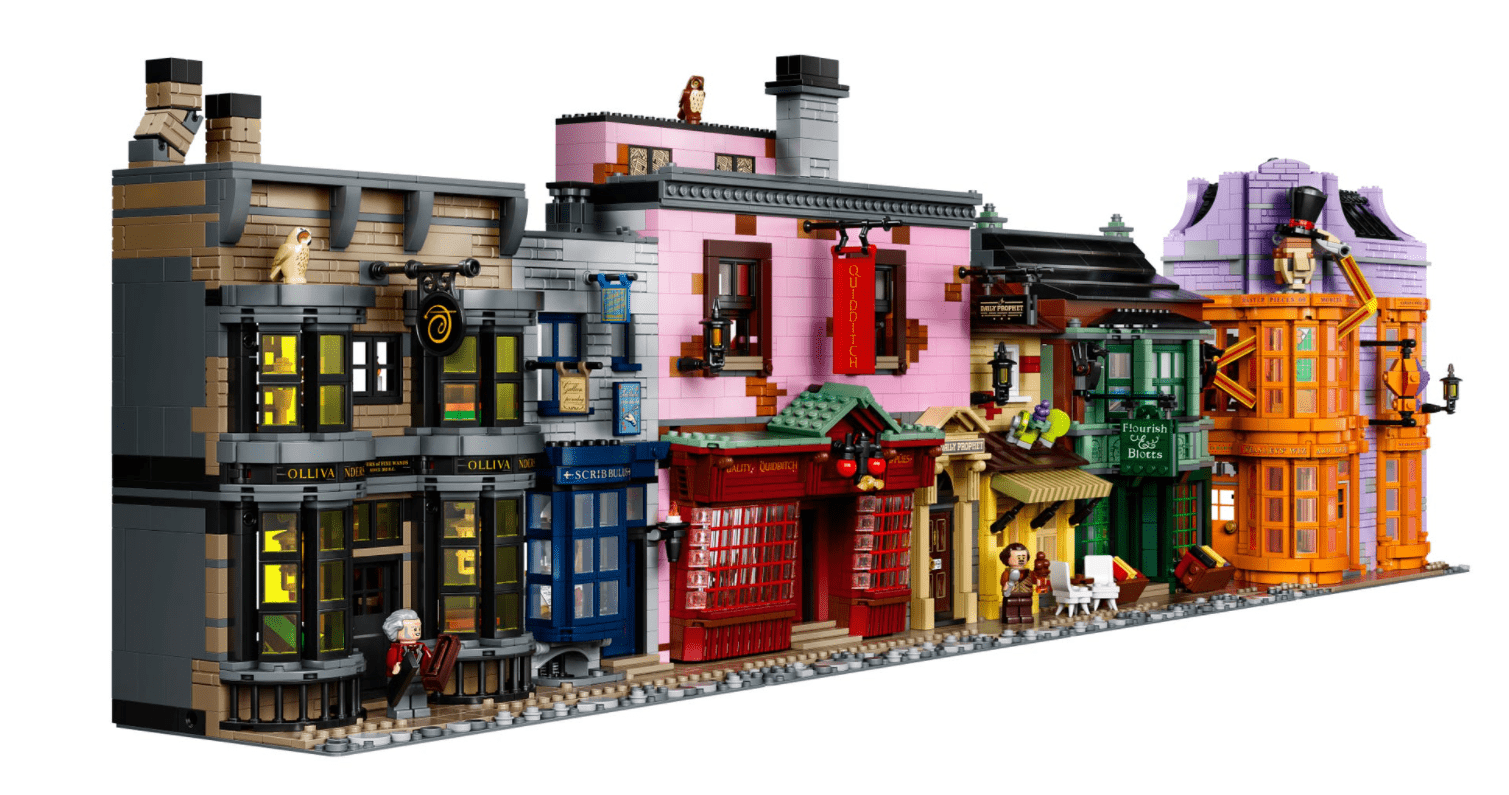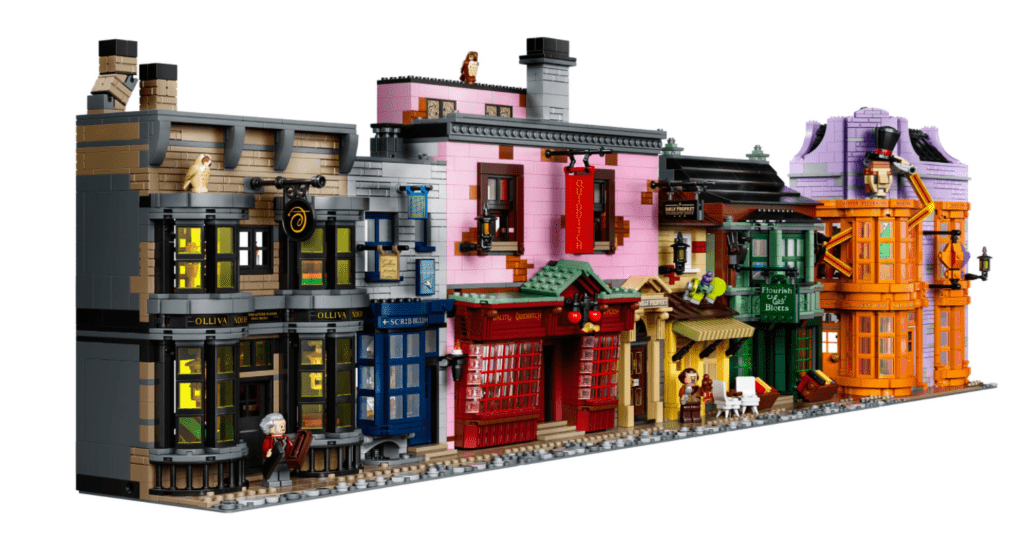 This Diagon Alley 75978 set is, in my opinion, the greatest Lego set currently available. I adore it so much, and had a world of fun building it. If this is a gift for a child, they'd definitely need a hand putting it together, as the recommended age limit on the box is 16+. Whilst I do think a 12 year old could probably build this with some effort, younger kids would certainly struggle, so only buy this for a child if you'd be willing to assist them. It's incredibly enjoyable building it, though, and I loved every moment (it took me 29 hours!).
Once it's built, this is an absolute dream of a toy. There are vibrant colors on every surface, exuding magic whichever way you look. There are multiple interactive parts, my favorite of which is the hat on the Weasley's Wizard Wheezes building, where you can push a lever to make the giant man tip his hat. There are 7 shops in total, as well as Knockturn Alley, allowing for plenty of imaginative scenarios. And best of all there are 15 minifigures to play with! Overall, this is a wonderful set, and it's worth every bit of the $399.99 price tag.
Hogsmeade Village Visit 76388
At $79.99, the Hogsmeade Village Visit set is considerably more affordable than the Diagon Alley one. However, although it's smaller in size, you still get plenty of wonderful playability. This delightful build features two main sections – Honeydukes Sweet Shop, and The Three Broomsticks. These are easily the most iconic shops from Hogsmeade, so I'm glad that Lego chose these. There's snow on the roof tiles which is excellent, as it reminds me of the many scenes in Harry Potter and the Prisoner of Azkaban.
There are also 6 minifigures – Mr and Mrs Flume, Professor McGonagall, Madam Rosmerta, Dean Thomas, and Harry Potter. I felt that it was a bit odd for Lego to include both Mr and Mrs Flume seeing as they have such a small part in the movies, but they're still great for playing with.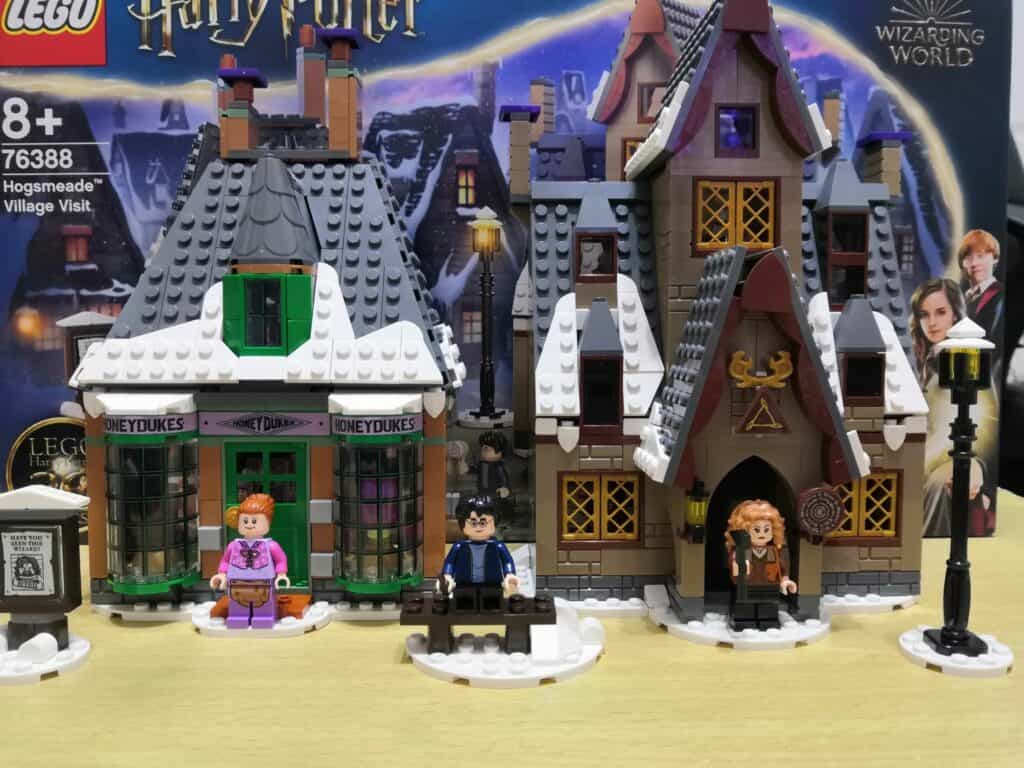 The set also comes with a few parts that you build separately. There's an old-fashioned street lamp with snow atop it. There's a bench which the minifigures can sit on. And it also comes with a double-sided sign displaying a wanted poster for Sirius Black. All these parts come with a snowy base to blend in with that of the shops. Overall, I think there's a lot of fun to be had with this one.
Polyjuice Potion Mistake 76386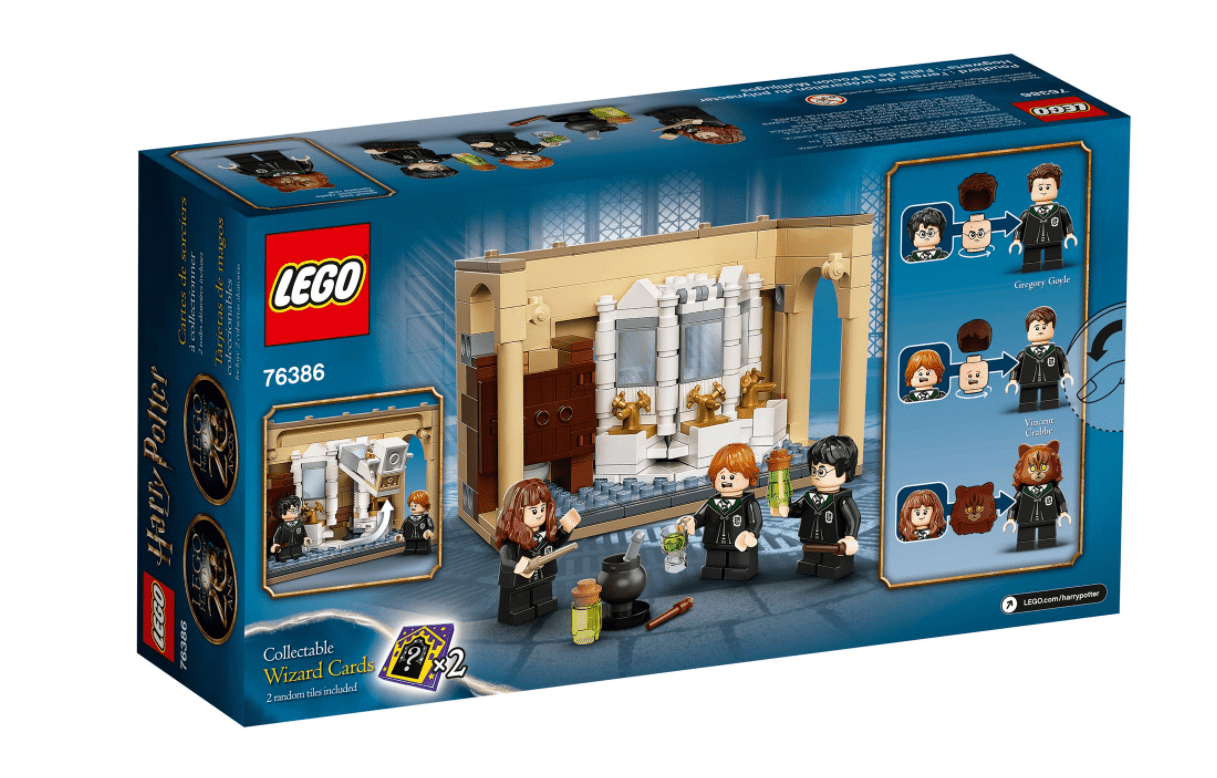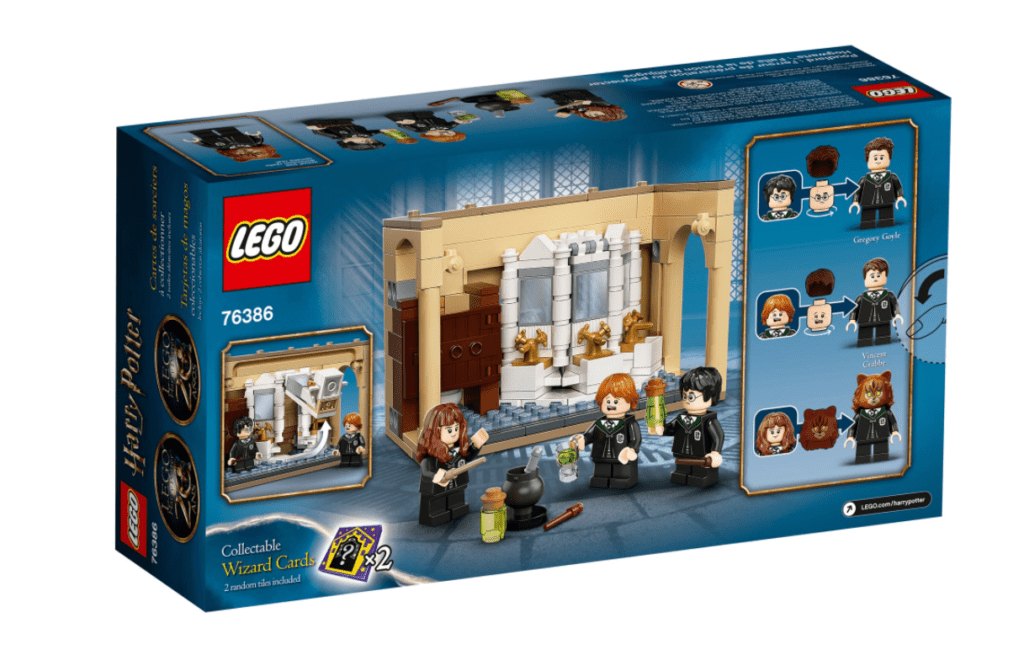 At only $19.99, the Polyjuice Potion Mistake 76386 set is an absolute bargain. I was initially on the fence about whether to buy this one myself, but I'm so glad I did because I just love it. It comes with so many features, and it really is incredible value for money.
It's based on the scene in Harry Potter and the Chamber of Secrets where the trio take polyjuice potion and Hermione accidentally transforms into a cat. It's a memorable and hilarious moment, and one which has been captured wonderfully by Lego. The set comes with 3 minifigures, but each one can be 2 different characters, so you're really getting 6 for the price of 3.
My favorite part is that the middle sink lifts up to reveal a secret entrance. This set can even be connected to the Chamber of Secrets 76389 set so that the secret passageway drops directly into the chamber. I love moving parts in sets, and this was a fantastic detail to have. Polyjuice Potion Mistake is part of the 20th anniversary collection, so it comes with an extra golden minifigure (Harry) as well as two collectible wizard card tiles.
Dress-Up Costumes
Most kids love to get dressed up in costumes. They can put on a few layers of material, and bam! In their mind, they become their favorite characters. Dress-up costumes are an excellent way to activate a kid's imagination and can be so much fun to play with. Here are the best Harry Potter costumes available for kids to dress up in.
Hermione's Yule Ball Dress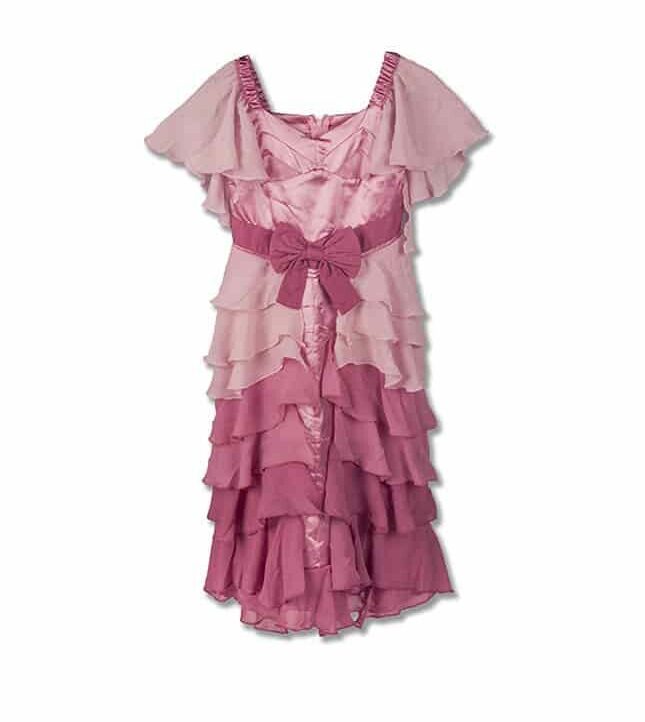 One of my favorite scenes in Harry Potter and the Goblet of Fire is the moment that Hermione descends the stairs and all eyes are on her. She's no longer just that smart kid who they all overlook. For that moment, she's a beautiful princess, and everyone can see it. And the reason she looks so gorgeous is because of her Yule Ball dress.
This stunning pink dress has an ombre effect and a large bow tied at the front. It comes in youth sizes XS – XL, meaning it should fit most children. They can dress up and pretend to be Hermione Granger, and they can let the magic flow through them. Even outside of being used as a costume for playing in, it's also a beautiful dress that they could wear to parties.
Obviously it's intended to be worn by girls, but there's nothing stopping children of other genders from also enjoying this. Unfortunately, though, this toy would be too small for adults, and so is something to buy for a child rather than someone older.
This dress is the official one from the Wizarding World of Harry Potter, and the price tag reflects that prestigious location. It'll cost you $99.95, so is definitely for those with a larger budget. However, for that price, you get a truly unique and special costume. I saw it myself when I visited Orlando in 2019, and honestly it made me wish I were a child again, just so I could wear it.
Hogwarts Robes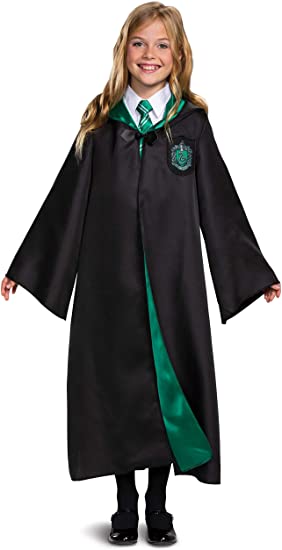 Let your child show some Hogwarts house pride with their very own wizard robes! These detailed robes are not only officially licensed, but also are available for all 4 houses – Gryffindor, Hufflepuff, Ravenclaw, and Slytherin. Amazon has them listed for around $30 (it varies per house), but the price may be different from other sites.
These are perfect for children to pretend that they're really students at Hogwarts! They can grab a wand (or pick up a stick from the park) and cast imaginary spells at one another! I remember being in school when the Harry Potter movies first came out, and I had so much fun having wizard duels with my friends. It would have been even more enjoyable if I had my very own costume.
These Hogwarts robes are made with twill fabric, and have a hood and shiny green satin lining the inside. The house crest is embroidered on the chest. It's worth noting that this product is for the robe alone, and so if you also wanted a tie, you'd have to buy one separately. It also doesn't have a pocket for storing a wand. Still, I think for the price, it's an excellent deal as this is a high quality costume.
Games
Whilst imaginative play is brilliant for kids, sometimes they like to have structured rules. In those instances, it can be awesome for them to have some games to play. These are also a lot of funs for adults, and so are perfect if you have a family full of Harry Potter fans. As games can be so hit and miss, I wanted to include ones that I myself had played, so that I knew I could be recommending something genuinely fun. Both of these are absolutely wonderful examples of Harry Potter games.
Dobble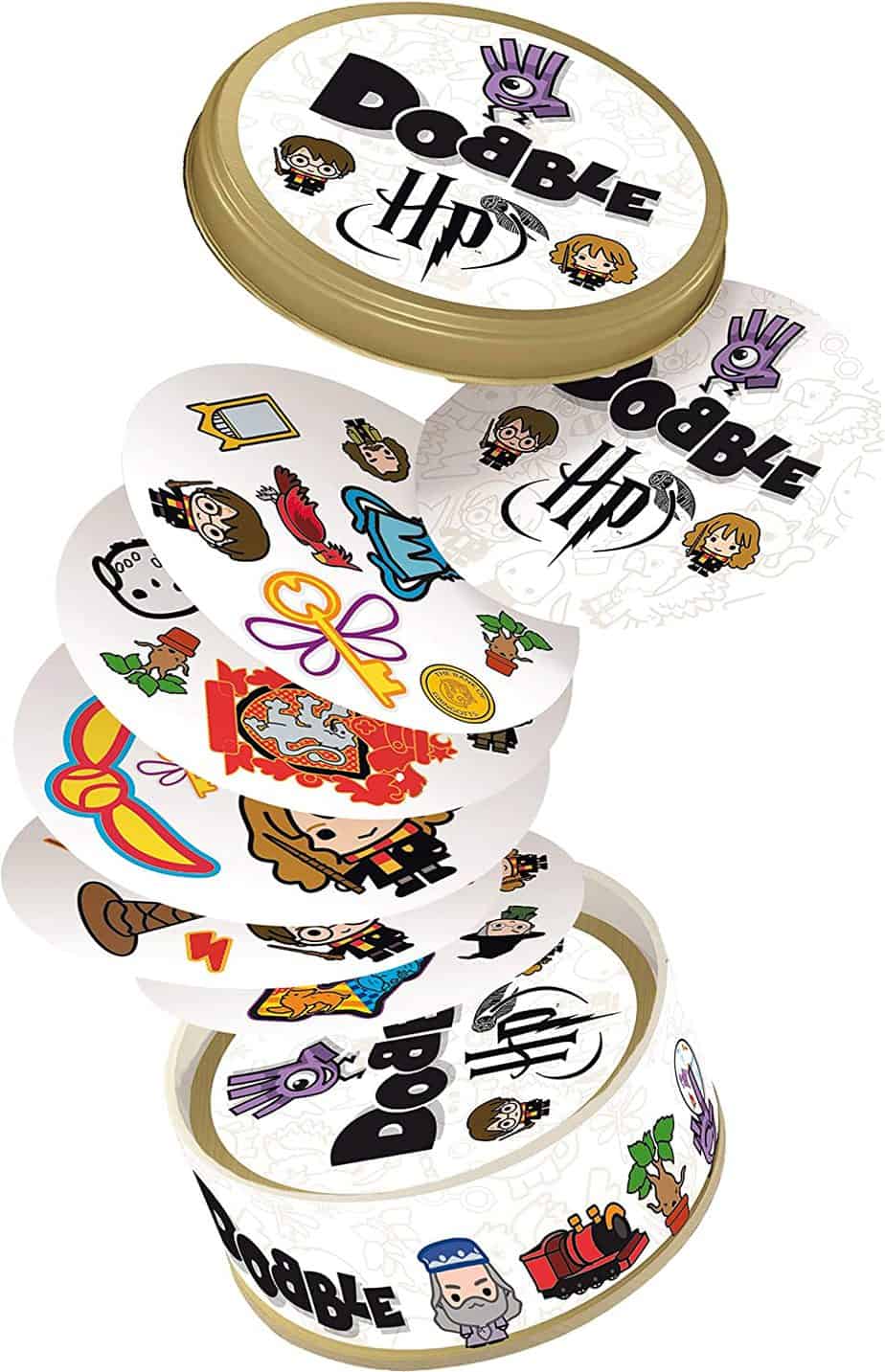 Honestly, the complex mathematics that must have gone into creating Harry Potter Dobble astound me. This unique game actually has lots of variations in different themes, but the Harry Potter one is what I'll be talking about for this article. It's $27.76 on Amazon, but you may be able to find it cheaper from one of your local shops, so it's worth checking their websites or going in store.
It's essentially a more elaborate version of Snap. Each card depicts a variety of Harry Potter themed icons of different sizes. Each card will have one symbol in common with every other card in the game. When playing, you have to figure out what the matching symbol is for your card in order to win.
There are multiple variations of Dobble that you can play, and all of them have instructions included in the box. You can play versions where you gain cards when you find the matching symbol. Or you can play it so that you deal out the deck equally between all players, and they lose cards by finding the matching symbol with the card in the middle. It's a whole lot of fun, and can be played with 2-8 people.
Trivial Pursuit Quick Play Edition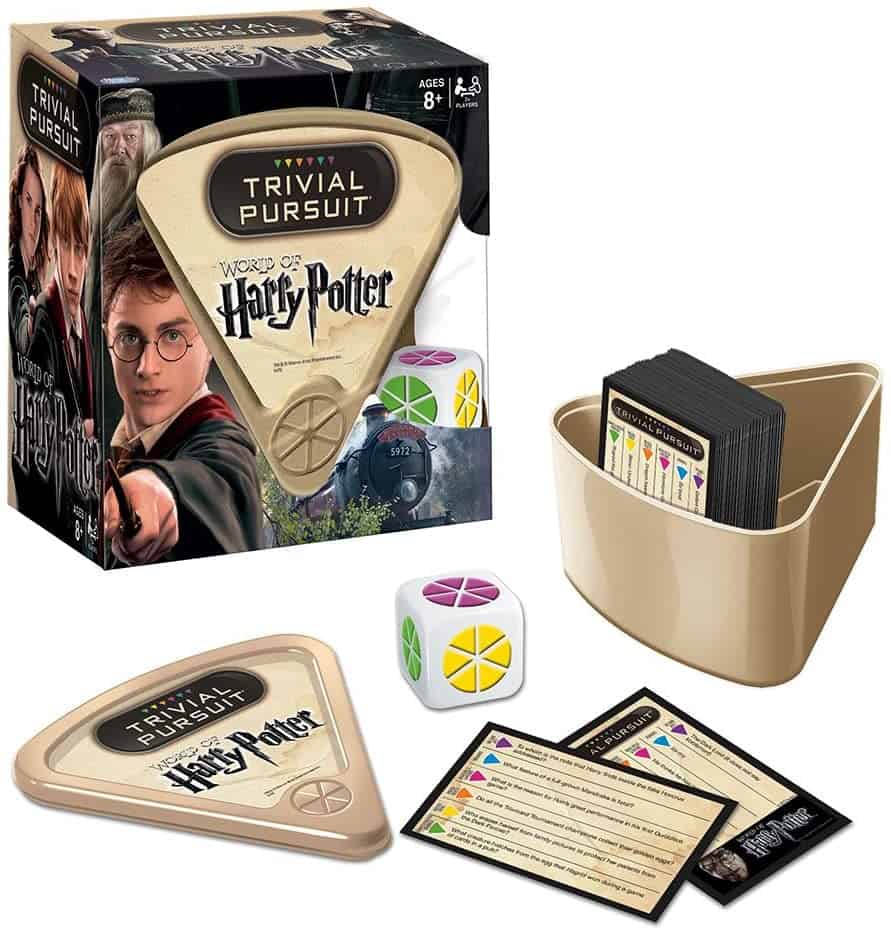 Who doesn't love a good quiz? Well, I suppose there are probably plenty of people out there who don't enjoy quizzes, but I'm not one of them, and hopefully you aren't either! Harry Potter Trivial Pursuit Quick Play Edition is a themed version of the classic party game. It comes in a segment shaped box, which fits everything you need to play.
You roll a dice which gives a color for the question to answer. Each card has six questions (one for each color), and when a card is drawn, you have to answer the question for the corresponding color from the dice. If you get it wrong, the turn is passed to the next player. If you get it right, you win the card.
The purpose of the game is to try and win as many cards as possible by proving your Harry Potter knowledge. The questions range in difficulty, some are relatively easier, others are trickier. The questions are based on the movies, but book fans may have an advantage as often things that are obscure in the movies have a more prominent role in the books.
If you're a super-fan, you could do what I did, and make it so that the color you role on the dice is the question you don't have to answer, and you have to get all the other five right in order to win the card. It makes the game trickier if all players have a lot of knowledge.
Action Figures
When you think of toys, you probably immediately think of action figures. No matter the franchise, these are always the go-to when designing something fun for kids to play with. The market is absolutely flooded with Harry Potter toys, so if you're just looking for a standard action figure, you could go into pretty much any shop and find one. With this article, I want to pick products that are unique and stand out from the pack. So I've chosen two brands of Harry Potter action figures that offer something different from most of the others available.
Funko Pops
I am an avid collector of Funko Pops, including several from the Harry Potter range. I've previously written a guide to the best Harry Potter Funko Pops that you can get. There are several wonderful options out there for nearly all of the characters in the series.
Although some of the rarer ones can get pretty expensive, most Funko Pops are between $10 and $15, making them reasonably priced. They're made of painted vinyl, and although it's not a particularly fancy material, they still feel high quality. Funko take great care when it comes to the details, and their figures have plenty of charm.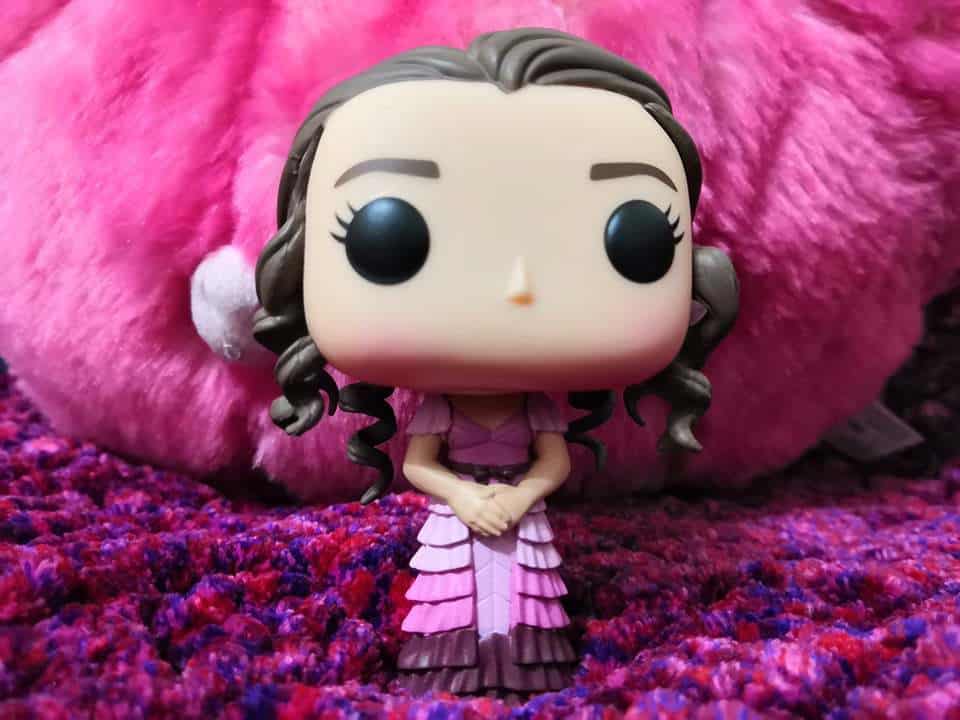 Whilst they're primarily intended as collectibles and display pieces, they also work well as toys. They don't typically have moving parts (although sometimes the heads are loose and can be twisted), but they have an authentic look to them. They'd be better for older children whose play is more story-based than action based. A child could pretend the characters were real and make them talk to one another, and they'd look lovely on the shelf between play sessions.
YuMe Magical Capsule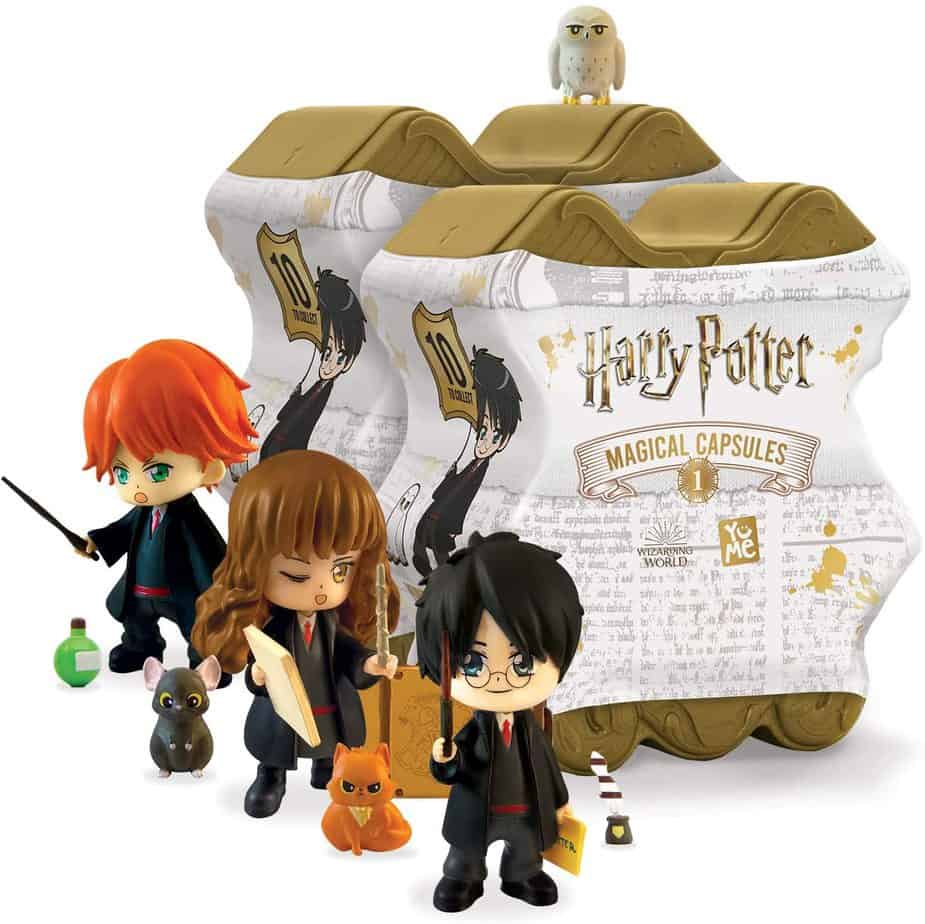 As an environmentalist, I dislike unnecessary plastic. However, I can make an exception in this case, as I think it adds to the overall experience of this exciting product. The YuMe Magical Capsule is a special toy that comes with a mystery Harry Potter action figure. There are a range of figures that you can get, and the capsule itself gives you clues to who you have.
You use your fingerprint to reveal the house of the character by touching a special card that's included. Then you dip a strip of paper into water, and it will show you their signature spell. You can use these clues to guess who you might have received using your knowledge of Harry Potter characters. If you're still unsure, there are additional items inside to go with the characters. Each one comes with a pet and an item related to the character.
The figures themselves are cute and seem well-made. Their faces are drawn in a chibi style with fun expressions. They would be a lot of fun to play with, especially because they have pets and items that come with them. And when you're done playing with them, they can go back inside their mystery box as though it were a little house. It has a fun golden Hogwarts crest design, making it perfect for storage. It's $21.99 for a 2-pack, and I think that's an excellent deal.
Conclusion
As you can see, there are many delightful toys out there for children and adults alike. Hopefully this guide has not only helped narrow down your choices, but also given you an idea of what to look for in a toy. Remember to always be responsible about your budget. Even though toys are fun and make for excellent gifts, you don't want your love for Harry Potter to get you in debt. Happy purchasing!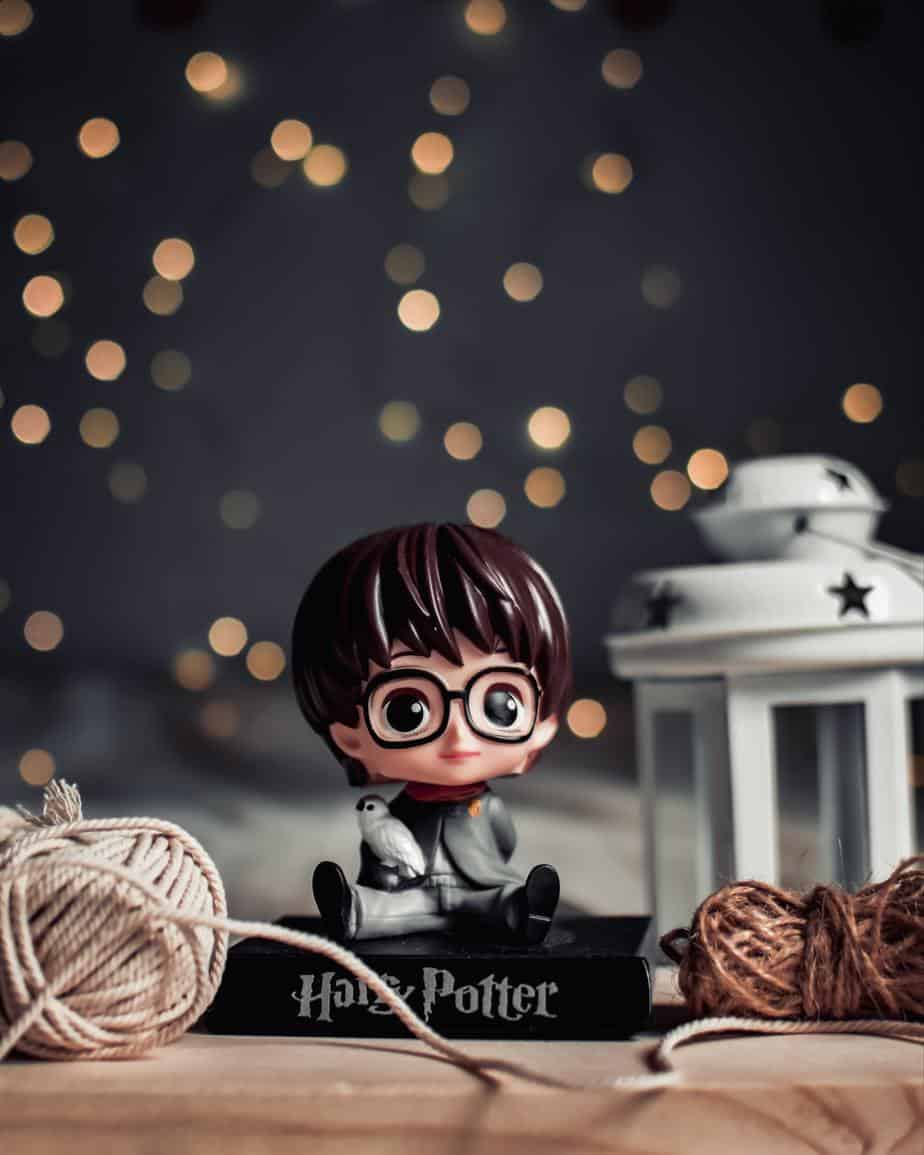 FAQs
Question: What are the Best Harry Potter Toys for Young Children?
Answer: Younger children (6 and under) tend to prefer toys that are colorful and give them plenty of stimulation. They probably won't have the attention span for toys with complex instructions. They may not treat the toys very well, so perhaps consider avoiding the higher priced items as the kid could end up breaking it. Instead, look for toys that are reasonably well made, and offer plenty of entertainment. Things like plush toys and action figures would be perfect. You could also help them build a smaller Lego set to play with such as Polyjuice Potion Mistake, as long as they're old enough not to put the pieces in their mouth.
Question: What are the Best Harry Potter Toys for Older Children?
Answer: With older children (7 and over), they're probably at an age where they can appreciate high quality. They're less likely to break their toys and so (if you can afford it) it may be worth considering the more expensive items. Older kids tend to prefer toys that engage their mind somewhat, and they can be imaginative in their play whilst also following instructions. A Lego set would be perfect for them (although depending on complexity they may need help building it). You might also consider a game that they could play with others.
Question: When Was the First Harry Potter Movie Released?
Answer: Most Harry Potter toys are licensed to Warner Bros, and therefore are based on the movies. Harry Potter and the Sorcerer's Stone was first released in November 2001, and became one of the most successful movie franchises of all time.
Find more Harry Potter merch by reading these guides below: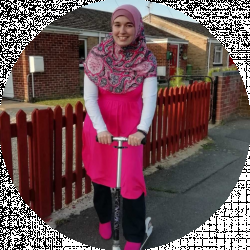 Latest posts by Melika Jeddi
(see all)