Hello, fellow Spider-Man fans! The weather is still chilly out, so maybe you've been considering buying yourself the perfect Spider-Man hoodie. I've assembled this guide to discuss the best Spider-Man hoodies available online.
We'll also explore the different versions of Spider-Man, so you buy a hoodie with the version you want. Before that, we'll talk about what makes for a quality hoodie. Let's dive in, Avengers!
Bottom Line Upfront
Growing up a 90s kid and a massive Spider-Man fan, there was next to nothing for girls when it came to clothing and merch. So, as soon as I saw the Gwen Stacey hoodie, I had to one-click. I can't wait to wear it!
Top Picks
Peter Parker would be proud of these hoodies. These are the 4 best Spiderman hoodies for comic fans, movie fans, kids, and adults. Spiderman is an old character with a rich history, so I've put together a selection of Spiderman hoodies for every kind of fan.
Best and Worst Materials for Hoodies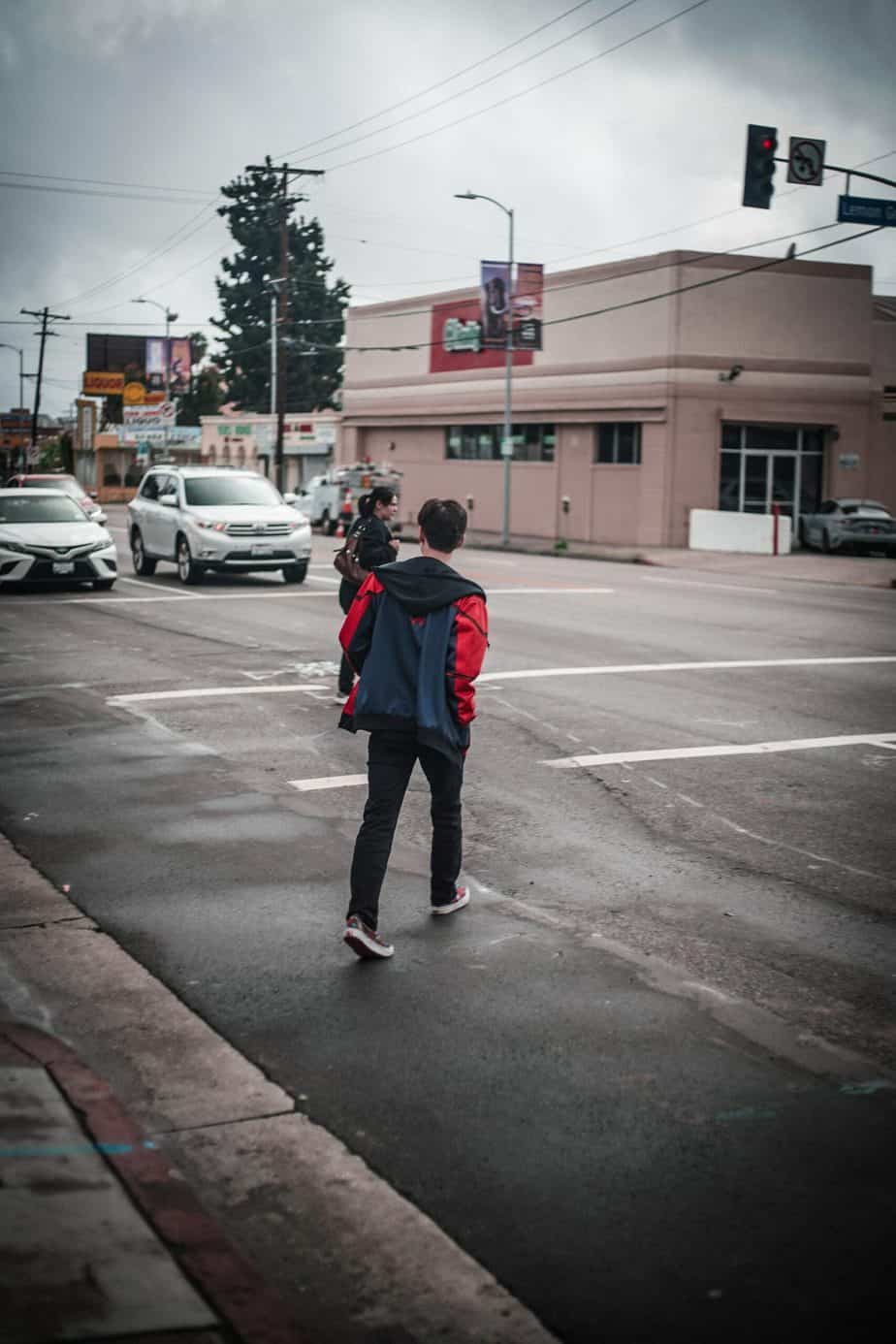 Since this is a hoodie guide, I would be remiss not to warn you about the worst materials and let you know about the best. Some materials are warm, soft, and easy to wash while others are scratchy and require extra attention. I'll explain what I mean here.
Best Material for Hoodies
Polyester – This is an incredibly soft, man-made material that's perfect for keeping you warm. It's very soft and plushy.
Cotton – This natural material is lightweight and breathable. If you live somewhere warm, cotton is perfect if you don't want to overheat.
Sherpa – Some hoodies are lined with sherpa, which is an ultra-soft and plushy material.
Worst Material for Hoodies
Wool – There's a reason everyone makes jokes about how much they hate receiving wool sweaters. Wool is itchy and hot.
Nylon – This material is neither soft nor incredibly long-lasting. It also has a lot of potential to look cheap.
Types of Hoodies
"Hoodie" is a general term for a few different clothing items. Basically, any piece of clothing that comes with a hood could be considered a hoodie. Here are some of the most popular types.
Zipper Hoodies
Pullover Hoodies
Thin Shirt with Hood
Thick Sweater with Hood
Hoodie with Mask
What to Look for in a Spider-Man Hoodie
No two Spider-Man hoodies are exactly alike, which means some are better than others. Check out these key points before buying your own novelty hoodie!
Correct Sizing
A lot of hoodies will come in sizes: X.S., S, M, L, XL, XXL, and XXXL. Make sure that you know if the hoodie is supposed to be for children or adults so that you buy the right size that will fit. Sometimes you can check out a hoodie's measurements to see how it will fit, too.
Material
I recommend polyester and sherpa for cold weather, and cotton for warm weather. These are soft materials that can last for a long time. Avoid wool, nylon, and even bamboo at all costs.
Design
I'd definitely argue that the design of your Spider-Man hoodie is the most important part! Check to make sure the hoodie you have in mind has a design with clean, crisp lines.
None of the details should look warped. Also, you can look at a picture of one of Spider-Man's suits to make sure the designer got all the details of the suit correct.
Licensed or Fan-Made
Some fans strictly want licensed Spider-Man merch, but some fans prefer the look of handmade items created by fans.
Many fan-made products are of excellent quality, so don't let their lack of licensing fool you. If you're getting it for someone else and not sure what they like, I recommend you buy official merch.
Pricing
Spider-Man is a popular guy, and sometimes novelty merchandise is expensive. That's the sad plight of us Marvel fans; however, make sure the price you're paying isn't too high. I wouldn't pay for a hoodie over $80, but a $10 hoodie may be too cheap.
Which Spider-Man Are You Looking for?
Spider-Man has been around for quite some time. It was 1962 when Stan Lee and Steve Ditko put out the very first Spider-Man comic in which orphaned and sickly Peter Parker receives a fateful bite from a radioactive spider.
Since then, numerous versions of Spider-Man have come out in the form of comic books, T.V. shows, and movies.
Comics
Comic book Spider-Man is the oldest and most recognizable. Think of Spider-Man in his trademark bright red and blue suit, and that's comic Spider-Man. Lots of merch will feature Spider-Man in panels from the comics.
T.V. Shows
There are loads of Spider-Man T.V. shows! From the original Spider-Man T.V. show simply called, Spider-Man, which ran from 1994-1997 to the more recent Marvel Spidey Amazing Friends, which started in 2021, Spider-Man is everywhere. You can buy merch from each T.V. show.
Movies
The MCU has given us 3 very distinctive versions of Peter Parker.
Spider-Man, Spider-Man 2, and Spider-Man 3, our hero was played by Toby Maguire.
Andrew Garfield plays Peter in The Amazing Spider-Man and The Amazing Spider-Man 2.
In Spider-Man: Homecoming, Spider-Man: Far From Home, and Spider-Man: No Way Home, Tom Holland plays Spider-Man.
In the hit movie, Into the Spider-Verse, Shameik Moore plays Miles Morales.
The Best Spider-Man Hoodies
Are your Spidey senses tingling, warning you that the 10 best Spider-Man hoodies are quickly approaching? Your Spidey senses would be correct. In terms of quality, design, and more, you can't beat these choices. I hand-picked them based on their quality of construction, authentic designs, and comfy materials.
Best For: Kids
About
This iconic red, blue, and black Spider-Man hoodie is perfect for the little Spider-Man fan in your life. I know my son, who's a massive Spidey but, would absolutely love this one! This design features classic Spider-Man, which is one of his most recognizable looks.
Price Range: $12-$22
Material: Cotton
Available Sizes: 4-16
This is a zip-up hoodie that's made of cotton, so the material is lightweight and breathable. I think the Spider-Man eyes on the hood are a detail that makes this hoodie really feel like a suit. I can just picture my kid now, hood up, covering his eyes, chasing me around the house.
Pros
Classic, eye-catching Spider-Man design
Soft and breathable cotton material
Machine washable
Cons
Recommended to tumble dry on low, which takes up more time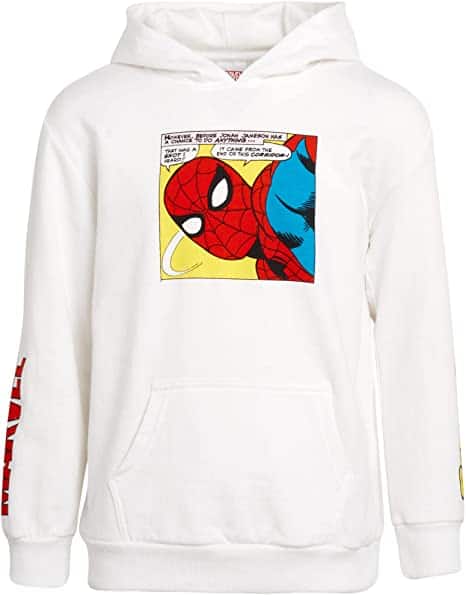 Best For: Comic Fans
About
I think I just found the Christmas gift for my whole family this year! The entire family can show off their love for Spider-Man with this hoodie that comes in kids' and adult sizes. This hoodie is white and features comic-book Spider-Man inside a panel.
Price Range: Varies depending on adult or kids' sizes
Material: Polyester
Available Sizes: 2T-18
He has dialogue around him from the Avengers comic series. Since this pullover hoodie is made from polyester, it's exceptionally warm and soft. Yeah, I definitely need this hoodie.
Pros
Available in a huge range of sizes for kids and adults
Classic comic book Spider-Man design
Officially licensed Marvel merchandise
Cons
All of the sizes aren't always available at the same time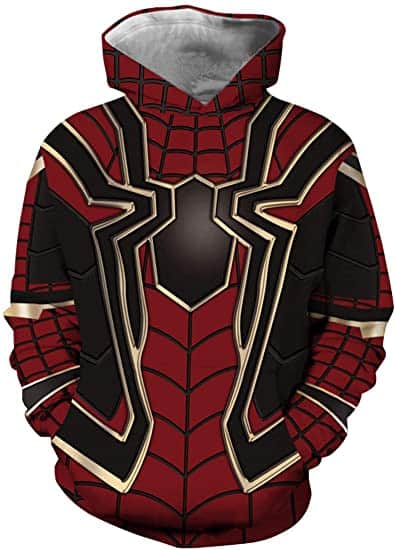 Best For: Movie Fans
About
My son can literally watch any Spiderman movie and mouth the whole thing, word for word. He'd lose his mind over this hoodie. If your kid is a mega-fan of Spider-Man in his iron spider suit, this is the hoodie for them. This iron spider hoodie features this suit's red, black, and gold design.
Price Range: $15-$30
Material: Polyester and spandex
Available Sizes: 5 years-14 years
The design is made to look 3D with raised golden accents. This is a stretchy hoodie since it is partially made of spandex. The hoodie is thin, so it's better for cool rather than cold weather.
Pros
Stretchy materials with polyester and spandex
3D design
Beloved Iron Spider-Man suit design
Cons
The sizing is confusing, and the sizes run small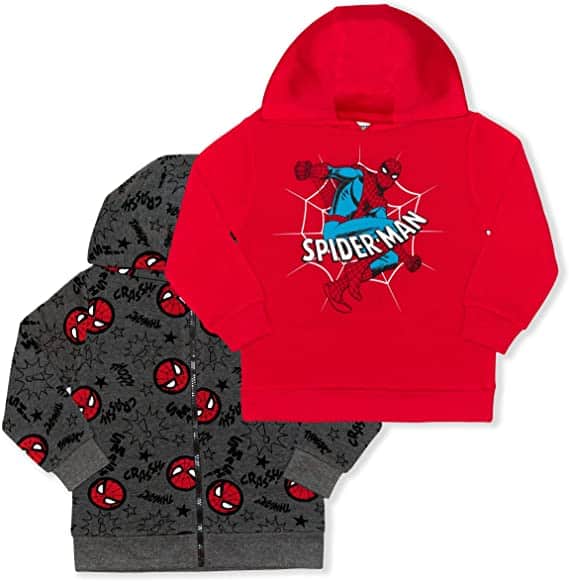 Best For: Toddlers
About
A two-for-one deal for less than $40? *adds to cart*.
If your toddler adores the web-spinning hero of the Marvel Universe, they'll love this set that contains 2 Spider-Man hoodies in 1. The red pullover hoodie features comic-book Spider-Man.
Price Range: $28-$38
Material: Polyester
Available Sizes: 1 size for toddlers
The gray zip-up hoodie features a cute Spider-Man all-over print. Both hoodies are 100% polyester. Parents will love that the fabric is tear-resistant, so it can withstand playtime outside.
Pros
2 hoodies in 1 set
One hoodie is a zip-up hoodie, and the other is a pullover hoodie
One comic book Spider-Man and one cute-themed Spider-Man
Cons
These hoodies are 1 size fits all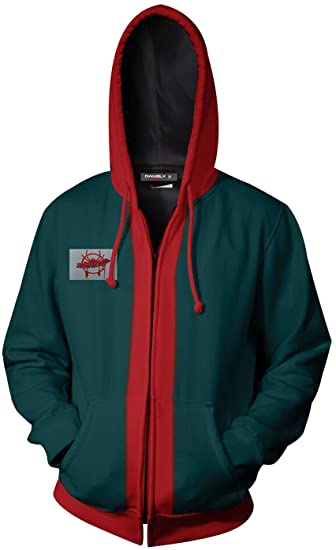 Best For: Miles Morales Fans
About
This is my kids' fav Spiderman movie of them all. They just started collecting the graphic novels, too. I almost HAVE to get this hoodie!
Adults and kids can dress just like Miles Morales when he's out of his trademark spider suit. This hoodie looks just like the hoodie Miles wears in, Into the Spider-Verse.
Price Range: $25-$35
Material: Cotton
Available Sizes: 6 years-14 years and S-XXL
The hoodie is made of cotton, so it's perfect for cool fall and spring days. This is a zip-up hoodie, and it comes with 2 front pockets.
Pros
A perfect replica of Miles Morales' jacket
Range of sizes for kids and adults
Cotton is a lightweight and breathable material
Cons
Confusing one-size-fits-all for kids' sizes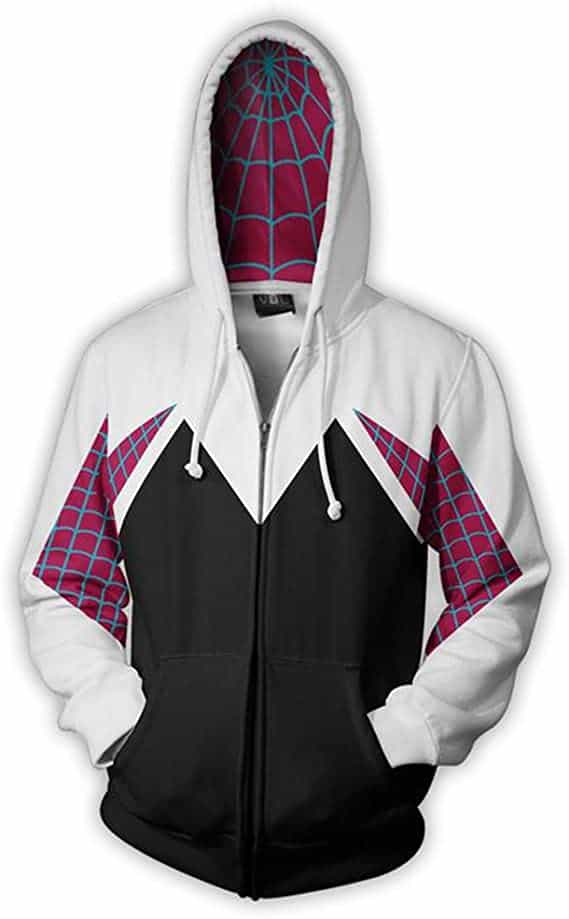 Best For: Gwen Stacey Spider-Woman Fans
About
Oh, my finger is hovering over the 'buy' button on this one. If you've read my other Marvel content, you'll know how much I love Gwen Stacey. If you're a long-time fan like me (or even a new fan) of Gwen Stacey A.K.A. Spider-Woman, this hoodie is the one you're searching for.
Price Range: $30-$45
Material: 80% polyester and 20% cotton
Available Sizes: XS-XXXL
This hoodie, which looks like Gwen's spider suit, comes in adult sizes. The material is a blended mix of polyester and cotton, so it won't be too heavy or too light.
Okay, I added it to my cart…
Pros
The hoodie looks like Gwen Stacey's Spider-Woman spider suit
Polyester and cotton mix means the features of both materials balance each other
Inside of the hood has a spider suit print design
Cons
Not officially licensed Marvel merchandise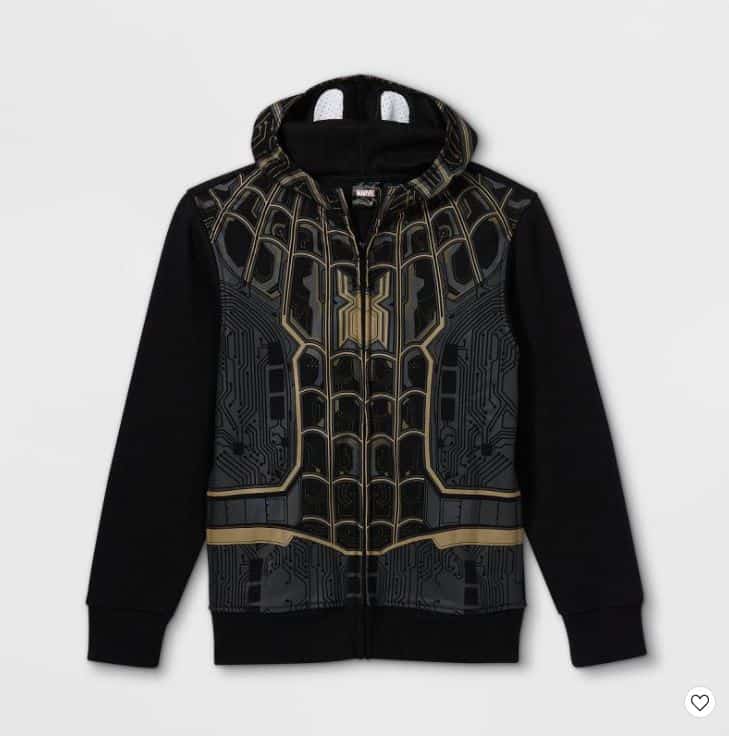 Best For: Fans of the Newest Movie, Spider-Man: No Way Home
About
Kids who want to watch Spider-Man: No Way Home over and over again will love this spider suit hoodie. It's my kids…mine watch it. Over and over…and over and over…
But that's okay, because their momma is a massive nerd, too! This hoodie features Spider-Man's black and gold spider suit, which became one of
Price Range: $15-$25
Material: Fleece
Available Sizes: XS-XXL
Peter's new looks when he was forced to turn his old suit inside-out. The amount of detailing in this hoodie is impressive. It's a zip-up hoodie with side pockets.
Pros
Showcases Peter Parker's unique inside-out suit from, Spider-Man: No Way Home
Officially licensed Marvel merchandise
Spider eyes on hood
Cons
Fleece tends to shrink when washed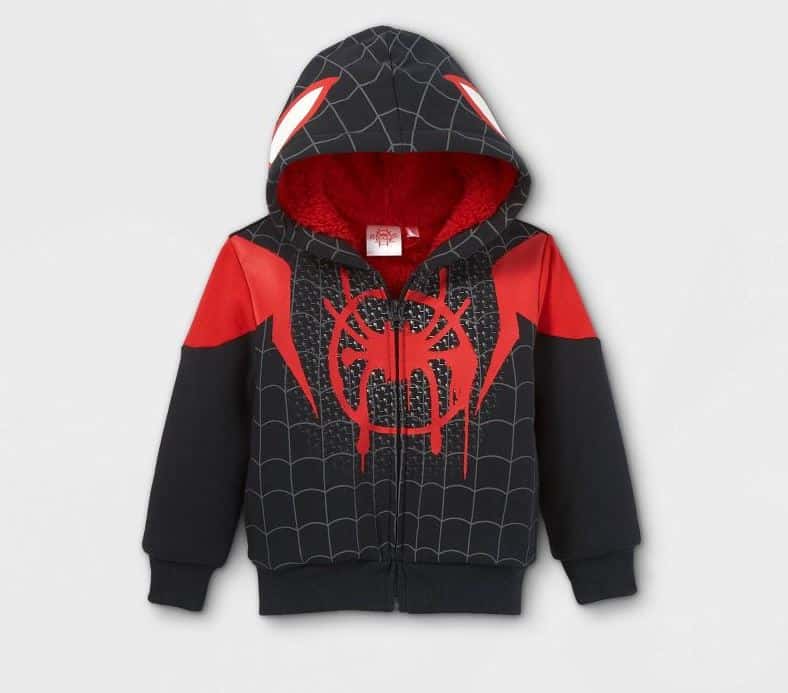 Best For: Softness
About
I'm totally getting this for my god-son. He's not old enough to geek out quite yet, but I want him to know Spiderman is ready and waiting when he does. This Spider-Man hoodie for toddlers is perfect for keeping your little one warm. They'll feel just like Miles Morales when he suits up in, Into the Spider-Verse.
Price Range: $15-$25
Material: Sherpa
Available Sizes: 2T-5T
This officially licensed zip-up hoodie features the design from Miles' spider suit. Like many other hoodies on the list, spider eyes are included on the hood, which gives this piece extra personality.
Pros
Inside is lined with ultra-soft sherpa material
Officially licensed replica hoodie of Miles Morales' spider suit
Spider eyes on the hood
Cons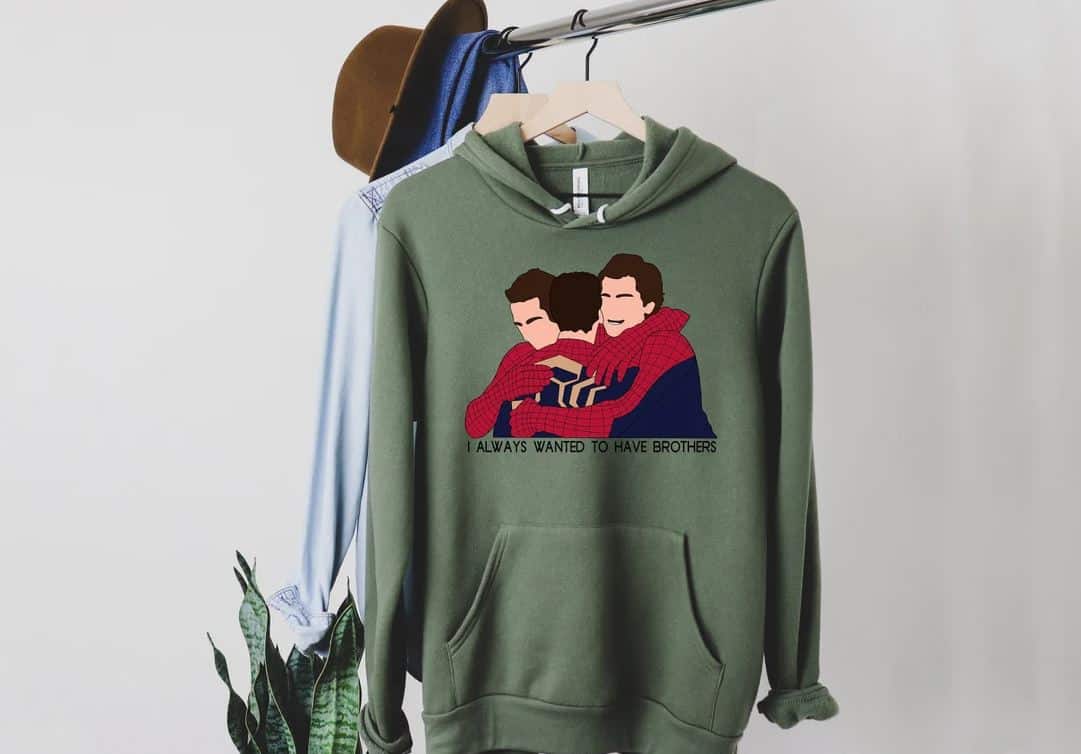 Best For: Handmade Hoodie
About
If I keep writing these articles, my husband is gonna have the best Christmas ever. This is a handmade Spider-Man pullover hoodie with drawstrings and a front pocket. I love that you can pick from a huge range of colors for the background of the hoodie.
Price Range: $30-$40
Material: N/A
Available Sizes: XS-XXXL
As for the design, you can see a stylized Spider-Man and the quote, "I always wanted two brothers."
Pros
Unique design featuring Peter Parker and a movie quote
Loose, comfy pullover hoodie
Comes with a front pocket and drawstrings
Cons
Material type isn't listed, but it looks like cotton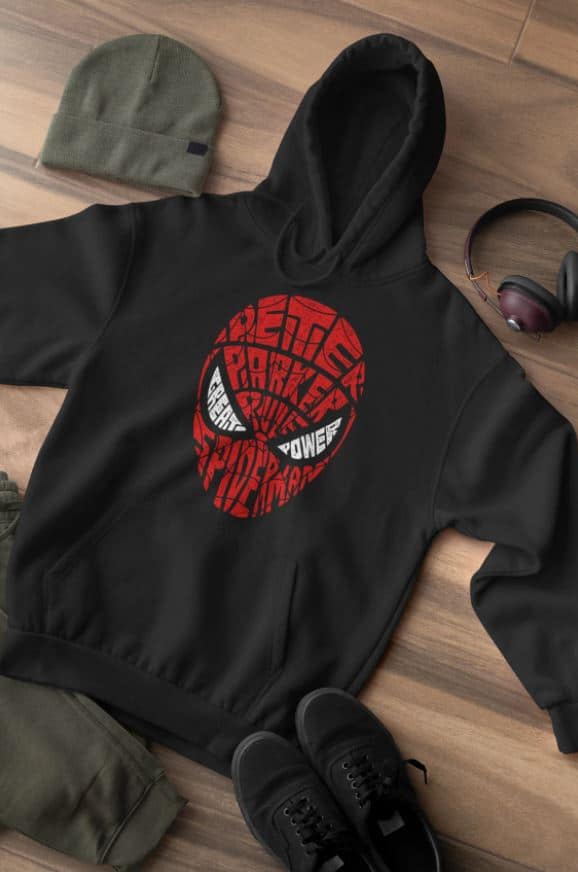 Best For: Adults
About
Oh, this one is super cute and I love that it's not a design you normally see floating around. That's why I adore Etsy! This handmade Spider-Man hoodie features the Spider-Man mask made up of word art. The words making up Spider-Man's eyes say, "Great," and, "Power."
Price Range: $32-$42
Material: Cotton
Available Sizes: Youth XS-XL Adults XS-XXXL
Words making up the rest of the mask say, "Peter Parker," and, "Spiderman." You can buy this pullover hoodie in black or navy.
Pros
Cool word art design
Quality handmade product
Large front pocket
Cons
FAQ
Hear ye, hear ye! Your most frequently asked questions about Spiderman hoodies will be answered below. Don't see your question answered? Pop it in the comments.
Question: Where can I Buy Spider-Man Hoodies?
Answer: There are tons of places to buy Spider-Man hoodies. Amazon, eBay, and Overstock are great places to buy Spider-Man hoodies online. You can also find them in Walmart, Target, and novelty stores. Check the official Disney website, too!
Question: Are There Spiderman Hoodies for Adults?
Answer: There certainly are. Lots of Spider-Man fans are adults, so many adult-sized Spider-Man hoodies have been made. In fact, I would argue more Spider-Man fans are adults than children with how old the franchise is.
Question: What is the Best Material for Hoodies?
Answer: My recommendations for the best hoodie materials are:
Polyester
Cotton
Sherpa
Zipping It Up
That's a wrap! You learned all about what quality hoodies are made of and how to find the best materials. We got to discuss the different versions of Spider-Man, and we went over the 10 best Spider-Man hoodies.
My fav is definitely the Gwen Stacey hoodie, but that's just me.
Do you have a favorite you're planning on picking up for yourself or a Spidey-obsessed friend? Let me know in the comments! For more helpful buying guides about Marvel merch, take a peek at our list of best Spider-Man merch!
Find more Spidey merch by readings these guides below:
Spiderman Merch Guide for 2022
Your Ultimate Marvel Merch Guide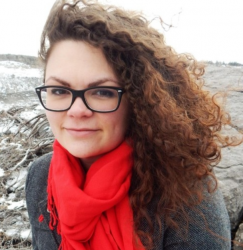 Latest posts by Candace Osmond
(see all)