Are your kids heading back to the classroom? Or maybe you're looking for a nostalgic piece for yourself? Consider a cool Toy Story backpack!
I understand it can be difficult choosing products with the best value, so I'm here to help. In this guide, I'll discuss everything you need to know about picking a good backpack. Then, I'll introduce you to the top 10 best Toy Story backpacks and accessory bags.
This information will help you make the best possible choice, so you can get your little one a backpack they'll love. Let's go!
Bottom Line Upfront
I don't own a Toy Story backpack, but after seeing the  Loungefly Disney Pixar Lotso Cosplay Women's Double Strap Shoulder Bag/Purse I had to order it! I frequent quite a few geek conventions each year and convention season is approaching, I need a good bag!
Top Picks at a Glance
Are Toy Story Backpacks Just for Kids?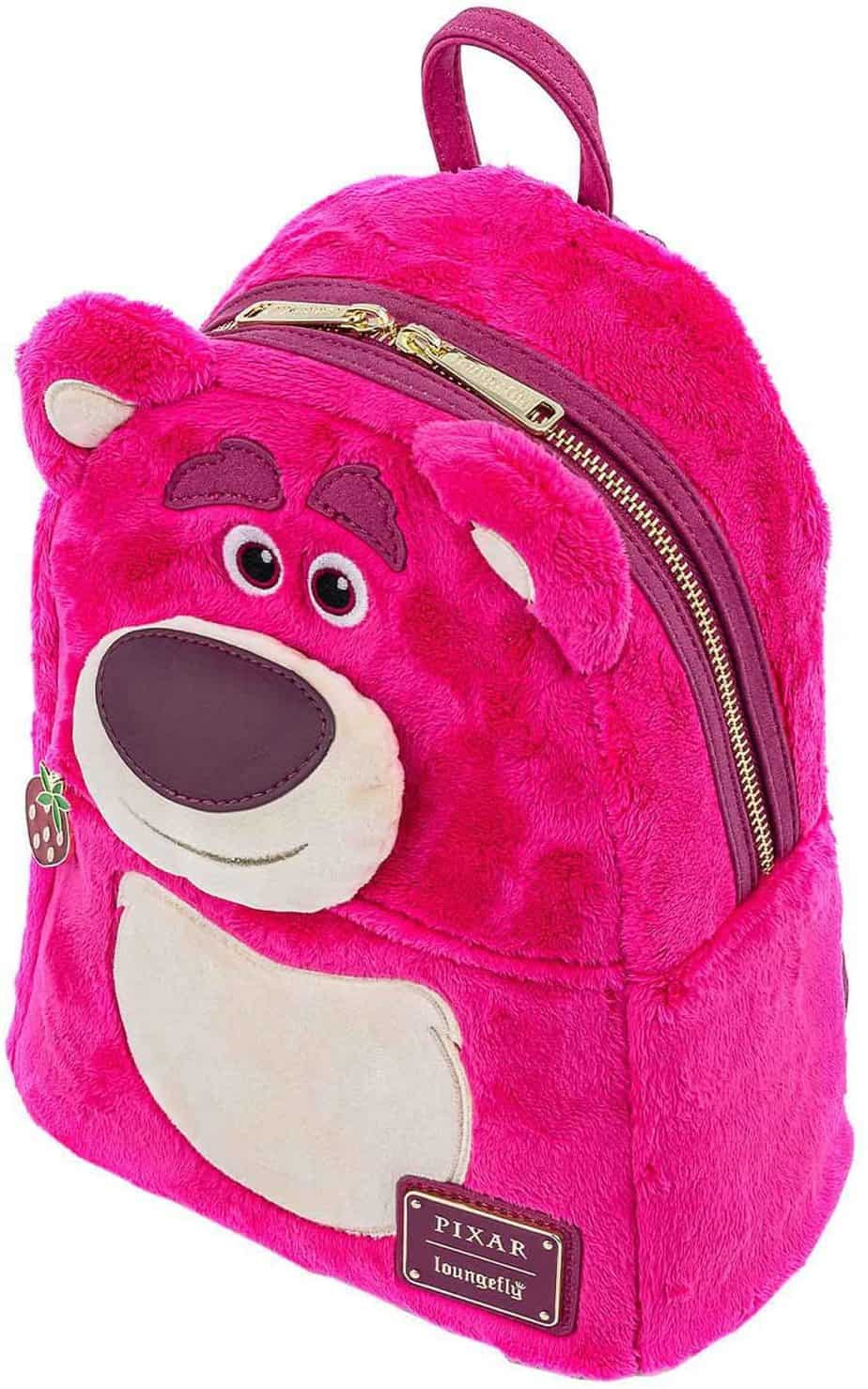 Nope! While Toy Story backpacks may be primarily marketed toward children and their parents, they can be perfect for adults too. Here are a few ways the young at heart can rock a Toy Story backpack:
As a cute accessory for a day out
As part of a nostalgic Halloween outfit
As a once-in-a-while travel pack
As a statement piece at college or university
In this article, I'll introduce a variety of Toy Story backpacks, so you'll get to see a bit of everything.
Types of Toy Story Backpacks You Can Get
Since there are so many backpack styles out there, knowing the best one for you can be a challenge. I've outlined the most common backpack types below to give you a hand. Knowing this information will help you choose the ideal Toy Story backpack for your intended use.
School Backpack
When you hear "backpack", you probably think of school. A school backpack should ideally have the following features:
Enough space to carry school supplies (books, notebooks, other accessories).
Multiple compartments and other places set aside for storage.
Comfortable straps, preferably padded and adjustable.
Waterproof or water-resistant construction material.
Durable construction with reinforced stitching.
Mini Backpack
A mini backpack is not ideal for traditional school settings or use by older children. Rather, they're designed for small children attending preschool or kindergarten. Here are some common features of mini backpacks to keep in mind:
Cute designs.
Softshell construction.
Constructed on a smaller scale.
Less storage space than traditional backpacks.
Drawstring Backpack
Drawstring backpacks tend to be of lighter weight and simpler construction than other backpack types. Here's what you should know about drawstring bags:
Close with drawstrings instead of a zipper.
Drawstrings double as shoulder straps.
Normally made from nylon, polyester, vinyl, or cotton.
Better for casual use, day trips, or undemanding travel.
Crossbody Backpack
This type of backpack is worn diagonally across the body instead of on the shoulders. These are some common features of crossbody bags:
Thicker strap to support crossbody wearing.
Designs ideal for accessorizing and styling.
Good for school, light travel, or other uses.
Best Material for Backpacks
You can find backpacks made from a wide range of materials, but not all materials are of equal quality. To inform your decision-making, I've listed below some of the most common backpack materials. This knowledge will put you a step ahead in your shopping!
Cotton Canvas
Polyester
Polypropylene
Nylon
Denim
Faux Leather
Leather
What to Look for in a Toy Story Backpack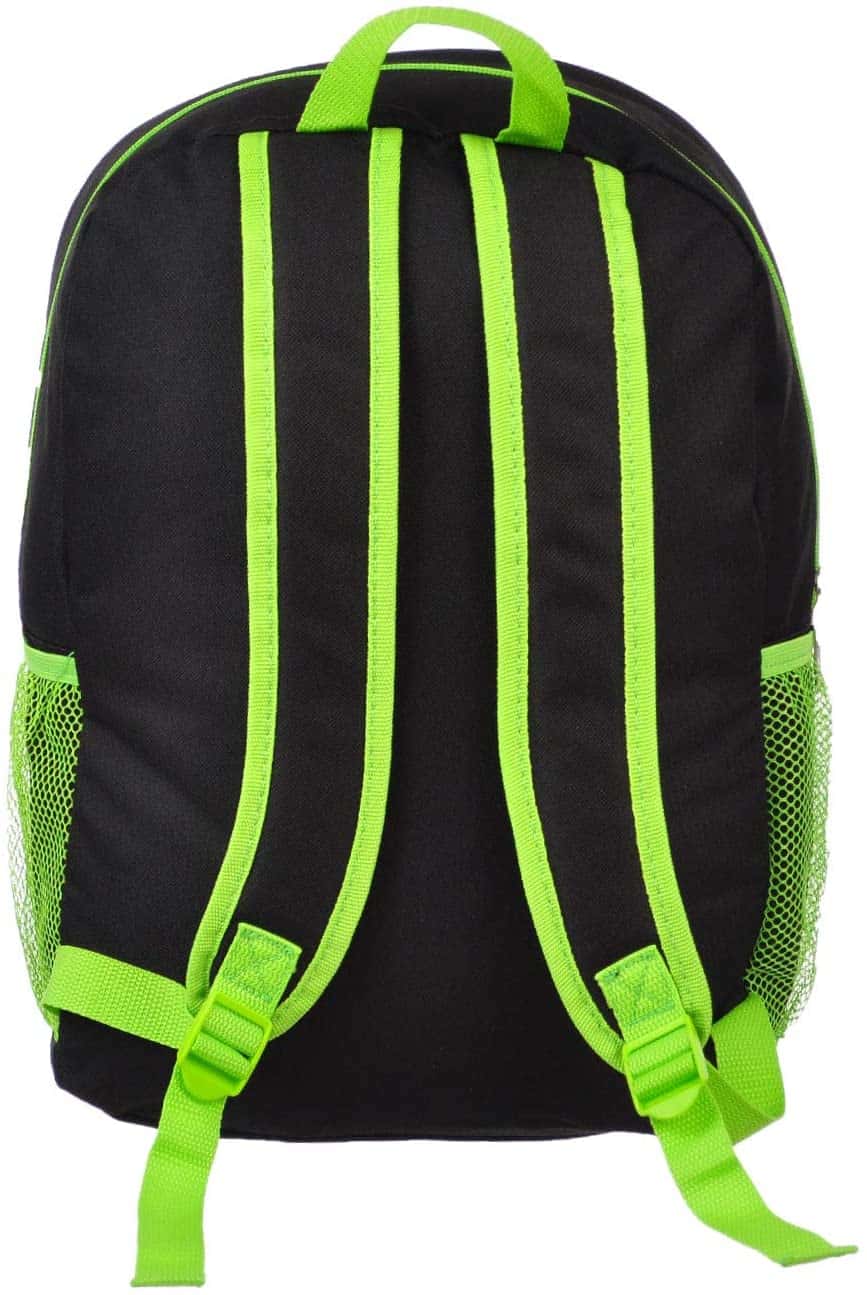 Aside from the backpack's type and material, there are a few factors to consider before making your purchase. I'll cover the essentials below to help you make a great choice.
Quality Stitching
Make sure the backpacks you're considering are crafted with quality stitching. This is important! Poor stitching will easily come undone and lend the bag a shoddy appearance. For the best results, I recommend looking for "reinforced stitching" or "double stitching."
Pockets and Compartments
How many pockets and compartments do your top choices have? A bag with more pockets and compartments will be better for school or heavy traveling. On the other hand, a bag with few (if any) compartments may work best as an accessory.
One feature you should look for, especially if you need a school or travel backpack, is quality zip pulls. Trust me, you don't want the zipper to come right off! Reading customer reviews can give you some insight into the zipper pull quality of a given backpack.
Hard Shell vs. Soft Shell
When shopping for a backpack, you'll come across two main shell types: hard and soft. The "shell" is the exterior of the pack.
A hard shell will be more rigid, whereas a soft shell will be softer and more flexible. Softshell backpacks are also more breathable than hard shell backpacks. Two advantages hard shell backpacks have over soft shells are their water resistance and durability.
Both hard shells and soft shells can offer a great backpack experience. Choosing one for yourself will depend on your needs and preferences.
Licensed vs. Unlicensed Designs
If a manufacturer or business wants to produce trademarked images or logos, they need a license from the trademark owner. In the case of Toy Story backpacks, businesses need the okay from Disney.
Selling unlicensed merchandise is illegal, so make sure to check before you buy!
Straps
The straps can make or break the entire backpack-wearing experience. Most backpacks come with two straps, though some types (such as sling bags) only have one. In either case, you should make sure the backpack you choose has padded, adjustable straps for comfort.
When it comes to drawstring bags, note that their straps are normally on the thin side. While this is okay for light packing, the drawstring straps may be uncomfortable if worn over long periods.
Style
When I say "style," I'm referring to both the type of backpack and its overall appearance.
Do you want a backpack that's fun and childish or more mature? Backpacks for kids normally have bright colors and vibrant pictures/prints, while those for adults tend to be more neutral.
Use
Before buying your Toy Story backpack, you should consider what you or the recipient will be using it for. Here are some common uses for backpacks:
School.
Travel.
Accessorizing.
Halloween.
Day-to-day activities.
If the backpack is intended for school or travel, make sure it has plenty of storage space and compartments. There should be enough space for storing things like notebooks, binders, folders, pens, gadgets, clothing, toiletries, etc.
For other uses, there's more flexibility in terms of size and style. It's important to think about what you'll need from the backpack. Should it touch up your new outfit? make your Halloween garb more believable? have space for your wallet and sunglasses?
Only you can answer these questions, so make sure to take your time here.
Price
You can find backpacks at any price range. Before shopping, you may want to set a budget for how much you're willing to spend on your new backpack. Taking the extremes into account, you should expect to spend anywhere between $10 and $400 for a new backpack.
In this article, I've rounded up several options that fall within the $20-$50 range. These are quality backpacks with decent storage space and good construction. I've also included a few higher-end products for those willing to spend a little more.
Size
One more thing: It's important to differentiate between full-size backpacks and mini backpacks.
As the name suggests, mini backpacks are smaller and have less storage space. They're ideal for very young children or for adults who just need a cute accessory bag.
If you need more storage, definitely opt for a full-size backpack. In addition to being larger, full-size packs also tend to have more compartments.
The Best Toy Story Backpacks
Here are my recs based on their quality of materials, cool designs, and age ranges. These selections should give you some inspiration for your upcoming purchase!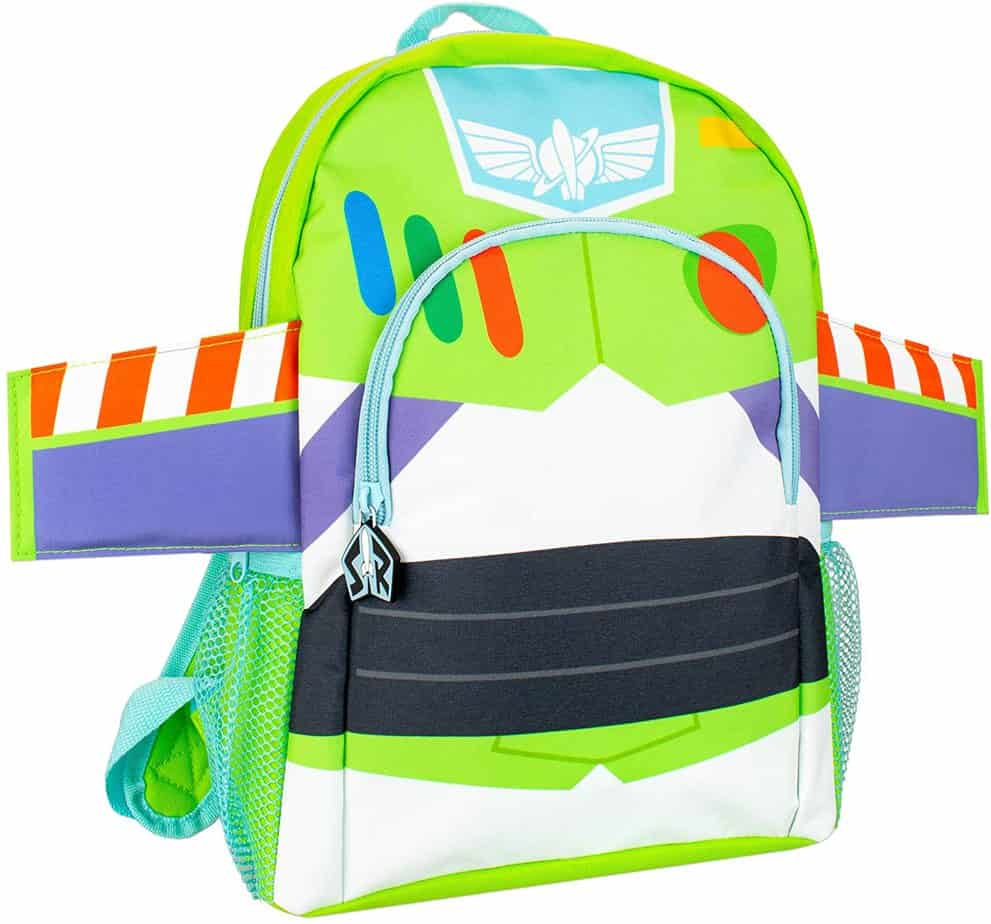 Best for Buzz Lightyear Fans
About
I couldn't make this list without this guy! I almost want to get it for myself LOL! With bright colors, a high-quality construction, and an 8-inch wingspan, this is the best backpack for your Buzz Lightyear fan. Its licensed design is a sound replica of Buzz Lightyear's spacesuit, and just as well put together.
Price range: $20-$30.
Material: Polyester and mesh.
Use: Daypack or preschool.
Best feature: 8-inch Buzz Lightyear wingspan.
This is a great school backpack for your little one. If my son were younger, I know he'd love it. It features two zipped compartments, two mesh side pockets, and a name label on the inside. Better still, it's crafted of a strong yet lightweight material that can endure the everyday realities of Pre-K.
Pros
Buzz Lightyear spacesuit design.
Sturdy yet lightweight material.
8-inch wingspan (4 inches per wing).
Zipped compartments.
Mesh side pockets.
Spaceship-shaped zip pull.
Name label inside.
Cons
Limited space for carrying items.
Only for younger kids.
Best for Multiple Print Options
About
What do I think is the best thing about this Toy Story backpack? It's simple and practical, without compromising on the cuteness factor. Even if your kid's not a Toy Story fan, you can purchase it in a variety of other Disney prints.
Price range: $25-$35.
Material: Polyester and mesh.
Use: School.
Best feature: 3 zipped compartments.
This backpack has three zipped compartments, adjustable straps (plus a chest strap), and even a padded tablet sleeve. In addition, the material is water-resistant, and the stitching is reinforced for extra security.
Who knows? It might even help your little one to get excited for school again. 😉
Pros
Different patterns are available.
Comes in 2 sizes.
Padded tablet sleeve.
Padded, adjustable shoulder straps.
Supportive chest strap.
Water-resistant material.
Reinforced stitching.
Cons
Limited space for carrying items.
Only for younger kids.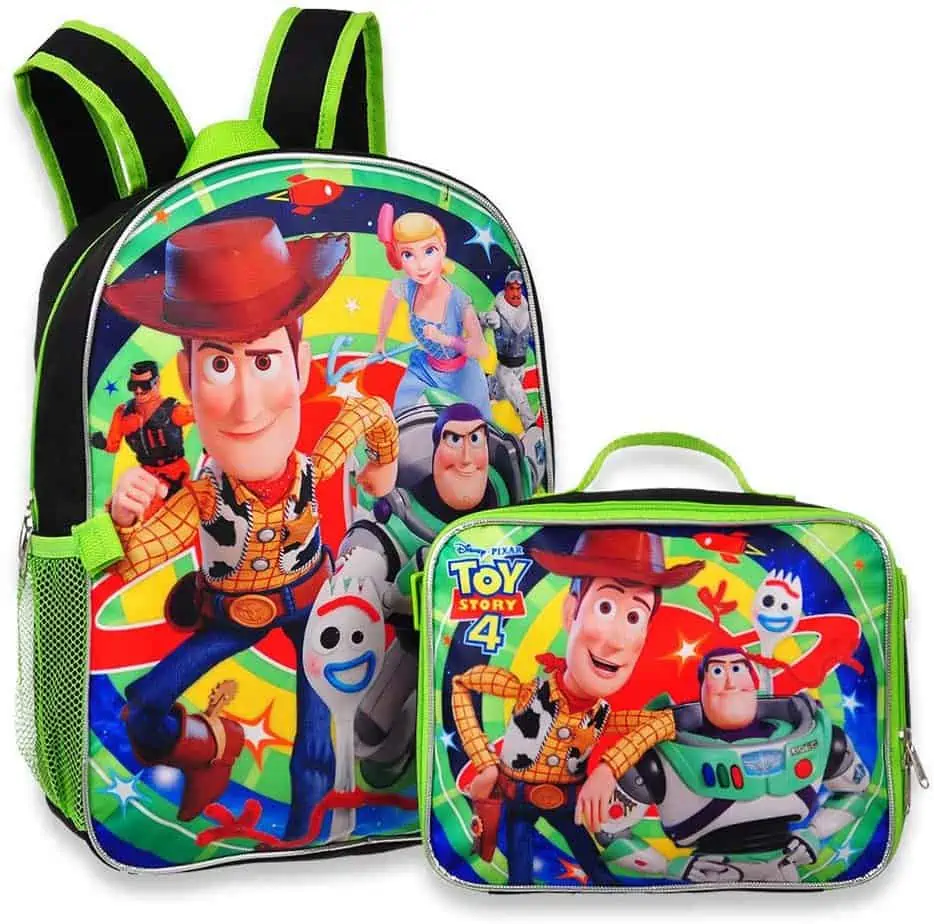 Best for Included Lunch Bag
About
I don't know about your kid, but my daughter insists on everything matching. Like, to the highest degree. This Toy Story backpack comes with a bold and playful print featuring some of the franchise's most iconic characters. It even comes with a matching lunch bag for added convenience (though the lunch bag is not insulated but just do what I do: put their hot and cold lunches in a thermos and THEN put it in the bag).
Price range: $20-$30.
Material: Polyester and mesh.
Use: Preschool.
Best feature: Exciting print featuring Toy Story characters.
One thing any parent will appreciate about this pack is that the material is so easy to clean! Whether it's mud or juice stain, you can get it cleaned up in minutes. The bag also has padded, adjustable straps and an overall lightweight feel. Perfect for your little one!
Pros
Adjustable, padded shoulder straps.
Comes with a matching lunch bag.
Material is easy to clean.
Lightweight design perfect for kids.
Cons
Material may rip or tear easily.
Stitching is not very strong.
Lunch bag is not padded or insulated.
Best for Jessie Fans
About
For a slight change of pace, let's look at the Disney Kids Toy Story Backpack featuring a Jessie-inspired print. This one was made with your aspiring cowgirl in mind, though any Jessie fans are sure to love it. (It's me. I'm the Jessie fan.)
Price range: $20-$25.
Material: Polyester and mesh.
Use: Preschool.
Best feature: Cute cowgirl-style print.
Featuring all the essentials, this is a great backpack for Pre-K or kindergarten. It has a hanging loop and two zipped compartments, plus adjustable shoulder straps, and a name label on the inside. Best of all, it was crafted with durability and longevity in mind. One less thing to worry about! Lord knows we have enough to worry over when sending our little guys off to school.
Pros
Durable material.
Adjustable shoulder straps.
Hanging loop.
Name label inside.
2 zipped compartments.
Ideal for little girls.
Cons
Limited space for carrying items.
Too large for very small children.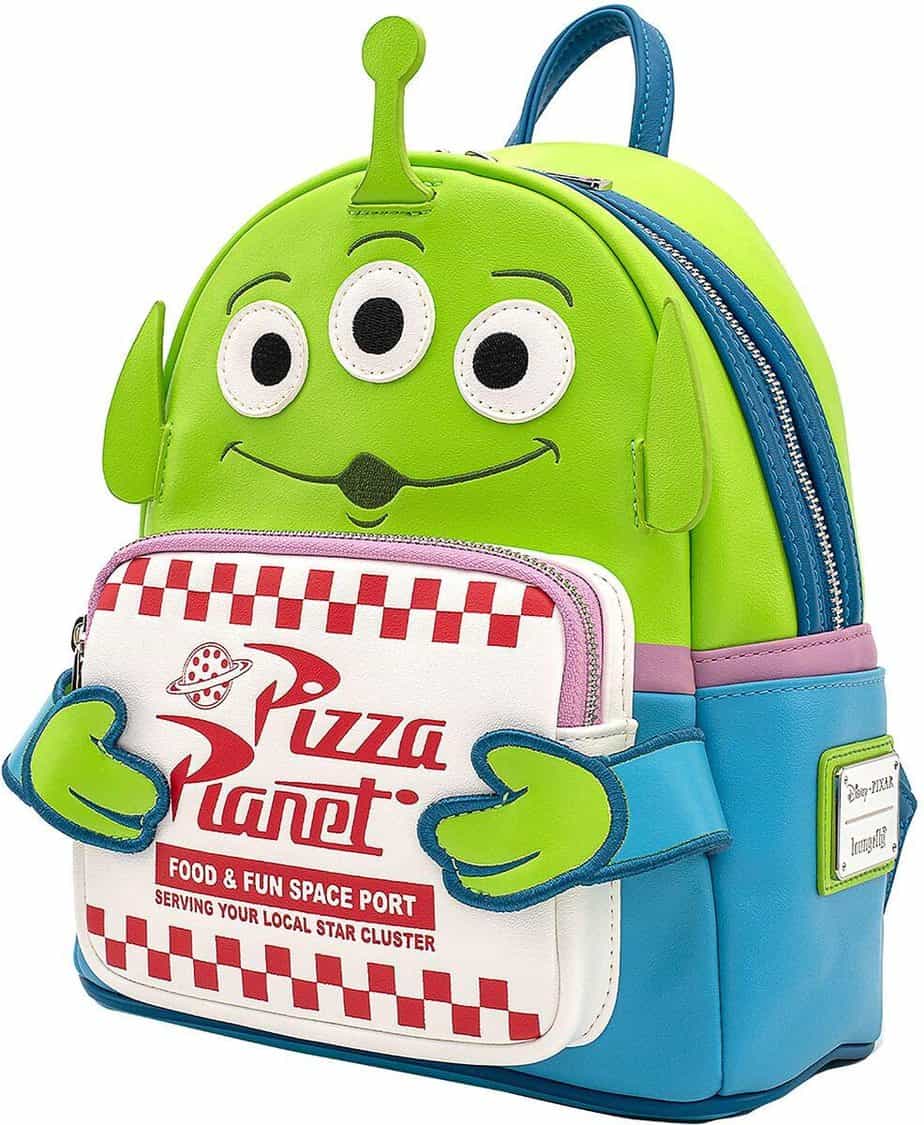 Best for Space Aliens at Heart
About
Okay, I caved. I bought this one while writing this article. Yeah, it's expensive. But when the movies first came out, and I was still a kid, I would have killed for this backpack.
If you've ever wished Pizza Planet was a real place like I did, this is the Toy Story backpack for you. Crafted of faux leather for sophistication, it resembles one of the cute aliens from the movies holding a pizza box. It's attractive, it's unique, and it's a little bit kitschy. Perfect.
Price range: $140-$200.
Material: Faux leather.
Use: Accessory.
Best feature: Quality craftsmanship.
The inside of this backpack has on-theme fabric lining, and the exterior is decorated with quality embroidery. With its adjustable shoulder straps and two storage compartments, it's a great pack for adults and older kids alike.
Pros
Unique Toy Story alien design.
Faux-leather construction with fabric lining.
Fine detailing and embroidery in design.
Adjustable shoulder straps.
Decent storage space.
Perfect for older kids and adults.
Cons
Not ideal for school use.
Faulty embroidery in defective units.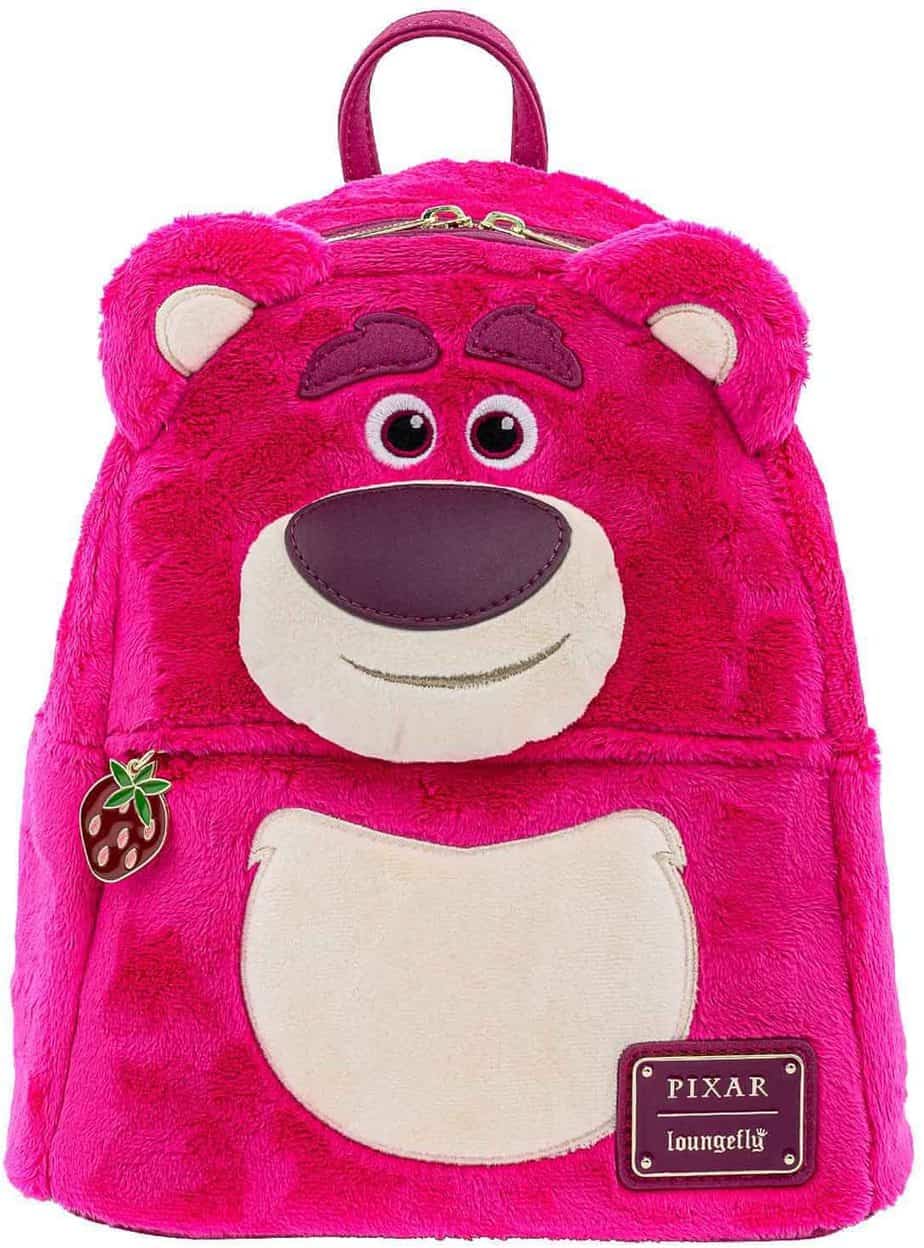 Best for Lotso Lovers
About
Following a similar concept as the backpack above, this one was made with Lotso lovers in mind. Remember those teddy bear backpacks we all wore in junior high? This plush backpack features some gorgeous embroidery and embossing, has a cute fabric lining, and–smells like strawberries!
Price range: $70-$80.
Material: Plush and faux leather.
Use: Accessory.
Best feature: Smells like strawberries.
While this pack is a bit pricey, you can rest assured your money will be well-spent. The construction is top-notch, and it features two zippered compartments for storage. Totally adorbs for the airport, grocery store, or local restaurant.
Pros
Lotso-inspired design.
Embroidery and debossing.
Quality construction.
Strawberry charm on the zipper.
Fabric lining.
Decent storage space.
Cons
Not ideal for school use.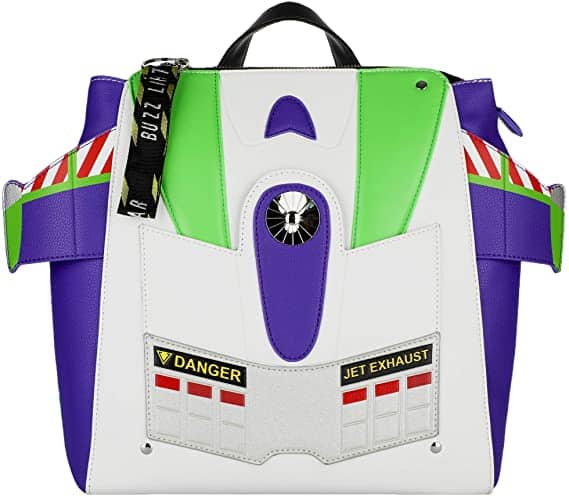 Best Large, Stylish Bag
About
Here's another one for the Buzz fans. This Toy Story bag is made of easy-to-clean faux leather and depicts Buzz Lightyear's spaceship. With bright colors, smart details, and 3D wings, it's a cute statement piece for everyday use.
Price range: $80-$100.
Material: Faux leather.
Use: Accessory.
Best feature: Multiple storage compartments.
You'll also love this backpack's adjustable straps and durable stitching. It'll last for years to come, serving as your errand-day sidekick all the while! *clicks add to cart*
Pros
Cute Buzz Lightyear spaceship design.
Durable, reliable stitching.
Adjustable straps.
Decorative metal badge and 3D wings.
Easy to clean.
Cons
Larger and heavier than other items on this list.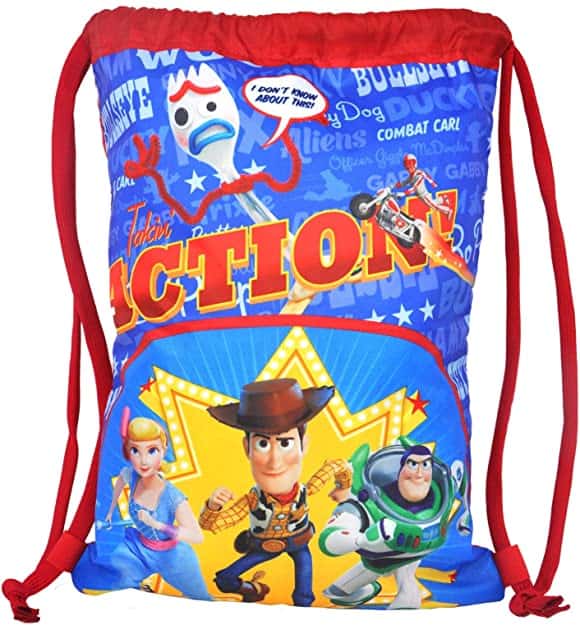 Best Drawstring for Kids
About
This Toy Story drawstring bag is perfect for young kids going on day trips or short field trips. I wish I still had the ones my kids used so I could show you just how durable they are. They lasted for years and were perfect for trips to the park and sleepovers at grandma's. It features bright reds, blues, and yellows, plus prints of multiple Toy Story characters.
Price range: $5-$10.
Material: Polyester.
Use: Day trips or casual use.
Best feature: Lightweight yet durable construction.
You'll also love its water resistance, lightweight construction, and thick drawstrings. Best of all? It's so affordable for the quality!
Pros
Cute design featuring multiple Toy Story characters.
Lightweight and water-resistant material.
Thick drawstrings for comfort.
Extremely affordable price point.
Cons
Not ideal for heavy items.
Only for casual use.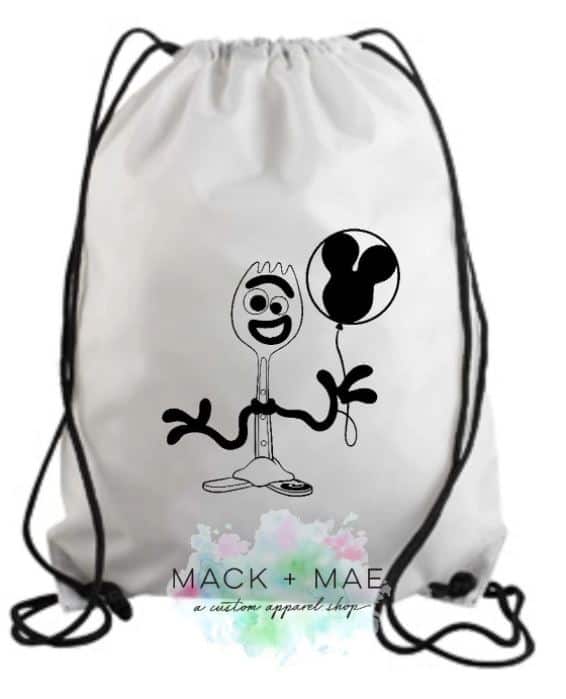 Best Drawstring for Adults
About
This cute handmade drawstring features a sketch of the lovable Forky against a plain white background. I don't know about you, but Forky quickly became my fav character after the last movie!
Price range: $20-$25.
Material: 210-denier nylon.
Use: Casual or day trips.
Best feature: Simple but fun design.
Its nylon construction ensures durability, while the reinforced corners give some extra peace of mind. Perfect for day trips, vacations, or a trip to Disney World.
Pros
Durable nylon construction.
Reinforced corners.
Handmade.
Heat pressed.
Cons
Pricey for a drawstring bag.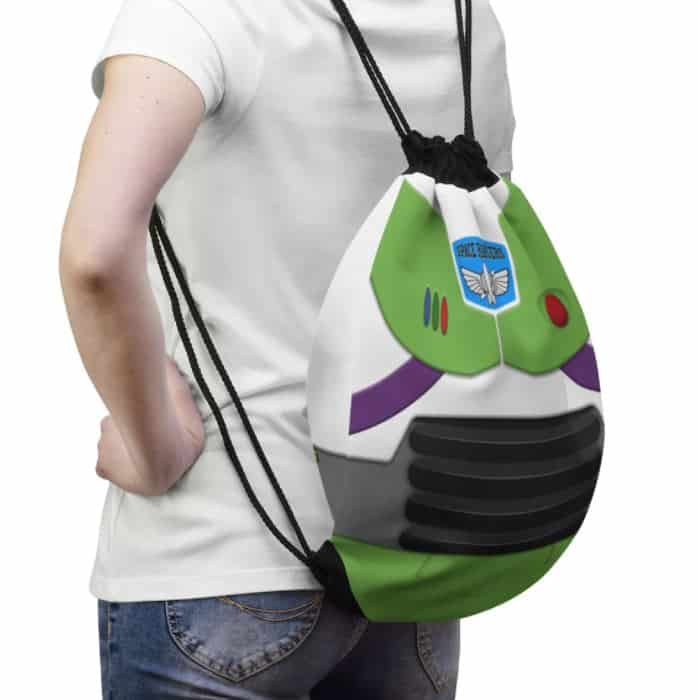 Best Drawstring for All Ages
About
This drawstring bag is where "bright and childish" meets "sleek and simple." It depicts Buzz Lightyear's spaceship using vivid yet subdued colors, and the inside is lined with black sheeting. And there's a small zipper pocket inside for extra storage.
Price range: $30-$40.
Material: Polyester.
Use: Casual or day trips.
Best feature: Lightweight yet spacious design.
I highly recommend drawstring bags. My kids used them relentlessly and they're easy to toss into the washer if they get dirty. Yeah, it's a bit pricey for a drawstring bag, you're getting your money's worth. Due to its durable polyester construction, you'll be carrying this around with you to infinity and beyond.
Pros
Cute Buzz Lightyear spaceship design.
Durable polyester material.
Lined with black sheeting.
Small zipper pocket inside.
Handmade.
Cons
Thin straps.
Pricey for a drawstring bag.
FAQ
Question: Where can I Buy Toy Story Backpacks?
Answer: You can buy Toy Story backpacks pretty much anywhere. But you may have the best luck finding what you need online. I recommend checking these websites first:
Amazon
Loungefly
Disney
eBay
Etsy
You can also find Toy Story backpacks in some major brick-and-mortar stores. Here are some places you can check:
Walmart
Target
Pottery Barn
Kohls
You might find the most success by checking both online options and in-store options before making your purchase.
Question: Who Makes Toy Story Backpacks?
Answer: Disney outsources the making of its merchandise–including Toy Story backpacks–to manufacturers around the world. That said, anyone who has a license to do so may produce and sell Disney-themed merchandise.
You can find licensed merchandise at any of the online or brick-and-mortar companies listed above.
Question: What's the Best Material for a Backpack?
Answer: The best backpack material depends on a couple of factors: your budget and your intended use for the backpack. But some kind of durable vinyl or tightly-woven canvas is best.
To Infinity and Beyond!
You've seen some of the top Toy Story backpacks and accessory bags on the market today. There's something for everyone, whether your kid's a hardcore Buzz fan or you need an adorbs Lotso bag for errands.
Let me know which backpack is your favorite! Mine's the Loungefly Disney Pixar Lotso Cosplay Women's Double Strap Shoulder Bag/Purse because…obvious reasons. It's adorable! I can't wait to wear it to my next geek convention.
And for more great recs like this, check out our list of the best Harry Potter blanket ideas.
Continue reading: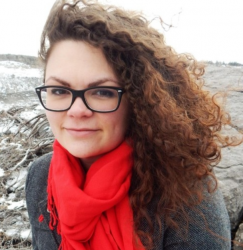 Latest posts by Candace Osmond
(see all)