I am so excited to introduce you to the WandaVision Funko Pop range! There are some absolutely fantastic figures here, as you'd expect from such a phenomenal show. As the show is still rather small in comparison to the rest of the Marvel universe, there aren't quite as many Pops as there are for other Marvel properties, but don't despair! That just means it's easier to get into collecting them, and I'm going to talk about what to expect from each figure. That way, you'll be able to make a purchasing decision based on the factors that are most important to you. I'm also going to rank them based on my own personal preference, from 'worst' (but still pretty great, there are no bad Pops in this range) to best. Prepare to be introduced to some wonderful figures!
Bottom Line Up Front
Best Wanda Pop – 715 Halloween Wanda
Best Vision Pop – 714 50's Vision (Chase)
Best Other Character Pop – 826 Agatha Harkness
Best Exclusive/ Special Edition Pop – 823 Scarlet Witch (Glow-in-the-Dark)
824 The Vision (Diamond)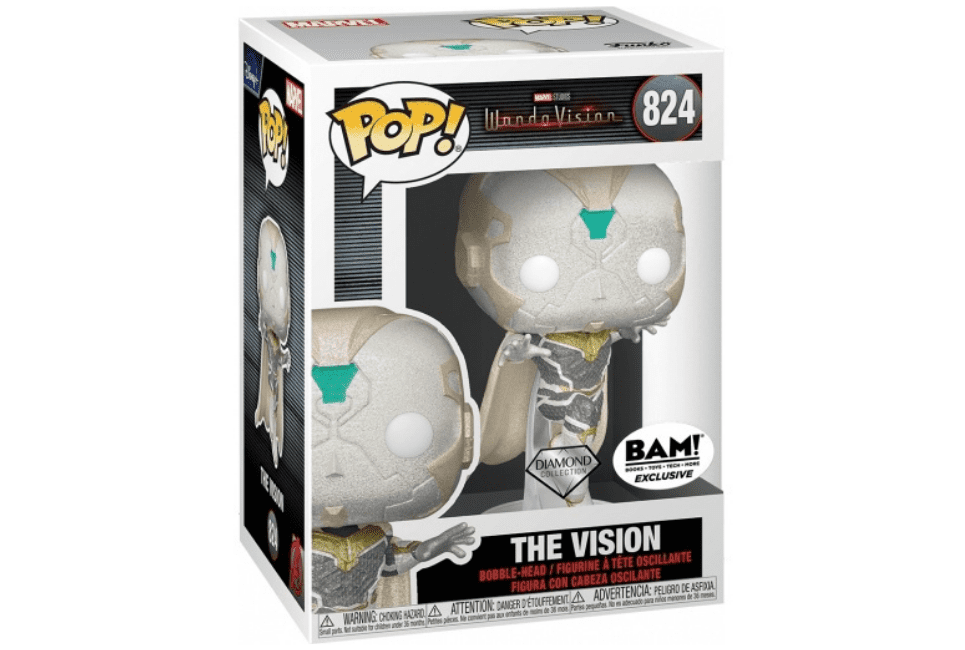 This is probably the only Pop in this list that I wouldn't want in my collection, and that's mostly down to personal preference. I'm incredibly picky when it comes to the Diamond Collection that Funko has for its Pops, and I think there are very few figures where it works well. Unfortunately, this model just doesn't really suit the effect, as the diamonds in combination with Vision's white head and body give the appearance of Styrofoam. The figure itself is still cool, but there are three variants of this model (I'll go into more detail in the section for the standard 824 The Vision later in the article), and I think this is the weakest of those three. However, if you love sparkly figures, then this one may well catch your eyes.
717 70's Wanda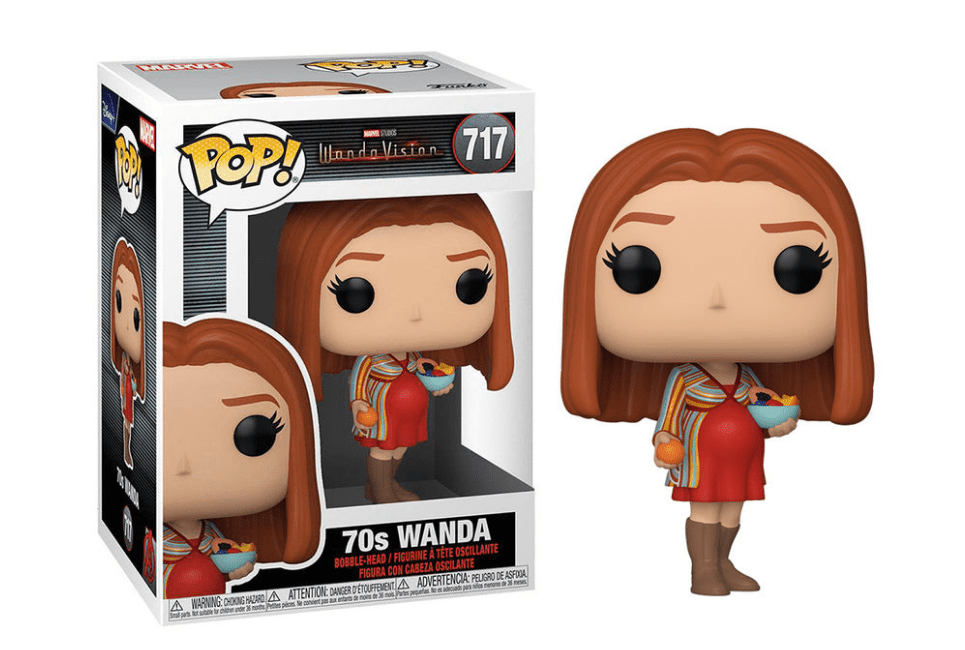 There's nothing inherently wrong with this figure. In fact, the only reason it's ranking this low is that the rest of the Pops in the list are just that bit better. Of all the Marvel ranges, I'd say that WandaVision arguably has the strongest offerings, hence why I didn't want to exclude any in this guide. I just feel that this version of 70's Wanda is a little plain and there's not many distinctive features that make her stand out. She does have a very obvious baby bump, which is rather unique, and I've not actually seen it in any other Pops (not to say that they don't exist, seeing as there are over 10,000 unique figures). I love the lively red top and the colorful stripes on her cardigan as they really portray the vibe of the episode this figure was taken from. The show started in black and white with color and definition being slowly added through the decades, and the 70's episode was the first time we got this level of vibrancy. The brown knee-high boots also speak to the fashion sense of the time. All in all, this would be a neat addition to your collection, but nothing that's likely to make visitors go "wow".
827 "Pietro Maximoff"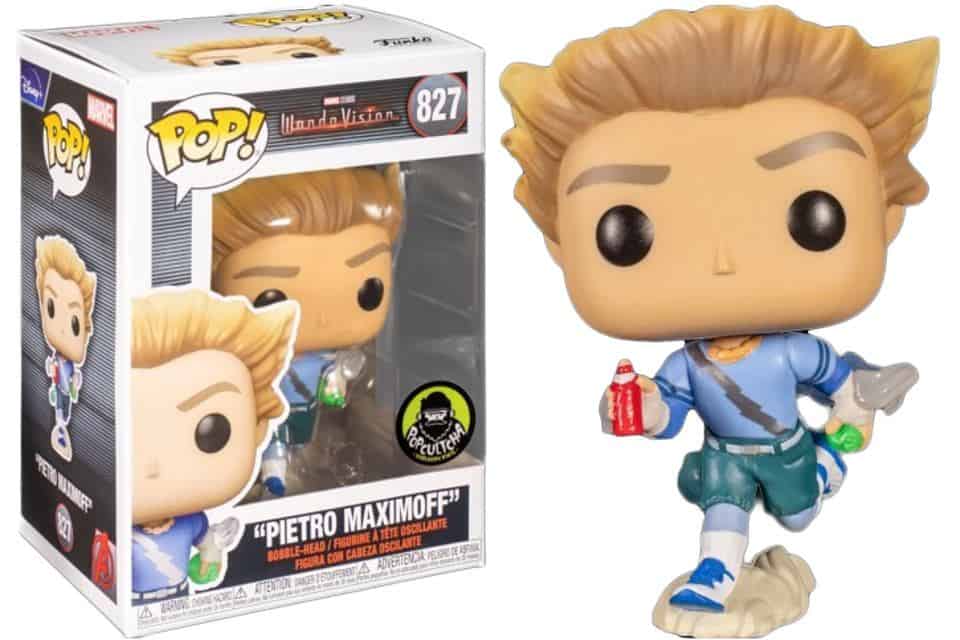 This Pop figure definitely conveys speed and excitement, which is exactly what you'd expect from "Pietro". If you haven't seen the full first season of WandaVision then you should skip to the next section, as I'm about to enter into the realm of spoilers. I love the clever way that the show introduced "Pietro". First, we have Wanda opening up about her grief as she talks to Vision about how hard it was to process the loss of her brother. So of course when she opens the door and it's supposedly Pietro, fans were ready to see Aaron Taylor-Johnson, and were shocked to realize it was actually Evan Peters, who of course plays Quicksilver in the X-Men movies. This opened up lively debates about alternate universes, only for the end of the season to reveal that Pietro was simply a false memory implanted into the mind of Ralph Bohner. I fully expect the producers to do more with that storyline, but I'm delighted that Funko chose to make this Pop to commemorate the character. The design is great and fits the character well, although I'm not a fan of the lumpy white base, which I'm assuming represents a dust cloud. I also feel like they could have done a slightly better job on the hairstyle. Still, he's a fun character, and this Pop would make a fine purchase.
824 The Vision (Glow-in-the-Dark)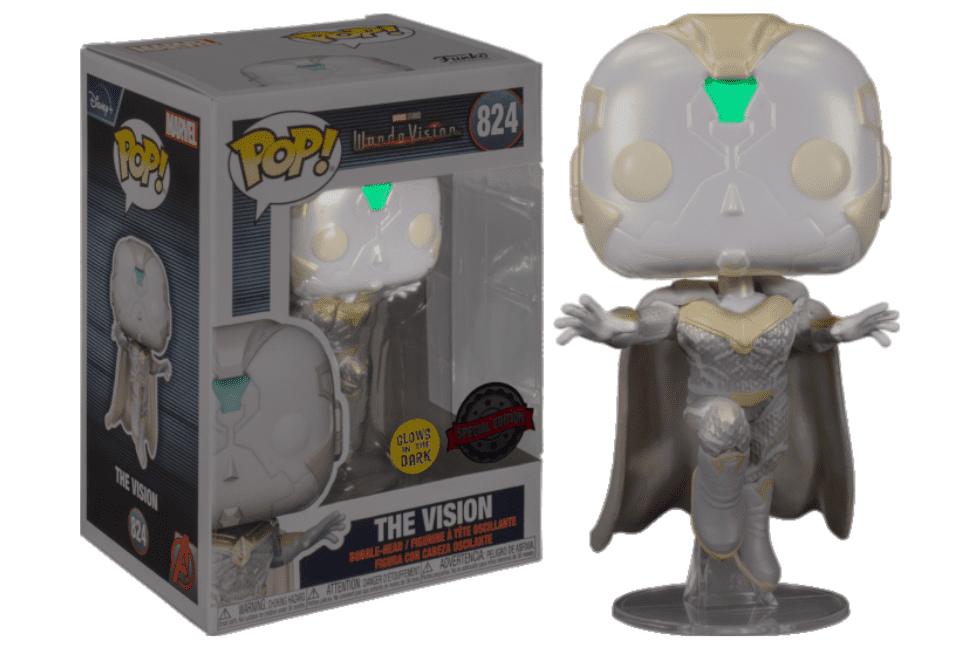 Yup, I'm putting this version lower than the regular version. The main reason being that the glow pattern in reality is absolutely nothing like as advertized. It's supposed to make the lower half of the figure appear dark, with a light-blue head, bright white eyes, and a red glow where the Mind Stone would be, along with further red lines in a pattern along his face. However, the reality is rather disappointing in comparison. Many fans have tested this feature to discover that the glow only really makes the face appear white even in the dark, and nothing much else changes. As such, I don't think I can rate this figure any higher because it's just not a cool enough effect to make it worth it. However, it's still pretty awesome on the basis that the character model is well-made, I just feel that the standard version is the best example of the 824 The Vision Funko Pop.
825 Monica Rambeau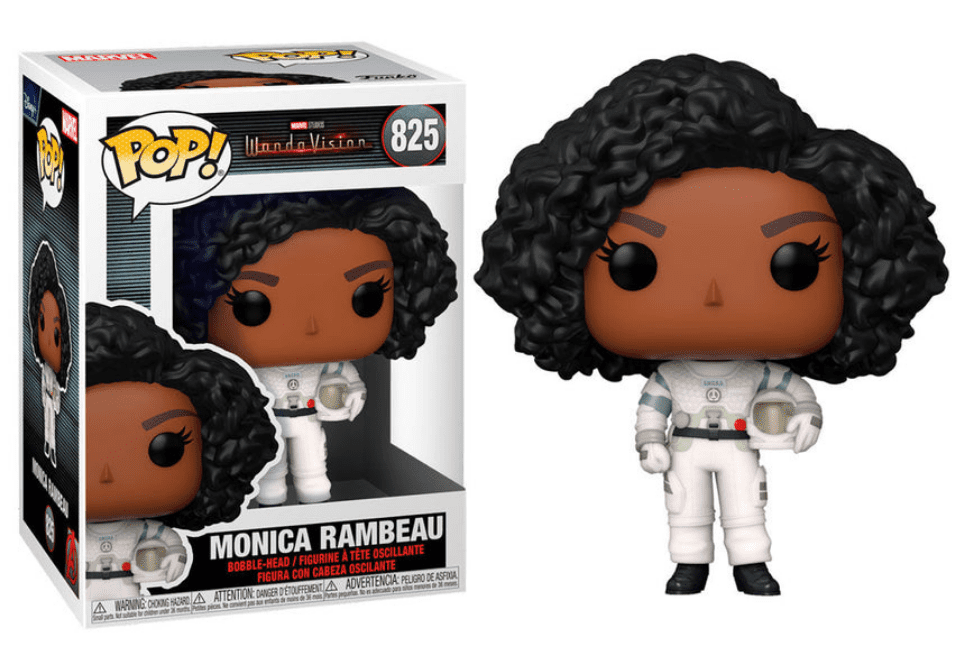 I thought Monica was incredible in WandaVision, and aside from Agatha, she was my favorite non-titular character. She was one of the few people who genuinely cared for and supported Wanda, and she demonstrated exceptional bravery throughout the series. The only reason she's this low down on the list is because the characters from here on out are such top tier figures that it's hard for anything to compete. One thing I love about this figure is how they've captured the impressive volume of Monica's hair, and it sticks out proudly against the astronaut suit. The helmet is held casually under Monica's arm in a power pose, which seems like the perfect choice for this character. I love the details on the suit such as the bands on the arm, and the shapes above her belt. I also think they did a great job with the skin color and it looks beautiful in combination with the black hair and white outfit. This is one that I certainly plan to add to my collection at some point in the future.
716 Halloween Vision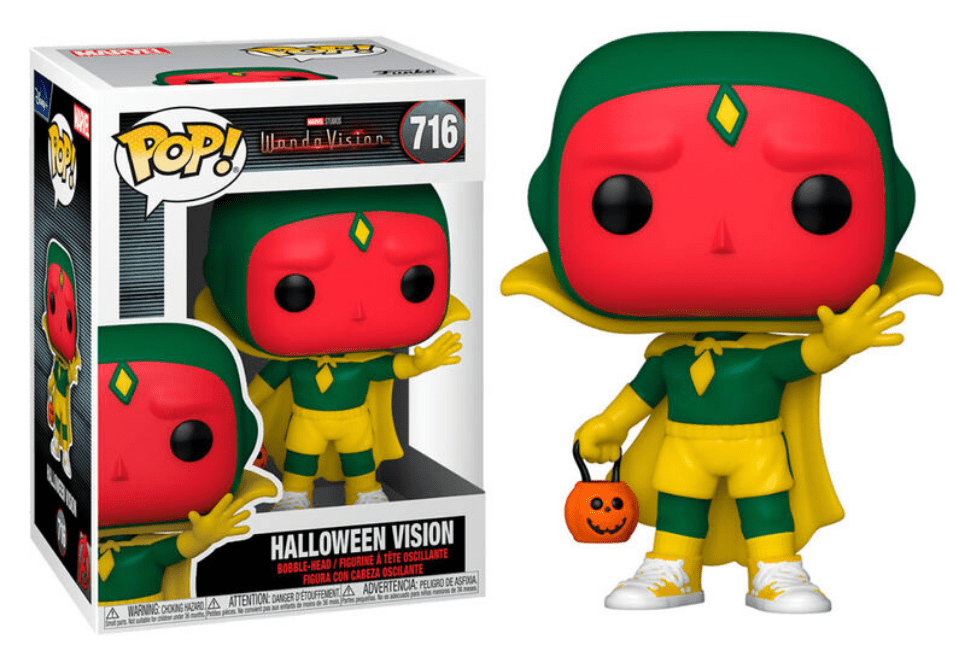 I'm not a huge fan of this figure myself, and so I expect many collectors would have this further up on their list, but for me I find the colors clash too much. Having said that, I've put this higher than I would've done if I were going on personal preference alone simply due to the lore relevance of this particular figure. The Halloween costume reveal in WandaVision was one of many scenes in the show that seemed to confirm the existence of the multiverse, presumably to sow the seeds ahead of the scheduled release Dr Strange in the Multiverse of Madness. This vibrant costume is actually based on the version of Vision's outfit that is found in the original comics! Obviously the films took a different route with his appearance, so it was exciting that WandaVision chose to use his original costume. This Pop does wonderful justice to the outfit, and the Mind Stone is carefully outlined in green which then connects to his hood. He wears a bright yellow cape, and then the rest of his outfit alternates between yellow and green. His face is the standard reddish-pink that we've come to associate with Vision. I love the little pumpkin trick or treat bucket he's carrying, too. If you're a fan of the Marvel comics, then this Funko Pop is a must-buy.
718 70's Vision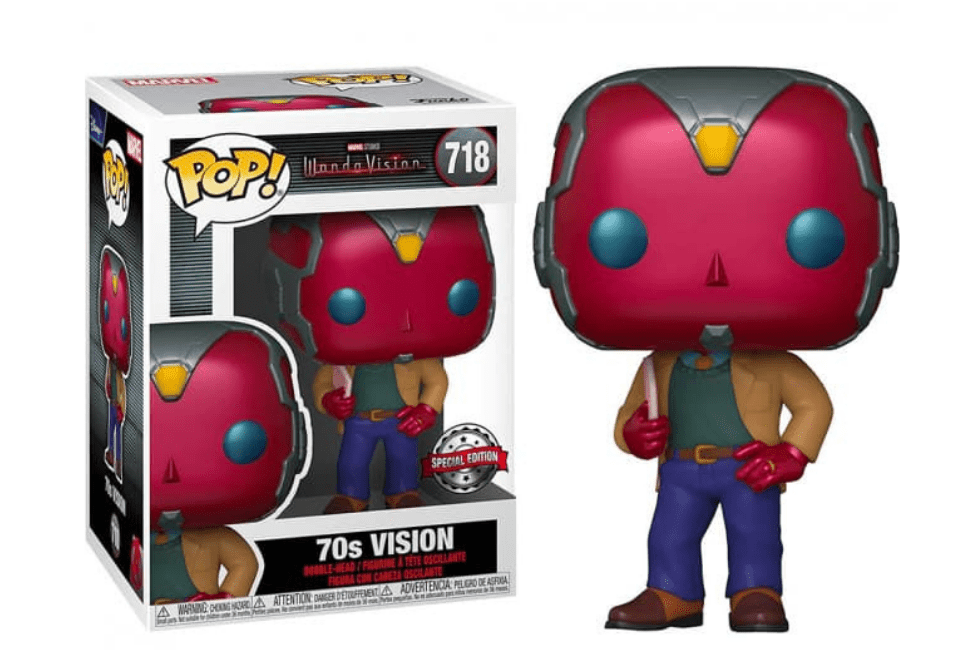 The accompanying figure to the 717 70's Wanda, this Funko Pop was a GameStop Exclusive. I love it, as I found Vision's character development that episode to be really inspiring. He was so excited at the prospect of becoming a father, and the whole WandaVision series was about him having life experiences that he'd never previously had the chance to go through. Wanda was living the life she wanted with the man she loved, but Vision was learning what it meant to truly be human. What I really like about this figure is that they chose to go with the human body but his natural face and head. The reddish-pink of his skin contrasts perfectly with the decidedly neutral clothing he's wearing. The pose is fantastic too, so carefree and nonchalant. This may not be a particularly exciting Pop, but it encapsulates the calmer, happier moments of Wanda and Vision's relationship in the show.
824 The Vision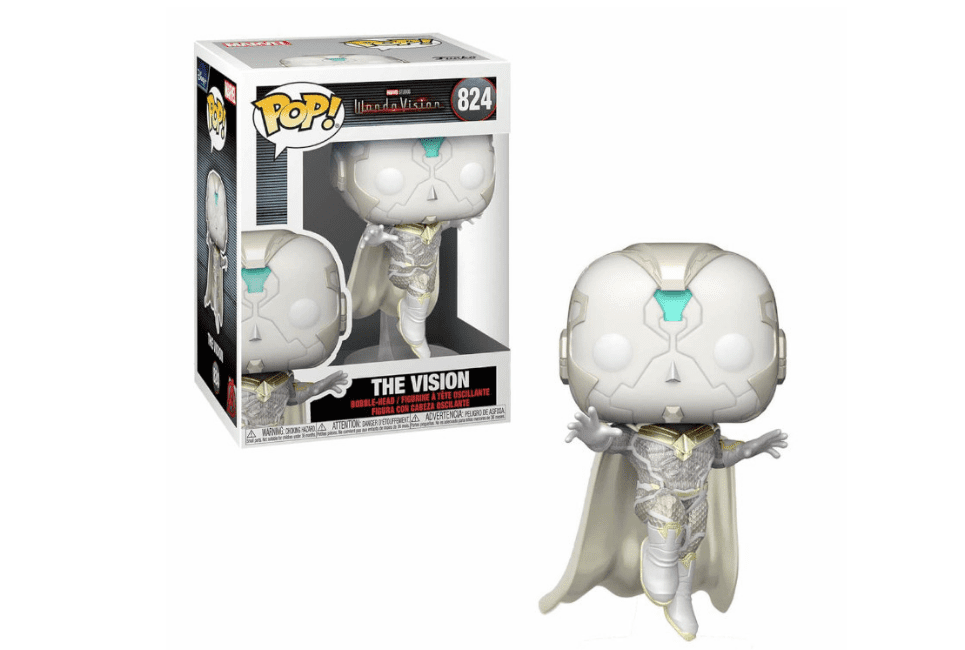 This is the third time this model has appeared on this list, but whilst the other two (glow-in-the-dark and diamond) were variants, this is the original, and this is the one I prefer. It was a massive shock when the 'real' Vision reappeared in the show, but was white due to everything that had happened during his reincarnation process. The scene where Wanda's Vision confronts white Vision was perfection. We were expecting this super-powered battle to the death, but we ended up having a philosophical battle of words that delved into the very concept of being and existing. This Funko Pop is posed brilliantly, and is raised off the ground by a clear acrylic stand. You can really believe that this Vision is levitating in the air, deep in conflict with the other Vision. There's obviously a gap in his head where the Mind Stone used to be, and this is a pretty teal color. The lines and detailing on both the face and the suit are excellent, and if you're only planning to grab a few from the WandaVision range, then this would be an interesting one to purchase.
Billy and Tommy (Halloween) 2-Pack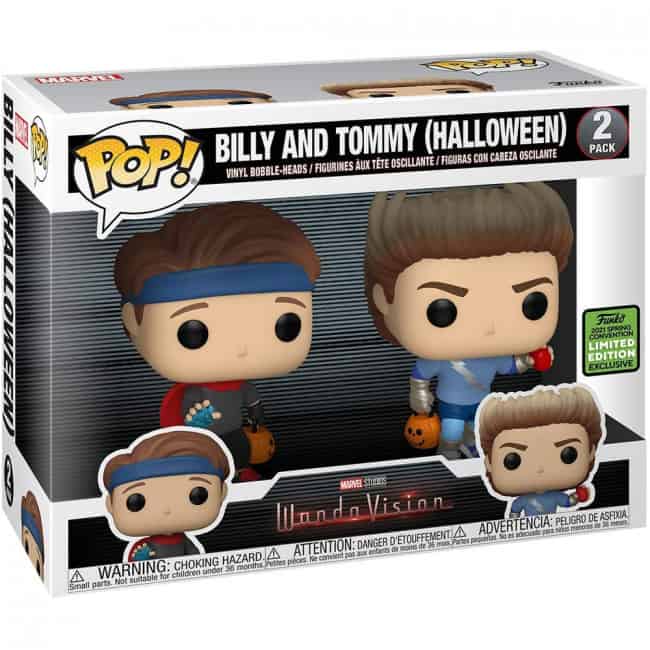 This was a limited edition 2-pack that Funko released, and was exclusive to Emerald City Comic Con 2021 and Amazon. Unfortunately, due to its scarcity it has sky-rocketed in price, and you're looking at about $85 if you want to add it to your collection, assuming you don't already have it. However, if you can afford that, I'd still recommend them as I think these Pops are just stunning. Raising Billy and Tommy was a dream come true for Wanda and Vision, as they never got to have their own family in reality. The Halloween that they all spent together was a delightful episode full of joy (before Vision discovered the truth about Westview, that is). These Pops capture that excitement, and both Billy and Tommy are dressed in their costumes, looking epic. Billy is wearing a blue headband around his perfectly groomed brown hair, and a red cape dangles behind him. In one hand he clasps a pumpkin trick or treat bucket, and the other hand is outstretched dramatically. Tommy carries an identical pumpkin bucket, but is dressed like his uncle Quicksilver who he idolizes. Even his hair is slicked upwards to match Pietro's, and the overall effect is really sweet. These two Pops look great together and it makes sense that they were released as a 2-pack. It's just a shame that they're so hard to get hold of!
714 50's Vision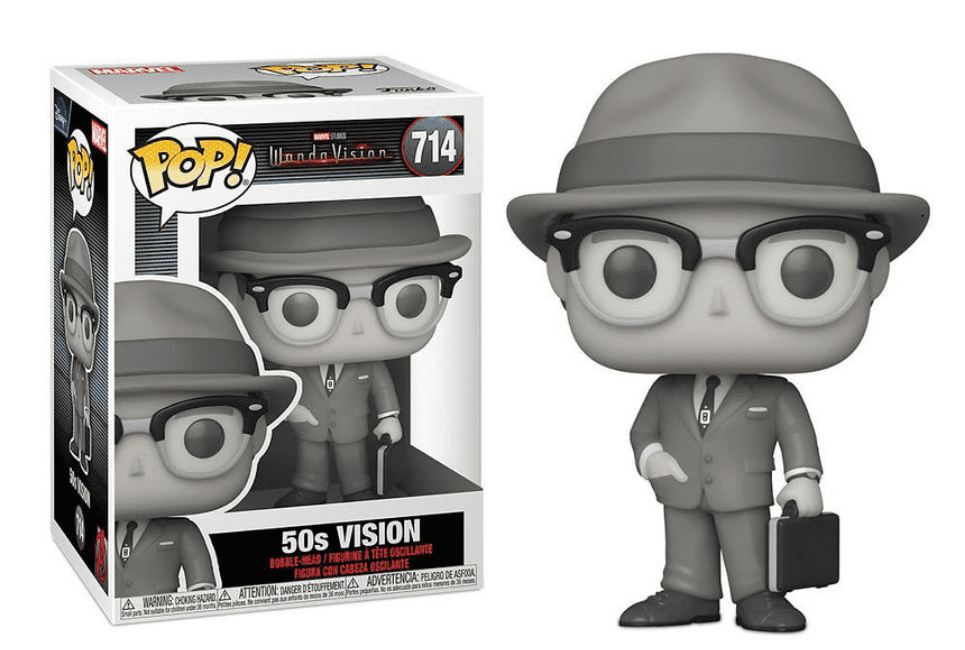 Funko has a few black and white Pops across its many franchises, but they're usually special editions, and even then they're few and far between. As such, it was really refreshing to see this 50's Vision released as part of the standard WandaVision range as it looks so visually different and would stand out amongst your Pop collection. There's actually even a Chase version of this Pop, but I'll discuss that more later in the article. This is the regular version, and I'm still ranking it pretty highly due to the gorgeous finish. Every detail is so carefully planned, and the result is really satisfying. He's wearing thick-framed horn rimmed glasses, which look especially noticeable due to the oversized heads that define the aesthetic of Funko Pops. He's wearing a classic trilby hat with a ribbon all the way around the base, and it's perched neatly atop his head. He's in his business clothes, either ready to go work, or returning after a long day. In one hand he carries a black briefcase whilst the other is tucked casually into his pocket. This is a really neat Pop, and I would heartily recommend it to any Marvel collector. I'm definitely going to be purchasing it myself in the near future!
823 Scarlet Witch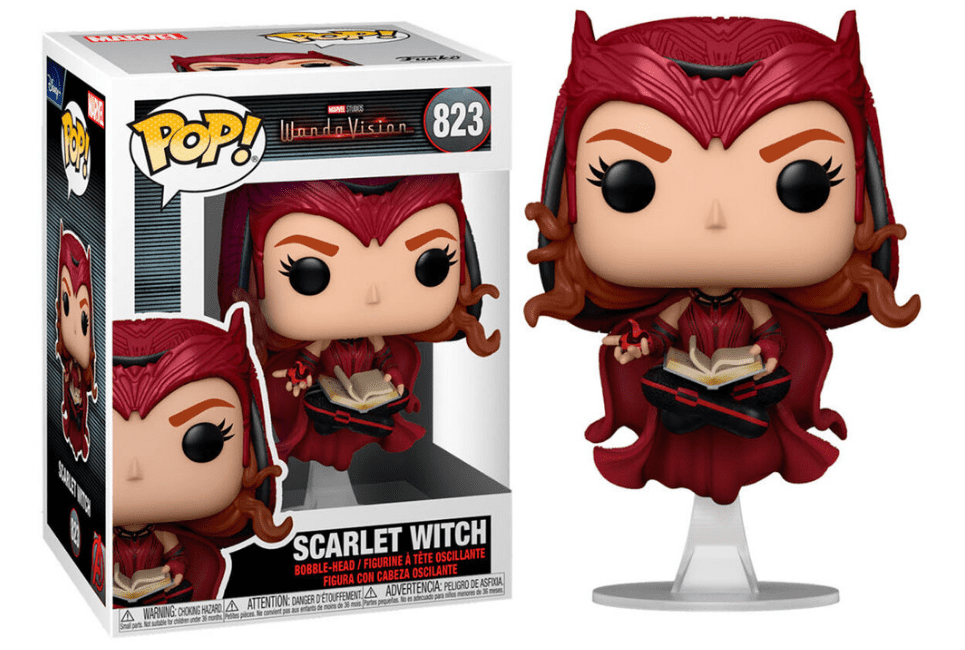 These next four Funko Pops were SO hard to rank. Seriously, just consider it a draw for these ones, because I tried rearranging them in a few different orders, but I just couldn't decide which ones I liked more than the others. They're all epic. The finale of WandaVision finally gave us the action-packed super-powered frenzy that we've come to expect from the MCU. I loved the pacing of the rest of the season as well, but I'd be lying if I said the final battle between Wanda and Agatha didn't give me goose-bumps. We finally got to see the Scarlet Witch in all her glory, and although we obviously already knew that that was Wanda's identity, WandaVision was the first time the name 'Scarlet Witch' was uttered in the MCU, as prior to this she'd just been known as Wanda Maximoff, and the series truly showed what she was capable of. This Pop figure is raised on an acrylic stand, and shows Wanda dressed as the Scarlet Witch, cross-legged in the air, reading from a book of magic. Even though she has no mouth, her facial expressions is clear from the eyebrows, and a look of dogged determination is upon her face. This figure has a glow-in-the-dark version, so I'll talk more about this model when I come to that section, but honestly I'd recommend buying both if you can afford it.
828 Scarlet Witch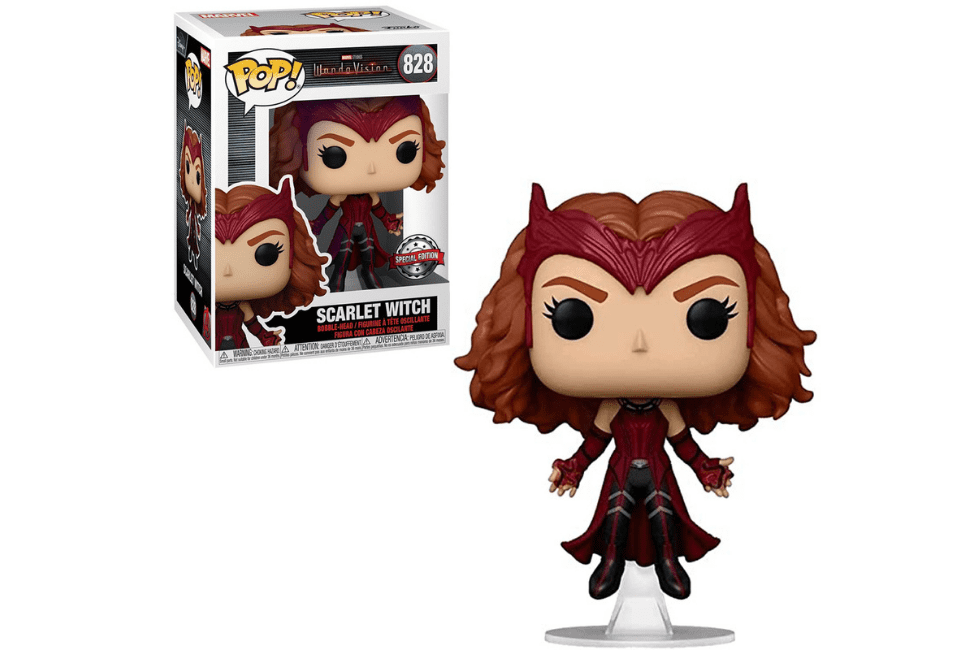 Funko regularly creates Pops that are Hot Topic exclusives, and this is one of them. It's relatively similar to the 823 Scarlet Witch as the Pop is based on the same outfit, but aside from the colors, the appearance of the model is very different. In the previous one, Wanda was sitting, whereas in this one she's upright, although still raised by an acrylic platform to mimic the fact that she's supposed to be flying. Her hands are outwards by her sides, as if she's cooking up some powerful magic. I really like how the pose of this Pop allows you to see all the details. The boots look almost metallic, as does the dark material on the rest of her legs. Her gorgeous red crown is fitted perfectly to the shape of her head, and looks exactly like it does in the show. I really like the fingerless gloves that stretch all the way up to her elbows, and you can even see the way that the top connects around her neck. Her beautiful hair is wild and voluminous, and Funko have taken great care to craft the curls and strands so they look as natural as possible. This is a fantastic exclusive, and goes for about $35 on eBay.
826 Agatha Harkness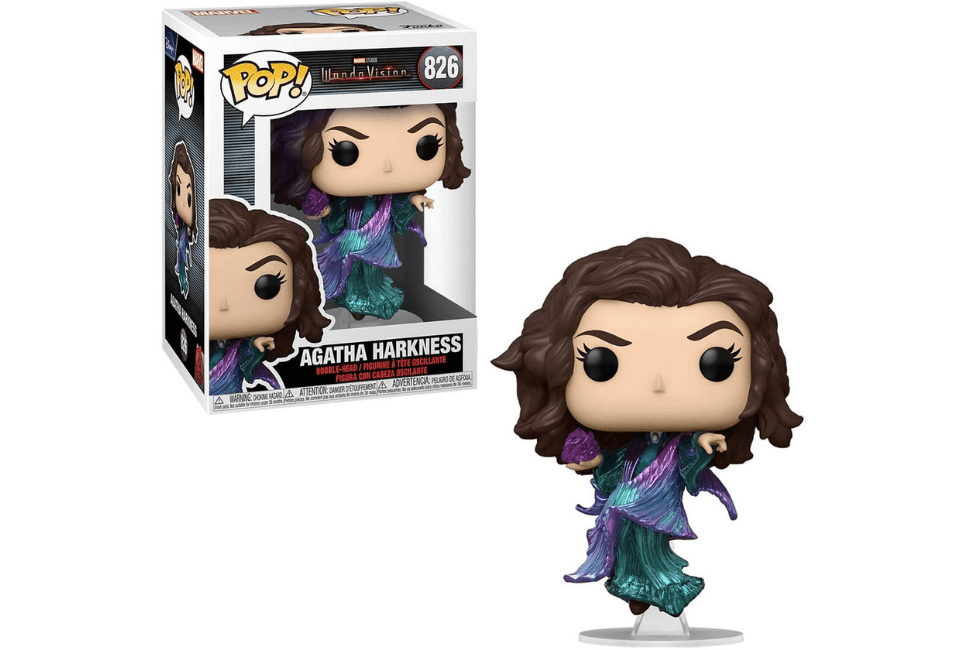 Anyone who's seen the show probably had the 'Agatha All Along' theme tune stuck in their head for weeks afterwards. Heck, it's been a year and I still sometimes catch myself absentmindedly singing it! There's even been confirmation by Marvel that they're working on a show about Agatha Harkness, although we don't have many details on it thus far. Kathryn Hahn did a phenomenal job with this character, and Agatha was definitely a highlight of WandaVision. Therefore it's really nice to see her immortalized in Funko Pop form, and I think the figure looks awesome. Just like the Scarlet Witch figures, this Agatha Pop is imitating flight by using an acrylic stand, and considering that her powers are so monumental to her role, I think this was a solid decision. The teal and purple coloring of the outfit are based on the evil side of Agatha, which, let's face it, was the best version of her. Marvel fans love a villain, and Agatha is no exception. She's holding a ball of magic in one hand as if about to throw a powerful spell whilst the other hand is outstretched and pointing, and the Pop captures Agatha's frenzied chaos. The eyebrows convey her strength and confidence, creating the perfect expression for this wonderful figure.
823 Scarlet Witch (Glow-in-the-Dark)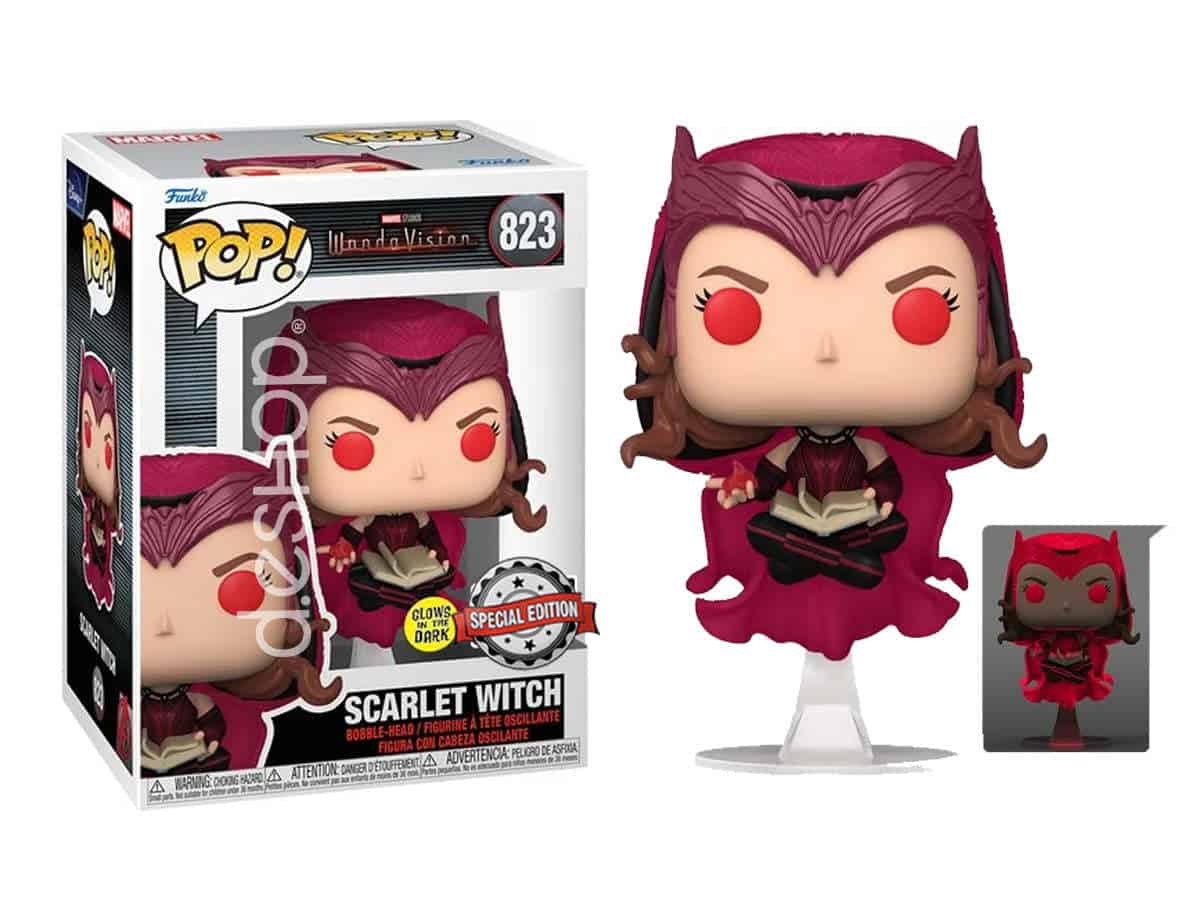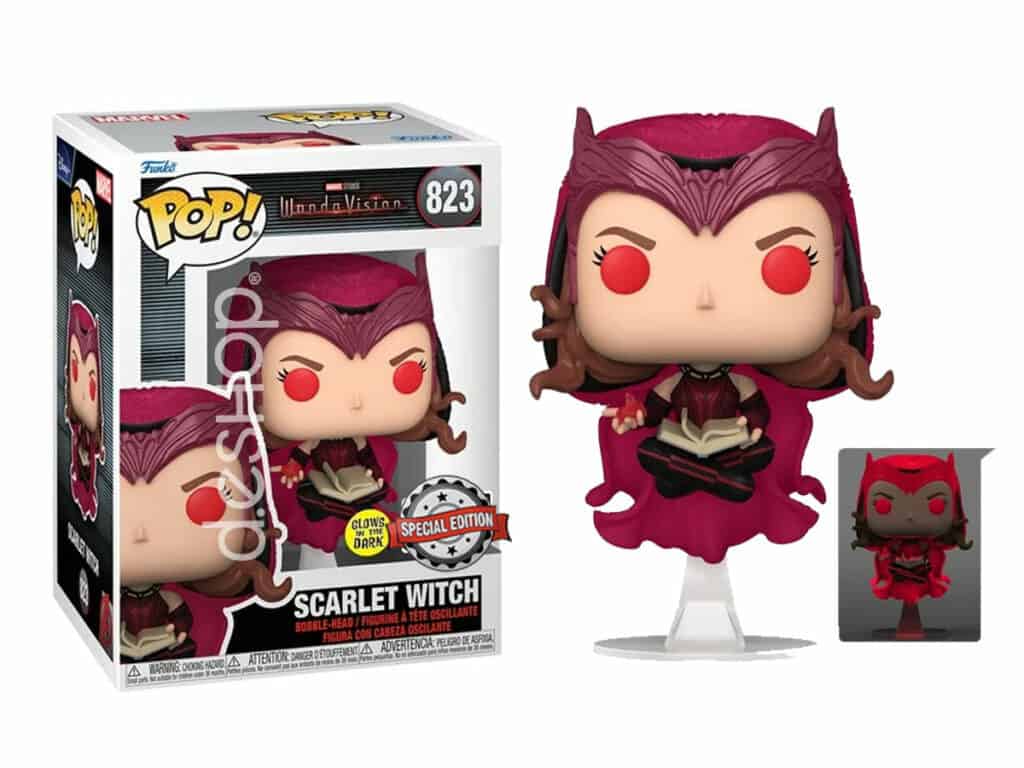 So, this one uses the exact same character model as the standard 823 Scarlet Witch, but it has a special feature… It's glow-in-the-dark! This Funko Pop was released as an Entertainment Earth exclusive, and it takes everything good about the regular figure and makes it that little bit better. My favorite difference between the two are the bright red eyes that Wanda has in this one. The large black eyes common to most Pops are part of the reason why Funko is so recognizable as a brand, but every now and then they mix it up a bit, like with this one. I expect many of you with smaller collections may not even have any Pops with different colored eyes (the only non-black ones I have are the Batman ones which are white so as not to blend in with his cowl, and my Zombie Falcon one which has off-white eyes to represent the fact that the body is decaying). This figure is a slightly different shade of red to the standard 823 Scarlet Witch, presumably due to having to change the material to add the luminescence. Once the lights are off, the crown, hood, and cape will glow red, alongside Wanda's eyes. The effect is magnificent, and I intend to purchase this figure for myself once it's finally in stock.
713 50's Wanda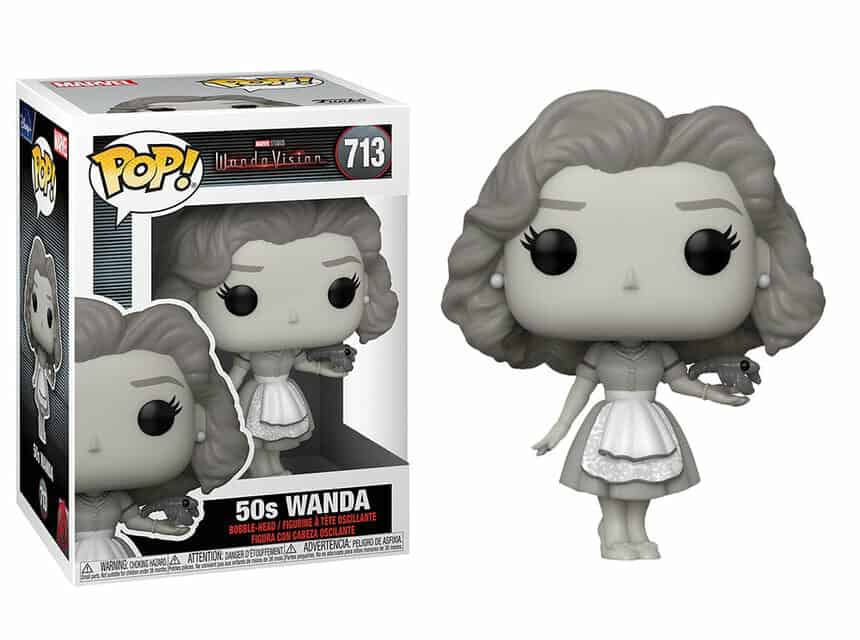 The counterpart to 714 50's Vision, I'm ranking Wanda more highly simply because I feel it's more iconic. When the initial trailer for WandaVision was released, the majority of the scenes were from the 50's episode, but Vision rarely had his human face wearing glasses, whereas this version of Wanda looks just like in the trailer. It's such a classic 50's housewife look, and as I mentioned before, I really like that it's a black and white figure. Fun fact, this was also the very first Pop released in the WandaVision range. Wanda is wearing a beautifully fitted dress that flares out just below her knees, and she has a tidy white apron around her waist. Pearl earrings are visible on the lobes of her ears, which are otherwise concealed by her perfectly coiffed hair. One hand is placed daintily by her side, whilst the other is holding a whole lobster. If you remember, Agnes helps Wanda with the dinner, and the meal is lobster thermidor. This figure is standing in a very feminine pose, with her legs touching one another, representing the demure way women were supposed to carry themselves in that decade. All in all, it's a delightful Funko Pop, and is instantly recognizable as being part of the show.
714 50's Vision (Chase)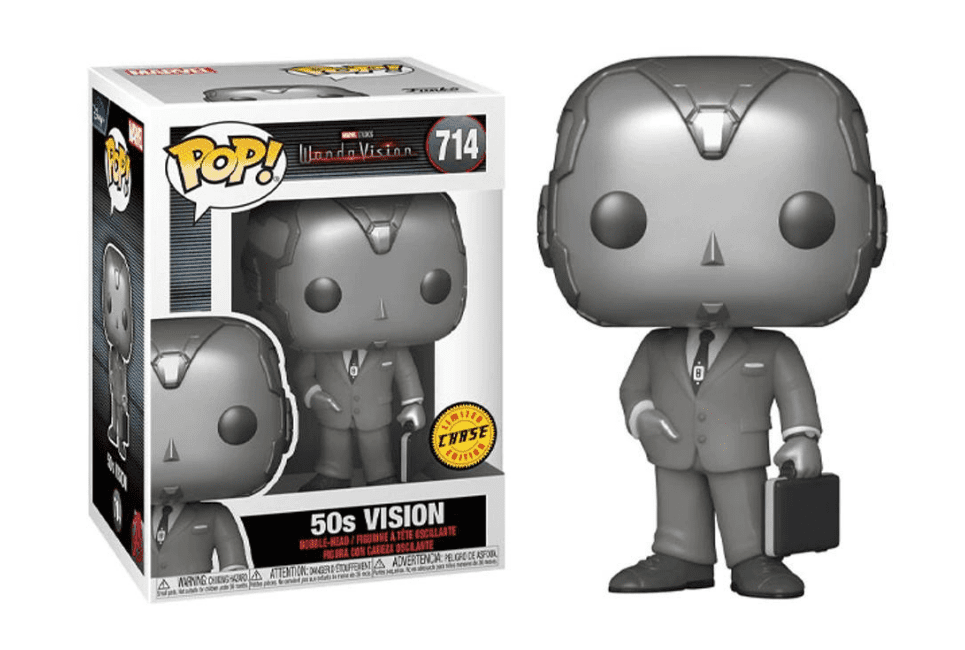 I want this Pop sooo badly. I've gone into countless stores that have had the standard 714 50's Vision, and I've eagerly gone through the stacks to see if they had the Chase, but to no avail. For those of you unfamiliar, a Chase Funko Pop is a rare variant that has a key difference to the regular figure. This can be a change in color, texture, or it can have a different physical appearance. They have a 1 in 6 chance of being sold, but as very few Pops actually have a Chase variant, the chance of finding any Chases in a shop is hard. They're rarer still when you consider the fact that a lot of stores will have employees who are also collectors, and many of them end up keeping the Chase Pops for themselves. This particular one is especially exciting, as instead of the human head on the standard Pop, it keeps the regular clothing but has Vision's natural body! The head is the most obvious change, but if you look closely you can see that the hands are made of synthesized vibranium. Even though the figure is still black and white, there's a sheen to the face and hands to replicate the fact that it's not human skin. If you happen to find this Funko Pop, then you should definitely buy it.
715 Halloween Wanda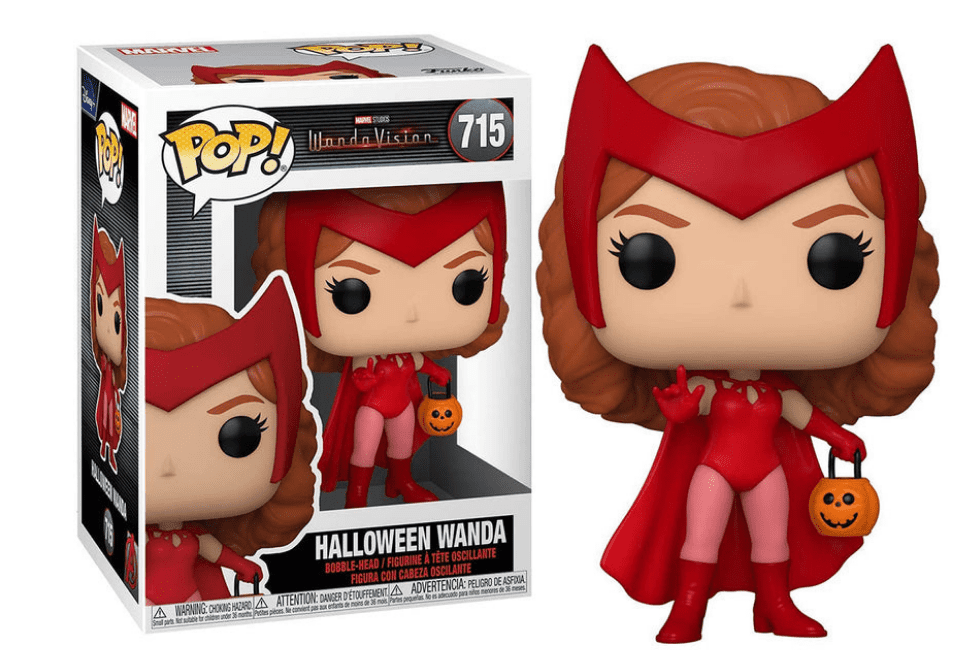 Making this ranking was a difficult task as the WandaVision Pops are all so brilliant. However, choosing this Pop to be in first place was the only logical conclusion I could come to. I mean, just look at it! It's so vibrant and fun, and it's from one of the best episodes of the series. I love that all the Halloween Pops in this range are carrying the exact same pumpkin trick or treat bucket as it truly binds them together as a family. One thing that's really clever about this Pop is that it bears both similarities and differences to the 823 Scarlet Witch figure. Because whilst the latter is showing the actual costume that Wanda wears in the show, the 715 Halloween Wanda is deliberately simplistic. It's supposed to be a handmade Halloween costume that Wanda came up with, and it's based on the comic version of the character rather than the MCU version. Therefore the red crown lacks any of the detailed lines that are on the other one, and her outfit has no cool features, it's just red fabric. She's also wearing pink tights and red boots, and the result is simultaneously feminine and powerful. I love the red cape that's flowing behind her, and overall this has to be not only my favorite WandaVision Pop, but one of the best in the entire Marvel franchise. Apparently Funko will be releasing another run of this Pop in mid-2022, so I'll be waiting patiently until then!
Conclusion
As you can see, Funko truly outdid themselves when it came to creating the WandaVision Pop range. There are so many fantastic characters and even different iterations of them, so whichever moment you loved most from the show is most likely captured in Funko Pop form. Hopefully this list has helped you to make a purchasing decision, and opened your eyes to all the Pops available in the range. Have fun collecting all your favorites!
FAQs
Question: Which Other MCU Shows has Marvel Produced Pops for?
Answer: So far, Funko seems determined to produce a range for every one of the MCU shows. There are already Funko Pops for WandaVision, The Falcon and the Winter Soldier, and What If…?. They've also unveiled figures for Hawkeye, and these are set for release in early 2022. With several more Marvel shows in the work, you can expect plenty of excellent Pops to be in the pipeline!
Question: Does Scarlet Witch Appear in Any Other Funko Pop Ranges?
Answer: She does indeed! Obviously, Wanda Maximoff has been a key part of the MCU since her introduction in Avengers: Age of Ultron. As such, there have been several figures produced for her, both before and after WandaVision. You can find Funko Pop versions of her character from ranges such as What If…?, The Avengers, Captain America: Civil War and more. There's even a gingerbread version of her!
Question: How Can I Start Collecting Funko Pops?
Answer: There's a lot to know about Funko Pops and so it can feel overwhelming, but don't worry! This nifty guide outlines everything you need to know about these fantastic figures, including how to go about starting a collection. The most important thing is to be aware of how much you're paying and not go over-budget, and to make sure that you're enjoying it. Find figures that you love and that have meaning to you, and discover your favorite ways to display them.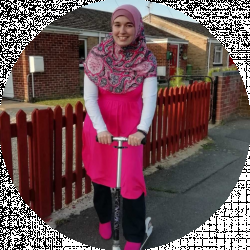 Latest posts by Melika Jeddi
(see all)