If you're a fan of Marvel like me, then you already know the amazing world of WandaVision. I fell head over heels for the wonder of this masterpiece and binged it twice in a row. It's not just one of the most popular and talked-about shows on Disney+; it also has inspired some awesome makeup ideas too! From looks inspired by Scarlet Witch to others celebrating '50s style – here are the best WandaVision makeup ideas that will bring your inner Avenger alive and make you a part of the MCU magic!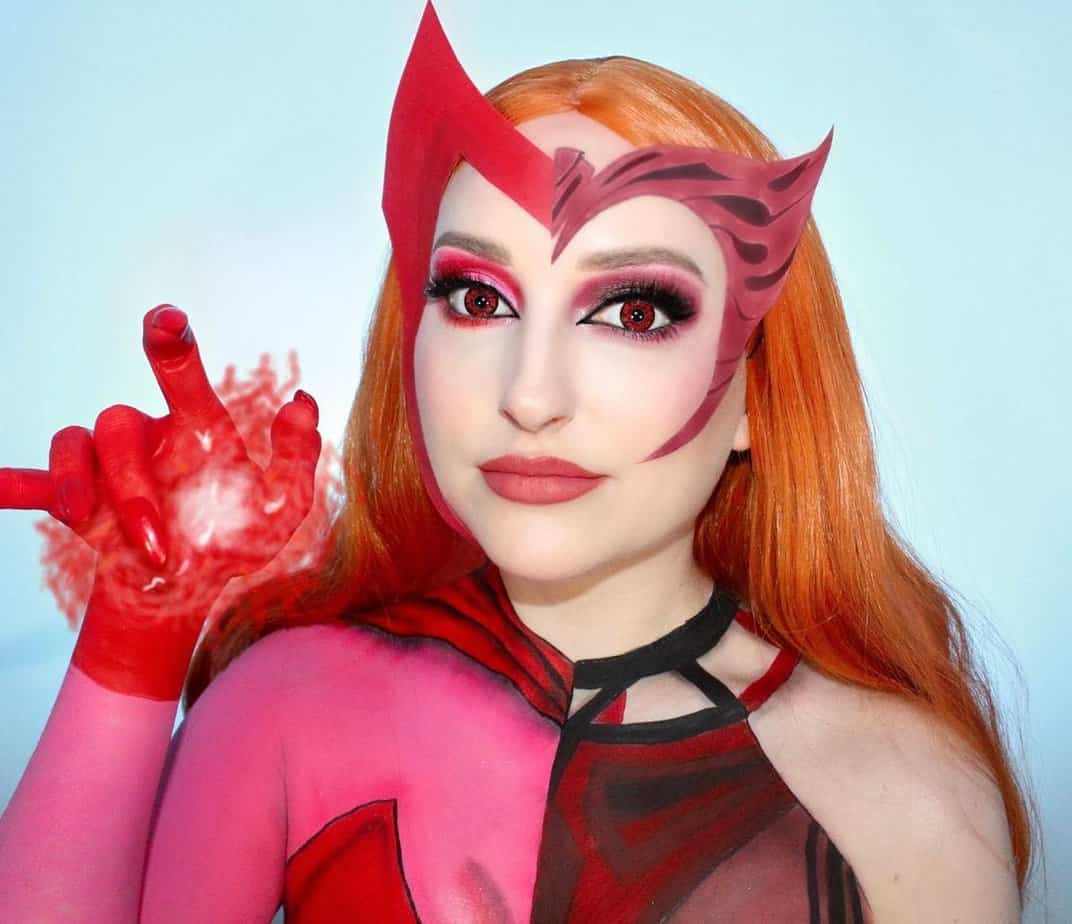 Bottom Line Upfront
I'm no makeup artist, but I do love to cosplay, and I think I can totally pull this WandaVision makeup idea off for my next convention!
Top 3 Picks
Best WandaVision Makeup Ideas
I tried my best to include a cool selection of ideas that ranged from beginner-friendly to pro cosplayer so there would be something for any skill level to choose from.
Wanda Maximoff, aka the Scarlet Witch, is known for her iconic (and, some might say, stylish) red headpiece. While it might not be as recognizable as the typical superhero cape or logo, this bright accessory still has many fans.
The truth is that Wanda's headpiece serves two purposes: it helps her channel her powers to see visions of potential futures and also amplifies her magical abilities when using Hexes and other spells. Clearly, the Scarlet Witch's fashion statement isn't just for show – it's an important tool for one of Marvel's most powerful heroes.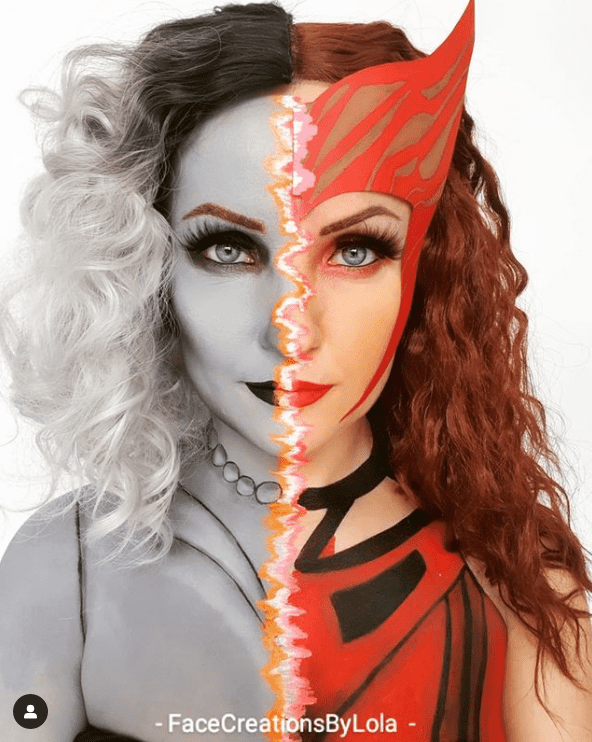 Wanda Maximoff needs no introduction regarding mind-bending abilities and showstopping fashion. But her iconic look wouldn't be complete without her signature red makeup. This vibrant hue helps to complement the striking magenta hues that make up the rest of her ensemble.
It's enough to make even gorgons—who are no strangers to transforming their appearance—envious. For anyone on a quest for their own comic book-inspired ensemble, adding some red makeup might just put them one step closer to channeling their inner Scarlet Witch!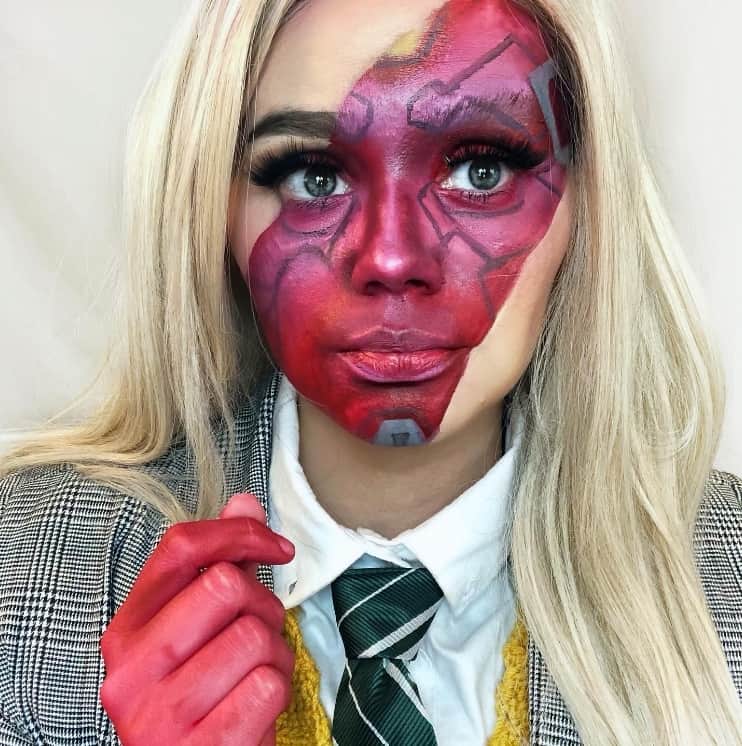 If you've ever wanted to scream at the world, "I am Vision!" but didn't quite have the courage, then face painting might be your thing. Whether it's for a costume party or an attempt at cosplay, there are many who find great joy in creatively decking out their faces with different designs – and of Vision is no exception. The intricate red look is an unmistakable show-stopper, and we can all agree that it looks absolutely fabulous (regardless of what your grumpy neighbor might say!).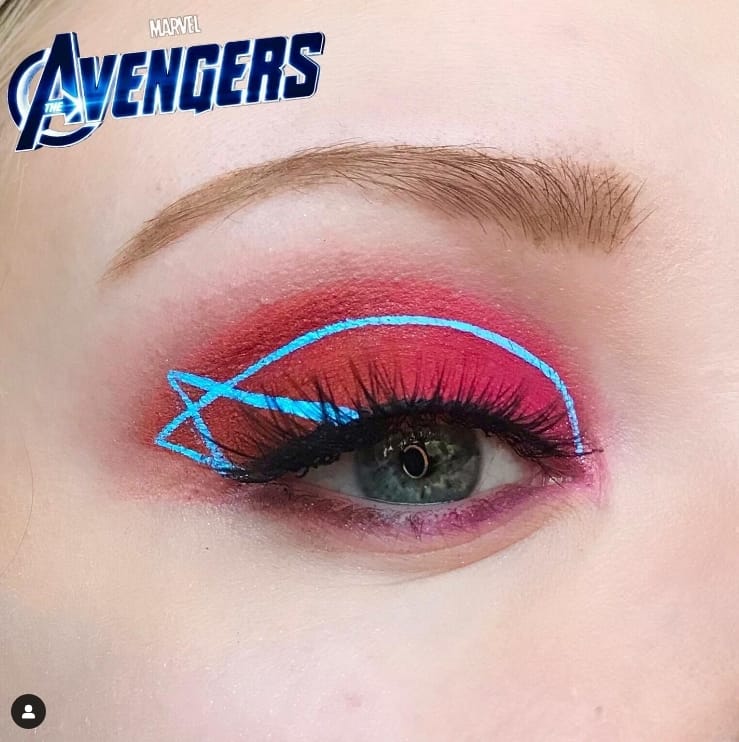 Played by Elizabeth Olsen, Wanda was a Sokovian refugee who came to Earth with her brother Pietro after Ultron destroyed their homeland. She had telekinetic and reality-altering powers and was integral to the team's victories over various enemies, from Ultron himself to Thanos.
In the movies, she helps save their world from destruction in various ways, including manipulating internal strife within Ultron, curbing Loki's ambitions in Wakanda, and disabling Thanos' protective armor during the final battle at Wakanda with her hex-like abilities. So what could be better than this mash-up between Wanda's iconic red makeup and the simplified blue Avengers logo?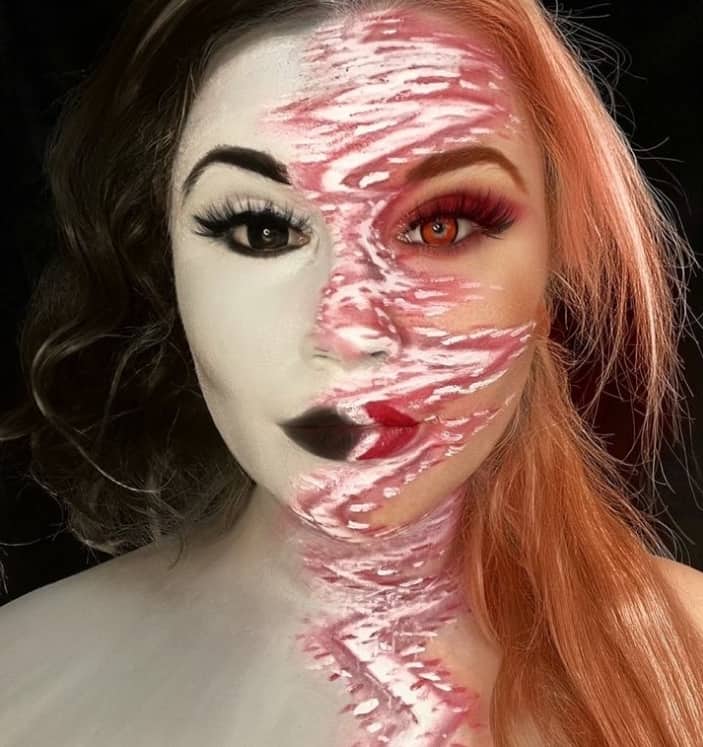 This Wanda glitch-inspired makeup might not make much sense if you haven't seen the series. The glitch is a reference to episode 3 of the series. The most important thing about the glitch is that they both confirm that Vision is a component of the bogus projection, despite Vision's own reservations about the veracity of Westview's reality.
Wanda just does not want him to find out because if he did, it would pose a significant risk to her ability to keep the cover-up, in particular, because Vision would probably insist that she stop seeing him.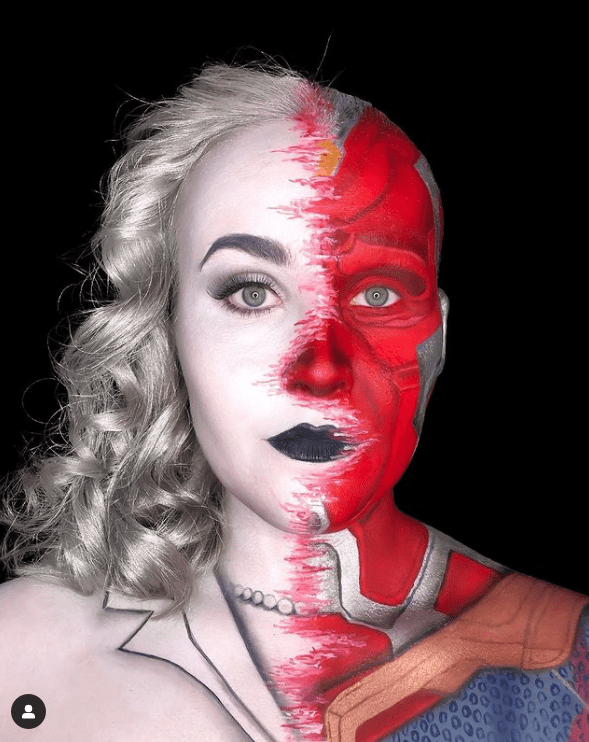 Painting your face like Vision from the Avengers doesn't have to be an intimidating process. With a few basic tools, you can create a look that might even trick your family into thinking you've hopped on a Quinjet and joined the Avengers!
Start by picking up a white cream makeup that will coat your face and neck evenly, then use black and dark blue eyeshadows to draw out the intricate lines of Vision's face. Don't forget his signature forehead line! Now all you need is an Infinity Gauntlet – if only!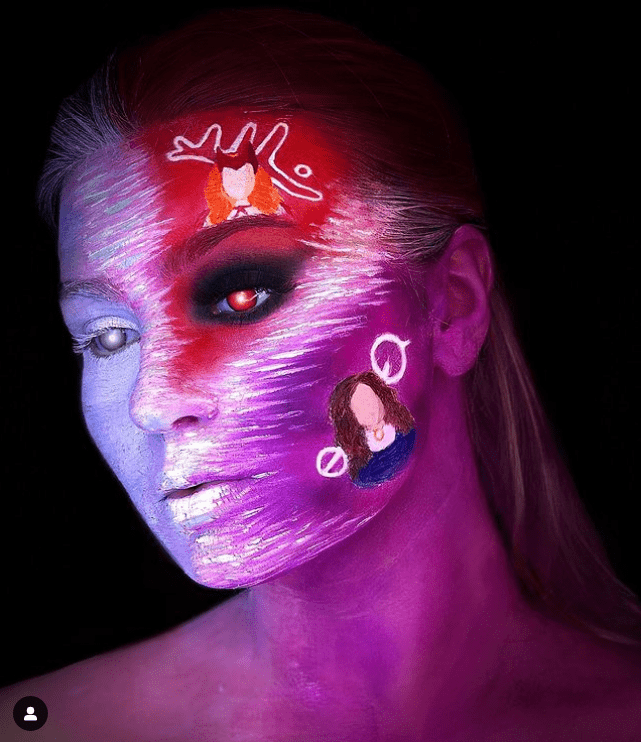 WandaVision is bursting onto television screens with a captivating blend of classic sitcom nostalgia and Marvel superheroes. This boundary-pushing series follows Wanda Maximoff and Vision as they embark on an unpredictable journey of life, love, and comedic hijinks in suburban America.
With a captivating story arc, hilarious moments, and high-energy action scenes – this show promises to be an absolute blast. This makeup is inspired by our protagonist trying to hide who she really is. And we love it!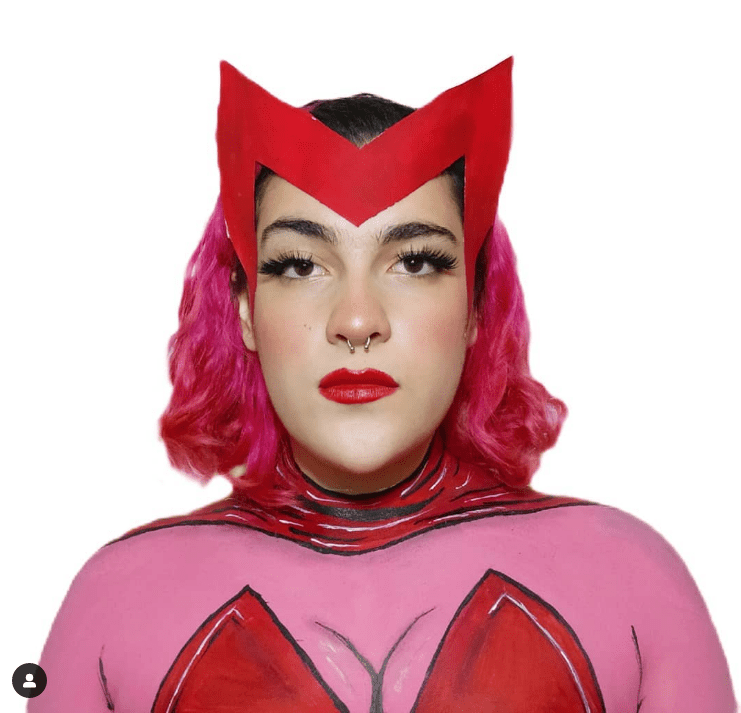 I love how this cosplayer took things to the next level and decided to recreate Wanda's outfit not with clothes but with actual body paint. The entire paint job has this comic-book thing going on, reminding me that The Avengers started as a comic. You can even make the headpiece yourself if you're short on cash, reminding us that you don't need to empty your wallet to look like your favorite movie character.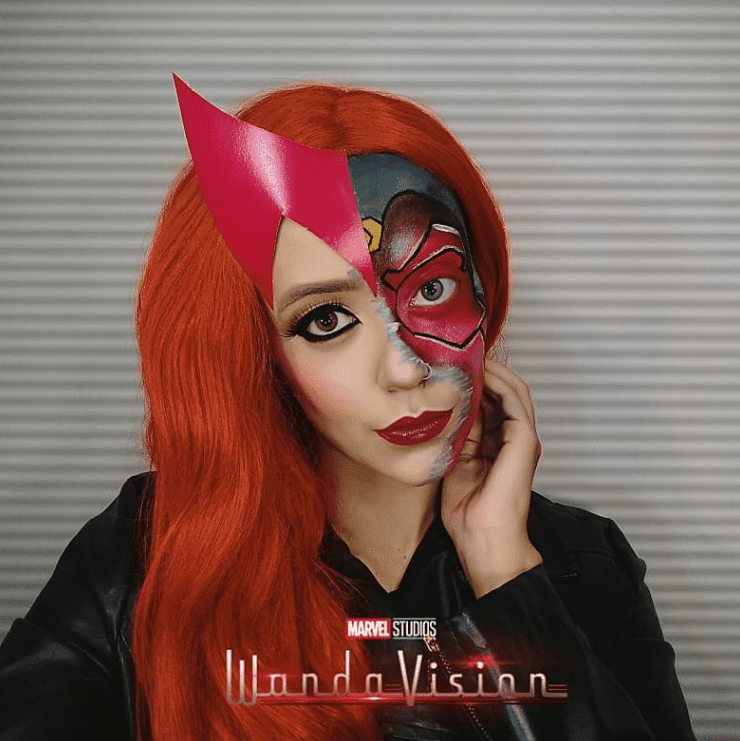 Impressing your friends with a daring look by painting your face half like Wanda and half like Vision from The Avengers is the way to go! Be prepared for lasting reactions – you're sure to get double takes everywhere you go.
You will be fearless in the face of futuristic fashion, as if it weren't only Scarlet Witch and the synthezoid uniting through dreams that could make this postmodern masterpiece come alive. Dare to be different when you embrace this stunningly original aesthetic and show off your power couple spirit in real life!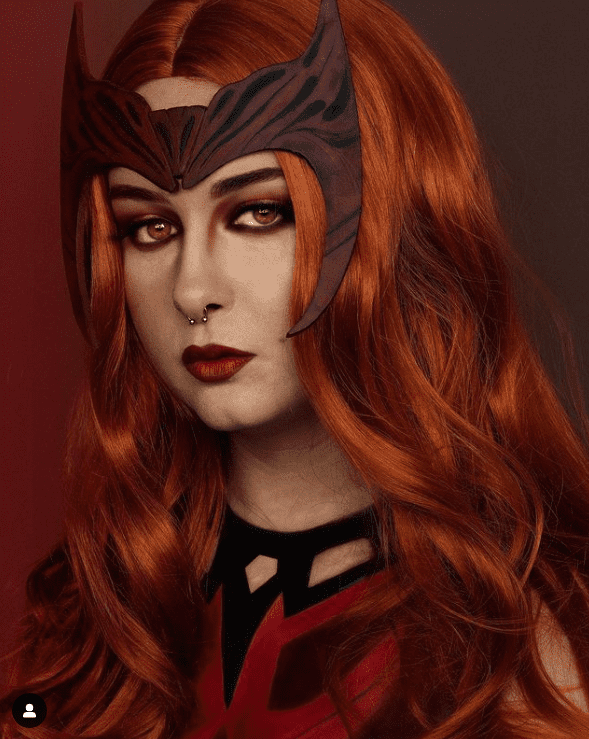 Wanda Maximoff's makeup is truly something special. And it's no wonder why it has become so popular among beauty buffs! From classic red lipstick to smoky eyeshadows, Wanda Maximoff's products are sure to bring out your inner glam goddess whether you're attending a Gala or hanging out with friends.
Whether you love minimal makeup or prefer to go bold and glamorous, Wanda Maximoff has something for everyone – which explains why her cosmetics range has become so coveted in today's beauty world!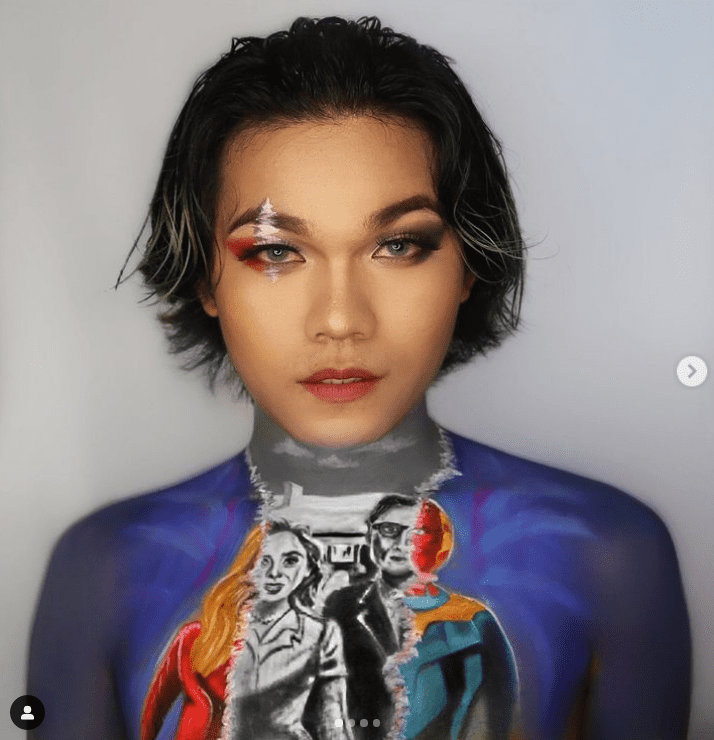 Fans of Marvel's WandaVision were confused initially when certain episodes were released in black and white. After much speculation, it has been revealed that these episodes are directly inspired by classic sitcoms from the 50s, 60s, and 70s.
By watching the show in a retro format, fans better understand how Wanda and Vision's world has been built up episode after episode. It looks like WandaVision is creatively pushing boundaries once more, ensuring its viewers stay on their toes! This gorgeous body paint art is a tribute to their attempt to lead a normal life in the American suburbs.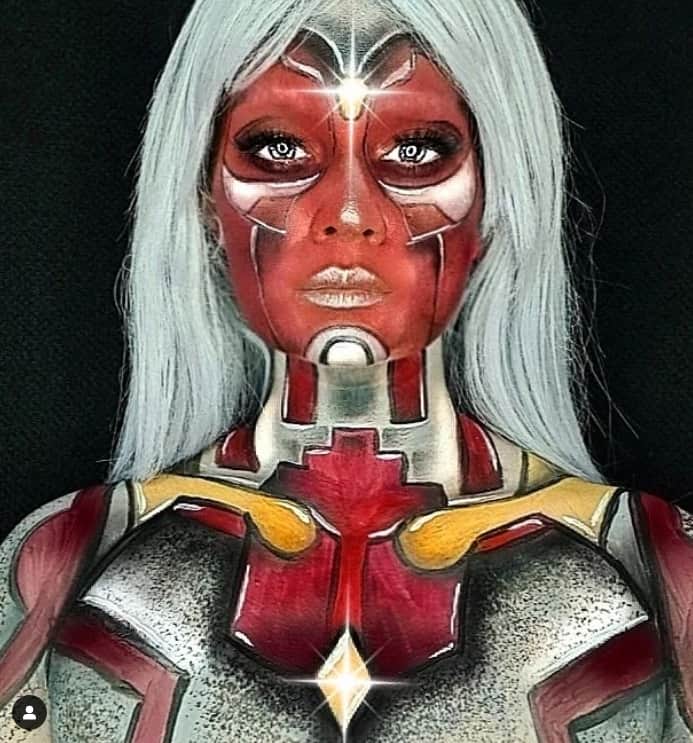 Tune up your Vision game by transforming it to match your outer Wanda. Vision from the Avengers has a striking color palette. He has a dashing crimson complexion, with vibrant yellow eyes and silvery flowing locks. His outfit complements his look perfectly with royal blue accent pants and cape, along with deep purple highlights throughout. Indeed, Vision is one superhero who wears color well!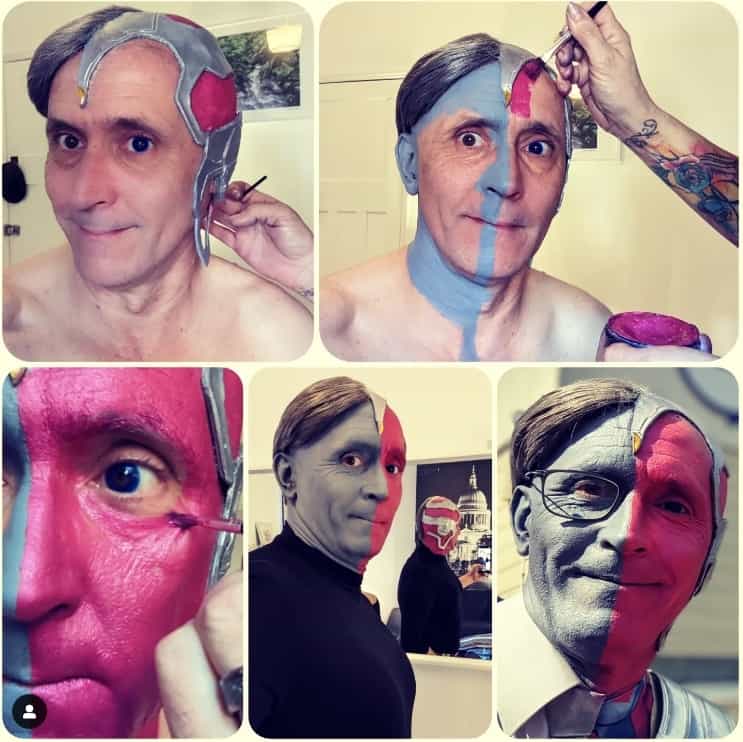 Vision from the Avengers always manages to steal the spotlight whenever he appears on-screen. Not only does he have a powerful mix of qualities that make him irresistible – superhuman strength, incredible intelligence, and iconic red skin – but also a seemingly infinite capacity for humans to empathize with him.
It's no wonder so many fans want to dress up as Vision, whether at comic conventions or in their everyday life — because a part of us craves the same sense of power and purpose that this beloved character embodies. Plus, who wouldn't want a chance to appear almost as eerily beautiful as Vision himself?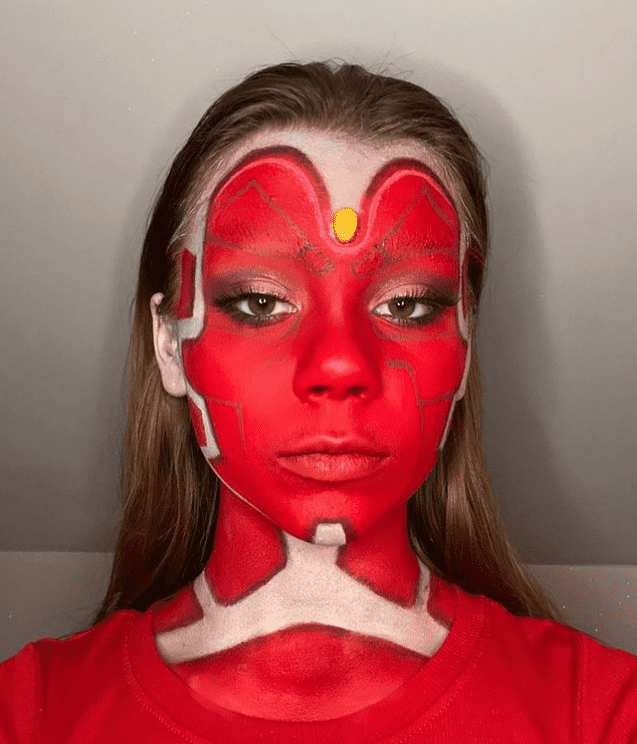 If you're a Marvel fan looking to look like the red, android Avenger Vision, you won't need gamma radiation or an Infinity Stone to help you achieve this feat. All you'll need is your makeup bag and some spirit! The quickest and easiest way to emulate Vision's appearance is with high-quality red face paint.
Since it takes a while to carefully apply a costume, it'll be much easier to grab some face paint and cover your skin. Even if it isn't Halloween anymore, there are still many occasions where donning the crimson hue of Vision will be appreciated by those in the know!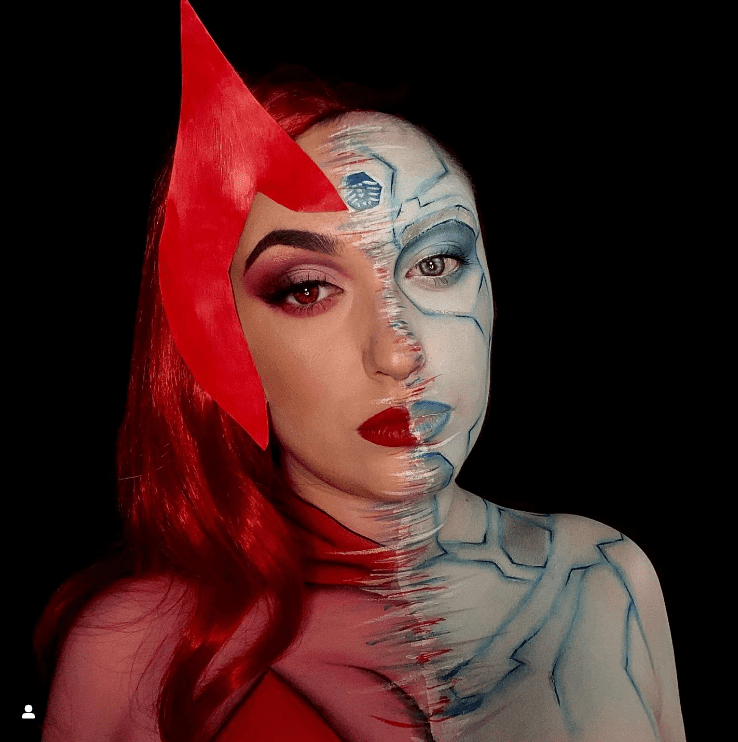 To recreate the classic WandaVision look, you'll need a range of fiery hues! To achieve her signature shapely eyes, use a vibrant shade of ruby red. Then go for a burst of crimson around the outer corners, making your look all the more electric.
For added drama, opt for a deep oxblood hue to accentuate the crease and define your gaze. Be bold and creative, and no doubt you'll be channeling Wanda Maximoff with ease! For an even cooler effect, have your face Wanda-themed and the other half, Vision-themed!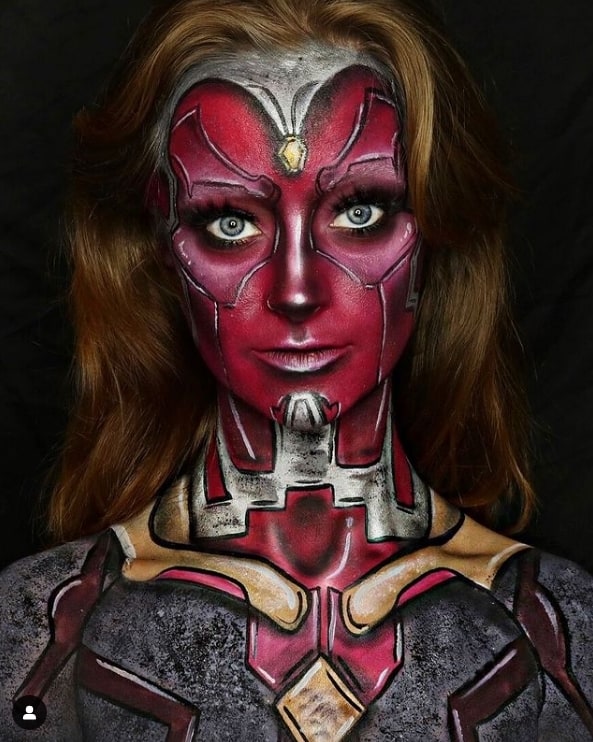 Wanda Maximoff and Vision had quite a relationship. Although Vision was technically an android, their connection went far beyond the physical. The pair quickly developed feelings for each other, but as time passed, it became much more than a romance.
Their bond created a supportive dynamic that enabled each to better understand themselves and the world around them. They had plenty of ups and downs over their short period together, but in the end, they found solace in each other's company. Who knows, had things gone differently, maybe they could have lived happily ever after too!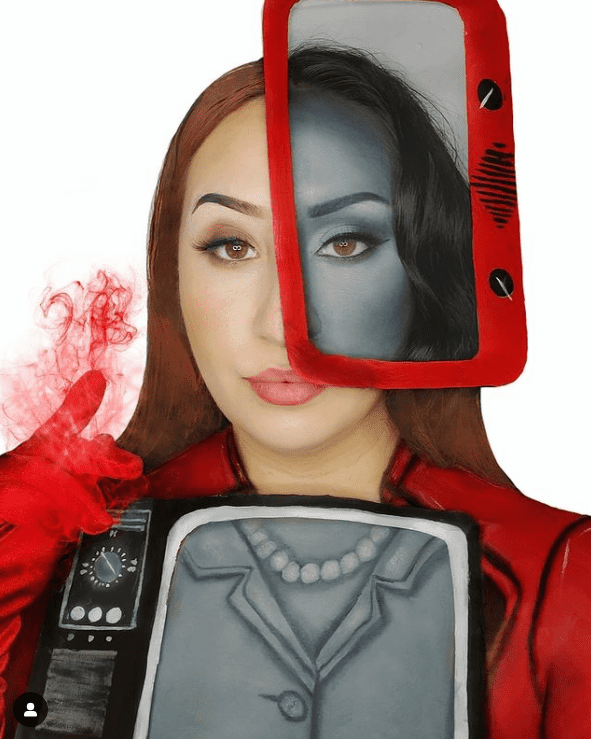 Aside from the absolutely gorgeous details of this makeup and the way the WandaVision series was interpreted. What I love the most is that you get clear indications of what products were used. That makes it easy to attempt and recreate this makeup, and you are likelier to get better results when you use the same products!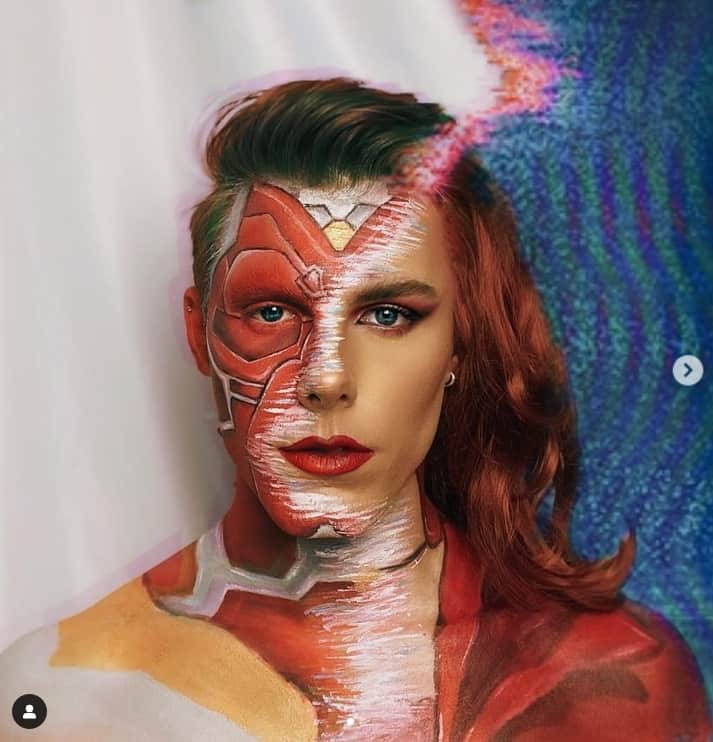 Painting half of your face like Vision and the other half like Wanda from the Avengers could be fun to add some interesting flair to your makeup routine! It would be even more impressive if you could find a way to make it look cohesive. To really show off both heroes' unique looks, you might need to get creative with different eye shadow combinations or even add some black eyeliner for depth.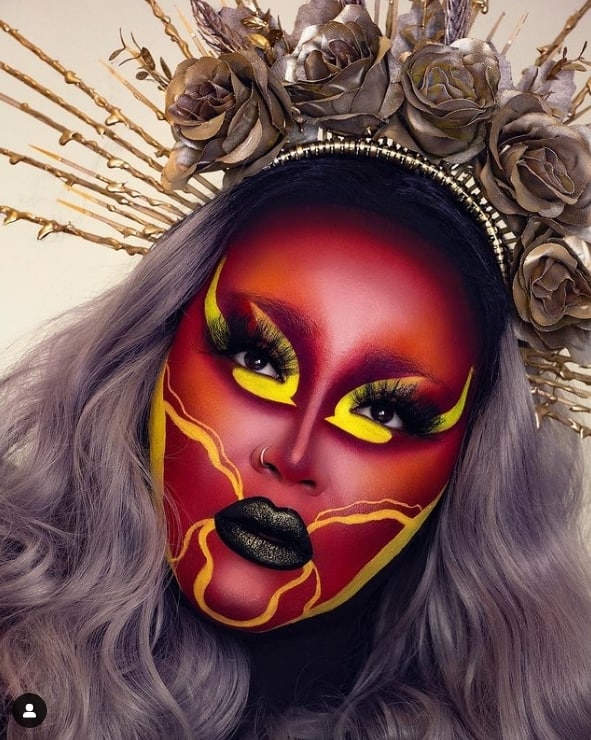 Who said you can only dress up as Vision only if you are a man? This stunning reinterpretation of Vision's makeup focused on red facial paint and yellow details that offer this makeup a unique yet easily-recognizable perspective. Not sure what that headpiece is supposed to represent but, to me, the entire ensemble looks perfect, almost fit for android royalty!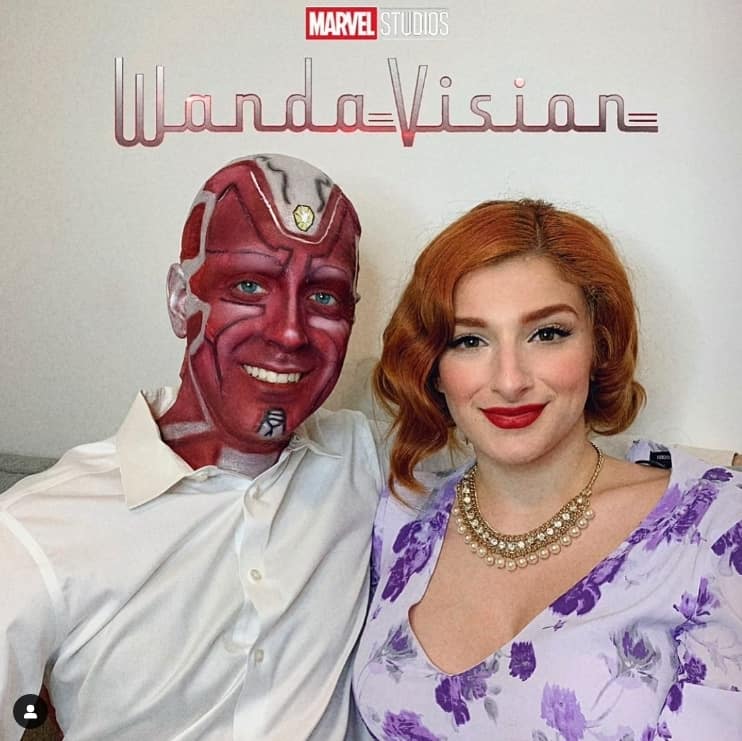 If you've been looking for a unique, out-of-the-box makeup look inspired by your favorite Marvel show, WandaVision, look no further! Making this ultra-chic and vintage look is easier than you think. Before you start, stock up on the basics, such as mascaras, eyeliners, and pastel eyeshadows.
Then, get creative with bright lipsticks and rosy cheeks to complete the look. And don't forget to add some faux fur false lashes if you really wanna go all out! All in all, putting together a WandaVision-inspired makeup look can be a fun style experiment if you have the right supplies!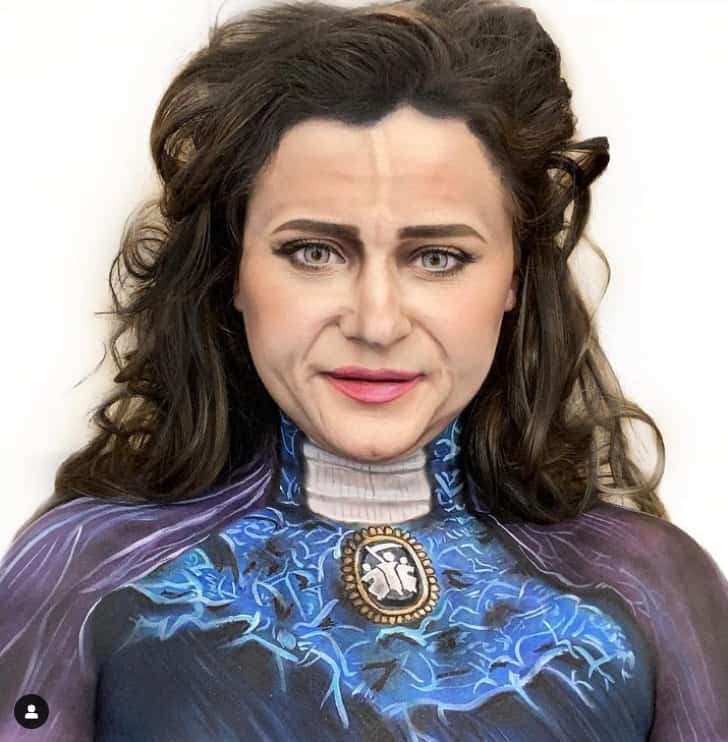 Agatha Harkness is a powerful witch featured in Marvel's Universe who, if you have seen her, you know is fashionably fierce! To recreate her makeup look, add a sultry black eyeliner and mascara to keep the attention all on Agatha—nothing steals thunder from this veteran enchantress! Then top off the look with a soft pink blush for a glowing complexion that befits the Beholder of Salem. Voilà: now you're ready to cast your own spell-like Agatha Harkness!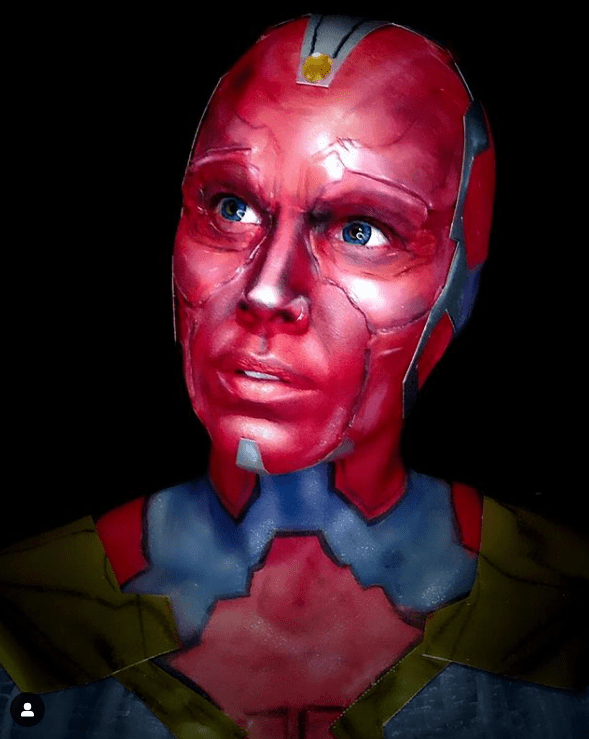 If you want to look like Vision from Avengers, painting your face is the best way to go! You'll need a bright white base across your face and neck – paint it with an even-bristled brush. With a bit of black and blue pencil eyeliner, you can give yourself a visor-like effect around the eyes. Consider mimicking the shade of crimson that's so specific to this character. Don't forget the blue details and the yellow Mind Stone on his forehead!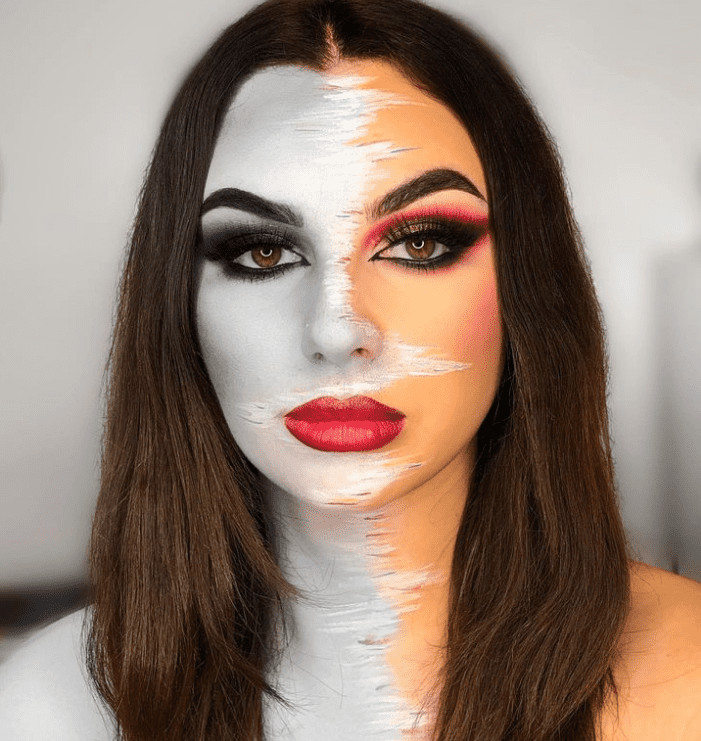 It doesn't cease to amaze me how people can create a Photoshop-like effect using makeup alone. This particular makeup artist hits the sweet spot with this gorgeous WandaVision-inspired makeover. To get the full effect, map out your face with a light foundation and then start adding spots of different colors to create abstract art.
Elongated shapes, overlapping lines, and circles can all be used to construct wacky designs that blend in with your natural features. Top off the look with statement lips, bejeweled lashes, and a glossy finish. Let your creativity run wild – your face is an open canvas!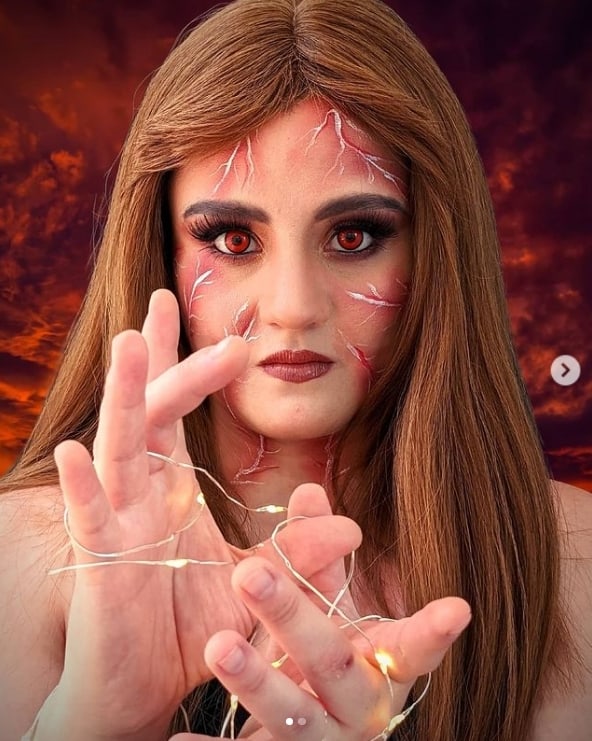 You may see a lot of Wanda-themed makeup with lightning bolts, but if you are unfamiliar with her lore, you might need to learn what this actually means. Wanda's abilities are powered by the Mind Stone and include neuroelectric interfacing, telekinesis, and energy manipulation.
This allows Wanda to give her enemies walking nightmares and read their thoughts. No wonder she's such a makeup inspiration, even amongst makeup artists who want to try and make something different.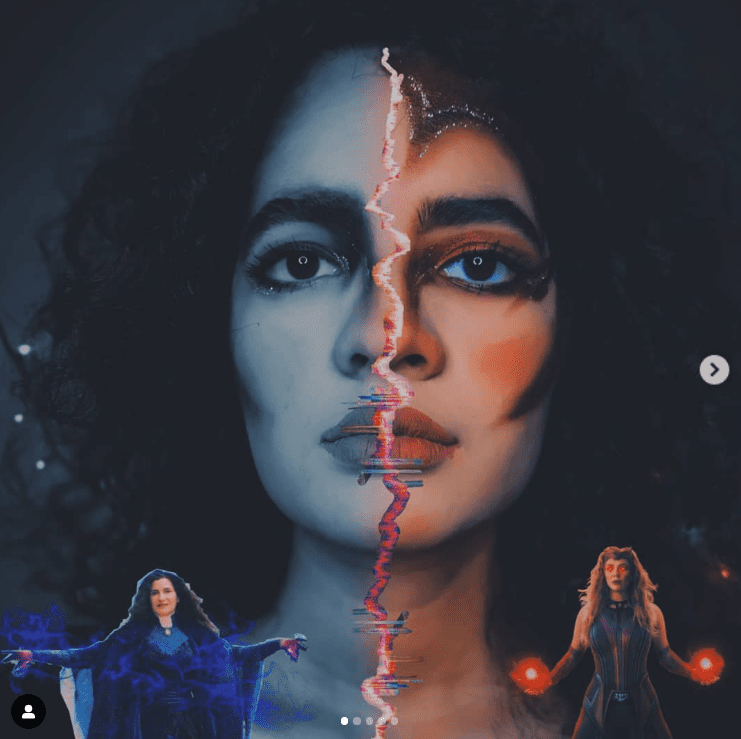 Wanda and Agatha Harkness make quite the odd couple. After Agatha arrived in Westview, her relationship with Wanda began to blossom. While their initial interactions were quite heated, they formed an unlikely friendship – perhaps a reluctant mentorship!
With Agatha's vast knowledge of magic, she often has to explain certain aspects of it to an unsuspecting Wanda, who is learning the ropes as she goes along. This makeup is inspired by that relationship and is designed for those who definitely know the ins and outs of the WandaVision story.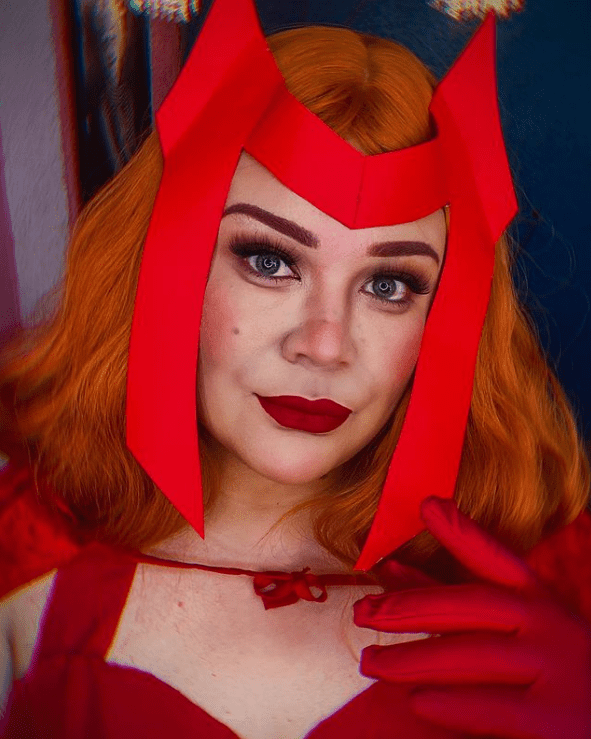 Wanda Maximoff's makeup has become a signature statement of her own in the Marvel Cinematic Universe. Her signature colors include bright red lips to match the scarlet hue of her iconic cape and a glowing and sultry smoky eye look.
She also likes to complement her fiery aesthetic with sparkly silver glitter on her eyelids and cheeks, adding an extra layer of sparkle, befitting such a powerful character. With these colors working together, it's no surprise that Wanda Maximoff looks ready to take on any challenge her way!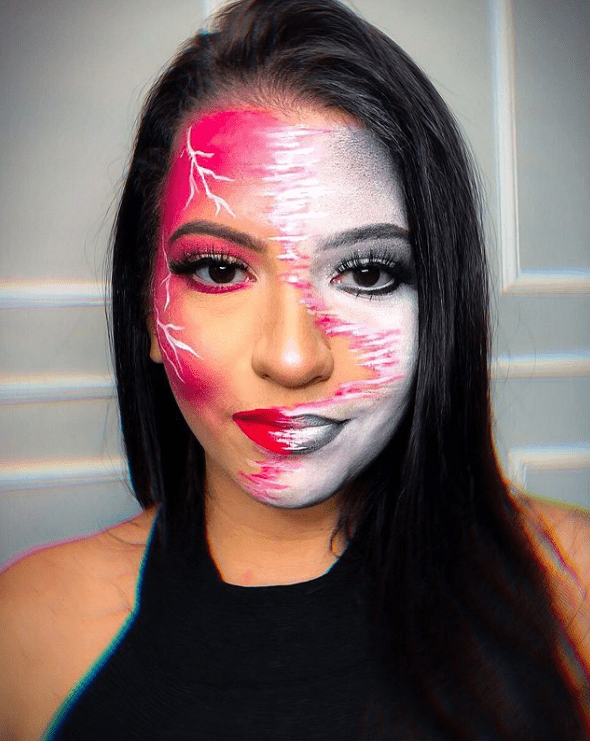 With bold tones of pink, silvery glitch effects, and gorgeous lashes for your mesmerizing eyes, this makeup can inspire you if you are a WandaVision fan. Wanda Maximoff's makeup in WandaVision is truly a marvel – and not only in the Marvel universe.
Her unique style validates her place in pop culture and makes waves with viewers, creating an iconic look. Granted, a lot of the success comes from her well-crafted character, but let's not forget that an essential component of it lies in her signature bold red lips and subtle cat eye.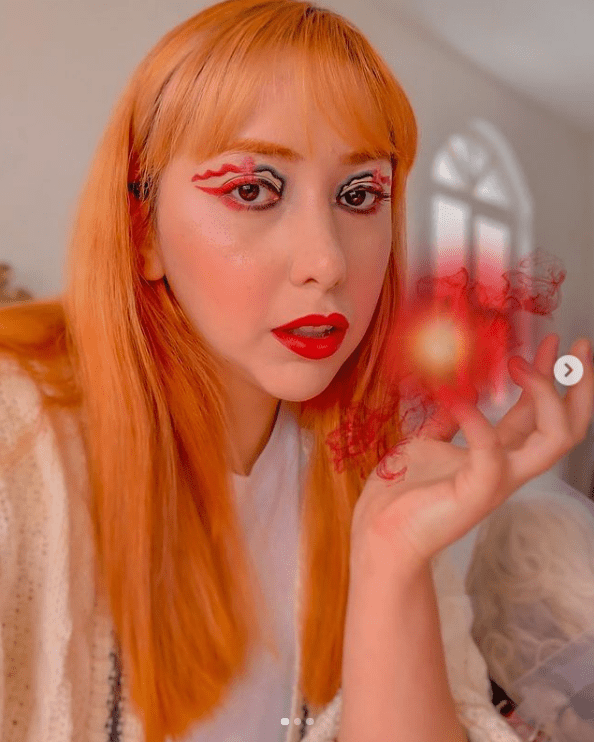 While most of us associate Wanda's makeup with some wonky or vivid shade of red, I love this reinterpretation of the WandaVision series. If you feel like blue doesn't belong here, I've got a little fun fact for you. In the first episodes (those shot in black and white), Vision's face was painted blue instead of red so it would look better on the grayscale.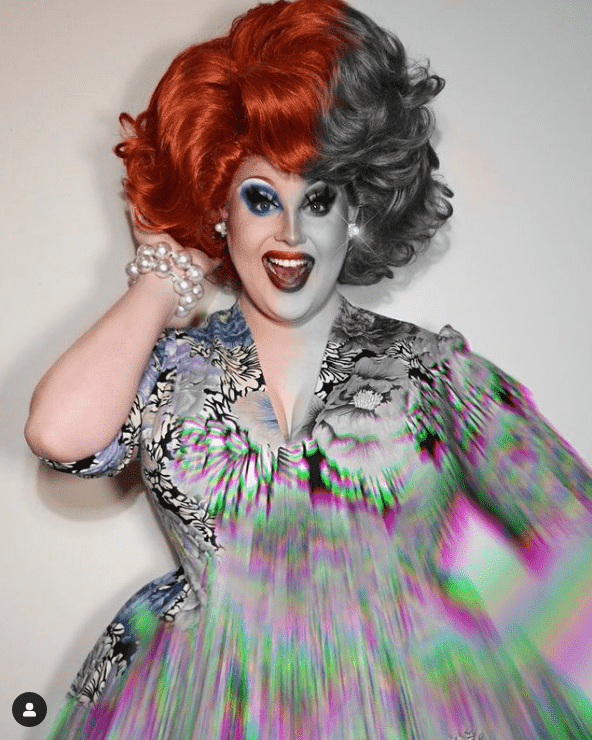 When we watch the show, we see that Wanda Maximoff and Vision have been sent back in time to 1950s America, attempting to lead a life that is as unremarkable as possible by relocating to a middle-class neighborhood.
The pair is making a valiant effort to conceal the fact that they possess extraordinary abilities, yet, on occasion, they are successful in doing so, much to the audience's amusement in the recording studio. That's the history behind this gorgeous and very detailed makeup.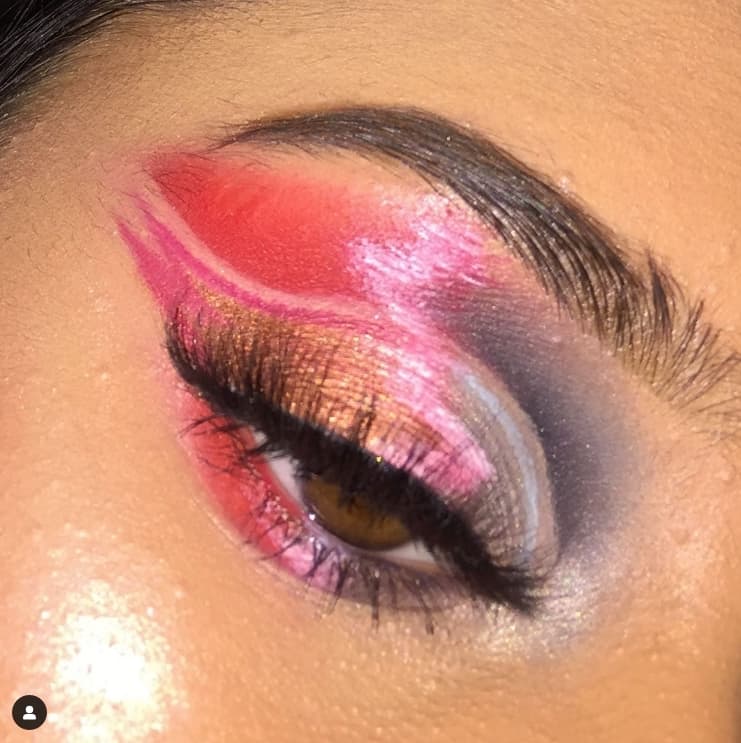 Creating makeup looks like Wanda Maximoff is more manageable than one might think. Start with a nice matte foundation, wax-based eyeliner for long wear, and eyeshadow that glimmers when the sun's rays hit it. It's also a good idea to use blush to warm your face and ensure your eyebrows are bold and on point.
After all, why bother if you don't have frame-worthy eyebrows? To finish off the look, make sure you use mascara that won't flutter away in the wind and leave you looking like an unsuspecting victim of misadventure — nobody wants that for their Wanda Maximoff-inspired look!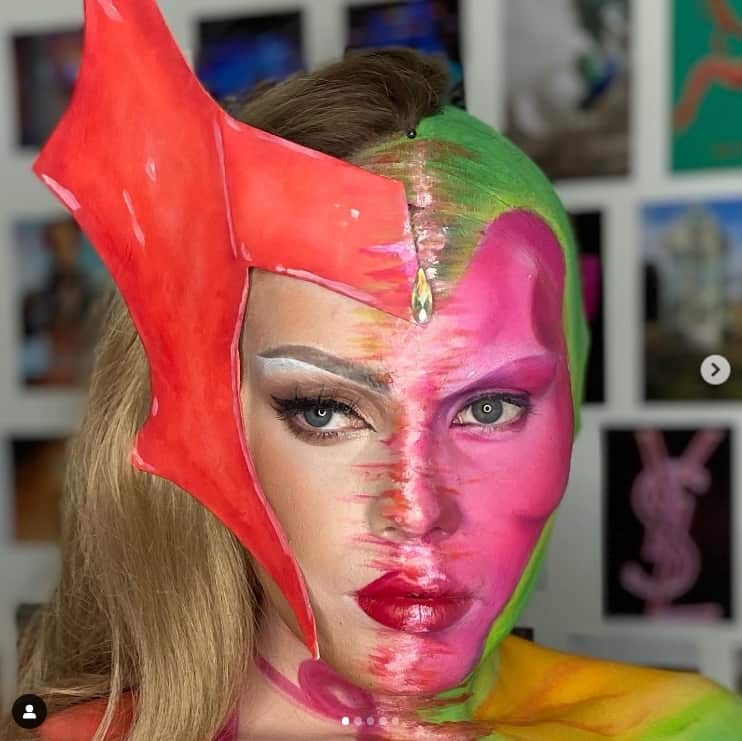 Let me show you one more amazing transition in series-inspired makeup from people who just can't get enough of these two Avengers. Despite Vision being a synthetic android, the two form an incredibly close bond; one rooted in real friendship, understanding and love.
Over the course of the episodes, we witness them going through highs and lows together, experiencing joy and heartache along the way. We see them grapple with difficult topics such as identity and mortality while strength their relationship. Ultimately, they come to terms with themselves and each other – showcasing that even amidst all their flaws, they're still two imperfect characters who are perfect for each other.
FAQs
I'm here to answer all your most important question regarding WandaVision makeup ideas!
Question: Is there a WandaVision makeup pallete?
Answer: Yes, there is a "WandaVision" x ULTA Beauty Makeup Collection. It consists of brushes, blushes, eye shadow palettes, mascara, and even lip gloss.
Question: What colors are best for WandaVision makeup?
Answer: The best colors for WandaVision makeup are those that will really pop, as this movie is based in the world of Marvel and has eye-catching visuals. Brilliant blues and reds are always popular choices for WandaVision makeup. You can also go for more subtle tones such as purples and pinks, depending on the look you're going for.
Question: Will there be a season 2 of WandaVision?
Answer: According to an interview with a Marvel director, the WandaVision show will not return for a second season. It was always designed to be a one-season show.
The Final Words
It's obvious that the WandaVision show sparked a ton of cool new makeup ideas for cosplayers and artists all over the world. I love seeing all the different takes and unique applications. Did you find one on my list that you might try? Let us know! And be sure to check out other sweet Marvel ideas on our site!
Looking for more interesting readings? Check out: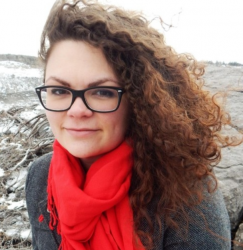 Latest posts by Candace Osmond
(see all)