Wanda Maximoff is one of the most relatable characters in the Marvel Universe. She has always been one of my favorites, and it only becomes more and more accurate with each passing film or show she is featured in.
WandaVision has been one of the best TV show spin-offs Disney Plus has put forth. It was met with rave reviews, and it is easy to see why. It is rare to find a TV show that you truly resonate with. WandaVision was this series for me.
Trying not to give away too many spoilers- let's just say that Wanda goes through heartache no woman should have to endure.
Watching her struggle with her heartbreak is incredibly relatable to the human condition. The penultimate episode of WandaVision holds a line from Vision that I will never forget- "But what is grief, if not love persevering?"
It is rare to find a piece of entertainment that genuinely impacts how you view the world; WandaVision had this impact on me and many others. This Marvel show did not shy away from the complex topics in life, and it became a fan favorite.
As Wanda says, "You are my sadness and my hope. But mostly, you're my love." This WandaVision ring guide will help you find plenty of options to help show off your love for this incredible series! 
Bottom Line Up Front
For fans of WandaVision, the best ring option is this set: WandaVision Prop Replica Wedding Rings. It is a replica set of the wedding rings Wanda and Vision's characters wear throughout the WandaVision series. As it was a very popular release, this set can be hard to find for purchase. Your best bet to snag this limited-edition ring set is eBay!
My Top Picks Up Front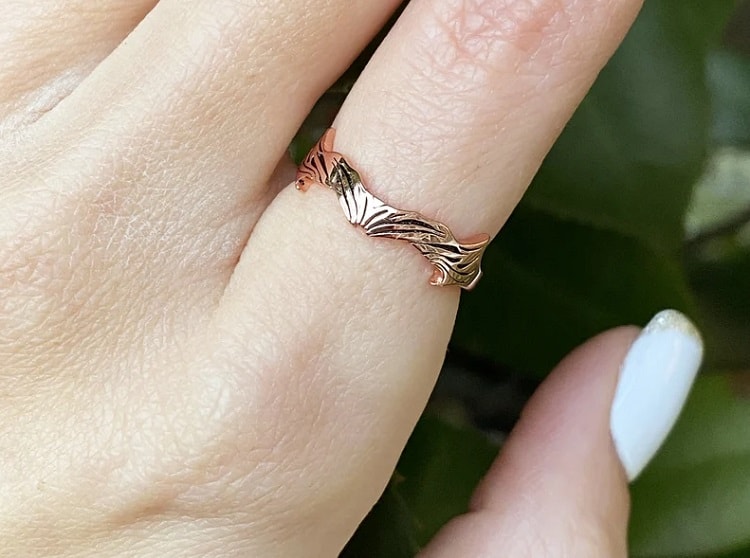 These four WandaVision rings are my absolute favorite. They are unique and are perfect for showing your love for the show!
1. Chaos Ring– Best for a minimalistic design.
2. Agatha Inspired Ring– Best ring for those who love a good villain.
3. Scarlett Witch Necklace and Ring Set – Best jewelry set.
4. WandaVision Inspired Rings– Best show-inspired design ring set.
Top Tips to Help You Shop
When shopping for fan-related merchandise, it is crucial to keep an eye out for fan-inspired designs. You can find more unique and understated things at places like Magically Taylored, which offers understated Marvel-themed jewelry.
You can also find many options on Esty; just be aware that these items are handcrafted, not mass produced, their availability may be limited, and processing times may be longer. When shopping for WandaVision jewelry, it is a great idea to start with shops like these:
1. Rocklove
3. Esty
4. eBay
Selection Criteria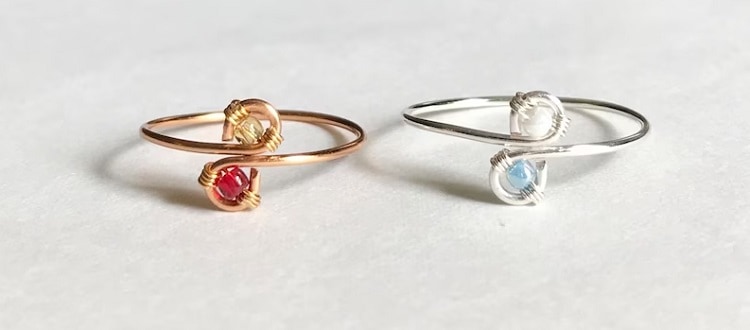 Material
When purchasing jewelry of any kind, you should always consider the materials they are made of. There are three predominant types of jewelry. Fine, demi-fine, and costume. Fine jewelry includes jewelry that consists of only precious metals such as gold and platinum.
Demi-fine jewelry is a hybrid of precious metals laid over less precious metals. These offerings are usually crafted in sterling silver, and then a vermeil plating is added on top to create the illusion of a solid precious metal piece.
In contrast, costume jewelry is typically made up of all base metals. These metals are commonly brass, iron, copper, nickel, pewter, or aluminum.
When deciding which material you would like your jewelry to be made of, consider any skin sensitives and the longevity of the piece. Fine and demi-fine jewelry will typically cause less irritation and remain in good condition for a more extended period of time.
Sizing
The sizing of fine jewelry is often in the 3-14 range for women. These numbers offer a universal sizing system by which you may order rings to fit the finger you choose. Demi-fine jewelry is also often measured in this manner.
Costume jewelry is most typically found in adjustable sizing. This is done by a cut to the back of the ring band, which allows the metal to be bent outwards or inwards to create a larger or smaller loop. This method of sizing is able to accommodate most average-sized fingers; however, it may exclude finger sizes on the small or larger size. 
Cost
Jewelry costs can range widely based upon materials used, design, and where you purchase. I have included fine, demi-fine, and costume jewelry in this article. This helps in offering a wide price range of great options. Fine jewelry will always be the most expensive, with demi-fine in the middle range, and costume jewelry is often the cheapest.
Product Recommendations
Best for Fans of the Scarlet Witch Version of Wanda: Rocklove Scarlet Witch Ring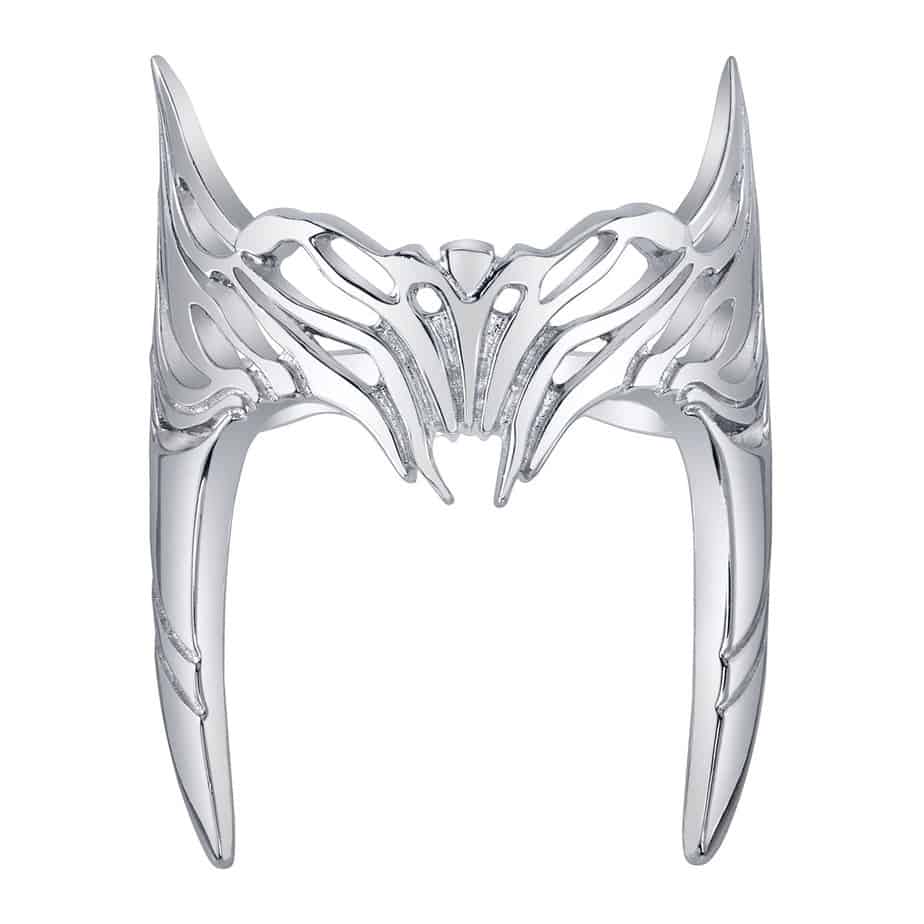 Agatha reveals Wanda's incredible power as the Scarlet Witch in WandaVision when she states: "Your power exceeds that of the Sorcerer Supreme. It's your destiny to destroy the world." This ring captures that moment of foreshadowing perfectly! 
Pros
Sterling Silver composition makes for a durable metal that is easy to maintain with polishing

Reasonable cost for Sterling Silver jewelry
Cons
Only limited sizes are available

Not an adjustable size design
Best for Minimalistic Design: Chaos Ring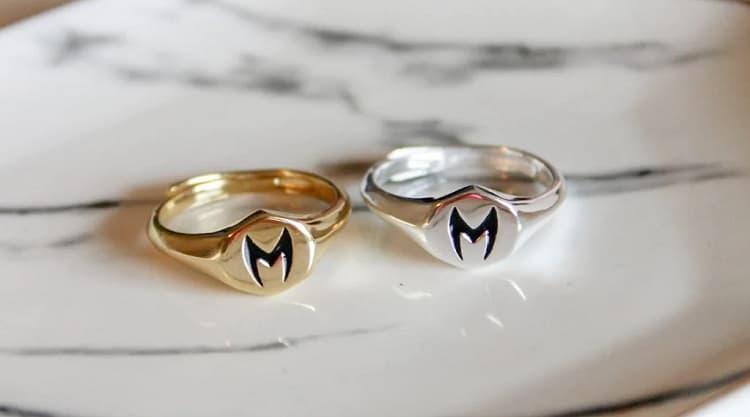 This ring is offered in both sterling silver and gold-plated sterling silver. It is adjustable in sizing, which makes it great for anyone! Its minimalistic design makes it one of my favorite WandaVision rings! Understated fan merch is the best way to show your love for Wanda in your everyday wardrobe! 
Pros
Adjustable size

The excellent price point for sterling silver jewelry
Cons
Not available in fine jewelry materials, which may keep those with allergies from enjoying this piece
Best for Price: Wanda's Costume Ring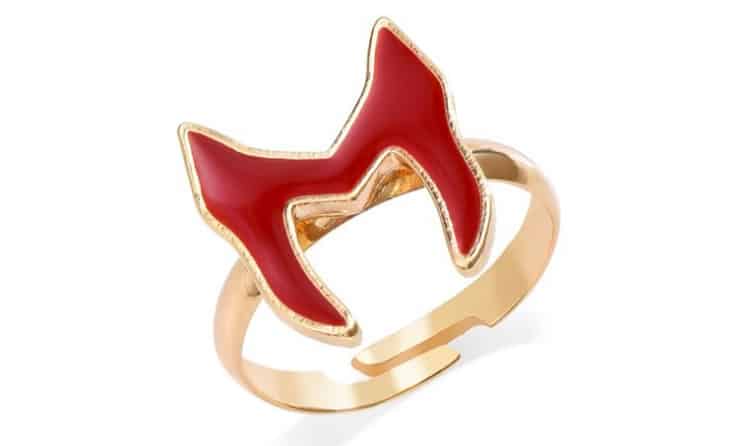 I love that this ring mimics the headdress we see Wanda wear in her Halloween costume on WandaVision. It is a great nod to her outfit in the comics and provides a classic Scarlet Witch style!
Pros
Reasonable price point

Adjustable sizing
Cons
Constructed of a base metal that may irritate sensitive skin
Long shipping times
Best Diamond Ring: Fine Jewelry Villain Ring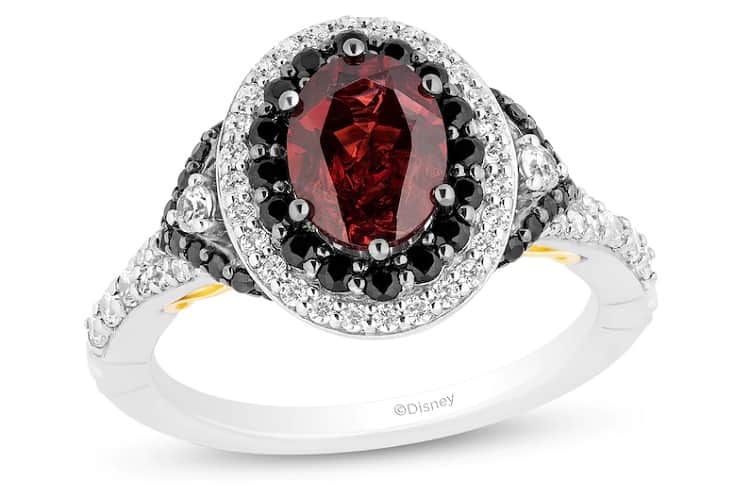 I am taking some liberties with this ring. I know this is listed as a Disney villain's ring, but I think the cut and color of this ring screams Wanda Maximoff. It features black diamonds and a large garnet set in 14k white gold with 14k yellow gold accents.
The color and style of this ring remind me of Wanda with her favored shades of red and black.
Pros
Beautiful design that could be used as an engagement ring

High-quality materials
Cons
High price point

Not technically WandaVision merchandise
Best Set for Couples: WandaVision Prop Replica Wedding Rings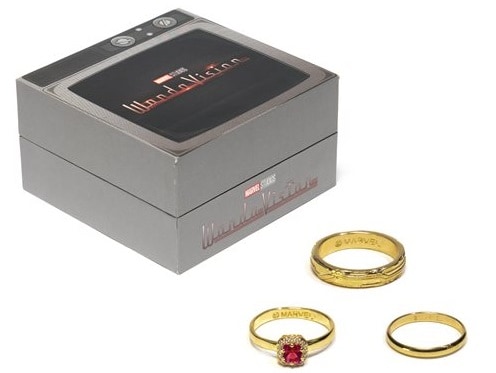 These rings are perfect for a couple who wishes to sport the wedding rings we have seen worn by Wanda and Vision on WandaVision. They are prop replicas specific to the show and include Vision's wedding ring, Wanda's engagement ring, and Wanda's wedding band.
Pros
Three-piece set that includes rings for two people

High-quality materials

Replica design from WandaVision
Cons
Highly popular and challenging to find in stock

Mostly found on eBay for varying prices which can become exorbitant
Best for Fans of Wanda's Edgy Style: Wanda Maximoff Claw Ring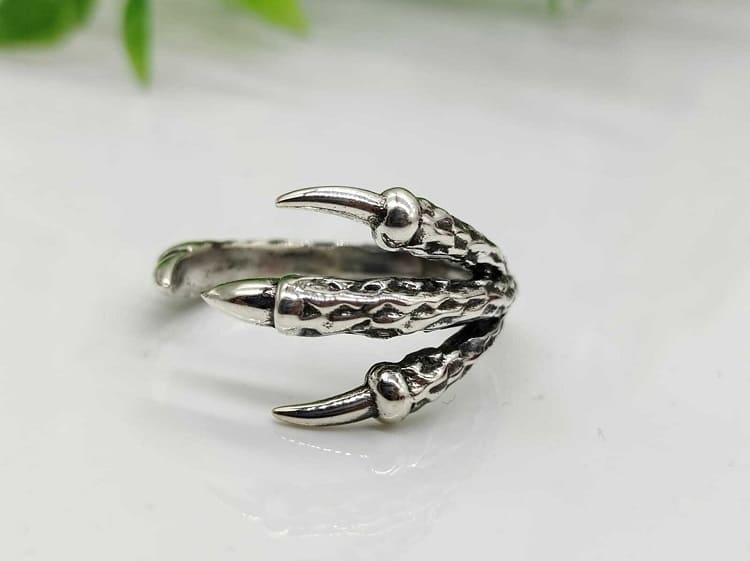 This sterling silver ring is available in any custom size. It features a ring Wanda wears herself once she becomes the Scarlet Witch. It highlights her edgy style that slowly grows darker as the show and her decline progress.
Pros
Available in any custom size

The reasonable price point for sterling silver jewelry pieces
Cons
Sold on eBay, so availability is not consistent
Best for Fans of the Avengers: Infinity Stone Ring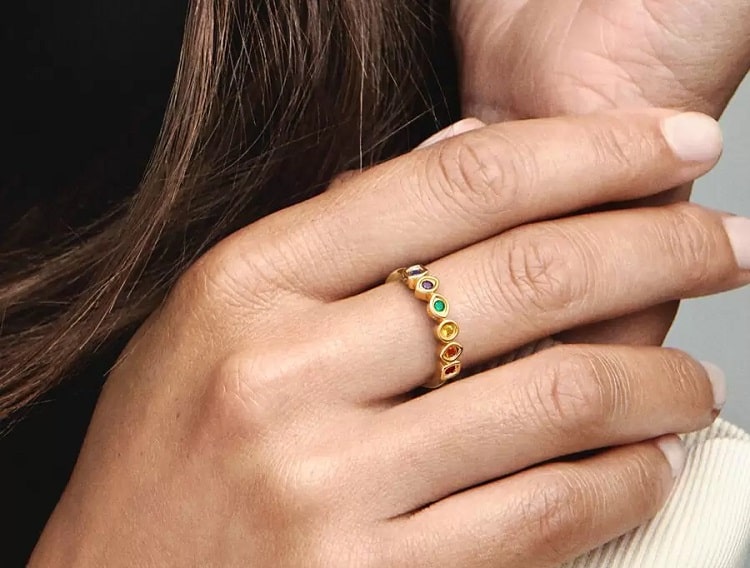 I had to include this ring because it features all the infinity stones in one gorgeous ring. The infinity stones themselves are not all a prominent fixture on WandaVision, but their existence and power are foundational to Wanda and Vision's story.
I love that this piece is fan merch but is also a piece of stunning jewelry on its own. Its attention to detail makes it stand out among other rings.
Pros
Features all of the infinity stone colors

Engraving on the inside of the band lists the infinity stones

Available for in-store pick up at Pandora stores located in many cities
Cons
Narrow size range available; only sizes 4.5-9

Expensive for gold-plated jewelry and non-precious stones
Best for those who Like to Sport Wanda's Signature Color- Red: Red Headdress Ring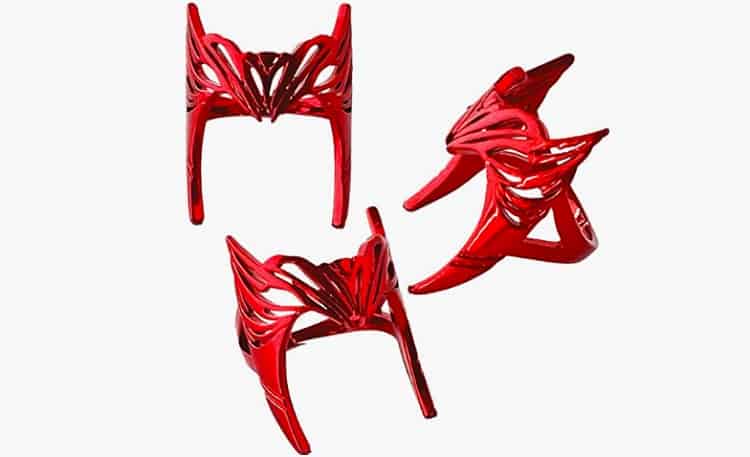 This ring comes in a set of three red headdresses that mimic the style of Wanda's Scarlett Witch costume. I love how the style of the ring extends down the finger when worn!
Pros
Vibrant red color
Set of three matching rings, perfect for sharing with friends
Cons
Only one size available

Not adjustable in size
Best Ring and Necklace Set: Scarlett Witch Necklace and Ring Set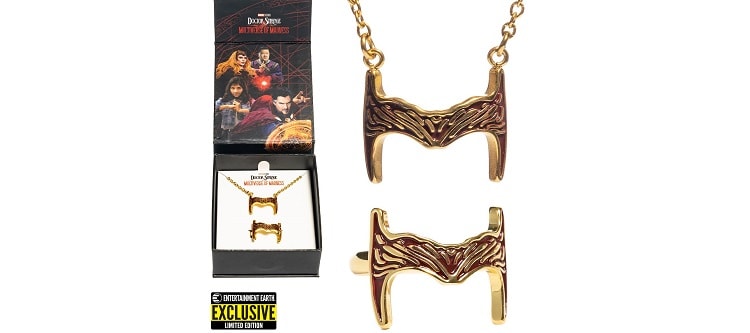 While this set is from Doctor Strange: The Multiverse of Madness, it is all about our favorite, Wanda. This ring and necklace set is perfect for anyone who wants to have a matching Wanda Maximoff jewelry set. It highlights her Scarlet Witch costume with red and gold colors.
Pros
Great price point for two pieces of jewelry

Ships quickly
Cons
Does not specify ring size
Best for those who Want Wanda-Inspired Jewelry: Wire-wrapped Wandavision Ring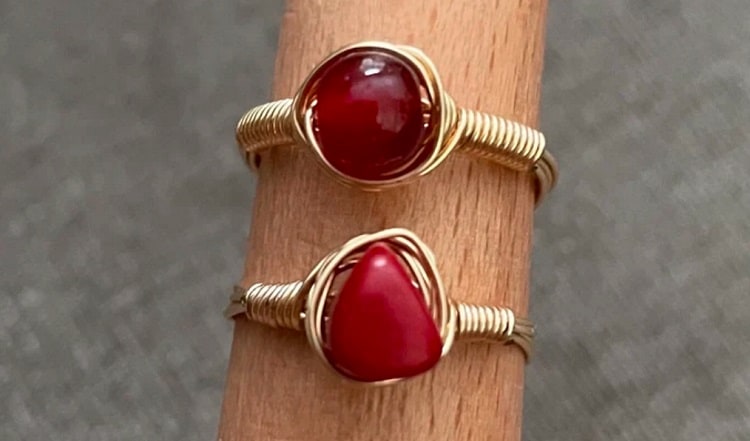 This wire-wrapped ring is handcrafted to mimic the one worn by Wanda in WandaVision. It features gold wire and a red stone at the center. It is a WandaVision-inspired design that offers a creator's touch that often outshines mass-produced pieces.
Pros
Available in whole and half sizes

Affordable price point

Handcrafted
Cons
Best for those who Love Rose Gold: Thin WandaVision Headdress Ring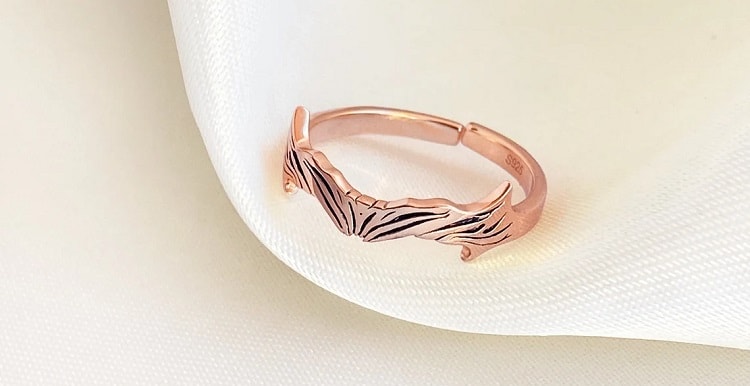 I adore this minimalistic style of Wanda's headpiece in Rose Gold. The tone of the metal elevates the style and provides a new twist on a prevalent WandaVision jewelry piece.
Pros
Available in silver, rose gold, or 18k gold plated

Adjustable to any size
Cons
Slow shipping times

Only available in plated gold, not solid gold or rose gold
Best Engagement Ring Set: Wanda and Vision Ring Set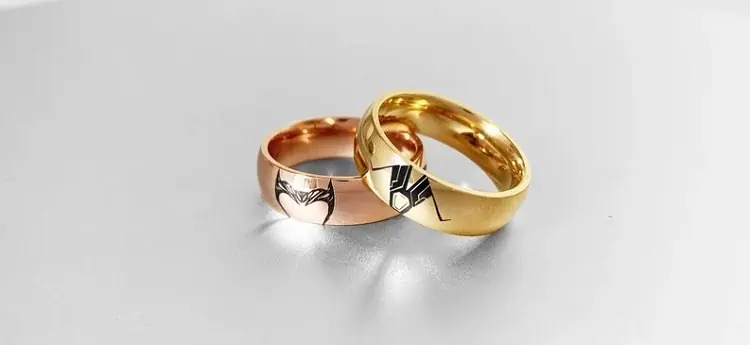 This ring set is perfect for couples who want to show their love for Wanda and Vision's love story. It features one ring to represent Wanda and one for Vision. Each ring is engraved on the inside with the phrase "To grow old in," which is reminiscent of the property map Wanda holds dear to her heart in WandaVision.
Pros
Handmade piece
Engraved message on the inside of each ring that reads "To grow old in"
Cons
Only available in sizes 4-14

Only available in two color options
Best for those who Wear Silver: Wanda's Scarlet Witch-Inspired Ring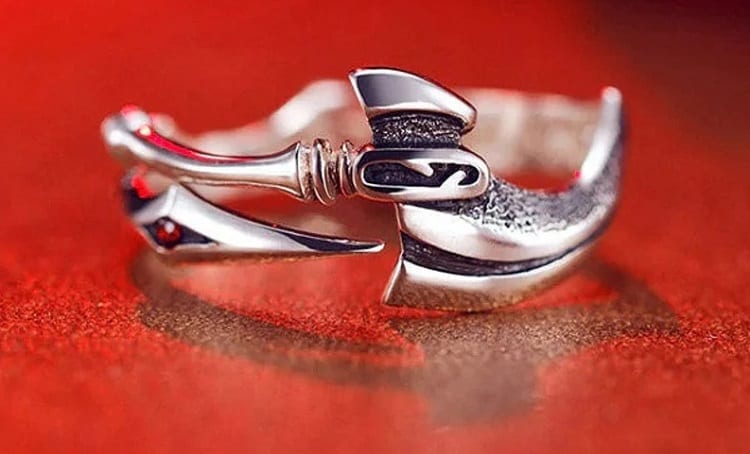 This ring is a design inspired by the fierce Scarlet Witch in WandaVision. It features an angled design in Black Rhodium and Silver.
Pros
A wide range of sizes is available!
Cons
Slow delivery time as it is a handcrafted item

Gift wrapping is available directly from the seller
Best for Everyday Wear: Wanda Maximoff Ring Set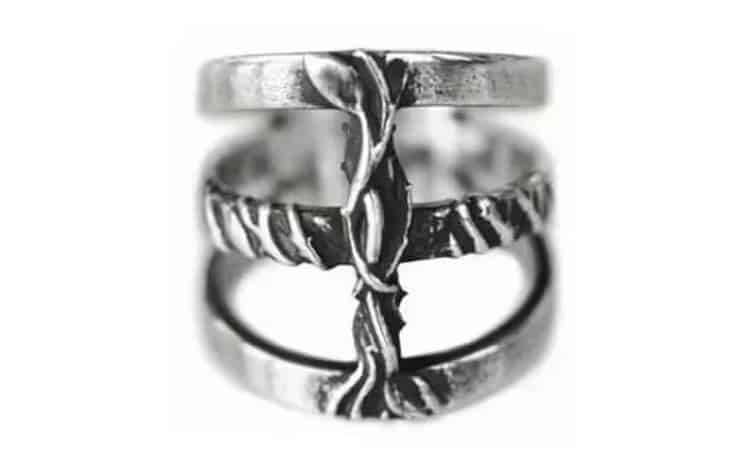 This three-tier ring embraces Wanda's rough and edgy style. It mimics a ring she wears and is offered in a wide range of sizes from 3 to 16.
Pros
Wide size range

Great price point

Personalization is available for this piece
Cons
Best for Stylized Jewelry: WandaVision Inspired Rings
This set of rings is perfect for those who enjoy understated fan merch. These rings represent Wanda's unwavering love for her family and incendiary power. It features two rings, both in gold-plated materials with enamel designs.
Pros
Adjustable sizing

Set of two rings styled to go together

Great price point
Cons
Sold by Etsy but not handmade

Slow processing times
Best for Fans of Agatha: Agatha Inspired Ring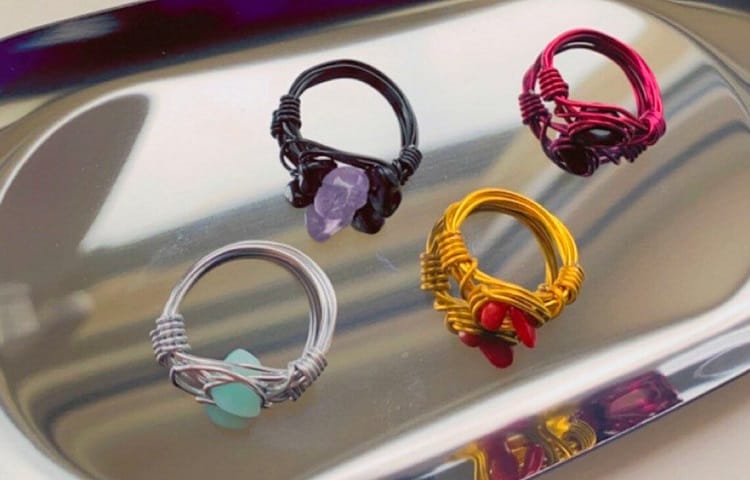 This ring showcases the villain we all love, Agatha. In her signature black and purple tones, this wire ring reminds us that it really was Agatha all along.
Pros
Amazing price under $10
Handcrafted
Cons
Comes in four sizes: Small, Medium, Large, and XL. This may be a challenge to determine your accurate ring size
Best for Fans of the Comics: Wanda Comic Ring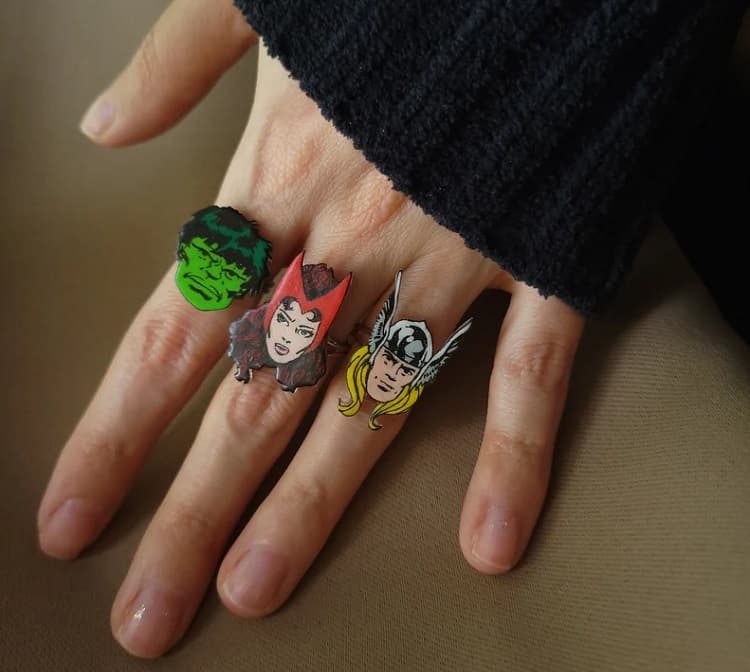 This ring is an illustration of the Scarlet Witch as she is drawn in the original Marvel comics. This look is what Wanda dresses up as for Halloween in the show. I love the old classic feel of this design and its adjustable band.
It reminds me that the Marvel Universe stemmed from some fantastic comics that have been enjoyed for generations.
Pros
Classic Comic book design

Adjustable sizing
Cons
Base materials that may cause irritation to sensitive skin

Slow processing times
Best for the Hopeless Romantic: Minimalistic Wanda and Vision Ring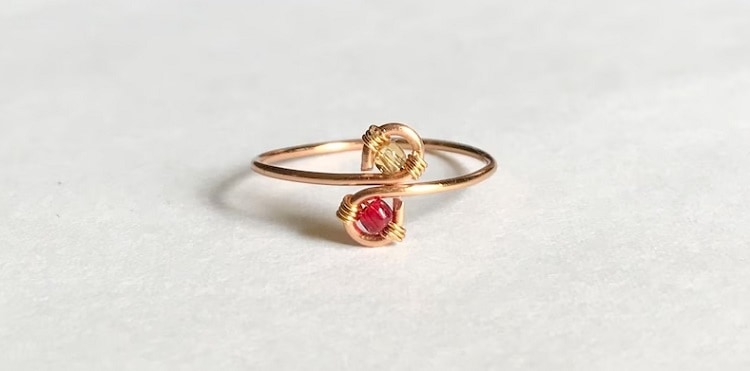 This ring stands out from the rest because of what it represents. It features a red bead representing Wanda, and a yellow bead, representing Vision. These are woven together in an infinity design to highlight the enduring love of our favorite couple.
Pros
Unique design that represents enduring love

Handmade item

Available in a wide range of sizes- 3-15
Cons
Slow shipping times as it is made to order

Only available as gold costume jewelry. No fine or demi-fine option for those with sensitive skin
FAQs
Question: Will there be a Season 2 of WandaVision?
Answer: No, there will not be a WandaVision season 2. Fans were disappointed by this news, and petitions have been signed, but Disney has not made any statement to contradict the decision to not create a Seasons 2 of WandaVision. 
Question: Did WandaVision Film with a Live Audience?
Answer: Yes! The first episode was filmed in front of a live studio audience. This helped create the first episode's nostalgic 1950s TV sitcom era feel. 
Question: What is the Song from WandaVision?
Answer:  The seventh episode of WandaVision debuted the song "Agatha All Along." Once aired, the song was a smash hit that topped the iTunes soundtrack chart. 
Conclusion
Many Marvel fans resonate with WandaVision in ways they never have with a show before. The often-hilarious show managed to also tackle some challenging aspects of the human condition. This fact endeared it to the hearts of many and created a legion of loyal fans.
As one of those fans myself, I love representing my love for Wanda through jewelry pieces that hint at her strength. Wanda and Vision's story will always tug at my heartstrings and remind me of the enduring power of love.
By wearing pieces that highlight my love for WandaVision, I get to carry that reminder with me in my daily life.  
Interested in more WandaVision Merch? Check out these links below for some excellent recommendations!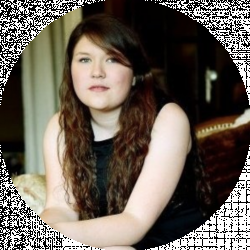 Latest posts by Kendra Gerken
(see all)