Toy Story is a classic film series that has spanned through generations and can be enjoyed by parents and children alike. I grew up watching the Toy Story films with my dad and have loved them ever since. They represent a time in my life when everything was fun. I still sign my cards "To infinity and beyond," even as an adult. I enjoy showing my love for these incredible films every chance I get, and footwear is no exception. The Crocs Toy Story line is an excellent way for kids, and if you're creative, adults, to sport their favorite characters from Toy Story.  
Bottom Line Up Front
If I had to pick one pair of Toy Story Crocs that I think to embody the fun that is the film series, I would choose Kid's Woody and Buzz Clog. They illustrate our favorite cowboy and spaceman duo, Woody and Buzz! The bright colors are great for kids! Luckily, this is the one pair that is still easy to find as it is sold on the Crocs website.
My Top Picks Up Front
Top Tips to Help You Shop
Toy Story Crocs were initially released by Crocs in 2020. Because they have since stopped production of the official Toy Story Crocs, they have become difficult to find. If you're looking for Toy Story Crocs, you should start by checking out these websites:
Selection Criteria
Style
Crocs come in a few primary styles. Clogs, Sandals, and Slides. They also offer decorative add-ons called Jibbitz. While I have found that it is challenging to find Toy Story Crocs in new and unworn condition, plentiful Jibbitz are available to create your own Toy Story Crocs design. The official Toy Story printed Crocs are only available in children's sizes; however, Jibbitz can help any adult create a Toy Story Crocs pair for themselves.
Condition
Because Toy Story Crocs are no longer in production, few pairs of them are available for purchase online. However, I have found that with patience, you can still find almost every style made available for sale somewhere on the internet. If you are looking for new and unworn only, you'll need to focus your search on websites like Amazon or the Crocs website. Check often, and you may catch the pair you want as they come into stock. If you are all right with shoes in varying conditions, you can find more options online on resale sites such as Poshmark and Mercari. When shopping resale sites, double-check the condition and size of the shoes carefully! Resold shoes are often not returnable. 
Cost
Because Toy Story Crocs are no longer actively being produced, their resale value has increased. New and unworn pairs may be listed for higher than their original price on the Crocs website. The most cost-effective options will be used Toy Story Crocs. These can be found on resale websites like Mercari, as discussed in the section above.
Product Recommendations
Official Merch
Best for fans of the Woody/ Buzz Duo
As the only pair of Toy Story Crocs still sold on the Crocs website, this pair is the easiest to find in multiple sizes and in new condition. I love that it features both Buzz Lightyear and Woody. I do wish, however, that there was a more girly option available on the Crocs website.
Pros
Extensive size range available. Sizes range from C4 to J3.
Cons
Only available in one background color, blue.

Only available in the clogs shoe style.
Best for fans of Jessie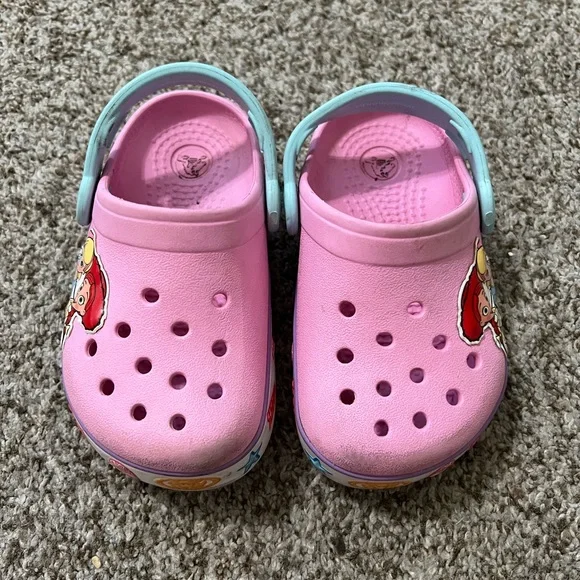 I love the bubblegum pink color of this shoe! It is very girly and features Jessie and Bo Peep from Toy Story 4.
Pros
Back strap to secure the shoe on the foot.

Beautiful pink color theme.
Cons
Difficult to find for sale online.
Best for fans of Woody 
These are one of my favorite pairs on the list because they feature Woody's Sheriff badge and classic cow print. These Crocs clogs embody the personal style of Woody and could make any kid want to say, "There's a snake in my boot!"
Pros
The adorable design mimics Woody's style with cow print and sheriff's badge.

Back strap to keep shoes on even while kids are running.
Cons
Because these are trendy designs and are no longer in active production, their resale costs can be quite high. I have only been able to find this pair of Toy Story Crocs listed at a price higher than the original selling price at Crocs.
Crocs Accessories
One of the most popular Crocs accessories are Jibbitz. These adorable shoe charms can be added to any pair of crocs by simply pressing them into the holes on the tops or sides of the shoe.
Best for those who love little green men 
This Pizza Planet Jibbitz can turn any pair of Crocs into Toy Story Crocs. I personally love the idea of this Jibbitz on a crisp new white pair of Crocs Clogs. The more mature design and color scheme would make this the perfect pick for an adult who always wanted one of those little green, claw-obsessed men.
Pros
Can be added to any size, color, or style of Crocs.

An excellent option for adults because they are not only meant to fit within the holes of child-size Crocs.
Cons
Only available as a Jibbitz add-on piece. It is not sold with Crocs clogs.

Best for fans of Bo Peep
This is one of my favorite Jibbitz packs for Crocs because it includes not only the little green men but Bo Peep as well! They are often overlooked characters that are near and dear to my heart.
Pros
Jibbitz can be added to any style, size, or color Crocs to customize a Toy Story pair for yourself. 
Cons
This pack highlights Bo Peep's style from Toy Story 4; however, no other characters that appear solely in that film are included. I would have liked to see Forky included in this pack.
Best for fans of Rex
This pack of Jibbitz features an underrated trio of Rex, a Little Green man, and Hamm! They are adorable all together and would make a great addition to any pair of Crocs. This is one of my favorite sets because it includes some of the side characters we all know and love from Toy Story.
Pros
Includes Rex, Hamm, and a little green man.

It will snap easily into any pair of Crocs.

Affordable pricing.
Cons
Only available in one size, which may look large or small depending on shoe size.

Best for those who like a lot of options
This pack of Jibbitz comes with 25 Toy Story Jibbitz! That is a lot to choose from. It includes some of our classic favorites such as Woody, Buzz, Jessie, and Mr. and Mrs. Potato head! It also contains characters from Toy Story 4 like Forky and Lotso!
Pros
A large number of Jibbitz for a reasonable price.

Includes characters not found in other sets from Toy Story 4.
Cons
Characters are drawn in a more hand-drawn style than is typical for Toy Story animation. They are easily recognizable as Toy Story characters, but they do appear slightly different from the films.
Best for those who love to quote the movies
This set of Jibbitz includes 28 pieces, some of which are unique from other collections. This set consists of the "Toy Story" logo as well as a Jibbitz that features the quote "there's a snake in my boot." It also illustrates Buzz lightyear in his original look from the films and in the more recent cartoon style of the latest Disney film.
Pros
Includes quotes on Jibbitz instead of just characters.

The "Toy Story" logo is hard to find elsewhere as a Jibbitz.

Low price for 28 pieces.
Cons
Not suitable for children under the age of 3 due to small pieces.
Best for fans of Buzz Lightyear
This is the ultimate set of Jibbitz for any Buzz Lightyear fan. It comes with 12 pieces, each featuring a different illustration of Buzz or something that pertains to him. I personally love the Rocket Jibbitz because it reminds me of his famous tag line- "To infinity and beyond!"
Pros
Composed of waterproof PVC, which will hold up well in wet conditions that Crocs are perfect for.

Includes Buzz Lightyear illustration style from the Toy Story films, as well as the Buzz Lightyear illustration from the new Buzz movie put forth by Disney.
Cons
Higher price for only 12 Jibbitz.
Alternative Brands
These shoes are similar to Crocs clogs in both material and design; however, they are not Crocs branded.
Best for Adult size collage clogs
These are not officially Crocs brand clogs but are inspired by Crocs Toy Story clogs. They feature a collage of all of our favorite characters. They come in a wide range of sizes for both men and women.
Pros
Available in many sizes for both men and women.

Feature the Toy Story logo prominently.
Cons
Not Crocs brand clogs; however, they are similar.
FAQs
Question: Can you Wash Crocs? 
Answer: Yes! Crocs can be washed with a damp cloth or by hand at no greater than warm temperatures. Do not wash your crocs in a clothes washer, as the high temperatures can cause the material to shrink significantly.
Question: Why do Crocs Have Holes in Them?
Answer: The holes on Crocs serve a few purposes. While they are a design choice and offer decoration, they also allow for airflow and the passage of liquids in and out of the shoes. That makes them great for wear during water activities such as kayaking. 
Question: What Year is Toy Story Set? 
Answer: 1995. The first film features Andy's sixth birthday. As he was born in 1989, the first Toy Story was set in 1995. The time period of the film is also evident through cultural references within the film.
Bottom Line
You can't go wrong with the fun and colorful Toy Story Crocs line when searching for merch to illustrate your love for Toy Story. Crocs are excellent shoes for kids and adults alike. They provide breathable comfort as well as a fun, quirky style. Perfect for running errands, gardening, or any active outfit, you will always get a lot of use out of Toy Story Crocs. My only criticism of the line is the lack of characters represented. I would have loved to see a pair that featured Bo Peep, Rex, or Pizza Planet! Jibbitz are great, but a shoe designed around these characters would have been even better. There also was no offering for those who love Sid's darker style. Hopefully, in the future, Crocs will come out with a round two and include more of our favorites! 
Searching for More Toy Story Merch? Check Out These Links Below! 
Toy Story Merch Guide for 2022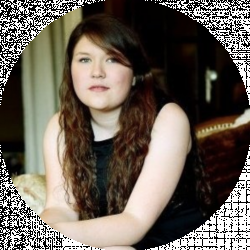 Latest posts by Kendra Gerken
(see all)