Toy Story always makes me feel like a kid again. The joy I found watching the first Toy Story movie with my dad is a memory I will treasure- as Buzz says- "to infinity and beyond." 
Because I cherish Toy Story so much, I often search for merch that expresses my love for my favorite characters. Because it is primarily a kid's franchise, most of the merch is geared towards children. This fact makes it even more special when I come across merch for Toy Story that isn't a toy or only available in children's sizes. 
When the Toy Story x Vans collection was released, I could not wait to purchase a pair or two! Finally, a collection of Toy Story merch that included adult sizes! There are so many great designs to choose from it was hard to pick my favorites! 
Bottom Line Up Front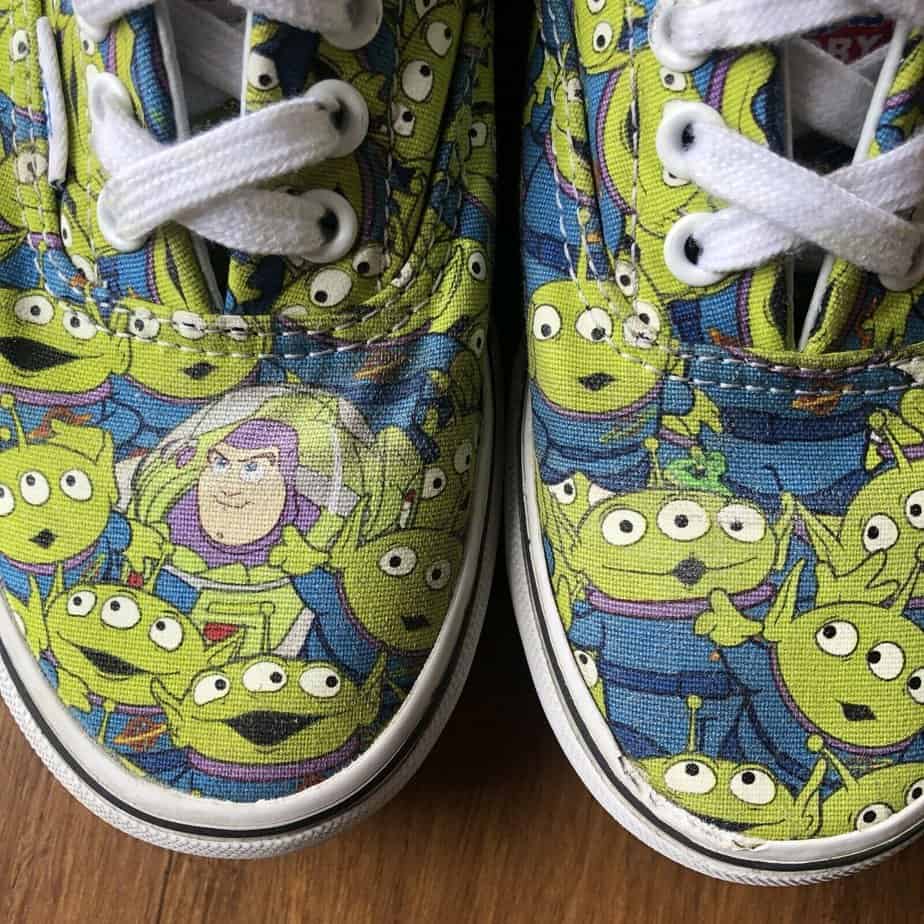 If you're in a hurry and just want to know the best of the best, here's the spot. I think the best pair of Toy Story Vans are these Toy Story Aliens Vans. Not only do they pack a colorful punch, but they are classic Toy Story in a way that only fans will understand. That makes them the perfect pick for anyone, especially if they love "the clawwwwww." While these are my favorite, I have listed some other great options below, just in case!
My Top Picks Up Front
Choosing just a few favorites is challenging because these shoes embody the childlike joy many have found within the Toy Story Franchise. The following four pairs of Vans outshined the rest for me. They are unique and highlight the many different characters of the films. 
Toy Story Vans Shoe Styles
Toy Story was initially released into theaters back in 1995. I was only four then, so I have had almost a lifetime of being a fan of Woody and Buzz. In 2016, Vans collaborated with Pixar to create the Toy Story x Vans collection. This collection was released within Vans' standard shoe style lineup: 
Since 2016, Vans has stopped producing new Toy Story Vans. The collection can now be found primarily online in new and used conditions. They can also be found in thrift stores and resale shops, although those great finds are few and far between! 
Top Tips to Help You Shop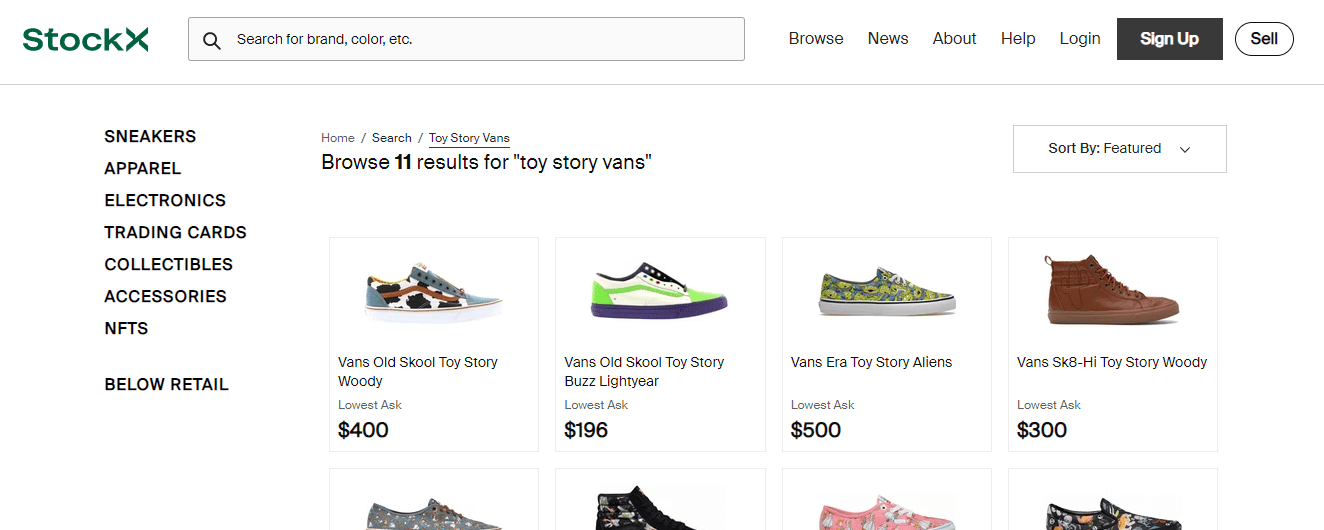 At first glance, it can be hard to find Toy Story vans because they stopped producing them in 2016. However, with some digging, I have found that almost every style made is available for sale online in either new or used condition. They can also be found in both adult and children's sizes. To begin your search, I recommend trying resale websites such as eBay, Mercari, or Poshmark. Websites like these tend to have limited edition merch and are typically required to disclose the condition of the shoe before you purchase. 
Where to shop for Toy Story Vans
Selection Criteria
Condition
Because Toy Story Vans were released many years ago, it is sometimes difficult to find them in brand new condition. For this reason, it is essential to look for used and new condition vans when searching for the merch. If you would like to purchase only new-in-box items, you may want to stick to websites such as Stock X or Flight Club, or Amazon. However, if you are open to used or without original packaging, you may find a wider variety available for resale at websites like eBay, Poshmark, and Mercari. Be aware when shopping resale that items may be in used condition and may not come with the original box. It is also important to note that you may be unable to return these items, so be sure you get the right size! 
Cost
The value of Toy Story Vans has increased since their release because they are no longer in production. The short supply of available pairs has created a high-cost market for the merch. This is especially true for adult sizes and new condition pairs. To attain the most cost-effective options, you will need to shop used at websites such as eBay. If price is not a deciding factor, you will find the most choices in new condition at StockX or Flight club. 
Product Recommendations
These Old Skool style Vans feature Woody's iconic cow print with a denim backdrop. The design team at Vans outdid themselves with this pair of shoes. They included Woody's pearl snap shirt print as the lining of the shoe! The attention to detail for this design makes them one of my favorites and always makes me think of Woody saying, "there's a snake in my boot!"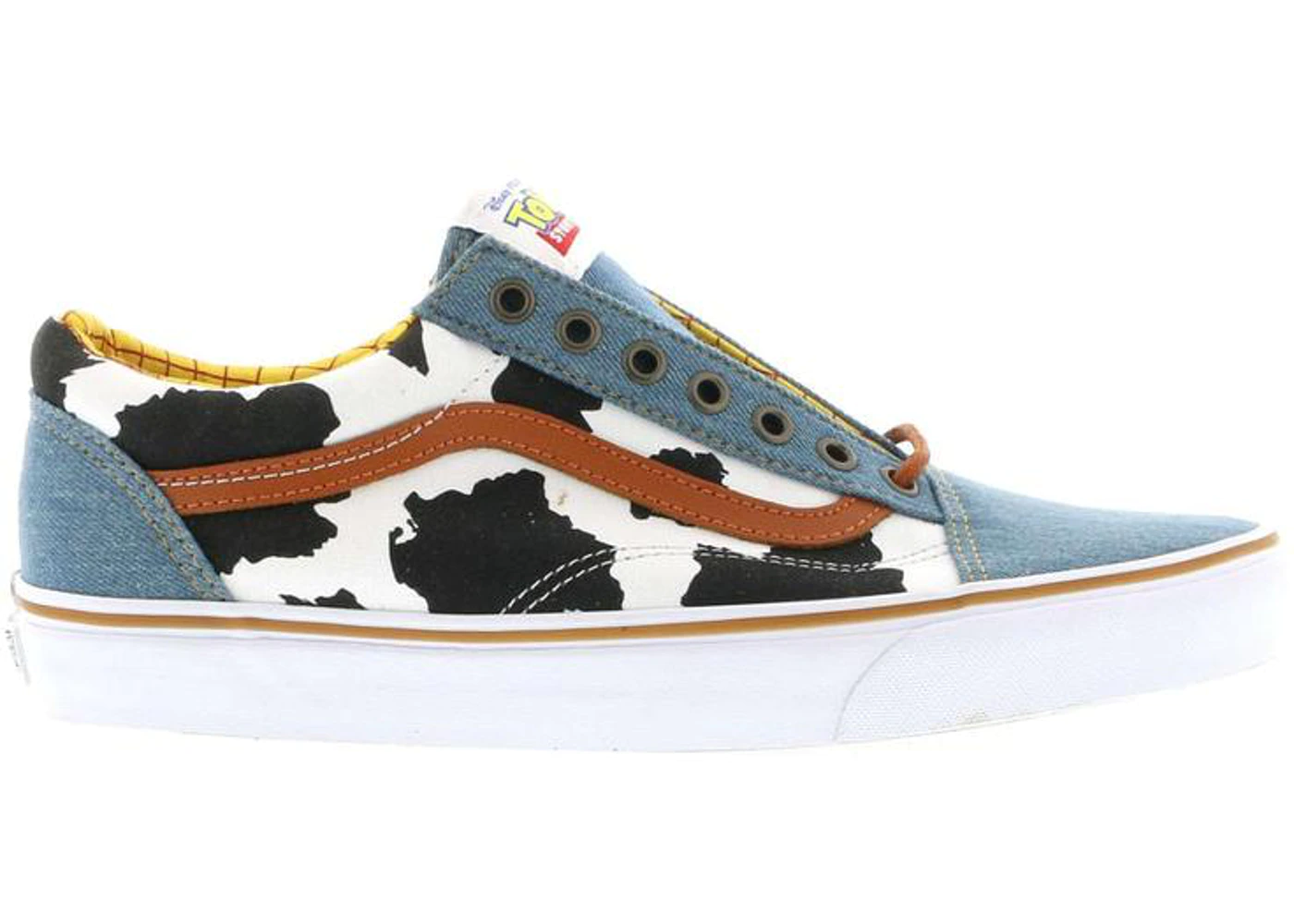 Pros
Great design features with Woody's iconic style

Old Skool shoe design provides extra comfort
Cons
· Only available as a lace-up, no slip-on option for this design. 
Similar to the Woody Old Skool Vans, these feature Buzz lightyear's outfit, but in Vans form. With their classic purple, lime green, and white pattern, they scream Buzz. I am obsessed with the multicolored stitching around the eyelets for the laces. They mimic the color and style of the buttons on the front of Buzz Lightyear's space suit!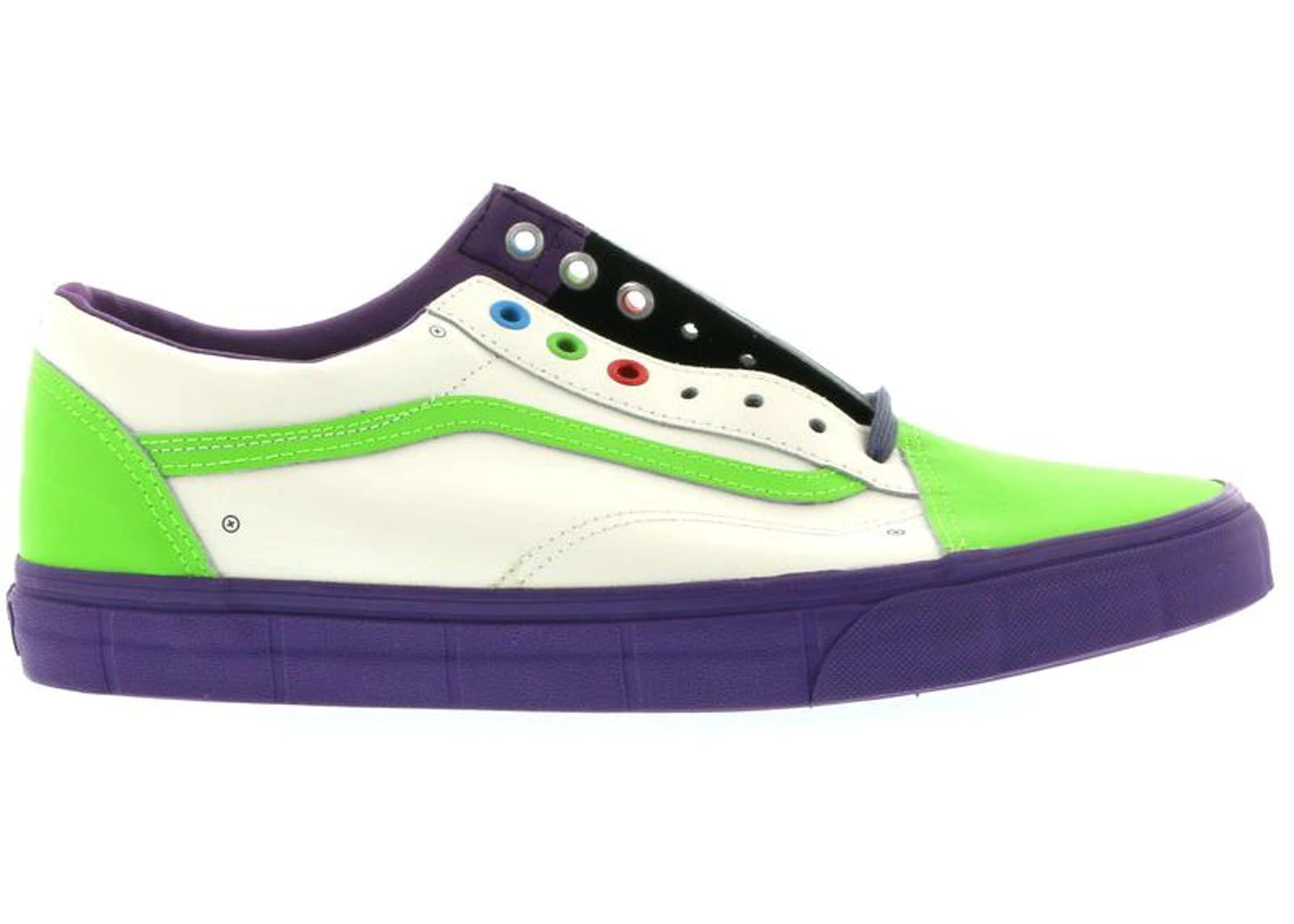 Pros
Purple Sole, which stands out as unique.

Features the iconic Vans "Jazz Stripe." 
Cons
Grey Laces. I wish they were purple to match the sole of the shoe. 
Woody SK8-Hi Vans –

Best for fans of Understated Toy Story Merch
These SK8-Hi Vans are the most understated out of all the shoes. They feature a camel color leather look with a gum sole. The stitching on the side of a cactus, with the Toy Story logo on the tongue of the shoe, are the main indicators that they are Toy Story Vans. My favorite thing about this pair is that they could be worn in more formal locations because they appear more professional and less colorful.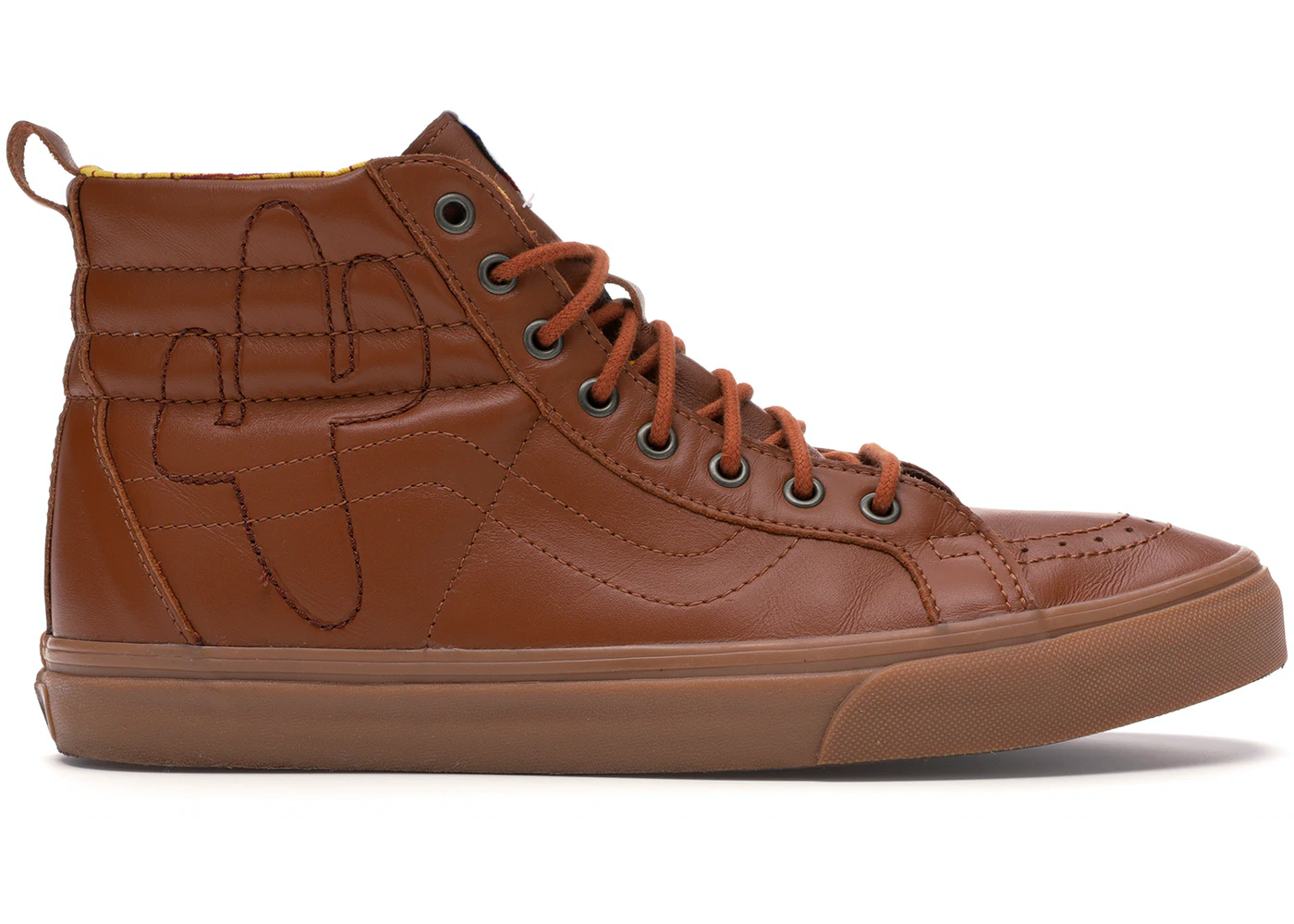 Pros
"Andy" is written on the bottom sole of the shoe. I love that this small detail makes you feel like a part of the Toy Story movies.  

Leather-look material produces a more formal shoe option. 
Cons
Only available in a camel color. I would have loved to see these also produced in black with a gum sole. 
These Vans are the ultimate pick for Buzz Lightyear fans. Their use of the SK8-Hi shoe style allows for more of the Buzz Lightyear in action print to show. The only downside to this pair is the suede material. Suede is easy to stain, and shows wear quickly.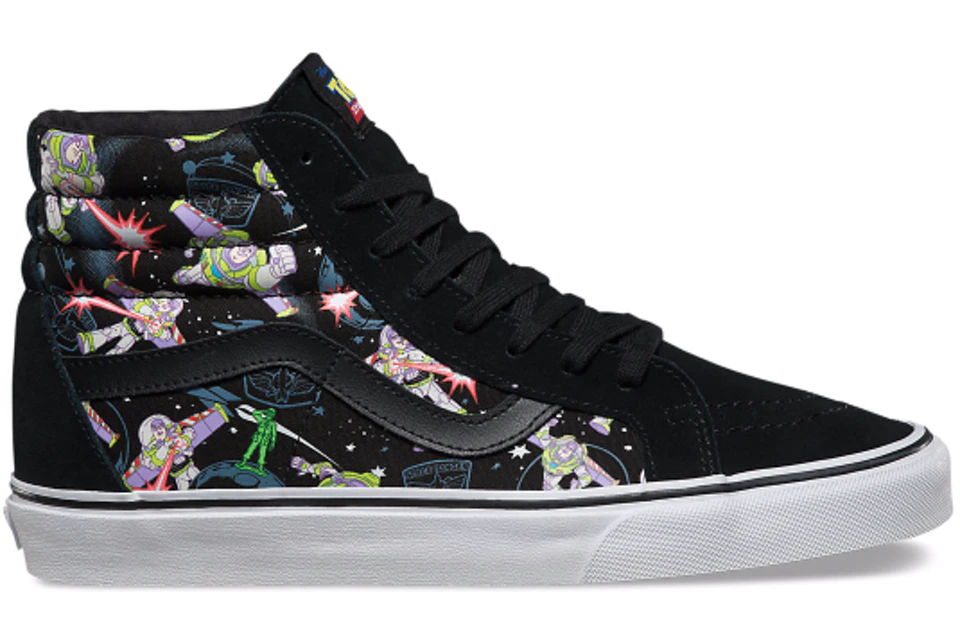 Pros
It shows Buzz Lightyear in action. 
Cons
Suede material that stains easily.

Only available with a white sole. There is no gum sole option. 
When I first saw Toy Story as a child, I was terrified of Sid's mutant toys. As an adult, I have come to adore them. What I didn't understand as a child is that they represent resilience in a way that we all come to learn as we grow up. They may be pieced together and repaired with glue, but they persevere nonetheless.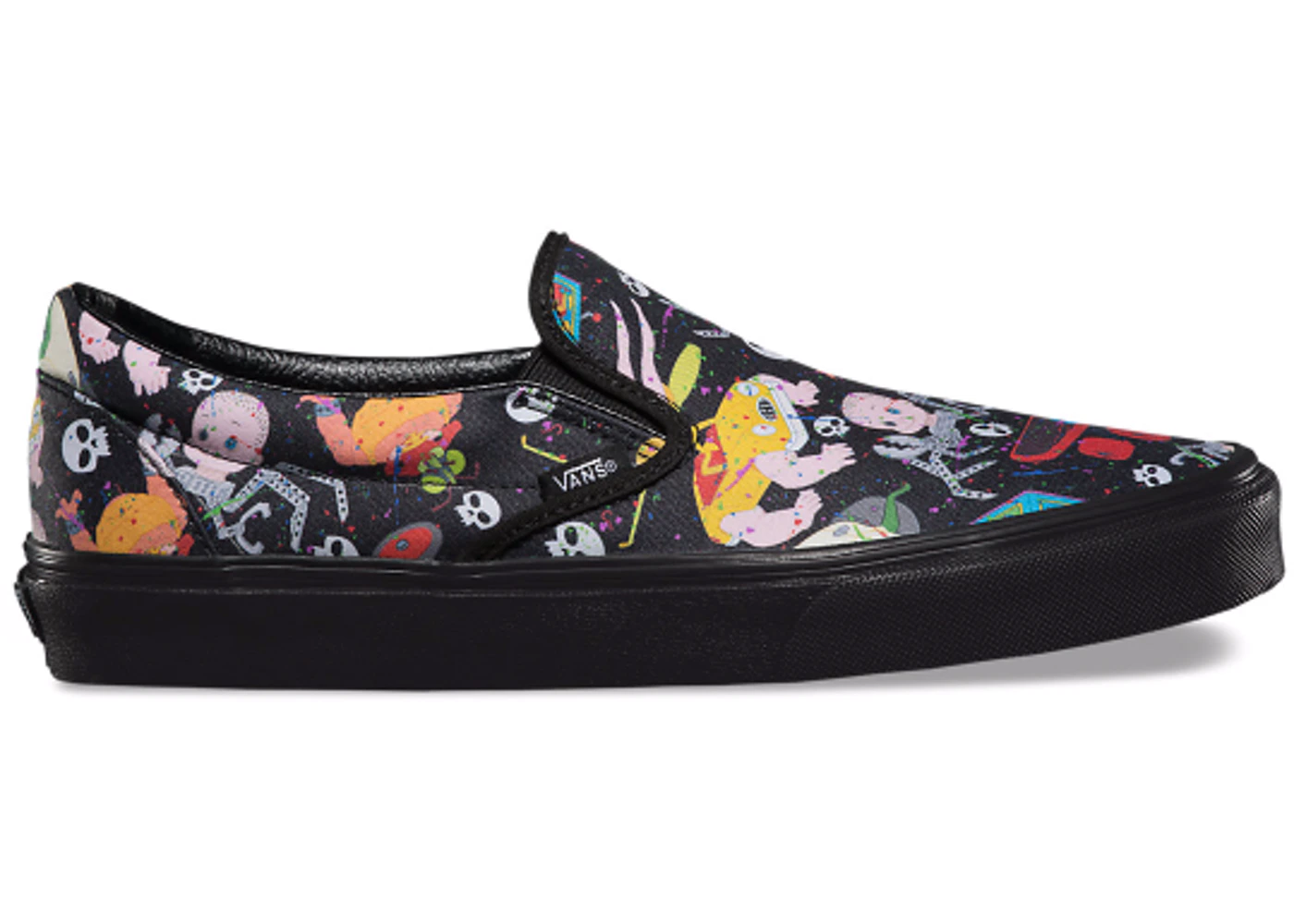 Pros
Overall black style with an artistic arrangement of Sid's toys.

The black sole of the shoe is unique and stands out from the typical white.
Cons
Leather-like material on the inside lining of the shoe often causes irritation to the skin. I always prefer a cloth that is soft and cushioning for the heel. 
Aliens Vans –

Best for Those Who Love "the clllllaaaaaaawwwww"
All right, we have come to my absolute favorite pair of Toy Story Vans. I couldn't contain the smile that spread across my face when I saw these. When I originally saw the lineup for the Toy Story Vans, I was shocked to not see one featuring Pizza Planet. To me, it's one of the most memorable and iconic Pixar creations of all time. When I saw these alien Vans, I was glad to see they at least included the little green men from Pizza Planet! These adorable shoes will have you reaching for "the clllllaaaaaaawwwww" along with the little green dudes.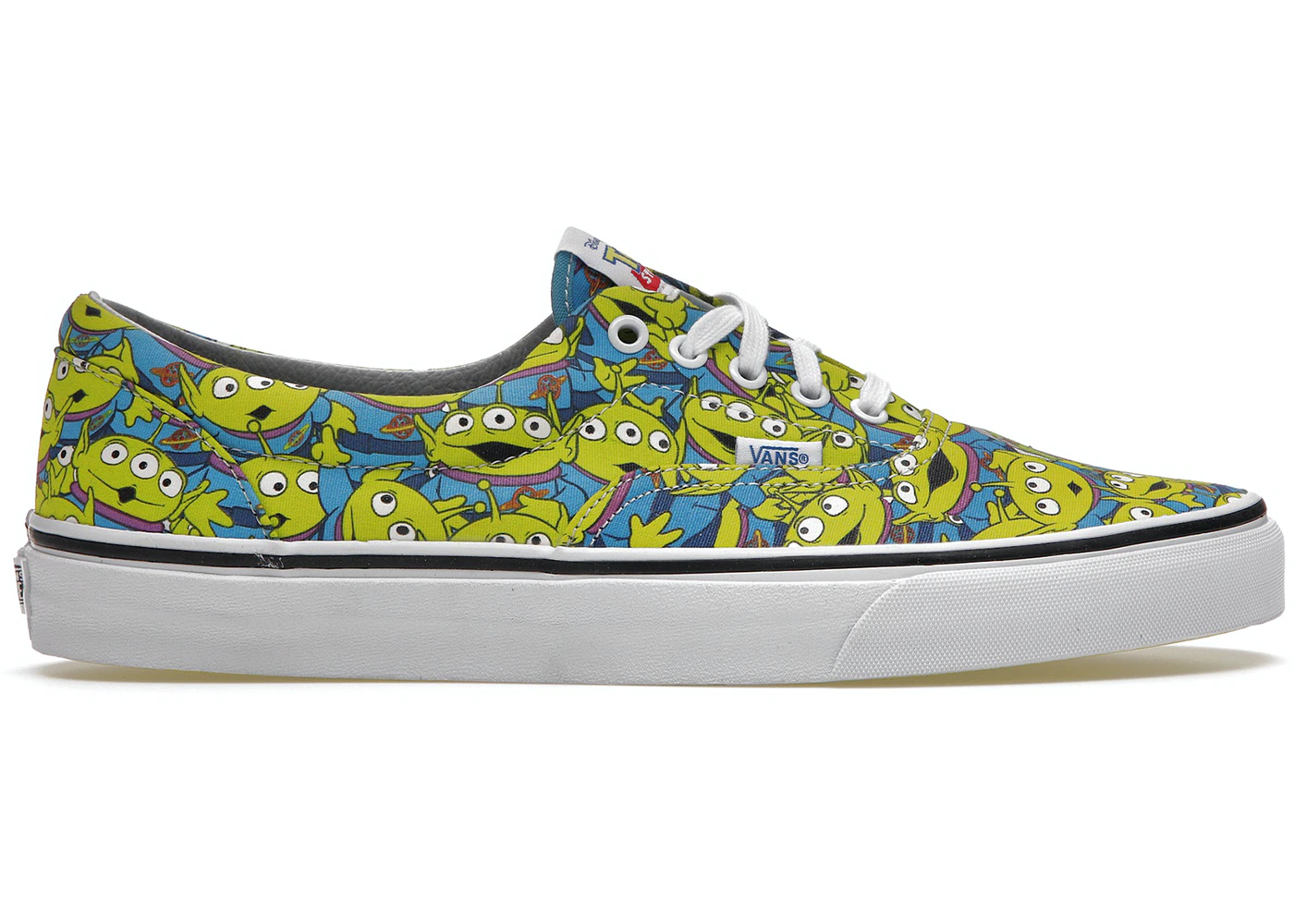 Pros
They feature, in abundance, the aliens from Pizza Planet. They are by far the cutest of all the toys.

Authentic Vans shoe design, which allows a lot of the fabric print to show- which means more aliens! 
Cons
Only available as a lace-up and not slip-on. Because of their bright style, I would have loved to see them available in slip-on as well, as they are the ultimate bright and causal style shoe. 
Finally, a pair of pink Vans! These feature both Woody and Bo Peep on their canvas in authentic style. They scream classic Toy Story as Bo Peep is sporting her original costume from the first movie.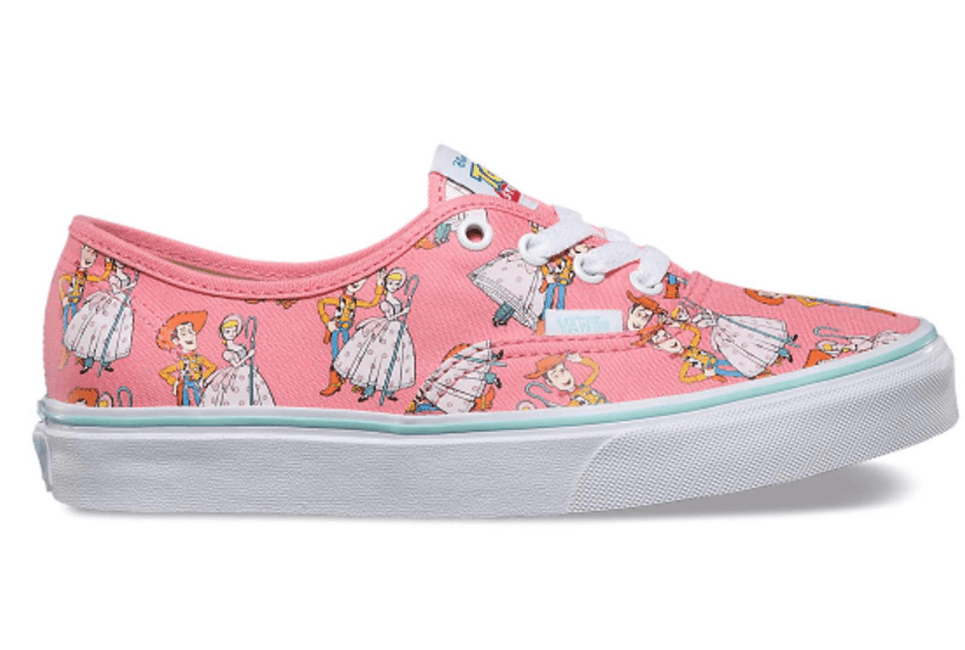 Pros
Teal accent colors add to the bright pink palate to create a fun and flirty shoe.
Cons
Bo Peep is in her original costume, not the one from Toy Story 4. I personally prefer the kick-butt version of Bo Peep from Toy Story 4 and would have loved to see her in that costume. 
These Old Skool Vans feature many of our favorite Toy Story characters together. The Teal background with letter building blocks enhances the childlike scene of this design.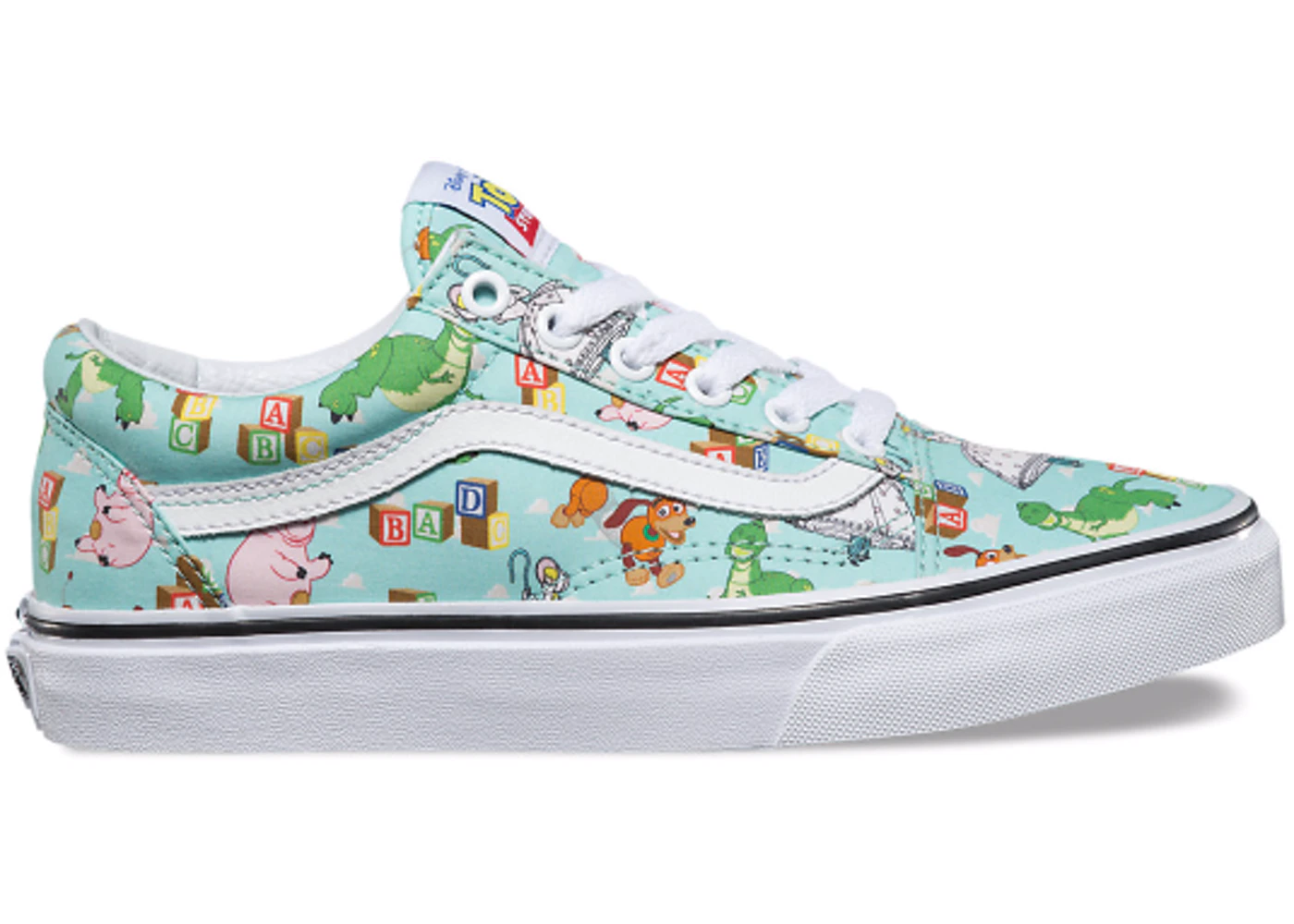 Pros
This pair features the "Jazz Stripe" that identifies these as Vans at first glance.

They feature Rex, Bo Peep, Hamm, and Slinky Dog
Cons
They leave out some fan favorites, such as Mr. Potato head and Jessie. 
Bo Peep SK8-Hi Vans –

Best for Those who Love Bo Peep's frilly Pink Style
Bo Peep SK8-Hi Vans are mainly pink and polka-dot. They also have a light blue detailing with lace which enhances their Bo Peep costume style. While I do love these, I would have rather seen a pair of Vans that were based on Jessie instead. Bo Peep is already featured in another pair, and none include Jessie.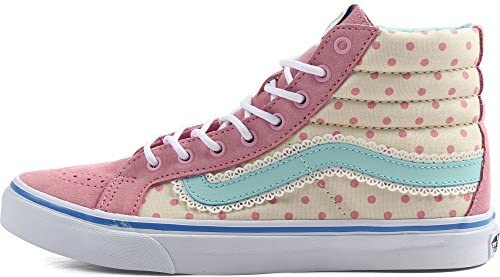 Pros
Beautiful pink and blue color pattern with lace accents. 

Understated design that is not overwhelmingly Toy Story-themed, which would allow for everyday wear. 
Cons
A large portion of these shoes are made of a light pink suede material, which is easily stained and damaged. 
Although not part of the original Toy Story x Vans release in 2016, these kids' vans are adorable and feature lots of our favorite characters.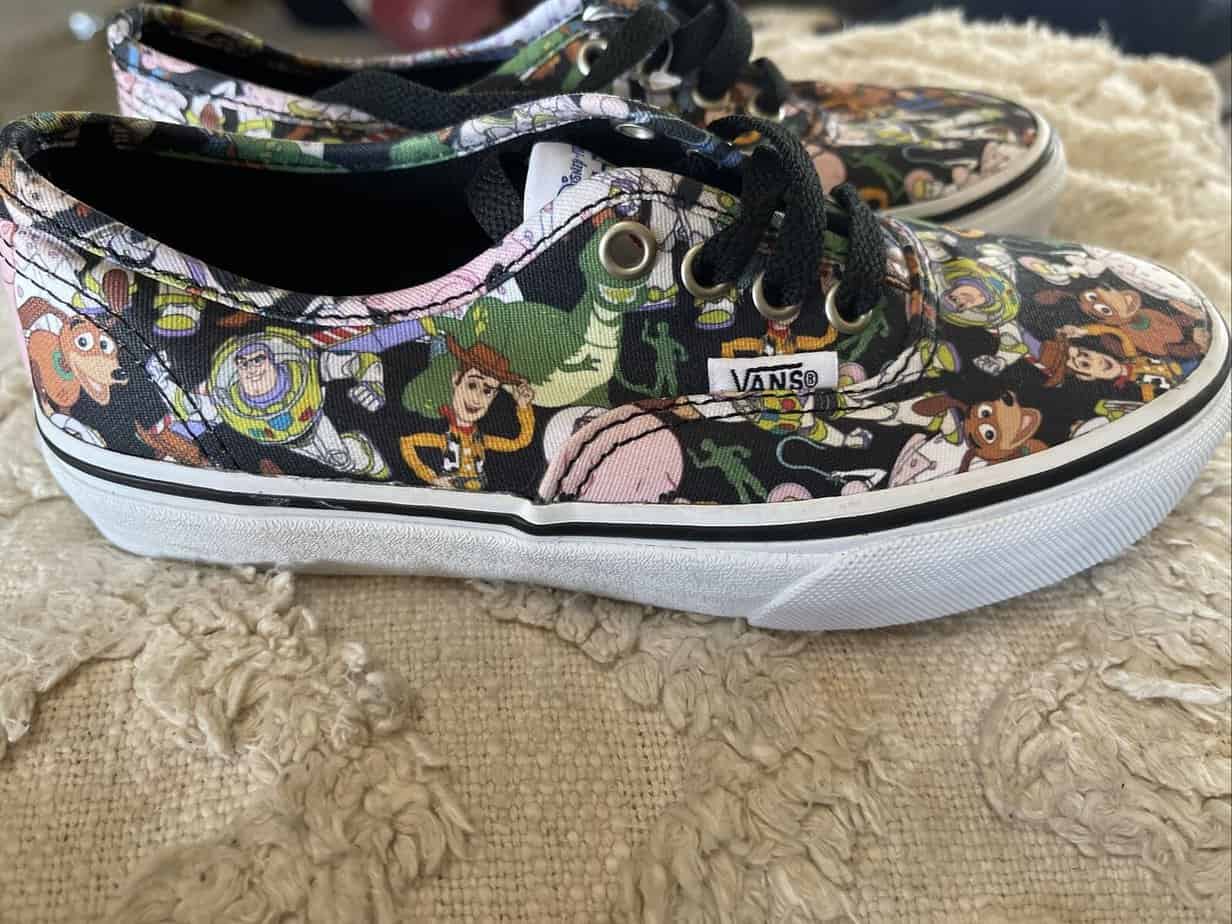 Pros
Features many of the characters, including Woody, Buzz, Hamm, Rex, Bo Peep, and Slinky Dog.

Comes in the Van's most popular shoe style, authentic. 

Only Toy Story Van that features the Army men. 

Features "Andy" written on the sole of the left shoe. 
Cons
Does not include characters such as Jessie, the Aliens, or Mr. Potato Head. 

Only available with a white sole, no black or gum sole option. 
The official Toy Story x Vans line does not include any Pizza Planet style shoes. When I think Toy Story, I always think of Pizza Planet. Luckily for us, there are some very talented artists online. These are custom hand-painted slip-on Vans that are precisely what I was hoping to get from the official Vans collection.
Pros
Can be commissioned to feature any of your favorite Toy Story characters or places. 

These, in particular, feature the classic Pizza Planet logo but also an Alien reaching for the claw! 
Cons
Because these shoes are a work of art that take many hours to paint, they can be much more expensive than the Toy Story x Vans collection.

Delivery time on custom-painted shoes can be prolonged due to the hours of work they take to complete. 
Just like the pair listed above, these are hand-painted vans that can be customized to create whatever the kiddo in your life wants! This particular pair goes above and beyond with its glow-in-the-dark paint to accentuate Buzz Lightyear.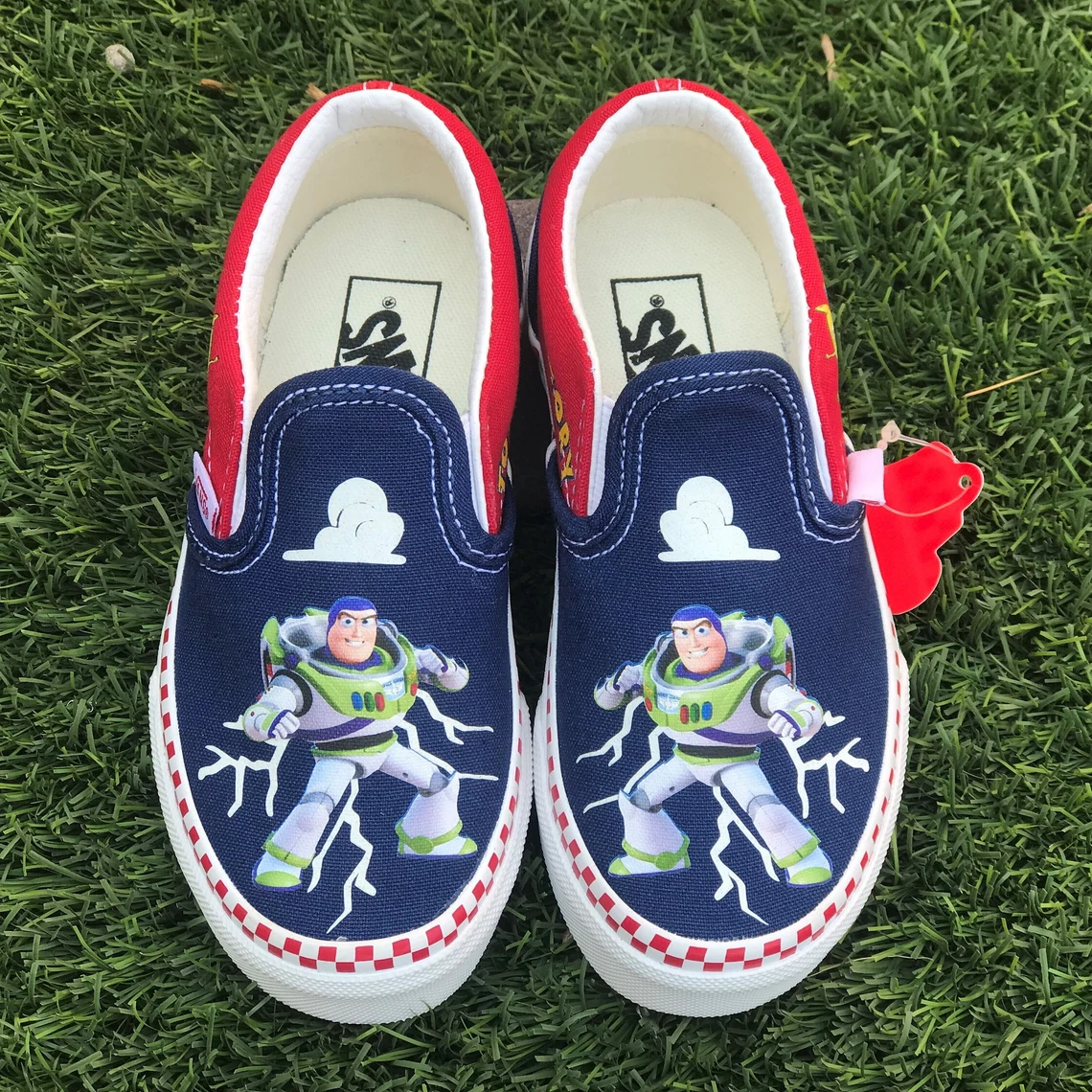 Pros
Fully customizable. Kids can choose any character or design they want! 
Cons
Expensive.

Slow turnaround time. 
FAQs
Question: Will There be a Toy Story 5?
Answer: At this time, there are no concrete plans to create a Toy Story 5.
Question: Which Toy Story is Barbie in?
Answer: Barbie was featured in Toy Story 4.
Question: Are Toy Story Toys Real? 
Answer: I wish. While Woody and Buzz won't be coming to life and running around town anytime soon, they are based on real toys. Woody was inspired by the Howdy Doody Puppets from the 1940s. Slinky Dog and Mr. Potato head were both children's toys released in the 1950s. While not officially confirmed by Pixar, it is believed that Buzz Lightyear was based on a Navy officer G.I. Joe toy, which was first released in 1984.
Bottom Line
When searching for merch to show off your love for the Toy Story films, you can't go wrong with the Toy Story x Vans collection. Not only are they a colorful statement, but they embody the childlike joy that has captured the hearts of Pixar fans for generations. My love for Toy Story started with seeing the first film with my dad, and I hope one day to see all of the films with my children. They appeal to the child in all of us, no matter our age. Wearing merch for my favorite fandoms always brings more joy to the everyday mundane, and Toy Story Vans are no exception to that. I can't help but smile when I see "Andy" written on the bottom of my shoe.  
Want to Find Other Toy Story Merch? Check out These Links Below! 
Best Toy Story Shirt Ideas and Picks
Best Toy Story Merch Guide [2022]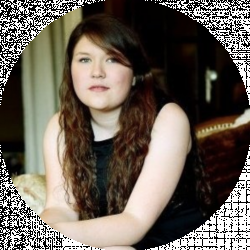 Latest posts by Kendra Gerken
(see all)