I grew up with Toy Story and Toy Story grew up with me. I was four when the first movie hit theaters one November 22, 1995. I graduated from high school and left for college along with Andy in 2010. The third movie actually premiered roughly two weeks after I crossed my high school football field and left childhood behind. At least, I thought I was. Yet, I noticed along the way that the habits I picked up as a child after watching Toy Story are still here.
Do toys move around when we're not looking? I think so, and you'll have a hard time convincing me otherwise. Are they sad when they move homes? When Andy gave his box of toys to Bonnie, tell me it didn't warm your heart. I remember handing off a box of my own childhood memorabilia to one of my older nephews with a pang of sadness as I saw them leave me.
But rest assured, I have the same Woody and Buzz actions figures that came into my life when after I saw the first movie. If you're wondering, they're still thriving.
Then when Toy Story 4 came along and I had little a nephew to watch it with, I got to see his two-year-old eyes light up as I hope mine did the first time I watched the films. Getting to appreciate Forky's humor from an adult perspective while sharing the same laugh with someone so young is truly special, and proves to me that Toy Story really is timeless.
We all know the original characters: Woody, Buzz Lightyear, Jessie, Mr. and Mrs. Potato Head, Slinky Dog, Rex, Hamm, Bo Peep, and the host of other toys that have made their way into the toy box along the ride. All individually playable characters, but now with a twist. I've taken a look at one of my childhood-favorite movies and made a comprehensive list of the Ultimate Toy Story Toys.
Bottom Line Up Front
A franchise with a well-known theme song, lovable characters, and a storyline that has aged impeccably, it would be foolish to think that there wouldn't be a barrage of toys to play with, collect, and enjoy. 
My top pick for the ultimate toy is Fisher-Price® Power Wheels® Disney® Pixar Toy Story Jeep® Wrangler. You might think, what a surprising choice for someone who's about 2.5 decades too old to ride it, or way taller than even feasible to dream about sitting in it but hear me out.
I didn't have one as a kid (let me tell you, I grew like a weed) and the ones I remember from back then to the toys coming out now are night and day. The number of subtle bells and whistles that are on this thing is incredible. I envy the kids that get to play with these now. But, I also have a license and the ability to drive an actual car. 
Know what though? I don't care. I still want it.
My Ultimate Toy Story Toy Top Picks
Selection Criteria
First and foremost, I take licensing into serious consideration when I'm looking at any franchise for merchandise, toys, collectibles, etc. Doing your homework for licensing is critical, and companies like Disney and Pixar do an excellent job of separating the real from the knock-off products. That's my most paramount concern.
Price is always something I study. Sales are a blessing when it comes to larger toys, but you pay for the quality, and I see it as a worthwhile investment. Plus, I'm doing this homework for you, trying to find the most cost-effective ways to find the best toys to celebrate Woody and the gang off the big screen.
The Ultimate Guide
Interactive Toys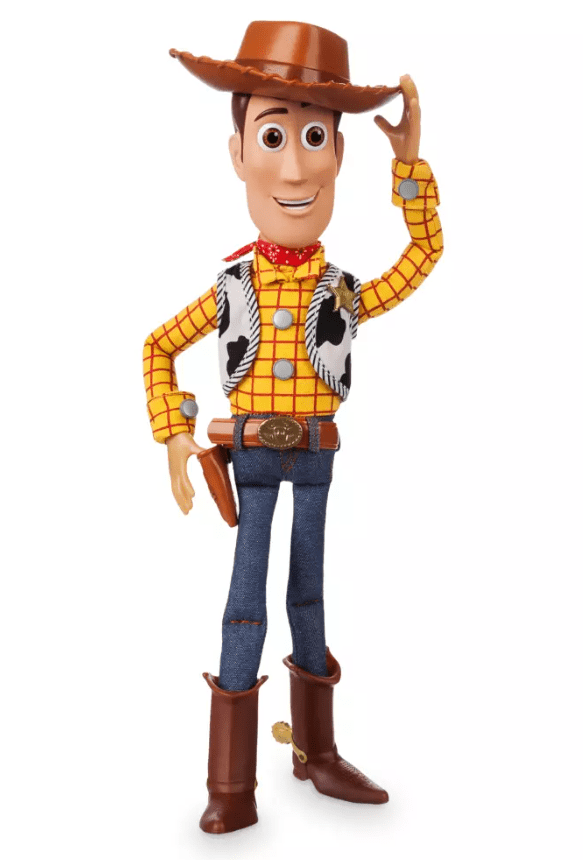 No Toy Story toy collection is complete without Sheriff Woody. This 15" soft body constructed toy comes with a detachable hat (my Woody action figure from childhood did not, and I'm still a little upset) and has a pull string to hear well-known catchphrases. There's also a self-stick fabric that covers the battery pack; little hands can't get in. The interactive mode allows Woody to detect other Toy Story interactive toys nearby and those phrases become conversations between the toys.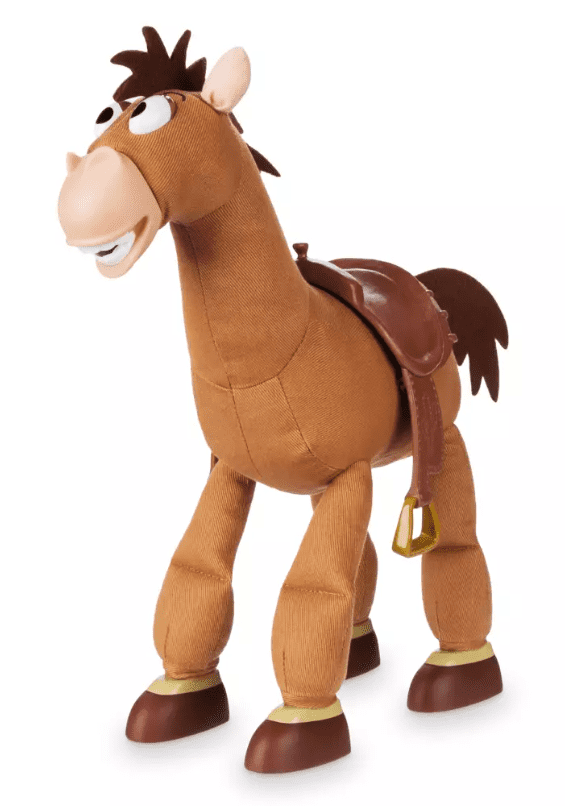 Where there's a Sheriff, there's a trusty steed. Such is the case with Bullseye, the endearing horse. The interactive setting allows for communication between other interactive toys. An ear press produces a galloping sound, and the soft body construction holds up well with molded eyes, muzzle, hooves, and a saddle. With his usual Bullseye grin and loyalty ready to help Woody or Jessie at a moments notice, Bullseye rides again.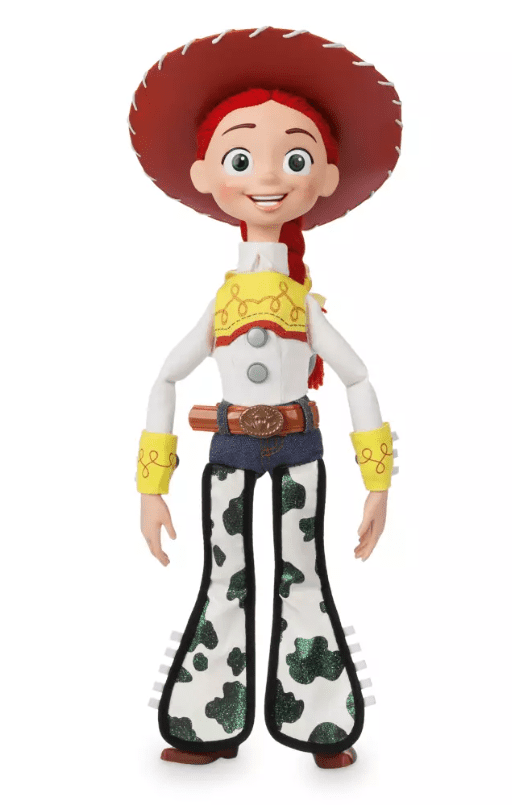 Rounding out the Wild West crew, we have Jessie, our yodeling cowgirl. Soft body construction with a detachable hat, braided yarn hair, and trademark grin make up this action figure. A pull-string to enable catchphrases, and like all other interactive toys, if she's near one of her companions, she starts talking as fast as she does in the movies. Let's also give a round of applause to the leading lady of Andy's toy box, holding her own with the Sheriff and Space Ranger, taking no guff from anyone.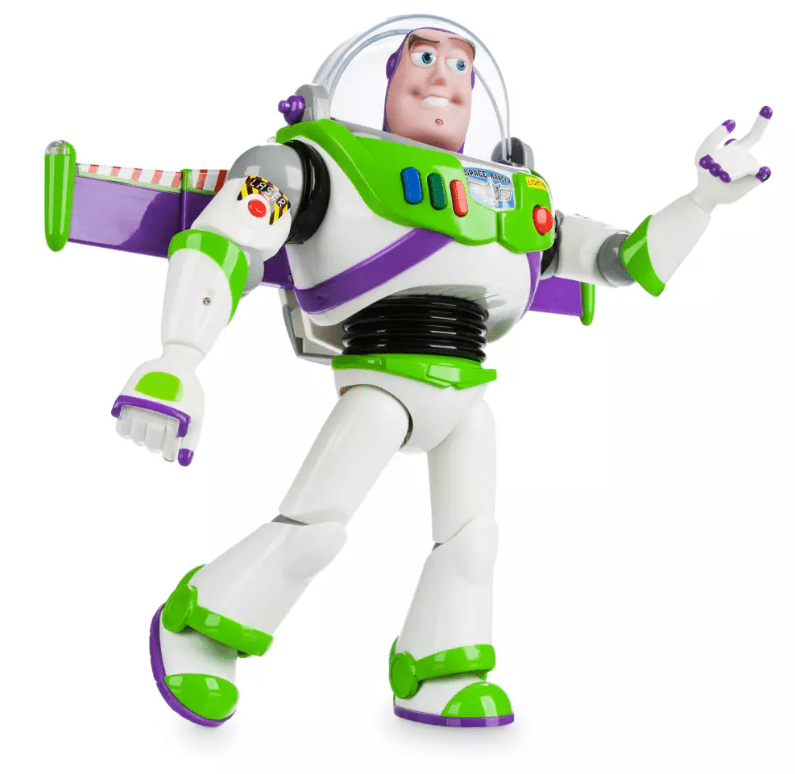 Space Rangers do many things. They search for intelligent life, fall with style, have a little karate knowledge, and are always ready to talk. Buzz Lightyear is no exception as the most famous Space Ranger of them all. His buttons are interactive, substituting a pull-string to repeat famous catchphrases, and his arm lasers are ready to aim and fire with sound.
His wings light up, and Buzz has a button to get his karate chop chopping. Another button retracts his helmet, and if that isn't enough, near his pal Woody or any of the other interactive toys, Buzz is happy to strike up a conversation.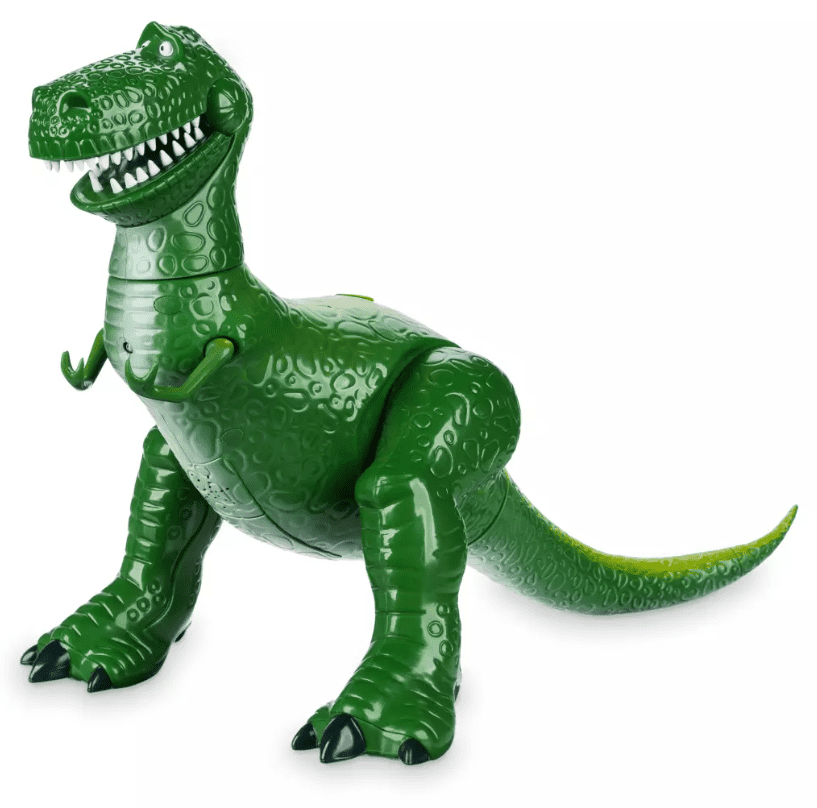 Oh Rex, you relatable neurotic dinosaur, it is impossible not to adore you. With the push of a button, Rex comes ready with 11 catchphrases to keep you laughing and entertained while marveling at the fully articulating jaw, neck, shoulders, and his tail joints. Rex is made entirely out of plastic and is freestanding.
One of his interactive features includes a phrase within his chatting feature that won't kick in unless he's near one of his other interactive friends. Rex needs to be by his buddies, and once he's within talking distance, the fun doesn't stop.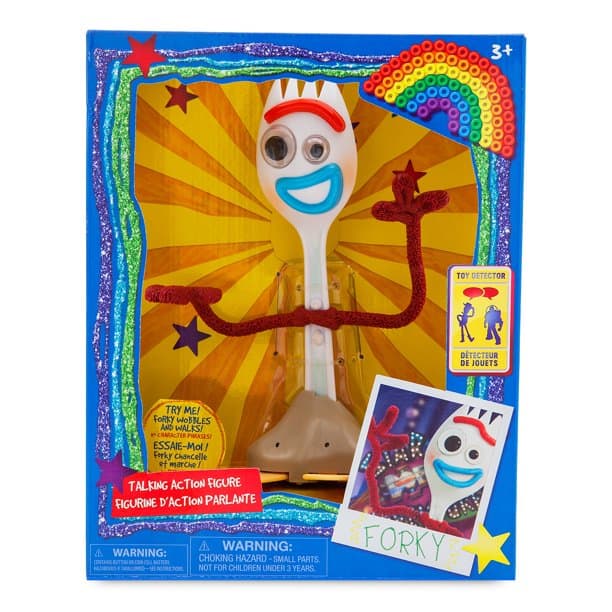 Everyone's favorite quirky spork is here with a dozen recognizable phrases; push the button on the base to hear them. Like all the other Interactive toys, Forky needs to be near his friends to engage in discourse. We know Forky is a sensitive guy, so perhaps we forget to mention his small stature amongst his buddies. Made from plastic and metal, Forky is the sentient forgotten craft we didn't know we needed.
LEGO Toy Story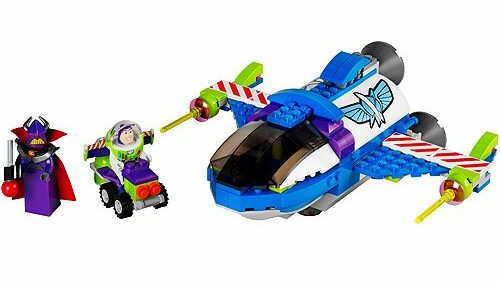 In a mere 257 pieces, you can defeat Evil Emperor Zurg with Buzz Lightyear and his Star Command Spaceship from the skies. If a land battle is more your forte, you can deploy his moon buggy and get to work. Either way, Buzz Lightyear is here to save the day! Be careful, Zurg can fire back, but he's no match for everyone's favorite Space Ranger. Measuring 7" tall and for ages 7+, this is a quick build for endless fun.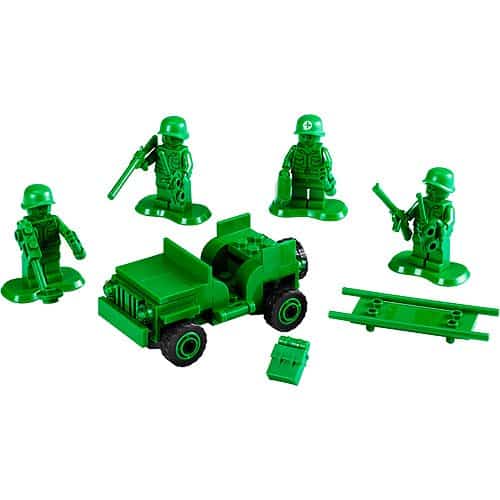 I always enjoyed the humor the Army Men brought to Andy's room outside the toy box. The Army Men are a mini-figure set with one buildable, coming at 90 pieces. While it can work as a standalone, the potential for adding them into a larger set is always there. Four mini-figures are included: one toting a firearm, a doctor with medical supplies in a case, a soldier with a metal detector, and capped off with a communications man equipped with a walkie-talkie and backpack.
The buildable Jeep comes with a medical stretcher, and the entire set is the classic Army green.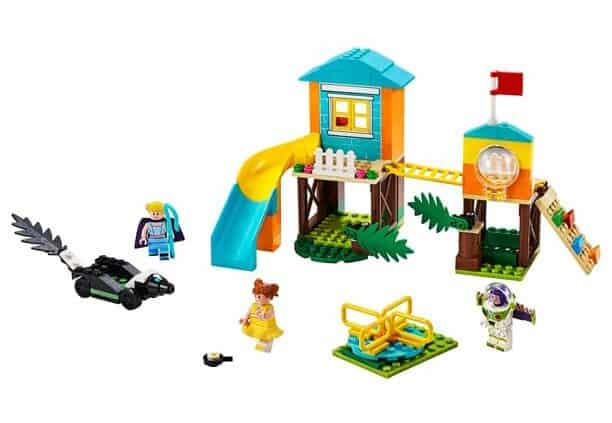 Start a fun hobby young and never be bored. For first-time builders, there's the comfort of the Starter Brick Baseplate, allowing them to ease into a sizable build for the young ones. The 139 pieces include the parts required to build a multilevel playhouse with a kitchen, slide, and bridge, moveable bushes, and a climbing wall for maximum fun and a merry-go-round.
Included mini-figures are Buzz Lightyear, Bo Peep, and Gabby Gabby. This set comes with accessories like Bo Peep's crook, and playable items for the kitchen. Set 10768 is featuring new sustainable plant-based plastic trees, part of LEGO's commitment to greener packaging.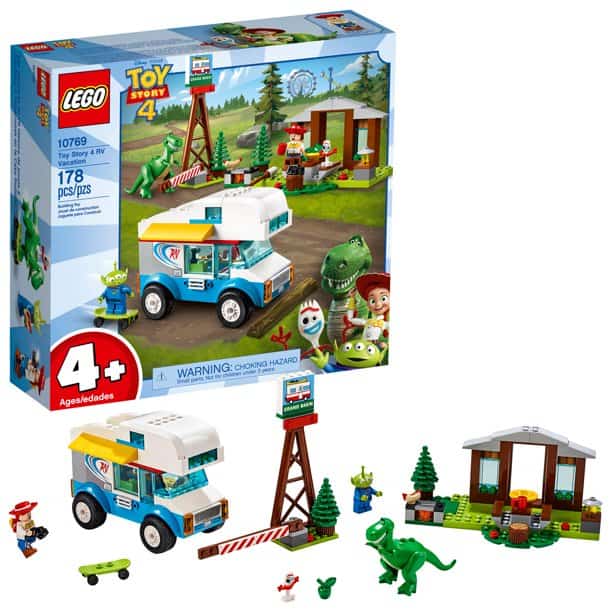 I dream of the day when I go camping, and I happen to come upon a dinosaur in the spot next to mine. Until that day arrives, I'll be glad there's a 178-piece LEGO set for ages 4+ to build as a simulation. As starter sets go, this one is cute and fun, coming with Jessie and Alien mini-figures and Rex and Forky figures.
Build the RV inside-out with a toilet, sink, bed, and ladder under a removable roof that little hands put together. Fun accessory elements abound, the sort of things everyone would want to find around a campfire, rounding out a child-friendly, enjoyable build.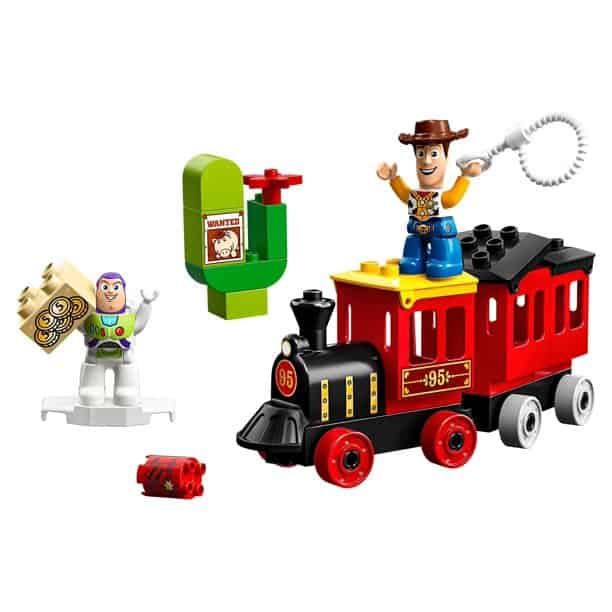 DUPLO is for ages 2+, so little minds can begin working on the steps to building big sets in the future. Toddlers can play with the steam trains opening roofs, move the cactus around to suit the day, and play with Woody and Buzz. In 21 pieces, a little world comes alive for the young brickster, and there are fun accessory elements to get the creativity going. Coming up with their storylines won't be hard for the preschoolers playing with this set!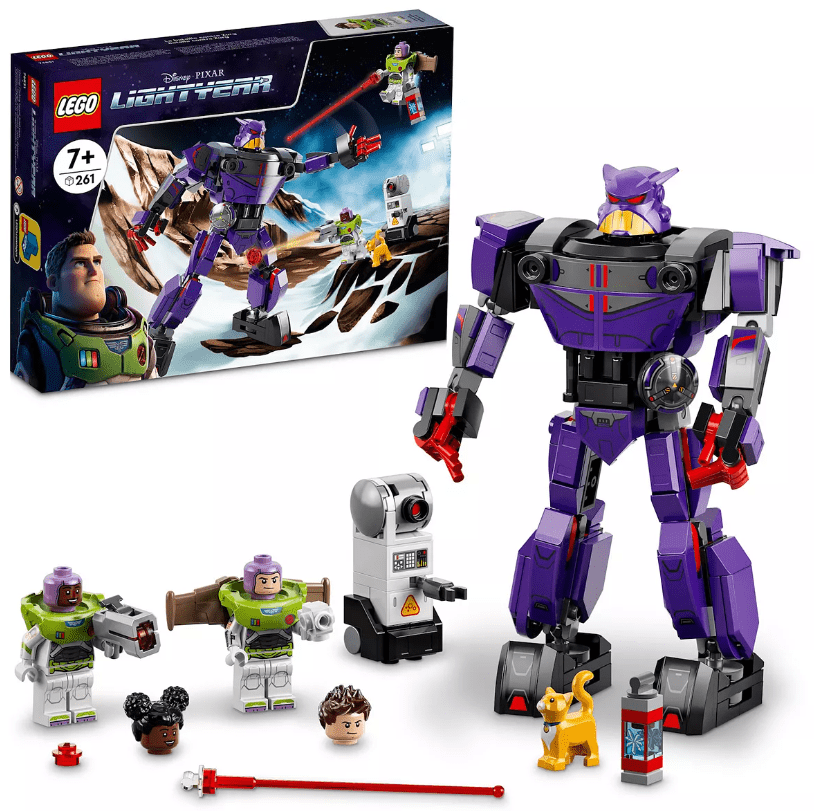 Zurg you silly goose, why are you trying to steal Buzz's fuel cell? Whatever went wrong between you guys can be fixed without a laser… I think. If I'm wrong, this LEGO set comes ready with a wrist laser, a stud shooter, and a blaster. I'm told fighting isn't the best way to resolve issues, but it seems like Zurg and Buzz have some beef that goes way back, and who am I to stand in the way of compromise?
261 pieces allow you to bring Zurg to life, along with two mini-figures and a robot cat. Posable, pliable, playable, powerful.
Everyone man your stations and get to your posts! We have fuel cells to save, and since this set makes them removable, all the more need for us to pay attention and band together! Buzz and his crew are there in 3 mini-figures, a robot cat, and three weapons.
The cockpit opens and the fuel cell, as I said before, is removable. Since Zurg is bound and determined to get the cell away from us, build the spacecraft and put it on the display stand so we can admire it as the model it is and go about saving the day! 
Rainy-Day Puzzles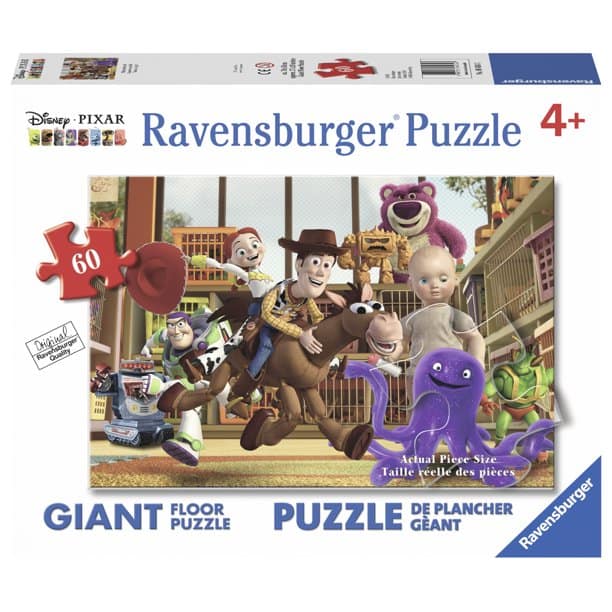 Call me old-fashioned, but I like a good puzzle. Made by Ravensburger, one of the best puzzle creators out there, created a 60-piece floor puzzle for a great rainy-day activity. Featuring the fan-favorite friends and some questionable characters, plus the one-eyed doll of my nightmares as a child each interlocking detail is sure to produce hours of fun.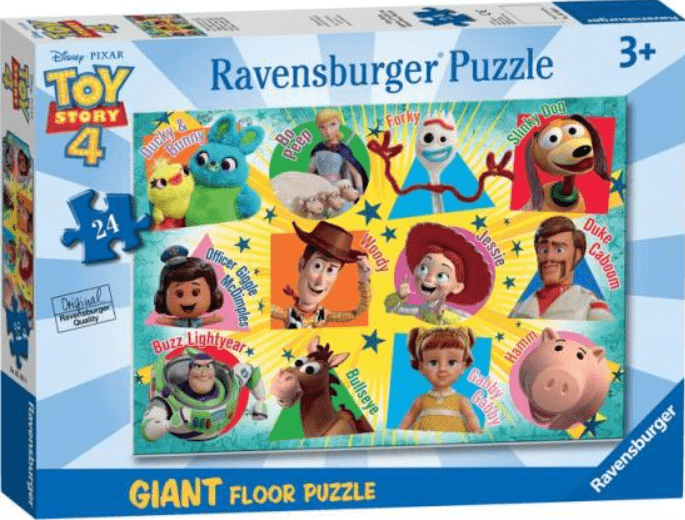 I tend to see puzzles as a rainy-day activity, something to stay entertained while waiting for the sky to clear up and the sun to come back out. I think a giant floor puzzle is a way to go. A slew of characters made by Ravensburger exclusively for kids, this is sure to brighten up the playroom and keep little eyes off the TV. Working on dexterity while naming characters from the range of films, what could be better?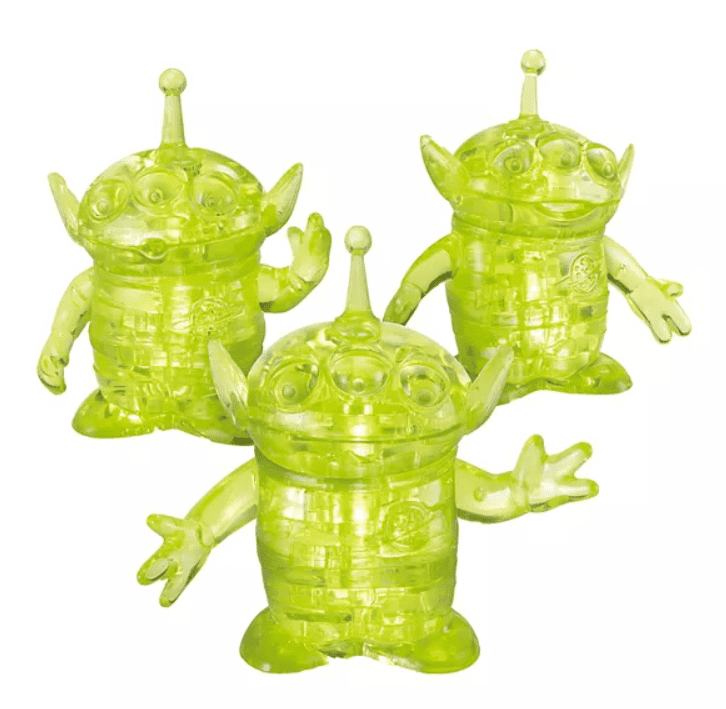 Are you in need of a unique statement piece? I've got what you're looking for. Three little green dudes with a claw obsession can be built in 51 pieces. What do you do with them? Glad you asked because I'd love to tell you. I have no idea. As far as I can tell, you build them, and then they look really cool; pretty much what most puzzles do these just happen to be able to stand up on their own. 
Outdoor Toys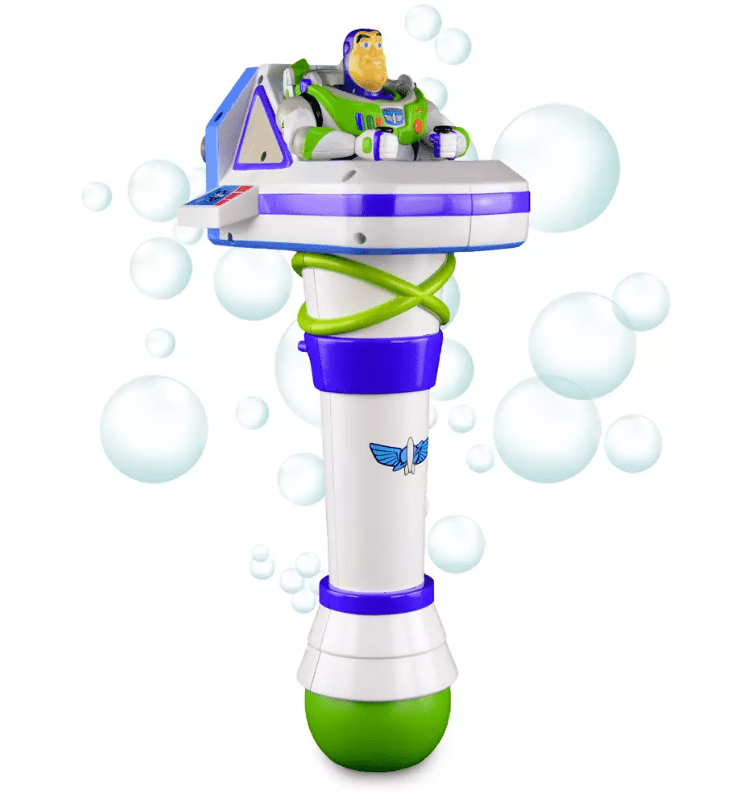 As Buzz sits in his Space Command ship, the easy-grip wand, is made to wave around and send soapy bubbles soaring through the sky. Switches activate lights and bubbles, but laughter will activate the knowledge that running outside to send bubbles to infinity and beyond was a superb idea.
I love stuff like this because it's a great way to pass the time on a hot summer day with little mess and lots of fun. Plus, bubble toys just keep getting better and better; back when I was of acceptable bubble-blowing age, it was a circle on a stick and best of luck to you.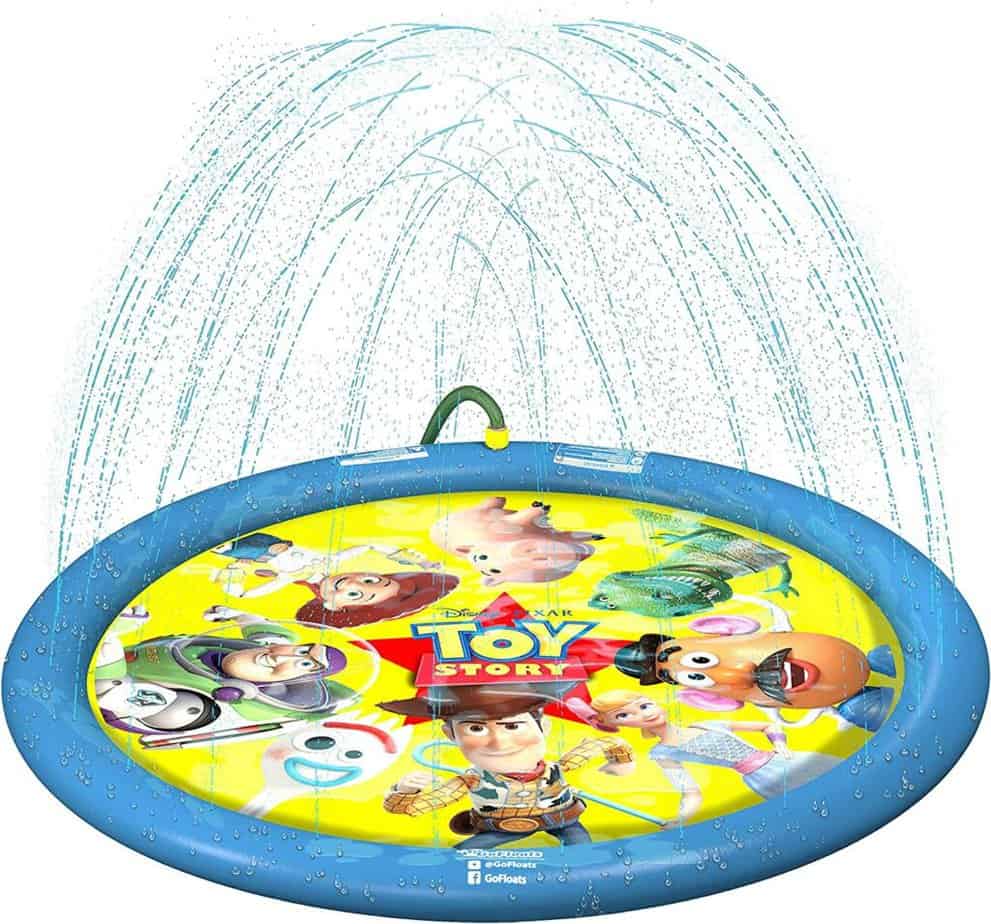 The days are sunny and hot, but perhaps you aren't ready to swim, or there's just enough time to cool down before you're off to the next task: it's time for the splash mat. Connect the water valve to the garden hose and you've got your rainstorm amongst Woody, Buzz, Forky, Jessie, Hamm, Rex, Mr. Potato Head, and Bo Peep.
Instant set up; the edge inflates as soon as the water turns on, the material of the mat is durable vinyl used in rafts. That way, the bottom doesn't tear, there will be fewer boo-boos, and it'll last more than one summer without falling victim to an errant stick.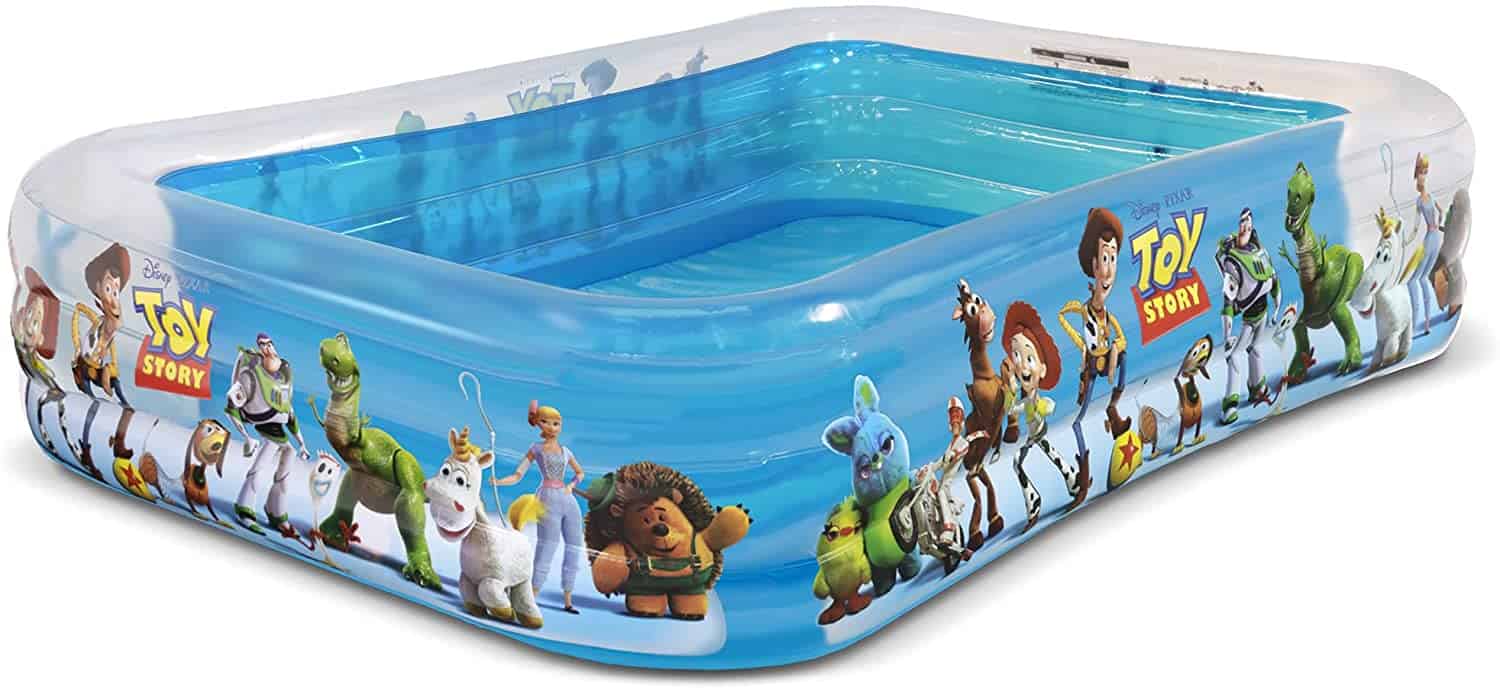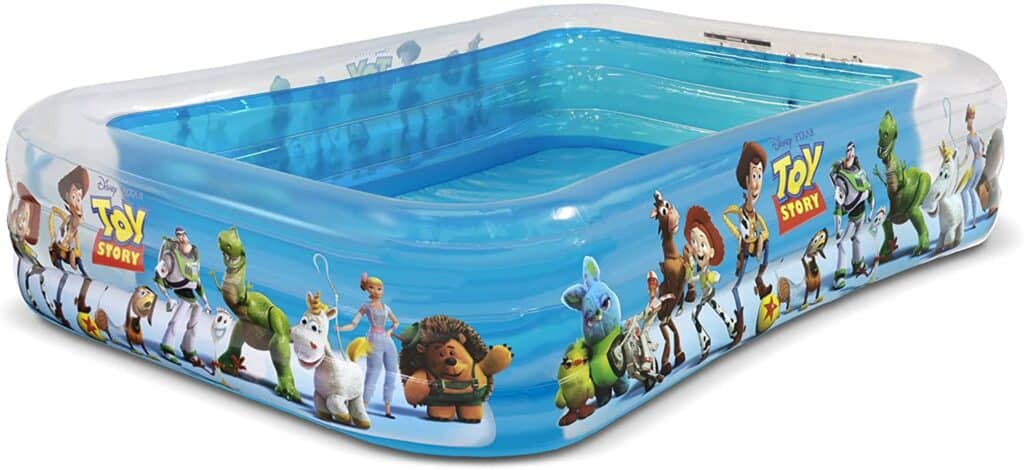 The lazy days of hanging out in the yard, juice box in one hand, an overpriced treat from the ice cream truck in the other… really takes you back, doesn't it? In a lucky turn of events, we can return to those days and bring the entire Toy Story gang with us. Name a character; they're sitting on the outside of the blue vinyl pool.
Measuring 8×6, there's room for everyone and likely to make your house the pit stop for fun this summer. The pool has three separate air chambers but also comes equipped with Rapid Valves to get this party started quickly. Enjoy fun in the sun with the whole family or all the neighborhood kids!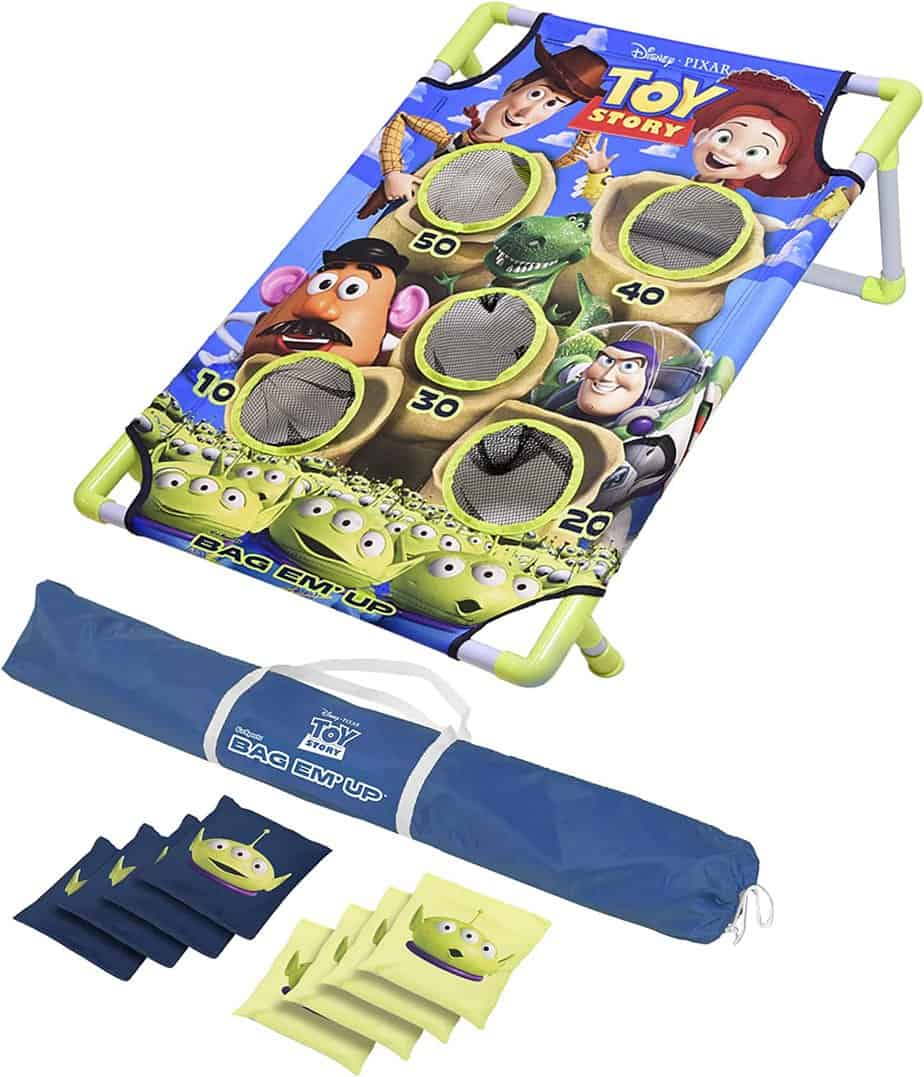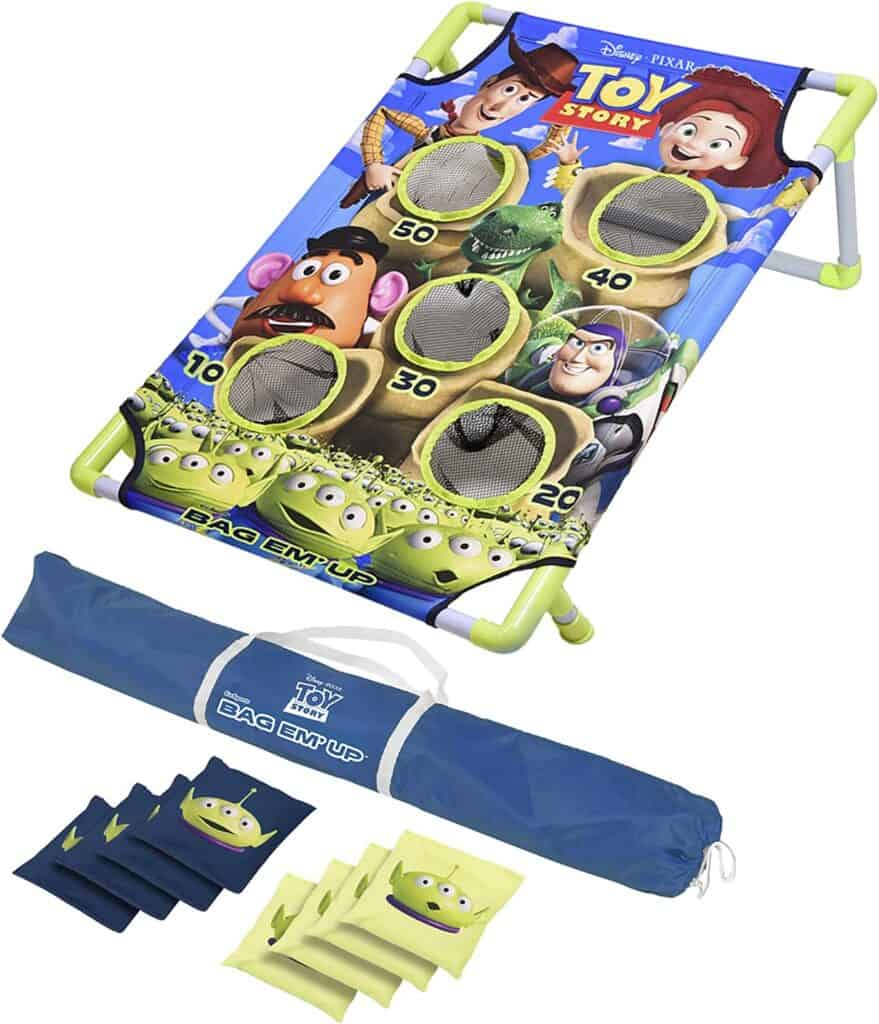 Time to hop out of the pool, warm up, get something to eat and get right back to playing. The Bag 'Em Up target can be put together in under a minute, providing a five-hole target on a tear-proof bouncy surface and made to last. A three-in-one set allows endless hours of fun in the backyard when too many grassy feet have gotten in the pool or time for a little break from the splash pad.
I'm a fan of this because it's similar to cornhole, a staple at any backyard barbecue that's made for adults and a giant source of frustration for kids who don't quite have the arm to play — yet. The Bean Bag Toss allows for inclusivity and bringing a favorite movie into the mix so everyone feels apart of the fun. Doesn't get much better than that.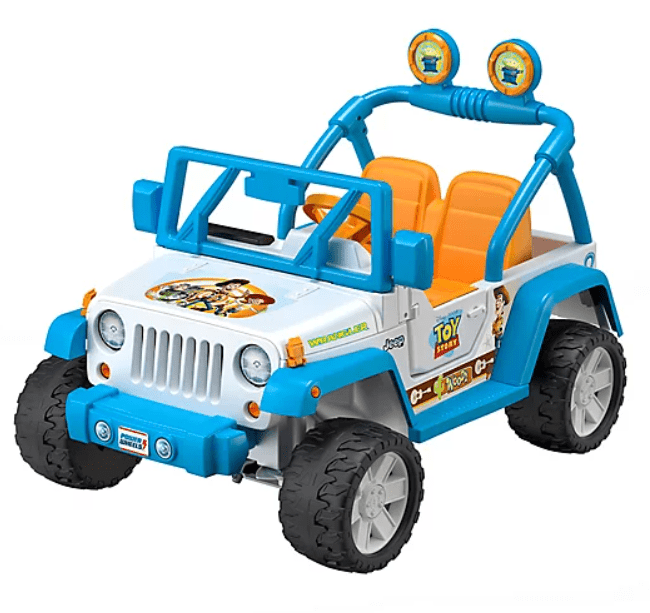 Time to cruise in style. Hop into this two-seater battery-powered ride-on and rest assured that the coolest kid on the street is riding roughly in a Wrangler but safely with controlled speed (2.5-5mph max), front and back fenders, and classic a Jeep grille. Lock out the high-speed option for beginners, and can take comfort that the Power-Lock brakes are tested and ready.
Assembly is required, and the Jeep has a rechargeable 12-volt battery. Turn on the play-pretend radio and jam to some songs and phrases from beloved characters as the young ones take a sunset ride.
Plush Toys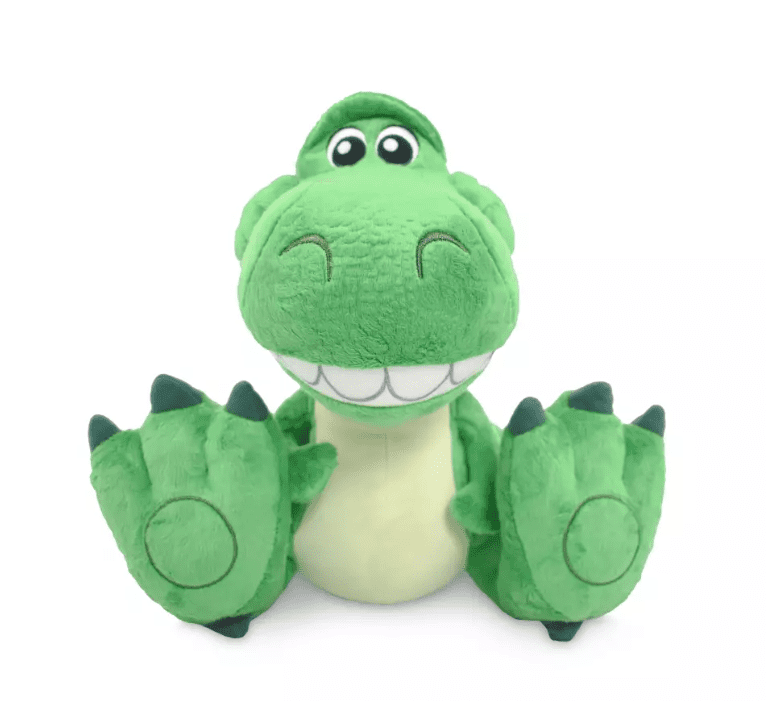 Tell me you don't want to snuggle up with this big-footed, adorable little dinosaur. You can't! I know this would be my nap-time pal if I had a chance to get a good nap in. Overstuffed feet for maximum snuggles, and beans on the bottom to keep Rex upright. The scaly velour texture adds to the overall completeness of Rex. Sure to be a slumber staple in no time.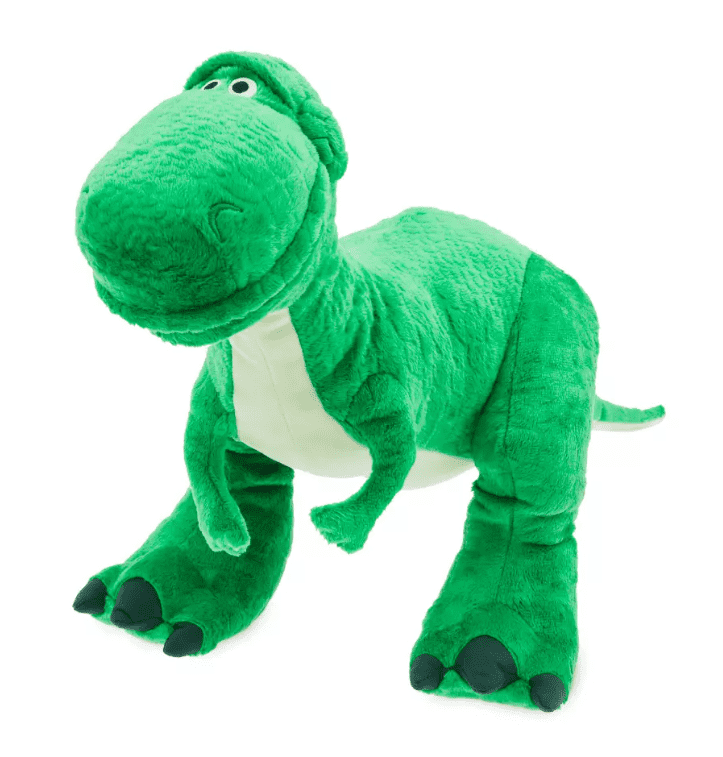 I'm on the taller side, so if the previous Rex was unavailable for nap time, I think this guy would do just fine. The detailed plush sculpting and scaled texture to the realism makes it seem like there's another iteration of the bravest nervous dinosaur anyone has ever met. If it isn't blatantly obvious, Rex is my favorite.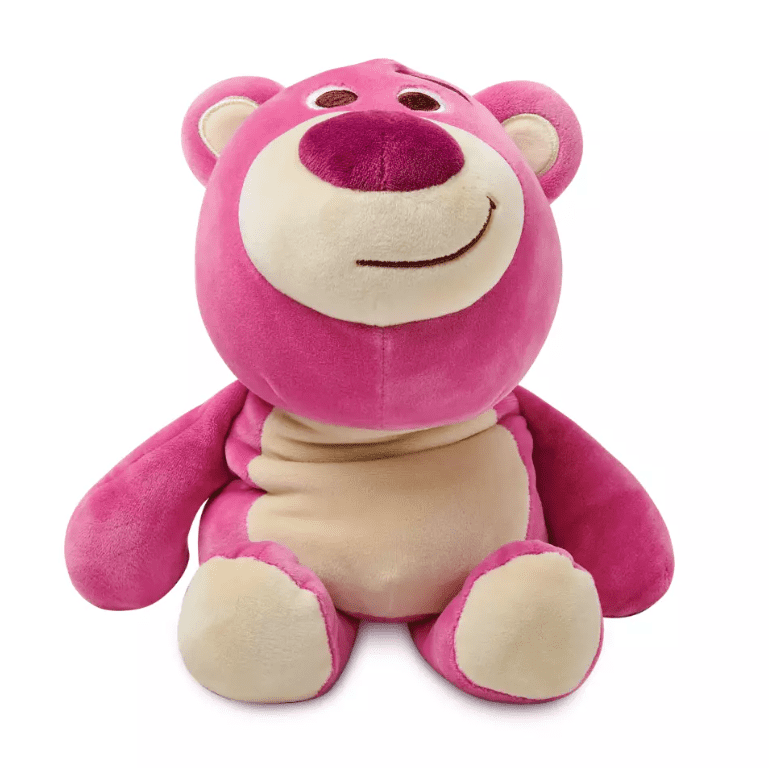 Love him or hate him, Lotso has a place cemented in Toy Story history. A soft, plushy toy is great to begin with, but now with a weighted feature? Hold the phone. Silica beads are the fill that gives Lotso the weighted feature, and he stands a bit taller than his counterparts. Is he the ultimate nap-time buddy? Who can say? If he is, don't tell him though; we all know it'll go right to his head.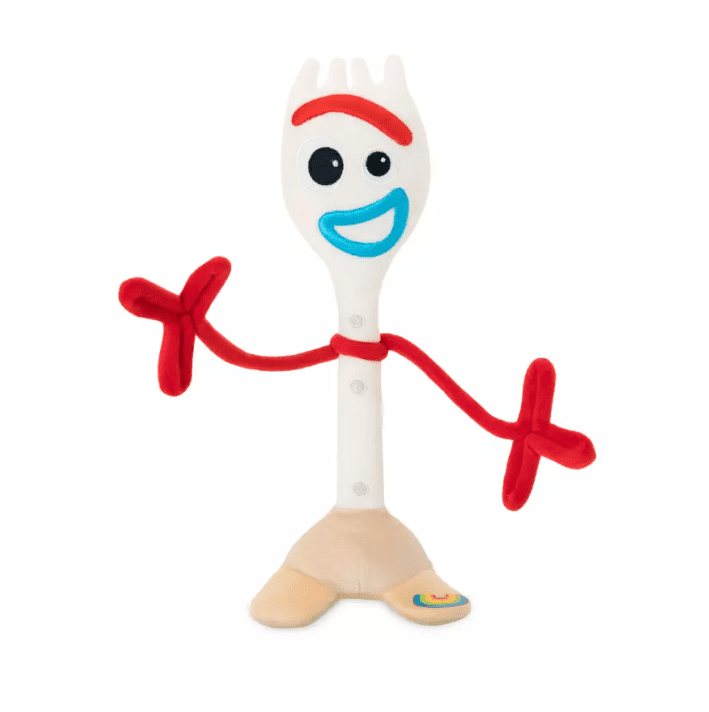 Small in stature, but big at heart Plush Forky is ideal for 18+ months. Small and thin but equally warm and loving, the possible arms and rainbow screen art on his feet will keep the littlest sheriff in town entertained and cozy for awhile.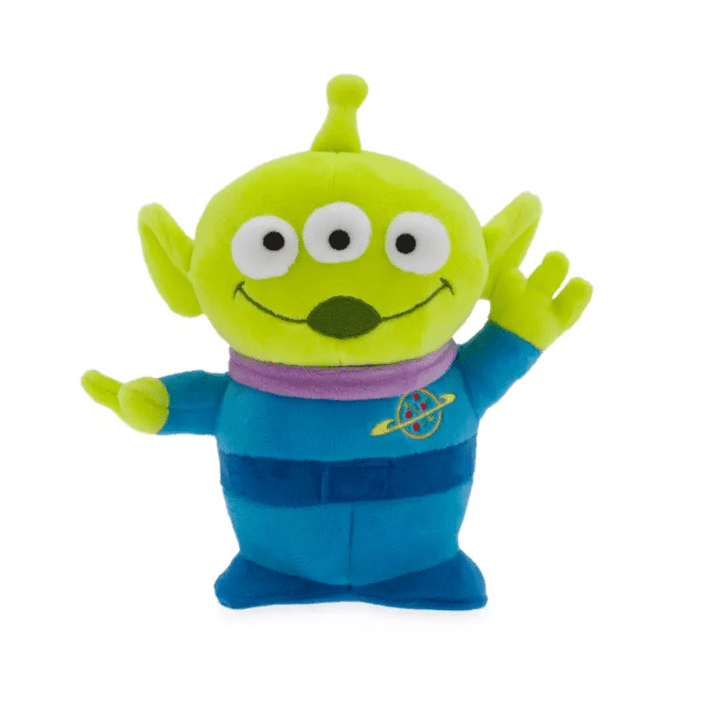 A little green alien dressed in blue, made of velour in awe of the claw; what's not to love? Freestanding with a weighted base, your Alien can chill on the bed, a chair, standing up waiting to beam back into the spaceship; honestly, the possibilities are endless. Since Pizza Planet, the Alien has been here through thick and thin.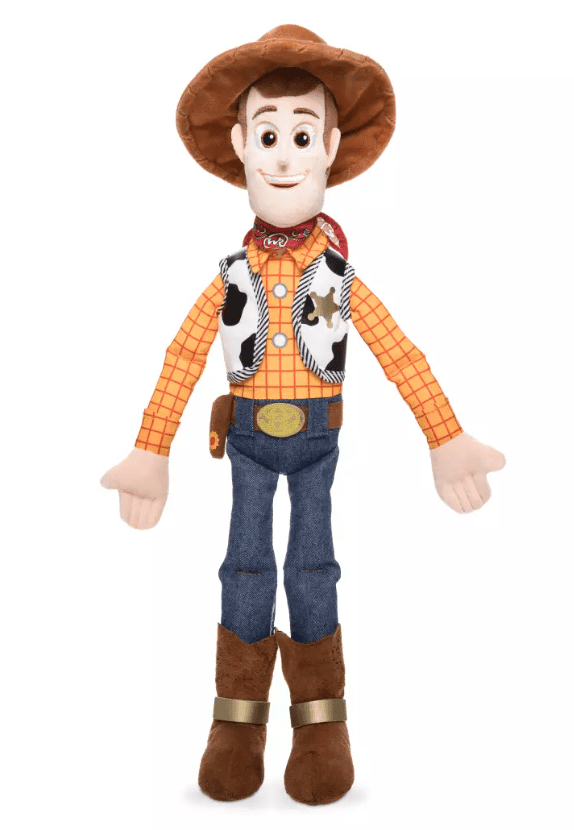 From top to bottom, it's the best sheriff in all the land, our permanent partner: Woody. His plush figure comes with everything you want from a Woody action figure, figurine, or toy; all the accessories and then some. He's the spitting image of the Woody we see on our screens. The only difference? Polyurethane foam to make him squishy.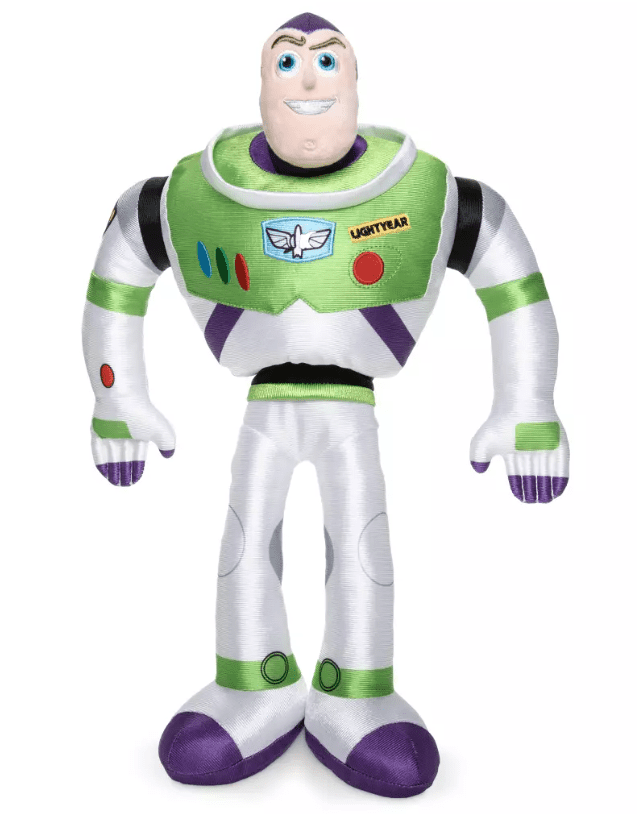 Buzz stands ready with articulating arms attached to his gleaming spacesuit. A picture in bravery, and if I had to guess, probably the snuggliest Space Ranger around. I'm just throwing this out here though: a plush toy is a great go-to for a nap. Are we missing an opportunity to not have super-soft wings for maximum comfort? Just an idea. 
Final Thoughts
Creating an ultimate guide for such a well-known, decades-on-decades spanning franchise is a large feat. So is finding appropriately licensed merchandise. The list I've put together is a figurative "Where's Waldo" of finding the correct licensing and branding. That aside, here are my biggest takeaways.
Toy Story has the longevity it does because of its seamlessly lovable nature. The storyline is complex to keep adults interested, easy enough for the youngest among us to follow, and hits the sweet spot for nostalgia. I grew up with Toy Story. Andy and I were essentially on the same age trajectory; we left for college at the same time.
Seeing these toys now reminds me of my own Woody and Buzz Action Figures that couldn't talk to each other and may be repeated one or two phrases, but were still two of the coolest toys I had. That's the reason this franchise and off-shoots like Lightyear work. The nostalgia of someone my age passing down the love of the movies and characters to the next generations is better than any new toy we could ask for.
Frequently Asked Questions:
Question: Where can I Buy Licensed Merchandise?
Answer: My first place to go for anything Disney/Pixar-related is Disney stores, either online or in person. Big-box stores like Walmart, Target, and Kohl's also carry a decent amount of reputable merchandise. Typically, online shopping is going to yield the best results (shocking, I know) but perusing a store never hurt.
Question: What About Amazon?
Answer: Shopping for licensed merchandise on Amazon is a catch-22 because third-party sellers can legitimately have licensed merchandise, and you either take a gamble on that or read the reviews and product descriptions on Amazon Fulfilled products. The way I look at it, the more names in front of the words Disney/Pixar, the less likely it is to be authentic. I rely on Amazon for plenty of things, but when I'm looking for a bigger ticket item with a large brand like Disney/Pixar, I go straight to the source.
Question: Who's Better, Woody or Buzz?
Answer: I'm not getting in the middle of that eons-old war. They each have fantastically redeeming qualities and bring many things to the table. End of story, partner.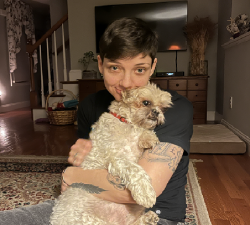 Latest posts by Sarah Weisberg
(see all)