Is there a  birthday coming up for a Raya and the Last Dragon fan? Then look no further!  With this list, I hope you will be able to see what will best suit your birthday friend and your budget! First, let's do a quick recap on the storyline for Raya and the Last Dragon. If you are not that familiar with the movie, this will help you sort out which characters would be the best choice.
How the Story Begins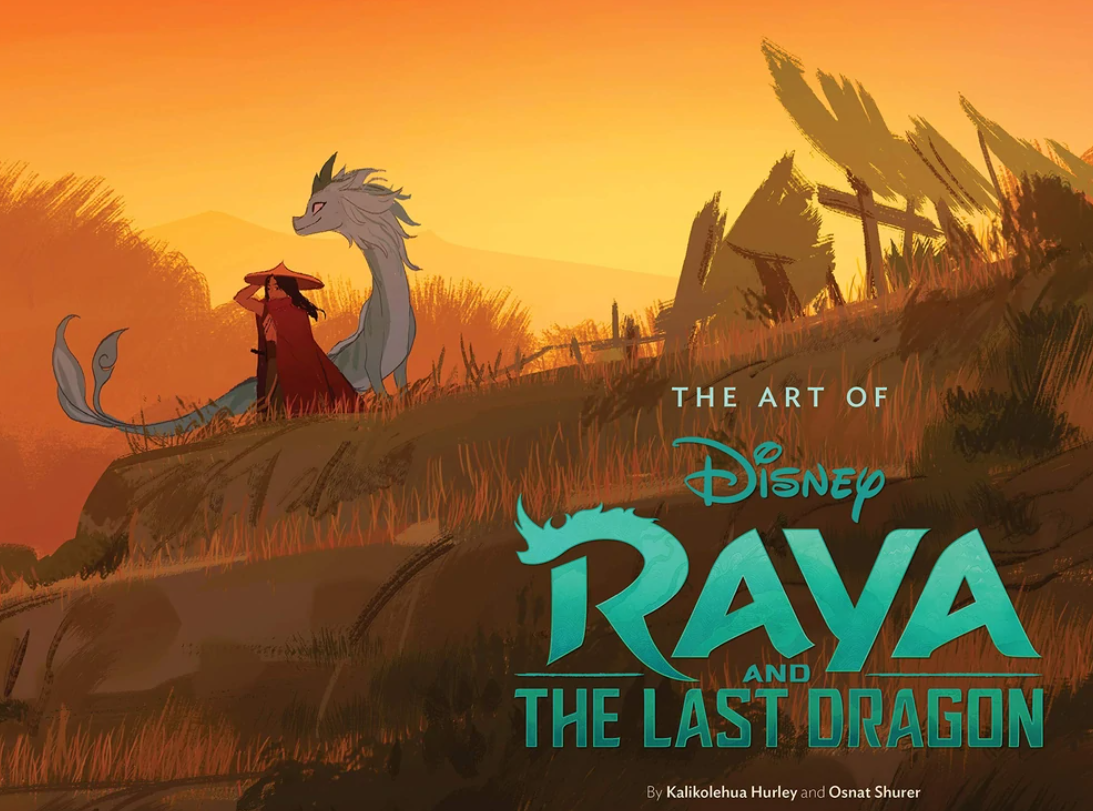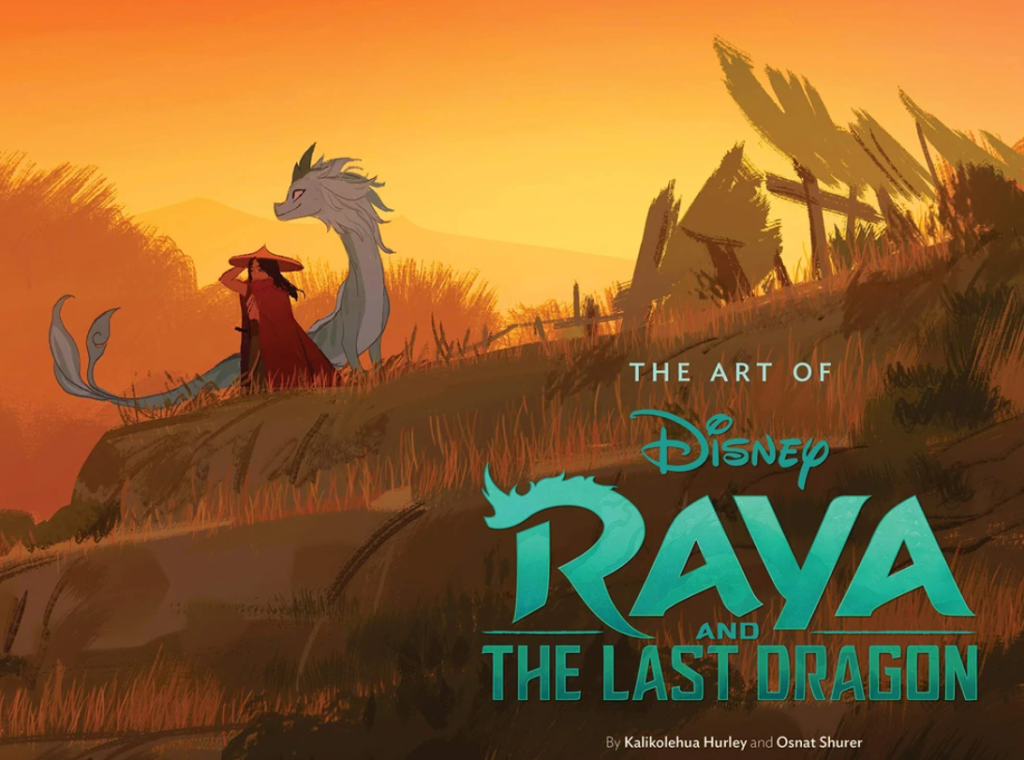 A long time ago, in the fantasy world of Disney's Kumandra, humans, and dragons lived together peacefully and harmoniously. When the evil and all-consuming monsters are known as the Druun threatened to take over the land and turn its inhabitants into stone, the dragons sacrificed themselves to save humanity. Sisu's dragon family used their remaining strength to create a magical gem harnessing each dragon's unique gifts. Sisu used this gem to send the Druun back to the shadows they had crawled out of and in unison turn the Kumandra's people into the humans they were before the Druun had turned them to stone.
 Now, 500 years later, those same monsters; the Druun, have returned, and it's up to a lone warrior, Raya, princess of Kumandra's Heart Land, to track down the last dragon and stop the Druun for good. Sisu and Raya bond over Raya's father, Chief Benja, who, like Sisu, believes that all parts of Kumandra can be brought back together as one again if the people would just stop blaming each other for the downfall of Kamandra and would trust one another once again. Sisu and Chief Benja believe it is good for each living being.  As we enter into the lush and magical world of Raya and the Last Dragon, it's hard not to wonder what it would be like to meet your very own special dragon friend.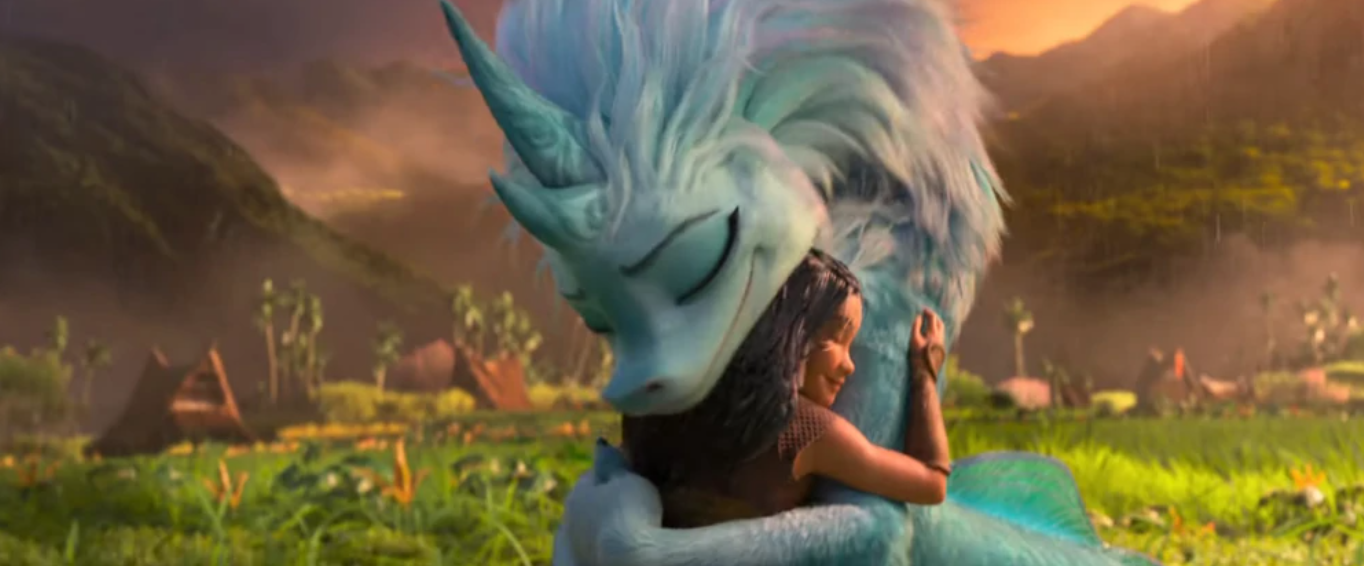 I loved this movie and enjoyed watching it with my little one time and time again. We both enjoyed the beauty and humor of the hilarious and sarcastically witty Sisu and, of course, that warranted an impromptu journey to Target where we would scour the shelves in search of Sisu toys. I also found that Amazon had a vast amount of Raya and the Last Dragon toys. Our very first Sisu toy came from McDonald's in a Happy Meal. The second toy we came across was the small squeeze-to-talk Sisu plush. She has been everywhere that any sea dragon could ever want to visit.
In the list below I would like to tell you what I think of these fourteen Raya and the Last Dragon toys. Some of these cute toys are fantastic and inspire child-like wonder. Some are medium-weight flops, but that doesn't mean everyone will feel that way. I like plenty of things as an adult that not everyone would agree with me on. I highly recommend checking Etsy's selection of Raya and the Last Dragon toys and with those closing thoughts, I hope you find your very own Sisu, Namaari, or Raya that resonates with your heart. Stay away from the Druun, those guys are real party poopers.
My Top Raya and the Last Dragon Toy Pick
My choice for the best plush toy is Disney's Raya and the Last Dragon Sisu Plush by Build-A-Bear. This version of Sisu is almost 2 feet long from nose to tail and super soft for snuggling. As for my favorite non-plush toy, the Lego Disney Raya and the Heart Palace Imaginative Toy Building Kit takes the cake! All 610 Legos are poised for adventure as they embark on this building extravaganza with your little one!
Raya and the Last Dragon Toys: What's Available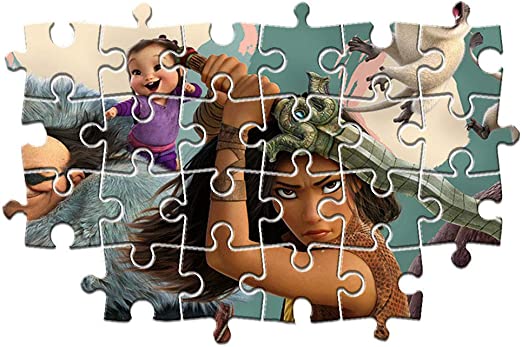 Choosing a special toy from Raya and the Last Dragon can be difficult when you see the mountain of toys available. With this list, I hope to alleviate some of your shopper's anxiety by pointing out the pros and cons of some of the best toys. As with any children's movie, you will find the characters popping up in Happy Meals and taking over the aisles at Walmart and Target, but what ARE your options, you may ask?
Toys made for Raya and the Last Dragon can include:
Battery-operated talking/moving/glowing toys
Small hard plastic figurines
LEGO palaces
Lovely plush huggable
Dolls
Puzzles and games
My Buying and Choosing Selection Criteria
I only chose toys that real fans of Raya and the Last Dragon would love from reputable sources.
I tried to select toys for all ages and fans — there is something for everyone here!
I choose the highest quality toys with the best prices because I know how expensive it is to be a parent!
I have listed some toys that I own and love.
I've also listed some toys that you may not have heard of yet.
Let's Talk Toys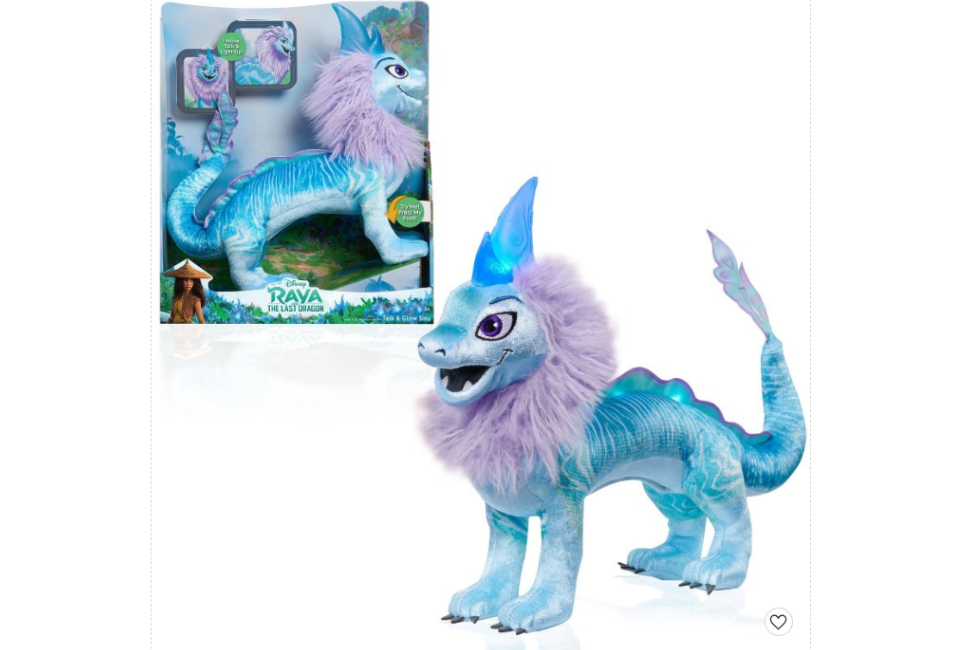 This small, cute plush Sisu is made of durable fabric and quality material. The stitching is well done and doesn't look like it will be falling apart anytime soon, no matter how exciting and challenging her adventures may be! When you press Sisu's foot activating her powers, her horn and body light up like they did in the movie and she tells you sweet little phrases, like, "Best friends forever" while her mouth opens and closes like it would if she were talking. This toy is worth it. I would even pay more for it. It is affordable so if the batteries do die and if that is a deal-breaker for your child, send Sisu to the doctor and return her as good as new. It's a secret we parents all do; buy two!
Pros
Sisu says phrases from the movie until her batteries run out.
Plush Sisu's body glows so nicely that it can be used as a nightlight for the littlest fans.
This Sisu is the perfect size to take anywhere! Going on vacation? There's always room for this extra small water dragon even if the car is packed full.
Sisu is 12 inches long making her a small enough size to fit in a bookbag for Toy Day at school. Most of her length is in her tail.
Cons
There isn't a way to change batteries, so once they're dead, Sisu will be finished talking and glowing.
Sisu's fin along the top of her tail is not soft, so would not be suitable for the under-3-year-old crowd.
This Sisu replica is not quite big enough to make a great hugging buddy or snuggle friend.
If you choose to wash Sisu's accumulated germs off, please know that she won't be talking or lighting up anymore. She's still just as cute and silent, but that mouth was made for talking.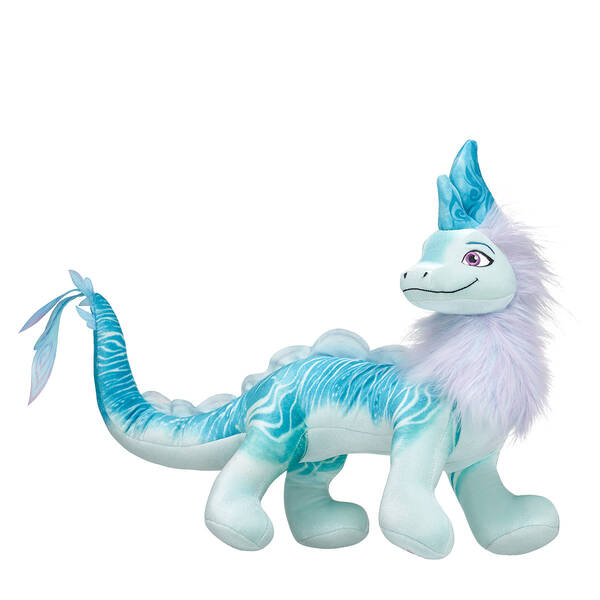 This is my favorite Sisu plush by far because of its softness, huggability, and beauty. I truly cannot say enough about the beautiful detail in this plush. The gentle blend of blues, light green, and purple make this one-of-a-kind dragon beautiful. Her adorable, smiling face and well-formed head go perfectly with her long body. Sisu's trademark long, wild, silky blue-purple hair is great for brushing and styling. I bet Barbie will let her borrow some salon techniques.
Pros
Sisu is huge at almost 2 feet long and 1 foot tall from toe to horn making her the perfect size to play with the 13-inch Raya and Namaari dolls mentioned in number 9.
Very well made using high-quality materials and fabrics just like Build-A-Bear is known for.
The stuffing is extra soft and squishy inside for perfectly textured snuggles and hugs. I have to say that Sisu doesn't make a terrible pillow.
Cons
With Build-A-Bear purchases you can choose to add a favorite scent or even a voice box with catchy phrases when the plush is being customized and stuffed. Unfortunately, Sisu is not eligible for these upgrades.
Clothing and accessories that can be added on in a Build-A-Bear store when your stuffed lovey is being created are not options for this extra-large skinny Sisu. I did see that some dresses and miscellaneous will fit her though it is not intended for her. Go to your local Build-A-Bear and have her try on outfits!
This is not super cheap for a stuffed Sisu but the quality is certainly better than most. She is very well made and the details are the best and it shows at the slightly high price of $32. Still worth it in my eyes.
The Build-A-Bear Sisu is not available at many Build-A-Bear locations and tends to become out of stock quickly online. If you are lucky like I was, you can order Sisu on the Build-A-Bear website directly and she will arrive in a big box within a week.
This large plush could prove to be difficult to wash because of the silky hair. If you do choose to throw it in the washing machine, wash it alone with cold water on the gentlest setting, and do not stick her in the dryer. Air dry only. I would highly recommend spot cleaning and hand washing.
The long silky hair could be a choking hazard with young, teething children or any child younger than 3 years old. Always use caution.
This is another great plush toy that any Raya and the Dragon fan will love. I mean, who doesn't want their own snuggly dragon? It's huge and will soon become a cherished member of the family. While I don't particularly love the expression on Sisu's face, it's still one of my top picks.
Pros
This is an excellent price for a well-loved and Disney-made Sisu Dragon plush.
This stuffed dragon is huge at 23 inches!
Sisu in this form is very soft and huggable.
Cons
Disney's creator of this doll paid poor attention to detail throughout the plush and it shows in Sisu's face.
The shape of the face and smirk is a bit odd. Since this is a Disney-made stuffed animal, I would think their quality control team could have done a little better with this one.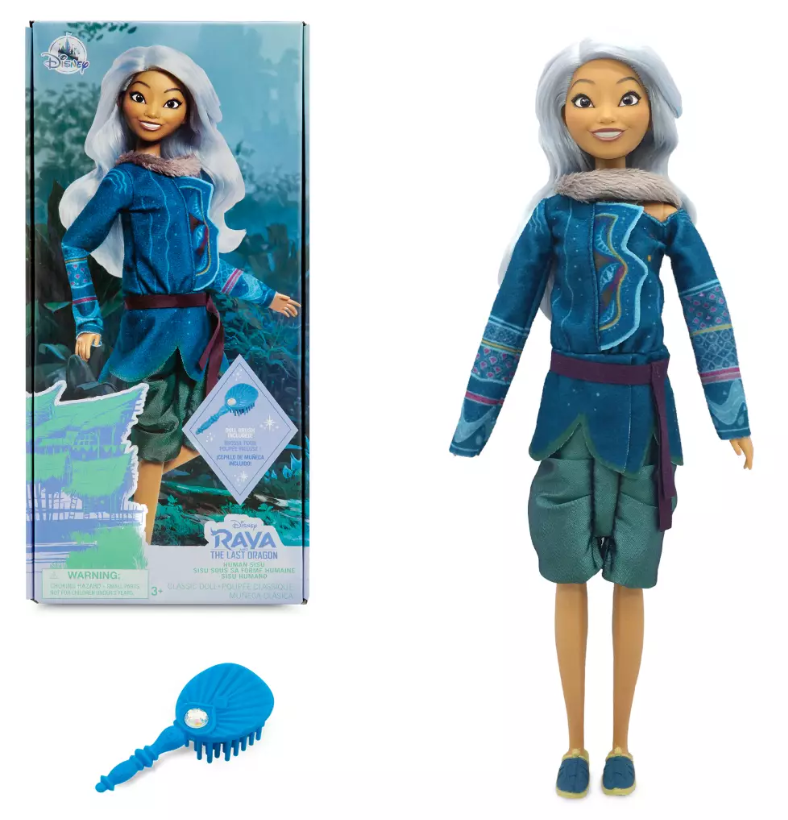 Another Disney choice here, this classic Sisu doll is the same height as Barbie. Sisu comes with clothing she wore in the movie but I'm willing to bet Barbie's clothes will also fit her. The doll has brushable and stylable hair, which children will love. This is a great affordable toy to buy for a true fan of Sisu. Some of the other characters can't be purchased in doll form. Most kids aren't too picky and won't be hyper-focused on the size difference of the dolls.
Pros
Posable for all those crazy stunts she pulls
You can easily clean her off in your kitchen sink or your little one can bring her to the bathtub
This little doll is beautiful.
Cons
The expression on this Sisu doll's face is all wrong. She doesn't give off the quirky, lovable vibe that we all grew to love in the movie. She looks boring compared to the real human Sisu.
The doll only comes with one outfit.
You can find more true-to-film Sisu human dolls to reenact Raya and the Last Dragon, like the one in #5.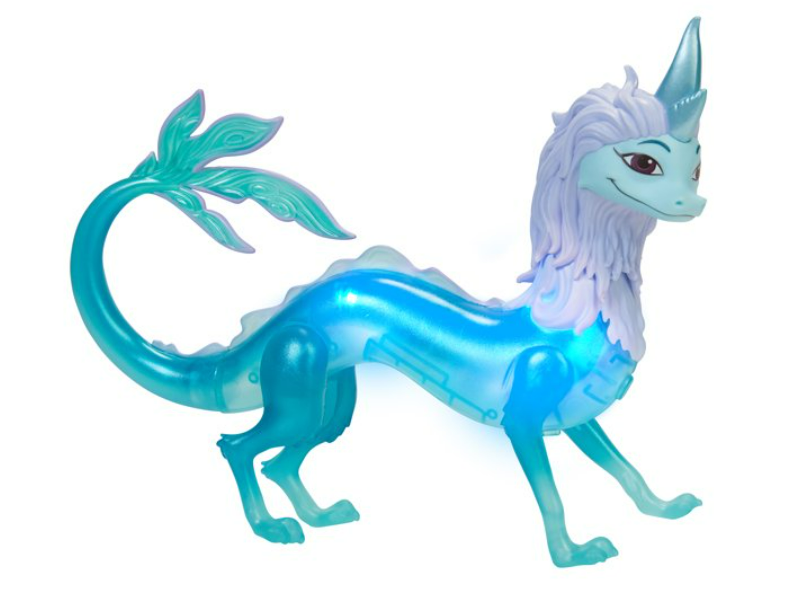 These dolls are made of hard plastic and are the perfect size for those little hands as they act out all the scenes in the movie. With a magic light show and a removable cape, endless fun will be had with this gift set.
Pros
The dolls are made of hard plastic and can be easily sanitized between play sessions, just be careful not to submerge Sisu since she has batteries to power her magic light show.
Raya's cape is removable and some of Barbie, Skipper, or another similarly sized doll's clothes may fit her.
Sisu comes equipped with a button on her chest that when pushed changes the colors throughout her body in a magical sequence of fairy lights adding to the enchantment of the figure.
Fairly indestructible by design.
Raya is not that small of a doll at 6 inches. Petite, possibly, but not too small to play with!
Sisu's facial features are delicate and perfectly in line with the movie's detail.
Cons
Sisu cannot get wet in the bathtub or swimming pool since she uses batteries to change colors. Water will steal her magic, so beware!
It is not possible, at least as far as I can tell, to change the batteries in Sisu, which is a big problem with many Sisu toys.
There is a very strong plastic smell when the package is first opened. Upon inspection, it seems that wiping the dolls off with a scented wet wipe helps. Raya can be washed and submerged in water, just be careful not to mess up her hair!
Raya looks too done up and girlie to be a warrior princess on a secret quest to save the world.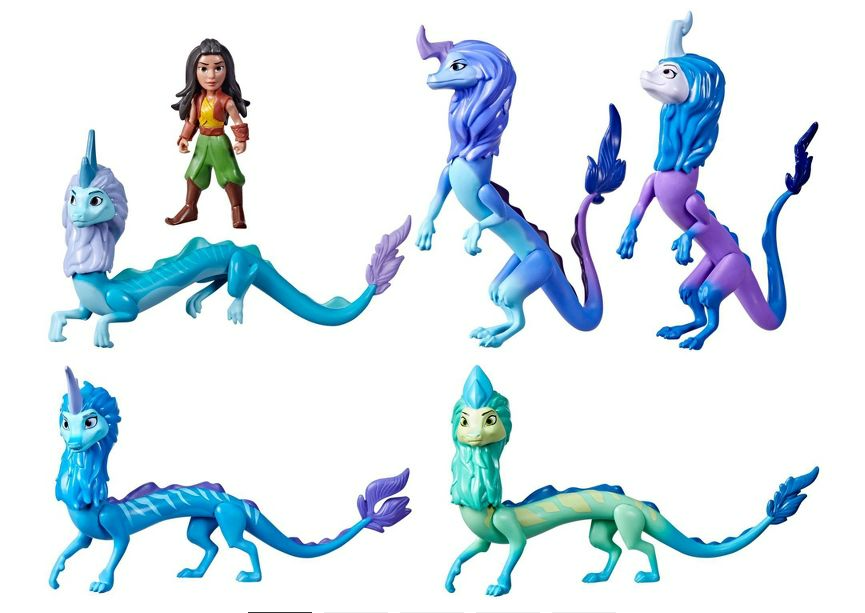 This sweet little water dragon family and its fierce warrior protector, Raya can get wet! Take them in the bathtub and reenact the boat scene or create your very own adventures at the beach, in the mud, or even in the snow! Since this is the Sisu Family Pack, you get to play with all of her siblings and because they are small, they can be taken in a backpack on long trips, or to a friend's house. Again, a perfect size for little hands.
Pros
Includes Raya, Sisu, and her beautiful siblings;

Pengu, Jagan, Amba, and, Pranee.

Raya's molded brown hair and movie-inspired outfit stay looking perfect no matter what the weather is like on their adventure.
At a whopping 3 inches, this small family can go along on any trip; big or small. They are also the perfect size for sleepovers or school presentations. Your child can bring them along to play at your friend's house while the adults catch up.
You can turn the heads on the dragons and Raya.
Cons
They have a very strong plastic smell straight out of the package. Since they are hard plastic you can wash them with scented soap and make that plastic smell disappear.
Some of their details may wear off after vigorous play.
These dragons are small at 3 inches and I think it would be neat if they were all bigger and could play with the larger Raya and Namaari dolls.
You cannot move anything except their heads. I wish their legs moved, too.
Raya and the dragon family are not as inexpensive as you might think. Their original price was $25.99 at Target. I have not seen them for sale anywhere else.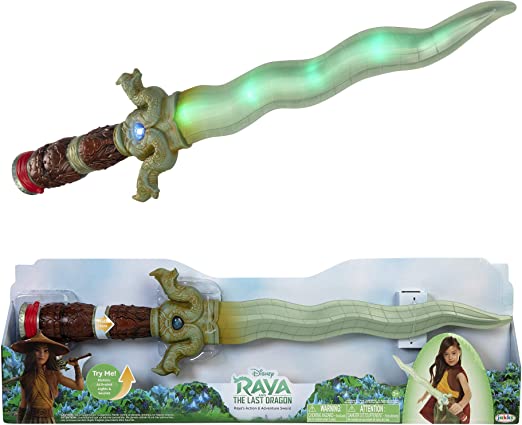 Those fierce little warriors that you fondly refer to as "your kids" will love this one! This sword is a great buy for pretend play. Just make sure those warriors don't turn on you, too! I think this toy is better suited for older children who know how to control the urge to use it in a harmful way.
Pros
It's a magical, glowing sword held by a warrior princess who defends dragons. What could be cooler than that?
If the sword's lights and sounds begin to waver, have no fear, the AAA-sized batteries are replaceable.
You can use rechargeable batteries because you know just as every parent knows, this sword will be activated until the batteries are dead. When that happens you'd better be ready with the next fully charged batteries or face the wrath of your very own warrior princess or prince!
This sword is the perfect accessory to add to your Raya outfit just for pretend play or for Halloween.
When battling the bad guys at night, your child will be able to see their opponent's face and predict their next move in the light of their battle sword.
Cons
Let's start with the noise it makes. After a while, every parent gets a little bit irritated by the repetitive sounds that toys make. This is no exception.
Fighting with a glowing sword is pretty cool but what about fighting your sister with a glowing sword? The cat certainly doesn't have a sword in this fight. I'm not a fan of any type of fighting in my house, so this sword wouldn't work for us because my child is too young to understand the appropriate wat to play with this toy.
Those strange little batteries certainly aren't cheap and aren't always easy to find either!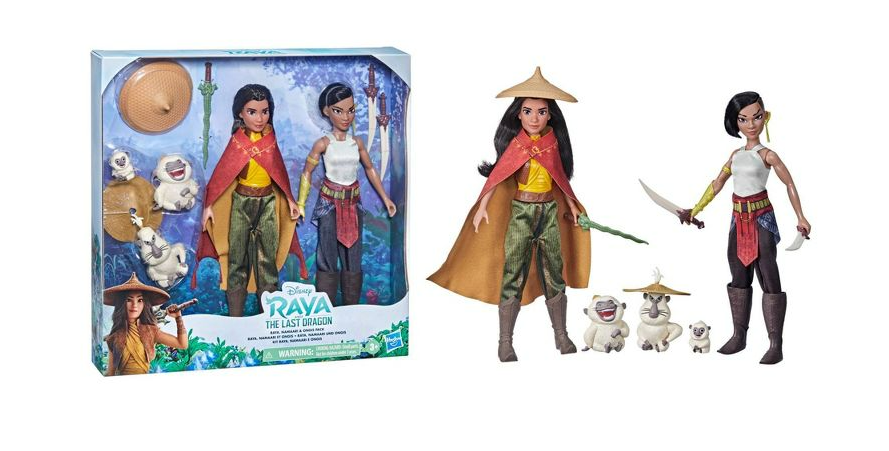 I really like this doll set. Having a Raya doll is cool and all but having a Namaari doll to play with Raya is even better! Your little dragon defender can let a friend play along with the other doll. No fighting! I'm sure you know that by "friend", I mean YOU, mama!
Pros
The price for two full-sized dolls with accessories and the Ongis isn't bad and I bet if you time it just right you can find this one on sale at Target.
The detail on the faces of all 5 characters is very good quality and close to the actual movie characters' faces. Two thumbs up!
The detail in Namaari's and Raya's outfits is gorgeous. They truly captured the colors in the movie and of the Southeast Asian culture.
The accessories are swords, Ongis, knives, hats, and other wardrobe additions. If I had to choose one accessory, I would have to go with the Ongis. Those crazy hybrid monkeys sure know how to have a good time!
Cons
Unfortunately, these dolls are also a choking hazard and are not suggested for children 3 years old or younger.
You can purchase Namaari and Raya separately and may even get them for a lower price than what is advertised with this play set.
Only one outfit comes with each doll.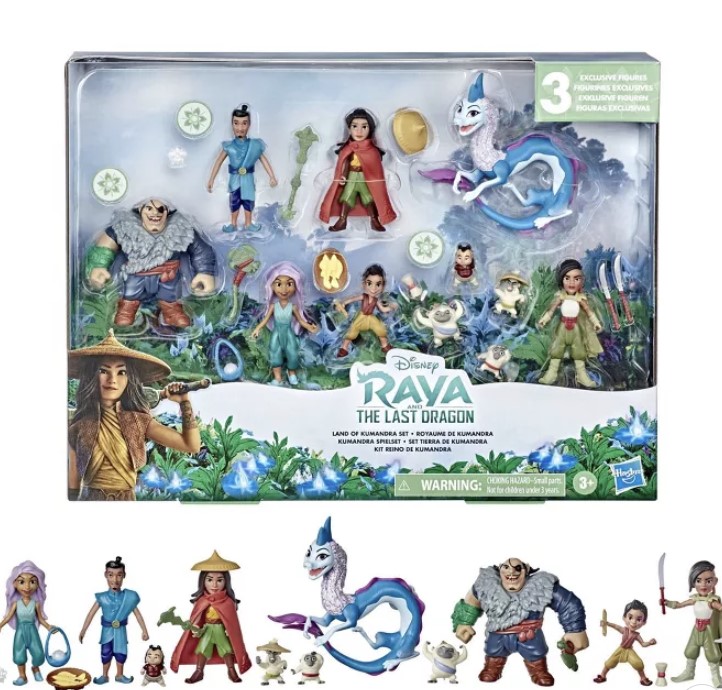 Pack the bags, it's time for the annual beach trip! With fuel prices out of control and showing nothing to suggest a break, it is well accepted to have all the characters at such a low price. Even more awesome is that you can find these little plastic oddballs at most large retailers. These little comrades take up very little room and can't wait for their first beach day.
Pros
Once again, these small 3-inch toys are excellent for long road trips, summer vacations, pretending to play at a friend's house, or diving into the bathtub to get their warrior on and fight those Druun-like bubbles from taking over the sea.
In this playset, you get all of the main characters from the movie: Raya, Sisu, Namaari, Boun, Noi, Sisu's human form, Chief Benja, Tong, and those silly Ongis.
Children have a favorite character one day and the next could be a different character. With this set, you have everyone in the same spot so your little one can have a different favorite every day of the week.
 These bite-sized figures are made of hard plastic but do come with posable heads and accessories like; swords, hats, the silly catfish/monkeys the Ongis, and of course sassy baby Noi.
Since these toys are made of hard plastic and do not use batteries or have stuffing, they all are perfect for all-weather play. If you get them dirty, just pop them in the bathtub or sink and wipe them off. Beware of using harsh cleaners on them. It could take some of the paint off. A Lysol wipe should be plenty to get them looking as good as new.
You can set these fun figures up in your fish tank for an underwater battle or in your terrarium to seek your brave and wizardly snake for advice. Of course, it is important to wash these toys with antibacterial soup once they are finished with their quests.
Cons
This big happy family, kind of, is made of hard plastic so unless you have a very dedicated snuggler, these guys probably won't get much snuggle time. At my house, we put the non-snugglers under our pillows so they don't get left out at bedtime.
As we've already talked about in regards to other plastic Raya and the Last Dragon toys, they are durable.
They are small and can get misplaced much easier than a large Raya doll or oversized stuffed Sisu.
This set does contain accessories that can be choking hazards so play is only suited for children older than 3 years old.
Without fully posable body parts, no change of outfits, or stylable hair, some children may get bored fast with these small figures.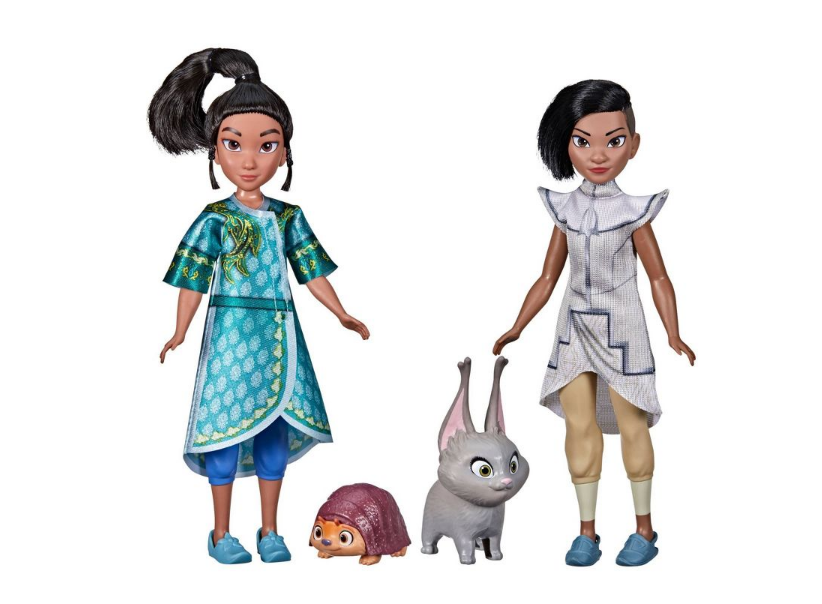 Young Namaari and Raya are ready to have a new adventure! These sweet little princesses are very similar to the young Raya and Namaari that we see at the beginning of the movie. Since same-gender relationships are a hot topic and it is rumored that Raya and Namaari might be more than friends, this could be a good way to approach the subject with your children.
Pros
Some kids like to reenact the movie as it is shown or maybe make up a whole new storyline using the original characters from the beginning scenes. Now they can do just that with Raya and Namaari as children when they first meet and bond over Sisu.
We see plenty of Raya and Sisu in the toys from the motion picture but one character we do not see being played with as much is Namaari. I'm happy to see this young Namaari in this playset.
When your child is playing with Namaari it opens up a parent-to-child conversation about forgiveness, friendship, selfishness, and trust. You can use these characters to discuss how their emotions almost got the best of them and what they could have done differently.
This is up to speculation, of course, but it has been pondered if Namaari and Raya were actually in love with each other and hiding those feelings in hate. This could be another good conversation about why some people choose to be in a same-sex relationship.
The dolls come wearing their fancy clothes that were worn in the movie when all the parts of Kumandra came together to meet in the beginning.
The sidekicks of these warriors are also included. A small Tuk Tuk and Serlot are also ready for adventure.
Cons
Children may focus on the feud between Namaari and Raya and use these figures to be mean and bully the other doll. A conversation about their complicated relationship should happen to clear the air and help their little minds understand why they were so upset with one another.
Like most of the Raya and the Last Dragon Toys in this guide, this playset is not approved for children under 3 years old and can be a choking hazard.
Raya and Namaari only come with the clothes on their backs. Barbie's younger cousins may need to box up some of their clothing for these two girls.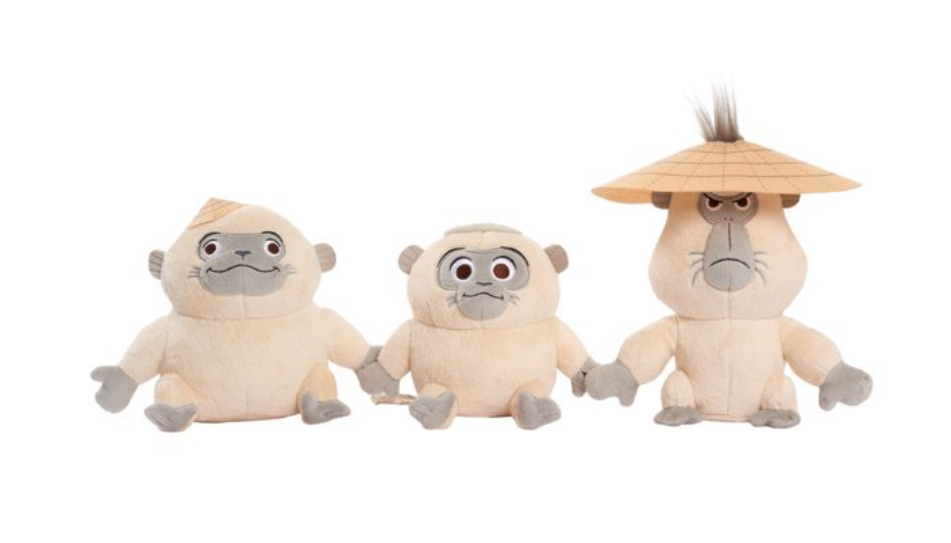 These sneaky little thieving catfish-monkey hybrids love a good trick! Take Dylan, Pan, and Uka on the greatest adventure of their lives as they chatter their way into your heart.
Pros
Soft and loveable just like those little trickster troublemakers were in the movie. They make great bedtime snuggle buddies.
The Ongis are perfectly represented in these goofy plush catfish/monkeys.
These hilarious monkeys are sure to delight as they hold hands and chatter. What are they saying? I bet your little one knows!
They are the perfect height to play with the large plush Sisu and Tuk Tuk at 7 inches tall.
Cons
These monkeys take AG13-sized batteries so be sure to stock up. You know your little ones are going to make these monkeys chatter until they can chatter no more. You don't want to know what will happen if you run out of batteries!
The Ongis being a light beige color will become dirty fast, just as any light-colored clothing does in your child's presence. Spray cleaner is the only way to go since these guys take batteries. Spot cleaning wins the day!
There isn't a Raya doll big enough to compete with these monkeys. Baby Noi was their closest friend but I have yet to find a like-sized plush Baby Noi.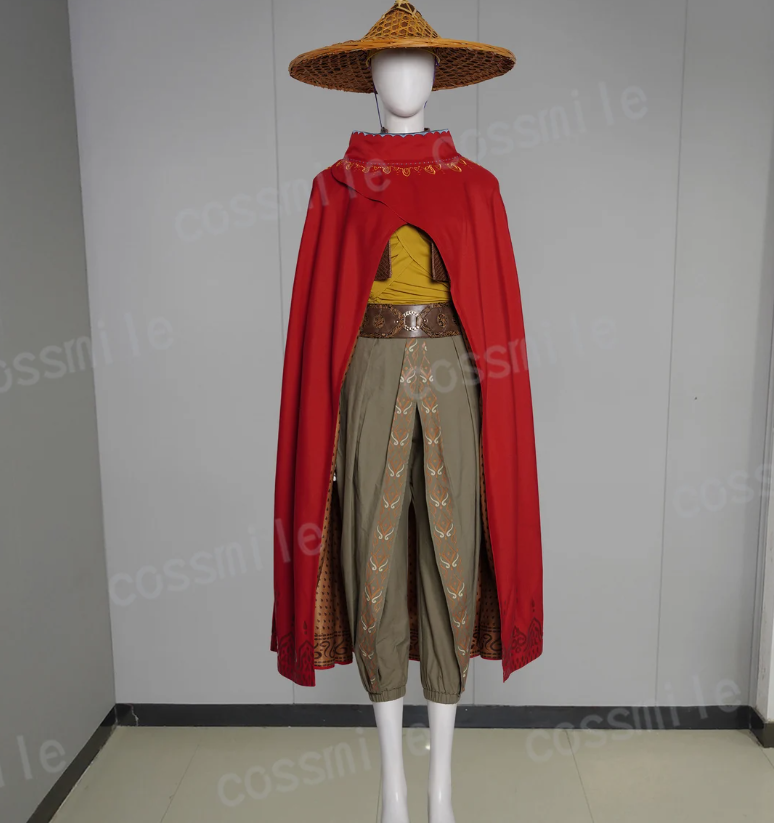 I bet you can't wait to embark on the next convention dressed like Princess Raya! Even the boots are perfect. Halloween is coming up and who better to host the party than Raya!
Pros
Look amazing and original in your one-of-a-kind costume. Check in to the next character convention and you will be a hit in your handmade garb.
You will have the ability to modify anything about the outfit before it is made and shipped to you. Each seller asks for specific sizes and measurements to ensure your warrior princess costume will fit.
Supporting small businesses on Etsy just has a better feel to it than supporting a mass-produced item that likely came from a factory in China.
Keep it forever! Pass along the story and outfit to your grandchildren someday.
Cons
The price tag is high with anything handmade. You are paying for skill and art. It is hard to hand over $400 for a costume you might wear a couple of times, though.
Etsy is filled with one-of-a-kind goods and if you wait a moment too long, those unique items may sell out.
Everyone's body is different and you will not be able to try this on before it is shipped to you as a final product. Make sure your measurements are exact.
What if you rip it or spill something on it at a Halloween party? You will have to come to terms with the fact that eventually something negative will happen to the outfit and you are not going to lose your mind over it.
Is this what true love looks like? Wow, that is all I can say. These posable handmade Sisu dolls are seriously beautiful. It takes quite a bit of time paired with skill and high-quality materials to pull this fantastic creature off. Etsy is unique and these items tend to sell out and take time to create, so be sure to move fast when you find something you cannot live without.
Pros
This handmade doll is one of a kind and looks truly magical. You can see the effort that went into creating this magical water dragon.
Sisu the poseable plush will last you a very long time if she is cared for properly.
She will look beautiful sitting on your bed or shelf and will surely make you smile every time you look at her.
By purchasing this magnificent handmade creature, you are supporting an artist and small business. Be proud. Show off the seller's work and maybe even give her more business by advertising to your friends.
This doll is easily posable for photos and art scenes. Sisu also boasts hand-painted and finely detailed eyes.
At a ginormous 29 inches long, this is a major dragon and you will be amazed at how happy you are with your purchase. I have purchased dragons from Etsy before and have not been disappointed. The hardest part is waiting for it to arrive.
Cons
This beautiful plush doll is handmade and with a handmade product you are going to pay a hefty price for the skill required to create such an amazing thing.
This is not a toy. If it is treated as a child's toy, it will fall apart and not hold up to the typical abuse that any stuffed animal belonging to a child receives.
This isn't Amazon, you will not receive it in 2 days. Crafts of this nature take time and patience. Depending on how backlogged the creator is, you could be waiting months before you meet your one-of-a-kind Sisu.
This is a very fragile creature and must be treated as so. Don't let your dog lay eyes on her or it will be all over.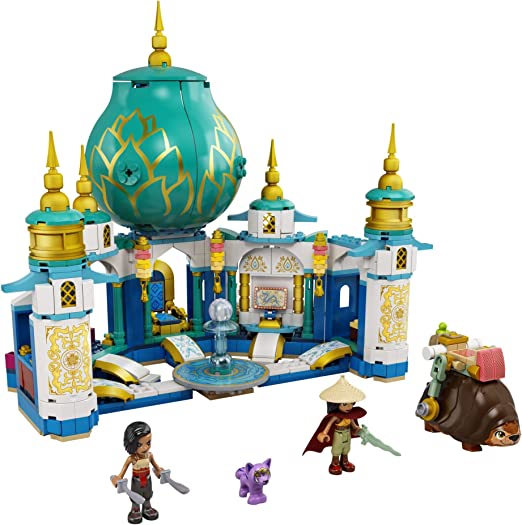 Kumandra's Heart Palace is excellent, filled with details, and a blast to play with. It even comes with some of the characters. Just be sure to put them all together in the box when finished.
Pros
With 610 LEGO pieces included in this luxurious palace in the Heart of Kumandra, your kiddos will be busy for a while, at least.
When this palace is finished, you will revel in the glory of the beauty the palace holds in all of its details.
If you are a Namaari or Serlot fan, you will get to play with both in this excellent but time-consuming palace. Strangely, there is no Sisu toy included. The scene in the movie took place when Raya and Namaari were young girls and Sisu was still asleep in the cave stream.
Overall, I think this non-plush toy is my favorite. My child loves LEGOS and will play with them endlessly. In my house, the palace would be taken apart pretty fast and rebuilt with "additions". Either way, this excellent toy is well worth it and inspires imaginative play.
Cons
If your children have a hard time staying focused and following through, this is one of two things; either it will help them learn to focus with your guidance, or it will get turned into some other contraption and the Heart Palace will be history.
LEGOS drive me nuts. Once the LEGOS from one project meet the loose LEGOS from 10 other unfinished projects, they will all join the WILD LEGO FORCE and once they are feral, there will be no going back or finding all the pieces again. The pieces must stay separate from other LEGOS unless you are curious as to how severe of a headache you can give yourself.
Once your child builds this, they may play with it for a few days but it will get boring fast and they will start mixing in LEGOS that don't belong and all will be lost.
This will most likely require a lot of your help unless you have an older child. If this is something that you would find frustrating, don't get it and let your child down. They will want you to be able to give your undivided attention while building and playing.
Not a good choice for children under 3 years old.
FAQs
Question: Are Raya and the Last Dragon Toys Worth it?
Answer: YES! A lot of the toys in this guide are excellent. This article is filled with fairly inexpensive goodies you can find online or at common stores nationwide. I have tried to thoroughly describe the toys that are in this review to help you on your quest.
Question: Is Raya and the Last Dragon Based on Anything?
Answer: In many ways, the answer is yes, this movie is based on Southeast Asian culture and tradition, which tends to include dragons as powerful and magical beings. The Naga appears in many Southeast Asian cultures as semi-divine creatures that can take the form of humans or serpents. The Naga appears in Hinduism, Buddhism, and Jainism and is believed to have lived in the Mekong river, which flows through Laos, Thailand, Cambodia, and Vietnam and is one of the world's most diversely populated fisheries. This may have helped sprout the idea of water dragons living in the river. "The Naga are protectors of the water realm. Whenever we go to temples or anything that relates to water, you're going to see symbols of the Naga as a protector," says anthropologist Steve Arounsack.
Question: How Old is Raya in Raya and the Last Dragon?
Answer: Raya is an 18-year-old young woman of Southeast Asian descent.
Question: Is the Movie Raya and the Last Dragon Available for Purchase?
Answer: Raya and the Last  Dragon the movie is now available to all subscribers on Disney Plus. The movie is also available to purchase without a subscription through Amazon Prime and other similar streaming apps. You can purchase the DVD at retail locations, such as; Walmart, Target, Amazon, and the Disney Store.
Question: What Makes Raya and the Last Dragon Special?
Answer: The movie was produced and created by strong women in the industry. Most movies are male-dominated in production. The entire technical team consists of women. Produced by Osnat Shurer, Raya and the Last Dragon was developed under the leadership of Disney Animation's Chief Creative Officer, Jennifer Lee; with co-writer Adele Lim, head of story Fawn Veerasunthorn and co-head of animation Amy Smeed among the women leading the creative charge. In a time when the world is in chaos, Shurer says, "The more people of different genders, backgrounds, and ethnicities are in the room, the more of ourselves we'll see on the screen, which is incredibly exciting. There is so much we can learn from each other, which in turn serves to deepen our empathy for one another, and our ability to all work together, embracing our unique contributions, to make a better world. What could be a more timely message?"
Conclusion
Whew! That sure was a lot of toys to think about. I think the best way you can choose an appropriate Raya and the Last Dragon toy is to know your audience. Does the receiver love Sisu? Go with the Sisu family pack and the Build-A-Bear Sisu. They are excellent. Do the little fans love building and imaginative play? Then the LEGOS Heart Palace is probably right up their alley. Overall, there isn't a Raya and the Last Dragon toy that I haven't liked. I think if you love the movie as much as I do, you will be delighted to see how many toys are out there for the movie Raya and the Last Dragon. Happy shopping!
 Continue reading:
Grab the Best Toy Story Blankets for Your Home!
Best Harry Potter Backpack Ideas for Fans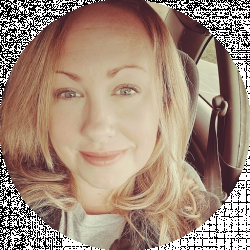 Latest posts by Katie Downey
(see all)